From delicate and dainty engagement rings to non-traditional, minimalist numbers, these are the best engagement rings to dazzle her.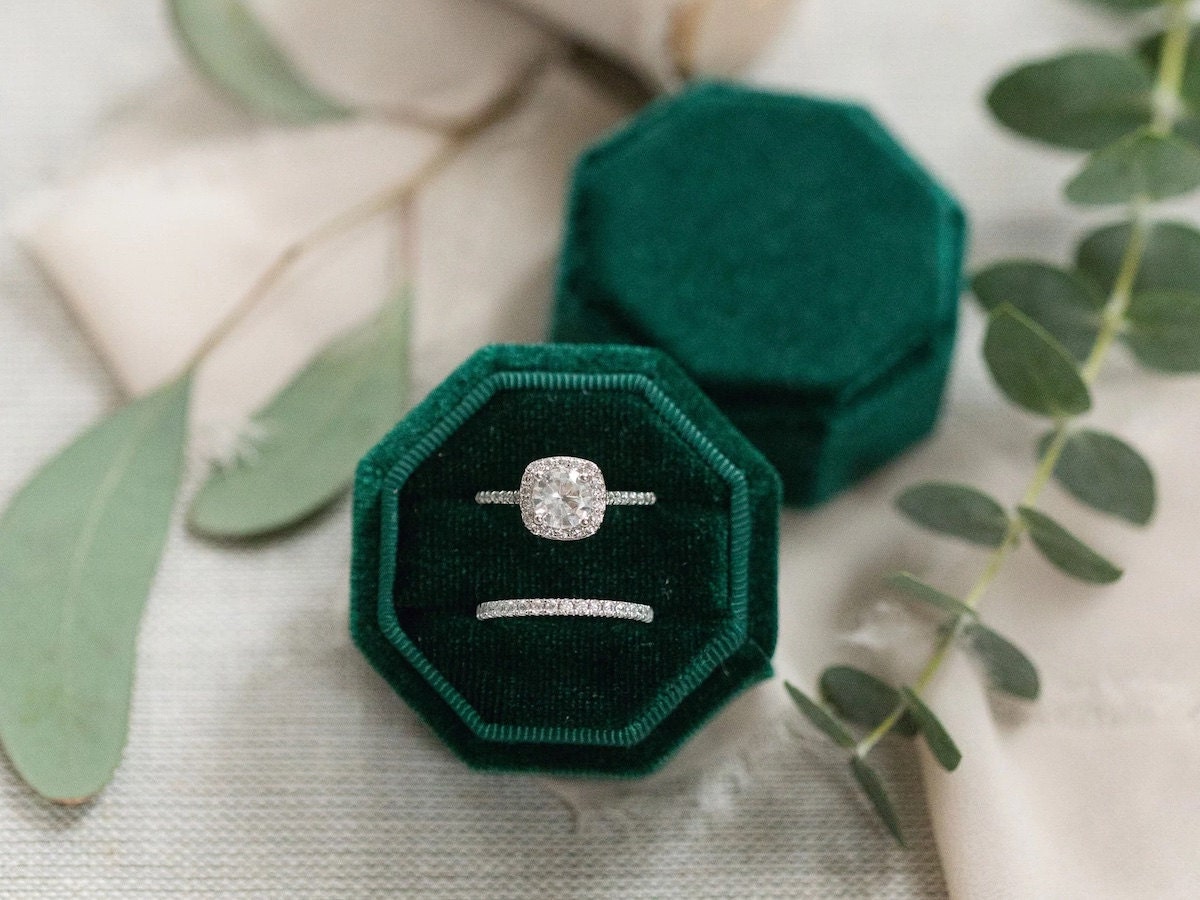 Choosing the best engagement ring is a major decision as you plan the perfect proposal. From sparkly, statement-making stunners to beautifully understated vintage finds, there's an engagement ring to express every couple's unique style. Here are our top picks for engagement rings from small shops on Etsy.
Dainty engagement rings
Dainty engagement rings may be small in size, but they make up for it with their details. With their delicate and feminine style, these rings pack a serious punch in a petite package.
1. A classic diamond solitaire ring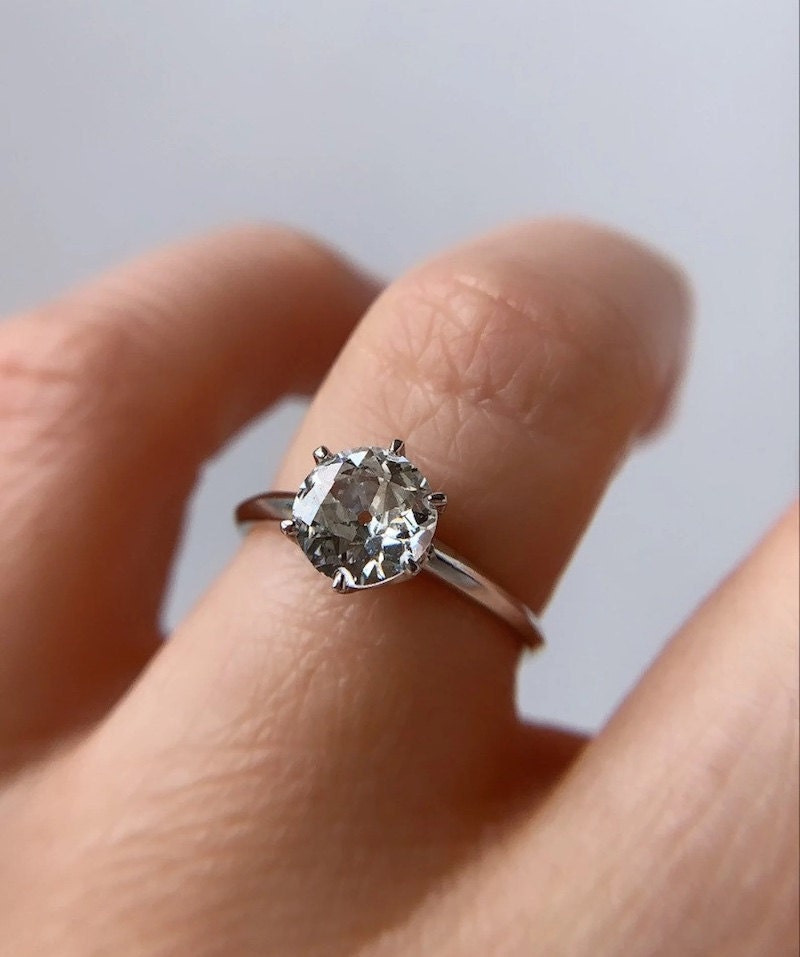 SHOP: Old European-cut solitaire engagement ring from my pocketjewels, $3,615
This old European-cut diamond engagement ring sparkles and twinkles as it reflects the light just so—proving an eye-catching diamond can really stand on its own. This solitaire ring's white gold banding adds sophistication and precision to a truly stunning ring.
2. An aquamarine cluster engagement ring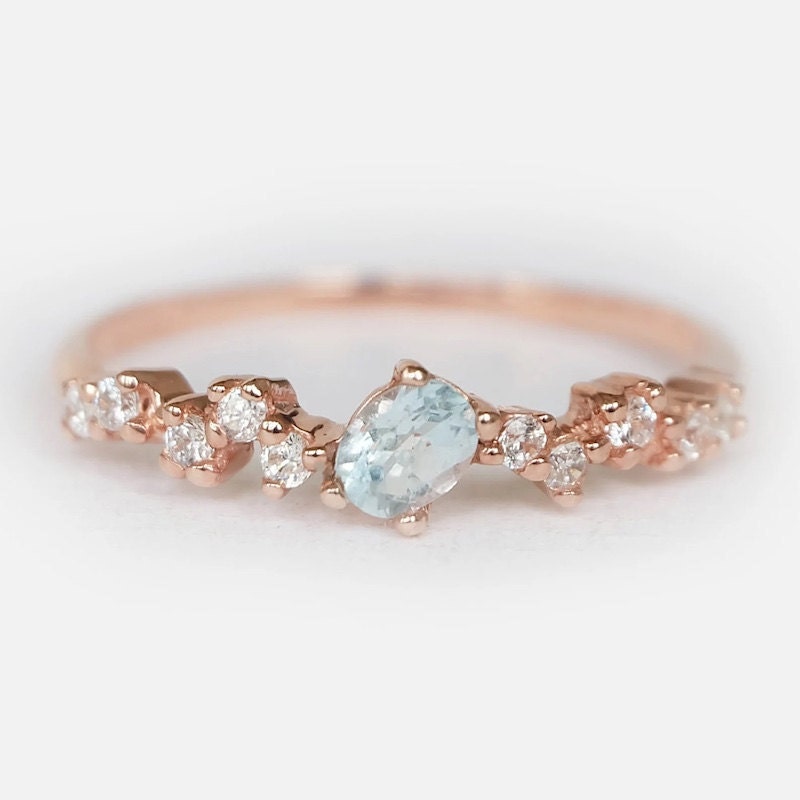 SHOP: Aquamarine oval engagement ring with diamond banding from W2N Jewelry, $288
Gaze into this beautiful cluster ring featuring tiny diamond accents and a show-stopping aquamarine gem. This is an especially exceptional pick if it's your spouse-to-be's birthstone—hello, March babies!
3. A delicate rose ring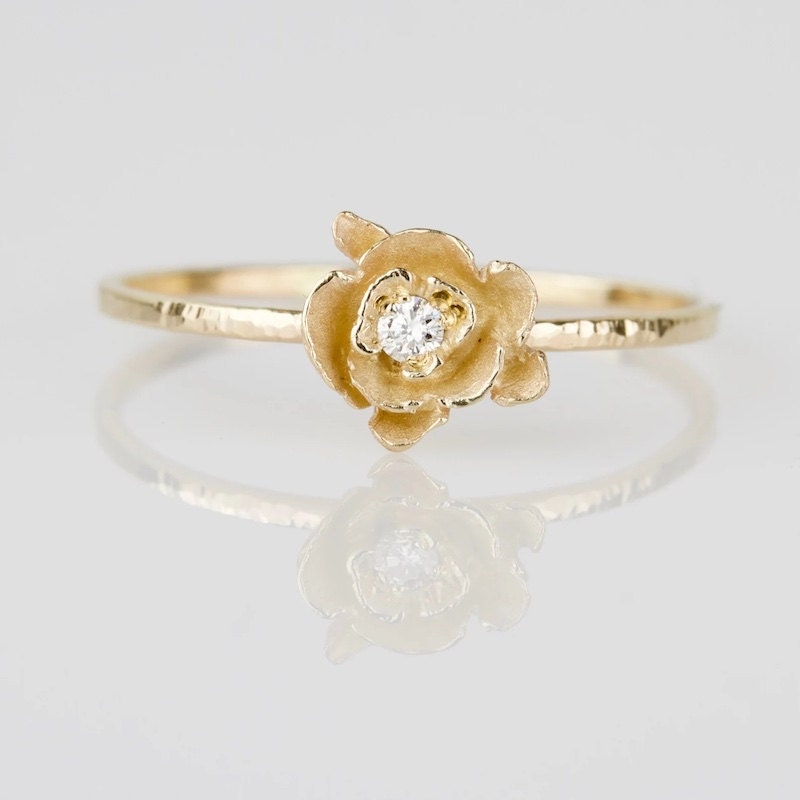 SHOP: Solid gold diamond rose ring from Mary John Fine Jewelry, $324
This rose gold ring boasts a feminine, floral shape that will charm your loved one the same way they charmed you.
4. A gold and sapphire engagement ring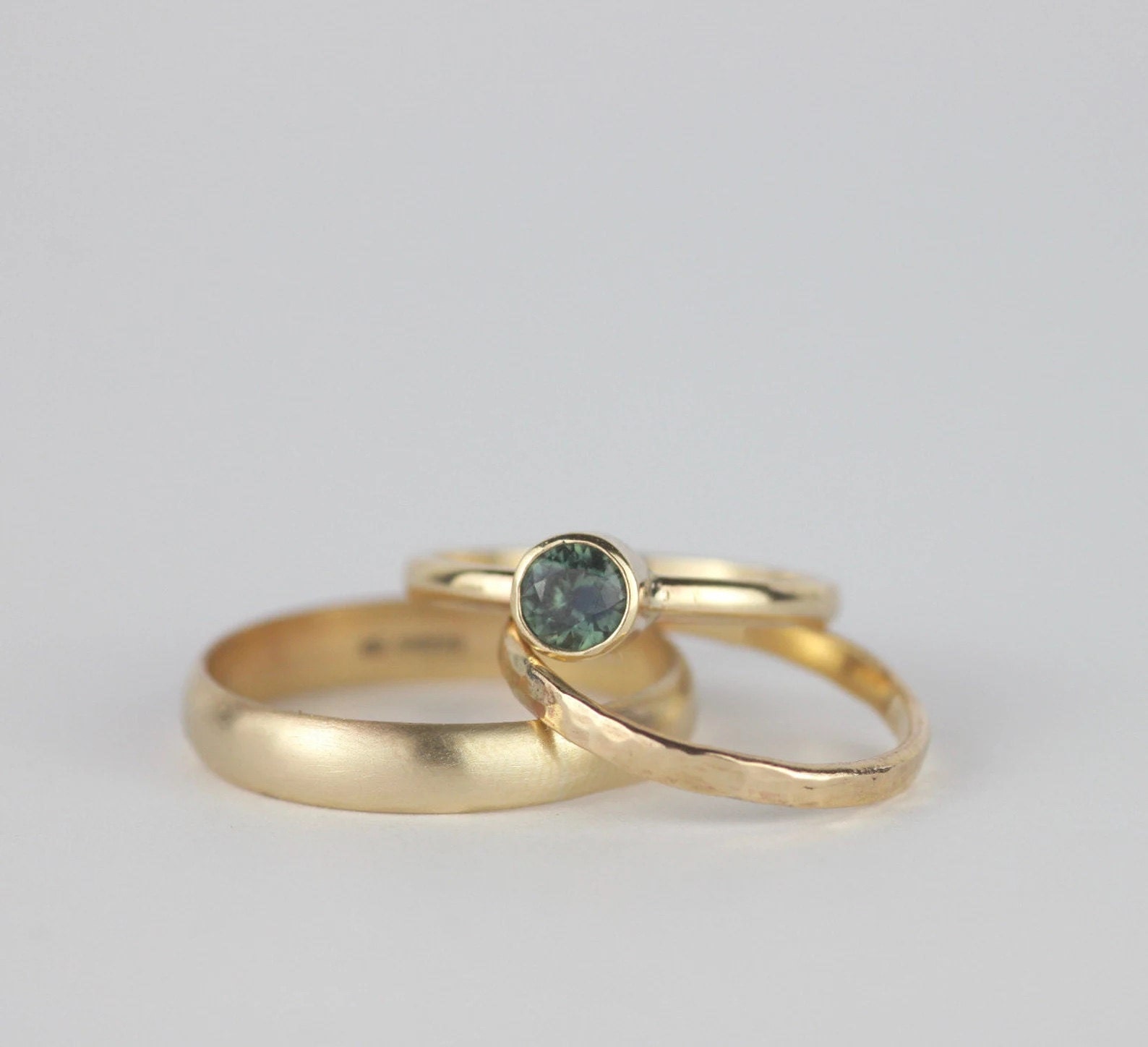 SHOP: Minimalist sapphire engagement ring from Marcia Vidal Jewellery, from $591
A simple yet stunning twist on a classic, minimalist engagement ring, this handcrafted engagement ring flaunts September's birthstone, sapphire.
Vintage-style engagement rings
Vintage engagement rings can be ornate or understated, but they are always unique and always come with a story. These vintage-style engagement rings sparkle with the aesthetics of decades past, making them a timeless choice for any engagement.
5. A kite diamond engagement ring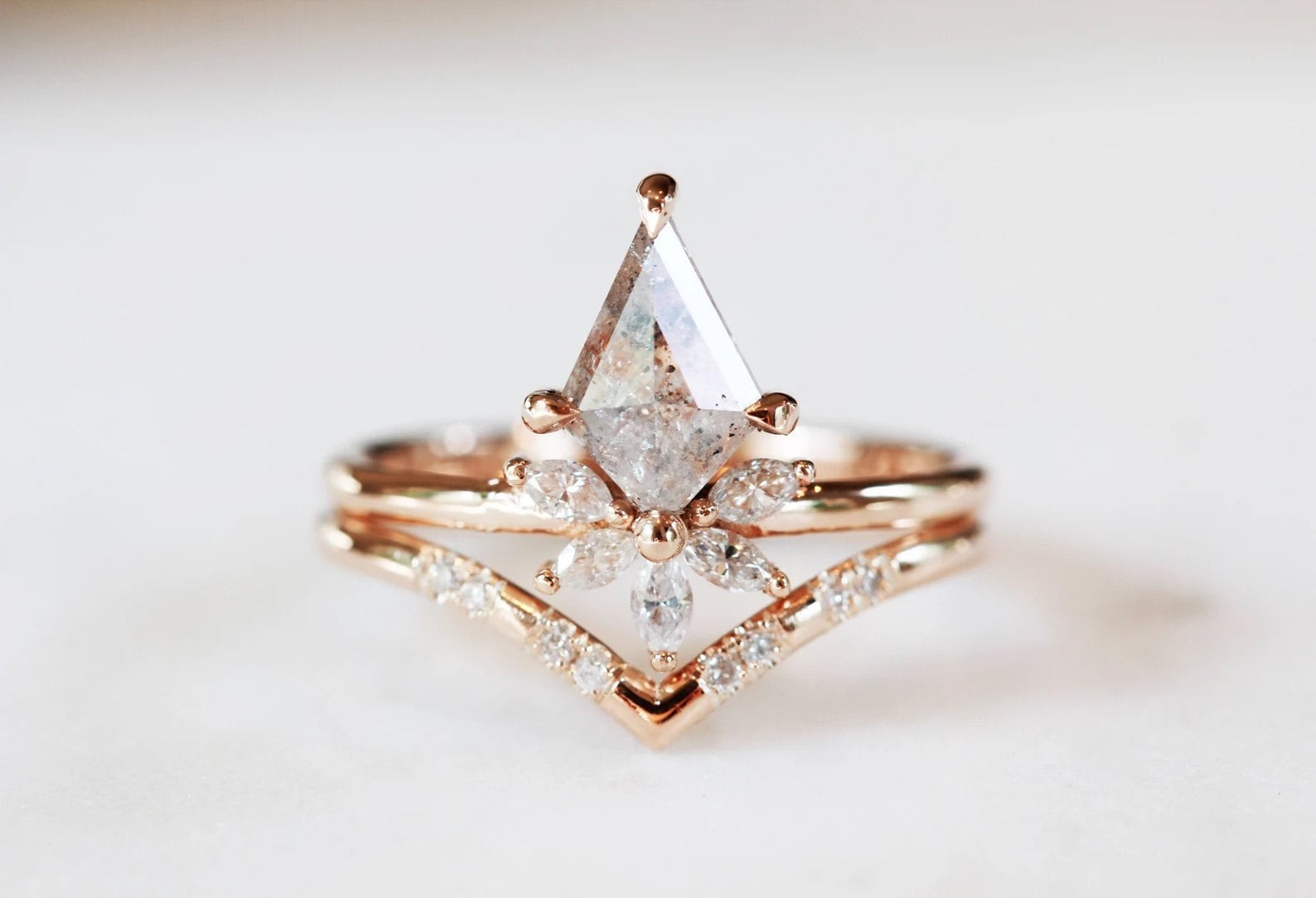 SHOP: Salt and pepper kite diamond engagement ring from Hiddenspace Jewelry, from $3,100
This salt and pepper diamond is hand-picked and set by the Etsy seller, making it truly one-of-a-kind. Bonus: You can have a matching wedding band added to your order for a pretty, vintage-inspired bridal set.
6. A modern claddagh ring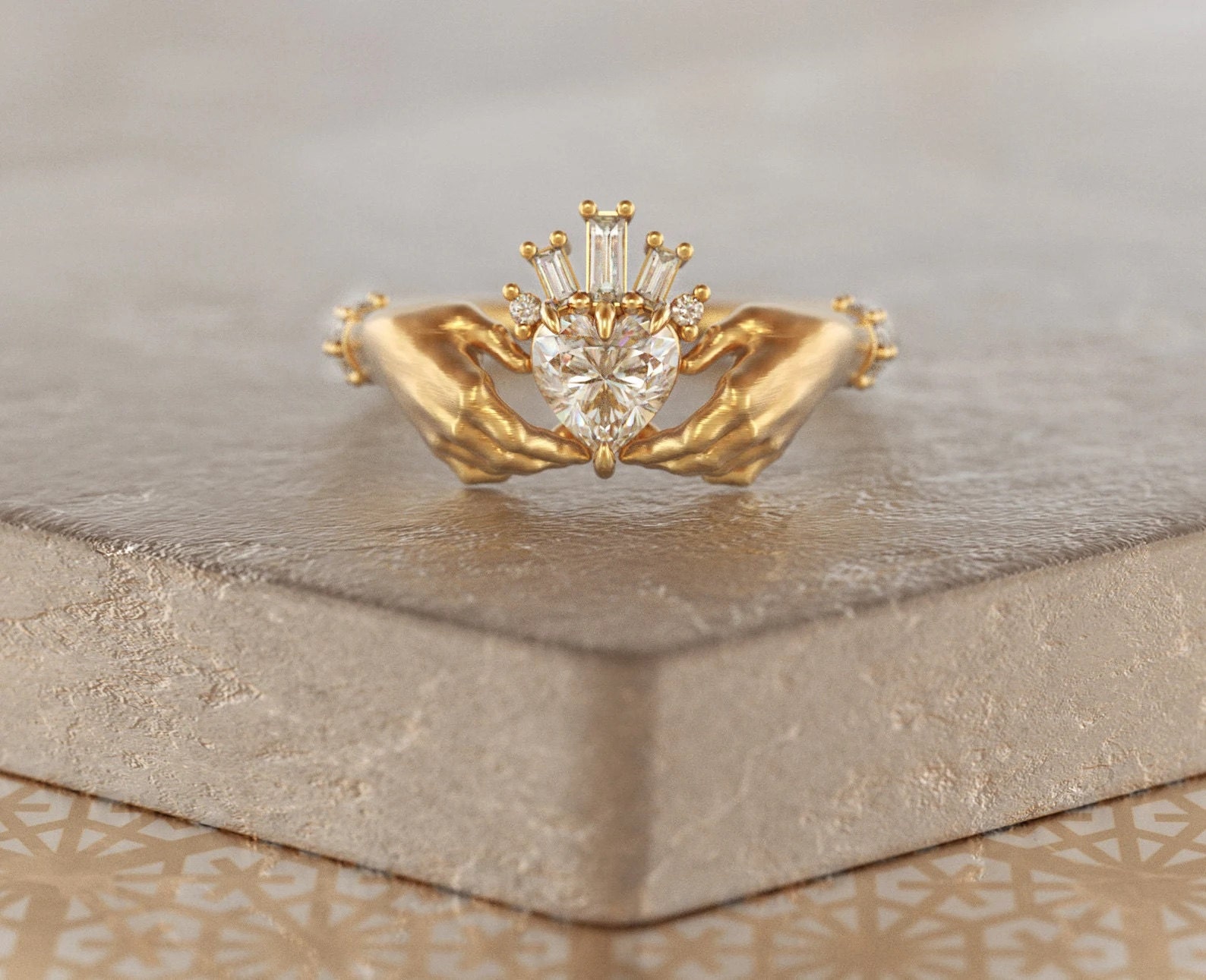 SHOP: Gold claddagh engagement ring from OOZA Jewelry, from $1,200
A traditional Irish design, the claddagh ring is imbued with symbolism: The hands represent friendship, the heart is true love, and the crown symbolizes loyalty—all foundations of a strong marriage. This modern take on the claddagh features a moissanite heart and baguette diamond crown, so this ring has sparkle and soul.
7. A teal sapphire engagement ring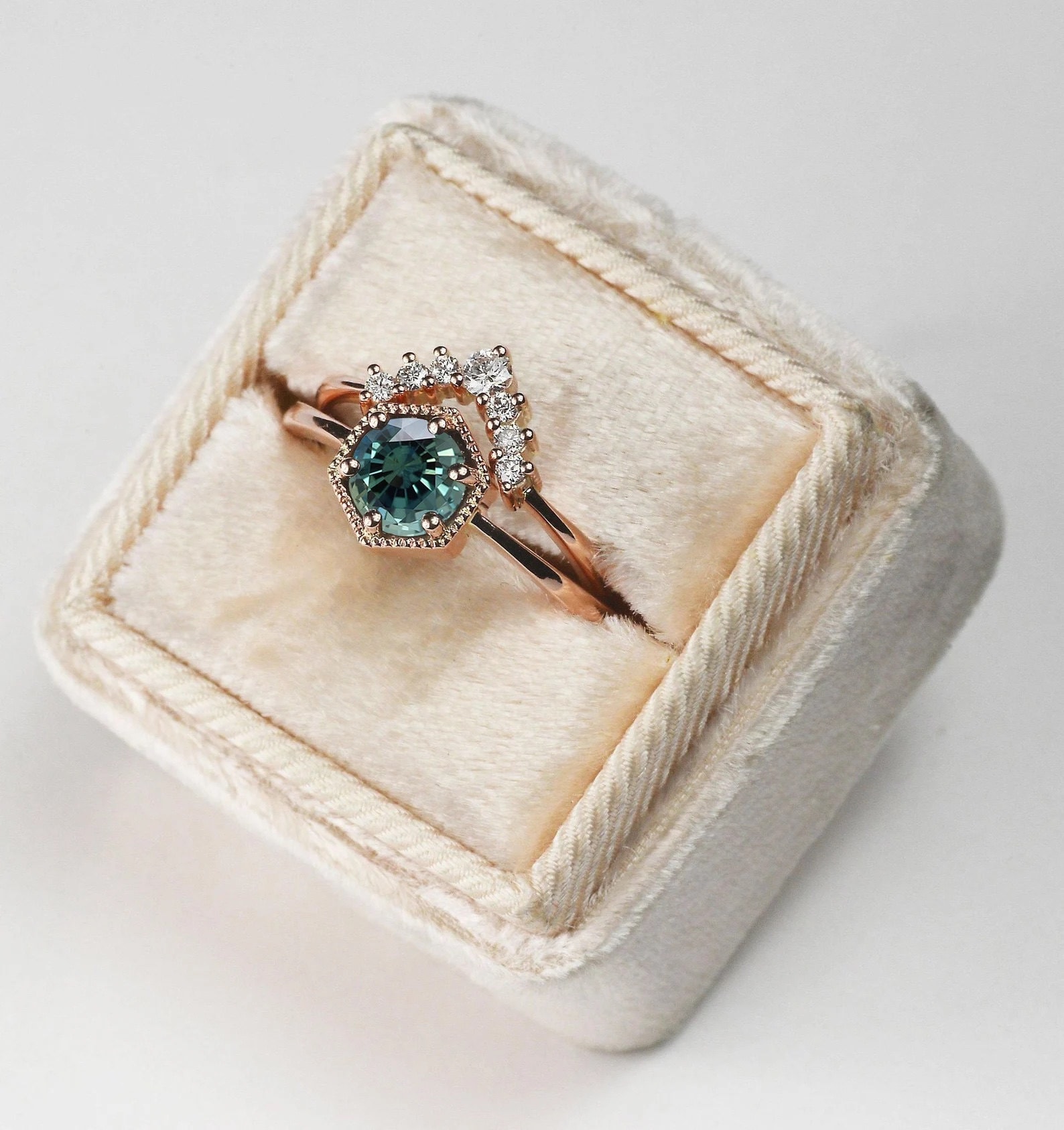 SHOP: Teal sapphire engagement ring with diamond wedding band from Diorah Jewellery, from $1,735
Sapphire engagement rings became much more popular since Kate Middleton donned one that belonged to the late Princess Diana, and this gorgeous teal sapphire engagement ring is worthy of royalty.
8. A three-stone engagement ring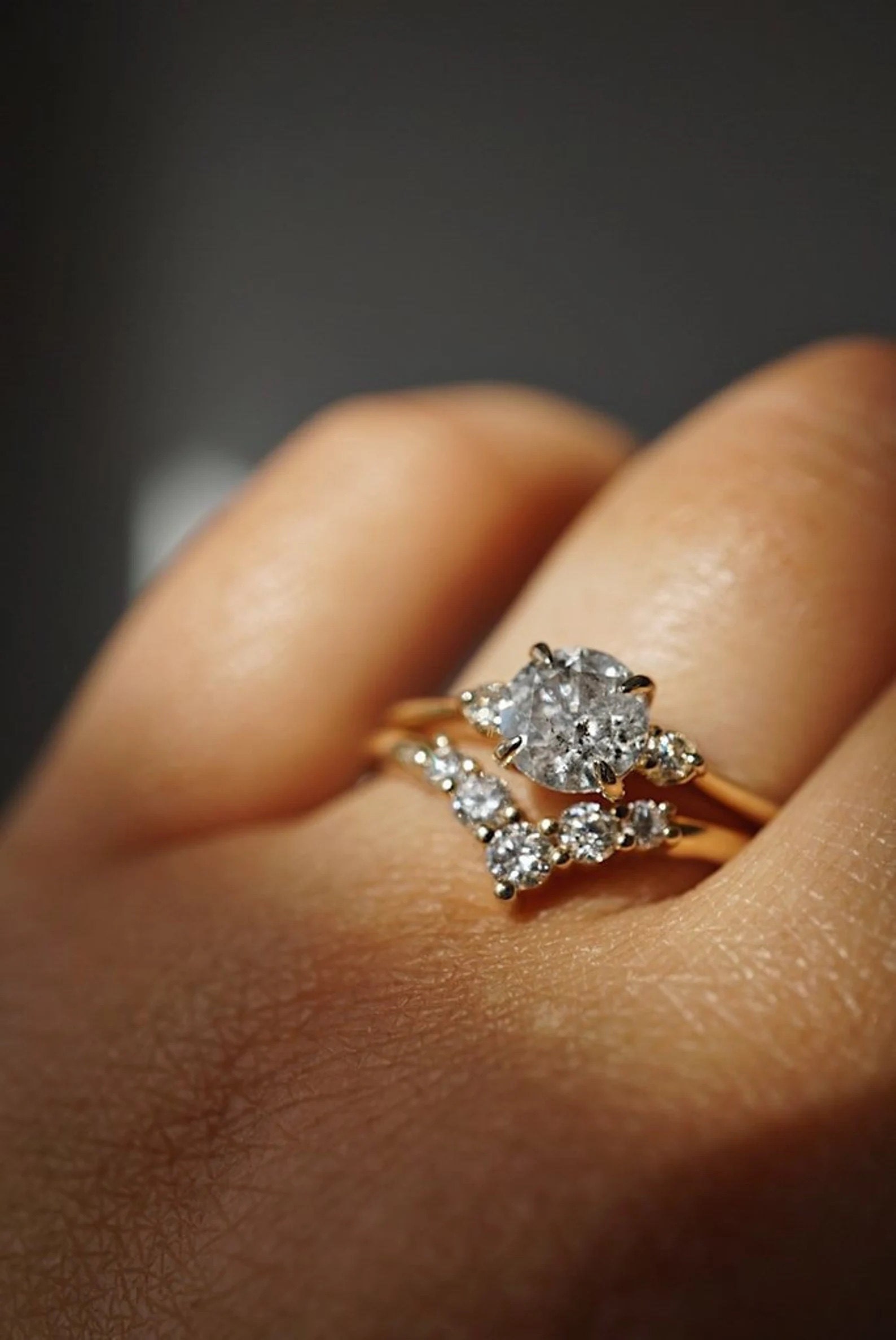 SHOP: Three-stone companions ring from Foe & Dear, $3,060
Featuring a delicate band made from recycled gold and a trio of salt and pepper diamonds, this three-stone engagement ring's beauty makes for an instant heirloom.
Yellow gold engagement rings
Wondering what to look for when shopping for an engagement ring? You want elegance and beauty, of course, but you also want to pick the best engagement ring to make your loved one feel oh-so-special as they wear it every day. Many modern couples choose yellow gold engagement rings because of their classic, timeless style.
9. A natural emerald engagement ring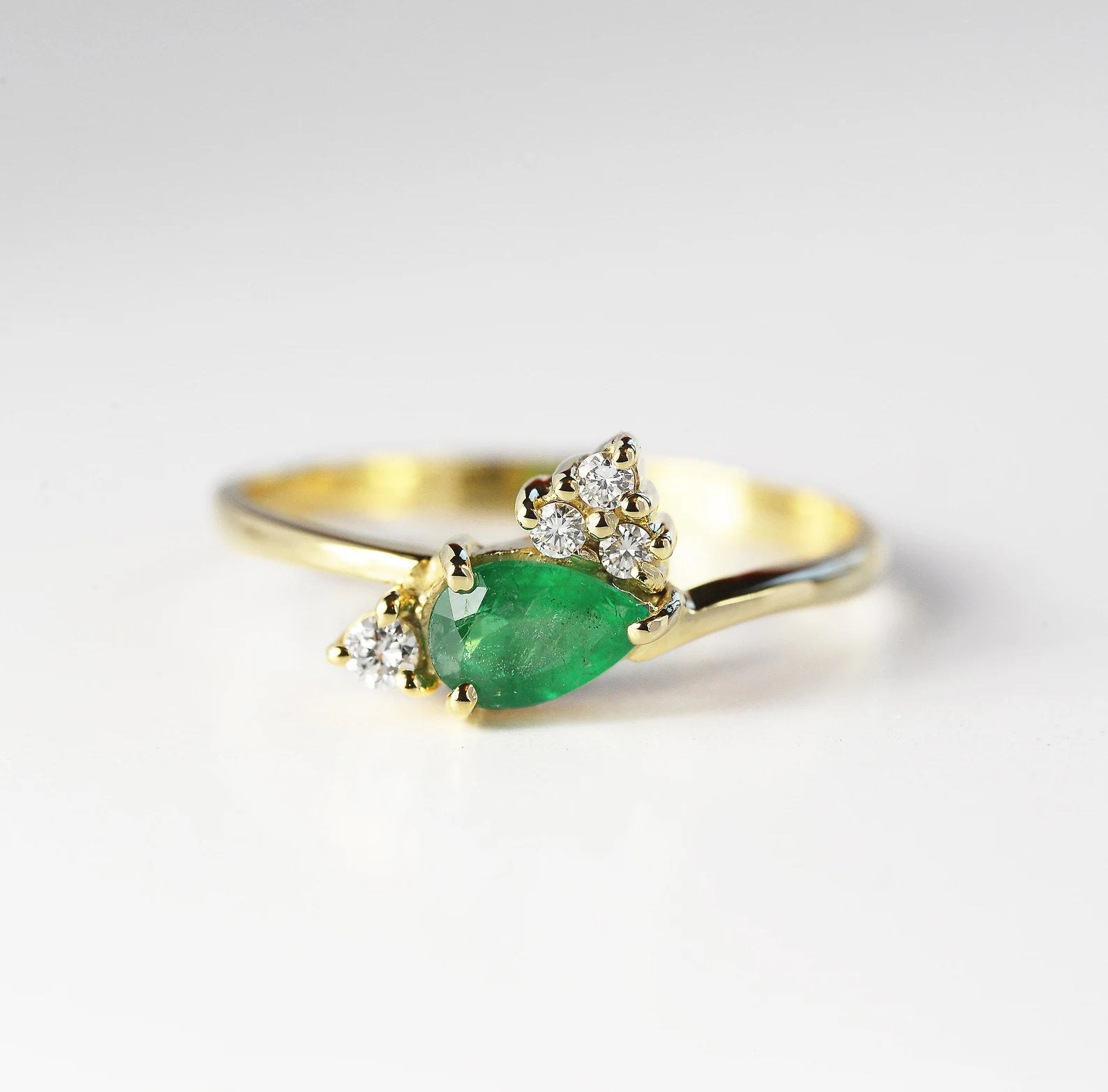 SHOP: Teardrop-shaped emerald and diamond engagement ring from Diorah Jewellery, from $657
The storied gemstone of the goddess Venus, emerald is considered a symbol of love and truth. With its thin gold band and teardrop-shaped gemstone, this emerald engagement ring proves your love was written in the stars.
10. A rose-cut diamond yellow gold engagement ring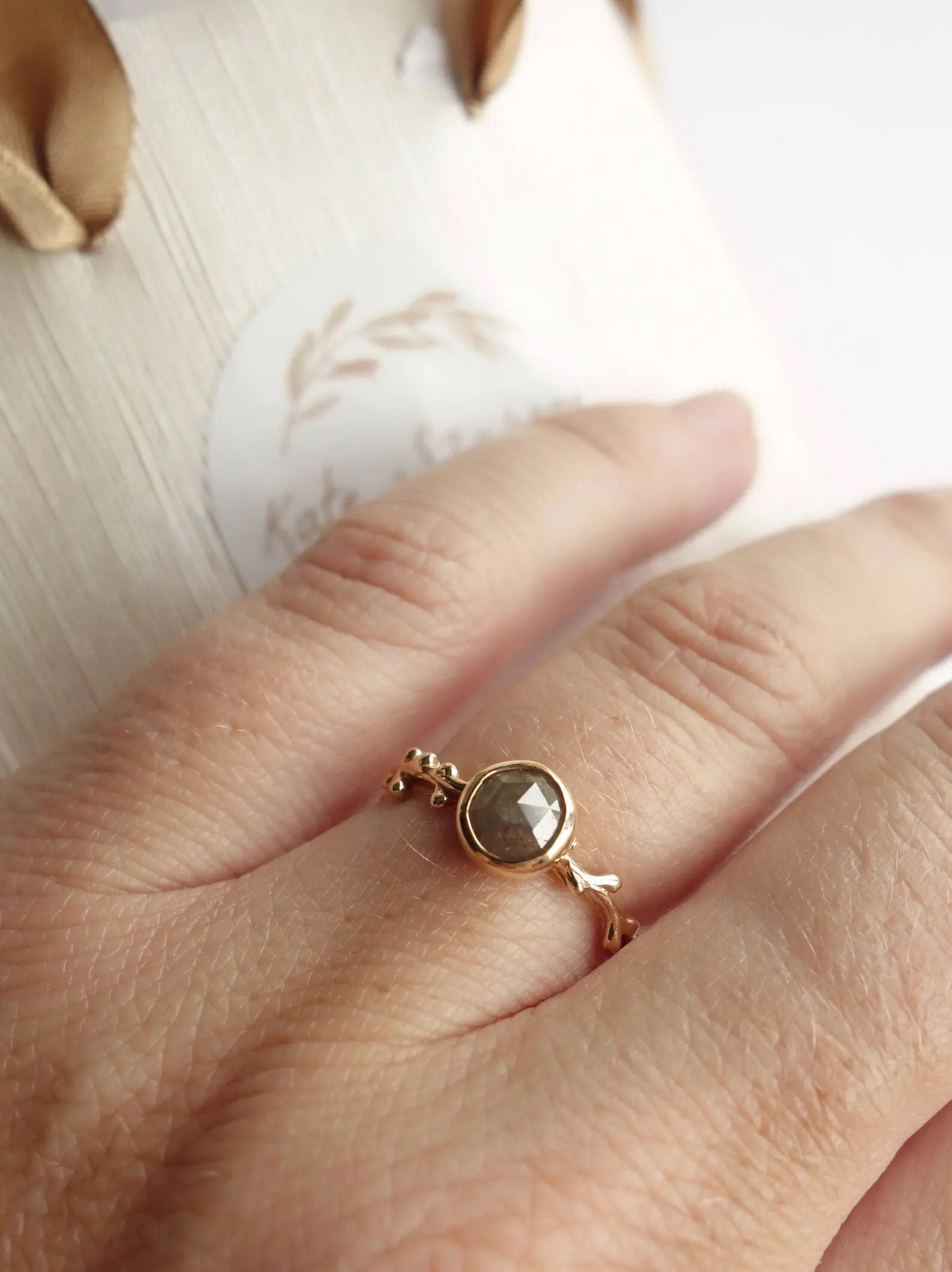 SHOP: Opaque rose-cut diamond engagement ring from Kate Szabone Jewellery, $750
A unique take on the classic diamond ring, this engagement ring features an opaque, slightly gray-green colored diamond, making it an unexpected and earthy choice for your loved one's ring finger.
11. A minimalist moonstone engagement ring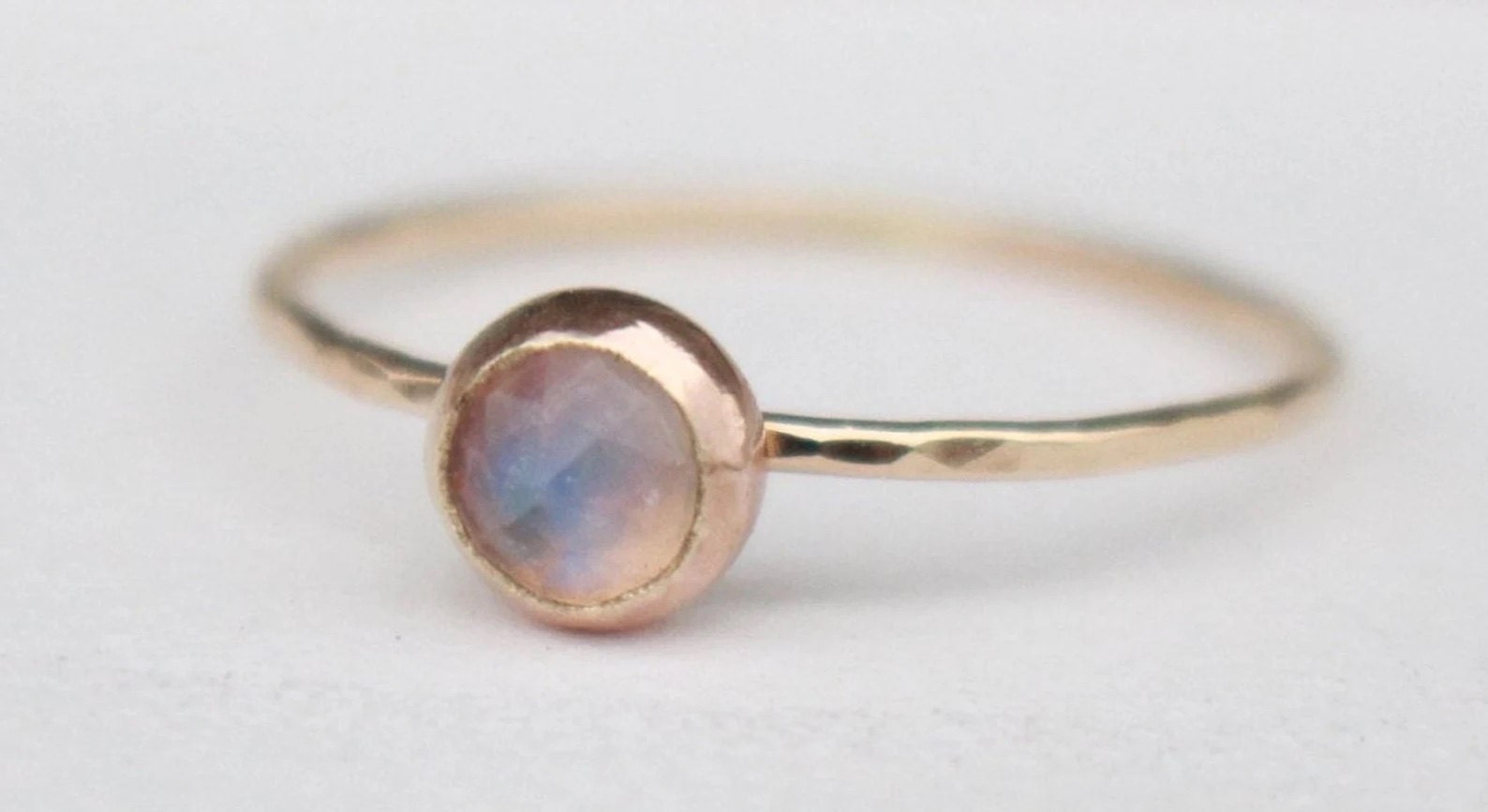 SHOP: Moonstone and yellow gold engagement ring from Ana Kroll jewelry, $217
Symbolizing inner clarity and intuition, moonstone is a perfect gem for a soulmate who always trusts their instincts (they chose you, after all!). Its yellow gold band and simple design places all the focus on soulful stone.
Non-traditional engagement rings
Whether you have a storybook love or have hit those relationship milestones your way, there's no love quite like yours. So if a traditional solitaire diamond ring doesn't quite feel like you, buck tradition with these unique picks made just for you.
12. An earthy engagement ring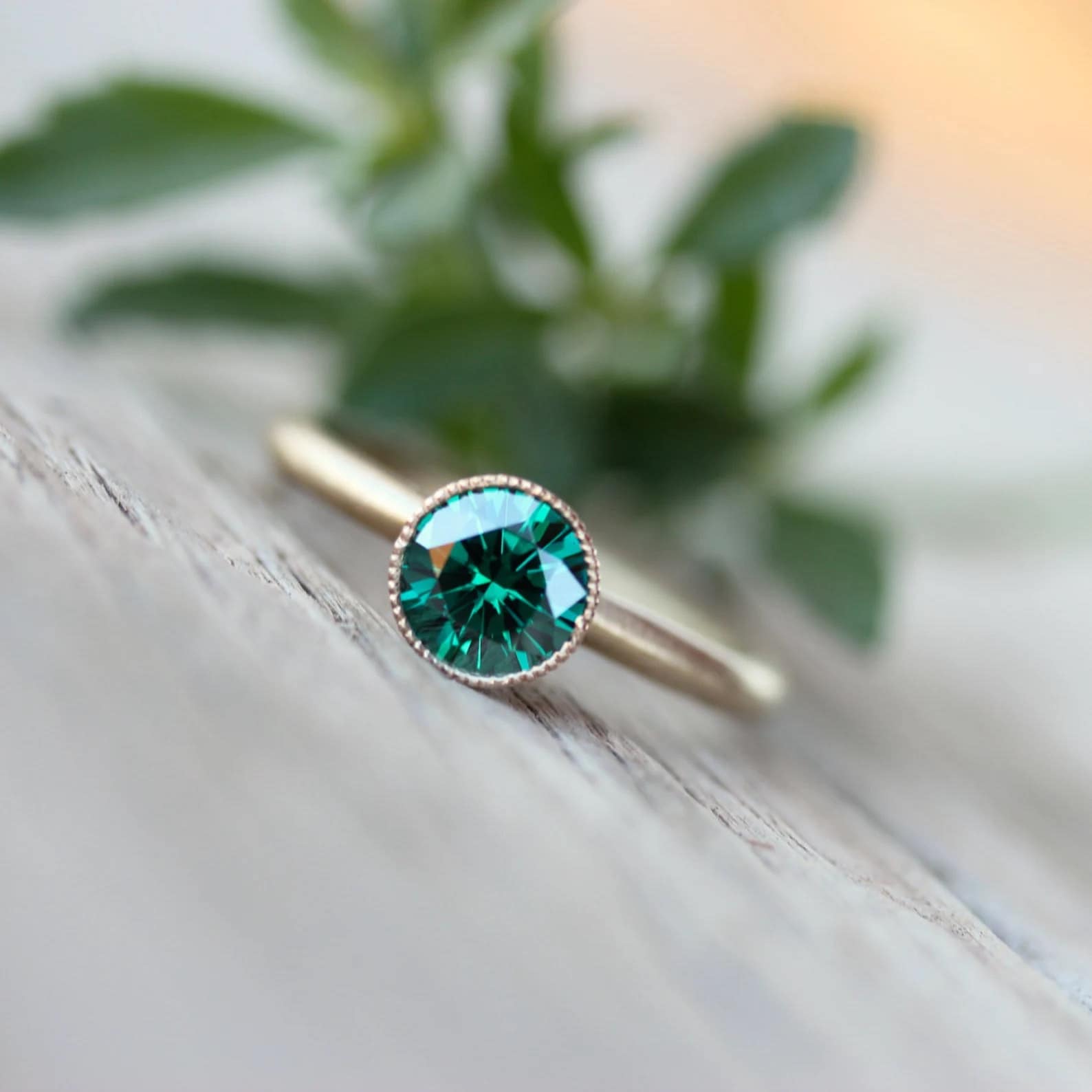 SHOP: Emerald green engagement ring from Nangijala Jewelry, $1,028
Both modern and woodsy, this ​​non-traditional engagement ring spotlights emerald green moissanite set in a solid 14k yellow gold setting.
13. A neutral-toned cluster engagement ring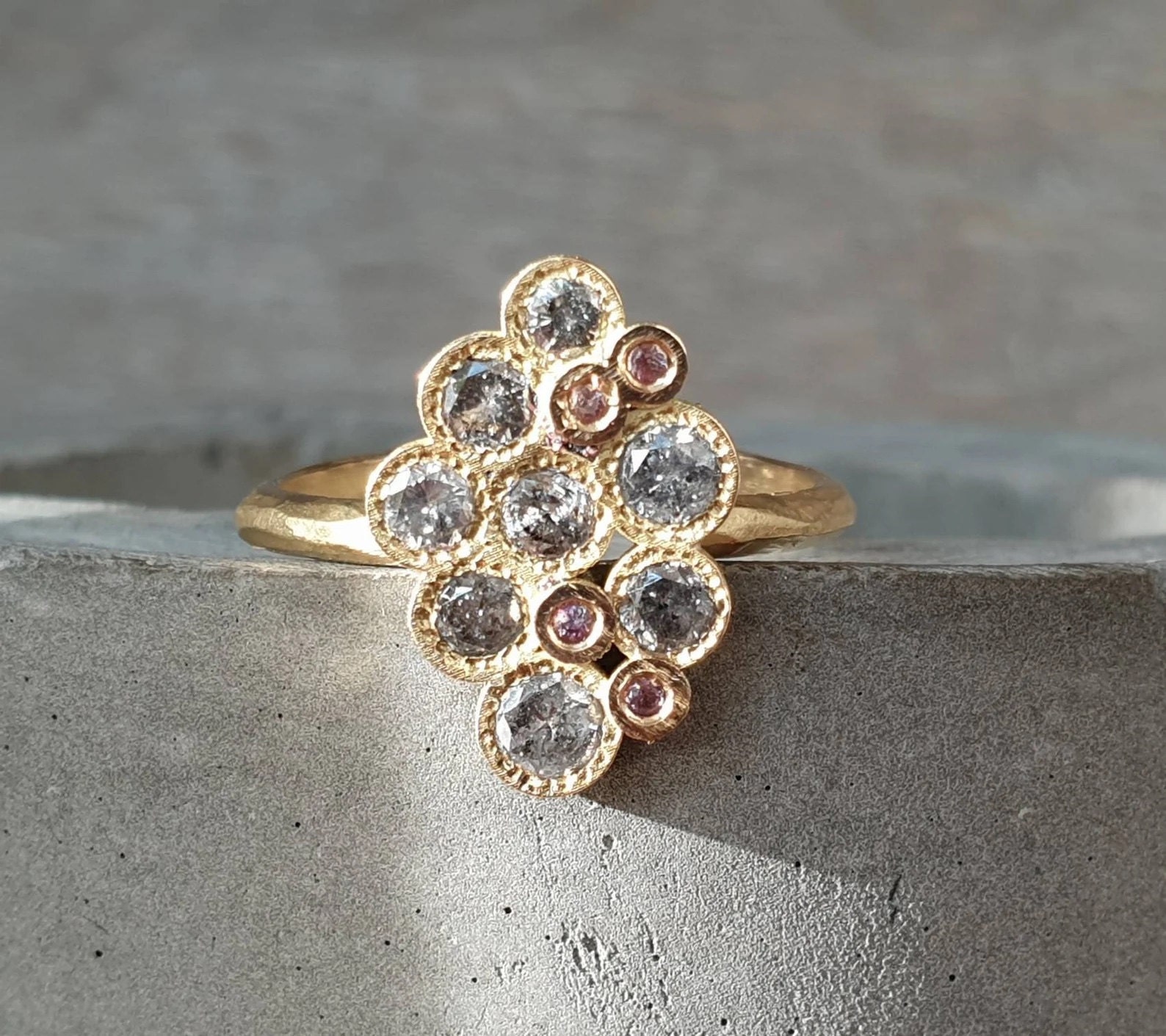 SHOP: Salt and pepper diamond and pink sapphire engagement ring CJ bijoux, $1,460
This cluster ring has it all: It's both sophisticated and playful, offers traditional, neutral-colored diamonds mixed with pink sapphire accent stones, and is a statement piece worthy of any engagement.
14. Best raw diamond engagement ring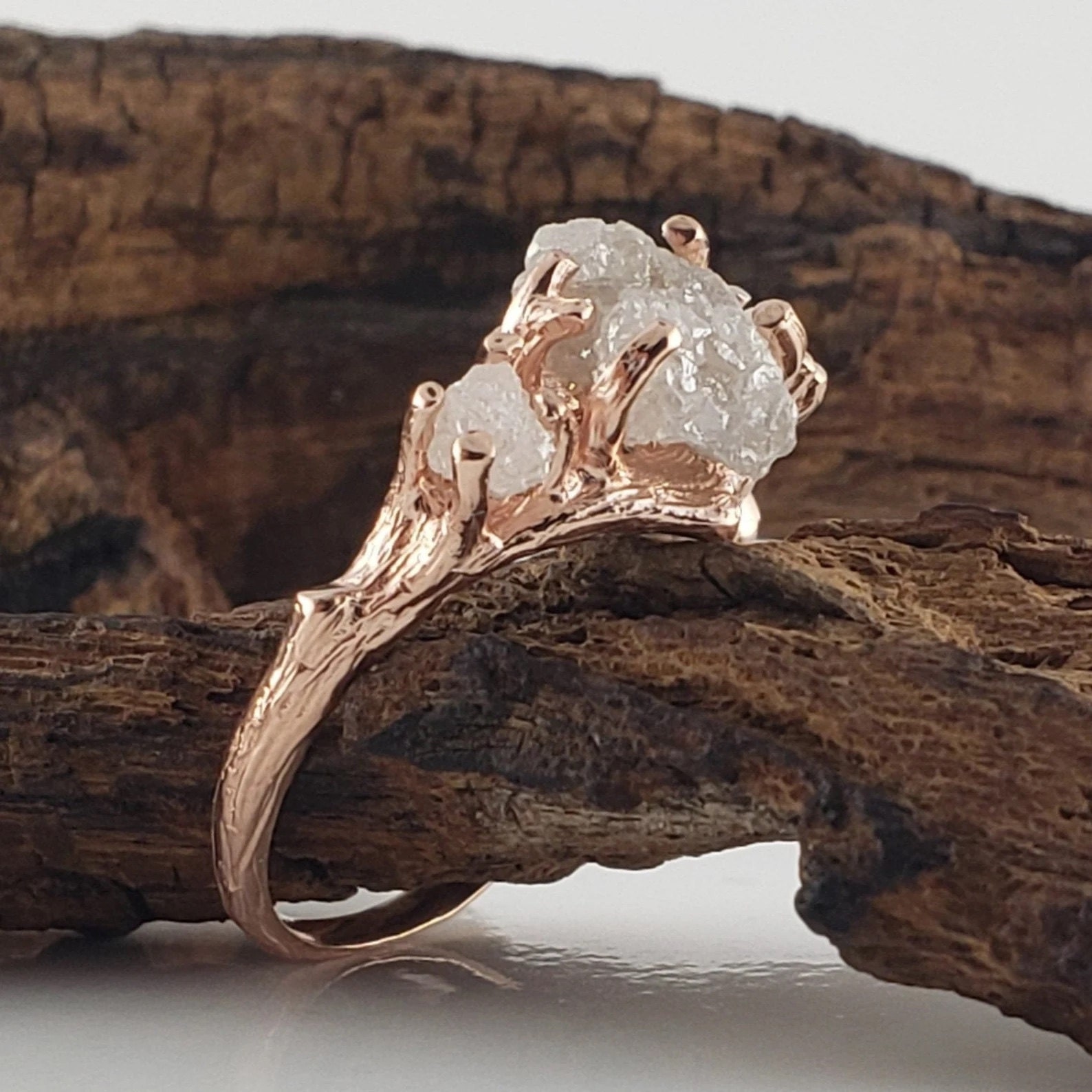 SHOP: Rough diamond engagement ring with twig banding from Dawn Vertrees Jewelry, from $1,680
The cut of a diamond can catch light just-so, but raw diamonds have a texture and intrigue that makes for an unexpected, non-traditional engagement ring. This rose gold engagement ring lets the natural beauty of its rough-cut diamonds do all the talking.
15. A blue opal engagement ring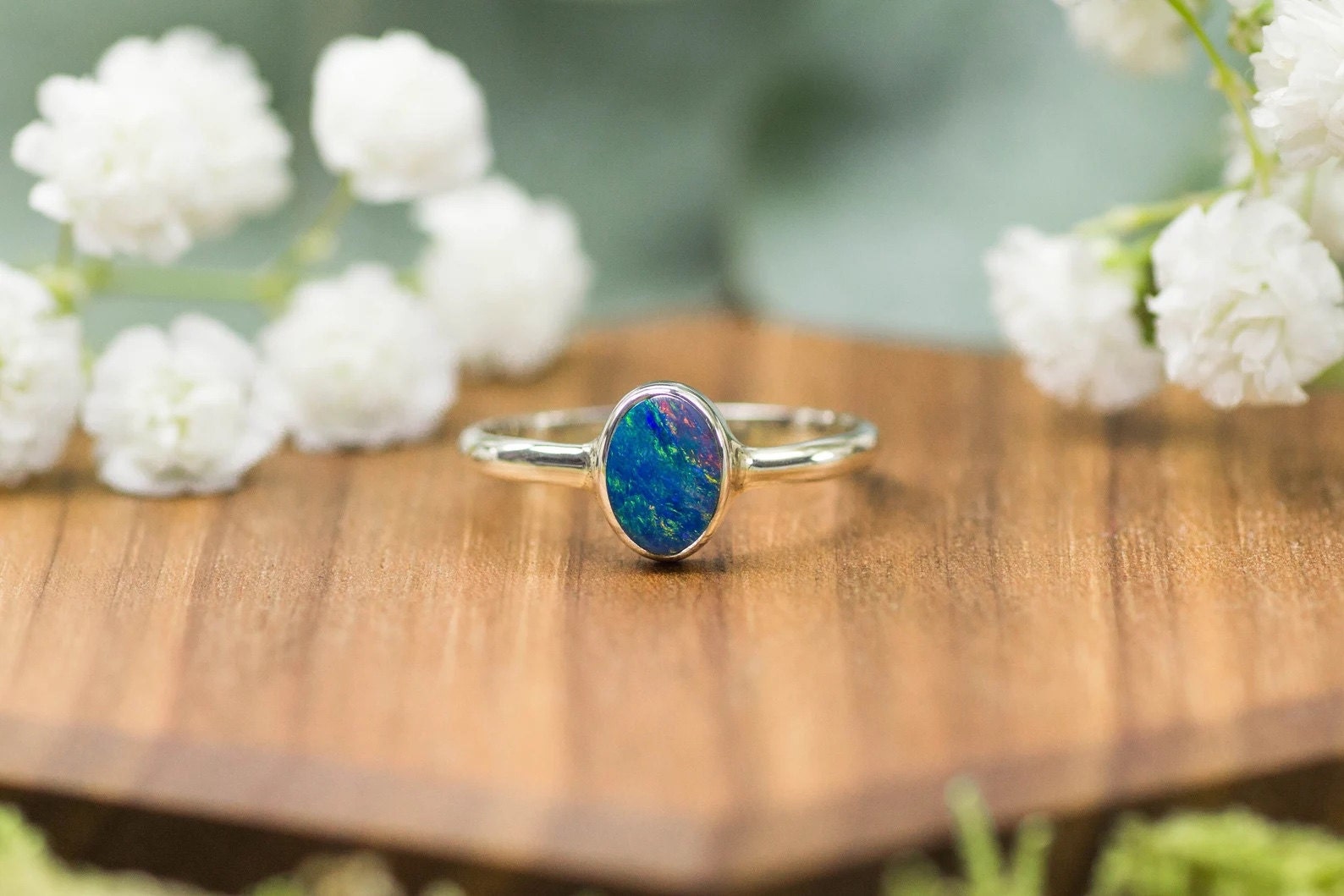 SHOP: Blue opal and sterling silver engagement ring from Spirit Of Island, from $200
October's birthstone is a shimmery gem with an ethereal iridescence. This true blue beauty refracts a whole rainbow of color and is set in a sterling silver band.
16. A nature-inspired moissanite engagement ring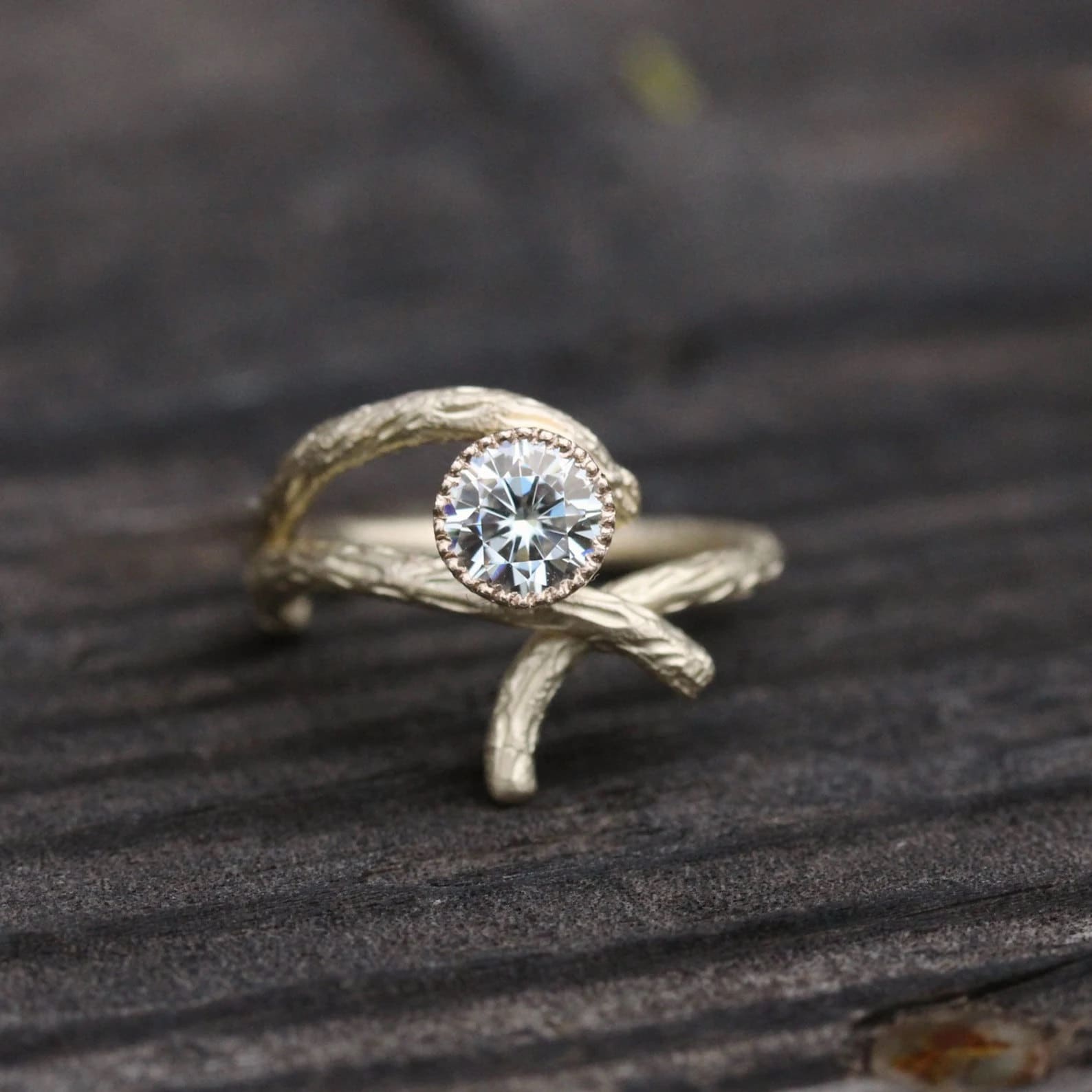 SHOP: Gold branch moissanite engagement ring from Nangijala Jewelry, from $1,270
The centerpiece stone always gets all the oohs and ahhs, but this engagement ring has a cleverly designed twig-like band that can get compliments on its own. With its twig-like texture and organic wrapping style, this moissanite engagement ring is a natural show-stopper.
Oval-cut engagement rings
The oval stone shape signifies family, tradition, and individuality, so if those characteristics describe your loved one, consider an unexpected take on the circular diamond engagement ring with these oval-cut picks.
17. An oval-cut engagement ring with diamond banding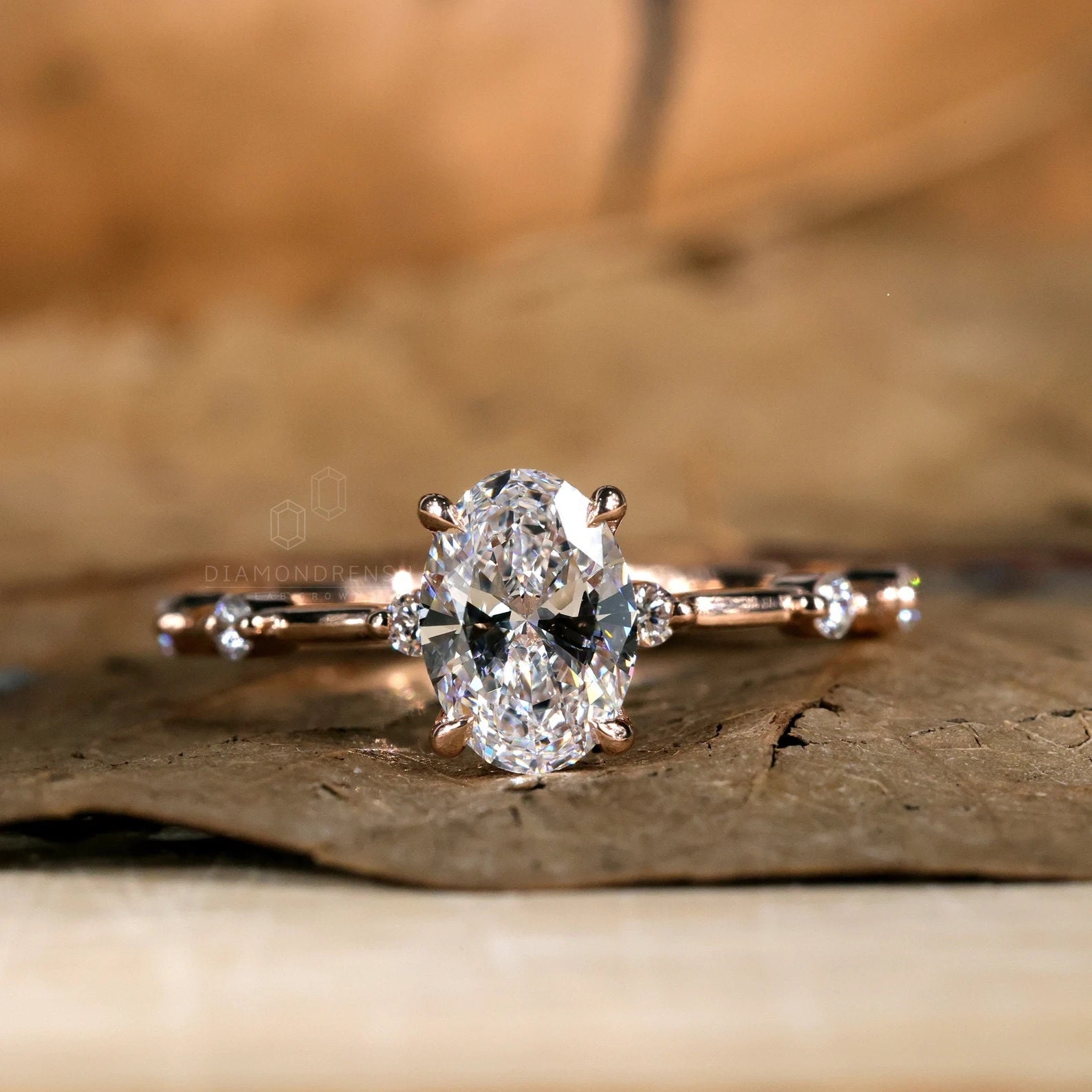 SHOP: Oval engagement ring with diamond banding from Diamondrensu Lab grown, from $1,450
This oval cut engagement ring's unique design includes tiny diamonds set on the outer edges of the gold or platinum band for extra wow-factor.
18. An oval salt and pepper diamond ring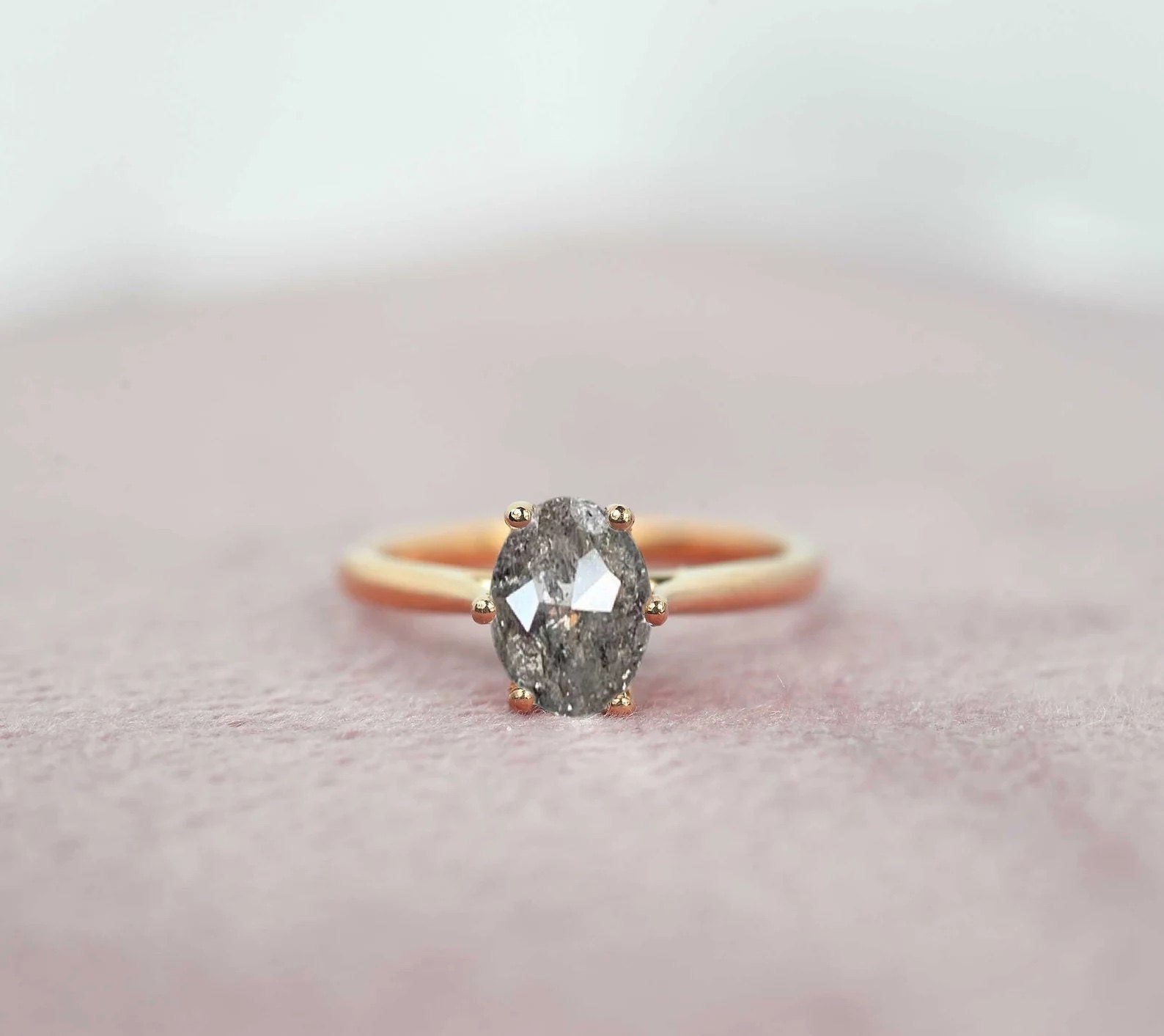 SHOP: Salt and pepper oval diamond ring from Diorah Jewellery, from $1,380
The super-chic simplicity of this oval engagement ring leaves the beauty of the salt and pepper diamond to take center stage—talk about a minimalist marvel!
19. An oval alexandrite engagement ring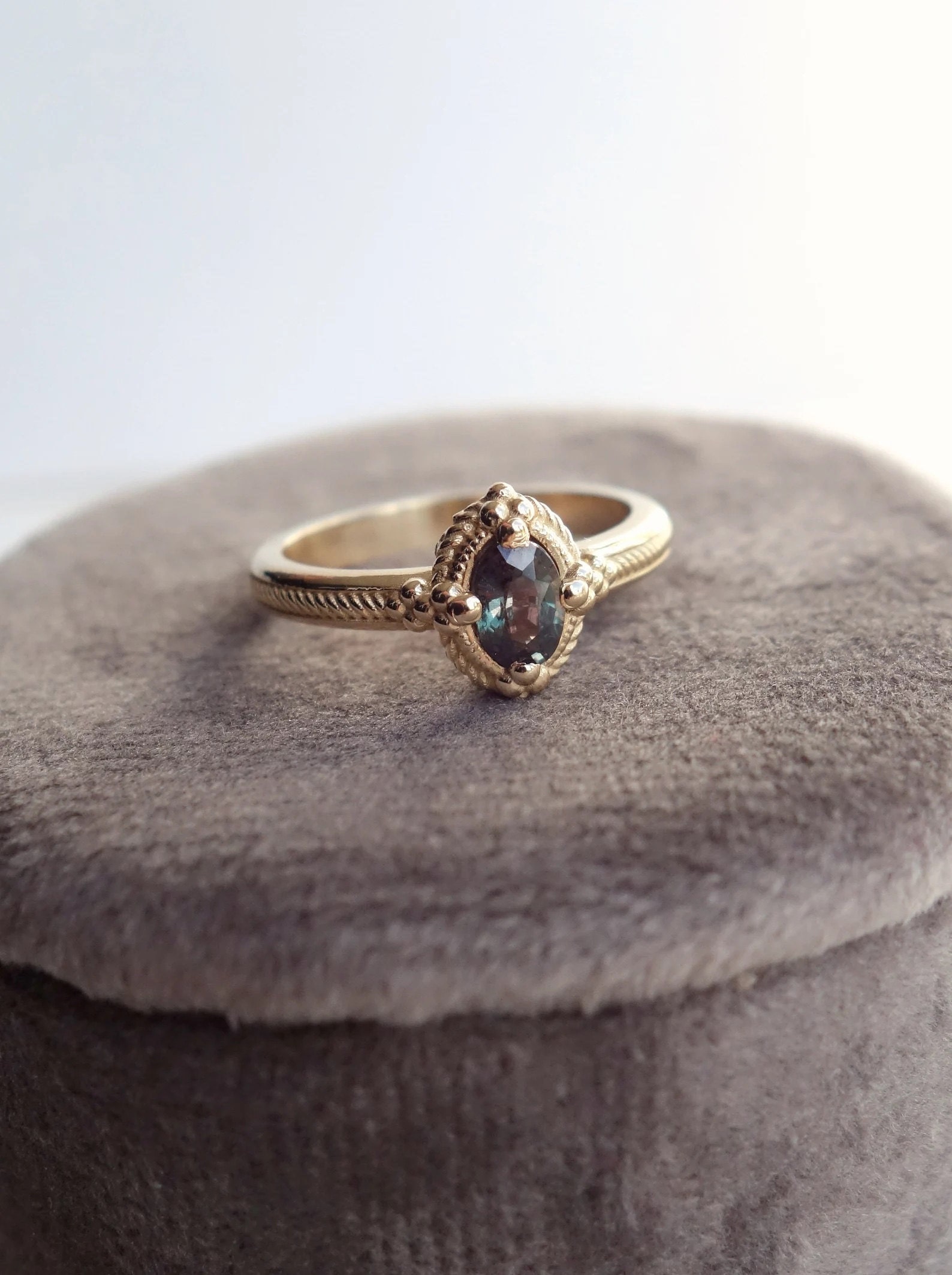 SHOP: Teardrop-shaped alexandrite engagement ring from Kate Szabone Jewellery, $1,495
A mesmerizing, color-changing gemstone, alexandrite will captivate your loved one with its kaleidoscopic qualities. With the beauty of the gem and its intricately detailed setting, you'll be admiring this oval engagement ring for years to come.
20. An oval aquamarine engagement ring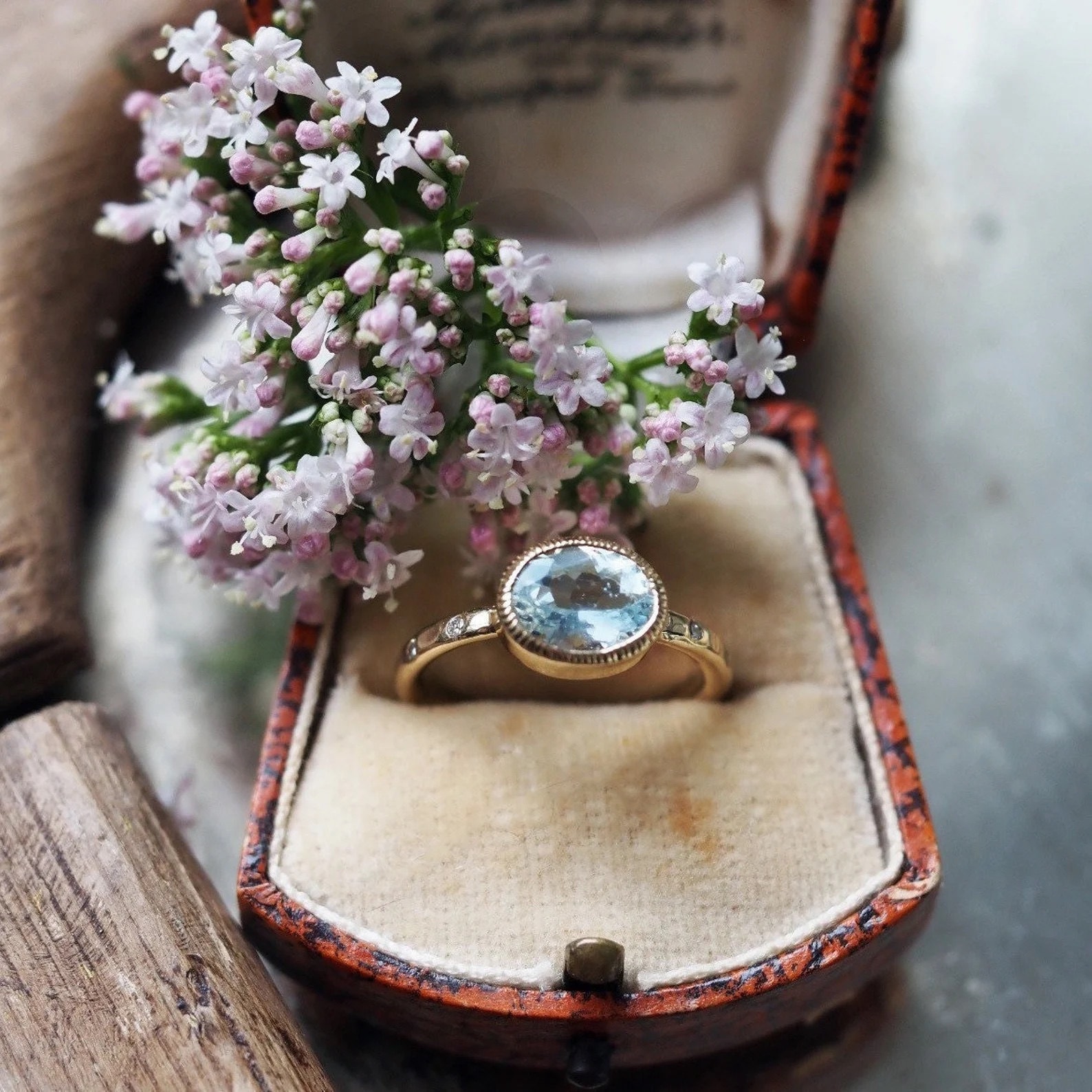 SHOP: Natural aquamarine diamond engagement ring from Amulette Boutique, from $1,170
This aquamarine and diamond ring has tiny hand-stamped lines around the central stone to create a lived-in texture, and the sideways oval shape is an unexpected take on your standard engagement ring.
Minimalist engagement rings
Maybe you and your partner don't want the razzle-dazzle that comes with the more decadent engagement rings. These modern, minimalist picks are both elegant and understated—proving sometimes less really is more.
21. A platinum emerald-cut diamond engagement ring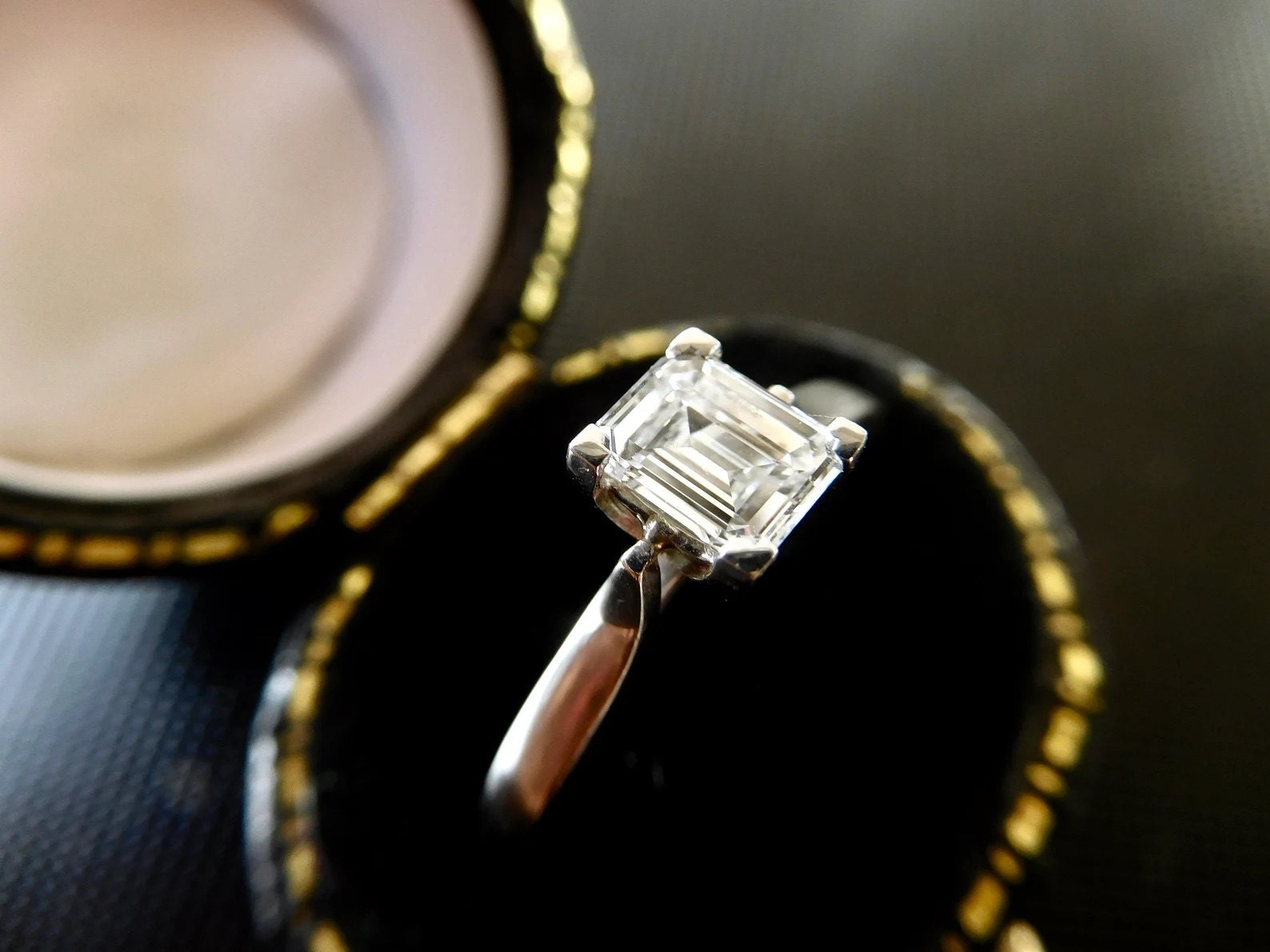 SHOP: Emerald-cut diamond engagement ring from Elize Jewellery, $2,773
For a sleek and sophisticated look, this emerald-cut diamond's square shape refracts the light and adds a geometric element to your fiancé's aesthetic.
22. A minimalist solitaire engagement ring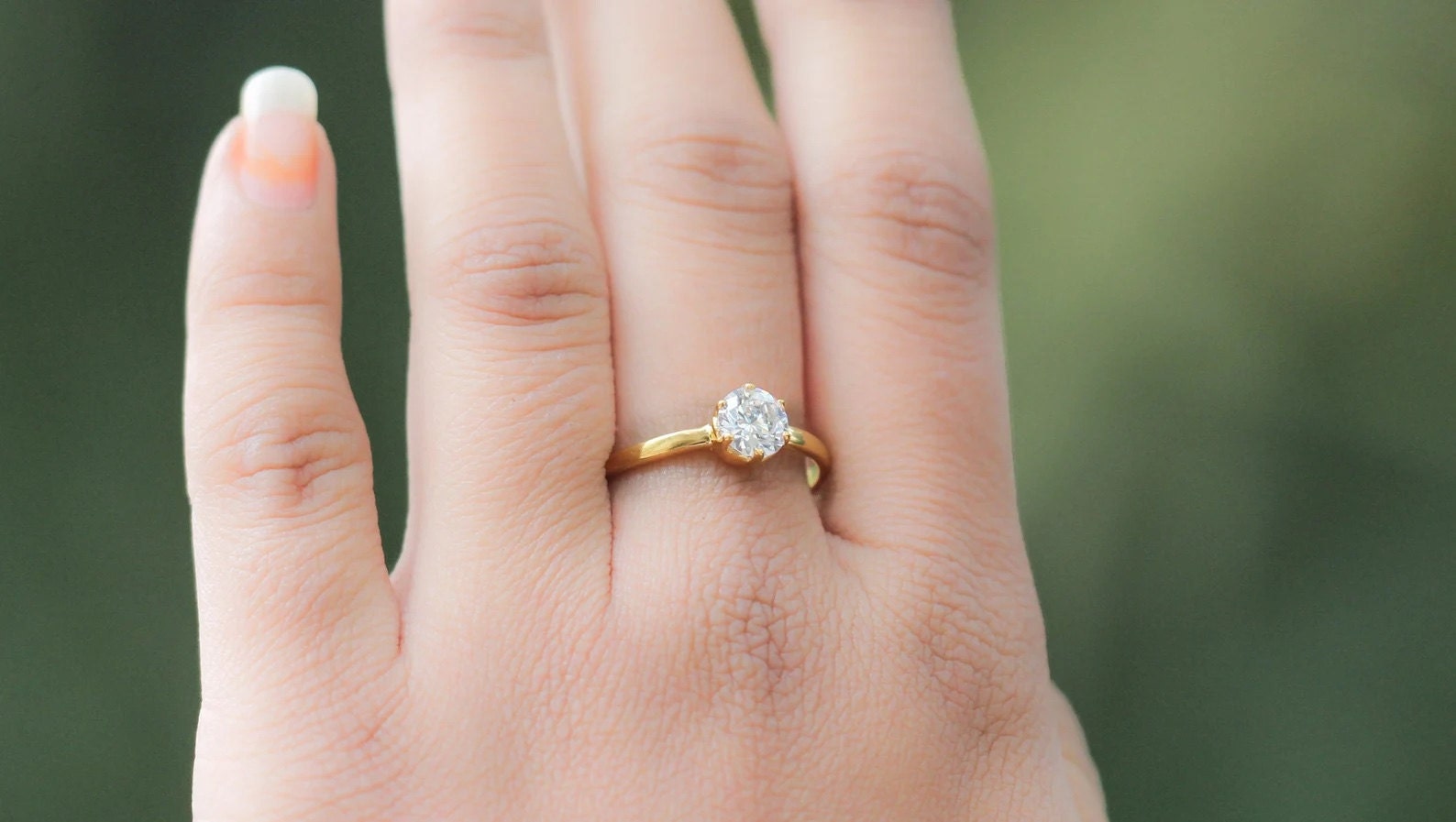 SHOP: Minimalist zircon stone engagement ring from Minimal Marvels, $69
This dainty engagement ring is a classic look that any spouse-to-be would love. The best part? This minimalist engagement ring is easily stackable, so choosing a wedding band should be a breeze.
23. A star-studded minimalist engagement band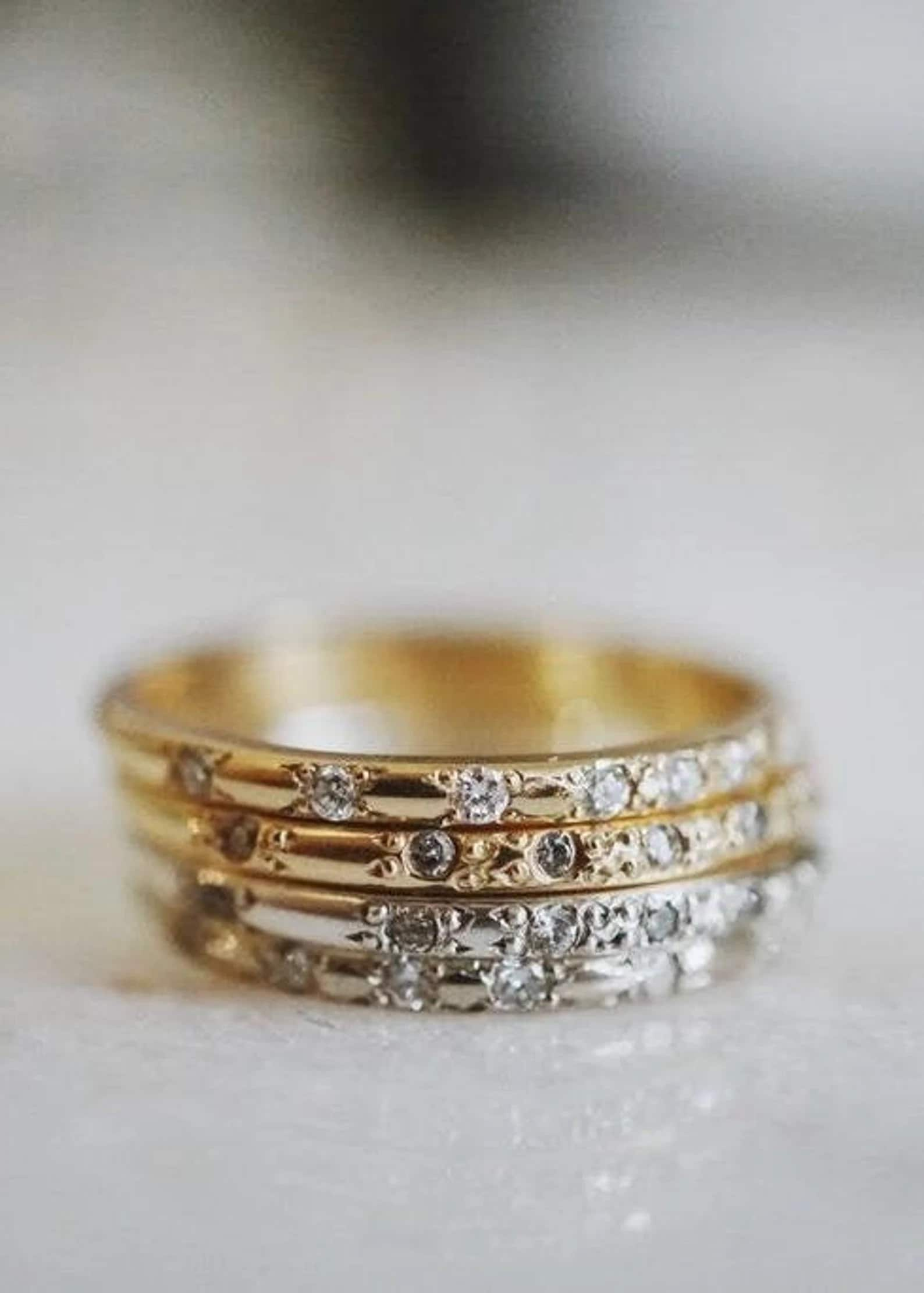 SHOP: Diamond-encrusted engagement band from Foe & Dear, from $424
For those looking for a lot of sparkle without a giant gemstone, this celestial-inspired engagement band twinkles like the clear night sky in the summertime.
24. A baguette engagement ring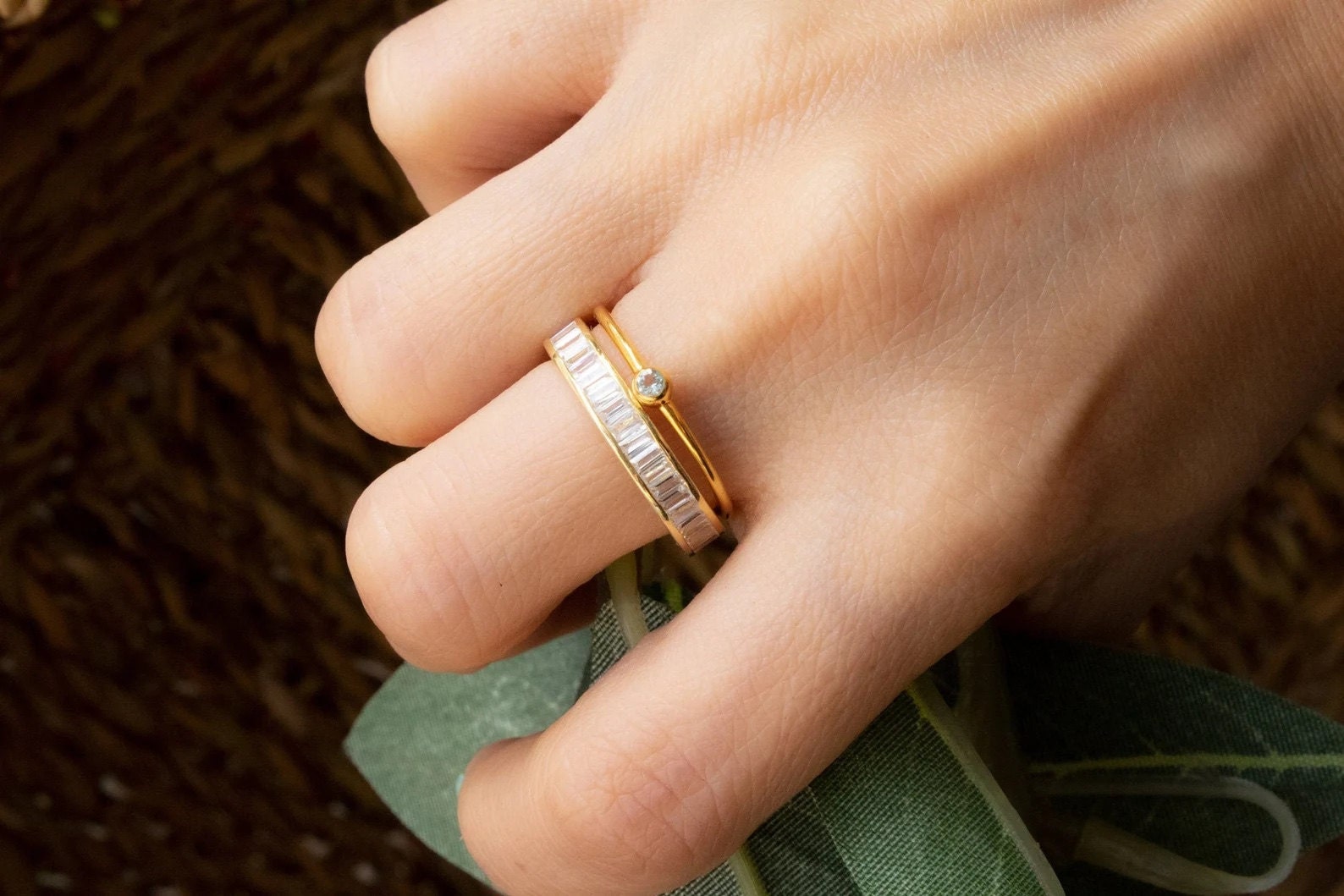 SHOP: Baguette eternity stacking ring from Minimal Marvels, $63
Don't call it a comeback! The baguette diamond ring was first introduced in the roaring '20s for an Art Deco look, but this modern take on the baguette ring is a stunning stacking ring that will play nicely with your other jewelry.
25. A clear white sapphire engagement ring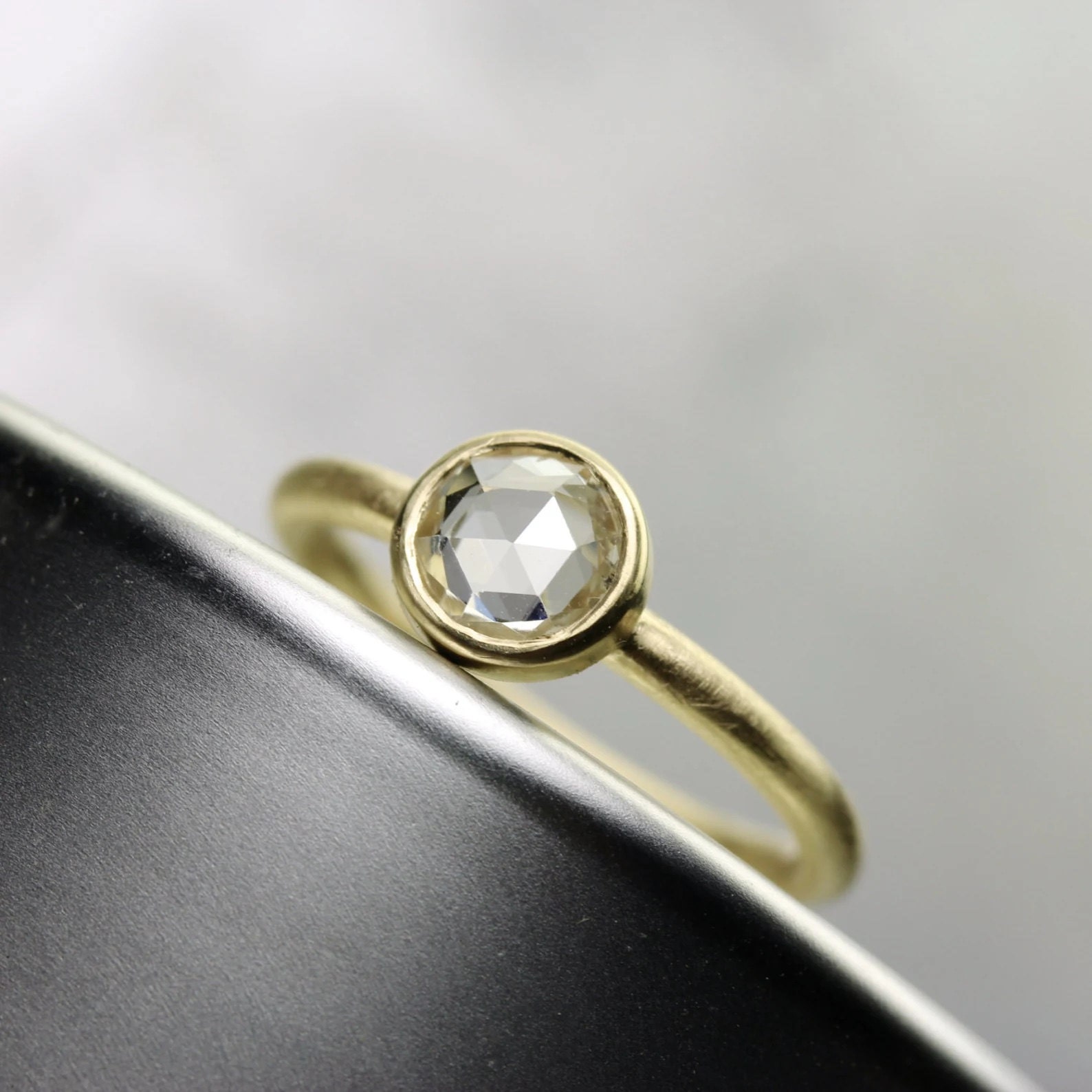 SHOP: Rose-cut sapphire engagement ring from Nangijala Jewelry, $1,350
With its simple-but-sunny golden band and circular setting, this rose-cut white sapphire engagement ring is a vision in bloom.
Best engagement ring FAQs
Shopping for the best engagement ring? Here are a few things to keep in mind before popping the question.
What are the best engagement rings?
Whether you're looking for a delicate diamond engagement ring or something a little different like a modern birthstone ring, the best engagement rings reflect your significant other's individual personality, style, and aesthetic. And just like the love you have for each other, the ring you choose should be one that will last for a lifetime!
Where are the best places to buy an engagement ring?
When you're shopping online for an engagement ring, look to the small shops on Etsy to find the widest range of styles and price points, from vintage pieces with a love story all their own to custom engagement rings designed especially for you. When you work with an Etsy shop to design an engagement ring—from the setting to the stones—you'll create an heirloom-worthy piece that perfectly expresses your unique love story.
How much should you spend on an engagement ring?
Engagement rings can be a big investment, so the most important thing is to find a ring you, and your beloved, will adore. Quality and distinctiveness are important qualities to consider when deciding how much to spend on an engagement ring. The common advice is that you spend a few month's salary on an engagement ring. If you're searching for a special engagement ring, the engagement rings from small shops on Etsy are lovingly crafted by real people with a passion for making unique engagement rings to fit any type of style, personality, and price point.