PSA: Not only are fanny packs back in fashion, they're super convenient and go with practically every outfit.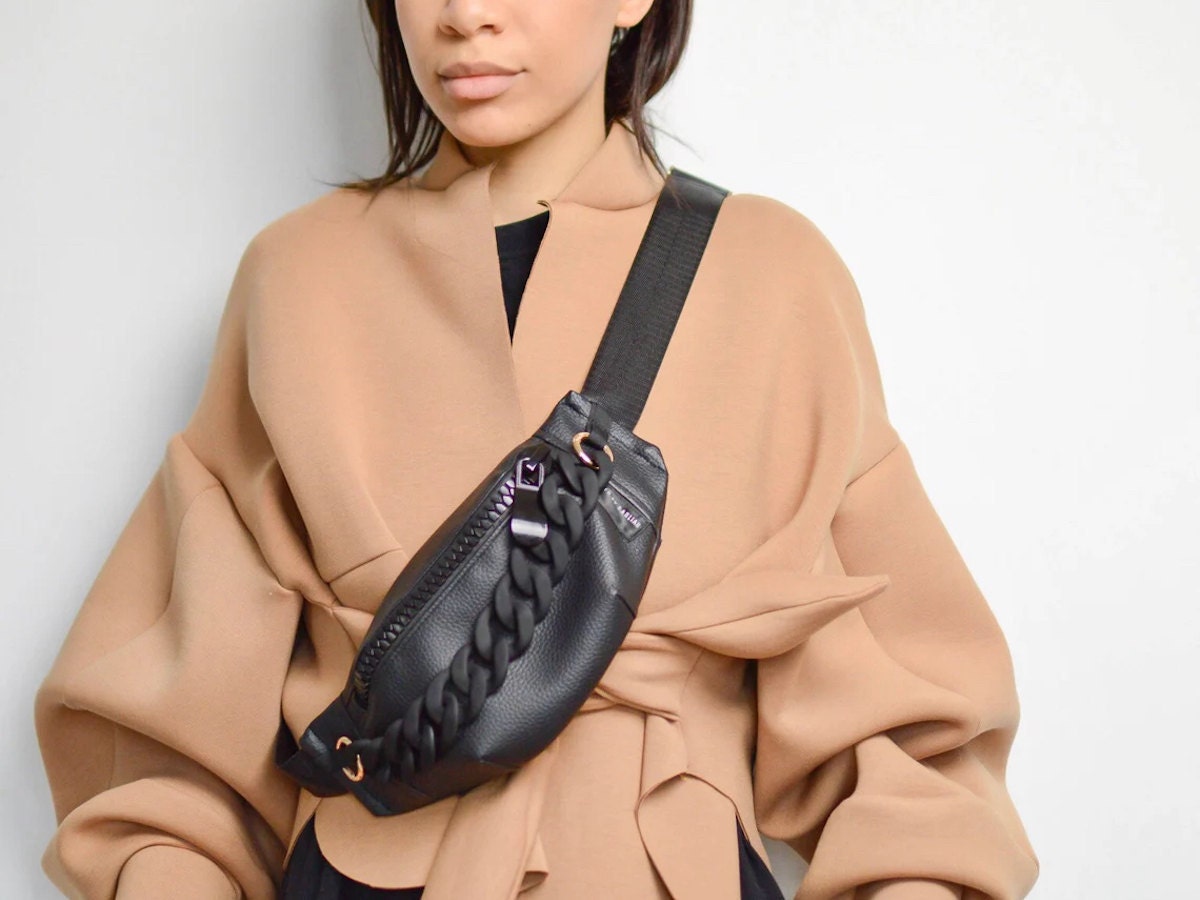 Also known as belt bags (and by our British friends across the pond, bum bags) fanny packs are an excellent way to carry your small everyday necessities with you without having to haul along your favorite oversized tote bag. And not only are fanny packs totally on-trend right now—they also offer hands-free convenience when shopping, running around after the kids at the park, and particularly when traveling, as you can store your passport, wallet, and phone for easy access. Bonus: They keep your most-important items safely close to the body for extra peace of mind.
What's more? They're versatile! Fanny packs can be worn across the waist or thrown over a shoulder, and there are tons of fun options to choose from, from brightly patterned beauties, to chic metallic numbers, and even fanny packs to match with your pup. Though they tend to be on the smaller side, fanny packs are available in several sizes, in many materials (think leather, canvas, and more,) and you can find them in any colorway you can think of, like vintage 80s styles with bold pops of color. With options at a range of price points to suit all budgets, this practical item also does double duty as a lovely gift.
See our picks for the best fanny packs:
We've put together a list of the best fanny packs carefully crafted by talented small shops on Etsy—and if you're anything like us, you'll want to scoop one up immediately.
Best hiking fanny packs
Let's face it: no one wants to be carrying a shoulder purse when out on a hike. These awesome fanny packs are ideal for long walks and family strolls, and can hold all your hiking necessities.
1. Hand-printed cotton fanny pack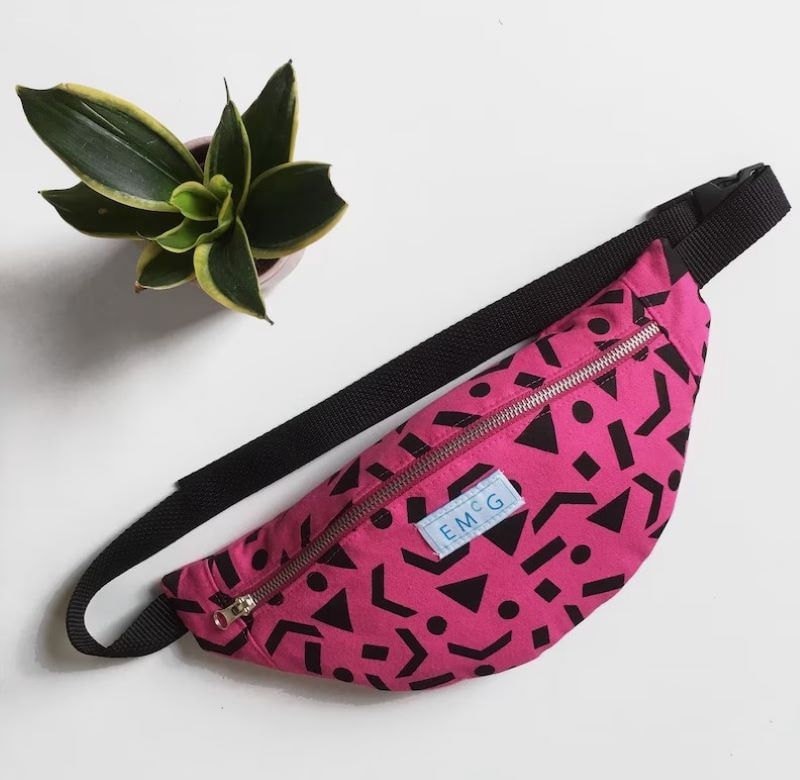 SHOP: Handmade fanny pack from EMcG Designs, $55
Beautifully vibrant, this handmade fanny pack is crafted from a durable canvas that's lined with cotton. There are two convenient pockets—one large at the front, and a smaller one on the back that can hide the important bits like IDs and cash—and it's available in four fabulously funky colorways.
2. Abstract 'Geo' print bumbag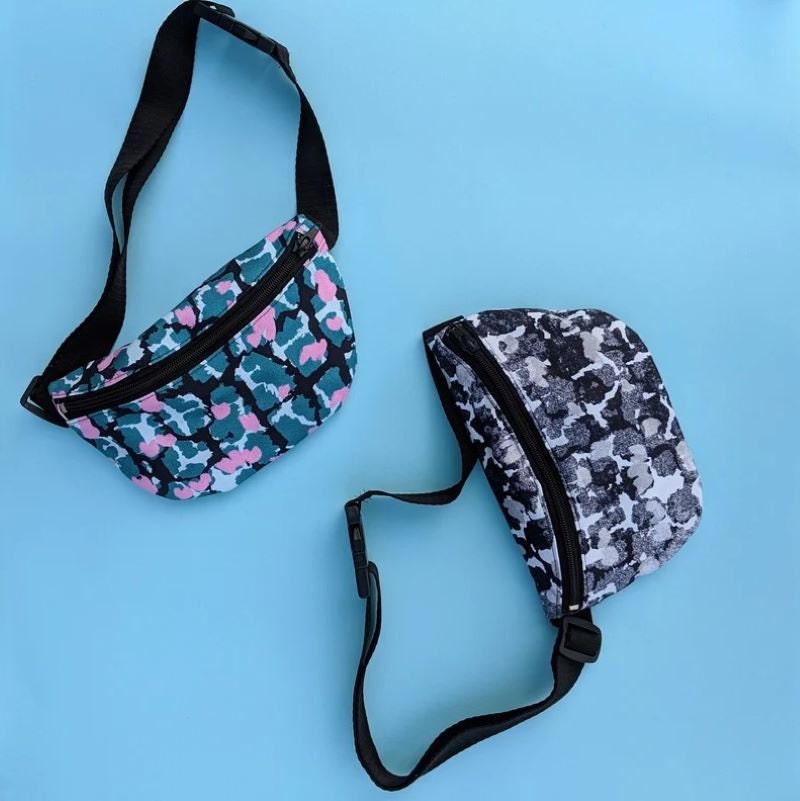 SHOP: Bumbag in geo abstract print from OlaOla, $32
Handmade by a small shop in London, this soft cotton belt purse comes in a bold and beautiful geometric blue print and features an adjustable strap plus one main pocket. There's also a matching tote available with the same print (just ask the seller for details).
3. Leather foraging hip pouch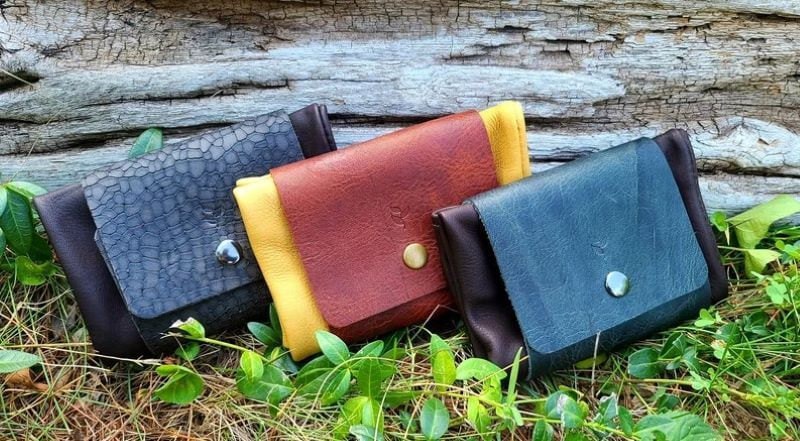 SHOP: Leather foraging hip pouch from Third Branch, $40
A unique take on the classic fanny pack, this leather foraging hip pouch is sure to rake in all the compliments. Handcrafted from genuine deerskin, the rugged pouch is designed to attach to your belt and comes in four classic color combinations.
4. Blue color-block waist bag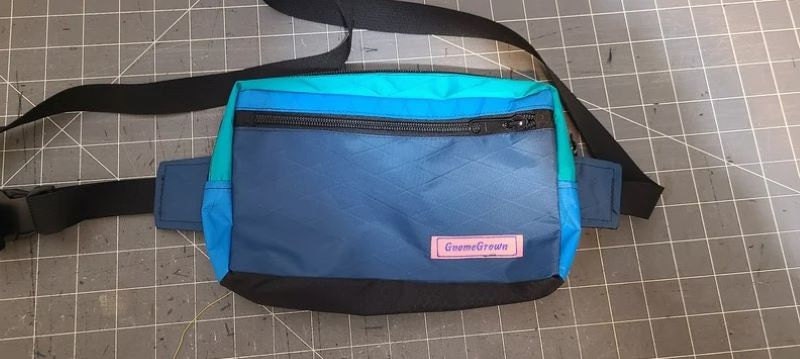 SHOP: Cool blues fanny pack from GnomeGrown Gear, $45
Just call it your very own true blue! This sporty nylon belt bag comes in soothing tones reminiscent of the ocean and features an adjustable belt and two pockets for all your everyday items.
Best fanny packs for travel
These close-body fanny packs are the perfect option for keeping all your traveling necessities. They're practical, and they look amazing for that effortlessly chic wanderer aesthetic.
5. Silver hip bag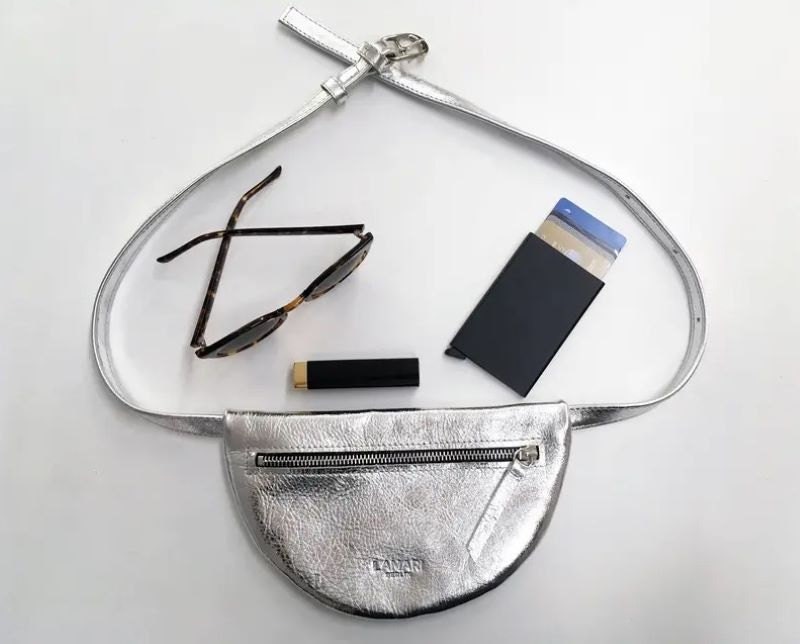 SHOP: Leather waist bag from Lamari Berlin, $97
For something a bit more dazzling, try this stunning silver hip purse that's handmade from leather in Berlin. Just take it from one of the many happy customers who raved: "Very cool belly bag made of buttery leather. I love the color and it fits (almost) everything you need on the go."
6. Handmade cotton canvas bum bag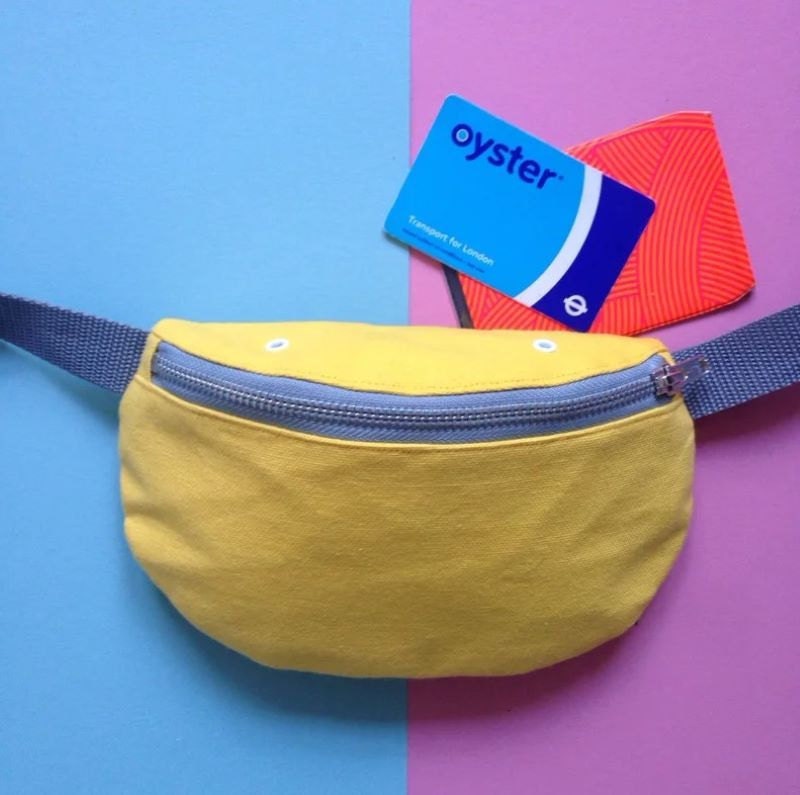 SHOP: Yellow bumbag from Mika Bon Bon, from $35
A monochromatic option that goes with practically every outfit, this catching yellow fanny pack is just what you need when traveling. Available in two sizes to suit your needs, buyers call it "well-made," "super cute," and "just the right size for holding [a] phone and wallet." What more could you need?
7. Pink waist bag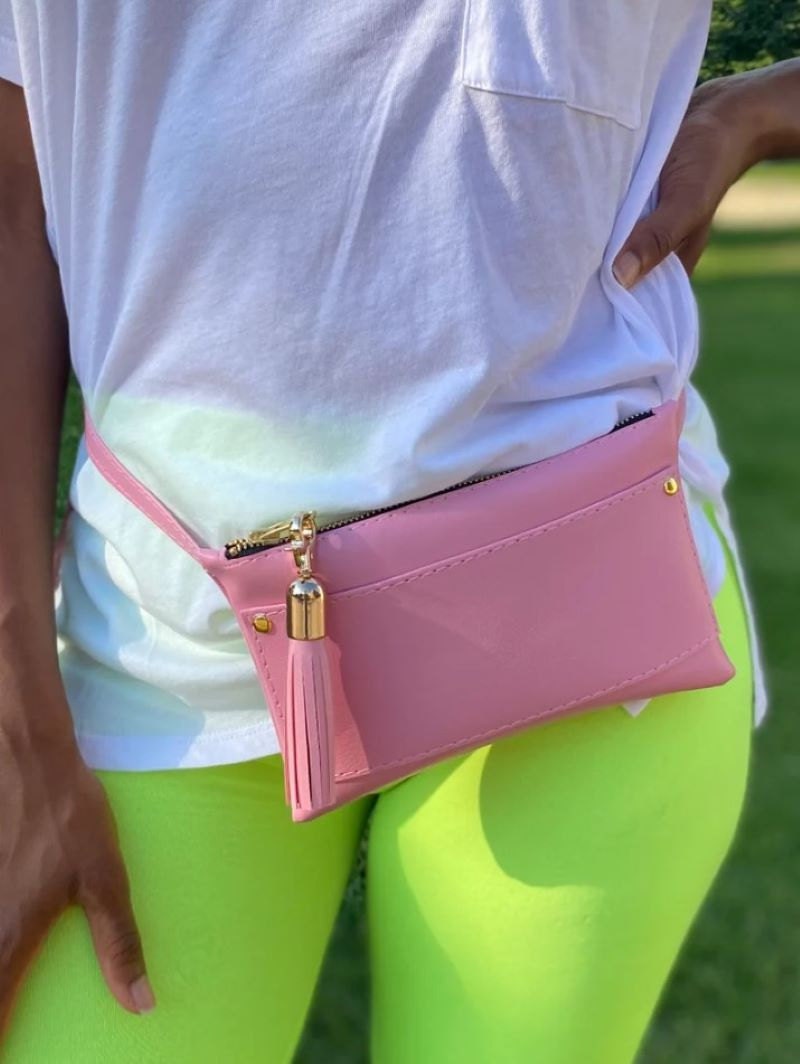 SHOP: Pink fanny pack from FifteenAndFifteen, $36
For pics worth of the gram, make sure you're wearing this handmade pink vegan leather fanny pack with matching tassel. "The purse is adorable and good quality," wrote one happy shopper of the showstopper bag which can also easily be dressed up for a night out on the town.
8. Black fanny pack with chain detail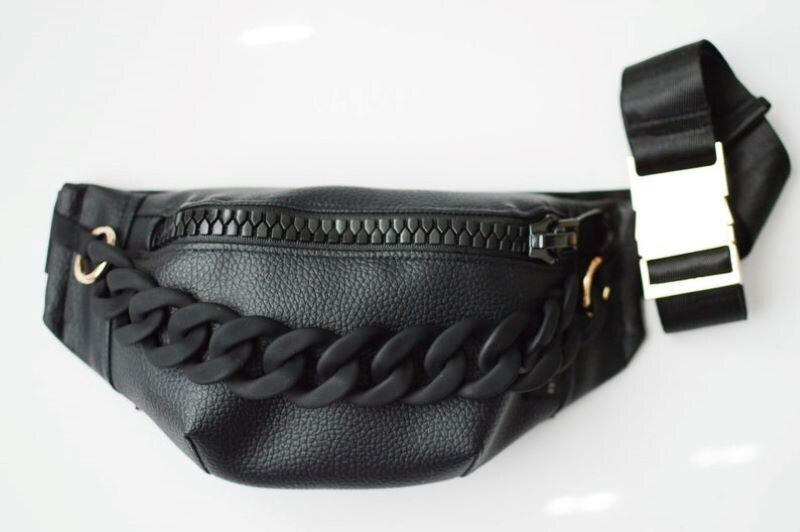 SHOP: Semi-matte fanny pack with chain detail from Signed by Dahliah, $108
Yet another beautiful fanny pack that can double as a traveling purse or an evening bag, this vegan leather option from a small shop in Ontario is as stylish as it is practical. It's also available in a black option with a striking gold chain, white, and a goes-with-everything, ultra-chic tan.
Best fanny packs for moms
Moms are one group that can certainly do with a good fanny pack in their purse arsenal! With barely a hand free at the best of times, these practical options are as convenient as they come, and can also store all those rocks that your kids absolutely must add to their burgeoning collection.
9. Leather bucket bag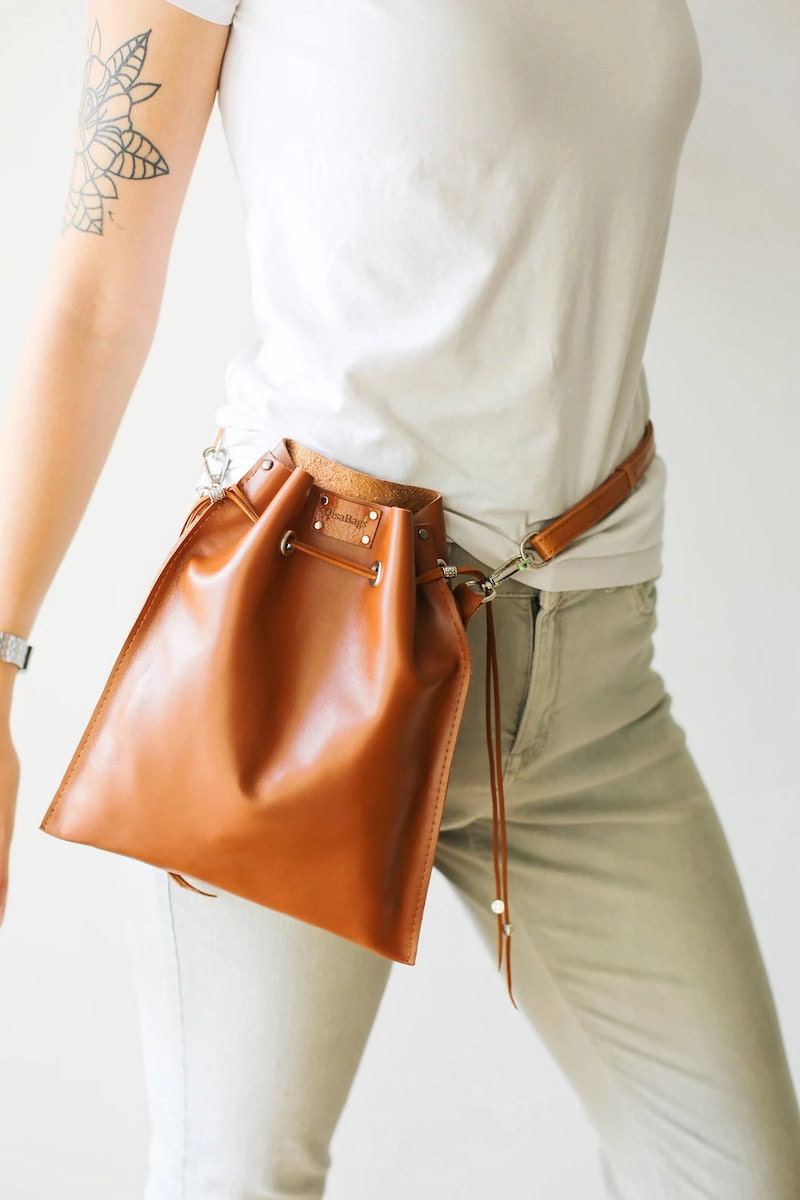 SHOP: Leather bucket bag from Qisa Bags, from $68
Providing the flexibility that every mom needs, this gorgeous tan brown leather bucket bag can be worn as a fanny pack, cross-body purse, or a backpack. It's also available in black, and one happy customer wrote, "I am impressed. Leather is super soft, and [the] design is not only unique, but convenient."
10. Matching alphabet fanny pack and dog bandana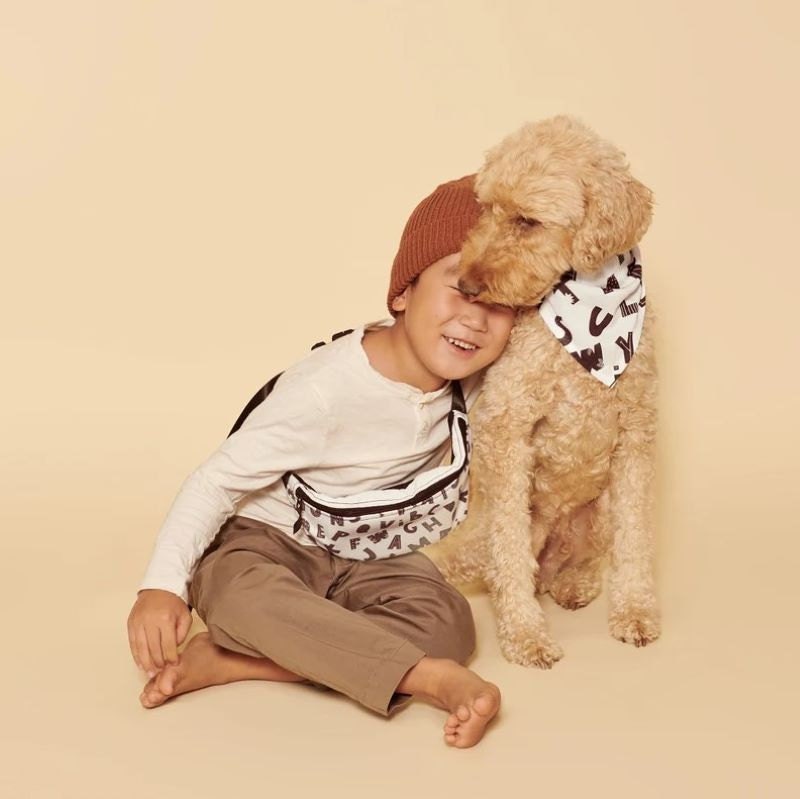 SHOP: Matching alphabet fanny pack and dog bandana from My Dear Bongo, $46
For something a little more quirky, opt for this alphabet-print fanny pack that comes with a matching dog bandana for your four-legged pal. Designed in California, this fanny pack has a black lining with a convenient divider inside for organizing all your essentials, and with its cute design, everyone in the family will want to wear it!
11. Navy waxed canvas belt bag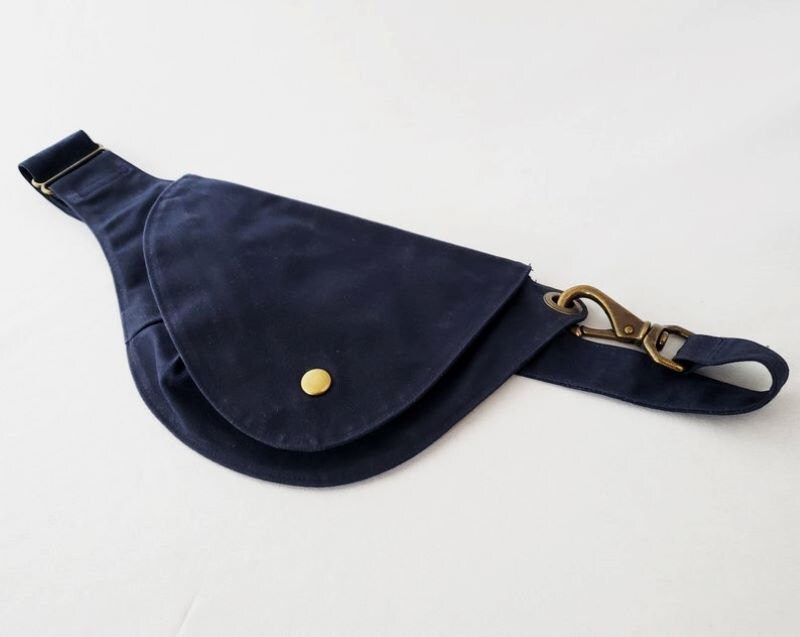 SHOP: Fanny pack in navy waxed canvas from Rocks and Salt, from $72
This unique fanny pack is sewn from a waxed cotton duck fabric, and features two zipper pockets along with an adjustable strap with a solid brass swivel hook. Customers call it "perfect in every way," with "amazing construction and design." As for what it can fit, one buyer explained, "The pockets are spacious. I can fit my phone, wallet, and keys with room for a small notebook and a pen."
Best fanny packs for men
Fanny packs most certainly aren't limited to use by women. A good belt bag for men might be harder to come by, but we've found some of the best of them that are practical and handsome for you to choose from.
12. Leather waist bag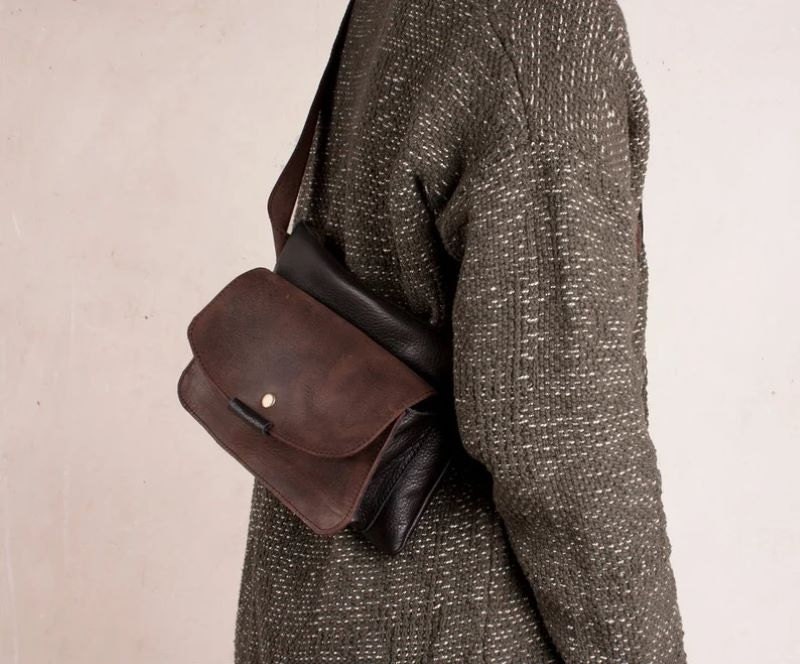 SHOP: Man leather belt bag from Nubuckcuir, $89
Classy and timeless, this rustic fanny pack designed for men (although it can comfortably be worn by women, too!) is handmade from cowhide. Buyers love its "simplicity and quality," and praise the Barcelona-based seller's expert craftsmanship. "Very nice leather, very well made, and simply chic," wrote a happy customer.
13. Large denim banana bag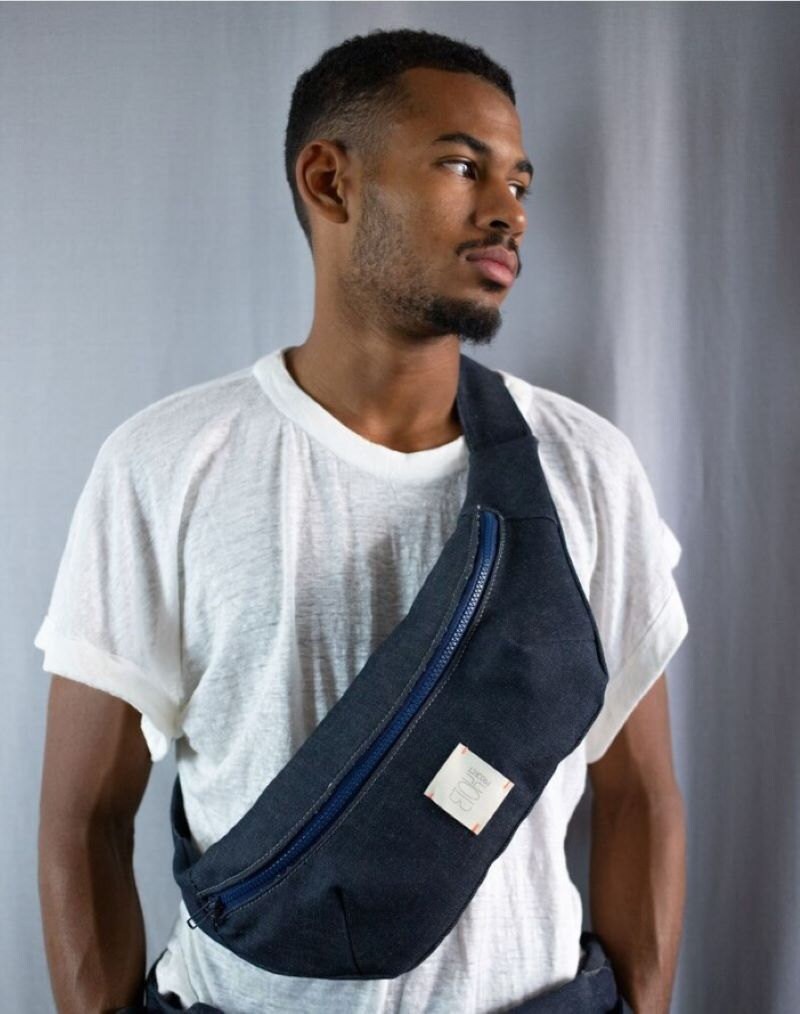 SHOP: Large banana bag in thick blue black denim from Etok Project, $104
Perfect for hiking, the gym, or even for everyday carry on the commute, this handmade denim fanny pack has a wide and comfortable strap and plenty of room for even a bottle of water. Plus it's machine washable so you can just toss it in the laundry as needed.
Get travel-ready with these additional essentials:
How do we pick the best fanny packs?
As Etsy Journal editors and contributors research and curate shopping guides for some of the best-loved items on Etsy, we thoughtfully consider the creativity, customization, and craftsmanship that go into each product. We also consider buyer reviews, item ratings, and customer service, and tap the expertise of our in-house merchandising and trends experts to uncover high-quality finds for every budget. You can find more information about each item in the seller's listing details and can take a look at their individual shop policies and reviews, too.