Shop the best floating shelves to make each space in your home feel complete, from picks for kitchens and bathrooms to small shelves for small spaces.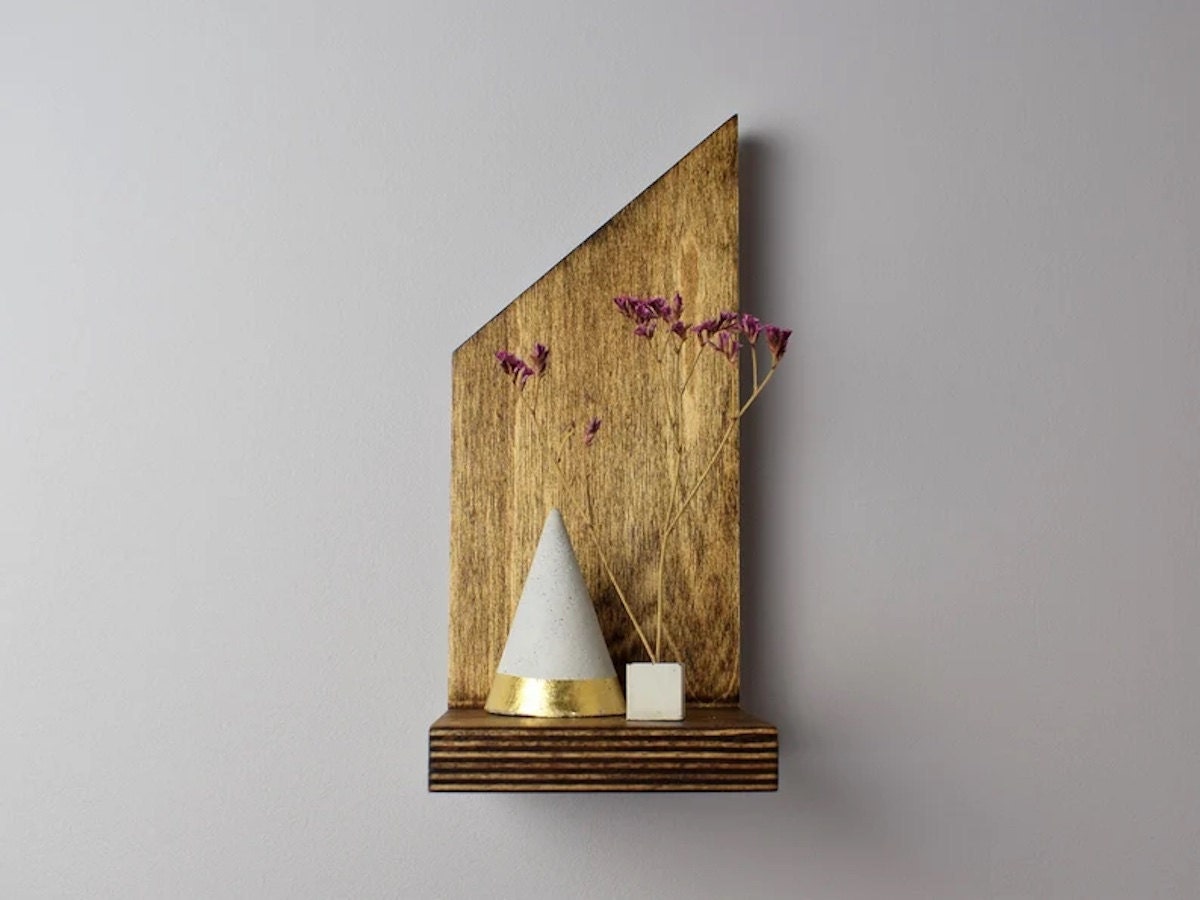 We love floating shelves for their versatility–from bathrooms and kitchens to living rooms, bedrooms, and even hallways, there's always something you need a little extra shelf space for. More than just an organizational must-have, floating shelves are also a beautiful statement piece within your home decor. Whether you lean more toward rustic-inspired wood shelves or minimalist and modern metal and glass creations, these floating shelves are expertly handcrafted by Etsy artisans and ready to be topped with your treasures.
Kitchen floating shelves
From spices and seasonings to all your coffee bar essentials, there's no shortage of things to place on a floating shelf in your kitchen.
1. Wall-mounted storage shelf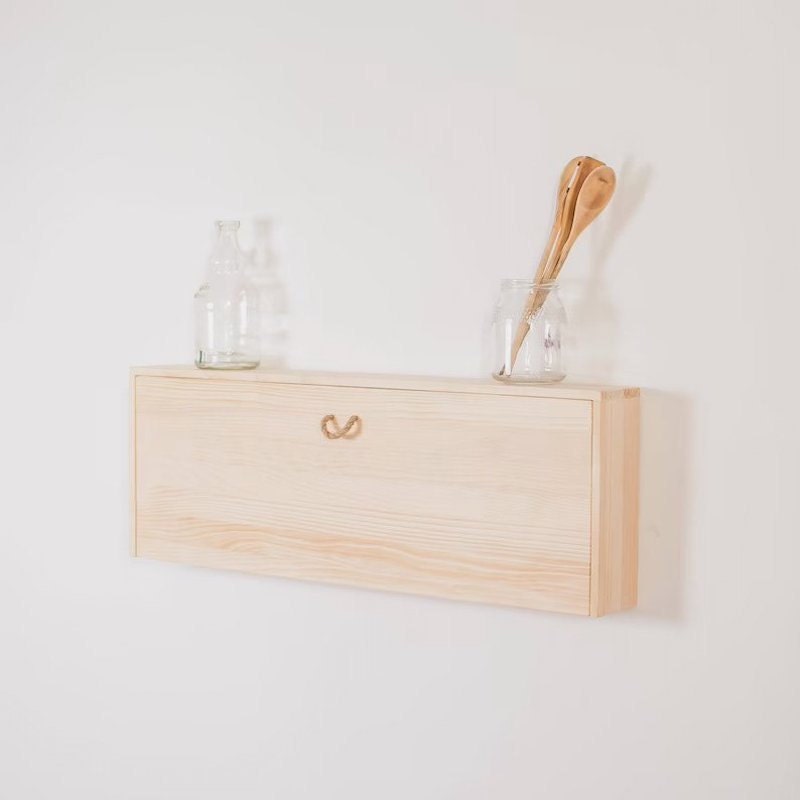 SHOP: Floating storage shelf from Crafted by Oitenta, $196
This floating shelf offers the best of both worlds: a shelf for display-worthy kitchen gadgets and a helpful door to shield less sightly items from view. Bonus—this shelf arrives fully assembled.
2. Multi-level floating shelf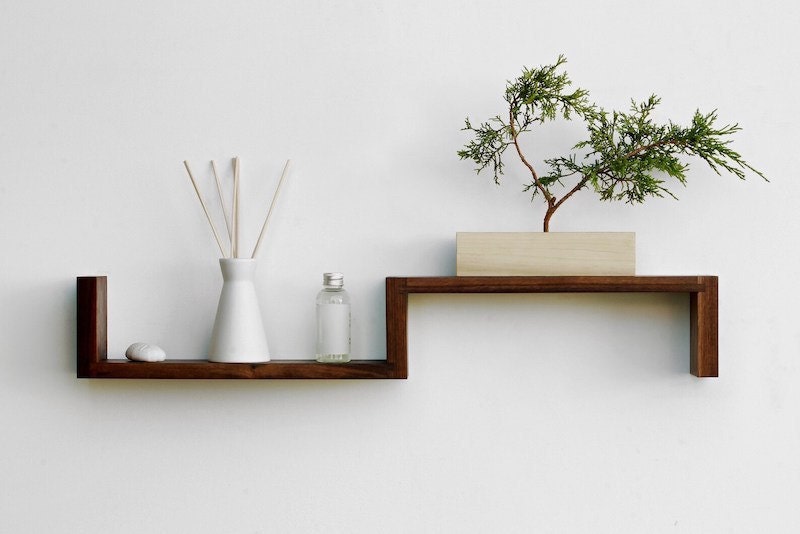 SHOP: Two-tiered solid walnut shelf from Shelf Life LA, $279
Buyers rave about the traditional craftsmanship of this walnut shelf. The lower half of this S-shaped floating shelf offers a perfect resting spot for nestling tall glassware you'd like to keep on display.
3. Wooden kitchen pantry pegboard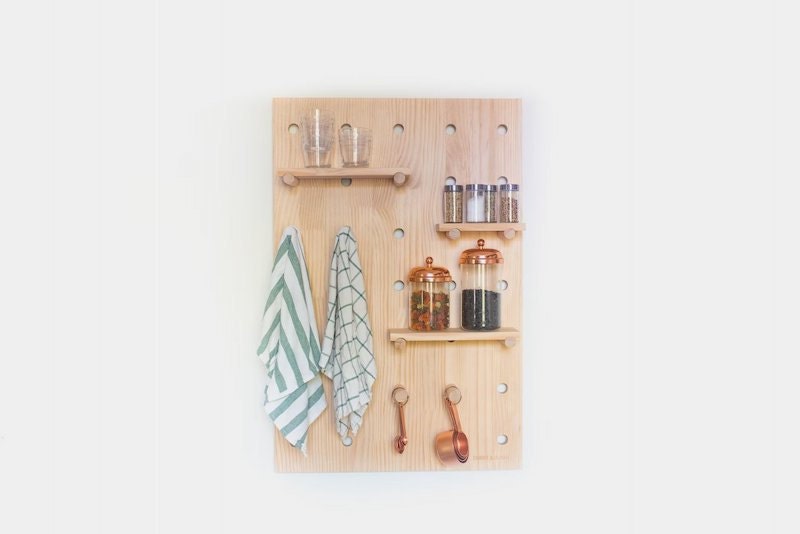 SHOP: Wooden pegboard from Cardiff and Clover, $125
Available in either horizontal or vertical orientations, this pegboard provides multiple floating shelves and hooks for other kitchenware. Arrange the shelves in any pattern you'd like so you can fit all your essentials in one easy-to-access spot.
Glass floating shelves
Keep the focus firmly on the goodies you've chosen to display by opting for a clear floating shelf made from glass or less-fragile acrylic. Transparent acrylic shelves are a great alternative to glass floating shelves because they offer the same minimalist footprint while avoiding the inconvenience of chipped or broken glass.
4. Window hanging shelves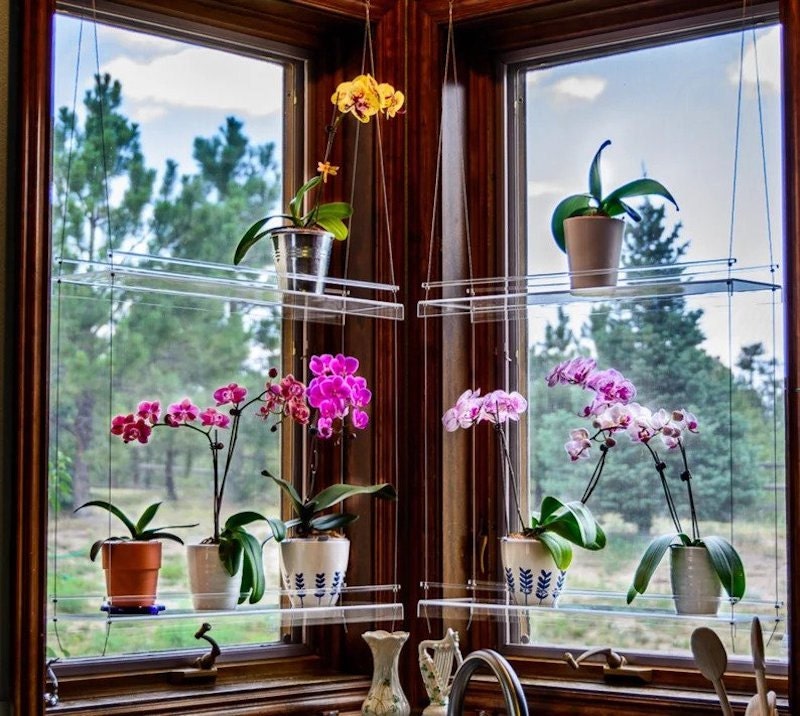 SHOP: Window plant shelf from Indoor Window Gardens, from $66
Place your plants in their optimal growing environment with these clear acrylic hanging shelves. Offered with a variety of bracket styles, you can choose the mounting hardware that works best with your window setup.
5. Brass and glass floating shelves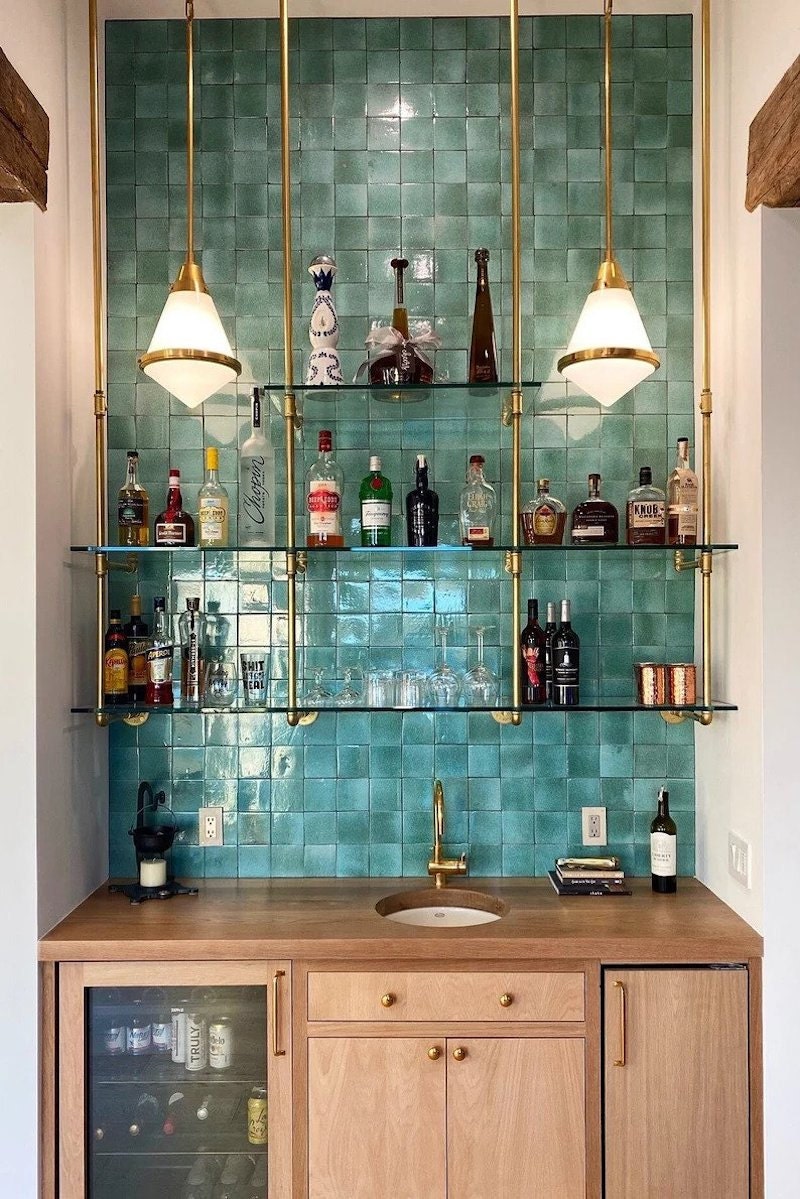 SHOP: Brass-plated French bistro shelves from Soil and Oak, from $675
Choose the number of layers and brass rails you'd like included in your floating shelf unit and get a one-of-a-kind, custom floating shelf bracket created especially for your space. The Etsy seller will work directly with a local glass company in your area to provide the glass.
6. Set of acrylic floating shelves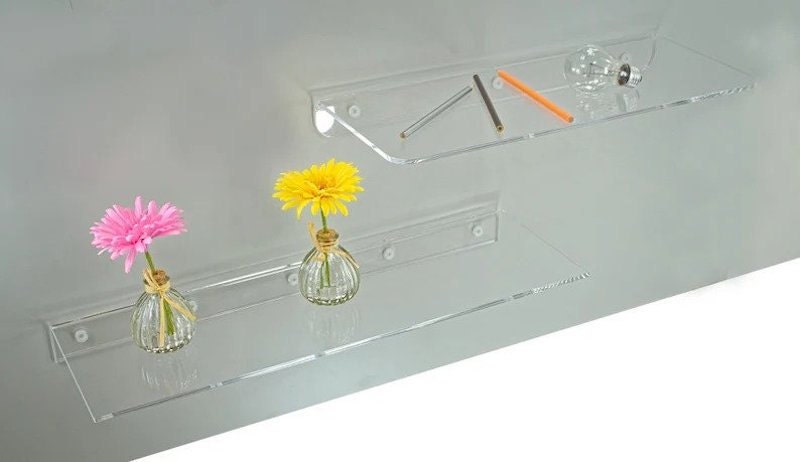 SHOP: Set of three floating shelves from X Form 3, from $110
Available in depths up to 14-inches, this set of three acrylic shelves can be used for larger items like books and planters while the shallower, 6-inch options are perfect for displaying framed pictures and bud vases.
Rustic floating shelves
Bring an organic texture into your space and embrace your love of natural materials when you choose a rustic floating shelf. These designs feature a range of wood species and stains so you can find exactly the right combination to bring your space together.
7. Rustic floating shelves with steel brackets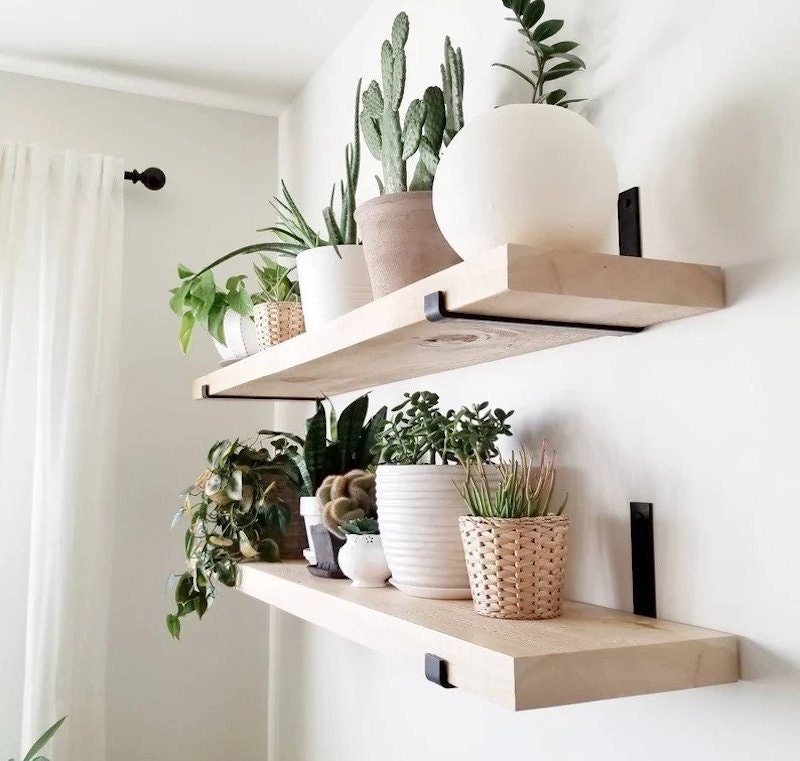 SHOP: 2-inch thick shelves from Smokestack Studios, from $60
Instead of traditional shelf brackets which sit under the surface, these natural wood shelves feature steel J-brackets that extend up the wall behind the shelf. You can leave these brackets exposed and embrace the mixed materials vibe they create alongside the untreated wood shelf.
8. Small floating shelf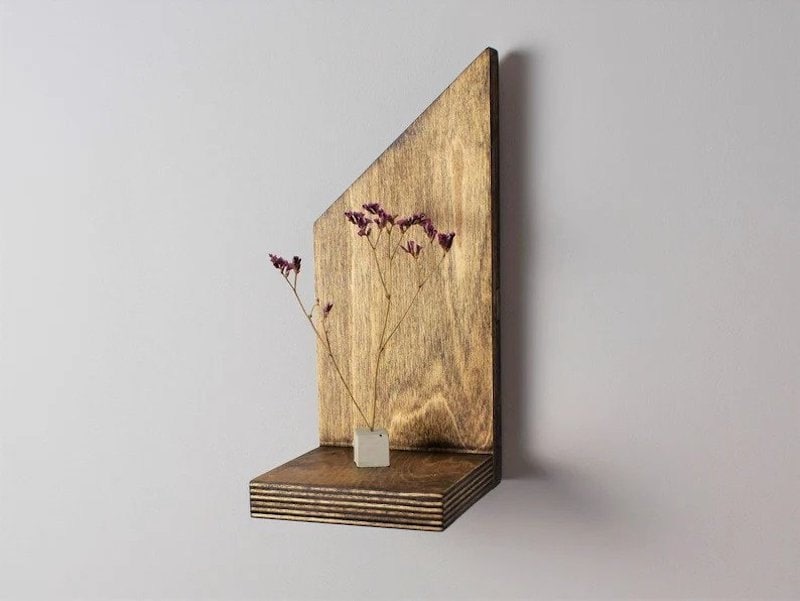 SHOP: Birch plywood shelf from Tomwood, from $44
Ideal for displaying small plants or other petite trinkets, these plywood shelves are stained and can be placed in a staggered grouping for an added artistic effect.
9. Small rustic keyholder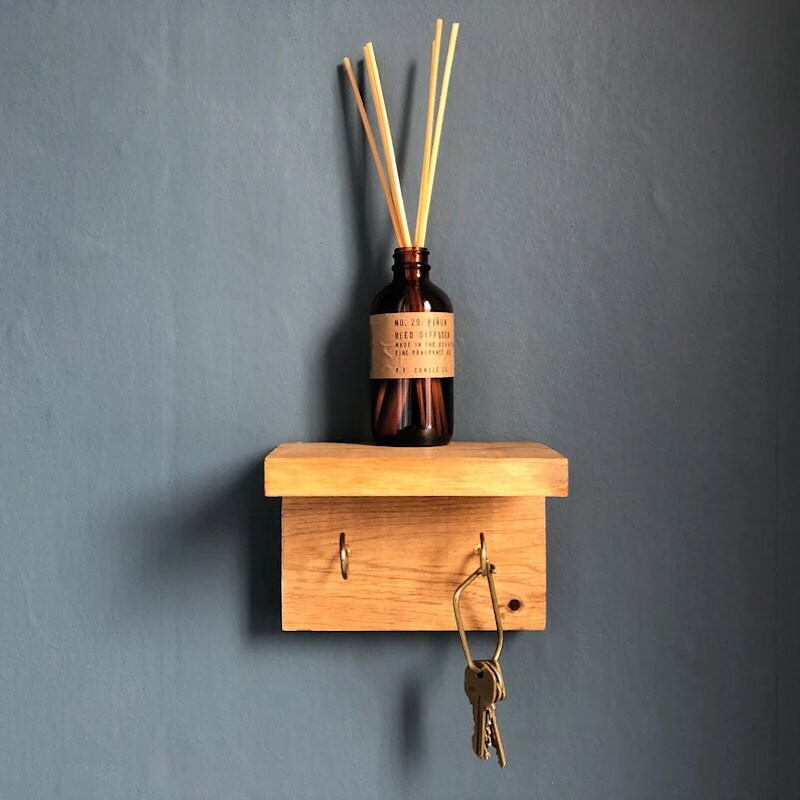 SHOP: Small rustic keyholder from Woodlyn Designs, $30
Select from six different colors and choose the number of hooks you'd like on your rustic floating shelf, and this Brooklyn-based Etsy seller will create a one-of-a-kind floating shelf that's perfect for catching your keys as you walk in the door.
10. Reclaimed wood floating shelves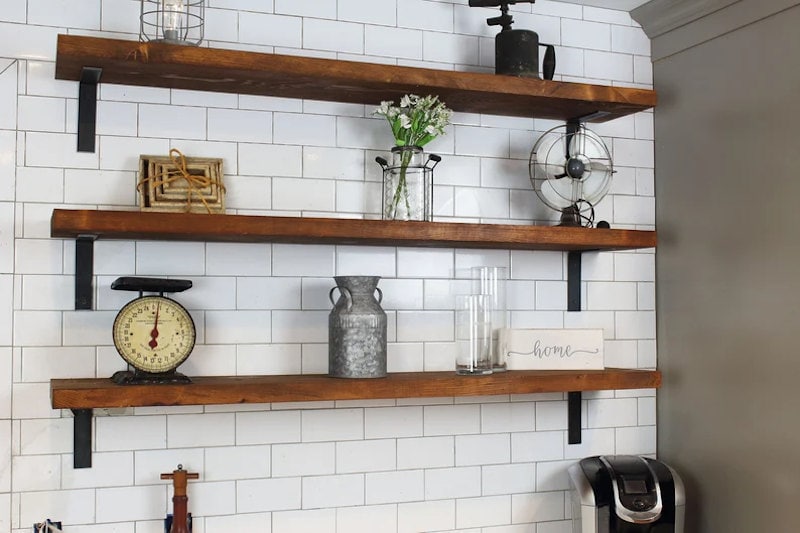 SHOP: Reclaimed wood shelves from Modern Timber Craft, from $22
Ultra-affordable, these reclaimed wood shelves sit atop heavy duty steel brackets that are hand-pressed in Pennsylvania. Much of the wood for these rustic shelves is sourced from the state as well, with other pieces coming from New York, Maryland, Ohio, and West Virginia. Nail holes, worm holes, and knots make each of these shelves completely unique.
Bathroom floating shelves
There's no shortage of essential items that need to be easily accessible in your bathroom, from hand towels and washcloths to lotions and potions. These floating shelves are both smart storage solutions and creative design elements that bring character into an often forgotten space in your home.
11. Floating shelves with a towel rod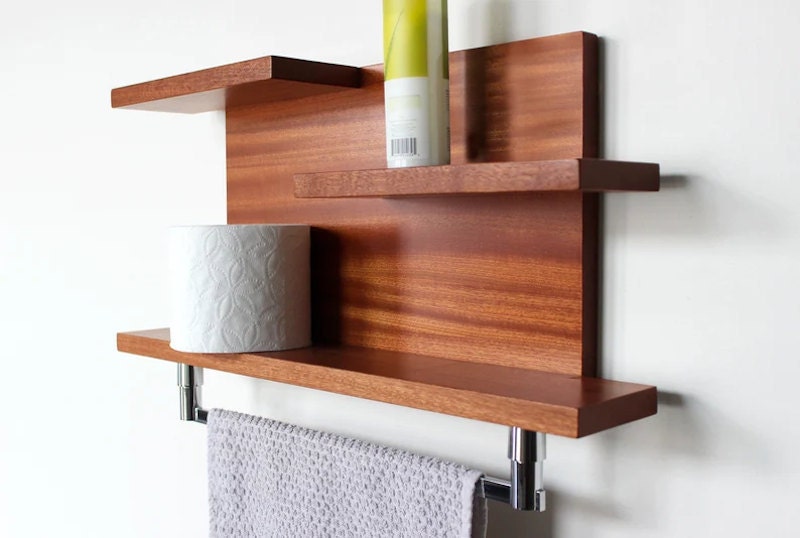 SHOP: Modern handmade hardwood bathroom shelf from Straga Furniture, from $163
With minimalist and modern lines, this handmade hardwood shelf provides three different storage surfaces plus an ultra-handy towel rod in your choice of finish.
12. Round mirror with shelf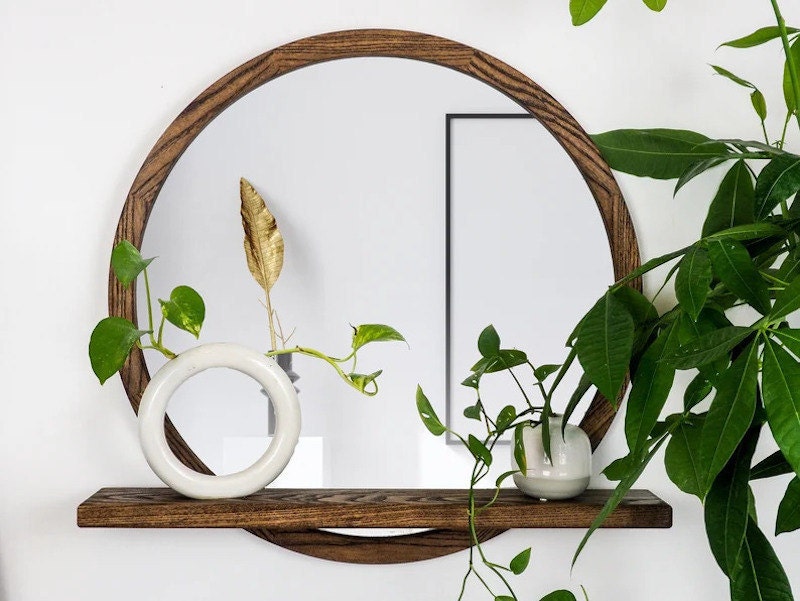 SHOP: Circle mirror and shelf from Dot and Rose Co., from $225
Part storage, part bathroom mirror, this bathroom floating shelf pulls double duty and is available in a variety of wood stain finishes and mirror sizes to exactly match your bathroom space.
13. Small shelf organizer with hooks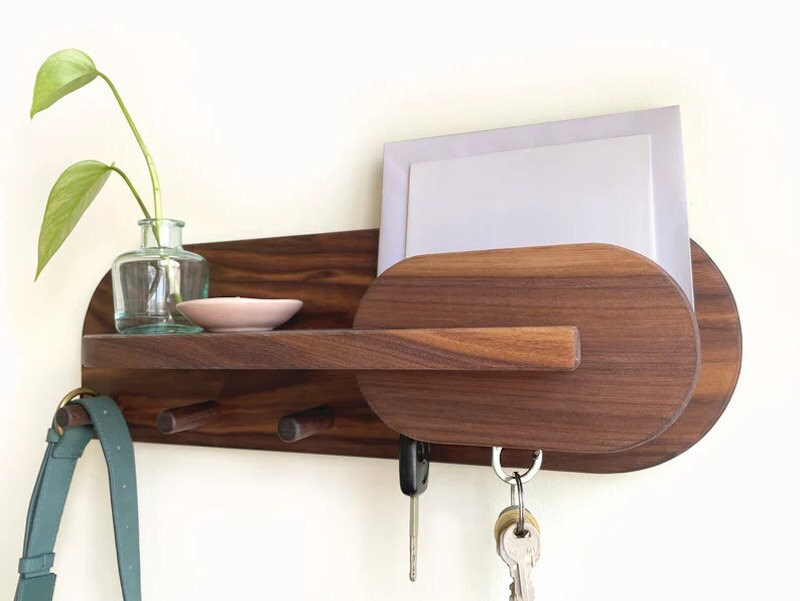 SHOP: Wall-mount rack from Figure Grain, $140
With three handy hooks for bathroom towels and robes, the outline of this sleek, wood floating shelf can be customized with your choice of curves and corners.
Small floating shelves
Whether you need a small floating shelf for a tight space like a hallway or studio apartment, or would like to create a grouping of multiple shelves, these small floating shelves are handcrafted by Etsy artisans and ready to help complete your room.
14. Triangle wall shelf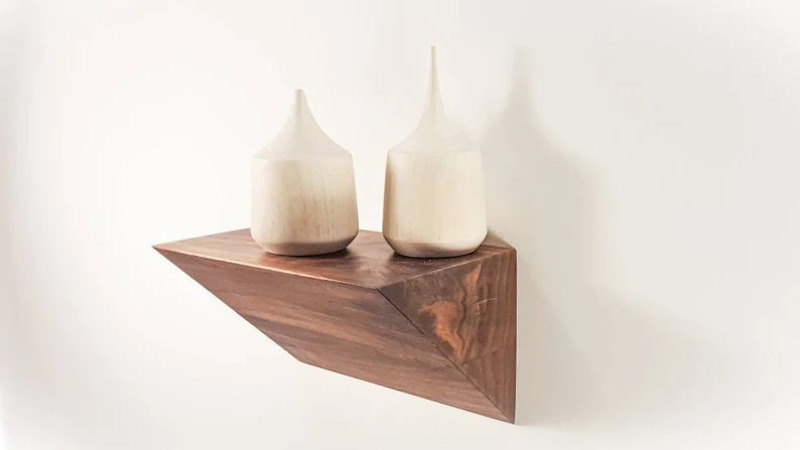 SHOP: Triangle floating shelf from Offcut Studio, $55
A simple, small shelf, this wedge of walnut can also be used as a floating nightstand or a simple side table in a cozy corner.
15. Small concrete wall shelf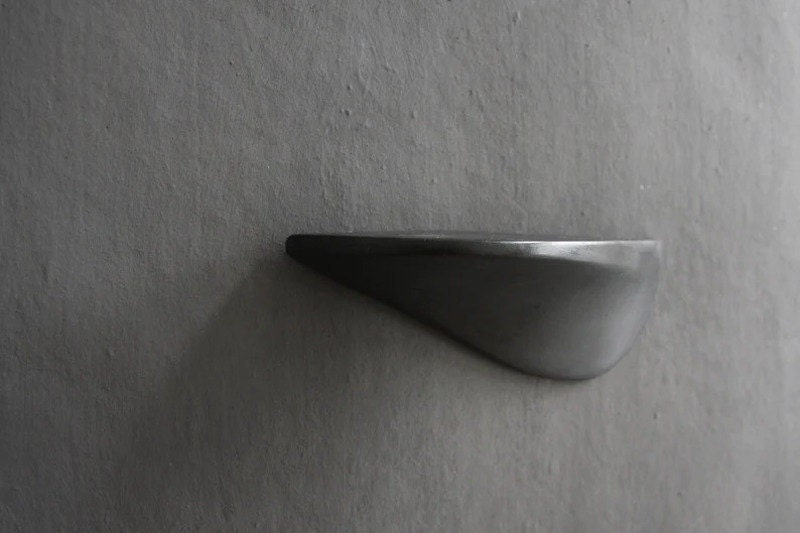 SHOP: Concrete wall shelf from Form Poet, $57
An unexpected option, this small floating shelf is made by hand in Vienna using black concrete that features natural color variations.
16. Brass shelf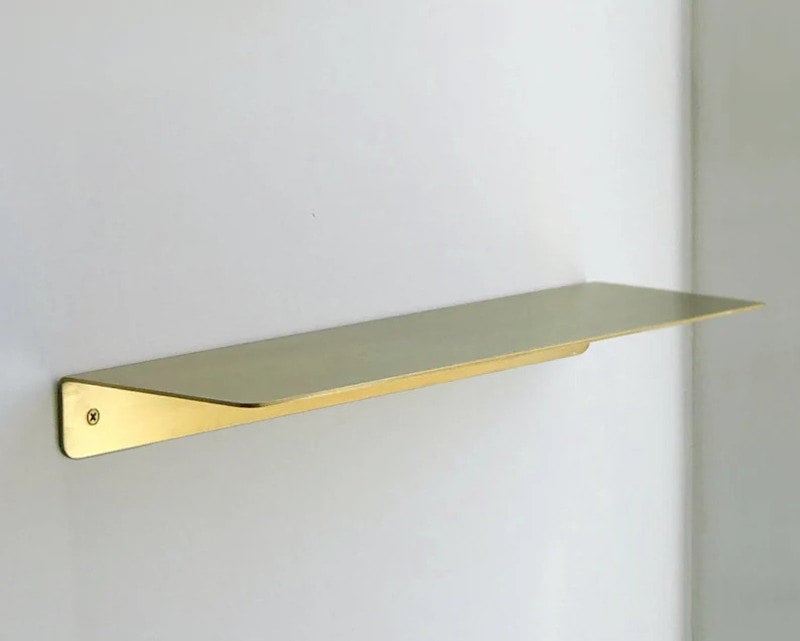 SHOP: Brass floating shelf from Matt Alford Studio, from $91
Aptly named the "Right Shelf" by its maker, this brass wall shelf features a sleek, 90-degree angle design made from solid brass that's finished with a matte wax to slow oxidation.
17. Floating basket shelf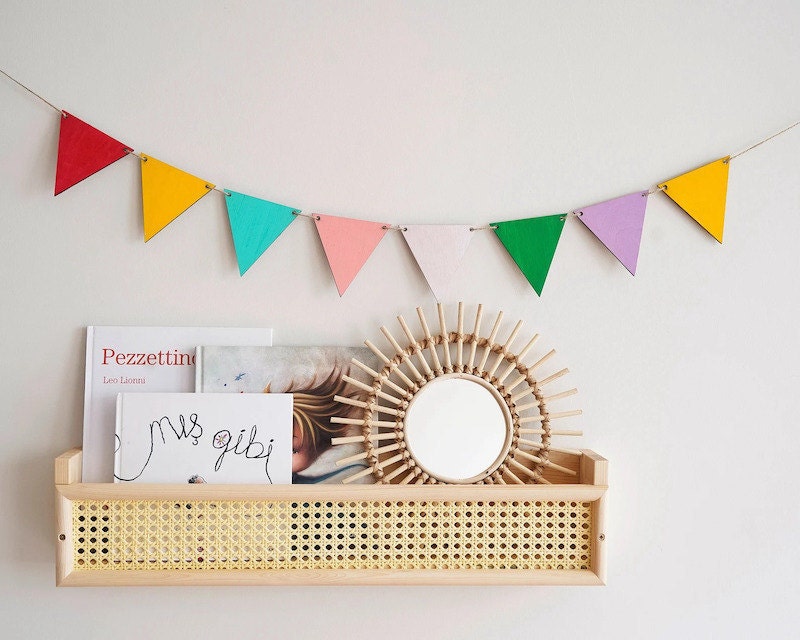 SHOP: Floating basket shelf from Cat Montessori Shop, $45
This basket-inspired floating shelf is a smart way to hold items that may not traditionally fit on a floating shelf, like decorative mirrors or framed artwork.
Corner floating shelves
Adding a set of floating shelves to the corner of your room is a great way to maximize this often under-utilized area in your home. Perfect for plants, dainty decor, and the items you'd like to keep close at-hand, these corner floating shelves combine form and function in a fabulous finishing touch for your space.
18. Log slice hanging wood shelf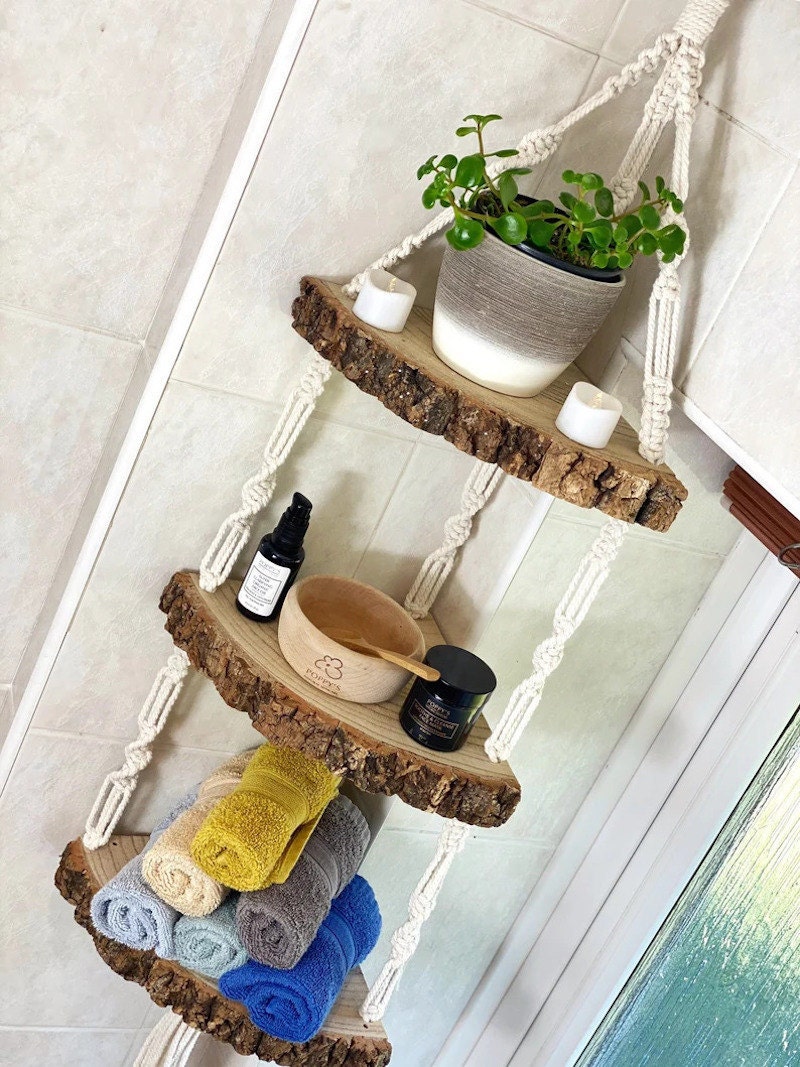 SHOP: Triple tier hanging wood shelf from Crafted by Ceri, from $86
Perfect for displaying all your precious plant babies, this corner floating shelf features three real log slices suspended by hand-tied macrame ropes.
19. Modern wood floating shelves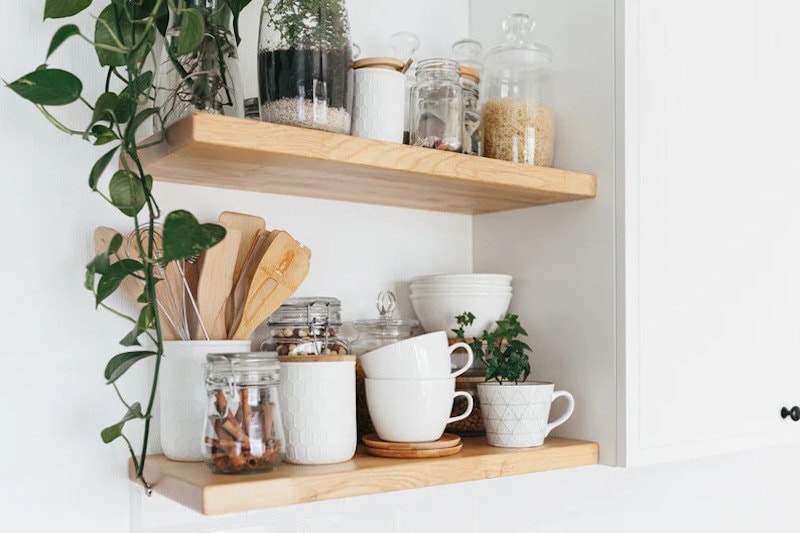 SHOP: Modern wood floating shelves from HOFINASHOP, from $25
Perfectly sized for nestling up in a corner, these wall-mounted floating shelves are available in custom sizes and 20 colors inspired by cities around the globe.
20. Retro-inspired corner shelf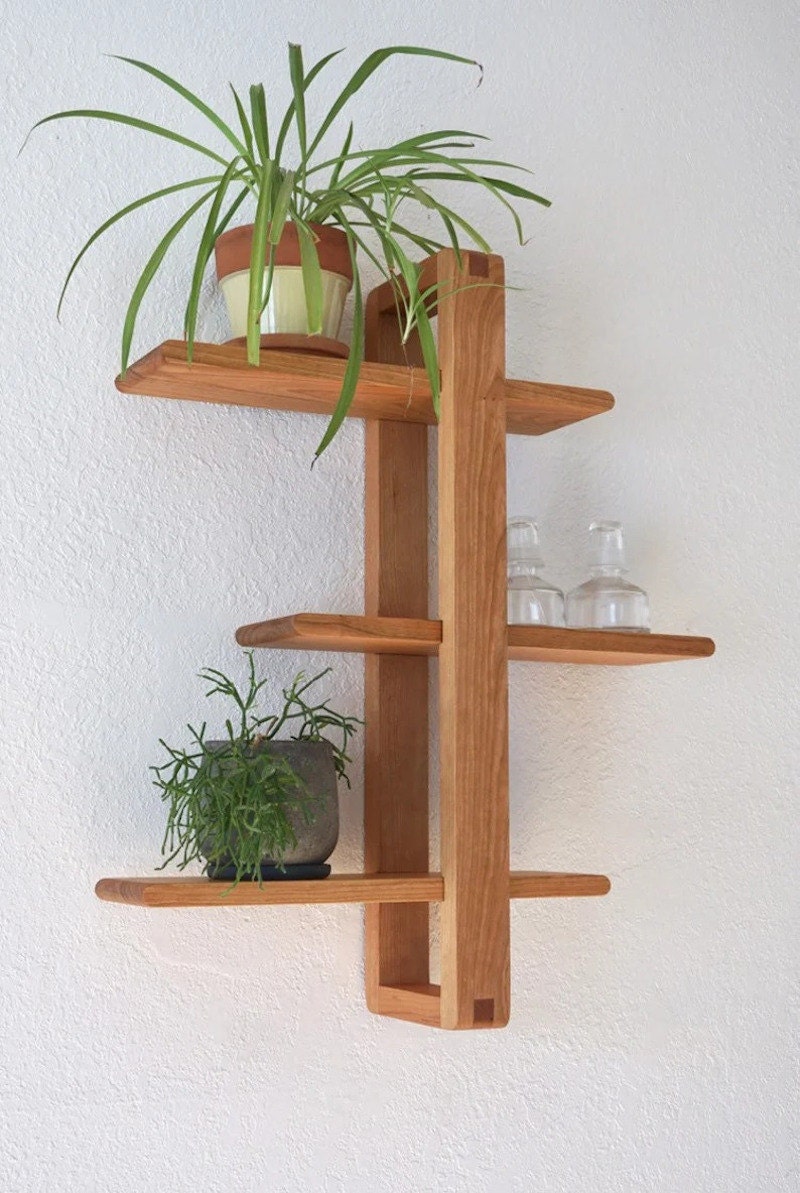 SHOP: Cherry shift shelf from Liminal Furniture, $230
Handmade to order in Portland, Oregon, these "shift" shelves are created using sustainably sourced wood and include hardware and instructions for easy mounting.