Brighten up your space and make a statement with these fantastic floor lamps.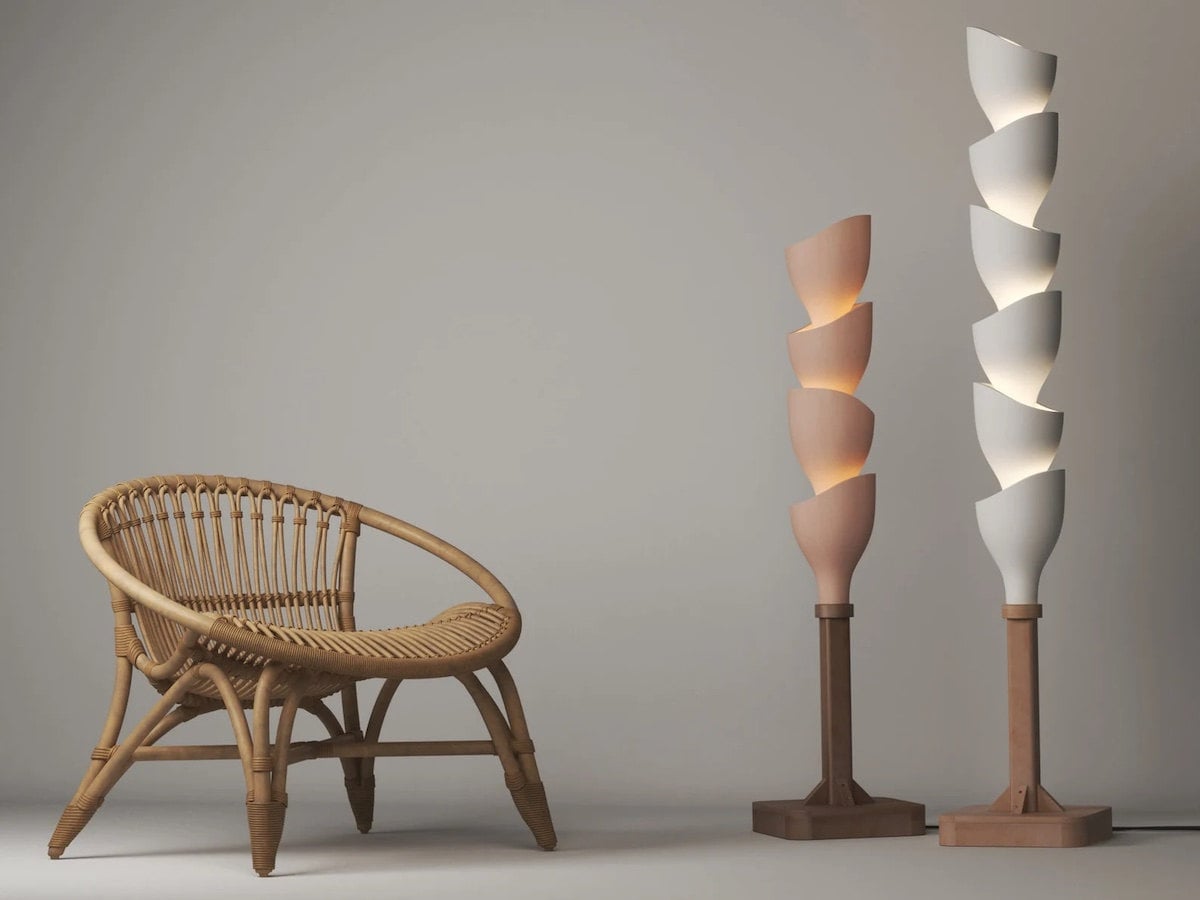 The right lighting can transform a room into a cozy haven or a bright, beautiful sanctuary. The best floor lamps complement your furniture and design choices, and most importantly, they add that special something that makes your space feel so you. And your chosen lighting fixture can make a statement in its own right. Just like an accent rug or gorgeous wall art, floor lamps add that finishing touch that brings a room together, no matter your decor aesthetic.
How do you find the perfect floor lamp for your space? When buying statement lighting, think about your home's natural flow and where the eye naturally moves about a room. That empty corner that needs a little love? Add some sculptural statement lighting to give it a little oomph. Where do you settle in to read and need an extra ray of light in your space? Your floor lamp should be functional and beautiful, so consider the ambiance you want to create with your lighting. As for height, the best floor lamp height is about eye level, but your lamp choice could be higher or lower based on the height of your other furniture.
Find the best floor lamp to express your style in whatever room you're envisioning with these unique statement lighting picks.
Best floor lamps for your living room
Whether your living room is a conversation pit for hosting cocktail parties or a cozy spot to unwind after work, a well-placed and well-crafted floor lamp can set the mood for any occasion.
1. The best floor lamp under $200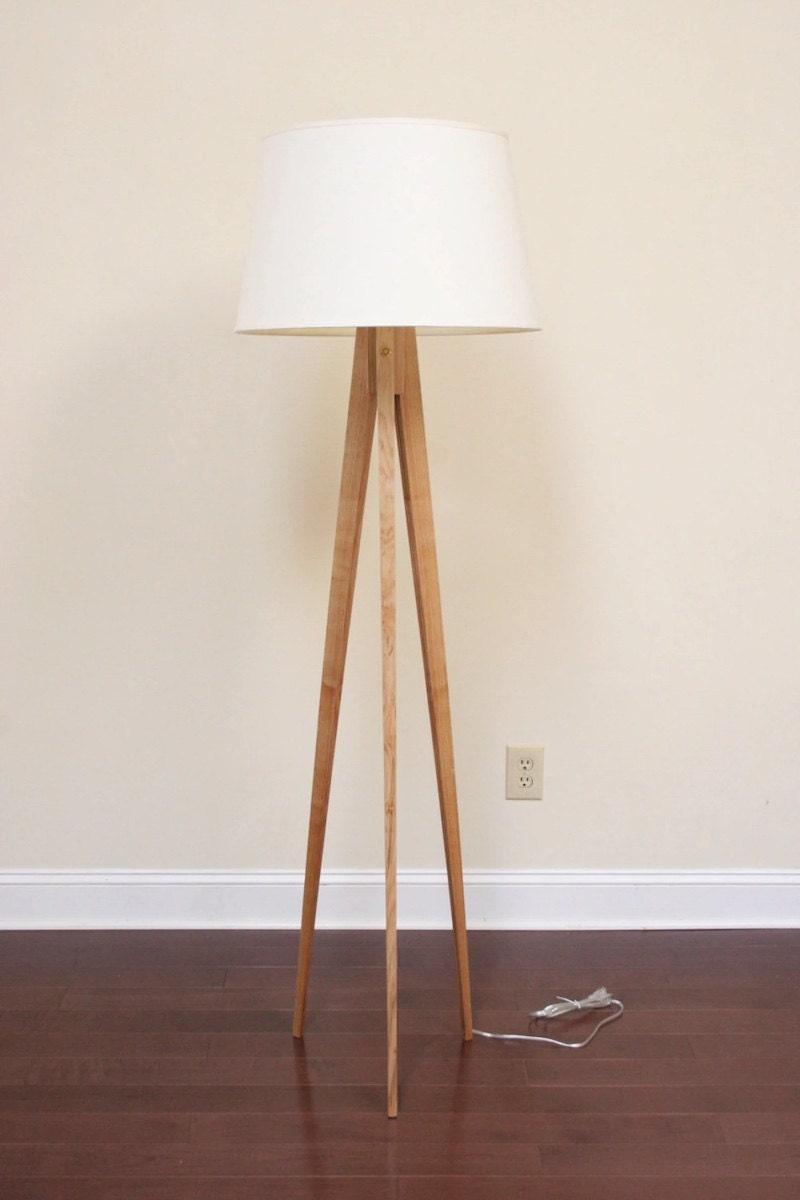 SHOP: Slim tripod floor lamp from Natural Grain Woodworks, $199
This wooden tripod floor lamp is slim and simple, so it will fit in with most modern aesthetics. Made from durable maple wood, this handcrafted lighting is built to last and will fit nicely in smaller spaces. Bonus: Buyers love that this wooden lamp is super easy to assemble.
2. Best LED floor lamp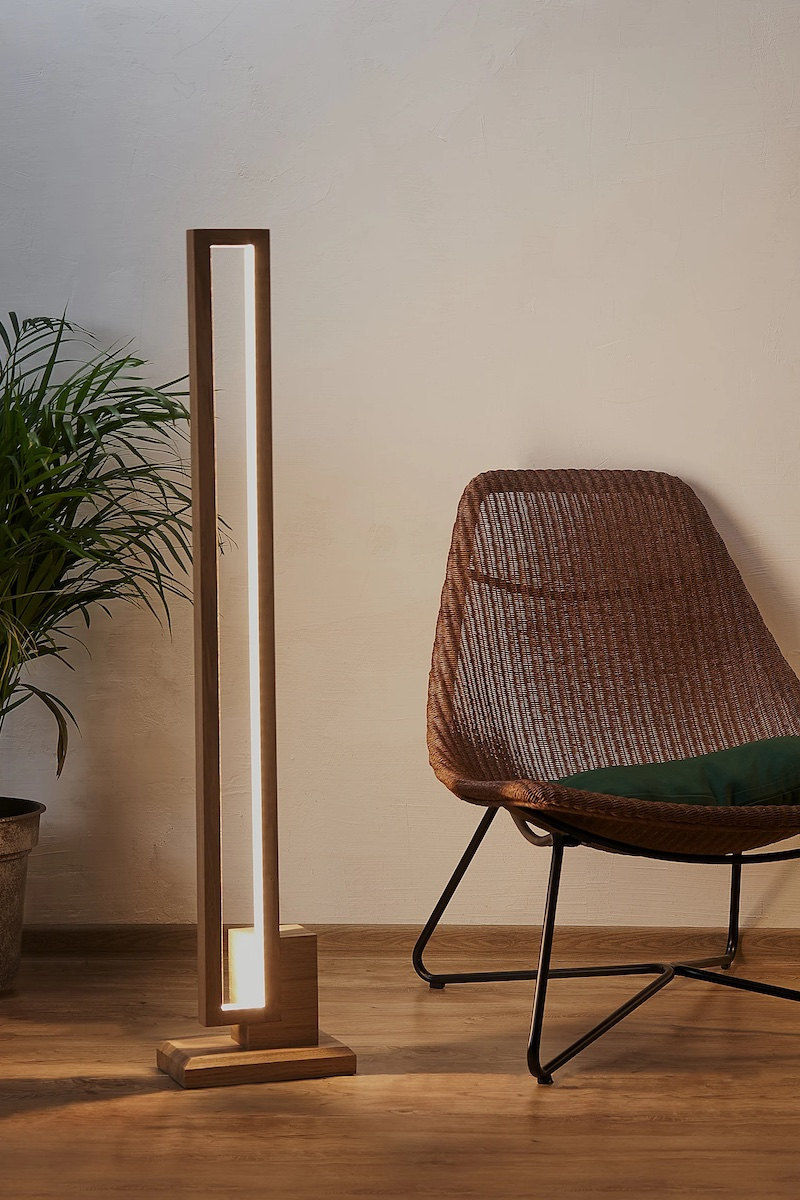 SHOP: Wooden accent lamp from Budro Design, from $325
Some say the best light source is the one you can't see, and this glowing living room floor lamp is just that. An integrated LED strip light encircles the inside of this modern wood floor lamp and can be dimmed with the included remote. High technology meets high design in this modern floor lamp for a living room.
3. Best minimalist floor lamp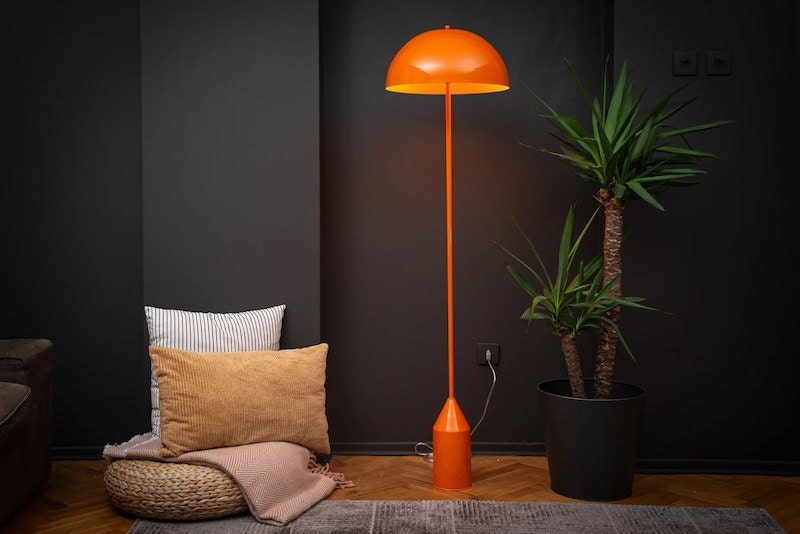 SHOP: Minimalist metal floor lamp from LAMPADER, $419
If you're looking for a living room floor lamp that is sleek but not too flashy, this mushroom-shaped metal floor lamp delivers a contemporary feel without any excess. With multiple colors to choose from including matte black, silver, and mint green, you'll find a minimalist floor lamp that's made especially to complement your decor's color scheme.
4. Best floor lamp for high ceilings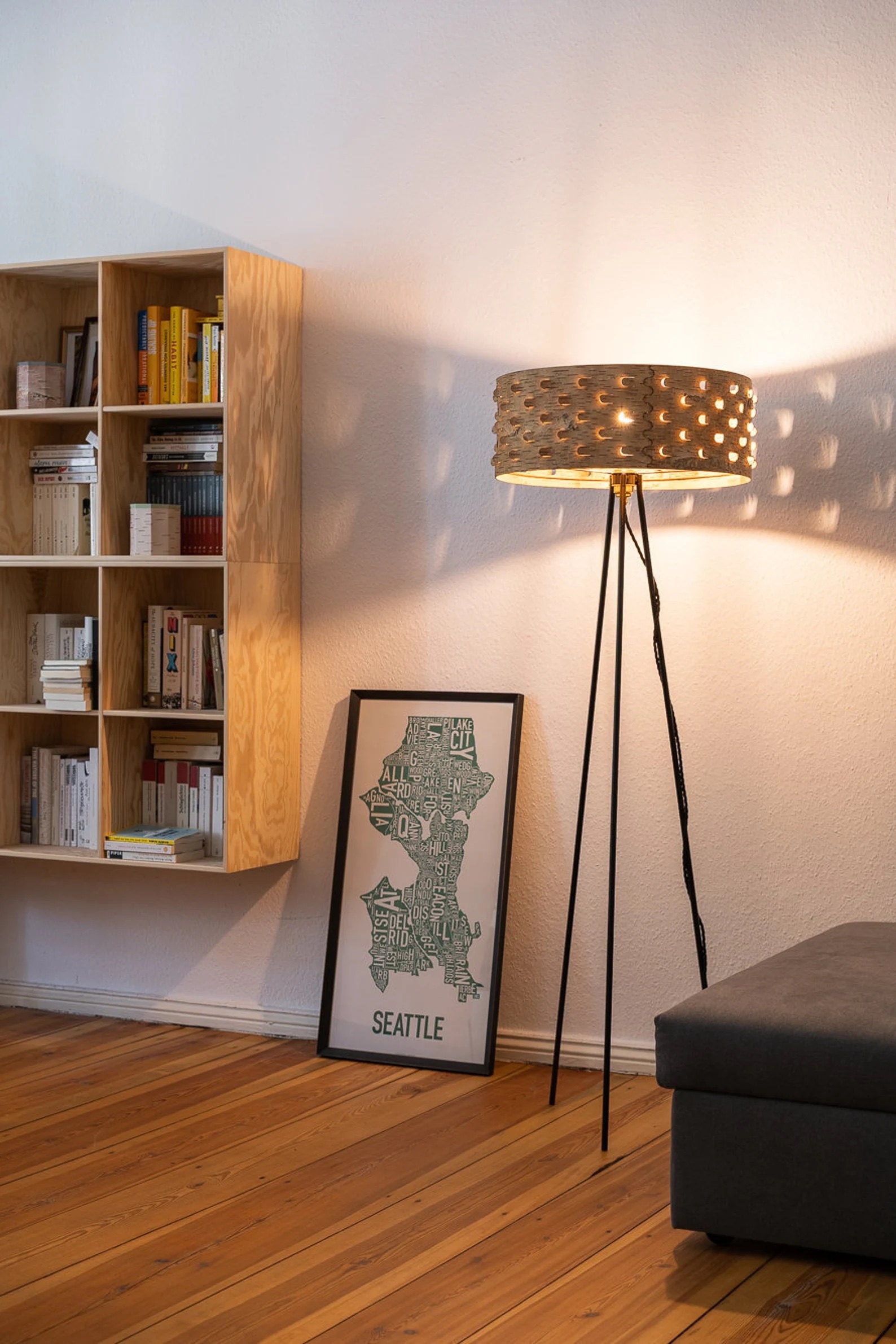 SHOP: Birch bark floor lamp from Moya Birch Bark, $1,005
This tripod floor lamp's simple design has an atmospheric quality as it projects a speckled pattern across your living room walls (and high ceilings!). Its shade is made from the natural, velvety front of the birch bark, and the ribs and furrows of the birch wood make it so that no two lamps are exactly alike, leaving you with a unique, eye-catching conversation piece.
5. A modern, artistic floor lamp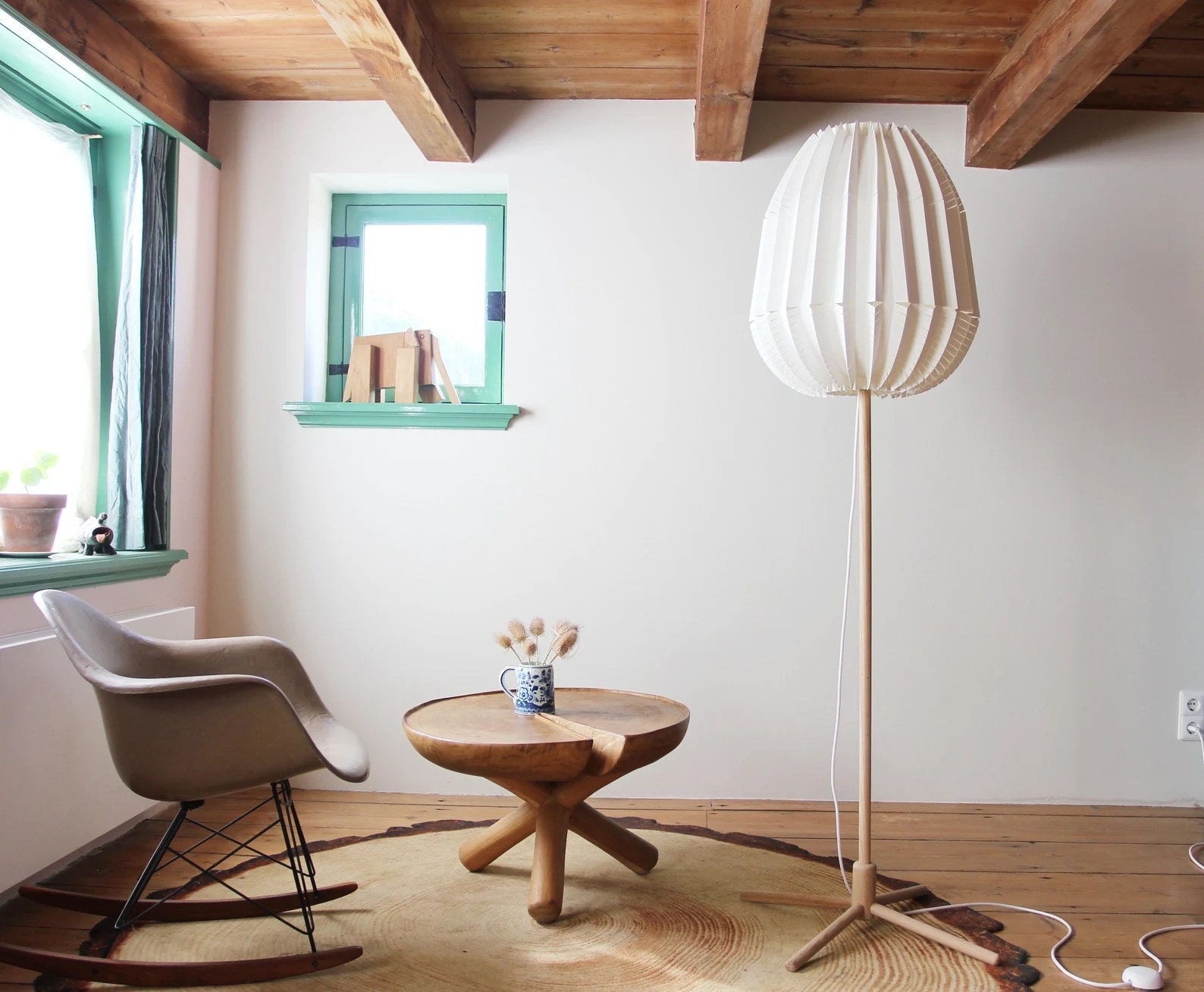 SHOP: Thistle origami lamp from Studio Snowpuppe, from $587
This delicate lamp is inspired by flower bulbs and thistles blooming, and it is a gorgeous piece of furniture whether you decide to keep the lights on or off. Created using an origami technique that is a combination of precise folding and skillful paper cutting, this floor lamp is craftsmanship at its finest.
Best floor lamps for your bedroom
From a can't-wait-to-dive-into duvet cover to the mood-setting lighting you choose, your bedroom should be an intimate sanctuary for sleep and relaxation. Adding comforting, ambient lighting can be the key to the bedroom of your dreams, and these floor lamps will soothe you into a peaceful slumber.
6. The best dimmable floor lamp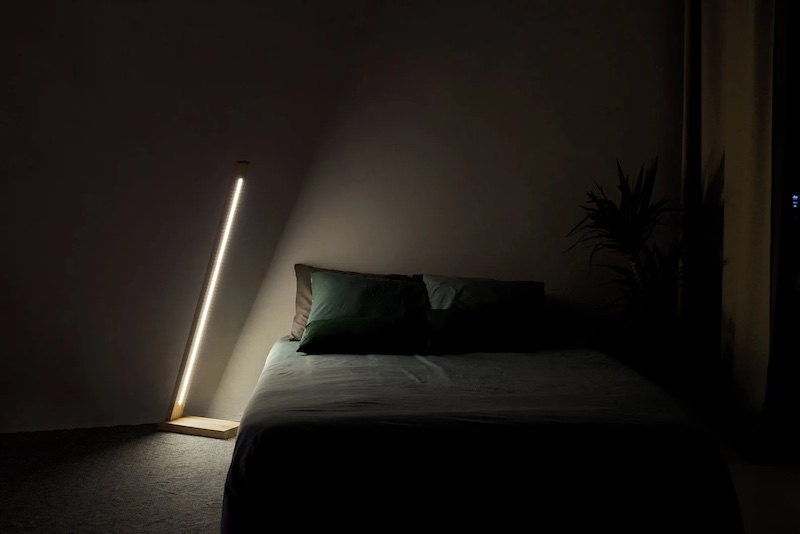 SHOP: Wooden accent floor lamp from Budro Design, from $339
A remote dimmer allows you to set the mood for when you're looking to turn it down a notch or bring some energy into a space. Its simple yet striking design is a magical match for a modern and minimalist aesthetic.
7. A slim floor lamp for small bedrooms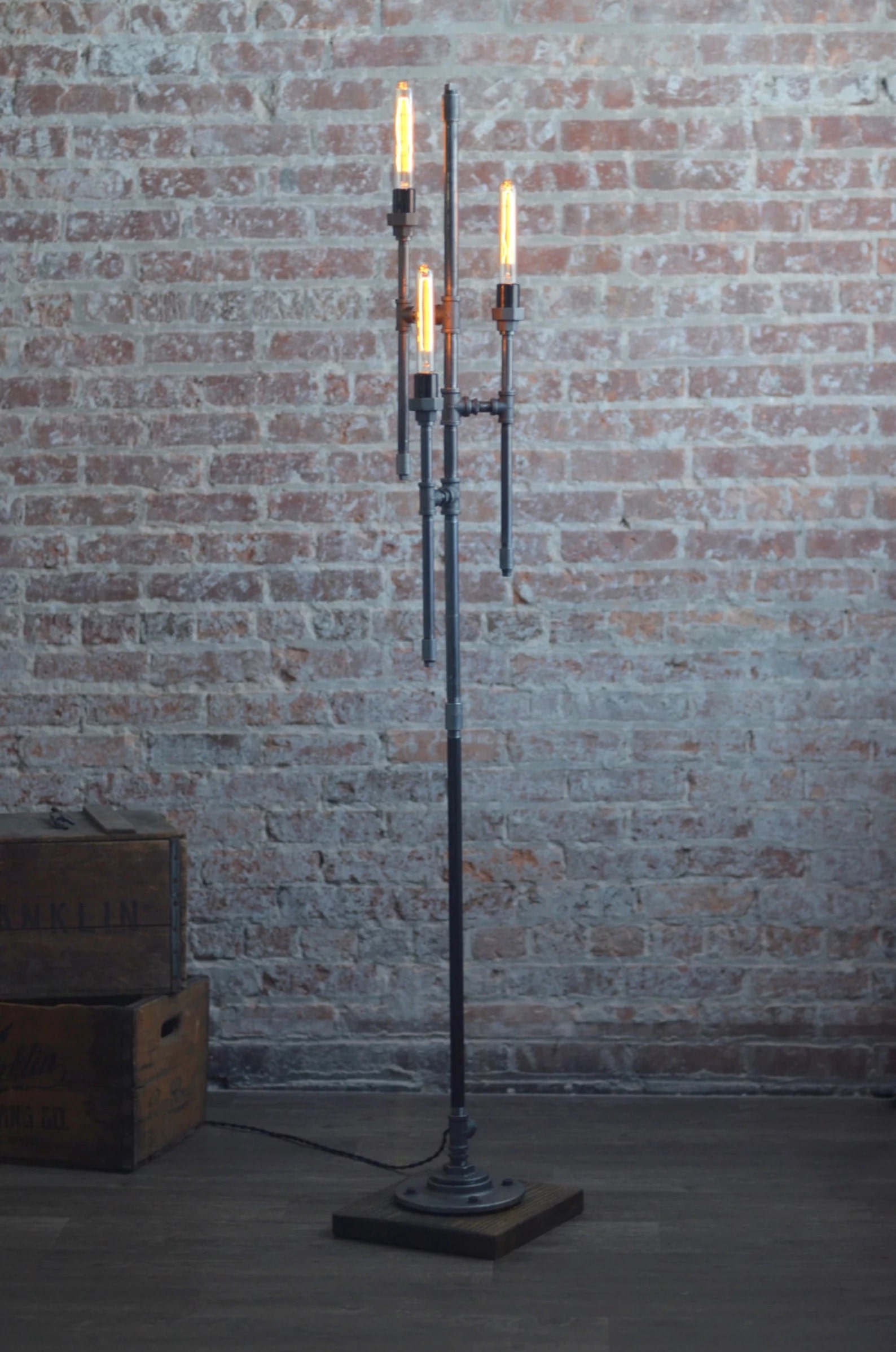 SHOP: Industrial Edison bulb floor lamp from New Wine Old Bottles, $425
Bring a cool, steampunk style to your bedroom with this Edison bulb floor lamp made from black iron piping. Its bare bulb design creates a streamlined, angular look that can fit in even the tightest of spaces.
8. A fun bedside floor lamp for kids' rooms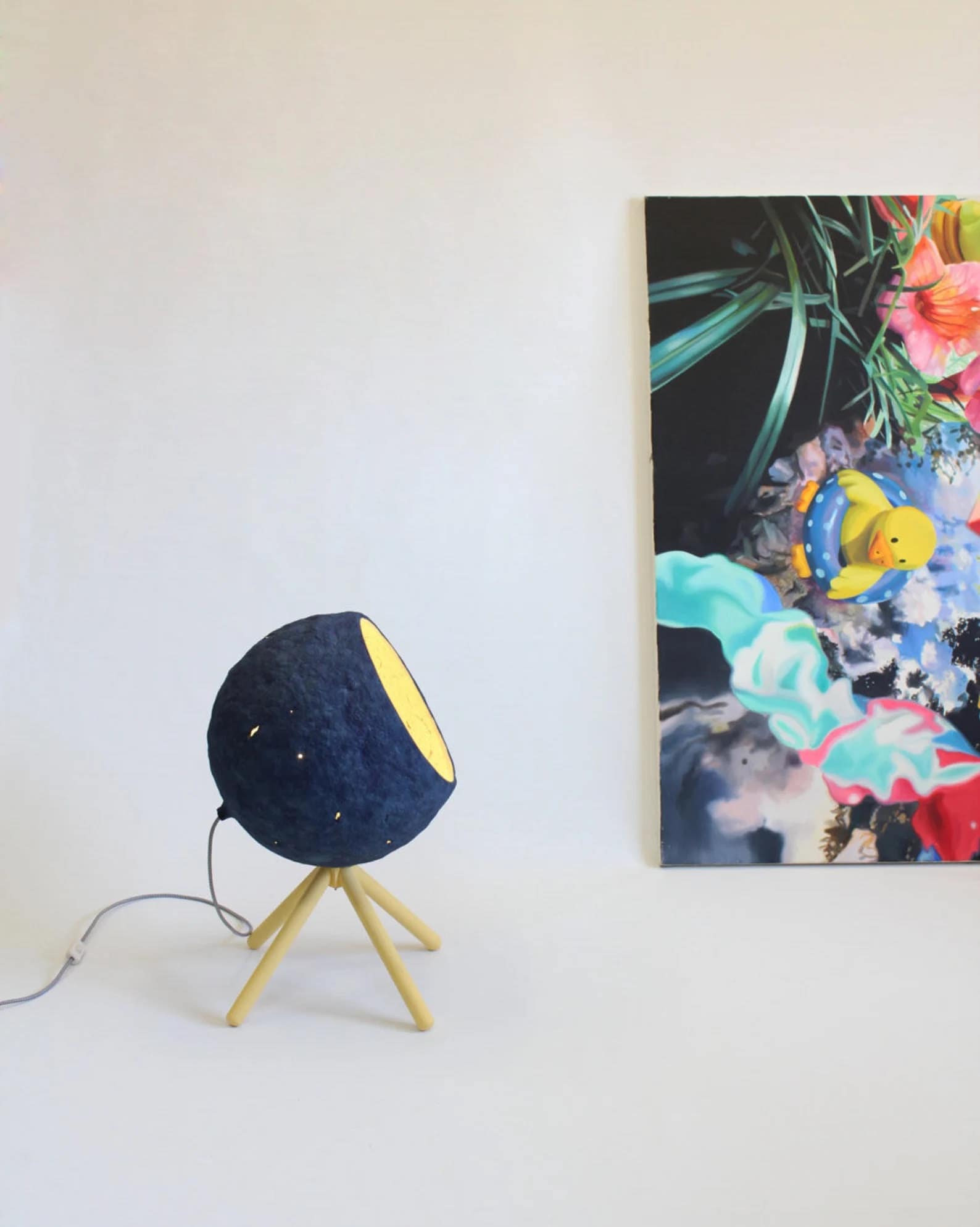 SHOP: Small paper maché floor lamp from Crea-re Design, from $305
Inspired by the dwarf planet Pluto, this small but mighty floor lamp is made from paper maché, which gives it a very earthy-yet-other-worldly texture. Use it as a spotlight for a moon-lit glow, because this lamp is planetary perfection.
Best modern floor lamps
Some of us are nostalgic for the past, some of us are amped for the future. From mid-century modern floor lamps to post-modern abstract lighting, these lamps can elevate your space whether you're living out your '70s home fantasy or curating a minimalist, future-forward lifestyle.
9. A unique arched floor lamp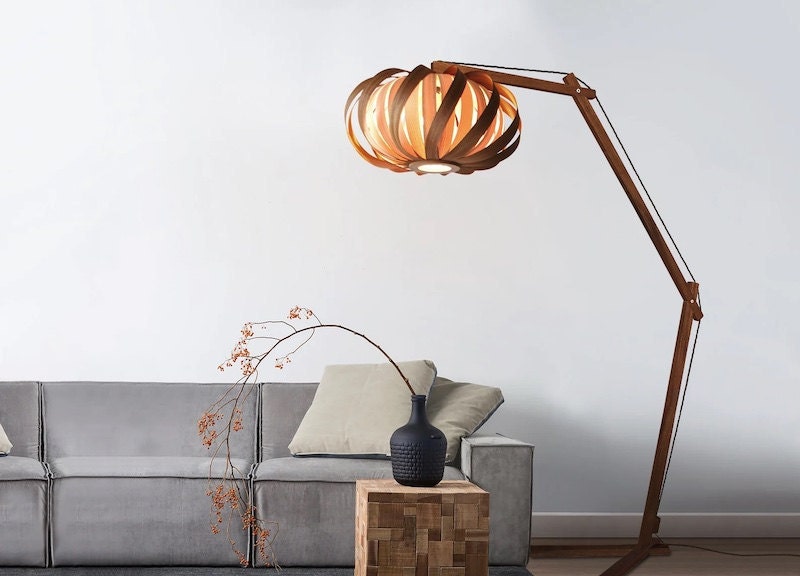 SHOP: Wooden arched floor lamp from Made In Wood, from $1,118
Featuring delicate and contrasting wood spirals, this arched wood floor lamp has the potential to be your new centerpiece. Buyers are raving about this modern lamp's quality and beauty, and its natural wood material and adjustable arms make it an easy fit for any room.
10. Best statement floor lamp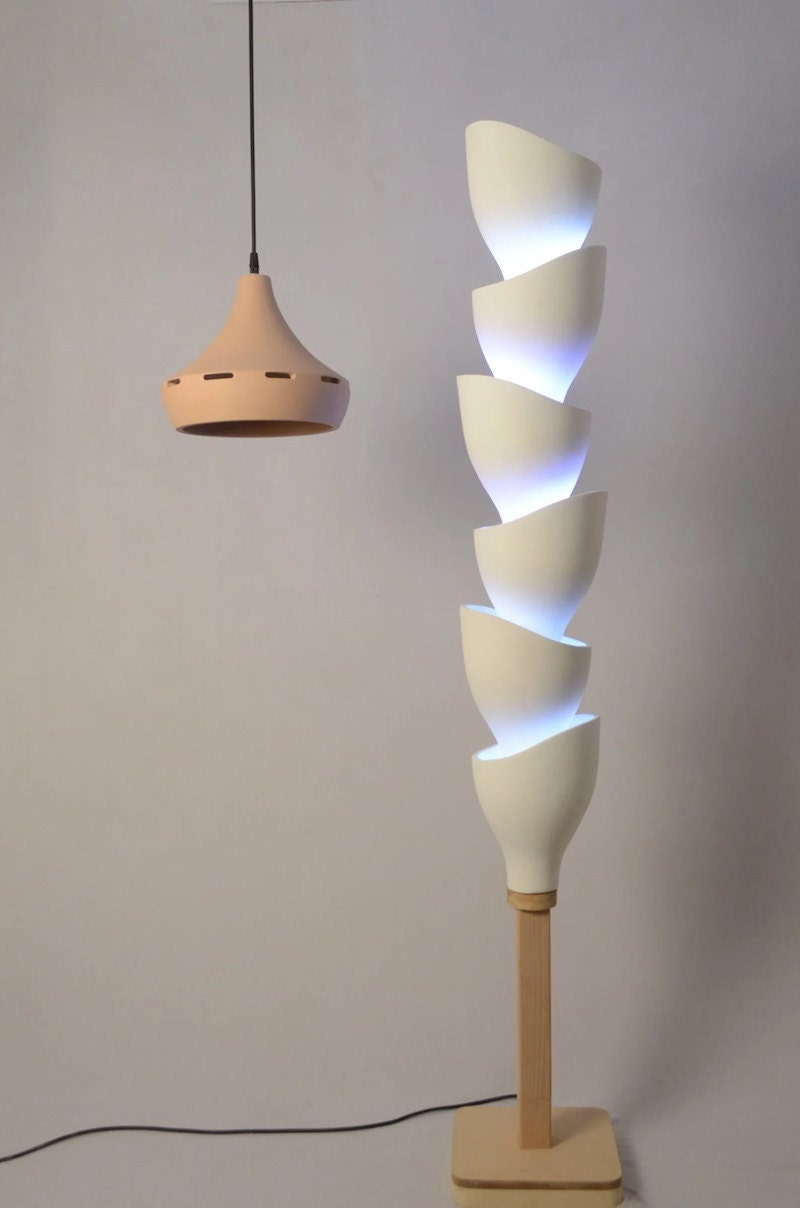 SHOP: Modular ceramic floor lamp from Naaya Studio, from $699
This ceramic and wood floor lamp is something out of a forest dreamscape. With its modular, architectural shapes that can be adjusted to be taller or shorter with ease, you'll capture the peace of crickets chirping, trees swaying, and sitting amongst the mushrooms and orchids—all from the comfort of your living room.
11. A nature-inspired paper lamp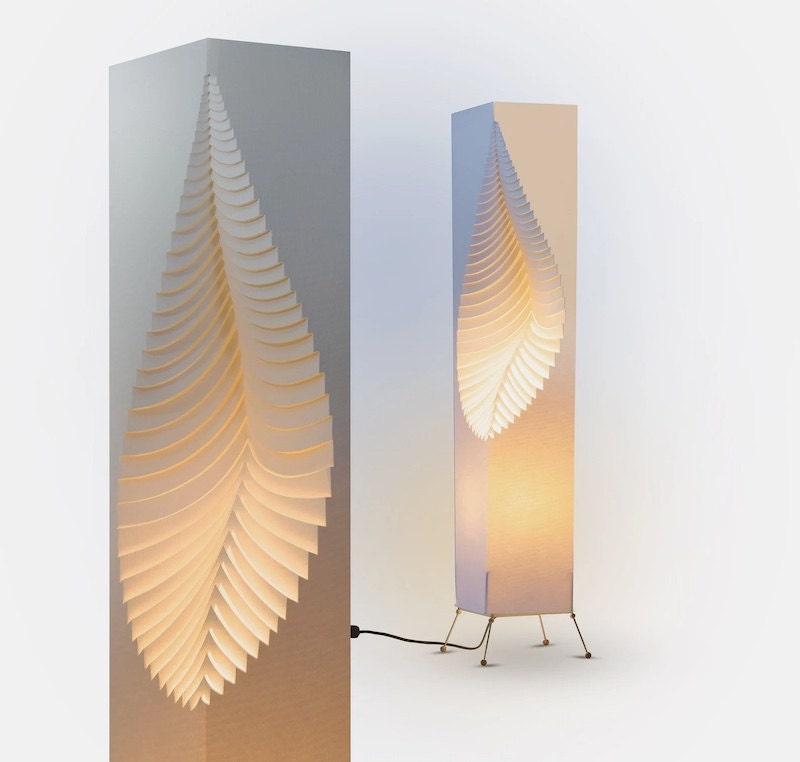 SHOP: Leaf-shaped paper lamp from Moodoo, from $190
This slim paper lamp is one that could be gazed at for hours on end. Its sculptural shape is open to interpretation: Is it a set of two spiral staircases? A ribbed teardrop? A curious cat eye shifting its view? Or is it a leaf gently falling to the ground? Whatever your vision, this modern floor lamp is an architectural and abstract work of art.
Best floor lamps for reading
When you're curling up with your favorite book, you want to have the proper ambiance to transport you to faraway places—and you want to be able to actually see the page you're reading. Luckily, these standing reading lamps can both set the scene and spotlight your story.
12. A mid-century modern reading lamp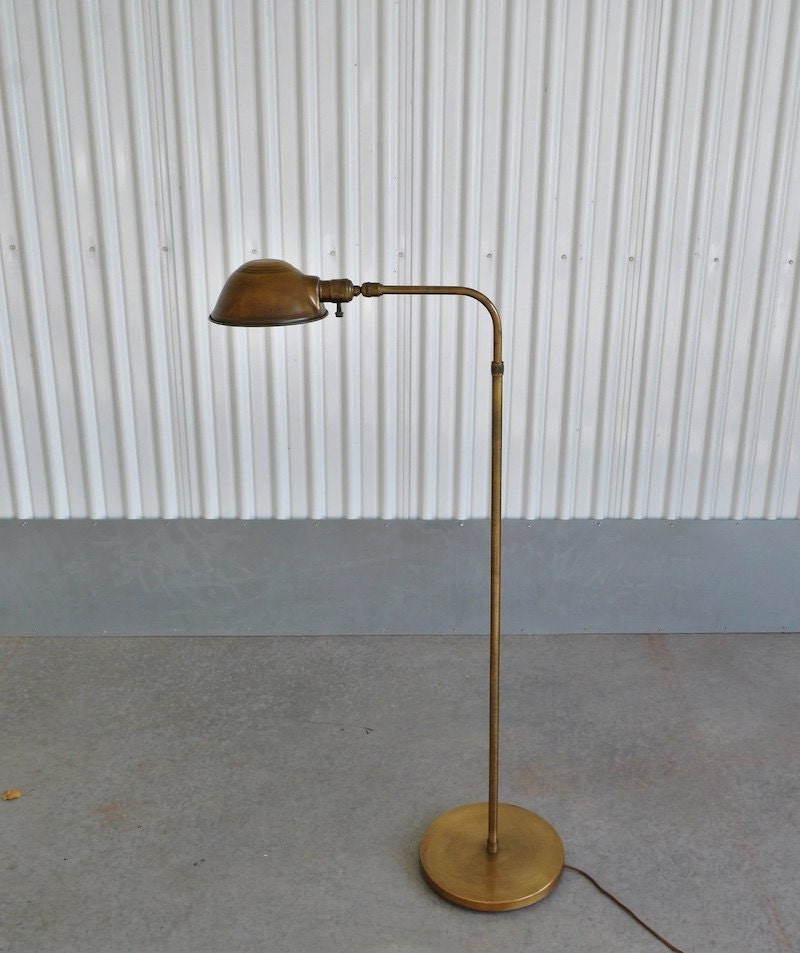 SHOP: Mid-century modern writer's lamp from decor4home2, $370
This mid-century modern floor lamp was designed with writers (and readers) in mind, to hover over the page for easy writing, editing, and reading. This vintage floor lamp boasts a beautiful patina on its brassy shade, and its chic '70s vibes make a great addition to any library or study.
13. The best black floor lamp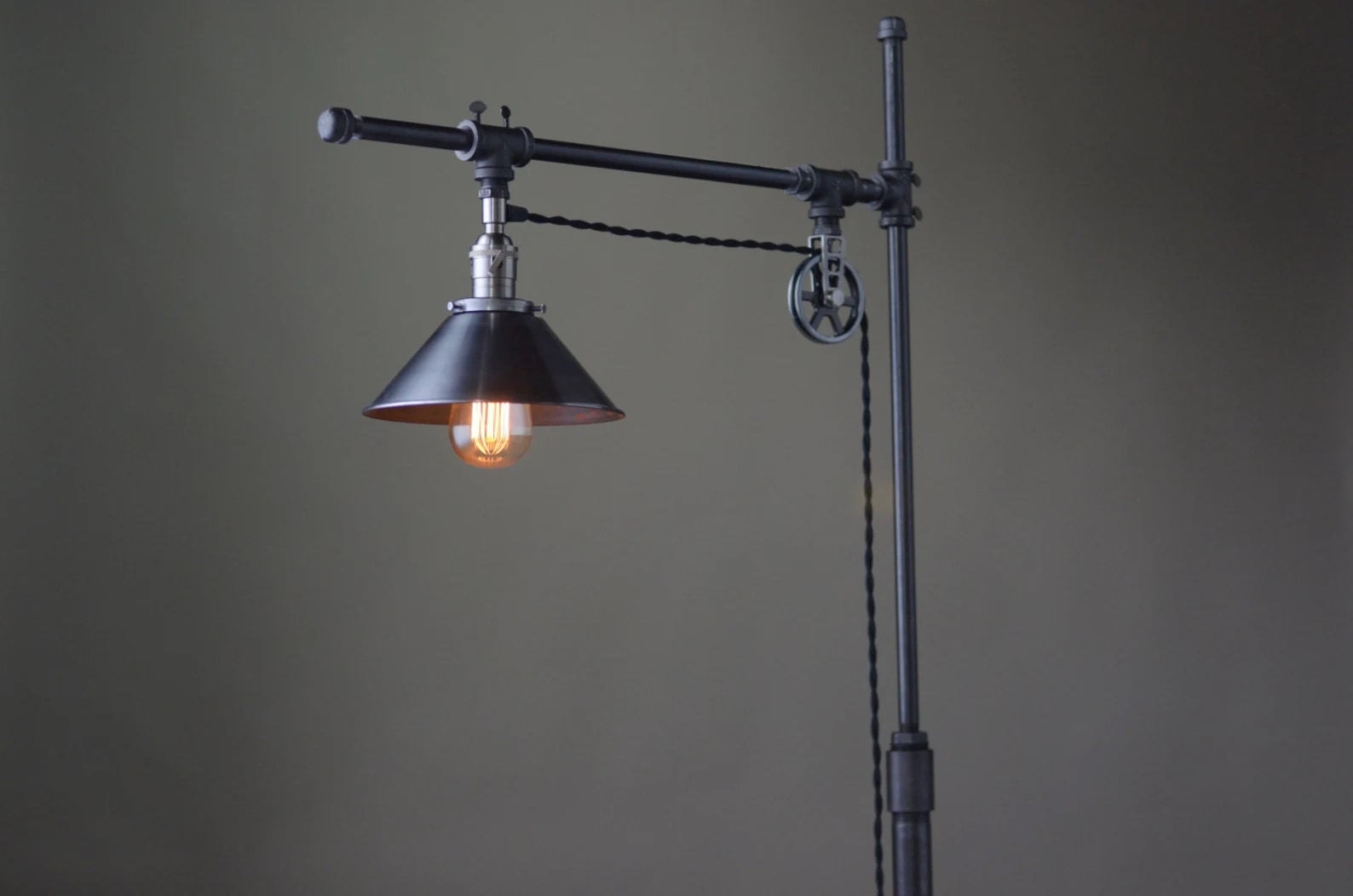 ​​SHOP: Industrial pipe black floor lamp from New Wine Old Bottles, $465
With this industrial-style standing lamp, you don't have to choose between form and function. Its sturdy black iron piping and pulley are stylish and sleek, and they help you adjust the light to the right height so it's the perfect spotlight for your reading spot.
14. A vintage cottagecore floor lamp under $300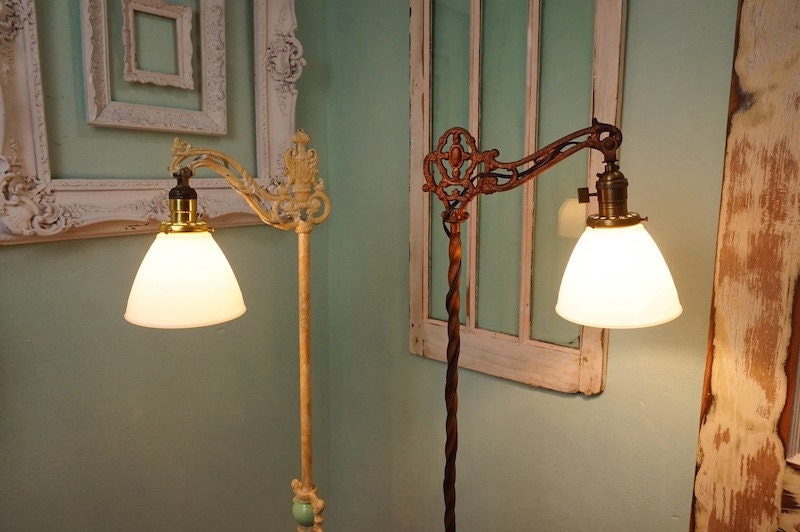 SHOP: Ornate refurbished vintage floor lamp from Heartkeyologie, $248
Add some ornate art deco vibes to your reading area with this vintage floor lamp. Dating back to the early 20th Century, this romantic lighting fixture is made of steel and features floral details that you'll be marveling at each time you flip the switch.
15. Best floor lamp for dark rooms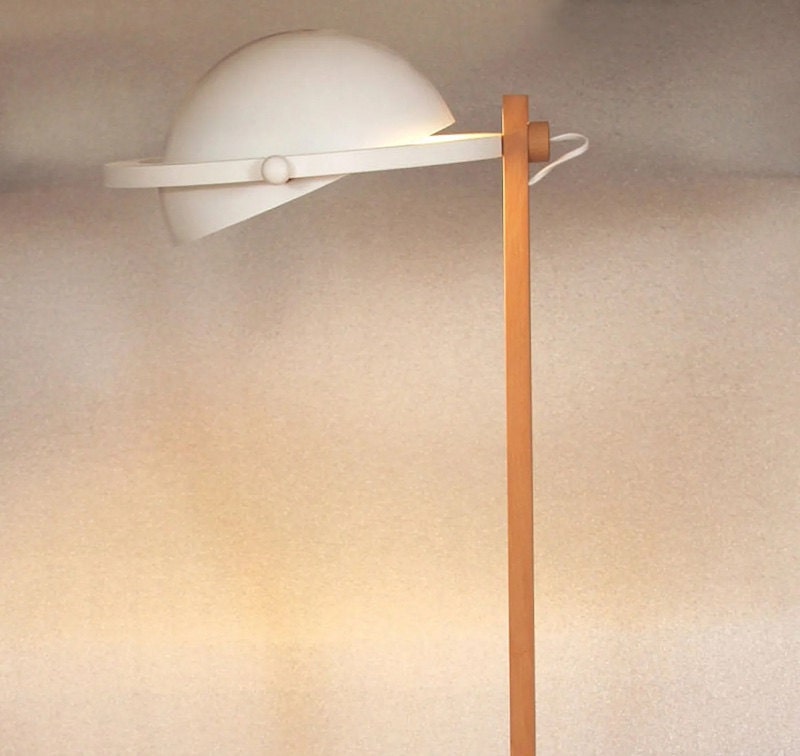 SHOP: "The Saturn" modern minimalist floor lamp from CVOR workshop, $238
Another space-inspired statement piece, this white minimalist floor lamp is versatile and vibrant. Its posable lamp shade makes it a spotlight for reading or it can be lit toward a blank wall to light up a dark room without casting too many shadows. Buyers love the diffuse light it casts to brighten up their space.

*participating shops only