Only the very best gifts will do for your very best friends, and these sweet ideas are just waiting for your next gift-giving occasion.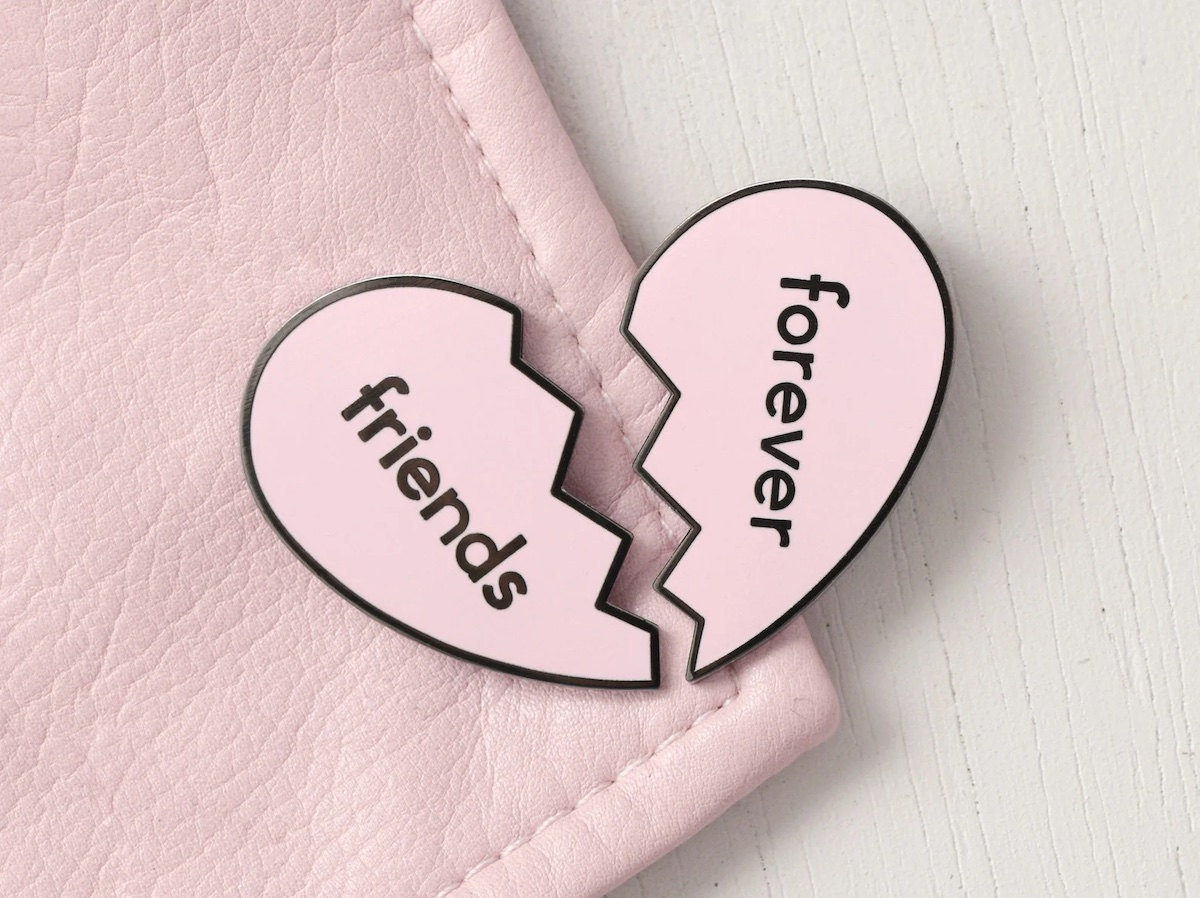 The very best gifts for your very best friends are those sentimental finds that feel like they're made just for them. Bonus points if it's something they'll use and adore more often than not. And small shops on Etsy are hard at work creating some of the best gift ideas to celebrate each of your besties. Whether they're your on-call coffee date or the shoulder you lean on from afar, these finds are perfect for recognizing the relationship you share.
1. A pair of cats brooches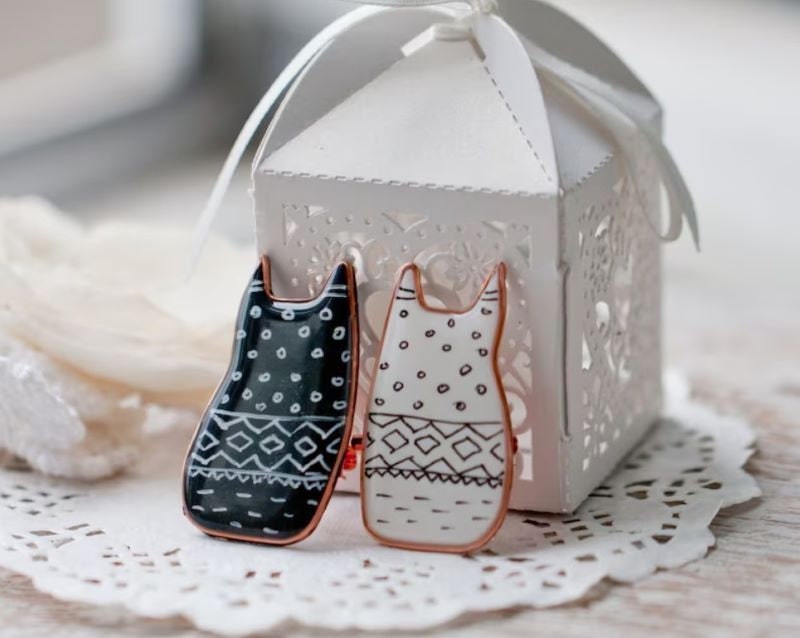 SHOP: Brooch pair from Dariami, $76
For the purr-fect pal on your list, these cute handmade brooches are the cat's meow. Made in complementary colors, these mini pins are just under two inches in height and perfect for popping on your backpack or lapel when you want a stylish and sentimental touch.
2. Best friends art print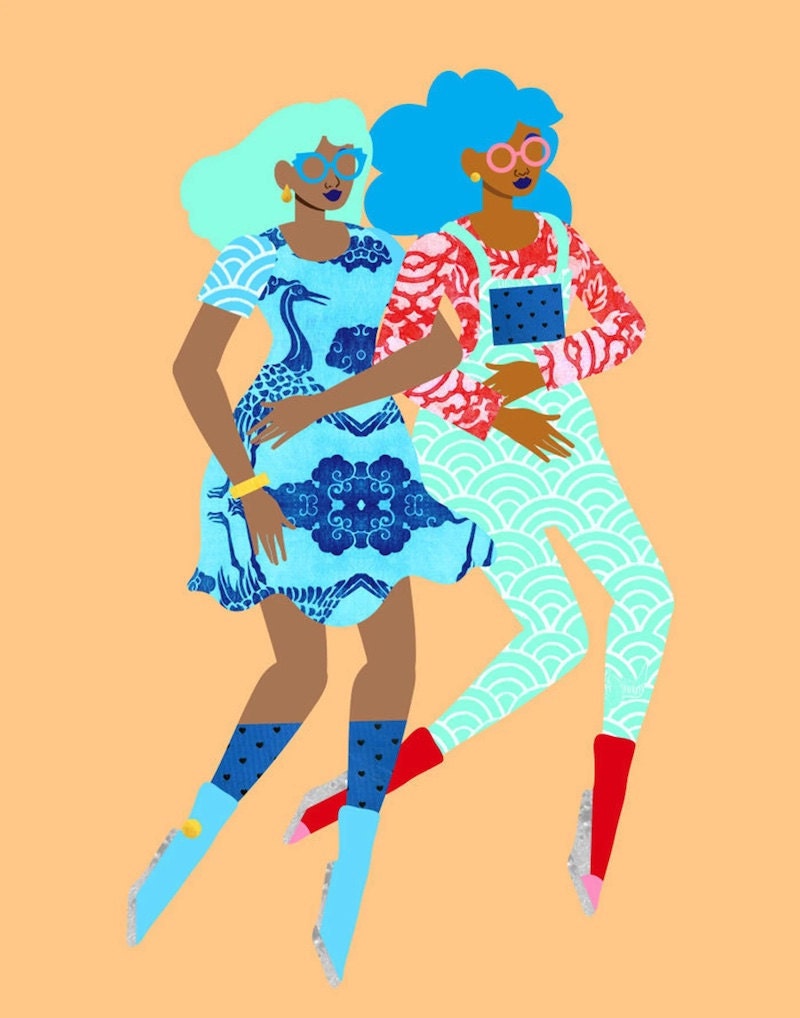 SHOP: Spring in our step art print from The Pairabirds, from $22
Remind her just how much she lights up your life with this ultra-colorful art print of a pair of besties. Available in three sizes, this artwork is printed once you purchase and arrives ready to frame. Buyers absolutely love this best friend gift idea, saying "These prints are even better in person." Consider purchasing a matching print for yourself, and you'll be reminded of your BFF each time you see it.
3. DIY pin kit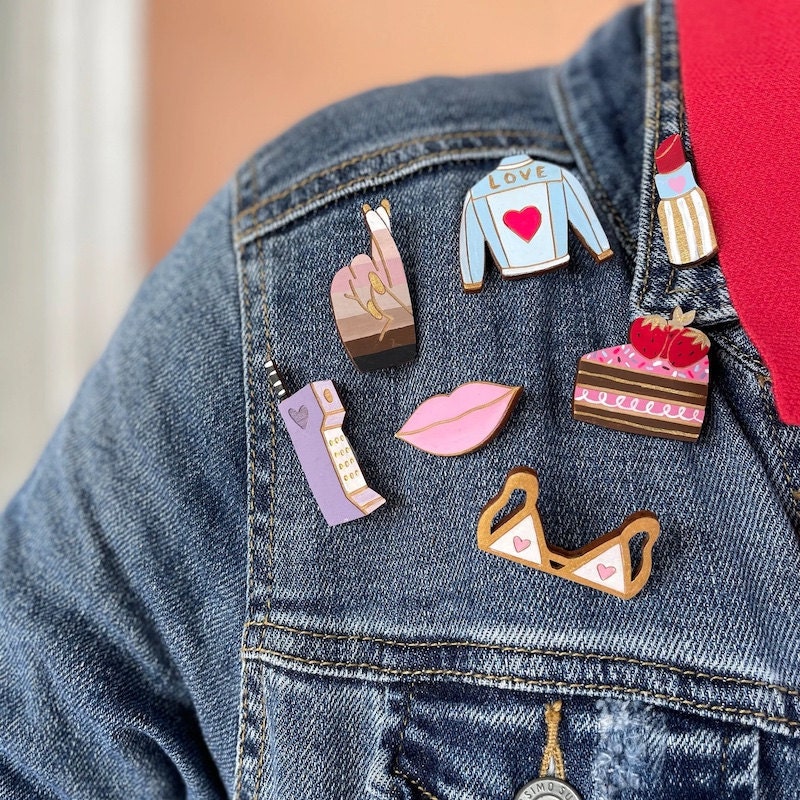 SHOP: Wooden pin kit from Jill Makes, $27
If she's a crafter through and through, show her that you recognize the passions that set her apart with this this DIY pin kit. A hands-on present that's perfect for Galentine's Day or just because, this project is sure to keep your best friend entertained. "I bought this as a gift for a friend who is getting into crafting," wrote one customer. "It comes with all the materials needed and the pins are really cute!"
4. Popsicles card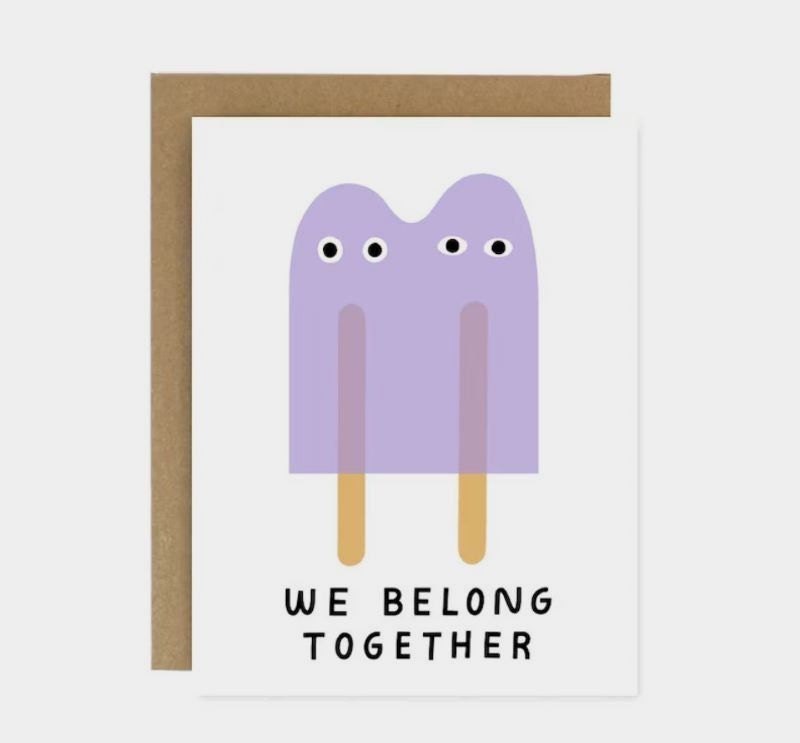 SHOP: Screen printed folding greeting card from Worthwhile Paper, $6
Forget those forgettable greeting cards from the supermarket, this cute and original best friend card is hand-drawn and screen printed by a husband-and-wife duo in their plant-filled studio in Ypsilanti, Michigan. The shop uses earth-friendly recycled papers and water based inks, and they have many more quaint love and friendship cards to choose from.
5. Very big hug blanket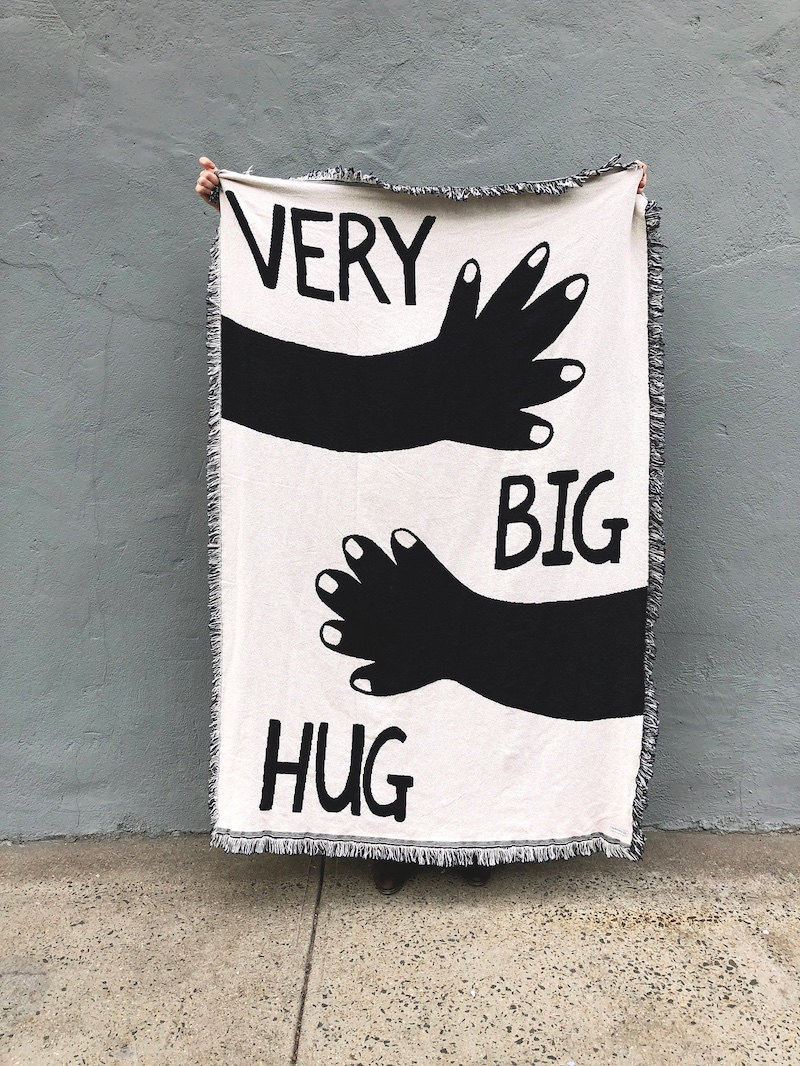 SHOP: Black and white cotton throw blanket from Calhoun & Co., $118
If your long distance BFF needs a warm embrace, this hug-inspired throw blanket can remind them that you're never truly that far away. Handmade from 100% cotton in New York, one buyer described this best friend gift idea as a "super great quality blanket," and added that "It shipped way sooner than anticipated, and it came in the cutest packaging. The seller included a hand-written note on my packaging slip, and a free deck of adorable cards. Overall, I could tell how much they care about providing a heartfelt product."
6. Friendship rings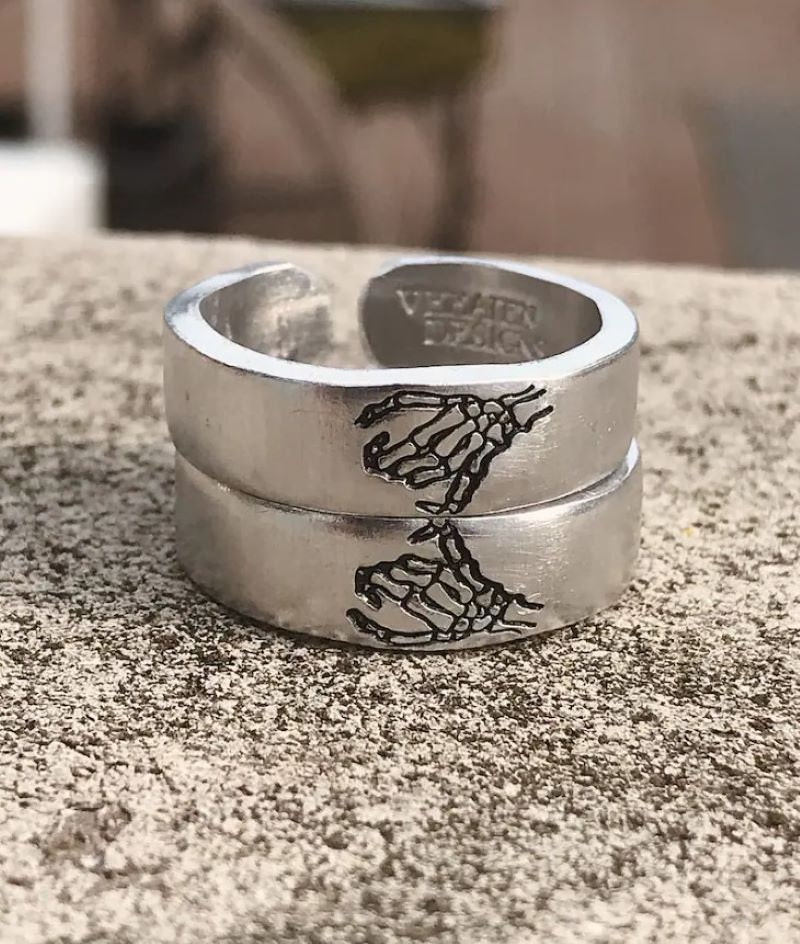 SHOP: Matching double skeleton rings from Veeaien Designs, from $59
For those ride or die besties, these skeleton pinky-link friendship rings are a cheeky best friend gift that's sure to make them chuckle. These unique rings come in various gold and silver options to choose from, and one buyer wrote, "Gorgeous and high quality, comes with care instructions as well."
7. Yin and yang earrings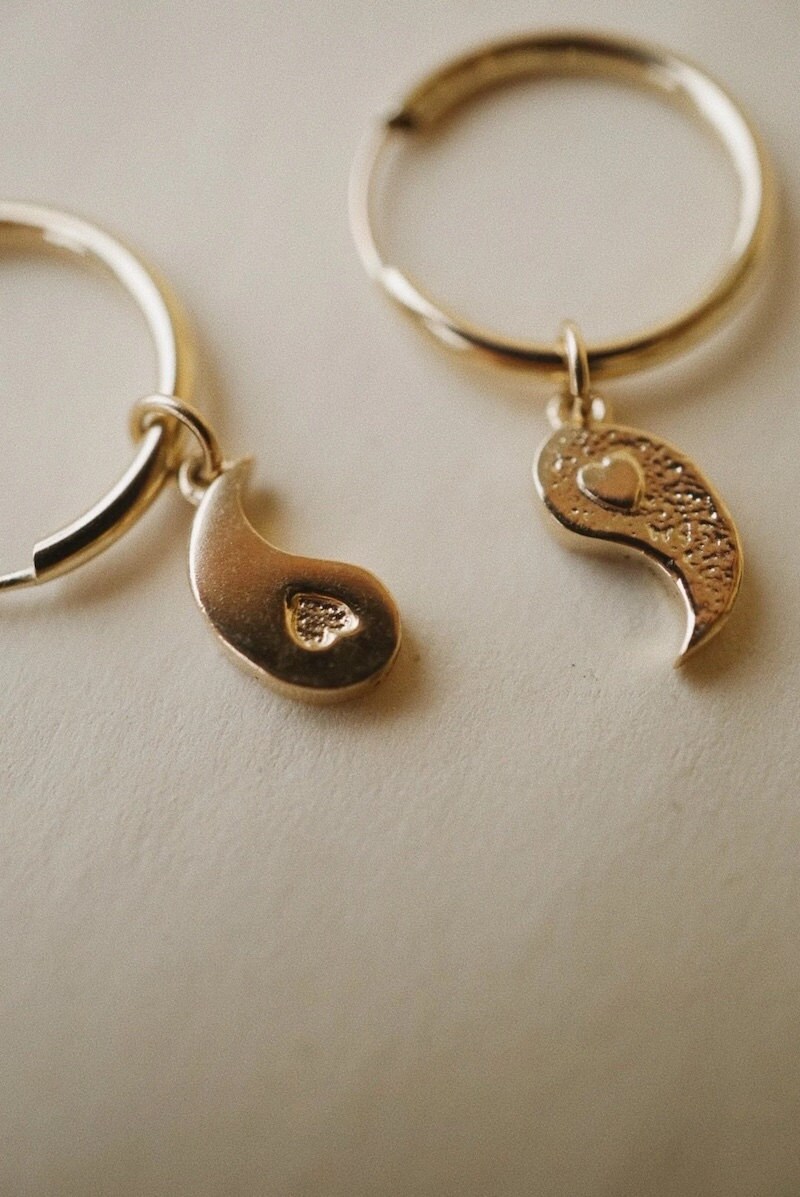 SHOP: Yin yang charm hoops from Foe & Dear, from $177
Whether you opt for the silver, 14K yellow, or 14K white gold version, these gorgeous yin and yang hoop earrings are the ultimate symbol of two halves of a whole—the ideal friendship. You can choose to give both earrings to your pal, or keep one for yourself and share this best friend gift idea.
8. Friends forever pins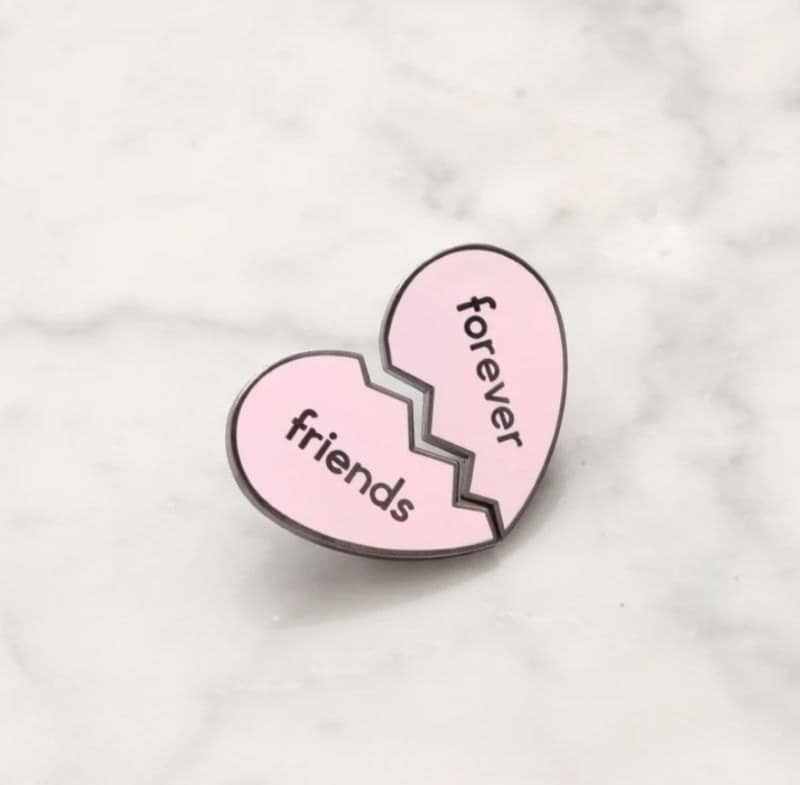 SHOP: BFF enamel pin from Alphabet Bags, $7
This sweet best friends gift is under $10 and is a thoughtful little surprise gift for no particular reason at all. Meant to be shared with a much-loved best friend, with you keeping one half and gifting them with the other, these adorable enamel pins can be put onto clothes or accessories, and one thrilled customer wrote, "Very cute pins for my friend! Packaging was nice and the pins were exactly the quality I'd expected."
9. "I love your face" mug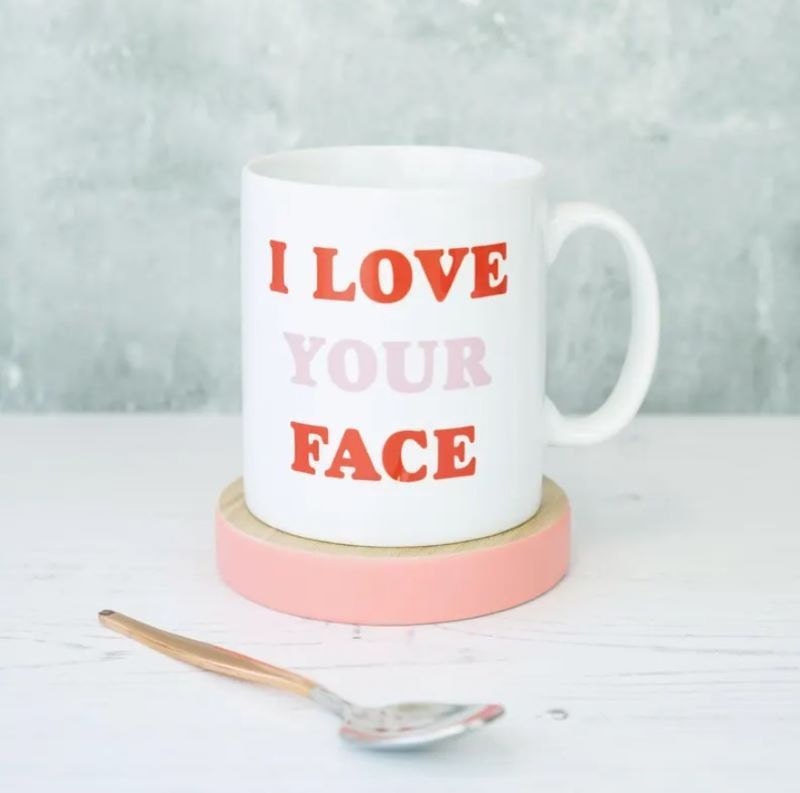 SHOP: 'I love your face' mug from Sparks & Daughters, $16
You know that feeling when you see someone's face and your day automatically gets so much brighter? This ceramic mug declares exactly that: "I love your face." Give it to the bestie who never fails to make you smile.
10. Link bracelet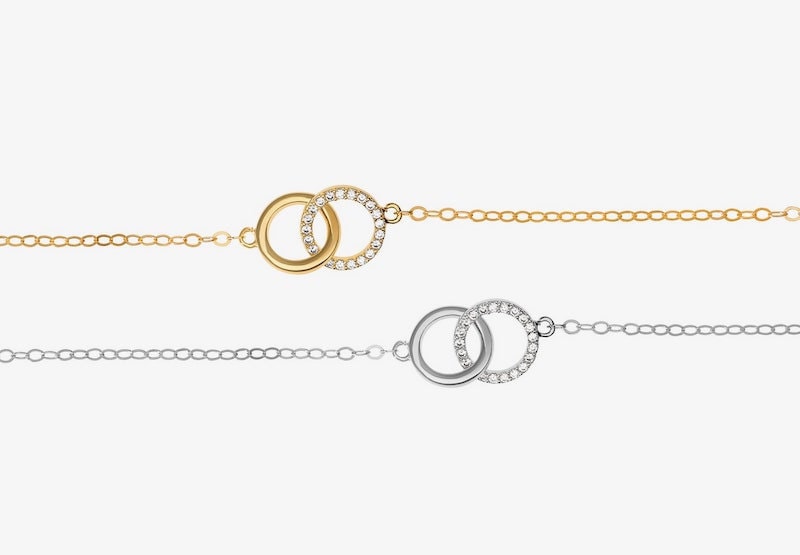 SHOP: Eternity linked bracelet from Darling Jewelry Studio, from $34
Effortlessly chic and dainty, this infinity bracelet features two interlinked hoops to symbolize a special and unwavering bond with no end. It's available as a sterling silver, silver plated, 14K gold plated, or 14K gold filled design, and you can add an initial for some sweet personalization.
11. Personalized wall art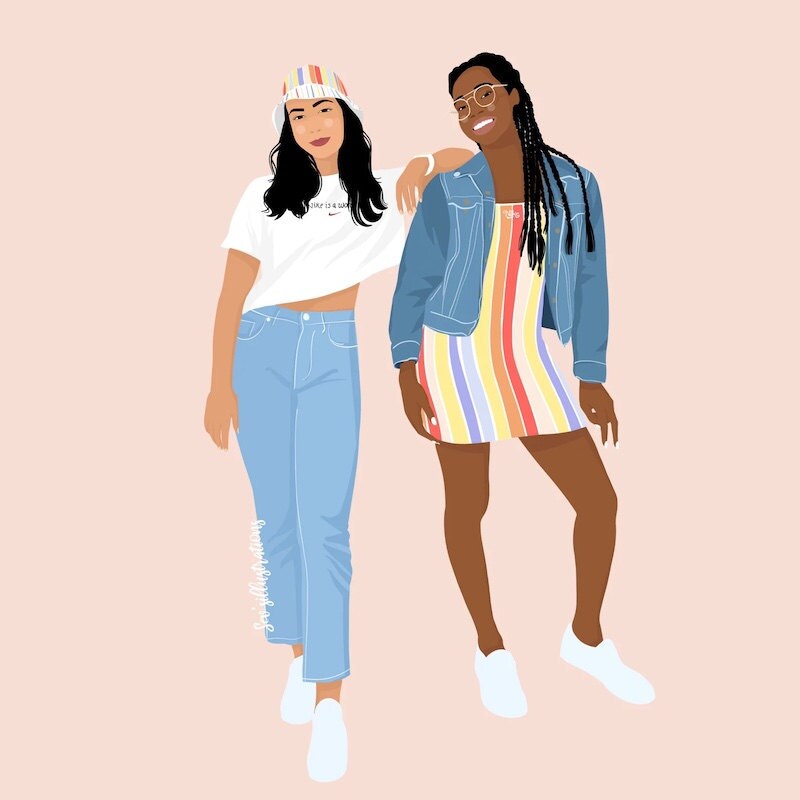 SHOP: Custom portrait friends from Seve Illustration, from $50
Send the designer of these personalized portraits a picture of yourself with up to eight best friends, and they'll make a gorgeous piece of hand-drawn artwork for you to gift away. "A perfect job," wrote one enthusiastic customer. "Go for it with your eyes closed. I will not hesitate to reorder!"
12. Letter necklaces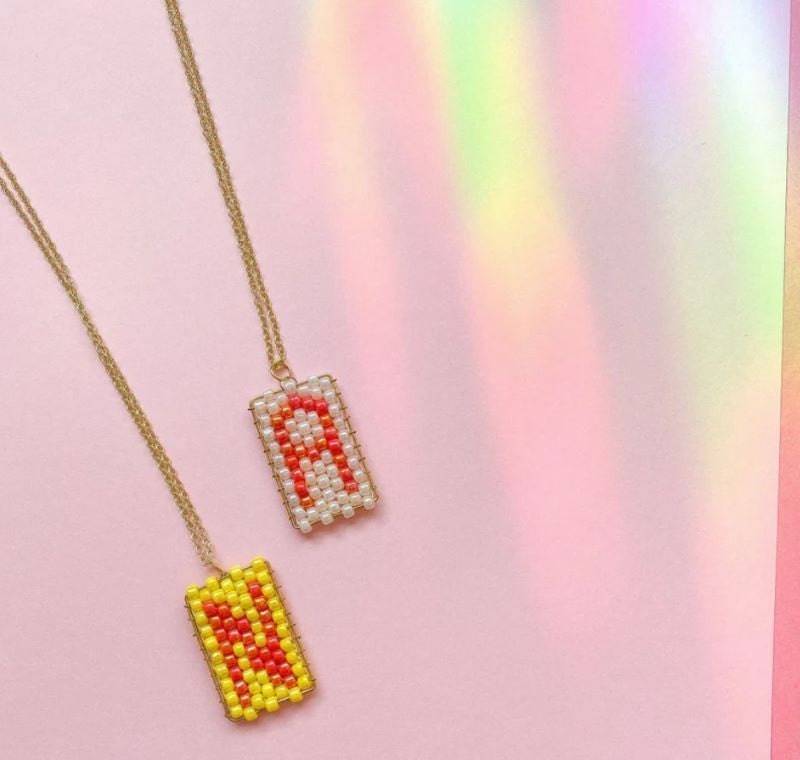 SHOP: Personalized initial pendant from Shop Mranz, $48
A colorful spin on traditional initial necklaces, this glass-bead version is beautifully handmade in your choice of color combinations. They're available in gold or silver, and one customer wrote, "The necklaces are so beautiful! I love them, and have already gotten so many compliments. They also arrived quickly, and [in] very cute packaging!"
13. Otter ornaments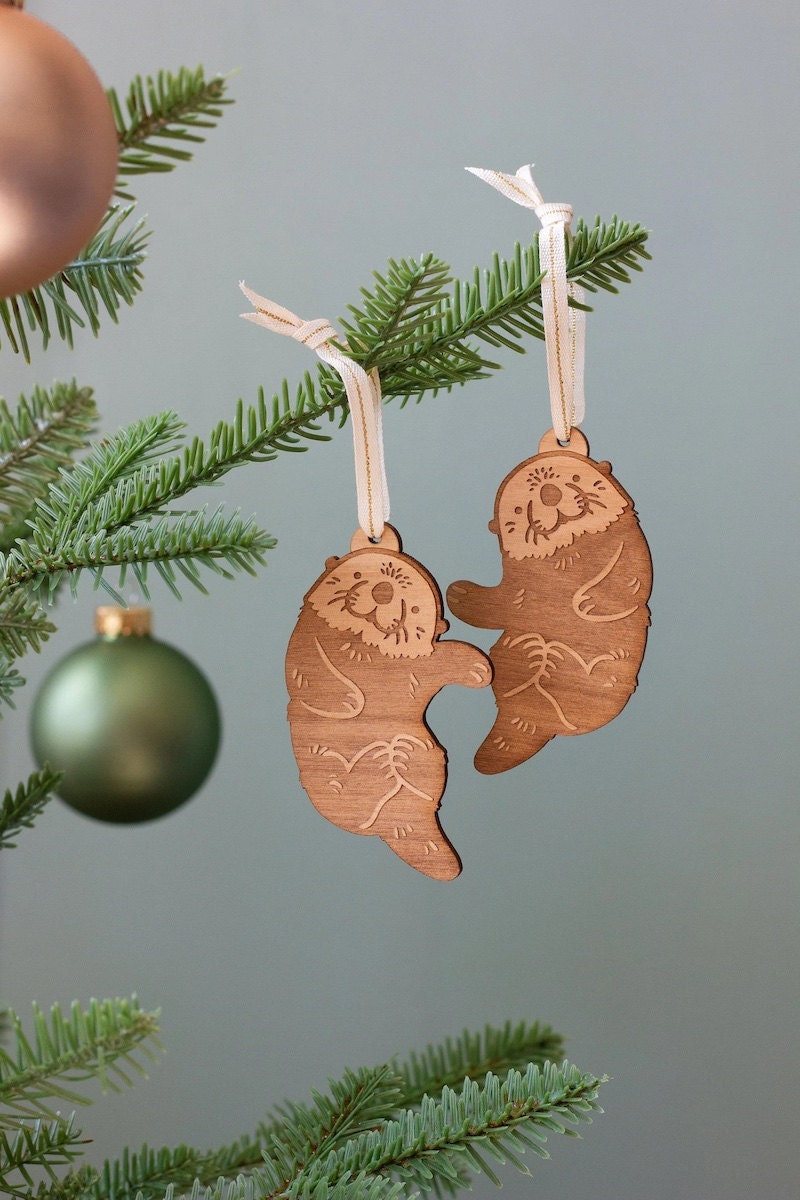 SHOP: Set of two otter ornaments from Hereafter, from $20
Known for holding hands while they float nonchalantly on the water so that they don't drift apart, anything with sea otters on it makes for a meaningful best friend gift idea. This set features two laser-cut wooden ornaments with a personalized inscription that fit perfectly together, and are called "well crafted," "so cute," and "adorable" by many happy customers.
14. Gold ampersand necklace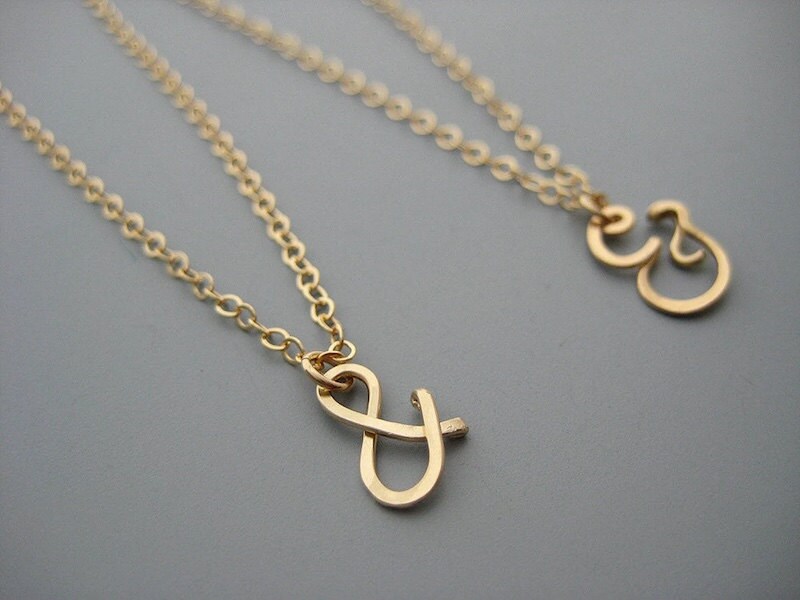 SHOP: Handmade ampersand necklace from Simply Serasi, $57
The ampersand, a well-known symbol for the word "and," makes an excellent best friend gift idea as it can symbolize you "and" your pal's special friendship. This 14K gold-filled wire and chain necklace is available in two fonts—Roman or italics—and buyers call it "absolutely perfect," "beautiful," and praise the seller's fast shipping.
How do we pick these best friend gifts?
As Etsy Journal editors and contributors research and curate shopping guides for some of the best-loved items on Etsy, we thoughtfully consider the creativity, customization, and craftsmanship that go into each product. We also consider buyer reviews, item ratings, and customer service, and tap the expertise of our in-house merchandising and trends experts to uncover high-quality finds for every budget. You can find more information about each item in the seller's listing details and can take a look at their individual shop policies and reviews, too.