Celebrate their love of this American distilled spirit with these picks for the best gifts for bourbon lovers.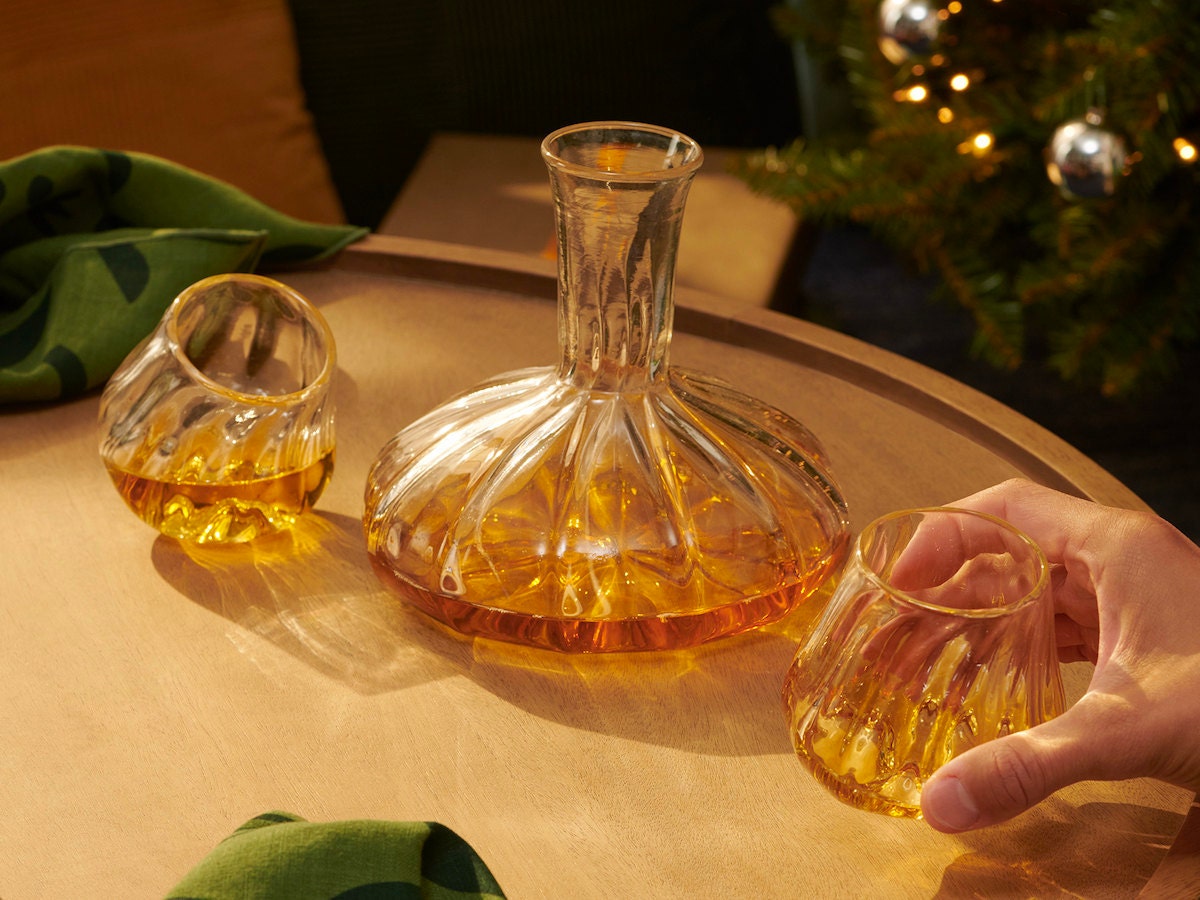 Unless you know their exact, and likely very particular, tastes when it comes to enjoying a glass of bourbon, buying a bottle for a whiskey-loving pal can be a challenge. Fortunately for you (and your bourbon-adoring loved one), enjoying this particular spirit is often more than just a drink, and there are so many other gift ideas for bourbon lovers that will complete their next happy hour experience.
But wait, what's the difference between bourbon and whiskey?
Here's an easy way to remember the difference between these two distilled liquors: All bourbons are whiskey, but not all whiskeys are bourbon. (And we've included gifts for both on our list!) Bourbon is specifically an American-made whiskey that must contain at least 51% corn in its mash and be aged in new charred-oak barrels (which gives it a smoother finish than whiskey). Whiskey, on the other hand, can be produced around the world and may be un-aged (aka, moonshine!) or aged.
All that to say, small shops on Etsy adore the nuances of these two sister spirits just as much as the whiskey aficionado in your life and have created these unique gifts to celebrate the love of bourbon.
See our picks for the best gifts for bourbon lovers:
Glassware gifts for bourbon and whiskey lovers
According to avid bourbon fans, a large percentage of the enjoyment of drinking this spirit is the vessel you drink it from. These glass picks are handmade especially with whiskey lovers in mind.
1. Set of hand blown glasses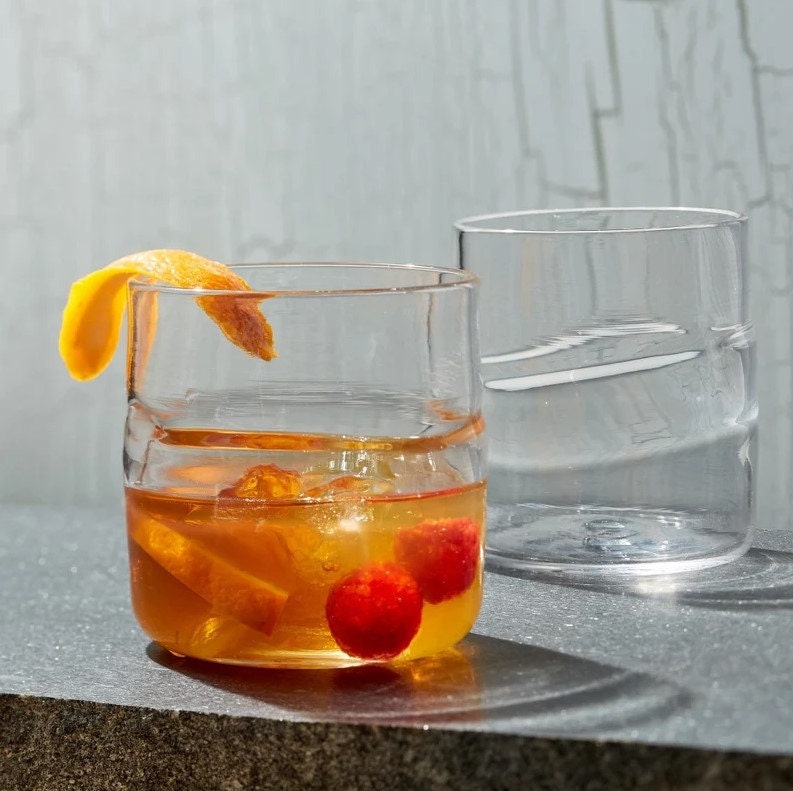 SHOP: Whiskey lowball rock glasses from Providence Art Glass, from $44
Exquisitely and uniquely made by hand without the use of a mold, these beautiful clear low ball glasses have a delicate clear band around the middle for a distinctive touch. Buyers call them "gorgeous," and "amazing," and say that they come "very well packaged."
2. Set of logo glasses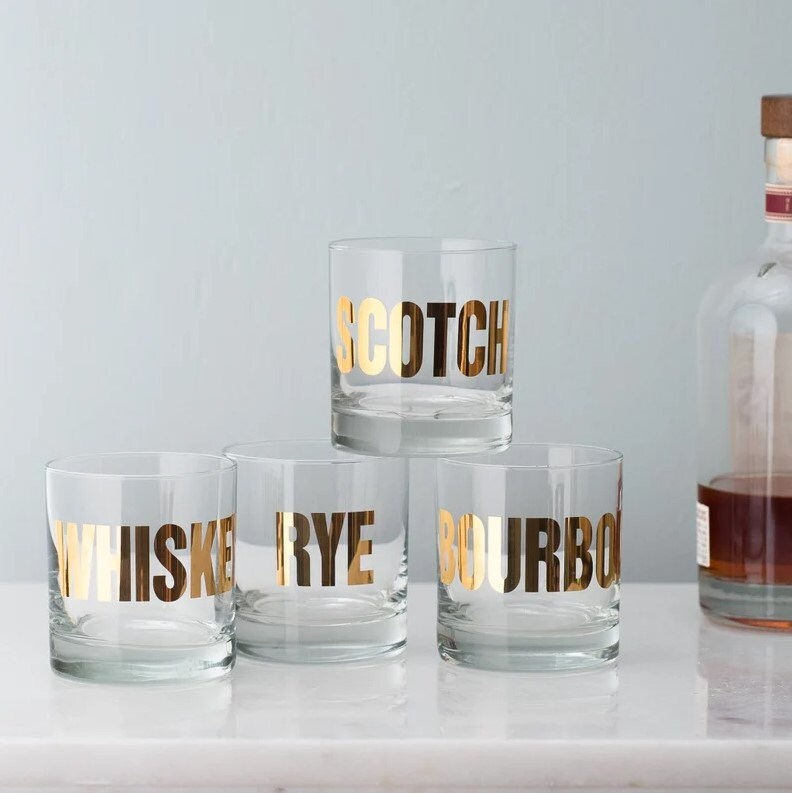 SHOP: Mixology cocktail glass set of 4 from Vital, from $60
This whiskey-themed set of four tumblers are fun and to the point. They come with either a black or 20K gold font, and you can have them personalized with your favorite drinks. Buyers love the high quality of these glasses, and the black ones are even dishwasher safe in the top rack (it's best to wash the gold ones by hand, though).
3. Bourbon poetry decanter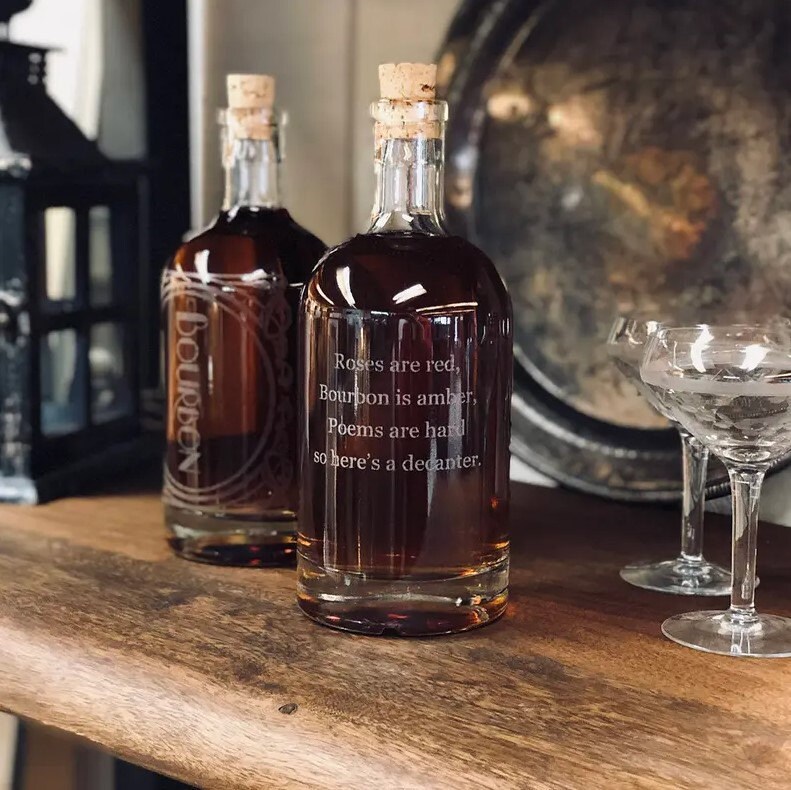 SHOP: Personalized glass decanter from RecEtch, $70
For a romantic touch, these bourbon decanters can be personalized with a poem of your choice. These 750ml glass bottles are around nine inches in height and come with a cork stopper. Buyers love the thoughtfully custom-made packaging they arrive in.
4. Faceted glass decanter set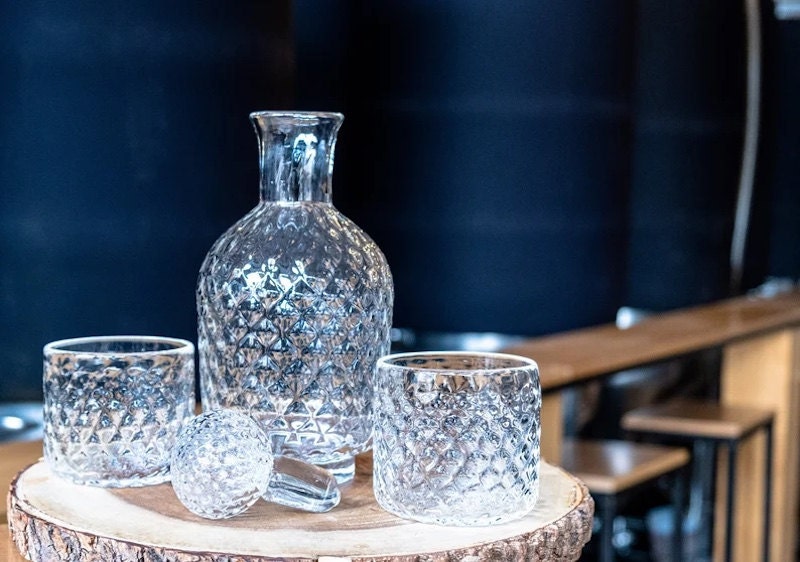 SHOP: Faceted decanter and low ball glasses from Pretentious Glass Co, $248
The perfect gift to enjoy right away, this faceted glass decanter set, complete with carafe and two glasses, will thrill any bourbon-lover. Expertly handcrafted in the star seller's studio in Tennessee, this set catches the light and puts the rich amber hues of your beloved's bourbon on full display.
5. Customized whiskey decanter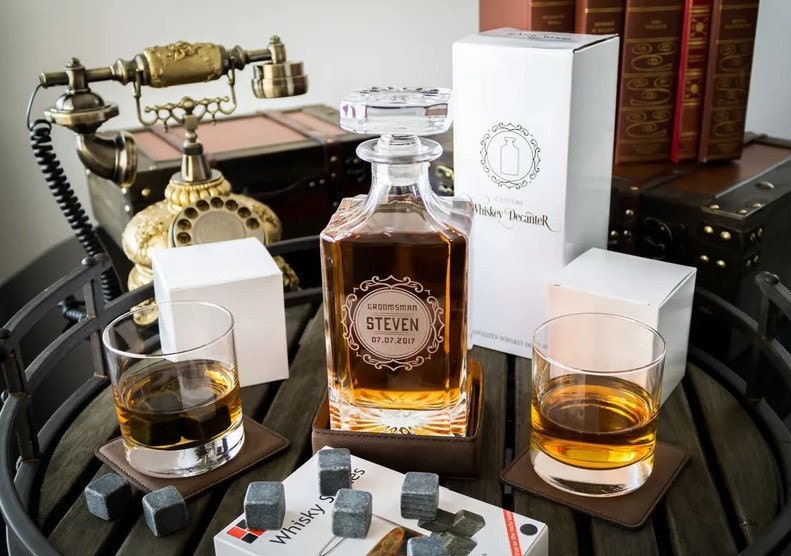 SHOP: Personalized decanter with optional glasses from Magic Wood Shop, from $47
To please a whiskey drinker, you can't go wrong with a good old personalized decanter, like this stellar option from the Magic Wood Shop, a small family business in New York. There are an impressive 19 different logo designs to choose from, and you can even opt to add personalized glasses and whiskey stones, too. Customers say they "are beyond thrilled with how they turned out," and the items are "absolutely stunning," with "no flaws."
Unique gifts for bourbon and whiskey lovers
If the bourbon lover in your life is already kitted out with all the glassware and drink accessories they need, choose from one of these awesome whiskey-themed gifts instead.
6. Personalized whiskey stones set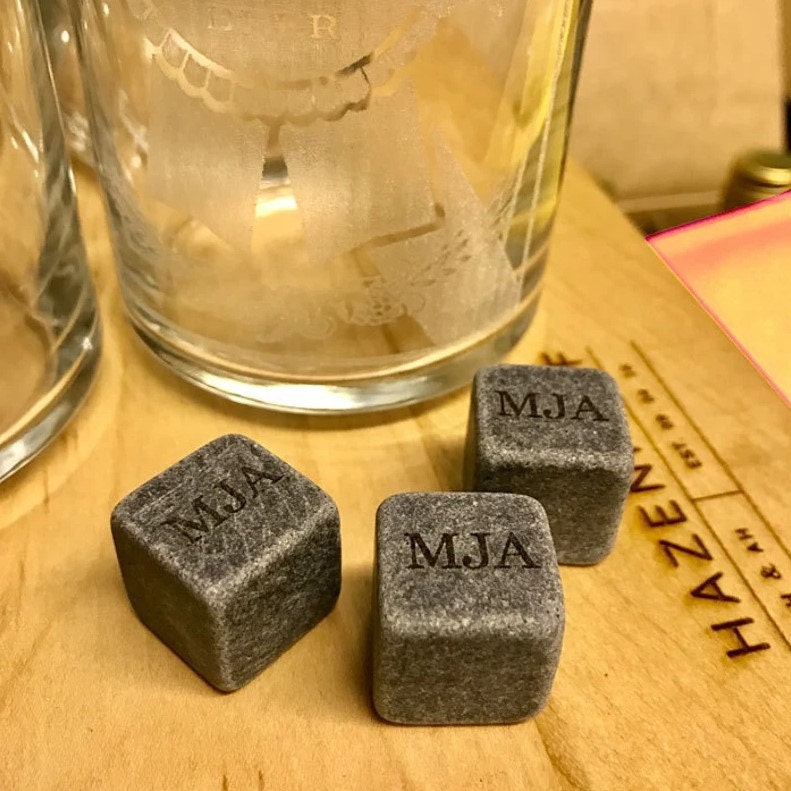 SHOP: Set of three whiskey stones with pouch from Lazer Girlz, from $9
Though whiskey is meant to be enjoyed at room temperature, on warmer days, "room temperature" might not be the most enjoyable option. Aficionados know that putting melting ice in your liquor is a big no-no, so instead, they opt for whiskey stones—like these beautiful gray ones that can be laser-etched with the giftee's initials—to keep the whiskey at the optimum temperature without diluting it. Buyers love this set of three's perfect size, and that they're easy to clean, too.
7. Authentic whiskey barrel head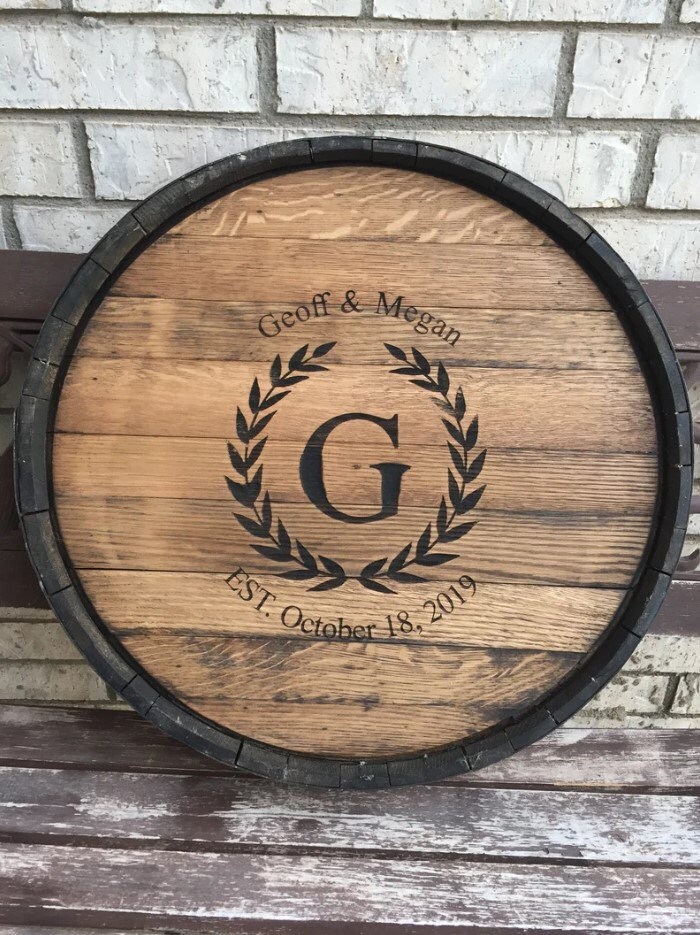 SHOP: Reclaimed bourbon whiskey barrel head from Kapp studio, from $256
Made from reclaimed wood taken from authentic, retired whiskey barrels, these quarter barrel heads make an absolutely wonderful addition to any wall, or mantle, but they can even be used as serving trays. The heads have been taken from barrels that, in their previous life, stored whiskey for 2–3 years each, and the seller offers a vast array of personalization options.
8. Authentic whiskey barrel stave guitar hanger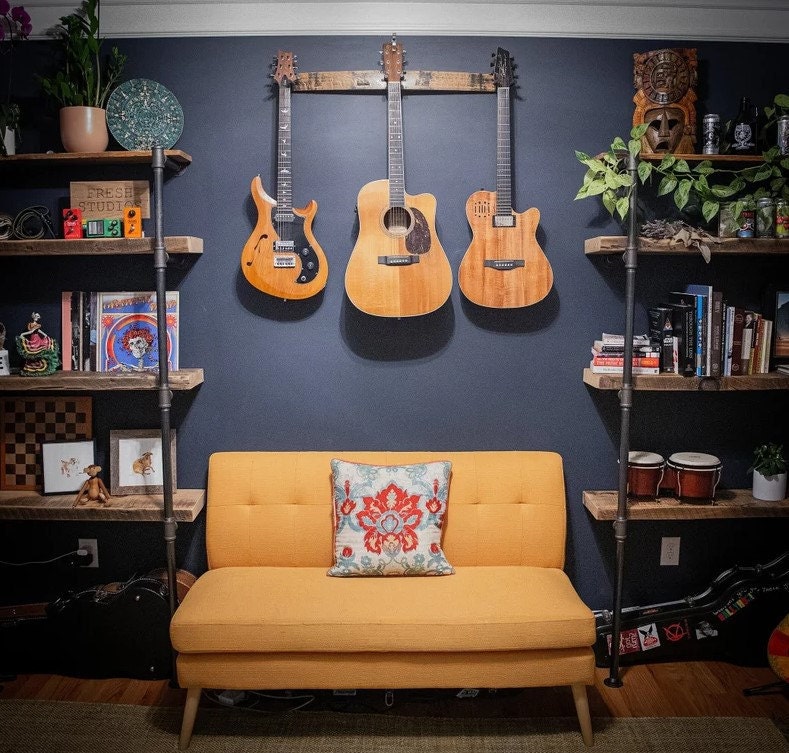 SHOP: Barrel stave guitar hanger from Skull Creek Designs, from $41
If, in addition to being a whiskey connoisseur, the person you're shopping for is also a music-lover who likes to strum a tune or two on their guitar or other stringed instrument, this handmade stave guitar hanger is another great gift option made from an original whiskey barrel. It comes with space for either one, two, or three guitars.
9. El Catrin tobacco and bourbon soy wax candle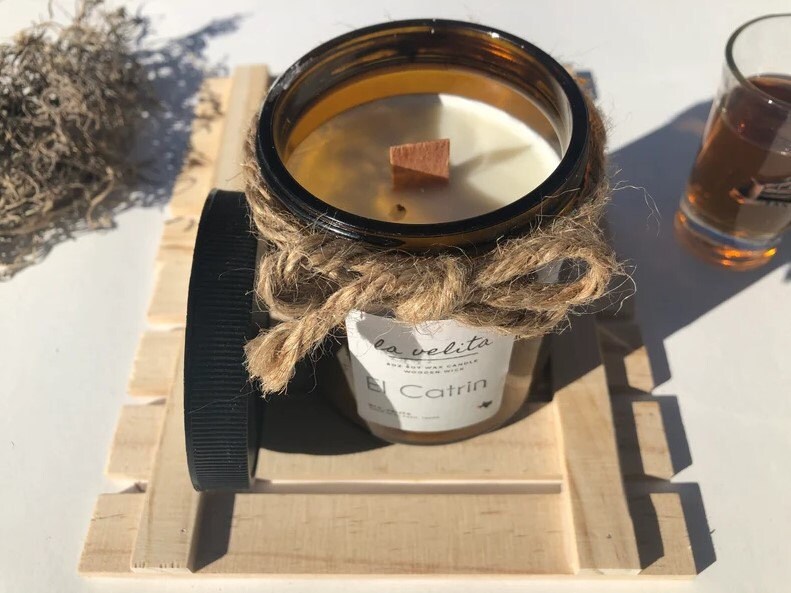 SHOP: Soy wax wood wick candle from La Velita, $18
With a relaxing and gentle aroma of tobacco, and bourbon, this wood wick soy wax candle is free from harmful ingredients like phthalates, dyes, and chemicals, and burns for over 40 hours. The candles burn clean so you can repurpose the jars after use, and they are hand poured in small batches in the seller's workshop in El Paso, Texas.
10. Aging spirits scented candle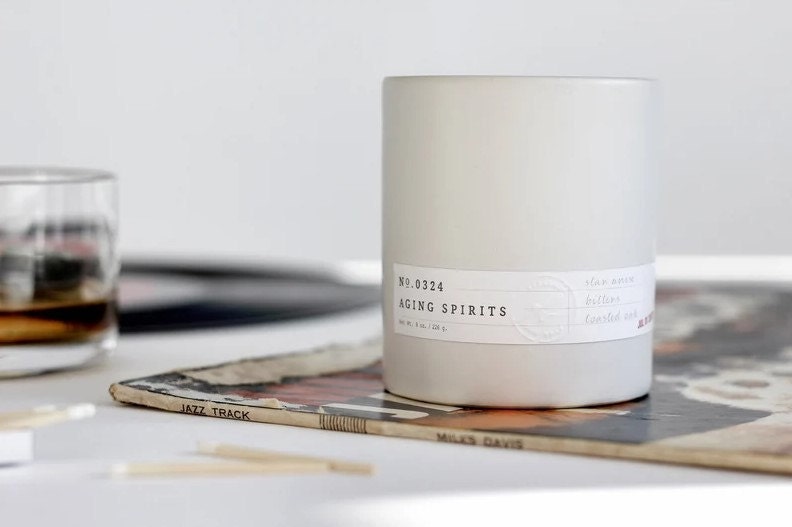 SHOP: Aging spirits scented candle from Aerangis, from $39
With the subtle scent of whiskey in its top, middle, and base notes, blended perfectly with bitter orange, caramel, and cedarwood, buyers say that these ceramic gray candles have an "incredible" aroma that "smells awesome," but is not too overpowering. As an added touch, each candle comes with a biodegradable paper dust cover that has been infused with wildflower seeds for you to plant.
How do we pick the best gifts for bourbon lovers?
As Etsy Journal editors and contributors research and curate shopping guides for some of the best-loved items on Etsy, we thoughtfully consider the creativity, customization, and craftsmanship that go into each product. We also consider buyer reviews, item ratings, and customer service, and tap the expertise of our in-house merchandising and trends experts to uncover high-quality finds for every budget. You can find more information about each item in the seller's listing details and can take a look at their individual shop policies and reviews, too.