These gift picks are perfect for passionate pros or newly minted novices keen to try out a new hobby.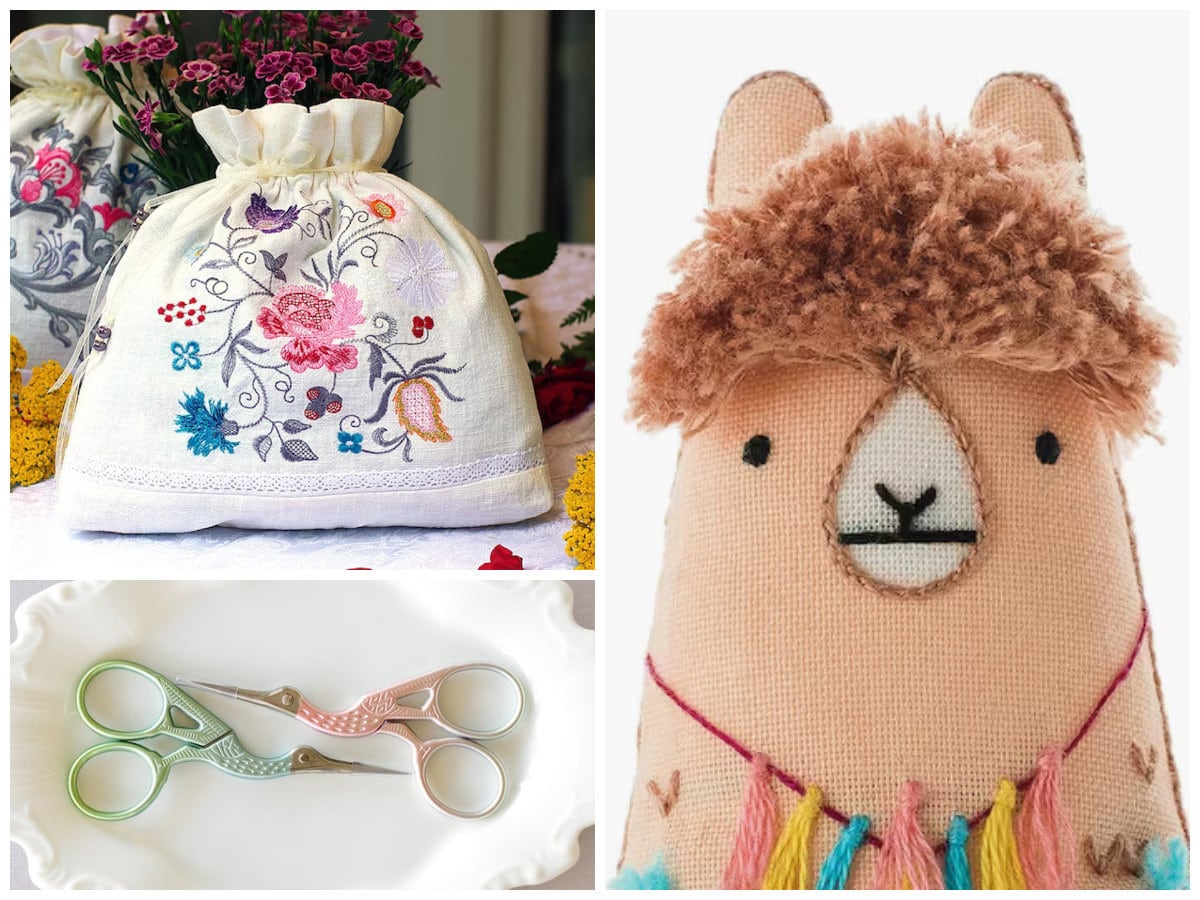 For the friend who thrives on creativity, designing everything from jewelry, textiles, and pottery to clothes, accessories, and home decor, any old gift just won't do. After all, their true passion is pouring their heart into a collection of raw materials and transforming them into something new. Luckily for you, each and every day, the small shops on Etsy put the very same energy into dreaming up unique craft kits and supplies to delight all sorts of creative types. So you can rest assured that the present you pick will be sew perfect for the crafter in your life.
See our picks for the best gifts for crafters:
Gifts for needle crafters
Whether it's top-quality tools they'll want to use ASAP, a stylish storage case for their supplies, or an inspiring new project, these picks for the best gifts for needle crafters will be adored by beginners, pros, and everyone in between.
1. Knitting needle case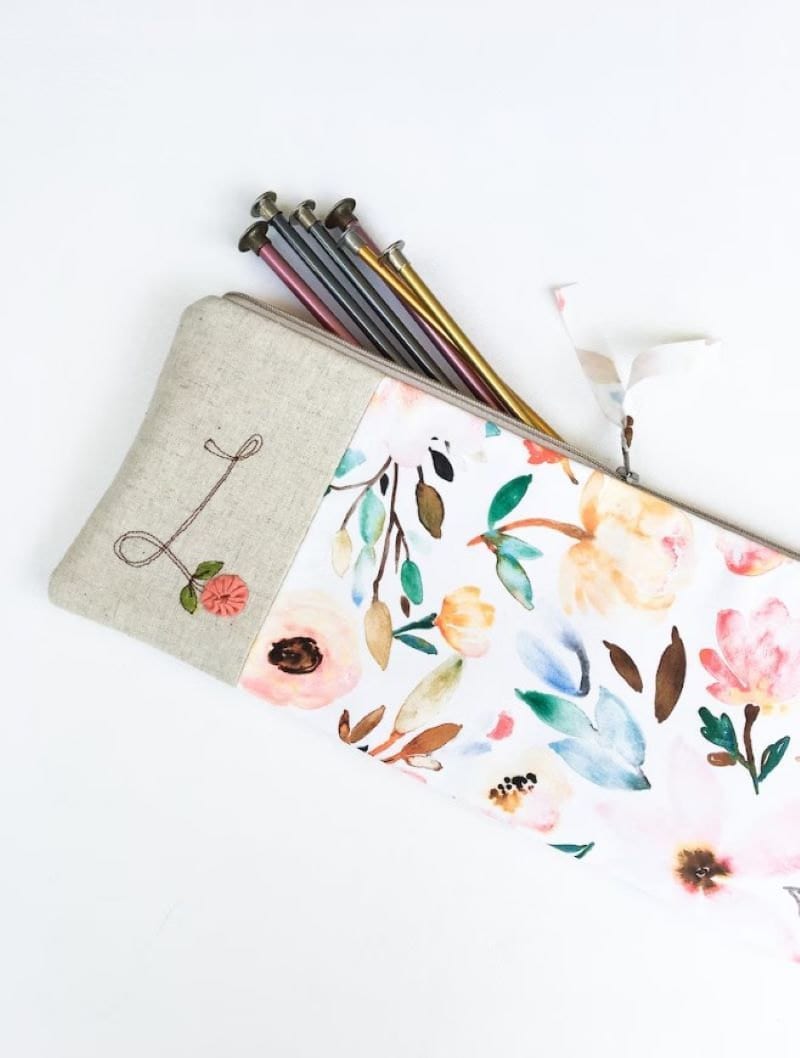 SHOP: Personalized knitting needle storage case from Mama Bleu, $59
With a mix of watercolor-printed fabric patterns and a cotton panel that can be personalized with a delicate embroidered initial, this cute craft supply case will help them keep track of all the needlecraft tools they frequently use. Shoppers say that this little pouch is "so pretty and functional" and the "perfect size for knitting needles."
2. Embroidery scissors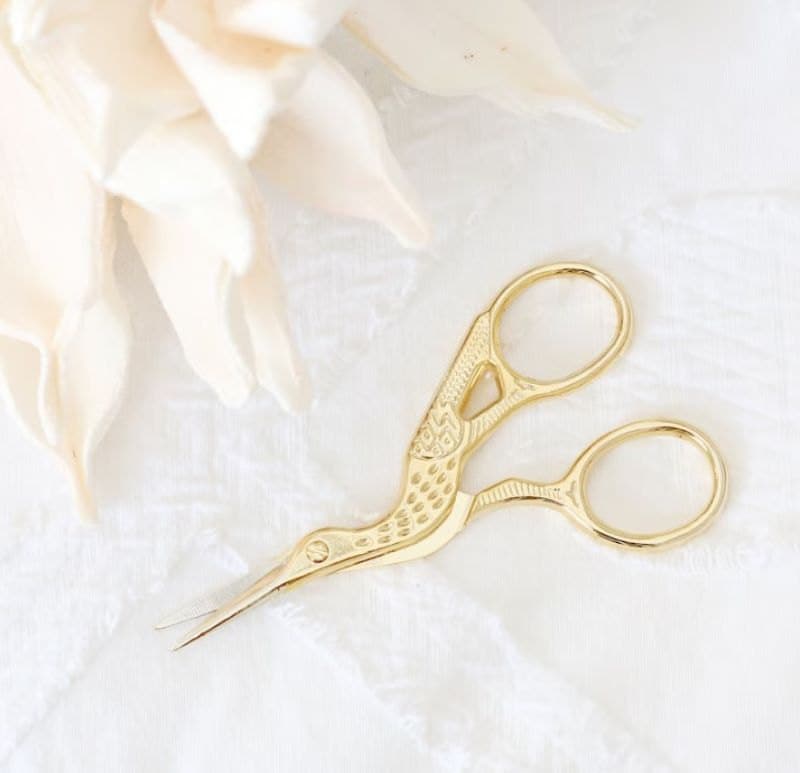 SHOP: Embroidery scissors from Oh My Heart Embroidery, from $16
They're so creative, why settle for boring shears? Give your needle-wielding friend these ornate gold-colored stork scissors and every snip will be ultra-stylish. Also available in butterfly, filigree, and slender flower designs, shoppers say that they "cut beautifully" and "look great in [their] knitting kit."
3. Embroidered bag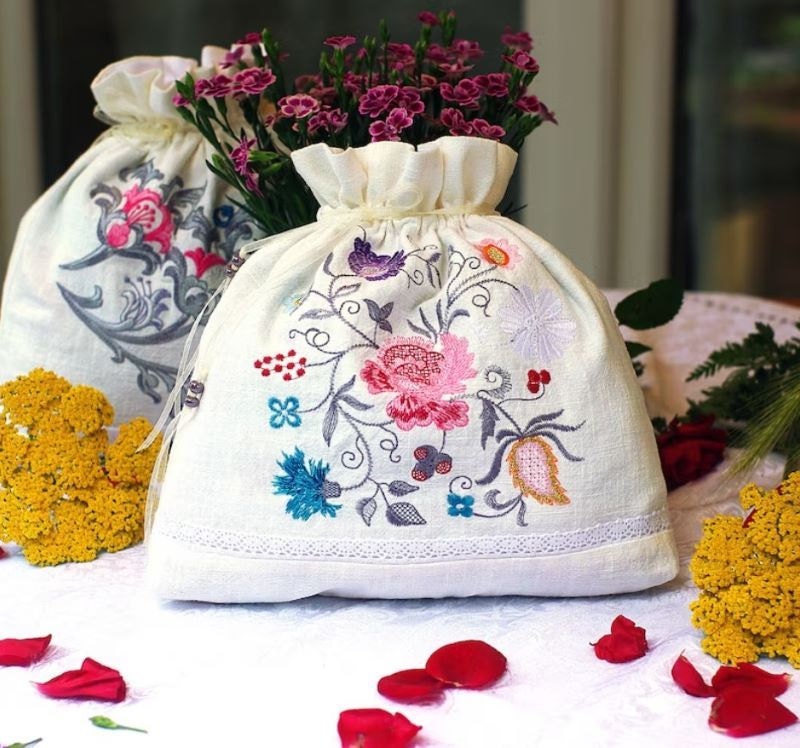 SHOP: Embroidered drawstring pouch from Stitch Mary Art, $44
Never underestimate the needle crafter's need for another tote bag! Charming, intricate, and unique, this embroidered drawstring pouch is the ideal size for storing threads, wool, beads, and other bits needed to complete elaborate needlework projects. "A beautiful bag," raves one thrilled shopper. "You would never find something like this in a store. Just wonderful!"
4. Knitter wall art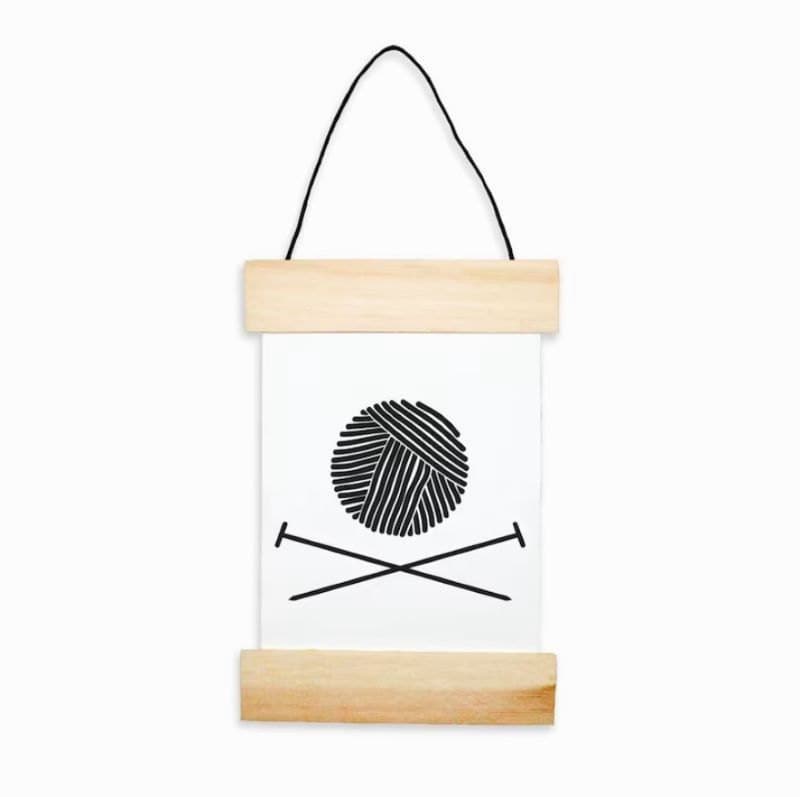 SHOP: Yarn and needles banner from Studio 336, from $7
This original wall-hanging is beyond adorable, priced incredibly reasonably, and will look right at home above a needle crafter's workstation. The yarn and needles design is professionally printed on gessoed canvas and secured between two wooden stretchers. It's light enough to be hung using just a pushpin and comes in three sizes to suit cozy nooks and sprawling studios alike.
5. Yarn bowl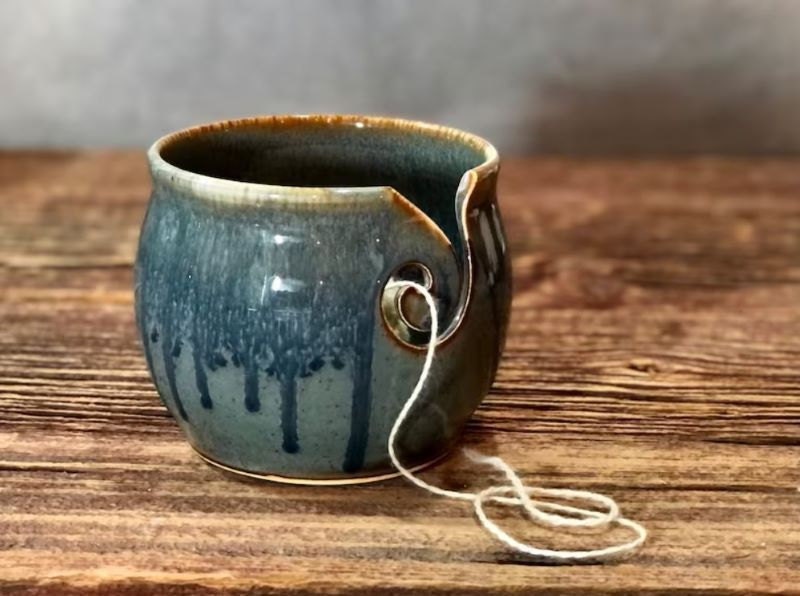 SHOP: Hand-thrown yarn bowl from Avior Pottery, $44
Your knitting friend will thank you long after you present them with this useful yarn bowl to make their needle projects so much easier and more enjoyable. This handmade earth-toned vessel holds a ball of yarn in place as it's unraveled inch by inch, effectively streamlining their stitching projects.
Gifts for painters
These thoughtful gifts for painters are made especially for the pigment pros on your list and will come in handy as they plan, prep, and execute their next masterpiece.
6. Linen apron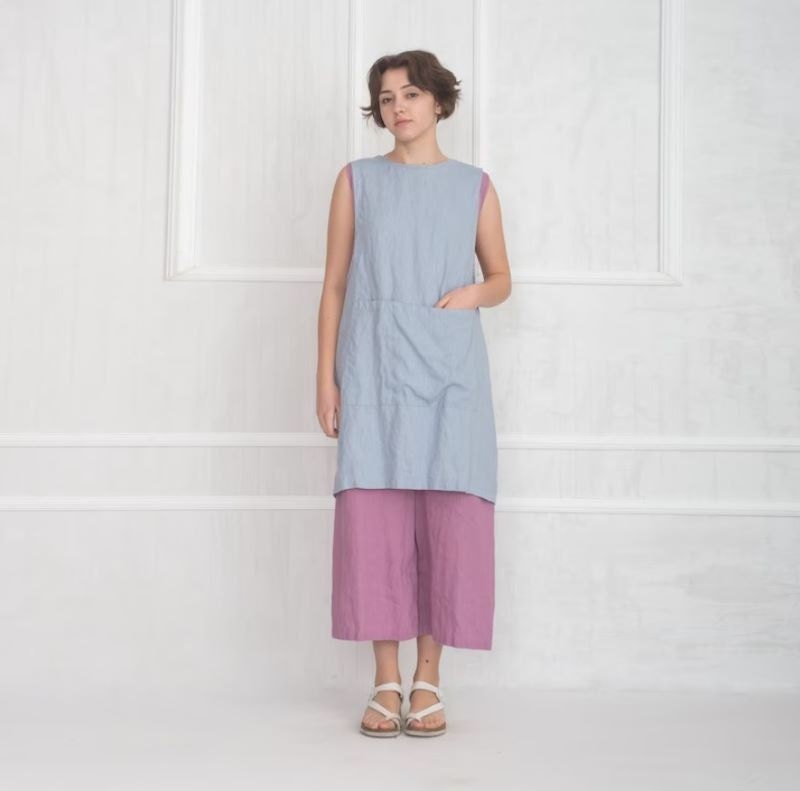 SHOP: Linen cross-back apron from linenfairytales, $59
Every artist needs a good apron, and this linen version is up to the task. Created in more than 20 colors and three different sizes, it's lightweight and easy to move freely in, and once it's good and paint-splashed it can be machine washed on a low temperature to keep it crisp and fresh.
7. Handmade watercolor palettes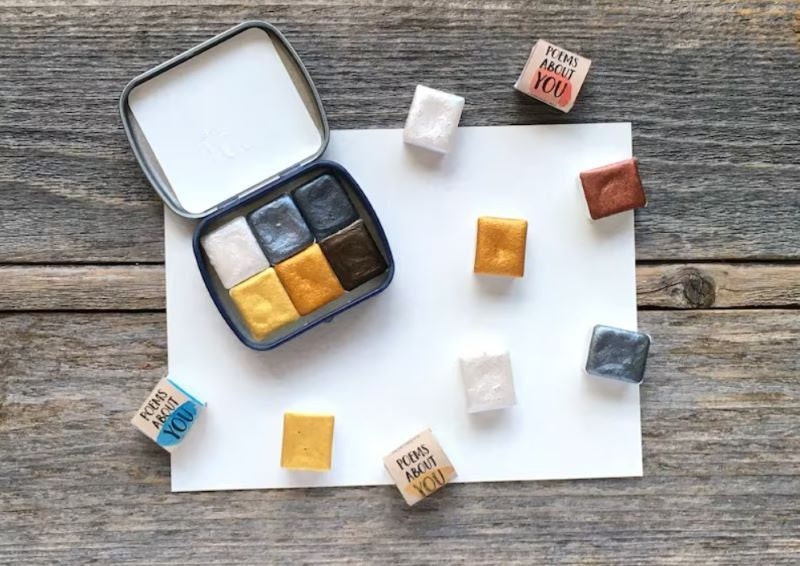 SHOP: Non-toxic watercolors with sparkles from Poems About You, $42
This set of six sparkly, shiny watercolors is handmade by a small shop in Washington, D.C. using organic ingredients and natural mineral pigments. For a gift-worthy presentation, opt to have yours packaged in a complementary tin with magnets. Bonus: If your painter friend has a favorite artist, the seller can even create a custom palette inspired by their classics!
8. Paint palette set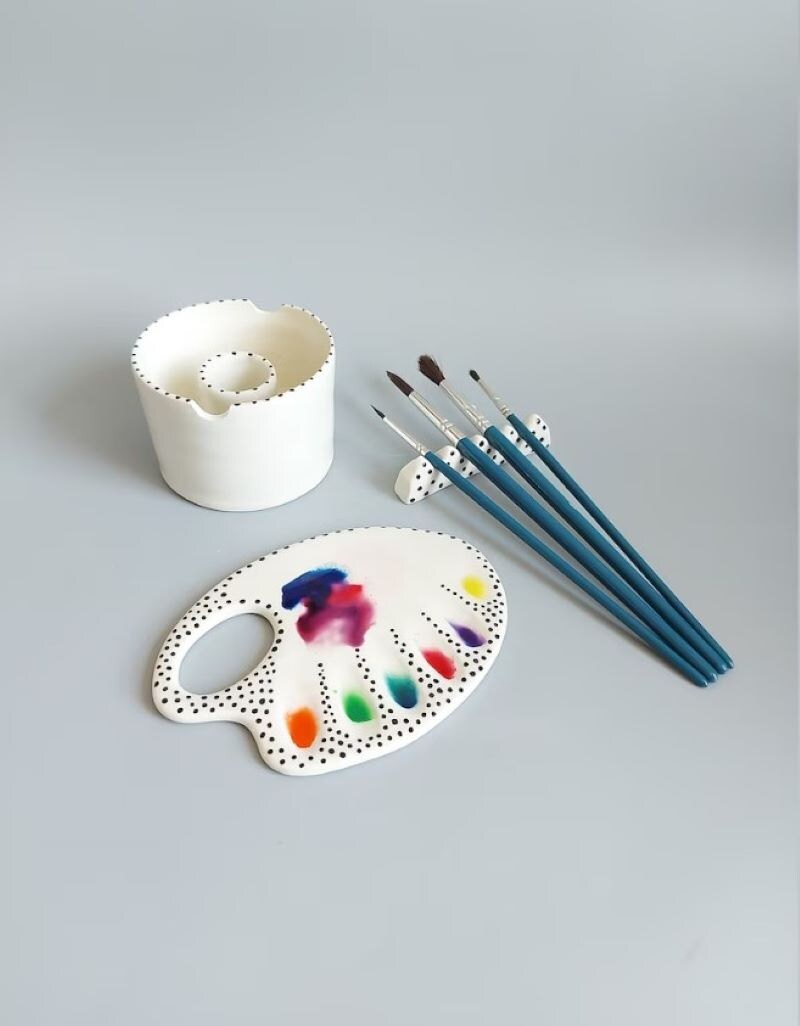 SHOP: Ceramic watercolor palette from Muddy Ceramic Art, $58
For a gift that will receive a place of honor on your painting buddy's workstation, this ceramic paint set includes a water cup, brush holder, and, of course, the gorgeous palette itself. "I highly recommend this wonderful set for yourself or the artist in your life," wrote a happy shopper. "The painter's cup with the inner chamber for clean water and the brush holder are a game changer! The brush stand and palette are lovely, too."
9. Brush organizer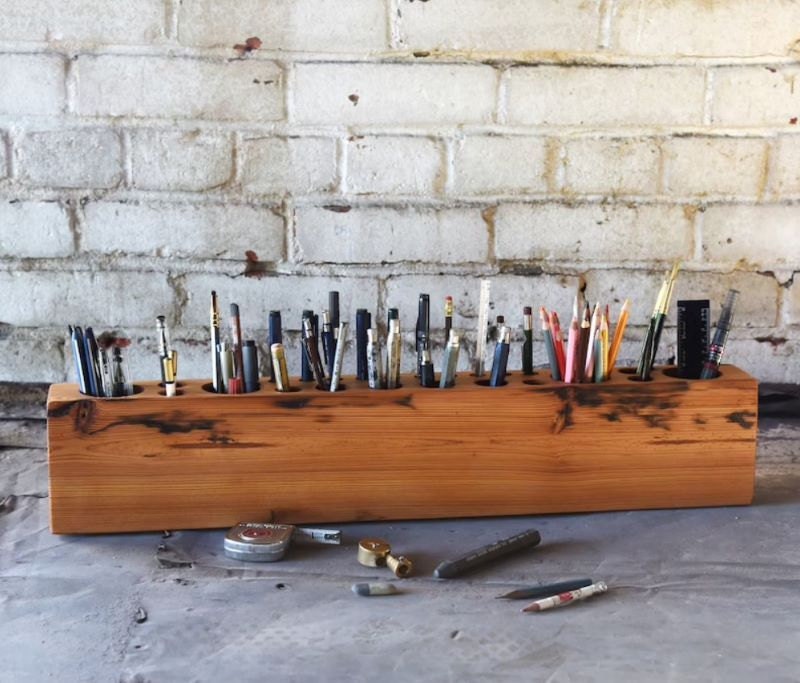 SHOP: Paint brush holder from Peg and Awl, from $176
Another workstation staple, this organizer is a particularly practical item that shines with the natural beauty of the wood it's hewn from. It boasts 24 slots for pens, pencils, markers, and paintbrushes, and you can choose from maple, blackened maple, reclaimed heart pine, or walnut wood. For an extra personal touch, the woodworkers behind this Philadelphia-based shop can even engrave a name or a quote along one side.
10. Paint water cups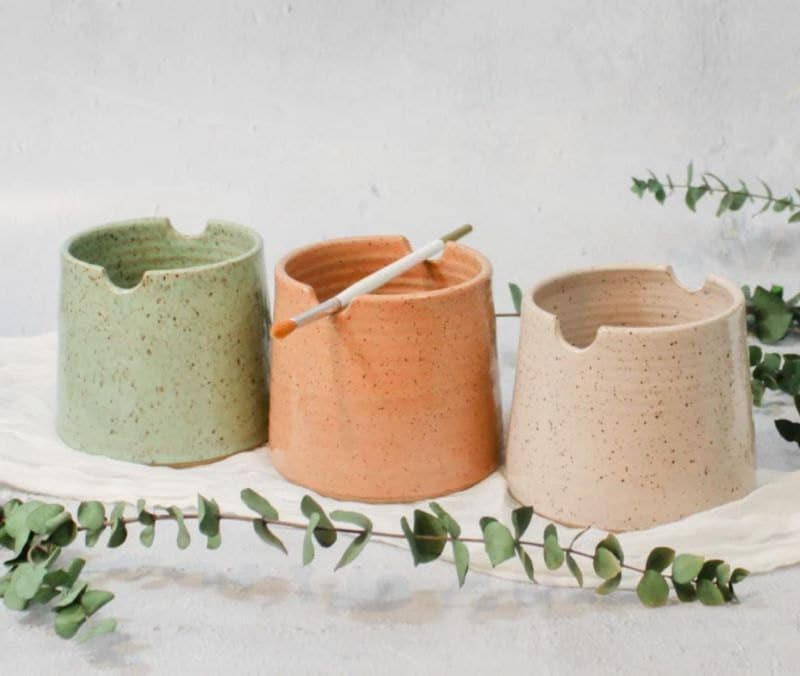 SHOP: Ceramic watercolor paint cup from BNCA pottery, $40
Available in nine gorgeous shades, including honeydew, cream pink, and periwinkle, these handy ceramic paint water cups are thrown and glazed by hand in a small California studio. One shopper, a watercolor artist, wrote, "This is my absolute favorite water cup. The criss-cross texture at the bottom and the inner ridges are perfect for helping control the pigment on my brush and I love the handy brush holder."
11. Paint palette enamel pin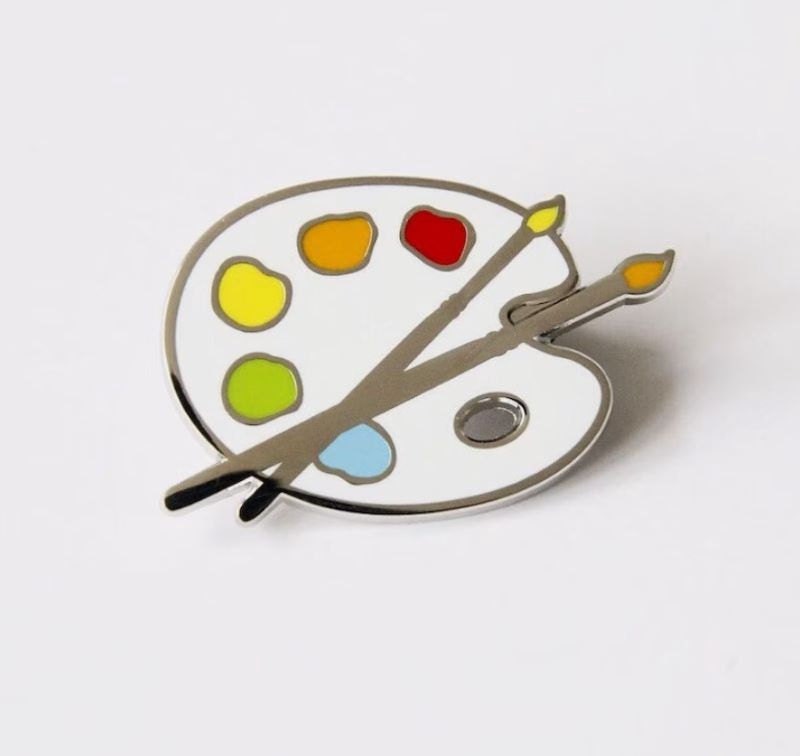 SHOP: Handmade paint palette pin from Unexpected Flair, $11
For a small and unique painter's gift, this little enamel pin is delightful. It's handmade by a graphic designer in Chicago and measures a wee 1.25 inches. "The colors and details are fantastic—a must have for any artist," wrote one satisfied buyer who plans to wear it on her painting apron, and another shopper, an illustrator, declares, "I love it! I am going to wear it next to my name tag at my college reunion."
12. Brush rest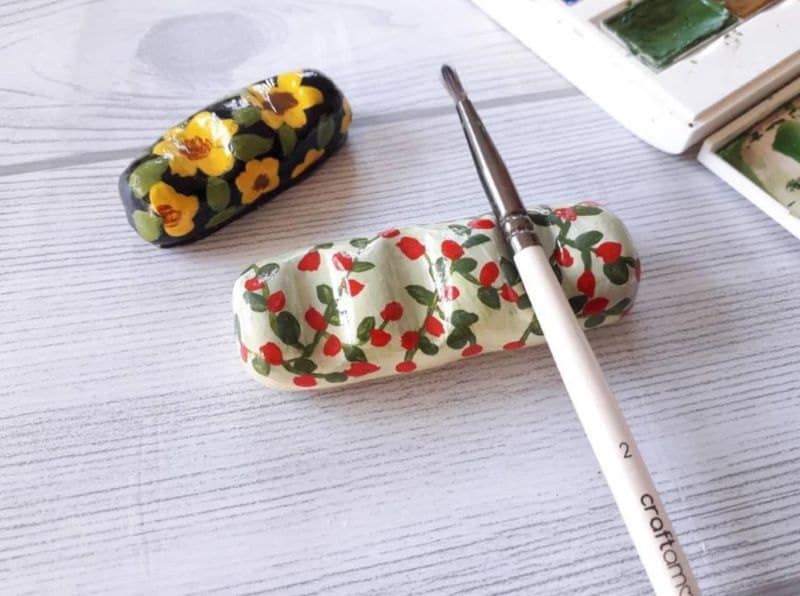 SHOP: Paint brush rest from The Artsy Bloom, from $11
Crafted by hand by an artist in Assam, India, these brush rests—available with choice of either two or three brush slots (or a set of both!)—are made from air-drying clay before being painted with acrylic paints and coated with resin. Buyers commend the shop's excellent workmanship, beautiful paintwork, and say the brush rests are very well made.
Best craft kits for adults
Whether their love of crafts started in childhood or is a newfound hobby they discovered as grown-ups, these craft kit gifts include everything they need to jump into a new project.
13. Crochet bag kit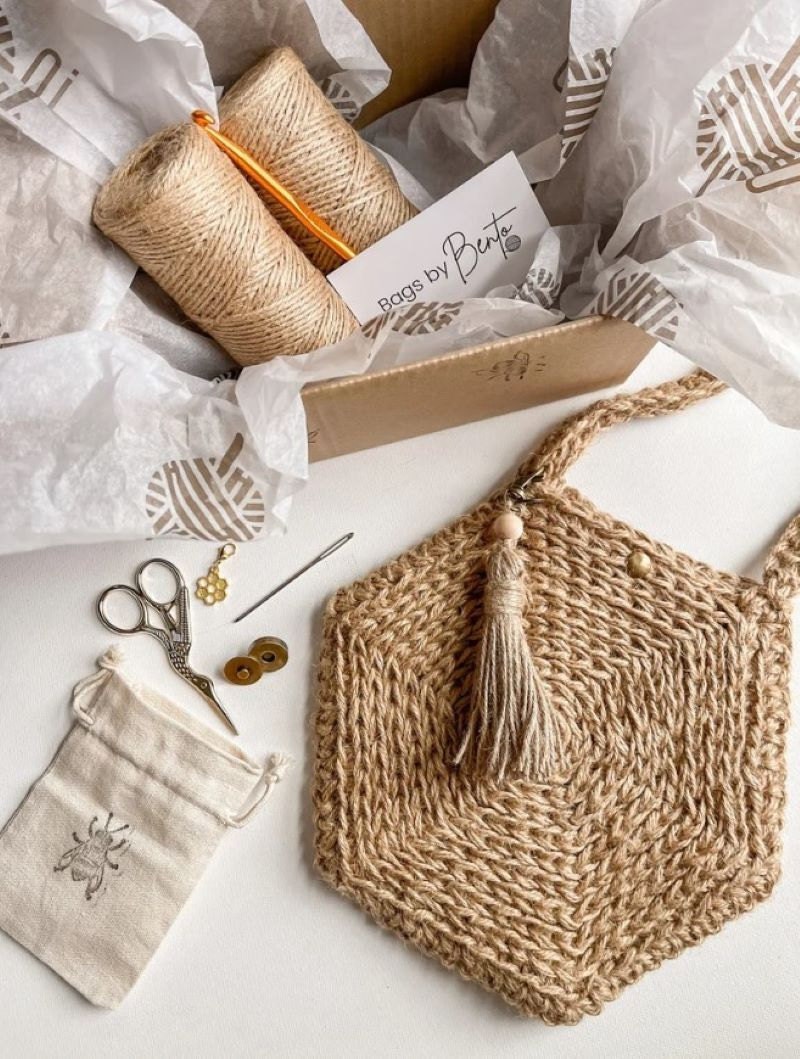 SHOP: DIY crochet bag kit from Bags by Bento, $35
More than 10 items are included in this DIY crochet bag kit that any crafter will enjoy as a way to tote their project from here to there. As one shopper wrote, "Amazing kit. A fun texture stitch and the bag is cute. The kit has everything you need to complete the project; loved it!"
14. Earring making kit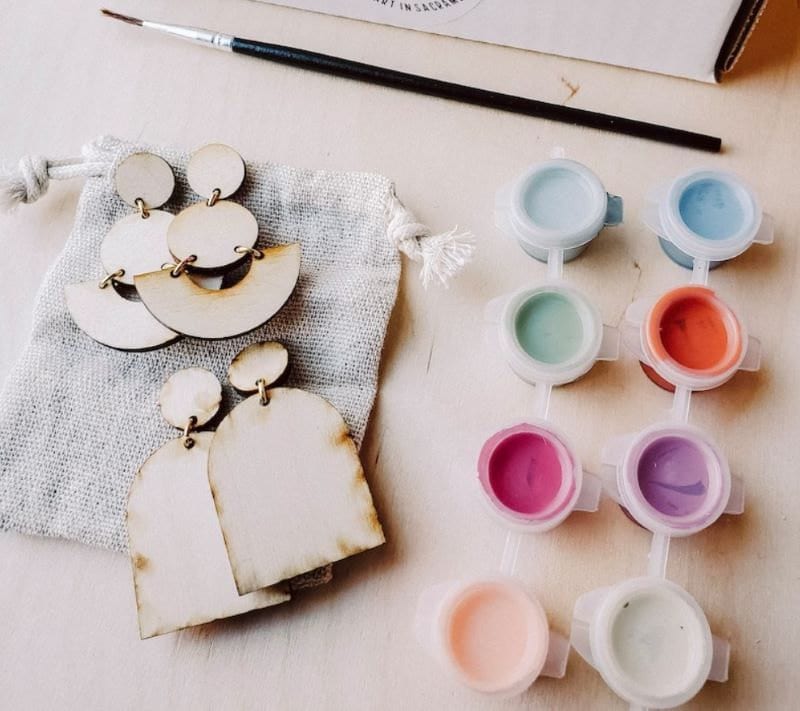 SHOP: Paint-at-home earring making kit from RiverCitySass, $40
The very definition of statement earrings, this kit offers two sets of wooden danglers than can be painted and customized using the provided acrylic paint color pots and paint brush. Bonus: The cute drawstring gift bag can be used to store the finished product, too.
15. Weaving loom kit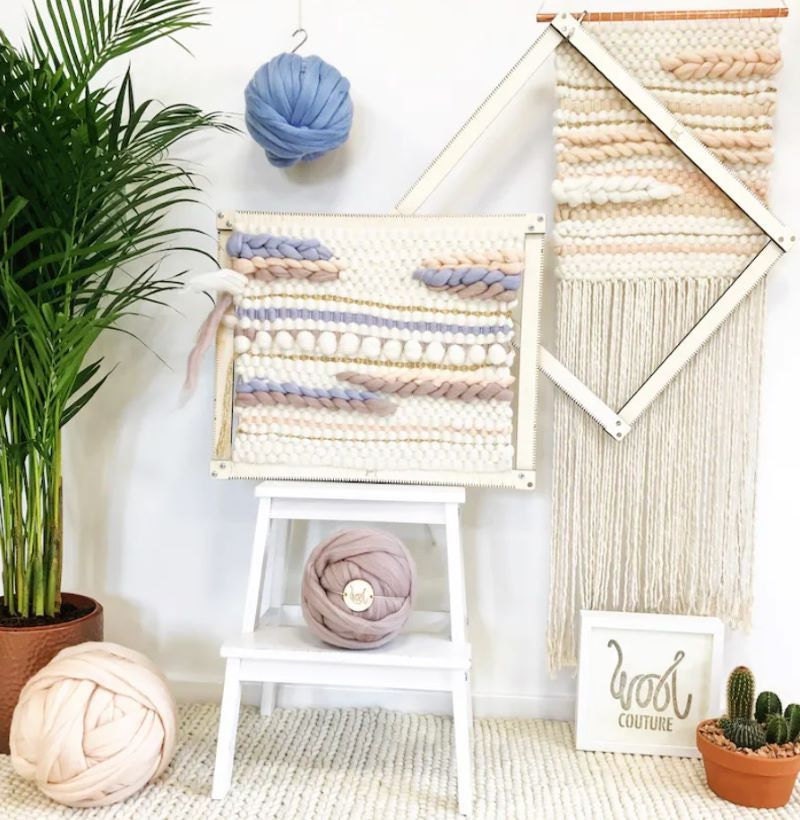 SHOP: Giant wooly mammoth loom from Wool Couture, from $64
An easy-to-try intro to frame loom weaving, a technique that has been around since the Neolithic times, this kit is sure to get your crafty friend's creative juices flowing. The frame allows users to make super chunky knit projects that are all the rage in the world of interiors, and comes with everything they need to get weaving.
16. DIY terrazzo coaster set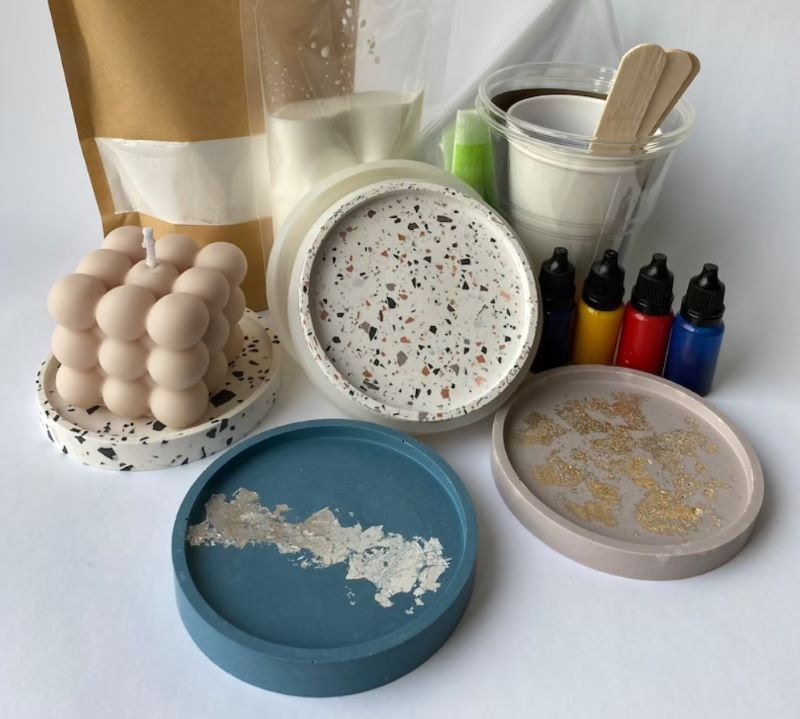 SHOP: DIY terrazzo coaster kit from Stuccovina, from $74
Terrazzo is adored by interior designers for its visual interest, and this DIY coaster set allows users to make their own jesmonite dishes at home. Select from three different color schemes and various shapes, including hexagonal, circle, and shell. One of the many satisfied buyers wrote, "I was able to try out a new hobby at low cost. The instructions took away the uncertainties of the new material."
17. Macrame wall art set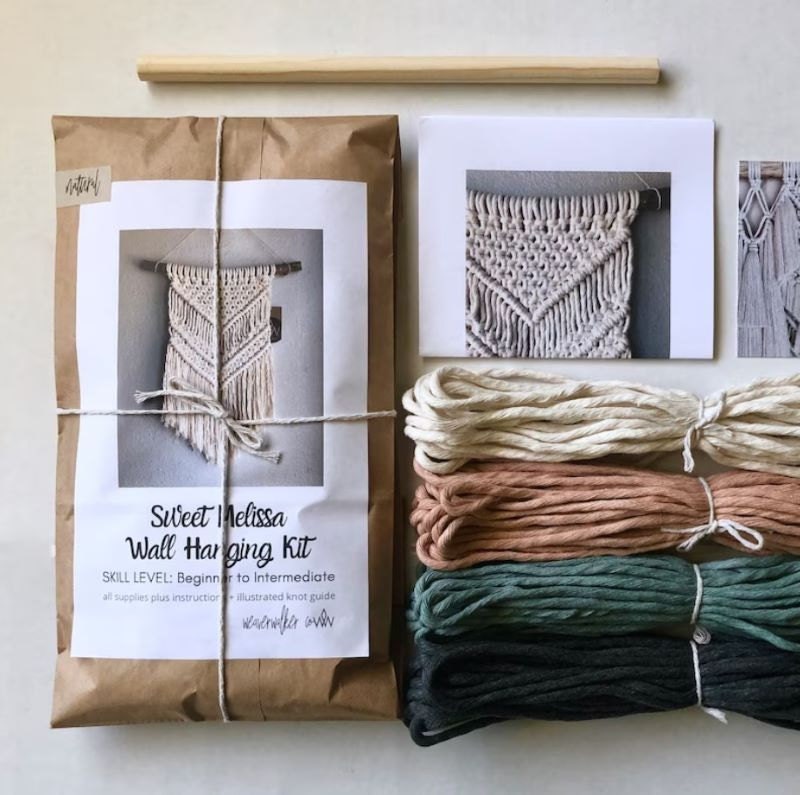 SHOP: Macrame wall hanging kit from weaverwalker, from $30
Handmade by a small business in Colorado that also organizes and hosts macrame and weaving workshops, this macrame kit includes clear instructions and all the materials needed to make a gorgeous wall hanging. A happy buyer wrote, "This DIY kit came with super simple instructions to follow and a very cute design! Although it's labeled as intermediate, this was my first go at making a macrame wall hanging and it came out looking pretty good!"
18. Llama art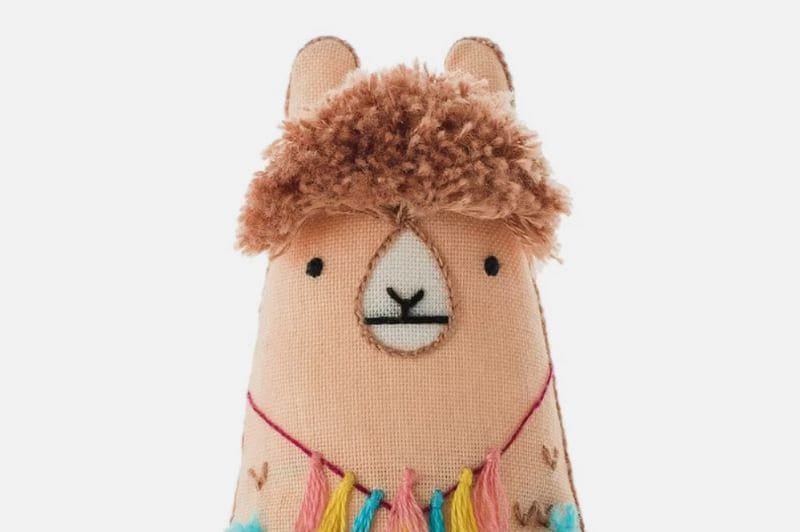 SHOP: Llama embroidery kit from Kiriki Press, $28
The kit to make this lovable llama comes with a Level 2 pattern screen-printed on cotton, an embroidery needle, a range of embroidery floss, and stuffing. "This little llama was so fun," expressed one shopper. "I'd never done tassels or turkey work, and the stitch guide was so easy to follow. I'm so happy about how he turned out!"
DIY craft night ideas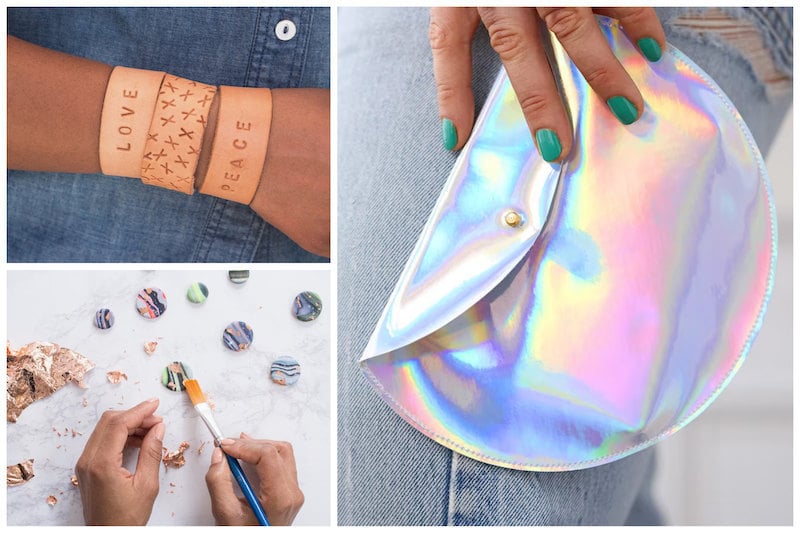 Craft ideas from top left: Leather cuff bracelets, iridescent circle purse, and DIY marble magnets
If you'd like to top off your gift with some quality time, consider purchasing a craft kit for each of you to work on together, or grab the supplies and set up a DIY afternoon where you create personalized leather cuff bracelets, marbled magnets, or a chic circle purse.
How do we pick the best gifts for crafters?
As Etsy Journal editors and contributors research and curate shopping guides for some of the best-loved items on Etsy, we thoughtfully consider the creativity, customization, and craftsmanship that go into each product. We also consider buyer reviews, item ratings, and customer service, and tap the expertise of our in-house merchandising and trends experts to uncover high-quality finds for every budget. You can find more information about each item in the seller's listing details and can take a look at their individual shop policies and reviews, too.