Find the best gifts for dad this year with these extra-special picks, made just for him.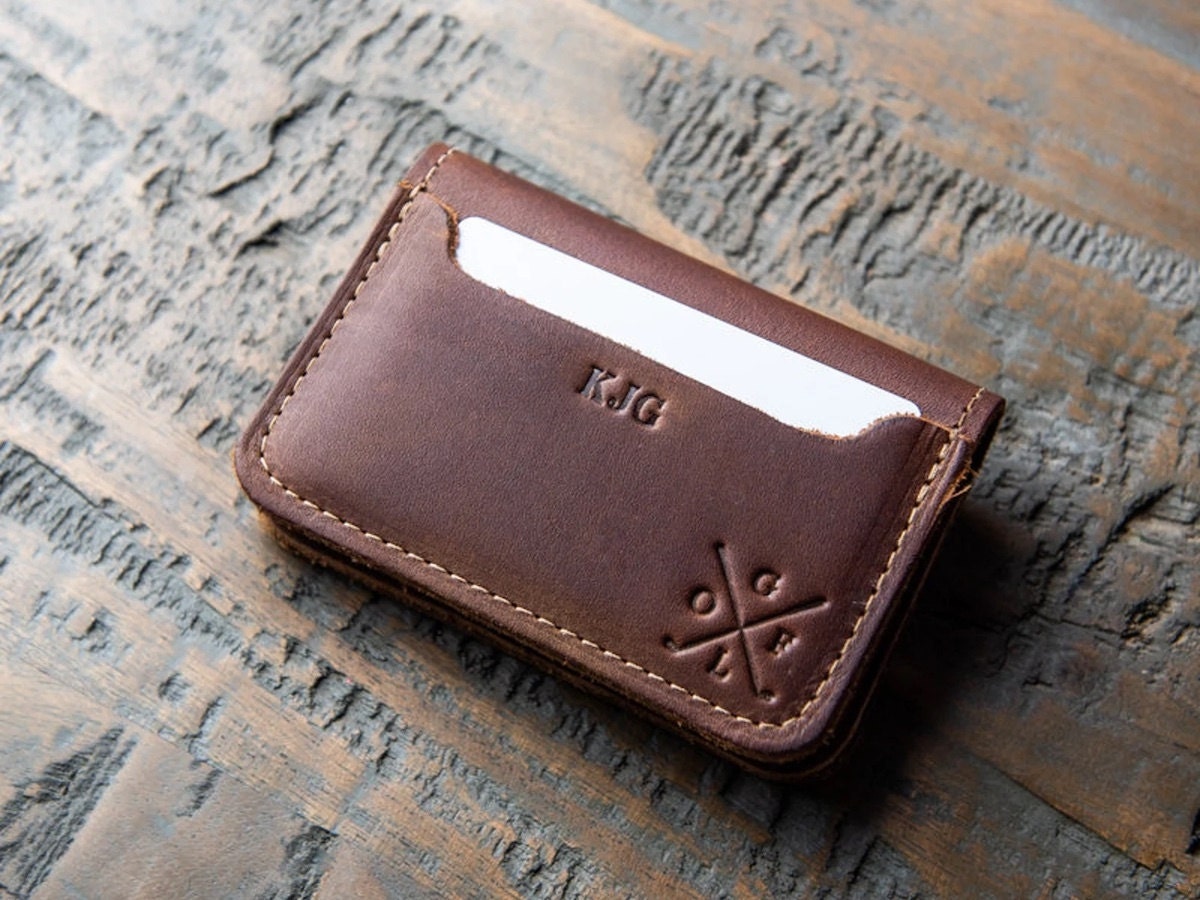 Every dad is different, so to ensure you've found the best gift for Dad, it better be just as unique as he is. Maybe he has a punny sense of humor (looking at you, dad joke aficionados), is the family chef de cuisine, or is your own personal park ranger as you plan your next adventure. With these picks for the best gifts for dads, your next present can feel like it's made just for his special brand of fatherhood.
From personalized gifts for dads and fishing gifts to camping gear and gourmet grilling spices, these are some of the most thoughtful and best gifts for dads, whether it's his birthday, Father's Day, or the perfect day to say "I'm thinking of you."
Best birthday gifts for Dad
Another year around the sun, another birthday to celebrate Dad and all he's done for his family. The best birthday gifts for dads are unique, personalized, and meaningful, and luckily, we have picks that are all three.
1. The best personalized wallet for every dad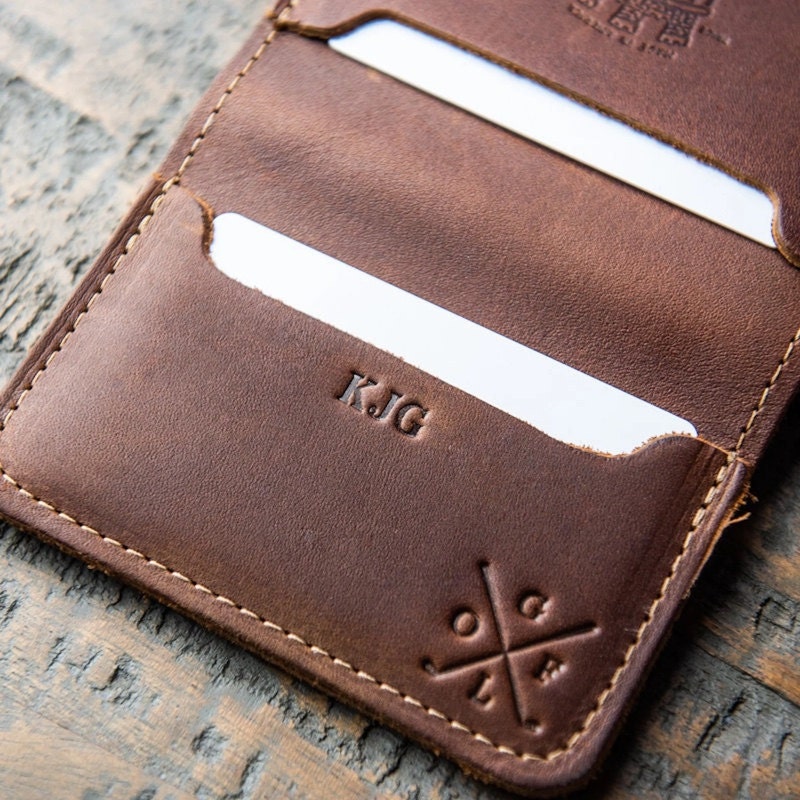 SHOP: Personalized leather wallet from Holtz Leather Co., from $65
Say goodbye to that old, falling apart, plastic wallet he has and hello to this timeless custom leather wallet. Specially designed to hold all of his cards and cash in the pockets and featuring a stainless steel money clip, this wallet will have your dad feeling flush.
2. The best gift for whiskey lovers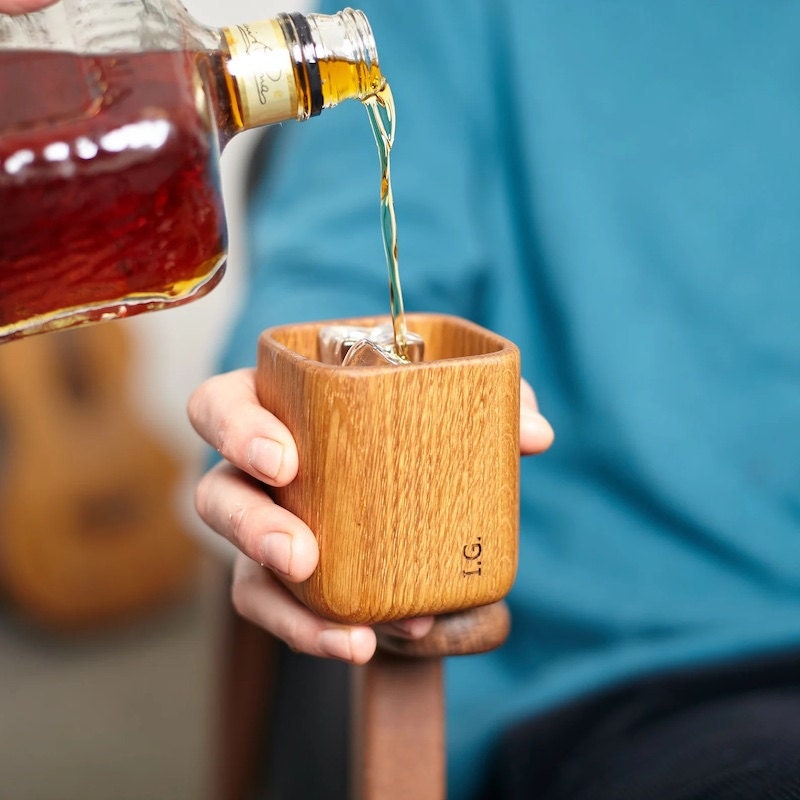 SHOP: Personalized oak whiskey tumbler from MijMoj Design, from $46
Like the best whiskey, dads get better with age. Celebrate his birthday by clinking these personalized whiskey tumblers made from solid oak. The rounded corners feel great in hand and the oak acts as an insulator so your father's rye will taste just right.
3. The best birthday gift for new dads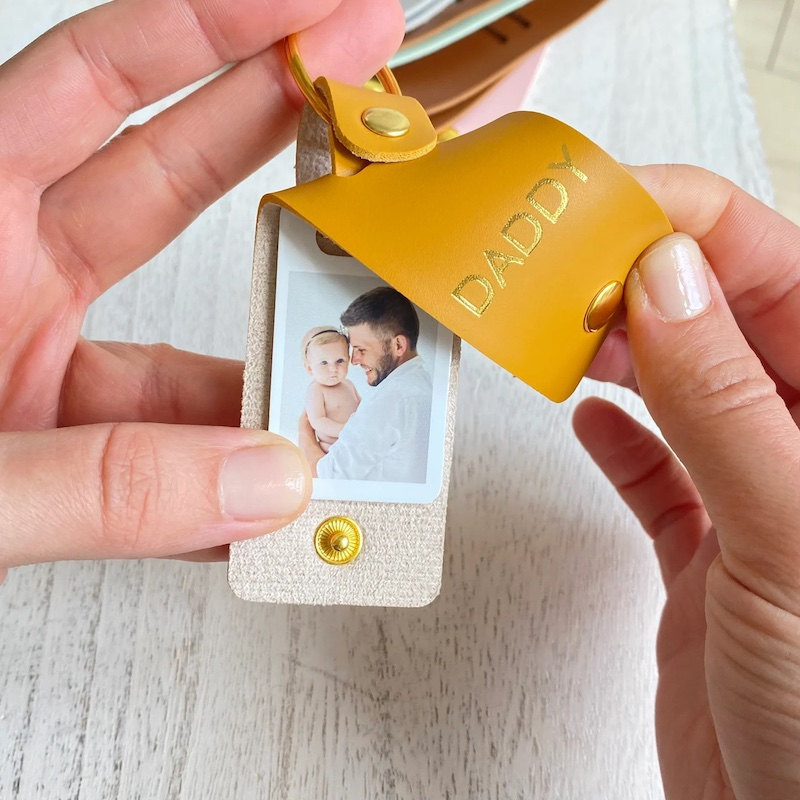 SHOP: Custom leather key ring from Silvy Gift, $22
Sentimental and sweet, this personalized key ring makes a great gift for a first-time dad. Add an image of his favorite kiddos so they can be with him wherever he goes.
4. The best funny card for Dad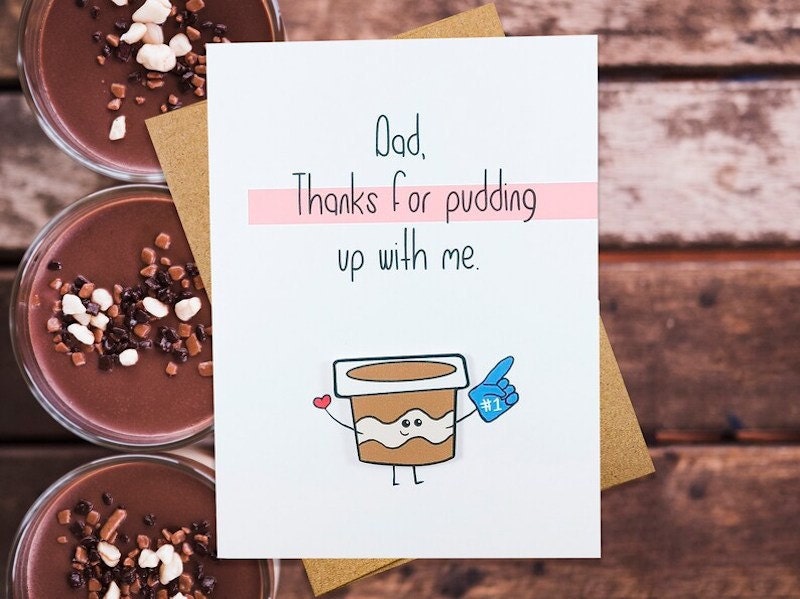 SHOP: Funny dad joke card from Hello Mosswood, $6
If he says, "I'm worried about the calendar. Its days are numbered," on his birthday, this funny card is the "Knock, knock" to his "Who's there?". For the ultimate joker fathers with a great sense of humor, this funny card for dad will make him chuckle.
Best gifts for the dad who has everything
Some dads have it all: Wit, warmth, and wisdom. And some dads also own it all: The library of their dreams, all the tech goodies, and all the best liquor. So what do you get for the dad who means everything to you and has everything? Try these sentimental gifts for dad that will remind him your heart is always with him.
5. The best gift for his home bar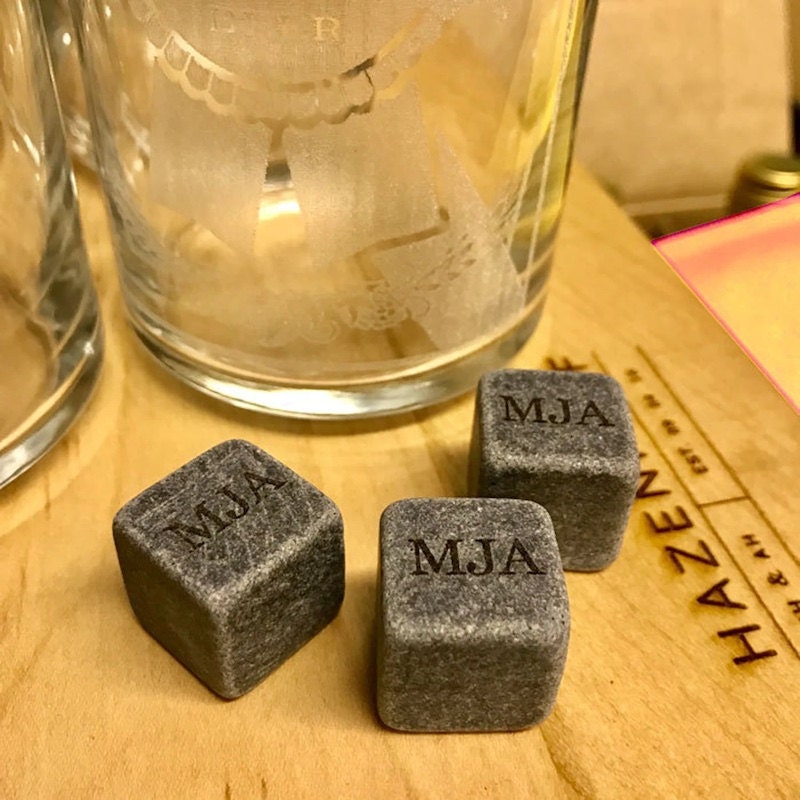 SHOP: Custom set of whiskey stones from Lazer Girlz, $15
Some dads dream of opening up their own bar, and until they do it for real, they take pride in their personal five-star home bar. Gift him this pouch of customized whiskey stones with his initials engraved into one side so he can wow guests and live out his bartender fantasy when pouring himself a stiff drink.
6. The best sentimental gift for dad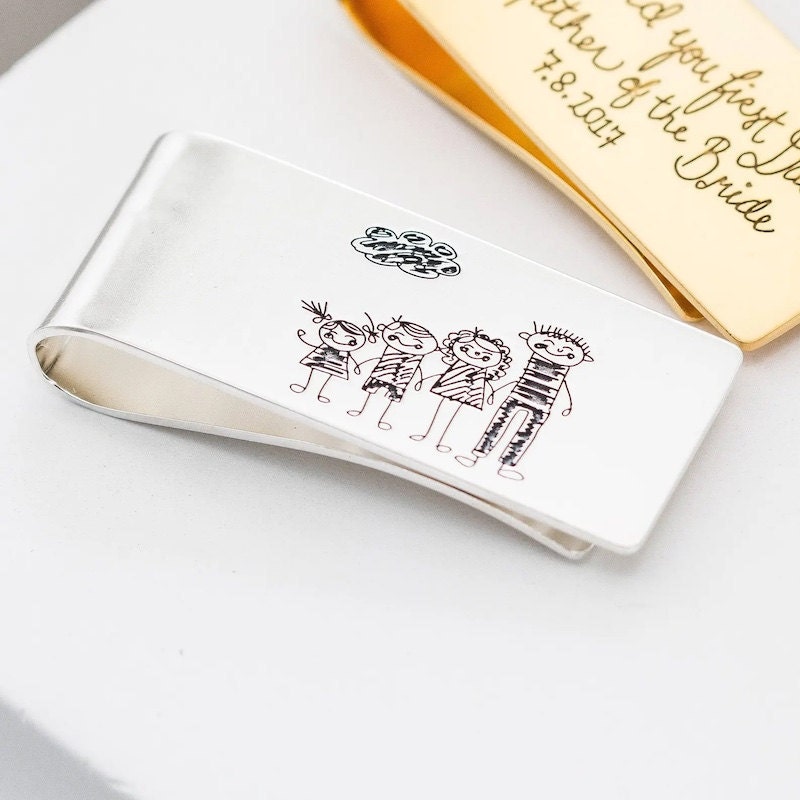 ​​SHOP: Custom kid drawing money clip from Caitlyn Minimalist, from $38
He may have everything, but he would do anything for his family. And the one thing he doesn't have is a one-of-a-kind money clip engraved with one of his children's drawings. This gift is so special, he might get a little misty-eyed opening this charming gift.
7. The best heartfelt card for dads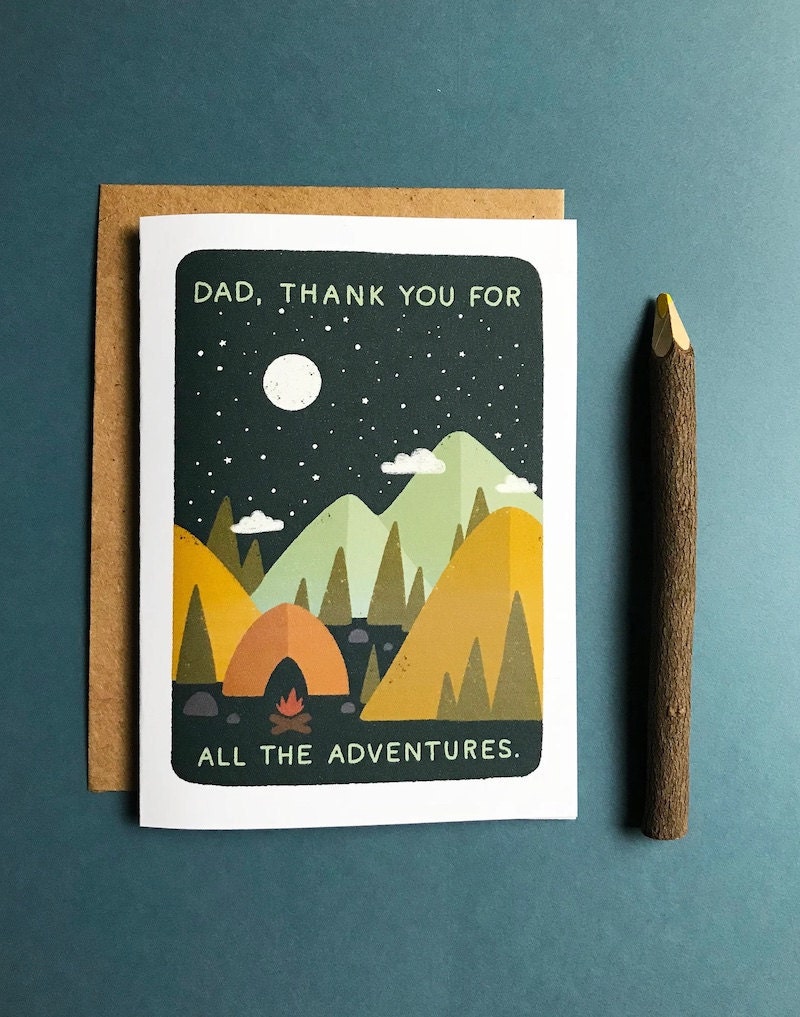 SHOP: Sweet thank you card for dad from Ello Lovey, $5
You and your dad have been through a lot, but his adventurous spirit and fierce optimism has buoyed you when you felt like you could barely keep your head above water. Thank him for the good times, the spontaneous explorations, and the support through some of the most challenging waves with this greeting card for Dad.
8. The best gift for dog daddies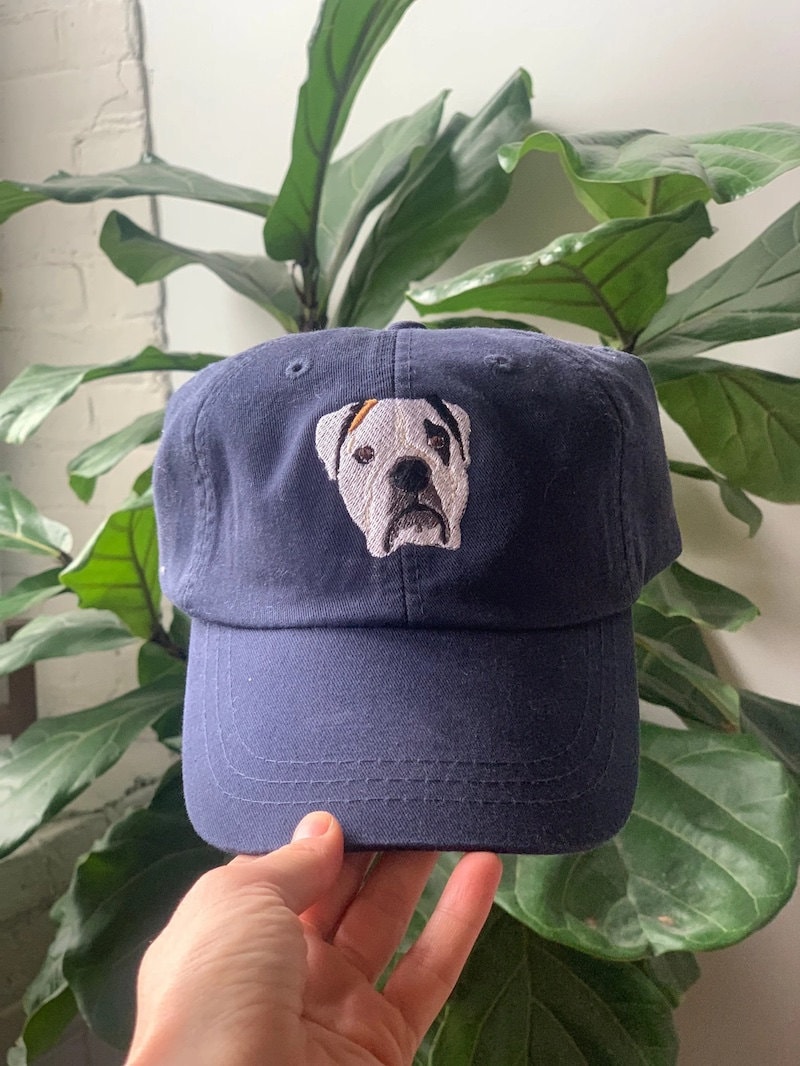 SHOP: Custom dog dad hat from The Filo Studios, from $78
Don't forget the dog dads who are devoted to their pups, from taking them out for a much-needed walk in the pouring rain to filling their kibble bowl to the tippy-top to giving them all the good belly rubs. This custom hat can be hand embroidered with his beloved pooch's face so everyone will know the pup that has his heart.
9. The best spa gift for guys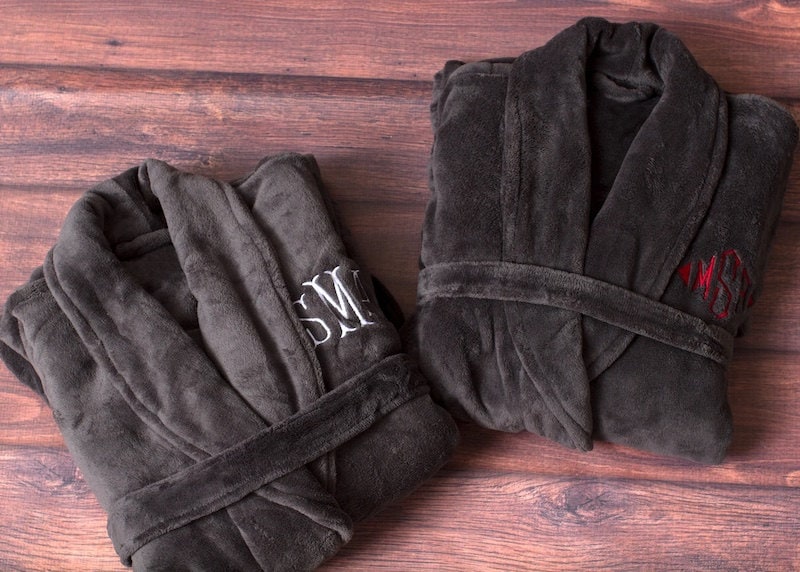 SHOP: Personalized plush robe for him from Joyful Tidings Bridal Boutique, from $43
Encourage him to kick back and relax with these monogrammed plush fleece robes. This is an especially apt gift for a new dad who has had many sleepless nights lately, or a newly retired dad who suddenly has a lot more time to prioritize himself—because the guys deserve a self-care day, too.
Gifts for the dad who loves to fish
Real fishing fans know that it's not about what you caught, but about the time you spent on the water: It's called "fishing," not "catching"! Pay homage to his favorite hobby and reel in the best fishing gifts for Dad.
10. The best personalized fishing case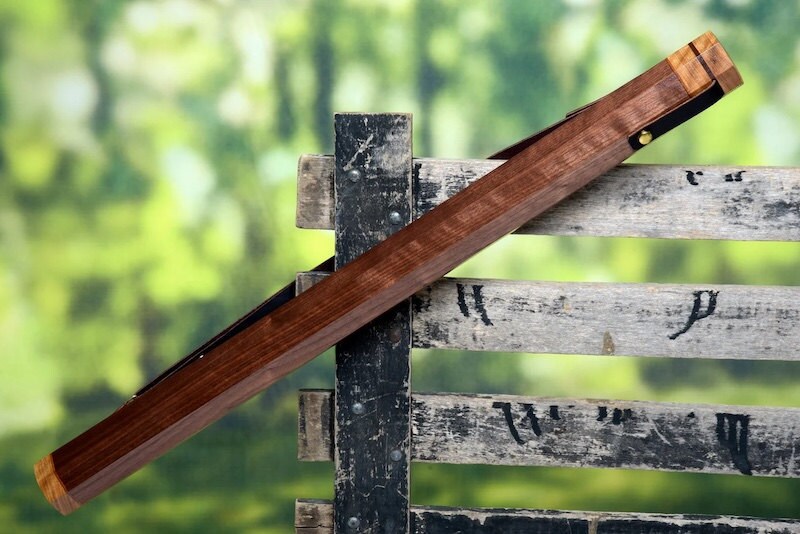 SHOP: Personalized fly fishing case from Legacy Fly Fishing, $200
Avid fishermen will treasure the craftsmanship of this personalized fly fishing case. Carefully constructed from walnut wood, this stunning case is the perfect addition to his fishing gear collection.
11. The best fly fishing gift pack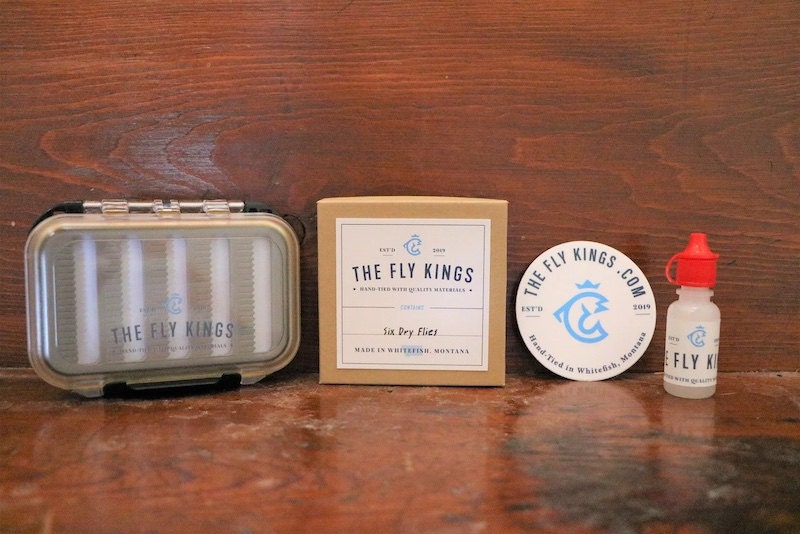 SHOP: Fly fishing gift pack for dad from The Fly Kings, $40
For dads getting into fly fishing, this gift pack features a waterproof double-sided fly box and 6 different hand-tied dry flies, and a dry floatant. Not a fishing aficionado and this is an alien language to you? Some other buyers felt the same way, but rave that their recipients understood both the gear language and the love language.
12. The best hat for shore fishing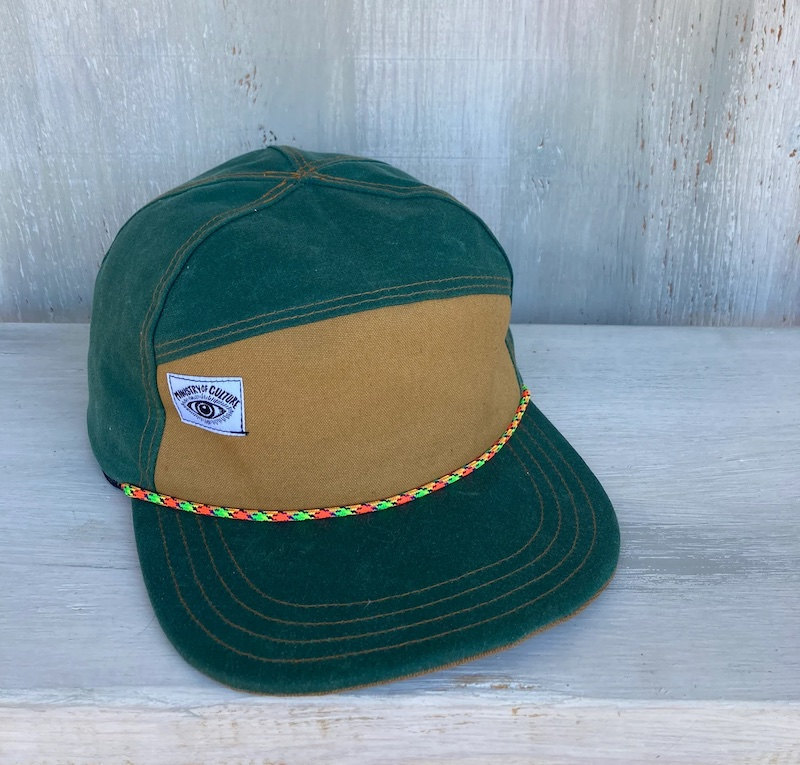 SHOP: Six-paneled handmade hat from Ministry of Culture, $64
For those sunny days on the river bank or at the shore, a fitted cap can protect him from the sun's rays. And what better way to celebrate Dad's love of all things fishing than with this six-paneled hat in his favorite forest green color?
13. The best fishing tool kit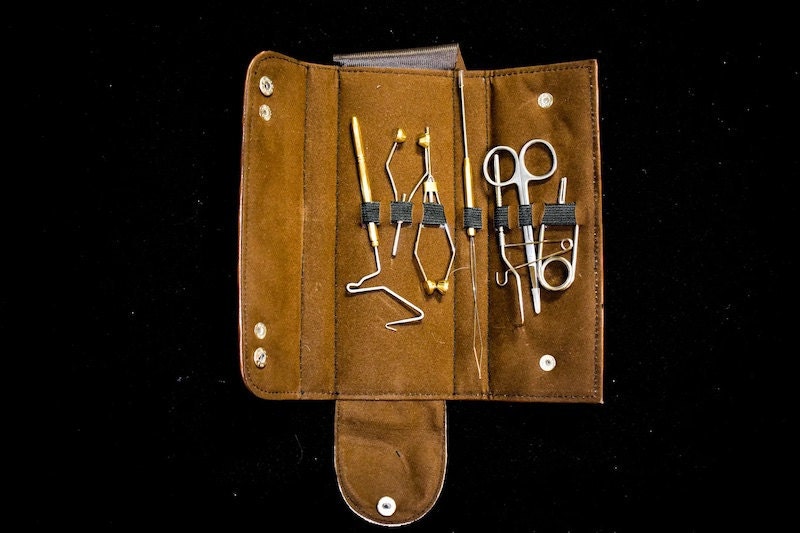 SHOP: Fly fishing tool kit and holder from MyFly Co., $50
Get him organized in style with this fishing gift for Dad. This nifty tool kit includes everything you need to tie flies, so he can quickly and easily grab this carrying case and head out to the water on those sleepy early mornings before a fishing trip.
Best camping gifts for Dad
Ah, the great outdoors! If camping out in the wilderness (or just your own backyard) is your dad's favorite way to spend his days, these outdoorsy gifts are like a breath of fresh air—they'll surely make your pops a happy camper.
14. The best camping mugs for him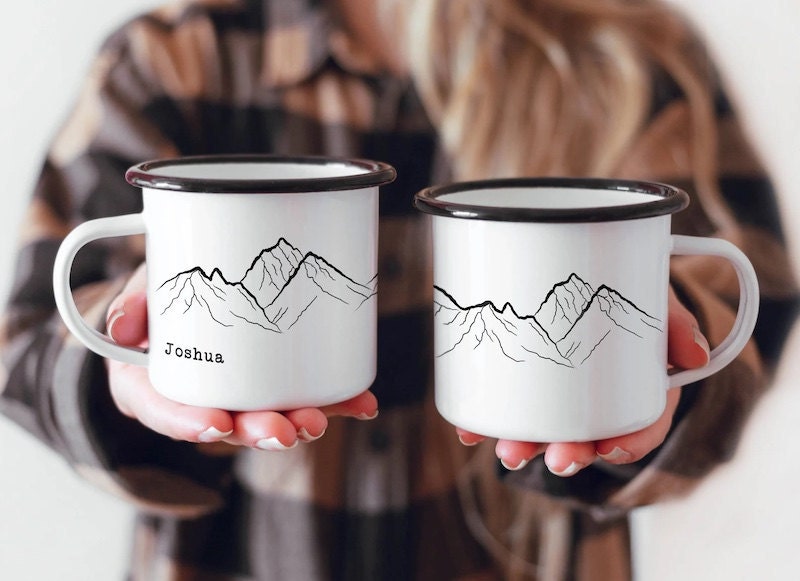 SHOP: Personalized mug with mountain design from ODYSEA Store, from $21 for one
Whether he's taking in the woodsy scenery from the comfort of his tent or dreaming about it from his kitchen, these personalized mugs make a great camping gift for a dad who loves building a fire, hiking the mountains, and his morning coffee (or tea!) wherever his adventures may lead him.
15. The best camping game gift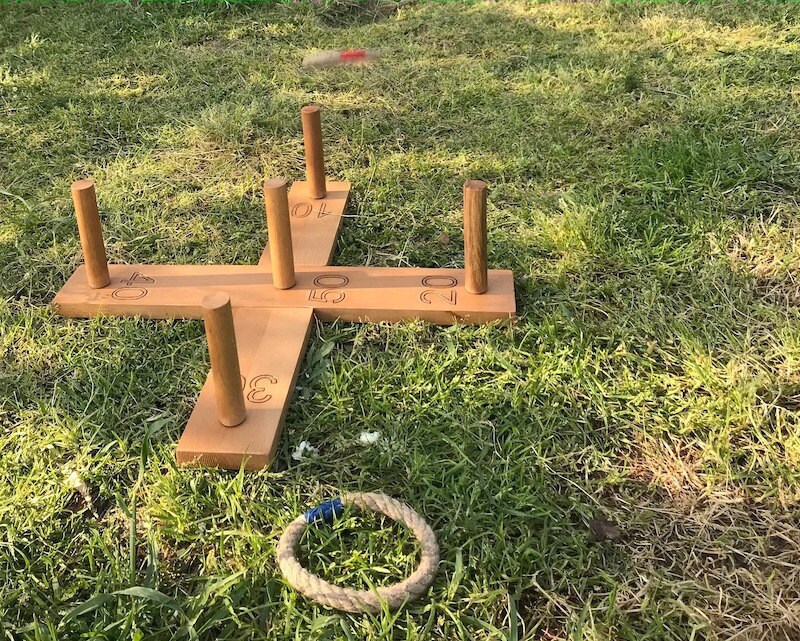 SHOP: Backyard ring toss game from Lovely Wooden Things, from $50
When you're on the campsite after a long hike and a hot meal (or you're camping on your front lawn and waiting for the grill to heat up), a fun lawn game for the whole family is the perfect pastime. This handcrafted ring toss game has color-coded rings perfect for teams and numbered pegs for keeping score. Get competitive or keep it casual—Dad's choice!
16. The best hiking backpack for men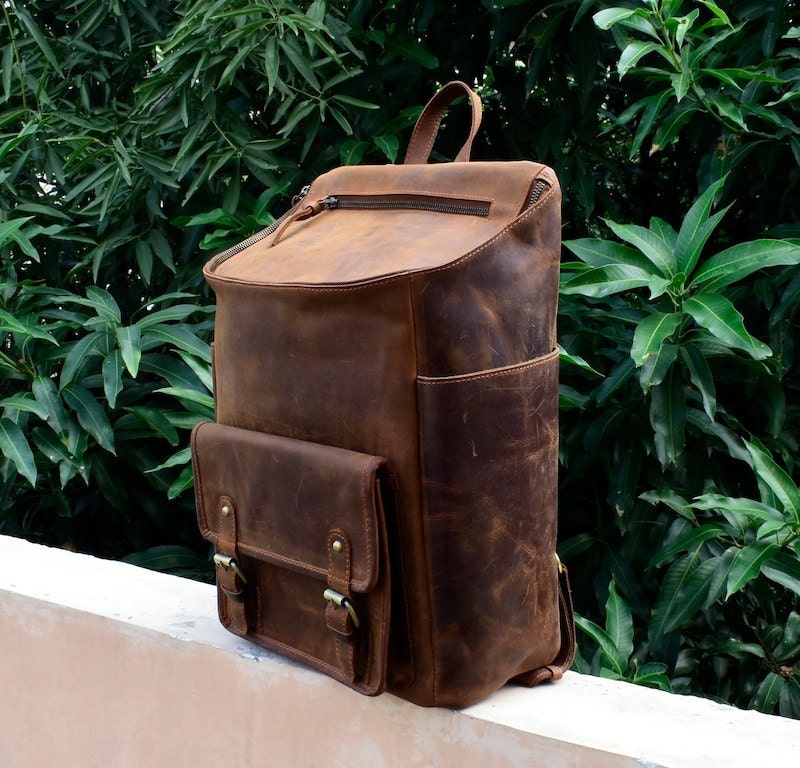 SHOP: Brown leather backpack for him from ADEEOK Leather, $459
Help him hike in style with this brown leather travel backpack perfect for hiking the trails. With compartments for his phone, pens, laptop, and more, he'll have space for his hiking essentials and look good too.
17. The best accessory for campfire cooking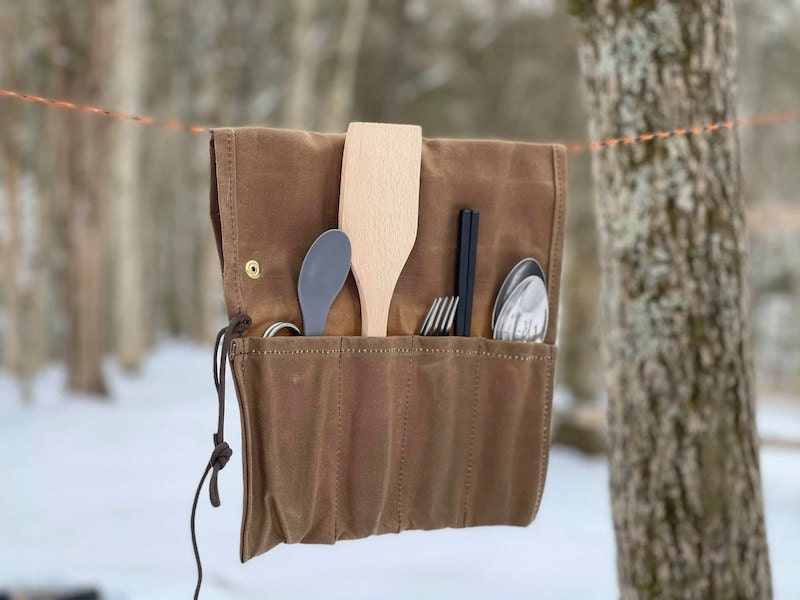 SHOP: Camp utensil roll from Campcraft Outdoor, $28
The best gifts for dads are the ones that they'll actually use. If he's camping regularly, he probably has a lot of utensils and tools for cooking over the fire, and he might have trouble keeping track of all of them. The solution? This convenient, wax-canvas utensil roll for all of his bushcraft cookware, small enough to bring backpacking on the trails.
18. The best camping coffee kit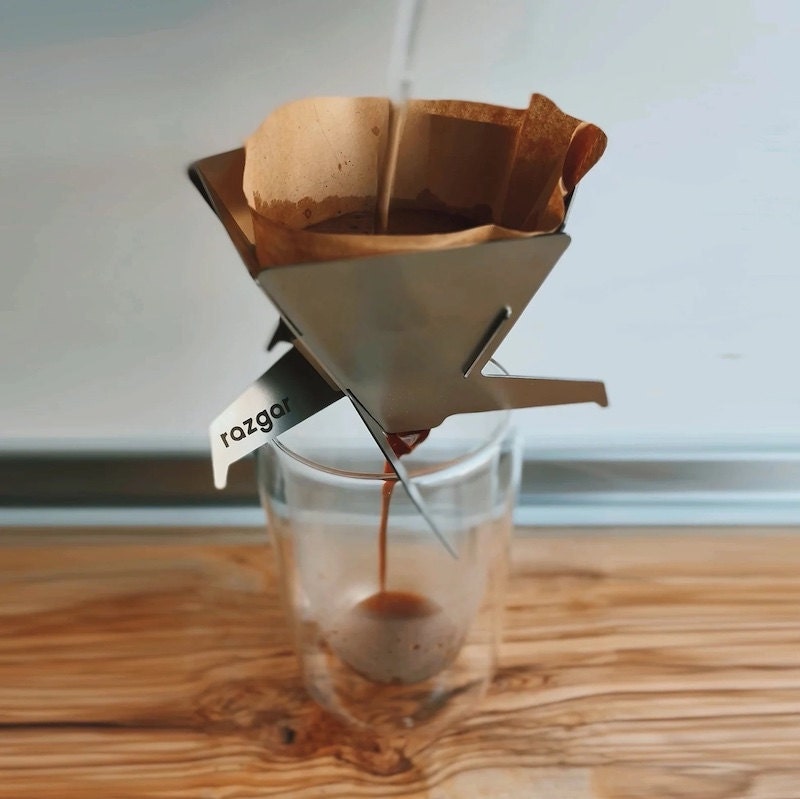 SHOP: Foldable pour over coffee maker from razgar, $32
Even when he's out in the wilderness, he can't live without his coffee. Camping often means opting for the instant stuff, but this foldable pour over coffee maker means he can have cafe-quality java on the go.
Best gifts for dads who love to grill
Treat your favorite grill master with the best grilling gifts for dad. With these grilling spices and accessories, all your backyard barbeque guests will be making compliments to the chef.
19. The best mouthwatering DIY kit for Dad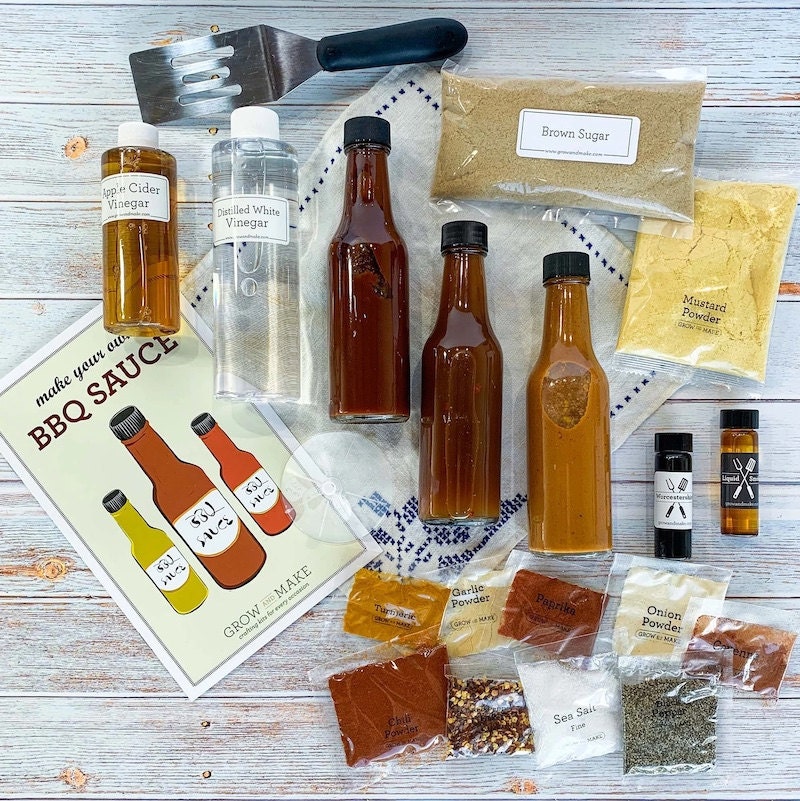 SHOP: DIY barbecue sauce making kit from Grow and Make, $45
The best present is time spent together making new memories. Create an experience you can share together with this DIY gift for dads. He can craft a special artisanal barbecue sauce just to his tastes and his guests will be begging to know the secret ingredient to his gourmet grill meals. We won't tell if you won't!
20. The best barbecue gift kit for him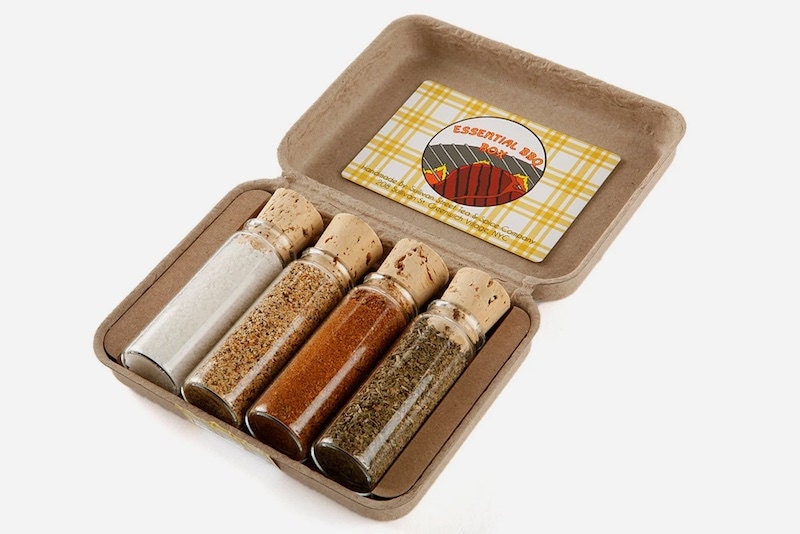 SHOP: Essential grilling spice box from Sullivan Tea Shop, $28
From gourmet fleur du sel salt to smoky mesquite seasoning, this essential barbecue spice kit covers the whole palette of flavors for your father's favorite foods. Packaged in these gorgeous glass bottles and mixed by hand for the grilling connoisseur, this grilling gift for dad is a delicious dynamo.
21. The best personalized grilling accessory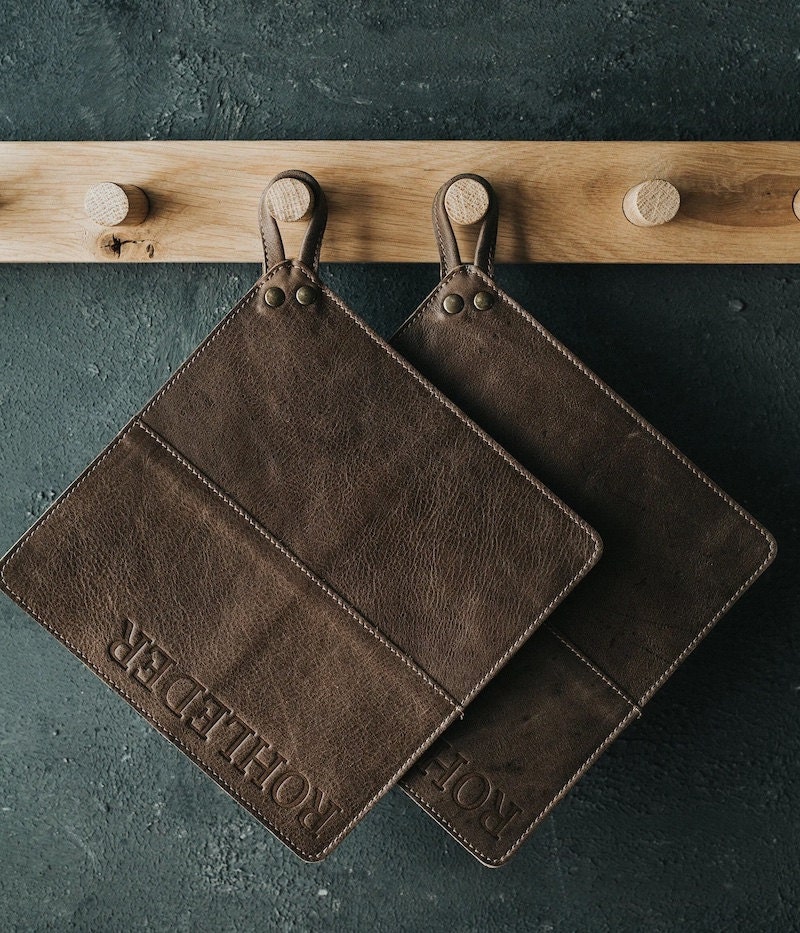 SHOP: Pair of brown leather BBQ potholders from Rohleder Leather Goods, from $88 for two
Bringing in that plate full of burgers with those worn-down potholders won't do: He needs the limousine of potholders, like these brown leather picks, which can be customized and hand-stamped with his initials. Stylish and functional, this leather is stain resistant and can handle heat up to 430 degrees Fahrenheit, so that plate full of burgers is no match for these potholders.
22. The best personalized grilling apron for Dad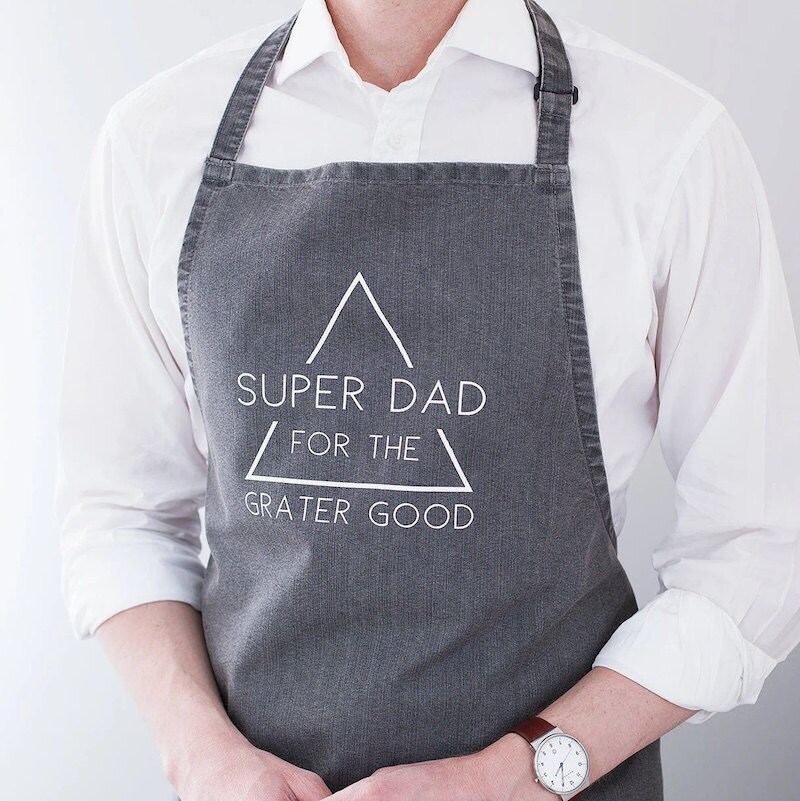 SHOP: Super dad denim apron from Clouds and Currents, $39
No more grease stains all over his favorite T-shirt! Keep the mess at bay with this denim apron that acknowledges all of the superpowers your dad possesses—from grill master to expert jar opener to ultimate hug champion.
Best tech gifts for Dad
Techie dads always have the hottest gadgets and gizmos, so encourage them to switch gears and get organized with these handcrafted tech accessories.
23. The best gift for dads with all the cords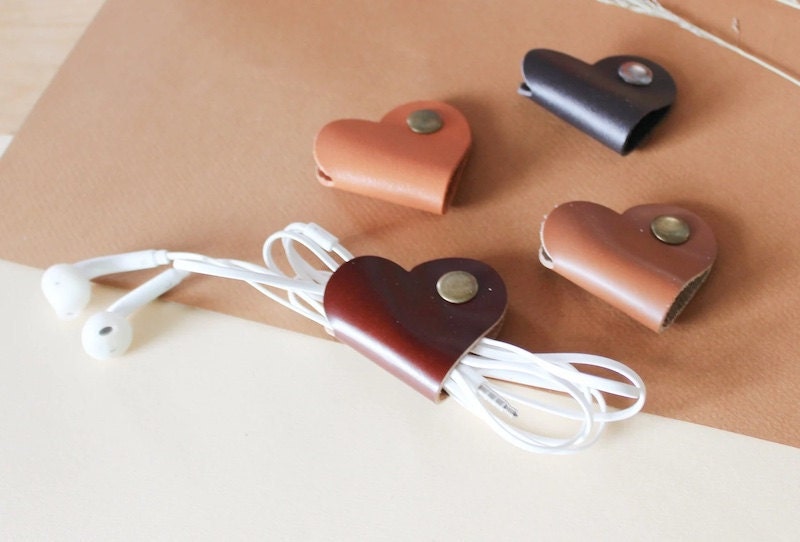 SHOP: Custom leather cord keeper from EATHINI, $8
Help him keep all his cords in order with these sleek and simple leather cord keepers, offered in all the colors to fit his unique style. Bonus: Make this a personalized gift for him by adding hand-stamped initials.
24. The best gift for music-loving dads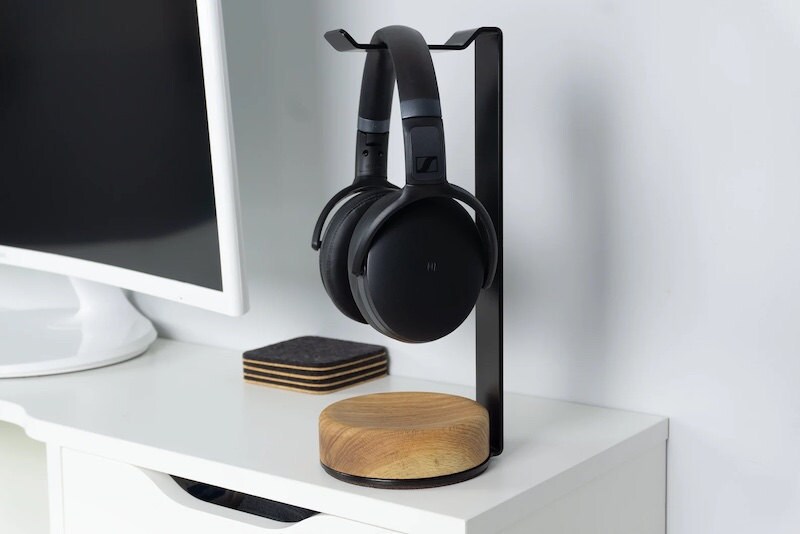 SHOP: Wooden headphone stand from Beaver Peak, $54
Audiophiles and music lovers depend on their headphones for their favorite tunes, and this wooden stand puts those sweet sonic accessories on the pedestal they deserve and lets his special day end on the right note.
25. The best tech organizer for dads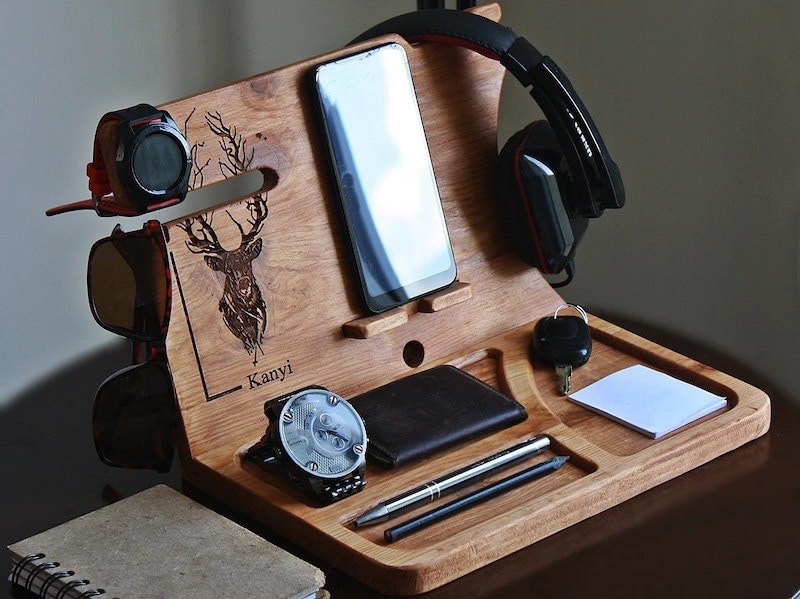 SHOP: Personalized docking station with engraved wood from Semeka wood, $50
The epitome of form and function, this personalized tech gift is perfect for Father's Day or dad's birthday. This docking station uses custom-engraved wood and all the compartments for all the gadgets—from his phone to his watch to whatever tech innovation he's loving right now.