To celebrate their new arrival, choose from these unique, sentimental, and funny gifts that will bring a smile to any new parent's face.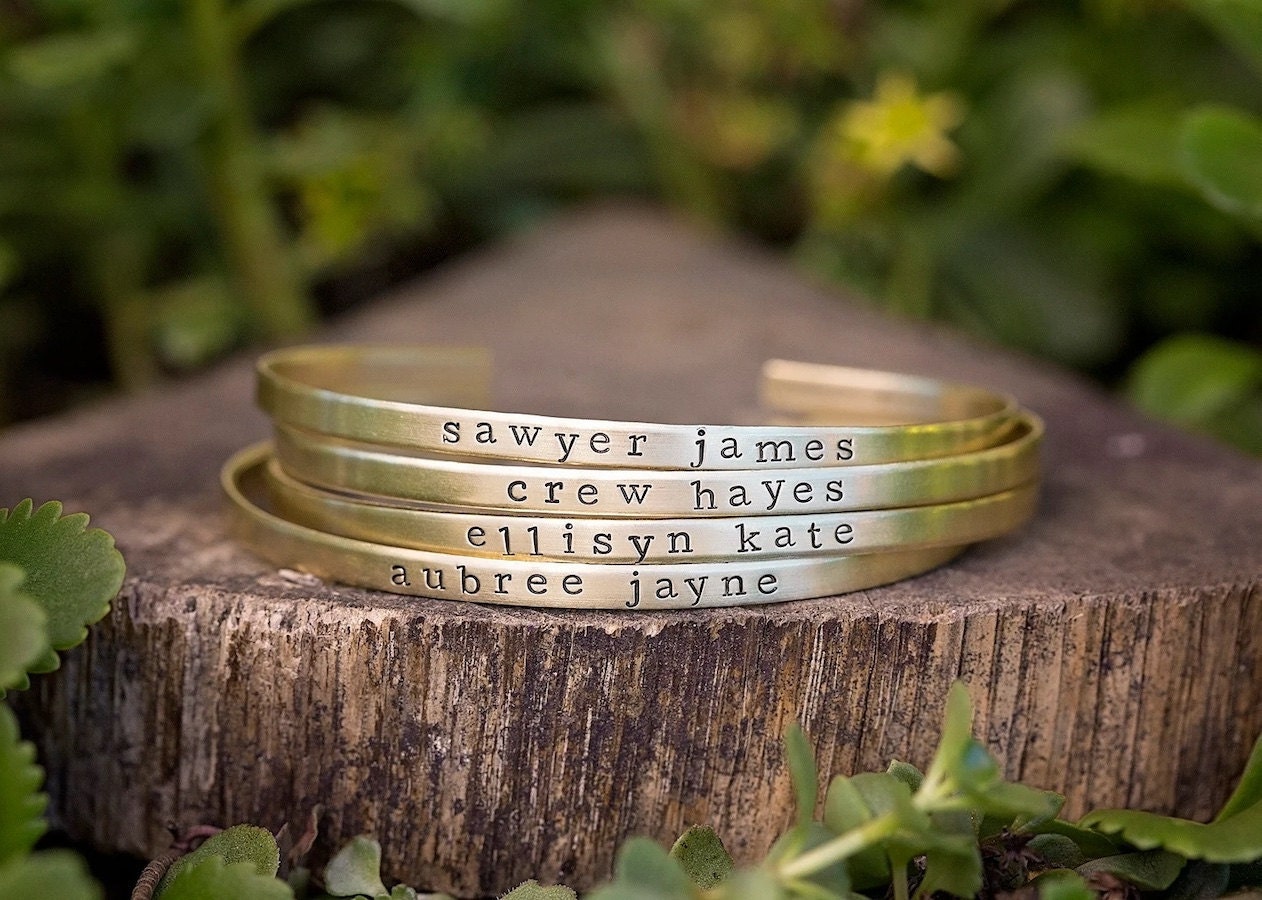 Getting to watch your friends and loved ones become parents—if it's their first spin on the merry-go-round or not—is a joyous time. Whether they have already welcomed their baby or are waiting for the little bundle's arrival, you want a gift for the new parents that can adequately express your happiness for them.
Becoming a parent, though wonderful, can be a daunting time. While many new parents will fill their baby shower registries with baby "musts" such as diaper bags, bath toys, and baby bedding, you'll be hard-pressed to find anything on these lists that is actually for the parents and not solely for the baby. Choosing a new parent gift that Mom and Dad can enjoy will make them feel special and appreciated, and it will likely be unexpected, too.
We've curated a list of 20 of the most unique and sentimental gifts for new parents—and some that are meant for both the parents and the baby—that they can keep forever to commemorate this special time in their lives.
Non-baby gifts for new parents
Not all baby shower gifts for have to be items for the baby. These non-baby gifts are tailor-made just for the new parents who most definitely deserve a little bit of pampering during this challenging (albeit beautiful) time.
1. The best "mama" necklace for new moms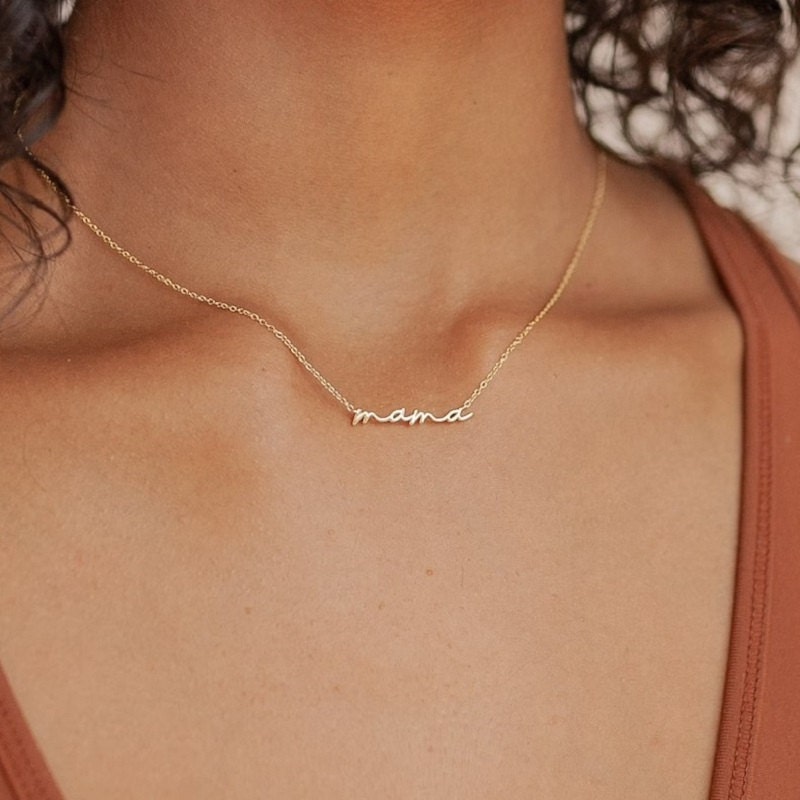 SHOP: Dainty mama necklace from Caitlyn Minimalist, $26
This beautiful and minimalistic "mama" necklace is the perfect way to welcome a friend or loved one to motherhood. It's dainty and delicate and comes in either sterling silver, rose gold, or 18K gold finishing to suit any taste.
2. Pregnancy gift box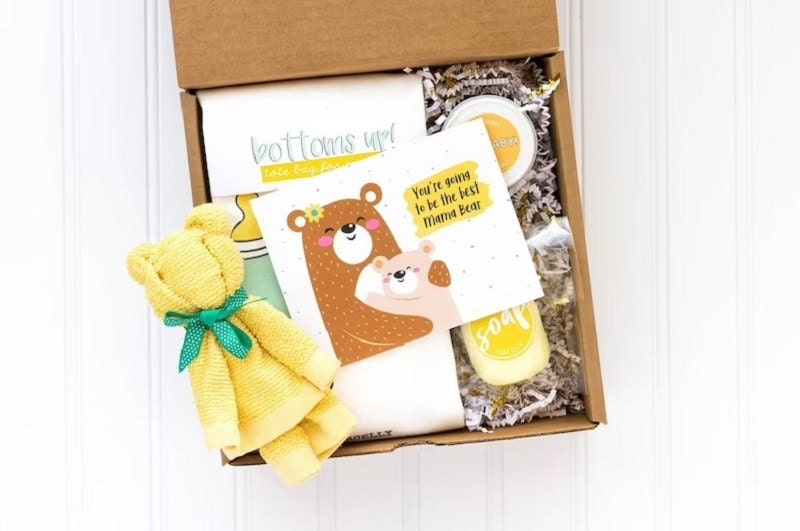 SHOP: Pregnancy gift basket from Parcelly, from $54
This gift basket contains an array of goodies to really make your pregnant friends feel special. Each of the included items is handmade, including an appropriately-themed tote bag, soap, and scented candle. You can also choose to add a ceramic mug with freshly-baked choc chip cookies or fruit-infused tea.
3. Personalized new parent gift for Dad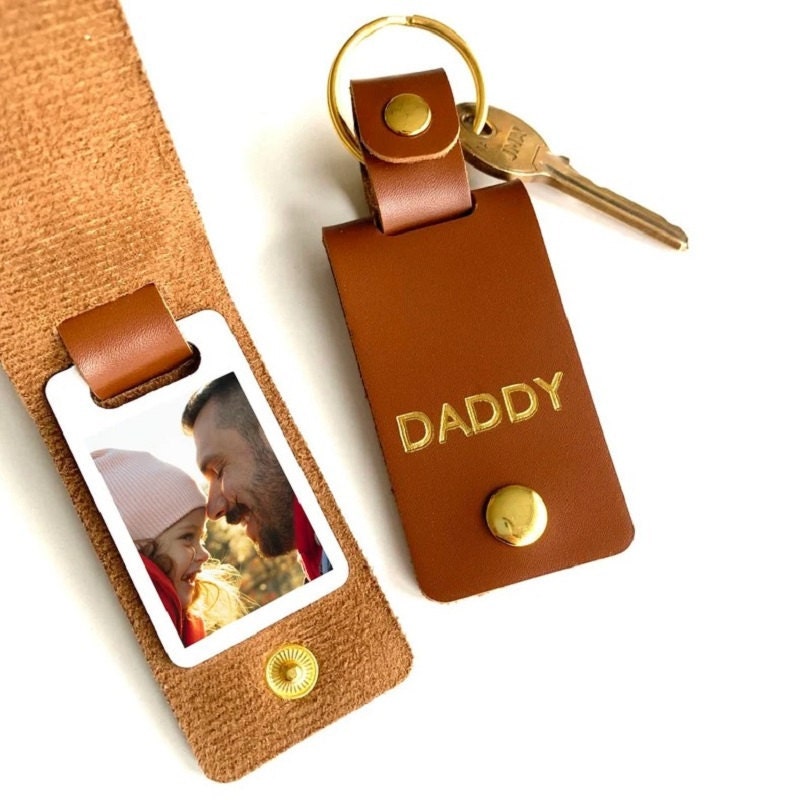 SHOP: Personalized Daddy photo leather keychain from Silvy, $22
Dads can often feel left out of the whole baby arrival celebrations, but this vegan leather keyring that can be inscribed with their new title of "Daddy" and holds a photo can make them feel special and included. The keyring is available in various colors and can either be debossed or embossed with gold foil. It can also be made for all the other family members, too.
4. Dad hat 2022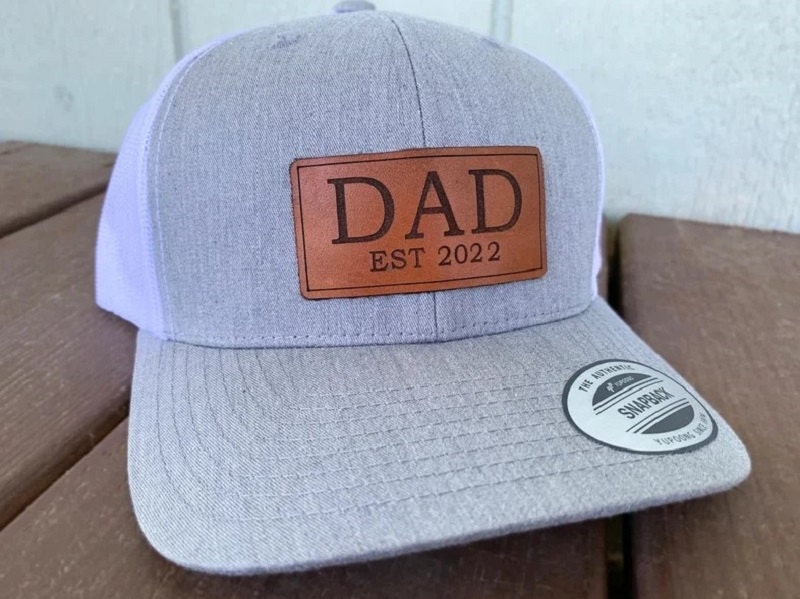 SHOP: Dad Est. 2022 hat from Vivid Stickers, $27
For something that will surely appeal to any new father, this "Dad" hat is one gift that they'll be able to get a lot of use out of. It can be personalized with the year they became a parent (or grandparent!) and is available in 11 different colors and designs.
5. Personalized stack bracelets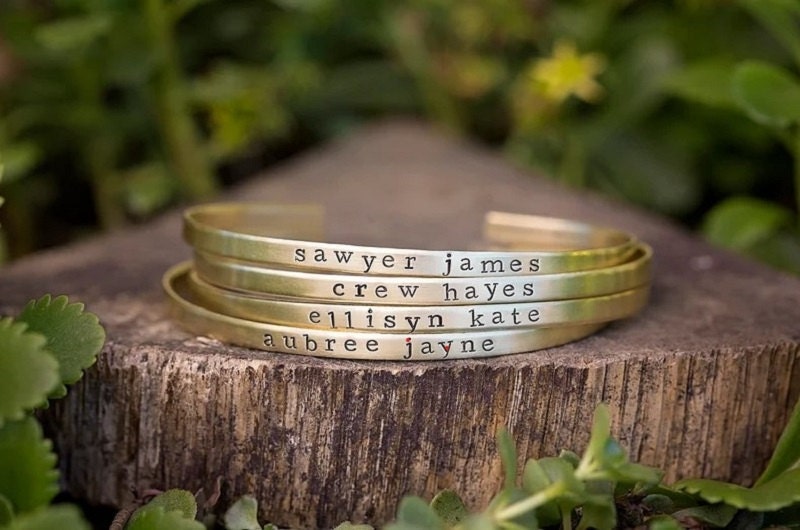 SHOP: Personalized skinny stacking cuff bracelets from Wildflower Vintage, from $24
For your fashionista friends who fully embrace the skinny stacking jewelry trend, opt for these personalized cuffs that can be engraved with their names or their kids' names and come in either brass, copper, or aluminum.
Unique gifts for new parents
If you want your gift to stand out among the rest, choose one of these unique presents for new parents that are sure to get hearftelt wows.
6. Mom and me matching set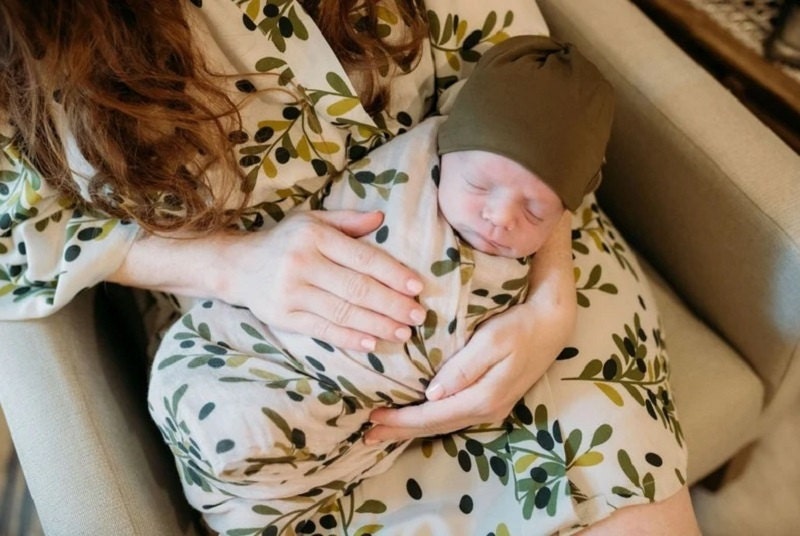 SHOP: Mommy robe and baby hat and swaddle blanket set from Day of Blossom, from $11
With its soothing green olive design, this matching set which consists of a robe for mama and a swaddle and hat for the baby just might be the cutest thing ever. The robe is made from 100% Rayon, and the swaddle and hat are organic cotton. As if that's not cute enough, there's also a matching robe for a "big sister" available.
7. Personalized "Dear Mommy" book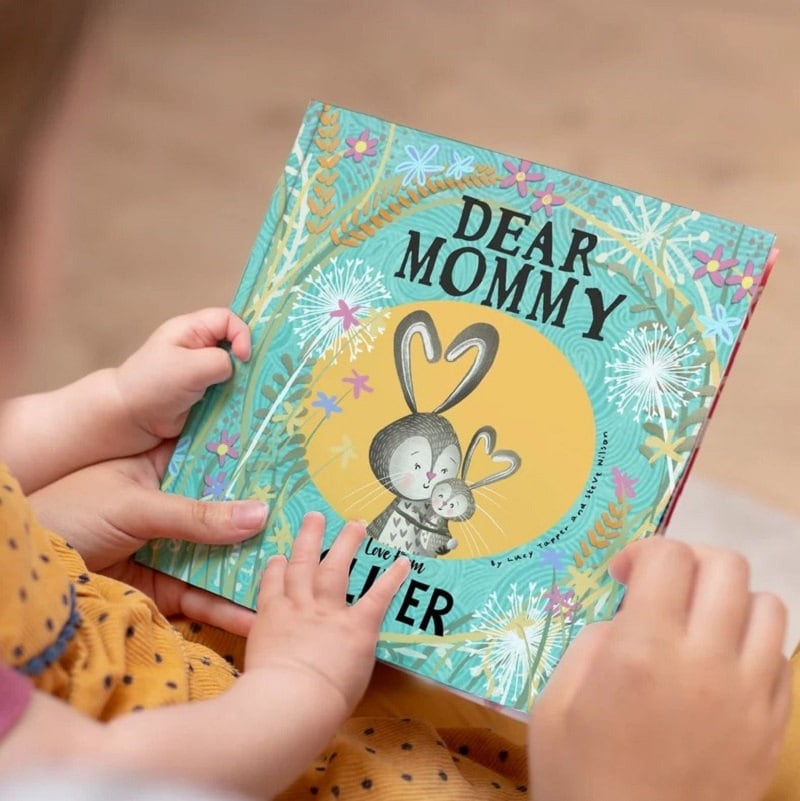 SHOP: Personalized Dear Mommy book by From Lucy and Co, $29
Though it's a children's book, you can bet your bottom dollar that the mother will appreciate this unique and sentimental book, too. Personalized to include the baby's name and the mama's preferred title, this cute story will very likely be one of the first books your friends will ever read to their little one.
8. "On the Day You Were Born" star chart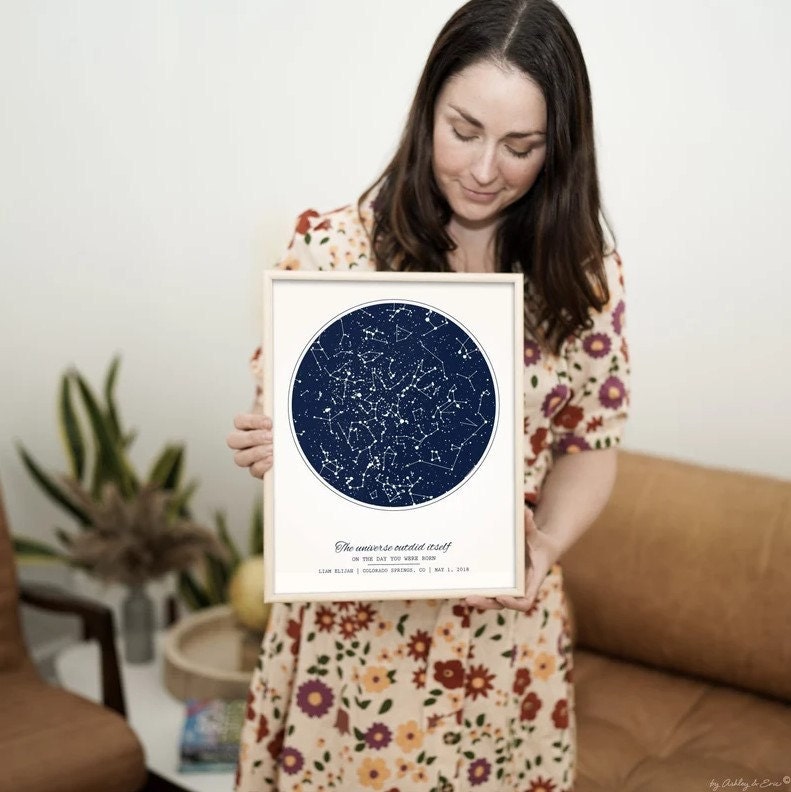 SHOP: On The Day You Were Born print from Our Love Was Born, from $46
To commemorate one of the most important days in any parent's life, this star map that depicts the position of the stars on the night their baby was born is just the ticket. It's available as a framed or unframed print in various sizes and frame styles.
9. Personalized leather bracelet for dad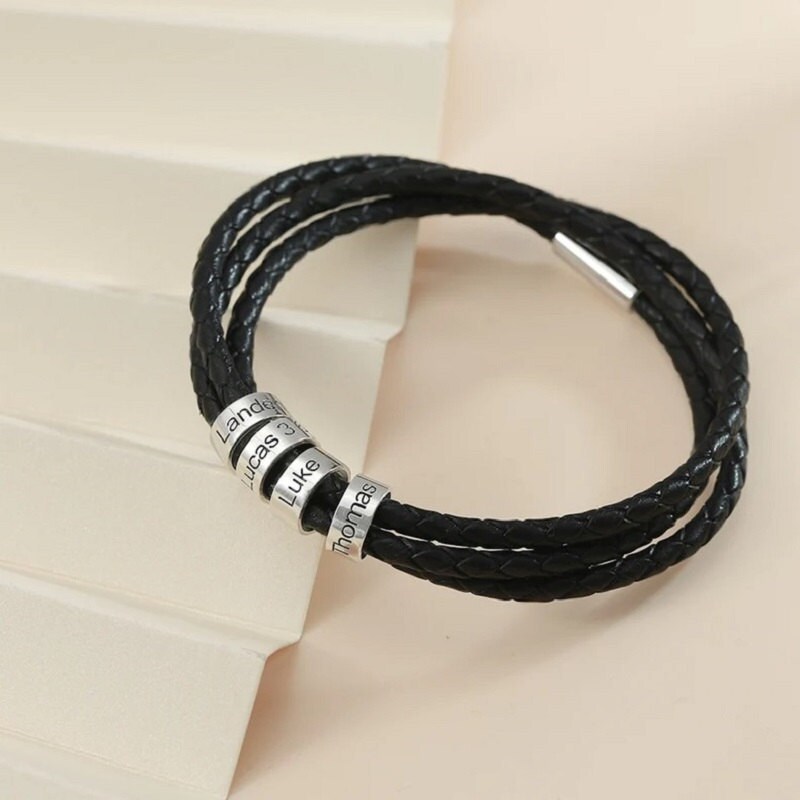 SHOP: Custom engraved name bracelet from Muwati, from $20
You can select up to seven beads to include on this leather bracelet for men, each personalized with the name of the special people in their life—their partner, new baby, and any other children. Beads come in gold or silver, and the minimal design can be appreciated by many moms, too.
Sentimental gifts for new parents
For a touch of nostalgia, choose one of these sentimental gifts for new parents that will tug at any new mom and pop's heartstrings.
10. Handmade baby quilt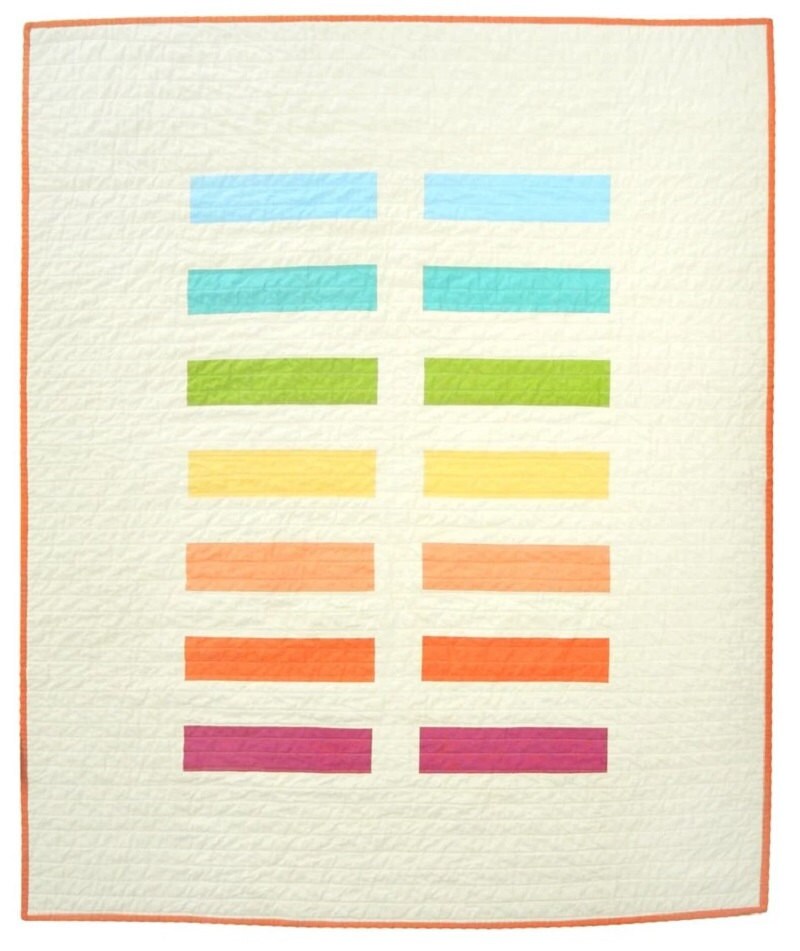 SHOP: Modern baby quilt rainbow bricks from BperrinoHandmade, $195
This special gift might be for the baby, but any parent can appreciate the craftsmanship that has been put into its design. Handmade by the creator, Barbara Perrino, in Rhode Island, these beautiful and minimal cotton quilts are beloved for their high quality, can be machine washed, and will last a lifetime as a keepsake of these first precious years.
11. Engraved wooden baby keepsake box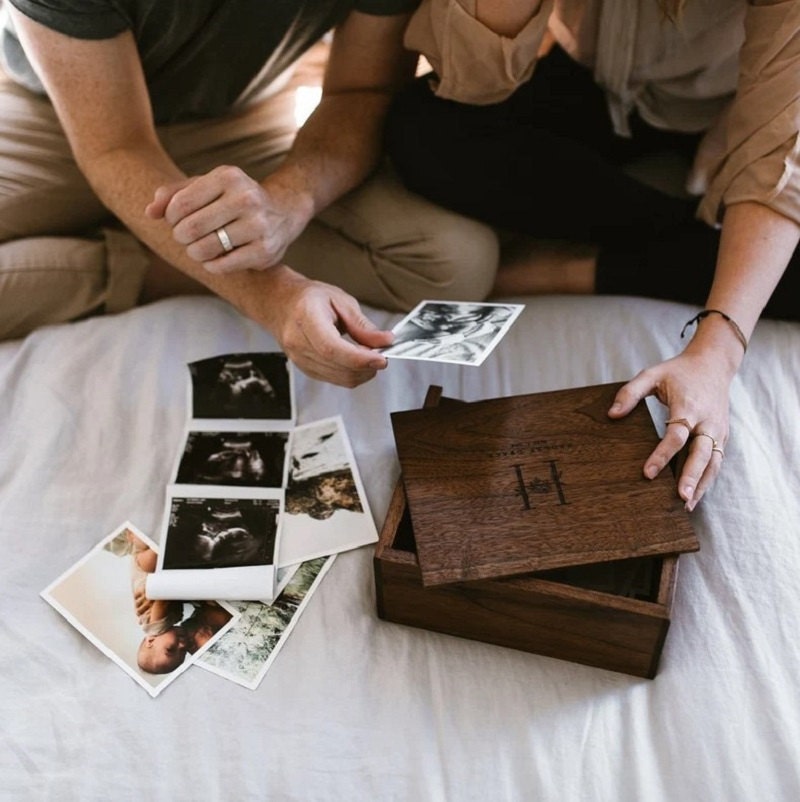 SHOP: Wooden baby keepsake box from Wayfaren, from $95
To keep baby scans, hospital bracelets, and other baby memorabilia together and neatly organized so the new parents can look over them whenever nostalgia hits, give them this gorgeous rustic wooden baby keepsake box that can be engraved with their names or family emblem.
12. Initial necklace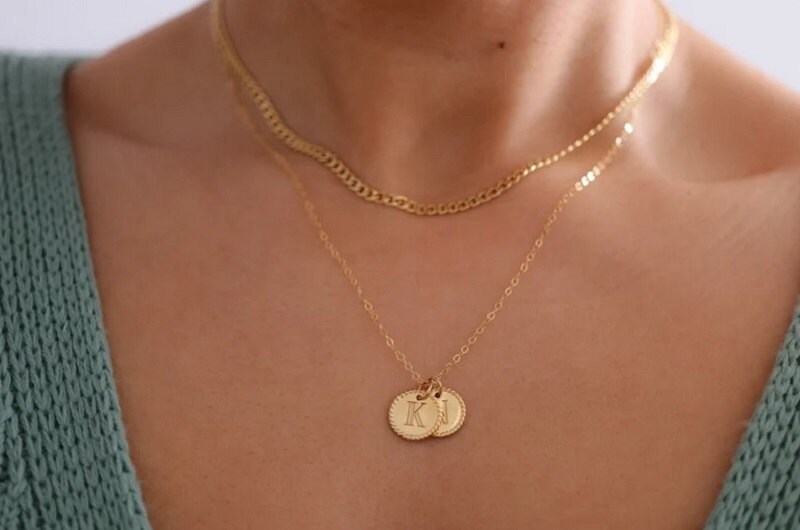 SHOP: Custom initial necklace wreath pendant from Evren, from $43
This initial pendant is a beautiful way to pair mom, dad, and baby's initials together and keep them close. It is not only delicate and beautiful, but you can add more pendants to it over time if any new sprogs come along.
13. "Becoming Daddy" personalized book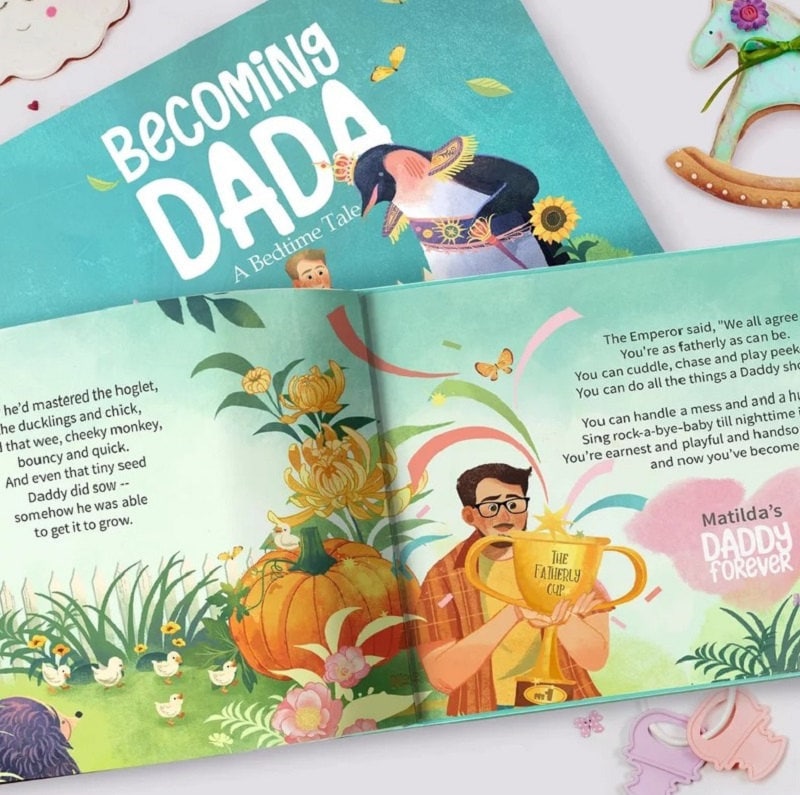 SHOP: Personalized dad book from My Given Name Books, $50
Of course, we can't leave Daddy out of reading time! This personalized book has a cute story that dads can read to their babies and make beautiful memories together. You can even personalize the dad in the book to look like the giftee with a choice of hair and skin colors, and a beard or glasses.
14. Child memory journal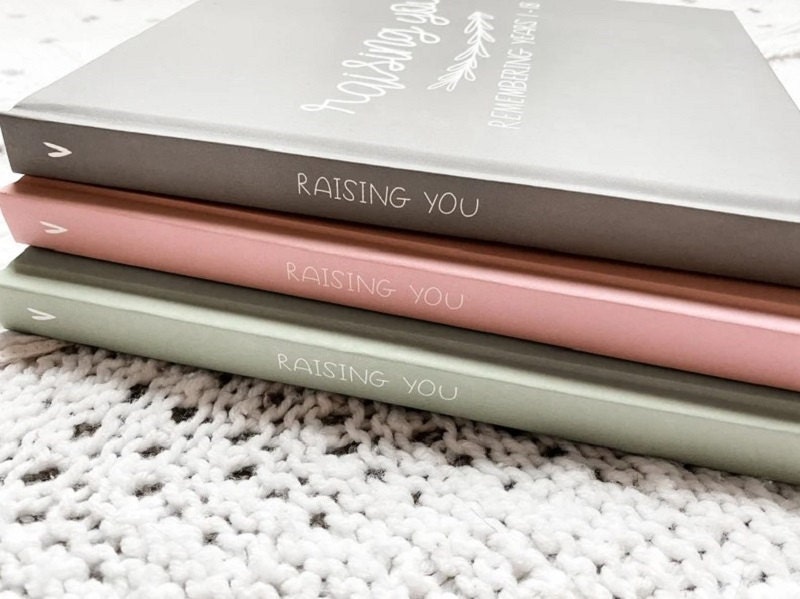 SHOP: Childhood memory keepsake journal from This Little Love Co, $57
A baby book like no other, your friends will be proud to keep this beautiful, modern, and minimal childhood memory journal on display. It comes in three subtle colors—gray, blush pink, or sage green—and the parents can update and add to it periodically as their little one grows.
15. Pregnancy countdown frame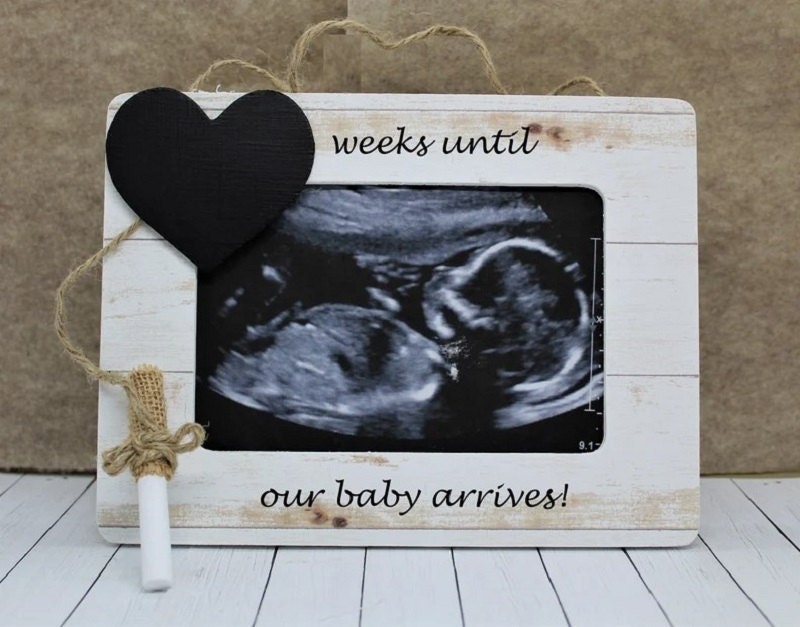 SHOP: Countdown frame from Embellished for Love, $26
This wooden pregnancy countdown frame is a very special present to gift to anyone who is expecting. The frame holds their first ultrasound photo, and there is a small chalkboard and attached chalk to write how many days are left until the parents finally get to hold their little love.
Funny gifts for new parents
If your friends aren't into all that mushy stuff, this selection of funny gifts for new parents will have them LOL-ing.
16. Decision flip coin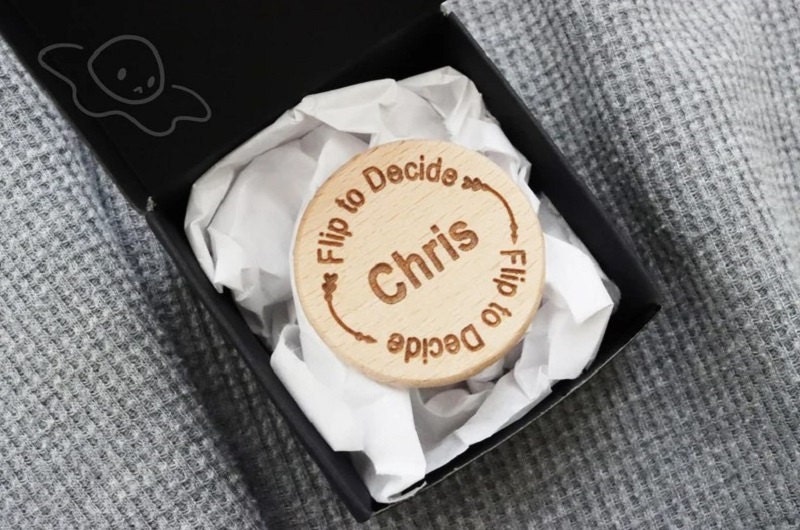 SHOP: Personalized decision flip coin from Eggutama, from $6
For a fun take on 'heads or tails', this personalized wooden decision flip coin is a funny and affordable gift that can be used to decide the baby's name or whose turn it is to change the diaper.
17. Matching family socks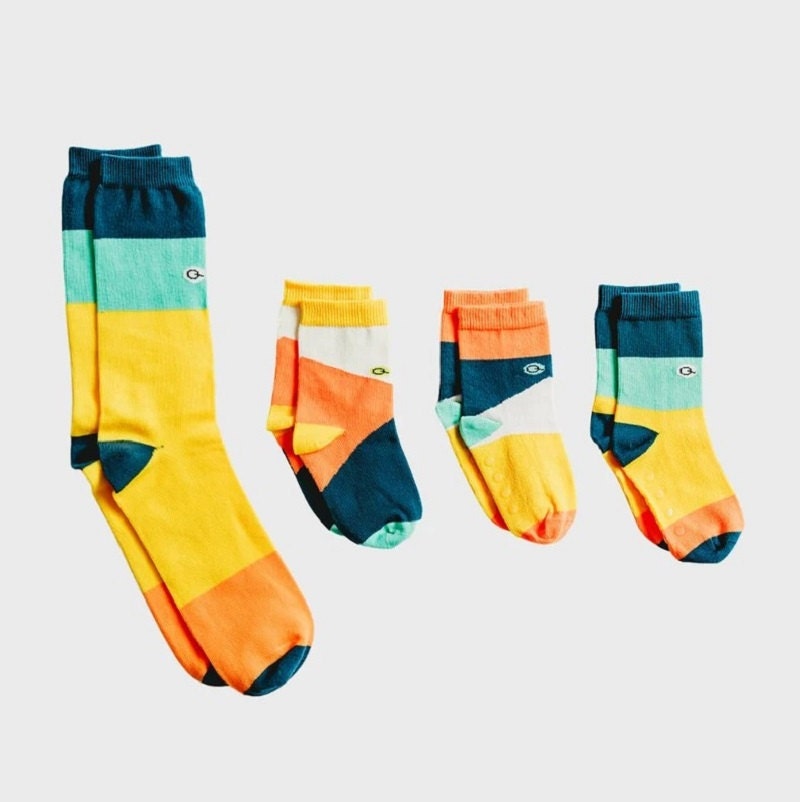 SHOP: Matching family socks from Q for Quinn Socks, from $35
Socks are always a safe gift, but these matching family socks are cute and unique, too. They're made from certified organic cotton and are available from newborn baby sizes onwards. The creator, a mom of three herself, offers many other sock styles to choose from.
18. "Go ask your mom" T-shirt
SHOP: Go ask your mom T-shirt from Rose & Thorn Company, from $27
For all the jokester dads or dads-to-be, this "go ask your mom" T-shirt is sure to make them chuckle. Its minimal style and choice of three basic colors—black, gray, or white—means that they'll likely get a lot of wear out of it, too.
19. Matching pizza T-shirt set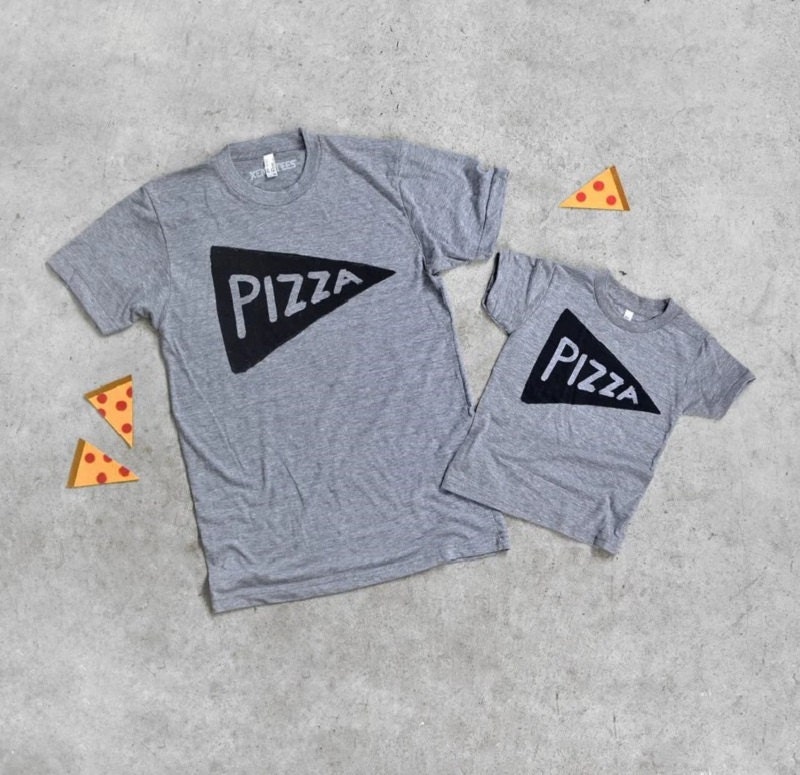 SHOP: Matching pizza T-shirt set from Xenotees, from $25
Dads who are keen on raising a mini-me (so, all dads) will love these matching handmade father and child pizza T-shirts. There are also matching taco versions, too. Sizes start from three months onwards.
20. Sloth family portrait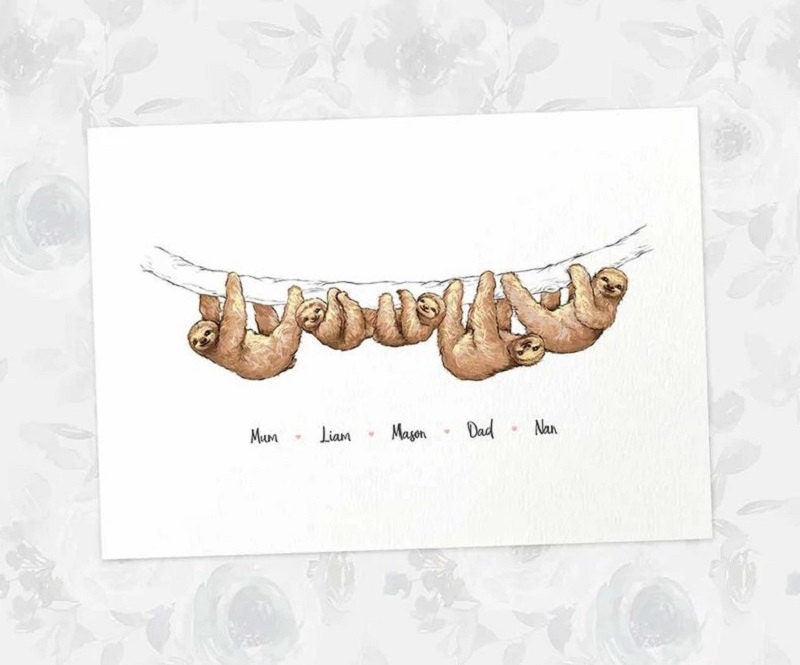 SHOP: Personalized sloth family portrait from Pawprint Illustration, from $16
This cute artwork depicts a family of lovable sloths and can be personalized with the new parents and their baby's name. The picture can come framed and ready to hang on a wall and is available in various sizes.