Step up your sparkle with these statement-making gold chains, perfect for daily wear and dressing up alike.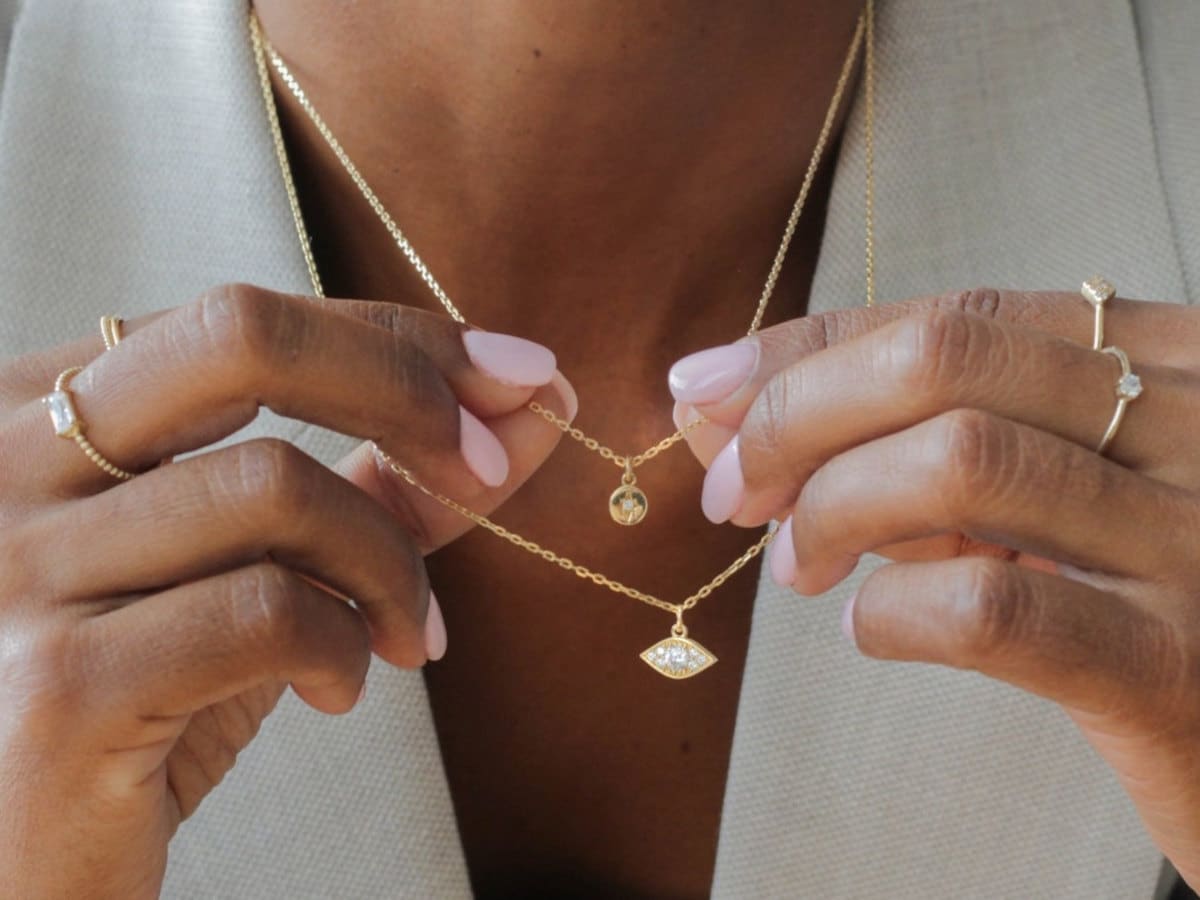 A classic gold necklace is perhaps the timeless essential everyone should have in their jewelry box. Whether it's a minimalist gold necklace that oozes understated glamour or a chunky chain to make a statement, there's no doubting the versatility of a beautifully handcrafted gold necklace.
Make your next gold necklace extra meaningful by choosing a style with a touch of personalization. Whether it's a locket, a charm, a gemstone, initial or a name, the brilliant jewelry designers on Etsy have crafted pieces that you'll wear again and again. And with their classic and long-lasting appeal, a new gold necklace could become a treasured heirloom to be passed down through generations.
Though trends may come and go, it's safe to say that gold necklaces have never been out of style. Whether you want to add to your jewelry collection, or are looking for a gorgeous gold necklace to give to someone special, the small shops on Etsy have some of the most exquisite pieces for everyone, and for every budget thanks to designs using gold fill and gold plating.
Best gold layering necklaces
Layering a few of your gold necklaces and wearing them at once is the perfect way to add make sure all your favorites get a moment to shine. Beautiful when paired with an open neckline, layered necklaces provide an opportunity to mix metals, chain styles, and charms.
1. Moon horn necklace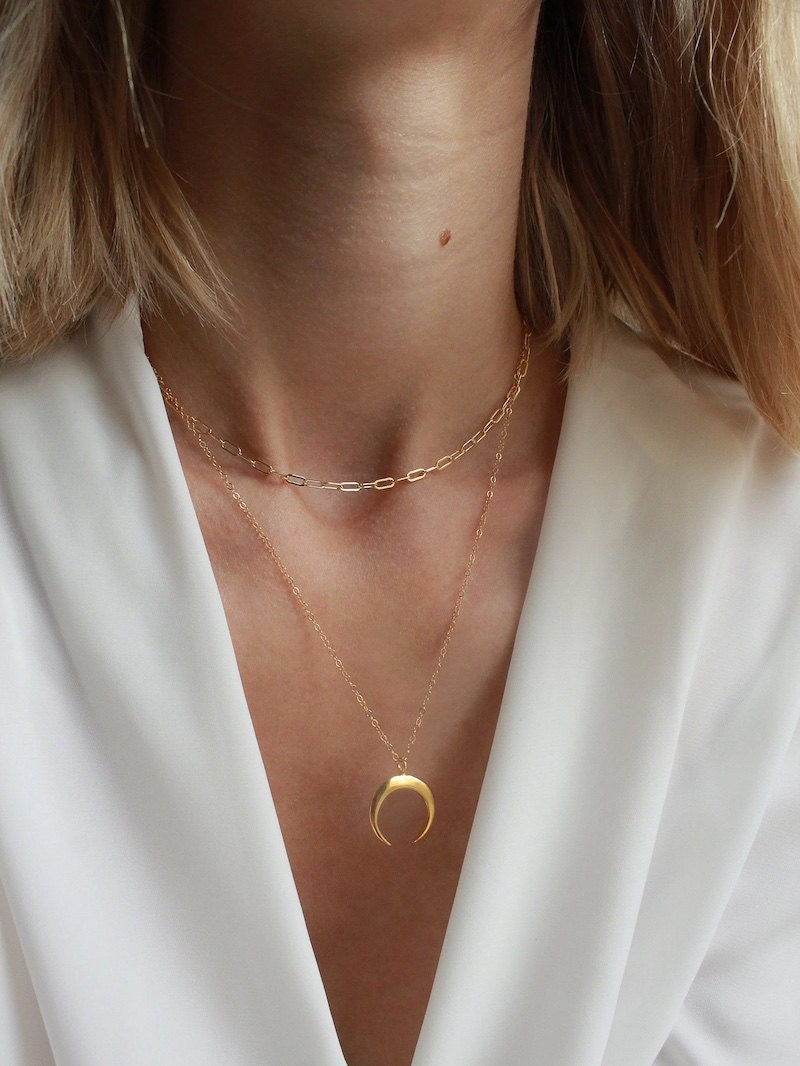 SHOP: Gold moon horn necklace from Boho Stones, from $40
A boho-chic pick for the longest necklace in your stack, this gold vermeil design features a moon horn charm and is available in two different chain styles—traditional or beaded. Gold vermeil is a technique where a layer of gold plating is applied over a silver chain for an affordable design. It's recommended that you avoid allowing your gold vermeil piece to come in contact with water or fragrances.
2. Charm necklace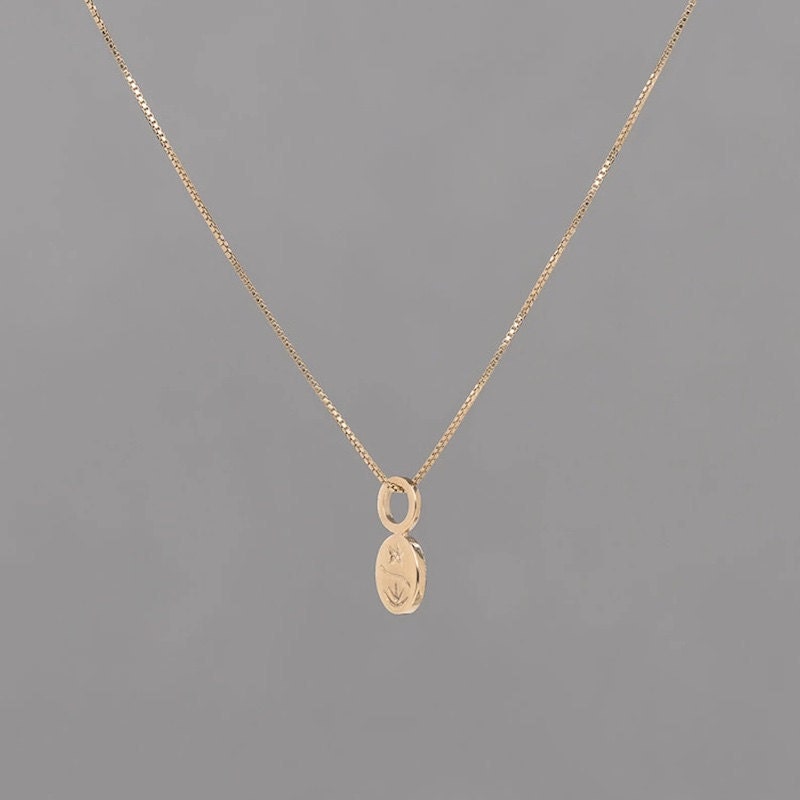 SHOP: Trendy layering chain from Haley Lebeuf, from $100
Timeless and elegant, this classy gold necklace features a tiny elemental charm that's perfect for everyday wear. It's made from gold vermeil and the seller offers personalization, too. The delicate etching on the pendant, according to the seller, represents yin and yang energy symbolizing joy and success.
3. Rose quartz star necklace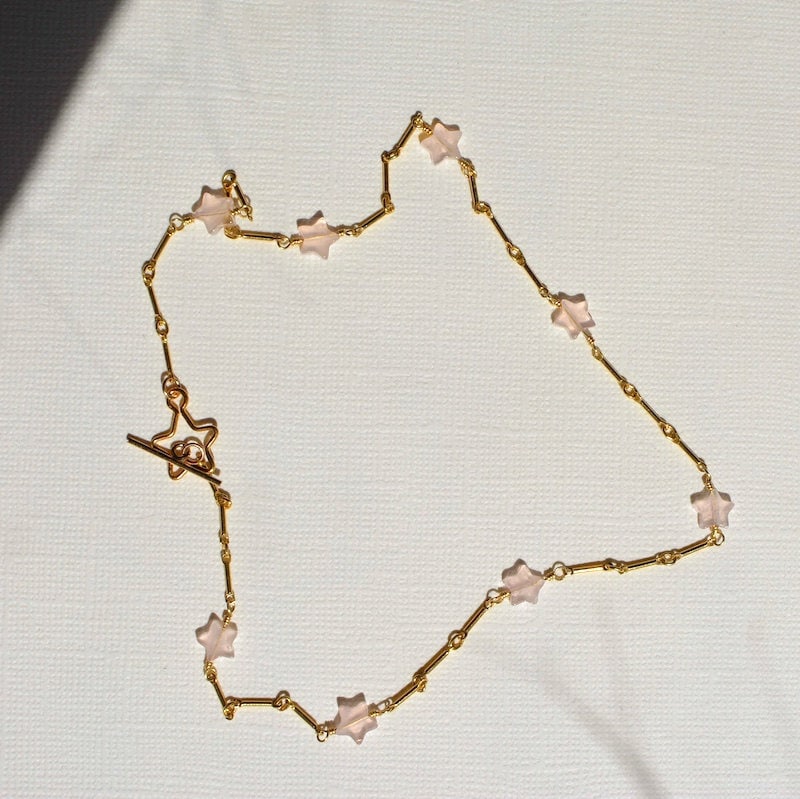 SHOP: Stargazer rose quartz necklace from Gem & Blue, $78
Slightly different from the classic pendant necklace, these gold necklaces for women feature hand-cut rose quartz stars dotted sporadically around the chain. Choose from two different lengths to complete your layered look.
4. Secret T-bar amulet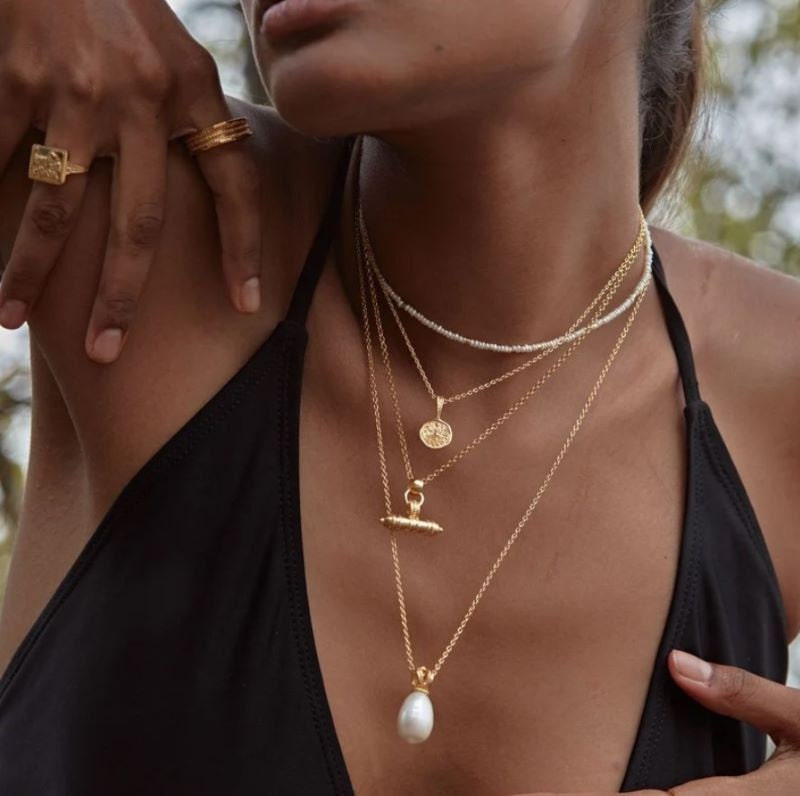 SHOP: Gold vermeil amulet from Loft & Daughter, $179
For a statement piece you can wear every day that is sure to catch the eye, opt for this T-bar amulet necklace. It's made from a hardy 22K gold vermeil electroplated onto recycled sterling silver and is designed to last. "Amazing quality, and the most exquisite design and craftsmanship," expressed one happy shopper.
5. Evil eye pendant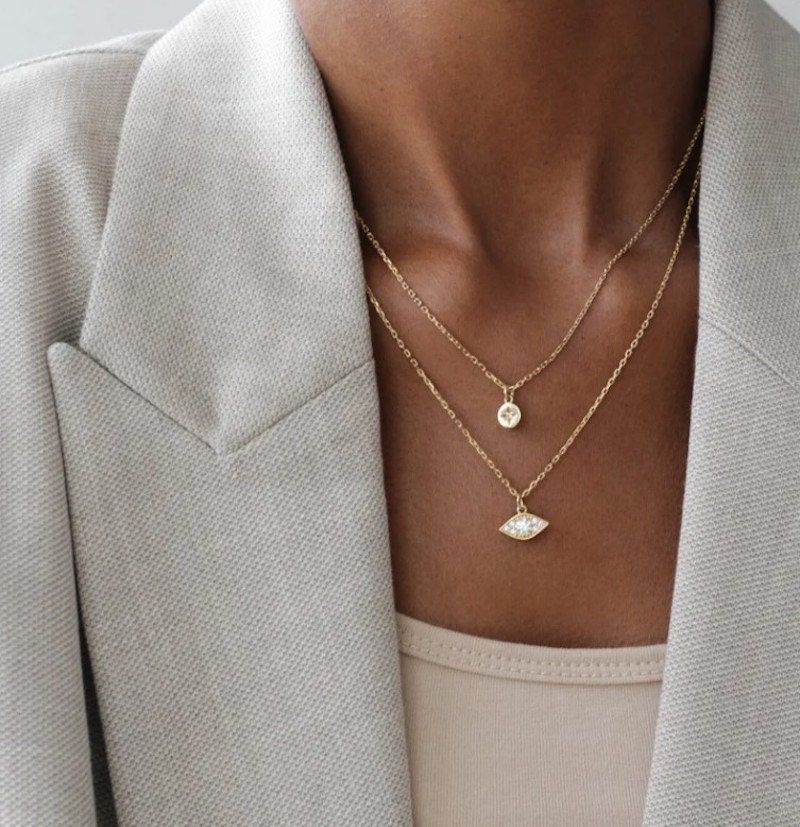 SHOP: Gold evil eye necklace from RED CHERRY BLVD, from $31
To ward off the bad juju, arm yourself with this beautiful 18K gold vermeil evil eye pendant necklace. It's encrusted with glistening cubic zirconia, and buyers call it "absolutely stunning," "an eye-catcher," and "enchantingly filigree."
6. Custom engraved coordinates necklace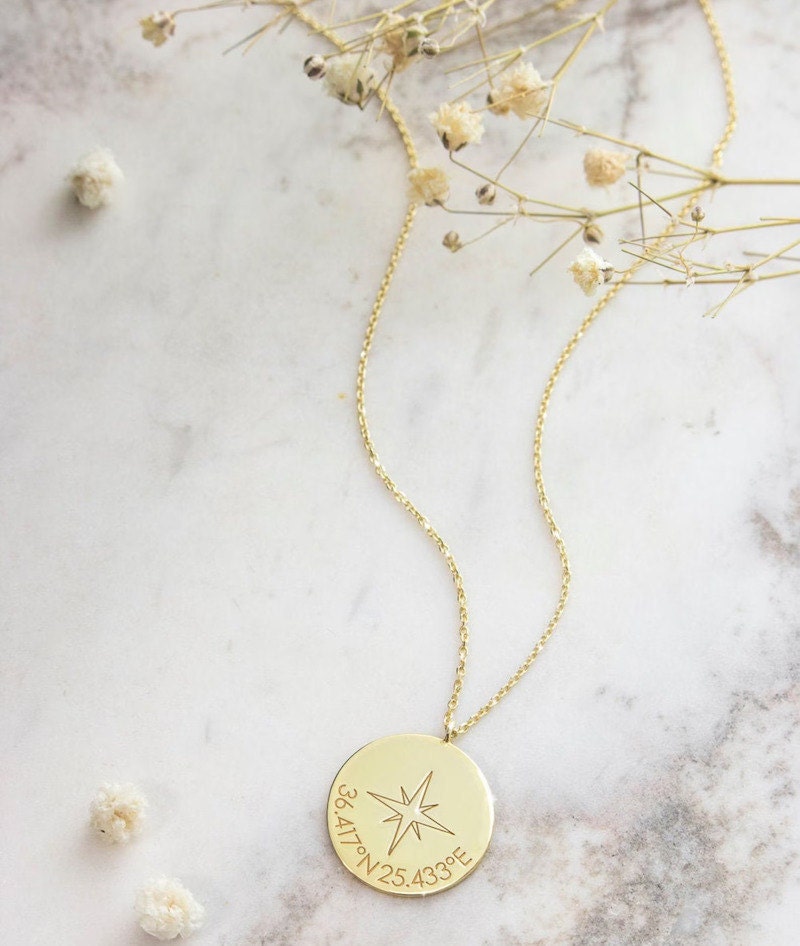 SHOP: Compass pendant necklace in solid gold from Tales In Gold, from $201
With the choice of personalization both on the front and back, this compass pendant can be a thoughtful and meaningful gift with a heartfelt message. Available in yellow, white, or rose gold, one customer bought it for her daughter, and explained, "I put a handwritten [message] on both sides; one from my late husband to my daughter, and one from me on the opposite side. She loved it."
7. Snail chain layering necklace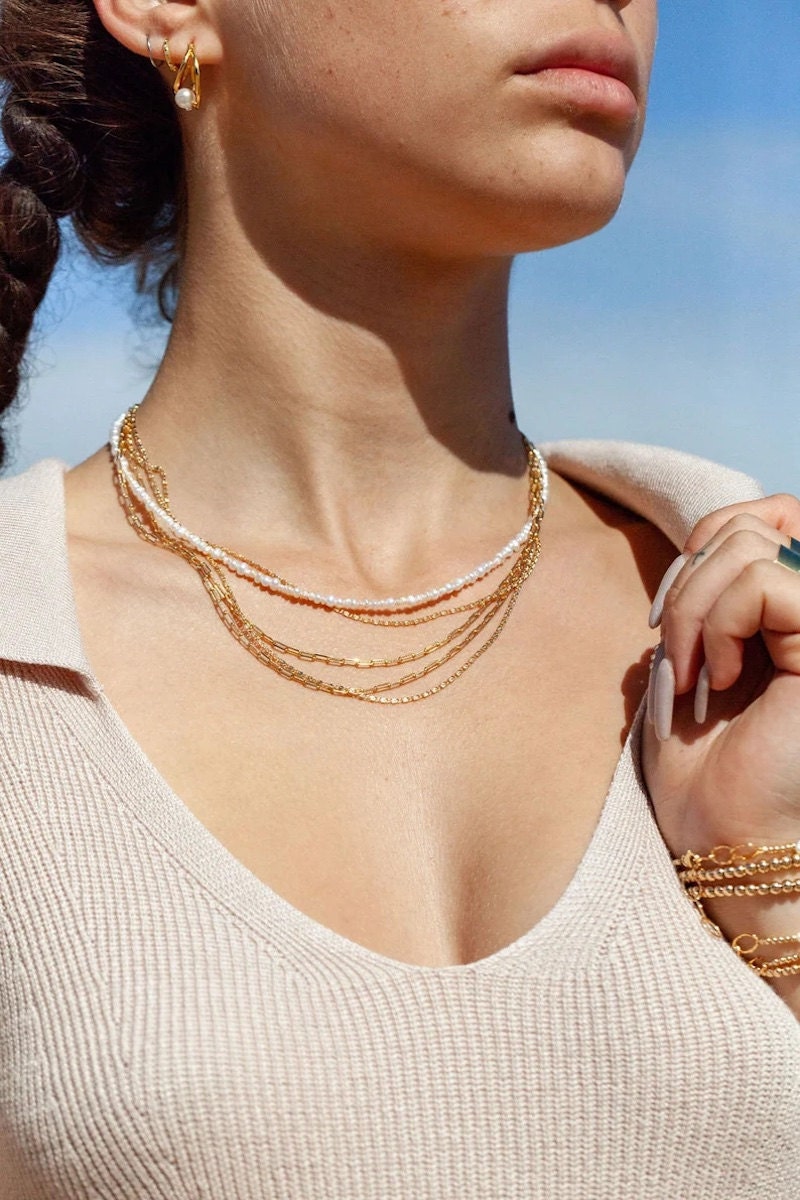 SHOP: Gold-filled snail chain necklace from Kealoha Jewelry, from $30
Named for its curly-cue chain link style that resembles a snail shell, a classic snail chain gold necklace is the perfect complement to your necklace stack. This design from Hawaii-based jeweler Kealoha Jewelry is available in three different lengths so you can select the chain that best fits the layered look you're creating.
Best gold choker necklaces
Designed to make a statement all on their own, gold choker necklaces have been around since ancient times and are even mentioned in the Talmud! Their appeal is still apparent to this day, and these classic gold chain designs are just waiting to drape the base of your neck.
8. Temple jewelry set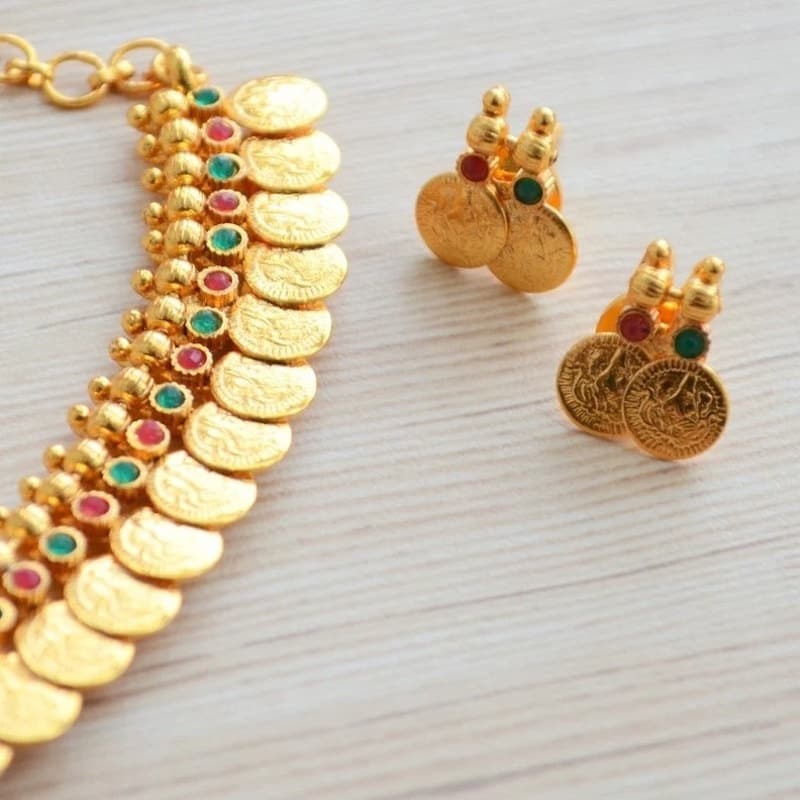 SHOP: Gold coin necklace set from Pretty Ponytails, $51
This striking piece is handmade in India in the traditional South Indian style which is commonly worn by brides on their wedding day. Despite its heavy look, this gold-plated choker is lightweight and adorned with red and green little gemstones. The set even comes with matching earrings.
9. Gold star necklace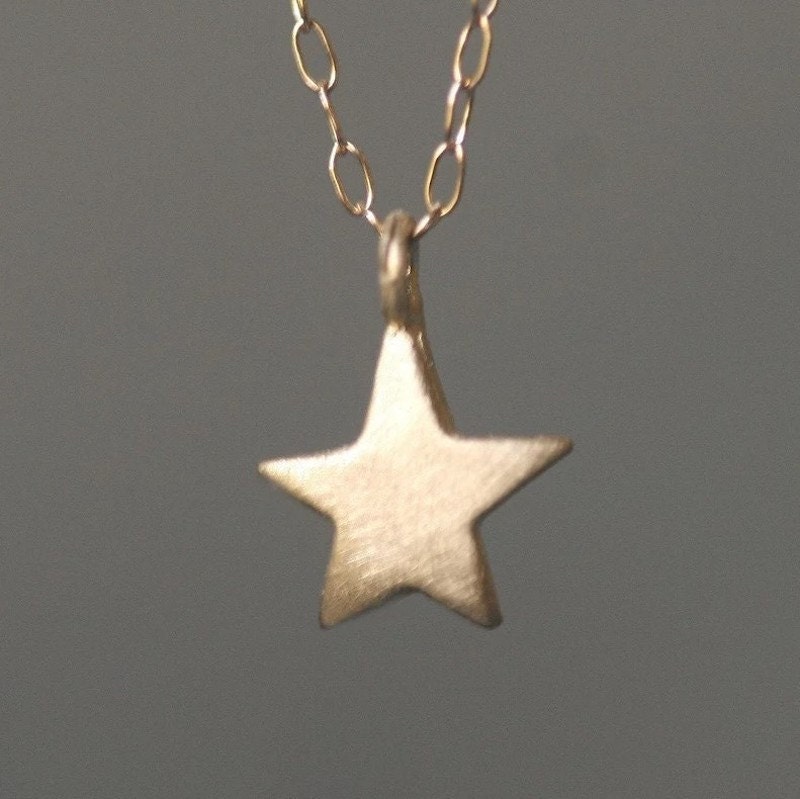 SHOP: Star necklace in 14K gold from Michelle Chang Jewelry, $268
This dainty solid 14K gold star pendant comes on a delicate chain with the choice of four chain lengths, and is one of those classic items that you'll never have to take off. Buyers call it "shiny and subtle," and one customer wrote, "This star is just darling… Looks great by itself or with layering pieces."
10. 14K gold-filled minimalist choker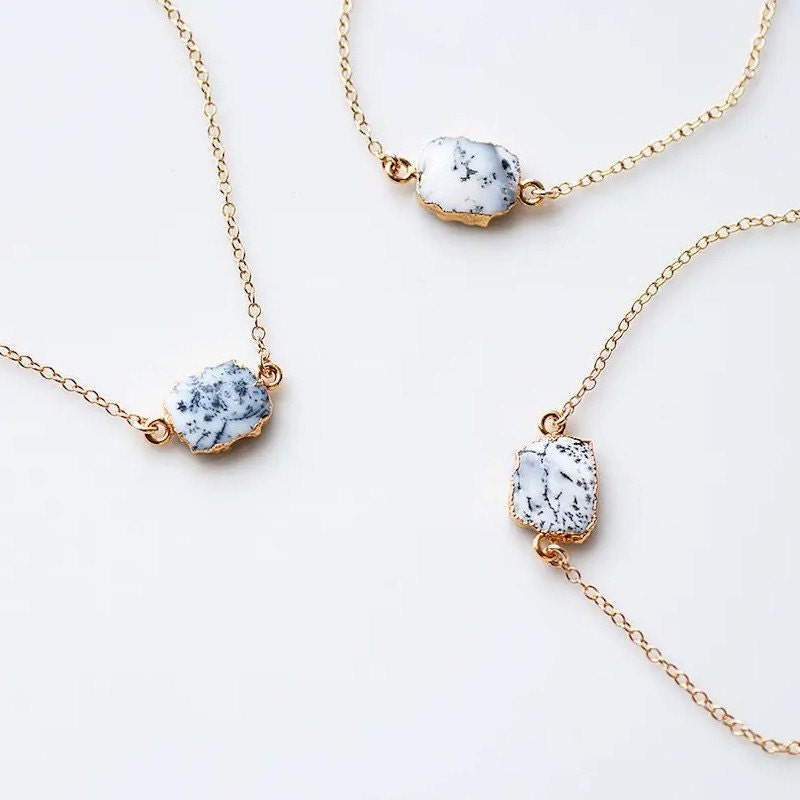 SHOP: Dendrite opal gem slice necklace from Delezhen, $30
These dainty gemstone necklaces are unique and eye-catching, and, although they're special enough to be worn alone, are perfect for layering. For something a little different, you can opt to replace the dendrite opal gem with an impressive choice of another 30 gems, including mother of pearl, amethyst, and labradorite.
11. "Moon and Stars" family initials necklace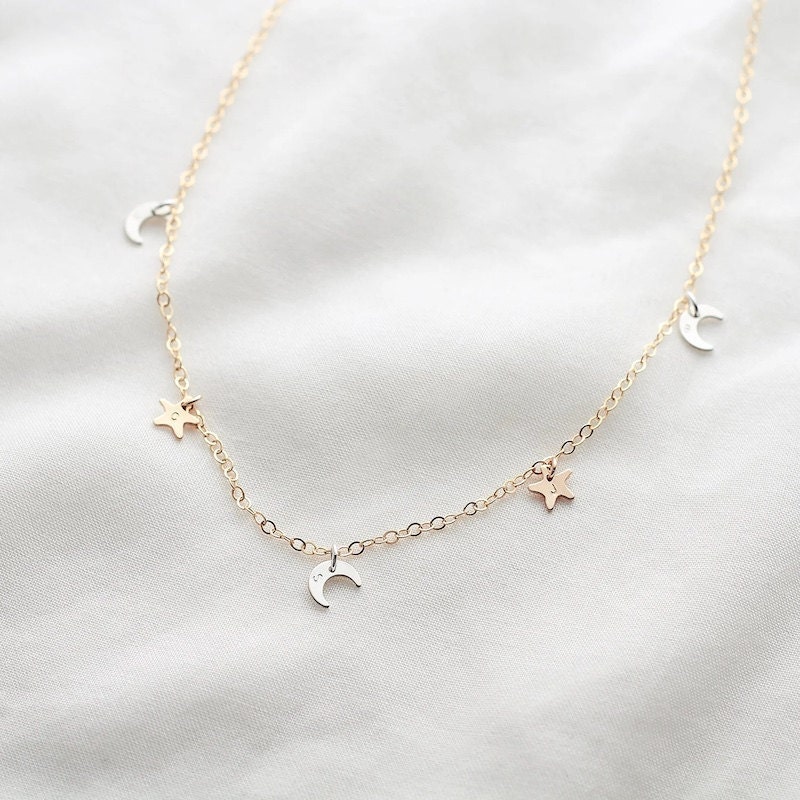 SHOP: Personalized moon and stars necklace from Minetta Jewellery, from $37
Made in a small shop in Leicester, UK, this charming little necklace features a choice of dainty crescent moon and stars trinkets, each adorned with your choice of initials. "Absolutely stunning," wrote one thrilled customer. "The necklace is beautiful and so much more than I wanted."
Best rose gold necklaces
If you love the gold aesthetic but want something a little bit different, try one of these beautiful rose gold necklaces on for size.
12. Zodiac necklace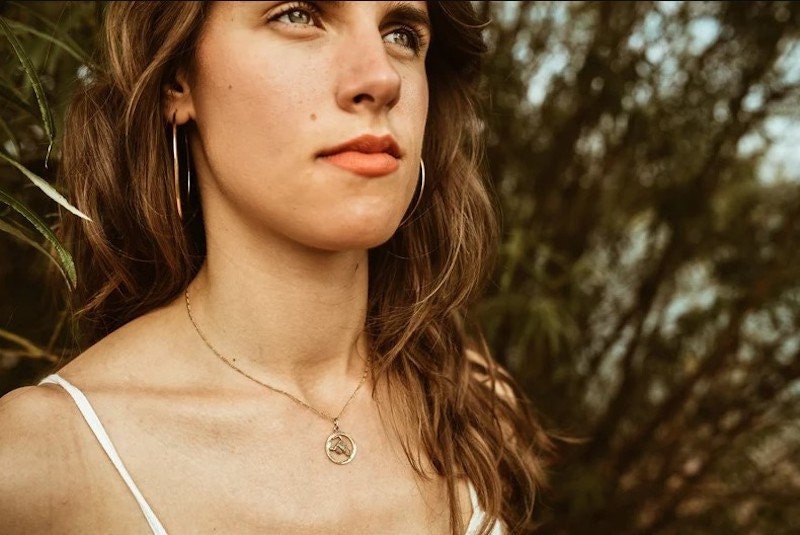 SHOP: Skorpio zodiac necklace from ST'ATOUR, from $60
Perfect for fans of astrology, this zodiac necklace is handmade in Leipzig, Germany, and plated in 18K rose gold (although you can also choose from 24K yellow gold, or silver). There are five chain lengths available, and the seller also offers the same necklace in the other zodiac signs, too.
13. Personalized initial necklace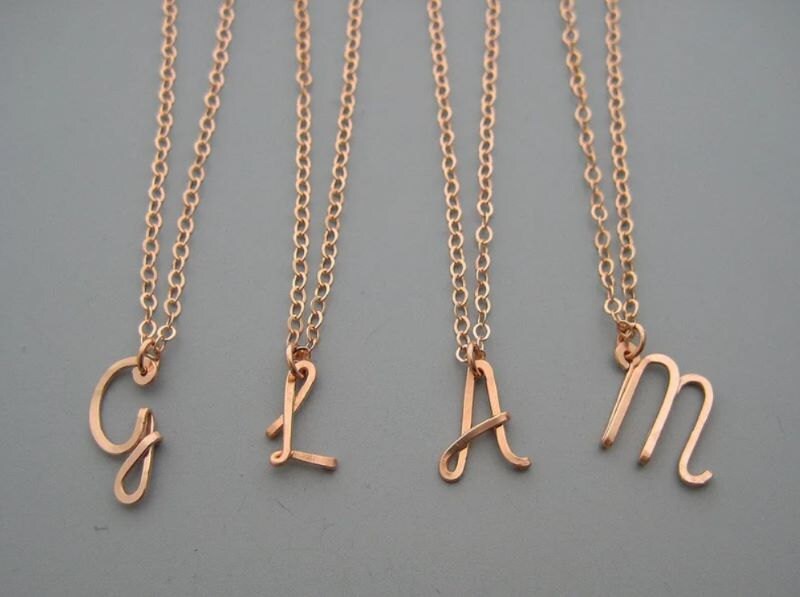 SHOP: Rose gold initial necklace from Simply Serasi, $57
For a more personalized touch, these rose gold initial necklaces are just the thing to elevate your daily look and add a touch of glam. The designer bends each wire and lightly hammers it to create the dainty initial, and they're available in several lengths which makes them perfect for layering if you buy two, or more.
14. Pearl pendant necklace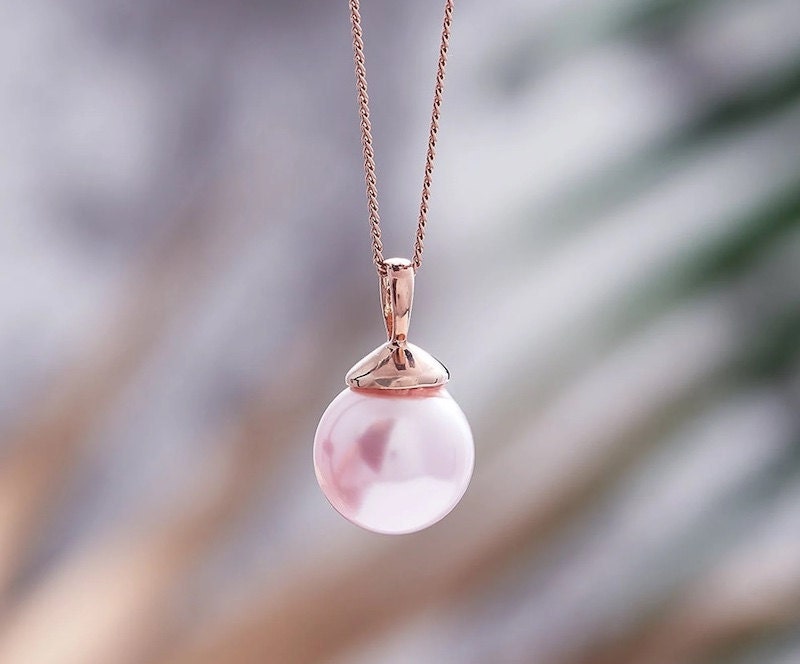 from Claudette Worters, $57 SHOP: Pink pearl pendant necklace from Claudette Worters, $57
Designed and handmade in a small shop in Sevenoaks, UK, this graceful drop pendant features a single blush pink pearl that's small enough to be comfortably worn daily, but large enough to catch the eye and bring in those compliments. It also makes a splendid 30th wedding anniversary gift, as pearl is the official gemstone to mark this special occasion.
15. Personalized bar necklace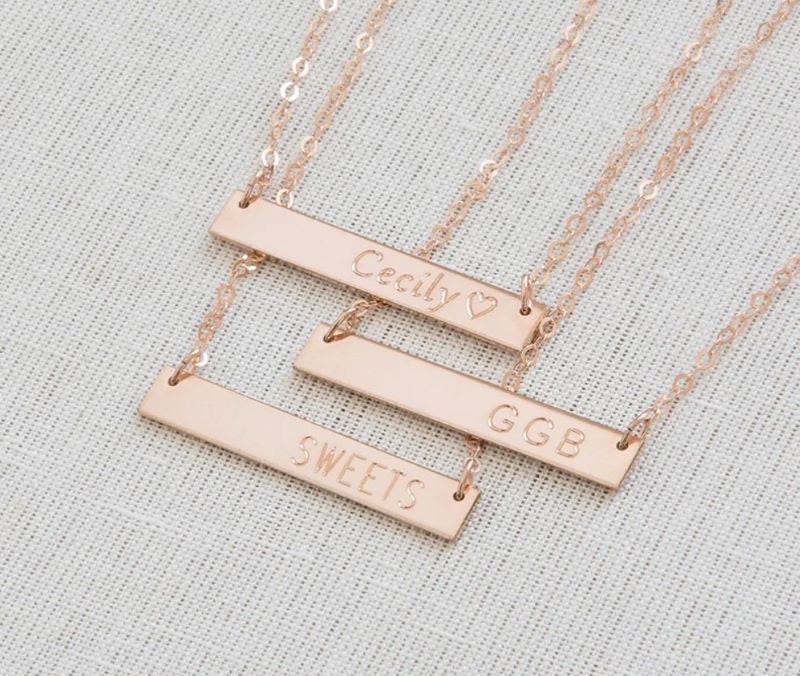 SHOP: 14K rose gold-filled bar necklace from Luv Lace Jewels, from $27
Personalizable, adorable, and affordable, these bar necklaces are made from 14K rose gold-fill and can be engraved with a name, initials, or a word of your choosing. One sentimental customer wrote, "It took my breath when I opened the box. It is simply perfect. I tried to capture it in a picture, but it is absolutely beautiful in person."
Best white gold necklaces
More of a silver fan? We've got you covered with these beautiful handmade white gold options that offer the superior durability this precious metal has to offer.
16. Marquise diamond necklace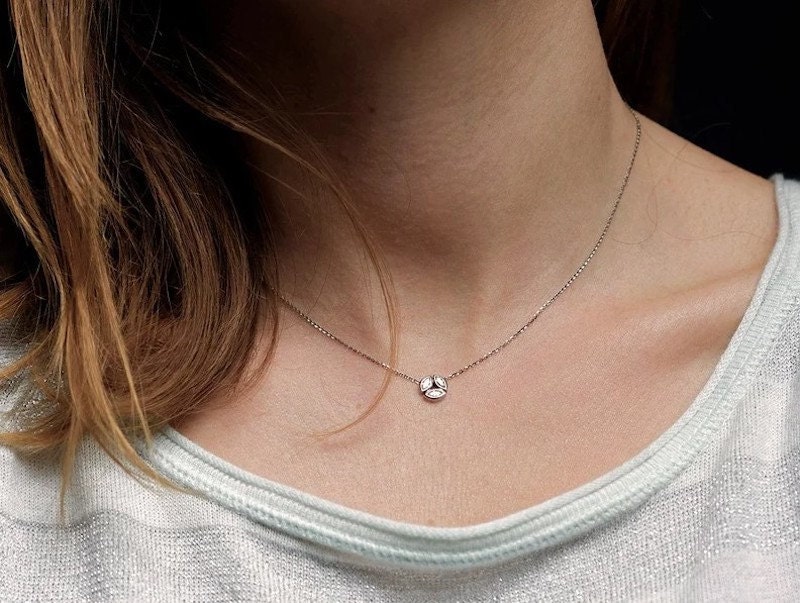 SHOP: Diamond necklace in 14k or 18k solid gold from MinimalVS, from $1,250
Making a very special gift for a very special someone, this exquisite necklace is designed and handcrafted in Ljubljana, Slovenia, and made from 14K or 18K solid white gold featuring three real marquise diamonds. You can be sure that once the wearer puts on, they'll never want to take it off.
17. Freshwater pearl necklace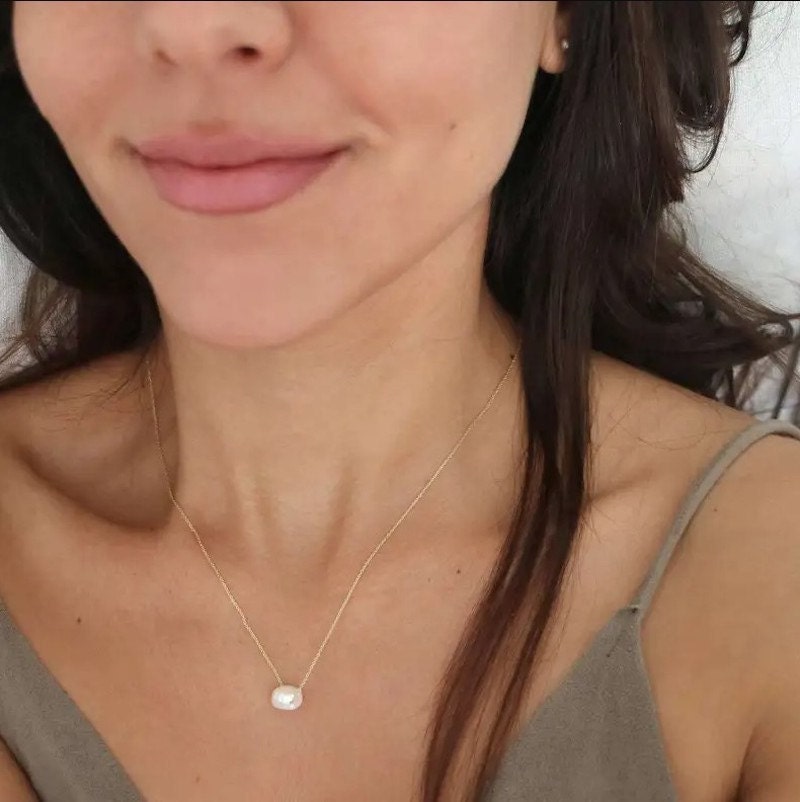 SHOP: 14k gold pearl necklace from ANMA, $174
Showcasing a single, elegant freshwater pearl, buyers love this handmade thin gold necklace that is handmade in Athens, Greece. One buyer described it as "gorgeous, delicate, everything I was looking for in a graduation gift for my friend!" They even praised the packaging it came in and said that the "box is understated elegance."
Best gold necklaces for men
Women aren't the only ones who can pull off this timeless piece of jewelry. Here are some of our top picks for the best gold necklaces for men.
18. Long chain necklace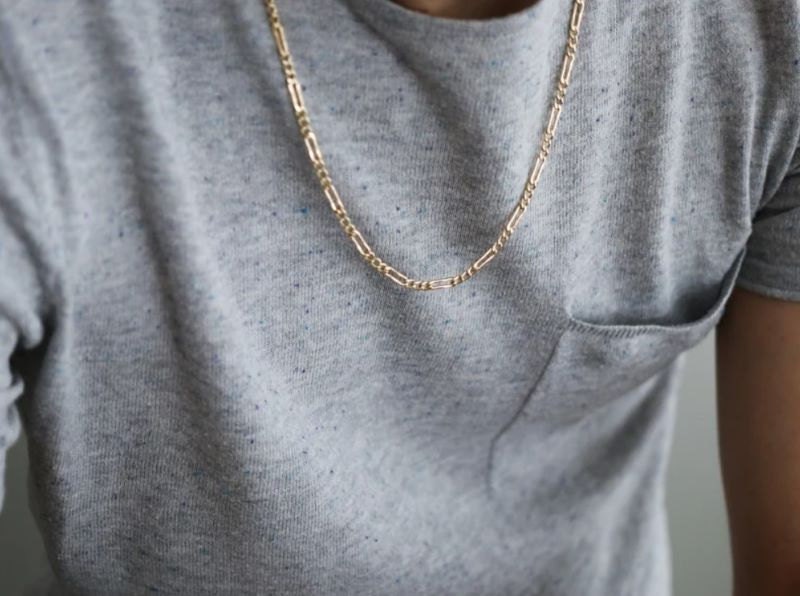 SHOP: Thick figaro chain necklace from EVREN, from $113
For a timeless item he'll cherish forever, opt for this modern 14K gold-filled figaro chain that looks just as good with a suit as it does with joggers and a hoodie. Made to be worn everyday, buyers say it's "heavy and high quality," with a "nice weight to it," and one customer even bought two so she can match with her partner.
19. 14K gold-filled chain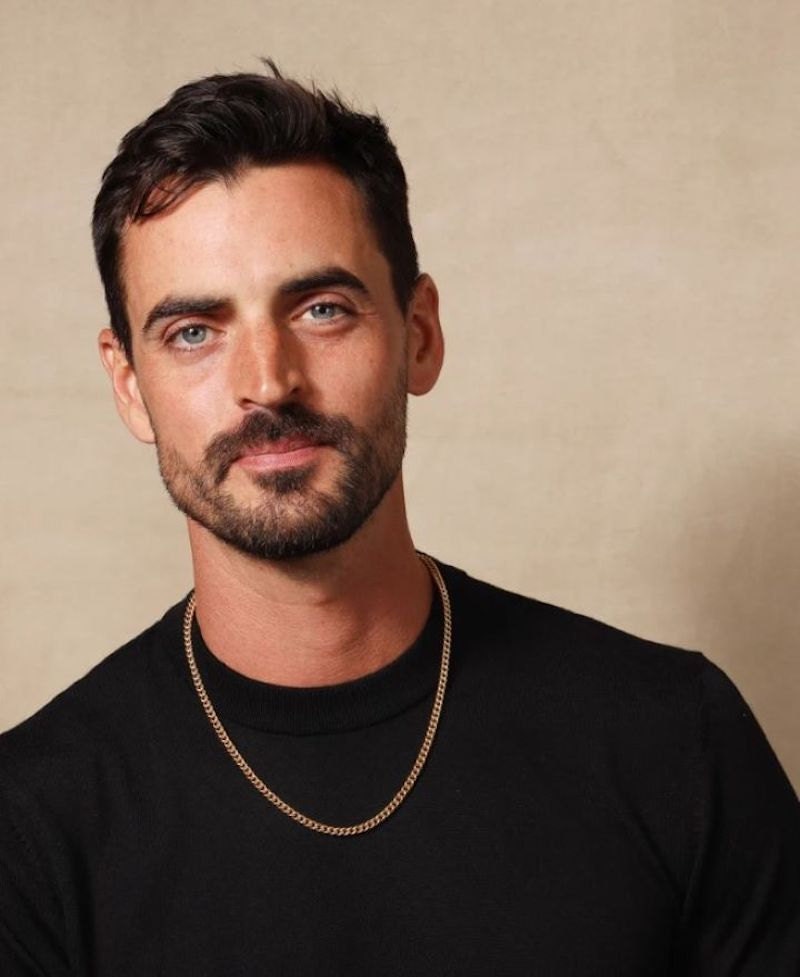 SHOP: Thick curb chain from We Are All Smith, from $368
Curb-style chains offer more of a classic and minimal aesthetic, and they look good on everyone. This 14K gold-filled necklace is handmade in California, and has a 4.7mm thickness that feels sturdy and expensive. Buyers praise the quality of this hard wearing chain and say it makes an excellent gift choice.
How do we pick the best gold necklaces?
As Etsy Journal editors and contributors research and curate shopping guides for some of the best-loved items on Etsy, we thoughtfully consider the creativity, customization, and craftsmanship that go into each product. We also consider buyer reviews, item ratings, and customer service, and tap the expertise of our in-house merchandising and trends experts to uncover high-quality finds for every budget. You can find more information about each item in the seller's listing details and can take a look at their individual shop policies and reviews, too.