Reimagine everything you think you know about goth decor, this home decor trend is eerily elegant and easy to add to any room.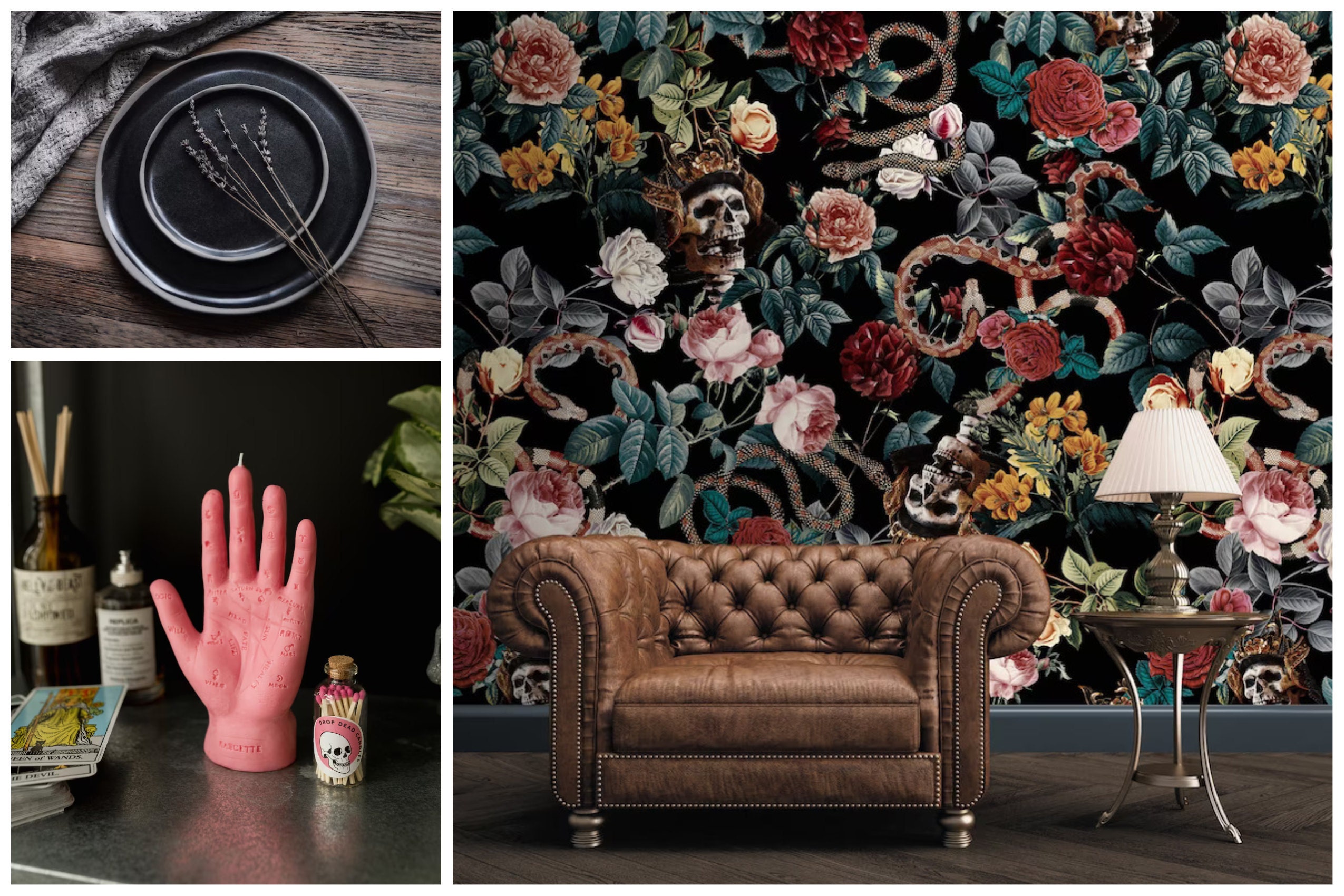 Contrary to popular belief, the gothic style isn't all black, doom, and gloom (although, admittedly, black is an anchor hue in the whimsigoth aesthetic). In fact, this design style finds its roots in medieval architecture and encompasses everything from very recognizable and pronounced structures with pointed arches, to extra-large proportions and lots of asymmetry.
When it comes to home decor, the gothic style is bold, striking, and unmistakable. Gothic home decor items are undoubtedly beautiful, eye-catching, and ultimately unique. The whimsigoth home vibe all about dark accents, dramatic statement pieces, and a mystical feel. Whether you want to add a few gothic bits to your home to create a mysterious yet serene ambiance, or go full on vamp style, we've selected some stunning pieces for you to get your hands on.
Take a look at our below guide to the best goth home decor ideas and get your chill on.
Serpents and skulls
The unofficial mascots of whimsigoth decor, these serpent and skull-inspired finds are deliciously devilish accents in your goth aesthetic.
1. Skull and snakes dark floral wallpaper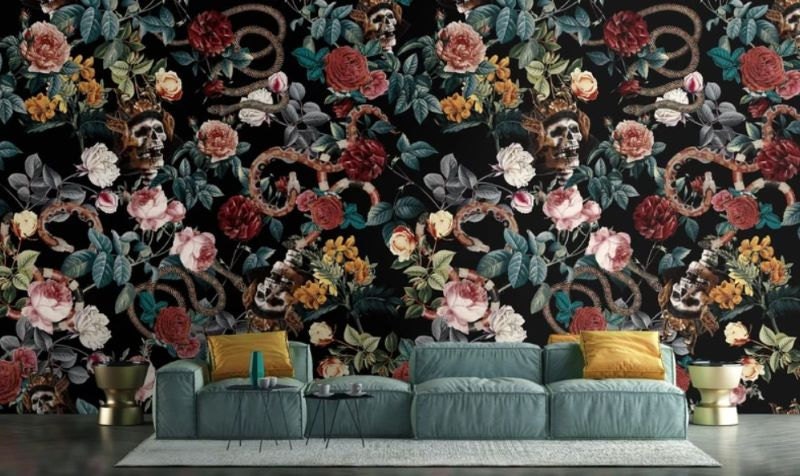 SHOP: Skull and snakes dark floral wallpaper from smArtArea, from $28
Be prepared for some jaws to drop when they take a closer look at this peel-and-stick wallpaper accent wall. Adorned with skulls and snakes nestled among detailed and vibrant florals, it's the perfect mix of sultry and elegant. "I am obsessed with this print," wrote one happy shopper.
2. Snakes sun catcher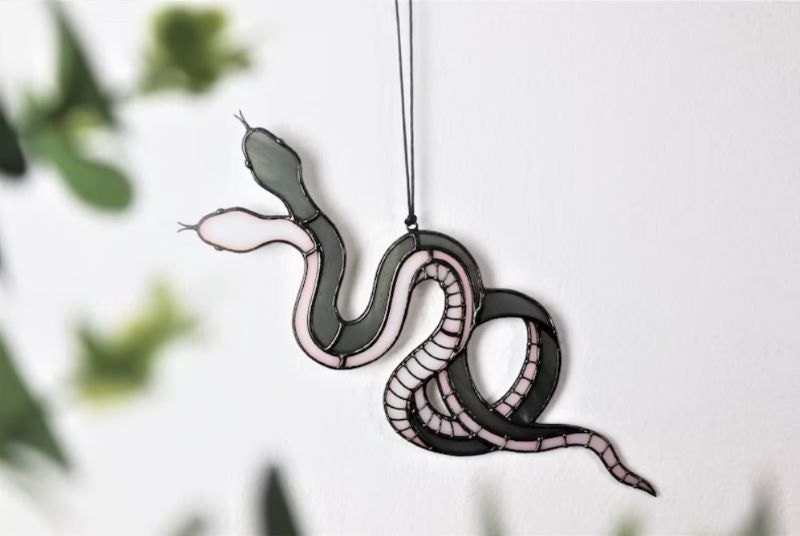 SHOP: Snakes decor sun catcher from Sclo Glass Studio, $59
For something a little more discrete, this two-headed snake sun catcher can add a touch of the gothic to any home without being too on-the-nose. Buyers say that the material is thick, robust, and safe, and one wrote, "I fell in love instantly; the colors look even more beautiful in reality." They also praised the careful and secure packaging.
Deck the walls
We've carefully picked out some of the most unique art pieces to adorn your walls…the whimsigothic way.
3. Baroque art print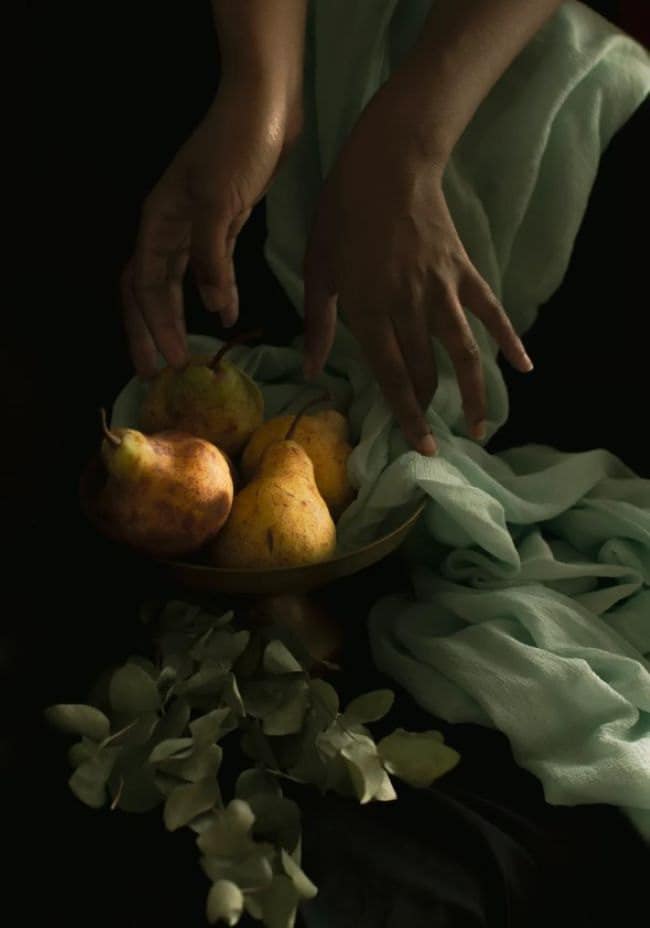 SHOP: Photographic art print from ArmandaCPhotography, from $43
Though it looks like a drawing, this exquisite and sultry Baroque art print is actually a photograph. Whether it is joining your vast art collection, or serving as a standalone statement piece, it's sure to catch the eye of all your guests. One happy shopper wrote, "I love the composition and the use of light in this lovely piece! It is just beautiful!"
4. Gothic candle sconce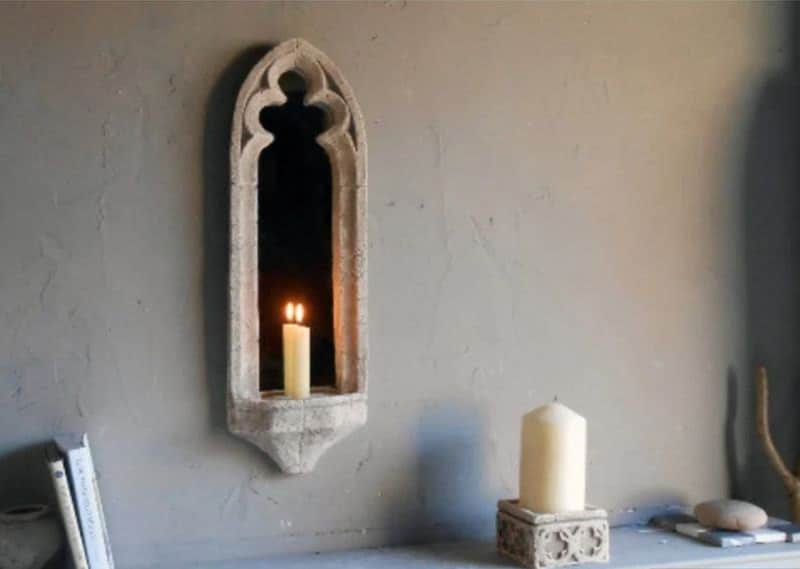 SHOP: Gothic candle sconce stone with trefoil design from Brighton Roc Mirrors, $84
A true gothic-inspired accent reminiscent of the windows found in medieval buildings, this mirrored candle sconce looks like real antiquated stone and is suitable for both indoor and outdoor use. Handmade in the small market town of Chippenham in the UK, buyers say it's "the most beautiful mirror," and praised the seller's "amazing customer service."
Light a fire
Candles are a must in any whimsigoth home, and these picks for the best gothic candles are no exception. They're a must for both their function and form.
5. Palmistry candle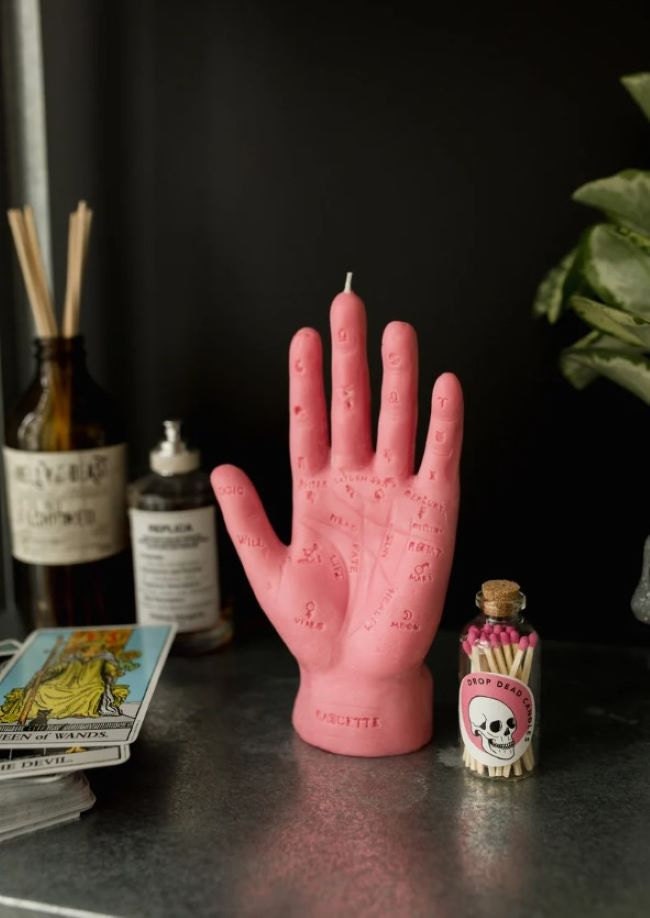 SHOP: Palm reading hand candle from Drop Dead Candles, $38
Available in four colors, these innovative, human-sized palm-shaped candles feature intricate etchings of all the lines and symbols that are read in palmistry. Educational as well as decorative, you can be forgiven for not ever wanting to light it! A happy buyer wrote, "This candle is even more gorgeous in person. I'll probably never burn it, I just adore it so much… This would make a spectacular gift."
6. Spine-chilling candle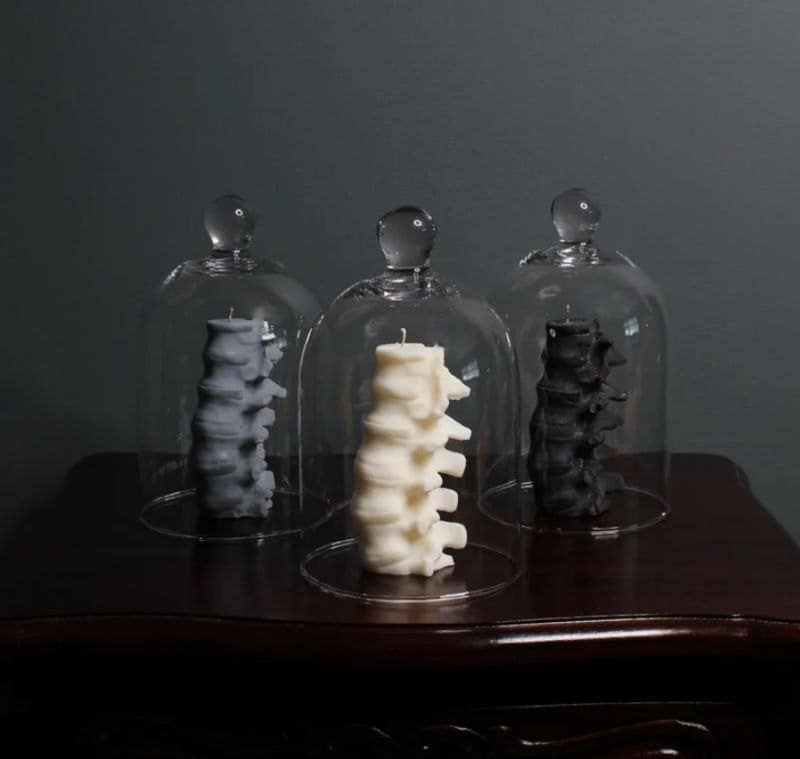 SHOP: Handmade vegan spine candle from The Blackened Teeth, $39
Poured by artisans in the UK who specialize in gothic macabre home decor, this set of three scented spine candles is, according to the sellers, the "ideal gothic gift for those dark at heart." Buyers rave that they're "gorgeous," "really nice quality," "very detailed," and that they "smell awesome." For three handmade vegan soy wax candles, the price is budget-friendly, too.
7. Salem candle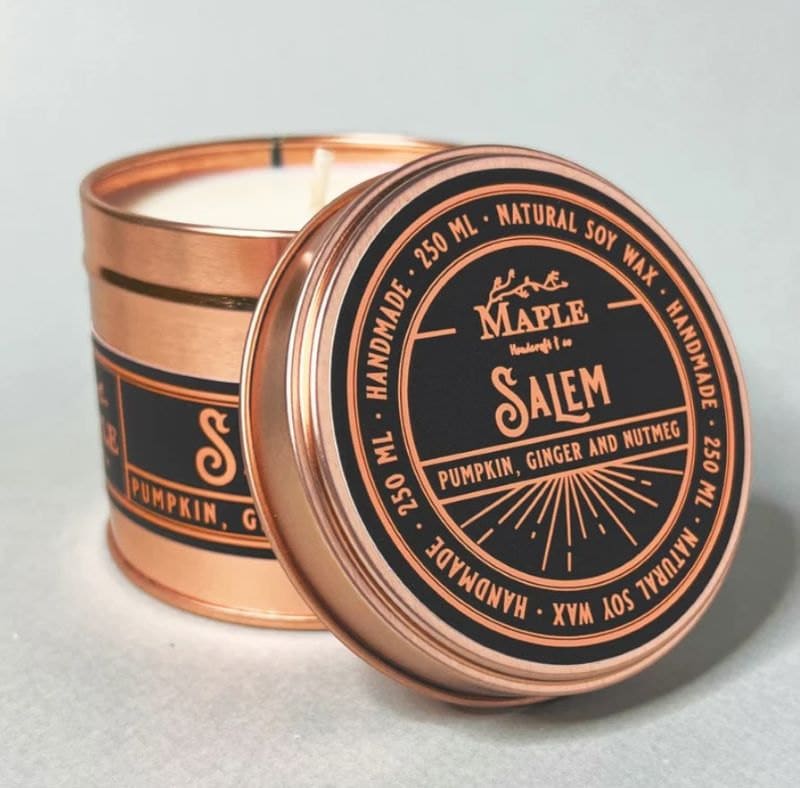 SHOP: A spicy fragrance of ginger, pumpkin and nutmeg candle from Maple Handcraft & Co, from $17
The ultimate autumnal candle, the scent of this Salem pumpkin, ginger, and nutmeg-scented version can be described as, according to one happy customer, "the smell of the forest after the rain." Another buyer wrote that, upon opening it, "The smell immediately embarked me!"
Lunar-inspired home decor
The moon is big in gothic literature as it is said to symbolize a mysterious mood and feminine power. Set the tone at home with these lunar-inspired items.
8. Luna wall art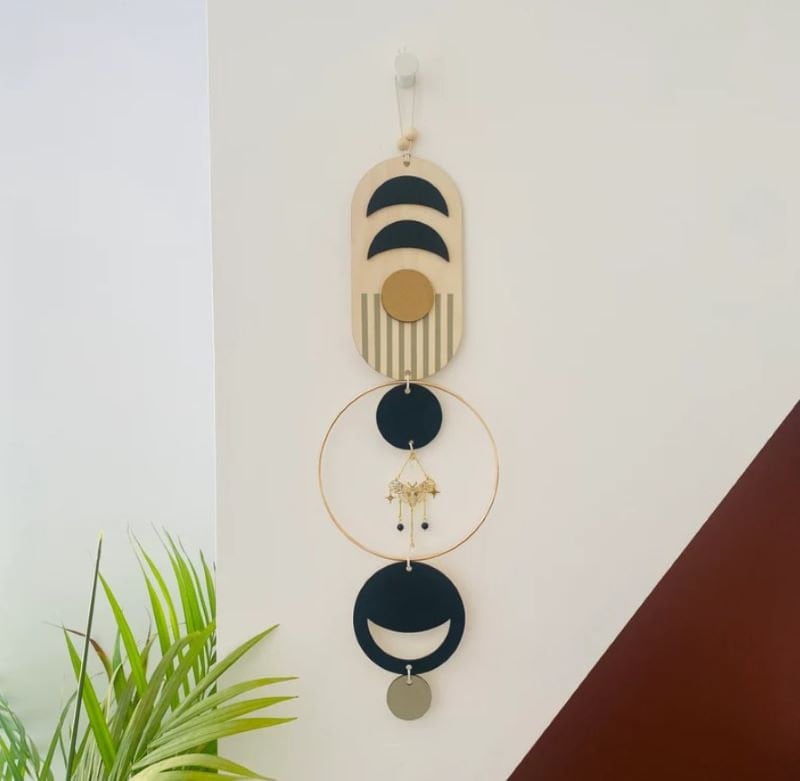 SHOP: Modern moon wall hanging from We Are Lunarium, from $47
Gothic-style items do not always have to be moody or black, as evidenced by this moon-themed wall hanging. The plywood and metal handmade item features crescent and full moons in gold and navy, with taupe, and gray-green detailing on the rest of the structure. "The hanging was exactly as pictured and is just what I wanted to fill in the space I had," wrote one buyer.
9. Lunar phase calendar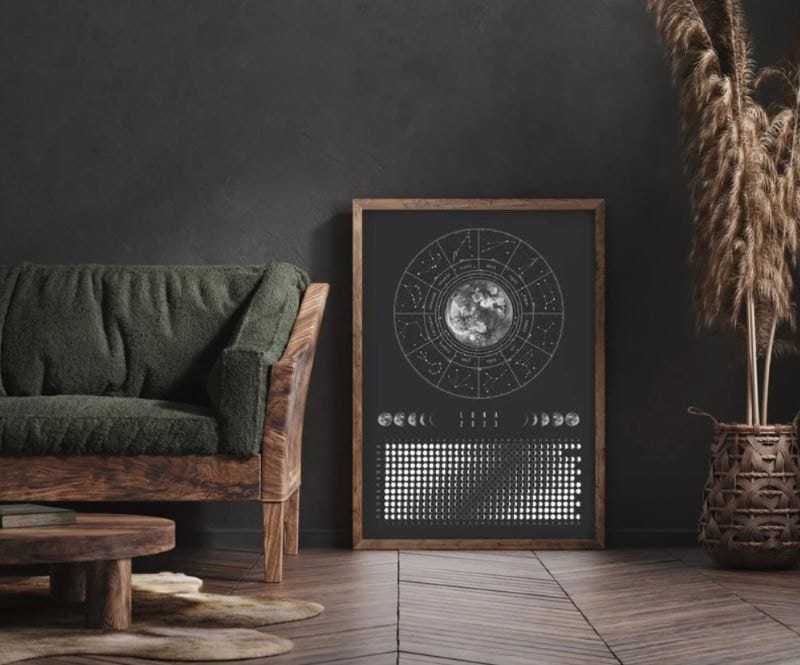 SHOP: Lunar wall calendar from Shelly Creates, from $14
Printed on matte, 300g recycled paper, this interesting, striking, and actually quite useful print depicts the lunar phases for the year. Available in A4 or A3 sizes, customers praise the superb quality, thoughtful addition by the seller of two postcards and a business card displaying the same print, as well as super-fast shipping. "I feel really taken care of," wrote one thrilled shopper.
10. Sun and moon prints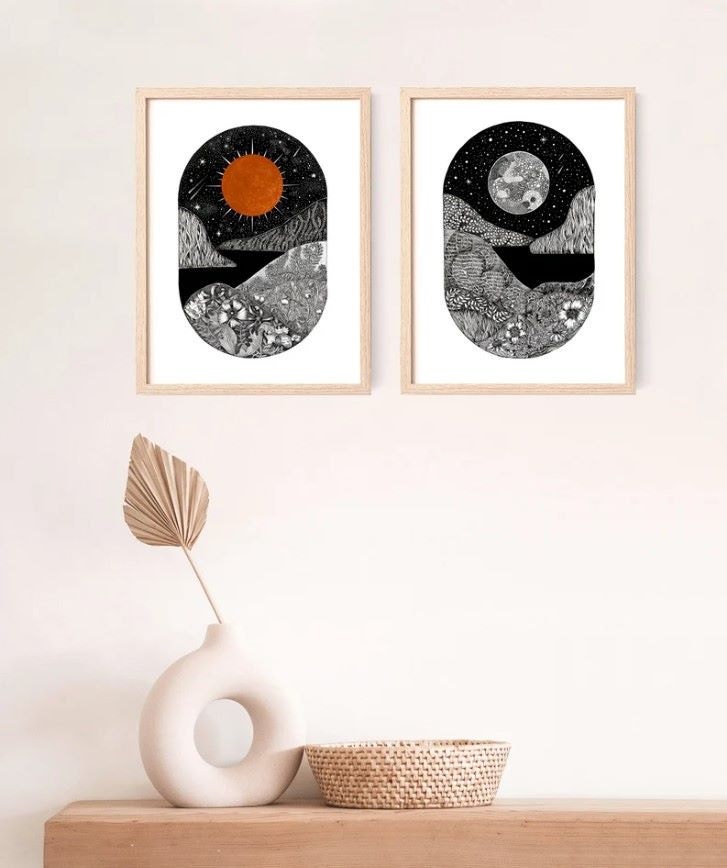 SHOP: Sun and moon wall art from POLA LIBRA STUDIO, from $39
Featuring the moon and it's daytime sister the sun, whimsical landscapes, magical plants, and starry skies, this set of two original prints come on high-quality, warm white, matte paper, and with the creator's hand-applied copper ink detailing. The prints are also hand-signed and dated, making them true collectables. One enthusiastic reviewer wrote, "Both prints are superb, fine, and powerful like nature... they radiate!"
Set a spooky table
Wow your guests with these stellar dinnerware items the next time you invite them over for a fanciful feast.
11. Black handcrafted dinner plates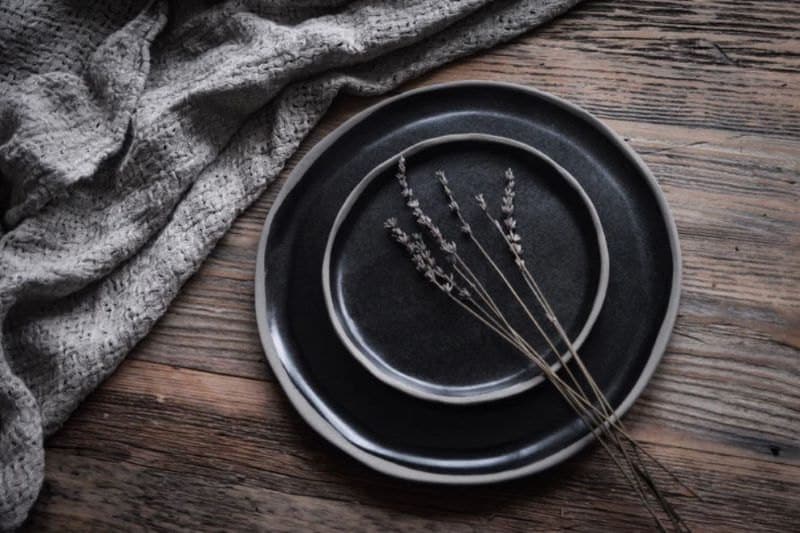 SHOP: Handmade handcrafted anthracite stoneware plate from Laima Ceramics, from $45
These handcrafted anthracite ceramic dinner plates have a perfectly imperfect rustic style to fit right into any boho goth decor style home. Shoppers call these dishwasher-safe plates "simple and perfect," and say they come well packaged, and within the stated delivery period—even though they come all the way from Latvia.
12. Black table linens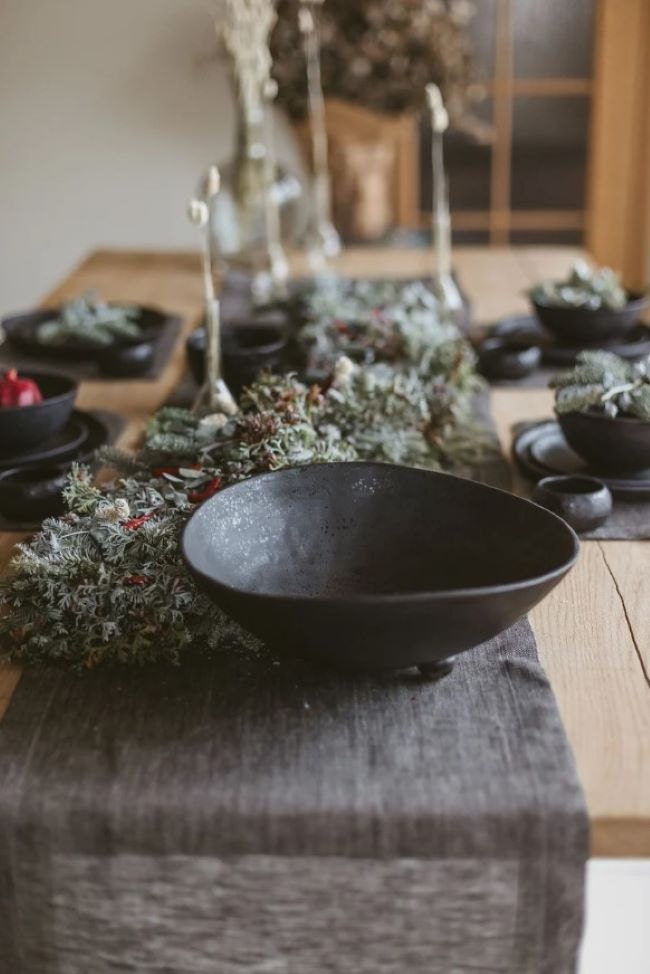 SHOP: Black linen placemats from Thing Stories, from $18
Adding a touch of rustic elegance to the dinner table, these chic and timeless black linen placemats perfectly accentuate any dinnerware and cutlery you place on them. "Beautiful placemats and definitely worth the money," exclaimed one customer. "I bought 12 and [the seller] Simone was so kind to give me two extra smaller placemats which can be used for serving bowls, water jars, etc."
13. Ravens and crows dessert plates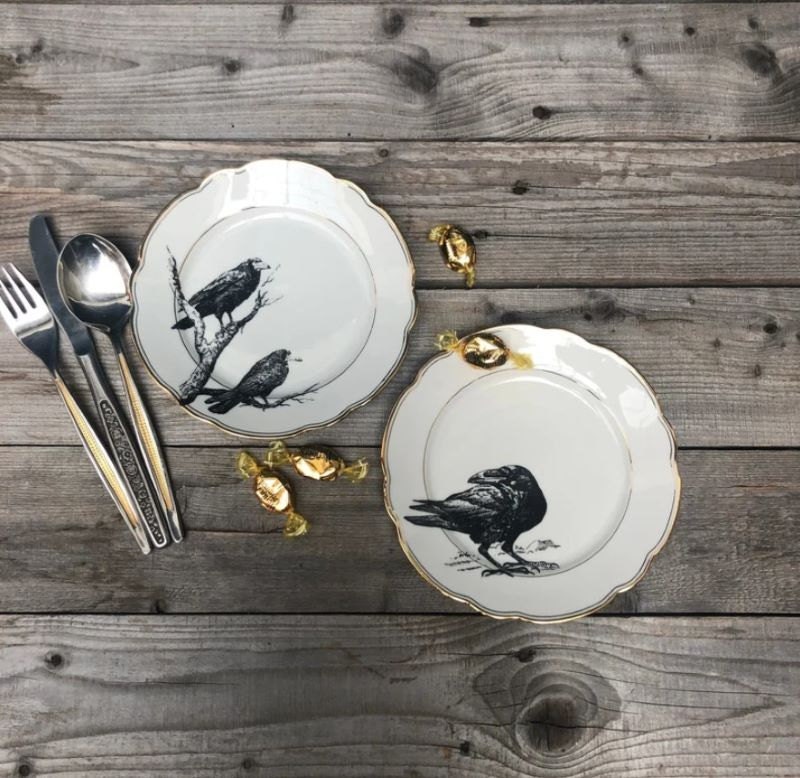 SHOP: Set of two ravens and crows plates from iloika, $55
Exactly the kind of dinnerware you'd expect to find in the Beauty and the Beast castle, these gothic white plates feature black ravens and crows, and have an asymmetrical rim with gold detailing. The seller handmakes the prints, and burns the images onto the high-quality vintage branded porcelain in a professional ceramic oven—a process which makes them durable, as well as safe for the dishwasher and microwave.
14. Black ceramic pour-over coffee set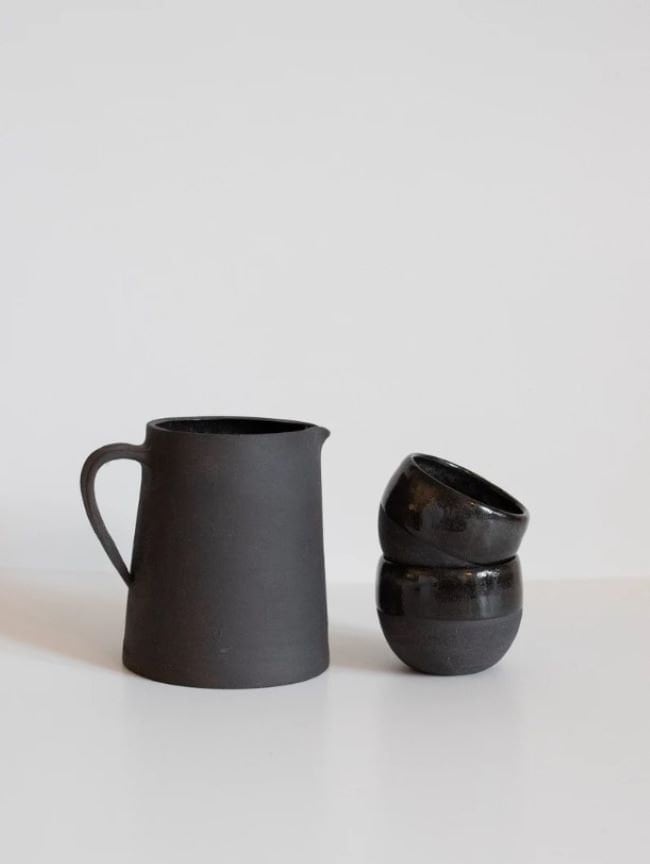 SHOP: Ceramic coffee set from MakakiStudioStore, from $104
Handmade in a small studio in Poland, this is a beautiful and useful gift for a loved one (or yourself) that can add a touch of gothic to your morning brew. This ceramic coffee set is made from black clay that's been finished with a black glossy food-safe glaze. The set comprises a jug, and a pour-over coffee dripper, and you can choose to add the matching handleless coffee cups.
Vintage picks with past lives
These storied, one-of-a-kind home decor items are the ultimate way to bring the echoes of the past into your home.
15. Vintage black candlesticks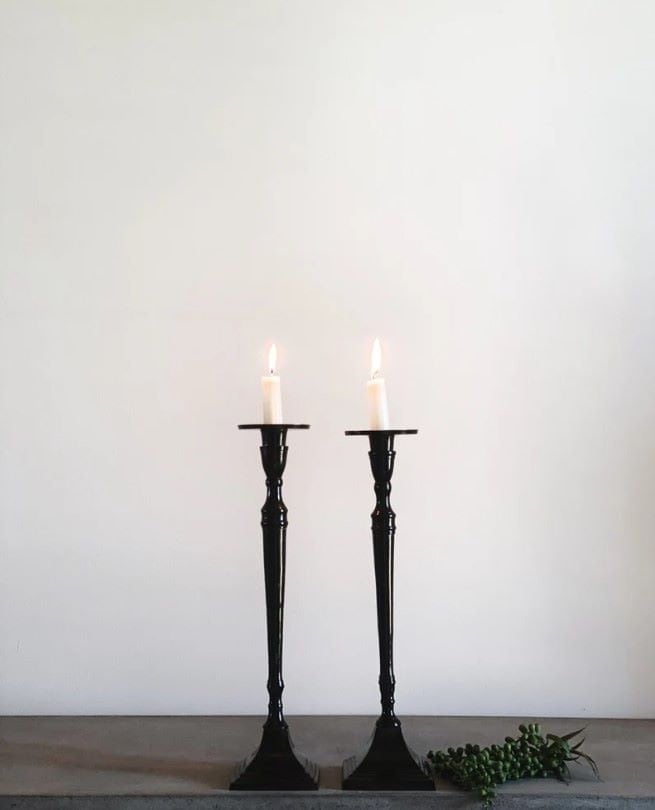 SHOP: Pair of large black candlesticks from Homewell Studio, $130
No gothic style home is truly complete without a lavishly elegant pair of candlesticks. This unique set of two vintage candlesticks are true collectors' items. They're in excellent condition, and would look absolutely divine on a fireplace mantle, or on a dining table.
16. Vintage gothic vase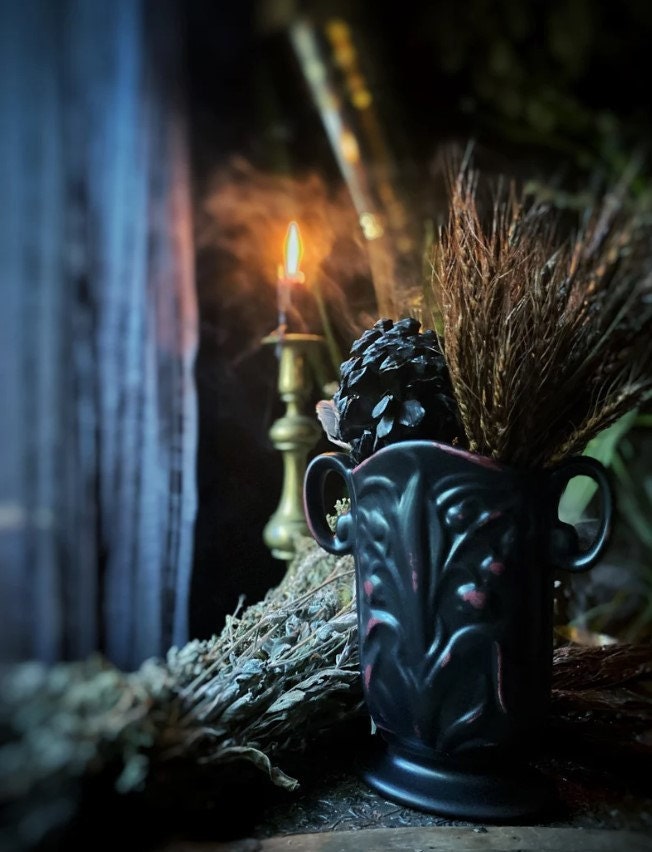 SHOP: Vintage gothic double handled ceramic vase from Immortal Curio Co, $65
To home your bouquets of black velvet petunias, midnight hyacinths, or other dark-colored blooms that adhere to your gothic tastes, you will, of course, need an appropriate vase. We think this vintage double-handled ceramic one will do the job nicely.
17. Vintage candle sconce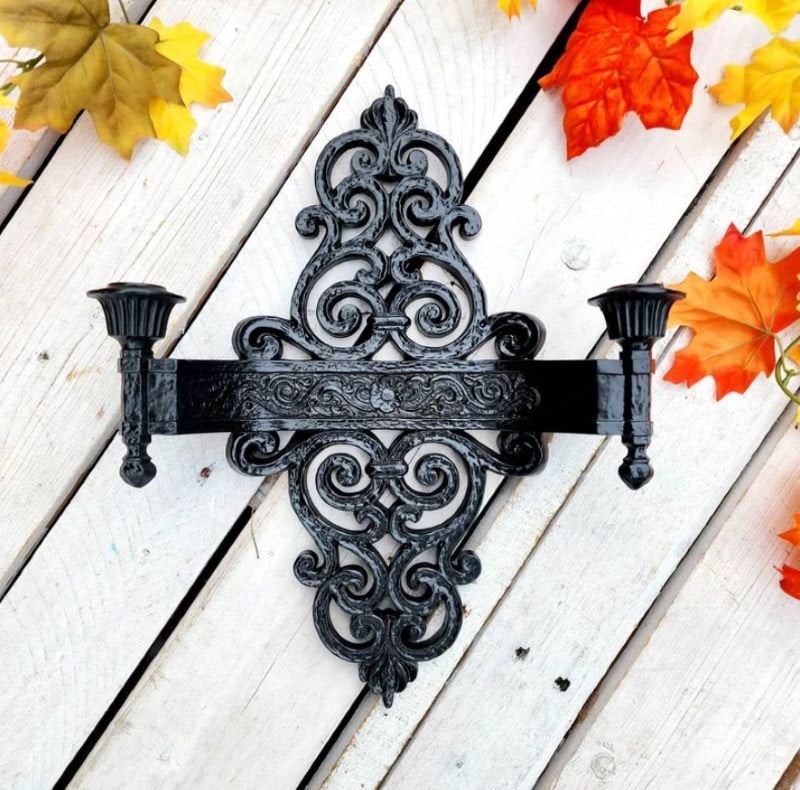 SHOP: Wall double hanging candle sconce from The Salvage Wagon, $37
This vintage black wall-mounted sconce has slots for two tapered candles to provide soft, romantic lighting. This is an original item from the 70s in great condition, made from plastic (which won't rust, making it suitable for outdoor use, too) with a metal saw tooth mountable backing.
Vampy velvet finds
Thick, dark, and luxuriously plush is the way to go when it comes to goth-style materials. These fabulous fabric finds set a sombre and sumptuous mood.
18. Black velvet pillow with tassels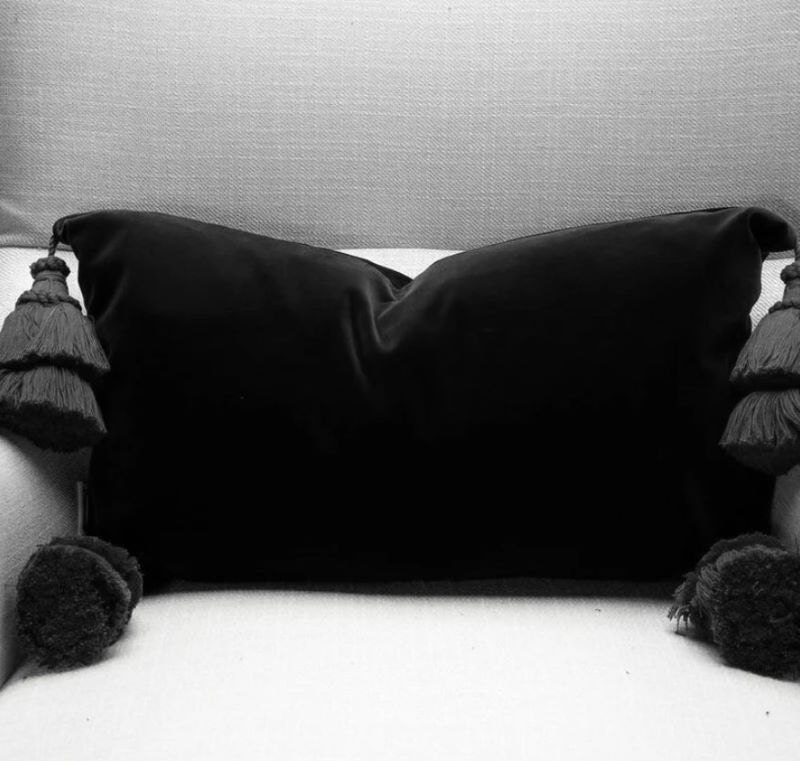 SHOP: Black velvet pillow with big tassels from Dust and Sugar, from $138
Soft, plush, and totally huggable, this Japandi style black pillow with four large tassels is made from rich Italian cotton velvet, and is available in several sizes. "Don't walk, RUN and get you one or two," wrote one thrilled buyer. "The quality is unexplainable, I love it."
19. Velvet trees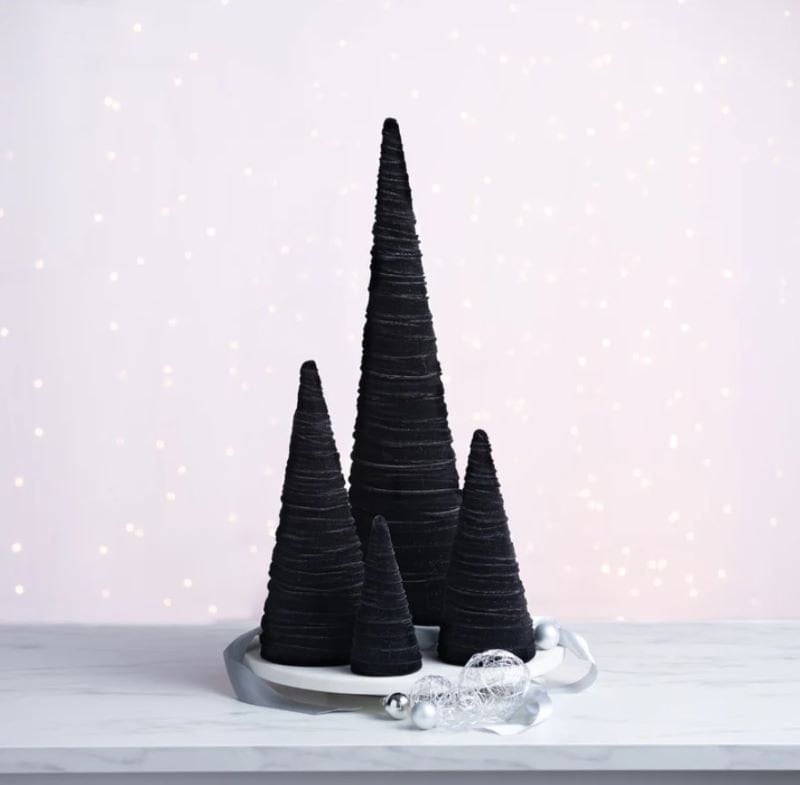 SHOP: Set of four black velvet trees from Your Hearts Content, $55
If you want to add a gothic element to your seasonal home decor, too, getting yourself this set of four velvet trees is a great place to start. Handcrafted in the seller's studio in Madison, Wisconsin, each "tree" has a different size, and customers call the set "elegant," "beautiful," and "stunning."
Spine-chilling accents
If you're not moved by cutesy goth-like decor, then it's time to go to the dark side with these hair-raising picks.
20. Black leather valet tray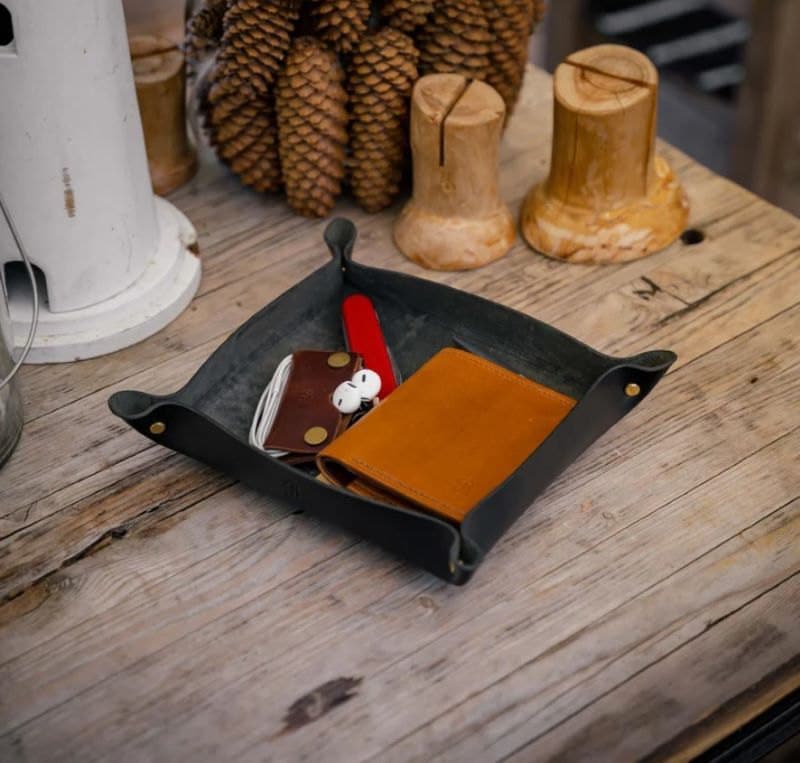 SHOP: Personalized leather tray from Baileys Bespoke, $35
Adding a few elegant dark accents is a great way to slowly dip your toe into the world of goth decor. This handmade Italian leather valet tray ticks all the boxes, is practical, and can be personalized, too, making it an excellent gift option.
21. Black bark plate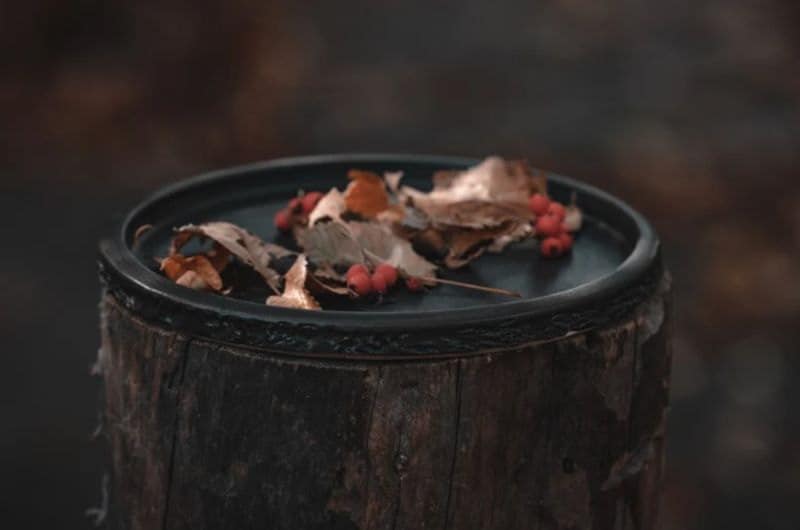 SHOP: Handmade bark plate from Pepo Ceramics, $46
Once you've had your dinner on this handmade porcelain plate, nothing else will do. These heavy plates have bark detailing along the wrought iron-black rim and are microwave and dishwasher safe. "The dishes are beautiful and weighty, [and] very well made," explained one buyer.
22. Spine table lamp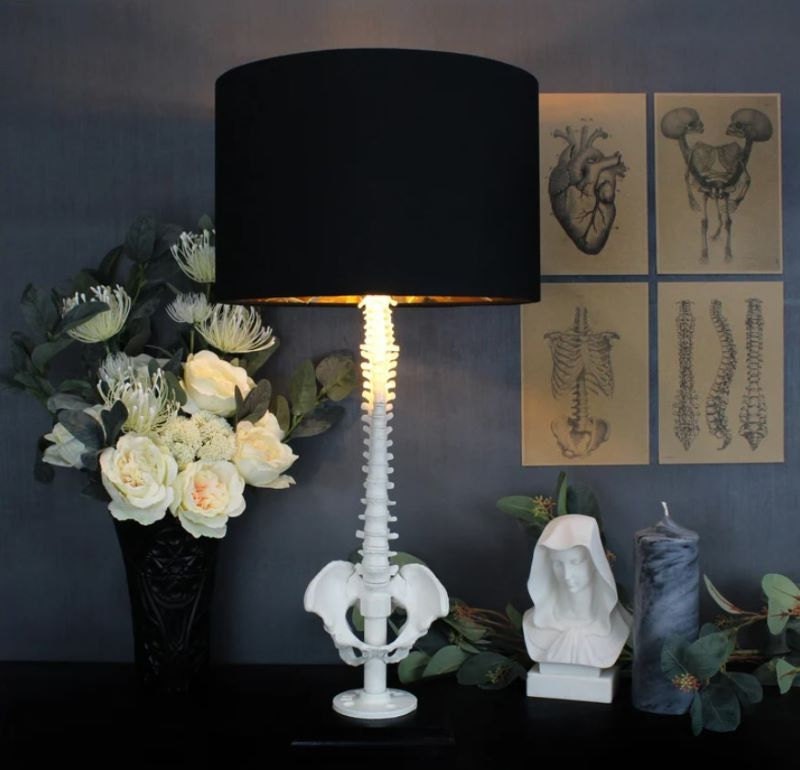 SHOP: Handmade gothic spine lamp from The Blackened Teeth, from $130
Watch your guests' eyes go wide in wonderment as soon as they lay eyes on this exquisitely unique, and completely gothic, black spine lamp—right before they ask you where you bought it! The black lampshade comes with either a copper, gold, or white inner, and, needless to say, buyers are in love.
How do we pick the best goth home decor?
As Etsy Journal editors and contributors research and curate shopping guides for some of the best-loved items on Etsy, we thoughtfully consider the creativity, customization, and craftsmanship that go into each product. We also consider buyer reviews, item ratings, and customer service, and tap the expertise of our in-house merchandising and trends experts to uncover high-quality finds for every budget. You can find more information about each item in the seller's listing details and can take a look at their individual shop policies and reviews, too.