Try these thoughtful ideas for the best graduation gifts that celebrate all they've achieved and all that's ahead.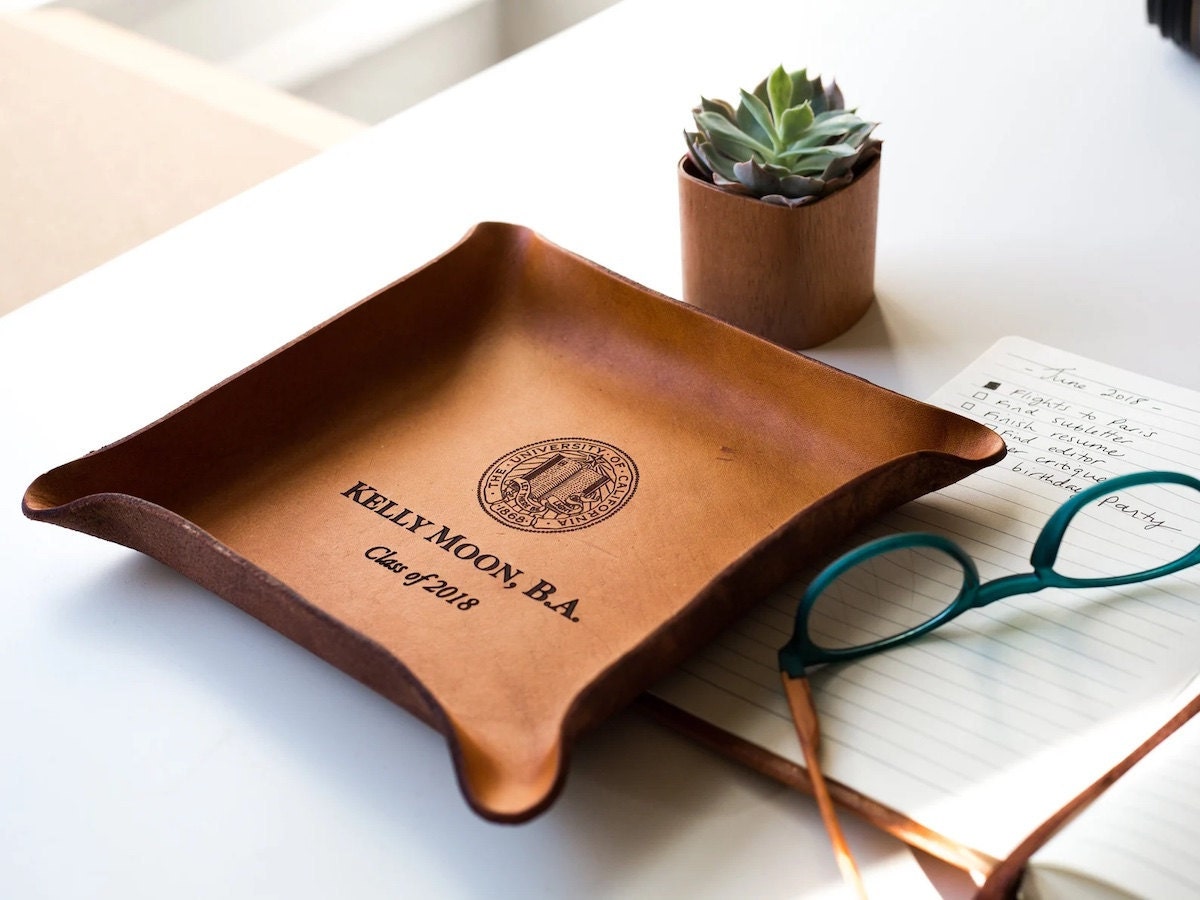 After all of the tests, late nights studying, and classes upon classes, your go-getter grad has donned their cap and gown. It's time to celebrate all they've accomplished. These picks for the best graduation gifts show your student just how proud you are of them, and how proud they should be of themselves.
Whether they're heading to college, starting a new job, or taking a gap year, here are the best graduation gift ideas to recognize this important milestone.
Unique graduation gifts
You're in the right place to find a meaningful gift that captures a glimpse of how much you treasure them. These small shops know just how to create a unique graduation gift your extra-special students will treasure long after they accept their diploma.
1. The best graduation gift for daughters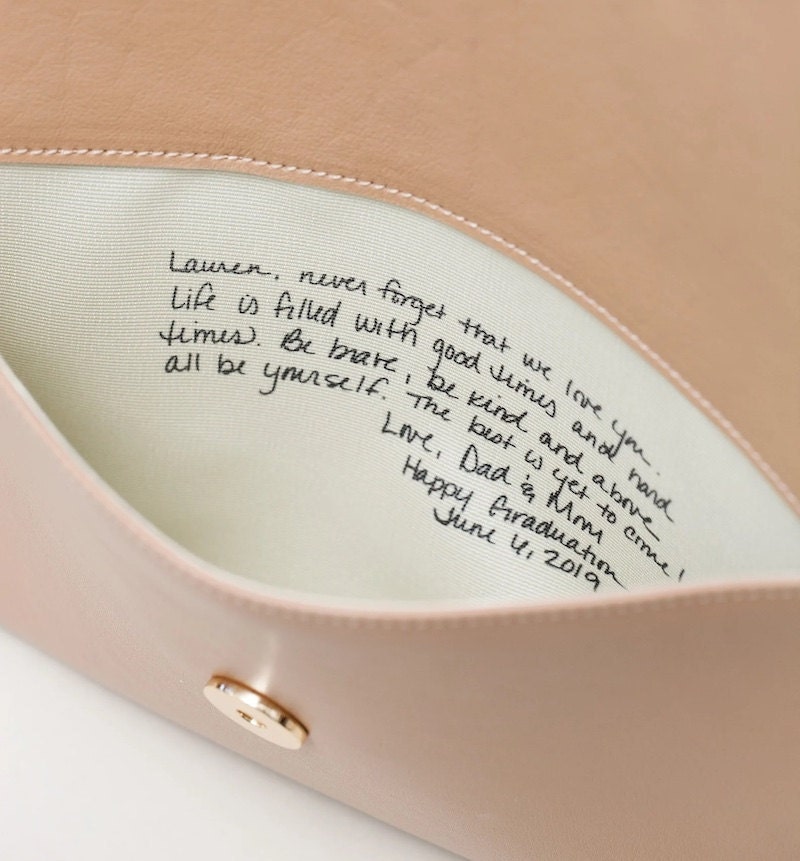 SHOP: Personalized handwriting clutch from Fontem, from $220
Milestones like graduation are an opportunity to write a heartfelt letter, and this darling leather clutch lets you have that love letter tucked away in the interior of its lining forever. This makes an especially great high school graduation gift for a daughter heading off to college on her own, so she always has a reminder of the folks who are rooting for her back home.
2. The best graduation keepsake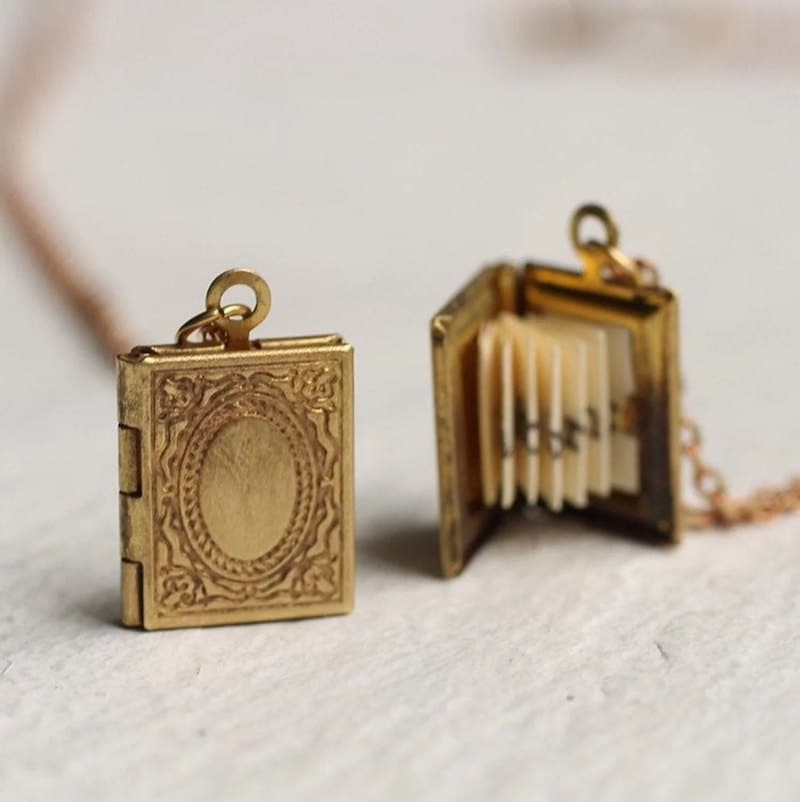 SHOP: Personalized book locket from Silk Purse Sow's Ear, from $29
Big things come in small packages, and this tiny personalized locket necklace comes with a lot of heart. The miniature book pendant is made from solid golden brass, but the real show-stopper is the secret hidden message, chosen by you, intricately folded and fitted inside like pages of a book.
3. The best gift for caffeinated college grads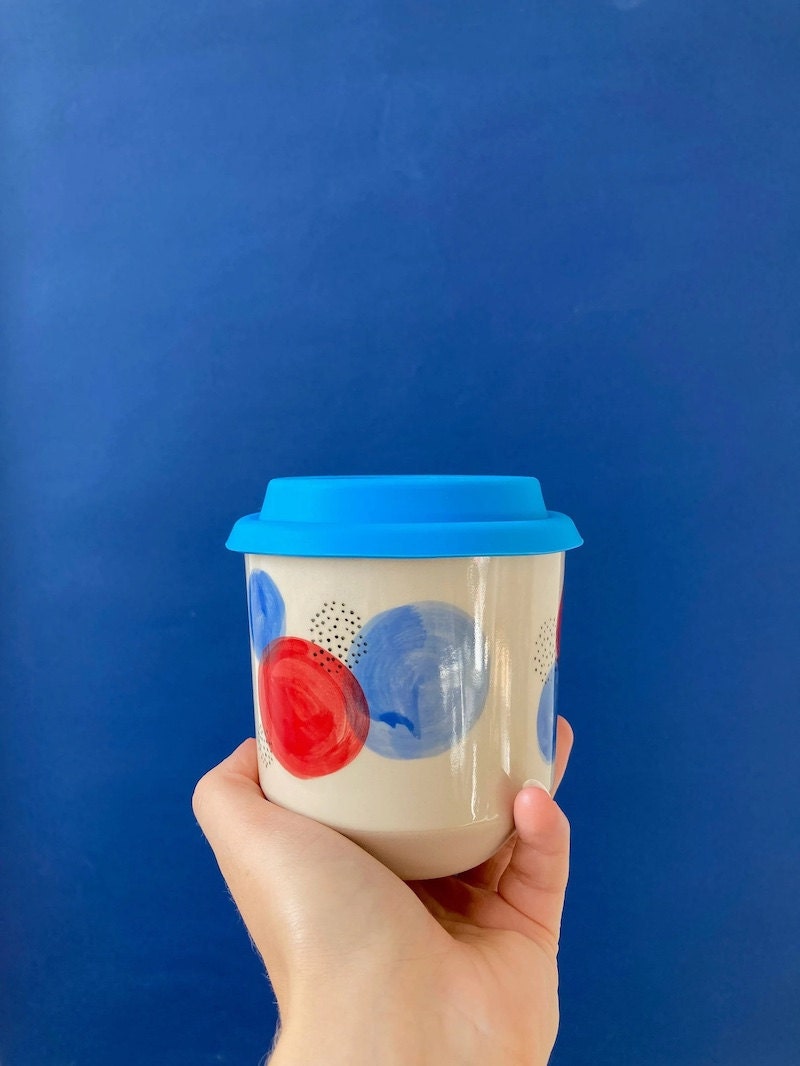 SHOP: Espresso travel mug from Steph Liddle Ceramics, $37
If your graduate is entering the workforce, they should have a one-of-a-kind coffee mug for their daily sip of caffeine. Offer this hand-painted ceramic travel mug as a college graduation gift so they know if they ever need a boost (and not just the caffeinated kind!), they can count on you.
4. The best graduation gift for stylish students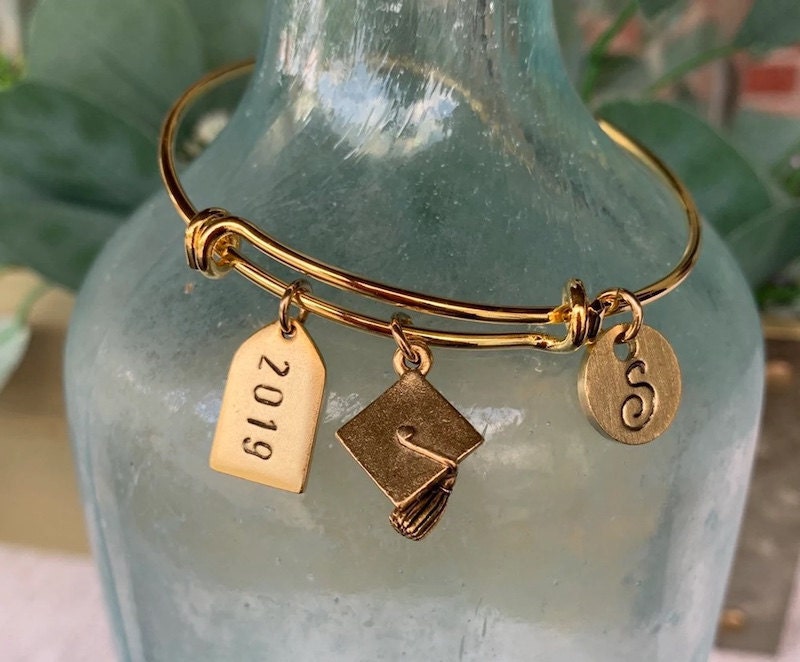 SHOP: Graduation charm bracelet from Landlocked Mermaid, $19
Let's hear it for this year's class! This oh-so-cute charm bracelet features the graduation year, a grad cap, and a charm stamped with your loved one's initials, making it dainty, delicate, and darling. Bonus: Add a birthstone to make this graduation gift extra meaningful.
Personalized graduation gifts
When you need a graduation gift that feels like it was made just for your loved one, you need a personalized pick that's handcrafted by one of the small shops on Etsy. These one-of-a-kind gifts are made for your one-of-a-kind human.
5. The best graduation cookies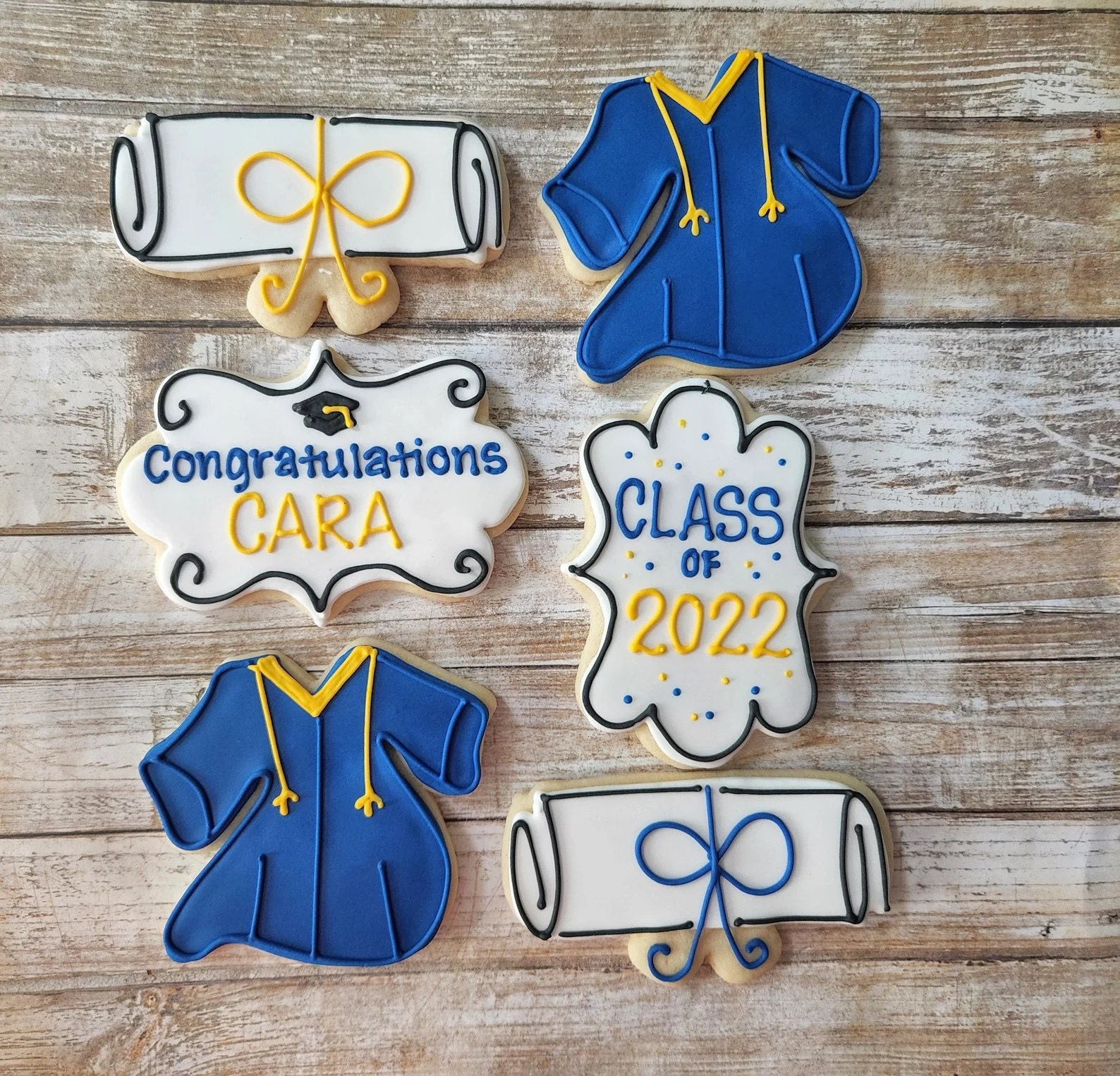 SHOP: Custom graduation sugar cookies from Tybrisa Avenue Creations, $40 for a dozen cookies
What's sweeter than walking the stage at graduation? The desserts at the after party! Add your grad's name to the cookies and customize the icing hues to match the school colors for an added celebratory touch.
6. The best graduation gift for money-savvy students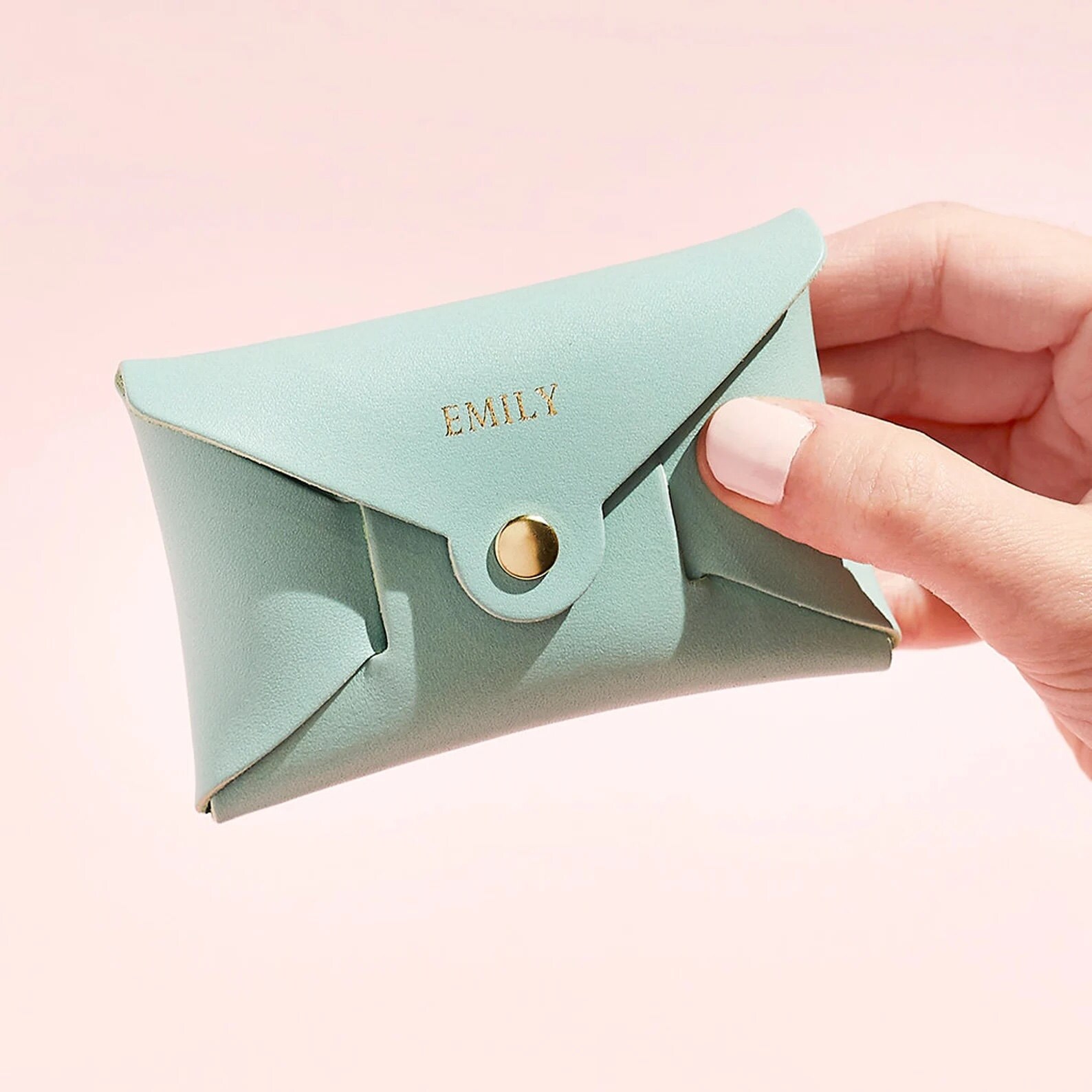 ​​SHOP: Personalized leather coin purse from Sbri Studio, from $33
Getting your diploma is no small change, and this personalized leather coin purse is perfect for quick trips to the laundromat (or dining hall!), made in a clever origami folded style.
7. The best sentimental graduation gift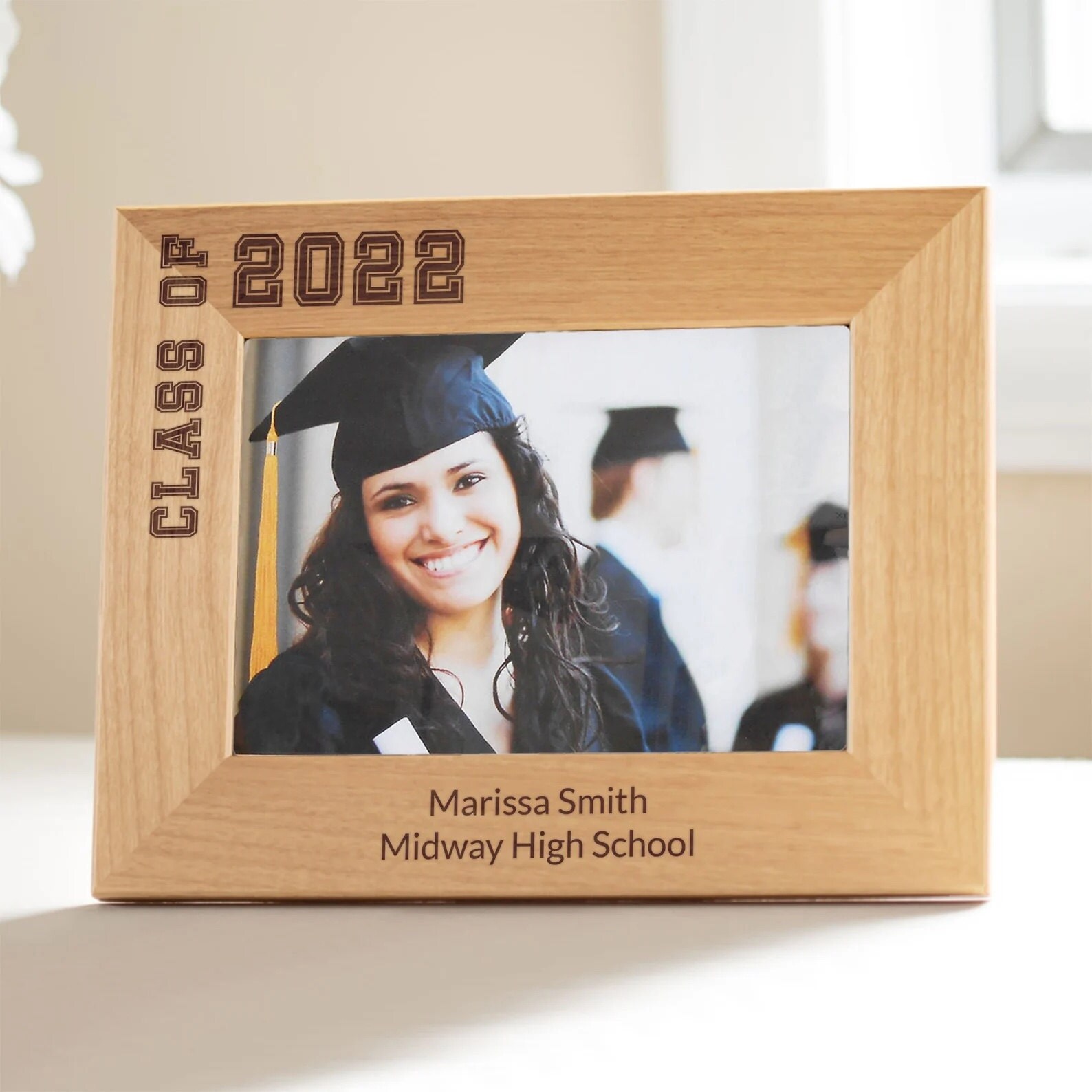 SHOP: Personalized graduation picture frame from Lifetime Creations, from $27
Whether they're graduating high school, college, or finishing up an advanced degree, the time spent in school creates memories that last a lifetime. Capture this precious moment with a personalized frame made from laser-engraved wood and commemorate all they've accomplished.
Best friend graduation gifts
Through the countless weekends studying, the hours chatting about anything and everything, and the joyful spring breaks and summer vacations, you know how much graduating means to your friend. Celebrate your bestie with these graduation gifts for friends who aren't just friends, but part of your chosen family.
8. The best graduation gift for rolling stones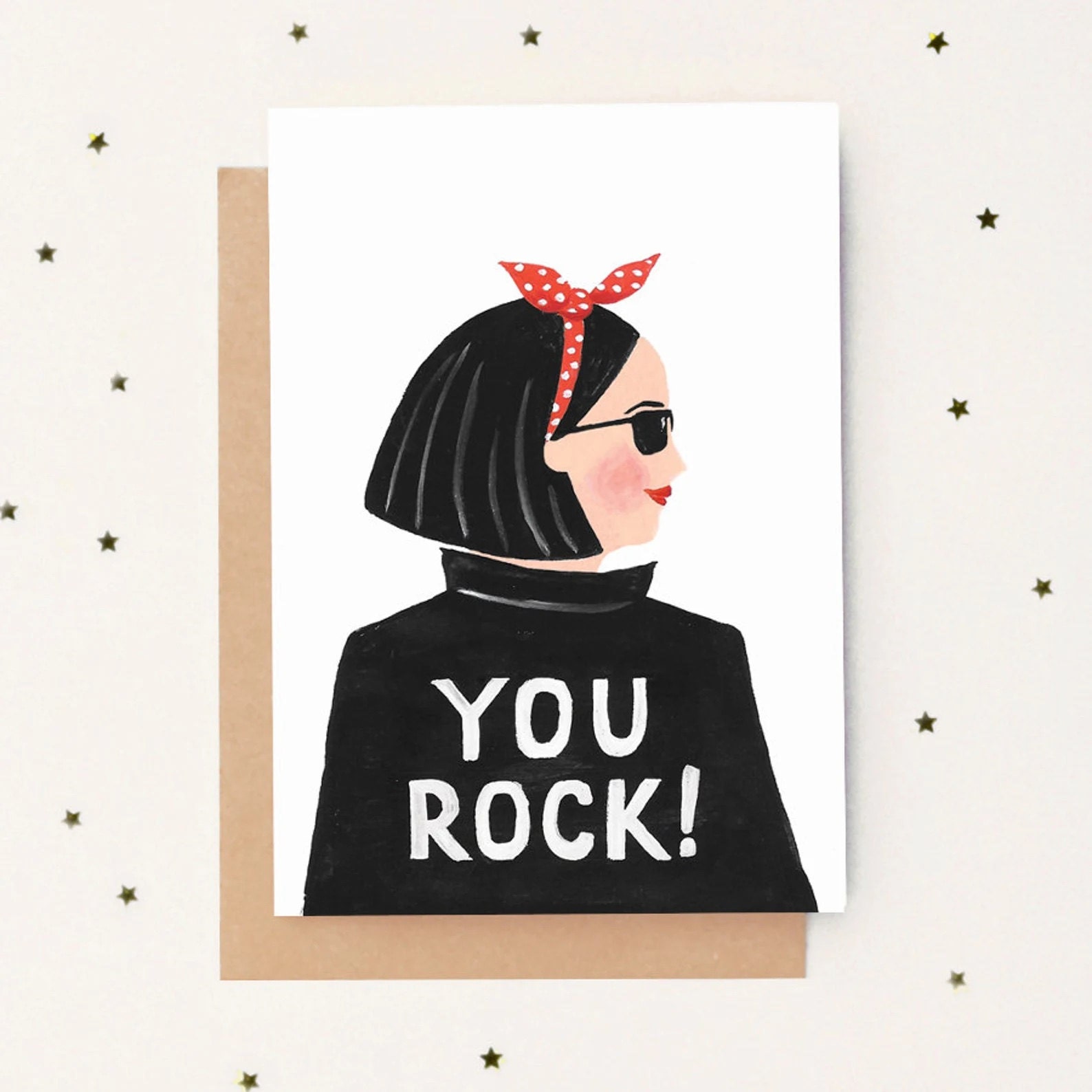 SHOP: "You rock!" blank friendship card from Jade Fisher, $4
Girls to the front (of the commencement class)! Tell your friend how cool you really think they are with this celebratory punk-inspired graduation card.
9. The best graduation gift for students studying abroad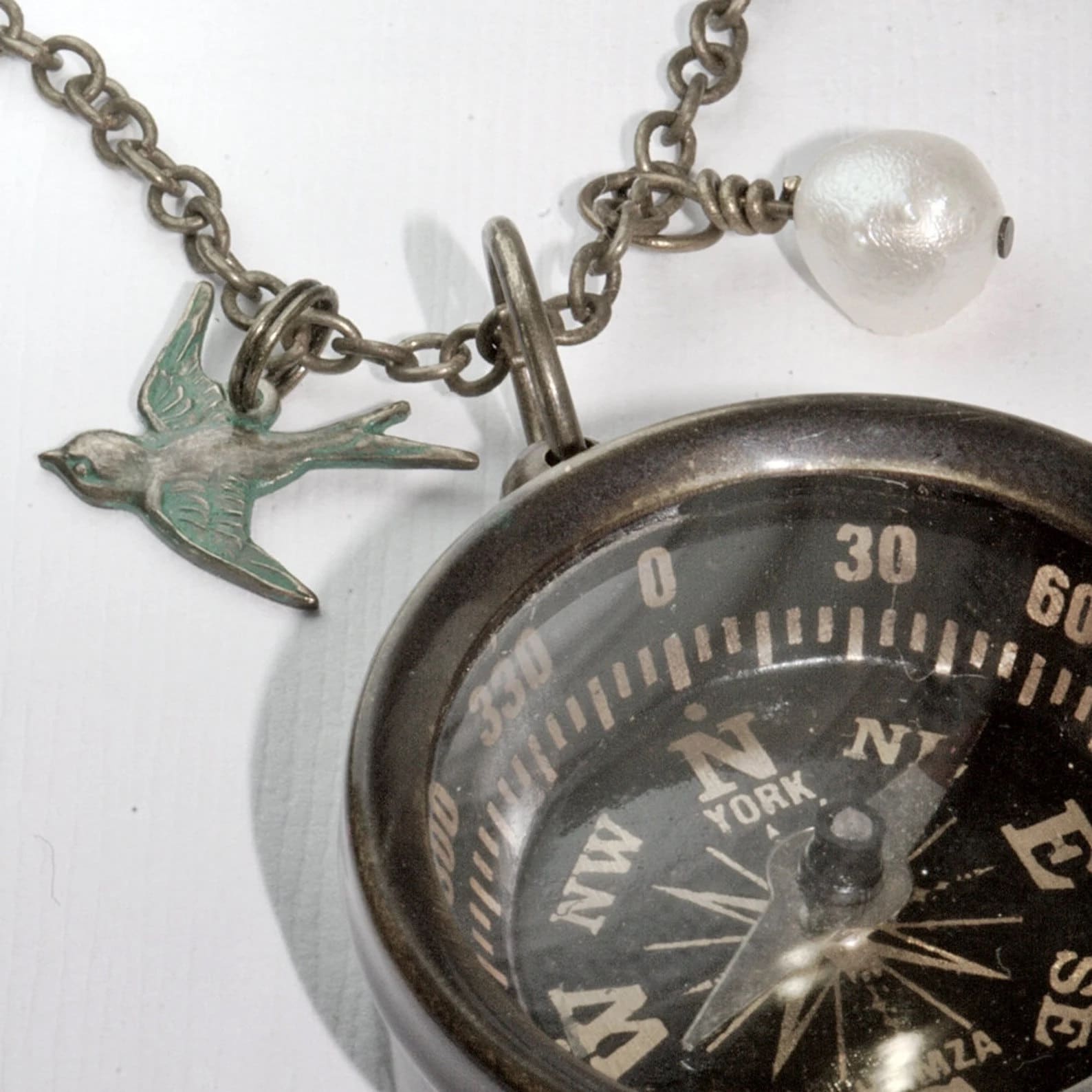 SHOP: Working compass necklace from Earth Sky and You, $27
They've been alongside you through all your adventures, and this working compass necklace will reassure them that you're staying by their side in whichever direction they may go.
10. The best graduation gift for daily rituals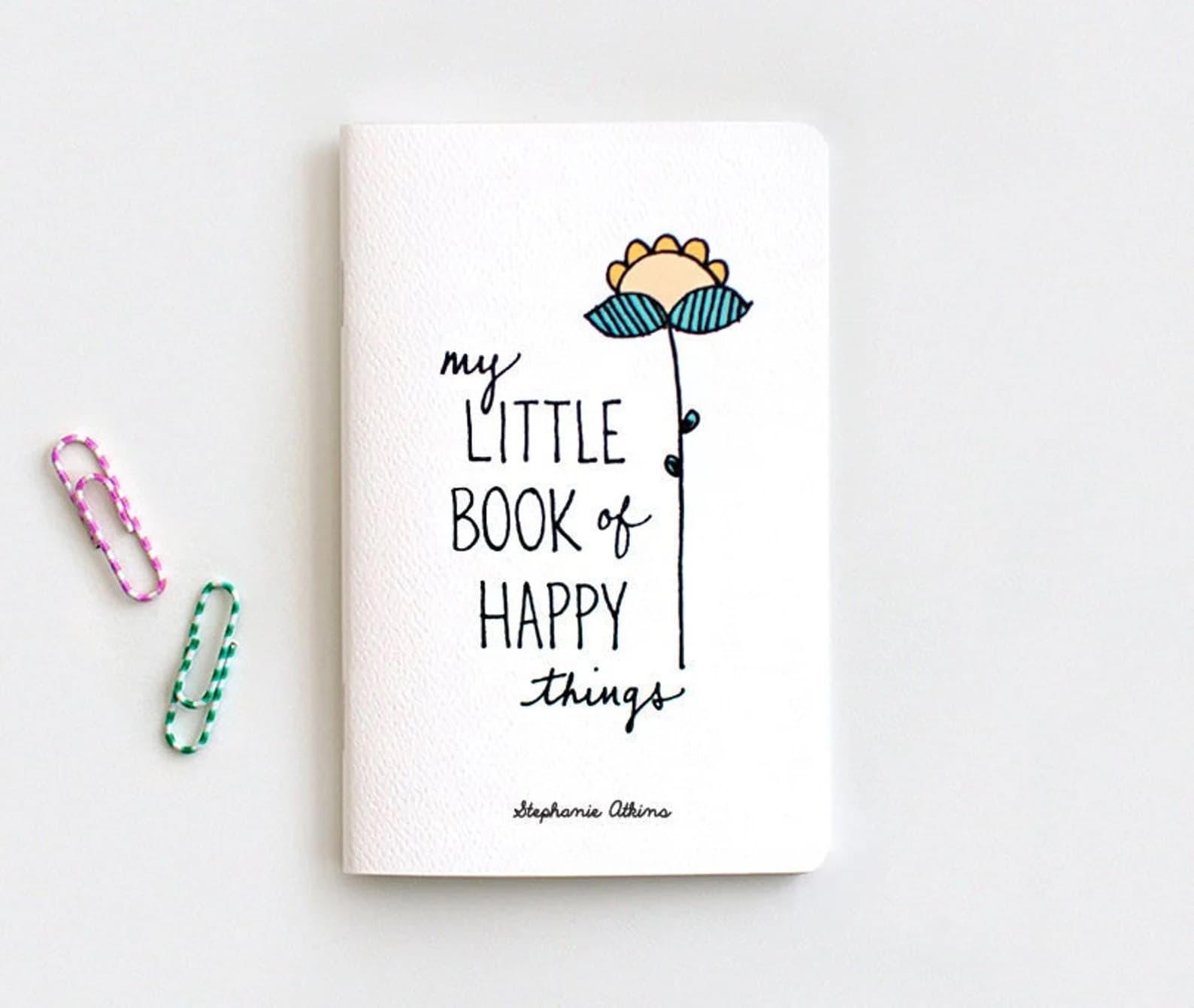 SHOP: Personalized gratitude journal from Happy Dappy Bits, from $10
For a graduation gift for friends who have been a mindful reminder in your life, this handcrafted gratitude journal will encourage your friend to practice self care as they enter this new chapter of their life. Small enough to tuck away in a purse or a pocket, this notebook will remind your pal of all the things they cherish whenever the going gets tough.
Cool graduation gifts
A personalized leather bracelet. A celestial-inspired necklace. These are just a few of the gifts that will wow even the most aloof teen. Turns out they weren't too cool for school after all!
11. The best graduation gift for the stylish student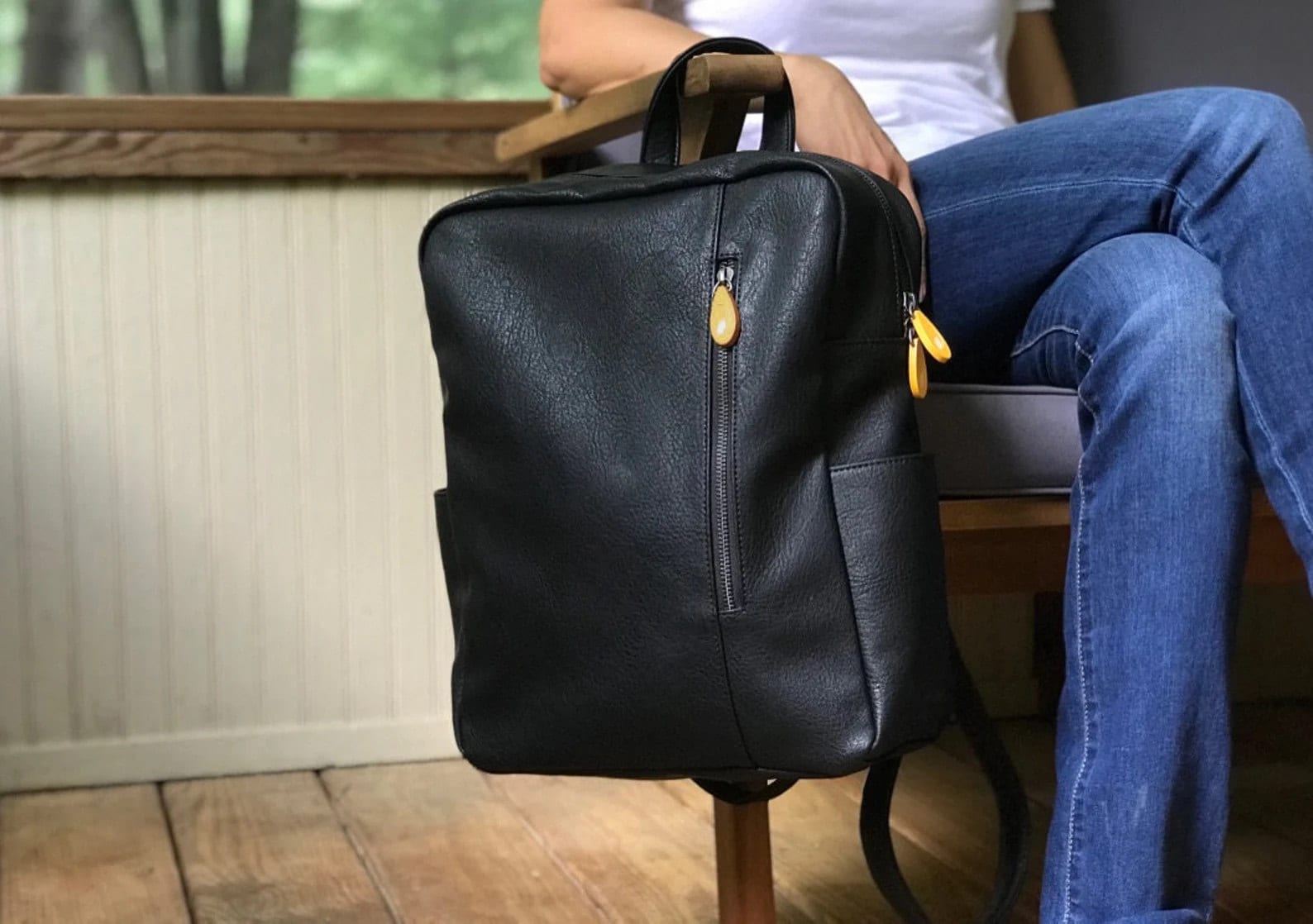 SHOP: Vegan leather backpack from Canopy Verde, $179
A great gift for high school graduation as they move on to the next big thing, a handcrafted vegan leather backpack is a chic way for them to tote their laptop, phone, and class supplies around the quad.
12. The best graduation gift for the traveler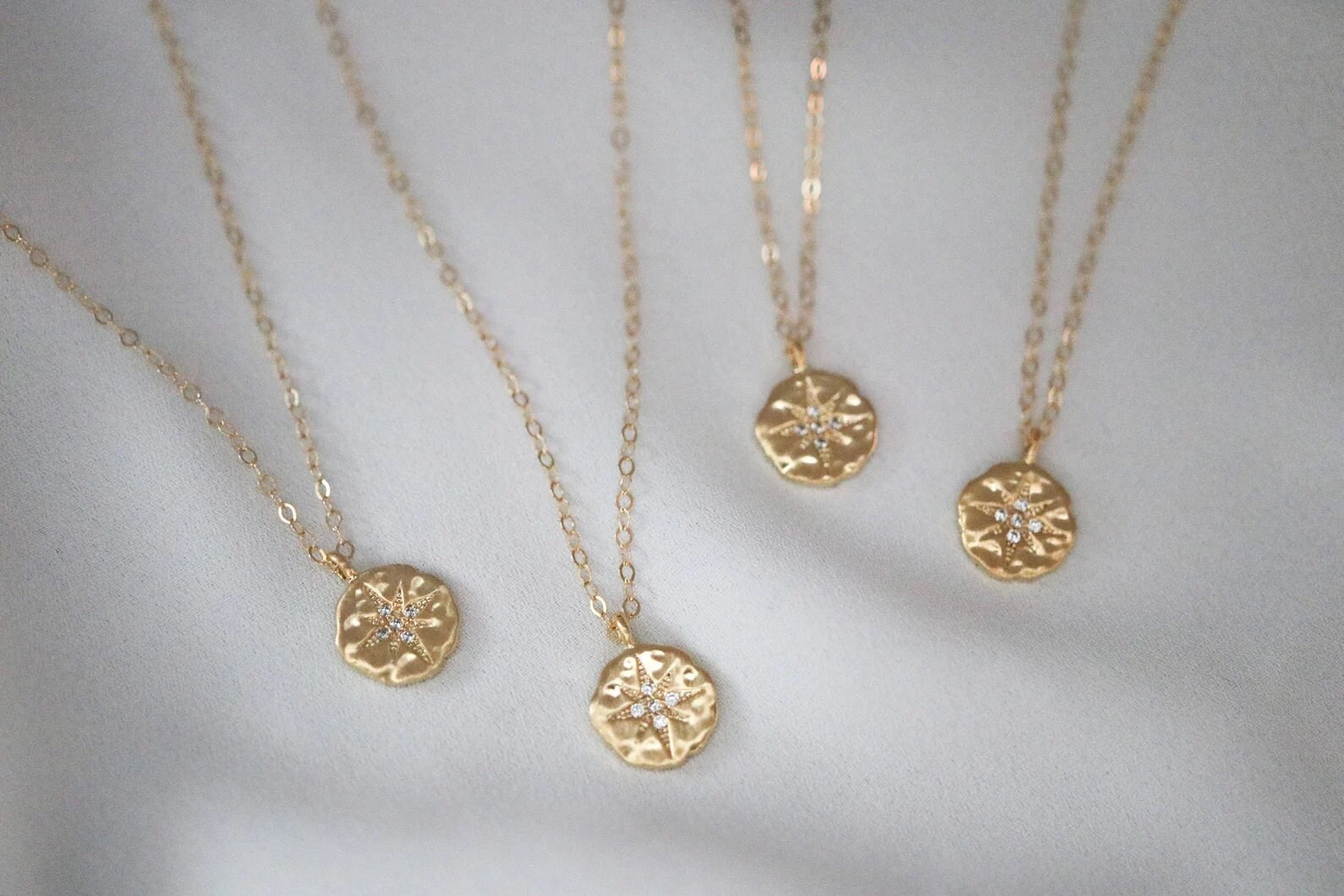 SHOP: North star celestial necklace from EVREN, from $62
Tell your loved one that they're going places with this dainty gold necklace plated with an image of the north star. It will serve as a reminder that they can always find their way home and stay true (north) to themselves.
13. The best gender-neutral graduation gift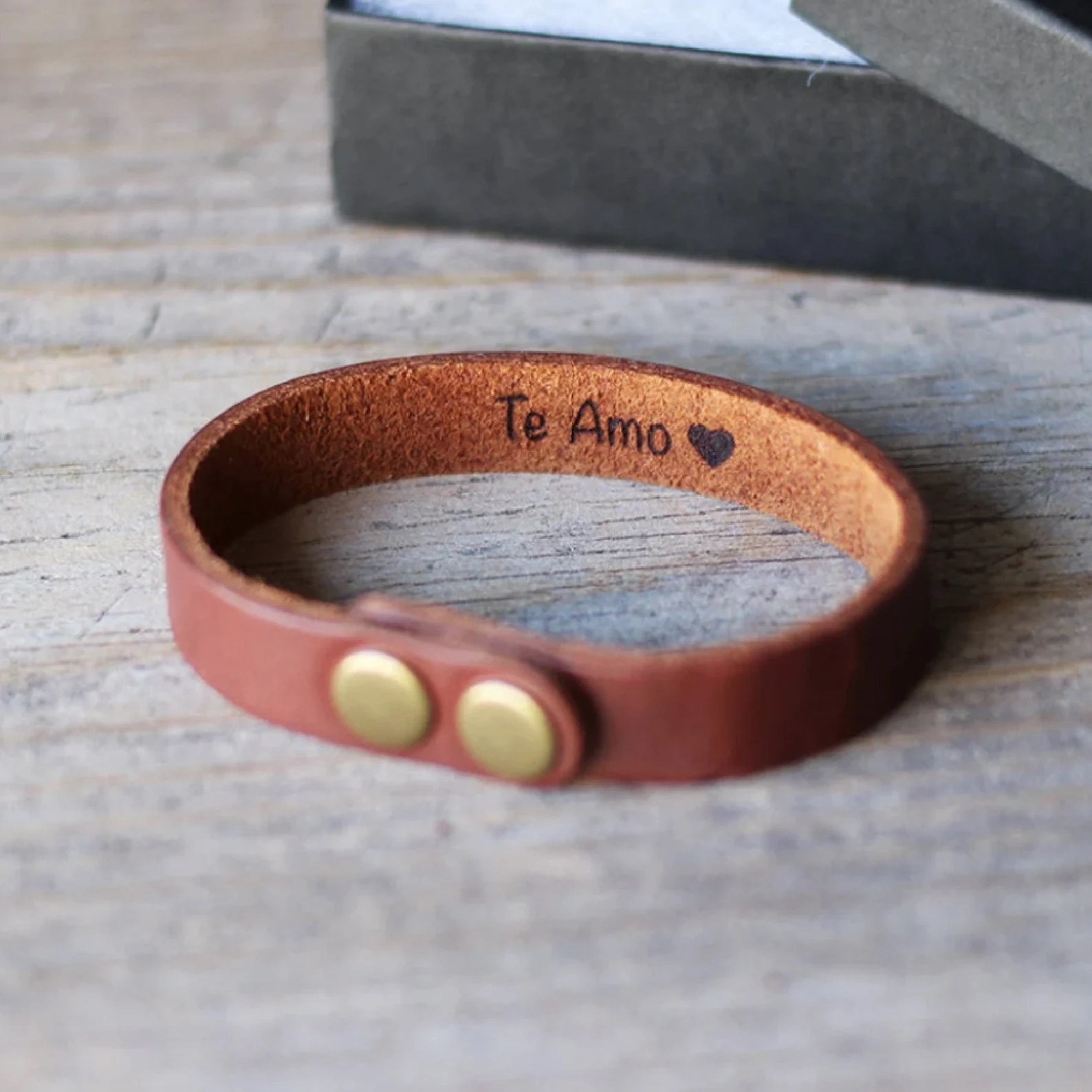 SHOP: Personalized leather bracelet from Local Laser Co., $25
This sophisticated leather bracelet has a secret that only your recipient will know about: A special message just for them engraved on the underside of the leather, The best part? This unisex leather bracelet is understated enough to be worn every day, making it a great gift for him or her.
Best graduation gifts for girls
Let your gal pals, daughters, and femme loved ones know how proud you are of them with these graduation gifts for her.
14. The best graduation gift for a beauty queen on the go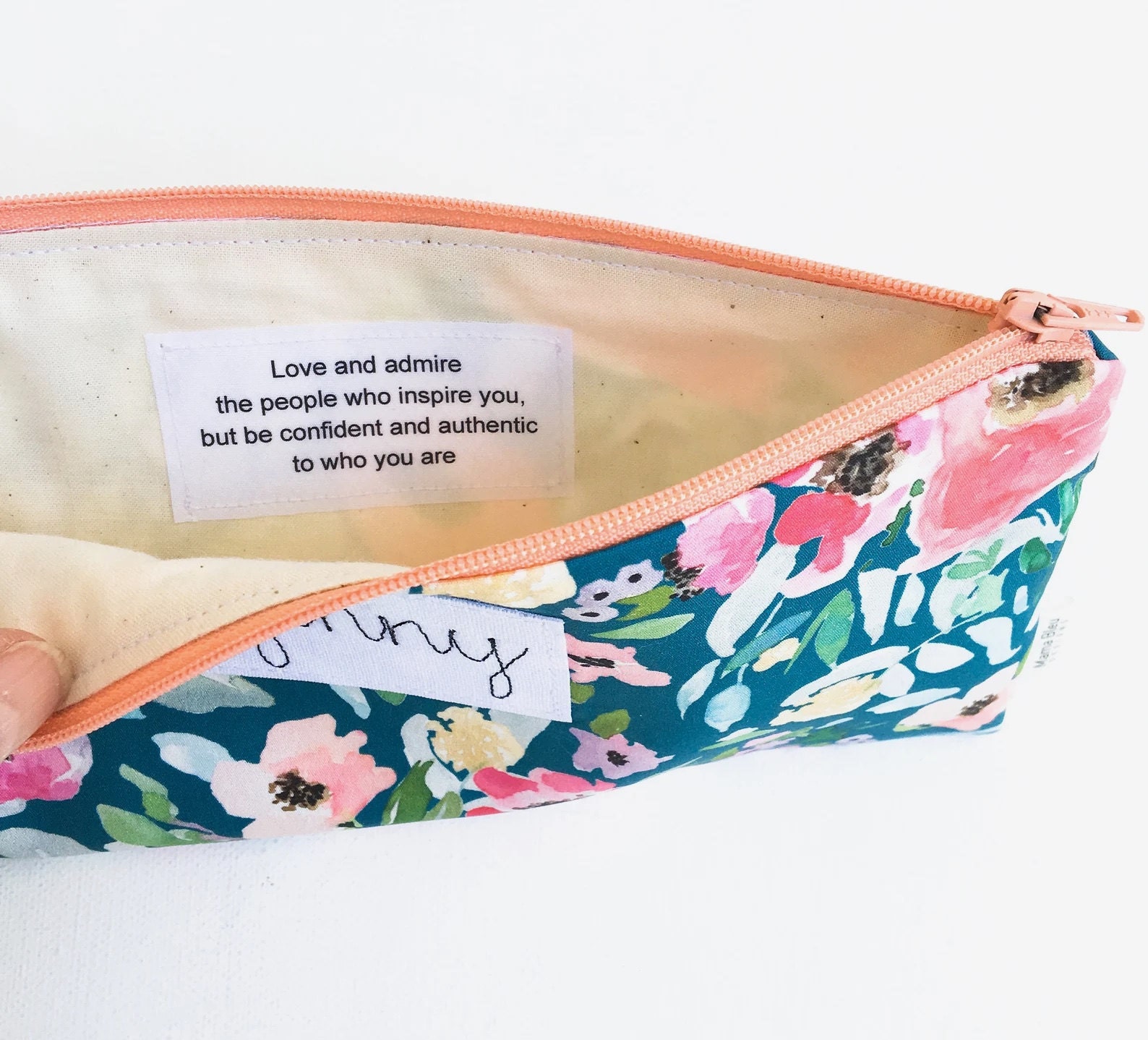 SHOP: Personalized makeup bag for her from Mama Bleu Designs, from $17
The best gifts are personal, and this personalized cosmetic bag has the option to embroider your favorite grad's name on the outside, but the inside is also customizable with a quote of your choice, so every time she needs to touch up her lipstick, she'll remember
15. The best everyday jewelry grad gift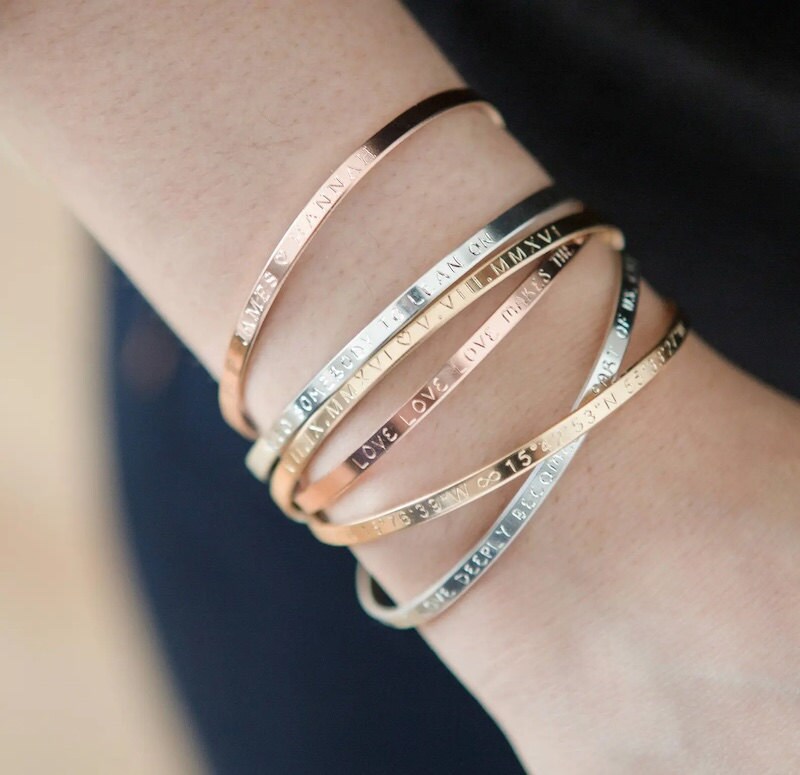 SHOP: Personalized graduation bracelets from Luv Lace Jewels, from $38
This goes-with-anything thin gold bracelet can be engraved with any text your heart desires. Their initials, the coordinates of their favorite place, or a quote that you both return to time and time again are just a few ideas for this elegant and simple personalized bracelet.
16. The best graduation gift for writers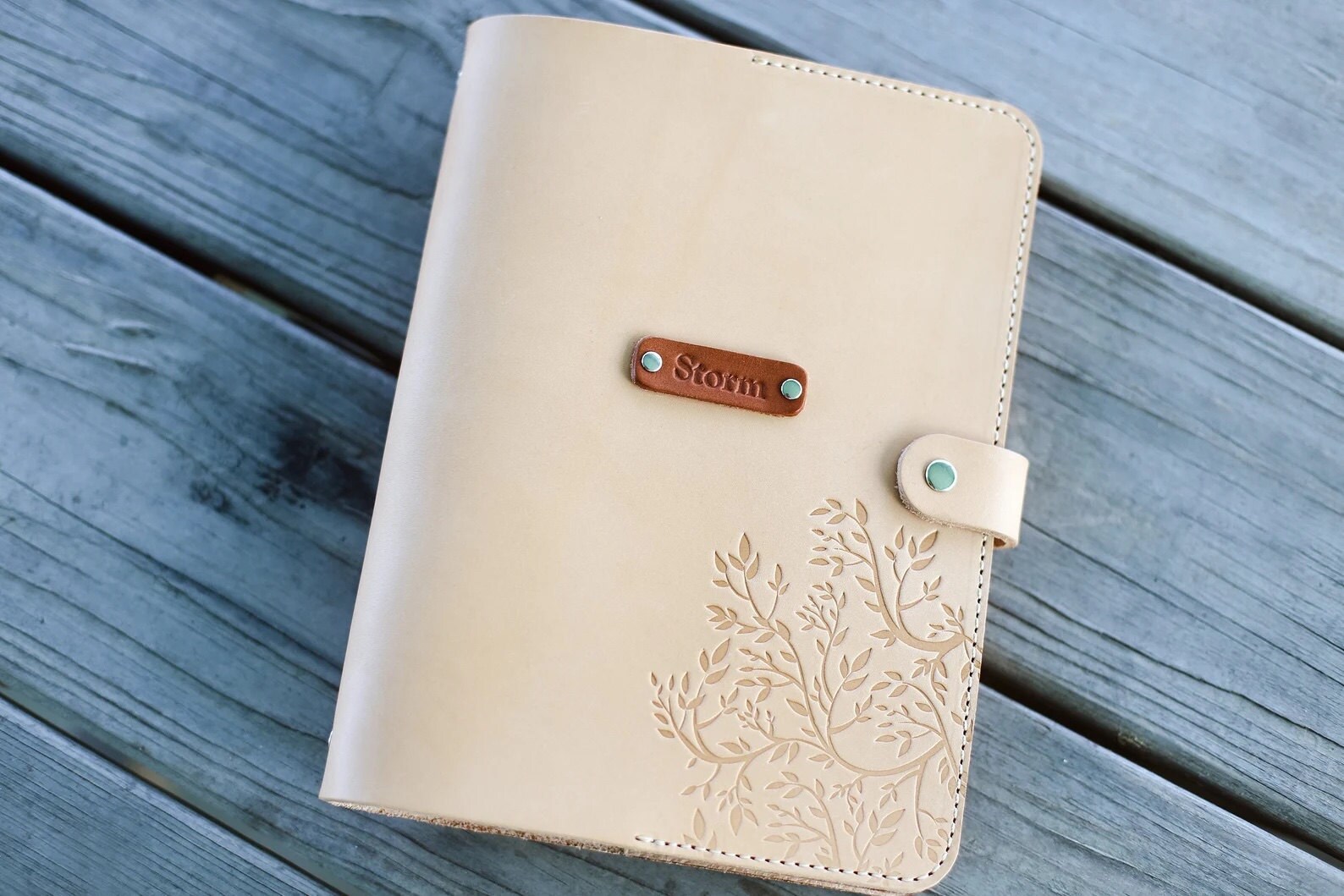 SHOP: Personalized stamped leather journal from Foytik, from $85
She is blooming into the next phase of her life, and this floral-stamped leather journal will help her document this chapter of growth. Buyers love the custom leather name tag and craftsmanship of this gorgeous, earthy notebook.
17. The best gift for graduation pride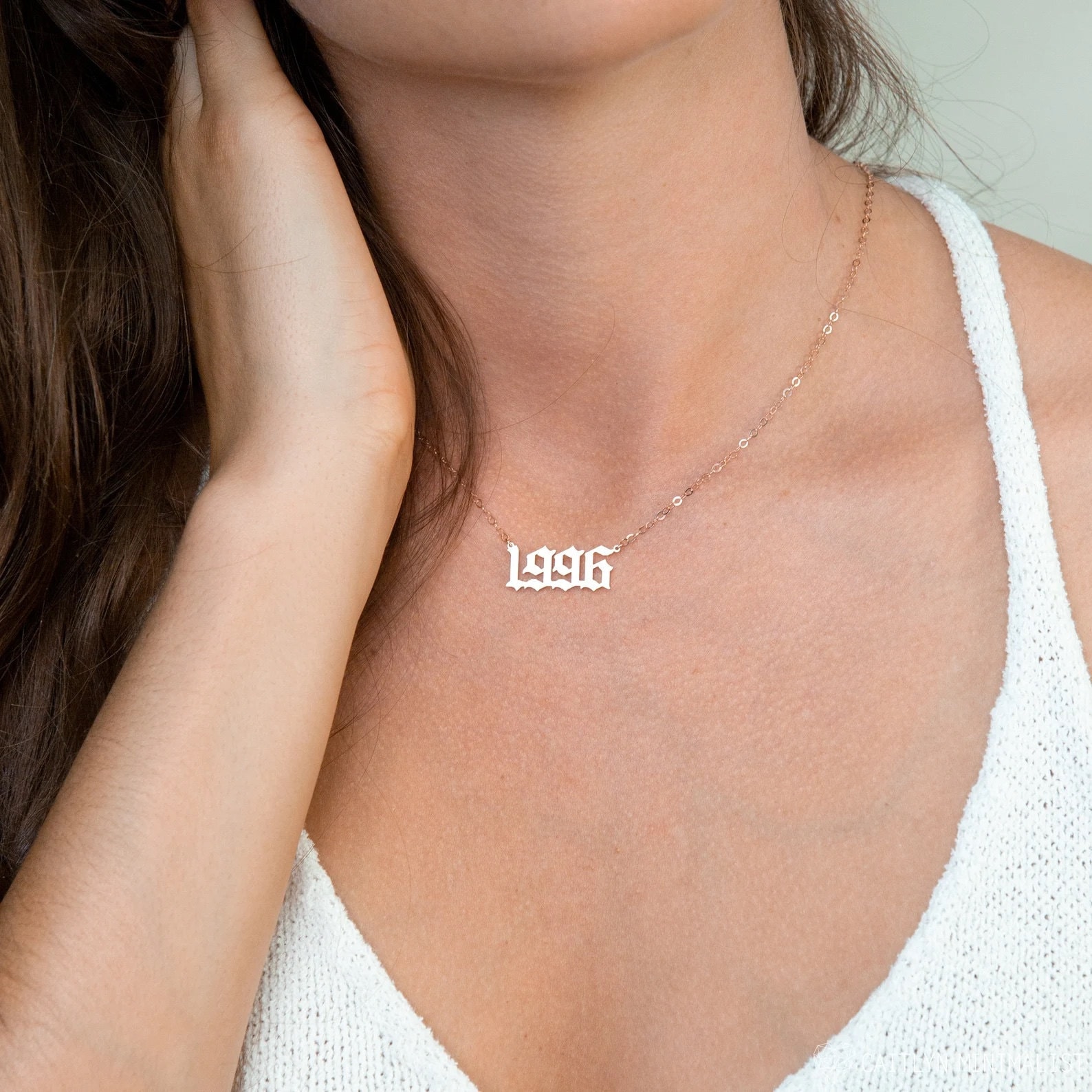 SHOP: Graduation year necklaces from Caitlyn Minimalist, $26
Toast to this year's class with this edgy custom year necklace. Choose a graduation year or a birth year—either way, they'll wear this thoughtful graduation gift with pride.
Best graduation gifts for guys
Finding a gift for him that he will love and actually use can be challenging, but these personalized and unique picks are both fashionable and functional.
18. The best graduation gift for guys settling down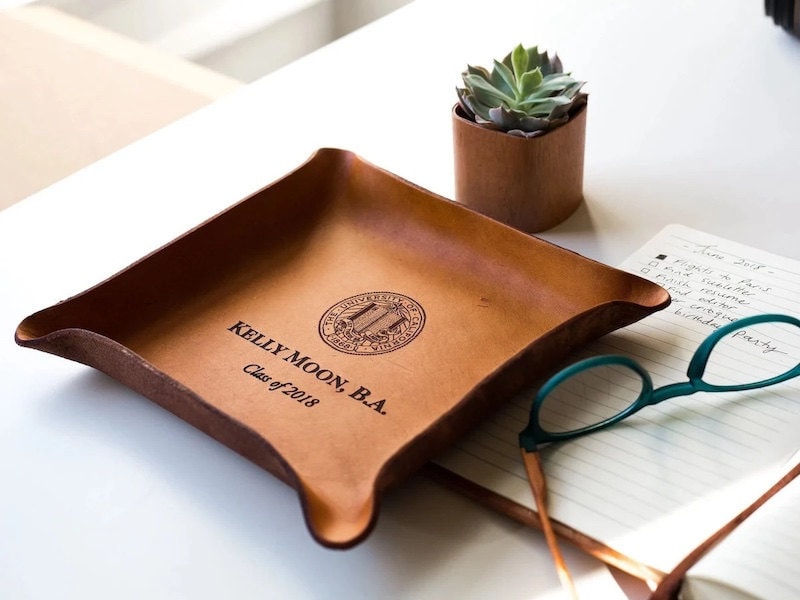 SHOP: Personalized leather catchall tray from Paper Anniversary Love, from $109
No more dorms! If your dude is graduating and moving into his first place on his own, this custom engraved leather tray can serve as a catchall for his keys, watch, and phone, so his new pad can stay organized. Who knew adulting could look this good?
19. The best funny graduation card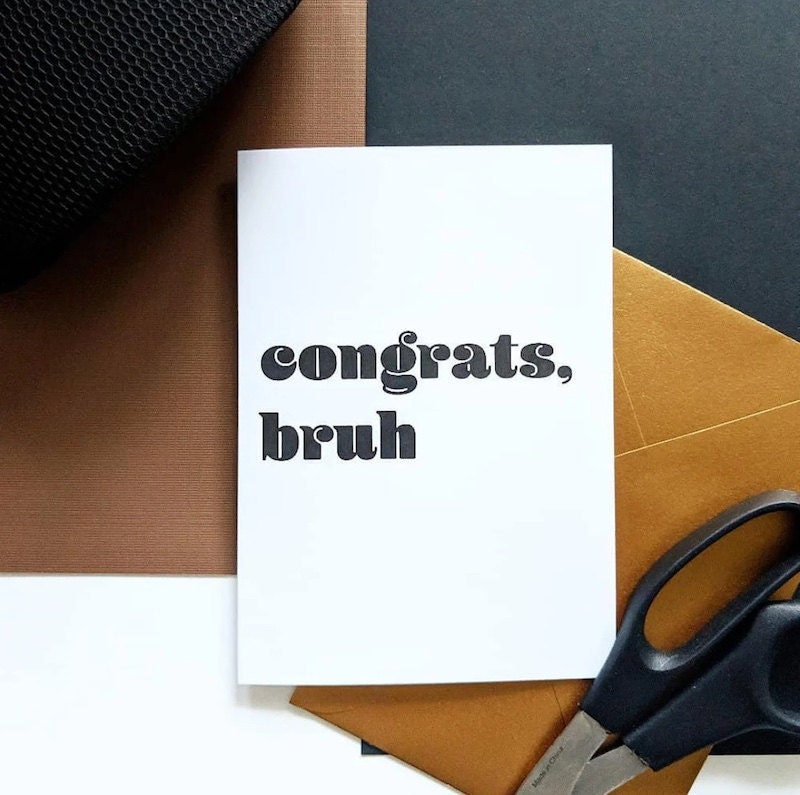 SHOP: Congratulations greeting card for him from JiJi Designs Paperie, from $5
Sometimes gifts aren't enough, and you need words to describe how excited and proud you are about him graduating. Celebrate your actual bro or your brother from another mother with this tongue-in-cheek greeting card for him.
20. The best personalized graduation gift for him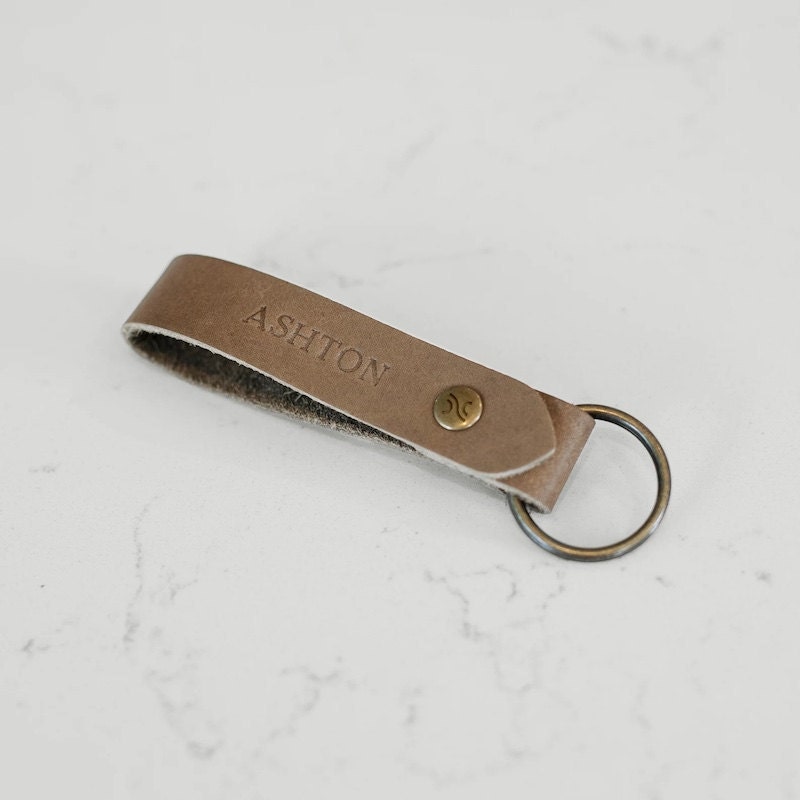 SHOP: Personalized monogrammed leather keychain from Northwind Supply, from $7
Whether graduation means he's getting the keys to a new car, apartment, or job opportunity, he should have a keychain that reflects the sophisticated steps he's taking in his life. Personalized with his monogram or name, this snazzy key ring was made for him—literally.