Whether you're looking for eight gifts or just one, these meaningful gift ideas will add a little extra sparkle to the Festival of Lights this year.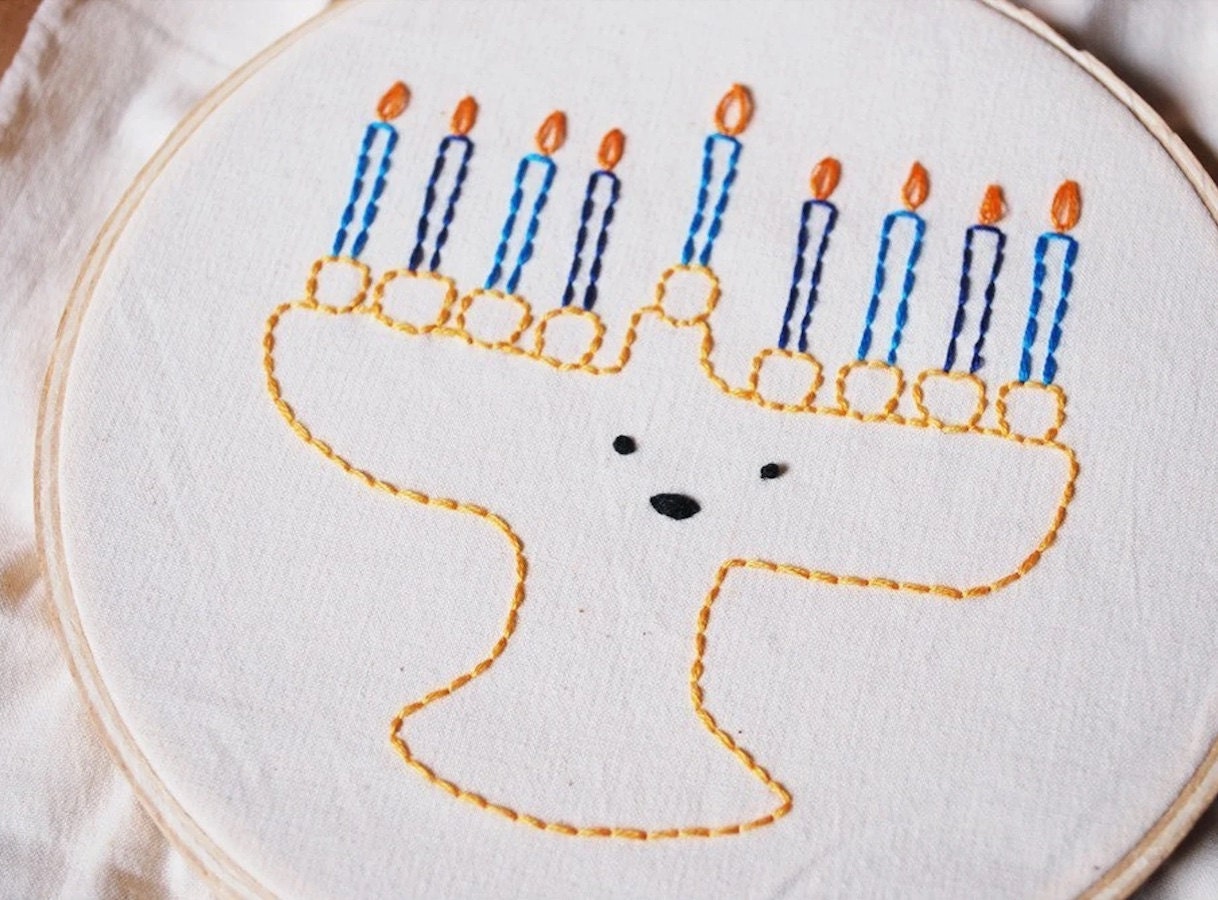 Hanukkah—also known as Chanukah and the Festival of Lights—is a reflective and inspiring celebration commemorating the end of oppression against all odds. This special holiday is a joyful time that is enjoyed with family and loved ones, and it involves plenty of delicious traditional Jewish food, fun games, and, of course, gifts.
The observance lasts for eight days and eight nights, and beloved presents to give during this time include traditional Chanukah gifts, books, games, handmade items, and food.
Best traditional Hanukkah gifts
Also great for housewarming or hostess gifts, these traditional Hanukkah gifts can be put to good use right away during this year's festivities.
1. Ceramic modular menorah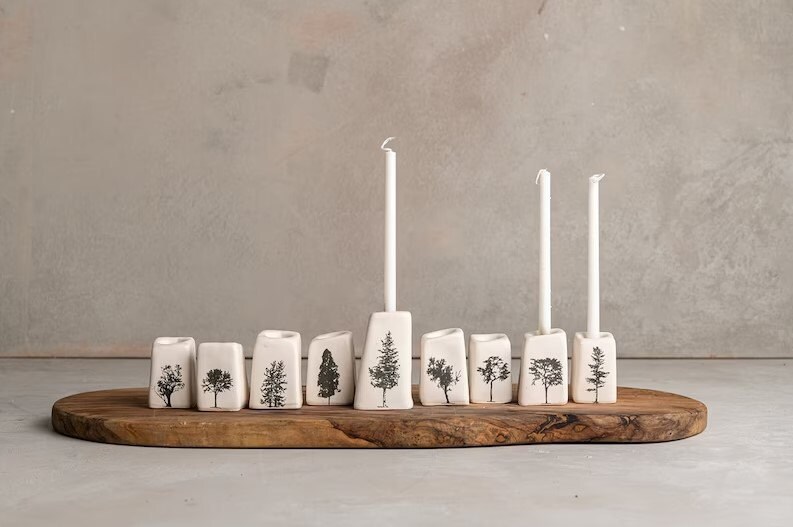 SHOP: Handmade ceramic modular white Hanukkiah from Clay by Dannah, $155
For a spin on the classic menorah, these handmade ceramic modular candle holders will look amazing in any modern home and wonderfully blend tradition with contemporary decor. Nine pieces come in this black and white set in abstract shapes and sizes. Each holder is discretely adorned with a different type of tree, and they can be used individually or grouped around your home after the celebration, too.
2. Leather dreidel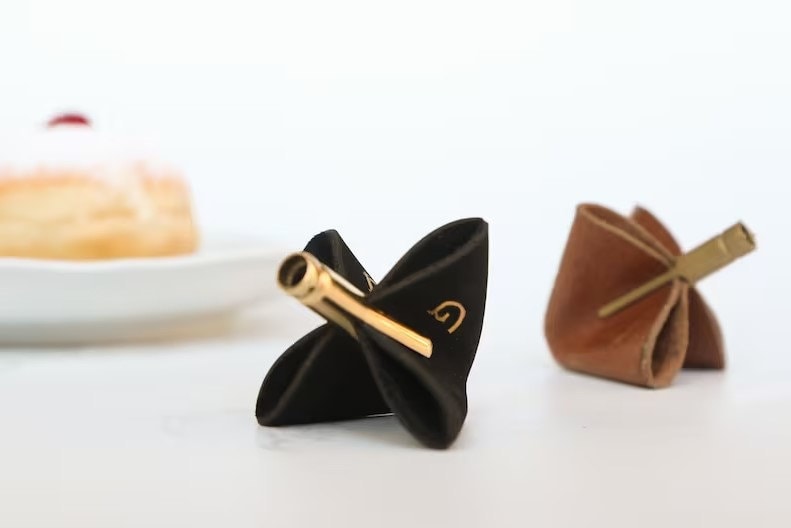 SHOP: Leather dreidel from JUDATLV, $43
Though traditionally a children's toy, this leather dreidel makes an excellent traditional Hanukkah gift for adults, too. This beautiful piece is handmade from real leather and brass in Jaffa, Israel. One happy customer wrote, "Creative, artistic, original… Pleased to add to our extensive dreidel collection!"
Unique Hanukkah gifts
For something a little out of the ordinary, take a look at these unique Hanukkah gift ideas for anyone on your list.
3. Jewish star necklace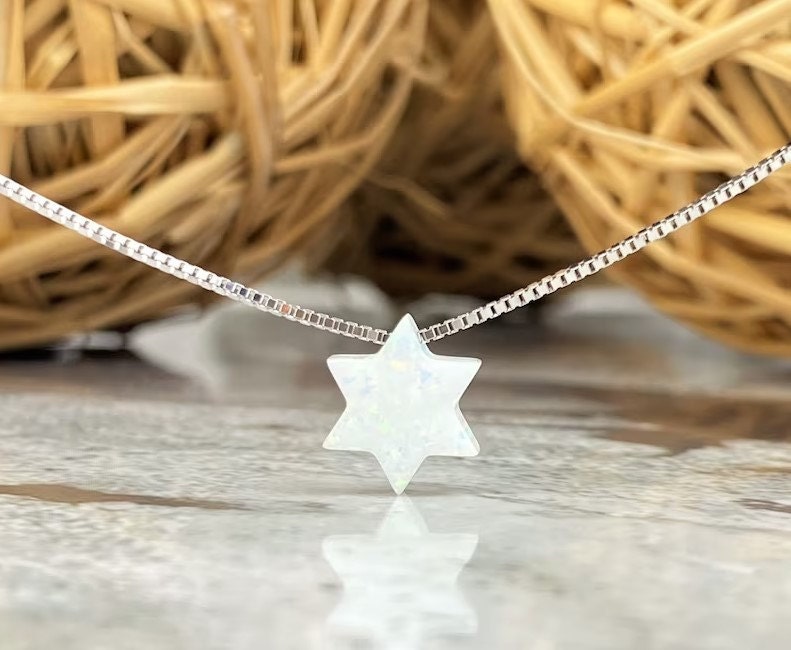 SHOP: Jewish star necklace from Opal Palace, from $26
If you're after a Hanukkah gift that's a little more personal and meaningful, this handcrafted Star of David necklace is an outstanding choice. The pendant is available in either blue or white opal in three sizes, with different chain options. "The photograph does not capture how glittery and delicate the piece is," explained one happy shopper. "Highly exceeds expectations."
4. Hanukkah gift tag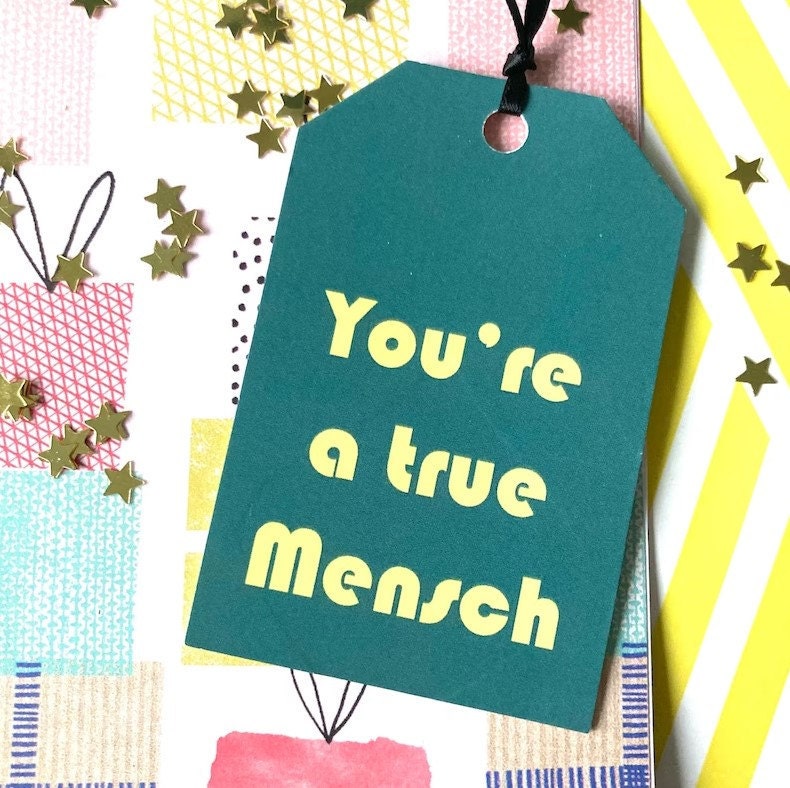 SHOP: "You're a true mensch" gift tag from Once Upon a Tea Cup, $1
To add an extra-special and festive touch to your Hanukkah presents, these fun gift tags are just the ticket. The tags are handmade in a small shop in London, UK, and there's also a matching Hanukkah card. You can also stock up on all your Hanukkah gift wrapping necessities from this shop as there are plenty of quirky options to choose from.
5. Menorah embroidery pattern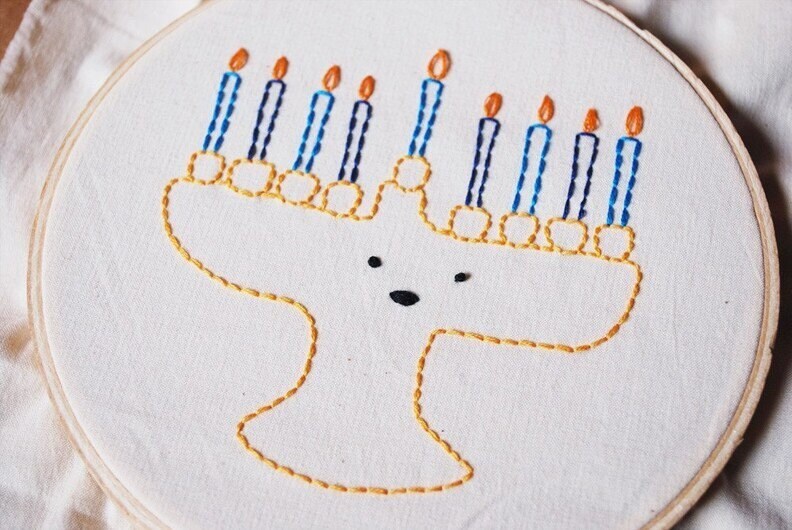 SHOP: Festival of Lights hand embroidery from Wild Olive, $5
Available as instant downloads, these Festival of Lights hand embroidery patterns make superb last-minute Hanukkah gifts for adults and children alike. "Quick download and very cute, easy embroidery patterns," wrote one happy customer who is planning on putting these on linen napkins for the holidays.
6. Hanukkah pet kerchief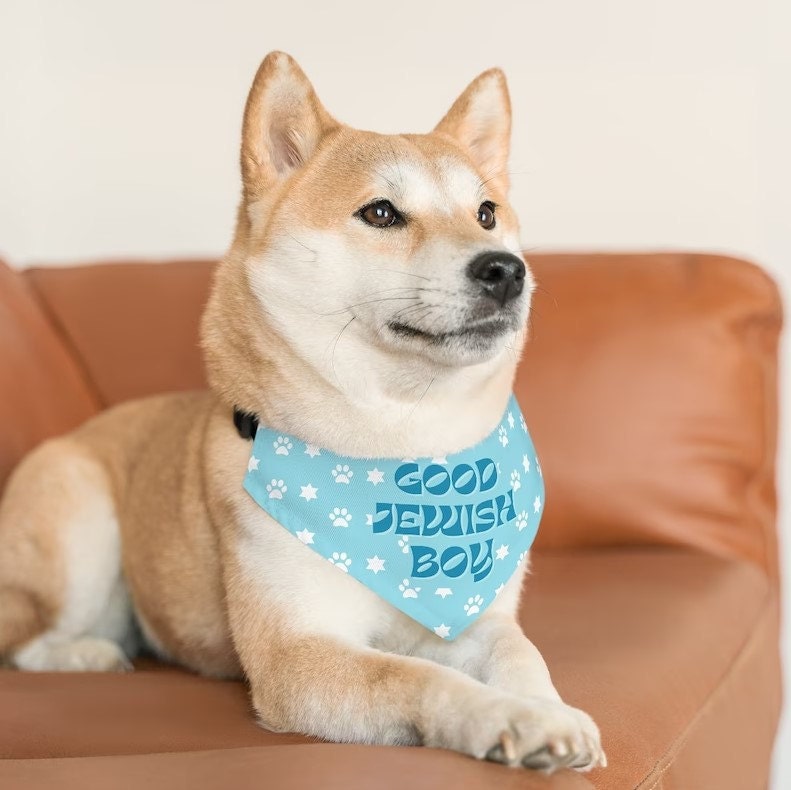 SHOP: "Good Jewish boy" pet bandana collar from Yehudit Design, from $20
We're sure you weren't planning on leaving your four-legged friends out of the Hanukkah festivities, and this bandana collar is the perfect way to make them a part of the celebration—as well as make your friends and family giggle. This handmade collar is available in three sizes for all types of pooches.
Best Hanukkah gifts for kids
There's no lack of choice when it comes to Hanukkah gifts for kids on Etsy. Keep the little ones happy and entertained with these awesome Hanukkah gift ideas for children.
7. Giant Hanukkah coloring pages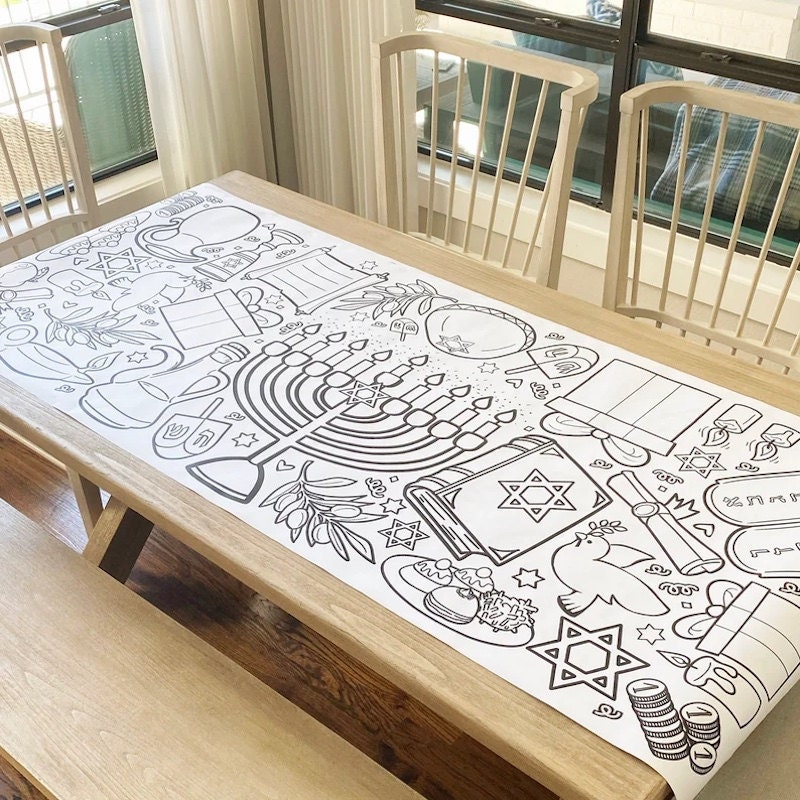 SHOP: Hanukkah coloring poster from Tiny Expressions, $24
While the adults are having the time of their lives, a great way to keep kids occupied during eight days of celebrations is this giant Hanukkah coloring poster. The poster has lots of traditional items for them to color in and customize for hours and hours, and a happy customer wrote, "This was a perfect addition to our Chanukah celebration! It gave the grandkids a wonderful activity to participate in."
8. Paper dreidel printable pattern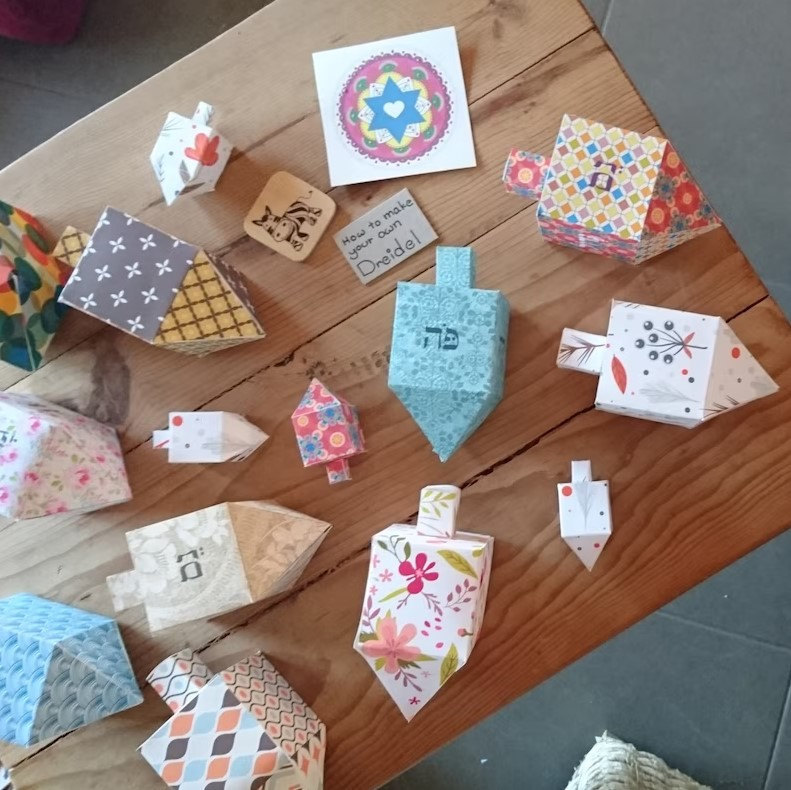 SHOP: Blank paper dreidel from Zebratoys, $8
If you're wondering how to limit children's screen time during Hanukkah, this packaging paper is an excellent way to keep them occupied. The kids can make the boxes with the instructions provided, and help you put small gifts inside for family and friends. Or, use this as a last-minute Hanukkah gift for kids—simply download, print, and place a small chocolate gelt inside.
9. Hanukkah activity tokens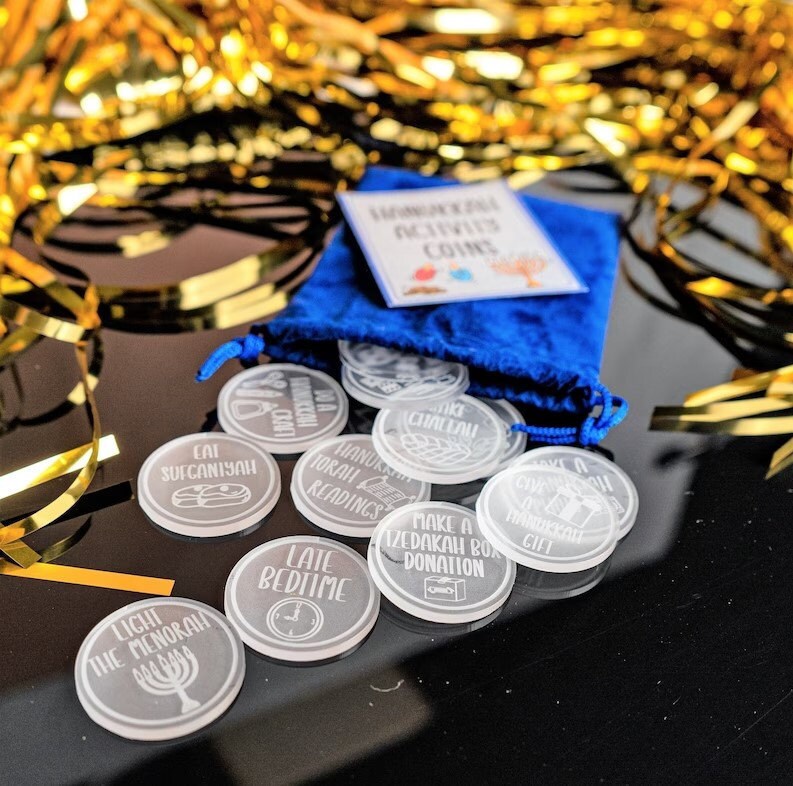 SHOP: Hanukkah tokens from Blue Ridge Mountain, $20
These activity tokens are a creative way to keep children entertained and curious during Hanukkah. Every morning, the child can rummage around the included velvet bag and pick out a token which sets out an activity for the day. Activities include "give a Hanukkah gift," "do a Hanukkah craft," or—sure to be one of their favorites—"late bedtime." It's an affordable, handmade gift that will be loved and reused for years to come.
Best Hanukkah gifts for the home
Your hardworking Hanukkah host will appreciate and adore these gifts for their home.
10. Stained glass Star of David suncatcher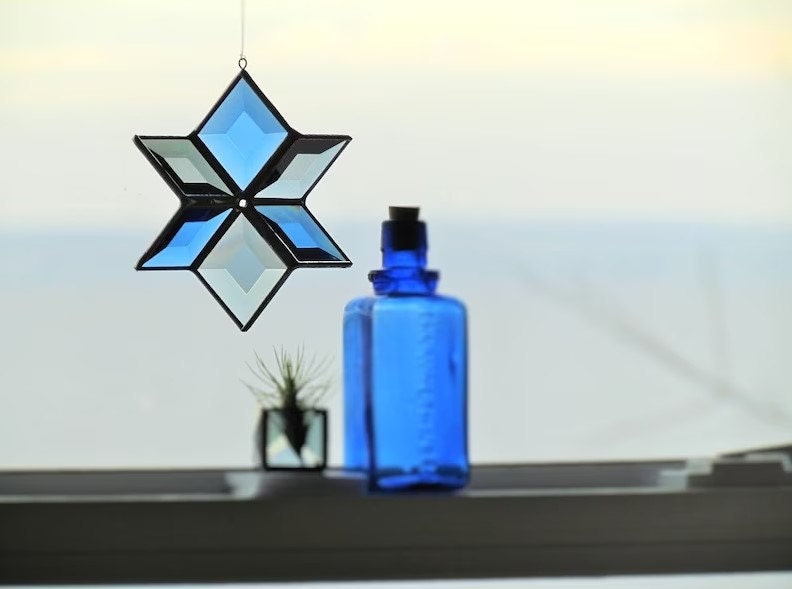 SHOP: Beveled stained glass hanging star suncatcher from SNL Creations, $30
The talented creator of these beveled Star of David ornaments makes them from glass, copper foil, and copper wire, using intricate stained glass methods utilized by top jewelry makers. This Hanukkah decoration features a Star of David, and is designed to catch the light, spreading gorgeous reflections around the home.
11. Large ceramic Mezuzah case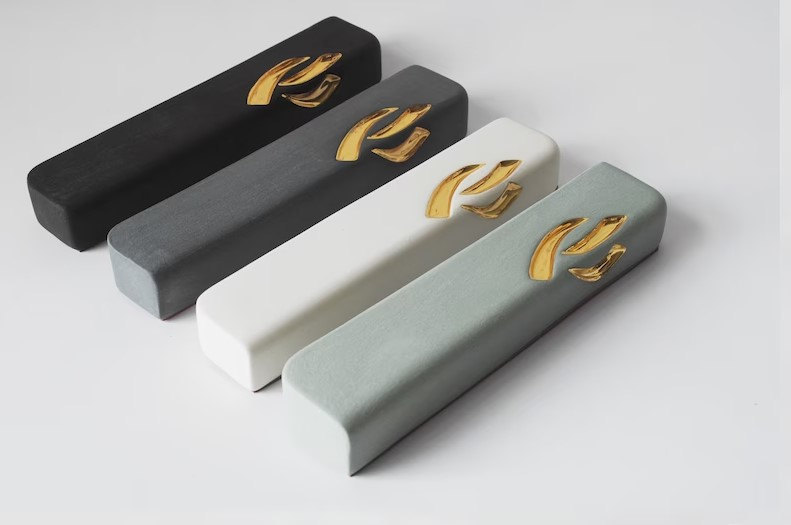 SHOP: Modern ceramic mezuzah case from Yahalomis, from $82
This exquisite ceramic Mezuzah case is handmade in Tel Aviv, Israel, and comes in a choice of colors including white, turquoise, and gray, as well as five different sizes. It's delicately decorated in either silver or 24K gold, and, for a more thoughtful touch, you can also opt to add a Kosher scroll. Made to adorn the doorpost as a symbol of faith, these Mezuzah cases also make a wonderful gift for new homeowners.
12. Hanukkah throw blanket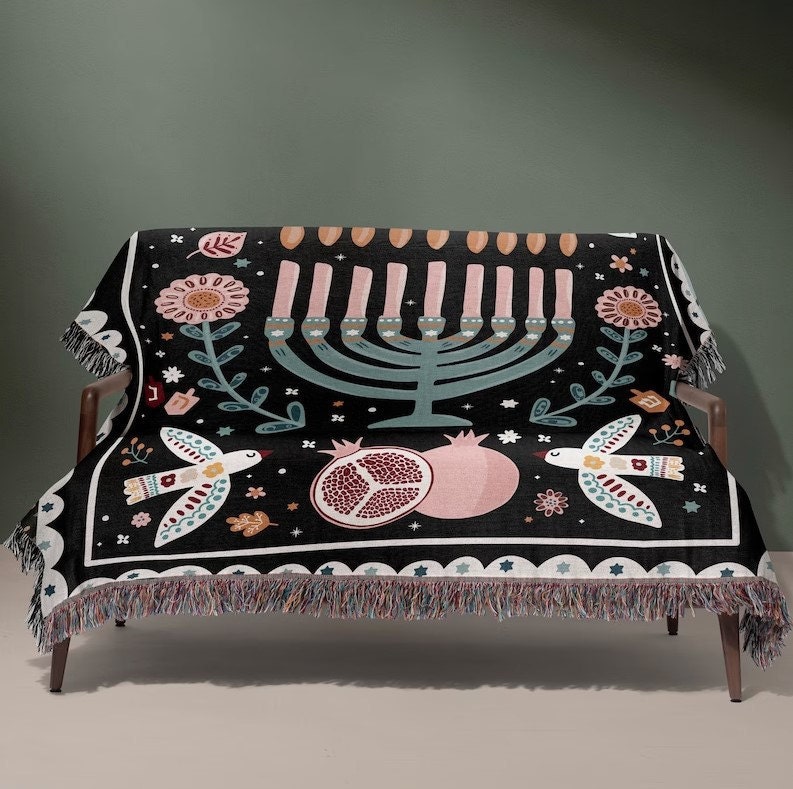 SHOP: Personalized throw blanket from By The Nook, from $69
A beautiful addition to any sofa or bed, this handmade woven throw blanket can provide any home with a warm and cozy aesthetic. The seller can also personalize the blanket for you with any message, name, or monogram. "The blanket exceeded my expectations," wrote one thrilled shopper. "The colors are gorgeous, and it's super soft yet warm. I'll be using it much longer than Hanukkah season."
13. Hanukkah mug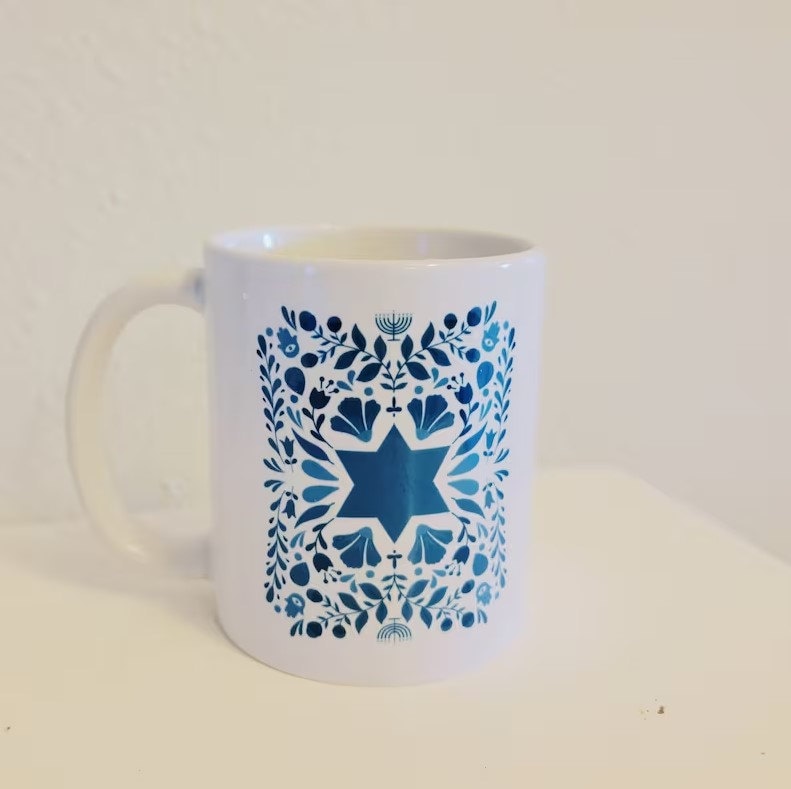 SHOP: Jewish folk pattern ceramic mug from Yehudit Design, $17
Since Hanukkah is an all-day event, coffees and teas abound during this eight-day celebration. Perfect to gift to a coffee-loving friend for the Hanukkah breakfast table, these reasonably-priced coffee mugs are adorned with a traditional Jewish folk pattern in a gorgeous blue, and handmade from white ceramic.
How do we pick the best Hanukkah gifts?
As Etsy Journal editors and contributors research and curate shopping guides for some of the best-loved items on Etsy, we thoughtfully consider the creativity, customization, and craftsmanship that go into each product. We also consider buyer reviews, item ratings, and customer service, and tap the expertise of our in-house merchandising and trends experts to uncover high-quality finds for every budget. You can find more information about each item in the seller's listing details and can take a look at their individual shop policies and reviews, too.