Say goodbye to bad hair days and hello to your new favorite accessory! These headbands are cute, comfy, and crafted by small shops with serious style.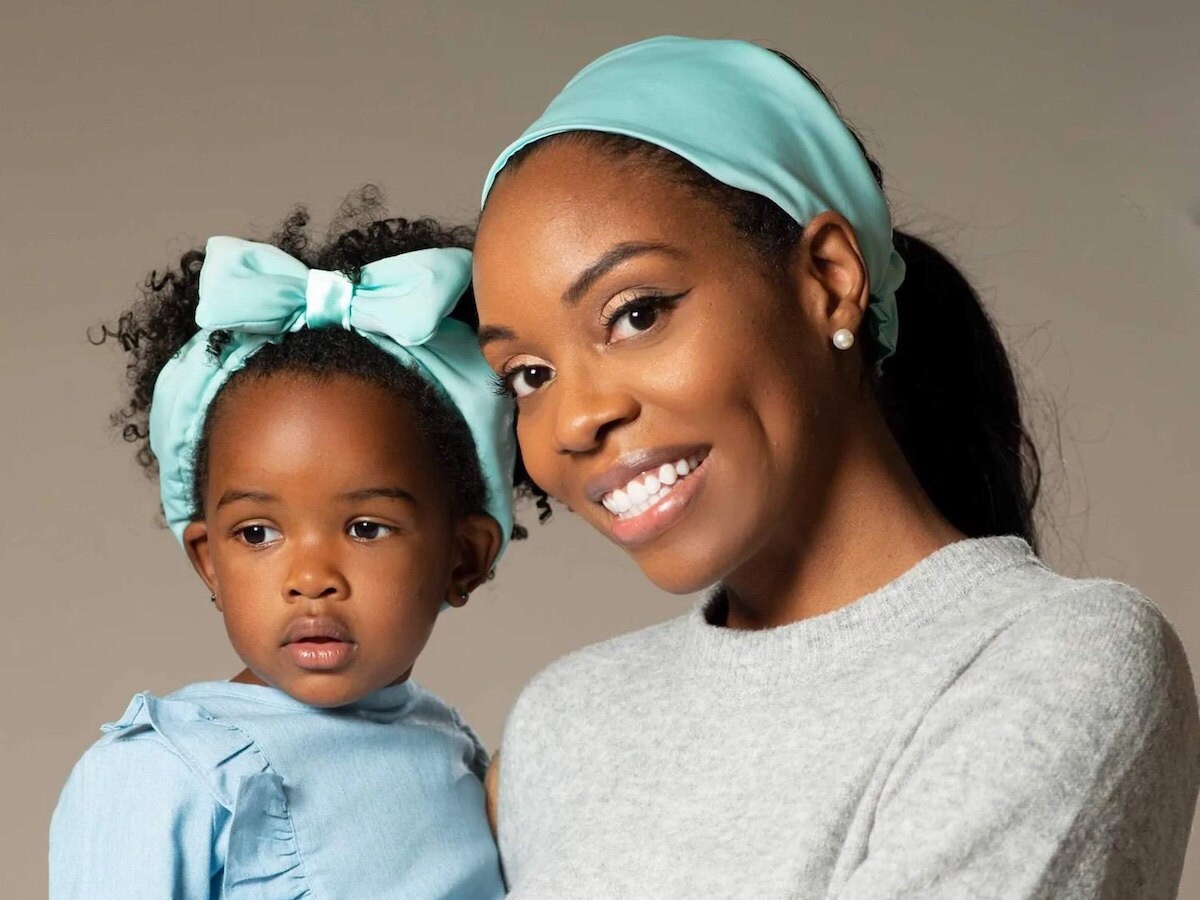 The epitome of form meets function when it comes to multi-tasking accessories, headbands are an essential hairstyle companion that's anything but basic. Whether you're running errands or running on the treadmill, glamming up for dinner or dressing down for a comfy night in, the right headband requires minimal effort to slide in yet delivers some serious style points. And with the irresistible headbands on Etsy, crafted by small shops for all kinds of budgets, there's a look for every occasion life brings your way.
Most versatile headbands
These versatile headband picks are suitable for every occasion, from formal events and dates to shopping trips and movie nights. Dressed up or dressed down, you've just found your go-to accessory.
1. Handmade braided headband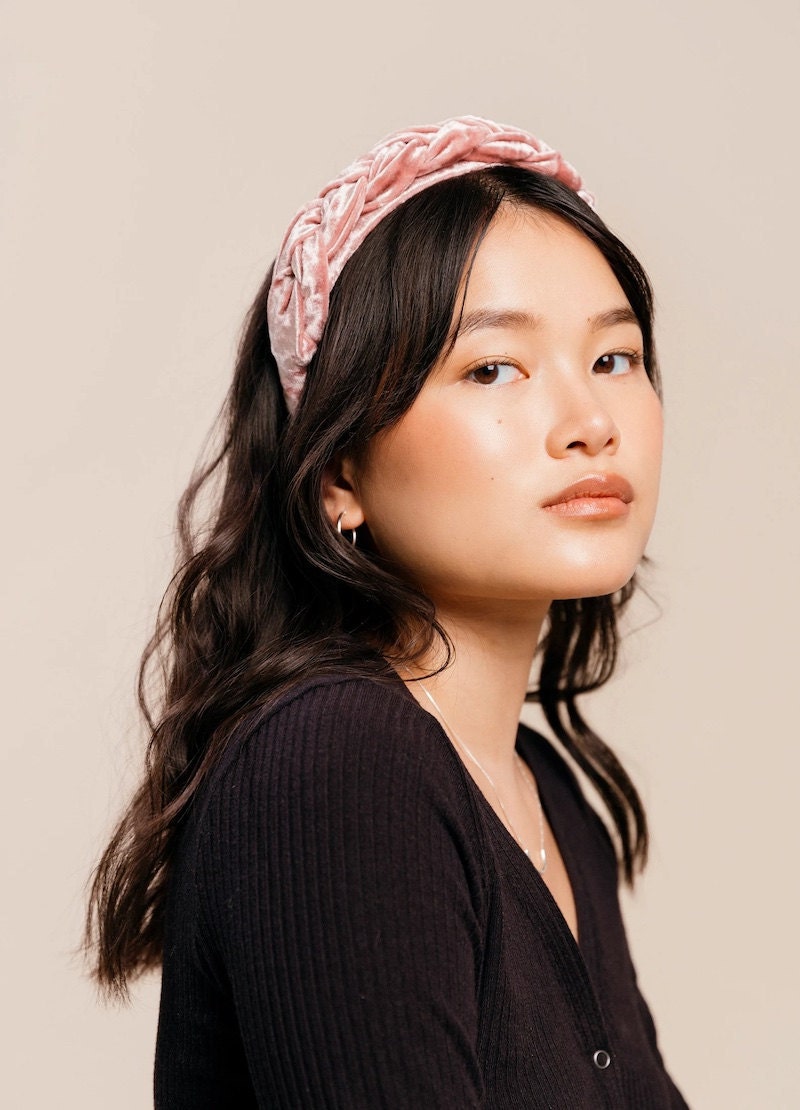 SHOP: Braided structured headband from Bardot Bow Gallery, $35
Shoppers are "obsessed" with these crushed velvet braided headbands, and it's not hard to see why. They come in five exquisite colors—including blue topaz, malachite green, and rose quartz—and, according to their many fans, are "super comfortable," "excellent quality," and, best of all, "no head pinch!"
2. Naturally dyed oversize scrunchie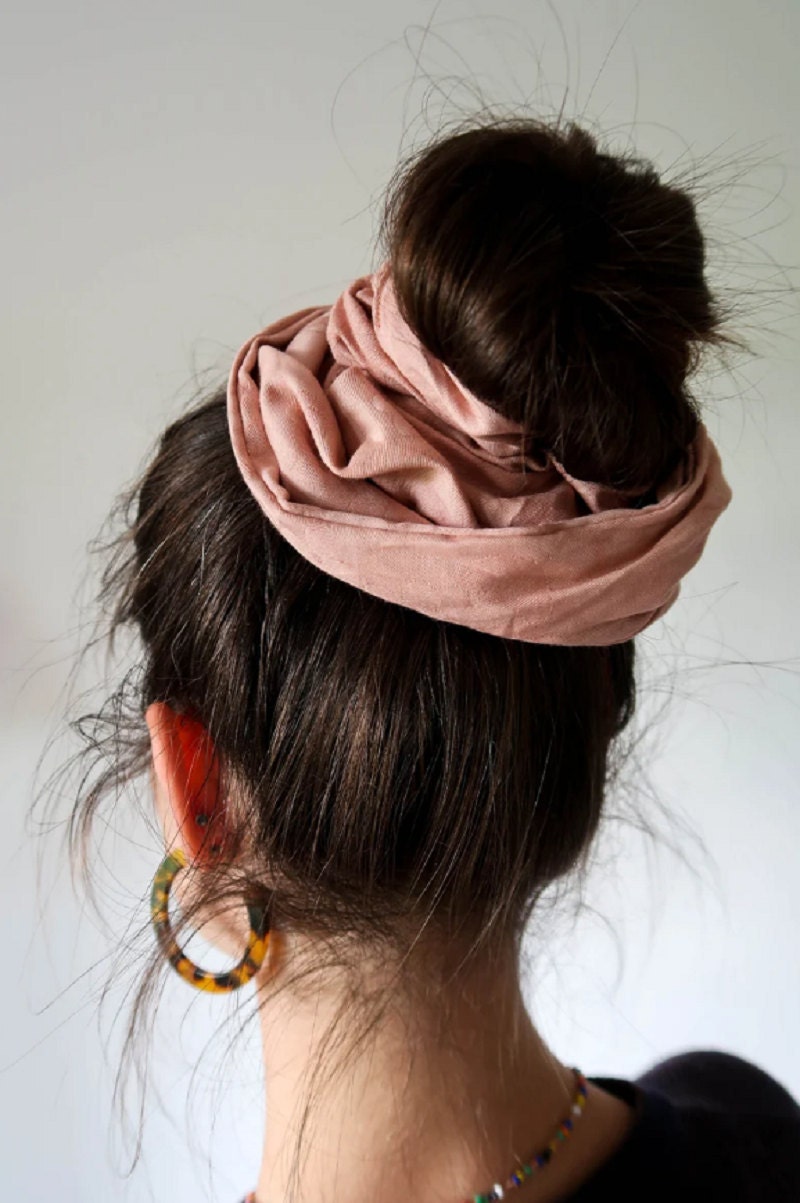 SHOP: Plant dyed XL scrunchie from Romi and me, $16
Is it a scrunchie? Is it a headband? It's whatever you want it to be! This deliciously original super-sized hair scrunchie is hand made from vintage and sustainable cotton that has been naturally dyed. It's available in three colors, and, quite frankly, we want them all.
3. A floral hair wrap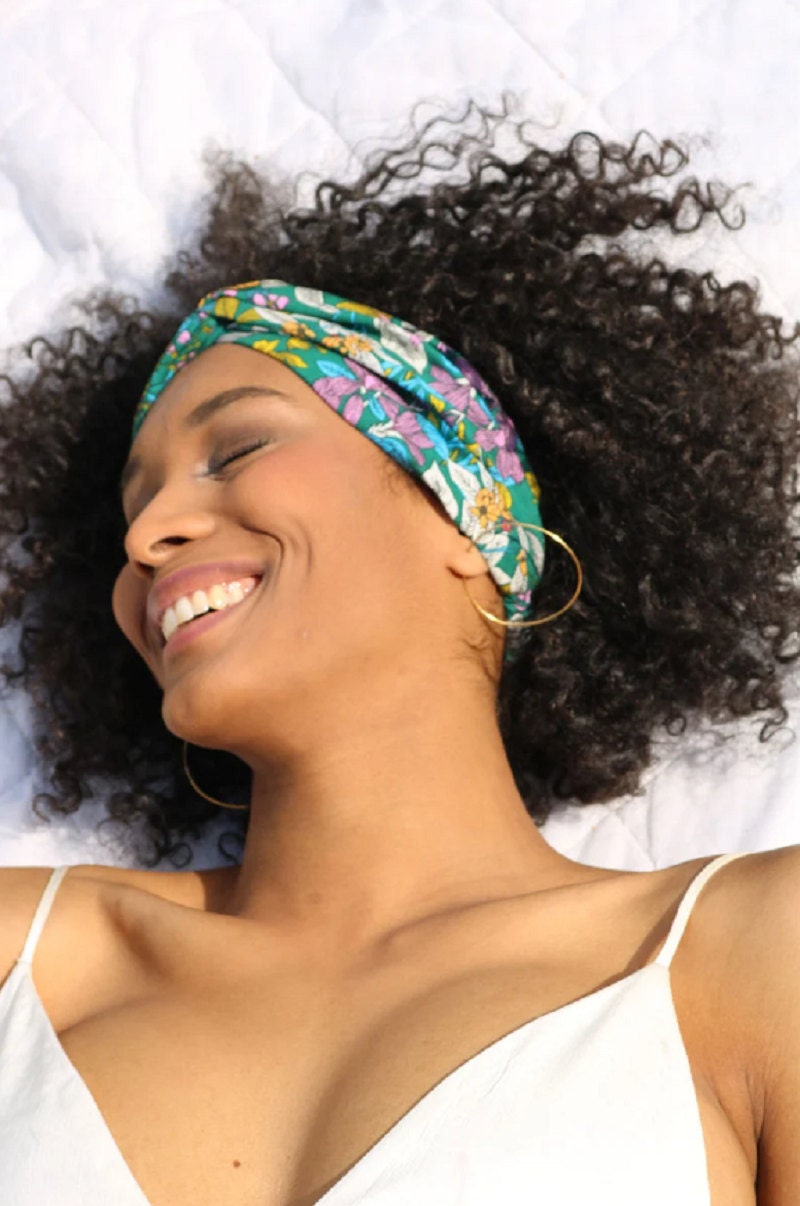 SHOP: Trendy organic cotton headband from Laure Derrey, $36
Perfectly bohemian for those who like a bit of color in their life, these printed headbands have a twist-knotted front and are ethically made from organic cotton in Paris, France. Customers feel that the colors on these headbands "are sublime, and the material is perfect." They also praise the impressively fast shipping.
Unique headbands
Headbands are having a moment, and small shops on Etsy have reimagined the classics with sumptuous fabrics, delicate details, and multi-use styling.
4. Velvet head tie with bow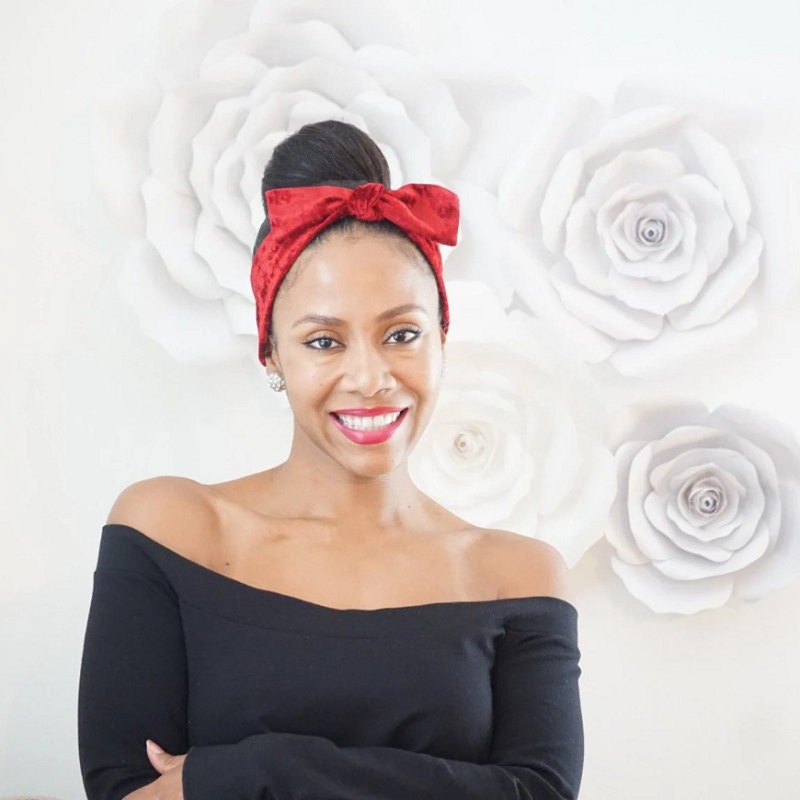 SHOP: Velvet headband with bow from LaDi with a BaBy, $15
These made-to-order red velvet headbands with large statement bow add a celebratory touch to any outfit. They make a great gift idea as they come in a clear cube box with a bow on the top, and can even be machine-washed on a cold setting.
5. Handmade embroidered linen hairband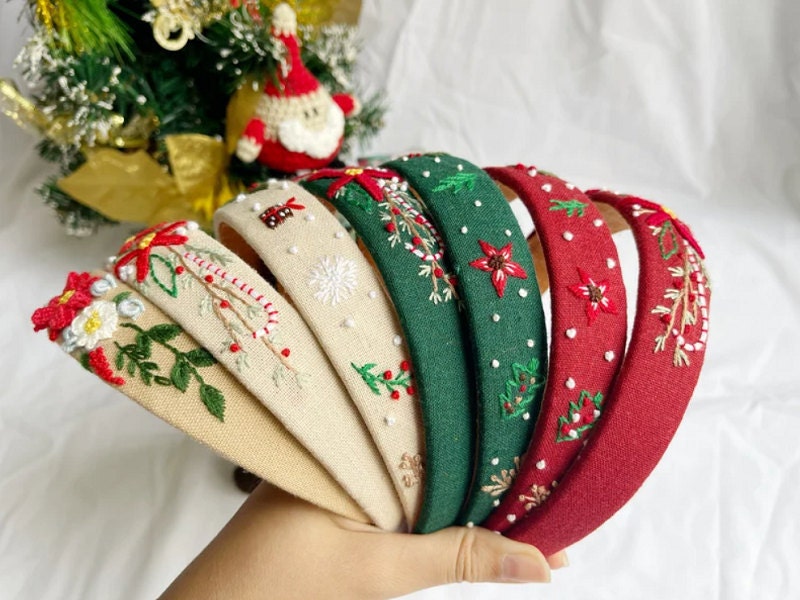 SHOP: Floral embroidered linen headband from MOMIhouse, from $14
Featuring delicate hand embroidered patterns, these affordable handmade linen headbands are durable, and come in 19 different designs and colors—including these five festive ones for the holidays. Happy buyers rave that these headbands are "so beautiful and well made," and call them their "new fave hair accessory."
6. Silk triangle head scarf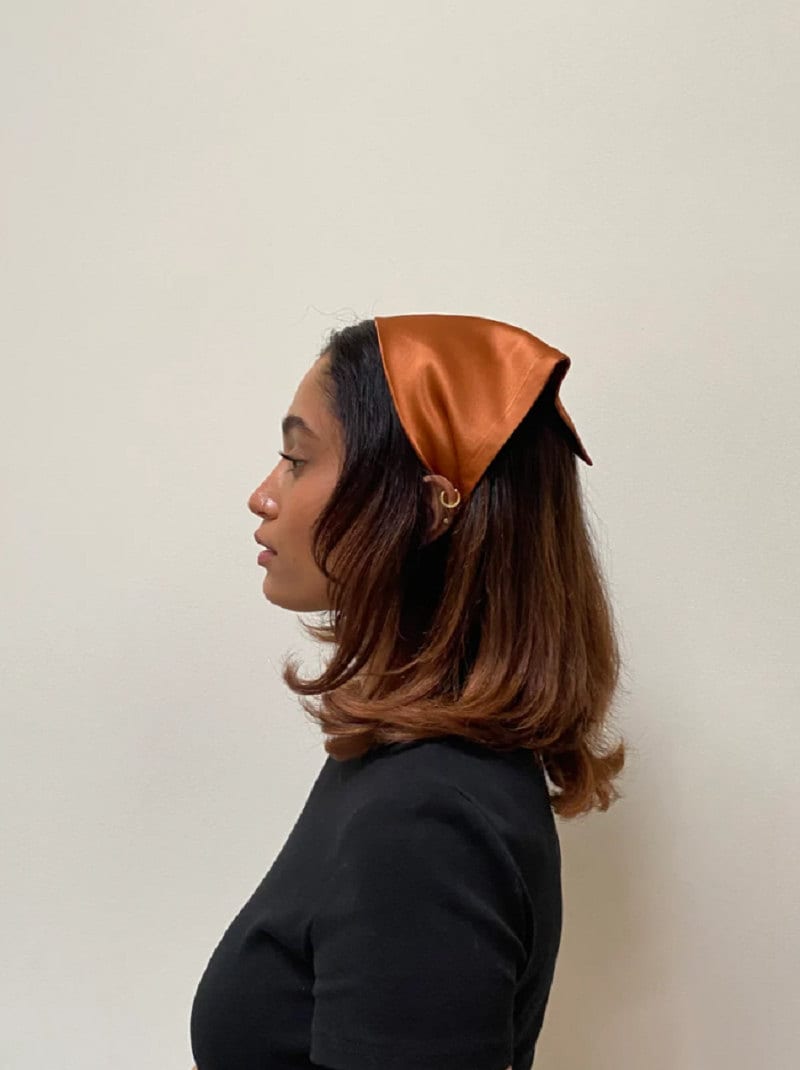 SHOP: Silk Audrey headscarf from Mille Saisons, $29
This bandana-like headband is made from a super soft and silky satin material in several different colors. Ethically hand-sewn in small batches in a small shop in the UK, this item looks great on a dress-down day, but can also be glammed up with a pair of sparkly earrings and a bright lipstick.
Best headbands for curly hair
Whether it's to tame the frizz or accentuate the pouf, a good headband—like these picks for curly hair—works with your hair, not against it.
7. Convertible velvet headband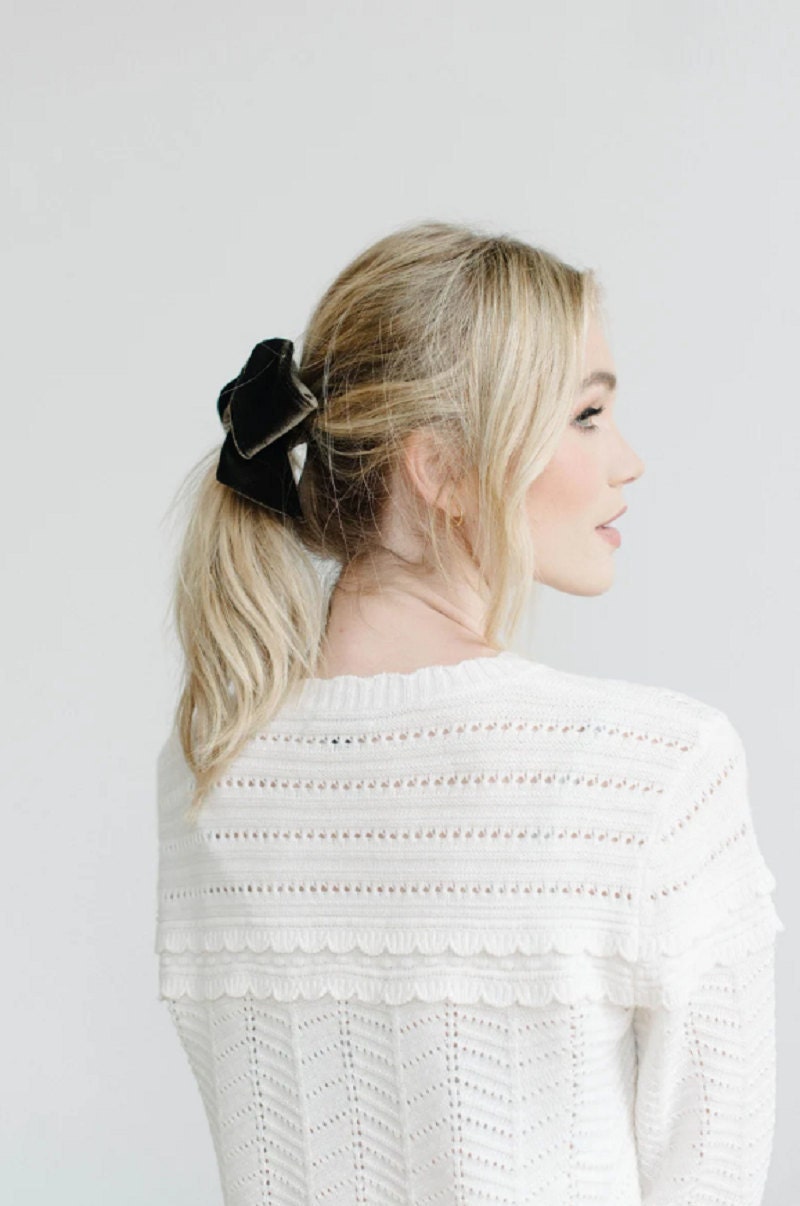 SHOP: Moss green velvet skinny headband from Stansberry, $26
For a more versatile headband you can wear, no matter the occasion, try this convertible, dark green velvety hair tie. Those with curly hair know that their locks rarely behave the same way twice, so having an item you can change to suit your hair's mood is always a plus! Buyers love this hair tie's quality, and say that it's "classy, but also casual."
8. Mommy and me headbands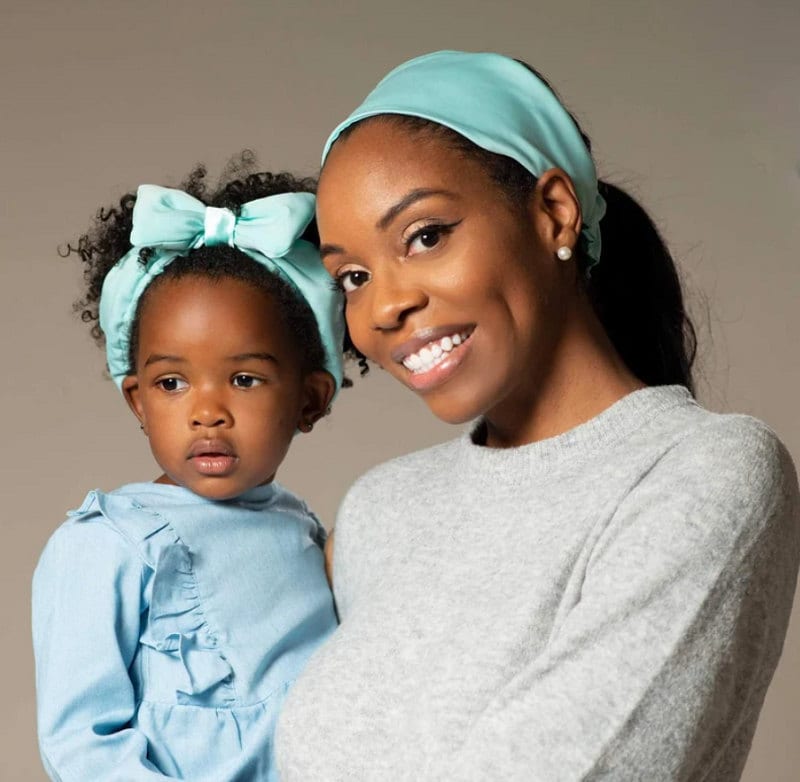 SHOP: Satin-lined headbands from Bramilyn & Rose, from $20
To match with your mini me, these hair ties from Bramilyn & Rose, a small shop in Massachusetts, are available in a choice of six colors and are cuteness defined. Buyers say they are "made with such quality and care," "cute and comfy," and that they're "perfect for in-between protective styles."
9. Handmade silk scrunchie headband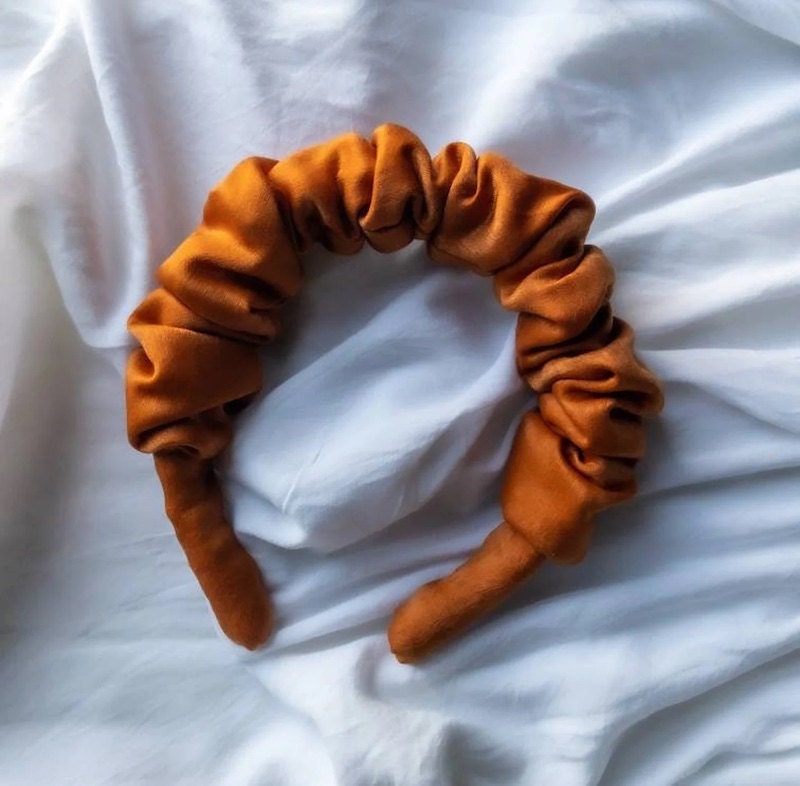 SHOP: Handmade brown silk scrunchie headband from Nativemix store, $29
For an easy daytime hairdo, pop one of these beautifully silky scrunchie headbands on your crown, and you'll be good to go. They're handmade with light padding to be comfortable enough for wearing all day, and shoppers feel they are "beautiful and amazing quality," "really comfy," and that it "makes a great gift."
Best headbands for working out
These beautiful headbands will keep your locks comfortably away from your face when you're practicing self-care at the gym (and while you wash up after!).
10. African print twisted headband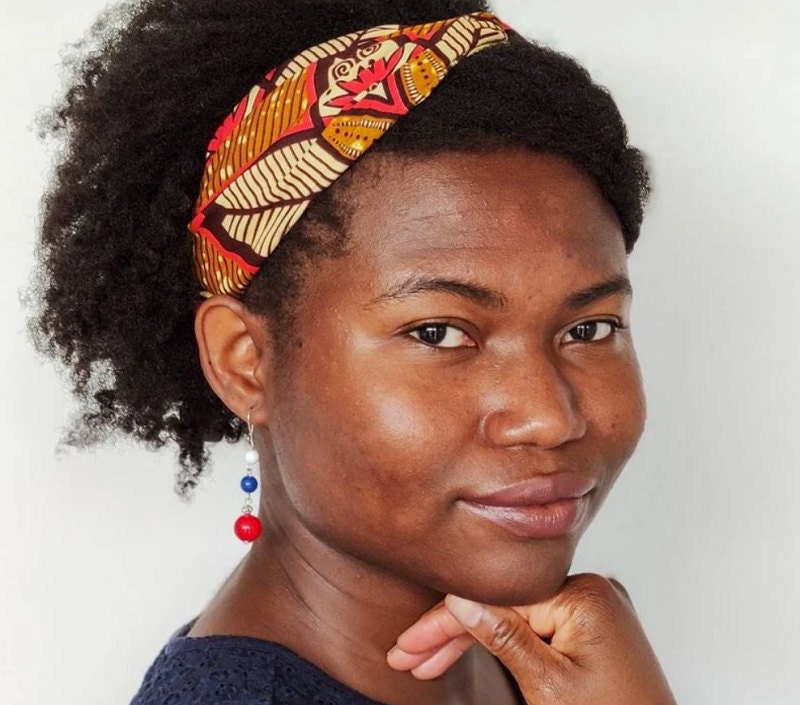 SHOP: African print twisted headband with elastic backing from Osagie Designs, $19
The blend of cotton and elastic on these pretty African print, twisted headbands that are handmade in Germany, make them ideal for working out in. For starters, they stay put when you wear them, and, secondly, they can easily be washed in the machine on a cold setting after you've sweated it out at the gym.
11. Wide knot hair band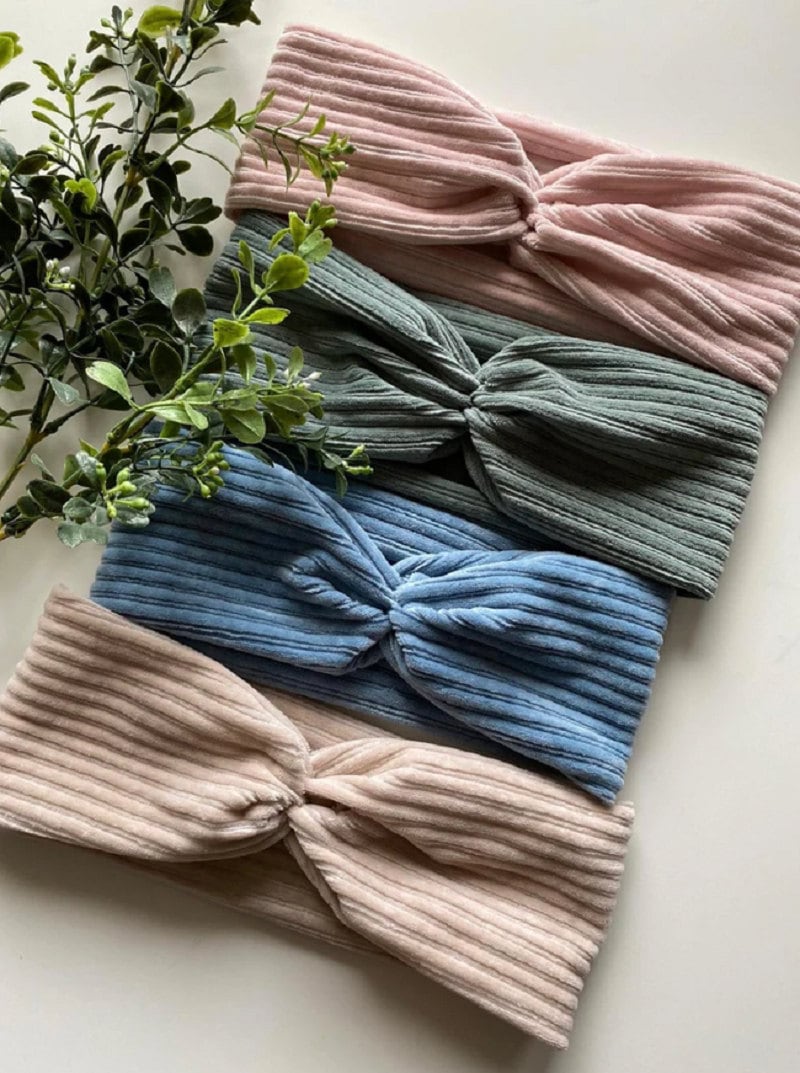 SHOP: Cord hairband from Lenis247, $10
Affordable and available in four colors, these cord headbands are musts for keeping your hair out of your face when working out. They come in six sizes or can be made to measure, to ensure you have the perfect headband that's sure to become a staple in your gym bag. One self-proclaimed "mega satisfied" customer described them as "simple, but still look great". They also praised the optimal fit.
Best wedding headbands
Bridal headbands are one of the hottest headpiece trends for today's brides. Worn solo or with a veil, hair down or swept back, these picks for the best wedding headbands are the perfect accessory to top off a glam head-to-toe look on your big day.
12. Pearl Hair Wreath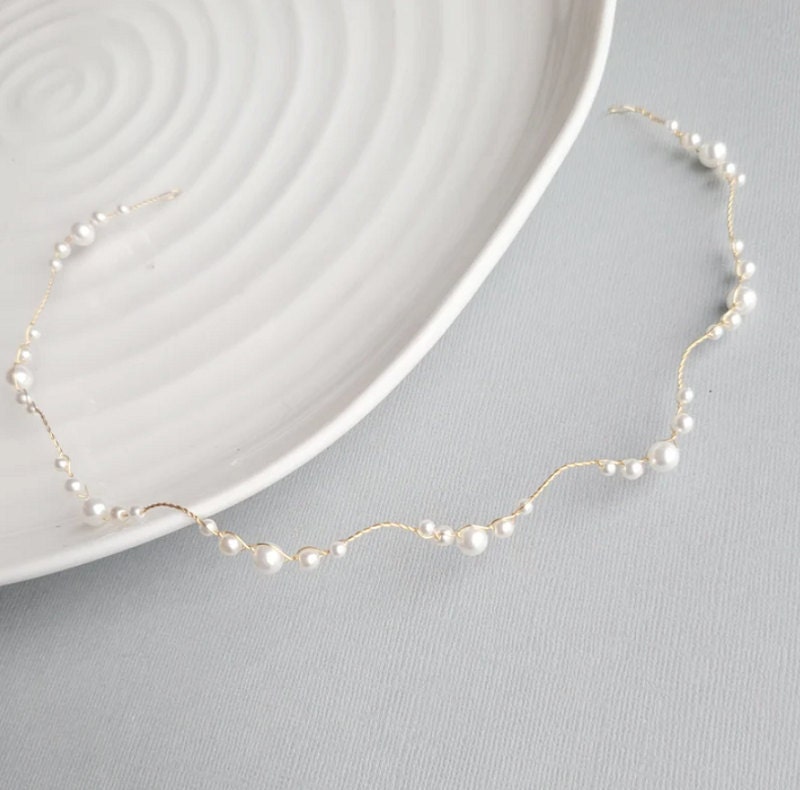 SHOP: Pearl headband from Sara's Boutique, from $27
This elegant wire and pearl wedding headband, with its subtle and delicate understated design, whispers with elegance. It's available in seven lengths in either a silver, gold, or rose gold finish, so you can completely customize your final look.
13. Engraved brass leaves hair vine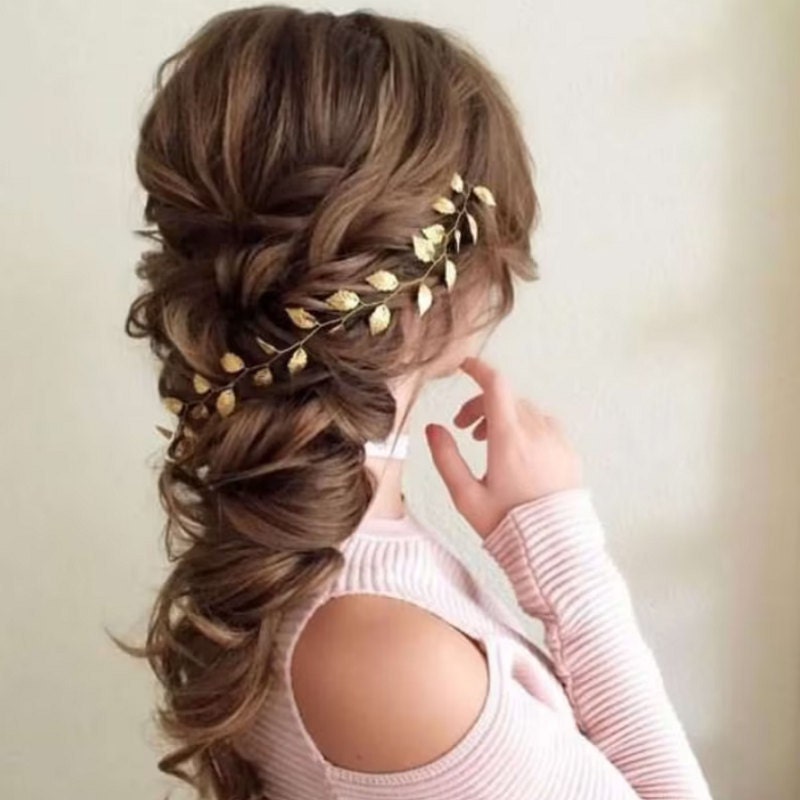 SHOP: Antique Greek style bridal hair vine from Lovely Wedding Dreams, from $29
Let your inner goddess come out to play with this antique Greek-style, leafy vine headband. Handmade in the seller's workshop in France, the headband comes in either silver, gold, or rose gold, and delighted buyers rave that it's "beautiful," "well made," and is of great quality.
14. A floral wedding hair vine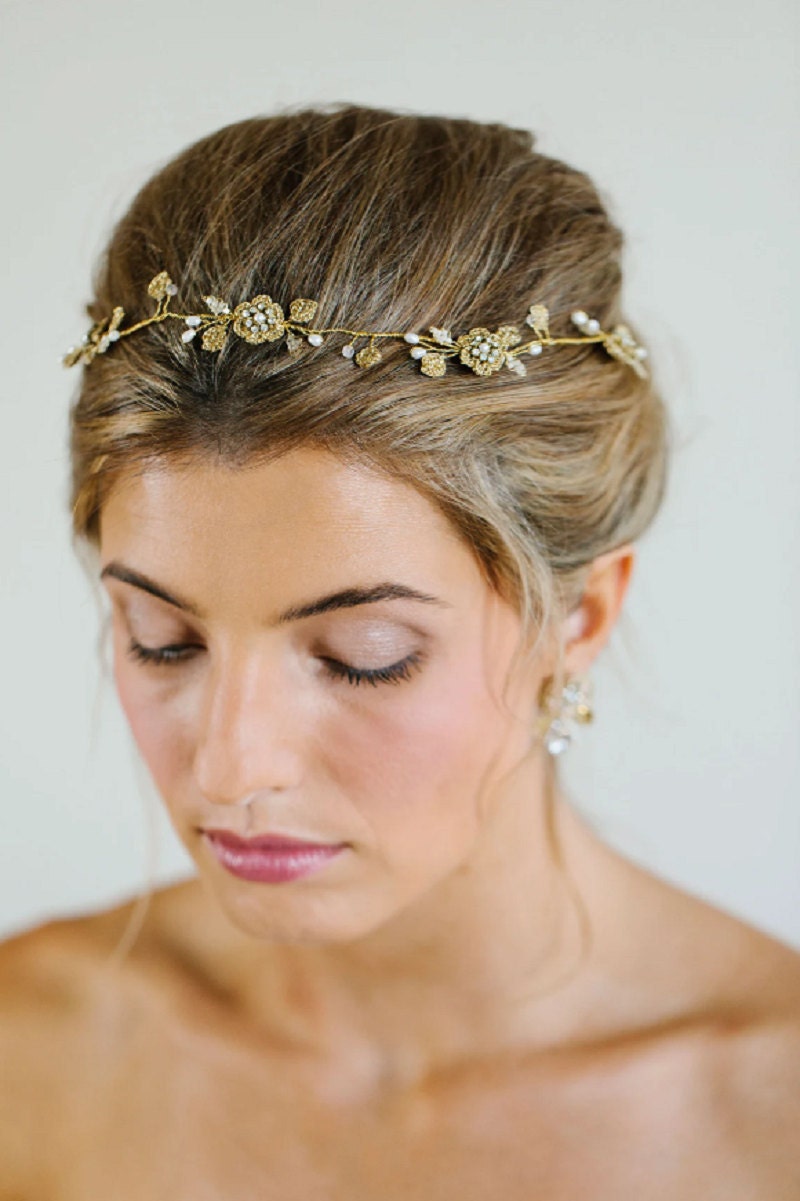 SHOP: Gold floral hair vine from Edera, from $425
Woven through your curls or draping the crown of your head, this handmade precious metal hair vine can be worn with any bridal 'do (or transition as you shift from wearing your hair up to down for the reception). This 24 karat gold-plated metal thread headband features real ivory freshwater pearls, and each item is bespoke and custom-made to order for a handcrafted heirloom you can pass down to future generations.
15. Statement flower crown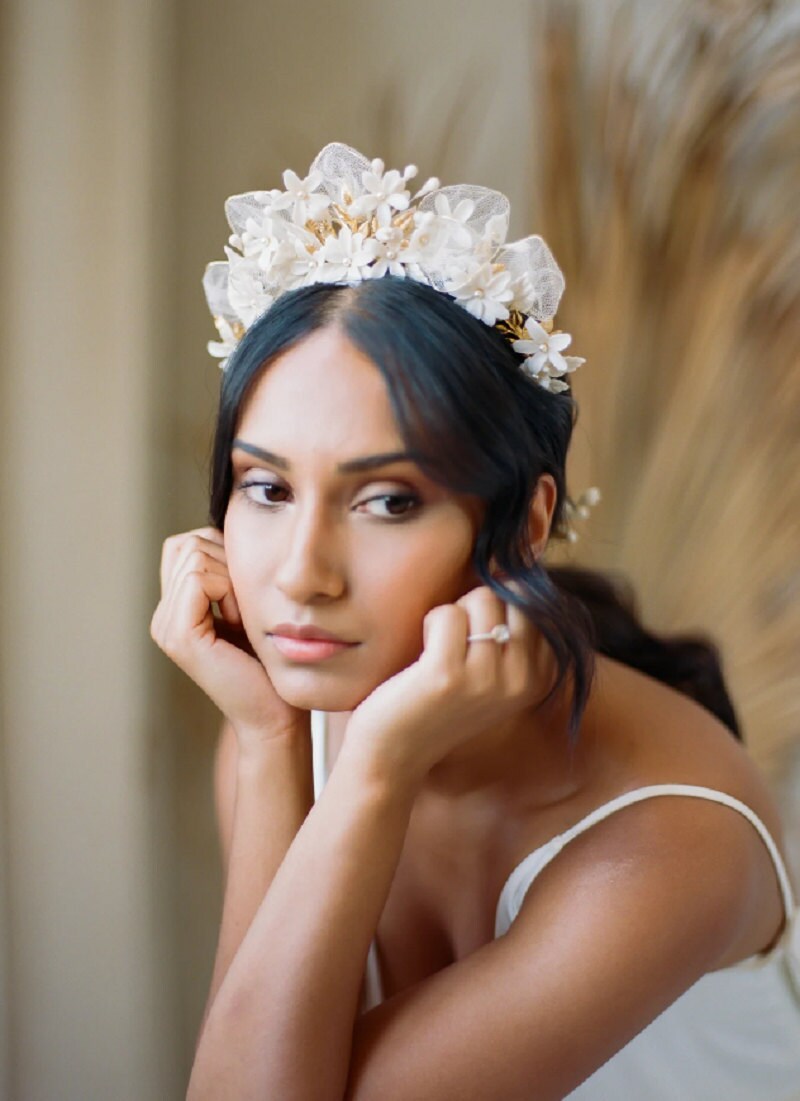 SHOP: Gold clay flower crown from Blair Nadeau Bridal, $455
The Josephine headband was inspired by a 1919 vintage wax crown that the seller was recently asked to restore. Named after its original bride, this heirloom piece has a host of exquisite hand sculpted clay flowers, buds, and leaves with silk tulle, metallic ribbon, dainty glass pearls, and gold or silver detailing.
Looking for more bespoke accessories to complete your look?
Here are a few more collections we're loving:
How do we pick the best headbands?
As Etsy Journal editors and contributors research and curate shopping guides for some of the best-loved items on Etsy, we thoughtfully consider the creativity, customization, and craftsmanship that go into each product. We also consider buyer reviews, item ratings, and customer service, and tap the expertise of our in-house merchandising and trends experts to uncover high-quality finds for every budget. You can find more information about each item in the seller's listing details and can take a look at their individual shop policies and reviews, too.