Show your hardworking party host you appreciate their invitation and effort with these heartfelt hostess gifts straight from independent makers.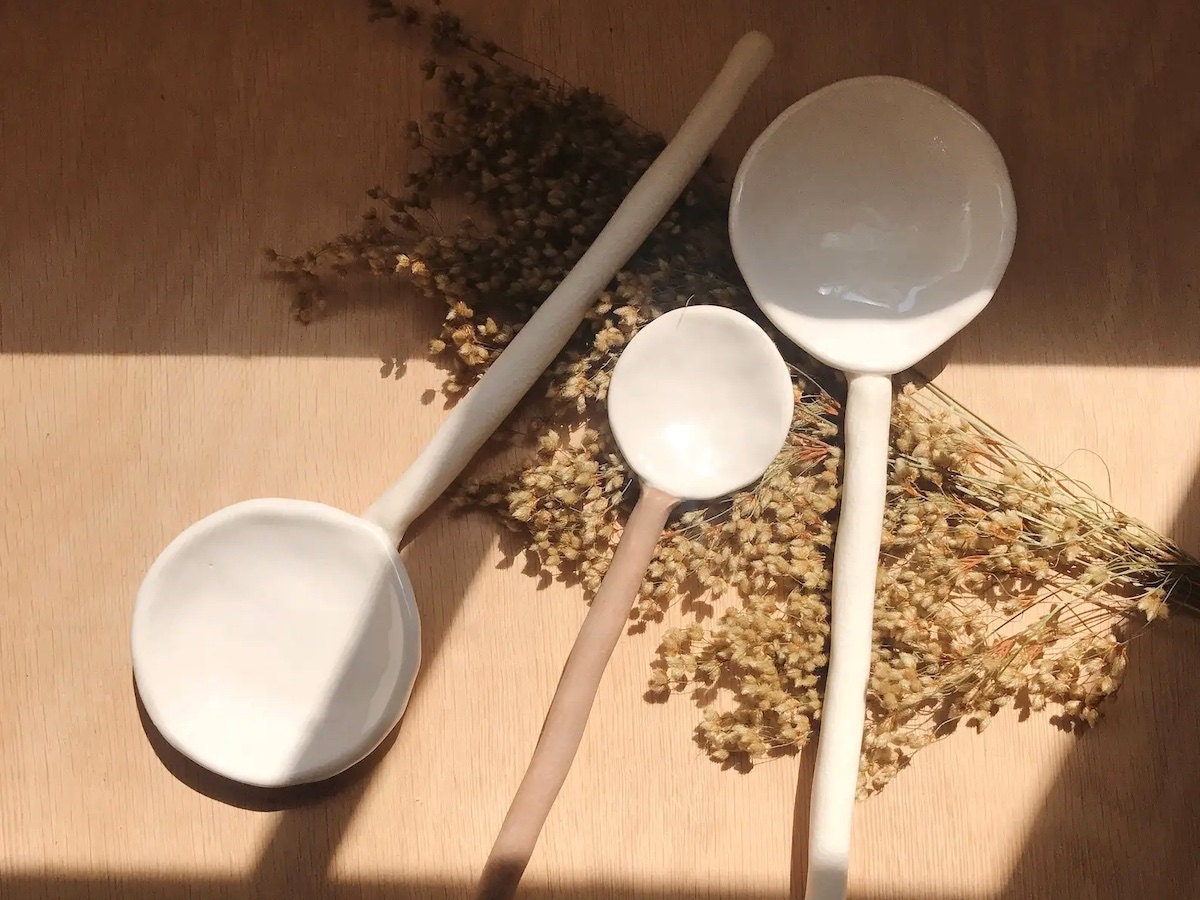 Grand celebrations like a housewarming, birthday, or engagement party are the perfect time to show up with a little something special for the hostess, but recognizing an everyday dinner invitation with a token of appreciation is just as thoughtful. Your hostess gift can match the scale of the gathering—pick a small yet special thank you gift like a personalized mug for a quick brunch or a luxurious gift like a throw blanket or elegant silk robe to thank your host for a weekend-long stay.
Traditional gifts for the host often include a bottle of fine wine and a bountiful bouquet of fresh flowers. While these thank you gifts are always appreciated, choosing unique hostess gifts from small shops on Etsy expresses just how dear you hold their hosting efforts. (And don't worry! If sips and stems are your go-to, we've found some great hostess gift ideas to make those feel extra-special, too: Add a seasonal wine bag and a sculptural vase and gift away.)
Need a last-minute hostess gift? Even exceptional craftsmanship can ship quickly when you shop directly from makers on Etsy. Simply filter your gift search by estimated arrival date to find hostess gifts that should arrive in time for your event.
Unique hostess gifts
The extra care that goes into handcrafting these unique hostess gift ideas is evident in the tiny details that landed them a spot on our list. From a scented candle that nods to your inside joke with the hostess to practical presents for the always-on host, these unique hostess gift ideas say "thank you" in extraordinary ways.
1. Leather oven glove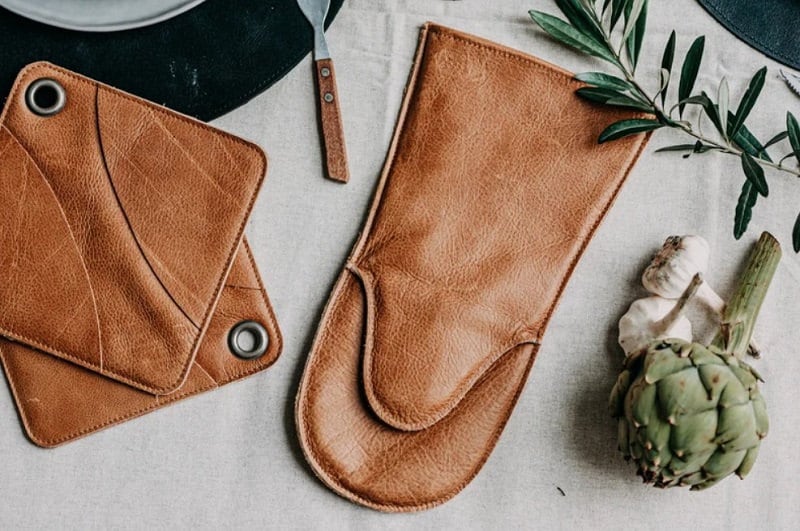 SHOP: Buffalo leather oven mitt from Brickwalls and Barricades, $99
Whether your host is prepping a hearty roast or whipping up a backyard barbeque, they're sure to love these buffalo leather protective mitts—don't be surprised if they break them out and put them to good use right then and there! These unisex gloves are perfect gift for male hosts, as—according to many happy buyers—they are large enough to accommodate bigger hands. They also "provide a good grip," and are "very well made."
2. Statement candles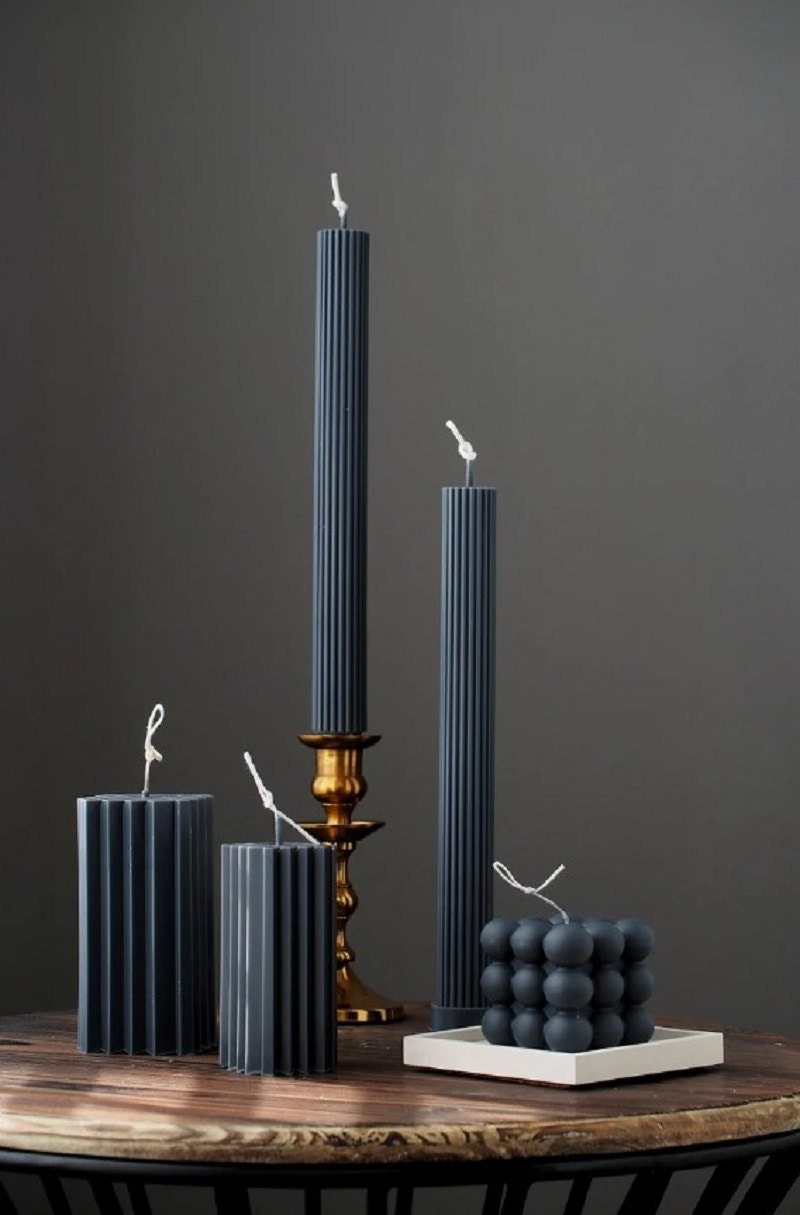 SHOP: Handmade accordion candle from CaiCai Handmade, from $18
While scented candles are universally accepted as one of the best hostess gifts under $20, it can be challenging to choose an aroma for a host you don't know well. Enter these elegant, handmade black accordion candles. They're timeless, classy, and original—perfect for any home decor style.
3. Recipe-engraved cutting board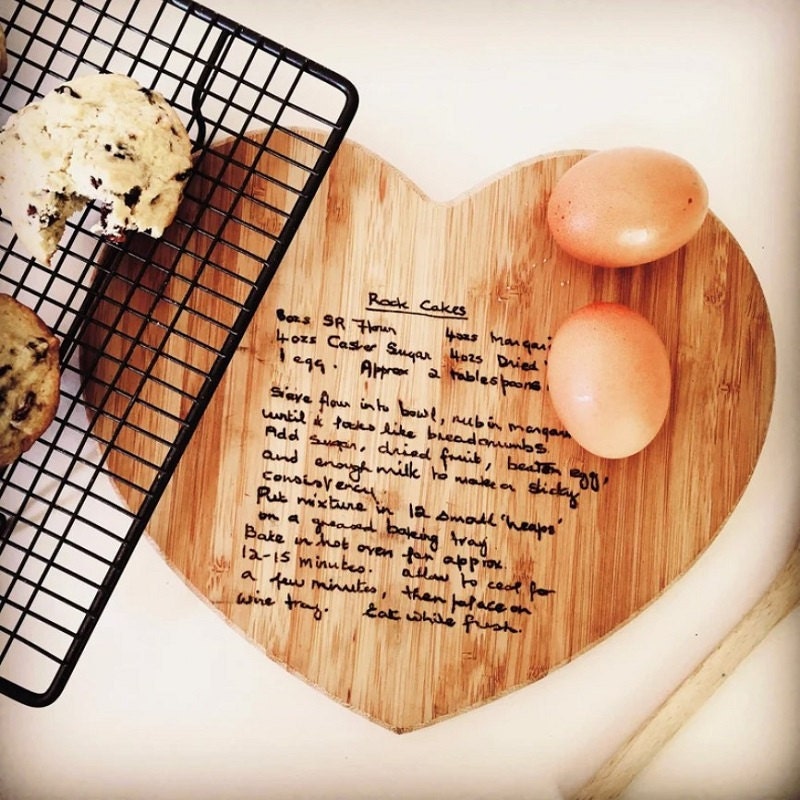 SHOP: Personalized handwriting chopping board from Messy Merlin, $48
If there's one thing any avid dinner party host loves, it's a tasty new recipe to share with their guests. Give them something even better, and share your favorite party recipe on one of these personalized bamboo cutting boards, which come in either a rectangle or heart shape. Buyers say these boards are "beautifully made," and "unique," and that "the handwriting looks amazing."
4. Denim casserole tote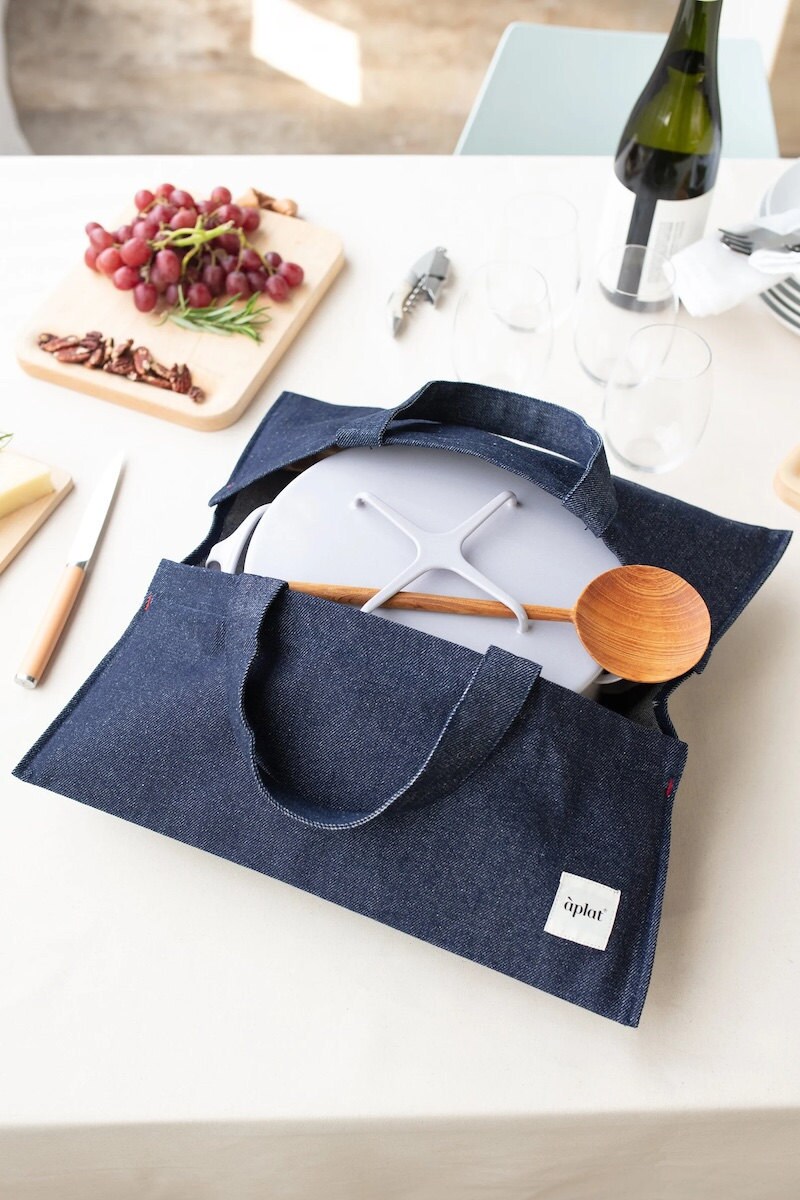 SHOP: Plat cookware tote from Aplat, $80
When it's time for the host to step away from their own home and bring a dish to share, this denim cookware tote with handles can carry a whole casserole pot or square dutch oven. Designed in San Francisco using surplus raw denim, this unique hostess gift shows that you recognize their passions for serving and sustainability.
5. Personalized wine rack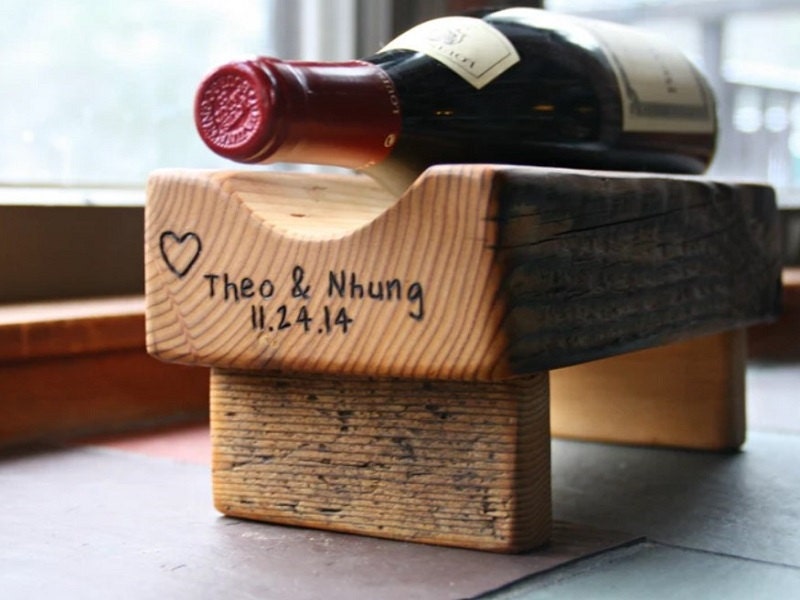 SHOP: Reclaimed wood wine rack from Rustic Craft designs, from $101
Why present your hostess a bottle of wine that will last just one night, when you can take this personalized, one-of-a-kind reclaimed wood wine rack that can be enjoyed for all those parties yet to come? (You can, of course, also add a bit of the wine you had your eye on!)
6. A candle that announces your exit strategy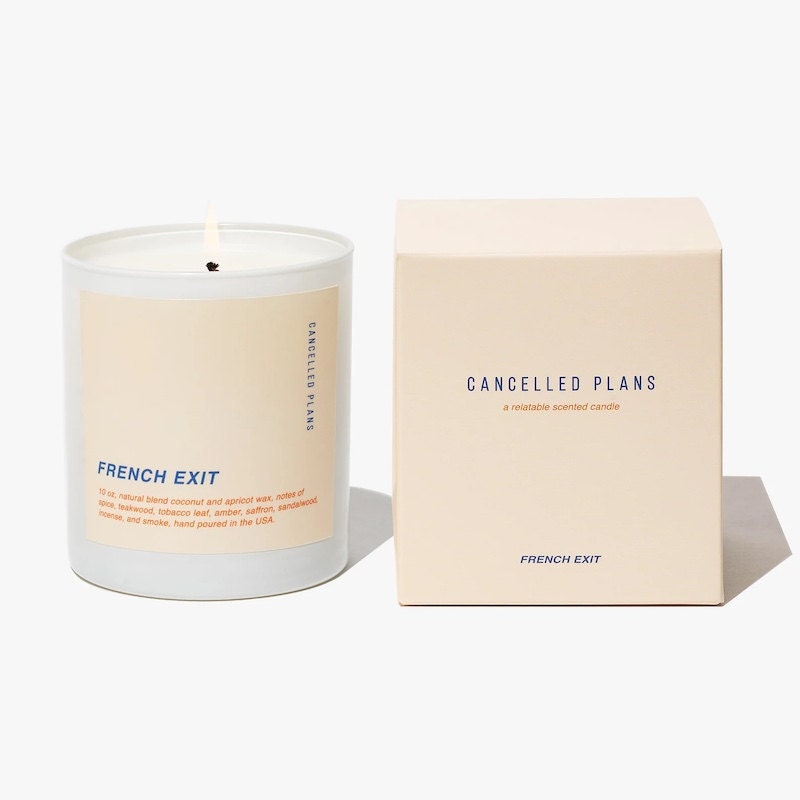 SHOP: French Exit candle from Cancelled Plans, $32
This shop's aptly named "French Exit" candle, with notes of spice, teakwood, saffron, and sandalwood, is described as "just trying to sneak out of parties and be in bed by 9pm." Beloved as a hostess gift by buyers who rave about the scent "throw" (how well it fills the room), the understated packaging doesn't even require a bow to be present-worthy.
7. Minimalist wooden plant pot with stand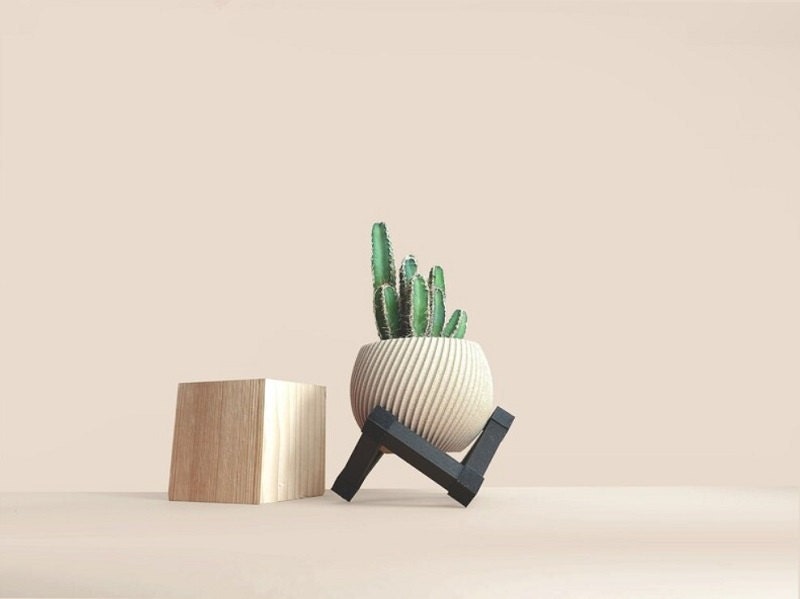 SHOP: Recycled wooden plant pot with support for plants from ESOXIA, $46
If your hostess is also a plant lover, you can't go wrong with one of these beautiful planters which are made from recycled wood and an eco-friendly cornstarch bioplastic. Perfect for succulents and other indoor greenery, this hostess gift's minimalistic yet unique design blends easily into any home aesthetic, and the potted blooms will long outlast the final party toasts.
8. Monogram doormat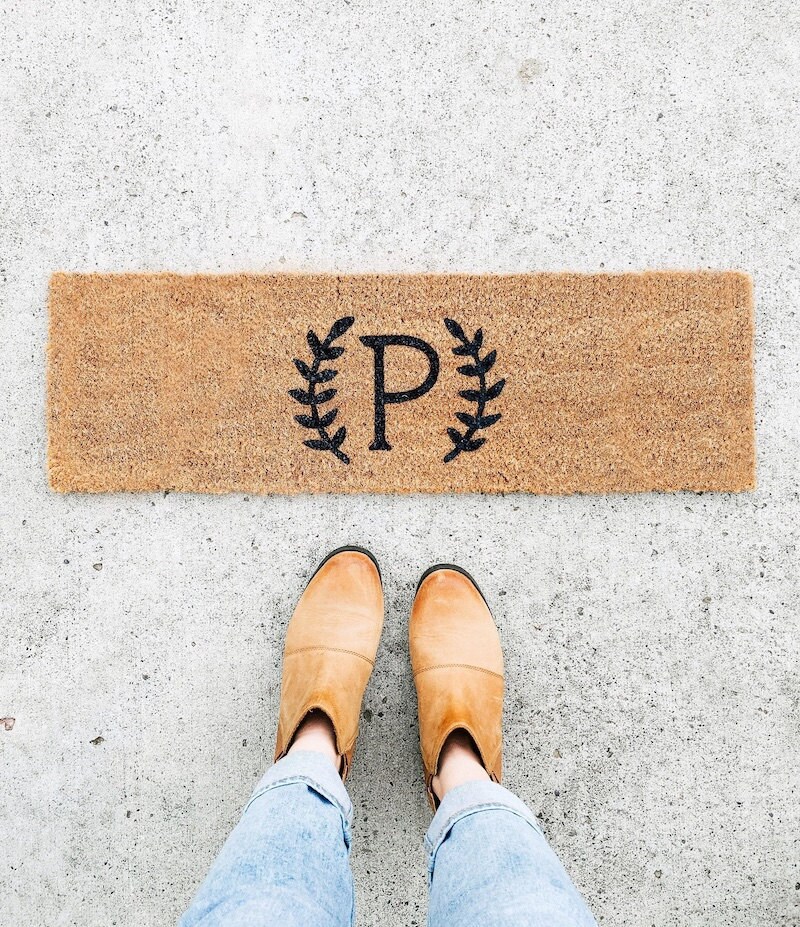 SHOP: Mini welcome mat from Grateful Paper Co., $53
Recognize your host's always-welcoming aura with a practical yet unique hostess gift idea: a perfectly personalized welcome mat that's sized just right for intimate doorsteps and apartment living. These mini handmade coir mats from Grateful Paper Co. in Idaho can be customized with a wreath monogram for a personalized touch that's less expensive than a formal flower arrangement and much more useful.
Best holiday hostess gifts
During the busiest hosting season of the season, a thoughtful hostess gift is the perfect way to acknowledge all the effort and heart your host has put into making each gathering extra special. These holiday hostess gifts are seasonally appropriate yet sure to be enjoyed all year-long.
9. Juniper and sage reed diffuser
SHOP: All natural oil reed diffuser from The Moonstone Candle Co., $39
With an earthy and woodsy relaxing blend of aromas, this woodsy juniper and sage oil reed diffuser is a gift that keeps on giving (for at least four months, according to one satisfied shopper). Buyers share reviews that diffusers from The Moonstone Candle Co., a small shop in North Carolina, have a "great look," are "elegant in design and smell," and " the packaging is luxurious from top to bottom." A holiday hostess gift that's ready to give, no gift wrap required? We're in!
10. An autumnal wreath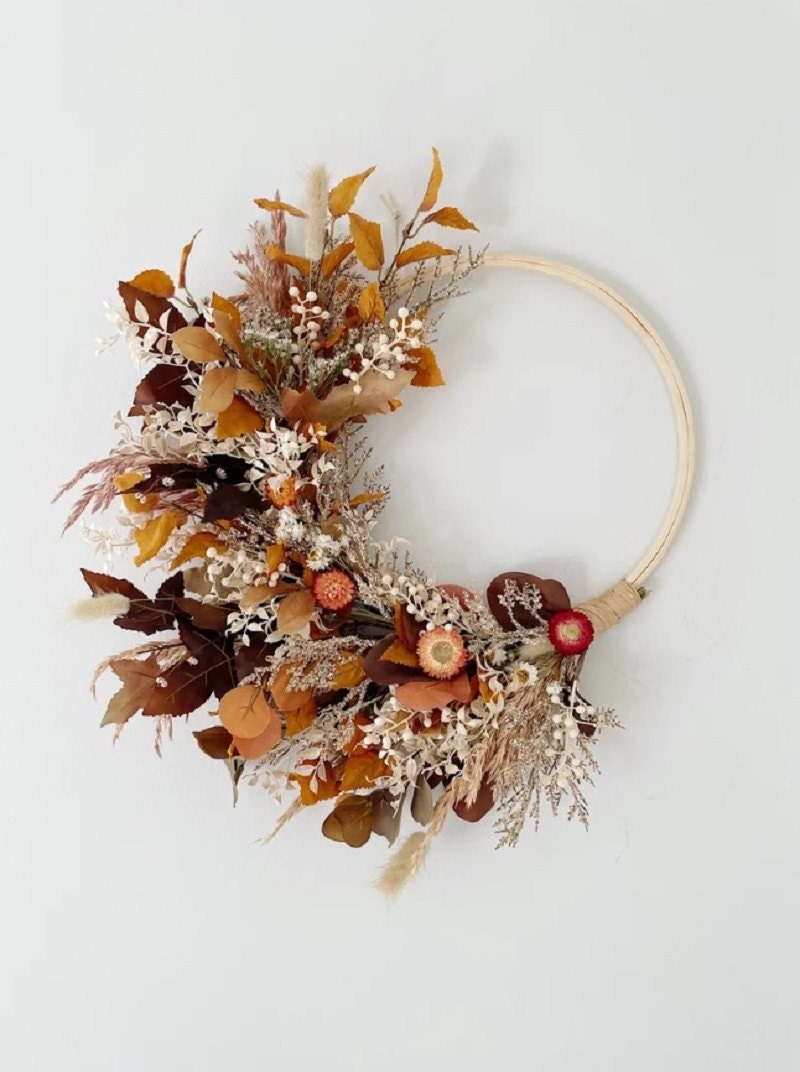 SHOP: Modern fall wreath with apricot strawflowers from Nova Wreaths, $131
For a longer lasting take on a beautiful floral bouquet, opt to gift your holiday hostess one of these neutral bamboo wreaths featuring apricot strawflowers and an array of leaves in seasonal fall colors. Made in the seller's studio in Northern Virginia, these delicate wreaths can be brought out and enjoyed year after year.
11. Reindeer wine bag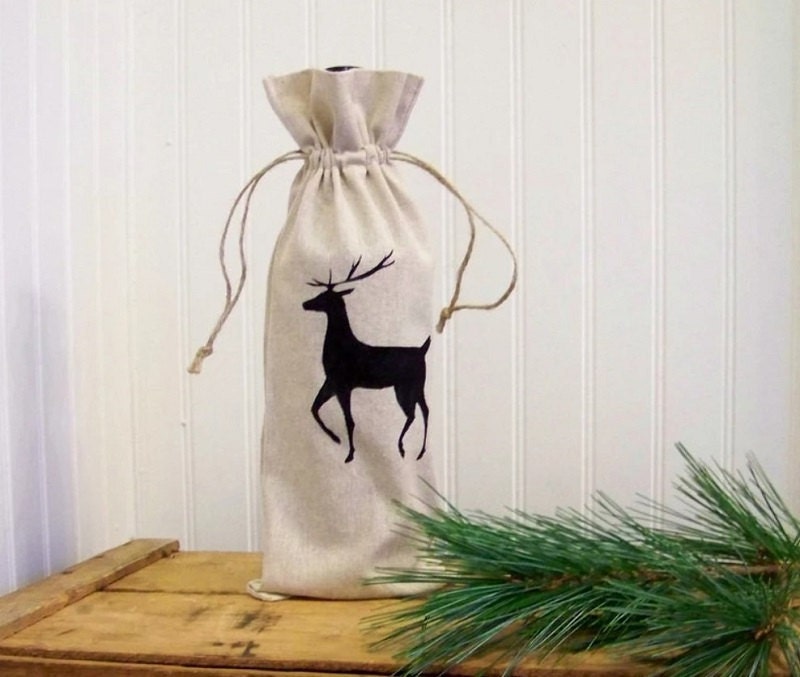 SHOP: Custom wine bag from Jennifer Helene Home, $18
If bringing the beverages to a party is your signature hostess gift, pop your favorite bottle of vino into this 100% cotton and jute twine wine bag. The bag is reusable and comes in a choice of 24 different colors and includes optional personalization.
Best hostess gifts for showers
While bridal and baby showers tend to be community affairs with multiple friends and bridesmaids pitching in, a heartfelt gift lets the lead hostess know you see and appreciate all they've done to make the day so special.
12. Green marble and white terrazzo serving board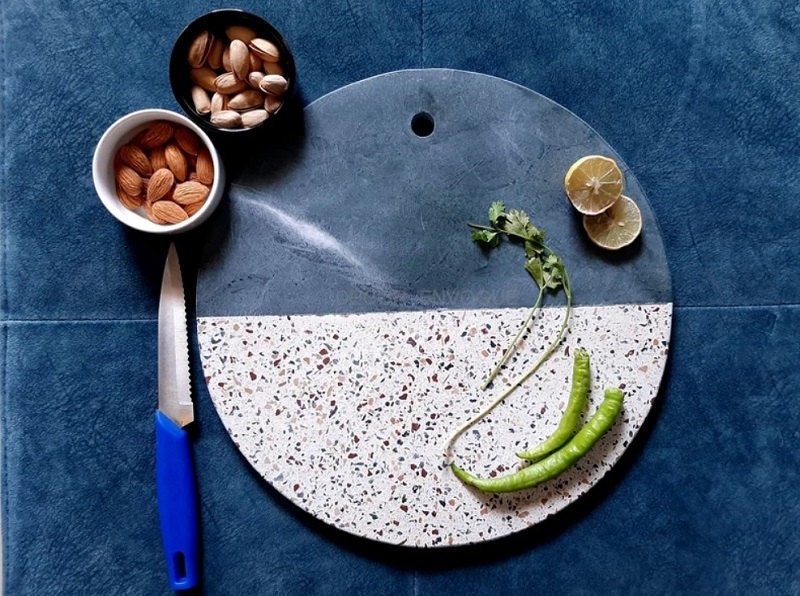 SHOP: White terrazzo round serving board from Decor EnVogue, $119
Want to make your hosts's duties for the shower just a bit simpler? Dress this gorgeous green marble and white terrazzo board as a charcuterie board, and kick off the grazing with a buffet-ready gift!
13. Tiered candle holders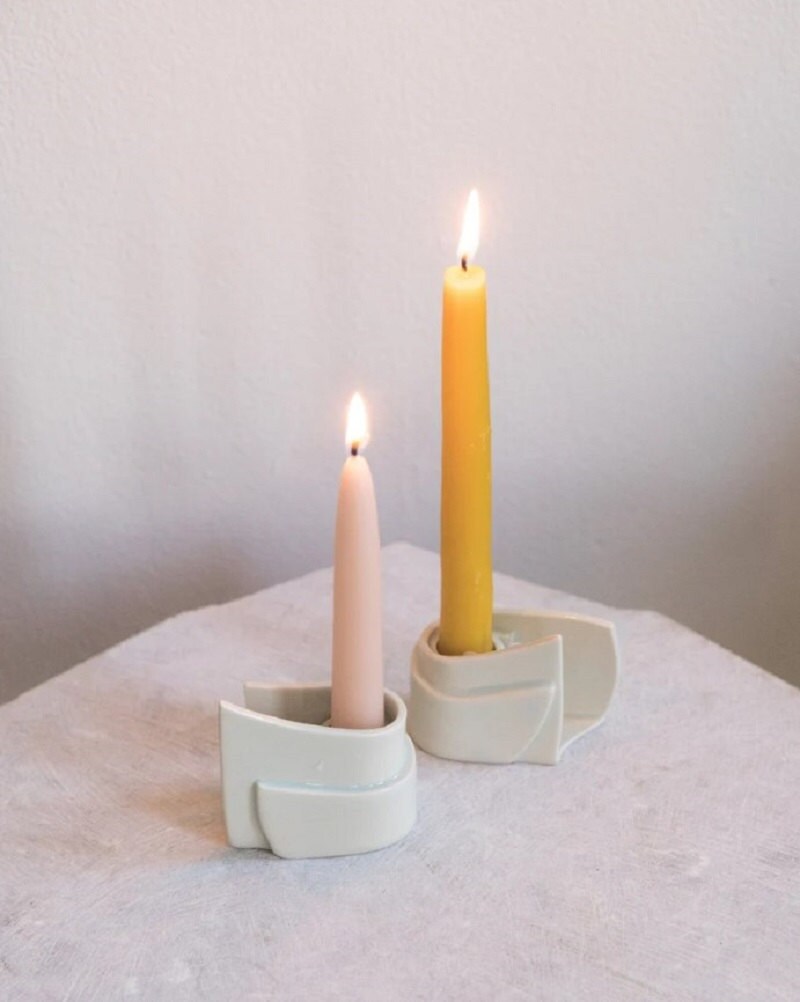 SHOP: Set of tiered candle holders from Taylor Ceramics, $82
These original porcelain taper holders come in a neutral and timeless white and are available in a set of either two or three. For an extra thoughtful touch, don't forget to include a set of hand-poured tapered candles, too!
14. Zodiac coaster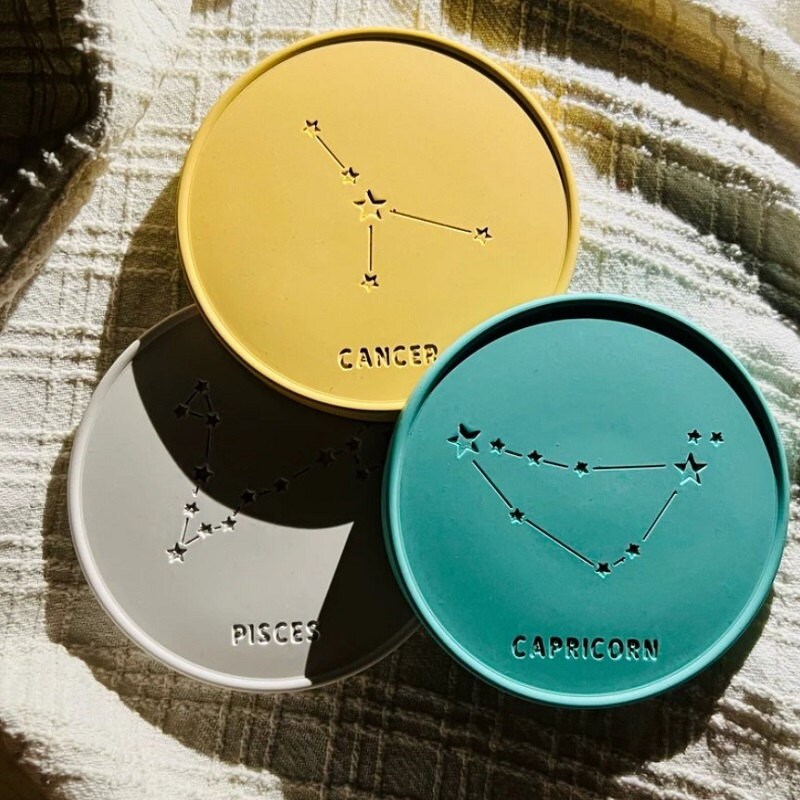 SHOP: Jesmonite zodiac sign coaster from EBatelier Sisters, $10
We're absolutely loving this practical, personalized, and super affordable zodiac gift made from eco-friendly jesmonite. Make them a sweet memento of this hosting occasion by picking the sign of the bride or baby.
15. Self care gift box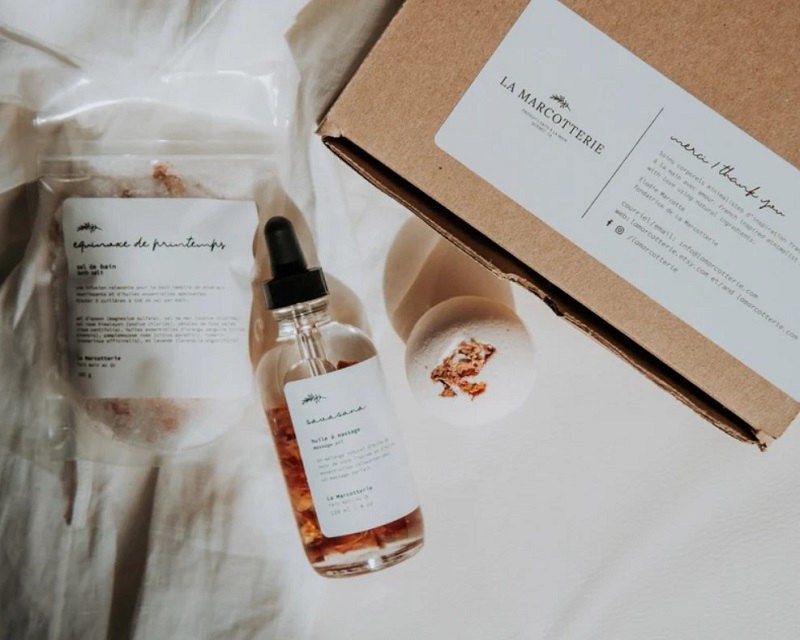 SHOP: Pamper gift set from La Marcotterie, $74
After organizing, preparing, and hosting an elaborate party, there's only one thing a hostess needs: some relaxation. Make sure she gets the 'me-time' she deserves with a gift box like this ready-to-ship option containing a bottle of massage oil, a bath bomb, and a packet of bath salts—all handmade from 100% natural and vegan products that smell absolutely delectable.
16. Stylish modern mug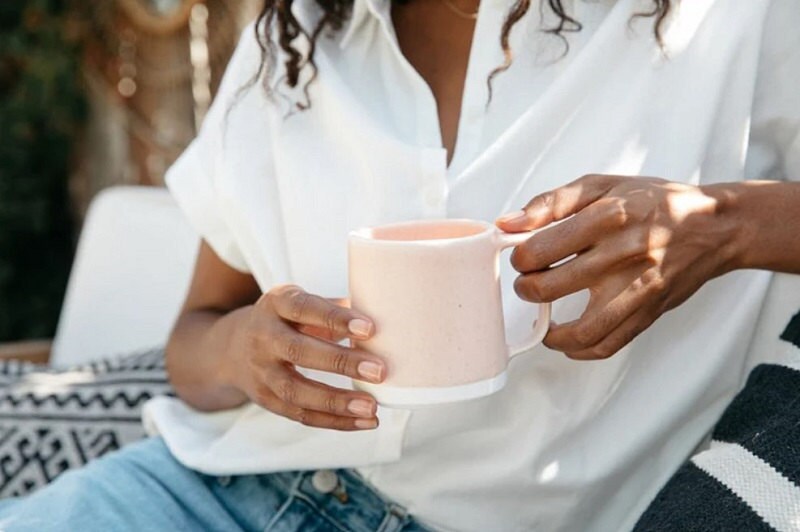 SHOP: Danish mug from Paper & Clay studio, $60
There's nothing better than the day's first cup of java—apart from drinking it out of a cozy hygge-inspired mug, that is! If your party hostess is an avid coffee lover, this handmade satin-glazed ceramic mug—available in two-tone black, dark teal, and speckled cream—will become her go-to coffee cup.
17. Porcelain flare vase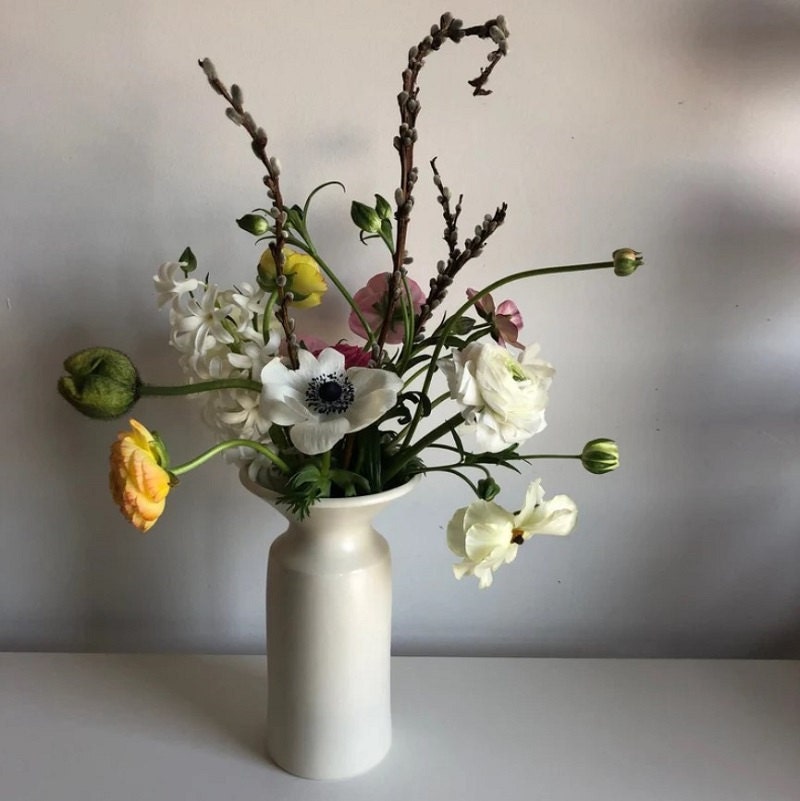 SHOP: Porcelain flare vase from Taylor Ceramics, $58
Step into the shower with a floral bouquet beautifully presented in this elegant and timeless satin-glazed flare vase that literally goes with everything. Thrilled buyers say they're the perfect size for windowsills, come "very well packed," and that they even make a great "18th (porcelain) anniversary gift."
Best last-minute hostess gifts
Have a last-minute party invite and need a quick hostess gift? Don't sacrifice on the special just because you're in a hurry. Keep a few of these last-minute hostess gifts on-hand for your next impromptu gathering, or shop for a printable wall art print you can download and prep right at home in minutes. When you shop for hostess gifts directly from small shops on Etsy, finding a last-minute pick that checks all the boxes is extra easy and extra thoughtful.
18. A versatile tea towel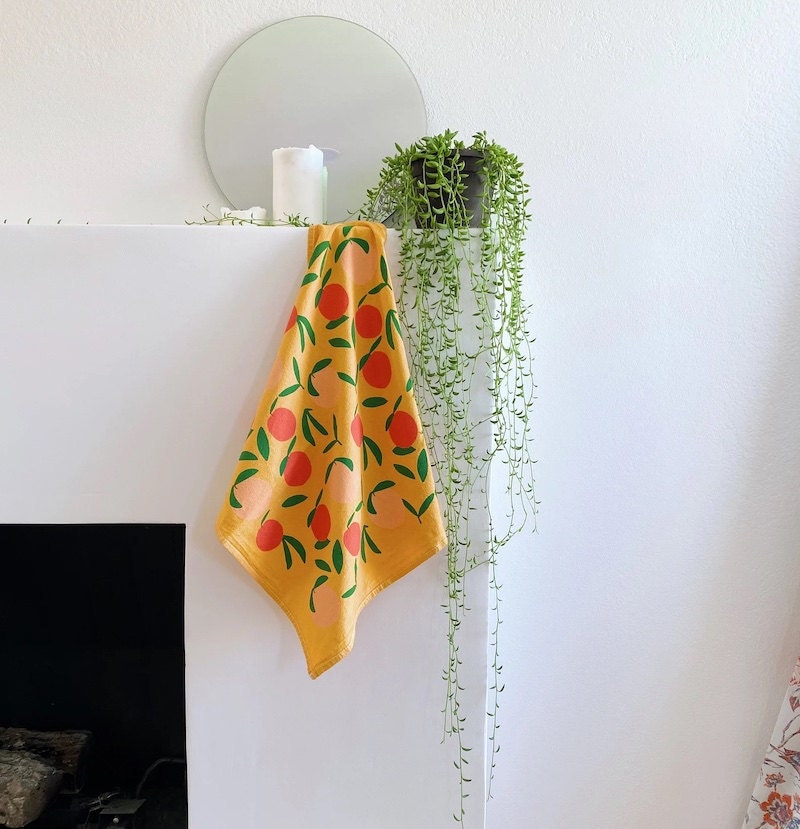 SHOP: Peach tea towel from Julie Peach, from $22
A perfect alternative to tissue paper and wrapping paper, give these peach patterned 100% cotton towels as a hostess gift or use them to wrap up another present like a candle or mug. The cheery design is printed in a green-certified print shop in Denver. They're made with nontoxic dyes and buyer reviews call them "gorgeous," "pretty," and "great quality."
19. Square hoop earrings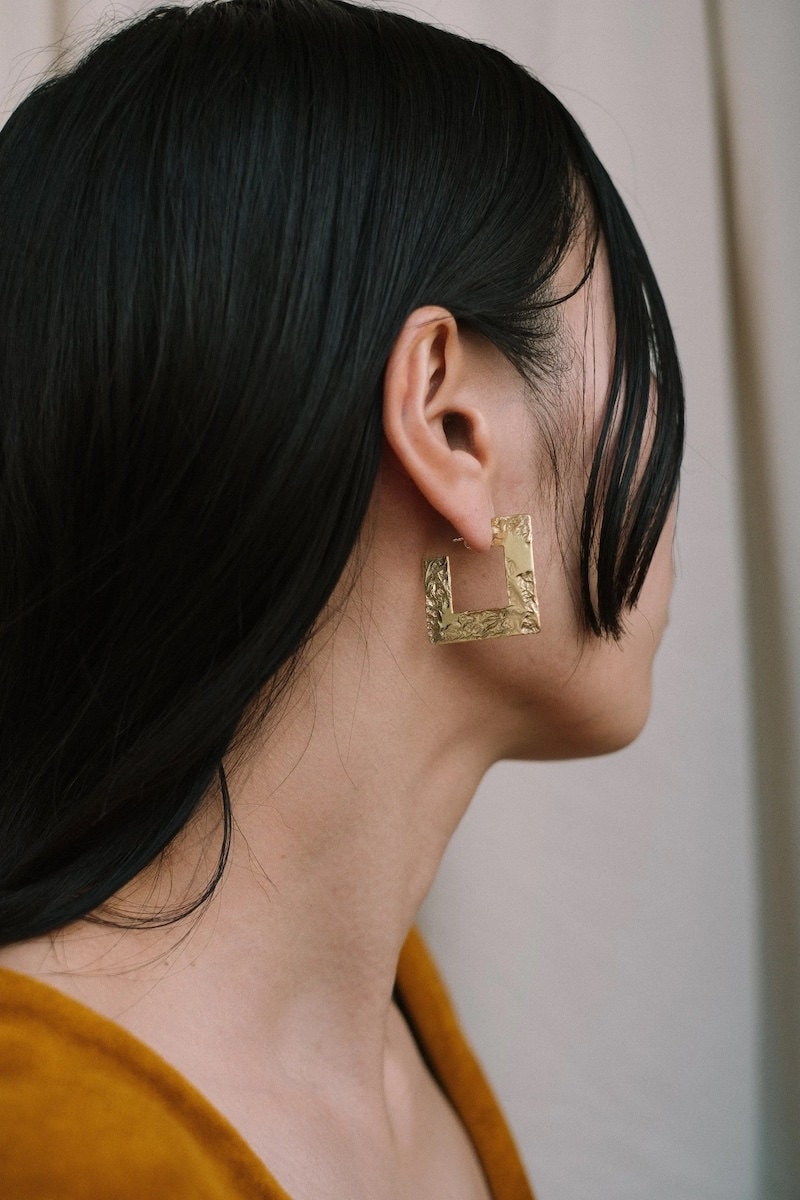 SHOP: Geometric hoop earrings from Mair Berlin, from $73
Pretty and personal, these geometric, textured hammered gold, square hoop earrings are a luxurious hostess gift that expresses your appreciation for their hospitality and their sense of style. They're ready to ship almost immediately after ordering, but note that they are coming from Germany so factor in a little extra time for delivery.
20. Modern minimalist wall art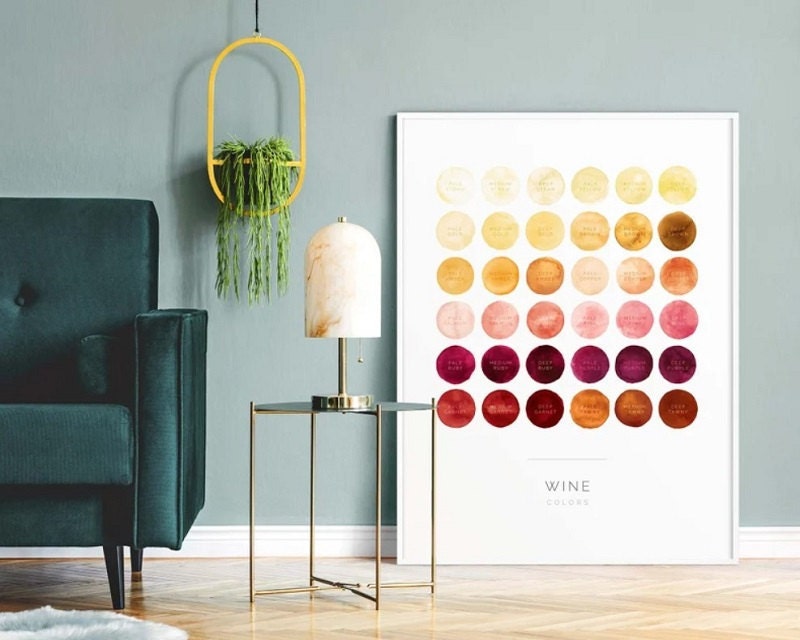 SHOP: Printable wine color chart from The Print Distillery, $11
Been invited to a to-do tonight and need a gift, like, now? The creative minds behind small shops on Etsy have you covered with wall art prints you can download almost instantly. This affordable hostess gift is delivered to your inbox in five different sizes, too, to fit any standard frame you've got on-hand.
How do we pick the best hostess gifts?
As Etsy Journal editors and contributors research and curate shopping guides for some of the best-loved items on Etsy, we thoughtfully consider the creativity, customization, and craftsmanship that go into each product. We also consider buyer reviews, item ratings, and customer service, and tap the expertise of our in-house merchandising and trends experts to uncover high-quality finds for every budget. You can find more information about each item in the seller's listing details and can take a look at their individual shop policies and reviews, too.