Welcome your loved ones home, sweet home, with the best housewarming gifts for the newest homeowners on the block.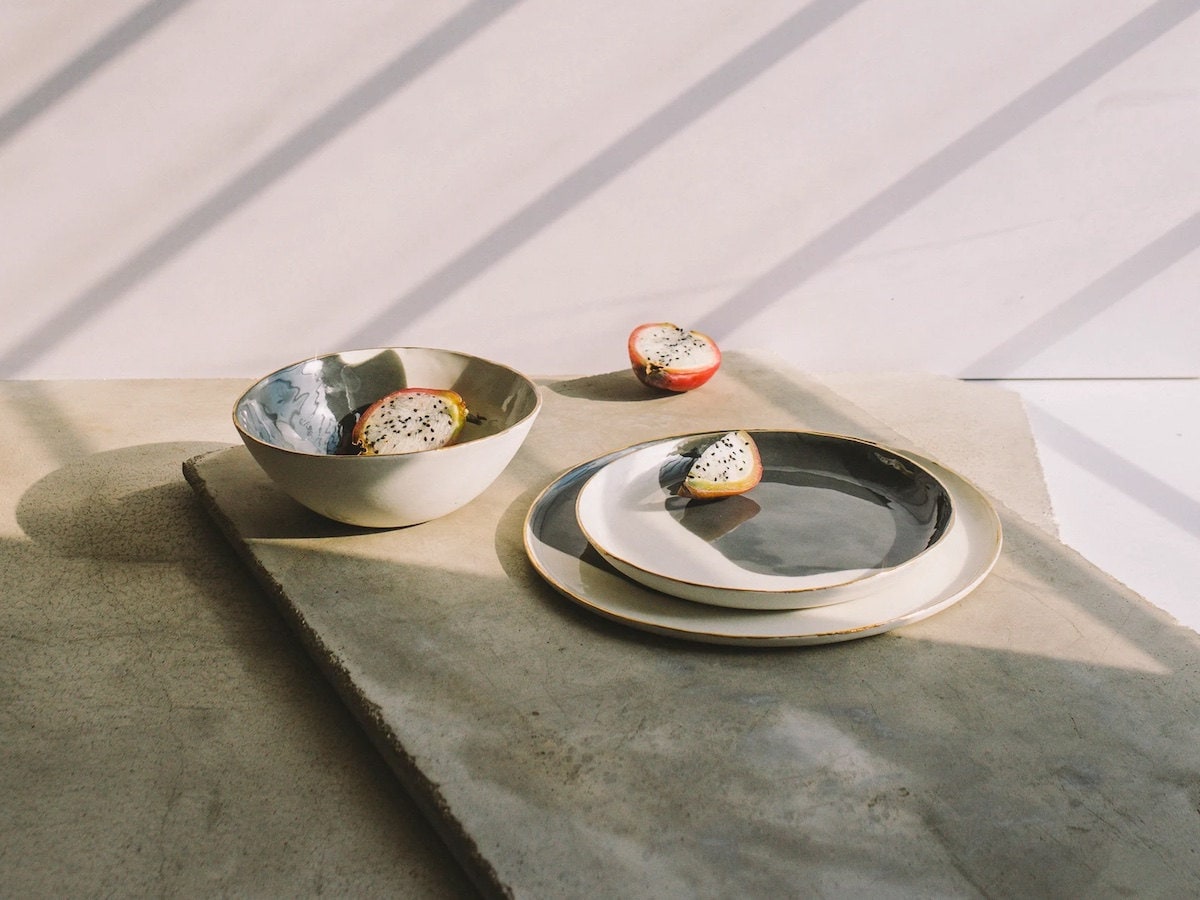 Maybe they haven't gotten all of their boxes unpacked yet, but a housewarming gift helps their house feel a little more like home. The best housewarming gift ideas are things they'll actually use and enjoy every day, from kitchen essentials and linens to super special finds like a custom portrait of their new home or a personalized welcome mat to greet their first guests.
Remember that housewarming gifts can be both inexpensive and thoughtful. Many of our picks here for the best housewarming gifts are under $30! Affordable prices aside, they're all super special because they're handcrafted by Etsy sellers especially for new homeowners. You can work with small shops on Etsy to design a personalized housewarming gift, too, for an extra-special "thinking of you" touch.
Whether they're first-time homeowners, heading into their first college dorm, or setting up a new apartment in the big city, these exceptional pieces are made to be right at home in any new space. Here are the best housewarming gifts to say "Welcome home!" in one-of-a-kind fashion.
Unique housewarming gift ideas
The best overall housewarming gifts add that special something to a new space, and these unique housewarming gift ideas do just that. From handmade vases and nature-inspired resin coasters that add a bit of life to their new home to monogrammed keychains for their newest set of keys, your recently relocated loved one will adore these fantastic finds.
1. The best housewarming gift under $30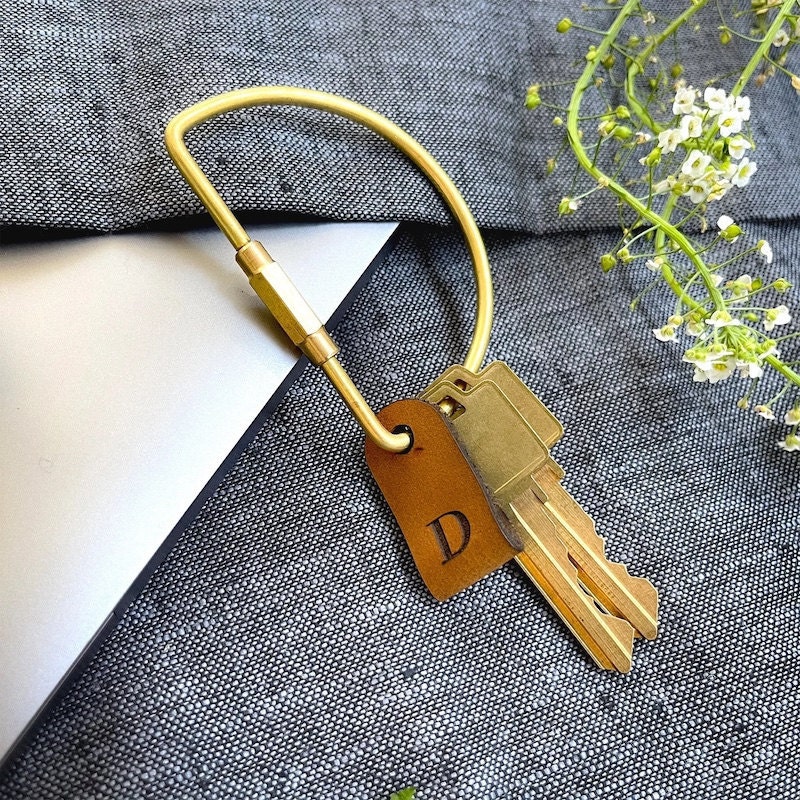 SHOP: Brass keyring with customized leather tag from Wilhelm and Friends, $29
Everyone has the same list when they leave their homes: Keys, wallet, phone. Make sure their keys are a truly unforgettable part of their daily routine with this sophisticated brass key ring with a custom, monogrammed leather tag. This pick makes a great gift for him or for her.
2. The best housewarming gift for first-time homeowners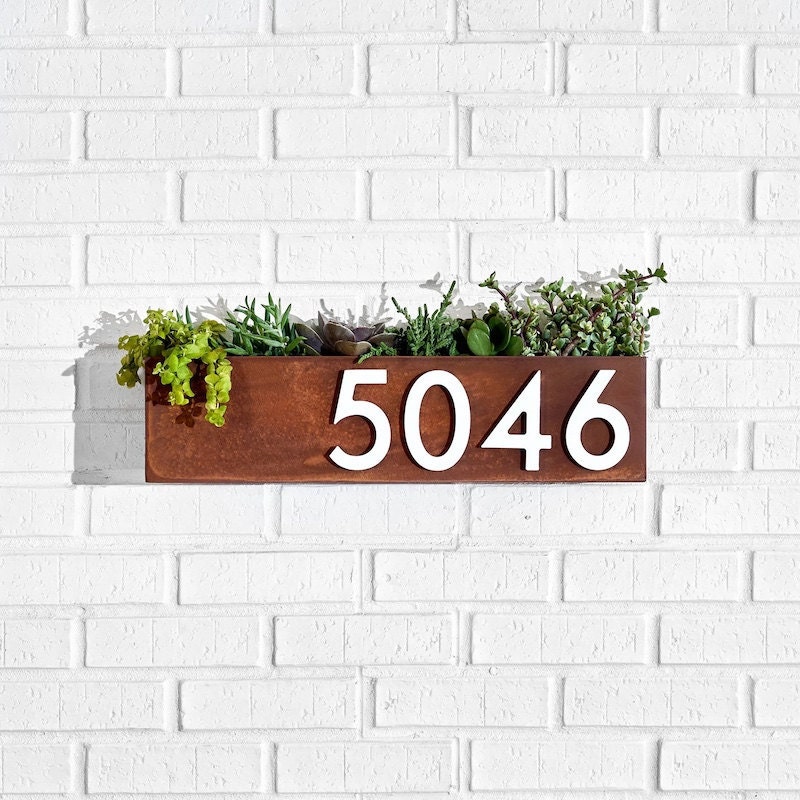 SHOP: Metal planter with house number from Mod Mettle, from $130
Their change of address means they have a new front door to decorate, and this darling metal planter adorned with their brand new house number celebrates their big move in style.
3. The best housewarming gift they'll actually use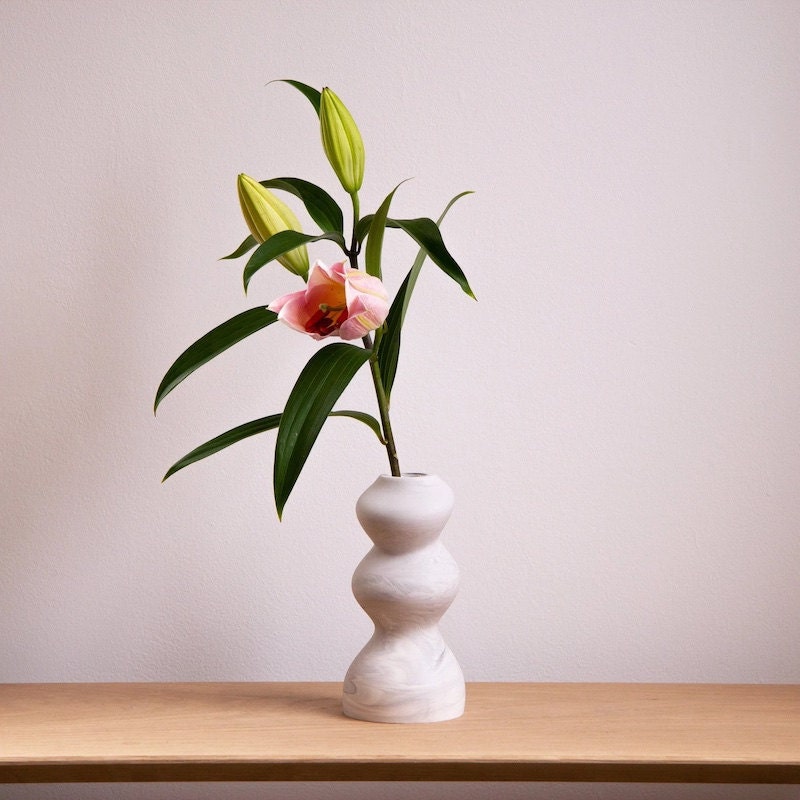 SHOP: Abstract wavy flower vase from Extra&ordinary Design, $78
For the homeowners who love fresh flowers, give them a gift they'll use over and over again. This playful, bubbly vase is an eye-catching way to display their latest bouquet.
4. The best gift for a housewarming party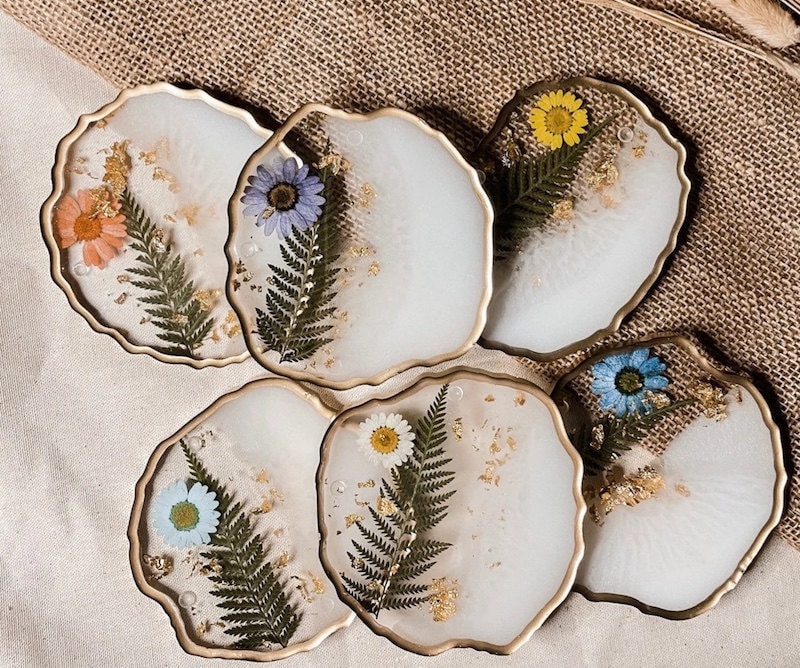 SHOP: Pressed flower resin coaster from VIVIANxCO, from $15
Instead of fresh flowers that fade away, gift the new homeowners a set of these pressed flower coasters. Choose a flower color to match their decor's hues, and add gold flakes to the design for an extra-elegant garden party feel every time they use them.
5. The best housewarming gift for small homes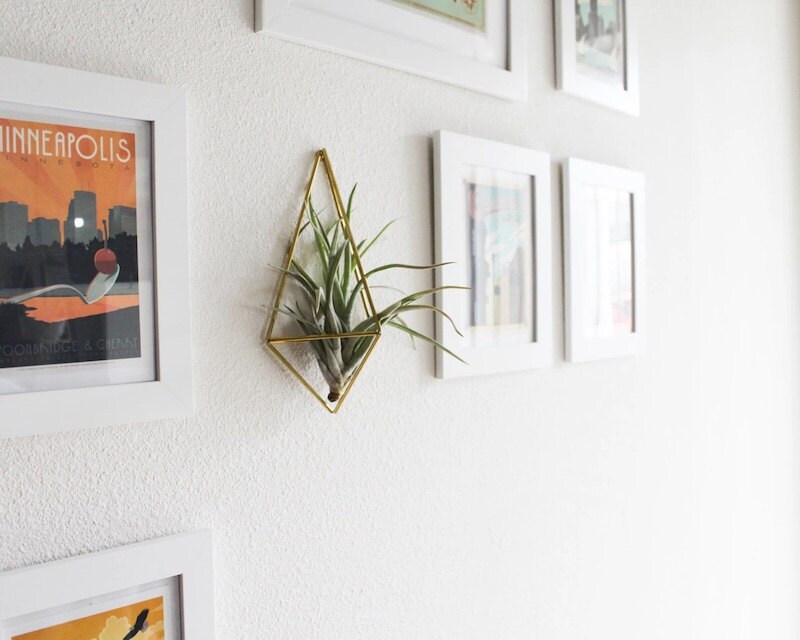 SHOP: Geometric air plant holder from hemleva, $20
One thing about moving is you have to deal with the trouble of transporting (or reluctantly giving away) all of the plants you've accumulated at your old space. For plant parents, finding the proper place to put their precious babies can be a major undertaking. The solution: This chic, minimalist air plant holder that can easily go up on a wall with bright, indirect light. Its small size makes it great for apartments and dorm rooms.
Housewarming gifts made especially for couples
Whether they just got hitched, are moving in together, or simply switched humble abodes, celebrate the happy duo's new residence with these housewarming gifts for couples.
6. The best custom housewarming gift for couples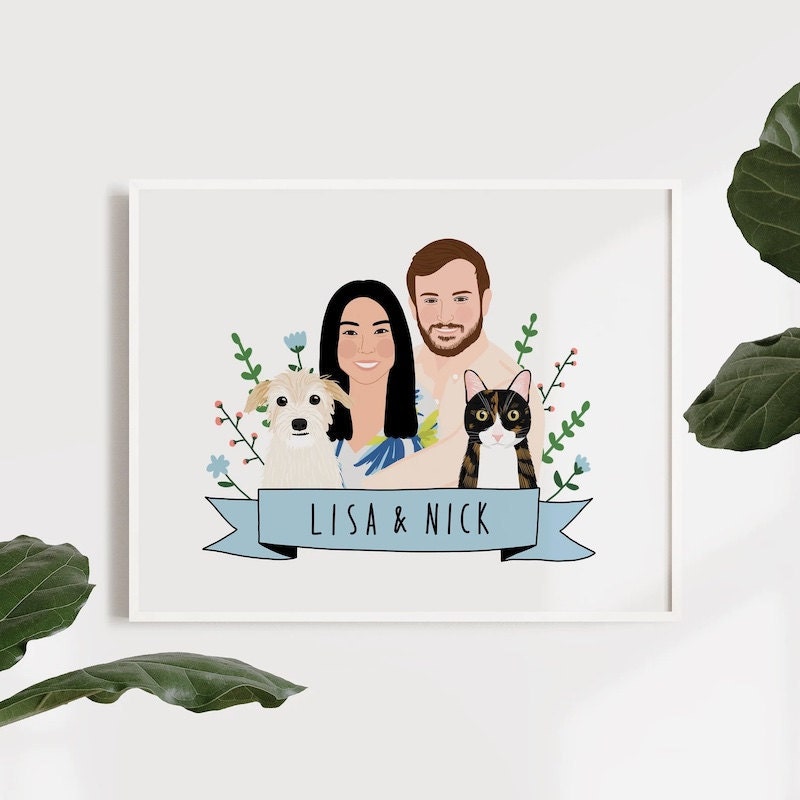 SHOP: Custom digital family portrait from Avonnie Studio, from $55
Give them a one-of-a-kind family photo where everyone's guaranteed to be gazing with open eyes with this custom family portrait. The illustration is delivered as a digital file so you can print it in just the right size for a featured spot in their new place. Looking for a unique twist on traditional wall art? Buyers love the option to print their custom portrait on a camping mug.
7. The best housewarming gift for newlyweds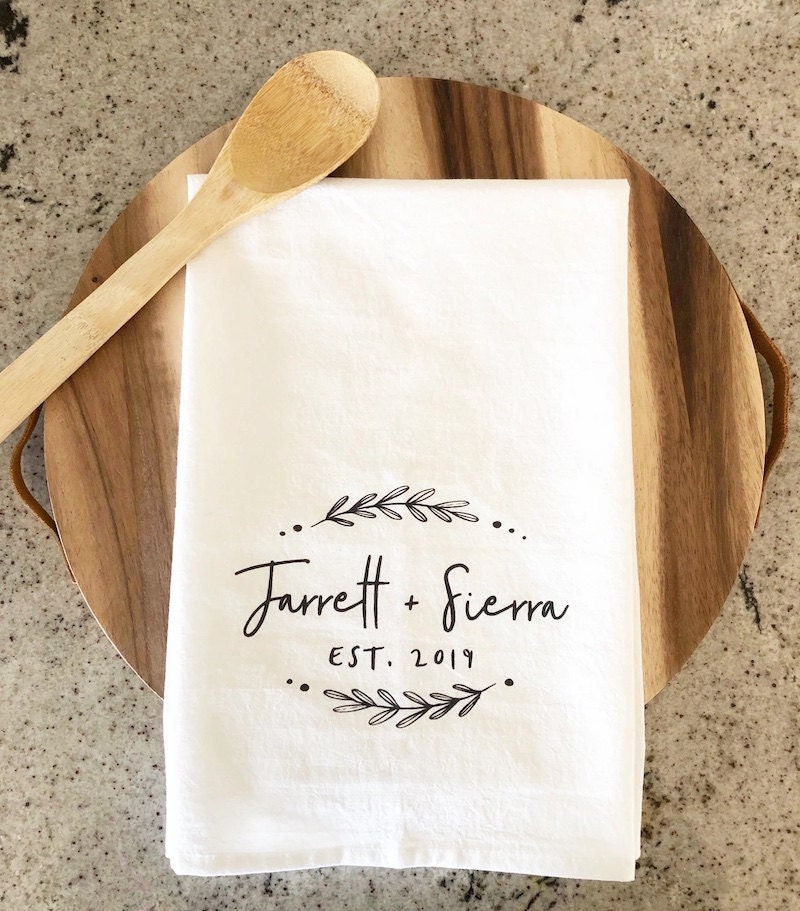 SHOP: Personalized tea towel for couples from Our Rustic Home Decor, $12
If you're looking for the perfect personalized gift for a newlywed couple, this custom tea towel is sure to spruce up their kitchen and have them drying dishes in style.
8. The most inclusive housewarming gift for every couple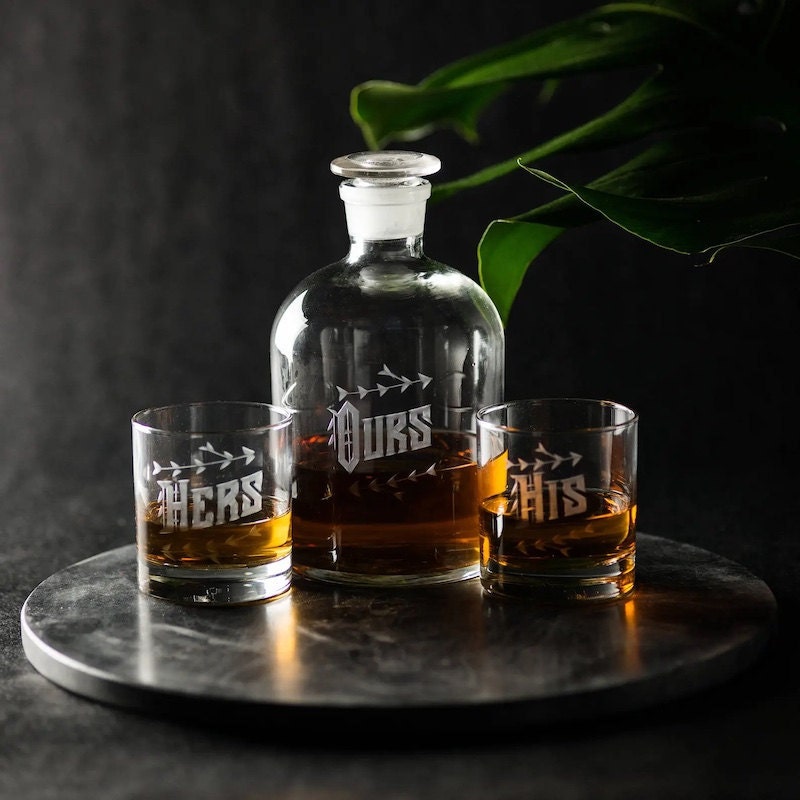 SHOP: Personalized engraved decanter set from Love & Victory, $128
The perfect addition to their brand new home bar, this engraved decanter and low-ball glasses set complement their favorite spirit. Need a variation of the his and hers pronouns? Not to worry: This personalized set comes in multiple pronoun combinations, so everyone can enjoy this decanter set.
Housewarming gifts for friends
No one knows you like your friends do. Show them how much you care and how excited you are about their new place with these super-cool housewarming gifts.
9. The best housewarming gift for foodies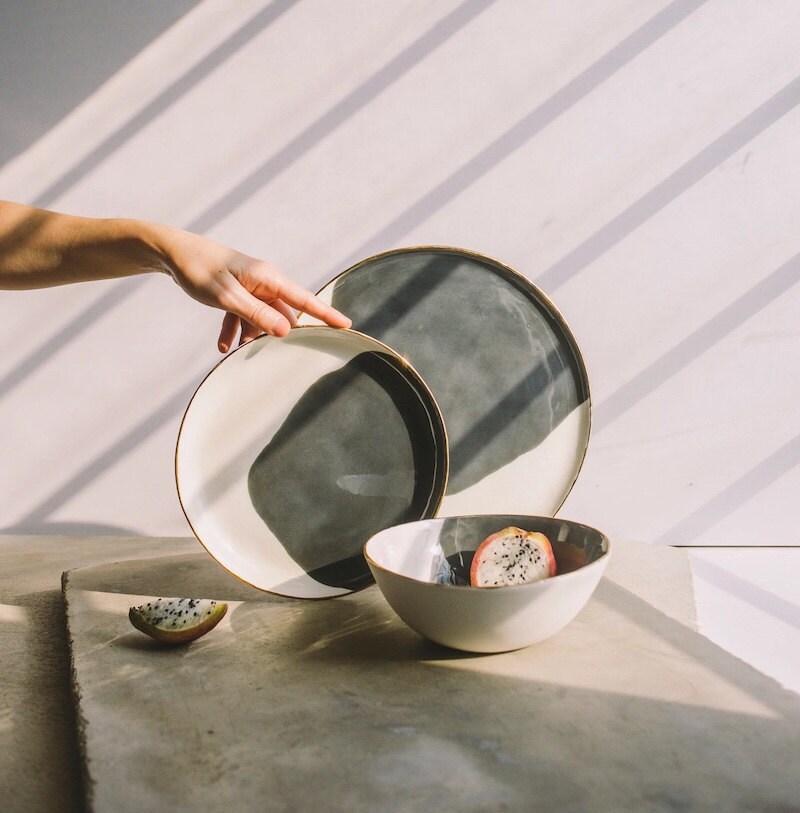 SHOP: Handmade ceramic plates in ombre glaze from SIND STUDIO, from $38
If the new homeowner doubles as your go-to home chef, these earthy ceramic plates are the perfect platform for their next gourmet meal. Buyers rave that these porcelain plates are a work of art in themselves and elevate their culinary decor.
10. The best housewarming gift for coffee lovers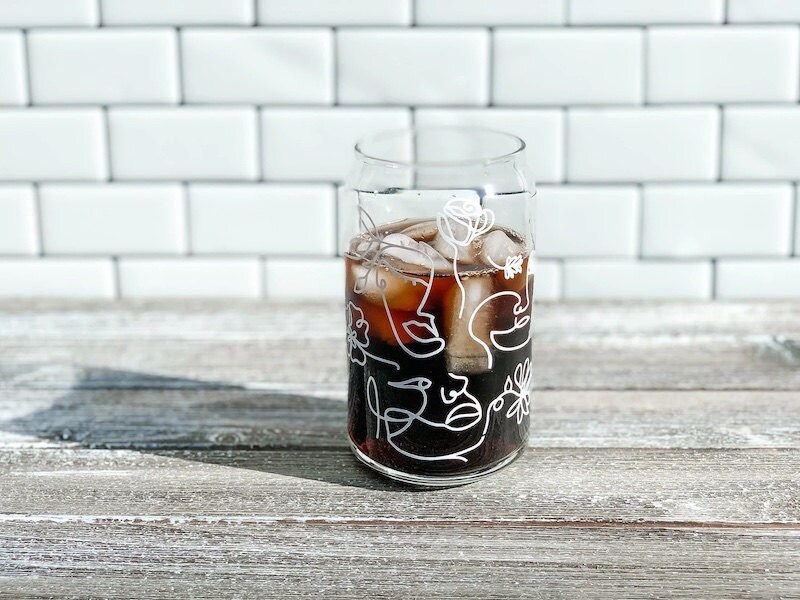 SHOP: Iced coffee glass with abstract face design from Light Encounters, $13
Who says iced coffee is only for summertime? This playful and abstract iced coffee glass is a versatile vessel for your bestie who enjoys their cold brew year-round.
11. The best gift for a dorm room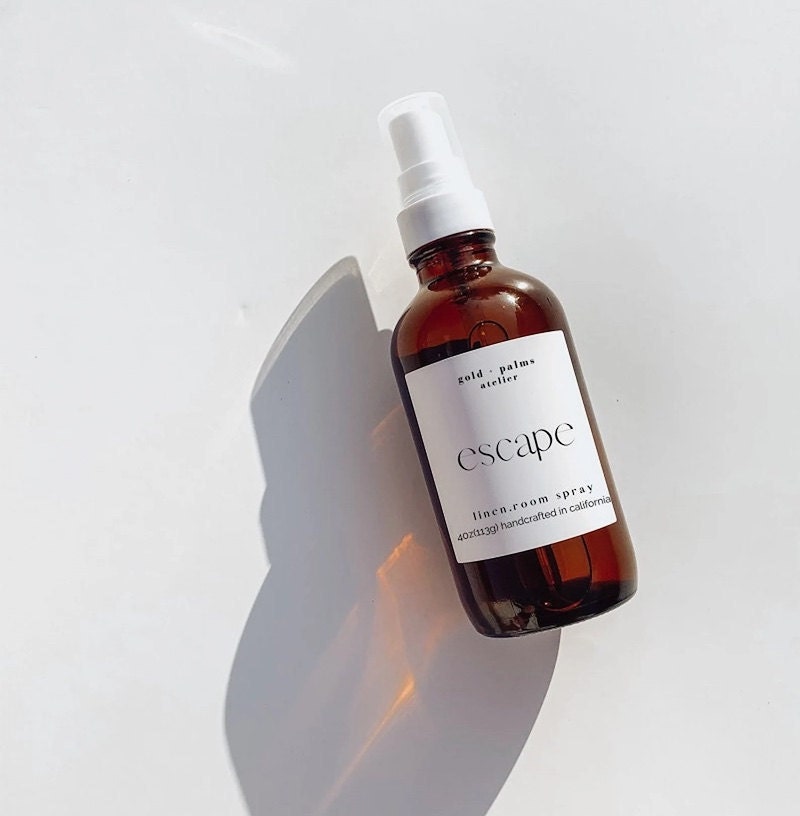 SHOP: Fresh and sweet room spray from Gold and Palms Atelier, $16
If they're moving out of their childhood home and living with roommates in their first dorm room, they're going to need something to make a space not only feel like home, but smell like home. This room spray can freshen up any space (literally) with its notes of ozone, jasmine, and wood. But be warned, its heavenly scent profile may cause roommates to grab this spray for their room, too.
12. The best traditional housewarming gift with a twist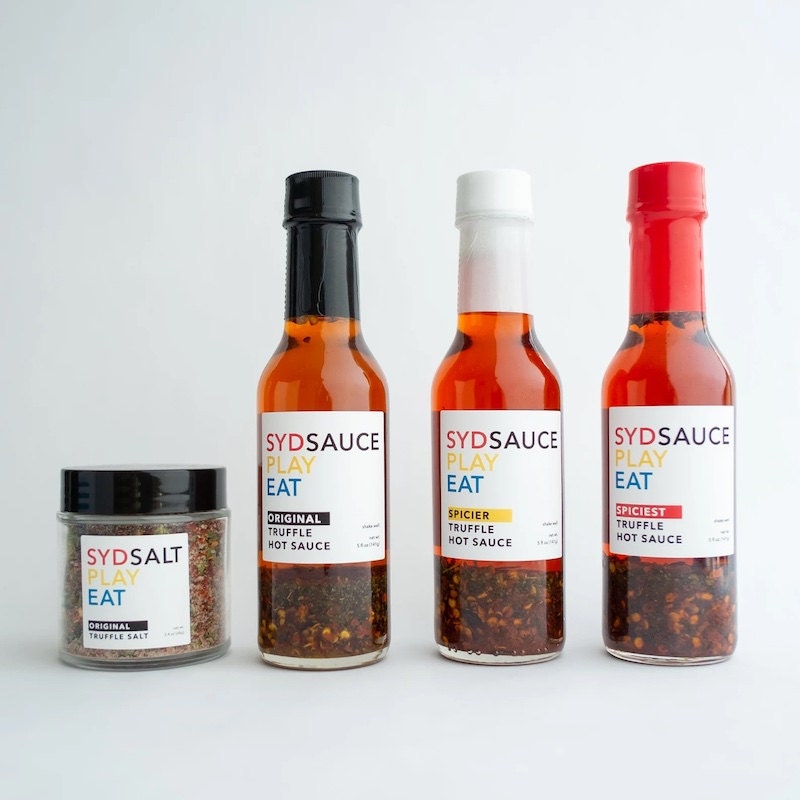 SHOP: Truffle hot sauce and gourmet salt set from SydPlayEat, from $20
Bread is a traditional housewarming gift, so that the house will never know hunger, along with salt, so life will always have flavor. Just add your favorite artisan loaf to this truffle salt and truffle hot sauce for a modern take on the traditional housewarming bundle.
13. The best housewarming gift for a cozy vibe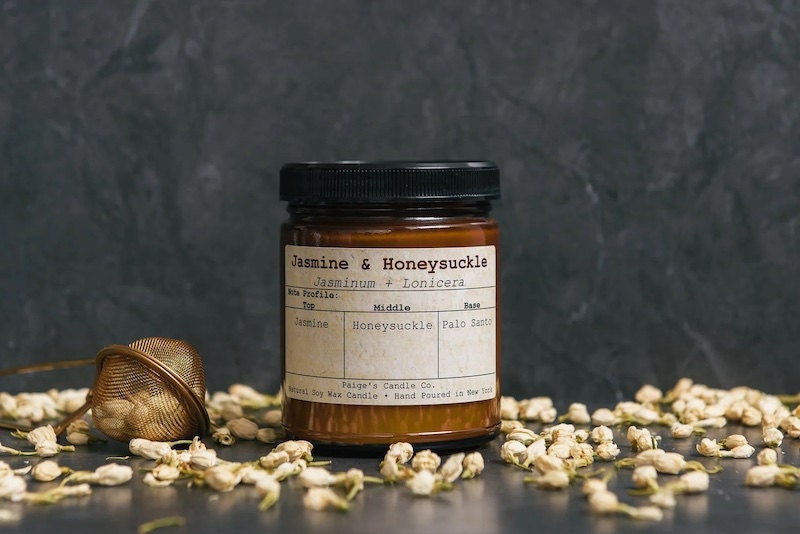 SHOP: Jasmine and honeysuckle candle from Paige's Candle Co, from $20
Scented candles are a go-to, and for good reason: Their delicate aromas can transform any room into a cozy sanctuary or a refreshing, revitalizing space. And this divine combo of jasmine and honeysuckle calls to mind summers on the beach and breezy shores throughout the year.
Best personalized housewarming gifts
You want a gift that seems like it's made just for them, and buying from a small shop on Etsy means it is made just for them. These personalized housewarming gifts are custom-made to their taste, whether it's engraving a charcuterie board, commissioning a portrait of their favorite family member, or embellishing a coaster with their personal monogram. The possibilities are endless!
14. Best housewarming gift for pet parents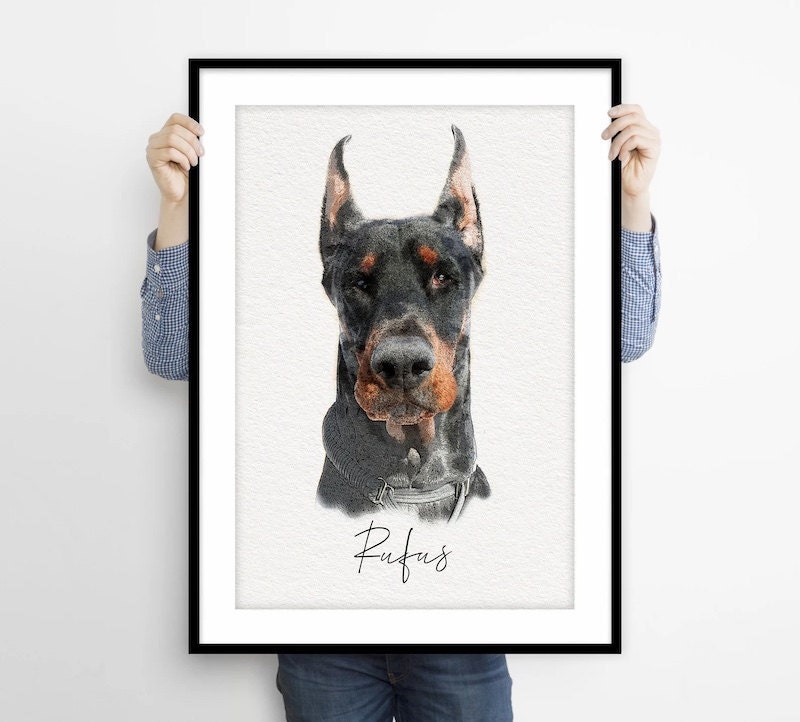 SHOP: Custom pet portrait from FusionMM, from $34
Though their humans may think otherwise, the pets run your loved one's home. As the new homeowners work to make their space just right for their sweet pet, give their four-legged friend a place of honor with a custom pet portrait. They are the king of the castle, after all.
15. Best personalized housewarming gift for the cook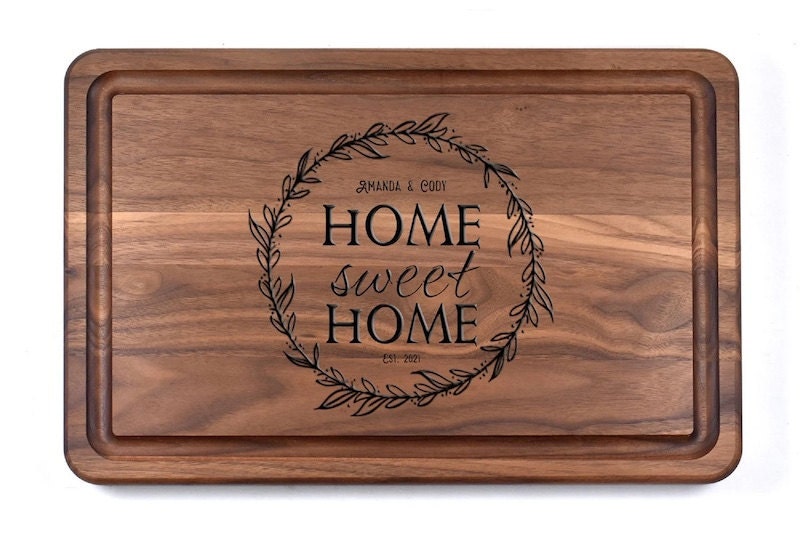 SHOP: Personalized engraved teak wood cutting board from Cutting Board Cafe, from $115
The hostess with the mostest will wow future houseguests with this personalized cutting board that can pull double duty as a beautiful charcuterie board, too. Shop more of the best charcuterie boards made by small shops on Etsy.
16. Best housewarming gift for hosts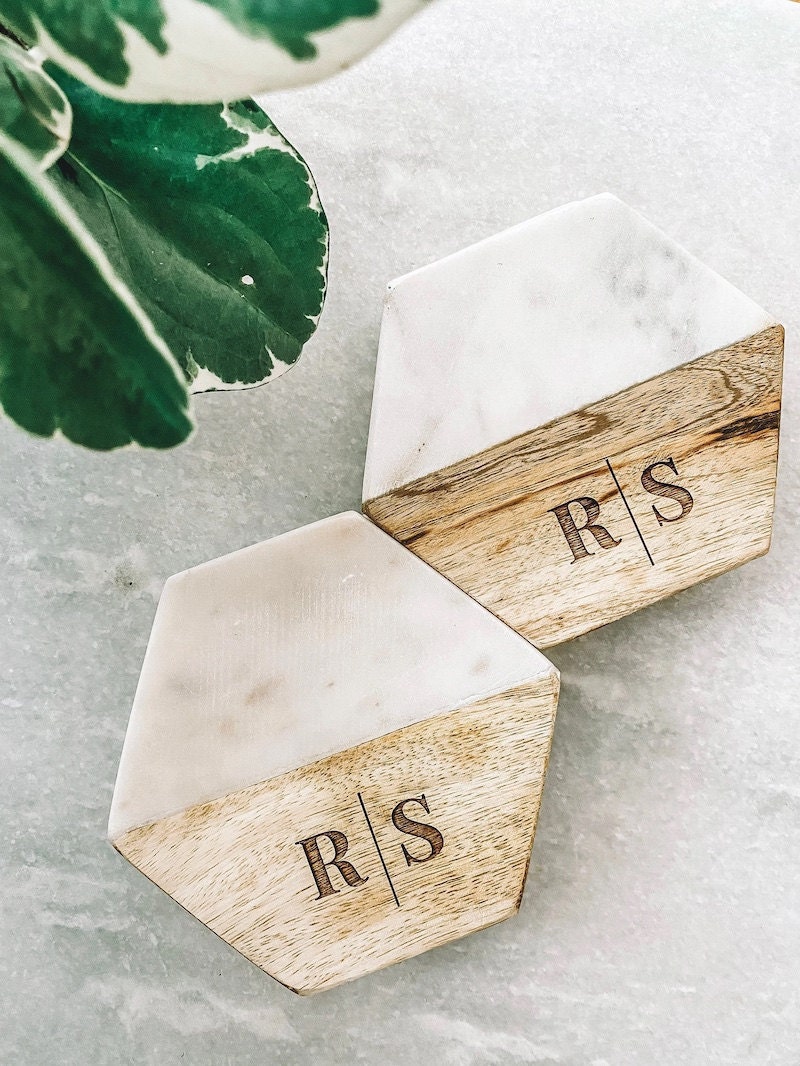 SHOP: Custom engraved hexagon coasters from Highway 29 Design Co., $46 for a set of 4
Made from an elegant combo of mango wood and marble, these personalized coasters elevate any coffee table. Custom engraved with your loved one's initials, these coasters are an eye-catching piece for any gathering your favorite party host is planning for their new home.
17. Best housewarming gift for families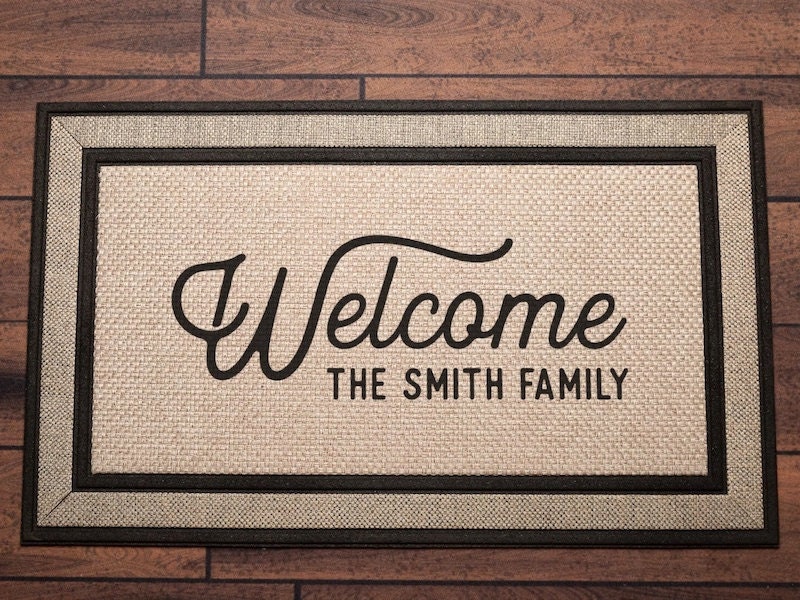 SHOP: Personalized welcome mat with family name from A Custom Shop, from $50
Don't overlook the value of a personalized door mat. It's the first thing guests see when they arrive at the doorstep, and it's the last thing your loved ones see before they leave. This custom mat welcomes both family and friends—literally.
Practical housewarming gifts
The best housewarming gifts are both practical and pretty. For a housewarming gift they'll use often, these picks are prepared for daily duty.
18. The best practical housewarming gift for your eco-friendly friend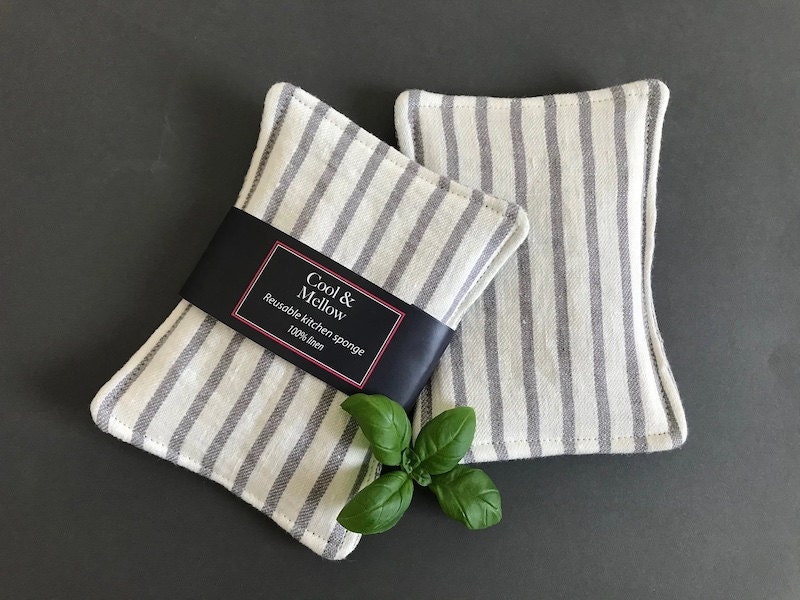 SHOP: Reusable linen sponge from Cool & Mellow, from $14
Cleaning your place may not be the most glamorous of homeowner activities, but these reusable cleaning supplies reduce waste and leave your home sustainably sparkling. This linen sponge is made from natural materials and designed for scrubbing everything from dishes to kitchen counters.
19. The best housewarming gift for cooler months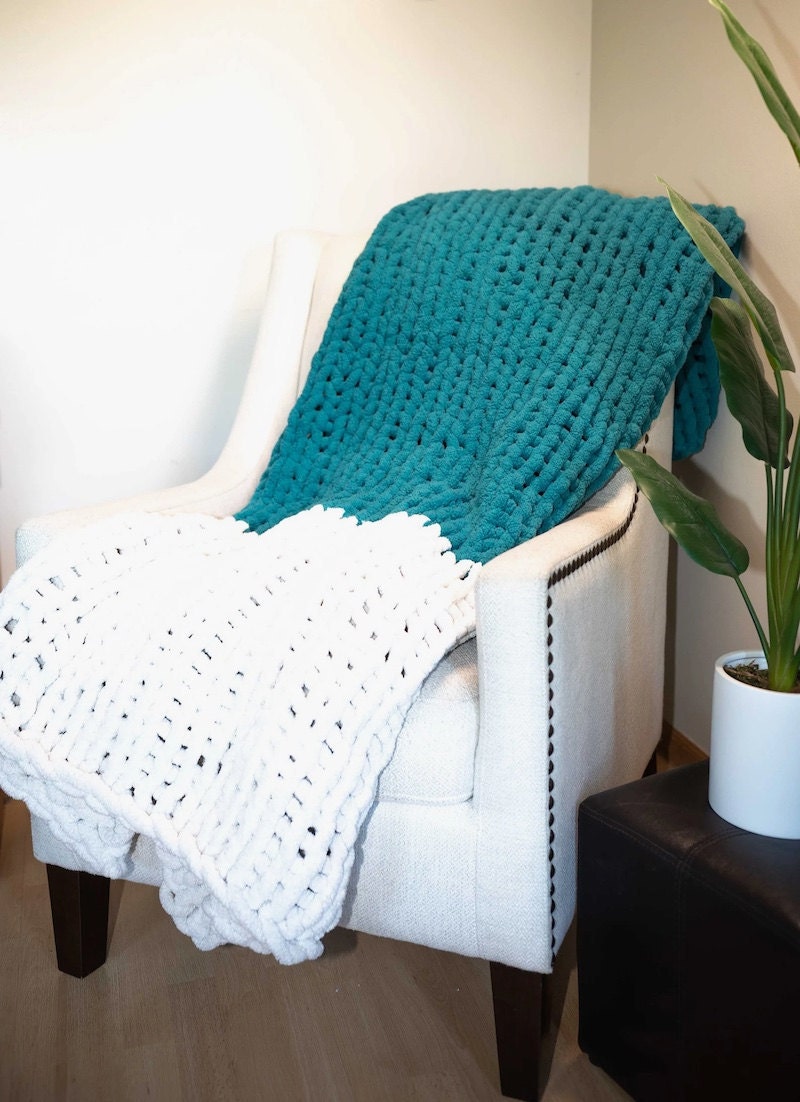 SHOP: Teal and ivory chunky knit blanket from Joy blanket shop, from $48
Keep your loved one warm and cozy with this chunky knit blanket. Woven with love, this warm throw feels like a hug as your loved one settles into their new home.
20. The best housewarming gift for the home organizer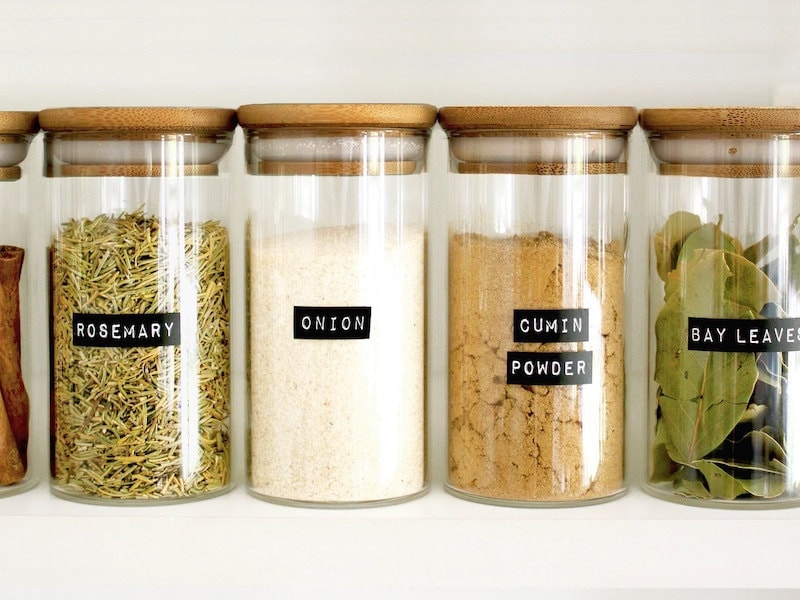 SHOP: Minimalist spice jar labels from Quart and Pint, $11
With home ownership comes home organization, and these minimalist and sophisticated spice jar labels will help them tick at least one task off their list. Waterproof and durable, these labels are a great addition to any modern pantry.
Cute housewarming gifts
A housewarming gift should have a little personality and a dash of sweetness, and these cute housewarming gifts take the cake.
21. The best colorful housewarming gift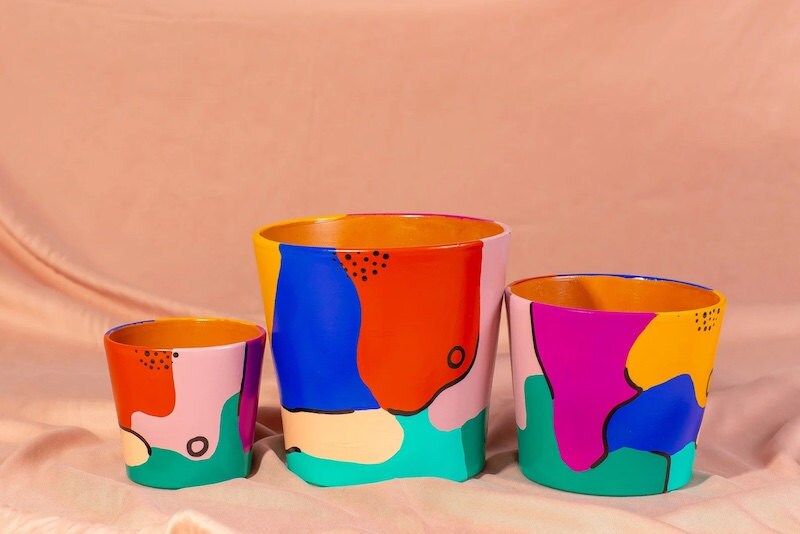 SHOP: Bundle of three colorful succulent planters from Pepper Palm, $100
Pops of color can warm up any space, and this cute housewarming gift idea is vibrant and versatile. Offered in a set with small, medium, and large planters, these show-stopping vessels are a festive, bold reminder that they make your days brighter, too.
22. The best housewarming gift for the maximalist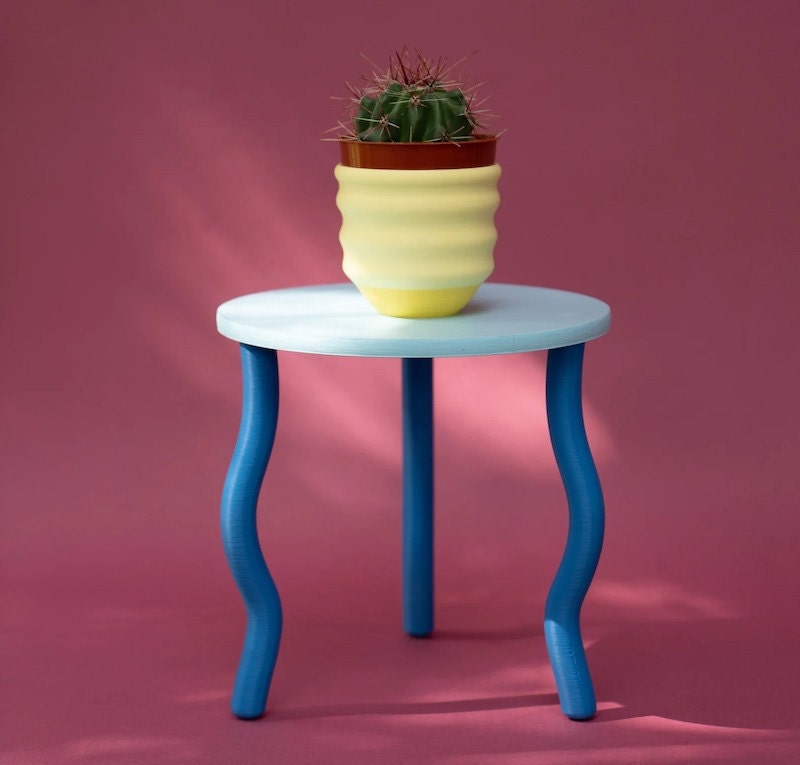 SHOP: Small, wavy plant stand from Object Lover, $145
Now that they have a gorgeous planter and a jungle of plants in their new home, they need a fun and funky plant stand that has just as much personality as they do. This creative and cute stand can be a pedestal for their favorite greenery or make a statement lamp the focal point of the room.
23. The best housewarming gift for finding zen
SHOP: Woman with bird of paradise flower print from Vivid Vidal, from $38
Help them channel an inner sense of calm with this gorgeously zen wall art. Featuring a calm figure and a bright, uplifting color palette, this print sets the mood of any room.
24. The best housewarming gift for the kitchen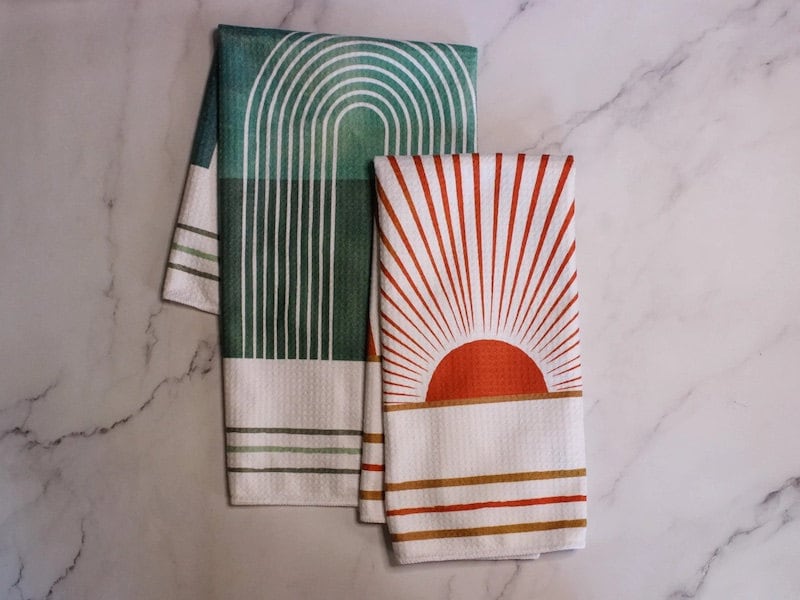 SHOP: Sunrise and waterfall printed dish towels from Render Goods, $22 for a set of 2
Add color to their new kitchen with these graphic and gorgeous dish towels. Made from post consumer recycled bottles, these towels wow buyers with their absorbency and bold, beautiful hues.
25. The best last-minute housewarming gift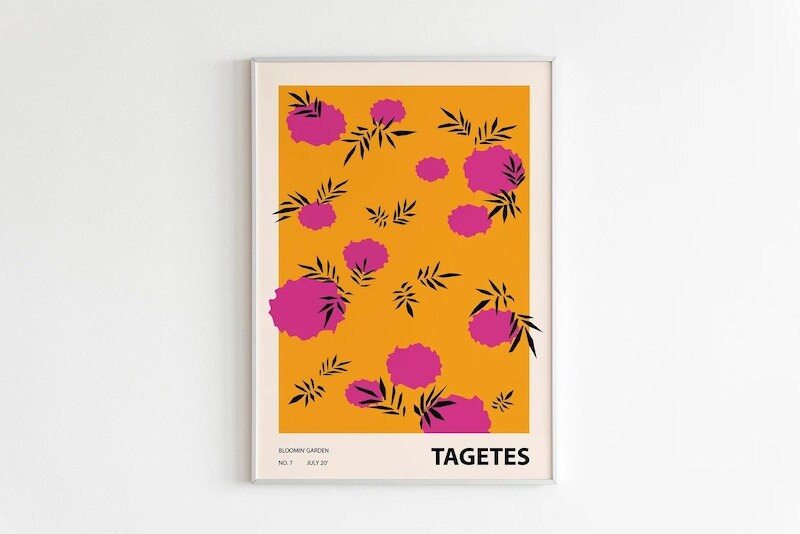 SHOP: Colorful flower illustration digital download from MILA Printable Art, $9
Short on time and need a great last-minute housewarming gift? This colorful flower print is a digital download available to you instantly, so you can print it at the perfect size for their space in the comfort of your own home or local print shop. This pretty print will be adorning your loved one's walls in no time!