Make any space feel like home, sweet home with these fresh housewarming gift ideas.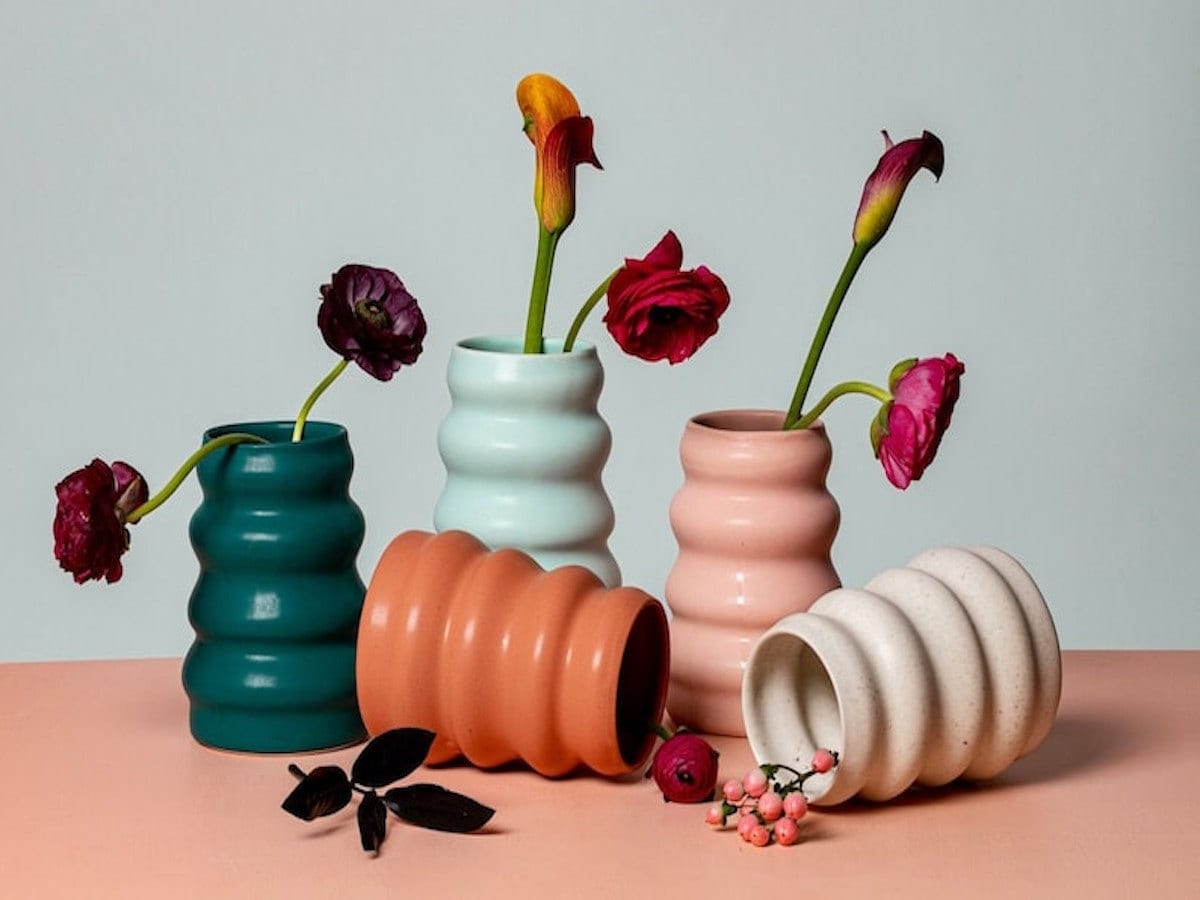 Whether you've just picked up the keys to a new place or are celebrating a loved one's recent move, a housewarming gift helps any house feel a little more like home. The best housewarming gift ideas are items that can be used and enjoyed every day, from kitchen essentials and linens to more fun finds like a custom home portrait or a practical and personalized welcome mat to greet guests.
Remember that new home gifts can be both inexpensive and thoughtful, especially when you shop directly from independent sellers on Etsy. Many of our picks here for the best housewarming gifts are under $30!
Whether you're a first-time homeowner and need help figuring out what to add to your Etsy Gift Registry, setting up a new apartment in the big city with your partner, or looking for the perfect item to gift a friend, these exceptional new home gift ideas are thoughtfully crafted with an eye toward both quality and style. Get ready to say "Welcome home!" in one-of-a-kind fashion with these picks for the best housewarming gifts.
Unique housewarming gift ideas
The best housewarming gifts add that special something to a new home, and these unique housewarming gift ideas are guaranteed to do just that. From colorful planters to beautifully handcrafted dinnerware, these fantastic finds will be instantly adored.
1. Pretty everyday plates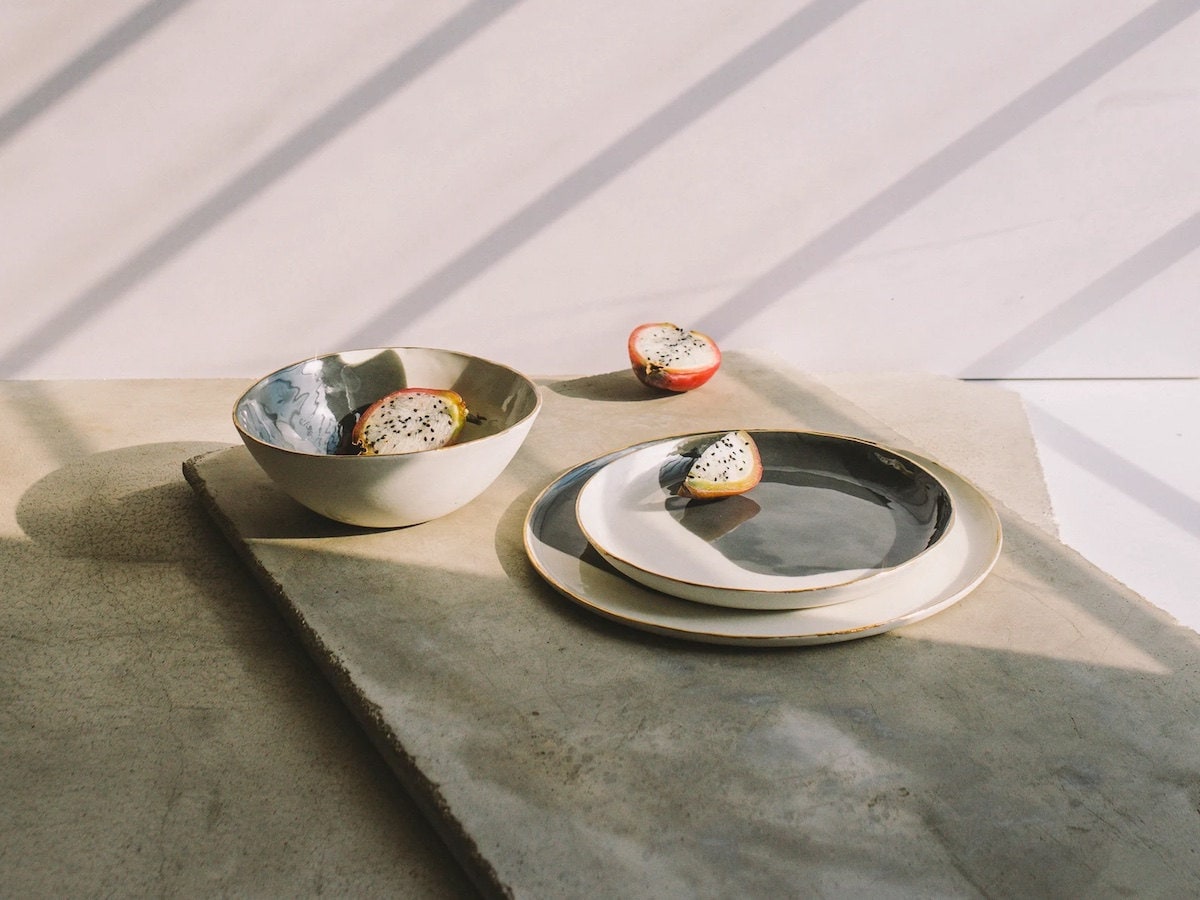 SHOP: Handmade ceramic plates in ombre glaze from SIND STUDIO, from $42
These earthy ceramic plates are the perfect platform for a homemade gourmet meal. Buyers rave that these porcelain plates are a work of art in themselves and elevate their culinary decor.
2. Pressed flower coasters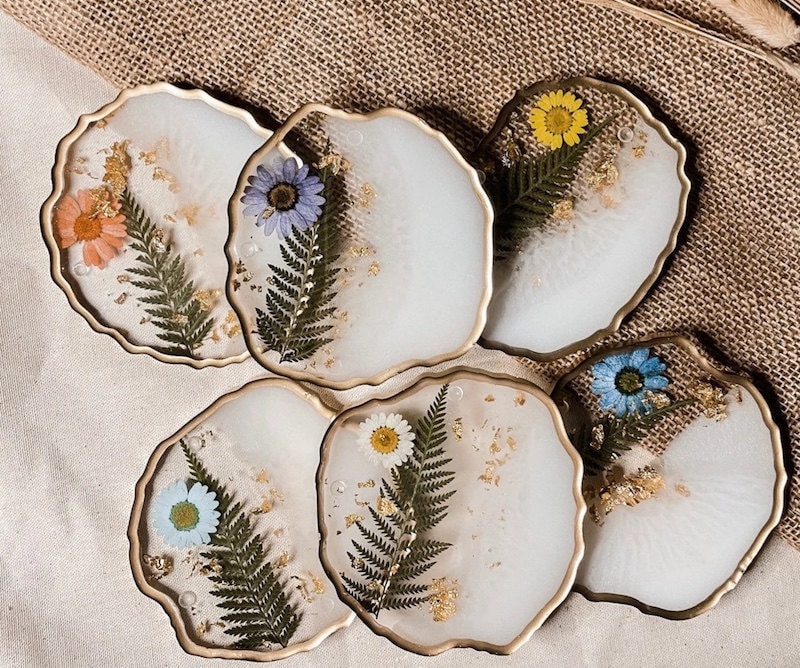 SHOP: Pressed flower resin coaster from VIVIANxCO, from $15
Instead of fresh flowers that fade away, this set of pressed flower coasters will last for years to come. Choose a flower color to match the decor's hues, and add gold flakes to the design for an extra-elegant garden party feel.
3. Handcrafted house number planter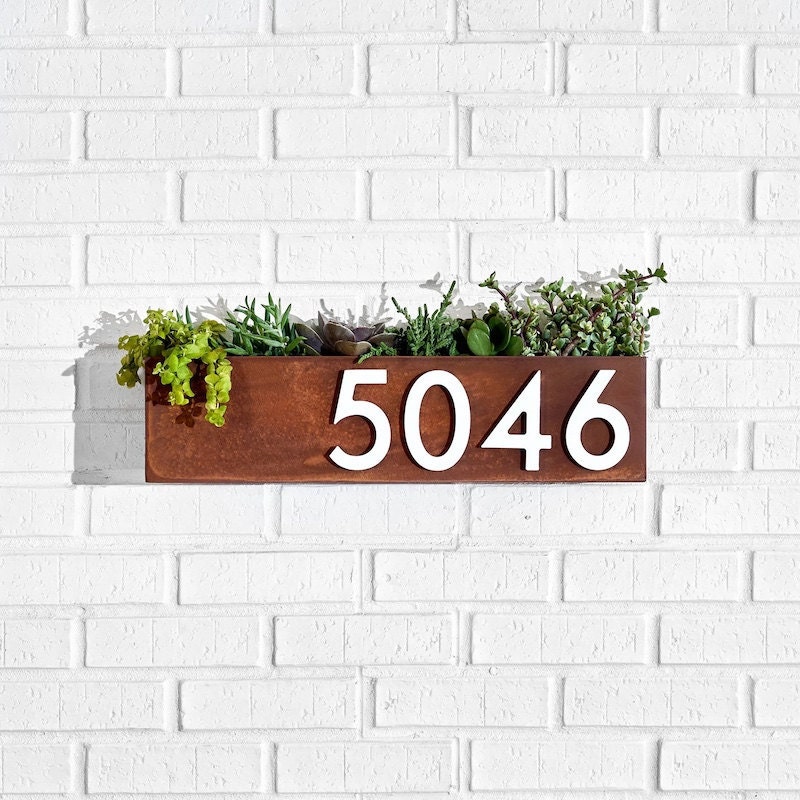 SHOP: Metal planter with house number from Mod Mettle, from $130
A change of address means having a new front door to decorate, and this darling metal planter adorned with the brand new house number celebrates the big move in style.
4. Planters that pop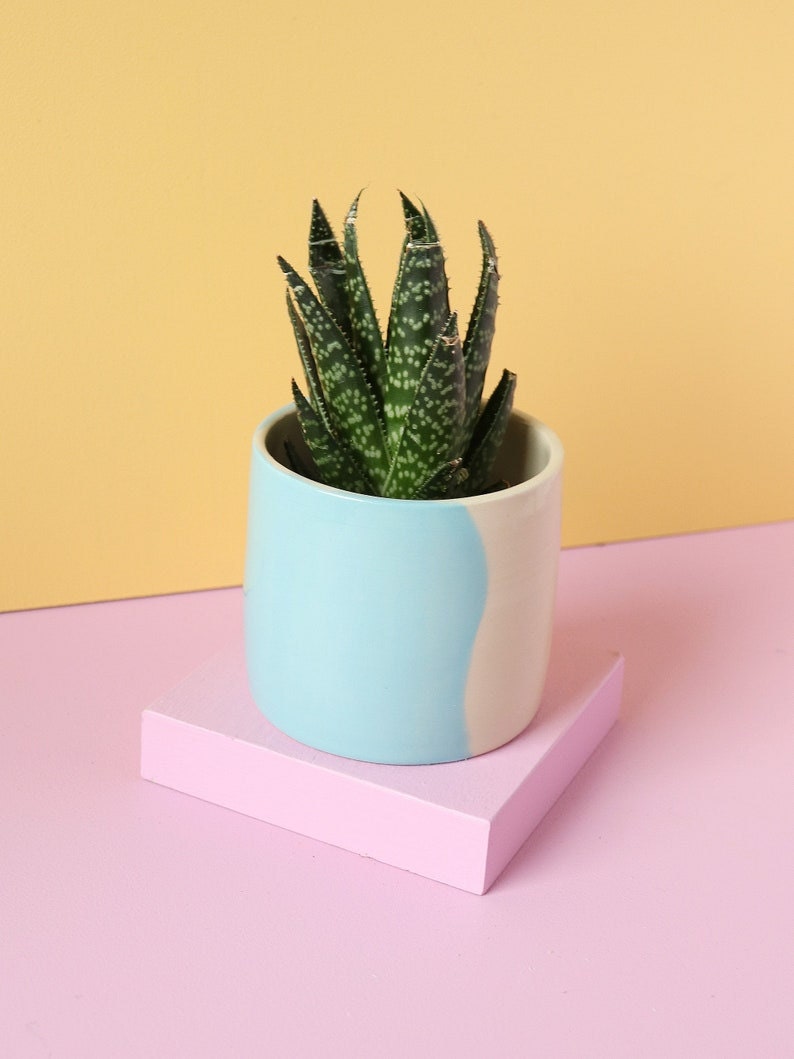 SHOP: Hand painted ceramic planter from Nightshift Ceramics, $44
Pops of color warm up any space, and this cute housewarming gift idea is vibrant and versatile. Hand painted with a twisty blue and white pattern, this show-stopping vessel is festive and bold to brighten your day.
5. Colorful wall art
SHOP: Woman with bird of paradise flower print from Vivid Vidal, from $38
Channel an inner sense of zen with this gorgeous wall art. Featuring a calm figure and a bright, uplifting color palette, this print sets the mood of any room.
Best personalized housewarming gifts
You want new home gifts that seem like they're made just for the recipient, and buying from a small shop on Etsy means it is made just for them (or you!). These personalized housewarming gifts are custom-made to each person's taste, whether it's engraving a charcuterie board, commissioning a portrait of a favorite family member, or embellishing a coaster with a personal monogram. The possibilities are endless!
6. An embossed leather keyring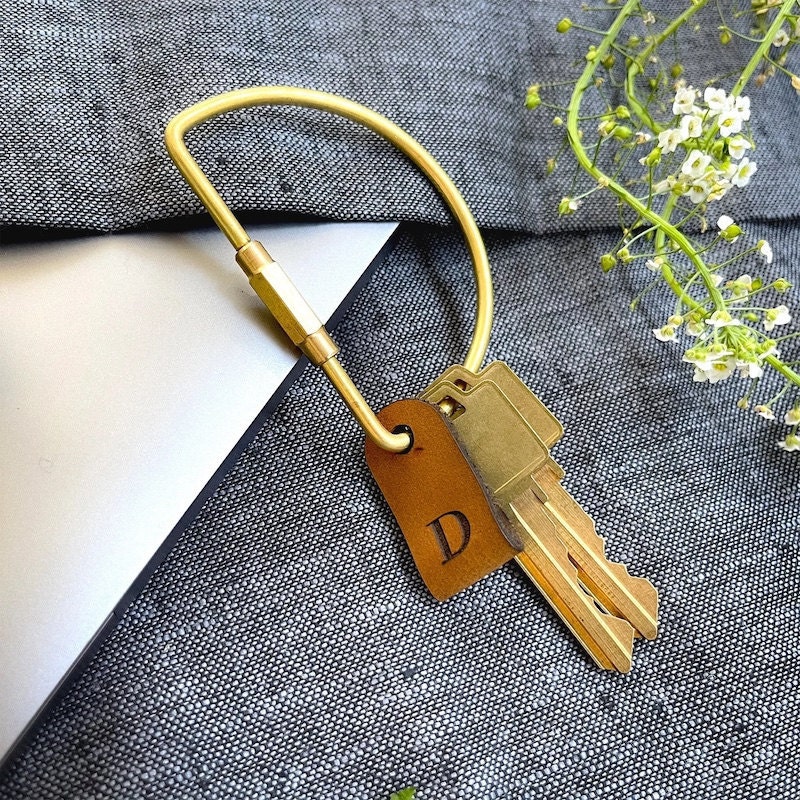 SHOP: Brass keyring with customized leather tag from Wilhelm and Friends, $30
Everyone has the same list when they leave their homes: Keys, wallet, phone. Make sure forgetting keys is a thing of the past with this sophisticated brass key ring with a custom, monogrammed leather tag. This pick makes a great gift for him or for her.
7. Custom family wall art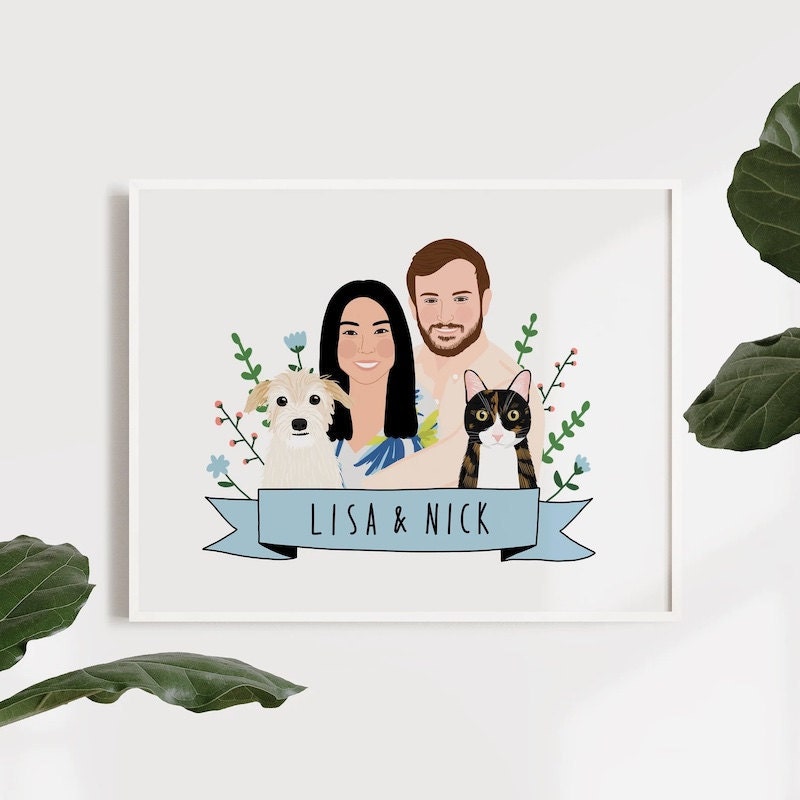 SHOP: Custom digital family from Avonnie Studio, from $45
When it comes to new home gift ideas, it doesn't get much better than this one-of-a-kind custom family portrait. The illustration is delivered as a digital file so you can print it in just the right size for a featured spot in the new place. Looking for a unique twist on traditional wall art? Buyers love the option to print their custom portrait on a camping mug.
8. Personalized wood cutting board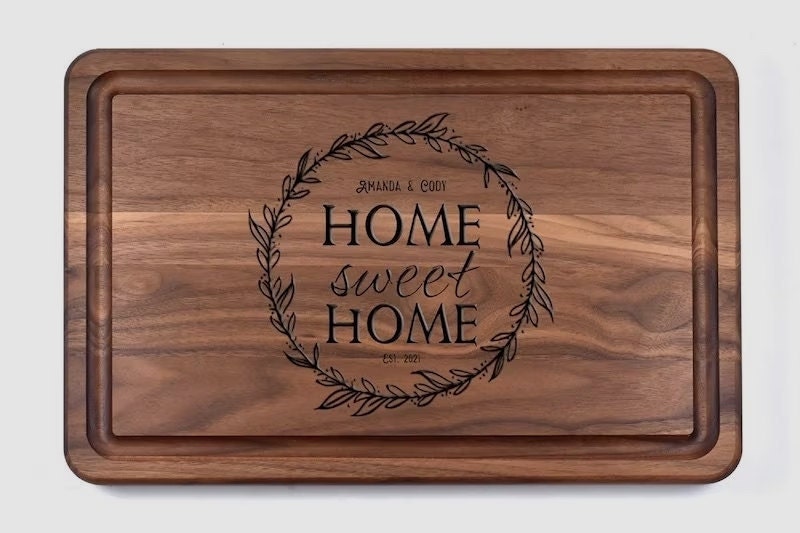 SHOP: Personalized engraved teak wood cutting board from Cutting Board Cafe, from $115
Every hostess with the mostest will wow future houseguests with this personalized cutting board that can pull double duty as a beautiful charcuterie board, too. Shop more of the best charcuterie boards made by small shops on Etsy.
9. Engraved marble coasters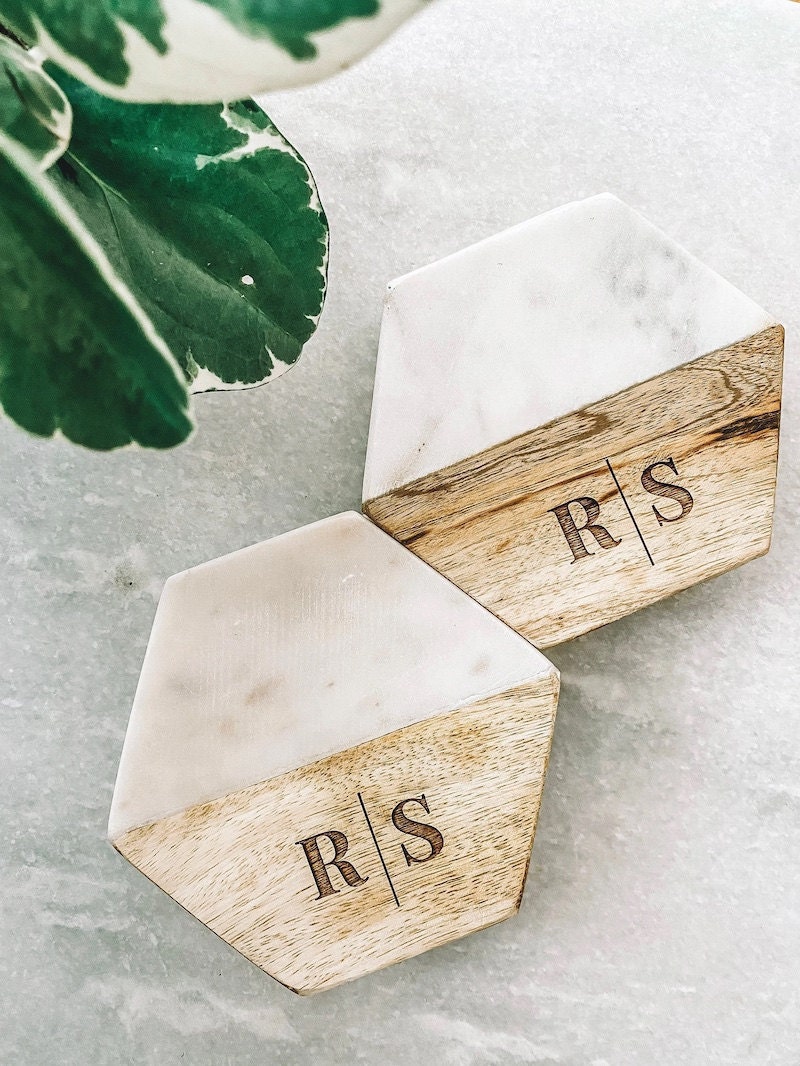 SHOP: Custom engraved hexagon coasters from Forever Etched, $45 for a set of 4
These personalized coasters are the perfect touch to elevate your coffee table, or would make a thoughtful thank you gift when you're invited over to see your friend's new place. Made from an elegant combo of mango wood and marble and custom engraved with the recipient's initials, these coasters are an eye-catching piece for any gathering in a new home.
10. A housewarming gift for family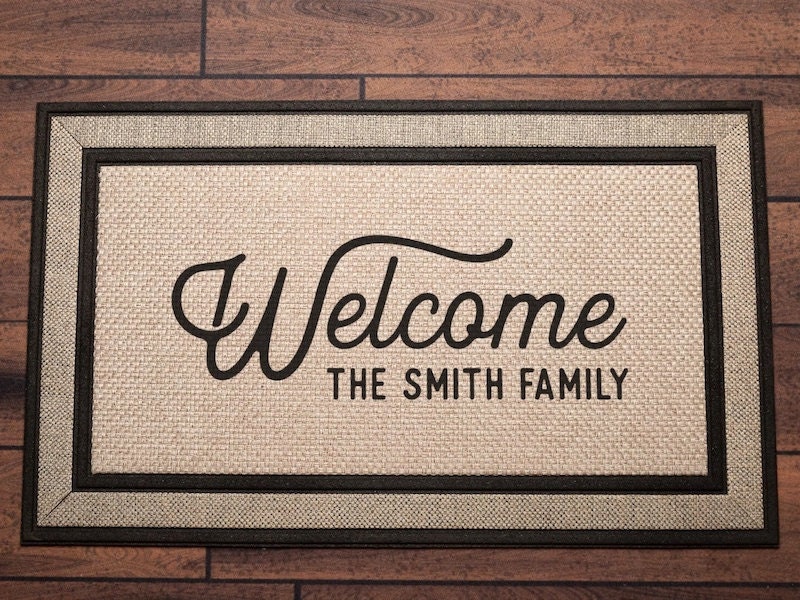 SHOP: Personalized welcome mat with family name from A Custom Shop, from $50
Don't overlook the value of a personalized door mat. It's the first thing guests see when they arrive at the doorstep, and it's the last thing they see before they leave. This custom mat welcomes both family and friends—literally.
11. Toasting glasses for the bar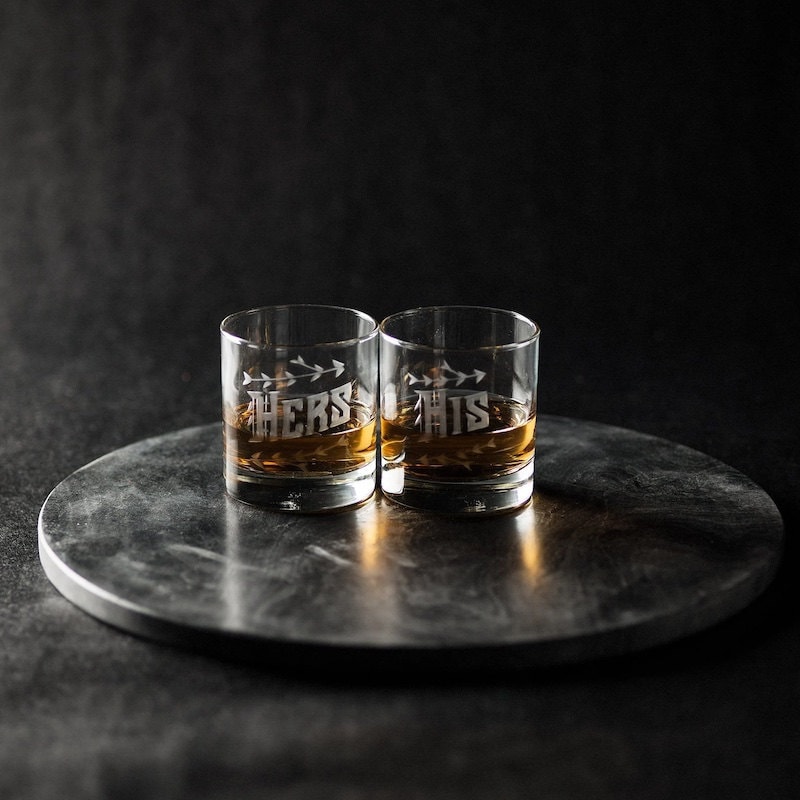 SHOP: Personalized engraved set of glasses from Love & Victory, $56
The perfect addition to a home bar, these engraved low-ball glasses complement any favorite spirit. A thoughtful housewarming gift for couples, you can also select a set of just "His" or just "Hers" glasses to celebrate their homeowner status.
Practical housewarming gifts
The best housewarming gifts are both practical and pretty. For a housewarming gift they'll use often, these picks are prepared for daily duty.
12. Reusable produce bags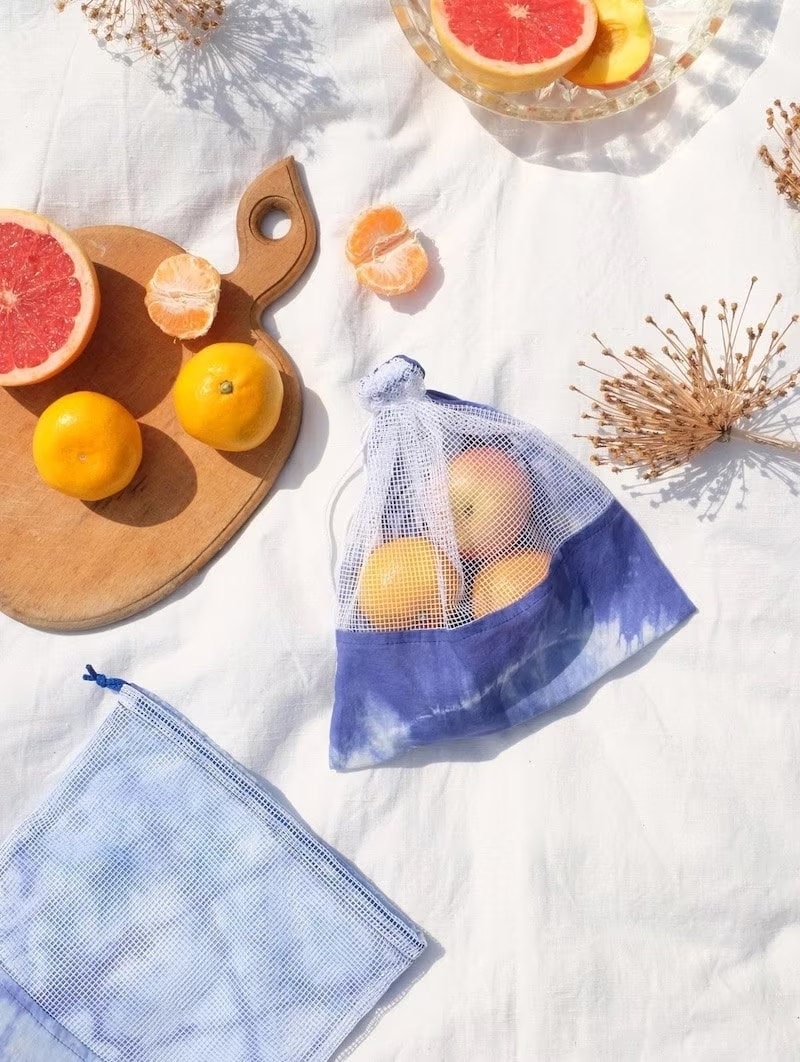 SHOP: Reusable produce bags from Catching Orion, from $14
Ultra-affordable and ultra-conscious, this sustainable swap reduces the need for plastic produce bags when making a trip to stock up the new fridge, and every grocery run after that. Upcycled from leftover cotton scraps, these cheery tie-dye bags feature a drawstring closure and come in a variety of sizes.
13. Bright kitchen towels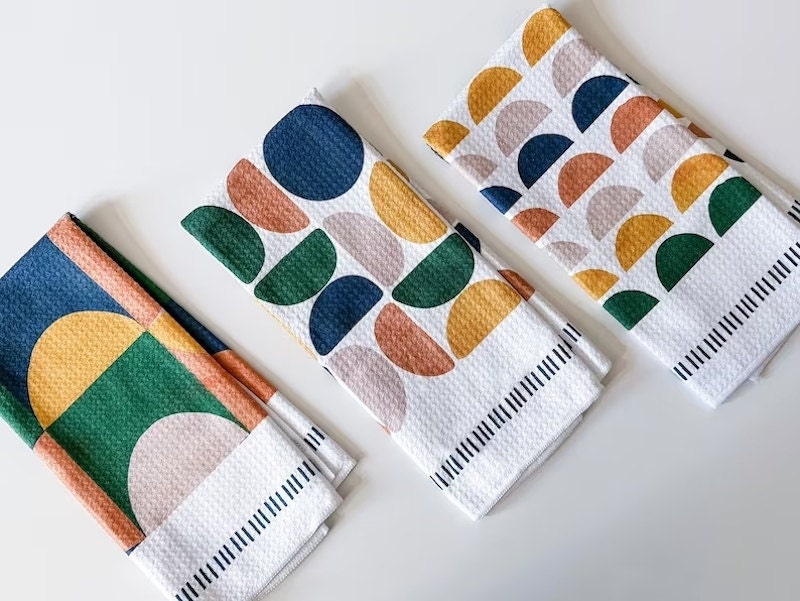 SHOP: Geo boho dish towel set from Render Goods, $37 for a set of 3
Add color to the kitchen with these graphic and gorgeous dish towels. Made from post consumer recycled bottles, these towels wow buyers with their absorbency and bold, beautiful hues.
14. Cleaning labels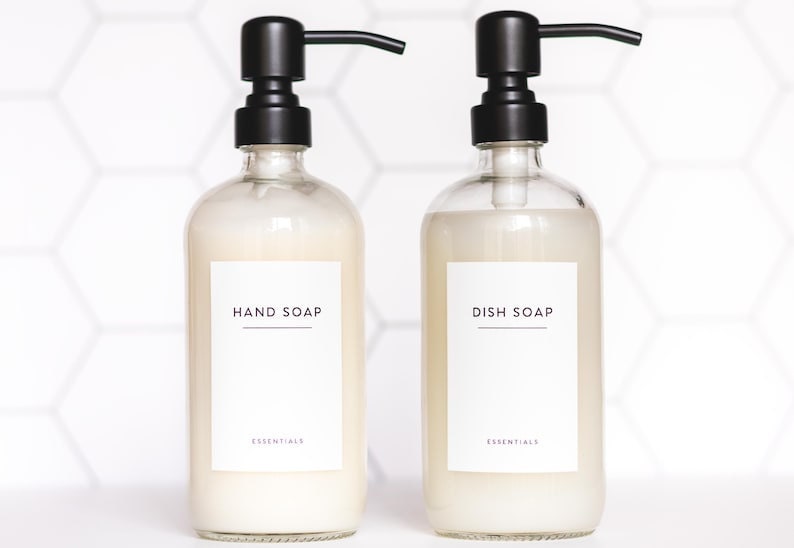 SHOP: Minimalist hand and dish soap labels from Ocean Studio FL, from $12
Whether you're shopping for new home gifts for your own Etsy Gift Registry or looking for someone else, we're guessing the new home you're thinking about has at least one water closet, making these minimalist cleaning labels a sure bet for a housewarming gift. If these are for a loved one, let the homeowners choose their own glass dispensers to apply these labels to, or pick up a set as part of your gift.
15. A bouquet-ready vase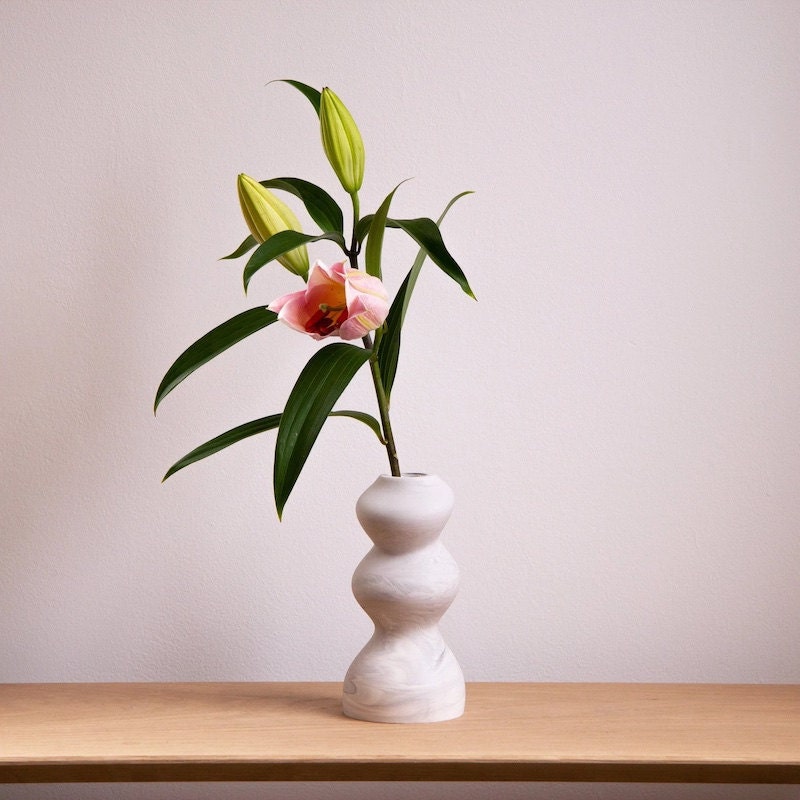 SHOP: Abstract wavy flower vase from EXTRAandORDINARY, $80
Nothing beats fresh flowers, so this housewarming gift is something that will be used over and over again. This artistic bubbly vase is an eye-catching way to display the latest bouquet of "Welcome home!" blooms.
Housewarming gift baskets
Embrace the "more is more" mentality with a housewarming gift basket brimming with goodies for any new home. Or, opt for a DIY housewarming gift and grab a unique vessel—like a handmade ceramic bowl, a woven seagrass basket, or a canvas tote—and add your own gift selections including candles, kitchen towels, or a clay wall hanging you craft on your own.
16. An address-adorned housewarming gift basket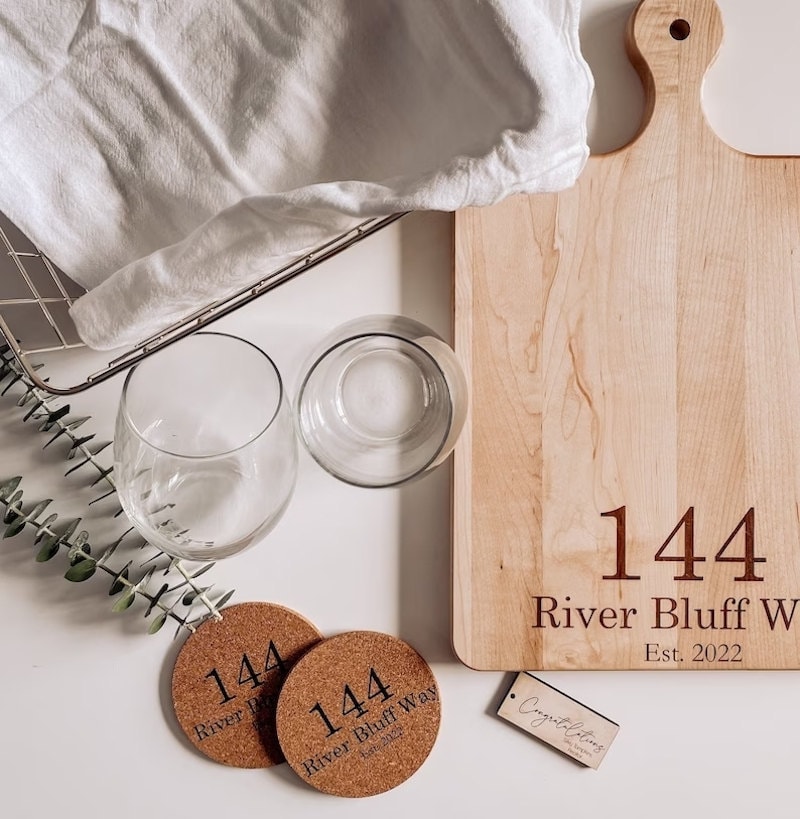 SHOP: Housewarming gift bundle from Zehr Custom Engraving, from $60
Put the new house digits front and center with this customized housewarming gift basket filled with engraved goodies including a charcuterie board, wine glasses and cork coasters—all featuring the new home's address.
17. Mystery coffee sampler basket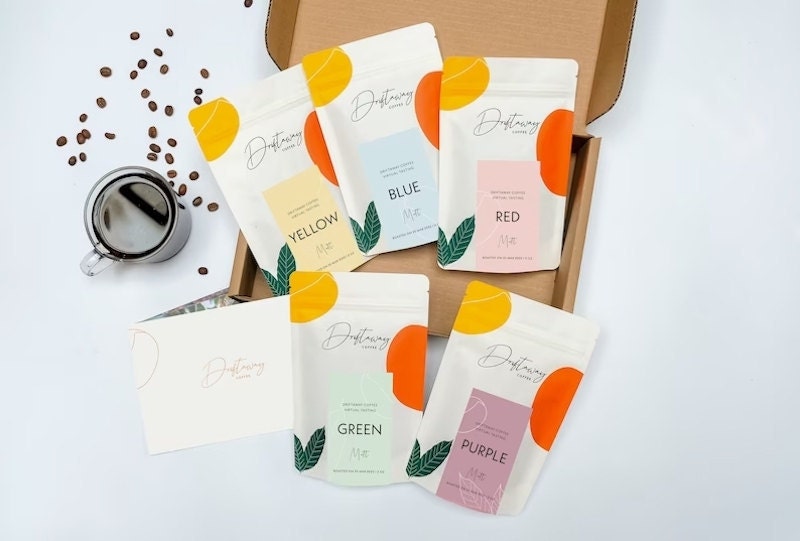 SHOP: Mystery world coffee sampler from Driftaway Coffee, from $18
Fuel those late-night unpacking sessions with a selection of whole-bean coffee from around the world. Simply select the grind size, from whole bean to espresso to cold brew, and this small shop will hand select a sampler set to keep your friends amped 'til the final box is broken down.
Affordable housewarming gift ideas
Housewarming gifts don't have to break the bank, and these affordable new home gift ideas don't sacrifice on thoughtfulness or quality, despite their small price tags. Most of these picks for the best affordable housewarming gifts are $20 or less.
18. Fine art photography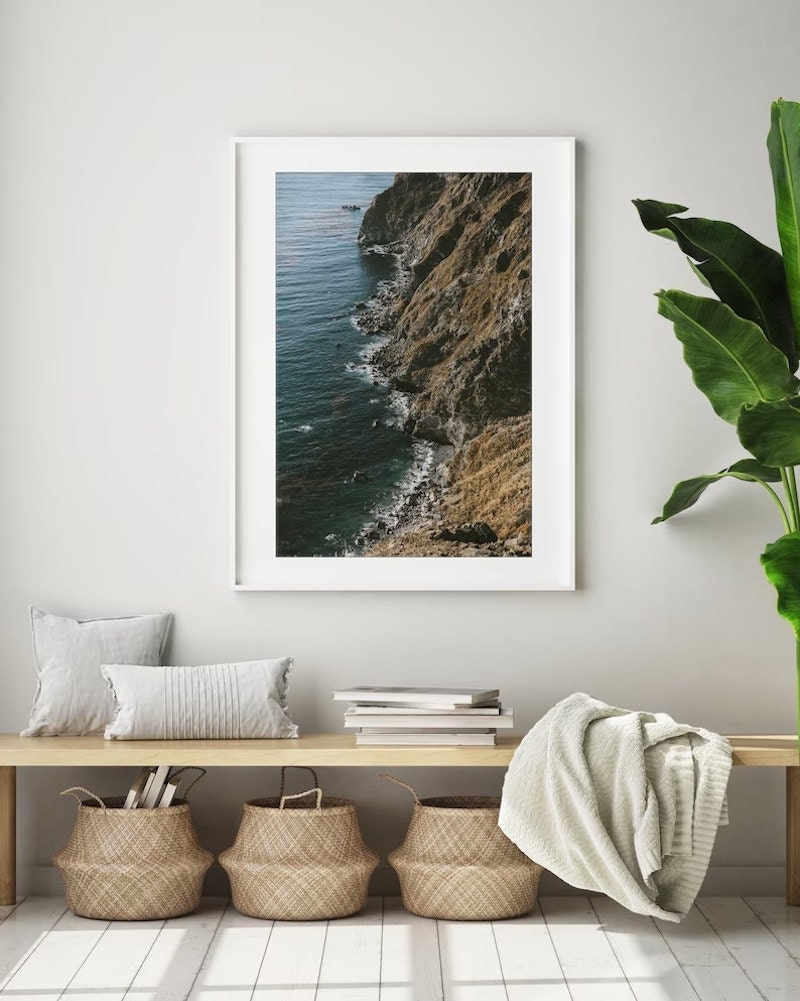 SHOP: Big Sur fine art photography from MO Photography, from $15
Start building a beautiful gallery of wall art with a fine art photography print showcasing the recipient's favorite city or destination. Shopping for your favorite couple? It could be where they met, their favorite vacation destination, or a shot of the first town they lived in together. Shop these prints that earn rave reviews from buyers now!
19. 3D seashell vase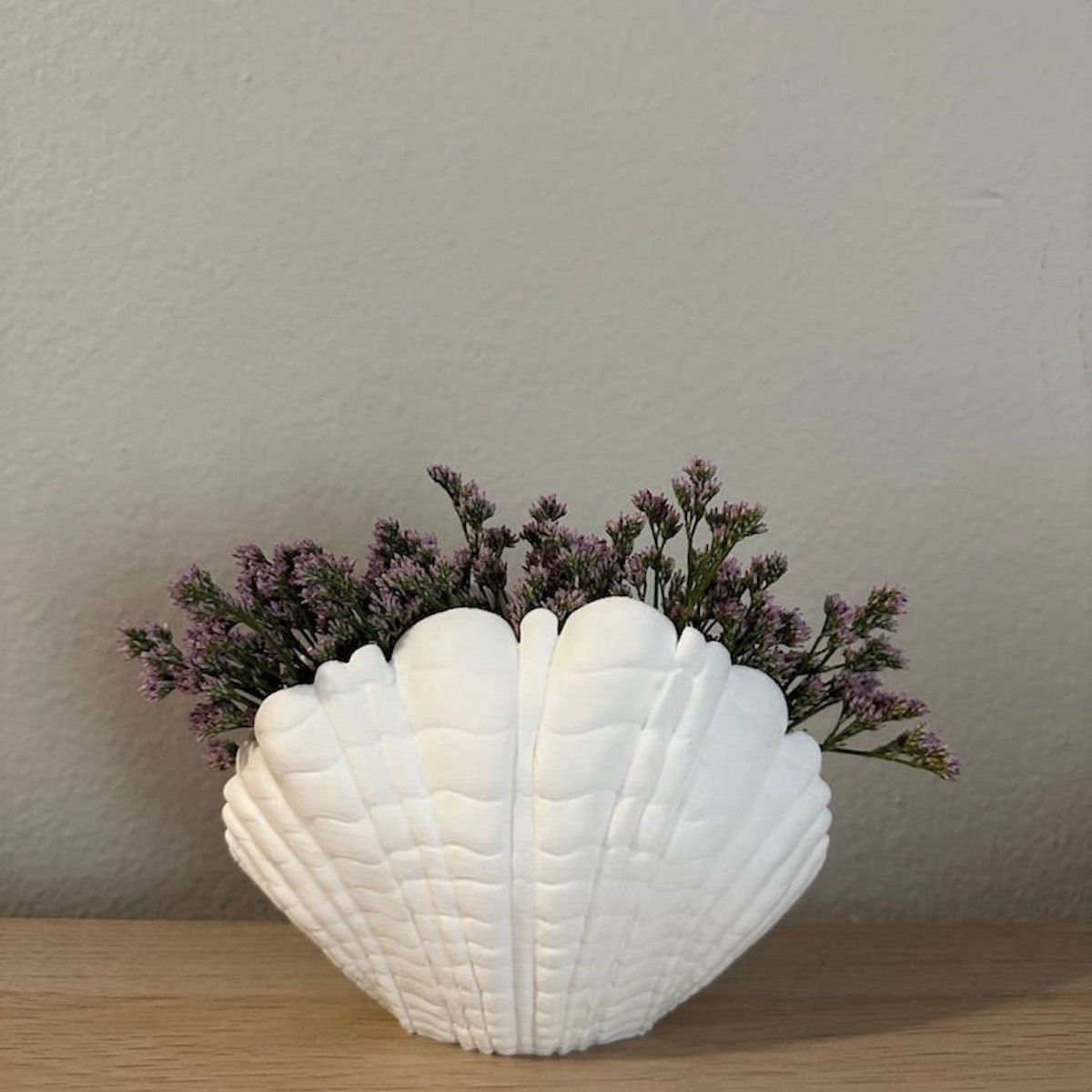 SHOP: 3D seashell vase from Print Level 3D, $24
If you or your loved one is going for the "coastal grandmother" vibe, this seashell vase is the perfect touch. Its small size also makes it great for apartments and dorm rooms.
20. An easy digital print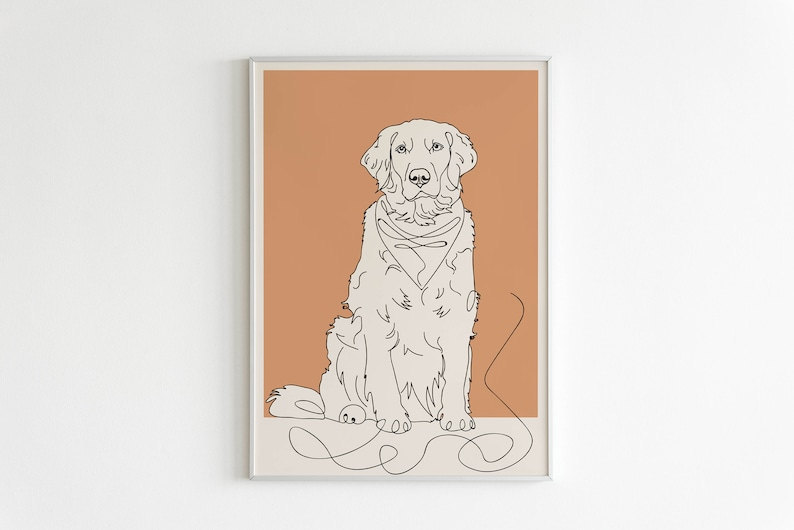 SHOP: Custom line drawing digital pet illustration from Linear Portrait, from $13
Short on time and need a great last-minute housewarming gift? This custom digital illustration arrives in your inbox, ready to frame and ready to gift. Simply share a photo with the seller, and you'll have a one-of-a-kind piece of artwork featuring a beloved pet.
21. Personalized tea towel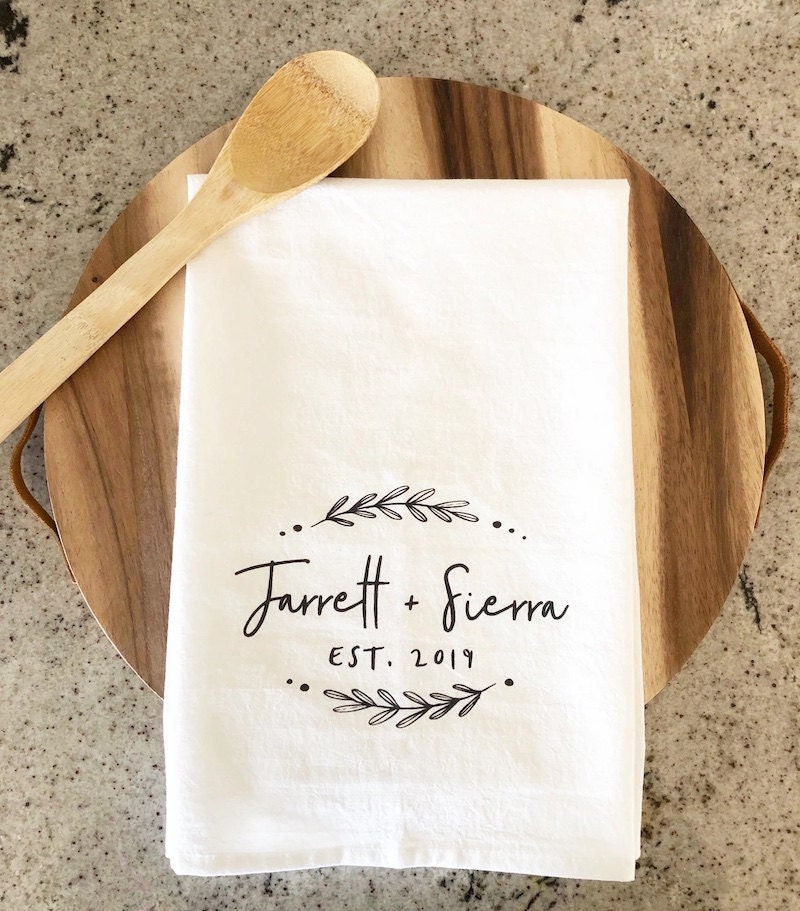 SHOP: Personalized tea towel for couples from Our Rustic Home Decor, $12
If you're looking for the perfect personalized gift for a newlywed couple or want one of your own, this custom tea towel is sure to spruce up the kitchen and have the recipient drying dishes in style.
22. Housewarming candle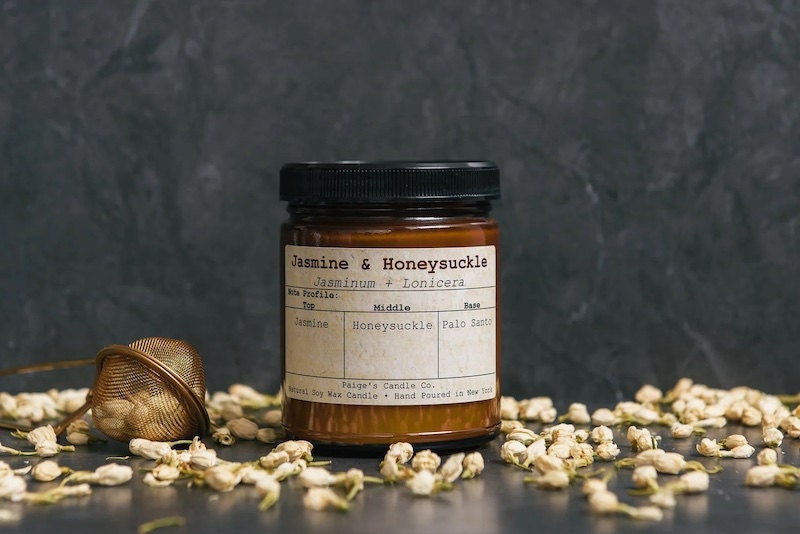 SHOP: Jasmine and honeysuckle candle from Paige's Candle Co, from $21
Scented candles are a go-to housewarming gift and for good reason: Their delicate aromas can transform any room into a cozy sanctuary or a refreshing, revitalizing space. And this divine combo of jasmine and honeysuckle calls to mind summers on the beach and breezy shores throughout the year.
23. Linen bread bag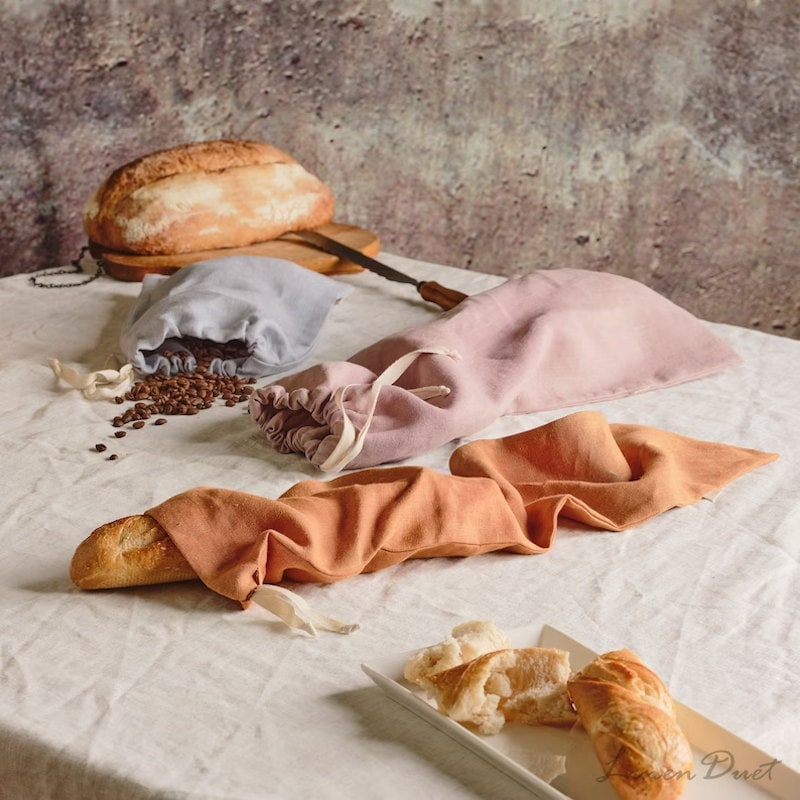 SHOP: Linen bread bag from Linen Duet, from $20
Another traditional housewarming gift idea, bread is often given as a blessing that a new home never knows hunger. This reusable bread bag is made from European linen and is ready to be filled with your favorite baguette.
24. Spice jar labels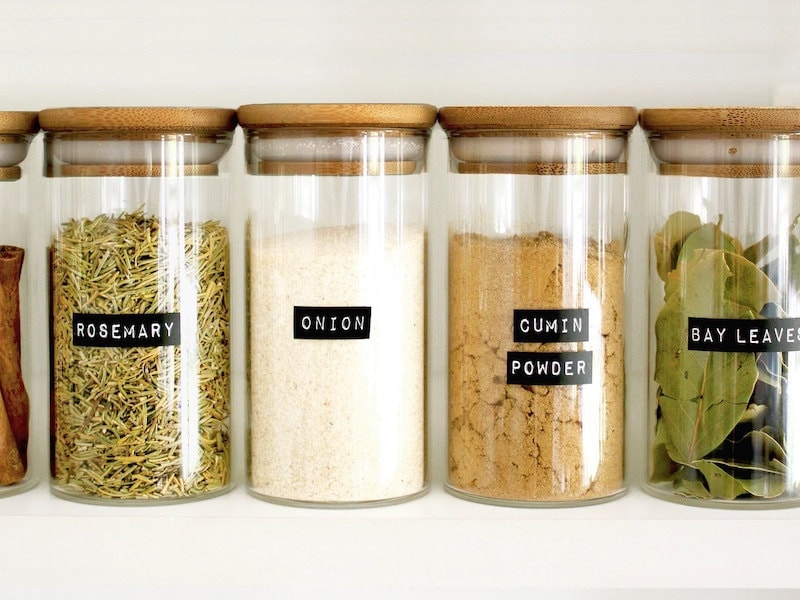 SHOP: Minimalist spice jar labels from Quart and Pint, $15
With home ownership comes home organization, and these minimalist and sophisticated spice jar labels will immediately tick at least one task off that to-do list. Waterproof and durable, these labels are a great addition to any modern pantry.
25. A signature scent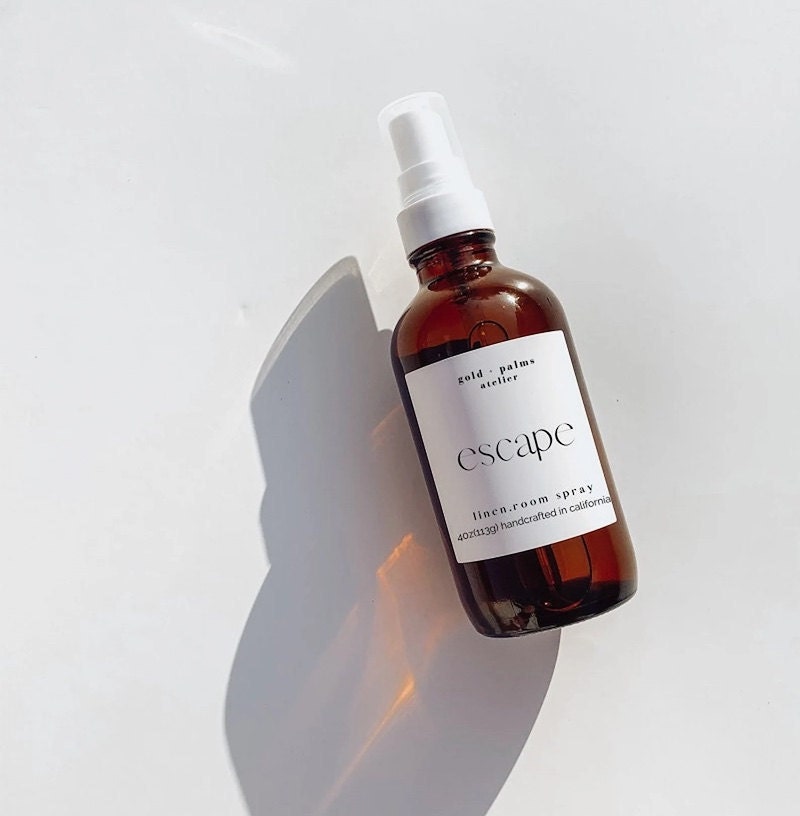 SHOP: Fresh and Sweet room spray from Gold and Palms Atelier, $17
Perfect for the new homeowners who love to entertain, this room spray can freshen up any space in a flash when guests stop by unexpectedly. With its notes of ozone, jasmine, and wood, it'll quickly become a heavenly signature scent.
New home gifts
If this is your or a loved one's first home ever, there are likely a few essentials to still be gathered. Celebrate this significant milestone with a thoughtful, handmade housewarming gift that's been crafted especially for the recipient. From espresso mugs to elevate an at-home coffee bar to glam glassware for the next social shin-dig, these housewarming gifts for a new home will add some instant personality to any abode.
26. Spice dishes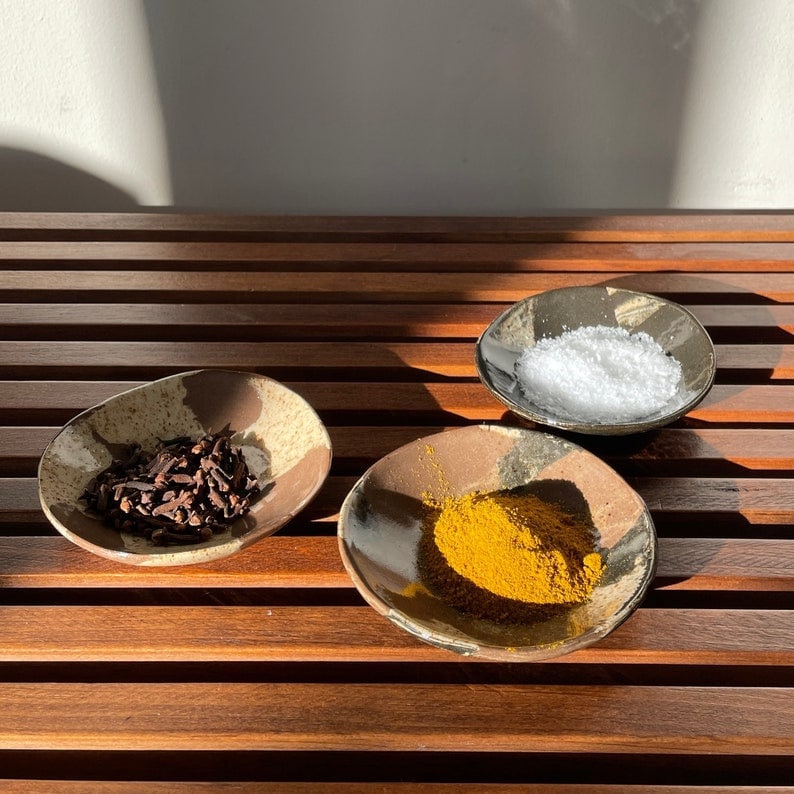 SHOP: Set of 3 small ceramic spice bowls from Casa Studio, $70
Representing the wish for a new home to always have flavor, salt is a traditional housewarming gift idea. And this set of three small spice dishes makes storage more stylish than ever. Sure to be a hit with anyone, shop these handcrafted dishes now.
27. Espresso mug set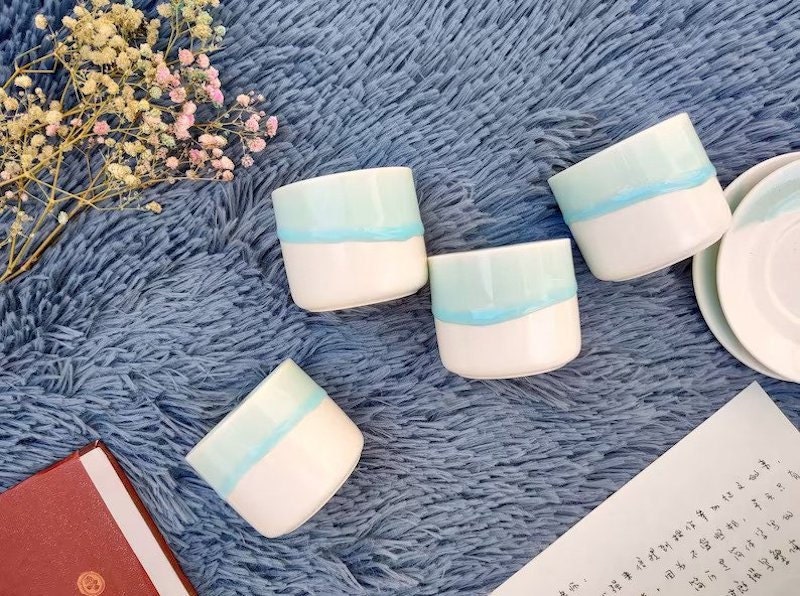 SHOP: Ceramic espresso cups set from FireClayArt, from $12
Whether it's a shot to get started with the unpacking or an after-dinner sip at the housewarming party, these espresso cups are a useful housewarming gift idea to complement your favorite coffee lovers' current collection of mugs.
28. A helpful charcuterie board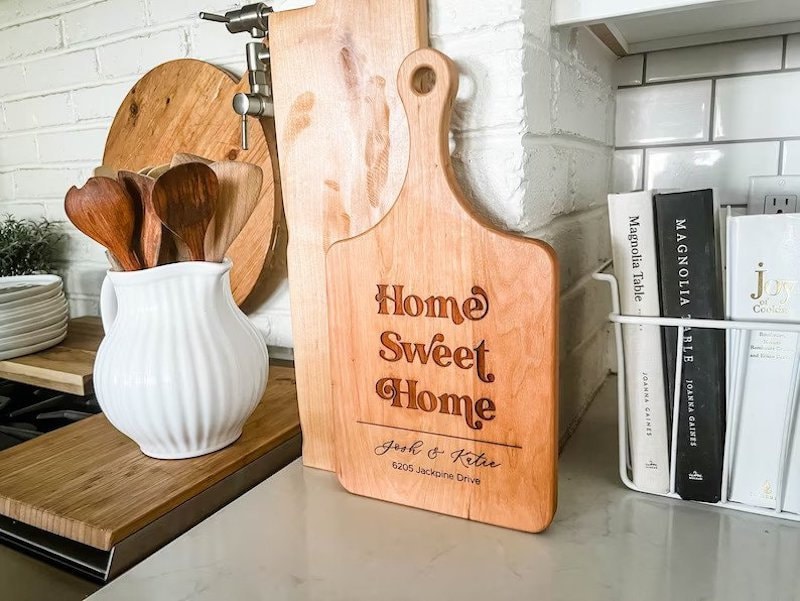 SHOP: Personalized address charcuterie board from Copper Fox Company, from $28
Learning a new address can take a moment, and this housewarming gift puts it on full display so the recipient can see it and memorize it easily. This customized charcuterie board can feature an address, last name, or another fun personalization.
29. Custom house number sign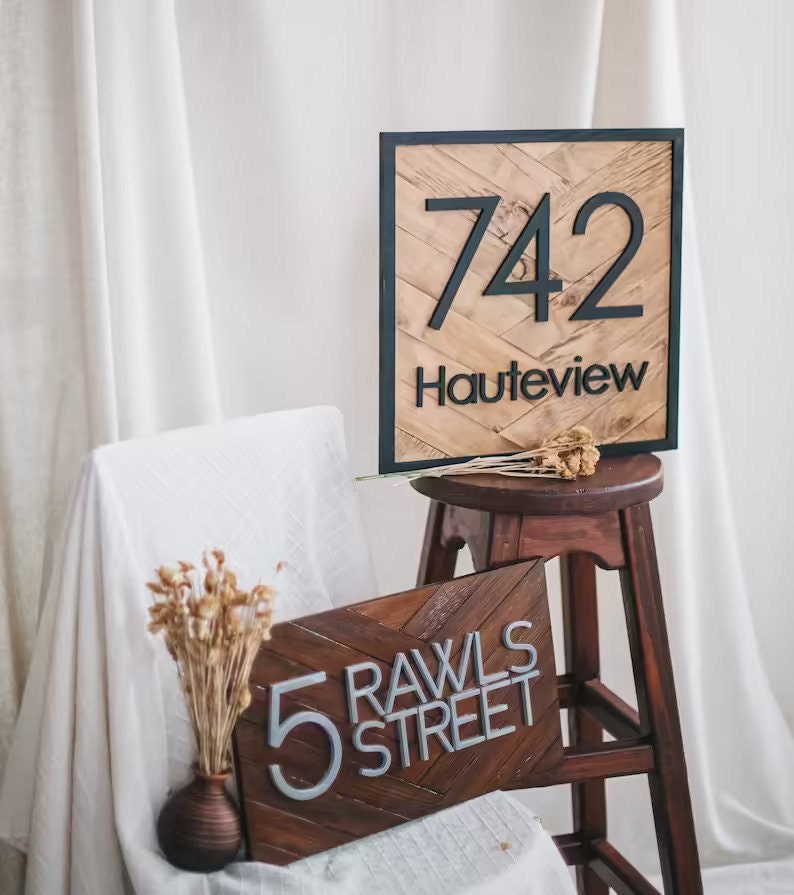 SHOP: Custom house number sign from CJamStore, from $94
When it comes to new home gifts, a custom home number sign can be the perfect thing to celebrate this milestone moment. This design features the street number and name, and for an extra touch the seller also creates matching last name signs that can be displayed side by side.
30. A natural muslin throw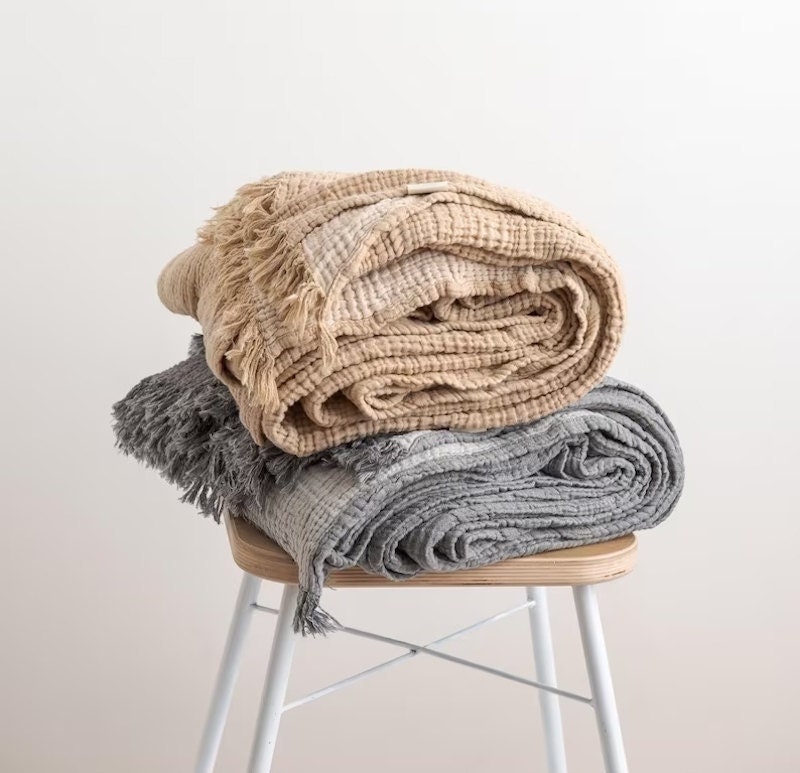 SHOP: Natural muslin throw blanket from Confetti Mill, $170
A literal "lap blanket" of luxury, this housewarming gift will live up to its name and keep the lucky recipient warm and cozy all year-round. This lightweight throw can be displayed at the foot of the bed or draped casually over a blanket ladder for a touch of lived-in comfort.
Shopping for a housewarming gift for couples, specifically? Whether they just got hitched, are moving in together, or simply switched humble homes, celebrate the happy duo's new residence with these housewarming gifts for couples.