These thoughtfully designed incense holders are handcrafted with care to inspire moments of calm while enhancing the aesthetic in your space.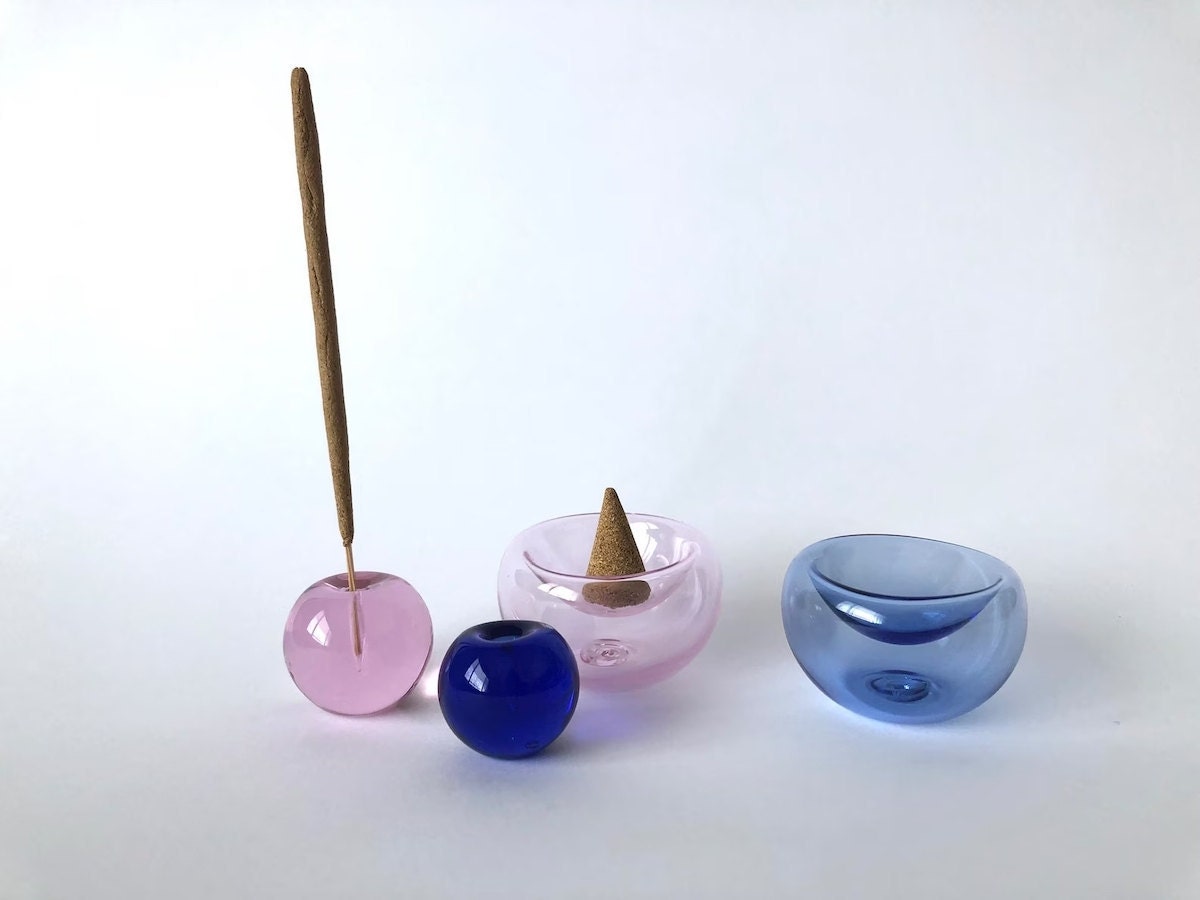 We've got a burning question for you: When was the last time you took a moment for yourself to really relax? These one-of-a-kind incense holders are the perfect reminder to slow down, take a breath, and treat yourself to a little aromatherapy session from time to time. There are plenty of purposes for this smoky, sweet-smelling practice: Perhaps you use incense to keep your rooms fresh and fragrant or it's part of your meditation ritual. Or maybe you simply appreciate the aromatic reminder to slow down and smell the incense.
Whether you use it for self-care, spirituality, or simply styling your favorite floating shelf with some unique decor, the incense holder you choose can beautifully blend both form and function when you opt for a unique, handmade design by a small shop on Etsy.
1. An industrialist chic incense holder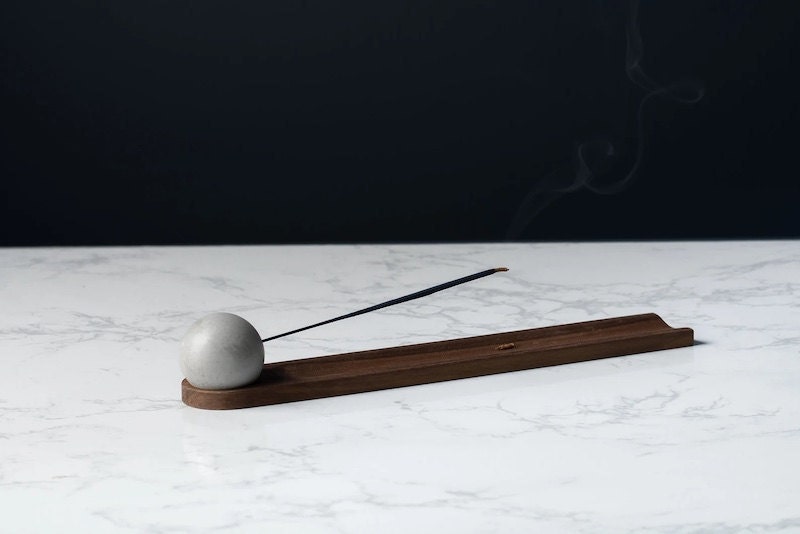 SHOP: Walnut and concrete incense holder from Komolab, $48
If your vibe is sleek and modern, look no further than this stunning walnut and concrete incense burner. Its bold, geometric silhouette makes it an artistic accent for anyone with a penchant for industrial style decor.
2. An unconventional incense holder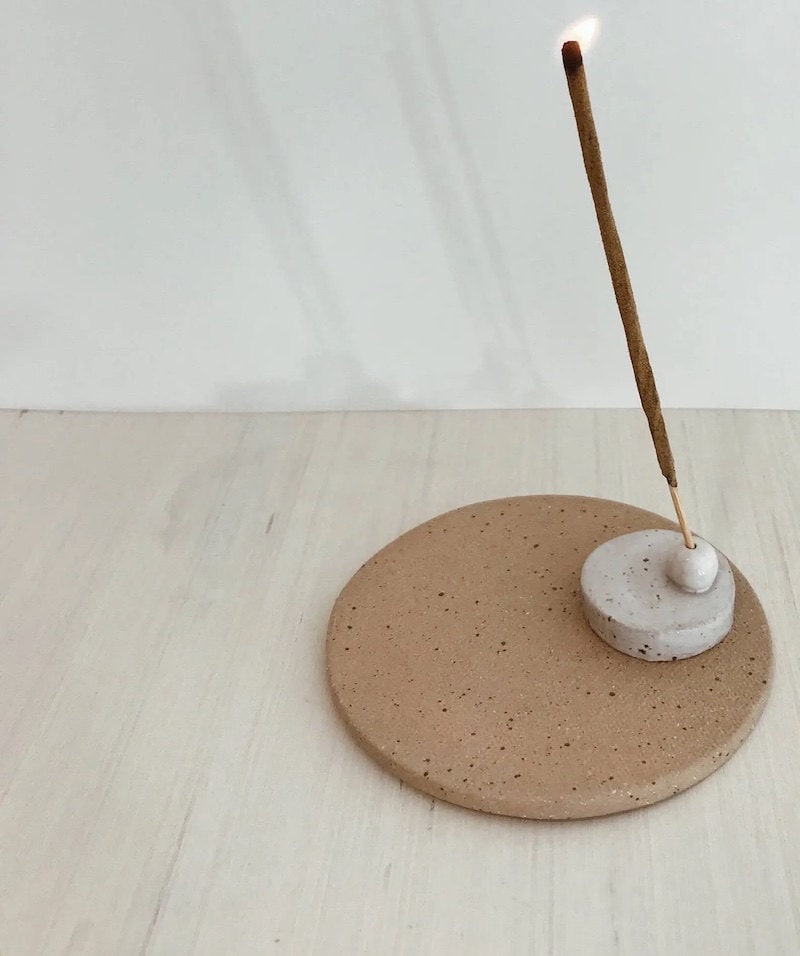 SHOP: Modern sphere incense holder from Muddy Heart, $84
Make a subtle statement with this unexpected and versatile design. Offered in espresso, buff, stone, and white porcelain clay, its small sphere is just the right fit for sticks while the base is heatproof and ready to cradle all the cones and smudges your heart desires.
3. A minimalist incense tray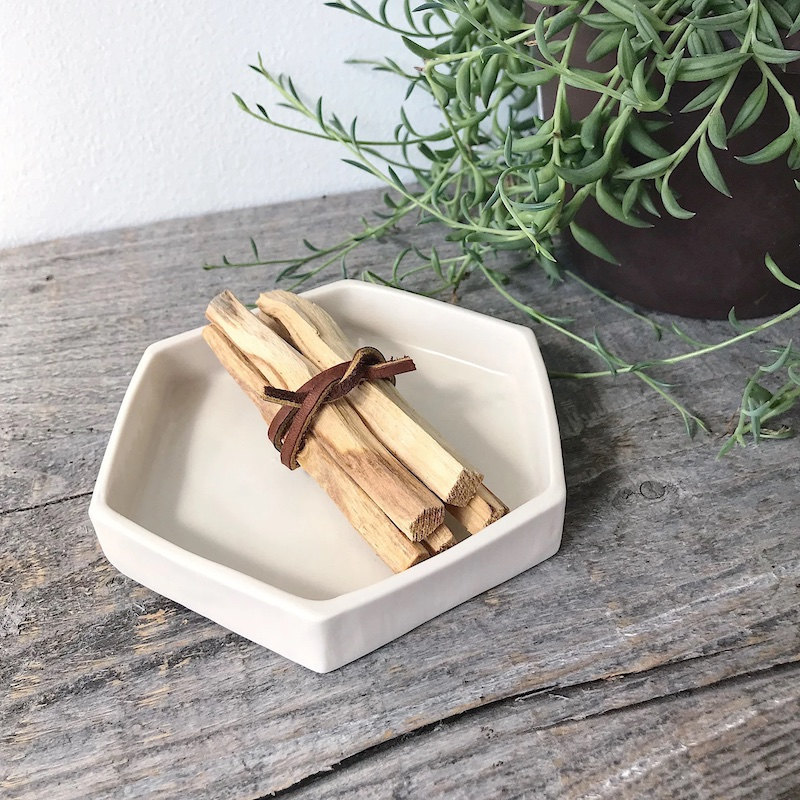 SHOP: Ceramic incense burning tray from Niik Creative Co, $32
This hexagon-shaped dish is made from durable porcelain with a smooth, glazed interior for easy clean-up. Plus, get a free bundle of calming palo santo sticks to pair with this pretty plate.
4. A hand-blown glass incense holder set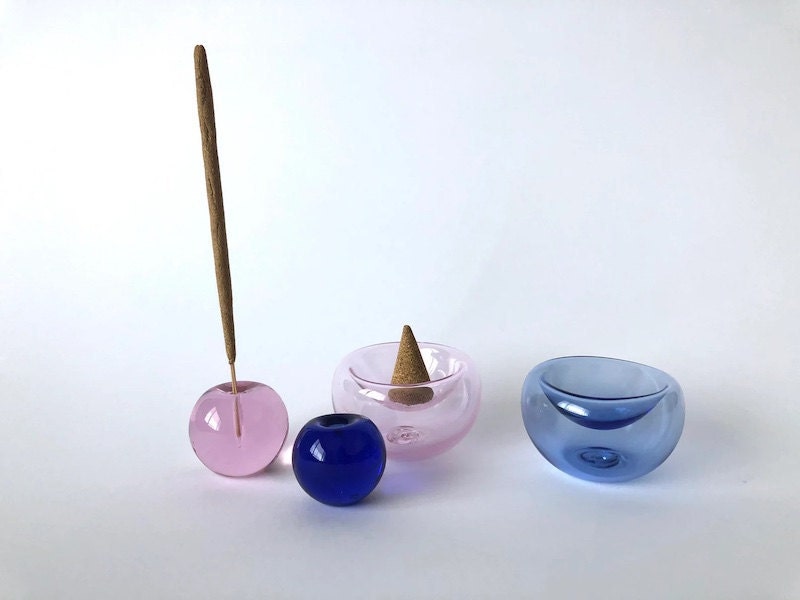 SHOP: Two-piece incense holder set from Brook Drabot Glass, $42
Add a touch of class (and glass!) to any space with this elegant two-piece set. This sophisticated crystal ball and dish provide a perfectly pastel pink home for sticks and cones alike to create the ultimate cozy ambiance.
5. A cute cat incense holder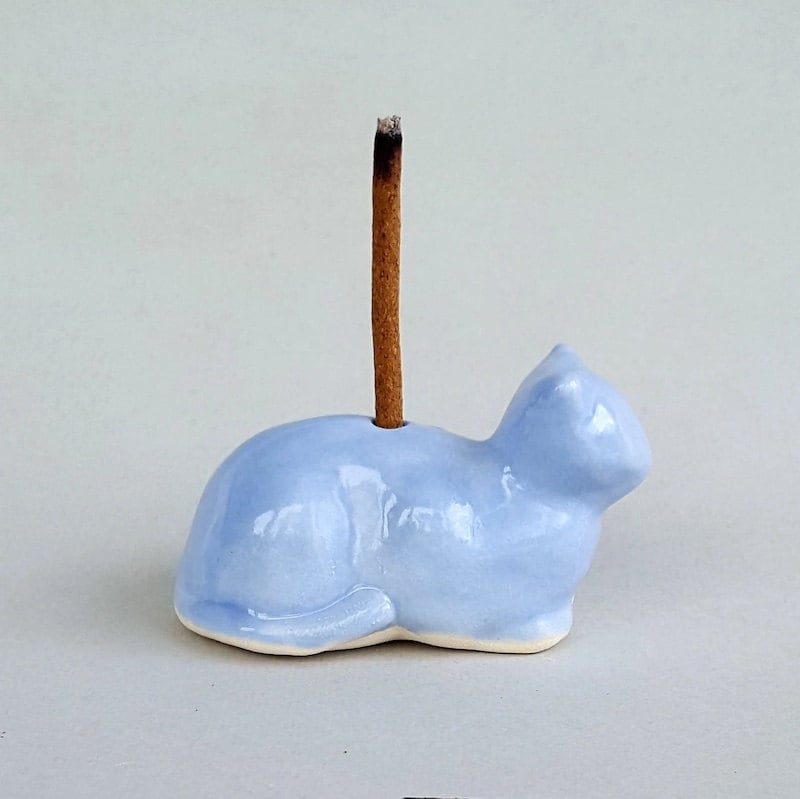 SHOP: Cat-shaped incense holder from Anoush LLC, $10
For the feline fanatics out there, brighten up your living room, bathroom, or bedroom with this slick incense holder in the shape of a furry friend. Choose from five different hues to match your aesthetic and get ready for a chill night in with your new pocket-sized pet.
6. A colorful incense holder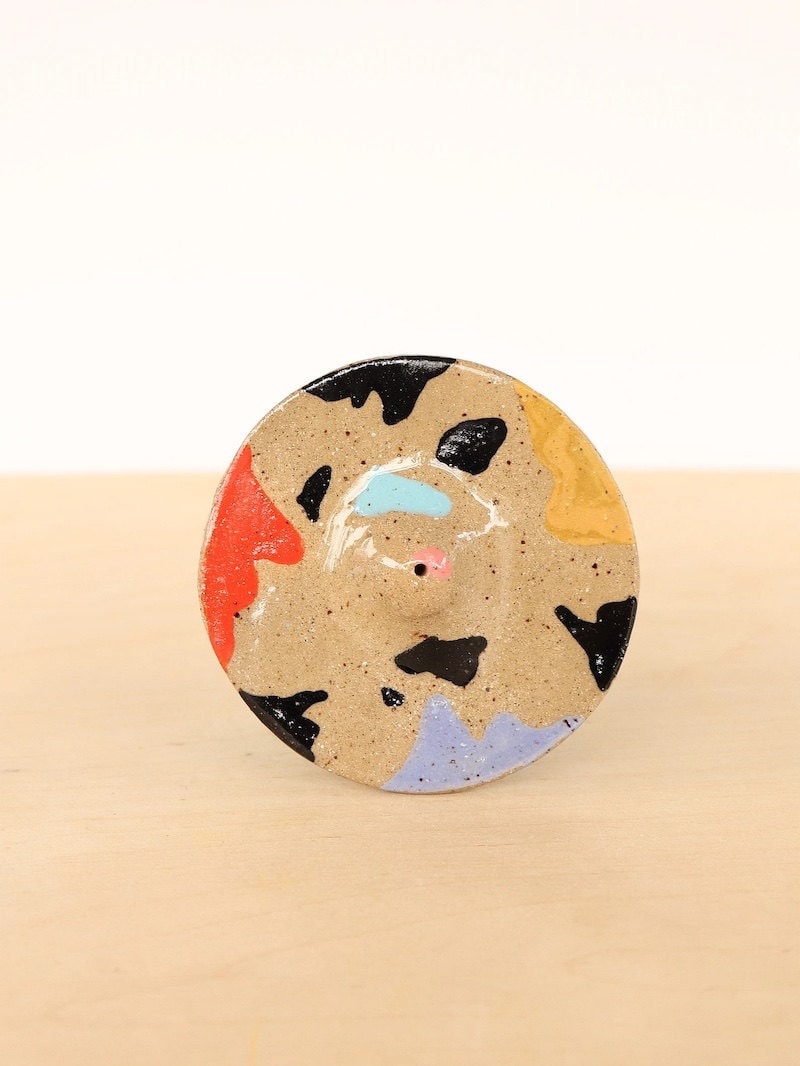 SHOP: Stoneware incense holder from Nightshift Ceramics, $26
This speckled stoneware piece features a few splashes of color and a glossy glaze for a fun modern look that will keep your incense sticks safe and stylish. It's easy to find a spot in your home to pop this ceramic beauty thanks to its small, circular shape and sturdy base.
7. A globe incense holder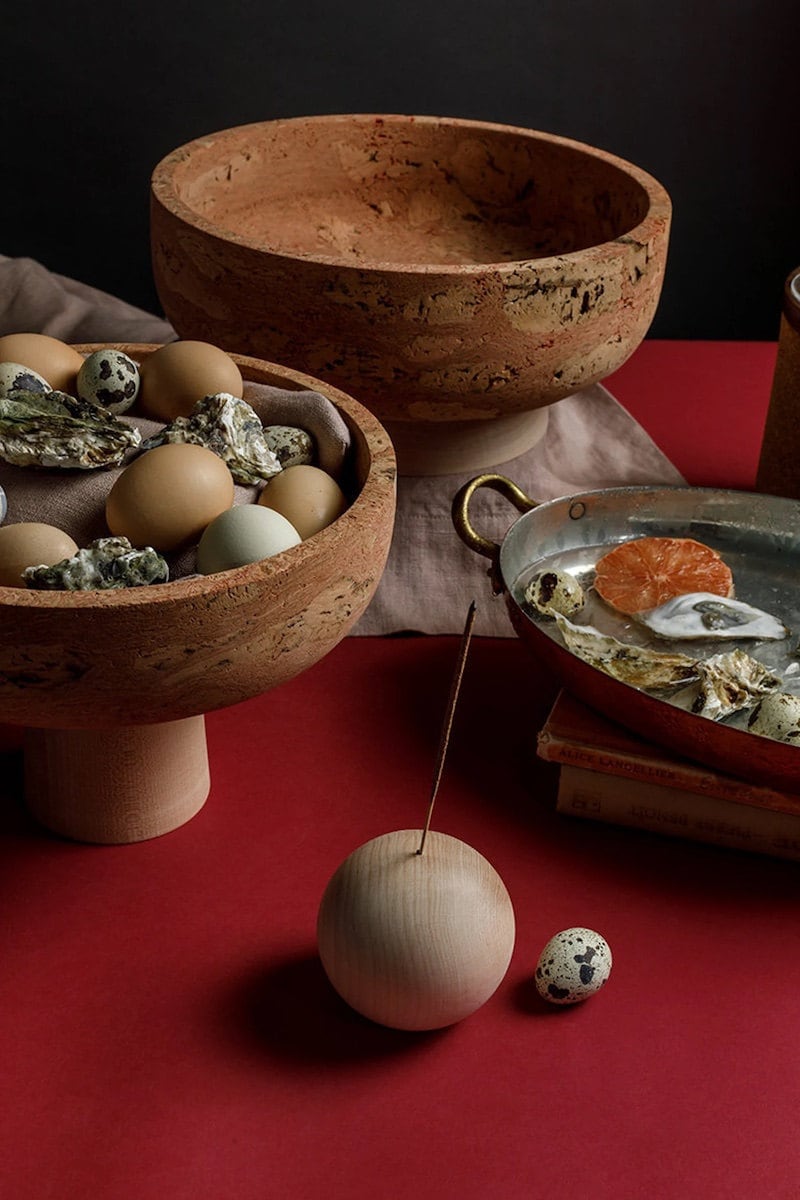 SHOP: Spherical wooden incense holder from Melanie Abrantes, $49
Hand-turned out of real locally sourced maple wood, this splendid spherical incense holder is made to last so you can savor hours upon hours of sweet, serene burn time. So light your favorite fragrance in this sculptural work of art and feel good about your purchase knowing it was crafted with the earth in mind.
8. A brass bowl incense holder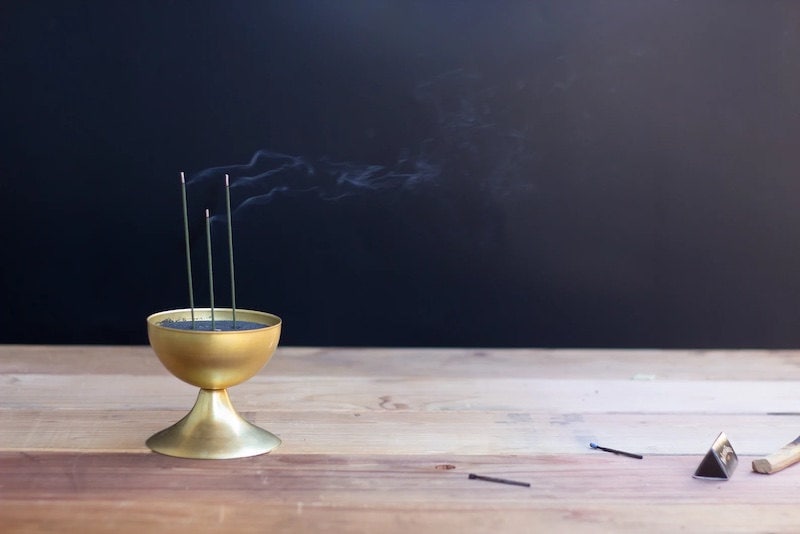 SHOP: Goblet incense holder from Matt Alford Studio, $95
Whether you're looking to fire up some palo santo or good old-fashioned incense sticks, this solid brass goblet has you covered. Along with a pound of exquisite black sand, you'll receive 15 free incense sticks so your space will be filled with an air of opulence in no time.
9. A cowboy hat incense holder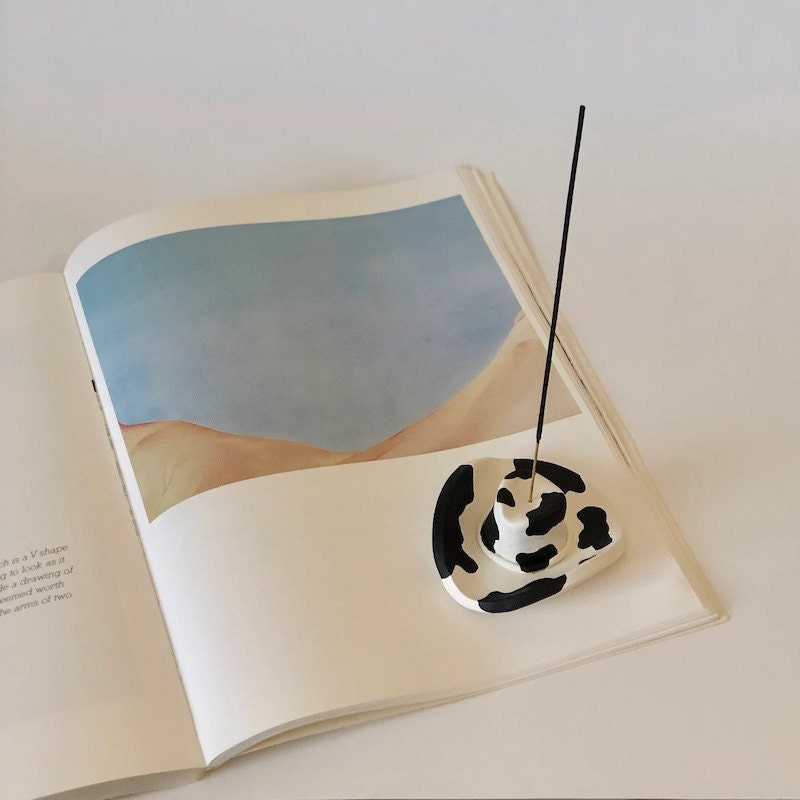 SHOP: Cow-print hat incense holder from MANO Clay Goods, from $33
Say "howdy" to your incense sticks' new favorite "pardner." Dripping with Western charm, this cowboy cutie is hand-sculpted from polymer clay with a soft satin finish and several colorways to choose from.
10. A simple stoneware incense holder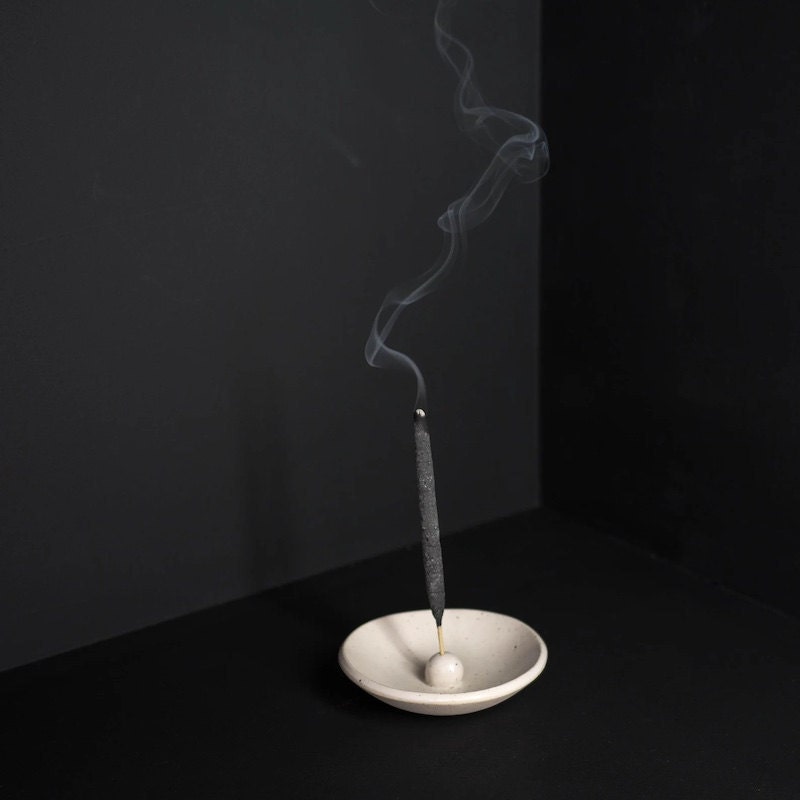 SHOP: White ceramic incense holder from Maison Stoi, $18
Sculpted, polished, and enameled by hand, this modern incense holder features a subtle yet unique design and satin ivory finish. Its functional form and classic flecked pattern mean this piece will look right at home in whatever room you choose.
11. A mid-century modern incense holder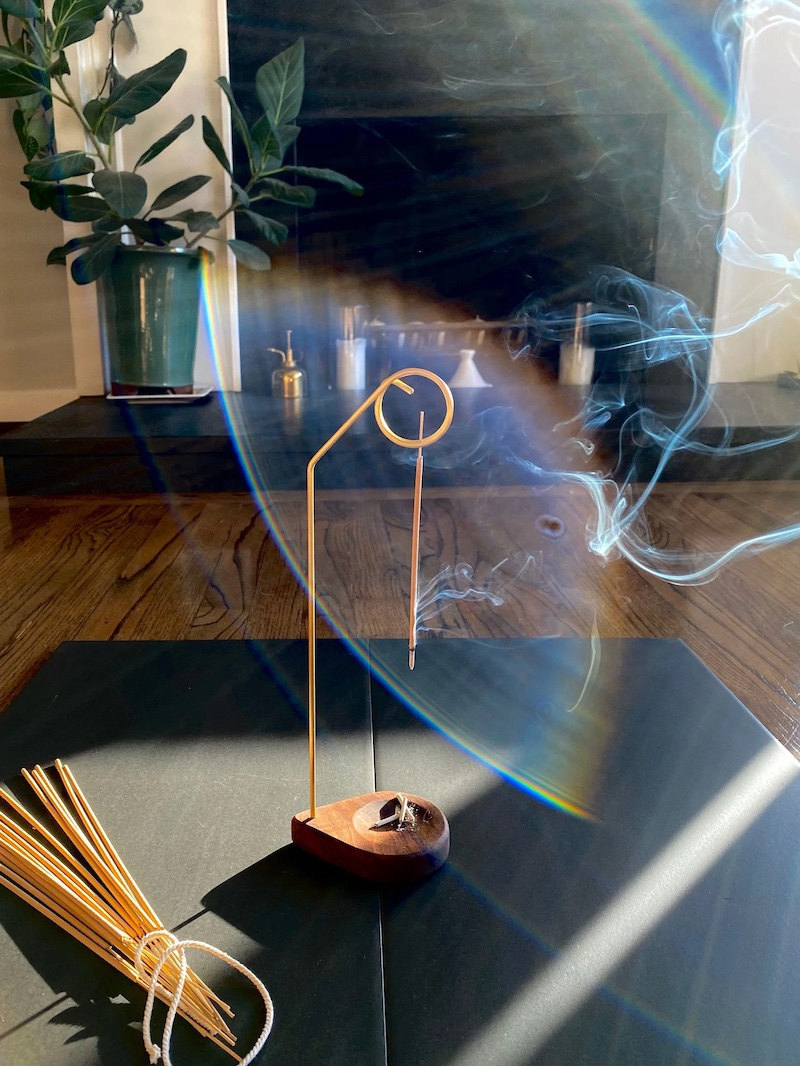 SHOP: Brass and wood incense holder from Irvington Woodworks Co, $35
Looking to turn some heads? This gorgeous hanging incense burner is crafted from brass and walnut wood with an unusual configuration that's sure to make a statement.
12. A palo santo incense holder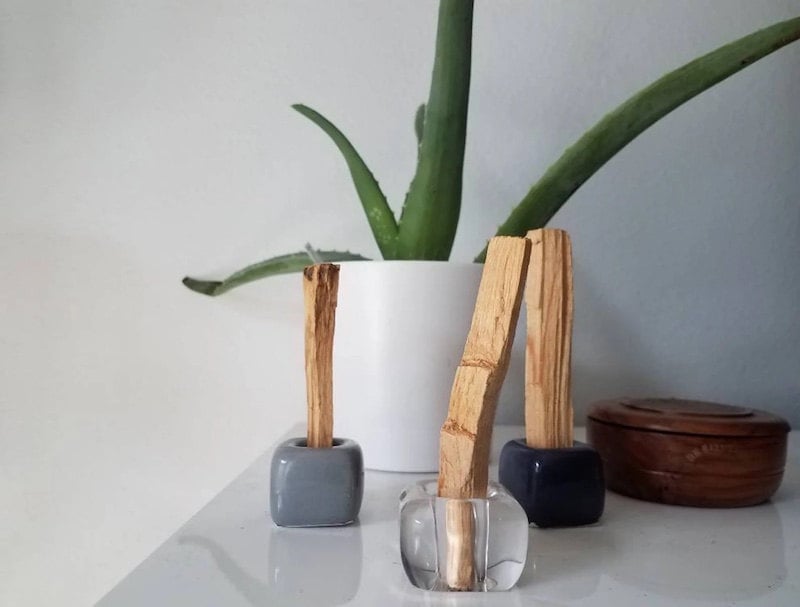 SHOP: Upright palo santo stick incense holder from Winston and Pete Co, $10
Display your sacred sticks with pride in these solid, chunky vessels, offered in porcelain or glass. This incense holder's unique upright design allows your palo santo to stand tall while saving space on your altar, mantle, or whatever surface it calls home.
13. A classic concrete incense holder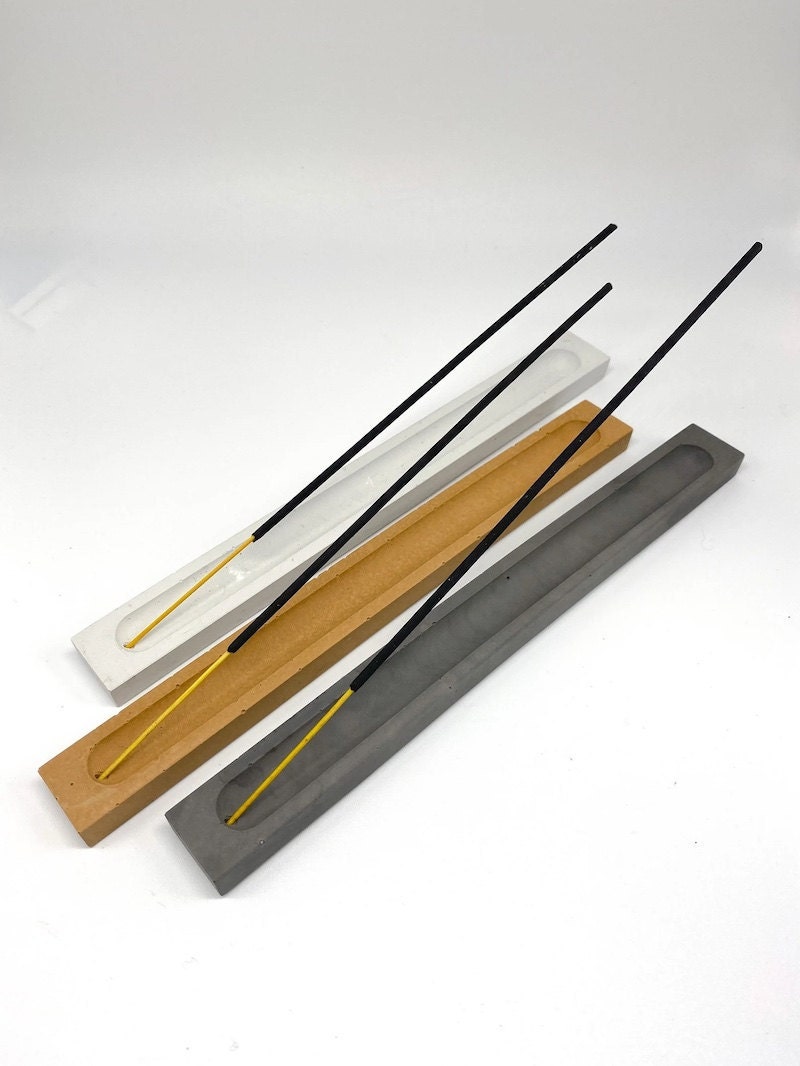 SHOP: Long thin incense holder from Tara Jayne Designs, $18
Hand-poured with care and fixed with cork underneath to keep it stable and secure, go for this long, thin incense holder if you prefer to stick with sticks. Buyers are all fired up over this beautiful piece thanks to its high quality and expert design that allows it to catch ash with "pleasing precision."
14. A sculpted face incense holder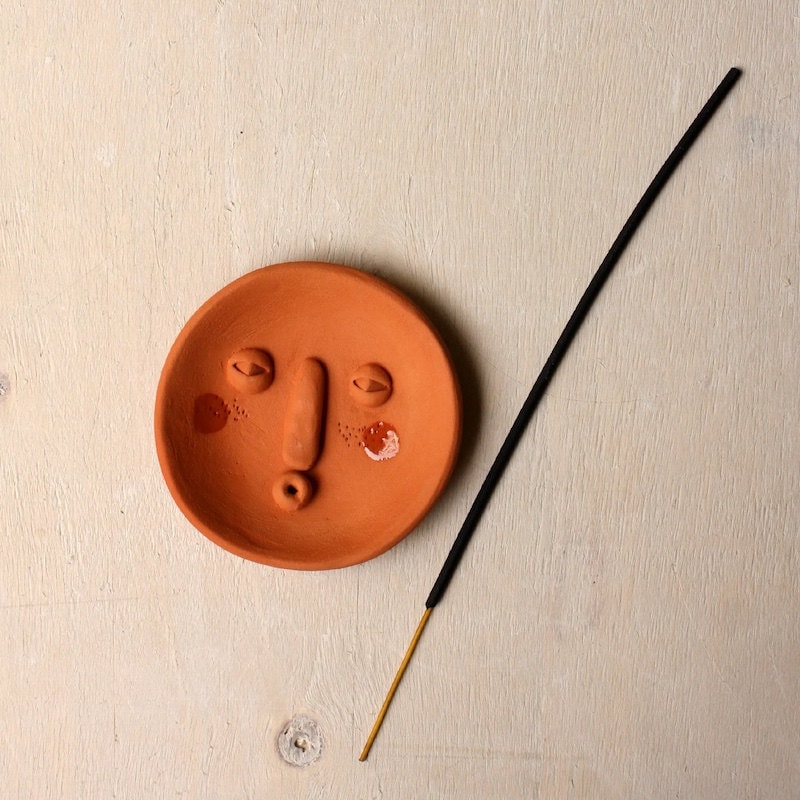 SHOP: Abstract face incense holder from Priz Ceramic, $58
It's hard not to smile with this terracotta treasure gazing up at you. The petite pottery piece's simple, hand-sculpted features and adorable cheeks and freckles bring a dash of whimsy to the aromatic atmosphere.
15. A moth-shaped incense dish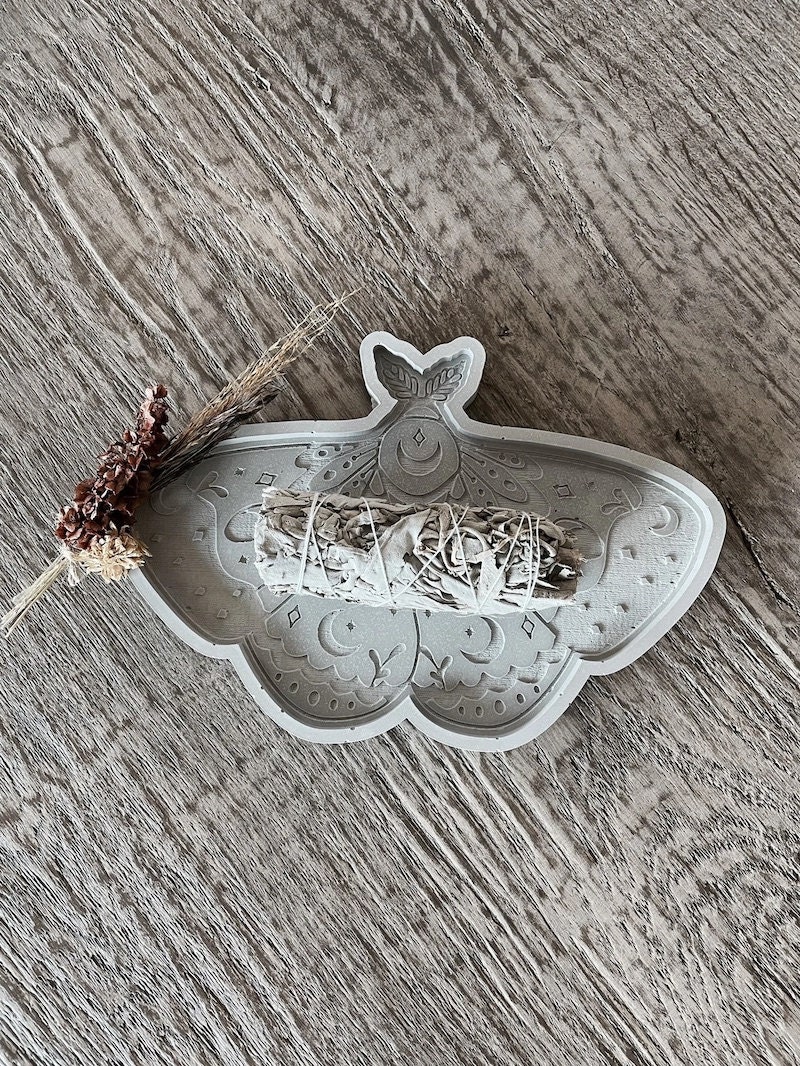 SHOP: Luna moth incense tray from Wild Fire Apothecary, from $20
Travel to the moon, the forest, or both with this mystical cement moth tray. Carved with intricate lunar motifs, you can trust this enchanting dish to carry your sage, palo santo, or incense cones with care.
16. A speckled incense holder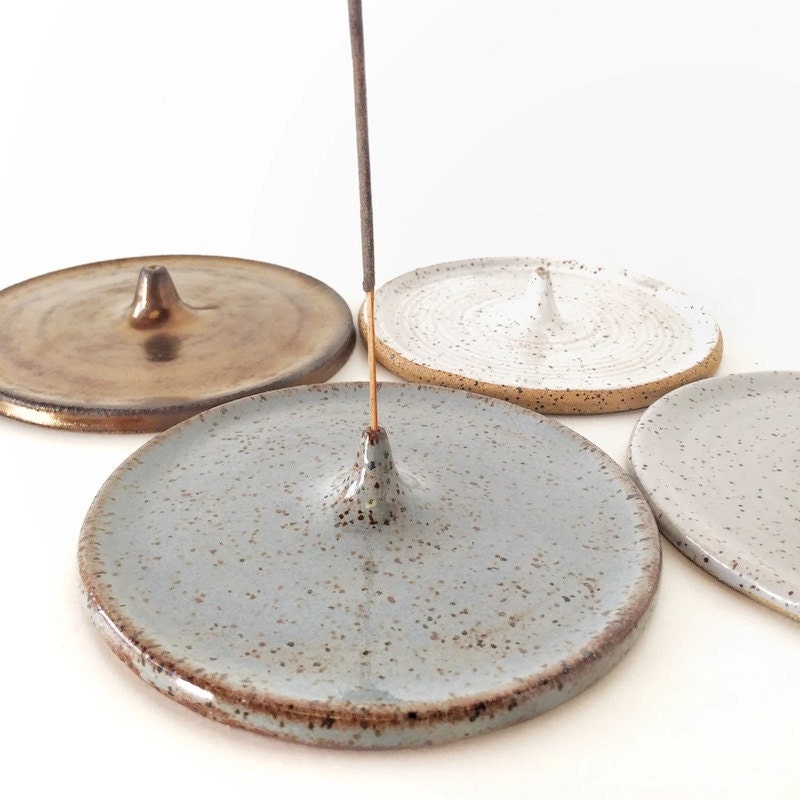 SHOP: Round ceramic incense holder from Avesha Michael, $28
Buyers are thrilled with this round stoneware incense holder, raving about its beautiful finish and high quality. Just take it from the happy customer who says it has a "very expensive feel" and is both "minimalist yet outstanding."
17. A laid-back incense holder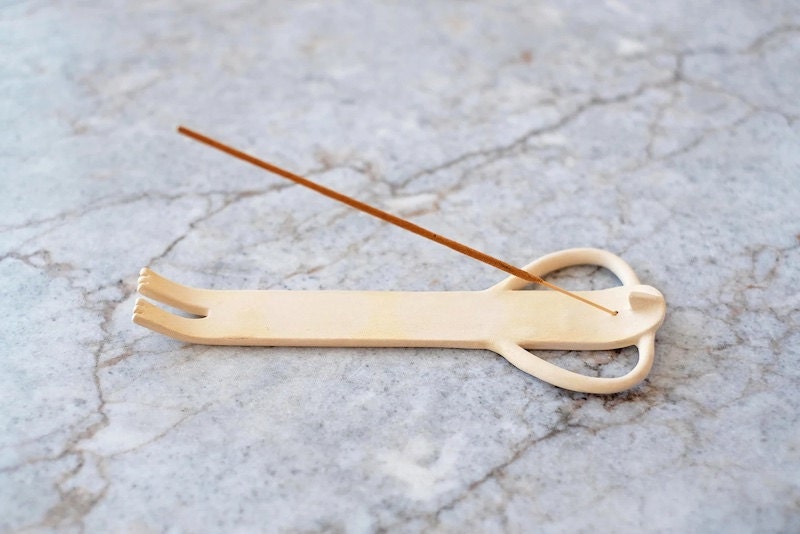 SHOP: Cute modern incense holder from Mater Ceramics, $53
Get inspired to truly chill out with a peaceful incense holder that encourages moments of serenity and calm. Handmade out of stoneware clay, this playful pal sets a mellow mood for your relaxation ritual.
18. A small and sturdy incense holder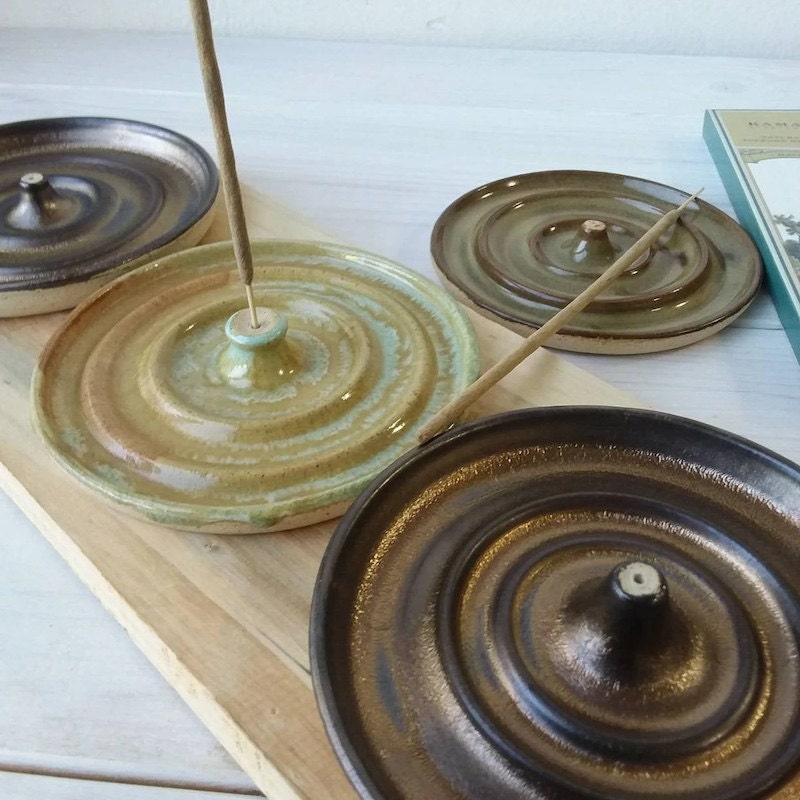 SHOP: Circular ceramic incense holder from Designs By Vivi H, $50
With a variety of color and glaze options available, you're sure to find a version of this hand-thrown incense holder that fits your personal style. There are earthy palettes for a more organic feel while the metallic finishes are perfect for those with bolder tastes.
How do we pick the best incense holders?
As Etsy Journal editors and contributors research and curate shopping guides for some of the best-loved items on Etsy, we thoughtfully consider the creativity, customization, and craftsmanship that go into each product. We also consider buyer reviews, item ratings, and customer service, and tap the expertise of our in-house merchandising and trends experts to uncover high-quality finds for every budget. You can find more information about each item in the seller's listing details and can take a look at their individual shop policies and reviews, too.