Find the best jewelry boxes to fit your style and store your most treasured accessories.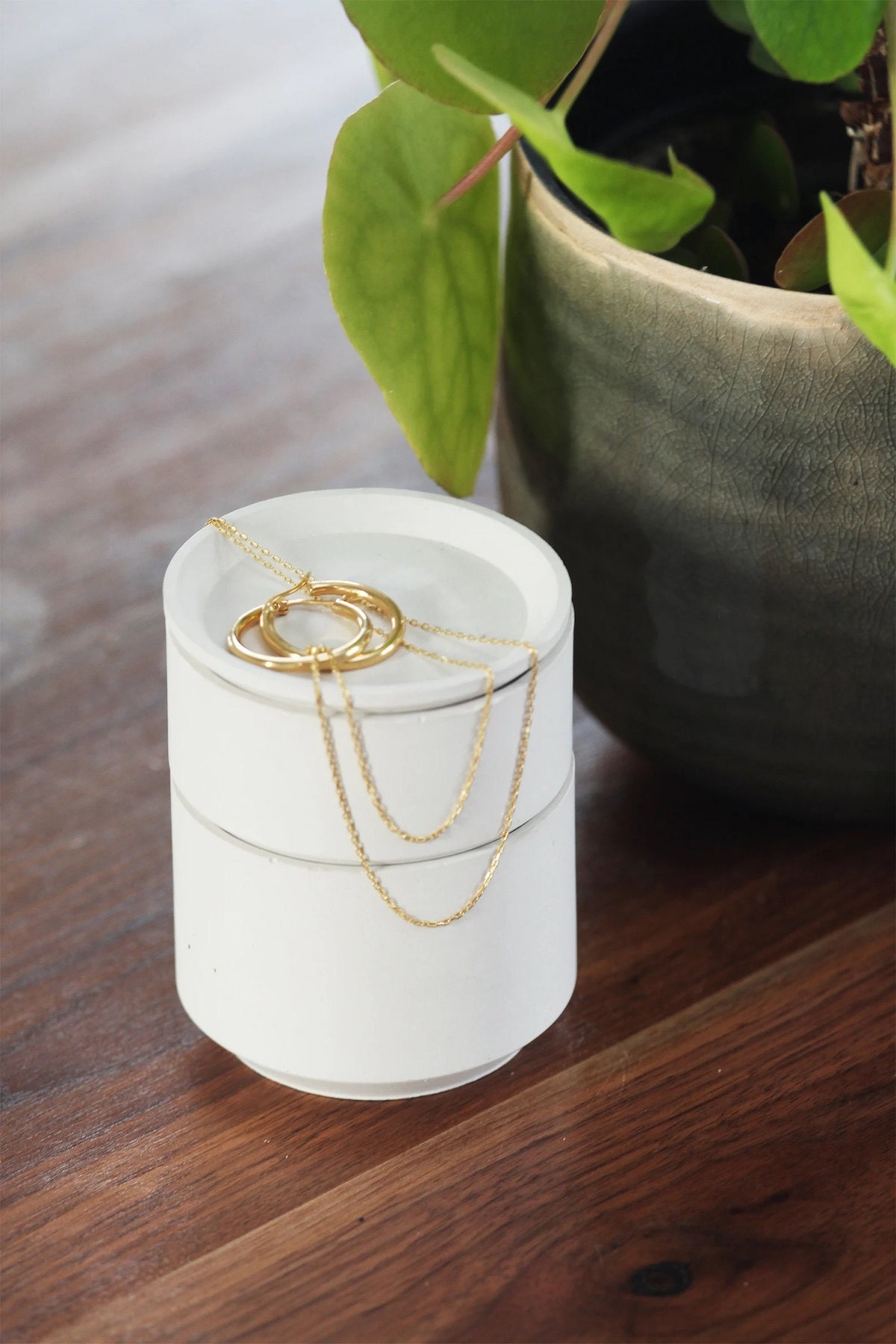 After coming home and taking off your favorite gilded goodies, you may want to set them onto the nearest surface until their next wear. But once you see how pretty these modern jewelry boxes and organizers are, we think you'll agree these are just the place for your accessories to rest.
We know that everything must have its designated place, so why not also make it a stylish addition to your bedroom or vanity? From personalized picks to travel jewelry boxes to unique jewelry stands, these are the best jewelry boxes for all of your organizing—and aesthetic—needs.
Jewelry boxes for women
Whether your style is dainty and delicate or natural and rustic, these are the best jewelry boxes for women on the go and on trend.
1. An arched wooden standing jewelry box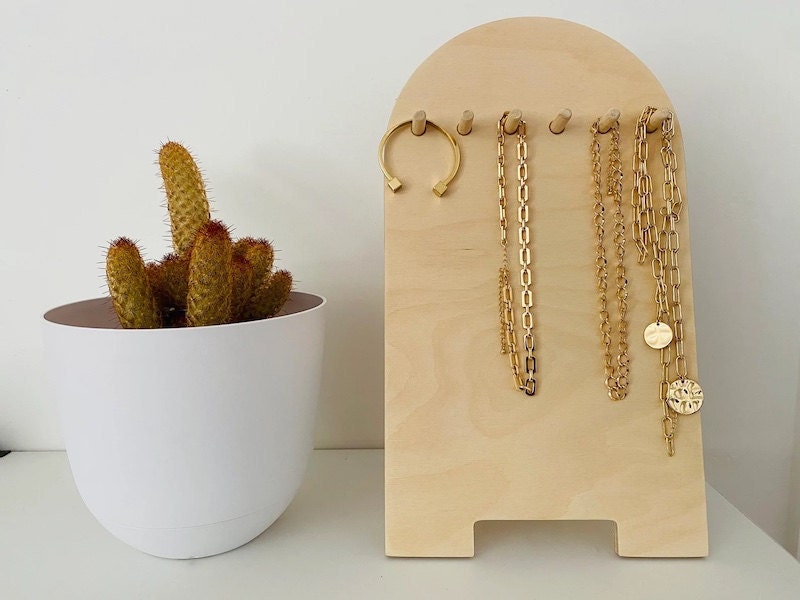 SHOP: Arched wooden necklace stand from rldh, $69
Some wooden jewelry boxes speak for themselves, and the no-nonsense design of this necklace stand makes your gorgeous gems do all the talking. Simple and understated, this jewelry organizer is made from baltic birch, and its natural beauty will make your jewelry's gorgeous qualities shine through.
2. A travel jewelry box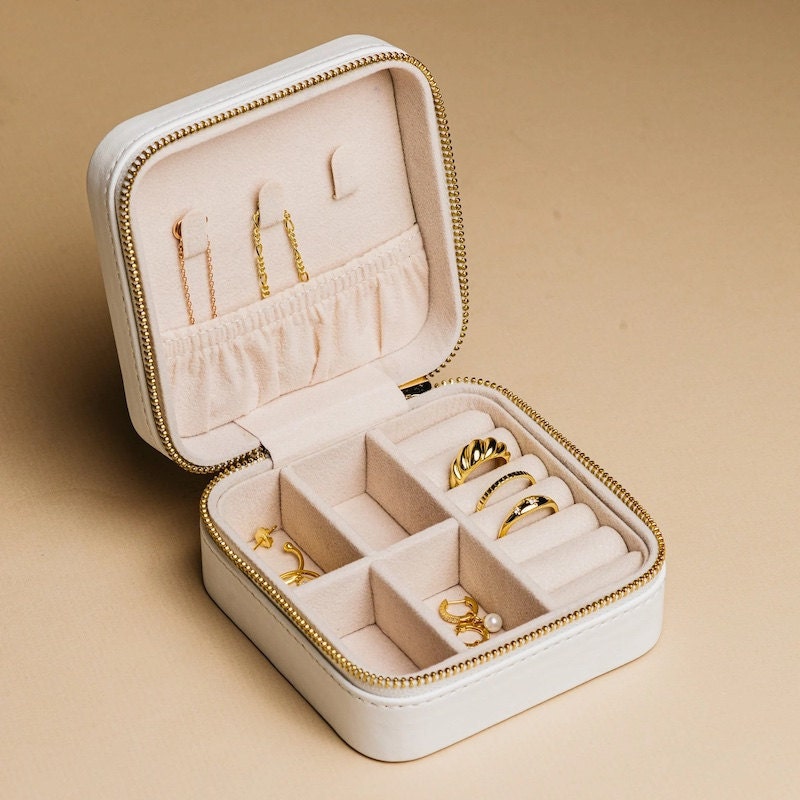 SHOP: Mini travel jewelry case from Caitlyn Minimalist, $17
Is she going on a trip and wants to sport her perfectly curated outfits for the Gram? Now she can tour the world with all her accessories on hand with this travel jewelry box. Made with soft white vegan leather and delicate gold touches, this travel case has multiple compartments so she can jetset in style.
3. A wood and acrylic earring organizer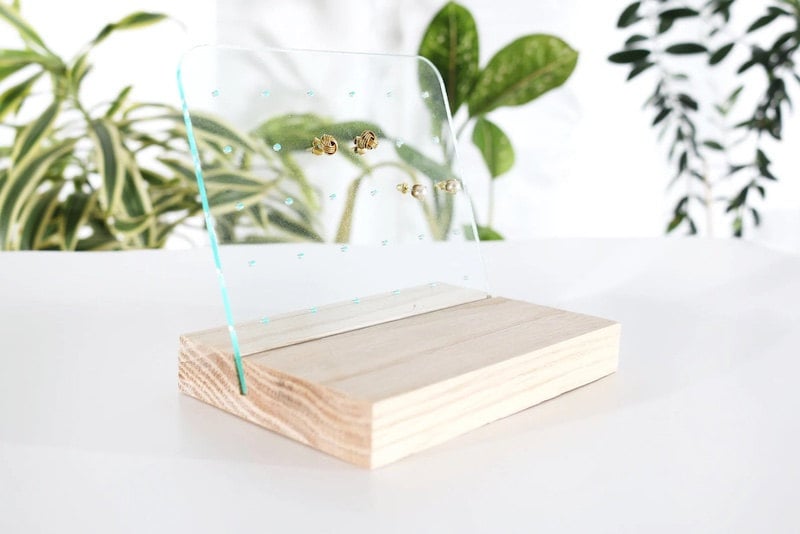 SHOP: Wood and acrylic earring stand from Little Dot Studio, $20
This simple and dainty acrylic and wood jewelry stand is ideal for highlighting her favorite sets of earrings. And she has options to match her style: She can choose from a frosted or clear acrylic stand, and a walnut or oak base to make her earrings pop with her decor.
Custom jewelry boxes
Sometimes, you want a jewelry box with your name all over it—literally. These personalized jewelry boxes feature custom engraving or stamping, whether it's for your entire collection or a special spot for a statement piece.
4. A custom ring box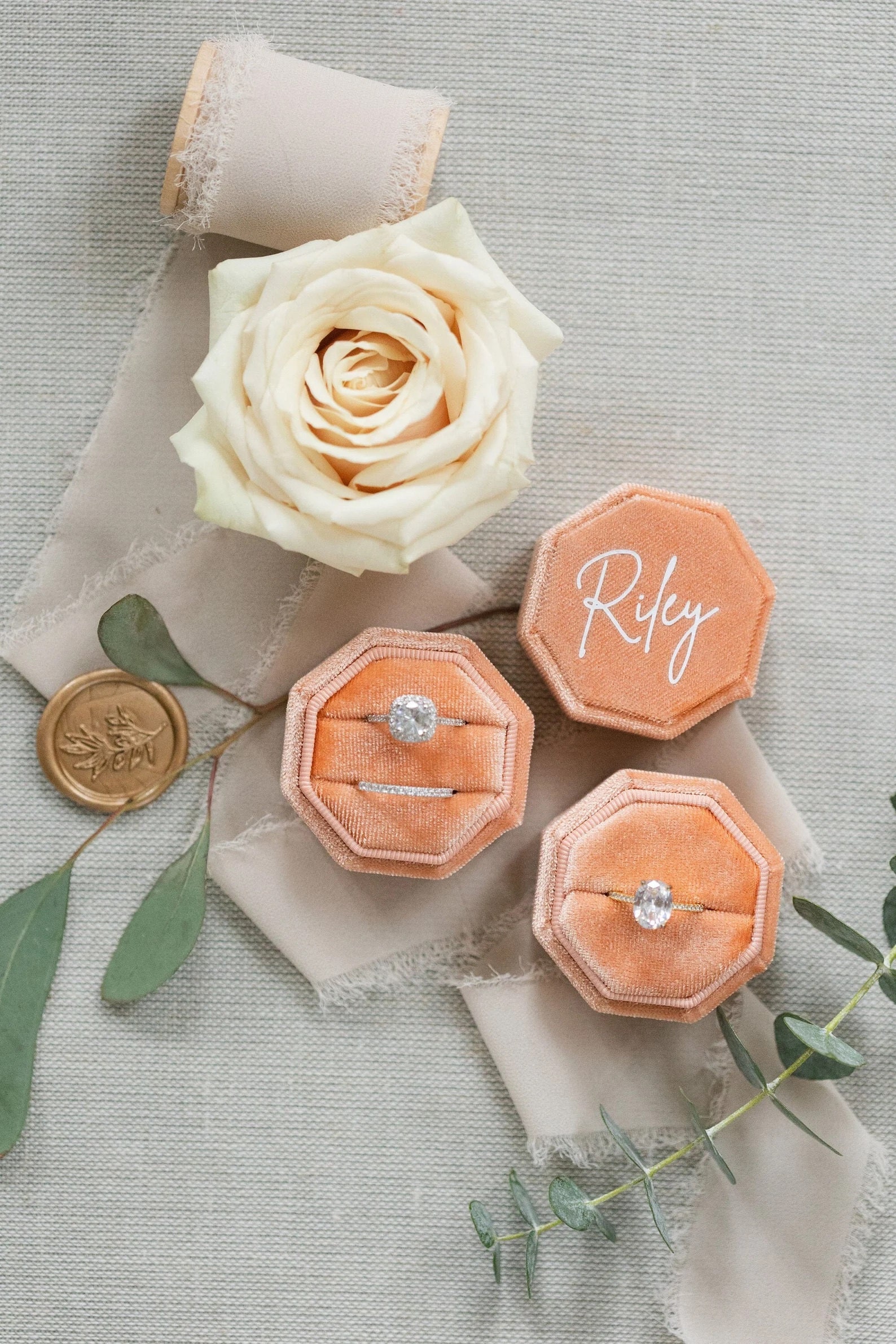 SHOP: Custom velvet ring box from Save The Date Designs Co, from $29
Remember your "I dos" forever with this velvet ring box with a playful pop of color and a slot for your wedding ring and your engagement ring. Personalized with a vinyl decal, this coral beauty takes the (wedding) cake.
5. A crafted and personalized jewelry box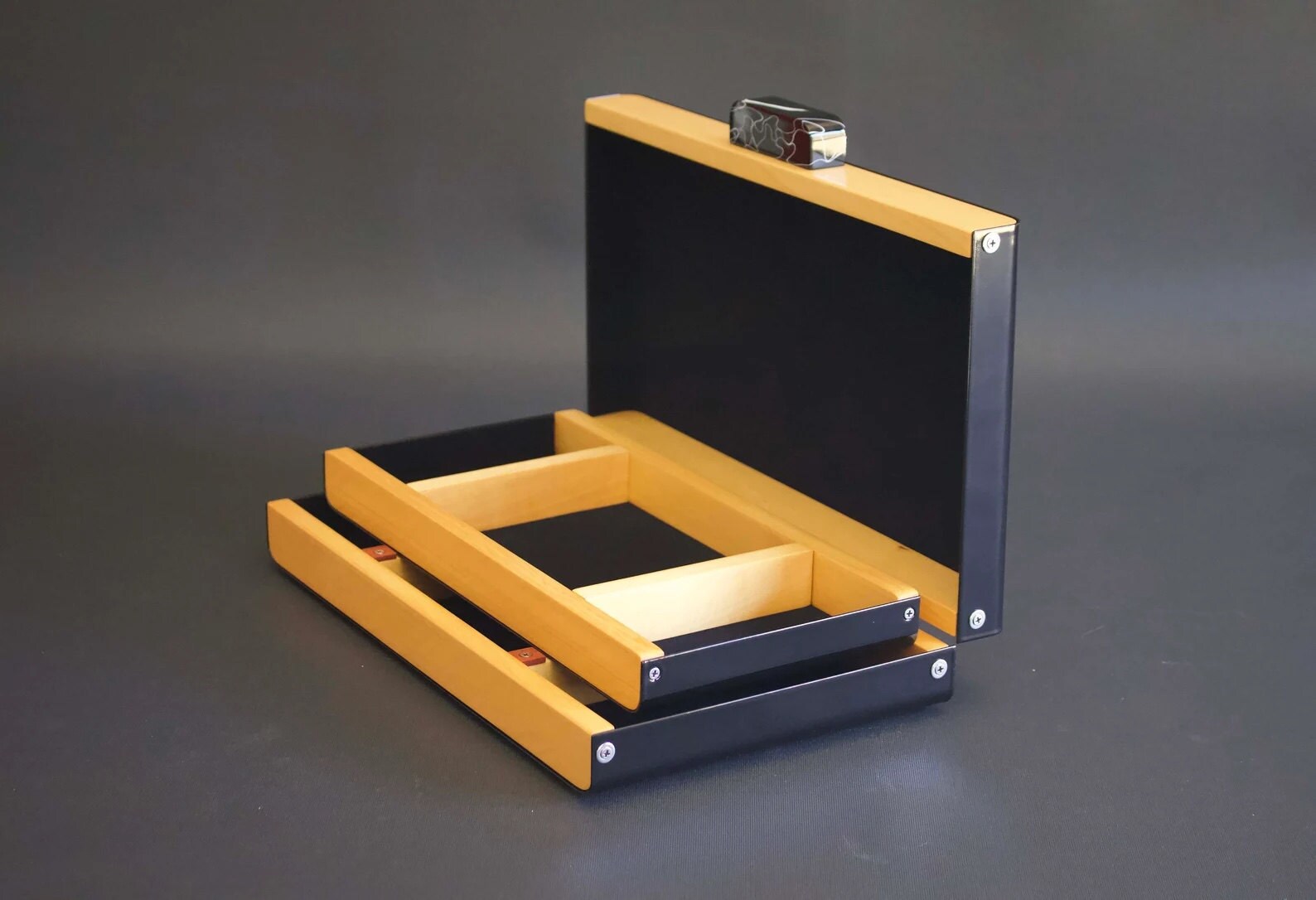 SHOP: Custom jewelry or watch box from Galleria Innocente, $355
Some jewelry boxes look ready for a black tie event, and this modern jewelry box made from Huon pine and powder-coated metal is like the tuxedo of jewelry organizers (the chrome plaque engraved with your initials is like the chic set of cufflinks!). Lined with velour for an extra luxe treatment, this personalized jewelry and watch box combo makes a great gift for him or for her.
Hanging jewelry boxes
If you want your gems to be up on display, hanging jewelry stands can be rested on your bedside table or hung up on your wall so you can choose from your collection of accessories in a blink of an eye.
6. A mirror jewelry box for your wall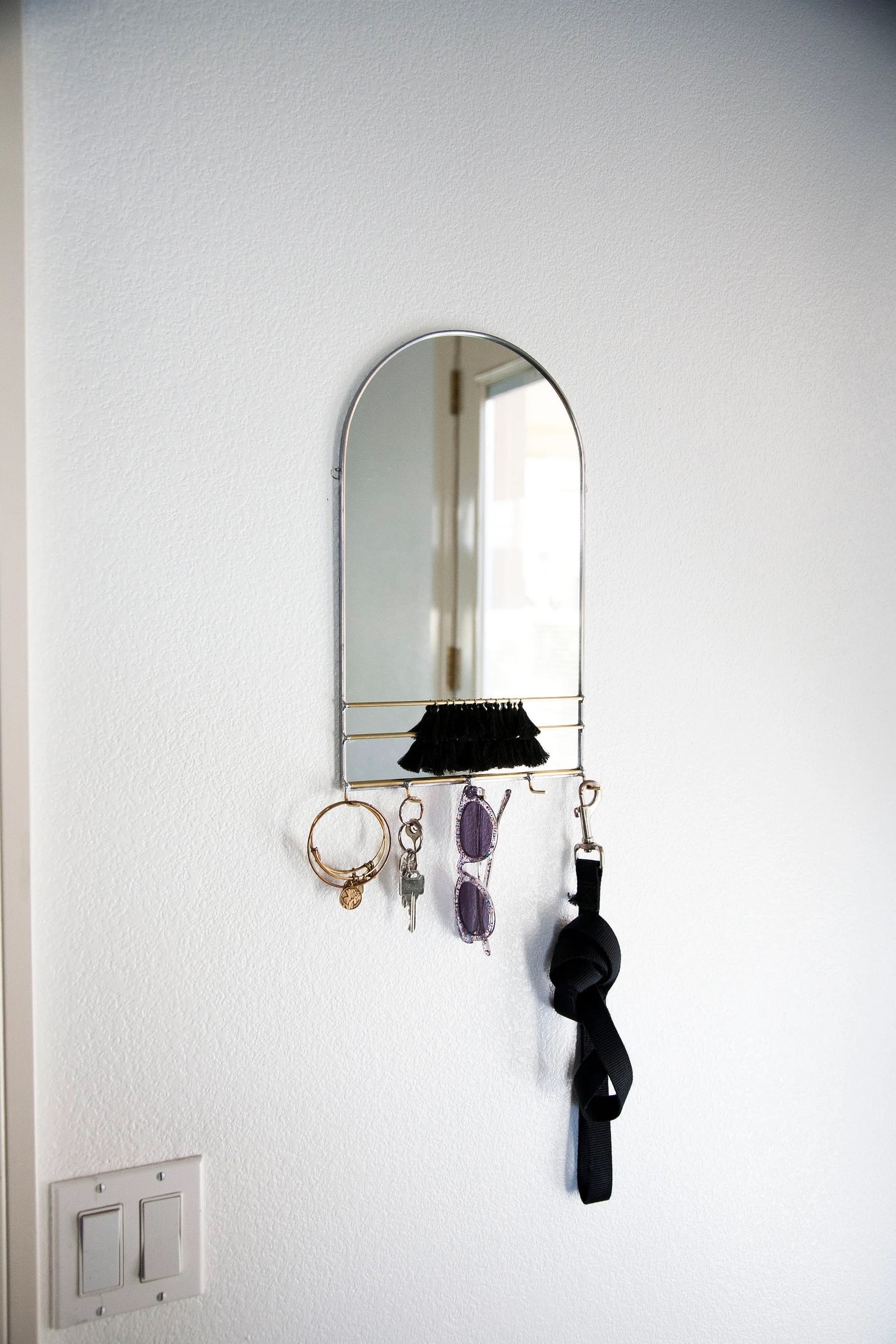 SHOP: Arched mirror wall organizer from Szklo Glass, $125
Live out your fitting room outfit montage at home with this mirror jewelry box. Just turn on your favorite tunes and test out your earrings and necklaces laid out for your choosing with this wall jewelry organizer.
7. An elegant necklace holder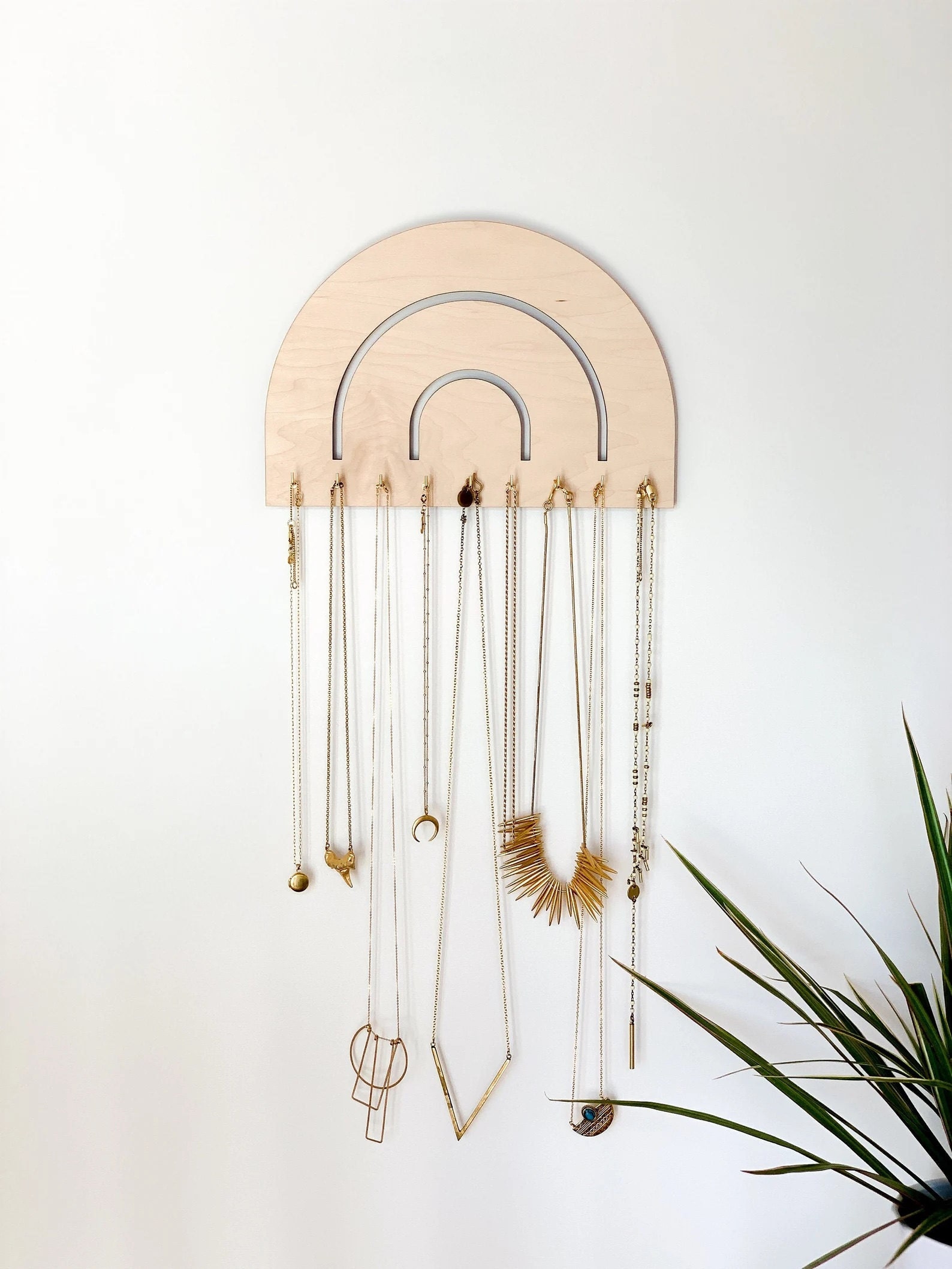 SHOP: Rainbow wooden necklace organizer from Alvin and Gray, $42
Somewhere over the rainbow, a dreamy, rustic hanging jewelry organizer showcases your necklace collection. Your jewelry will become a piece of art with this elegant hanging display.
8. A hanging wooden jewelry box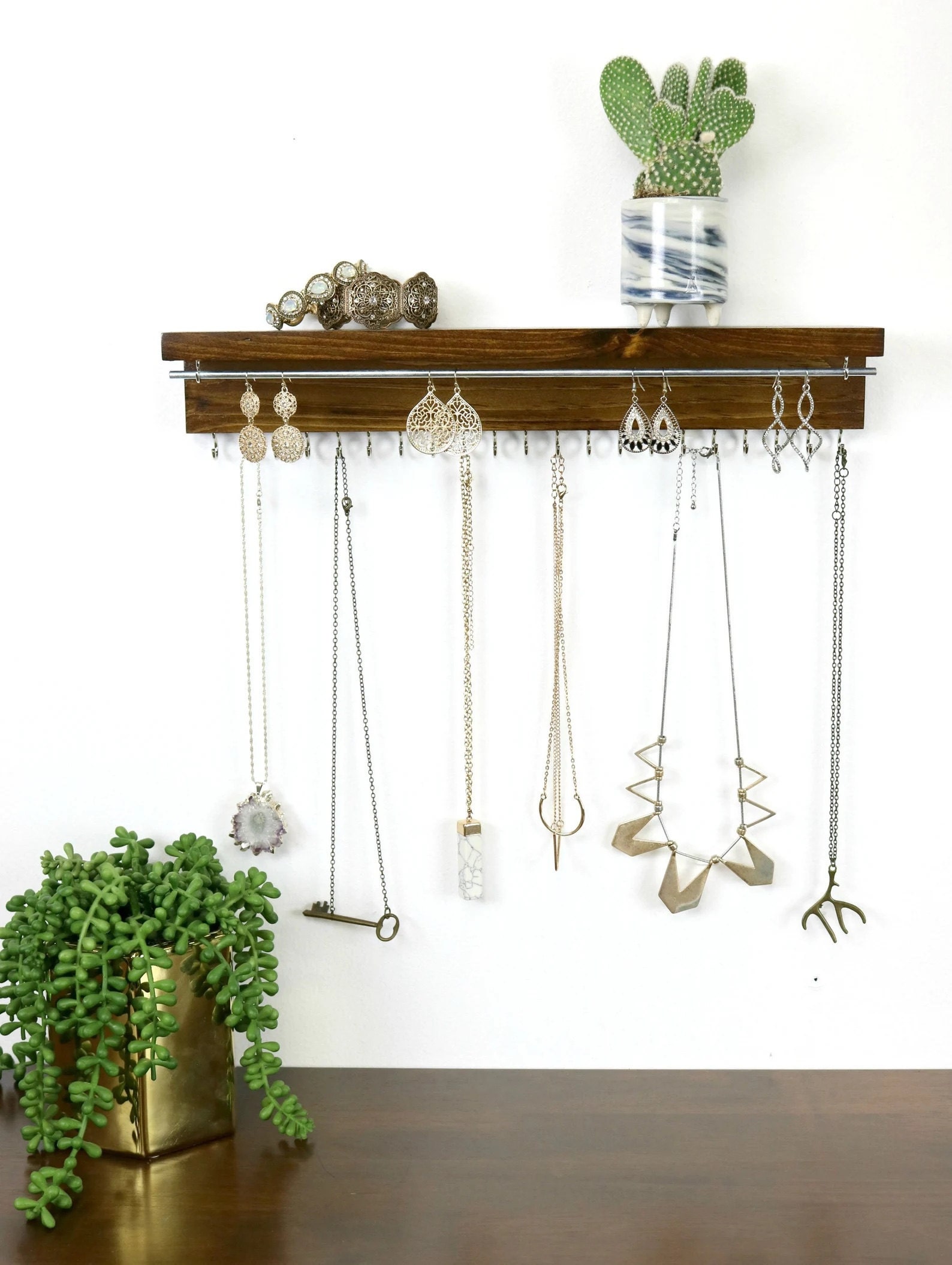 SHOP: Wooden jewelry organizer with shelf from The Knotted Wood, from $34
If you're a maximalist when it comes to accessorizing and a minimalist in decor, this hanging jewelry box is your match made in heaven. With two levels for earrings and necklaces and a shelf for your bracelets or knick knacks, this jewelry organizer lets you have all your accessories in one place without too many bells and whistles.
Large jewelry boxes
For accessorizing pros, you might need a large jewelry box to fit your entire repertoire of jewelry. Luckily, these wooden jewelry boxes and stands can help you organize all of your precious gems.
9. A grande earring organizer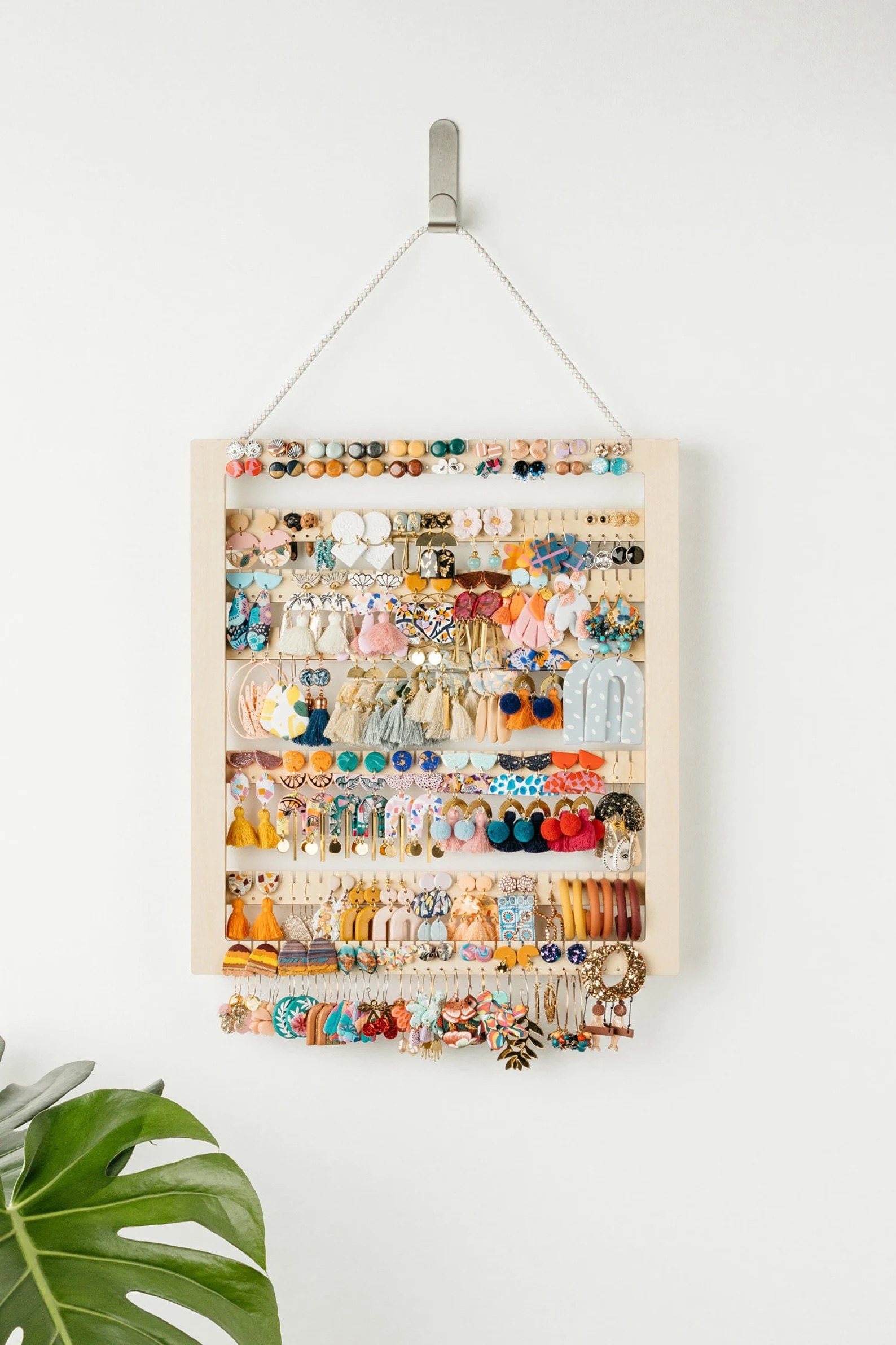 SHOP: Large adjustable hanging earring organizer from YOBI Australia, $69
This adjustable earring and jewelry holder is called the grande for good reason: It holds over 200 pairs of earrings and can come with additional necklace hooks
10. A textured wooden jewelry box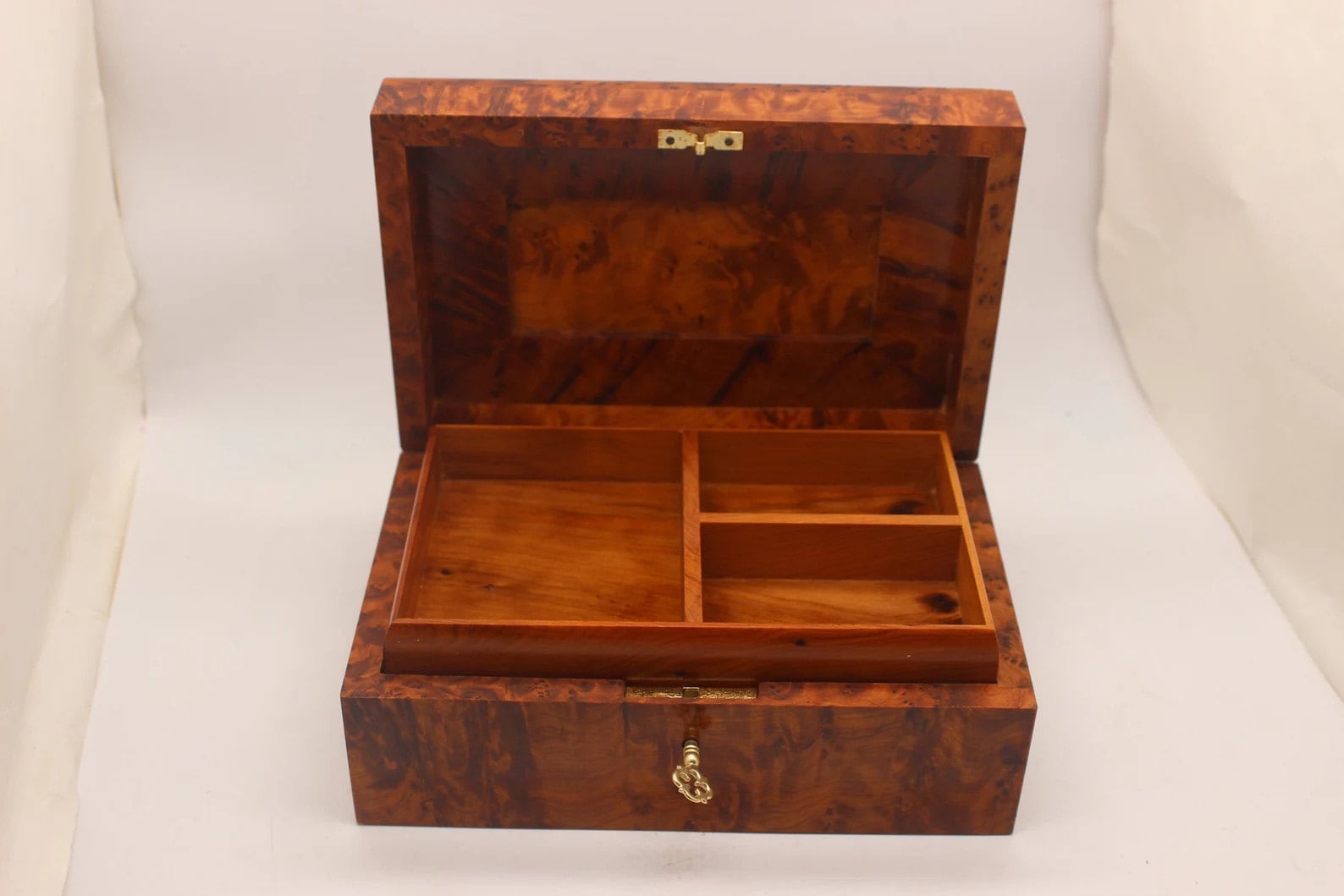 SHOP: Handmade wooden jewelry box from Thuya Wood Craft, $88
This hand-carved jewelry box boasts two storage levels and a working key lock, but the real star of the show is its material. Its beautiful burled Moroccan wood and reddish brown hues will add warmth and texture to your vanity table.
Decorative jewelry boxes
Add a creative flair to your organization with these oh-so-unique picks, from vintage jewelry boxes to succulent-inspired ring boxes.
11. A gorgeous vintage jewelry box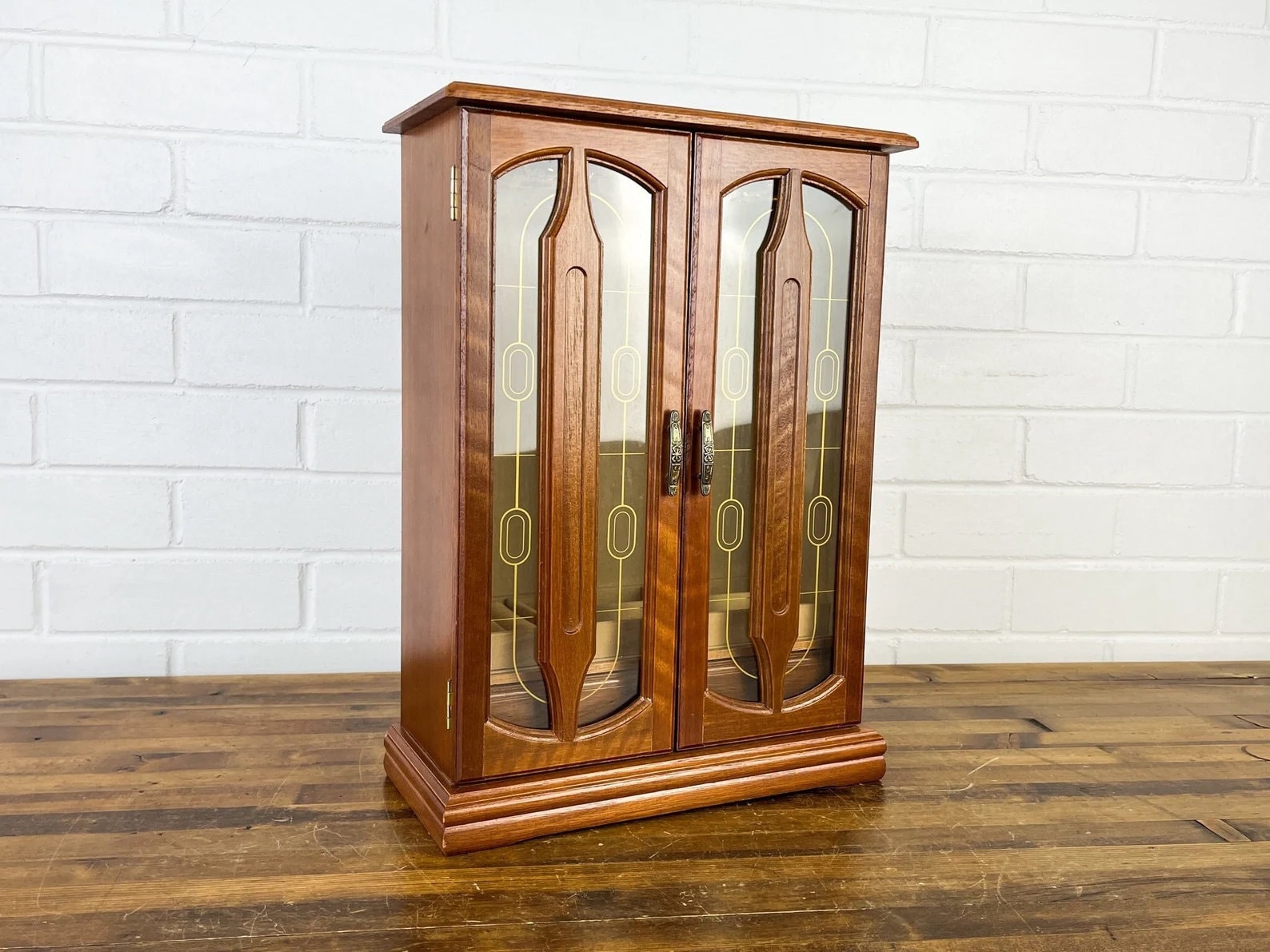 SHOP: Wooden vintage jewelry box with doors from reAwesome, $110
Grandmillennials, we've found your perfect jewelry organizer. This vintage jewelry box features an art deco design with double doors and hanging hooks for dangling your favorite necklaces.
12. A prickly and playful ring box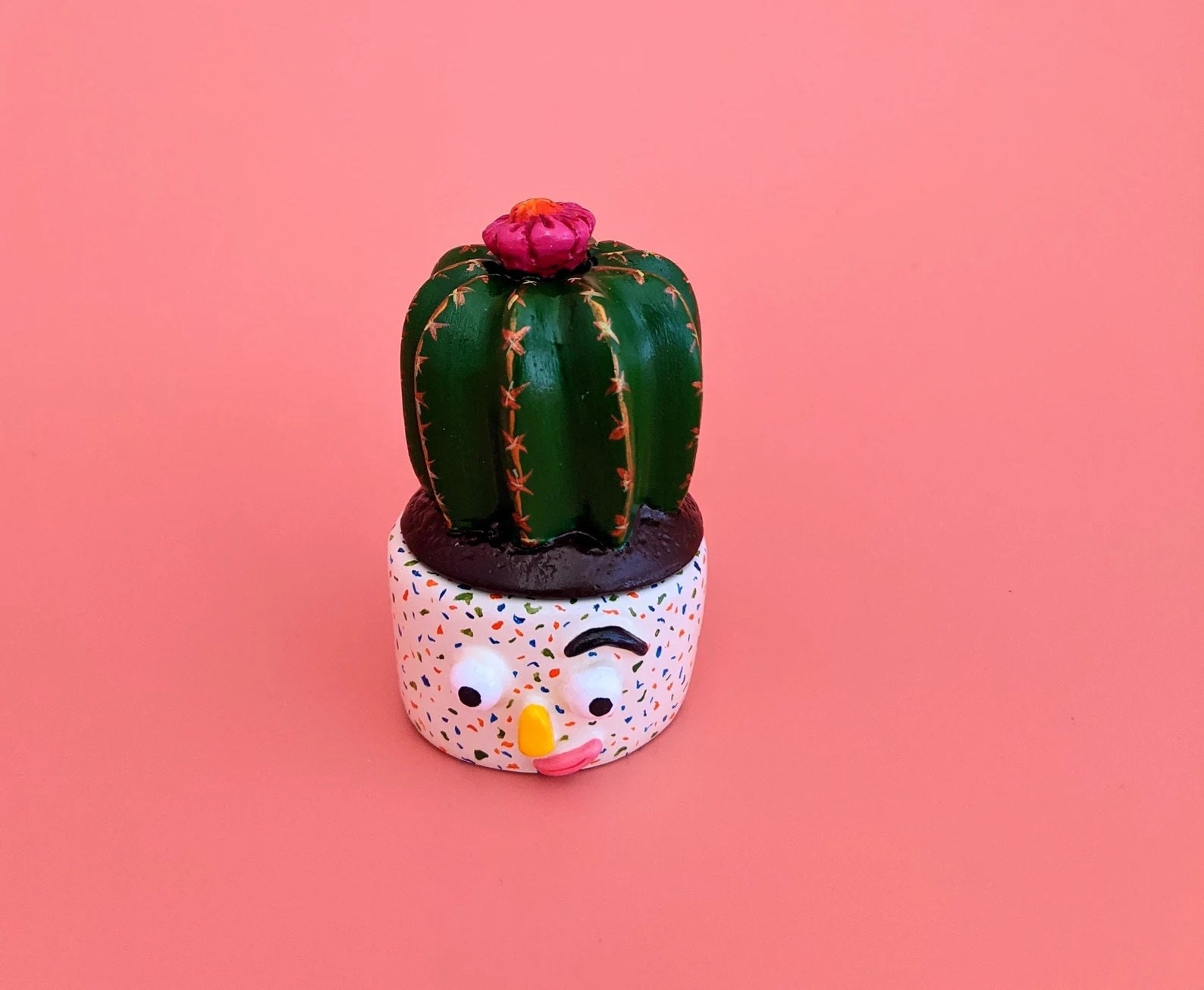 SHOP: Cactus ring holder from Still Dawning, $20
Your organization and storage pieces should spark joy just as much as the treasures stored inside them. This playful jewelry box has the benefit of storing your favorite rings, blending in with your growing cast of plant friends, and making you smile every time you glance in its direction.
13. A geometric jewelry organizer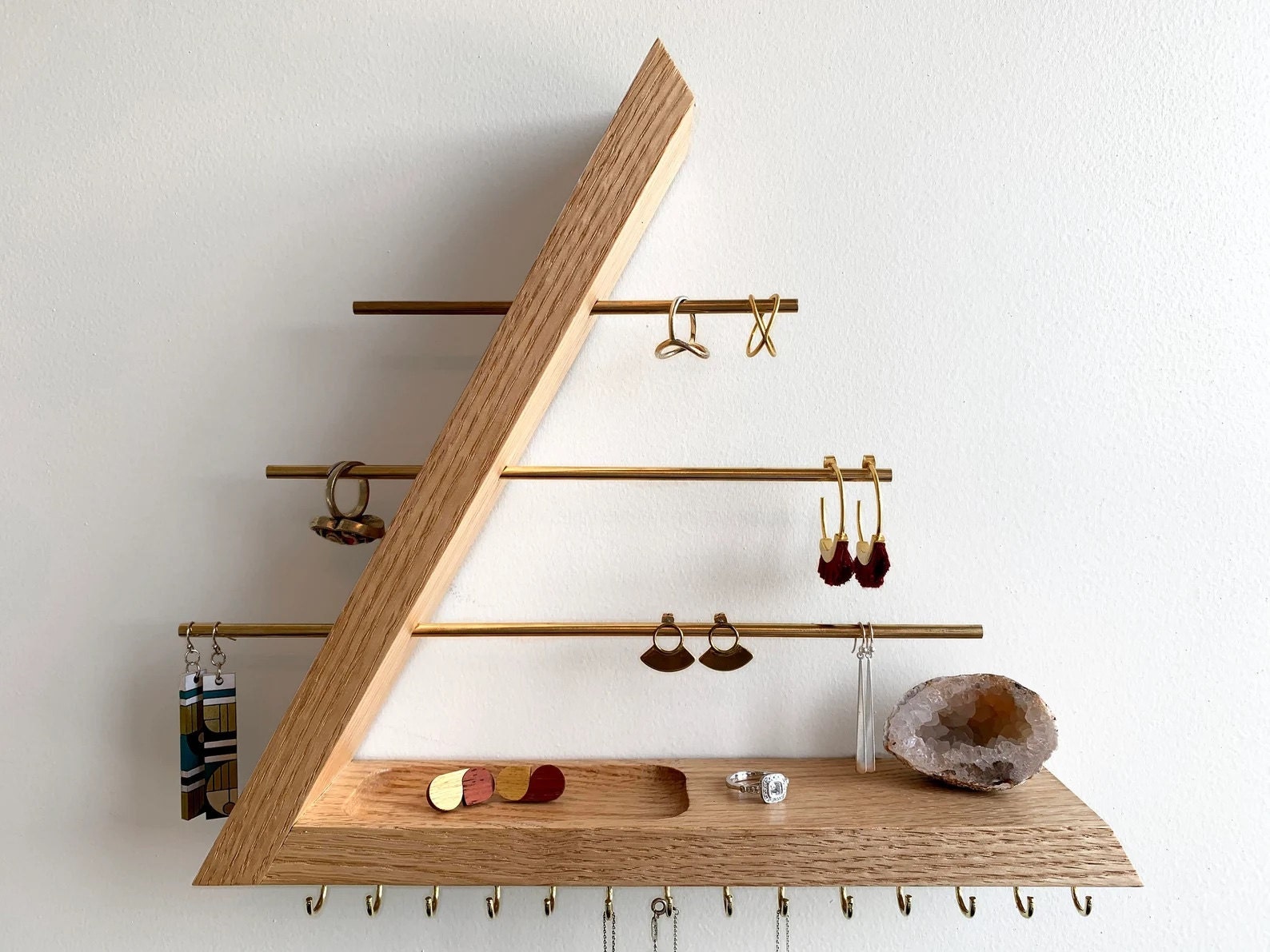 SHOP: White oak wall-mounted jewelry box from Figure Grain, from $89
More of a minimalist? This geometric wooden jewelry stand is wall mounted and puts your jewelry on display like the gorgeous architectural pieces they are.