From travel bags to countertop organizers, these are some of the prettiest ways to de-clutter your cosmetics collection.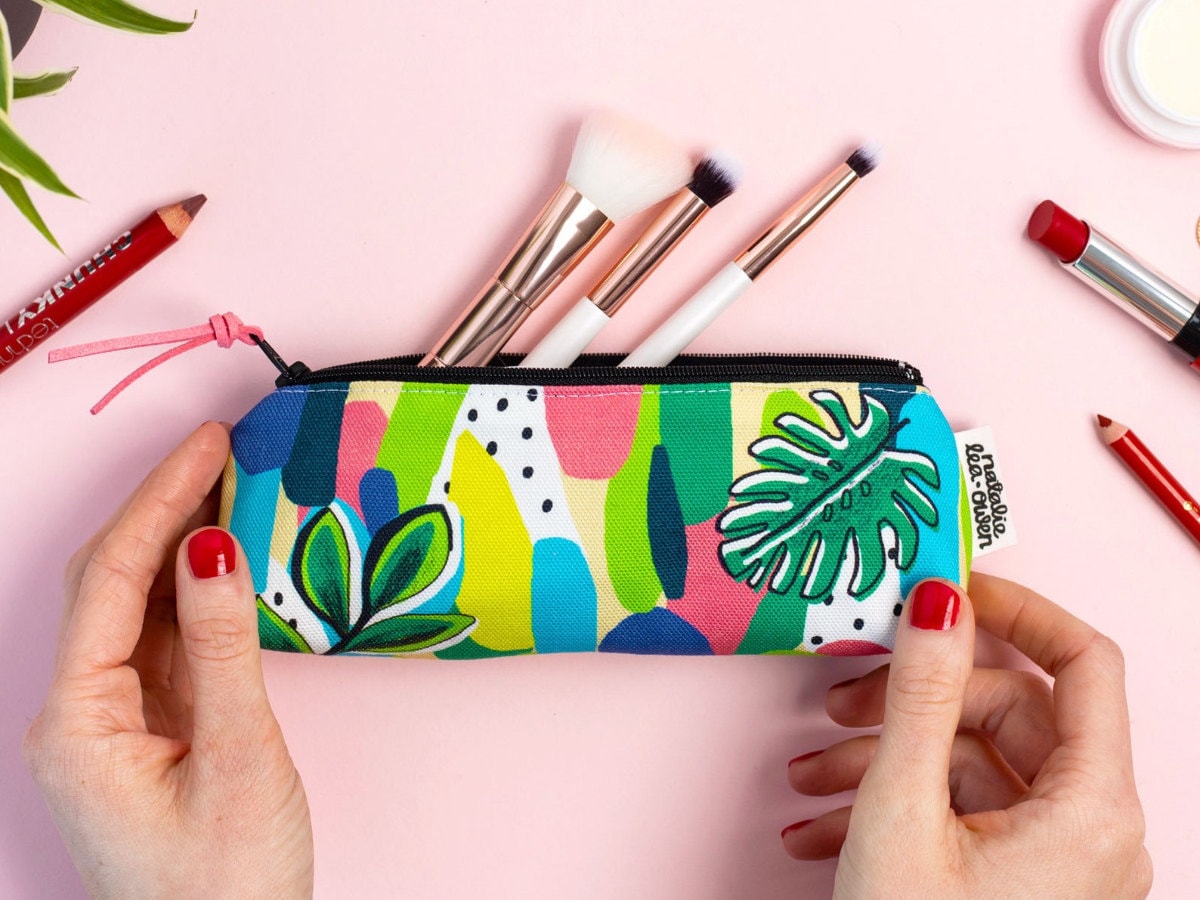 If you love the feel of a velvety lipstick, enjoy playing with a new eyeshadow palette, or look forward to painting your nails every weekend, you know that all those makeup finds tend to accumulate.
Whether you're a no-makeup makeup kind of person with tried-and-true skincare essentials or someone who likes to paint with all the colors of the rainbow, we've compiled some of the best makeup organizers on Etsy to help you keep those getting ready essentials in order.
From cute compact travel bags to wood, glass, and basket organizers for your bathroom, dresser, or vanity table, these makeup organizers will help you arrange your favorite cosmetics without the clutter. They also make great gifts for the makeup lover in your life!
Best makeup organizers for travel
Whether you are hitting the road or just need a makeup bag you can tote with you, these travel makeup organizers are both compact and stylish.
1. A makeup bag with a secret message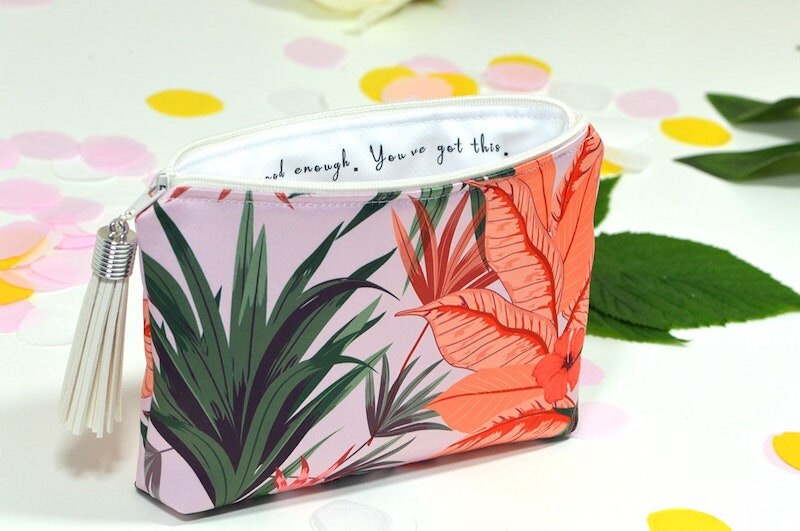 SHOP: Custom message makeup bag from Melifluo, from $17
Need a little daily affirmation? These tropical-themed makeup bags, which make a great gift, can be customized with your own secret message inside. Made of satin, the tassled makeup bags come in your choice of three sizes, ranging from 7 inches to 11 inches wide.
2. A glittery makeup bag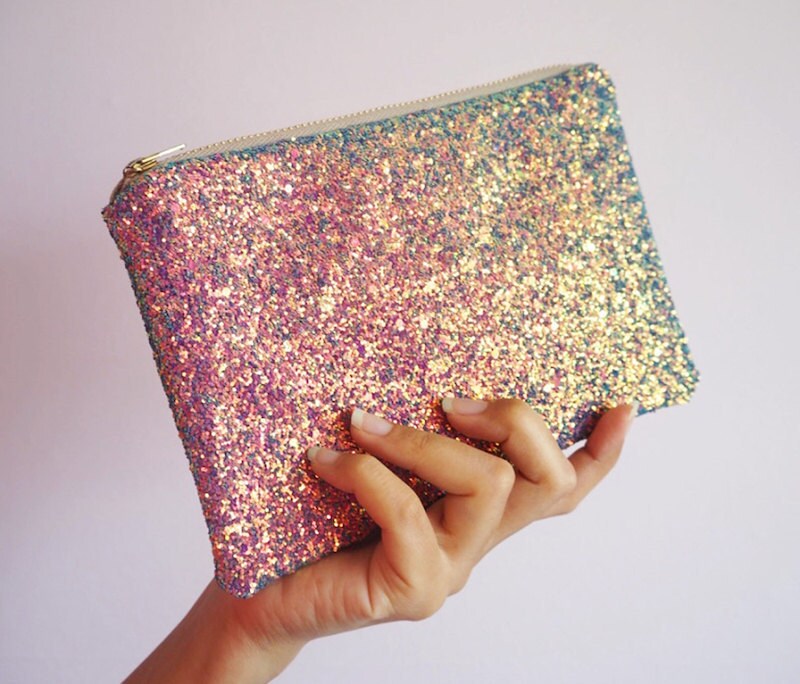 SHOP: Iridescent rainbow glitter makeup organizer from Suki Sabur Designs, from $20
Add some bling to your daily routine with this iridescent glittery makeup bag. At about 7 inches wide, this glamorous zip bag is big enough to hold your makeup essentials and can even double as a small clutch on an evening out. It's also available in lots of other sparkly shades including iridescent black and shimmering sea blue.
3. A personalized leather makeup bag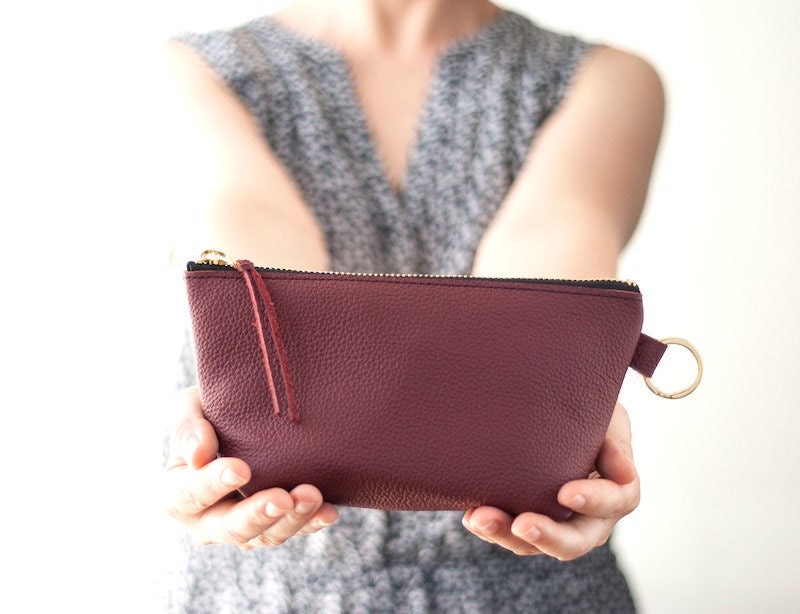 SHOP: Personalized leather makeup case from zeynNY, from $32
This sturdy leather makeup bag is ready for wherever your next trip takes you. Available in seven colors and two sizes (an 8-inch and a 10.5-inch wide version), the makeup bag comes with an optional ring to attach it to a keychain or purse. Plus you can get it stamped with your initials, for a personalized touch that makes for a great gift.
4. The perfect small makeup bag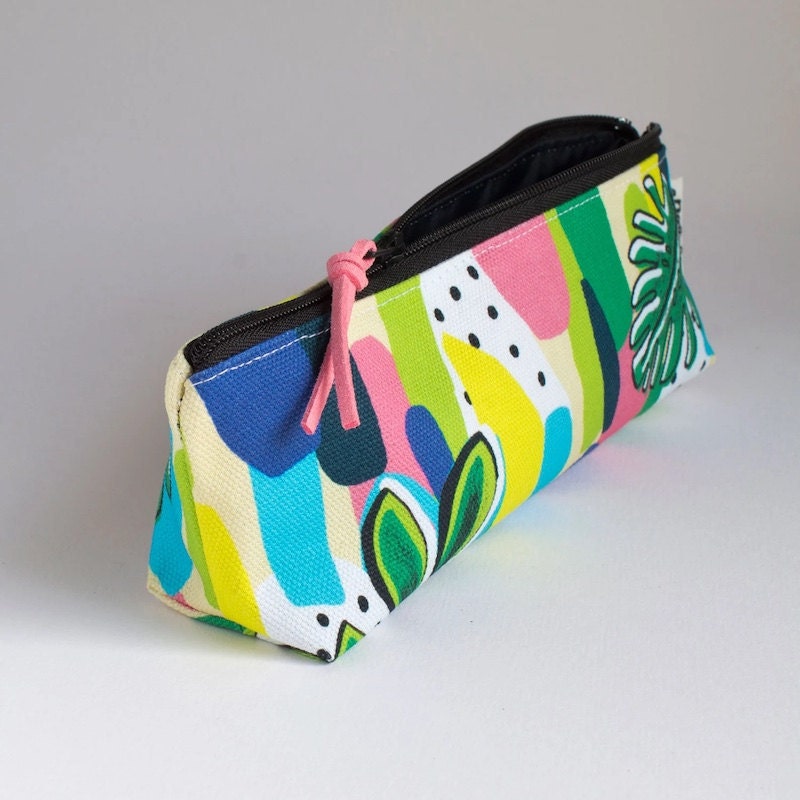 SHOP: Monstera leaf makeup bag from Natalie Lea Owen, $19
Perfect for the plant parent in your life, this little Monstera makeup bag is as colorful as it is cute. Measuring about 7.5 inches wide, it slips easily into a purse and can easily hold your pencils and brushes—or a few makeup essentials.
5. A handy makeup brush roll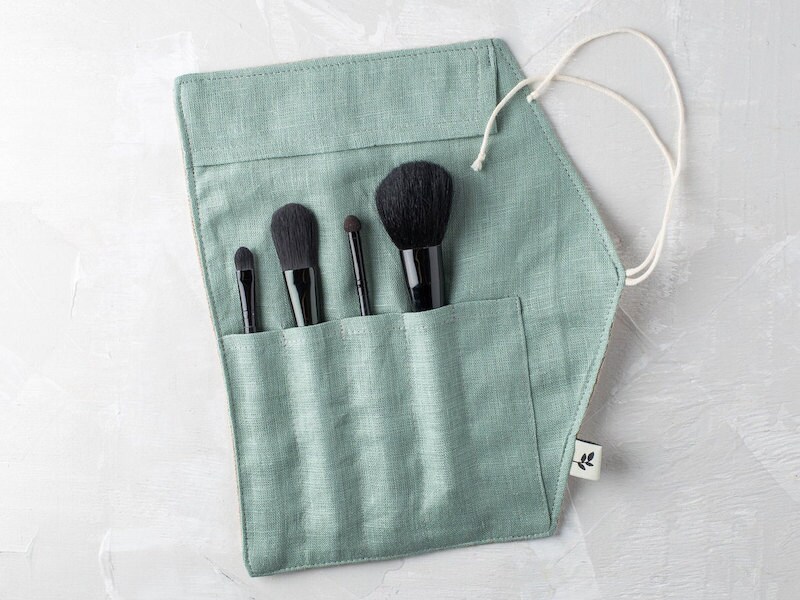 SHOP: Linen makeup organizer from Simple, from $12
Keep all of your makeup brushes organized when you travel with this sleek linen roll. The organizer has five slots to hold everything from your foundation brush to eyeshadow brushes and comes in 20 different colors.
6. A large makeup bag for travel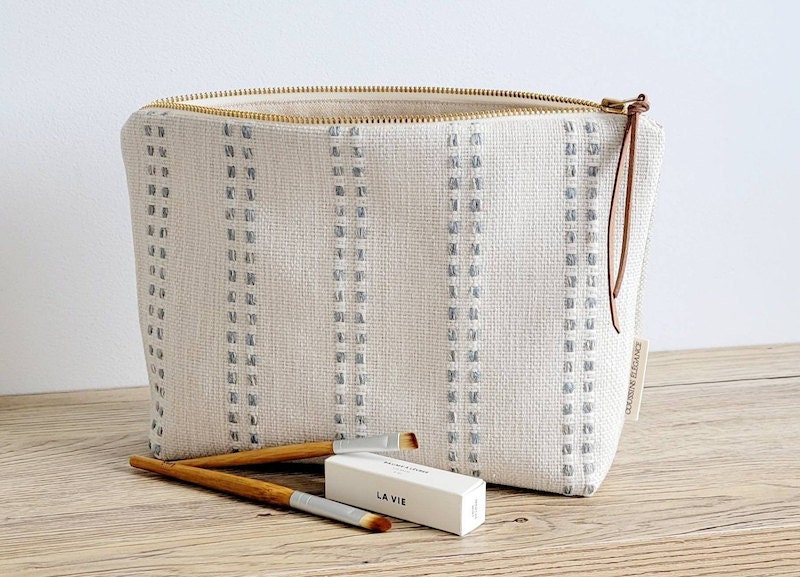 SHOP: Blue stripe cosmetics bag bag from Coussins Elegance, from $22
Got a lot of makeup to pack? This 10-inch-wide bag, which is made of heavy duty upholstery fabric and is decked out with a suede zipper pull, can hold several eyeshadow palettes and compacts. It also comes with an optional matching coin purse that can hold some of your smaller items and slip easily into a handbag.
7. A makeup bag with brush storage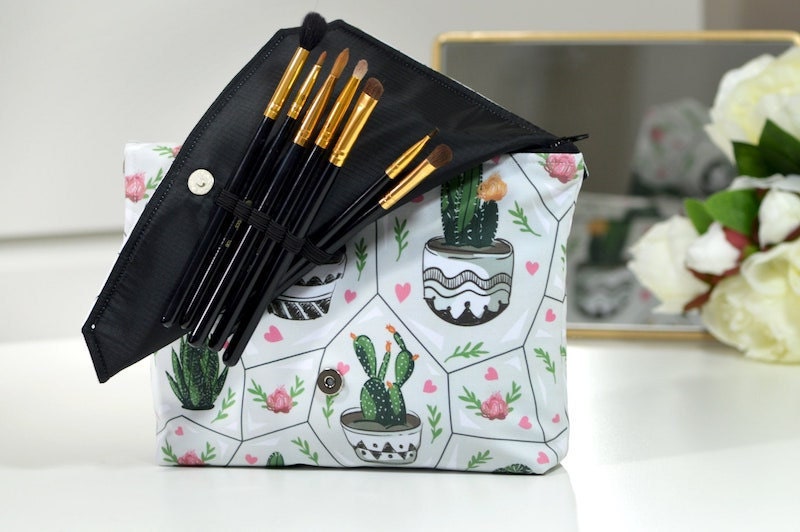 SHOP: Cactus makeup bag from Melifluo, from $43
There's nothing prickly about this cactus makeup organizer. The 10-inch-wide bag has built-in slots for up to 10 makeup brushes and has a waterproof exterior and liner to keep your bag safe from makeup spills.
Countertop makeup organizers
You'll be proud to show off your collection of cosmetics with these wood, glass, and fabric countertop makeup organizers make beautiful displays.
8. A lipstick organizer
SHOP: Natural wood lipstick organizer from Less & More, from $125
Calling all lipstick lovers… Whether you prefer neutral colors or a bold lip, this wooden organizer will help you display all your favorite shades. It comes in two sizes—an 11-inch model that can hold 20 lipstick tubes and a 15-inch version that holds 24—and can be displayed on your counter or mounted on the wall.
9. A glass makeup organizer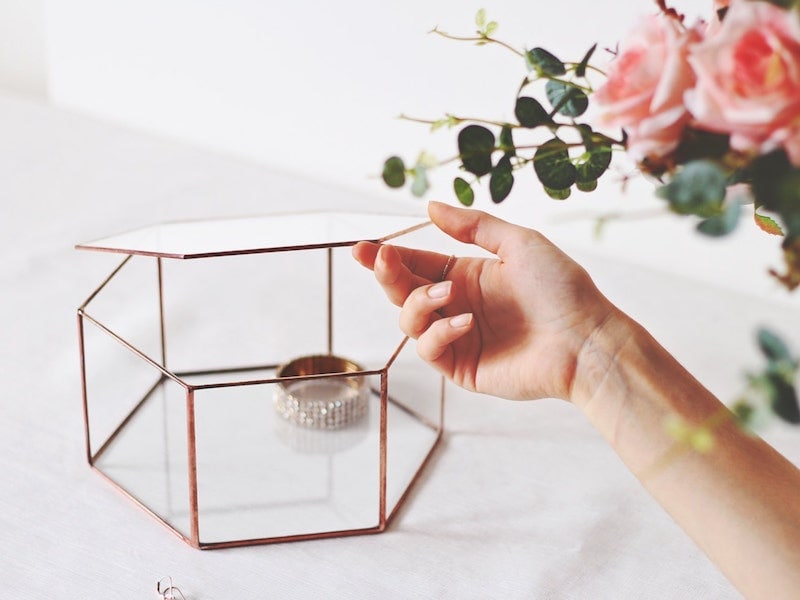 SHOP: Geometric glass box from Waen, from $130
Add a touch of elegance to your countertop, by stashing your cosmetics in this beautiful glass case, which also functions as a jewelry box. You can choose from four different colors of metal and get either a glass or mirrored base.
10. A catchall bowl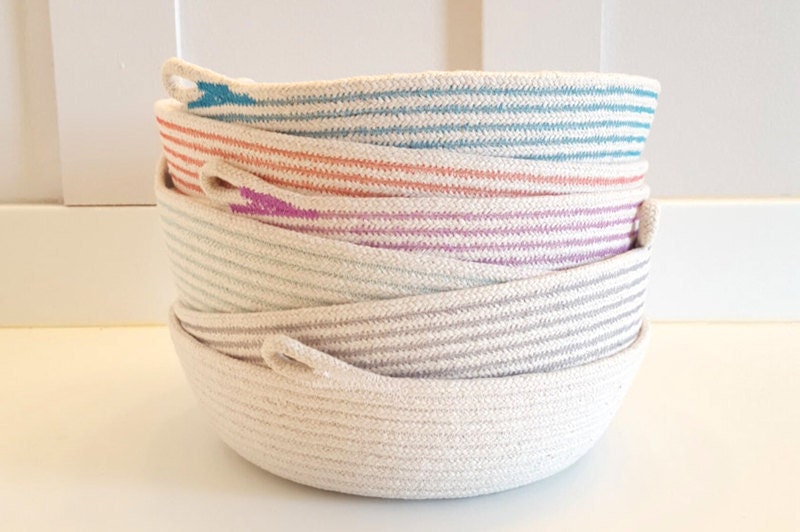 SHOP: Small rope bowl from PrairieStMercantile, $23
Whether you've got nail polishes, eye pencils, or lipsticks taking over your countertop, keep them all organized in these cute 8.5-inch-wide bowls. Made of natural cotton rope and stitched with bright colors, these multi-use bowls also work great as catchalls for keys or change.
Bathroom makeup organizers
Wrangle up all the lip pencils, eyeshadow palettes, brushes, and moisturizers taking over your counter with these bathroom makeup organizers.
11. A wall organizer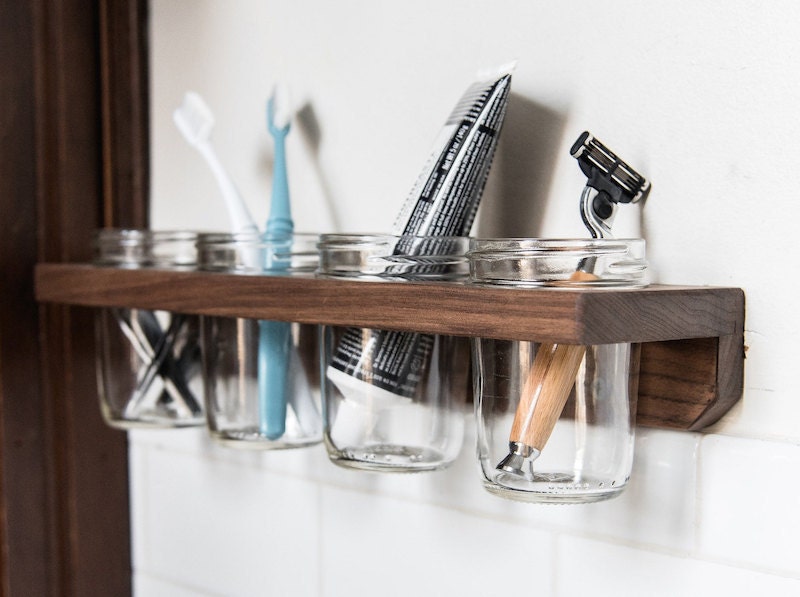 SHOP: Bathroom wall caddy from Peg and Awl, from $74
Need more bathroom counter space? Store your makeup brushes, pencils, brow gel, and other cosmetics in this rustic mounted organizer. The 14.5-inch-wide rack, which includes four mason jars, is available in four different shades of wood, including oak and maple. You can also get it engraved, for a personalized gift.
12. A bamboo bathroom tray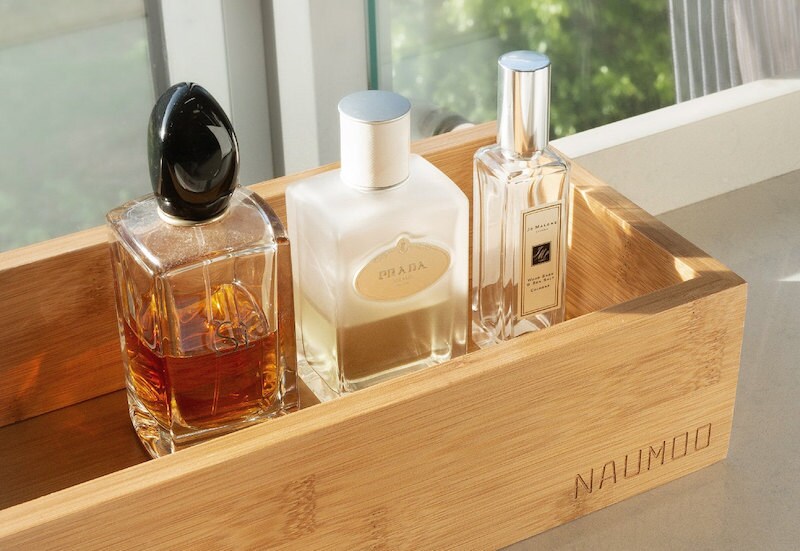 SHOP: Bamboo bathroom tray from NAUMOO, from $31
Give your bathroom a spa feel, with this bamboo tray that can keep all of your makeup, perfume, and other toiletries organized. The 15-inch bamboo tray fits easily on a bathroom counter or even on the back of a commode.
How do we pick the best makeup organizers?
As Etsy Journal editors and contributors research and curate shopping guides for some of the best-loved items on Etsy, we thoughtfully consider the creativity, customization, and craftsmanship that go into each product. We also consider buyer reviews, item ratings, and customer service, and tap the expertise of our in-house merchandising and trends experts to uncover high-quality finds for every budget. You can find more information about each item in the seller's listing details and can take a look at their individual shop policies and reviews, too.