From big straw bags to cute crochet carryalls, these well-constructed market totes are made to shoulder all your necessities in style.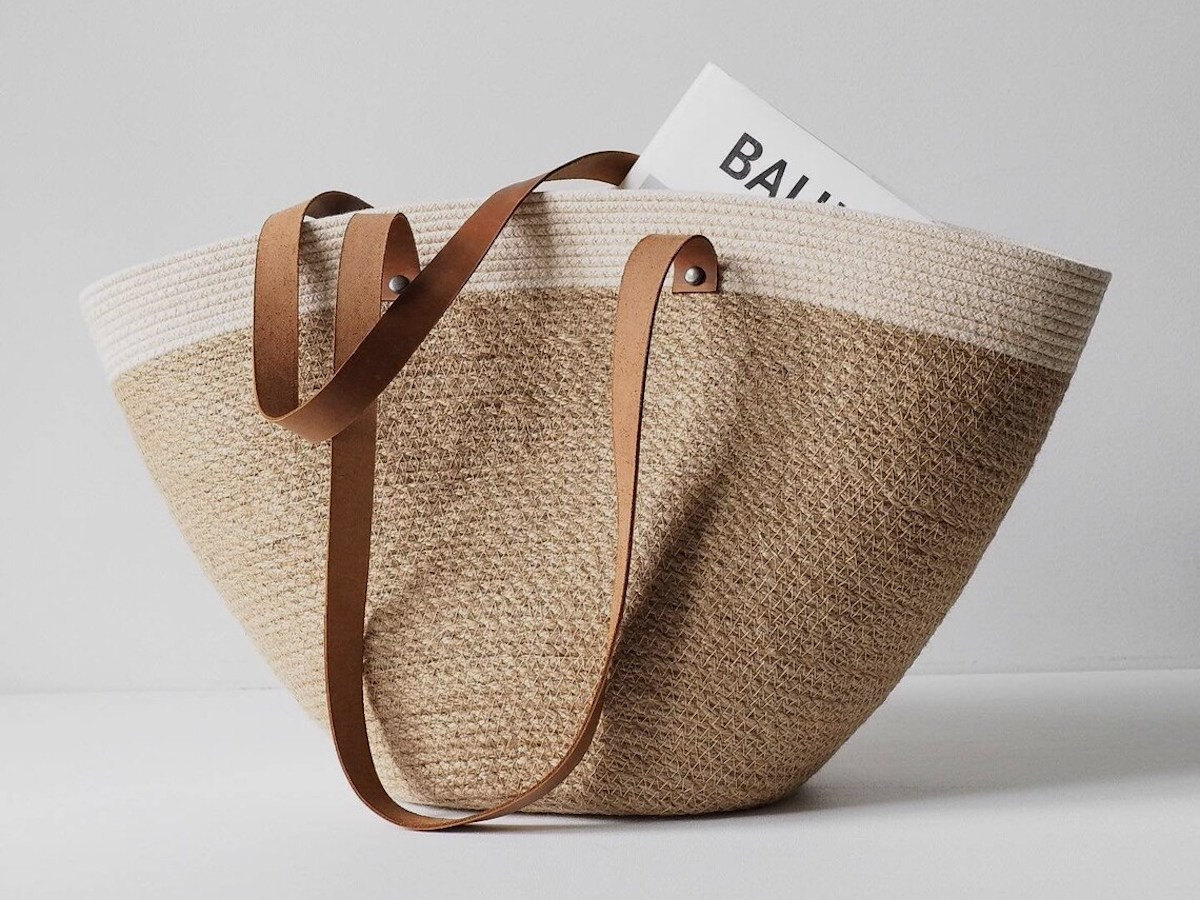 Whether you're a local produce lover headed out to the farmer's stand for your seasonal harvest haul or a busy parent running everyday errands, a trusty market tote is key to shopping success without the stress. But how to find a reliable, reusable bag that saves plastic and looks fantastic? Opt for a gorgeously handcrafted design, and you're sure to find a fashionable option that checks all your bag boxes. Hardworking waxed canvas carryalls. Beautifully woven crochet totes. Large, lightweight linen picnic bags. Etsy creators clearly know well that the best market totes need to do triple duty: be sturdily constructed, offer clever functionality, and serve up some serious style.
To help equip you for your next trip out on the town, we've rounded up 48 top-quality carryalls for every type of shopper, including cute market totes you can personalize and canvas market totes under $25. And after all, with Earth Day coming up on April, 22, it's the perfect time to upgrade your bag game! So wherever you're going and whatever your vibe, read on to discover an attractive market tote that's up to the task.
Best large market totes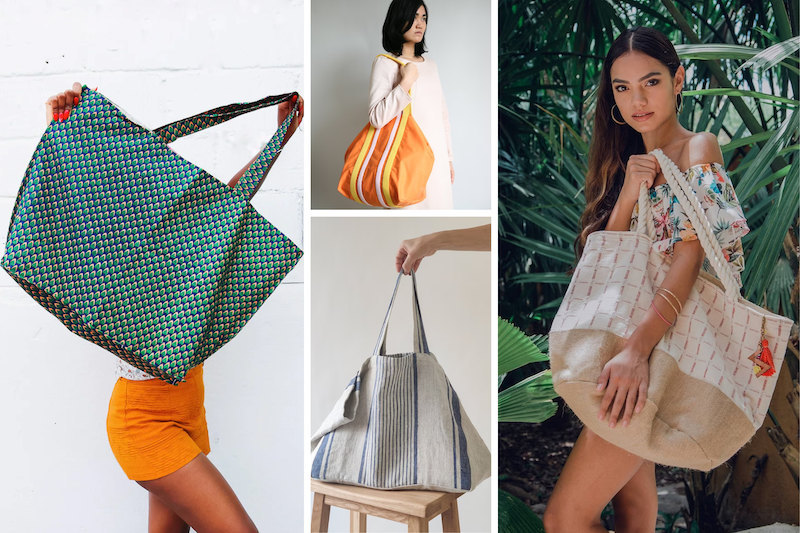 For anyone with a lengthy shopping list (or who just prefers to buy in bulk), a large market tote is a must-have. Structured, sturdy options offer oversized compartments for all your purchases, plus extra places to stash sunglasses, phones, and snacks for easy access. Loose linen designs, like this French market bag, work great for open-air fairs and festivals, and can even stretch to fit a blanket for an impromptu picnic. And for a bag that matches your big personality, this maxi tote comes in a range of vibrant patterns.
Cute farmers market bags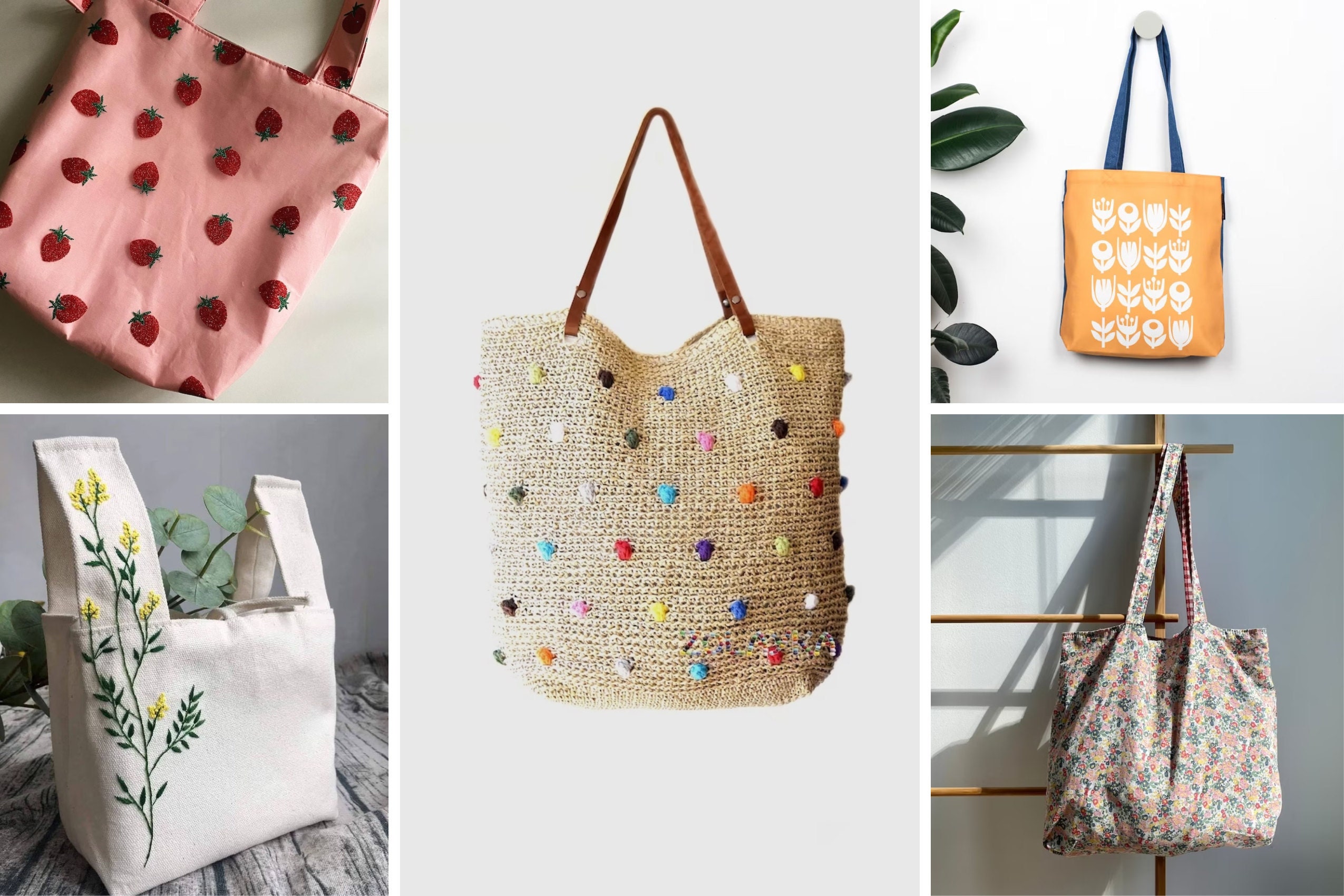 Featuring peppy patterns, charming embellishments, and just enough space to store your on-the-go accessories, these cute farmer's market bags are perfect for any casual sidewalk stroller or window shopper who loves to sneak a peek at their own reflection while browsing. (Don't worry, your secret's safe with us!) Playful handmade details like glittery appliqués, colorful pom-poms, and sunny screen-printed florals are lovingly added to put a spring in your step. And for a charming choice that can effortlessly take you from day to night, this petite embroidered pouch, can be carried like a stylish knot bag.
Best canvas market bags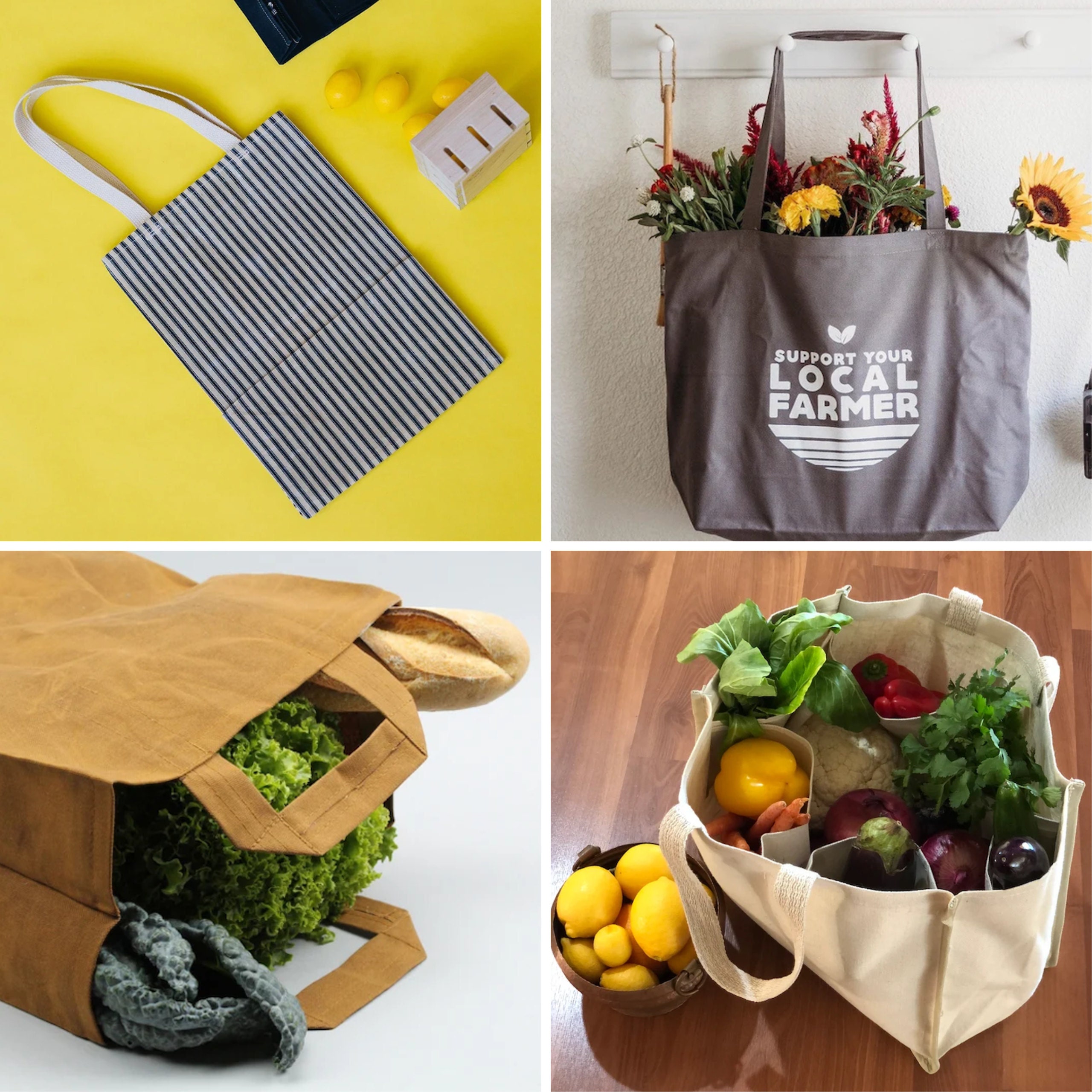 Crafted from classic canvas, these simple yet sturdy market bags are versatile enough to complement any activity or outfit. Whether you choose a tote with several deep pockets, like this wax-lined farmers market bag that can pack a plethora of produce, or an affordable, streamlined option with a single spacious compartment, these durable canvas market bags are made to go the distance. Plus, with their quintessential rustic charm, they'll look just as attractive hanging up on a peg in a modern farmhouse as they do on your person.
Best crochet market bags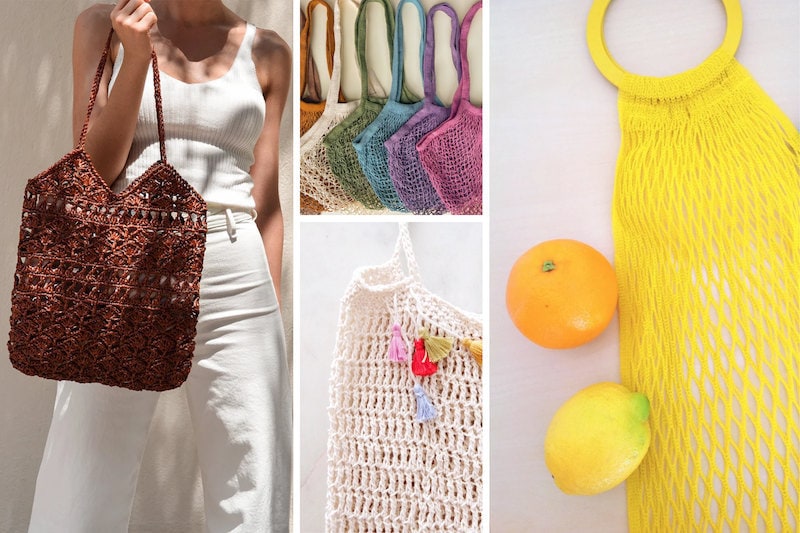 Giving us major chic coastal vacation vibes, these crochet market bags are great for storing all your summer staples and can even be used as beach bags—no annoying sand accumulation here! With more than enough stretch for sunscreen, a book, and a towel when you're beach-bound, you'll soon find that you're taking your new crochet market bag everywhere. For a pop of color, snag one or two of these lightweight French market bags that come in several cheerful shades (with their reasonable price, you'd be forgiven for getting more than one), or for an elevated, elegant choice that can be taken for a night out on the town, try this stylish rust-colored raffia tote.
Market totes under $25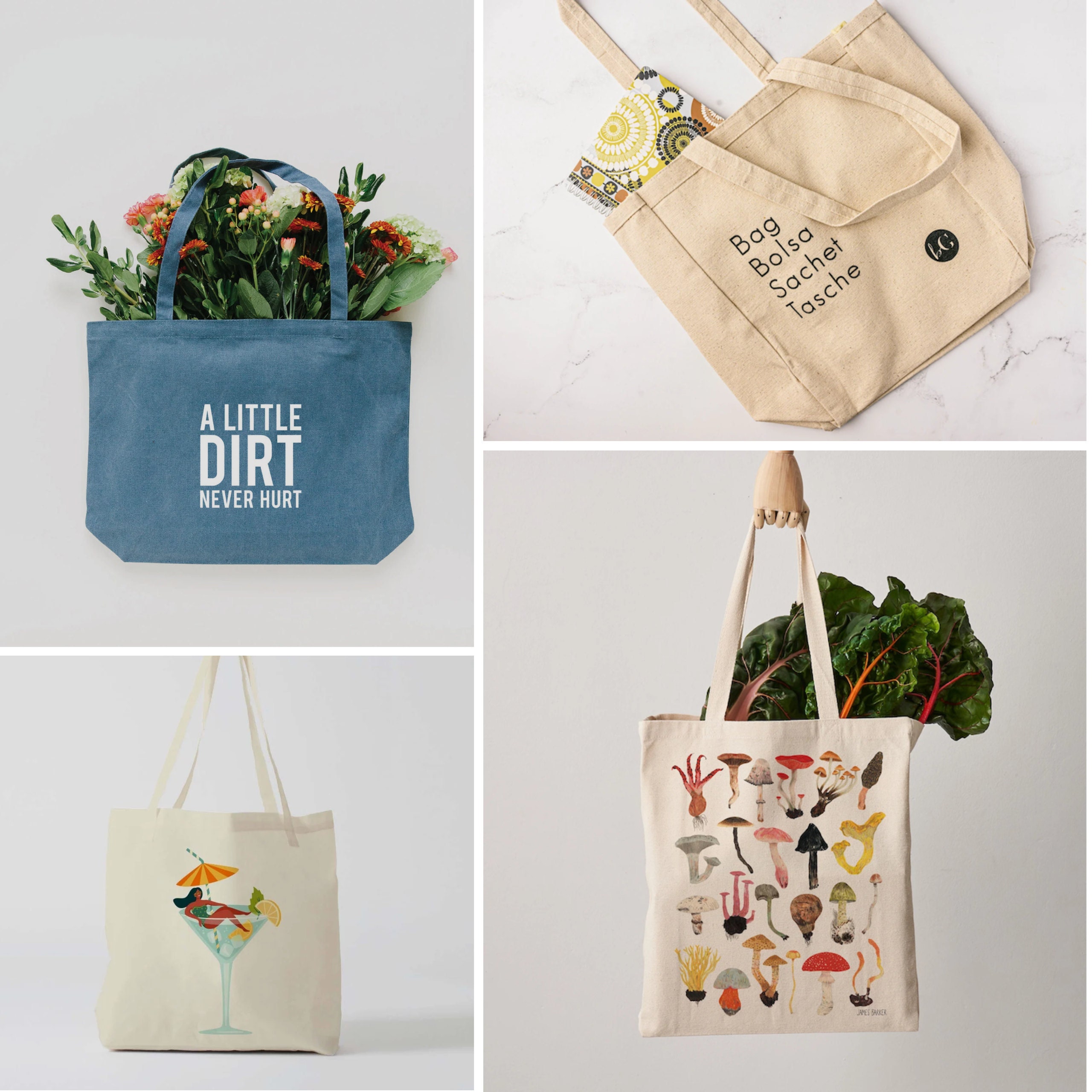 Forget those generic supermarket shopping bags—with these gorgeous and highly affordable market totes under $25, there's no reason you can't showcase your show-stopping style and personality even when out for groceries. These economical designs are practical, yet packed with color and character. The mushrooms and toadstools cotton canvas option is perfect for a last-min grab and go, and can also be neatly folded away in your main tote and used as a backup when necessary. And, at only $12, the "A Little Dirt Never Hurt" tote bag is ideal for keeping in your car for a trip to the market.
Typographic totes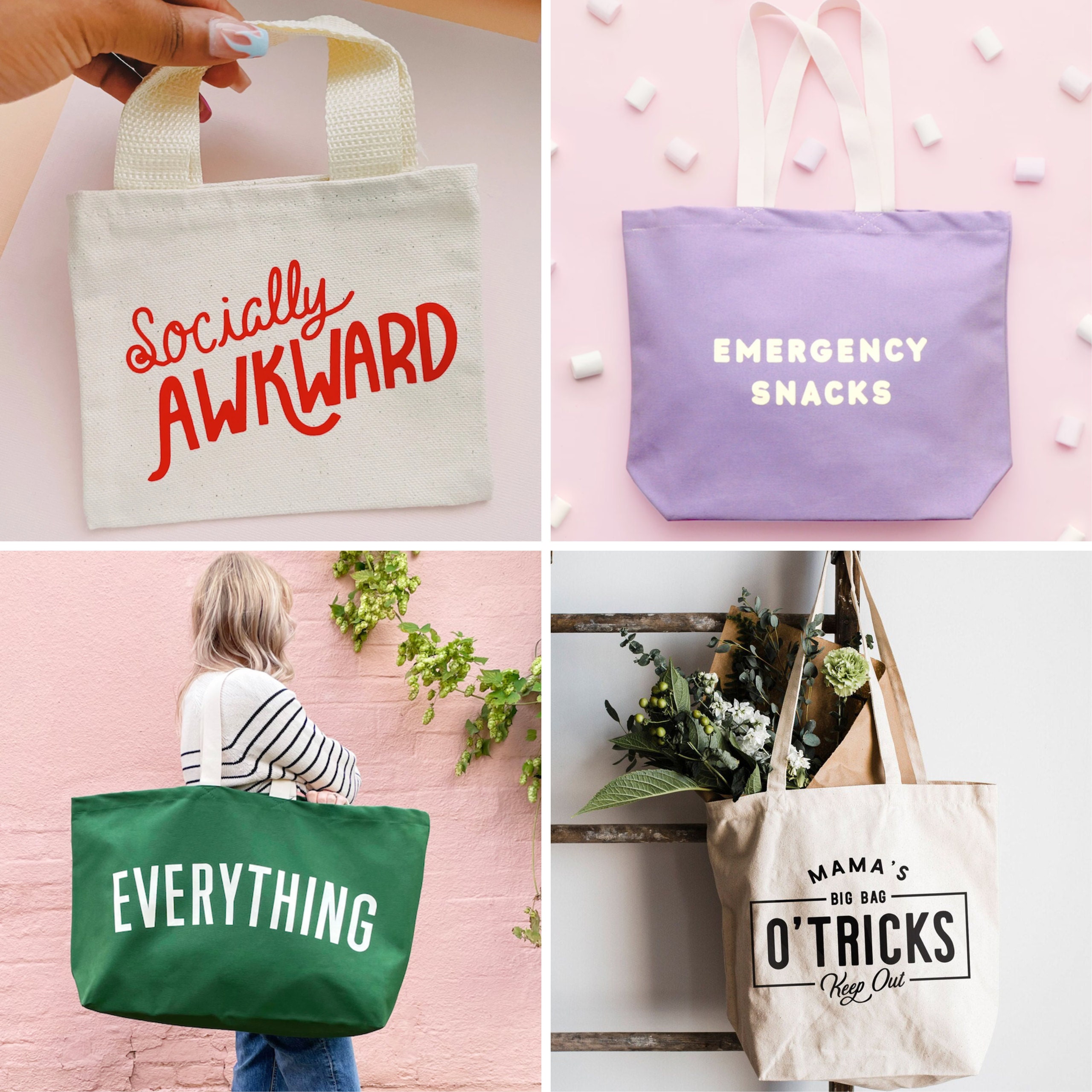 If you like to make a statement, these fun typographic totes are made for you. Bold, trendy, and cheeky to boot, they're sure to draw in several compliments wherever you carry them. An oversized "Everything" tote makes an ideal pick for any self-proclaimed pack-mule with a playful sense of humor, and the "Mama's Big Bag O' Tricks" tote and "Emergency Snacks" bag are fitting finds for parents who need toys and tasty treats on hand at all times. And what's even better than busting out a big market bag? Pulling out this teeny-tiny "Socially Awkward" tote—surprise! It's perfect for loose change, receipts, and train tickets—just be prepared for everyone asking you where you got it from so they can pick one up too.
Playful printed bags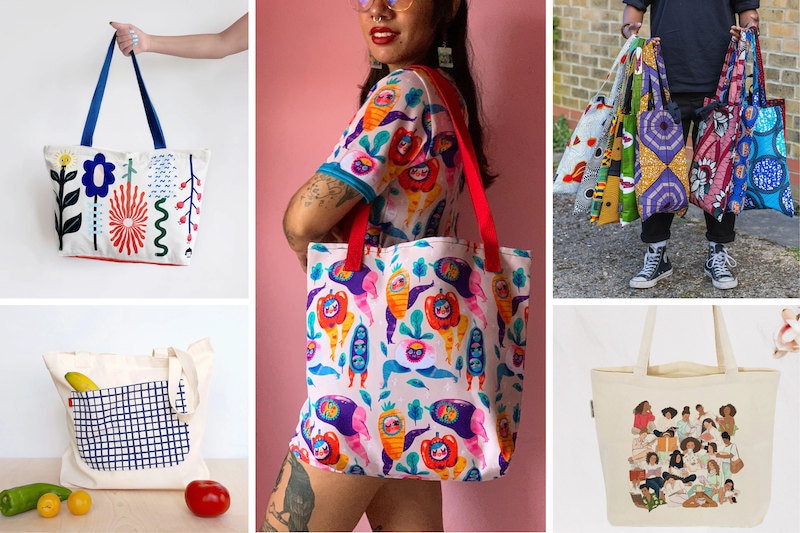 Delightfully detailed with all-over illustrated prints, these these playful, prismatic totes will brighten up even the gloomiest day running errands. Prefer not to leave the house without a wow-worthy accessory? The "Eat Ur Veggies" tote—covered in comical, colorful hand-drawn vegetables—is sure to help you stand out in a crowd, and might just remind you to grab something green and leafy from the grocers. Or for a subtler statement, this "Bookish" market bag is perfect for proclaiming you're a proud bookworm who prefers the company of a good page-turner.
Best natural fiber bags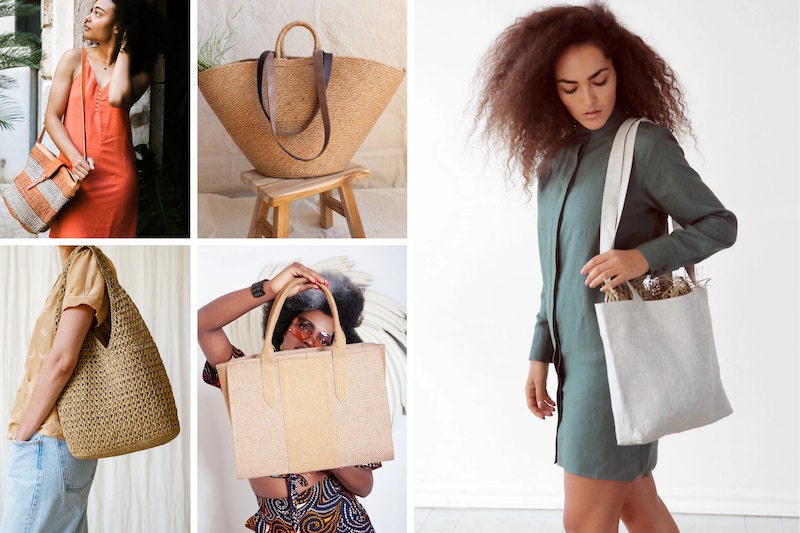 When you envision yourself, as we all do from time to time, bumbling nonchalantly along on a quaint cobblestoned street on a breezy summer's day, wind in your hair, and a flowy floral sundress adorning your freshly tanned skin, you'll no doubt also see yourself carrying a gorgeous natural straw market bag—after all, where else will you put your freshly picked flowers, soft hot bread from the local bakery, and organic farmers market goodies? These beautifully crafted picks are stitched from fibers like raffia, straw, jute, and linen—perfect for earth-loving market-frequenters who want to look effortlessly boho-chic wherever their wanderings may take them.
Patchwork totes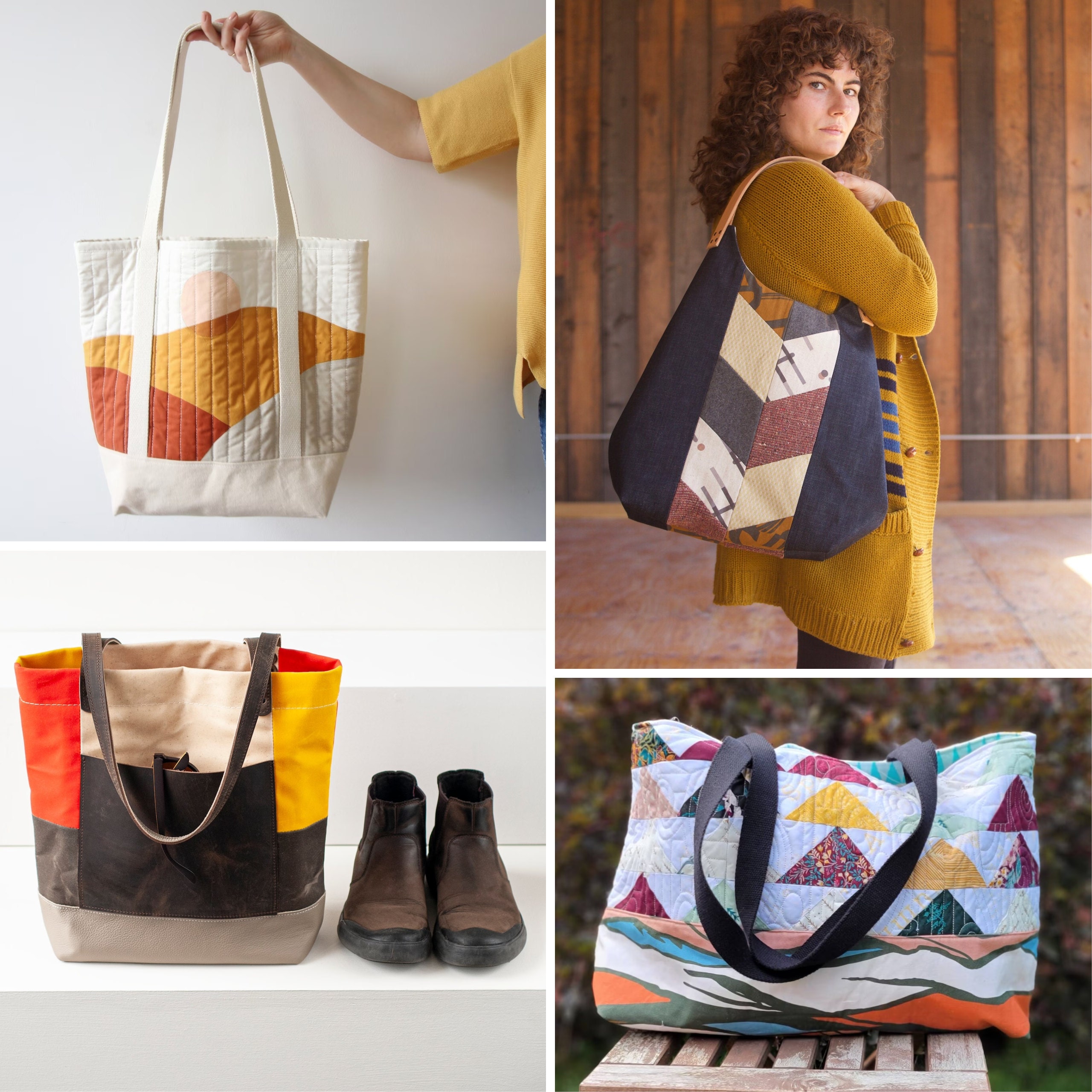 For an all-season option that's a bit thicker than your average market bag, these intricately pieced together patchwork totes are sure to become a staple in your rotation. Fabulously fitted for travel, a sturdy patchwork waxed canvas leather tote will take you from city sightseeing to lakeside getaway, and boasts an easy-to-access front pocket for passports, tickets, and other items you'll need on the go. Meanwhile, with its serene sunset design, this handcrafted quilted bag, has us dreaming of warmer horizons. The best part? These bags pair equally wonderfully with an everyday tee and sneakers as they do with a cozy knit cardigan and boots.
Personalized bags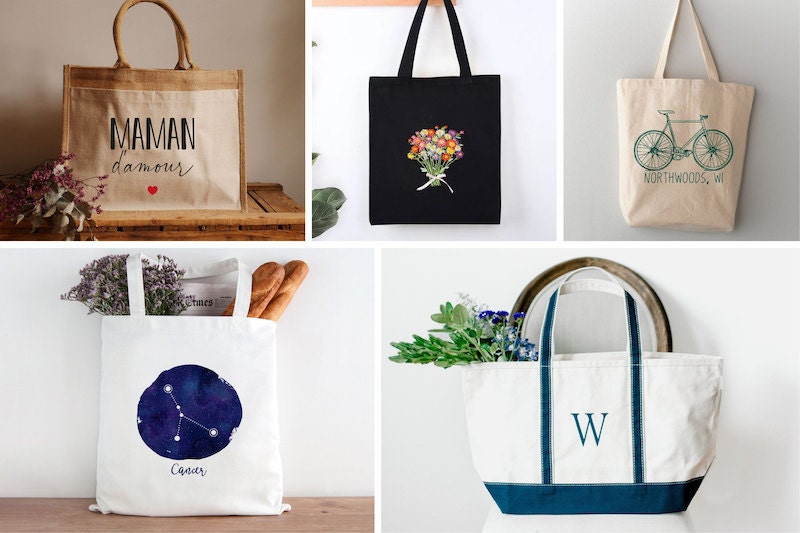 Making a great gift idea, these market bags are customizable for that extra special personal touch. You can choose a monogrammed tote, embroider your own with a DIY kit, or even have custom prints created as wedding favors. Whether you want to add a beloved location, a zodiac sign, or a phrase of your choosing, these bags will make the recipient feel very loved—even if that recipient is yourself!
Unique market totes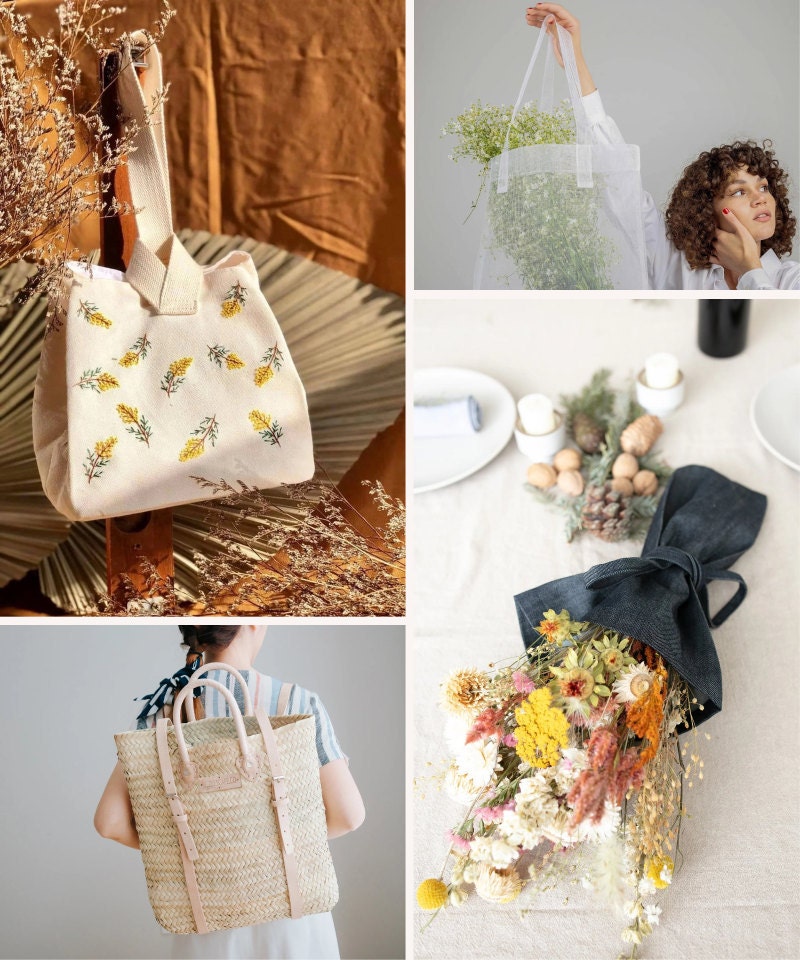 For something a little out of the ordinary, but with the same convenience and practicality of a traditional market bag, check out these unique, eye-catching designs that offer clever functionality. Our top picks for smart and unique market bags include a denim flower tote for carrying fresh picks or seasonal blooms from your favorite florist, a stylish see-through bag that's foldable and equally suitable for both a grocery run or a festival, and an innovative French market bag made from straw that doubles as a backpack. Now, where are we off to?
Shop more of the best bags on Etsy:
How do we pick the best market totes?
As Etsy Journal editors and contributors research and curate shopping guides for some of the best-loved items on Etsy, we thoughtfully consider the creativity, customization, and craftsmanship that go into each product. We also consider buyer reviews, item ratings, and customer service, and tap the expertise of our in-house merchandising and trends experts to uncover high-quality finds for every budget. You can find more information about each item in the seller's listing details and can take a look at their individual shop policies and reviews, too.