Brighten your holiday with these unique and modern menorahs that make beautiful gifts.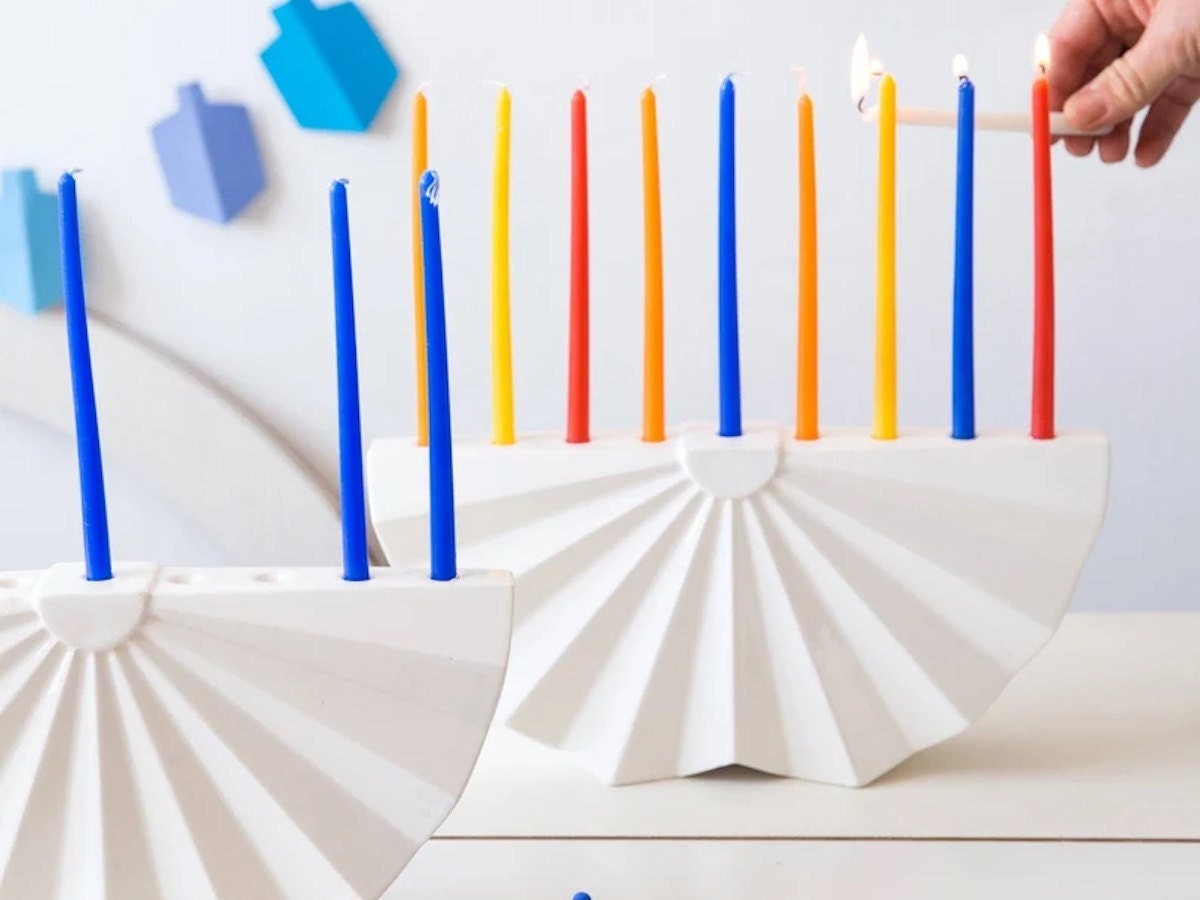 The latkes are ready. Your Hanukkah table is set. Now it's the menorah's time to shine.
Celebrate your family's favorite Hanukkah traditions with a modern menorah that fits your style and is as unique as you are. With styles made of metal, wood, glass, ceramic, and even acrylic, small shops on Etsy create stunning modern and unique menorahs that will delight your whole family for years to come.
And don't forget: A beautiful menorah also makes a great wedding gift or housewarming present.
See our top picks for the best menorahs:
Best modern menorahs
From minimalist styles to contemporary takes on traditional designs, these modern menorahs are beautiful enough to display all year.
1. A minimalist menorah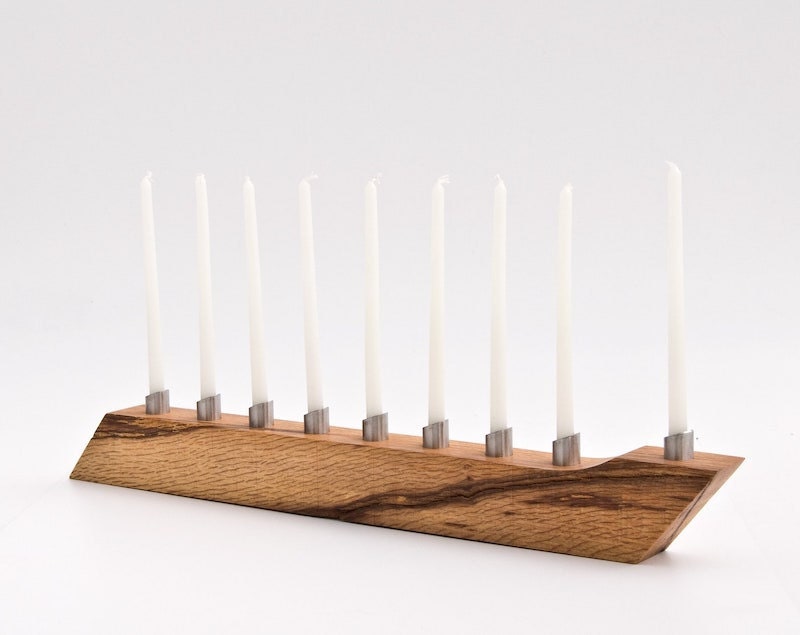 SHOP: Salvaged wood menorah from Less & More, from $156
This mod menorah, made of salvaged oak and stainless steel, fits beautifully with most decor styles. It also comes wrapped in environmentally-friendly, compostable packaging, ready for gifting.
2. A bamboo menorah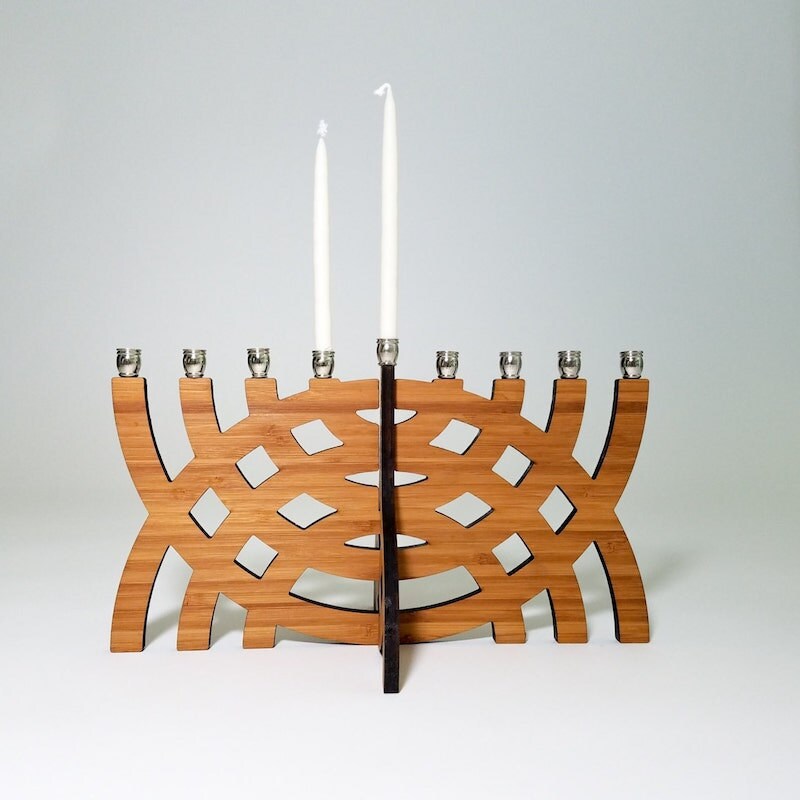 SHOP: Bamboo arched menorah from Gio Gio Design, $123
This modern spin on a traditional menorah, with two interlocking pieces, is made of bamboo and can easily be flattened for travel or storage.
3. A deconstructed menorah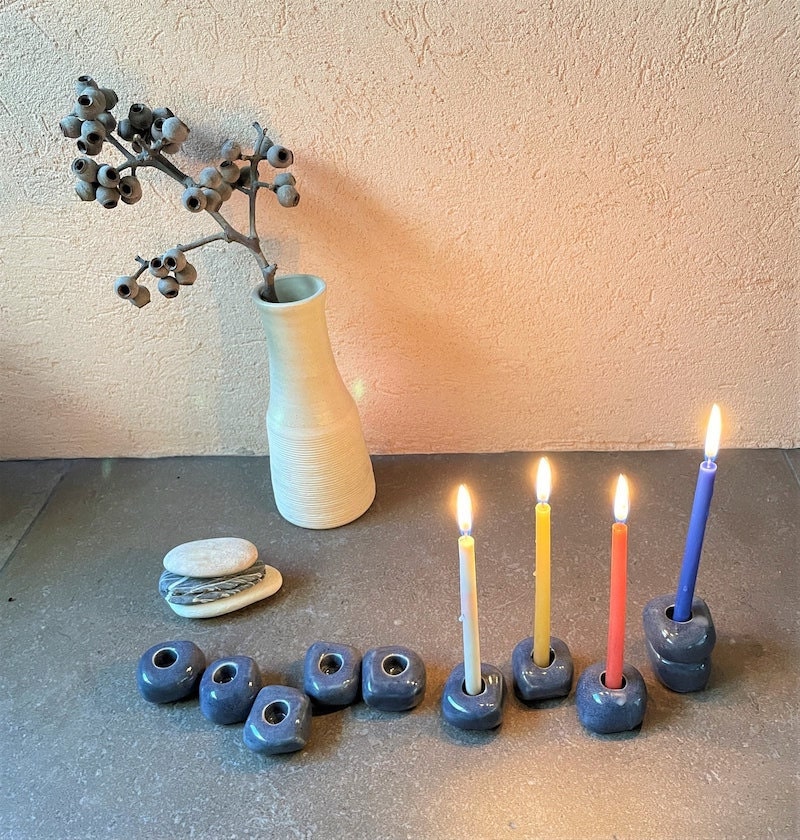 SHOP: Ceramic modular menorah from ClayCreationsByMiri, from $147
Want a minimalist menorah? This deconstructed ceramic design fits the bill. The pieces, which resemble pebbles, are deep bluish purple, and there's an extra tall one for the shamash. The menorah also comes with an optional ceramic tray.
4. A ceramic menorah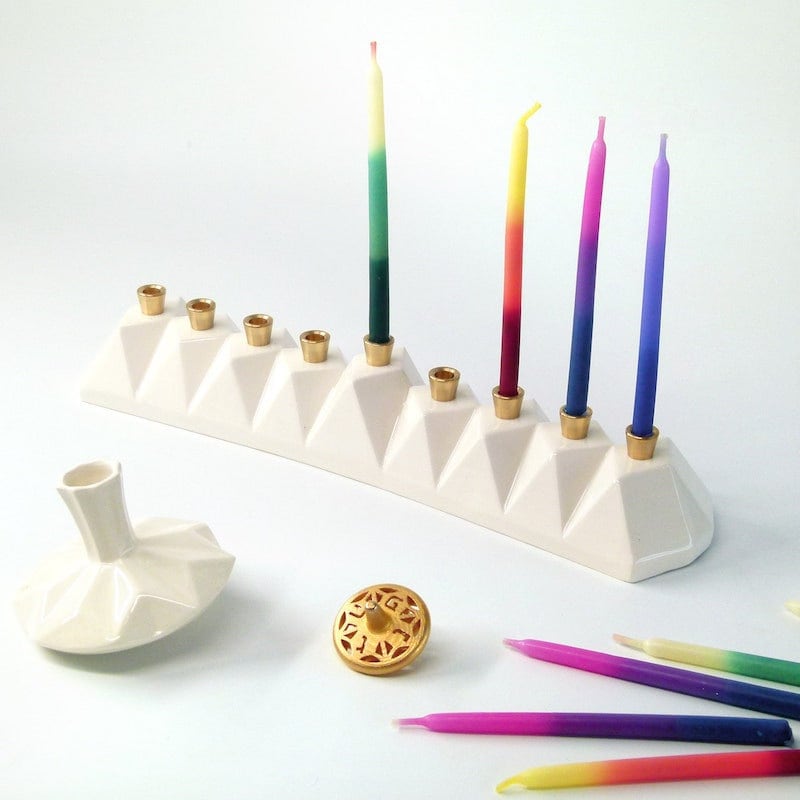 SHOP: Ceramic menorah from Studio Armadillo, $217
Both simple and stunning, this sleek ceramic menorah with brass cups makes for a beautiful addition to any Hanukkah celebration.
5. A Tree of Life menorah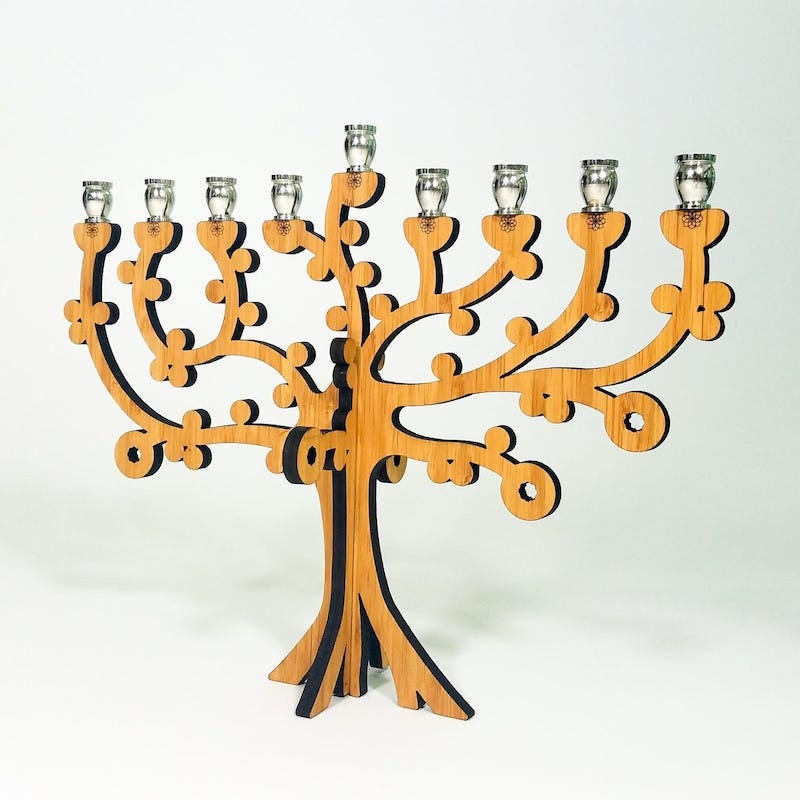 SHOP: Bamboo Tree of Life menorah from Gio Gio Design, $138
A modern take on a classic Tree of Life menorah, this candelabrum is made of lightweight bamboo and nickel. It comes with a cotton muslin gift bag that can be used for storage.
6. A ceramic origami menorah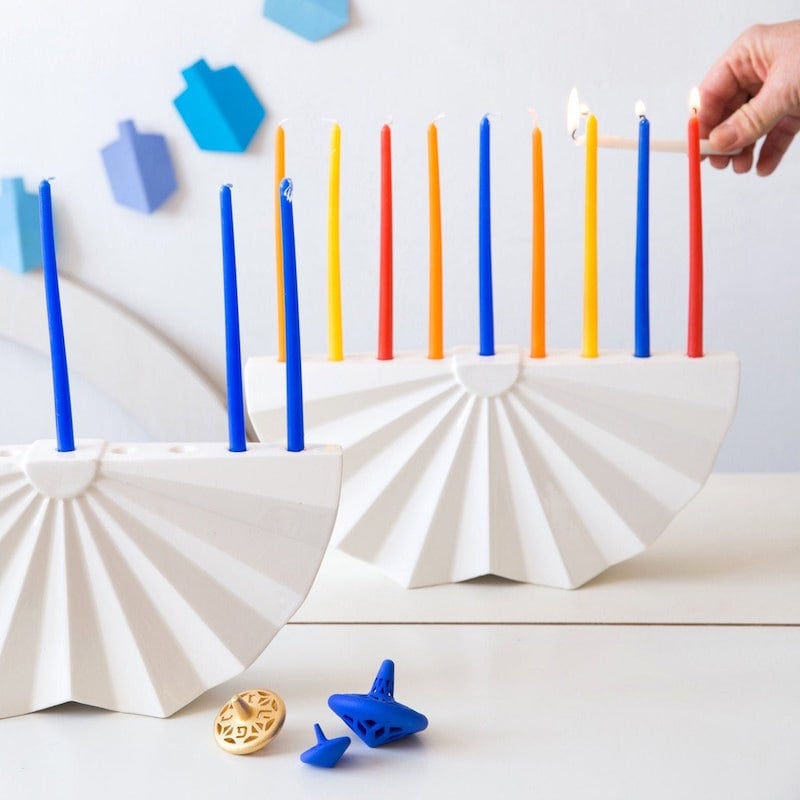 SHOP: Modern ceramic origami menorah from Studio Armadillo, $229
This ceramic fan-shaped menorah, inspired by paper origami, is a work of art. The seller, based in Tel Aviv, Israel, also makes mod 3-D-printed dreidels.
7. A modern slanted menorah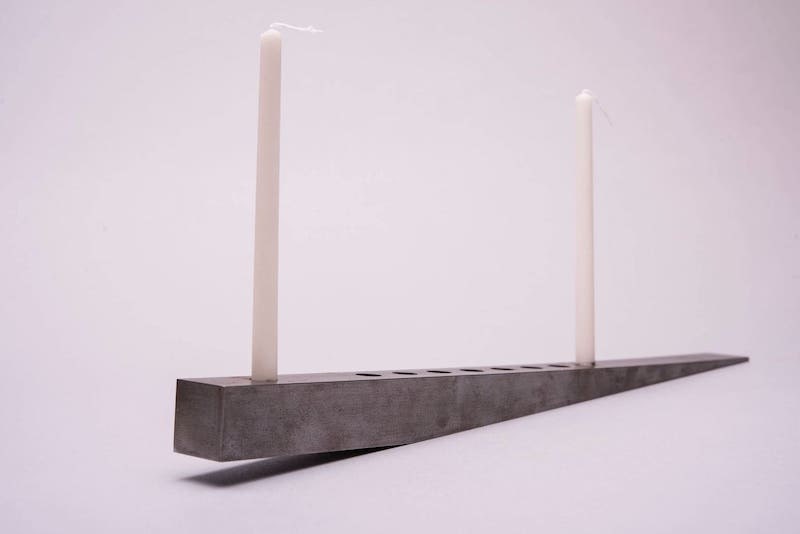 SHOP: Contemporary minimalist Hanukkah menorah from Studio NACHSHON, $140
This steel menorah, created by a furniture designer in Haifa, Israel, has an industrial look and a cool floating design that's beautiful enough to display all year round.
8. A geometric oil menorah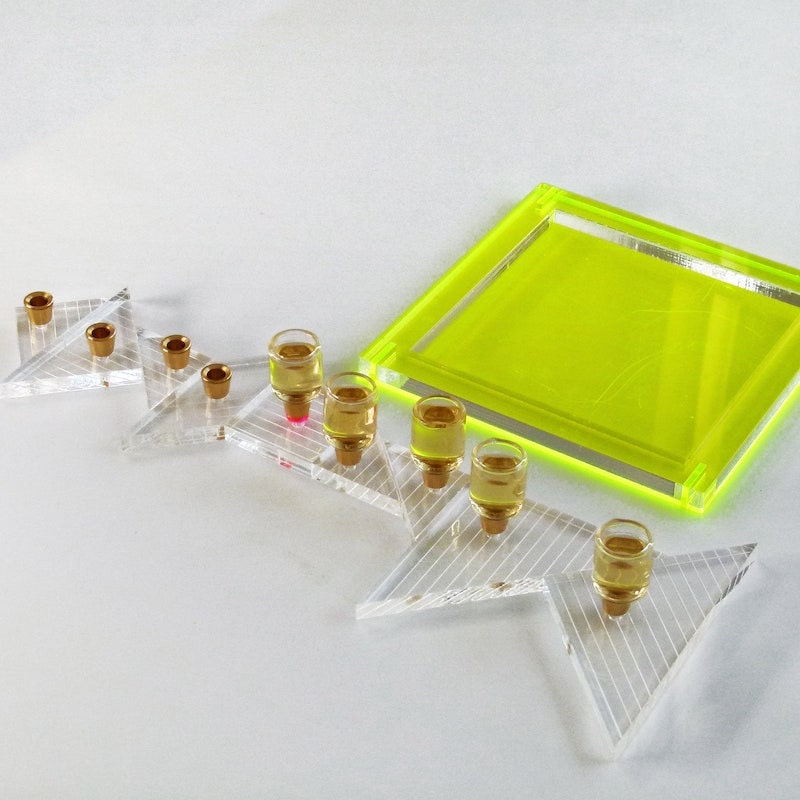 SHOP: Acrylic tangram puzzle menorah from Studio Armadillo, $120
Like puzzles? This acrylic menorah is based on a tangram puzzle, which means the pieces can be moved around to form different shapes. It also comes with glass cups, so it can be used with either candles or oil. Plus, it comes with a bright yellow storage tray which can double as a serving dish for Hanukkah treats like sufganiyot.
9. A travel menorah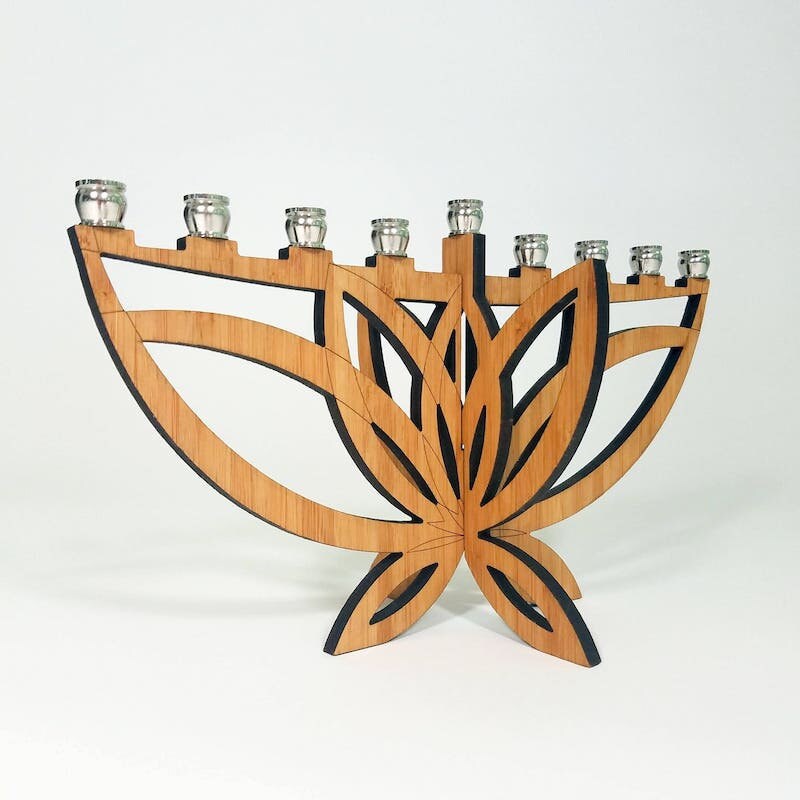 SHOP: Mini lotus flower travel menorah from Gio Gio Design, $113
This compact bamboo menorah, shaped to resemble a lotus flower, stores flat and is perfect for travel.
Best unique menorahs
Add a little creativity to your Hanukkah with these unique menorahs the whole family will enjoy.
10. An industrial pipe menorah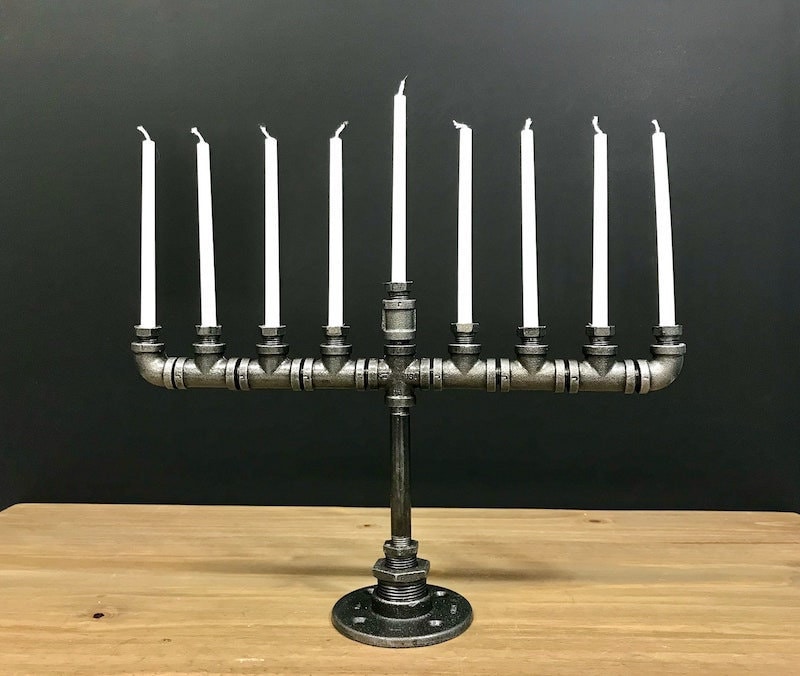 SHOP: Industrial pipe menorah from IndustrialHomeBazaar, $123
Want something a little different? This industrial menorah is made completely out of black metal pipes for a striking look.
11. A colorful glass menorah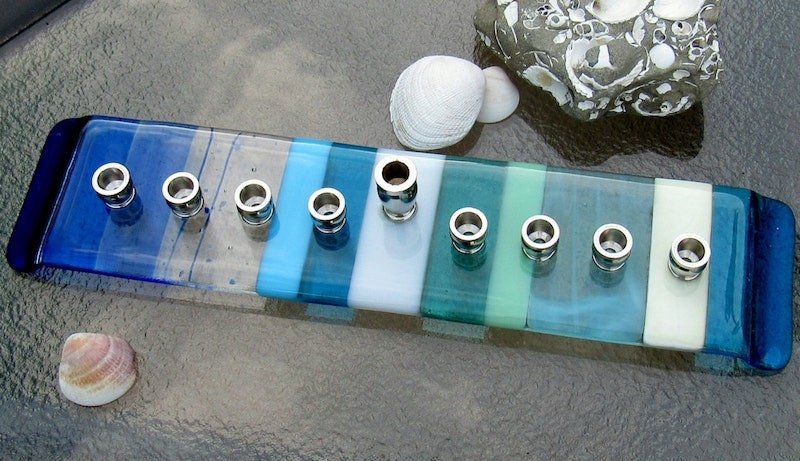 SHOP: Ocean glass menorah from Shakuf Design, $90
This beautiful glass menorah, inspired by the ocean, catches the light in soothing shades of deep blue, aqua, mint, and turquoise. It's also available in other colors, including pink and purple and rainbow hues.
12. An ornate menorah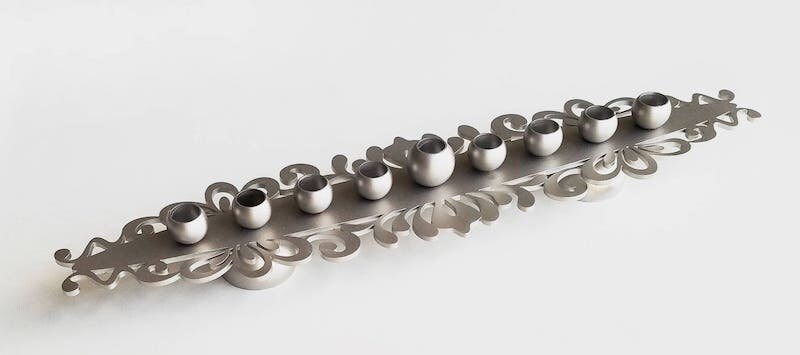 SHOP: Steel menorah from Melanie Dankowicz, $175
Balanced on two large round feet, this steel menorah features an ornate, organic-looking design and has been blasted with glass for a smooth finish.
13. A personalized children's menorah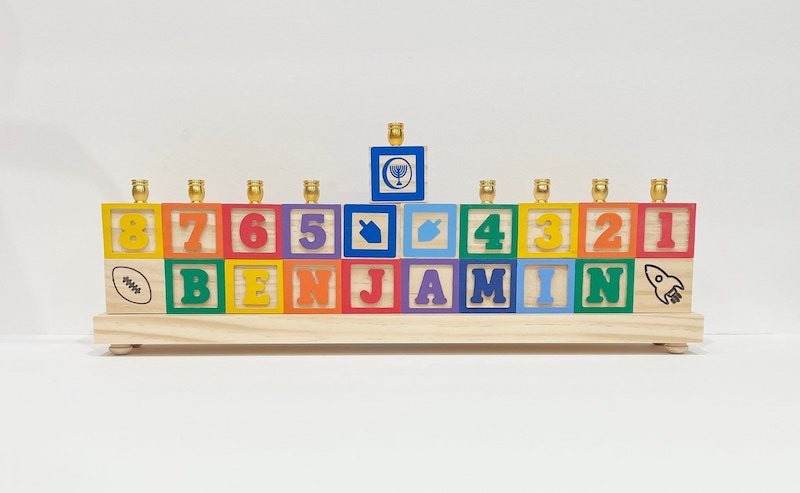 SHOP: Personalized block menorah from Don't Forget the Gift, from $100
Get the kids excited for Hanukkah with this colorful wooden block menorah that can be personalized with their names. You can either get the text in English or Hebrew—or a combo of both. It makes a great baby gift.
14. A leaf menorah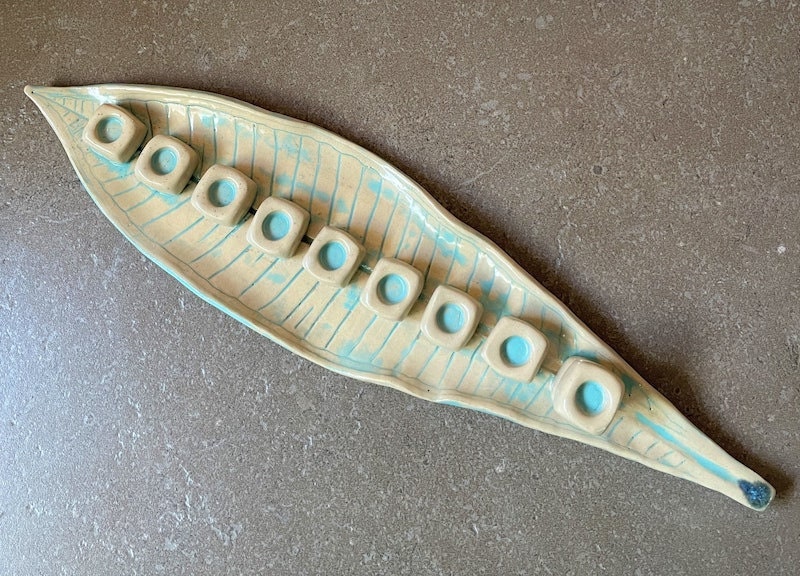 SHOP: Leaf-shaped ceramic menorah from ClayCreationsByMiri, $164
Go for a natural look with this organic-looking design. The leaf-shaped menorah is sculpted out of clay and painted green, with a clear glaze. It comes wrapped—ready for gifting.
When is Hanukkah 2022?
Hanukkah begins at nightfall on December 18, 2022 and ends at sundown on December 26, 2022.
The holiday dates back to the second century B.C., when the Jewish people rose up against the Greek-Syrians in Jerusalem and retook the city and the Jewish temple. They celebrated by lighting the temple lamp. They only had enough oil to light it for one day, but it burned for eight days. The holiday commemorates that miracle by lighting a menorah.
What makes a menorah "kosher"?
Beautiful Hanukkah menorahs come in all shapes and sizes but there are a few traditional rules about what makes a menorah kosher or not.
There must be nine candles.
The shamash must be a bit higher or a bit lower than the other eight candles.
The eight candles must all be at the same height. (Many also believe that the candles need to be in a straight line, though there's some debate about that.)
How to light a menorah
A hanukiyah, or Hanukkah menorah, is a candelabrum for nine candles: a shamash —or helper candle— and eight other candles to represent the eight days of Hanukkah. When sunset falls, it's time to gather the family around the menorah, which is traditionally placed on a table by a window.
The candles are placed from right to left—with the first candle being on the far right—but they are lit from left to right, with the newest candle lit first. After placing the correct number of candles on the menorah and lighting the shamash, two blessings are traditionally said (along with a third on the first night of Hanukkah). Then, the shamash is used to light the other candles. Including the shamash, you light two candles on the first night, three on the second night, etc. On Fridays, the menorah is typically lit before dark, so as not to interfere with the Sabbath.
The candles are supposed to burn for 30 minutes, so most people use special Hanukkah candles that are designed to last that long. (They typically come in packs of 45, enough for every night of Hanukkah.) If one goes out during that time, you can relight it with the shamash. Then it's time to celebrate your own family traditions, whether that's singing songs, giving gifts, breaking out the gelt and dreidels, or enjoying some latkes. Happy Hanukkah!