Rest easy knowing these handcrafted nightstands are holding your essentials, and they look great doing it.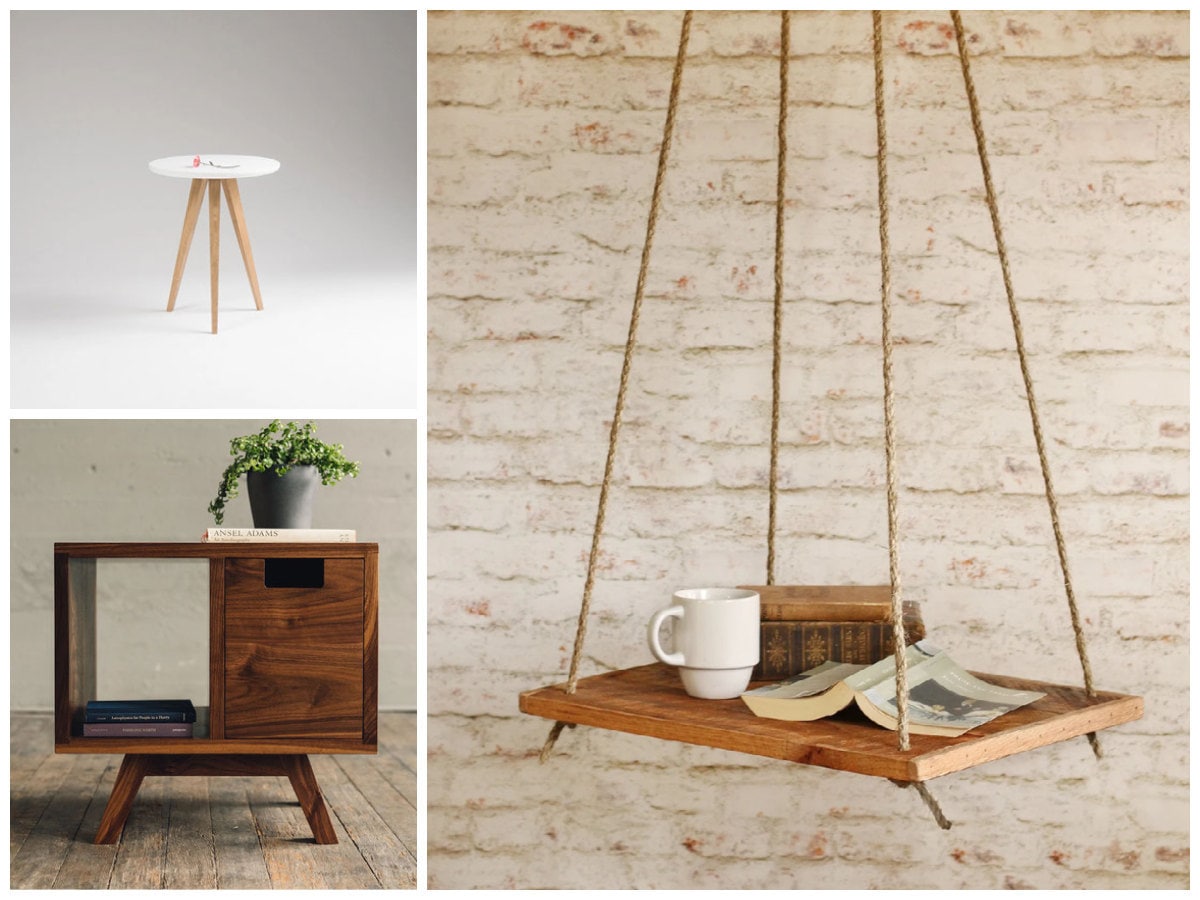 Nightstands are an essential, yet often overlooked, piece of bedroom furniture. They're typically home to your bedside lamp, nighttime reading material, and maybe a statement candle and charging station if you've got the space. But what we really love about these nightly companions is their ability to pull a space together by adding all-important textural elements, intriguing silhouettes, and an overall aesthetic accent that rounds out your decor.
The exceptional nightstands on Etsy are handcrafted by talented artisans who blend both form and function in their stunning designs (and they deliver impeccable service, just peek at their reviews as you shop this list of the best bedside tables). From the use of mixed materials to unexpected (and practical) accents, these are some of the best nightstands to help you go from vision to real life, with the help of real people.
Best modern nightstands
For modern bedrooms that demand a modern nightstand to complete the aesthetic, these gorgeous options were intentionally designed to fit right in. Even those who favor simple interior design can't deny the convenience of having at least one nightstand next to the bed. To keep things decluttered, look for a bedside table with a drawer or cupboard (or add a woven basket to conceal all those cords and baubles).
1. Handmade floating nightstand in solid wood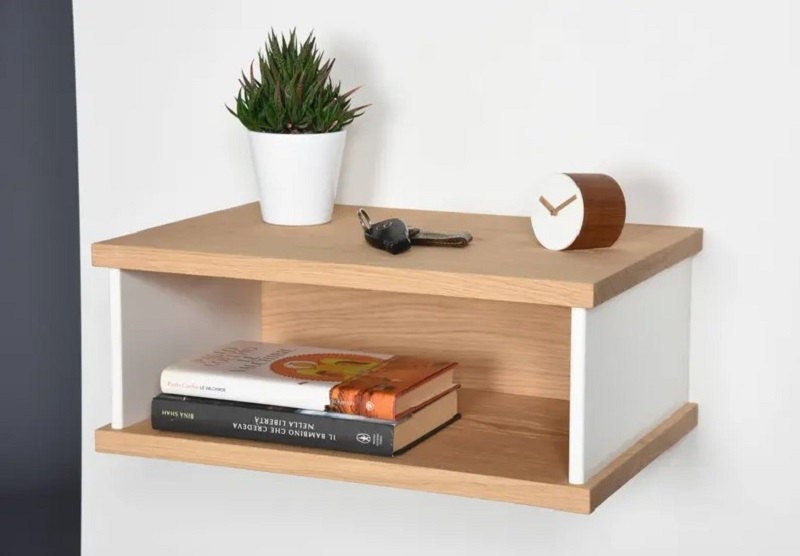 SHOP: Floating bedside tables in oak and corian from Ebanisteria Cavallaro, $344
These floating nightstands are not only stunning, they take up hardly any space (and no floor space at all!) while still being able to store a bunch of stuff in their nook. Their Scandinavian minimal design looks right at home in any modern abode.
Why buyers love this floating nightstand: "These are absolutely lovely… They are top quality and design… They were packaged with great care. These look much more than what they cost. HIGHLY recommend." - CT
2. Mid-century style nightstand with drawer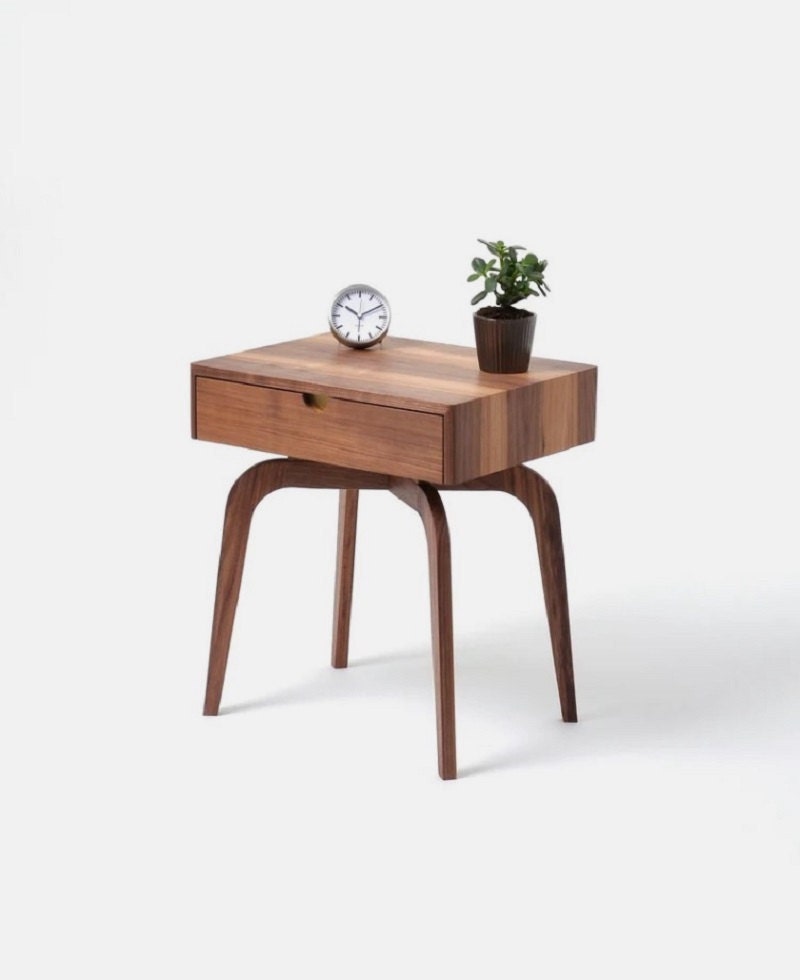 SHOP: Mid-century modern solid walnut nightstand with drawer from Pokojscy Studio, from $719
For more of a mid-century modern look, we're loving these wooden nightstands from the Pokojscy Studio in Poland. Their unique curve-top legs make this piece of furniture a one-of-a-kind item that everyone will be asking you about.
Why buyers love this wooden nightstand: "Beautiful piece. Very well made. Absolutely thrilled to have received it, and that it's handmade by an artist versus a factory." - AF
3. Square acacia wood nightstands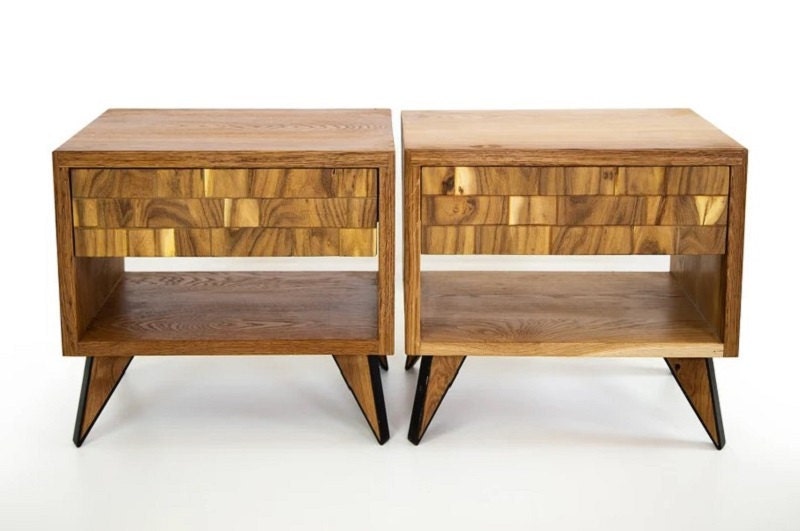 SHOP: Square nightstand with drawer from Grodzensky Workshop, $365
These unique nightstands are made from a hardy wood and have an acacia wooden mosaic drawer—their standout feature. There's a shelf underneath the drawer for storing even more essentials, and the legs have a subtle black trim detail. The designer makes these custom nightstands on demand and works with you to choose the right leg height, giving you a choice of woods, too.
4. Set of small, round bedside tables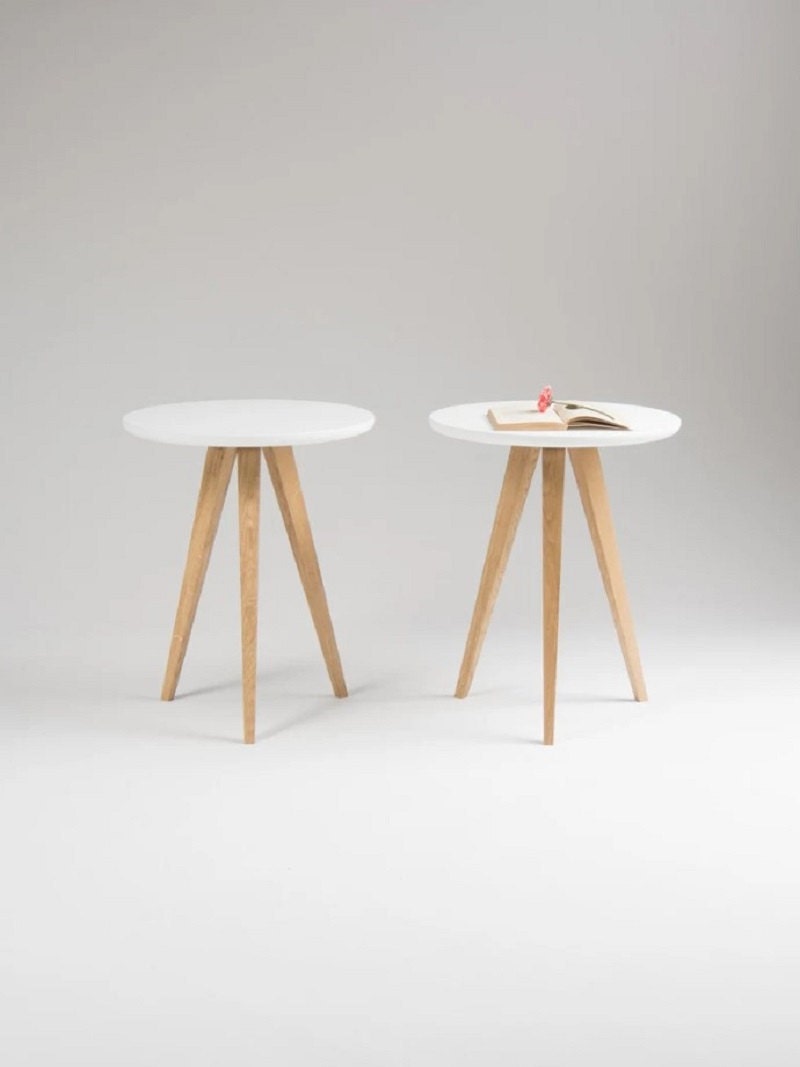 SHOP: Round nightstand set from Mo Woodwork, from $573
Available in white or black, with either solid oak or solid walnut legs, these nightstands, which come as a set of two, are a versatile option that can also double up as an extra side table if the need calls. Made by hand in a small shop in Poland, these tables are custom made to be sturdy and durable. Buyers call them the "perfect little tables" and love their "simplicity."
Best rustic nightstands
Whether it's reclaimed wood or repurposed materials, these handmade nightstands are thoughtfully designed to up the style, not your footprint.
5. Tree stump side table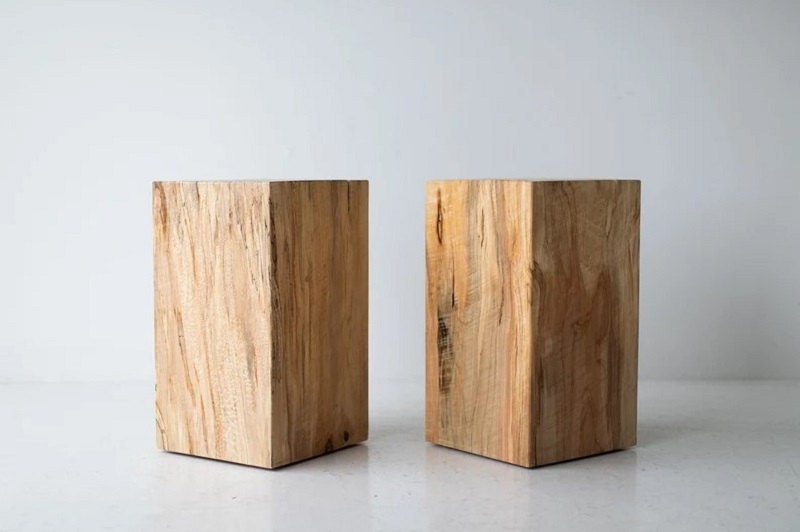 SHOP: Modern wood side table from Bertu Home, from $275
They may be simple in their design, but these jaw-dropping side tables sure do bring in the wow factor. Made from reclaimed trees that have already fallen naturally, these tables are kiln dried in a process that takes up to a month to ensure they stay strong for a long, long time.
Why buyers love this tree stump table: "Absolutely amazing quality! I purchased these for my studio space and I am just in awe! They are incredibly well made and just give so much life to my vision and my space! Beautiful!" - CM
6. Reclaimed lobster trap hardwood nightstand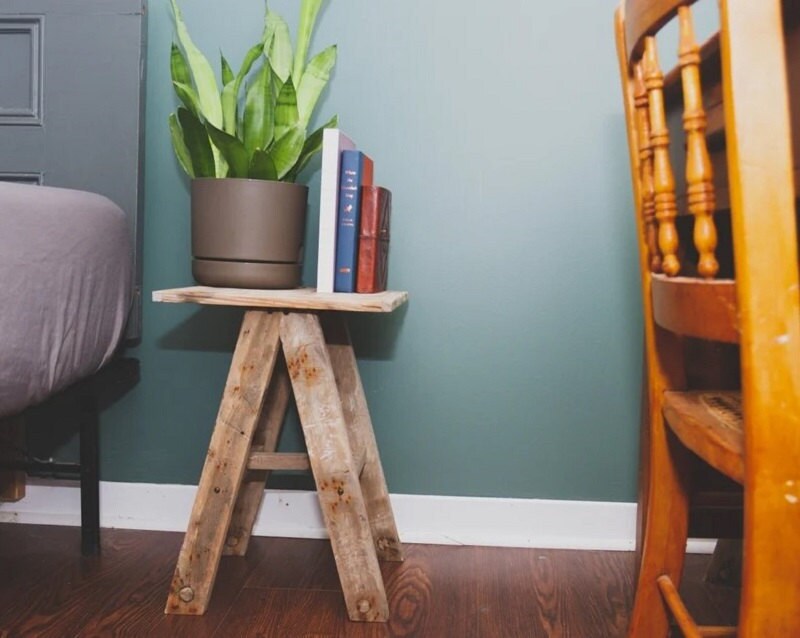 SHOP: Lobster trap nightstand from From and To Nature, from $155
Retired Prince Edward Island lobster traps, which have been soaked in Atlantic Canadian waters their whole life, are repurposed and handmade into these stunning nightstands by a small shop in Canada. These simple rustic nightstands are sustainably made  and provide a timeless and rustic look.
Why buyers love this seller: "Robias is awesome… He was so patient and accommodating throughout the whole process. I will definitely be ordering more pieces in the future and recommending him to everyone!" - JG
Best unique nightstands
We're all about the essential functions of your bedside table (storage!), but there's no need to sacrifice on aesthetic appeal when you nestle one of these artisan-made nightstands next to your bed.
7. Hanging nightstand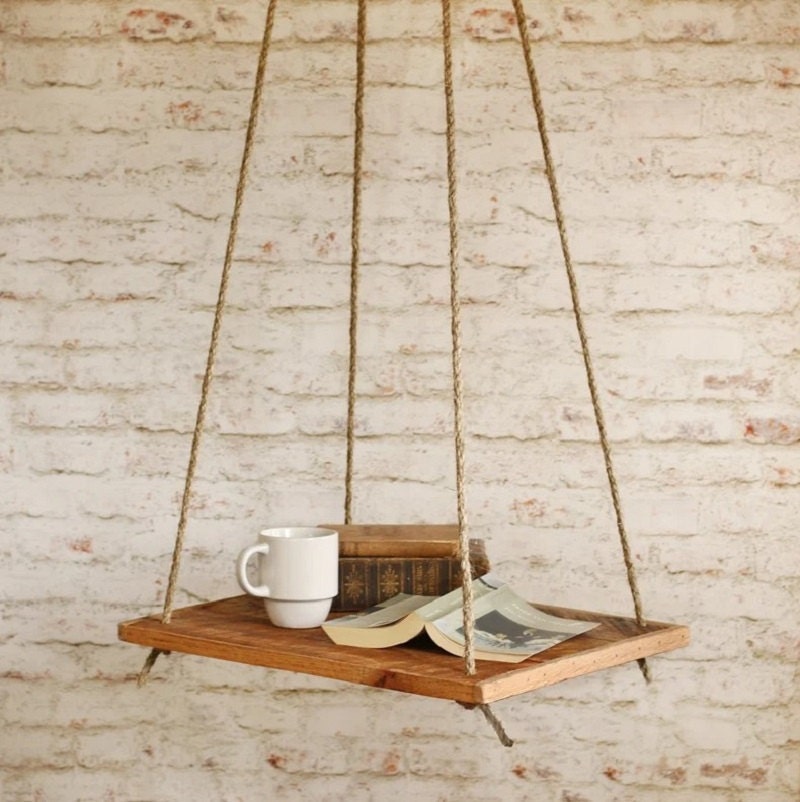 SHOP: Hanging bedside table from Grindstone Design, $184
So often, the vertical space in your bedroom is overlooked. Saving both floor and wall space, these swing-like side tables hang from the ceiling and will have all your overnight guests oohing and aahing. The tables are made from rope and lumber salvaged from barns in rural Missouri, with each piece of wood keeping its unique and original characteristics for a more rustic feel.
Why buyers love this hanging nightstand: "It's simply beautiful. I looked for quite some time until I found this table which was too unique to pass up... Quality craftsmanship!" - MC
8. Hot pink tiger nightstand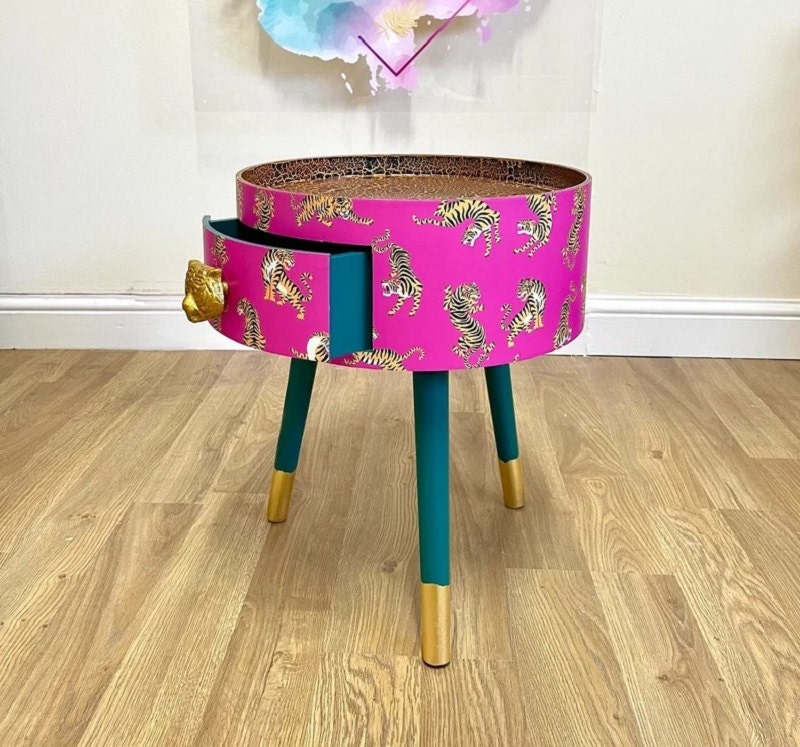 SHOP: Pink round bedside table from Beaumont Design, $204
For a pop of color, a splash of glamor, and a dash of opulence, these round magenta nightstands with gold tiger design tick all the boxes. Emerald green legs with gold trims, and a gold tiger drawer handle are the cherry on the top of these beautifully extravagant bedside tables.
Why buyers love this magenta round nightstand: "These tables are stunners. I had been searching for months for a bedside table that didn't just feel like the same old boring flat pack. I came across these and was blown away. [The seller] Chris was awesome; matched the vinyl perfectly and kept me updated every step of the way." - KR
9. Mixed wood and vintage metal catalog drawer nightstand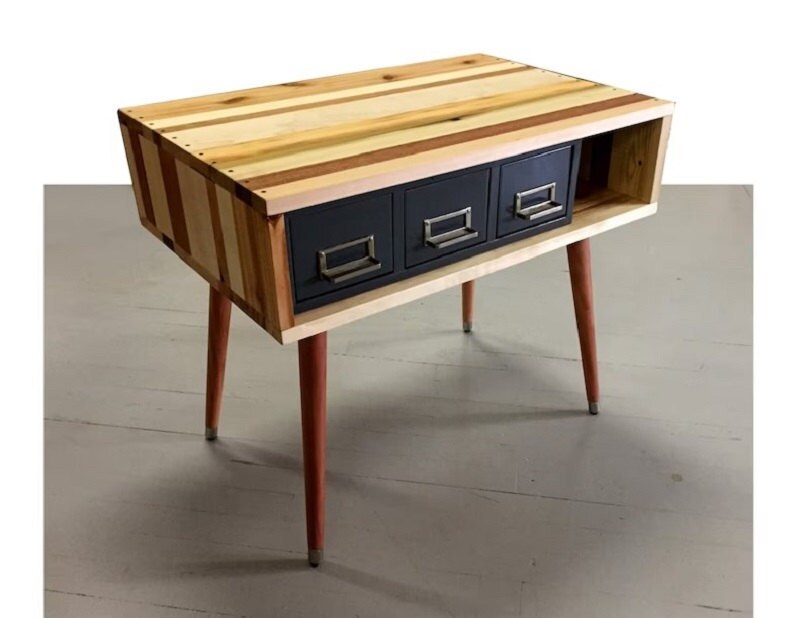 SHOP: Mixed wood nightstand with vintage metal catalog drawer from Leapday Creative, $385
Full of character, these tables are made from a variety of reclaimed woods in Illinois, and feature three vintage metal catalog drawers for an antique vibe. The seller offers bespoke items made to suit your needs, so you can choose the exact size and style you want. There's even a choice to add hairpin legs for a more mid-century aesthetic.
Why buyers love this reclaimed wood and metal nightstand: "This side table is so unique and well made! The quality is fantastic and the card catalog drawers are legit. I'm planning on actually putting a card catalog system in them to keep track of my books. I love it so much, and it looks great in my reading corner." - BF
Best tall nightstands
The general design rule is that nightstands should be even with the top of your mattress or a couple inches taller. This makes it easy to reach for things in the middle of the night. But, if you have a tall bed it can be difficult to find a bedside table that's high enough. Great news, these picks for the best tall nightstands are handmade by real people. We're not sure how tall their beds actually are, but we're sure they've thought of everything in designing these tall bedside tables.
10. Oak nightstand with black metal legs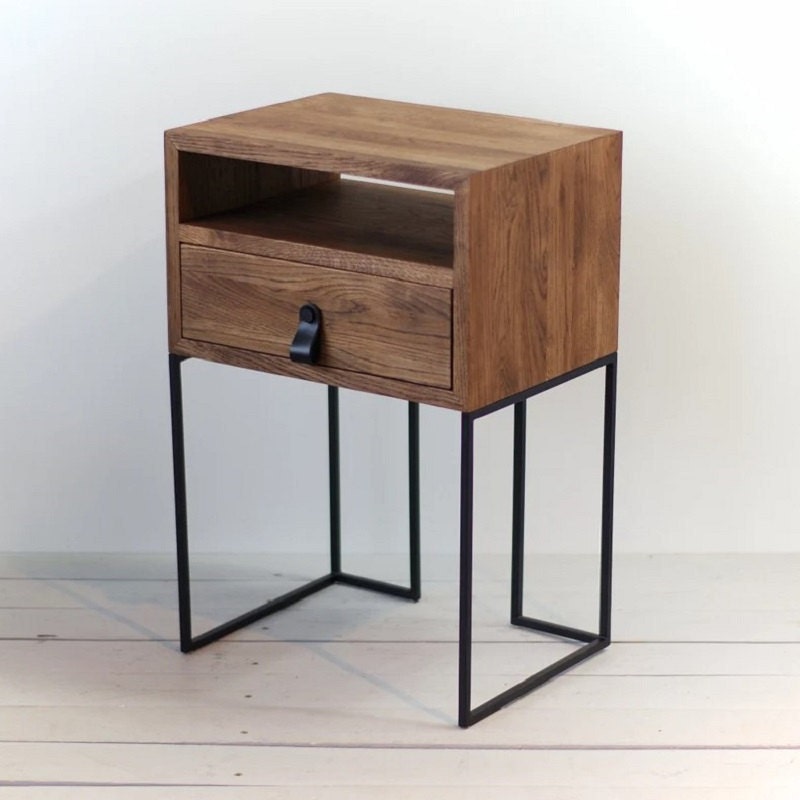 SHOP: Industrial nightstands from ALiusy, $365
Blending the traditional with the modern, these tall modern nightstands feature a solid oak drawer and shelf, a leather handle, and industrial-style metal legs. Happy buyers call them "just beautiful," "great quality; robust but still elegant," and mentioned that the seller packages them excellently for shipping.
11. Scandinavian nightstand with drawers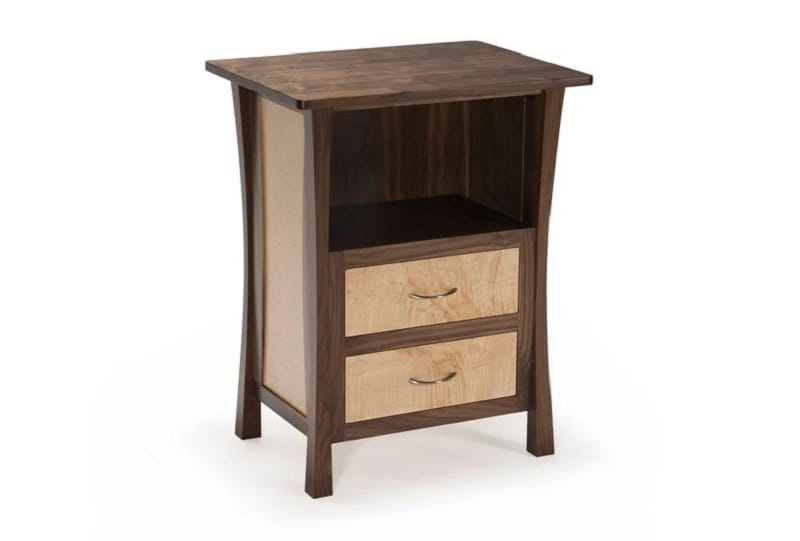 SHOP: Nightstand with drawers from Nathan Hunter Design, from $2,000
With enough tabletop space to place a laptop if need be, these conveniently large and tall nightstands have a 70s Scandinavian look that's both traditional and timeless. They're made from curly maple wood blended with a choice of either walnut, cherry, or mahogany, and thrilled buyers say that they're "beautiful," "superbly made, and gorgeous pieces."
Best wide nightstands
For those with plenty of room in the bedroom, a wider bedside table can accommodate more nighttime essentials (and a bigger bedside lamp, too). These wide nightstands deliver space, style, and ample storage.
12. Handmade walnut nightstand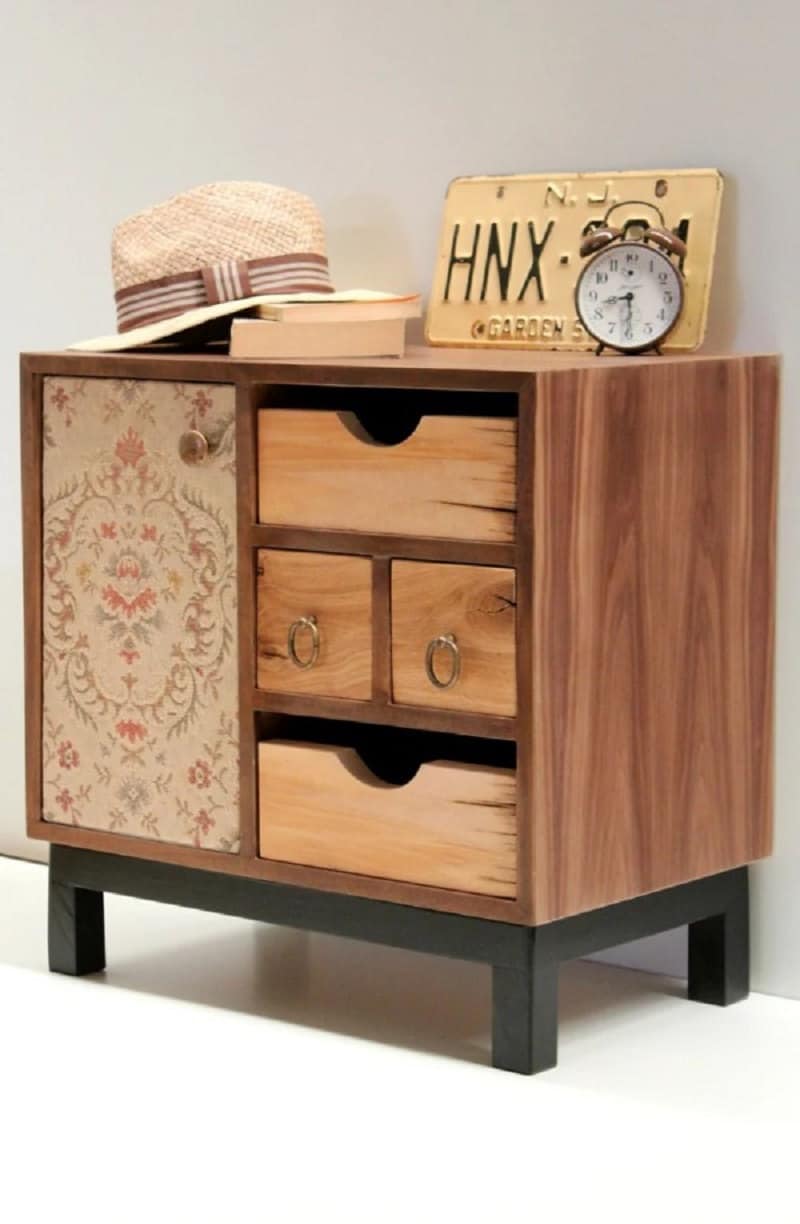 SHOP: Boho walnut nightstand from Craftworks shop, $831
Made by hand in Greece, these gorgeous side tables feature four drawers and a cabinet, offering plenty of storage space for all your decluttering needs. They're constructed from a variety of different woods, and the designer gives you an option of doors and drawer fronts, too, for a bespoke nightstand that's made just for you.
Why buyers love this seller: "John made everything so easy and the bedside tables arrived to the Netherlands exactly as ordered, and I love the finished product! Excellent design and quality, very solid and nicely finished. I very highly recommended John's craftsmanship and would definitely buy from him again." - JW
13. A large hardwood nightstand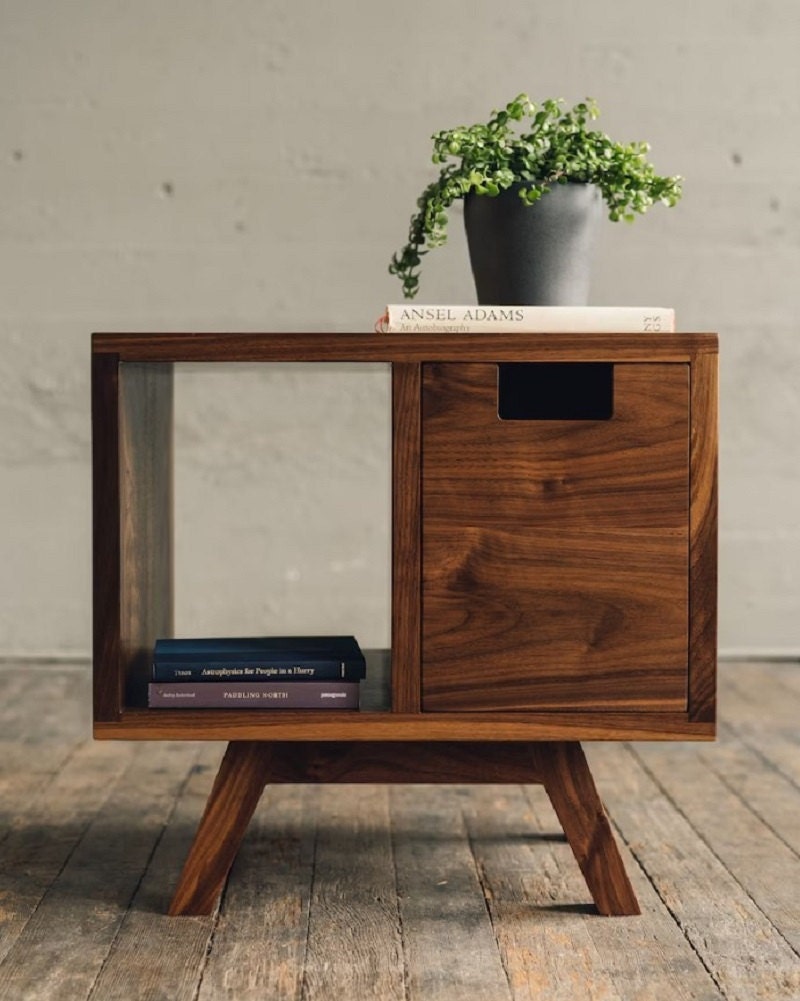 SHOP: The Lily black walnut wood modern nightstand from DKL Custom Furniture, $1,150
Providing an unquestionably high-end feel to any room it's placed in, this exquisite, mid-century style nightstand has both drawer and shelf space, and is expertly crafted and finished by hand in a choice of either walnut, maple, cherry, ash, oak, mahogany, or black walnut woods.
Why buyers love this handmade nightstand: "Beautiful piece, and solid craftsmanship. Good communication, and well packaged for shipping." - DT
How do we pick the best nightstands?
As Etsy Journal editors and contributors research and curate shopping guides for some of the best-loved items on Etsy, we thoughtfully consider the creativity, customization, and craftsmanship that go into each product. We also consider buyer reviews, item ratings, and customer service, and tap the expertise of our in-house merchandising and trends experts to uncover high-quality finds for every budget. You can find more information about each item in the seller's listing details and can take a look at their individual shop policies and reviews, too.