Shop office desks of every size, style, and budget to transform your home office.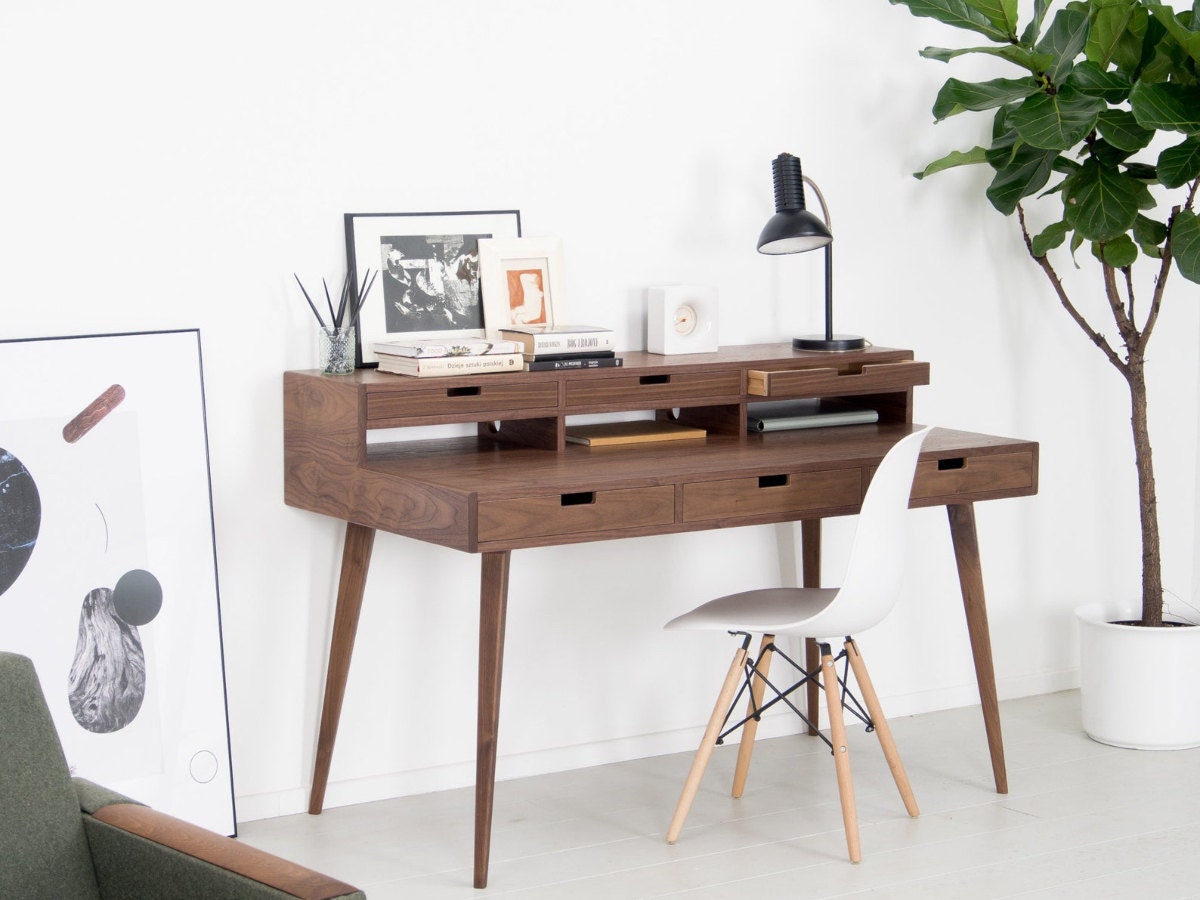 There's a lot to love about working from home (you can't beat the commute!). It's even better when you have a beautiful desk you enjoy looking at all day. Whether you have the luxury of your own den or just want to carve out a spot for your home office in a room like the kitchen, guest bedroom, or even the hallway, you can easily create your own dream workspace with these desks. From small desks to modern desks to L-shaped desks, Etsy has an array of sizes and styles, priced for every budget. And with a home office upgrade, who knows? You might even start looking forward to Zoom calls!
Best modern office desks
From mid-century modern-inspired styles to industrial-inspired designs, these modern office desks instantly transform your home office.
1. A modern desk with drawers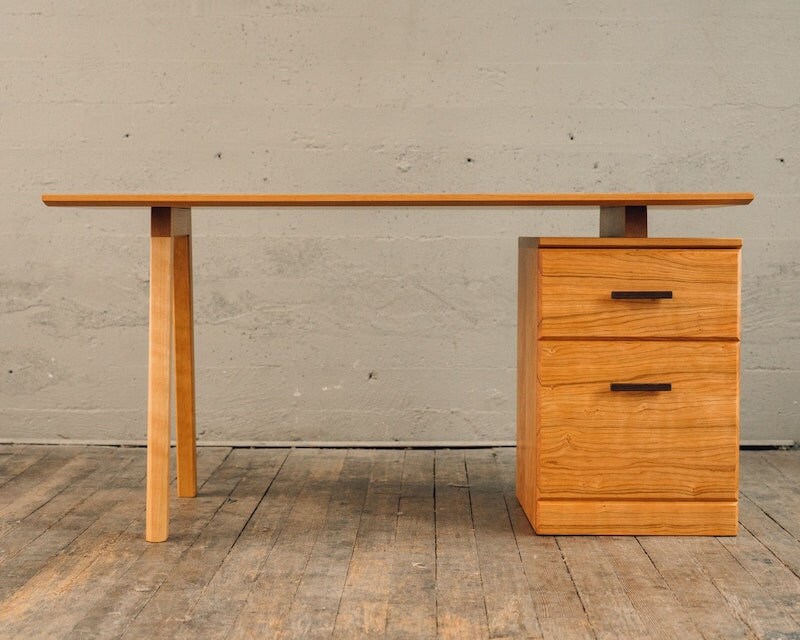 SHOP: Mid-century modern style wooden desk with drawers from DKLCustomWoodworking, $2,000
Made of solid cherry wood, this modern desk, measures almost five feet wide. It has two roomy drawers for all of your files, office supplies—or afternoon snacks.
2. A mod industrial desk with shelves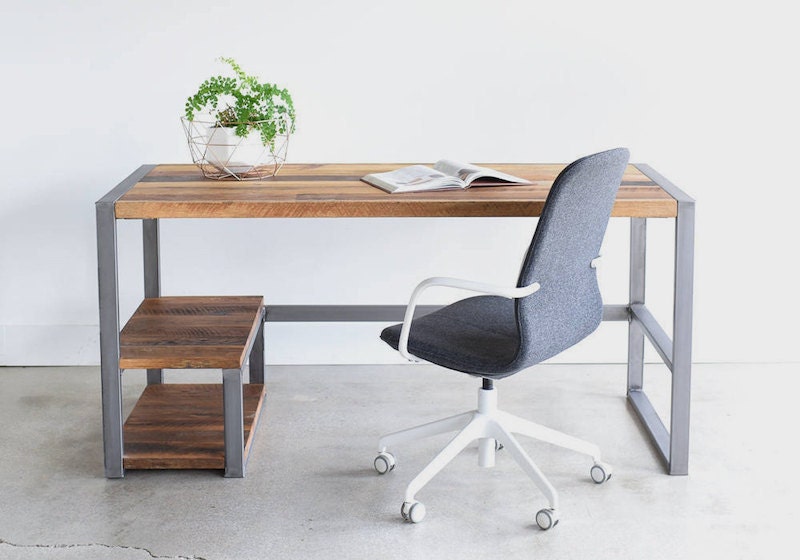 SHOP: Reclaimed wood industrial office desk from What WE Make, from $1,595
This reclaimed wooden desk, with two shelves to hold office supplies or a printer, can be customized to your taste—and your space. You can choose the size (it ranges from about four to five feet wide), the color of the metal frame, and the finish of the wood, and even the pattern of the planks, to create a desk you love.
3. A modern two-tiered desk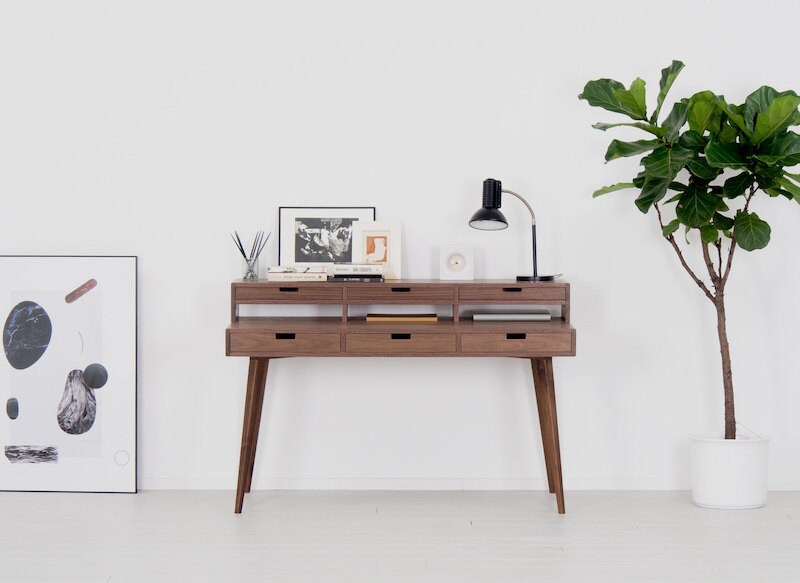 SHOP: Mid-century modern style walnut desk from Mo Woodwork, from $1,918
Love working with a big monitor? This desk is for you. The two-tiered desk, made of walnut and walnut veneer and measuring about 4.5 feet wide, is perfect for elevating your monitor. It also comes with six drawers for storing your office supplies as well as cubby space to store your laptop when you're done for the day.
4. A modern sawhorse desk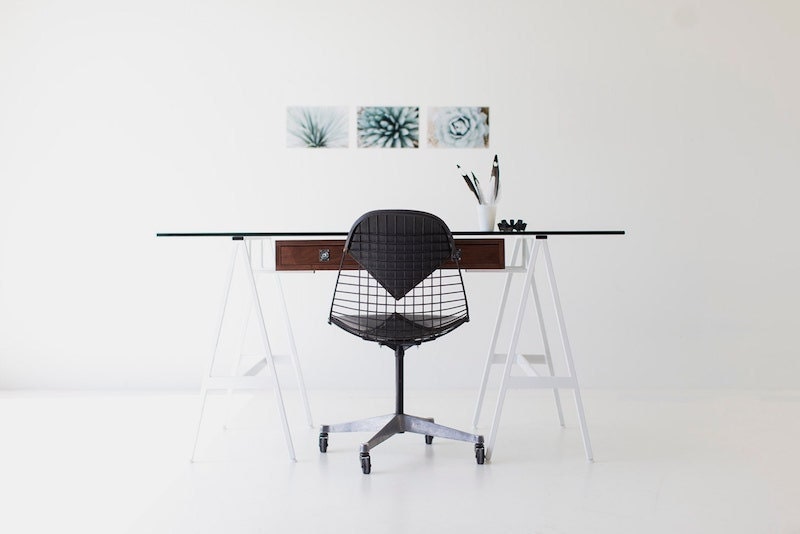 SHOP: Mid-century modern style glass top desk from Bertu Home, $4,500
A modern take on the classic sawhorse table, this glass-topped desk, which measures five feet wide, is mounted on a white steel frame. Plus, it has a solid black walnut drawer for all of your supplies.
Bonus: With new flexible payment options from Klarna for select items on Etsy, US-based buyers can start making over their favorite spaces now and pay for their furniture finds later (terms and conditions apply).
5. A modern minimalist desk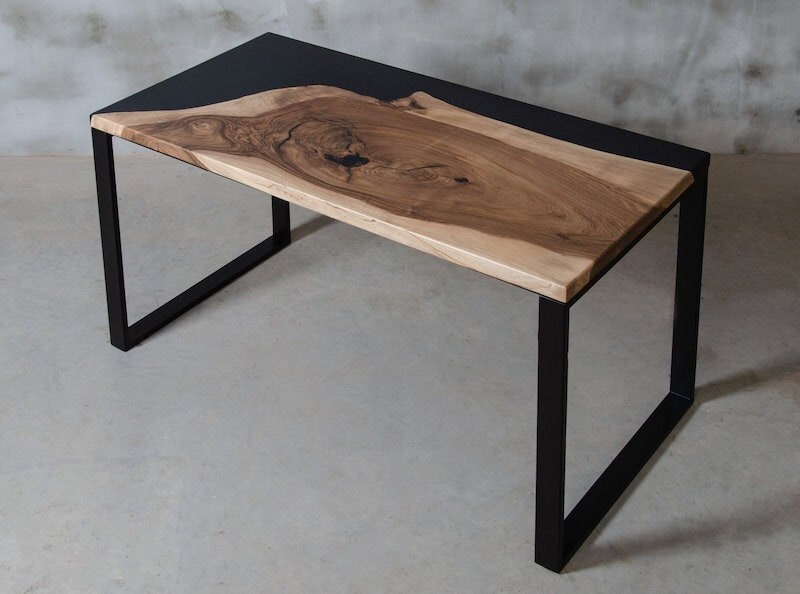 SHOP: Modern writing desk from Malita Just Wood, $3,001
Combining a slab of natural walnut with smooth black resin, this sleek writing desk is an eye-catching addition to any home office. Mounted on steel legs, the desk measures about 4.5 feet wide.
Best small office desks
Don't have much space? No problem! These small office desks take up minimal space while providing maximum style.
6. A small hallway desk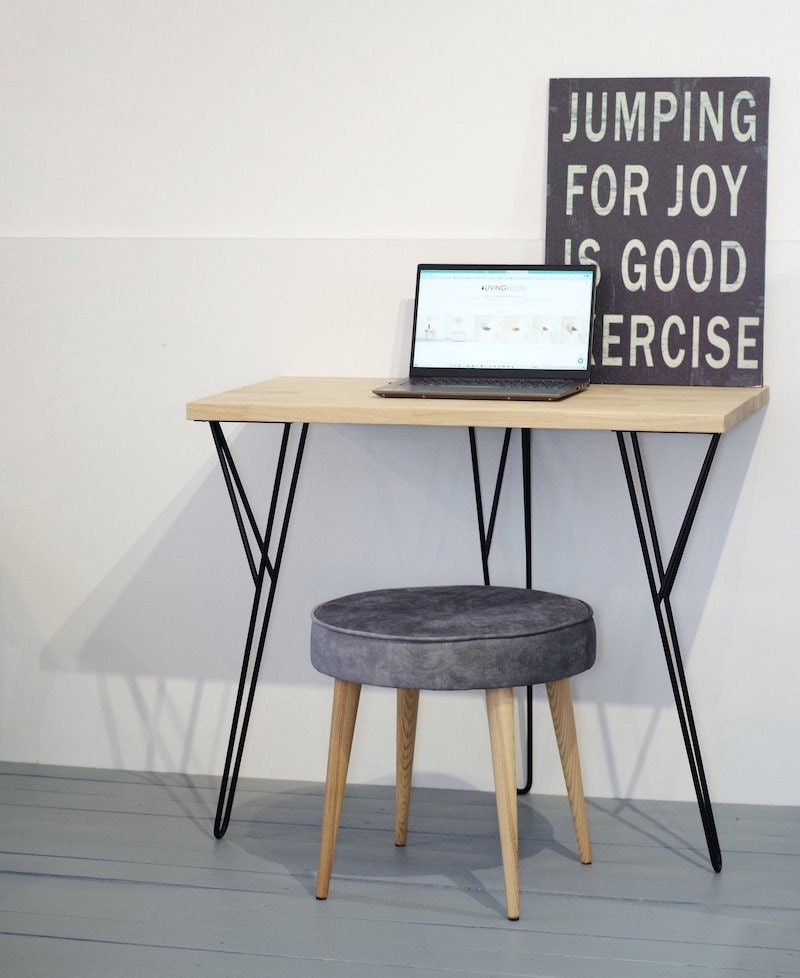 SHOP: Small office desk with hairpin legs from ALiusy, from $249
This small desk, which measures about three feet wide and less than two feet deep, is perfect for creating a cozy work spot in a hallway or the corner of the room. Made of solid oak, with a choice of four finishes, the desk rests on metal, hairpin legs.
7. A narrow reclaimed wood desk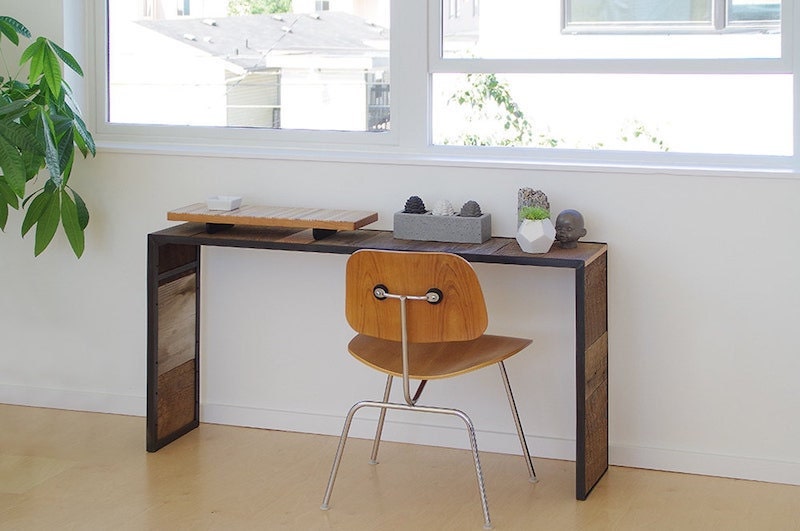 SHOP: Reclaimed wood desk with metal frame from birdloft, $1,100
Although this desk, made of reclaimed wood and recycled steel, is 4.5 feet wide, it measures just one foot deep, great for setting up shop in narrow spaces like a hallway.
8. A floating shelf desk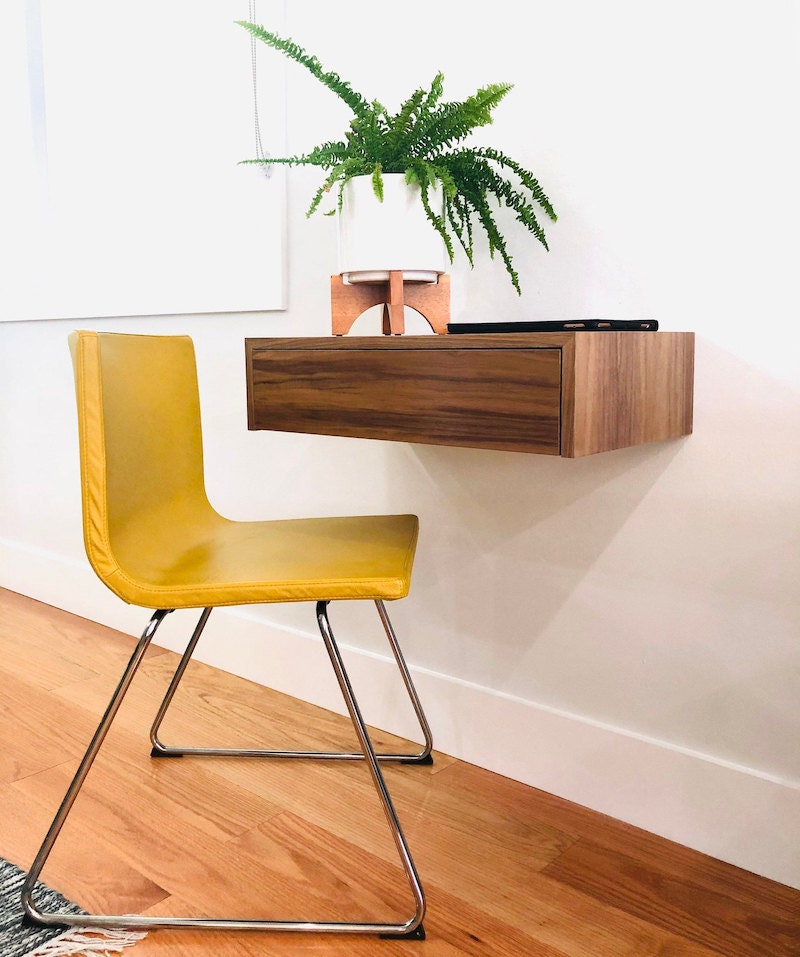 SHOP: Modern floating desk from Helstrom Carpenters, from $500
You can't get much more minimalist than this! This floating drawer desk, made of walnut, is the perfect solution for those who don't have a lot of space for a home office. It comes in a few sizes, the smallest of which is just two feet wide and a little more than a foot deep. The desk, which even has a drawer for storing your office supplies, comes with mounting hardware.
9. A live edge slab desk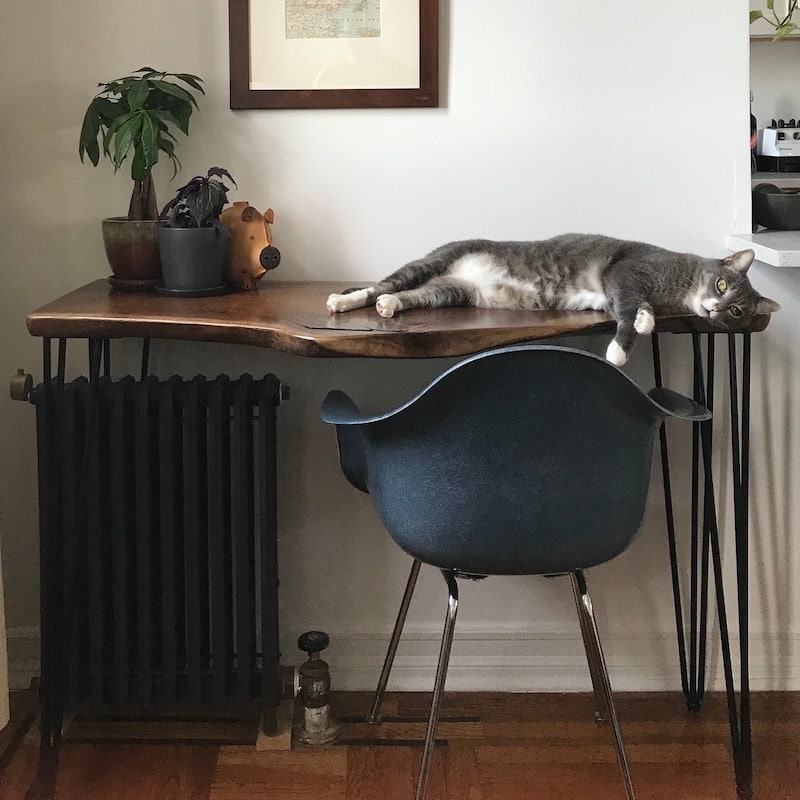 SHOP: Black walnut live edge desk from FlahertysMercantile, from $500
This small desk has a beautiful live edge black maple top and rests on metal hairpin legs. It comes in a couple sizes: the smallest is three feet wide and about two feet deep.
Best L-shaped office desks
Whether you have a corner office or just need a little more desk area for printers and other equipment, these L-shaped office desks are the perfect place to get more done.
10. A rustic corner desk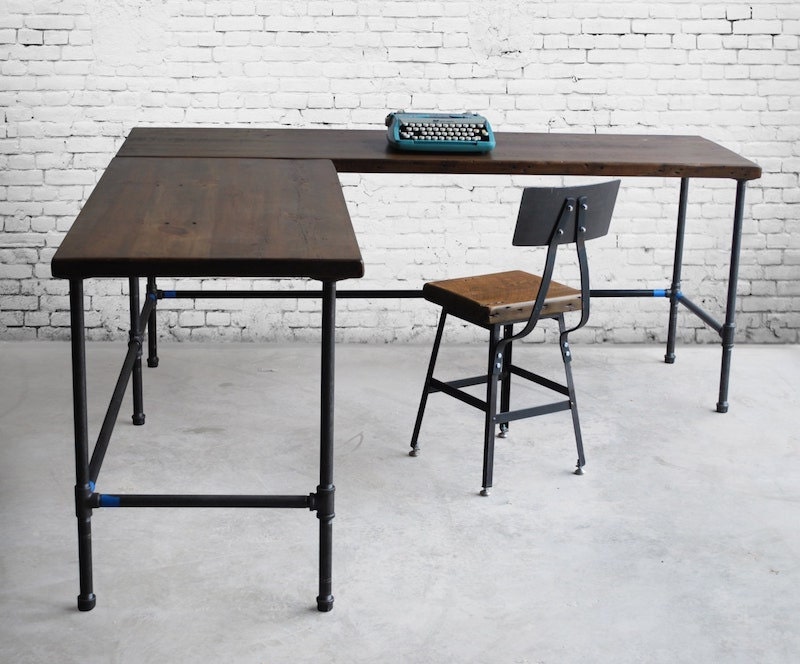 SHOP: Custom reclaimed wood corner desk from UrbanWoodGoods, from $1,990
Made of reclaimed wood and iron pipe, this rustic L-shaped desk comes in a variety of finishes and sizes. The seller also offers custom sizes to fit your space. In any case, you'll have plenty of room to spread out and use multiple monitors.
11. A custom L-shaped desk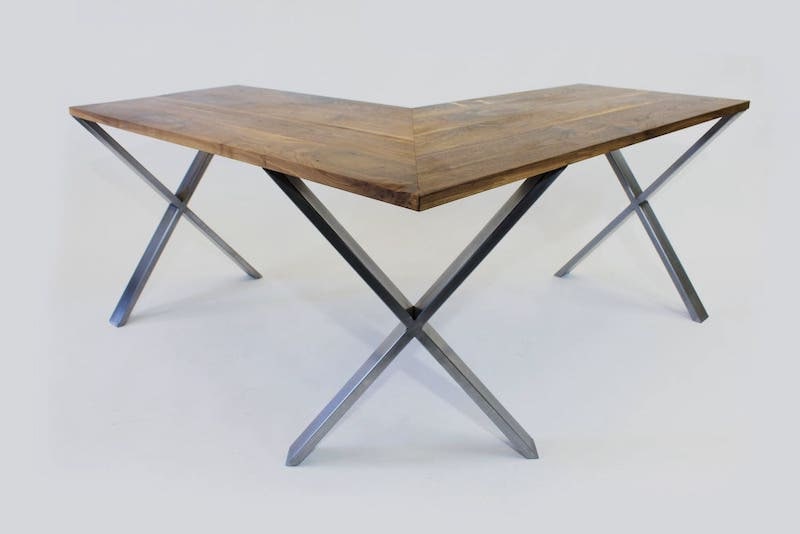 SHOP: Walnut custom L-shaped desk from Meisch Made, from $2,900
This modern L-shaped corner desk, made of solid wood and steel, is available with either walnut, maple, oak, cherry wood. It's available in multiple sizes, up to seven feet wide, but the seller can also make a custom desk to your measurements.
Best wood office desks
These stylish wood office desks, in rich oak, walnut, cherry, maple, and reclaimed woods, add warmth to your home office decor.
12. An oak office desk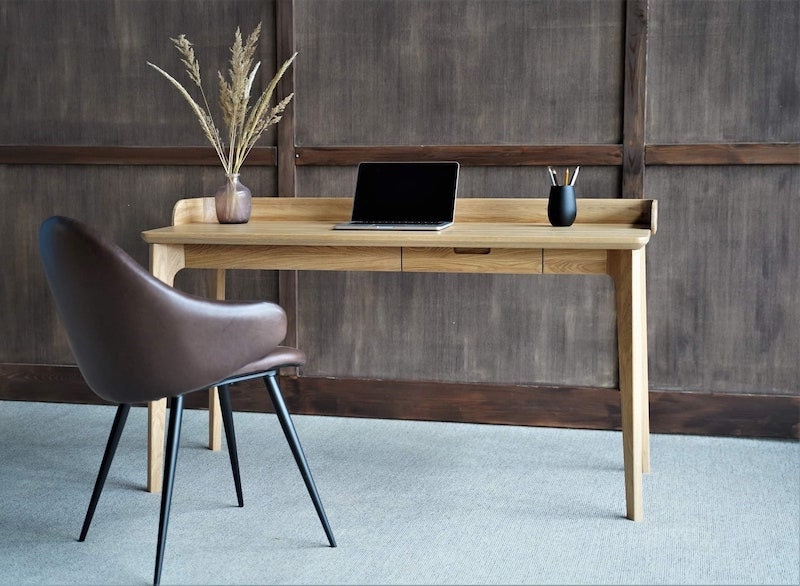 SHOP: Oak office desk with drawers from Of the Wood, from $2,518
Measuring about 4.5 feet wide, this handcrafted desk, made of solid oak, is both stylish and sturdy. The desk, which has tapered legs and a drawer for office essentials, comes in either natural wood or black finish.
13. A geometric wood desk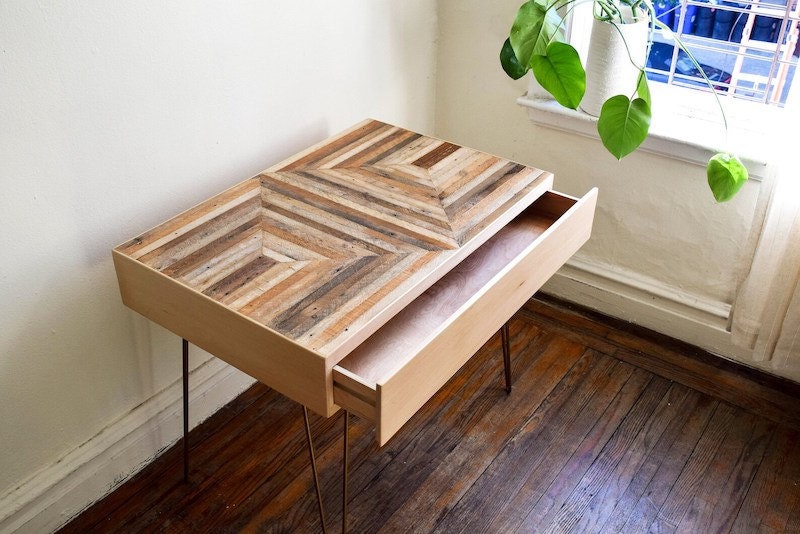 SHOP: Custom reclaimed wood lath desk from Gomez Design Studio, $2,000
This desk, available in custom measurements, uses different colors of reclaimed wood to create eye-catching geometric patterns. Mounted on steel hairpin legs, it also features a roomy drawer to stash all of your office supplies.
14. A wooden desk with drawers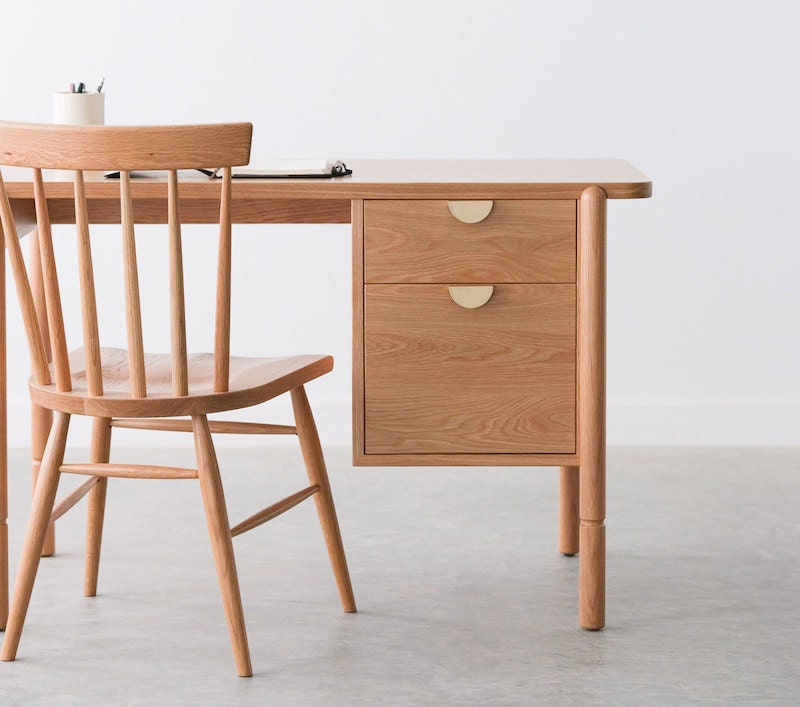 SHOP: Sawyer desk from Hedge House, from $2,599
Available in walnut, oak, maple, or cherry, this handcrafted solid wood desk measures four feet wide. It has two drawers—including one file drawer—to help keep you organized.
15. A gadget-friendly writing desk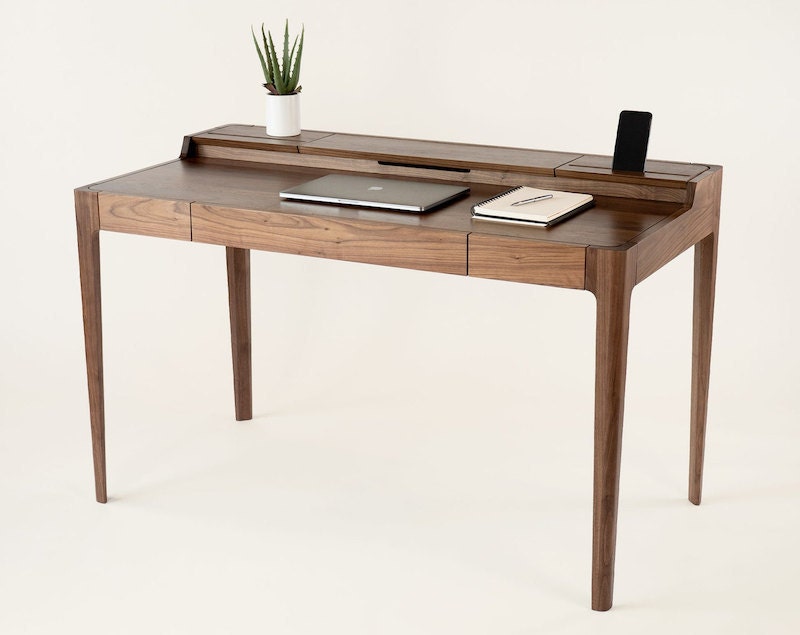 SHOP: Solid wood writing desk from Moss Designs, from $2,490
This wooden desk is a tech lover's dream! Available in solid oak or walnut, the Scandinavian-style desk includes both a built-in phone and tablet docks as well as built-in storage for all of your cables and power cords, to keep your desktop looking tidy. The desk, which also has a drawer for office essentials, comes in two sizes of up to five feet long.
How do we pick the best desks?
As Etsy Journal editors and contributors research and curate shopping guides for some of the best-loved items on Etsy, we thoughtfully consider the creativity, customization, and craftsmanship that go into each product. We also consider buyer reviews, item ratings, and customer service, and tap the expertise of our in-house merchandising and trends experts to uncover high-quality finds for every budget. You can find more information about each item in the seller's listing details and can take a look at their individual shop policies and reviews, too.