Create your own private retreat with these outdoor lounge chairs, folding chairs, wicker chairs, and swing chairs.
With the right outdoor furniture, you can create your own favorite vacation spot right in your own backyard: a sunny spot to read your favorite novel, a place to kick back and breathe the fresh air, a calming retreat to watch the sunset, a place to gather with friends and family to roast s'mores and chat into the night.
Enjoy spending more time outside in the open air with outdoor chairs that fit your aesthetic and your vibe. From cozy lounge chairs, to colorful folding chairs, to rustic wicker chairs, we've compiled some of the best handmade and vintage outdoor chairs for every style and budget to help you make the most of your time outside.
_Bonus: With new flexible payment options from Klarna for select items on Etsy, US-based buyers can start making over their favorite spaces now and pay for their outdoor furniture finds later (terms and conditions apply)._
Outdoor lounge chairs
Ready to kick back and enjoy the outdoors? Whether you have a large deck or a small patio, these outdoor lounge chairs are great places to soak in the sun during the day or unwind on a breezy evening.
1. Best modern outdoor lounge chair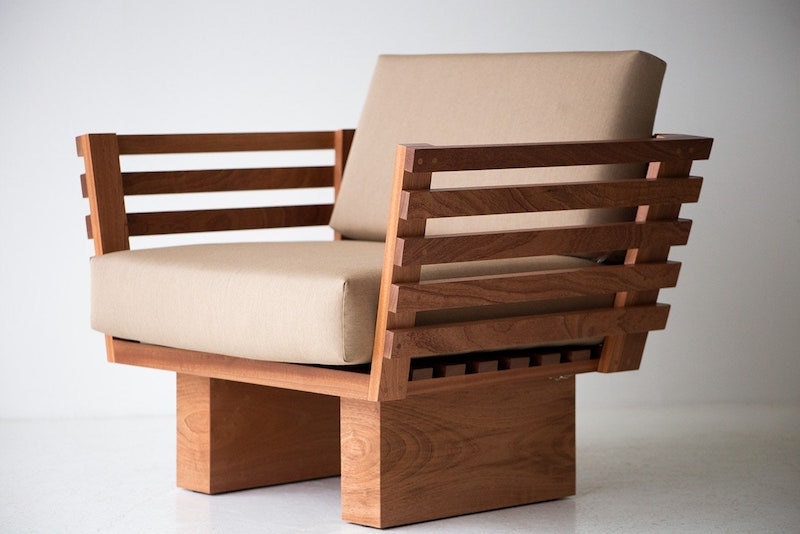 SHOP: Suelo slatted outdoor lounge chair from Burtu Home, $3,000
Upgrade your backyard with this modern handcrafted lounge chair, made of solid mahogany. The chair, which is customizable, comes in your choice of four different finishes and includes fast dry foam outdoor cushions. You can also pick up the matching sofa, loveseat or ottoman.
2. Best rustic outdoor lounge chair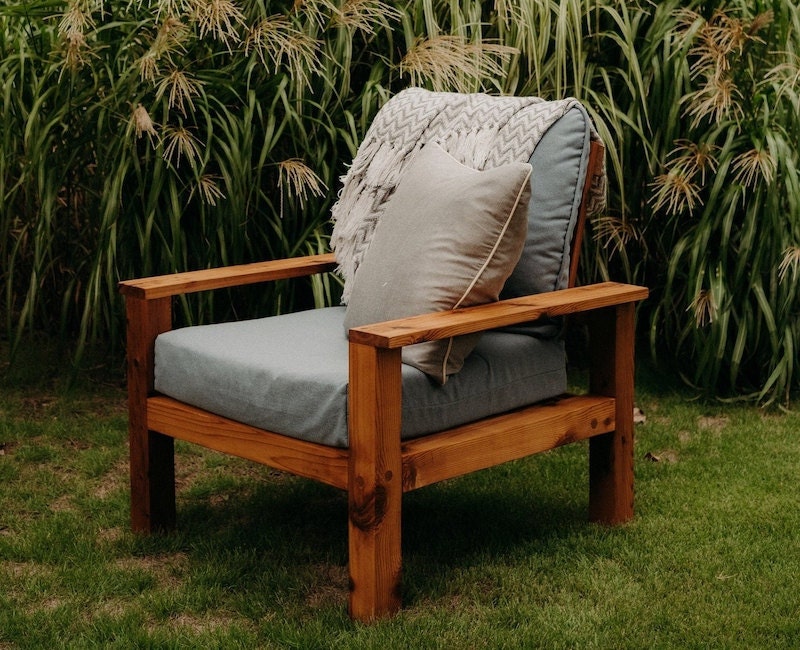 SHOP: Premier Collection outdoor patio chair from S&O Co., $499
Bring your living room outdoors with this handcrafted lounge chair, made of cedar, which contains natural oils that repel water and bugs. You can also pick up the matching couch, coffee table, and end table to complete your backyard oasis.
3. Best outdoor rocking chair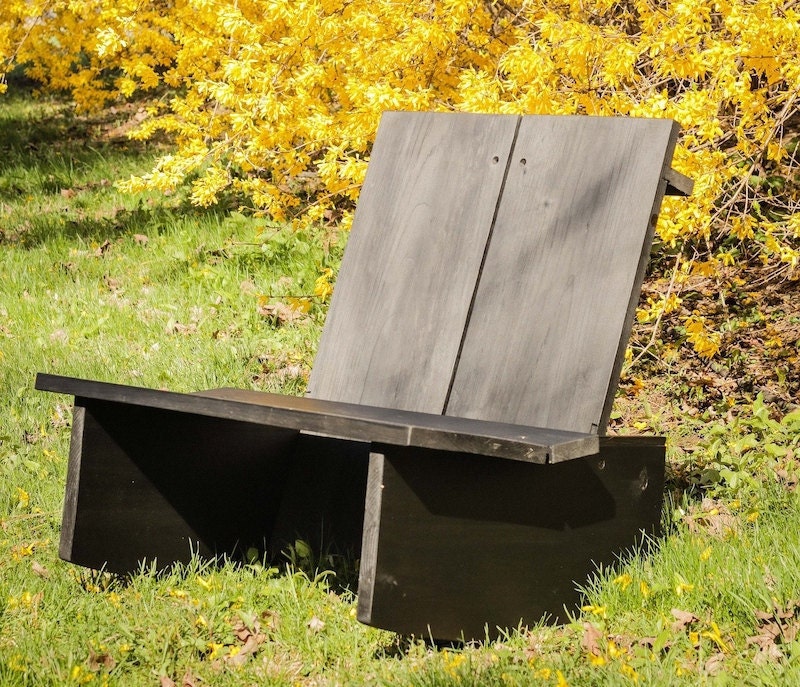 SHOP: Engawa rocking chair from PicoRanchObjects, $1,200
Enjoy long evenings in the backyard with this modern outdoor rocking chair, which is made of pine. The chair has a wide seat and a low profile that won't take up too much space, ideal for smaller patios.
4. Best outdoor bean bag chair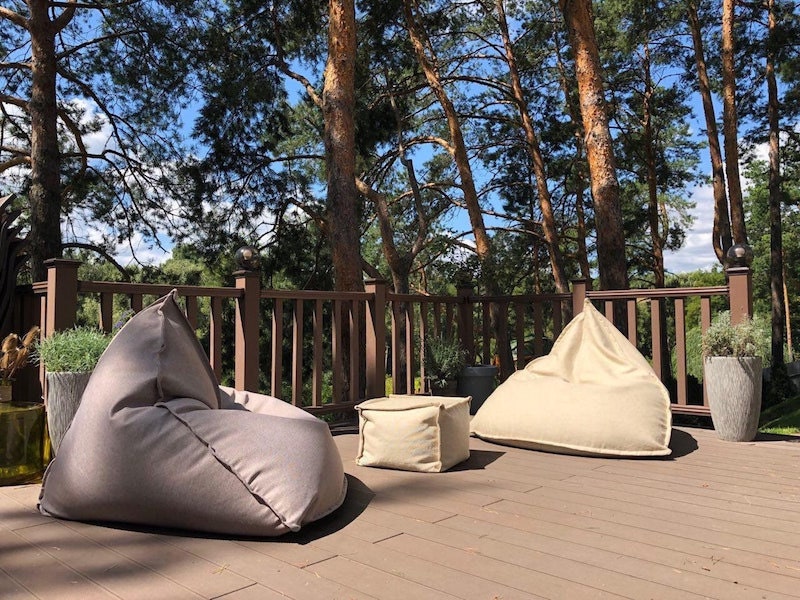 SHOP: Modern outdoor bean bag chair from Om, $188
Get cozy on the deck with this outdoor bean bag chair. Made of durable polyester fabric, it's light and easy to plop down on the perfect sunny spot. You can also get a matching coffee table pouf, great for holding a checkers board—or a tray of snacks.
Outdoor swing chairs
Shoot the breeze in these outdoor swing chairs that quickly transform your porch into your favorite place to unwind.
5. Best porch swing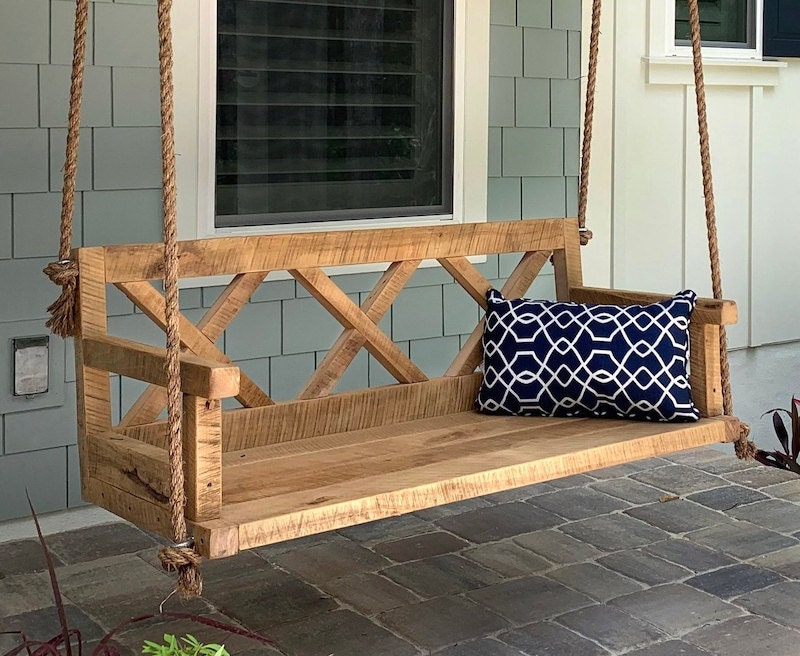 SHOP: Porch swing with farmhouse details from Grindstone Design, $895
With a charming farmhouse aesthetic, this wooden bench swing is just begging for you to take a load off and enjoy a tall glass of lemonade. Made of reclaimed wood, the bench is treated with an outdoor varnish for added durability. You can choose synthetic rope or go with natural rope, for an even more rustic look.
6. Best outdoor swing chair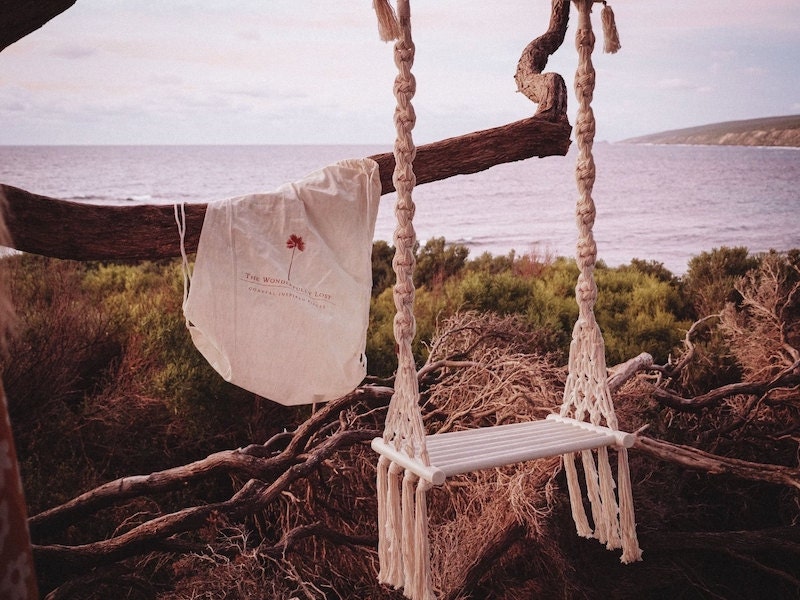 SHOP: Macrame hanging wood swing chair from The Wonderfully Lost, $158
Sometimes adults need recess, too! Swing your cares away with this handmade macrame swing, crafted from cotton and solid wood. The boho-inspired off-white chair makes a dreamy addition to any covered porch.
Outdoor folding chairs
Whether you're heading to the lake for the weekend or gathering to roast some s'mores around the firepit, outdoor folding chairs provide the perfect seating. Both portable and easy to store, they are great for everyday use and outdoor parties.
7. Best outdoor chairs for the fire pit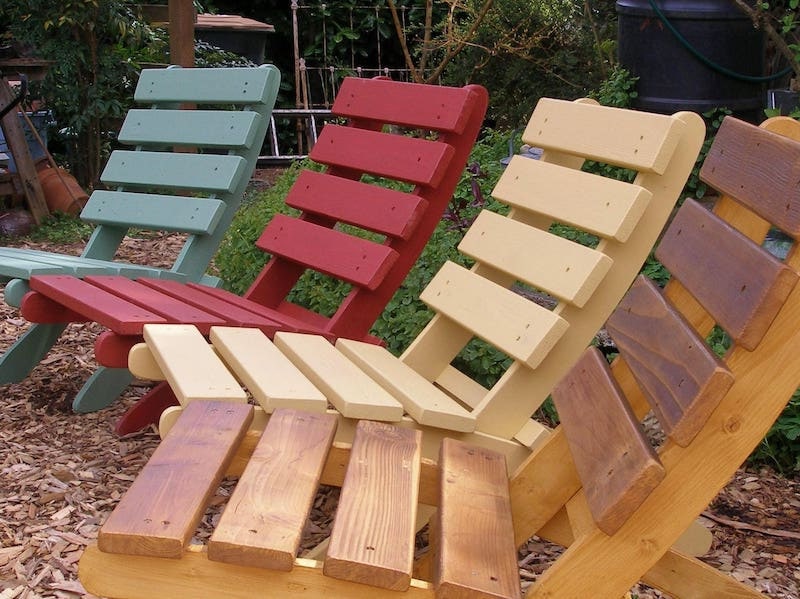 SHOP: Colorful classic cedar chairs from Laughing Creek, $269
Add a pop of color to your patio or fire pit, with these chairs that come in eight different shades, including teal, red, black, and a natural wood finish. Made of cedar and pine, the chairs are sealed to stand up to most weather conditions year round, but they also fold up for easy storage.
8. Best outdoor chair for the lake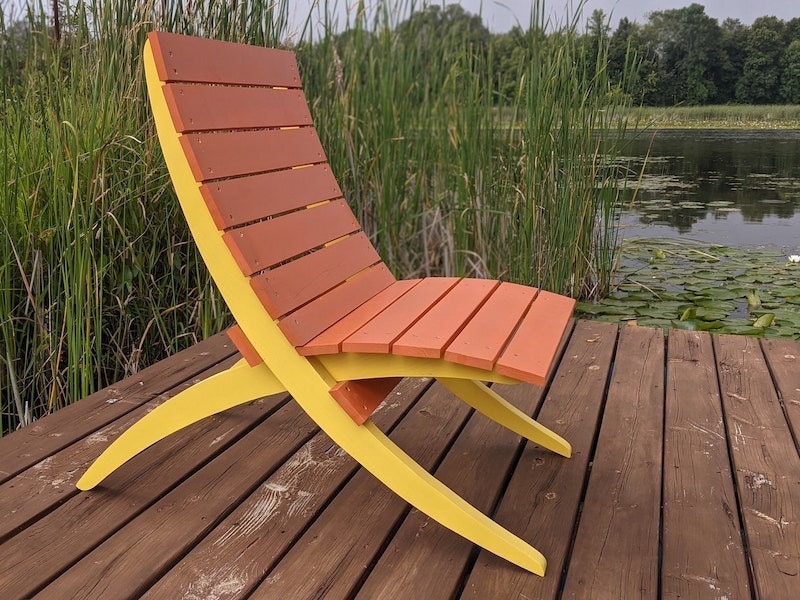 SHOP: Folding dock chair from SweetMountainWoodwrk, $321
This stackable dock chair is perfect for a trip to the lake—or just to the backyard. Made from sturdy hemlock wood, the chair is sealed against the outdoor elements. Plus, you can create your own color combo, with eight different shades for the seat and the legs, including red, blue, and lemongrass green.
Outdoor wicker chairs
Outdoor wicker chairs are an easy way to add boho style to your patio. To keep wicker chairs looking good as new, it's a good idea to use them on covered porches and keep them out of the rain and harsh weather conditions.
9. Best wicker lounge chair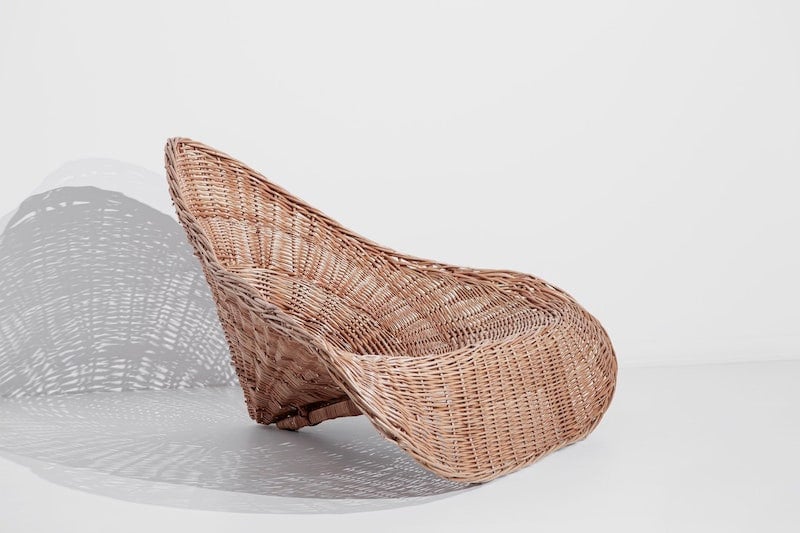 SHOP: Pico modern wicker lounge chair from OWN Design Shop, $811
Lisbon-based designer Miguel Soeiro dreamed up this wicker lounge chair as part of a residency program at the Museu de Arte Popular in Lisbon, Portugal. The handcrafted lounge chair makes a stunning addition to any covered porch or patio. Bonus: It's also light and stackable.
10. Best vintage rattan lounge chair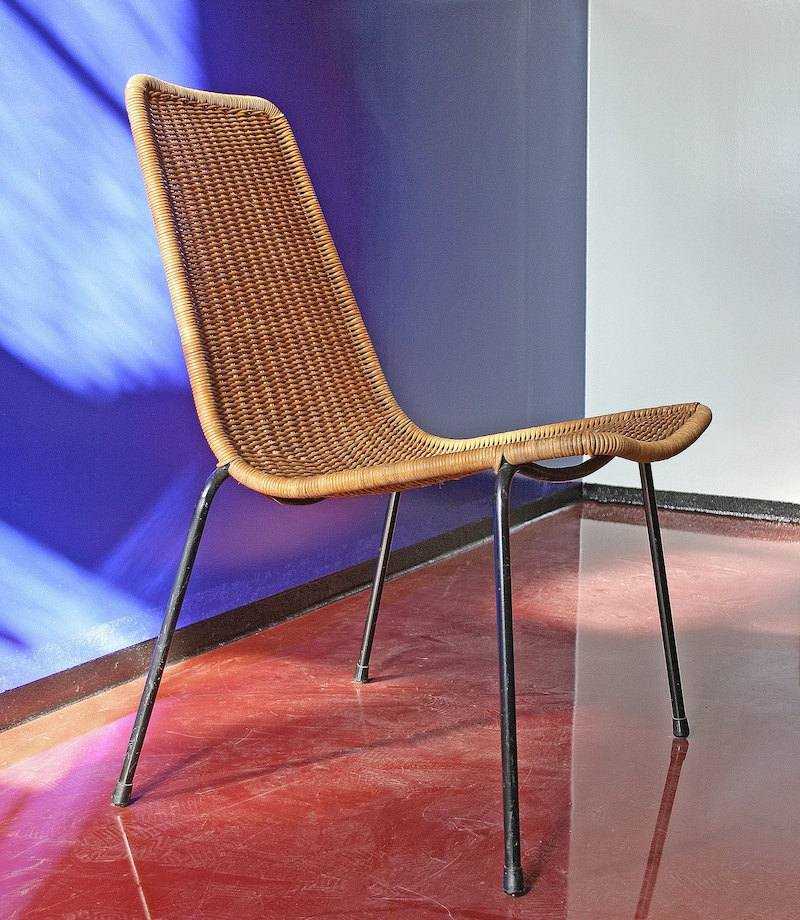 SHOP: The Basket Chair from WestEstStudio, $927
Dress up your patio with this classic vintage rattan wicker chair, created by Swiss-Italian designer Gian Franco Legler. The stackable indoor/outdoor chair, which has a steel frame, received a Good Design Award from the Museum of Modern Art in 1953. The chair was acclaimed for both its style and comfort—something we all look for in our patio furniture.