From bridal party PJ sets to airy linen pajamas, the best pajamas are so comfy, you'll want to wear them all day long.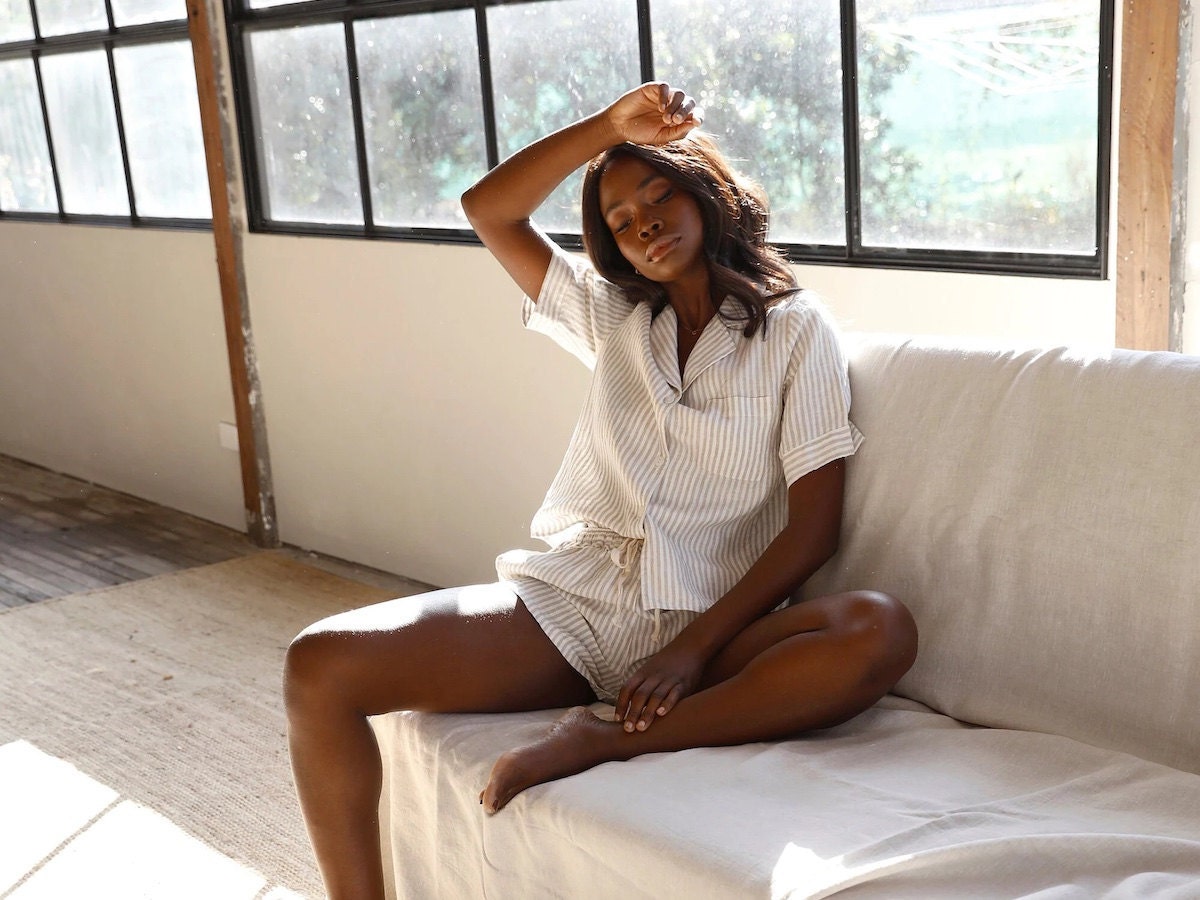 Did someone say slumber party? Whether you're looking to lounge luxuriously or hoping to sleep more soundly, a good set of PJs can make all the difference when you're prioritizing your comfort (and your beauty sleep!). They say you spend a third of your life sleeping, so picking the best pajamas for your bedtime rituals can be key to a more restful night! Choose from silky personalized pajamas or natural linens to enjoy on a starry night or a bright, early morning.
Linen pajamas
Best known for their airy qualities, natural linen gets softer with each wear—just like fine wine. Linen pajamas are perfect for summertime slumbers, and these sleep spa-worthy sets are as dreamy as ever.
1. Best linen pajamas with pockets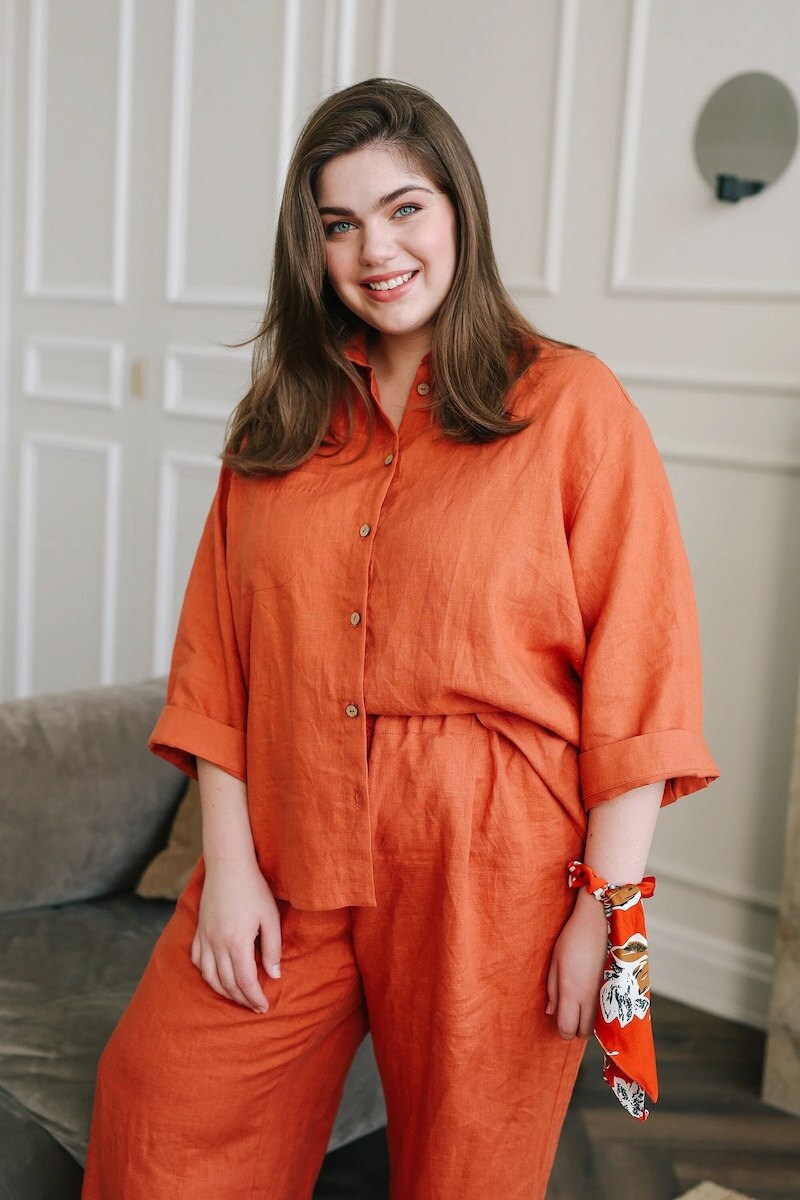 SHOP: Linen pajama set from Pavietra, $136
Whether it's a gift for mom or a treat for yourself, this linen pajama set's practical, cuffed three-quarter sleeves and comfy pull-on pants (yes, they have pockets!) look so casual and cool that you might think twice about pajamas being just for sleeping.
2. Best linen pajamas for the summer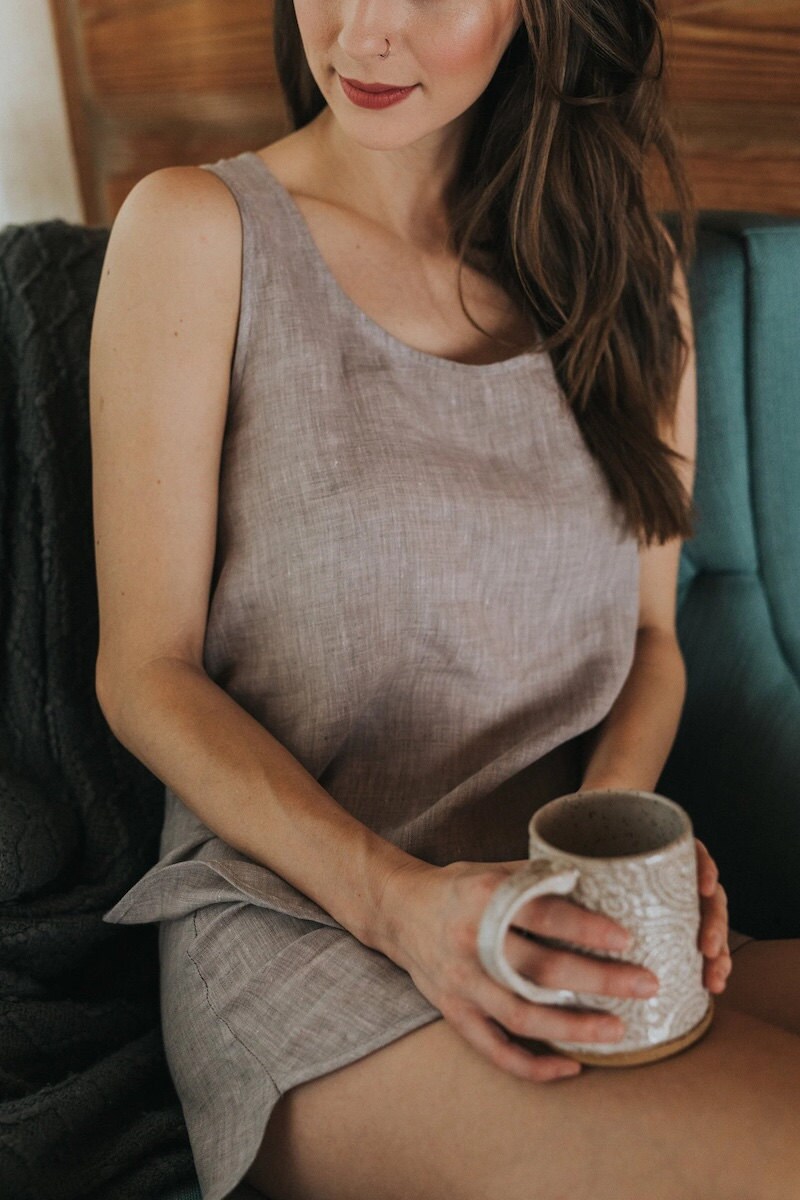 SHOP: Cool gray racerback linen pajamas from Mary Claret Studio, $166
For those sweltering, sweaty summer nights, these cool gray-hued linen pajamas are just what you need. Offered from XS to XXL, this racerback tank sleep set is spacious, airy, and reporting for duty.
3. Best lacy linen pajamas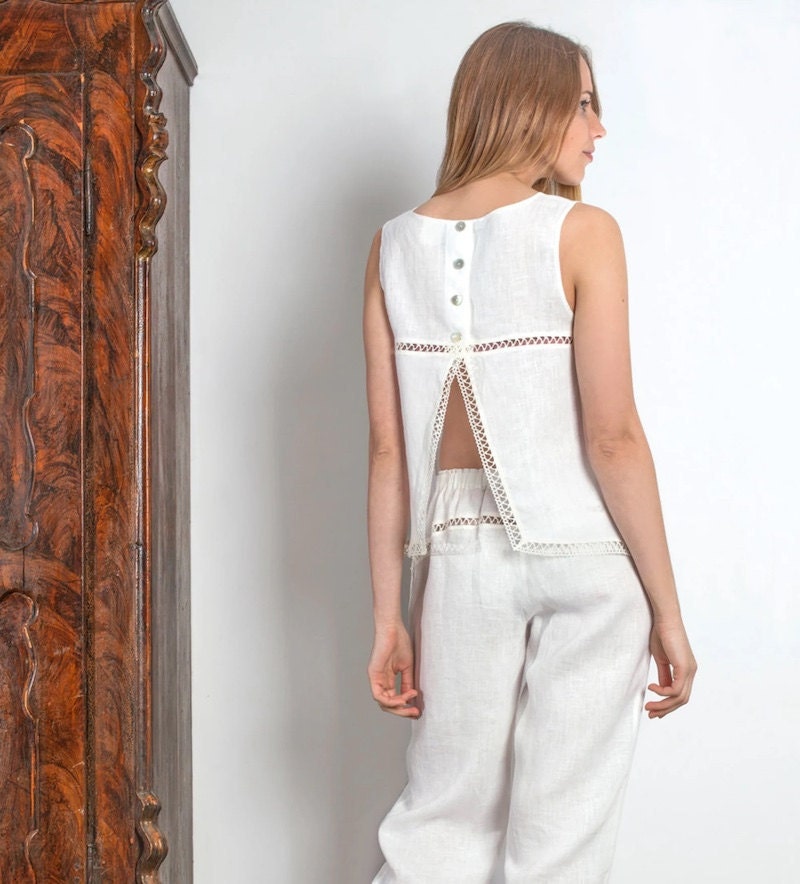 SHOP: Cropped white linen pajama set from LG linen, $143
Who says pajamas can't be chic? This backless white linen pajama set has lacy details and mother of pearl buttons, making a delicate, dainty design worthy of daytime.
Bridal pajamas
Give your bridal party the sweetest sleepover sets and bridal pajamas that they'll enjoy for many nights after your big night.
4. Best long sleeve bridal pajamas for bridesmaids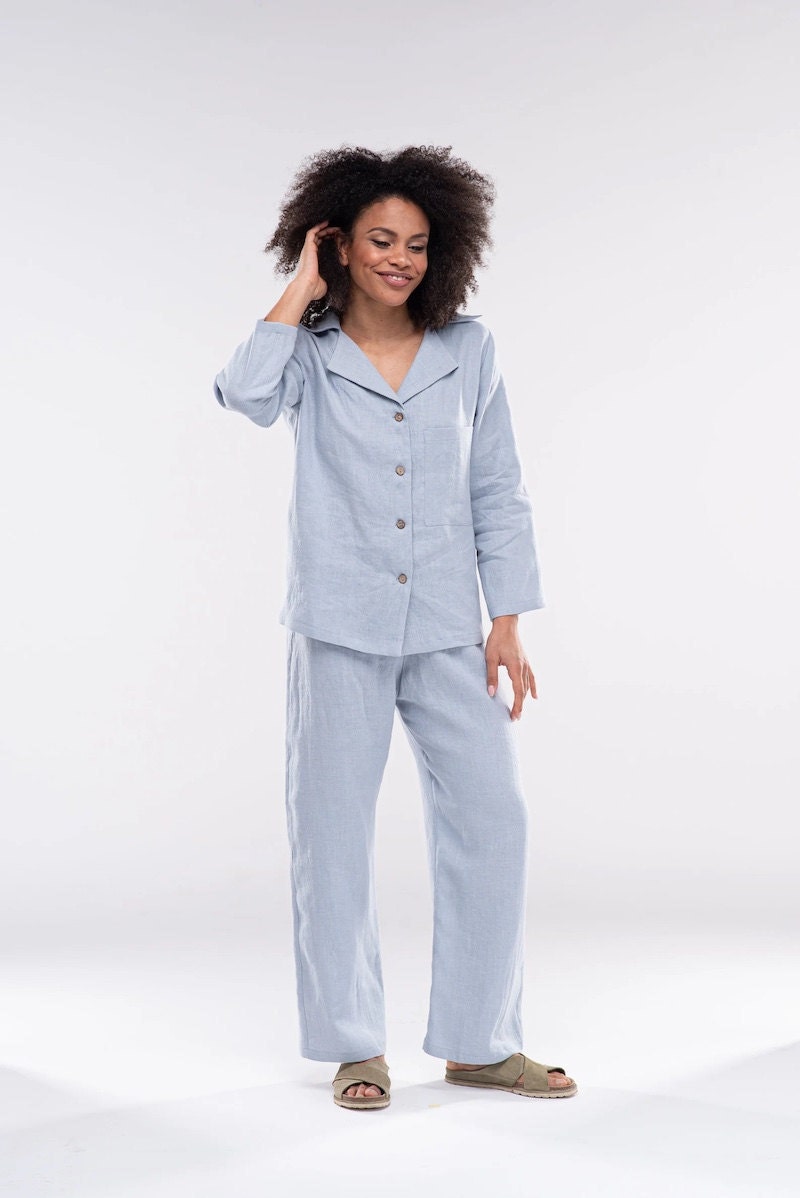 SHOP: Long-sleeved linen bridesmaid pajamas from linenfairytales, $110
These lovely linen looks will make your bridesmaids feel at home as they get ready for your wedding day. Its soft fabric makes for an extra-comfortable sleep and its oversized fit means there's no pesky tugging or pulling on your skin—perfect for sleeping in after a long night of dancing!
5. Best short bridal pajamas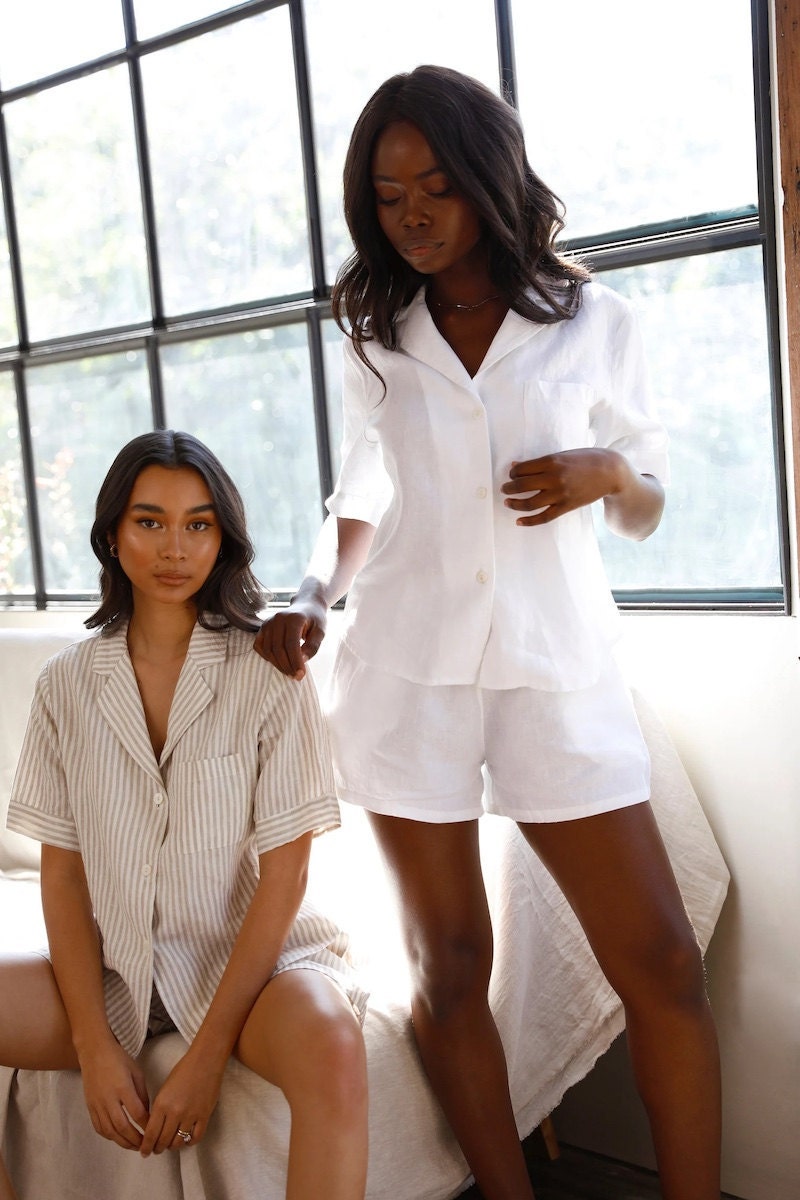 SHOP: Linen bridal pajama set from The Bridal Thread, $77
This 100% French flax linen set will make the whole bridal party swoon. Its stylish vertical stripes and heavy-yet-supple texture means you just got yourself and the bridesmaids their new favorite PJ set.
Personalized pajamas
Get the PJ set that feels like it was made just for you with these personalized pajamas. From monogrammed cotton sets to swoon-worthy pet-inspired PJs, these unique picks will bring you all the joy you need to get some shuteye.
6. Best personalized silk pajamas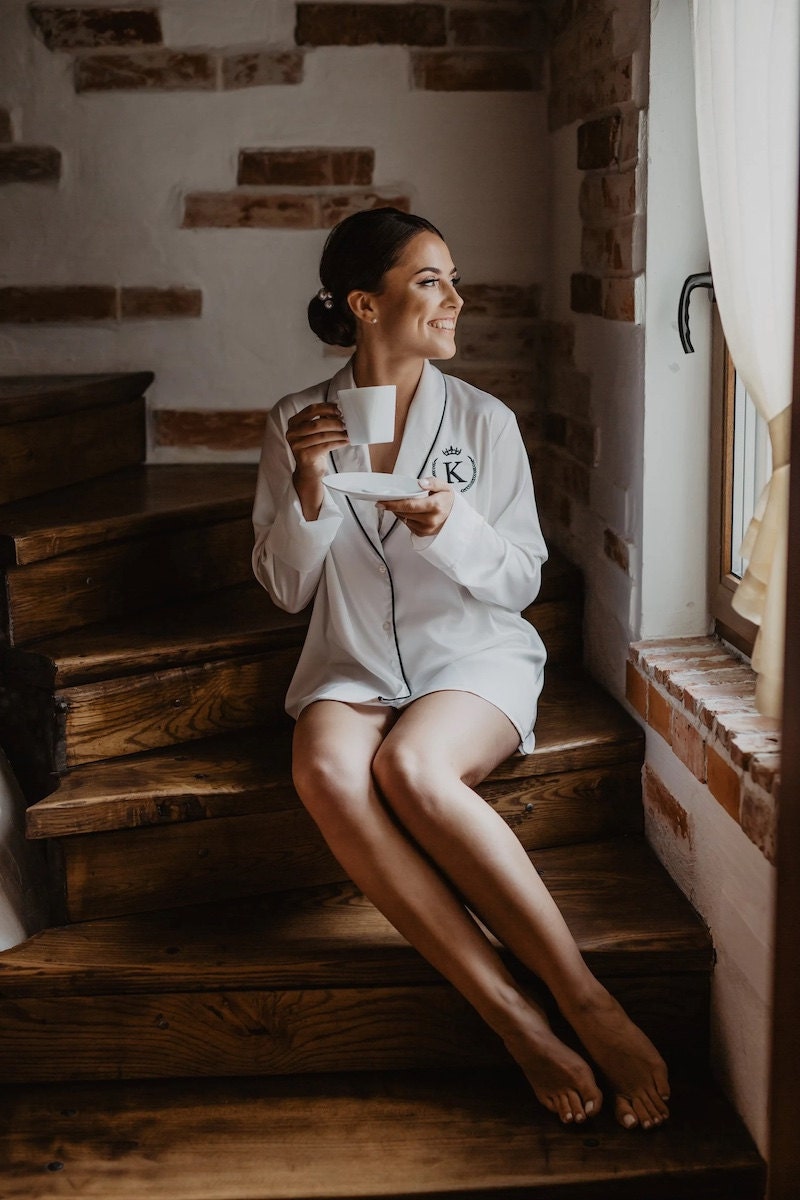 SHOP: Personalized bridal pajamas from Mjrever, $144
This classic silky pajama short set comes monogrammed with your initials. Wear it on your wedding day or any old Saturday—either way, these ivory PJs will elevate your bedtime to a sophisticated, elegant affair.
7. Best personalized pajamas for pet parents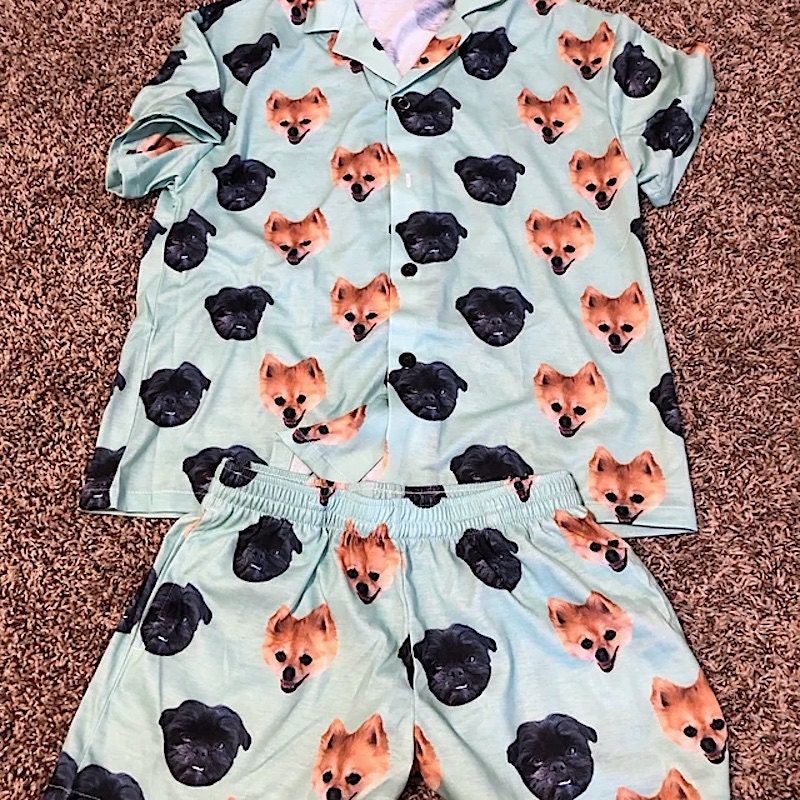 SHOP: Personalized printed pajamas from Yes Custom Gifts, from $31
From dog moms to cat daddies, paw-rents can't get enough of their precious pets. These custom PJs are printed with your pet's face, and they might almost bring you as much joy as your fur baby does.
Best silk pajamas
There's nothing quite like the feeling of smooth silk on your skin, and slipping into these silk pajamas will transport you to the most luxurious hotel no matter where you hit the hay.
8. Best champagne silk pajamas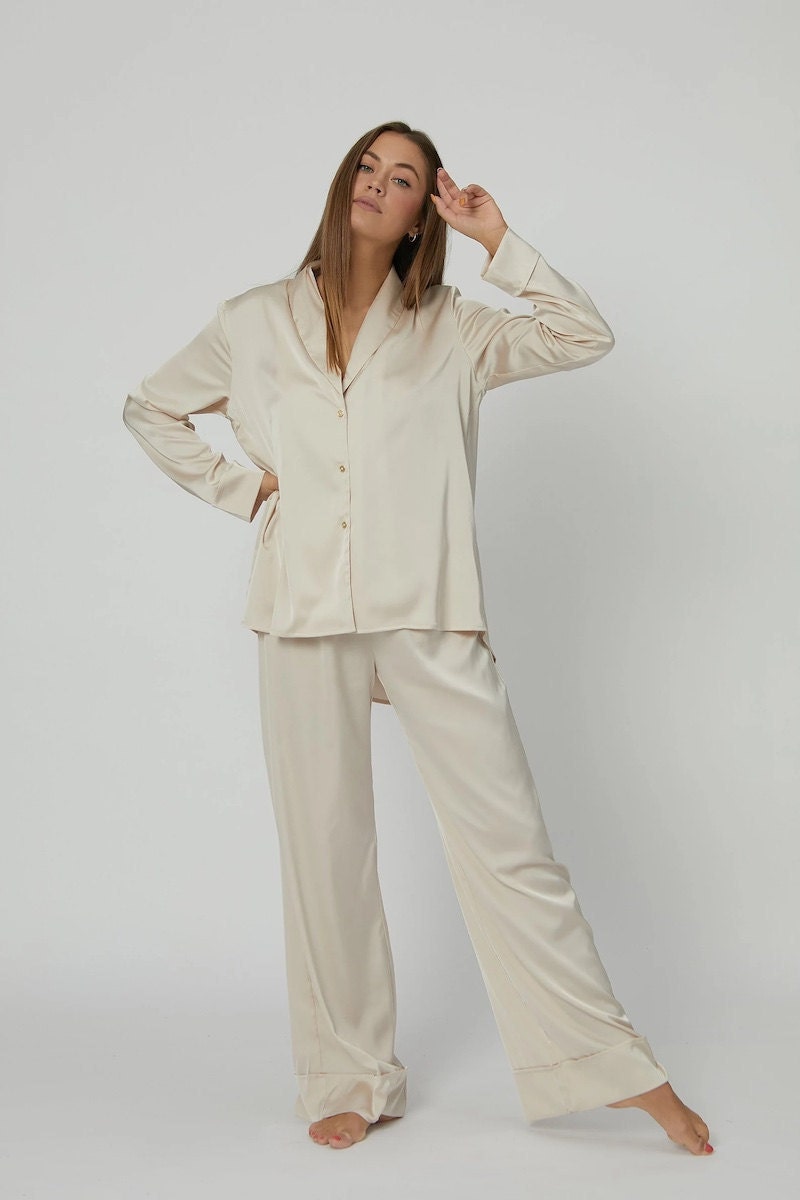 SHOP: Cream long silk pajama set from Mjrever, $147
Have a toast to a night with nothing to do with these champagne silk pajamas. Need a little extra something? Opt to personalize this set and have your initials embroidered on the blouse.
Best men's pajamas
From genderless lounge pants to luxe linen robes, these pajamas will make him enjoy bedtime as much as that first cup of coffee.
9. Best linen robe for men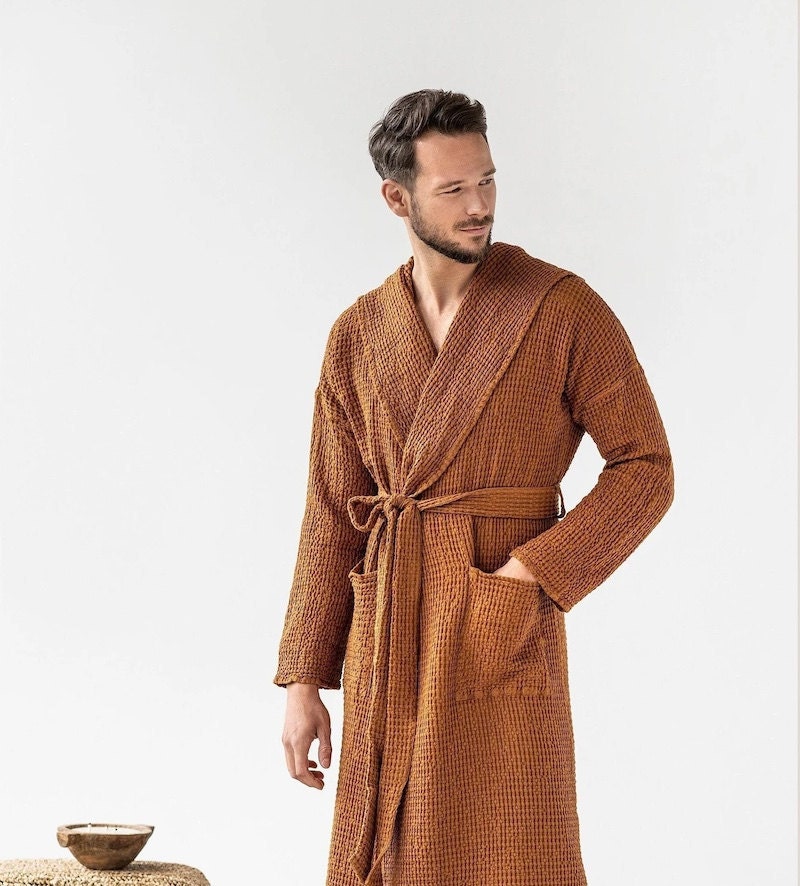 SHOP: Unisex waffle linen bath robe from Magic Linen, $119
Whether he's flipping pancakes in the morning or drying off after an indulgent bath in the evening, this waffle linen robe will have him lingering in his PJs for just a little bit longer.
10. Best genderless lounge clothes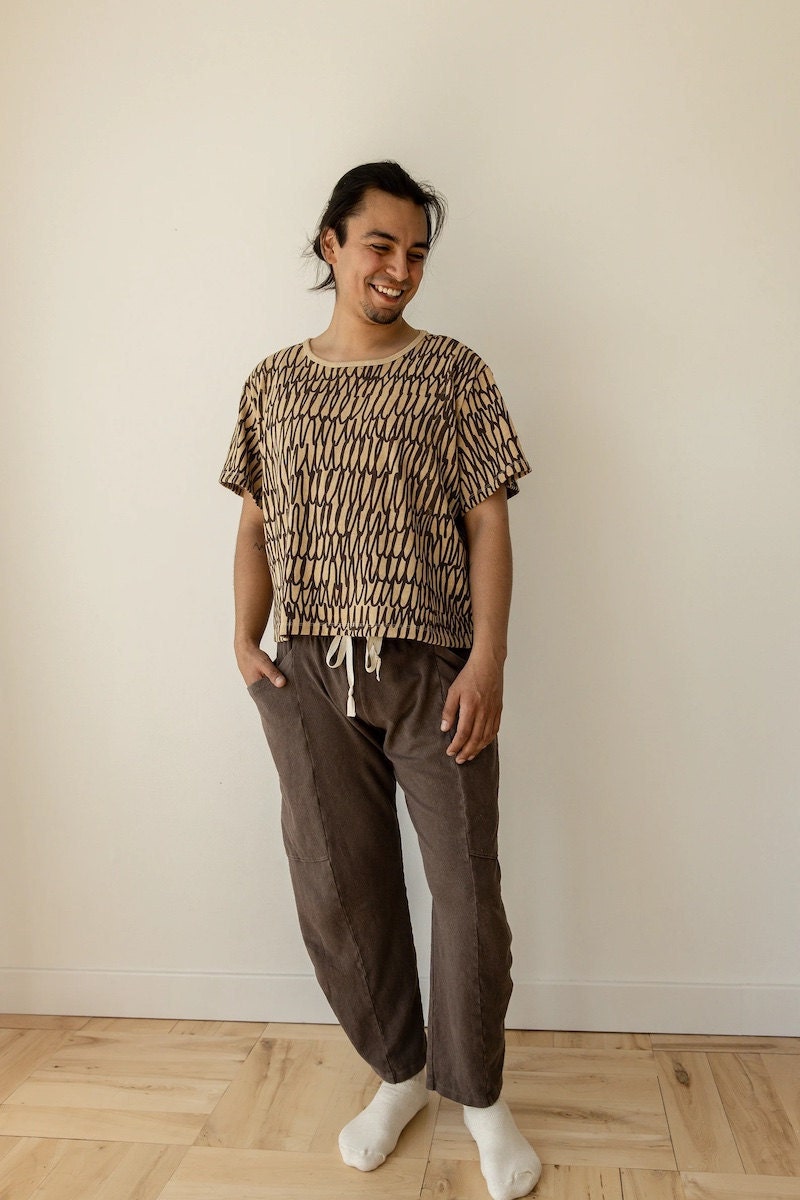 SHOP: Gender-neutral hemp lounge pants from Object Apparel, $186
These hemp and cotton jersey lounge pants are ready for (in)action. Buyers rave that these genderless pants are oh-so-soft, and their plant-dyed fabric adds to their relaxed fit.