Delight the newest baby to arrive with a personalized gift made just for them (and a few to simplify things for Mom and Dad, too!).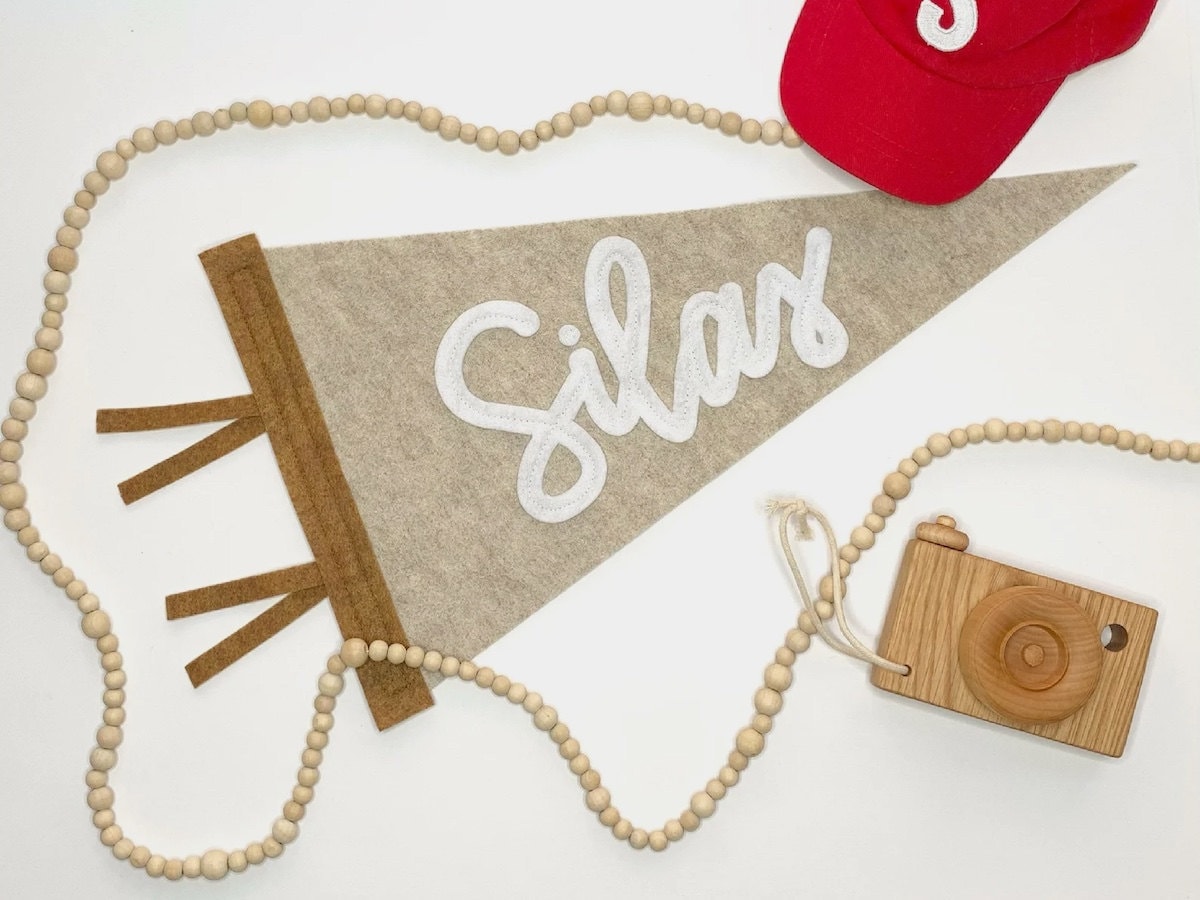 A new baby is undoubtedly a very special arrival to be celebrated and commemorated, so it's no wonder the thoughtful small shops on Etsy have created the absolute best personalized baby gifts to make these pint-size cuties feel extra, extra special. Some of the best baby gifts are both meaningful and practical—a bonus gift for the new parents.
Wondering what exactly a new baby needs? Fear not! These picks for the best personalized baby gifts are sure to be a hit with all parties, both big and small.
1. Name wall hanging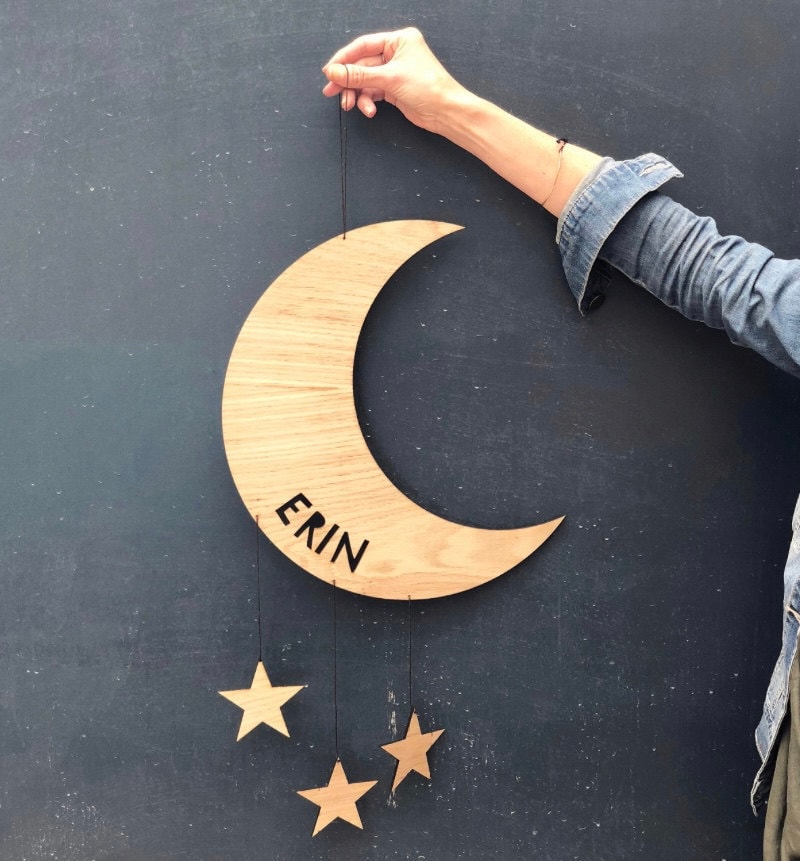 SHOP: Personalized moon and stars hanging name decoration from Modo Creative, $24
The great thing about this personalized wooden moon and stars hanging mobile is that, since it's not totally baby-themed, it will look equally as good in a baby room as it will in an older child's room, when the "baby" is well into their teenage years. "It's beautifully crafted, and the perfect touch without being something too babyish, that he will be able to keep up in his room for years," says one buyer review.
2. Wooden letter blocks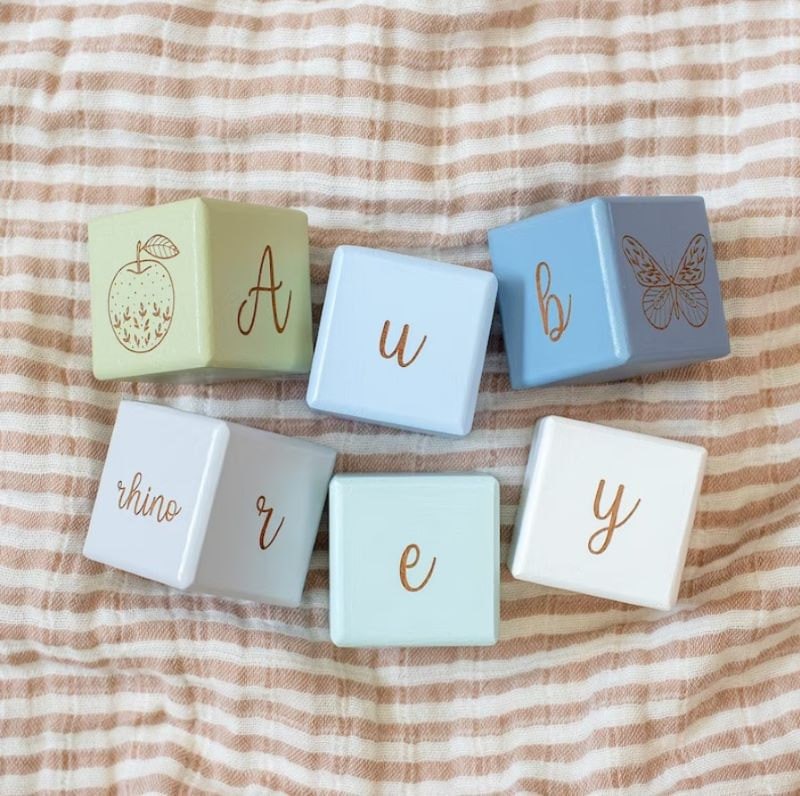 SHOP: Baby name blocks from The Wood Cove, from $7
Wooden letter blocks are a staple in any baby's first toy box—they're educational, fun, and can keep a little one entertained for hours, not to mention they're still a great toy for 2-year-olds as the years tick by. These bespoke blocks are made from solid European beech wood in a selection of over 35 colors, a variety of fonts and designs, and have gently rounded edges for comfort.
3. Embroidered baby crown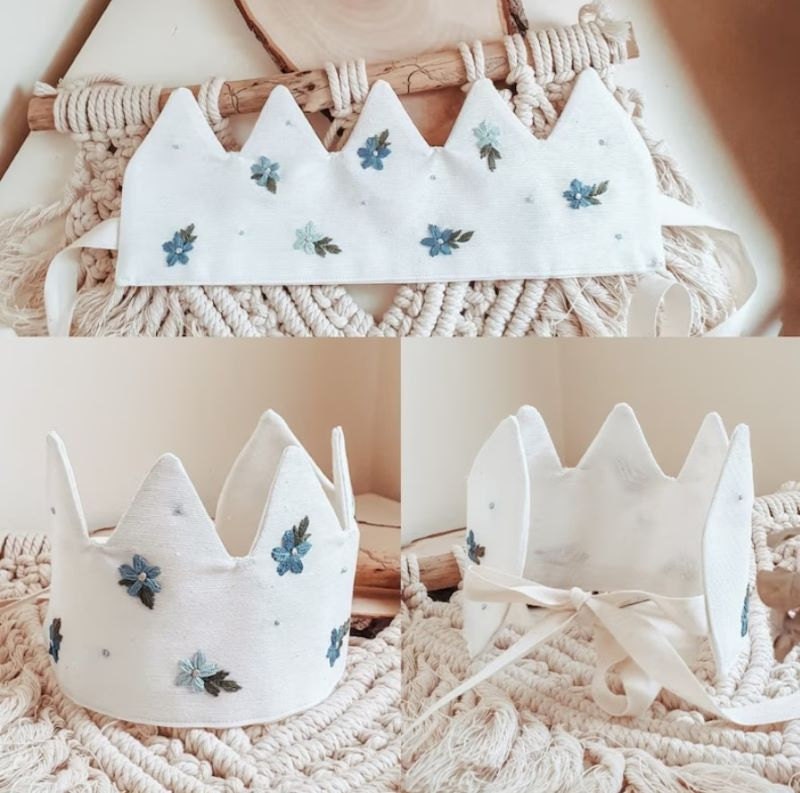 SHOP: Customized hand embroidered baby crown from Lottus, $42
Designed and embroidered by hand in Vigo, Spain, these cute crowns are made from cotton canvas and cotton thread and are ideal for all those milestone pics the new parents will be taking of their little bundle of joy. There are several floral designs to choose from, but the seller offers customized options, too, if you'd prefer something a little bit different.
4. Handmade soft cloth "Layla" doll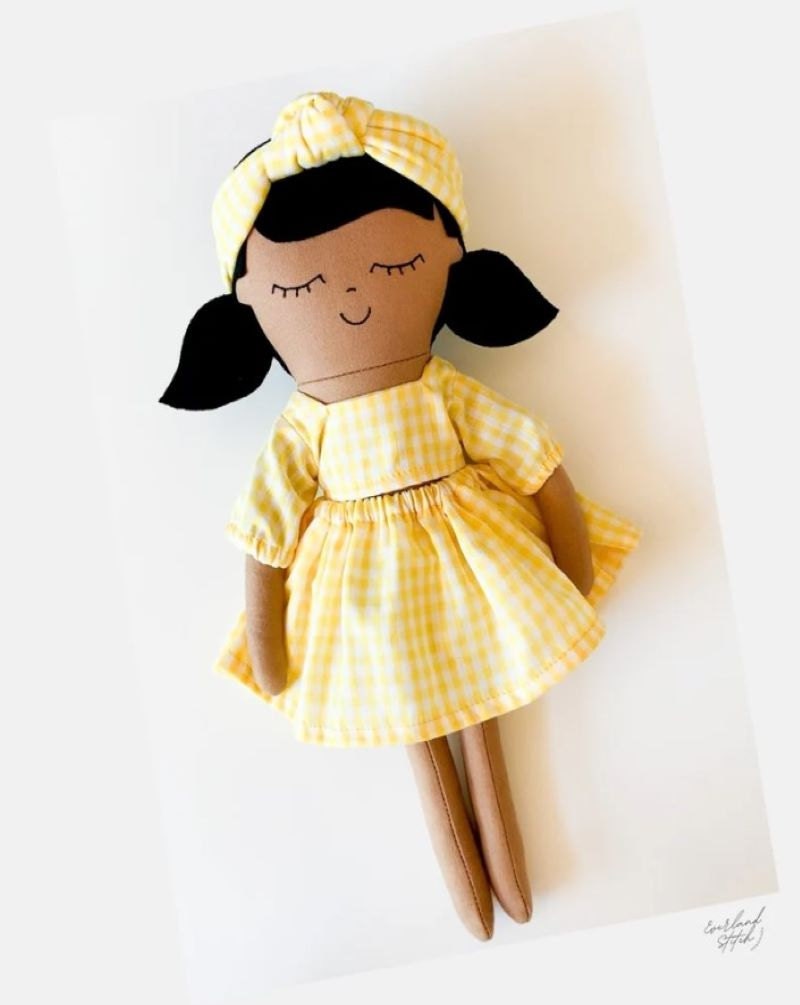 SHOP: Personalized embroidered doll from Everland Stitch, $65
A far cry from a standard store doll, the Layla doll is soft, unique, and can be personalized to your exact liking (you can even add freckles!). This personalized baby gift also comes ready for giving in a gift box along with an adoption certificate. "This doll is adorable," says one happy customer review. "Exactly as pictured and shipped right away. Such a lovely handmade doll. [The seller] was very responsive and made extra matching accessories per my request."
5. Personalized wooden name sign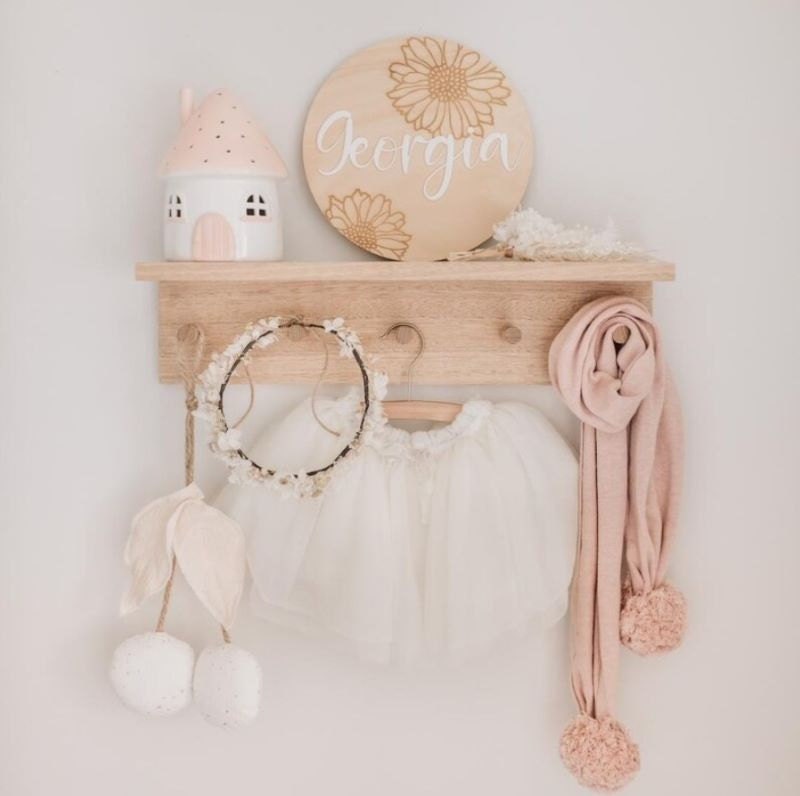 SHOP: Name and meaning wooden acrylic sign from Jess Loves Joe, from $30
Another evergreen personalized baby gift that can last well beyond those first few years, this wooden piece of wall art features the baby's name, along with the name's meaning, and can be further personalized to your needs. One buyer review described the seller as "patient and helpful in working with us to create a meaningful design," and wrote that the sign "now takes pride of place in [the] nursery and we love it."
6. Calligraphy script sign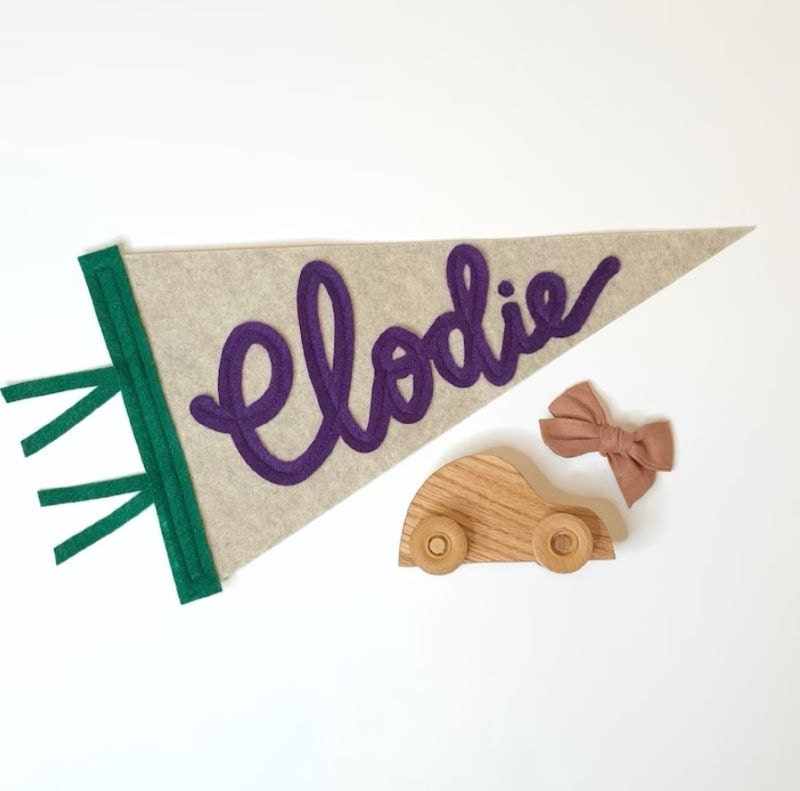 SHOP: Cursive name pennant from Eventide Pennant Co, $40
To decorate the new baby's room, nursery, or playroom, this flag-style name pennant is original, modern, and extremely fun. It's available in a choice of 19 cursive font colors and 30 different side shades to suit all tastes. Customer reviews praise the quality and the size, and one buyer wrote, "I'm in love! This is such a fun and beautiful addition to our nursery. It adds the perfect personal touch and it makes me so excited for our baby girl to get here."
7. Personalized name print art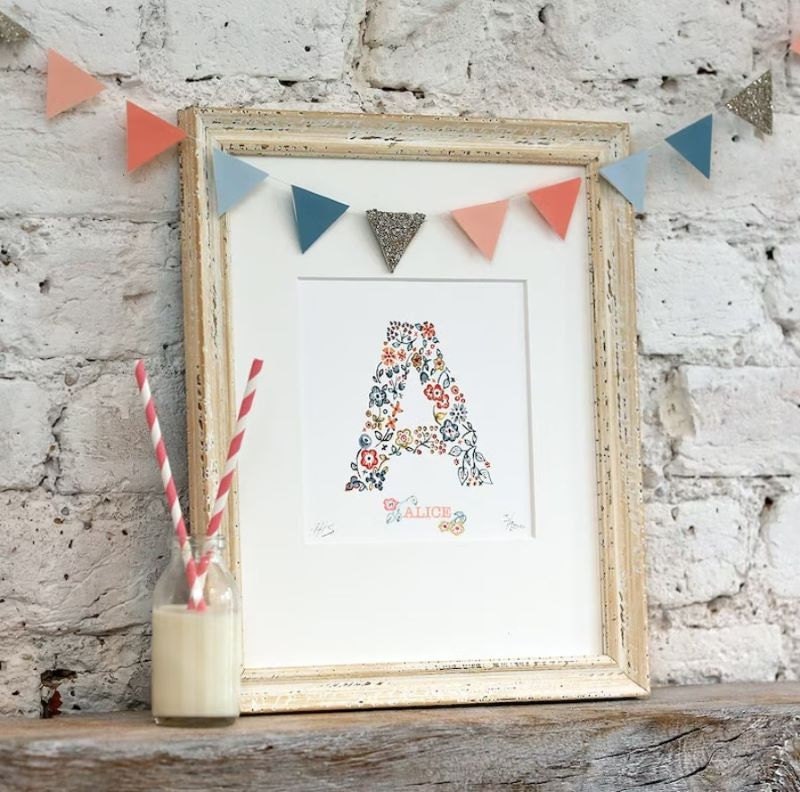 SHOP: Custom nursery wall art from Little Ragsmith, $32
Handpainted and printed in the seller's small studio in Teddington, England, these gorgeous art prints add an elegant and personal touch to any baby room. There's the option to add a personalized handwritten or printed name, too. "Even more beautiful in person," expressed one satisfied shopper. "The detail of the pattern is so well done. Bought as a gift for a friend's little girl's first birthday, and she loved it."
8. Personalized swaddle and hat set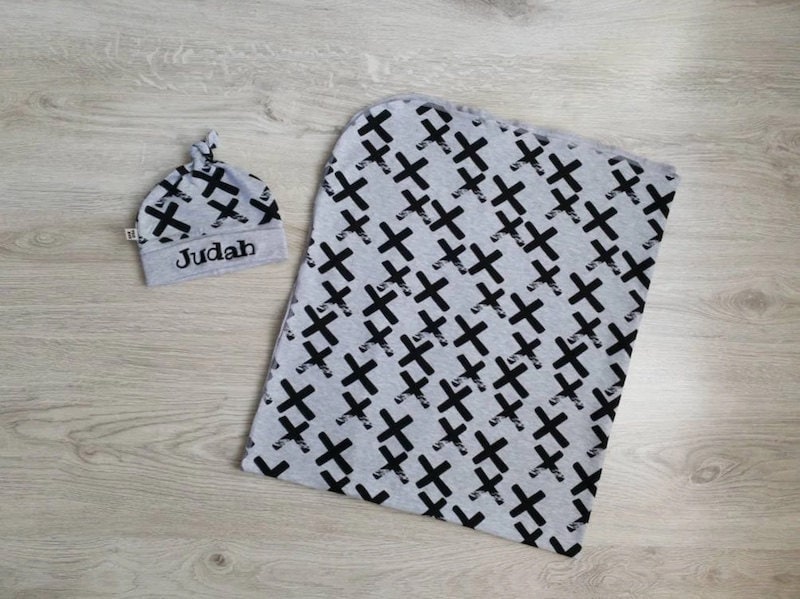 SHOP: Grey swaddle set with black pluses with personalized hat from TeoBeeStore, $43
For something that will get daily use, at least in those first few precious months, this swaddle and hat set is a practical gift option suitable for both boys and girls. This personalized baby gift set is handmade from a jersey knit with that little bit of necessary stretch, and the hat can be personalized with the baby's name.
9. Space wall art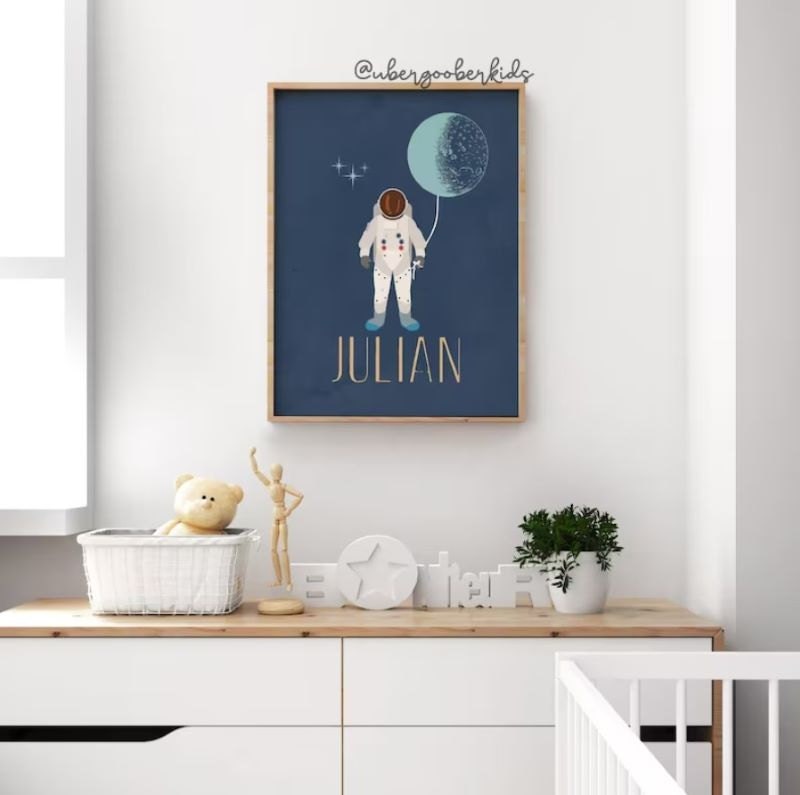 SHOP: Space name print from Uber Goober Kids, from $27
This statement art piece is one that won't go unnoticed. Minimalistic yet full of life, these personalized wall art prints for kids come in six sizes that you can frame yourself, and buyer reviews praise the quality and fast shipping. One shopper wrote, "Wow this child astronaut print with the moon balloon was such an amazing hit at the baby shower. It was so beautiful and colorful in person."
10. Personalized plush crocodile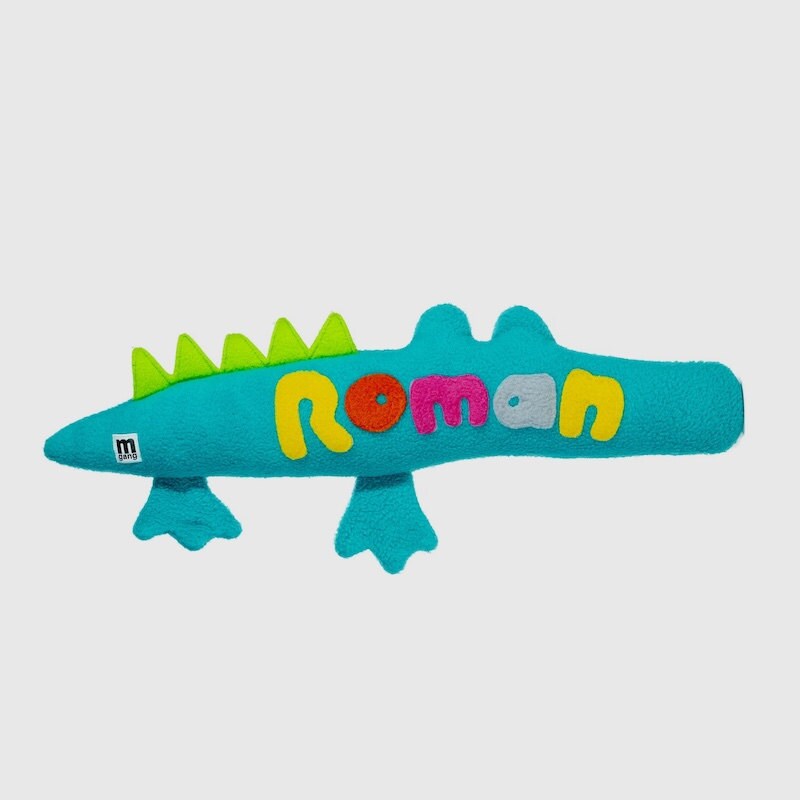 SHOP: Personalized baby toy from Maua Gang, $43
"Johnny Alligator" is a gift that will be appreciated by babies well into toddlerhood and beyond. Personalized with the baby's name, and made from a soft fleece, these plushies are brightly colored to attract the little one's attention. They're handmade in Croydon, UK, with non-toxic materials and even come in eco-friendly packaging.
11. Baby name flag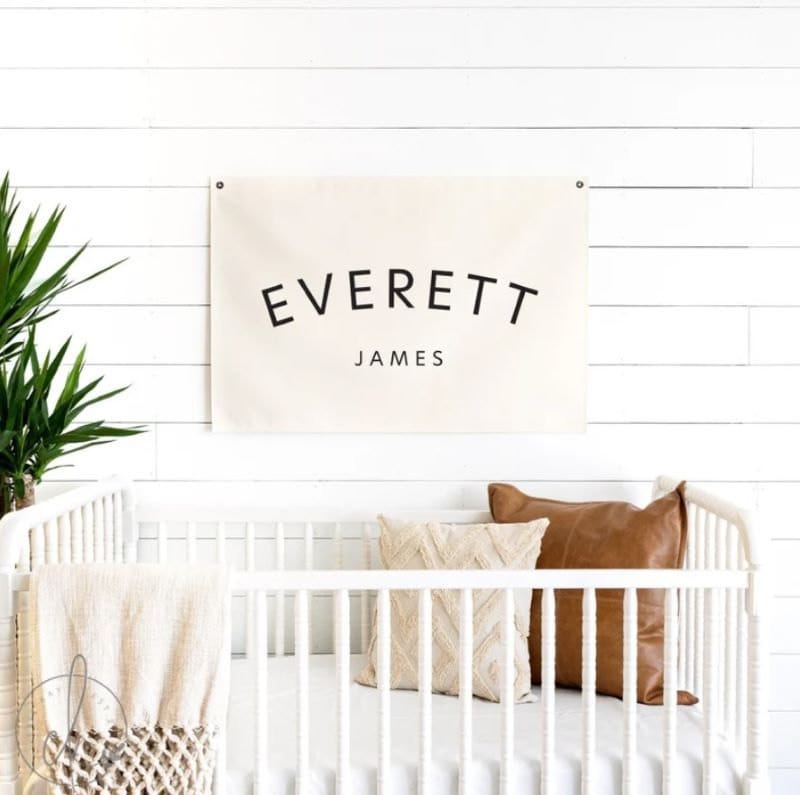 SHOP: Custom name banner from Cherie Kay Signs, from $37
Whether you're gifting a little one with minimalist parents—or if you're not quite sure of the family's home decor style—you can't go wrong with this simple and chic baby name flag. Beautifully unique, and available in a thick white or cream canvas, with a choice of three grommet colors, buyers describe these flags as "very clean looking," excellent quality, and that they draw in "so many compliments."
12. Personalized menorah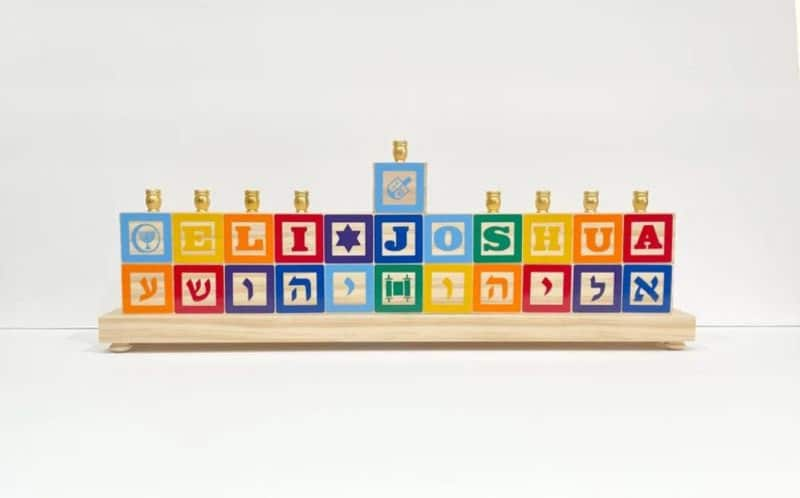 SHOP: Children's wood double row menorah from Don't Forget The Gift, $100
Though a standard baby gift is always a safe bet, something personalized, personal, and useful can prove to be way more meaningful and thoughtful. This handmade double-row wooden menorah features the baby's name in English and Hebrew, and buyers are thrilled with the high quality, speedy shipping, and stellar customer service offered.
13. Personalized name flag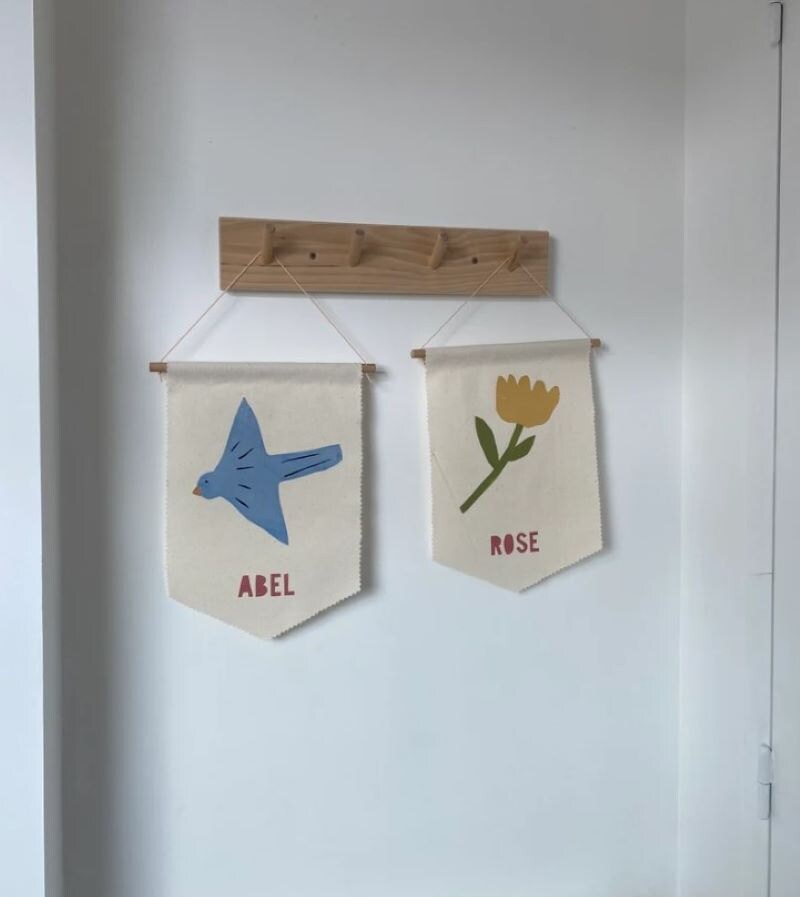 SHOP: Custom screen printed flag from Bonne Impression, $34
Handmade in a small workshop in Caen, France, these silkscreen-printed personalized name flags come on a stick with a string attached, ready to be hung and displayed on a wall. The seller shares that they're made using inks that are certified to be free from harmful chemicals, and they come ready packaged for gifting.
14. Personalized baby name puzzle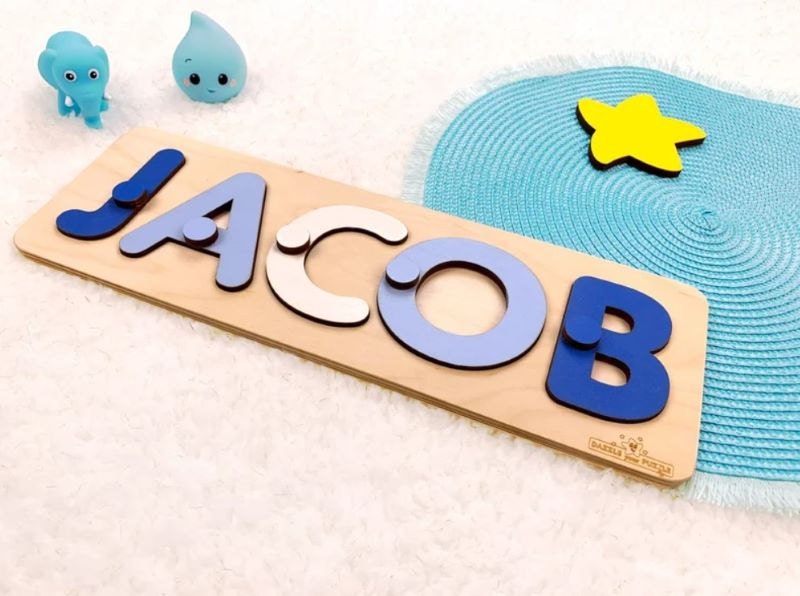 SHOP: Baby name jigsaw puzzle from Dazzle Your Puzzle, from $6
Fun, educational, and personalized, these personalized name puzzles will provide hours of entertainment for little ones and perhaps give the parents with a few moments of much-needed peace. "Very high quality," says one customer review. "The colors are so smooth and vibrant… The engraving on the back is a beautiful touch!"
15. Baby's first Christmas ornament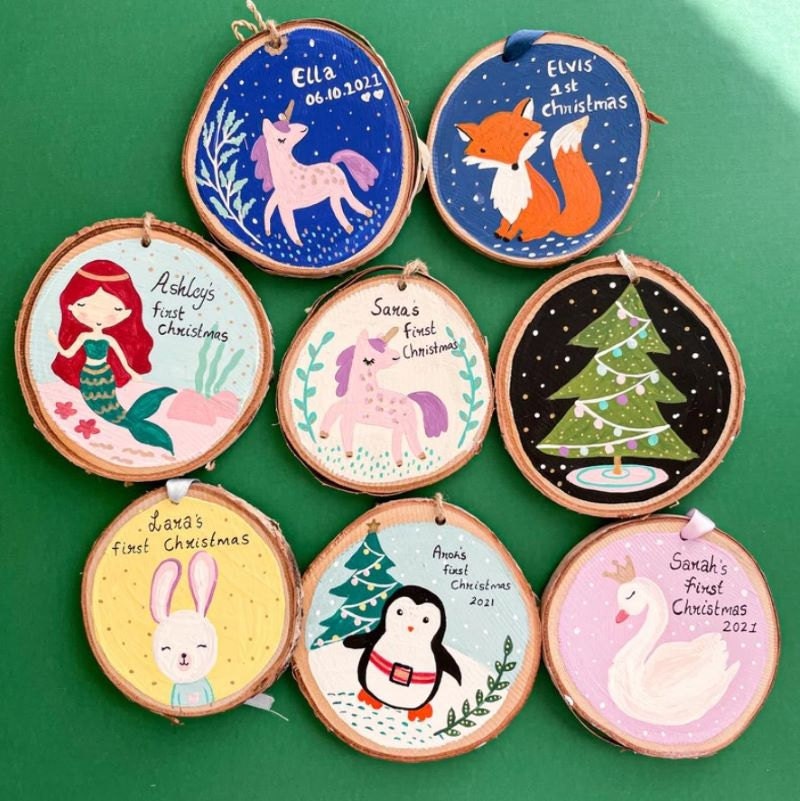 SHOP: Custom painted wood ornament from Nabeela Rumi, $46
For a special keepsake that will no doubt make it to the baby memory box, opt for this first personalized ornament to adorn the family's Christmas tree. Each ornament is handpainted individually on a real wood slice by the creator in Edmonton, Canada, for a rustic and traditional feel, and there are several designs to choose from.
16. Personalized hand-embroidered swaddle blanket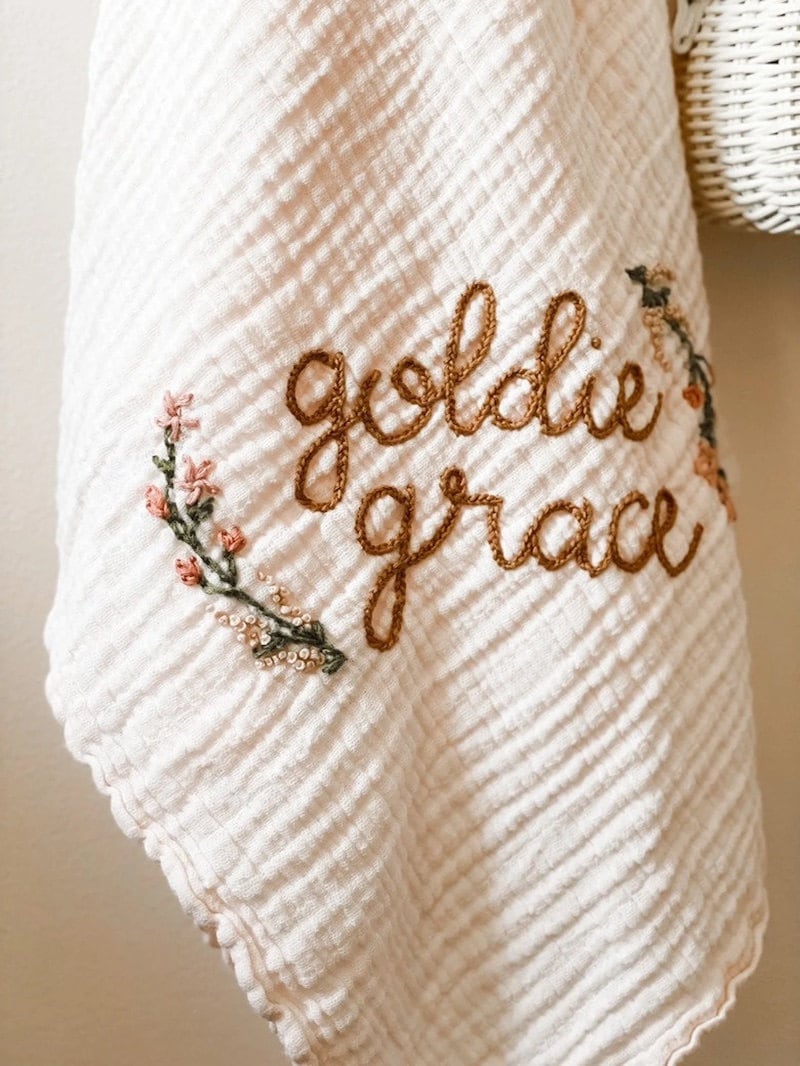 SHOP: Personalized swaddle blanket from Neck Names, from $78
This exquisite hand-embroidered baby swaddle blanket can double as a burp cloth over Mom's shoulder in the first few months of a baby's life, and, thereafter, can adorn the baby's room as a comforting snuggle-worthy blanket. It's available in more than 10 colors, with practically any color thread you can think of, and it's an item that they'll keep and cherish forever.
17. Personalized baby sweaters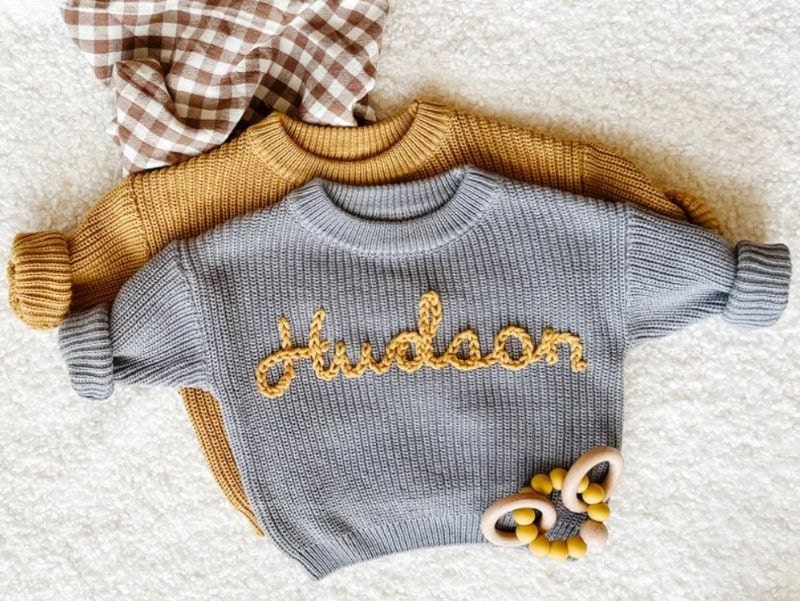 SHOP: Personalized hand-embroidered baby sweaters from LINEN + tots, from $70
Make an impression by gifting the baby's first personalized sweater. These classy little jumpers are absolutely adorable and come in nine different muted tones. The baby's name is embroidered by hand on the front in a choice of 14 yarn colors. One customer review called it a "precious gift," and added, "I absolutely adore everything about this sweater! I bought it for my sweet daughter to wear once she is a bit older. The quality is lovely and ever so soft."
18. Personalized cotton blanket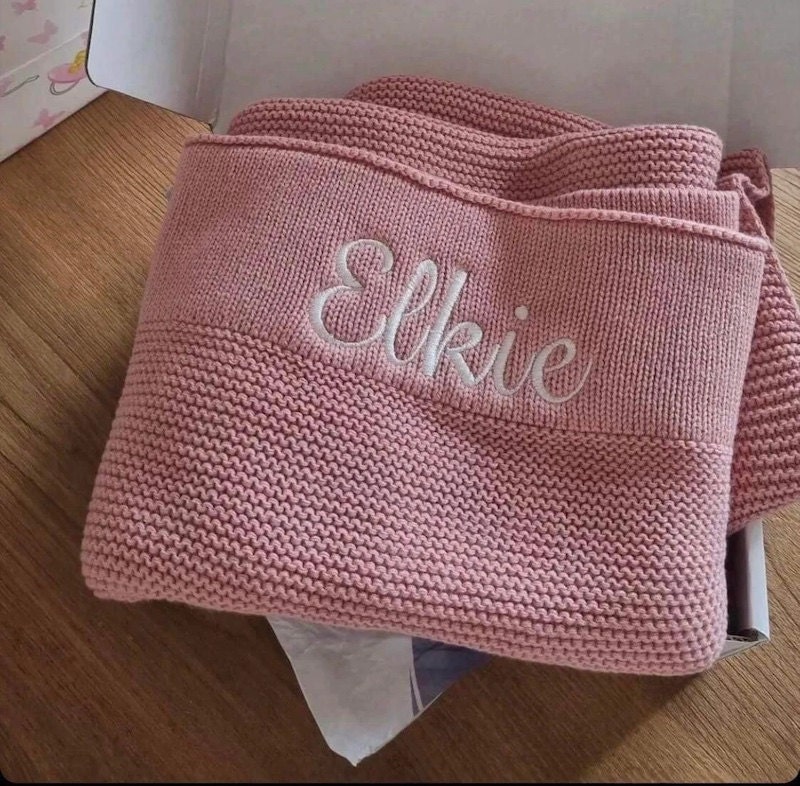 SHOP: Name embroidered blanket from Nice To Meet You, $34
Many buyers are raving about the high quality and super soft material of these 100% cotton baby blankets that are available in six colors, as well as the seller's fast turnaround, and quick shipping. You can opt to have the baby's name embroidered onto the blanket at no extra cost in any color of thread you like.
How do we pick the best personalized baby gifts?
As Etsy Journal editors and contributors research and curate shopping guides for some of the best-loved items on Etsy, we thoughtfully consider the creativity, customization, and craftsmanship that go into each product. We also consider buyer reviews, item ratings, and customer service, and tap the expertise of our in-house merchandising and trends experts to uncover high-quality finds for every budget. You can find more information about each item in the seller's listing details and can take a look at their individual shop policies and reviews, too.