Shop the sweetest personalized ornaments that put each family member in the spotlight this year (even the furry ones!).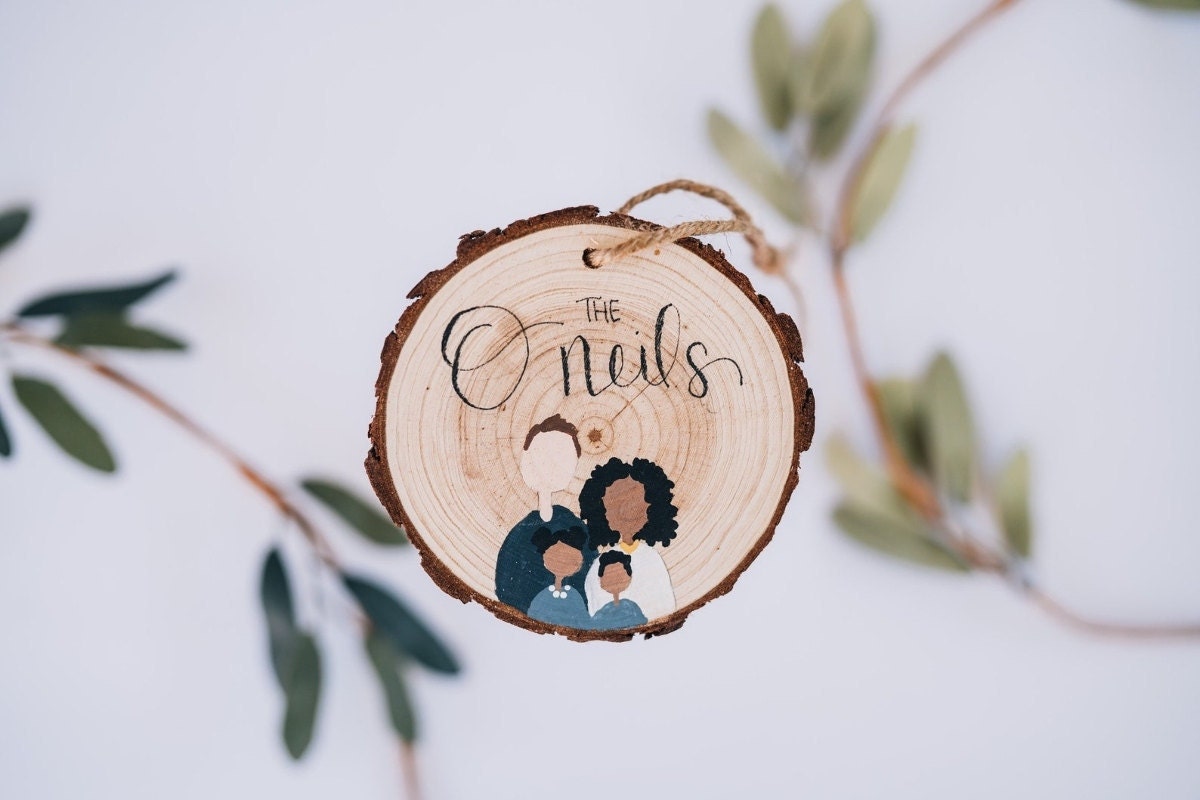 It's the first big holiday tradition we all look forward to every year: slipping into a cozy sweater, cranking up on the holiday tunes, and decorating the Christmas tree. But the real star of the show is the ornaments—particularly the special ornaments. You know the ones: the personalized ornaments that commemorate the people, places, and moments that are important to us. The ones that make you smile every time you look at them and that conjure up warm memories of Christmases past. The ones you put in the place of honor, right in the front of the tree.
Whether they are made of wood, glass, metal, or ceramic, personalized ornaments make every Christmas a bit more magical. They also make thoughtful gifts that friends and family members will cherish as keepsakes and will look forward to putting on the tree year after year.
Etsy is the best place to find unique personalized ornaments, with a wide selection of holiday decor that you can customize with the names or portraits of family members, romantic partners, friends, pets, or whoever you care enough about to put on your tree. Here, we've compiled some of our favorite personalized ornaments, in a range of designs to fit every individual style and budget.
Tips for buying personalized ornaments
Keep in mind that because personalized ornaments are made to order, they can take extra time to create. Whether you're ordering personalized ornaments as a Christmas gift for someone else or to decorate your own tree, it's a good idea to place your order as early as possible to beat the Christmas rush. Be sure to look at the seller's estimated shipping times and shop announcements to ensure your item arrives before the holidays. It's also a smart idea to double check names and spellings when placing an order.
Personalized family ornaments
From hand-painted family portraits to cute ugly sweater ornaments printed with everyone's names, these personalized family ornaments are something the whole crew can enjoy year after year.
1. A hand-painted family portrait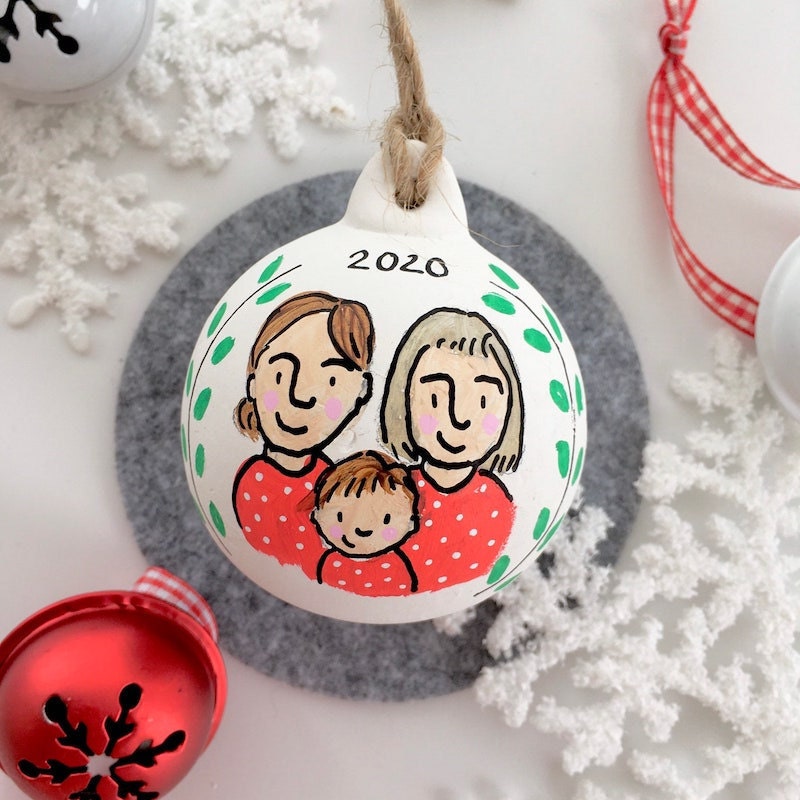 SHOP: Personalized portrait ornament from Gemma Eve, from $22
Make trimming the tree even more exciting with your own custom painted family portrait. You can either get a hand-painted ceramic ornament for each family member, personalized with their names—or go for a group portrait of up to five people. Have furry family members? The seller also offers custom portrait ornaments of dogs, cats, horses, rabbits, hamsters, and even parrots.)
2. A set of personalized ceramic star ornaments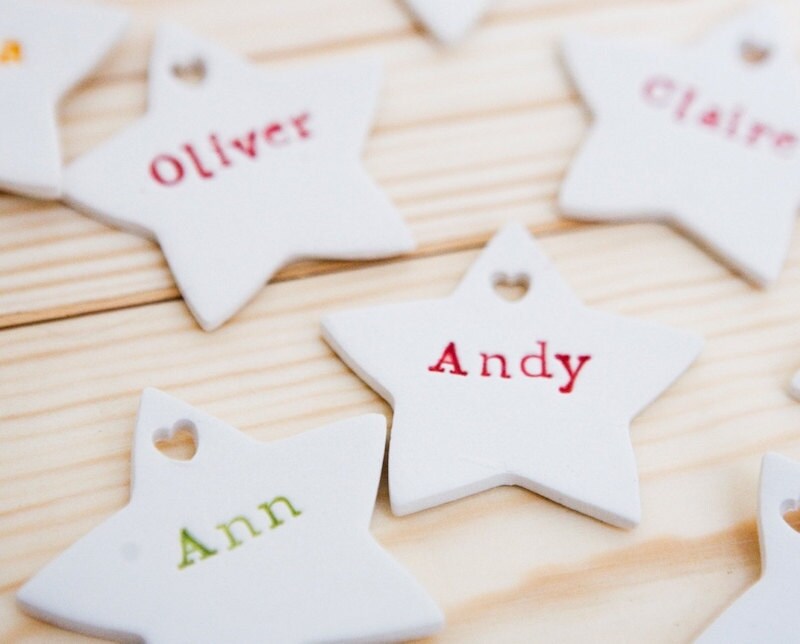 SHOP: Personalized ceramic star Christmas ornaments from Foxery, $25 for four
Celebrate all the superstars in your household with these petite personalized ceramic ornaments that have their names painted in festive green, red, or yellow glaze. Each star is strung on a white ribbon, ready for the tree and comes in an individual pouch, perfect for gifting.
3. A wooden family portrait ornament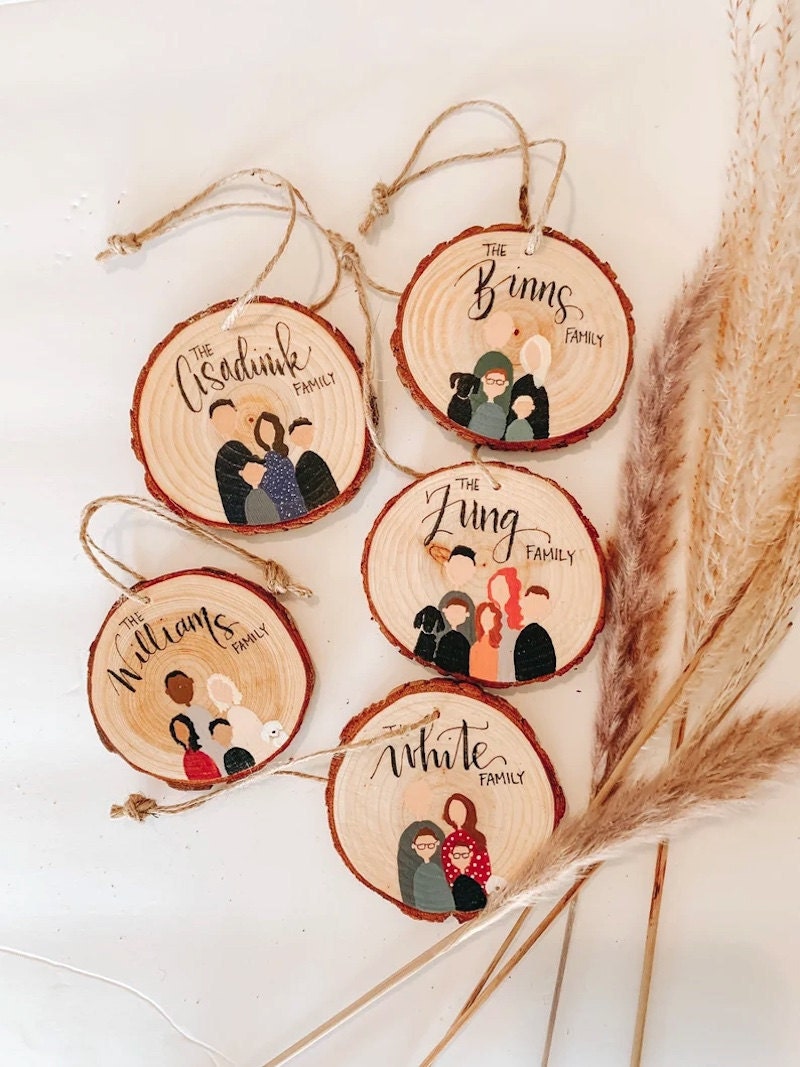 SHOP: Hand-painted wood personalized family ornament from Oliveberry Designs, from $20
Whether your family is large or small, there's room for everyone on this family portrait ornament, hand-painted on a rustic log slice. You can include up to 12 family members (including pets!) on each ornament along with your family name or custom text. You can also get portraits painted in your wedding day attire, a perfect personalized gift for newlyweds.
4. Ugly Christmas sweater ornaments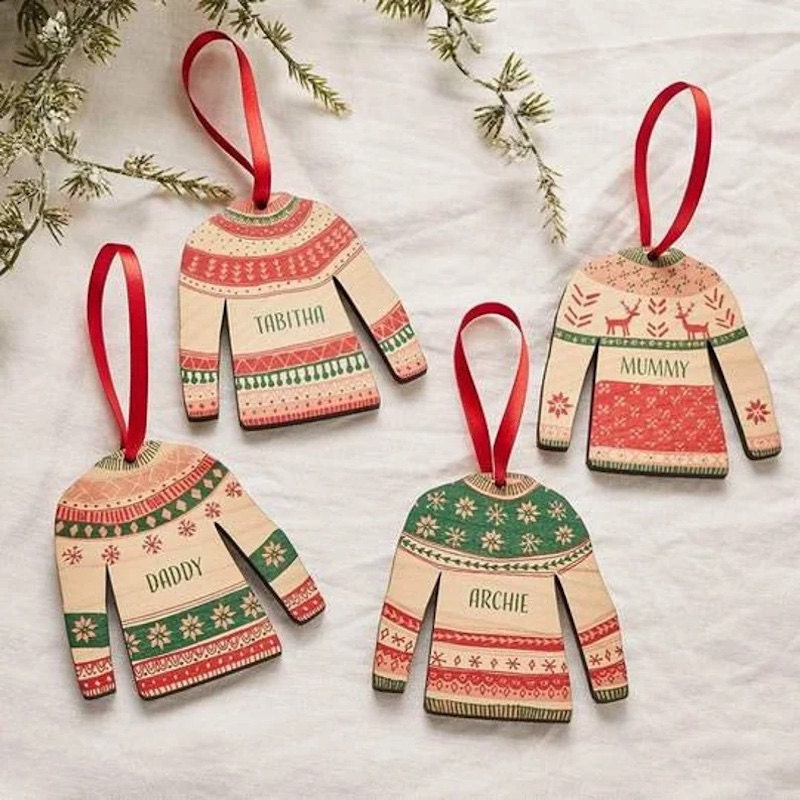 SHOP: Personalized Christmas sweater ornament set from Create Gift Love, $40 for a set of four
Get the holiday party started with these cute ugly Christmas sweater ornaments for the whole family. The wood ornaments, made of maple veneer, each feature different vintage-inspired sweater designs in red, green, and pink, and can be personalized with each family member's name.
Personalized pet ornaments
Give your favorite furry friend a place of honor on the tree with these paws-itively perfect personalized pet ornaments.
5. A festive personalized pet ornament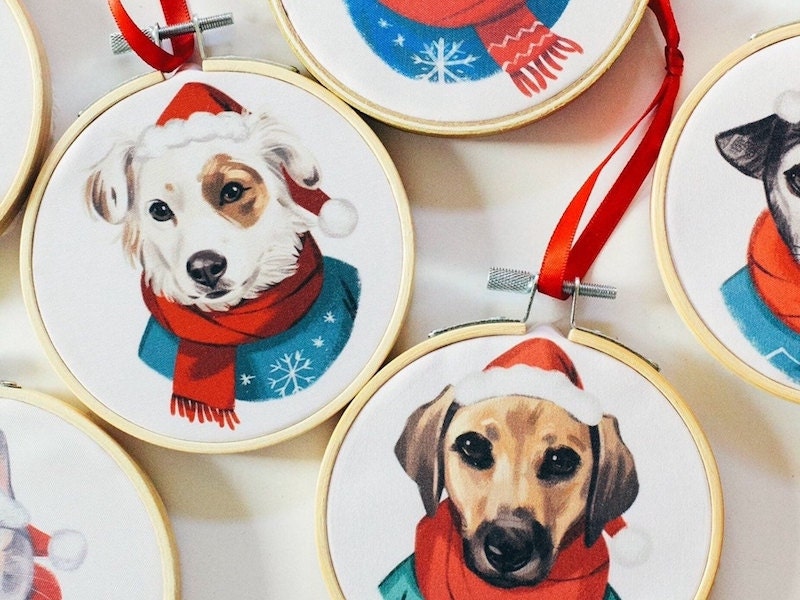 SHOP: Custom Christmas pet portrait hoop ornament from Red Cloud Studio, from $60
If you thought your pet was cute before, wait until you see them dressed up in holiday finery! Decorate the tree with an adorable custom portrait of your favorite cat or dog in festive hat, scarf, and sweater. The fabric hoop ornaments come with a red ribbon, ready for hanging.
6. A hand-drawn pet ornament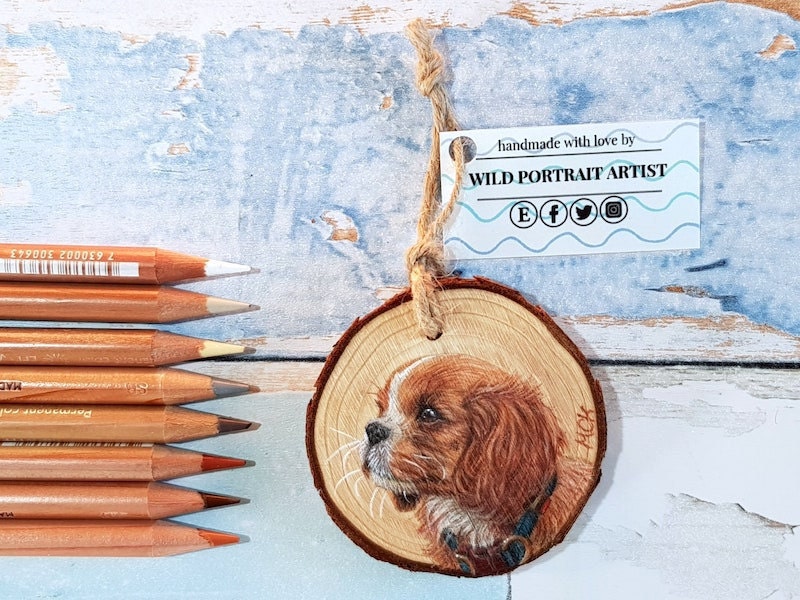 SHOP: Hand-drawn custom pet portrait ornament from Wild Portrait Artist, from $32
This custom ornament features a stunningly lifelike portrait of your pet, drawn in colored pencil on a log slice (and sealed with varnish, to keep it looking like new). The seller can draw all sorts of animals, including furry friends, birds, reptiles, or unusual pets. (Have two pets? You can opt for a double-sided ornament with portraits on each side.)
7. A personalized ceramic pet ornament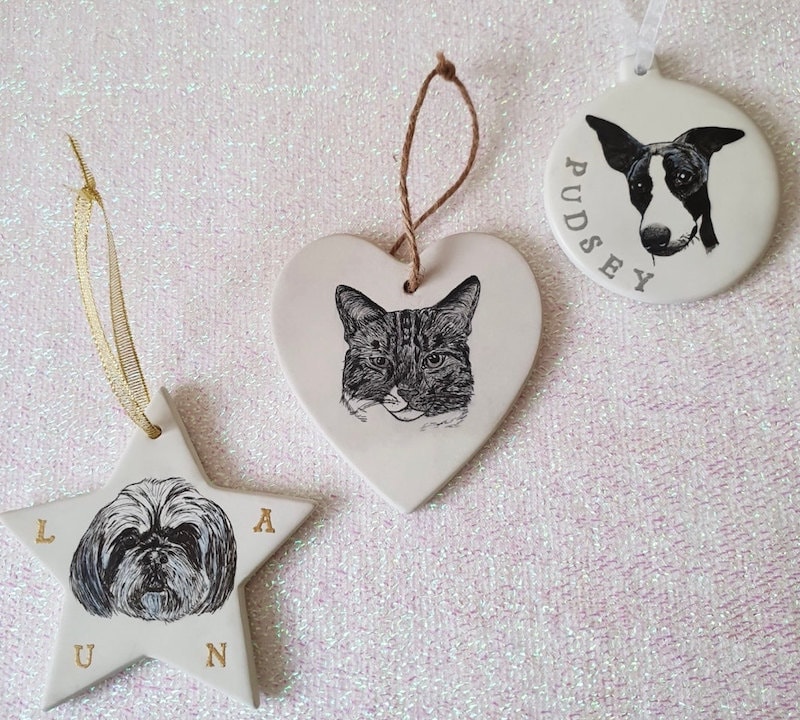 SHOP: Personalized pet ornament from ELH Art Studio, $15
Include your pet in the holiday festivities with a charming hand-drawn portrait ornament. Made of ceramic, and available in four different shapes, the ornament can include their name in gold or silver (so everyone knows who's the best pup or kitty). It also comes with your choice of twine or silver or gold ribbon for hanging.
8. A custom pet figurine ornament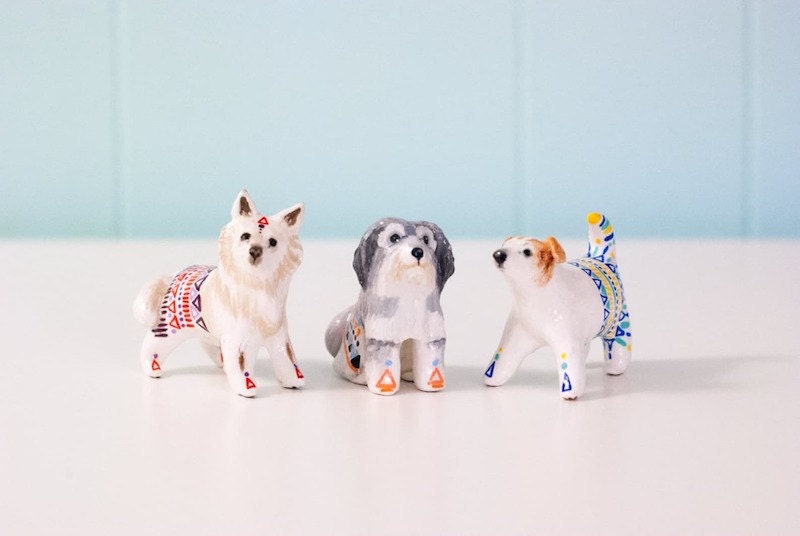 SHOP: Custom cat or dog figurine ornament from Periwinkle Nuthatch, $93
What could be cuter than a figurine of your favorite pet? The clay ornament, which is hand sculpted, painted, and embellished with colorful geometric patterns, even comes in a drawstring bag with your kitty's or pupper's name on it.
Personalized wood ornaments
Embrace the cozy cabin vibe and add a rustic touch to your holiday decor with these personalized wood ornaments.
9. A personalized log slice ornament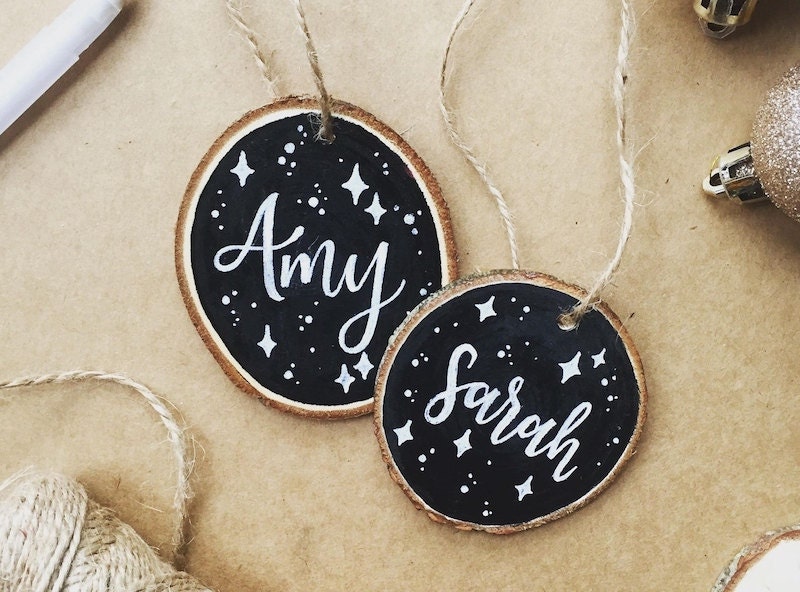 SHOP: Personalized Christmas log slice ornament from Ampersam Studio, $12
Treat your friends or family members like the stars they are by adding these personalized log slice ornaments to the tree. You can add a name, an initial, or up to five words of your choosing in beautiful white or gold script over a starry night background
10. A personalized wooden name ornament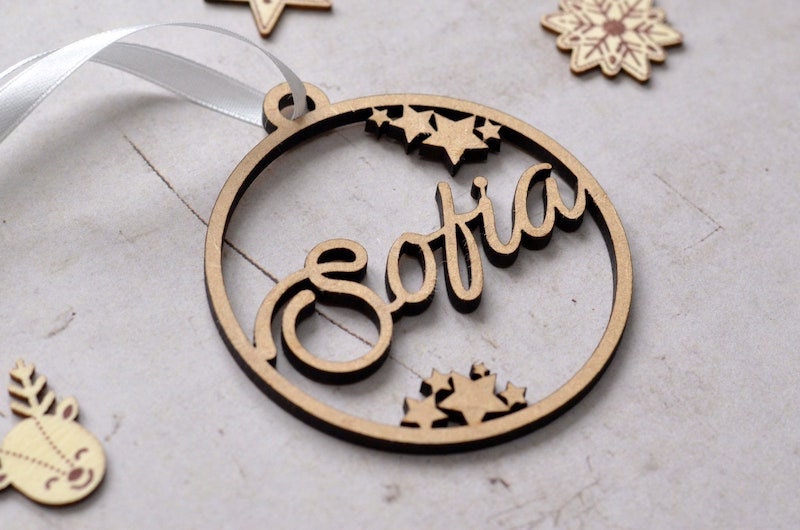 SHOP: Personalized wood Christmas ornament from Une Jolie Fête, $9
Whether you've added a new member of the family, a new friend, or a new pet, give them their own treasured spot on the Christmas tree with this personalized wooden ornament, adorned with clusters of stars. Want more options? The seller also offers several other styles of personalized ornaments.
11. A first Christmas ornament for baby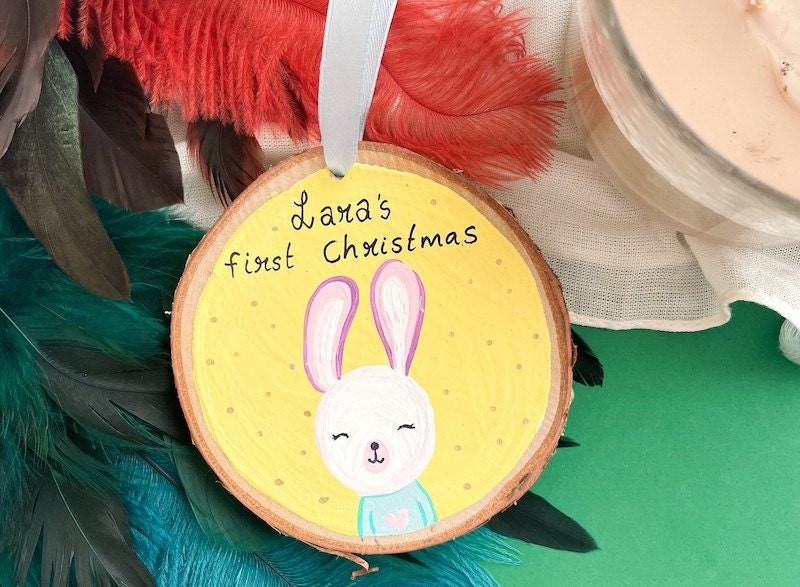 SHOP: Hand-painted baby's first Christmas ornament from Nabeela Rumi, $36
Welcome the new little one to the world with an adorable hand-painted ornament, personalized with their name. It's a thoughtful gift for new parents. In addition to this sweet bunny ornament, painted on a log slice, the seller also offers other coo-worthy baby's first Christmas motifs, including a unicorn, mermaid, penguin, fox, or swan.
Personalized glass ornaments
Add a touch of elegance to your tree with these stylish personalized glass ornaments
12. A vintage-inspired glass ornament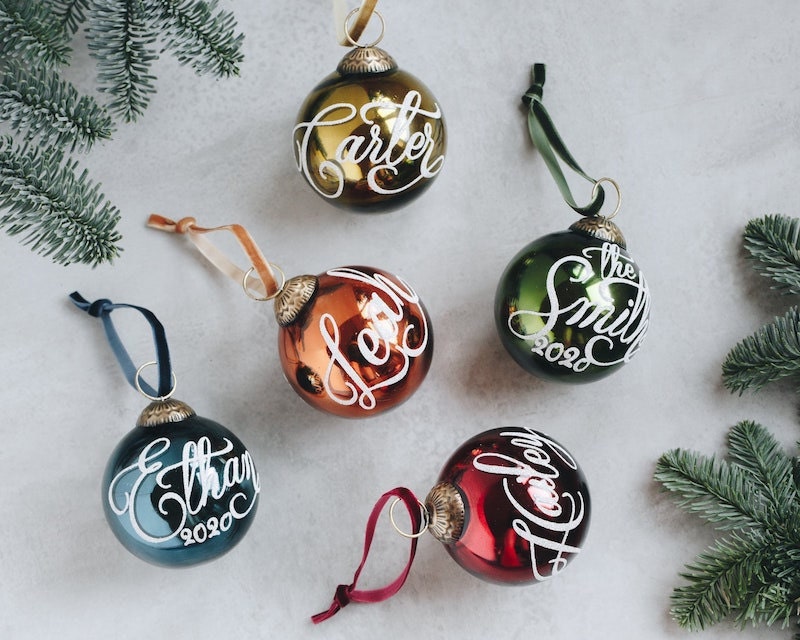 SHOP: Vintage-inspired personalized glass christmas ornament from Mærriment, from $34
Love that vintage Christmas look? Trim the tree with a vintage-inspired glass ornament, personalized with your name and the year, in swooping sparkly snow script. The ornaments, which feature a matching ribbon, come in two different sizes and five different colors.
Personalized metal ornaments
Made of stainless steel, brass, or aluminum, these personalized metal ornaments are the perfect way to commemorate a new baby, a new marriage, or other big other milestone.
13. A personalized baby onesie ornament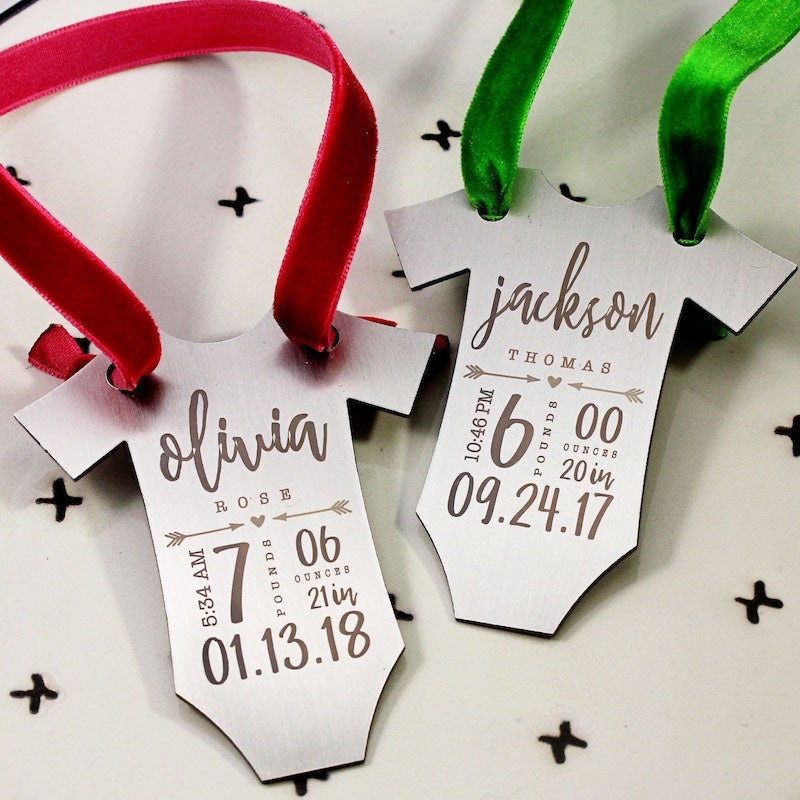 SHOP: Baby's first Christmas ornament from Tag You're It Jewelry, from $32
Celebrate your new bundle of joy with an adorable personalized baby onesie ornament. The stainless steel ornament, which comes with a green or red velvet ribbon, not only features their name, but it also commemorates all the important details, including their birthday, time of birth, height, and weight.
14. A string of personalized ornaments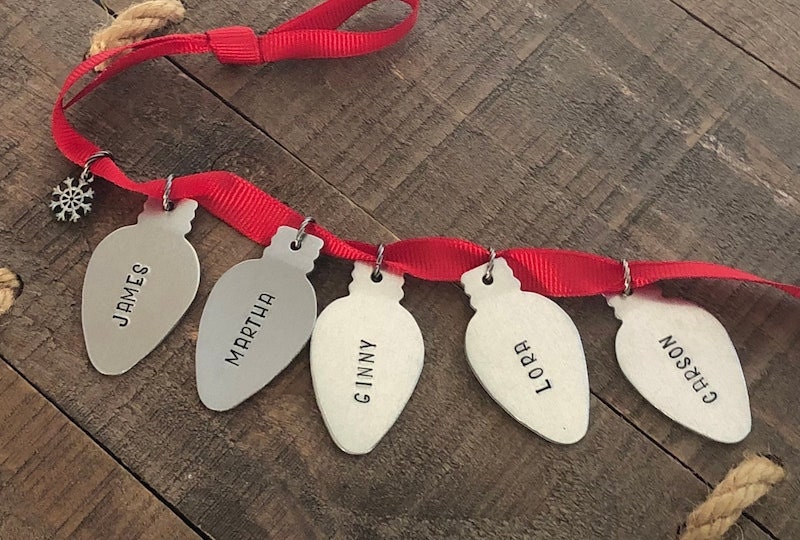 SHOP: String of lights large family ornament from gh+designs, from $40
Have a big family? Get everyone on the tree with a fun string of lights ornament that can accommodate from five to 20 names on a string of hand-stamped aluminum lightbulb charms. The ornaments come in a drawstring bag, ready for gifting.
15. A personalized first Christmas ornament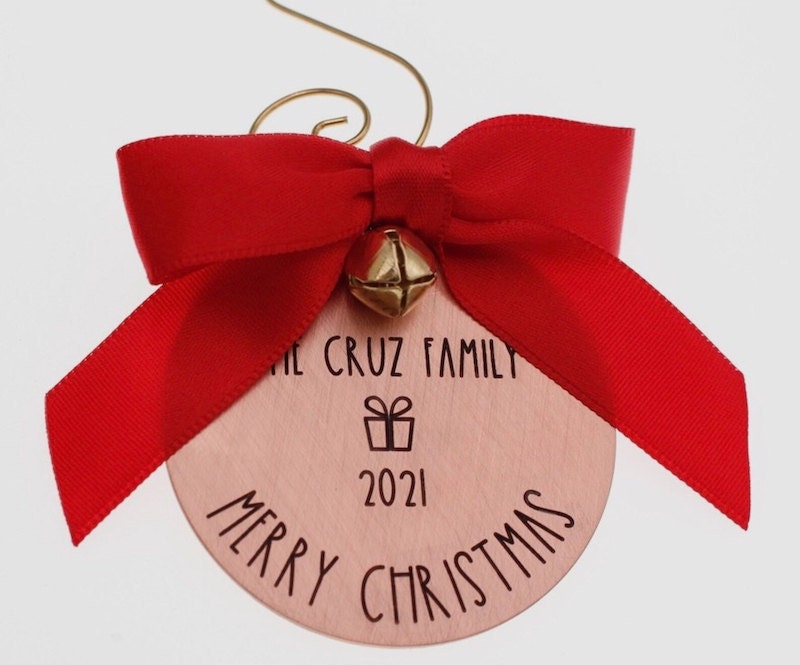 SHOP: Custom metal family Christmas ornament from Future Heirloom Designs, from $35
Whether you're commemorating a new baby, a first Christmas as a couple, or another big milestone, this metal keepsake ornament can be customized with any text you like, up to five lines. Available in brass, aluminum, or copper, the ornament is embellished with ribbon and little bell charm and comes in a linen bag for gifting.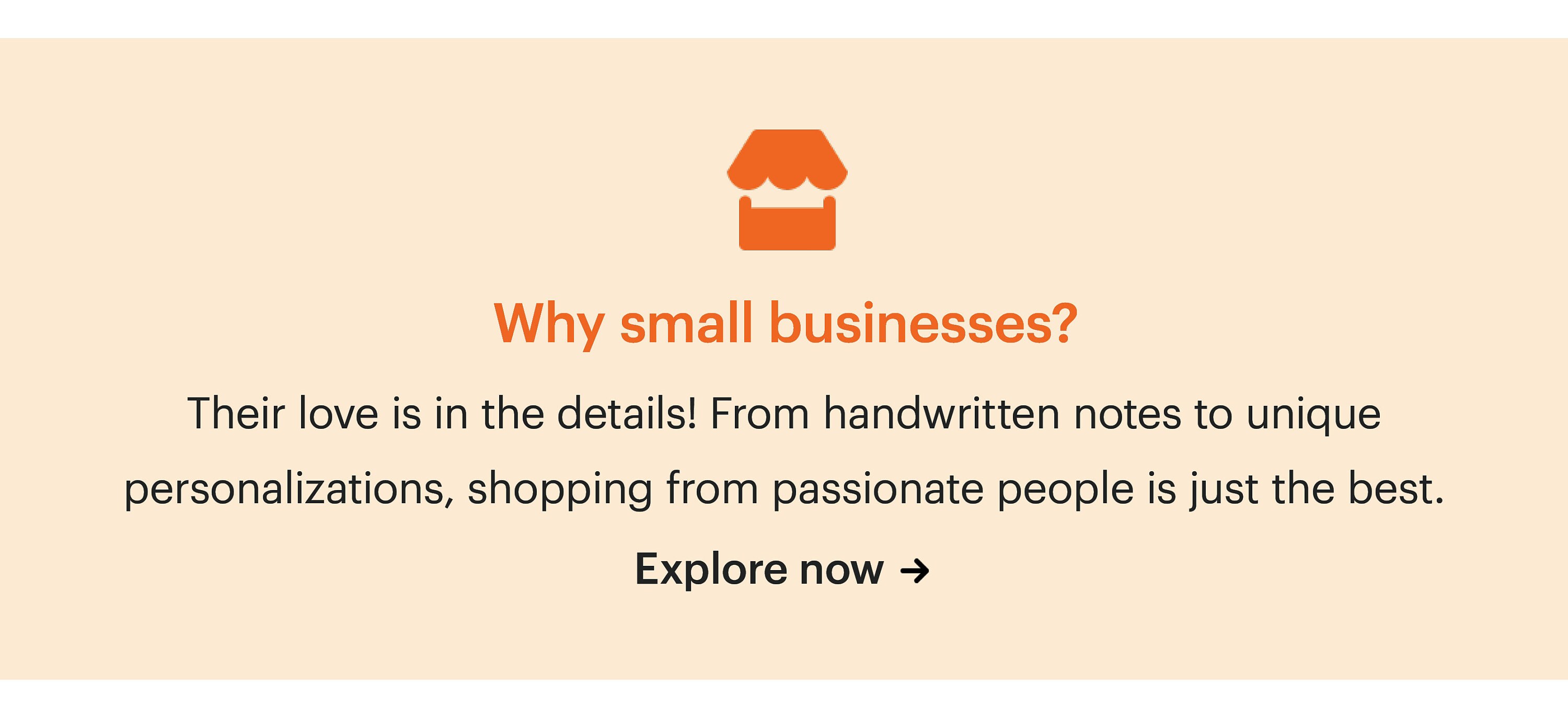 How do we pick the best personalized Christmas ornaments?
As Etsy Journal editors and contributors research and curate shopping guides for some of the best-loved items on Etsy, we thoughtfully consider the creativity, customization, and craftsmanship that go into each product. We also consider buyer reviews, item ratings, and customer service, and tap the expertise of our in-house merchandising and trends experts to uncover high-quality finds for every budget. You can find more information about each item in the seller's listing details and can take a look at their individual shop policies and reviews, too.