Create a one-of-a-kind, customized gift with a personalized puzzle from a small business on Etsy. Add a name, photo, or both, and enjoy!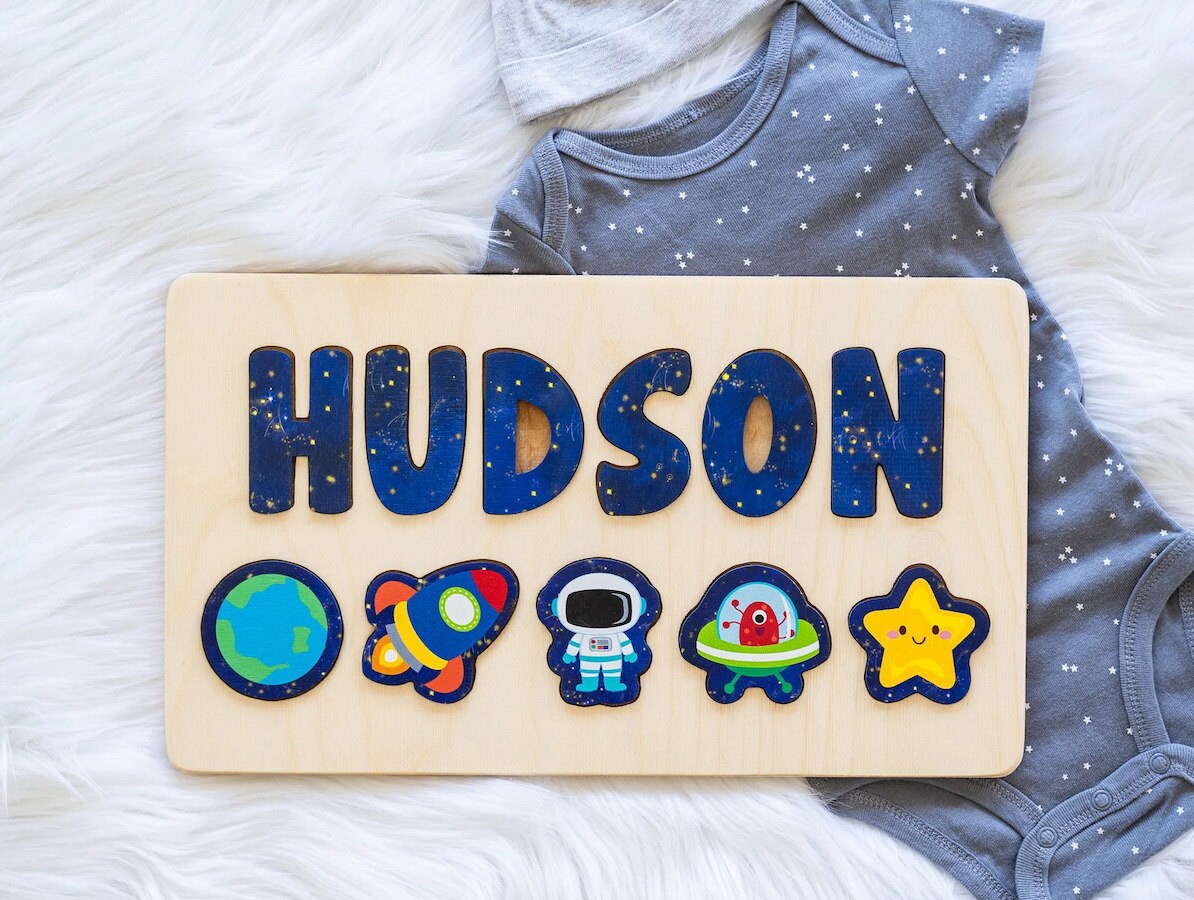 Whether it's an extra-special birthday gift for the little one on your list, or a meaningful present picked just for your sweetheart, these personalized puzzles are the perfect way to say "I'm thinking of you." Fun for all ages, each of these puzzles can be customized with a name, photograph, and sometimes both. Here are a few of our top picks for the best personalized puzzles, designed by independent makers on Etsy.
Personalized name puzzles
A fun and interactive way to practice letter recognition, colors, shapes, and more, a personalized name puzzle from Etsy is a thoughtful gift that makes learning fun. Whether it's a classic design featuring the child's name or a creative spin that pulls double duty as a helpful step stool, these are a few of the best personalized name puzzle designs.
1. Design your own personalized name puzzle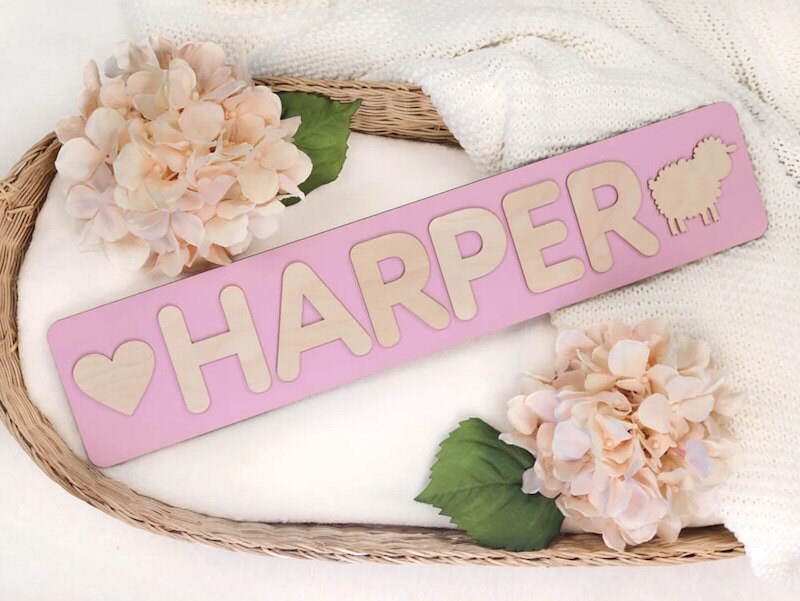 SHOP: Personalized wooden puzzle from Dazzle Your Puzzle, from $3
Make this classic name puzzle a one-of-a-kind creation by choosing the color, shapes, and a personal engraved message for your child. Buyers rave about the beautiful color selection. This wooden name puzzle can also double as a door or wall sign, so you may want to pick two!
2. Animal-themed name puzzle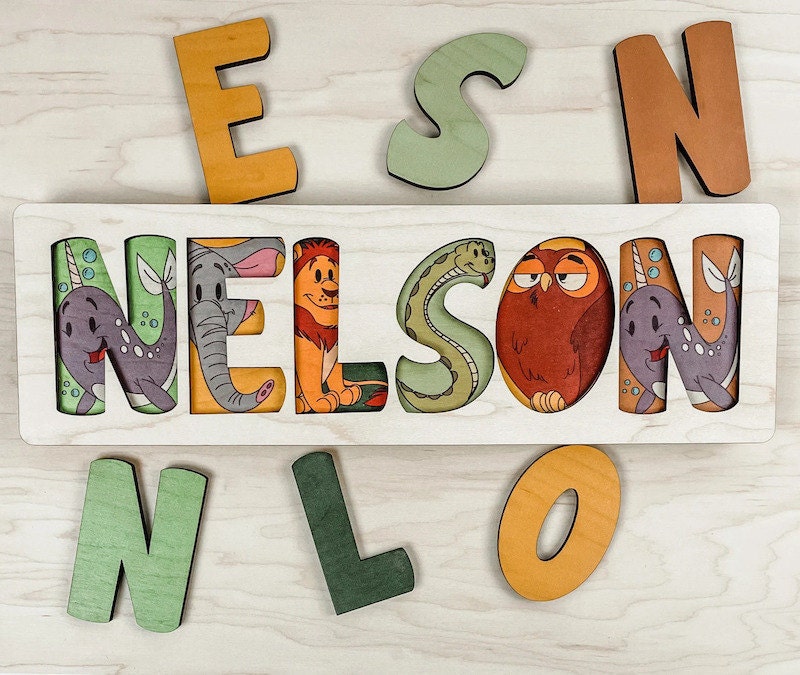 SHOP: Wooden name puzzle with animal art from Astrotot, from $35
A special surprise waits for curious kiddos on this personalized name puzzle—the letters lift to reveal adorable animal pictures, offering an opportunity to incorporate animal names and sounds into your playtime.
3. Personalized construction name puzzle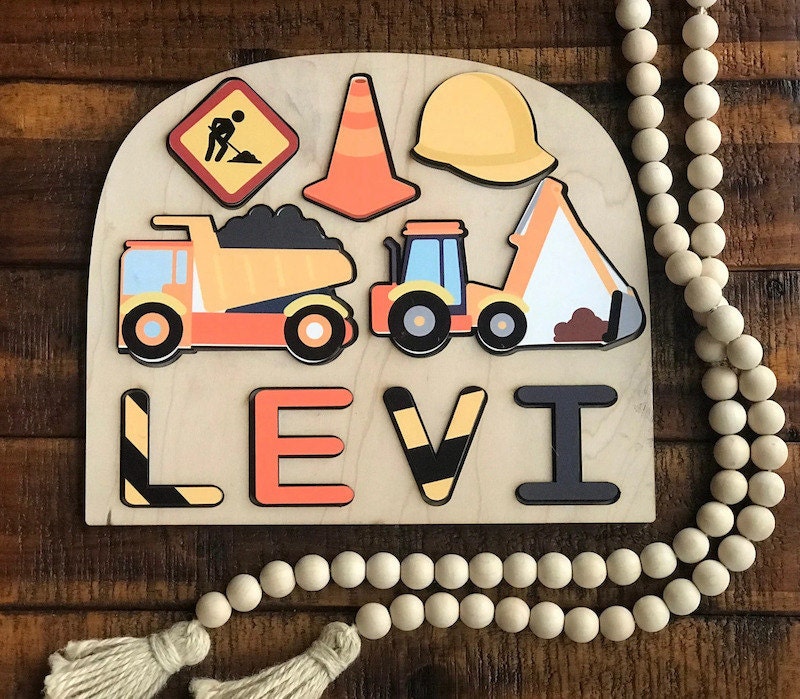 SHOP: Construction name puzzle from Shoppe at Little Creek, from $60
Buyers especially love this shop's personalized name puzzles as a top gift for kids. From firetrucks and baseball to farm life and construction, there's a themed name puzzle for every interest.
4. Outer space name puzzle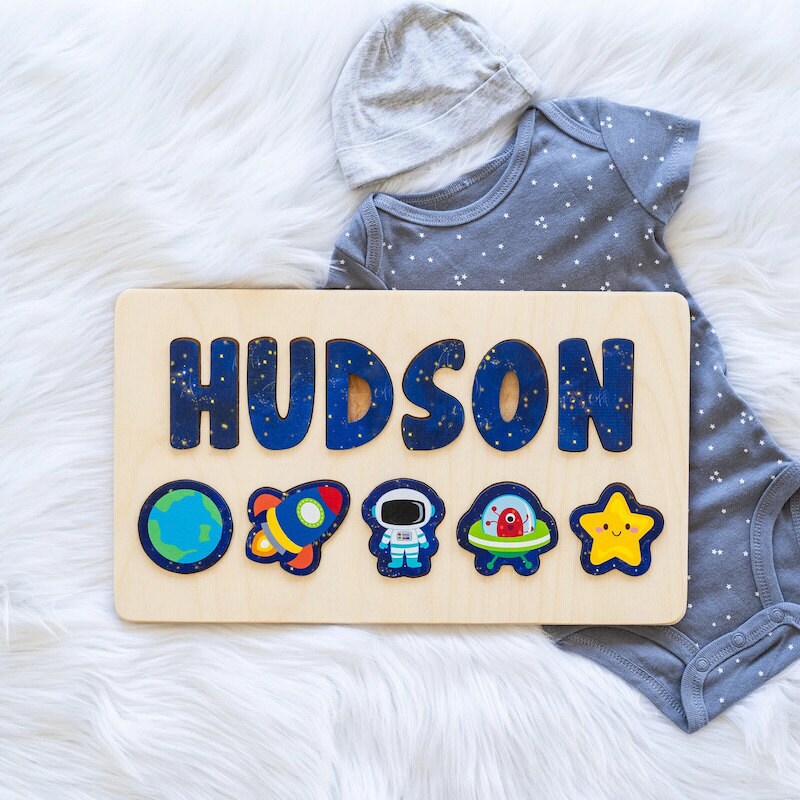 SHOP: Space name puzzle from Bloom Owl, from $45
The planets, astronaut, and fun extraterrestrial shapes make this personalized name puzzle an out-of-this-world gift idea for children who love to dream about outer space. If the little one on your list isn't quite of puzzle-age just yet, add a display stand to your purchase and use this piece as decor until they're ready to explore.
5. Personalized name puzzle stool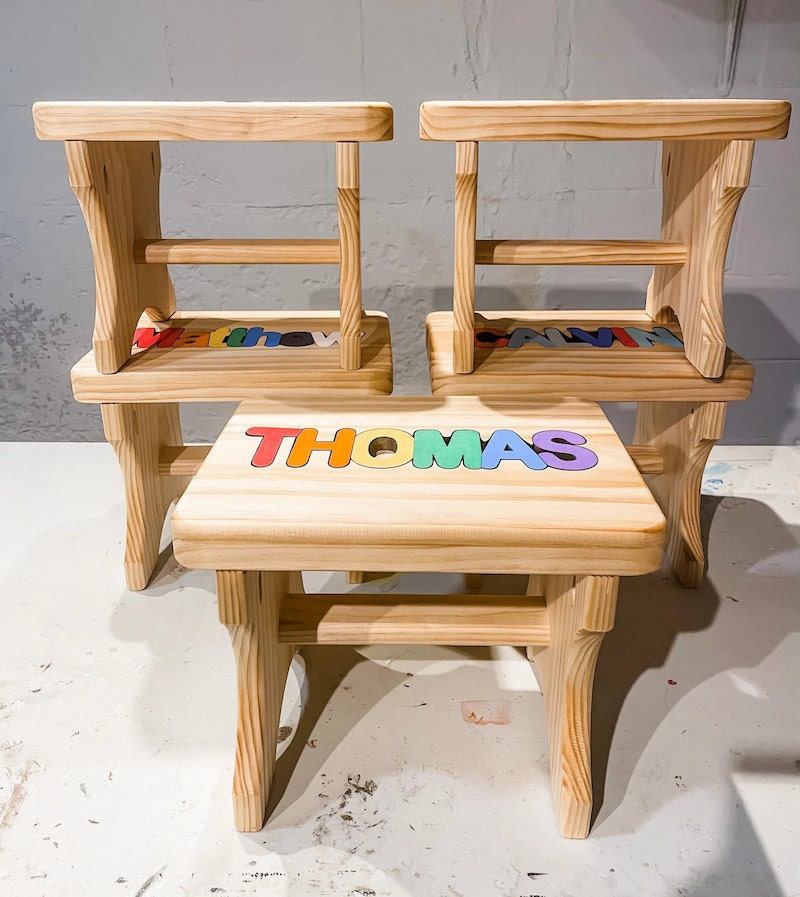 SHOP: Name puzzle stool from Lumber Revolution, $120
The step stool-style of this name puzzle puts the pieces at the perfect height for toddlers as they sit and play. Even once the puzzle becomes easier for them to solve, they'll love using this step stool to grab those goodies that are just out of reach.
Personalized kids puzzles
Adding a special bit of customization to a children's puzzle turns an everyday toy into a lifelong treasure. These personalized kids puzzles will make your little one feel extra special and extra loved. Let play time begin!
6. Personalized tic tac toe puzzles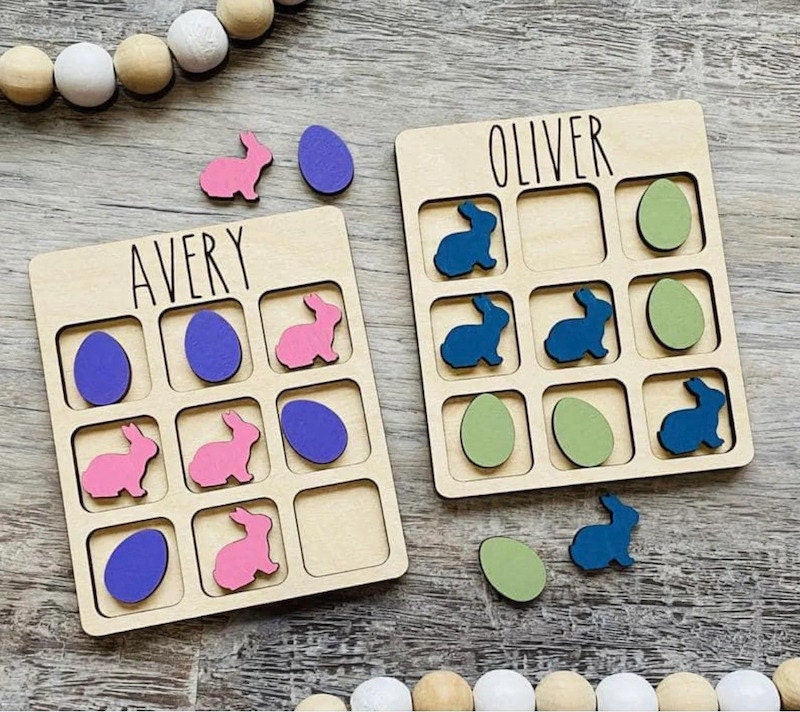 SHOP: Bunny and eggs tic tac toe from Mama Chicken Customs, $13
A perfect gift for siblings, cousins, grandchildren, or close friends to play together, these personalized spring-themed tic tac toe boards are also an oh-so-sweet addition to Easter baskets. Buyers love the cute designs, and the small size makes these personalized puzzles ultra-portable, too, and perfect to keep little hands busy on long trips.
7. Personalized photo puzzle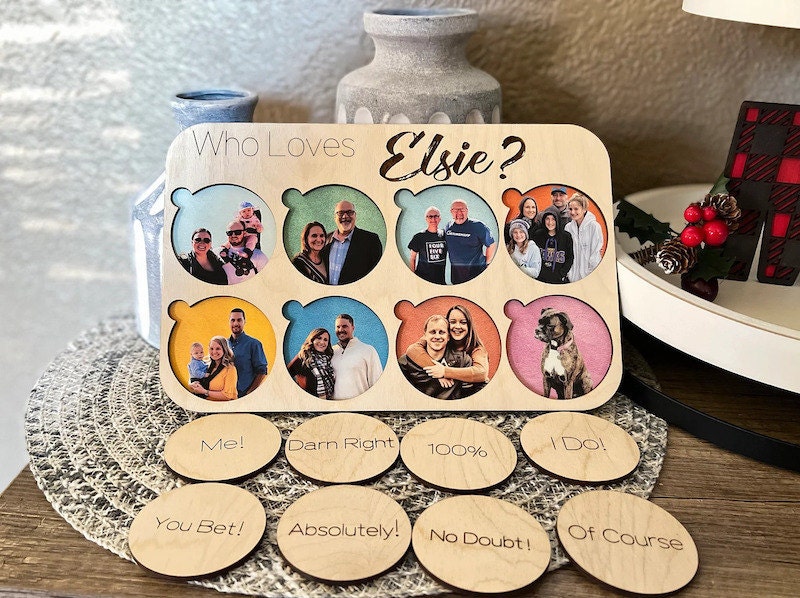 SHOP: Personalized photo puzzle from Messy Goods, from $45
From pups to parents to beloved caregivers, remind the little one in your life just how loved they are by everyone around them with this personalized photo puzzle. Choose a design with anywhere from four to eight featured photos, and customize this puzzle with the child's name, too.
Personalized picture puzzles
Another fun way to customize a puzzle especially for your loved one is with a picture. Choose a special moment you've shared together, a beloved furry friend, a first home together, or anything else you'd love to revisit time and time again as you build the puzzle.
8. A wood photo puzzle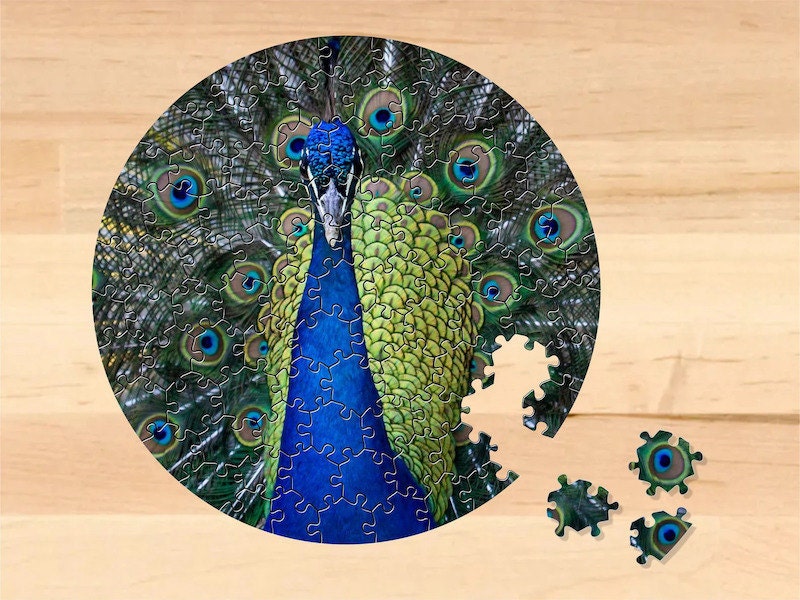 SHOP: Custom round wood photo puzzle from In a Flash Laser, from $35
Not only can this personalized wood puzzle be customized with the photo of your choice, you can also choose how many pieces it's cut into—anywhere from 37 to more than 1,000!
9. Personalized acrylic photo puzzle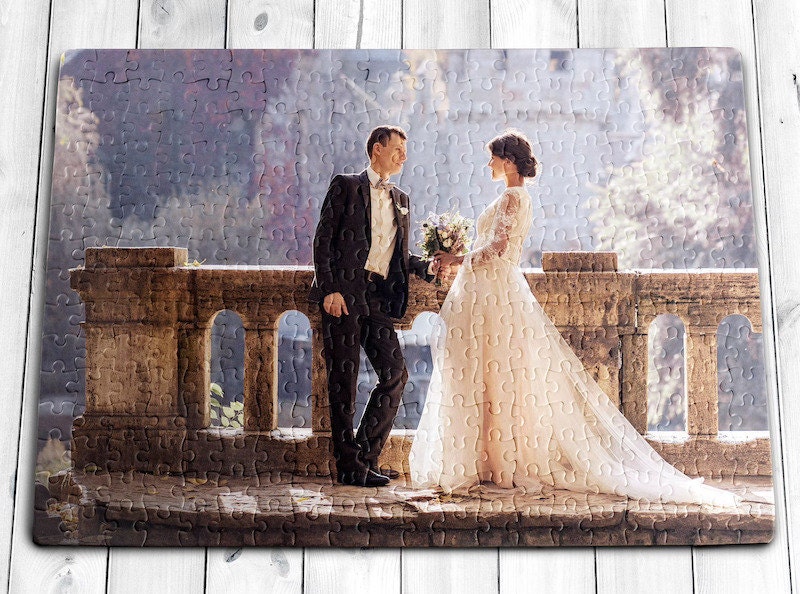 SHOP: Personalized puzzle from Create Your Own Gift, from $25
Available as acrylic, wood, or cardboard, this photo puzzle is a thoughtful, personalized wedding gift for happy couples. Family pictures or a collage of your favorite moments works great as a background, too.
10. A picture puzzle for kids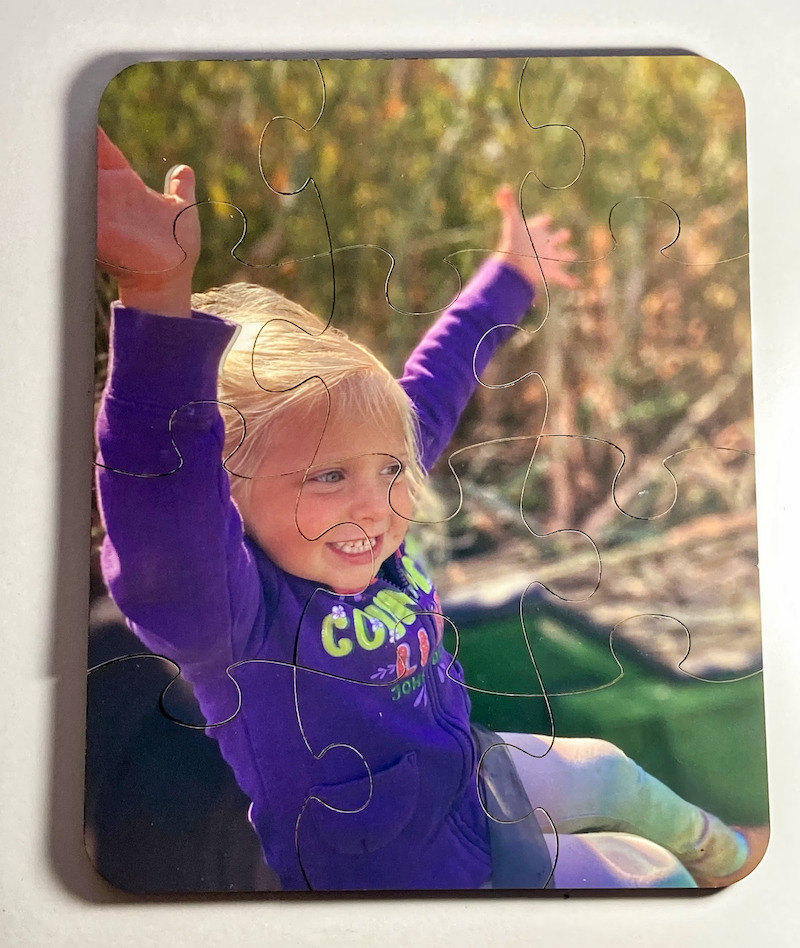 SHOP: Personalized wood photo puzzle from Kyle's Wood Creations, from $22
A great personalized picture puzzle for kids, this jigsaw creation can be cut with as few as 6 pieces—making it a top choice for young children who will surely love seeing a photo of their loved one or themself come together.
11. Personalized pet puzzle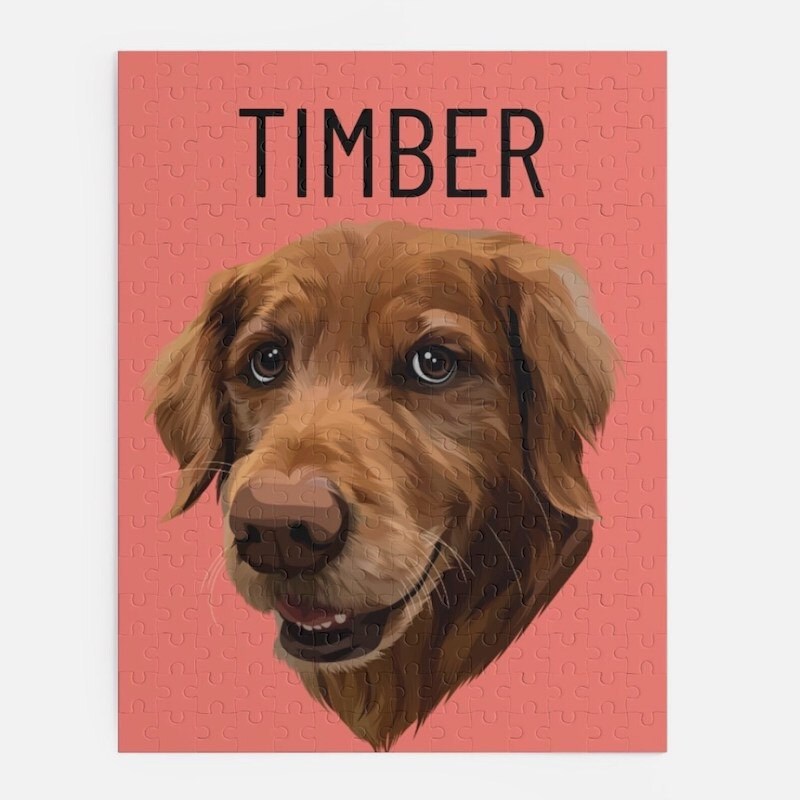 SHOP: Custom pet lovers puzzle from The Dog Parents, from $45
Don't think we forgot about the furry friends who fill your life with fun! This personalized picture puzzle features any picture you'd like of your faithful companion along with their name. The ruff-est part of this puzzle? Picking your favorite photo to feature.