These personalized puzzles are a great gift idea for kids and adults alike and can feature some of your favorite photos.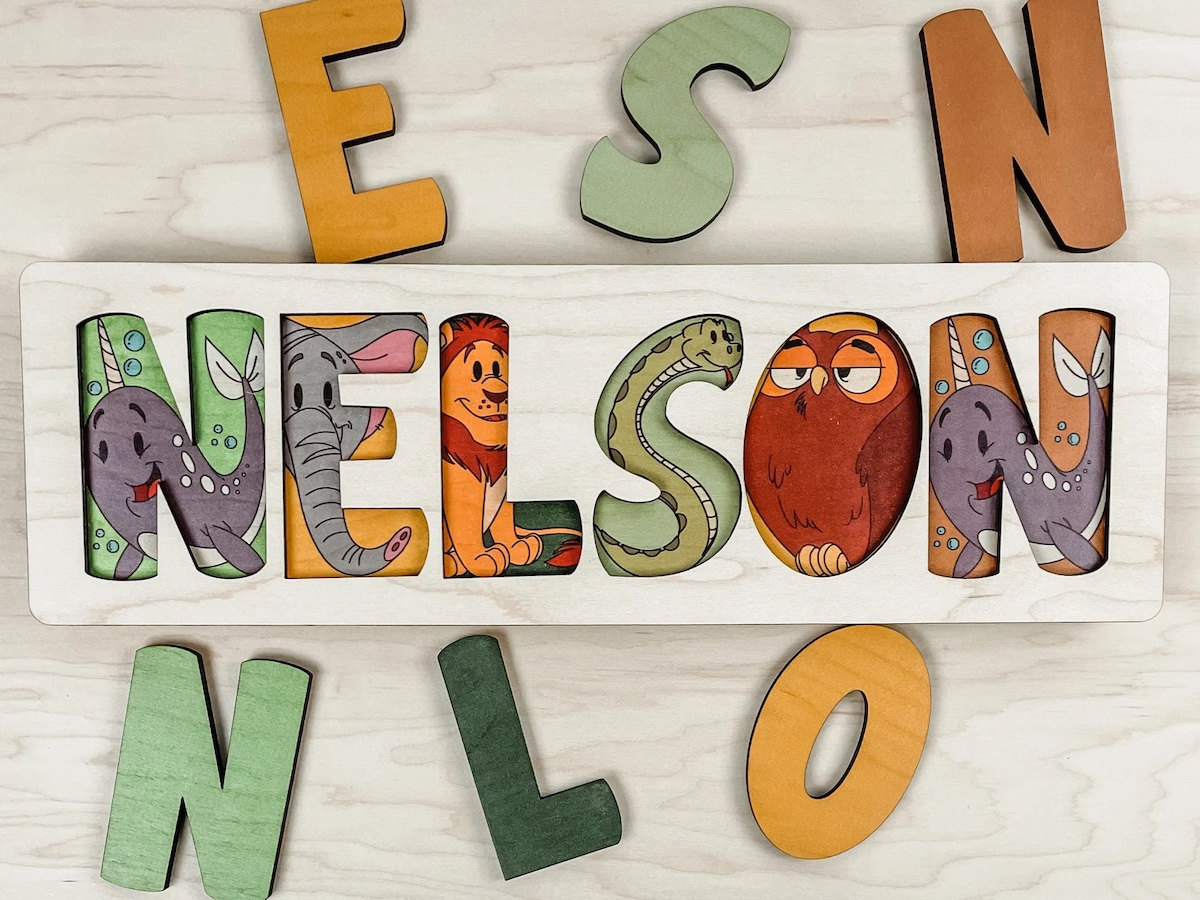 Whether it's an extra-special gift for 2-year-olds on your list or a meaningful present picked just for your sweetheart, the best personalized puzzles are a perfect way to say "I'm thinking of you." Fun for all ages, each of these personalized puzzles can be customized with a name, photograph, and sometimes both.
Best personalized name puzzles
A fun and interactive way to practice letter recognition, colors, shapes, and more, a personalized name puzzle from Etsy is a one of the best gift ideas to make learning fun. Whether it's a custom name puzzle or a creative spin that pulls double duty as a helpful step stool, these are the best personalized name puzzles.
1. Best personalized name puzzle under $5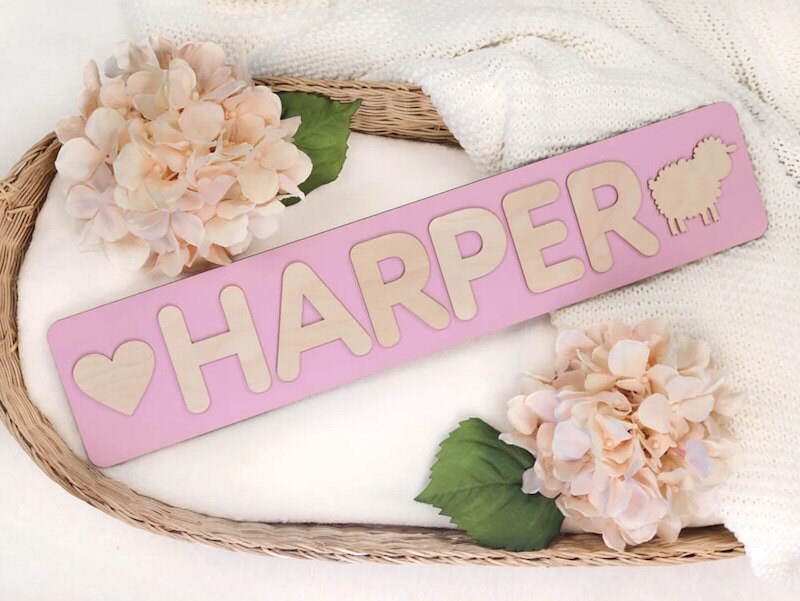 SHOP: Personalized wooden puzzle from Dazzle Your Puzzle, from $3
Work with this small shop to choose the color, shapes, and a personalized engraved message for the lucky little one on your list. Buyers rave about the beautiful color selection for these wood name puzzles that can also double as a door or wall sign.
2. Personalized name puzzle with a surprise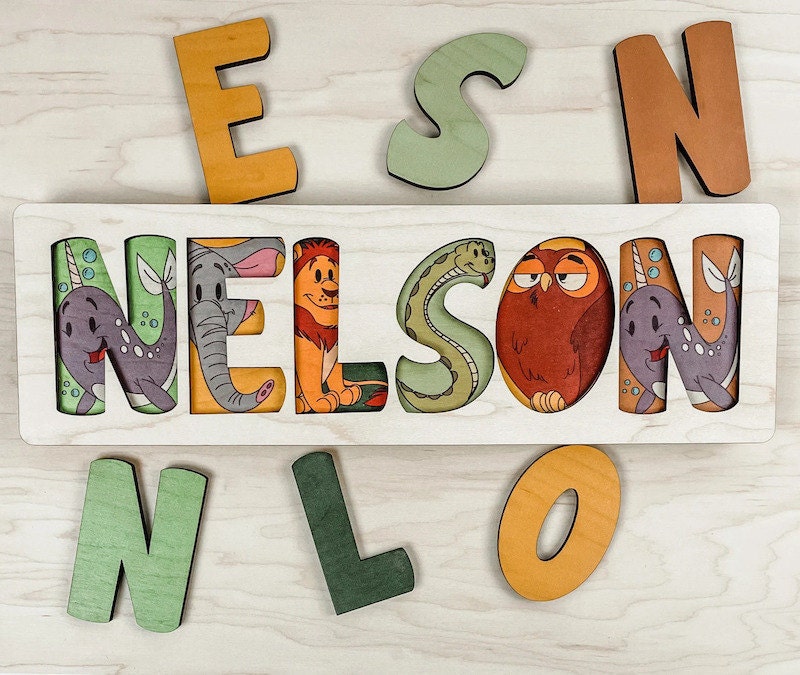 SHOP: Wooden name puzzle with animal art from Astrotot, from $35
A special surprise is hidden on this name puzzle for kids—the letters lift to reveal adorable animal pictures, offering an opportunity to incorporate animal names and sounds into your playtime.
3. Best large wood name puzzle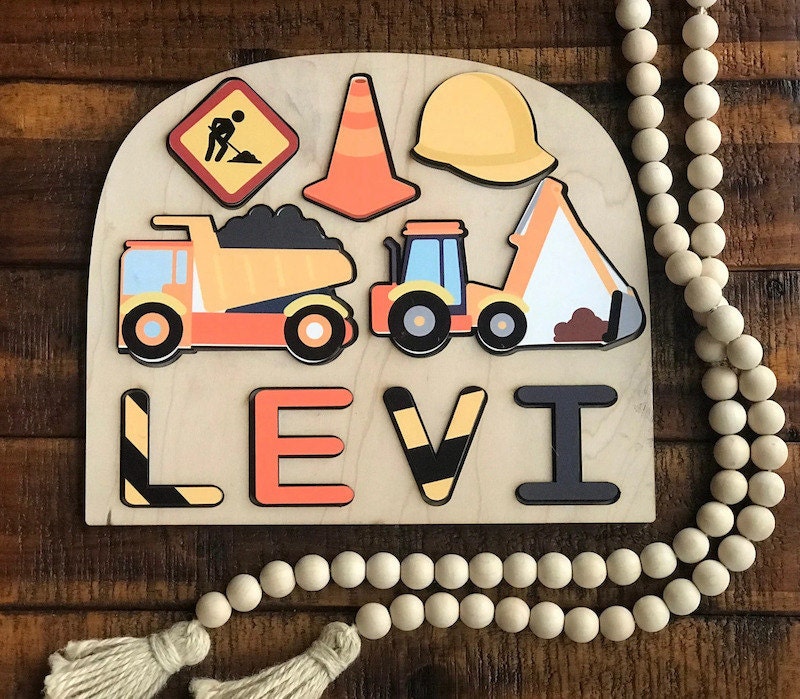 SHOP: Construction name puzzle from Shoppe at Little Creek, from $60
Buyers especially love this shop's name puzzles as a top gift pick for kids. From firetrucks and baseball to farm life and construction, there's a themed name puzzle for every tot's unique interests.
4. Outer space name puzzle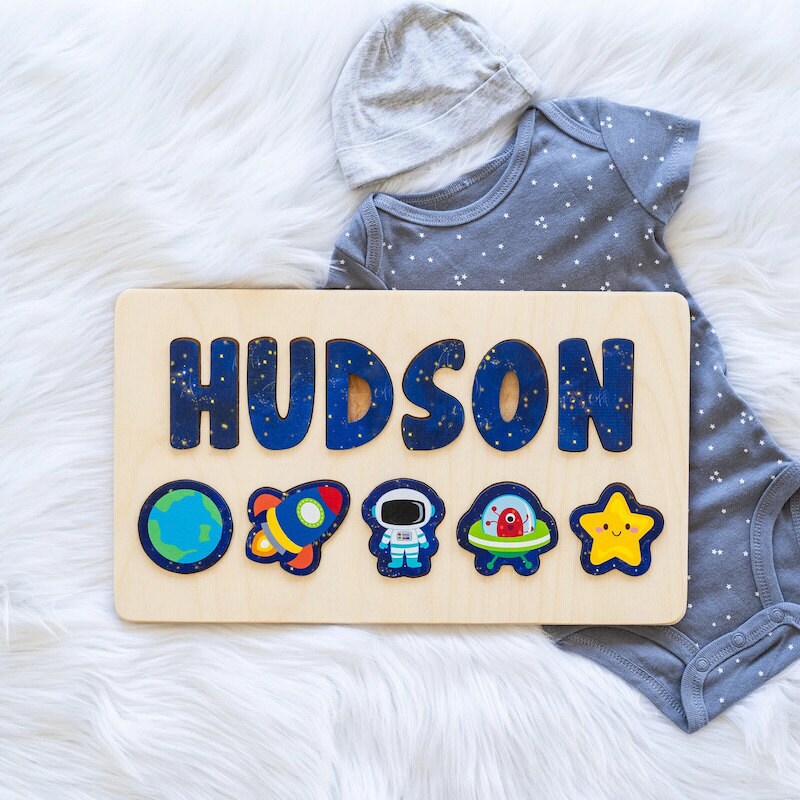 SHOP: Space name puzzle from Bloom Owl, from $45
The planets, astronaut, and fun extraterrestrial shapes make this personalized name puzzle an out-of-this-world gift idea for children who love to dream about outer space. If the little one on your list isn't quite of puzzle-age just yet, add a display stand to your purchase and use this wood name puzzle as decor in their room until they're ready to explore.
5. Personalized wood name stool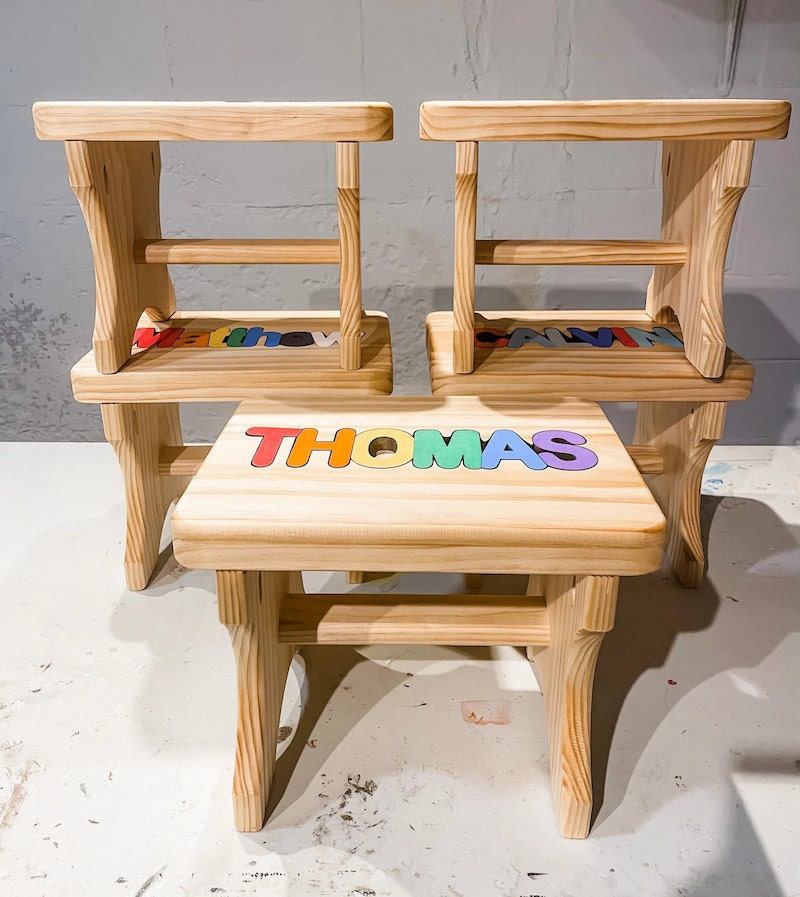 SHOP: Name puzzle stool from Lumber Revolution, $120
The top step of this name puzzle stool puts the pieces at the perfect height for toddlers as they sit and play. Even once the puzzle becomes easier for them to solve, they'll love using this step stool to grab those goodies that are just out of reach.
Best personalized kids puzzles
Adding a special bit of customization to a children's puzzle turns an everyday toy into a lifelong treasure. These personalized kids puzzles will make your little one feel extra special and extra loved. Let play time begin!
6. Personalized tic tac toe puzzles for kids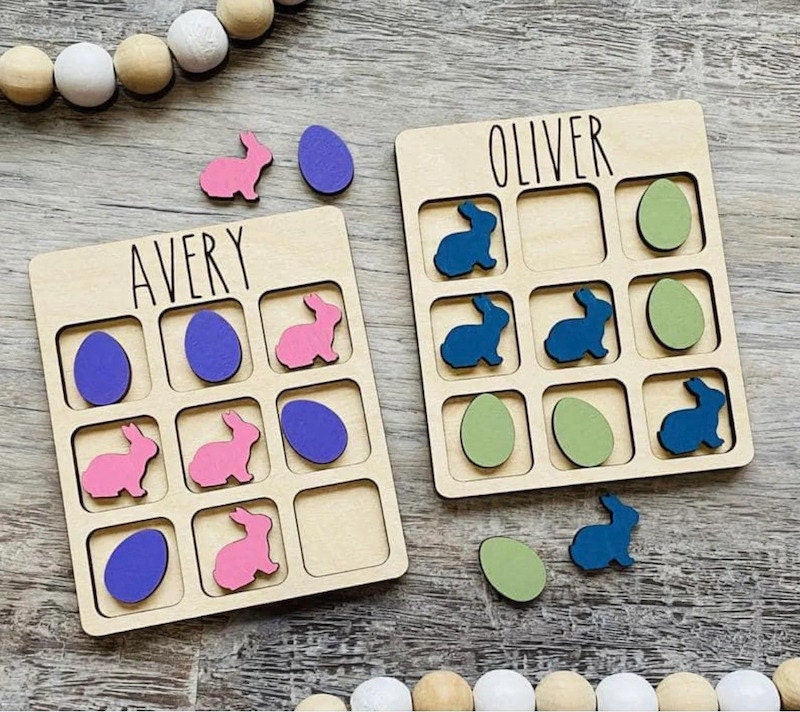 SHOP: Bunny and eggs tic tac toe from Mama Chicken Customs, $13
A perfect gift for siblings, cousins, grandchildren, or close friends to play together, these personalized puzzle boards are also an oh-so-sweet addition to Easter baskets. Buyers love the cute designs on these personalized wood puzzles, and the small size makes them easy to take on the go.
Personalized picture puzzles
Another fun way to customize a puzzle especially for your loved one is with a picture. Choose a special moment you've shared together, a beloved furry friend, a first home together, or anything else you'd love to revisit time and time again as you build the puzzle.
7. Personalized garden puzzle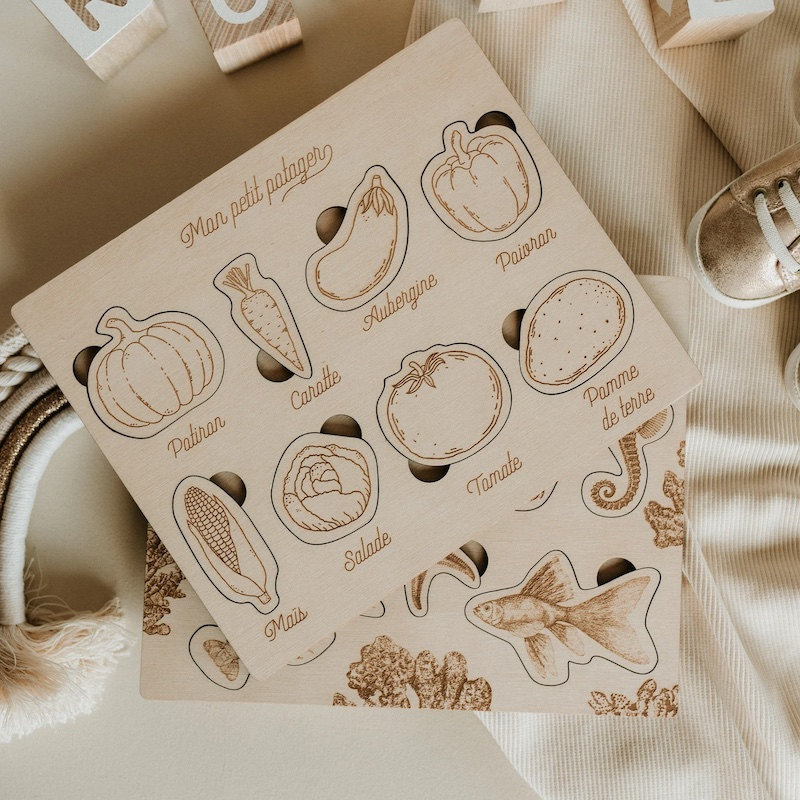 SHOP: Personalized French puzzle for kids from Atelier Romie, $28
This 8-piece puzzle is handcrafted in France and features a garden full of veggies to chat about with your little one. Personalize this puzzle by adding a name or nickname to it.
7. Best personalized multi-photo puzzle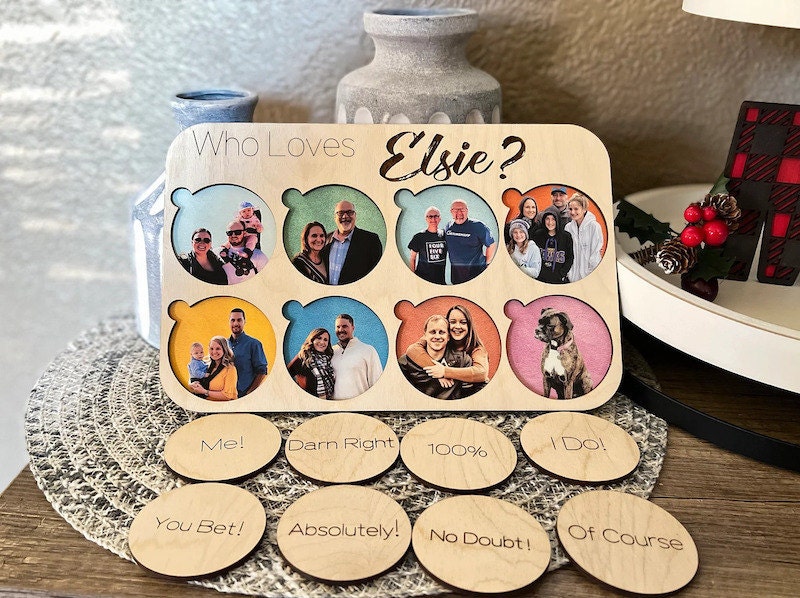 SHOP: Personalized photo puzzle from Messy Goods, from $45
From pups to parents to beloved caregivers, remind the little one in your life just how loved they are by everyone around them with this personalized photo puzzle. Choose a design with anywhere from four to eight featured photos, and customize this puzzle with the child's name, too.
8. A wood photo puzzle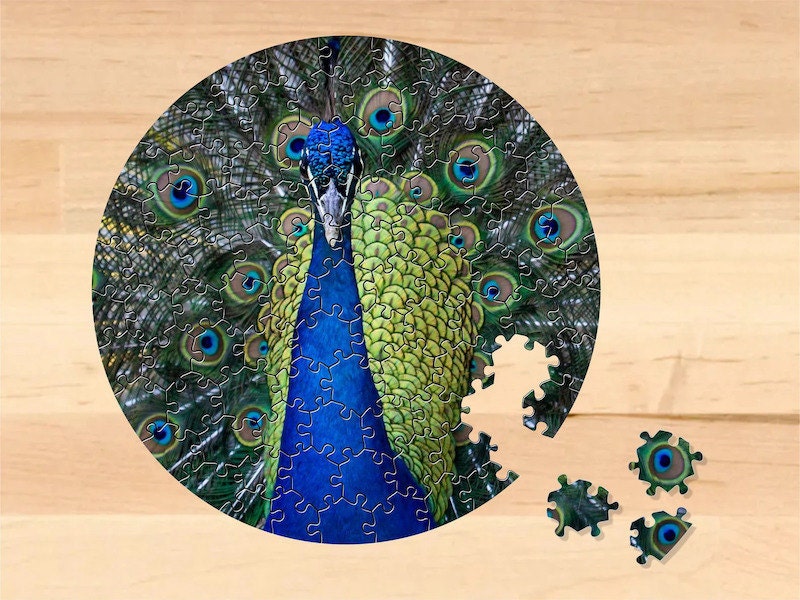 SHOP: Custom round wood photo puzzle from In a Flash Laser, from $35
Not only can this personalized wood puzzle be customized with the photo of your choice, you can also choose how many pieces it's cut into—anywhere from 37 to more than 1,000!
9. Best personalized acrylic photo puzzle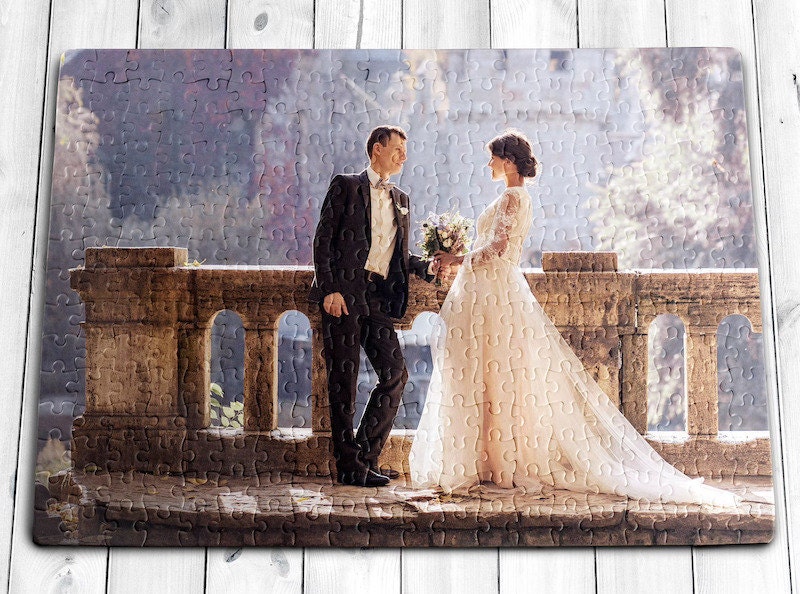 SHOP: Personalized puzzle from Create Your Own Gift, from $25
Available as acrylic, wood, or cardboard, this photo puzzle is a thoughtful, personalized wedding gift for happy couples. Family pictures or a collage of your favorite moments works great as a background, too.
10. Best photo jigsaw puzzle for kids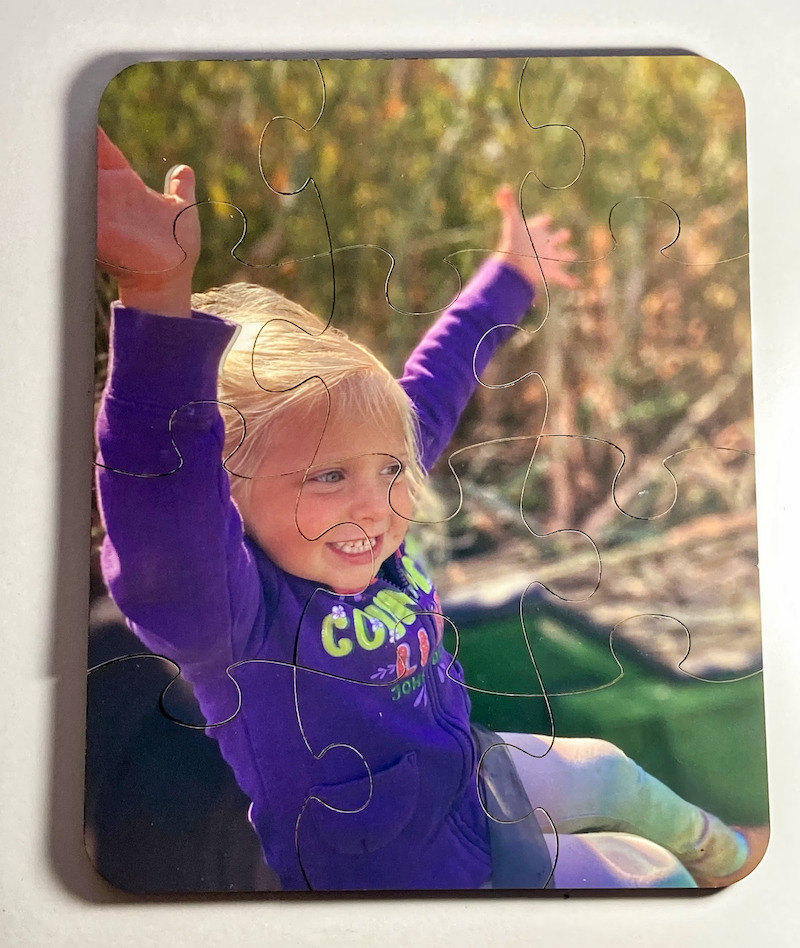 SHOP: Personalized wood photo puzzle from Kyle's Wood Creations, from $22
A great personalized picture puzzle for kids, this jigsaw creation can be cut with as few as 6 pieces—making it a top choice for young children who will surely love seeing a photo of their loved one or themself come together.
11. Best personalized pet photo puzzle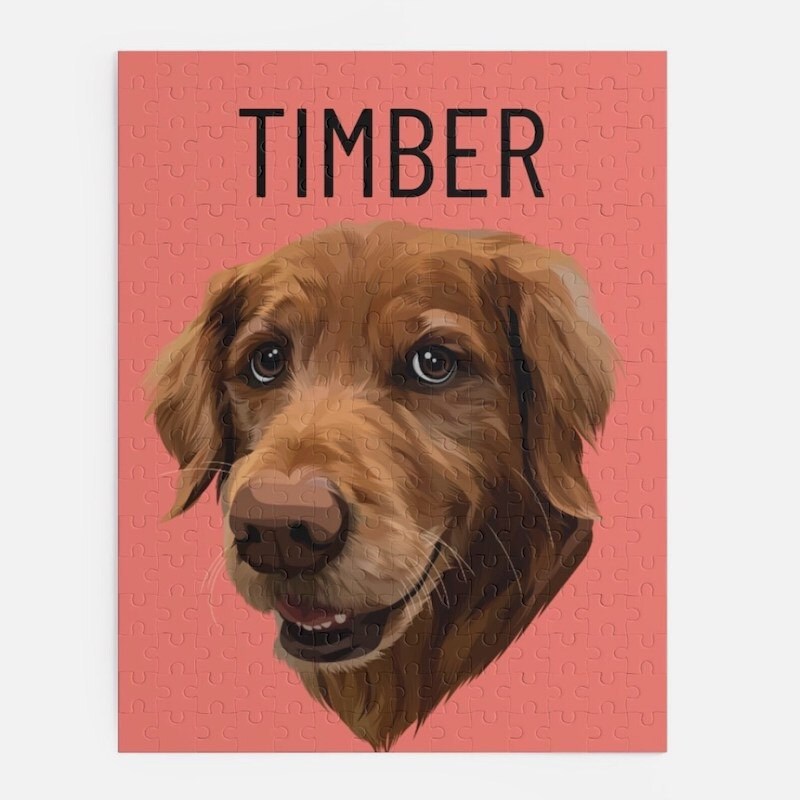 SHOP: Custom pet lovers puzzle from The Dog Parents, from $45
Don't think we forgot about the furry friends who fill your life with fun! This personalized picture puzzle features any picture you'd like of your faithful companion along with their name. The ruff-est part of this puzzle? Picking your favorite photo to feature.
Personalized puzzles FAQ
Is there a company that can make a puzzle from a picture?
Yes! The small shops on Etsy create all different types of personalized puzzles using a photo you provide. This could be a wedding photo, a family photo, or even a picture of your new home (a popular housewarming gift idea!). The seller will provide details of how to send your photo to them, along with any size requirements, and will typically share a proof of what your puzzle will look like using that picture. Since you're working with a real person when you shop on Etsy, you can collaborate back and forth to made any adjustments you need before your puzzle is printed. The creative sellers on Etsy make puzzles from pictures using wood, acrylic, and traditional cardboard photo puzzles.
Can you get custom puzzles made?
Etsy shops create all different kinds of custom puzzles, from personalized photo puzzles with family pictures to custom name puzzles for little kids. In addition to these photo and name puzzles, you'll discover custom puzzles that can be used as a unique bridesmaid proposal idea, creative birth announcement, or a thoughtful paper anniversary gift.