by Kristin Bustamante
As you shop for a gift for your beloved or the happy couple, think beyond the gift box and pick one of these thoughtful, personalized wedding gifts.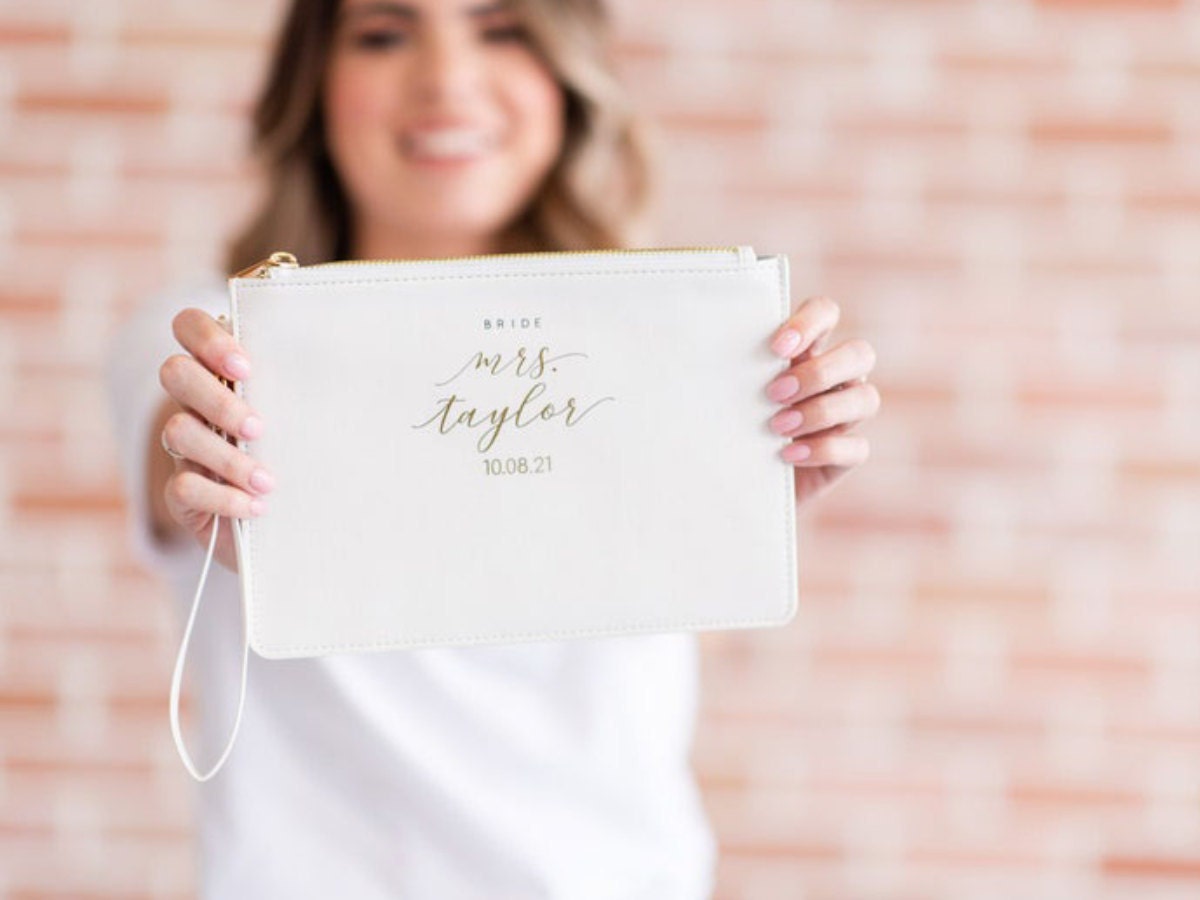 If you're heading down the aisle this year, or shopping for a special couple who is, skip the typical registry picks and choose a personalized wedding gift from Etsy. With present ideas for every type of bride and groom, you're sure to find a piece that perfectly celebrates their one-of-a-kind love story.
When you swap sweet mementos with your beloved on the big day, a personalized wedding gift for him or her reminds them how much they mean to you. As you shop for a one-of-a-kind wedding gift for the modern couple, keep in mind all the unique ways to personalize your pick, from monograms to significant dates to birthstones, zodiac signs, and more.
From gifts for the home to personalized accessories to adorn their big day and beyond, these custom wedding gifts show just how much you know—and love—about the recipient.
Shopping tip: If you see a gift that makes your heart flutter but want the couple's input, choose an Etsy Gift Card. That way, the couple can choose their favorite photo and other personalizations for a gift that's exactly what they always wanted.
Personalized wedding gifts for couples
Couples lovingly place personalized touches throughout their ceremony and reception that reflect their unique love story. Your wedding gift can feel just as thoughtful when you select a handcrafted, personalized wedding gift they'll treasure long after the "I do's" are exchanged.
1. Couple's line art portrait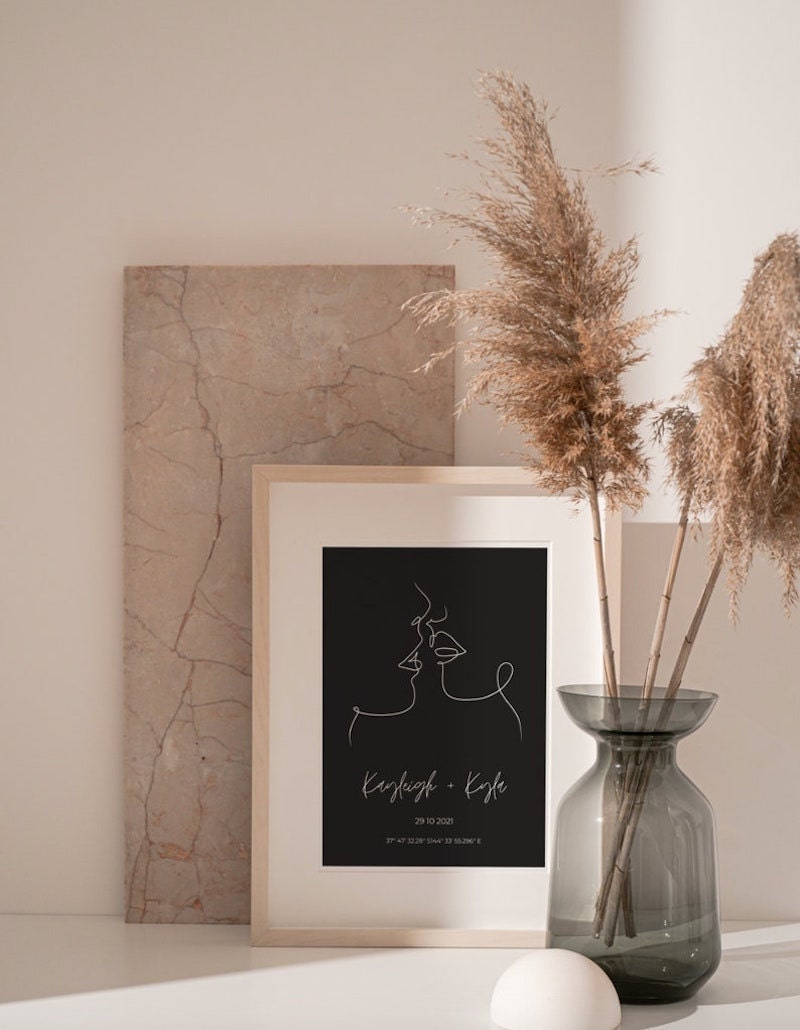 SHOP: Couple kissing artwork from Created by Zoe, from $11
This customized artwork is a downloadable, last-minute wedding gift idea with a special touch—a personalized addition of the couple's name and wedding date. An artistic spin on more traditional couple's portraits, this print is just waiting for you to frame and gift away.
2. Personalized wooden keepsake box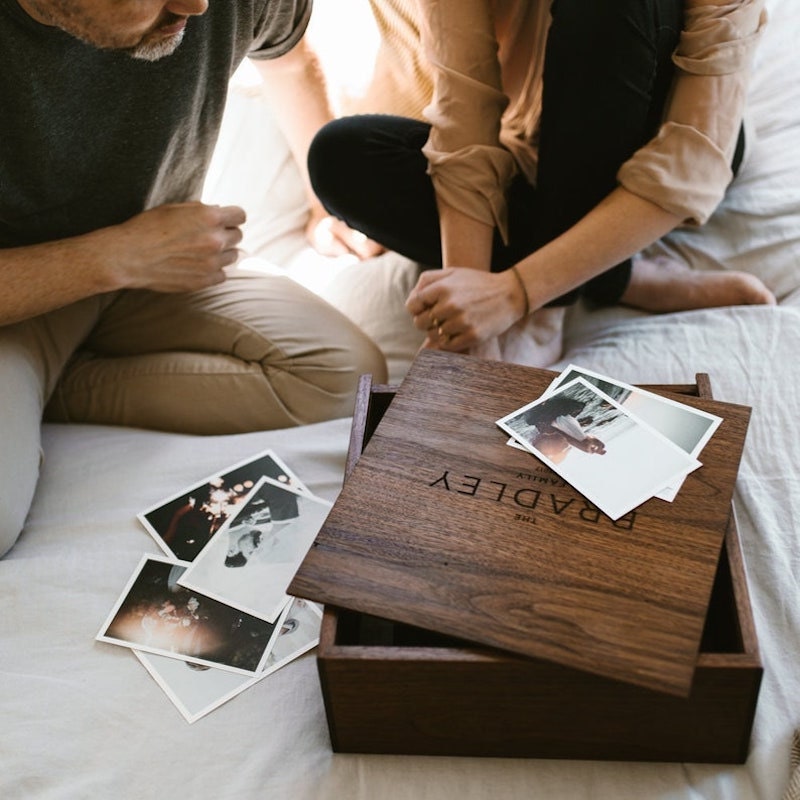 SHOP: Wooden keepsake box from Wayfaren, from $95
More than just a beautiful gift, this keepsake box is a practical way for the couple to save all their wedding day mementos in one place. The neutral wood tones make this box the perfect addition to an end table or bookcase, keeping these precious memories close at-hand.
3. Monogrammed tea towels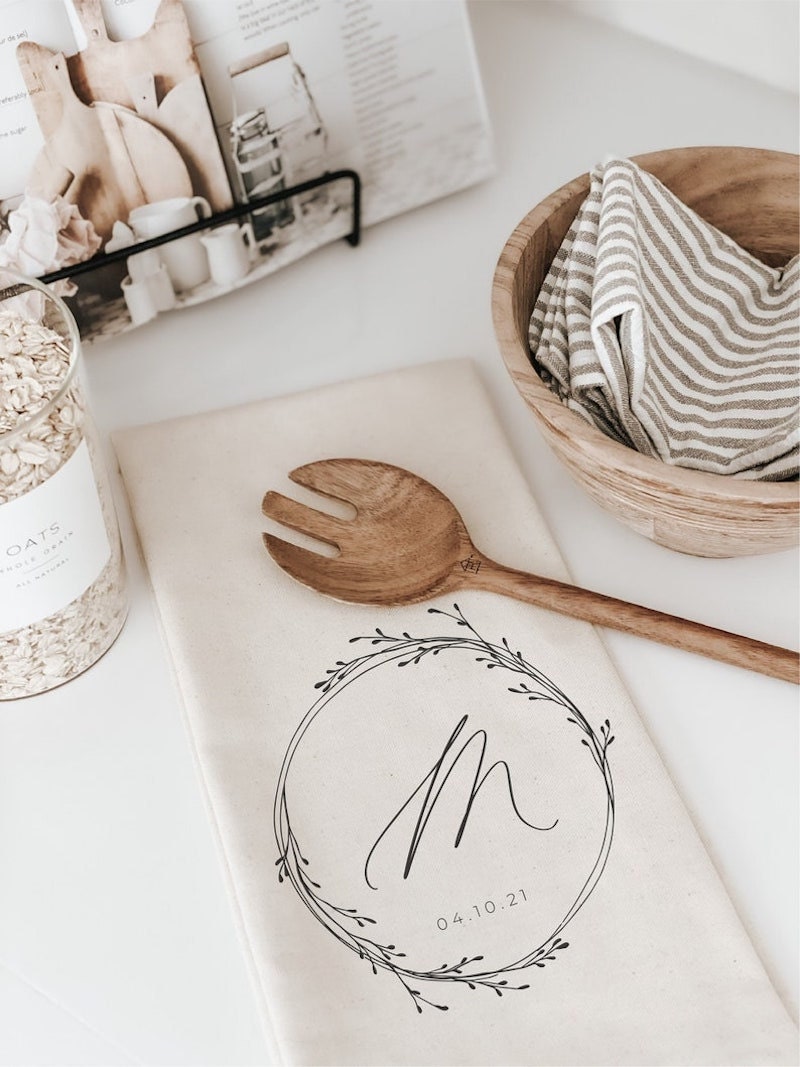 SHOP: Personalized tea towel from PCB Home, $18
Traditionally, housewares are a popular wedding gift, and these monogrammed tea towels featuring an initial and wedding date are a sentimental addition to their newlywed kitchen.
4. Custom watercolor wedding portrait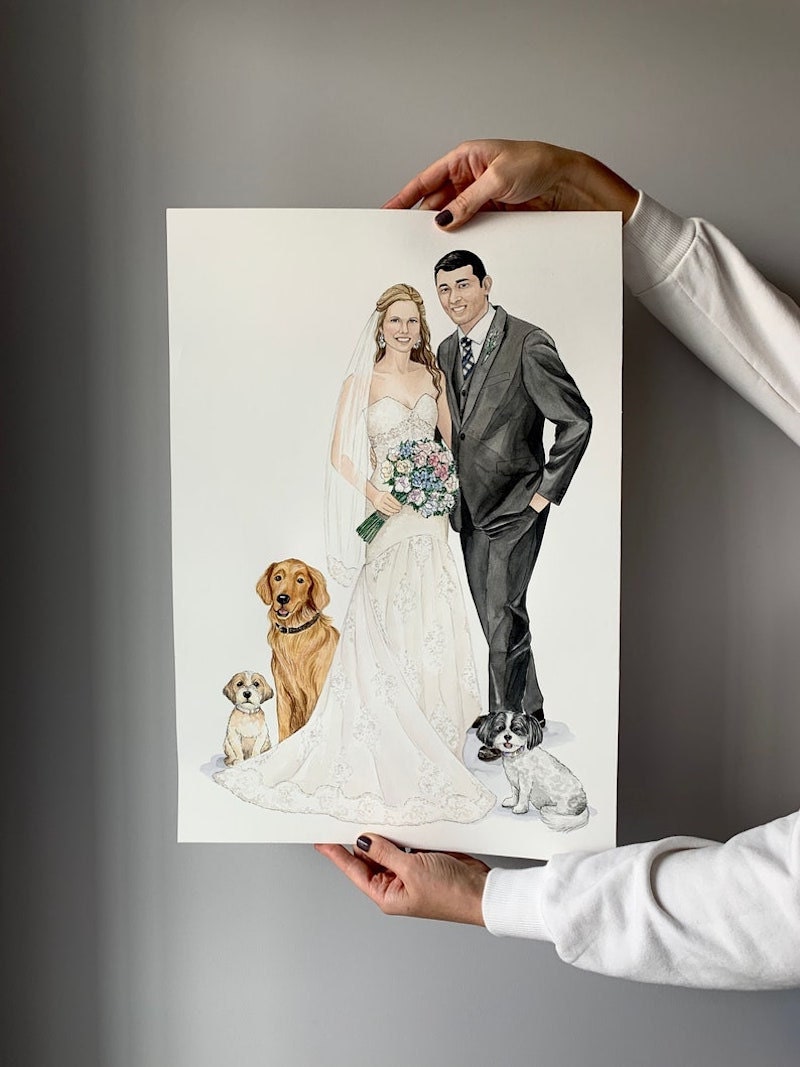 SHOP: Watercolor wedding portrait from The Wedding Atelier, from $90
If the couple adores their four-legged kids, find a personalized gift that features those precious fur babies front and center like this custom watercolor portrait made from one of their favorite wedding photos.
5. Engraved wine glasses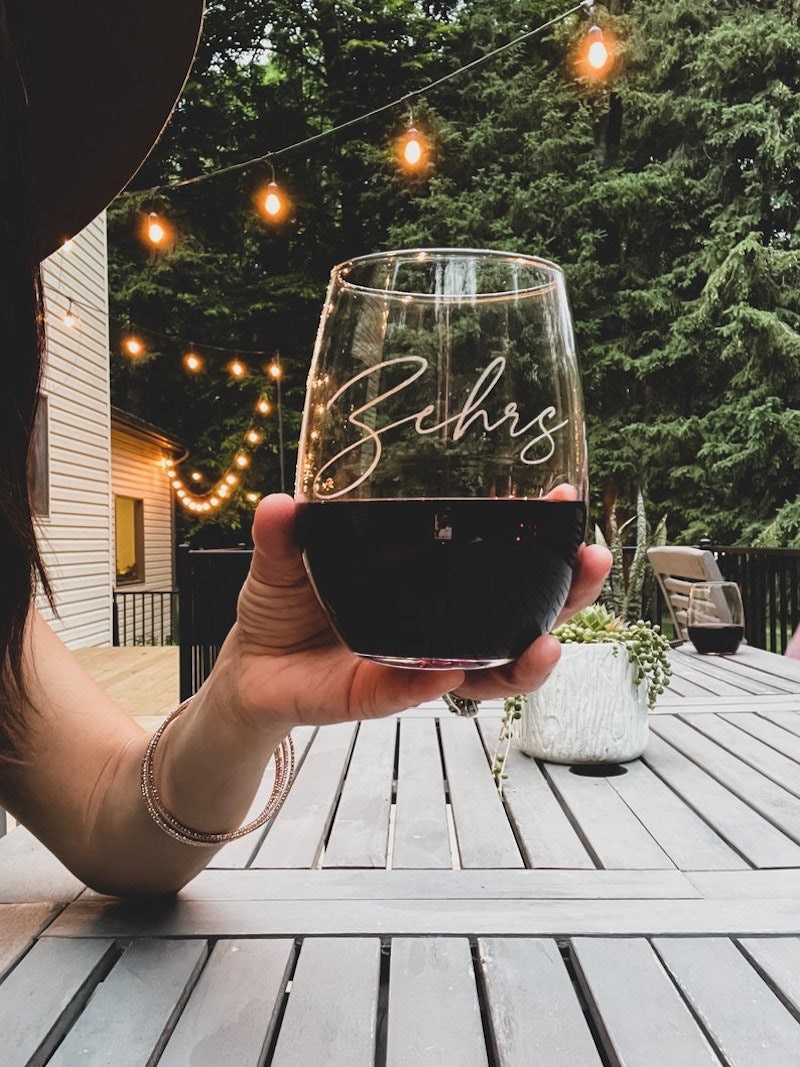 SHOP: Custom engraved wine glasses from Zehr Custom Engraving, $13
Say "Cheers!" to their new union with a set of personalized wine glasses bearing their last name, first names, wedding date, or another personalization that celebrates their couple status.
6. Custom coordinates poster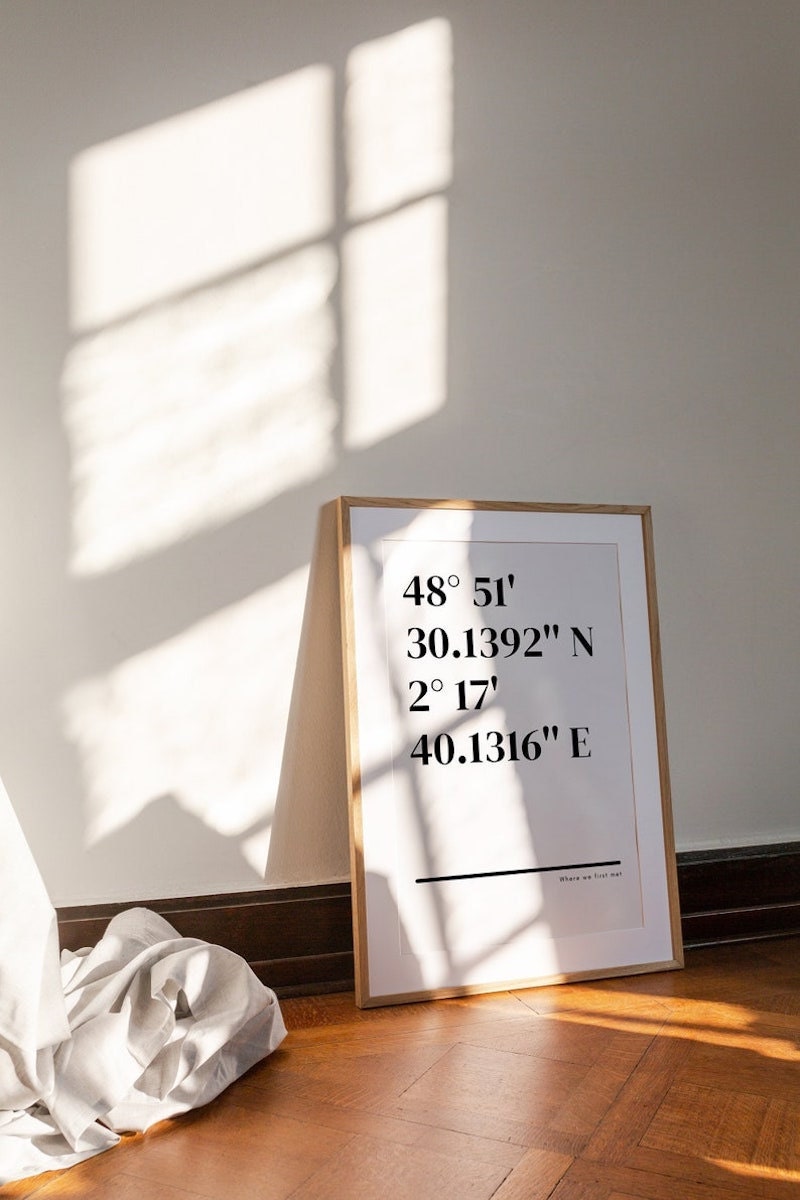 SHOP: Personalized poster with GPS coordinates from SMISIG, $29
Worried about buying artwork for the couple? Don't be! Pick minimalist wall art like this personalized poster bearing geographic coordinates that's easy to blend with any home decor style. Personalize this pick with the exact location where they exchanged their vows for a sweet reminder of their special day.
7. Custom wine glass charms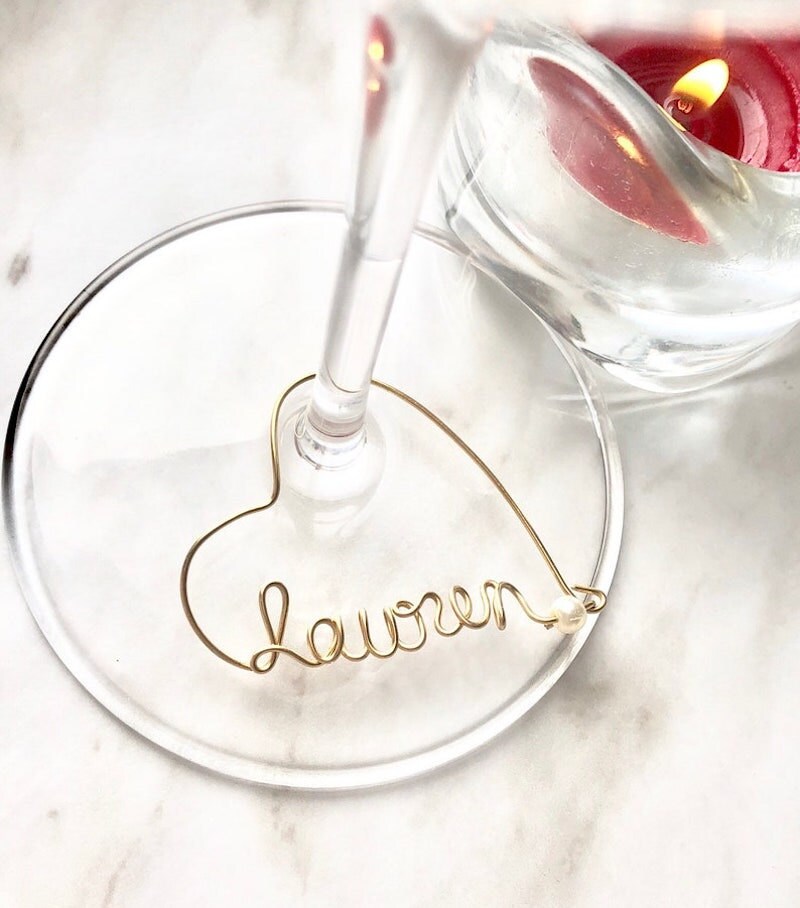 SHOP: Personalized wedding wine glass charms from ivision, $4
Help the happy couple keep track of their bridal beverage of choice with personalized wine glass tags. Customize these tags by choosing rose gold, silver, or gold wire and a name or special phrase.
Personalized wedding gifts for the bride
Make her special day even more memorable with a personalized wedding gift picked especially for the beautiful bride. From personalized rings with secret meanings to accessories celebrating her new status as a Mrs., these wedding gifts are just waiting to be personalized just for her by Etsy sellers.
8. Morse code ring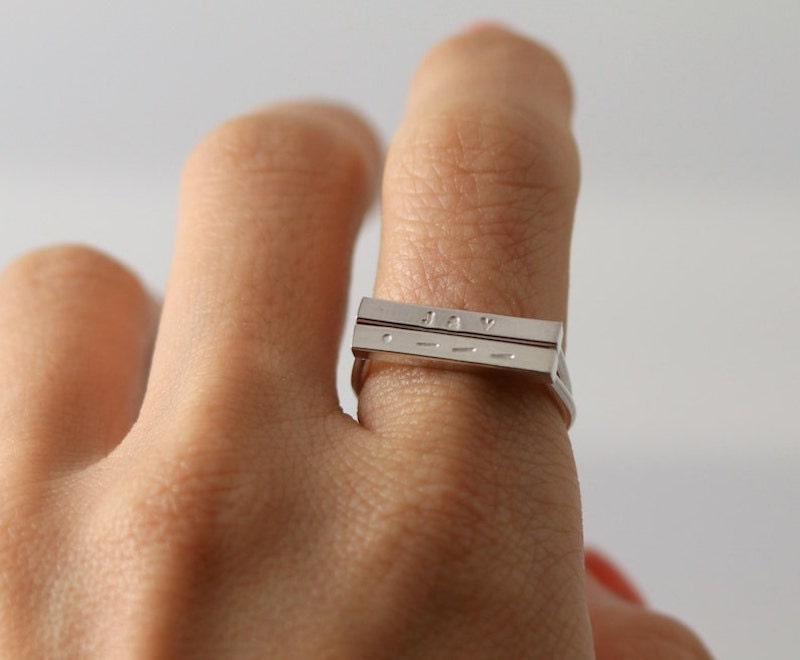 SHOP: Custom message morse code ring from Pale Fish, $73
An unexpected way to personalize a gift for the bride, this morse code ring lets you add a secret message that the two of you can decode together.
9. Monogrammed makeup bag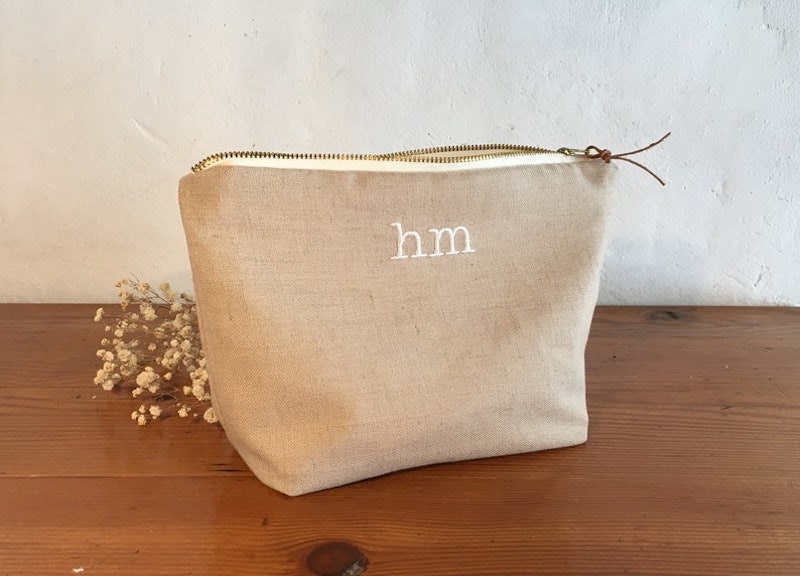 SHOP: Personalized makeup case from T-L-C Pouches, from $27
Perfect for bridesmaids and brides alike, a makeup pouch gets an extra dose of meaning when you add a bit of personalization. If she's changing her name, it can be fun to see her new initials on a personalized makeup bag as she gets ready for her big day.
10. Himalayan salt shot glasses with customization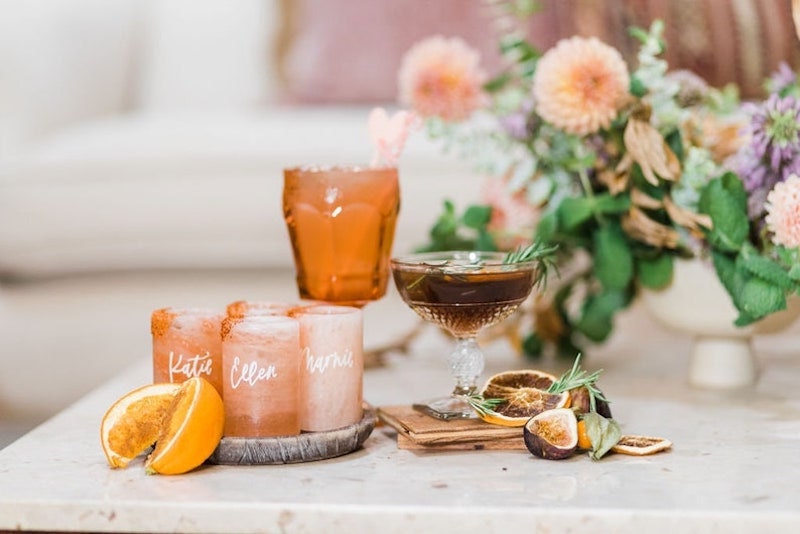 SHOP: Himalayan shot glass place cards from Proper Letter, from $80
We can't get enough of the pretty, pink-hued ombre patterns that occur naturally in these shot glasses. Perfect for a round of pre-wedding sips with the bridal party, these glasses can be customized with the bride's name or her new title as "Mrs."
11. Stackable date ring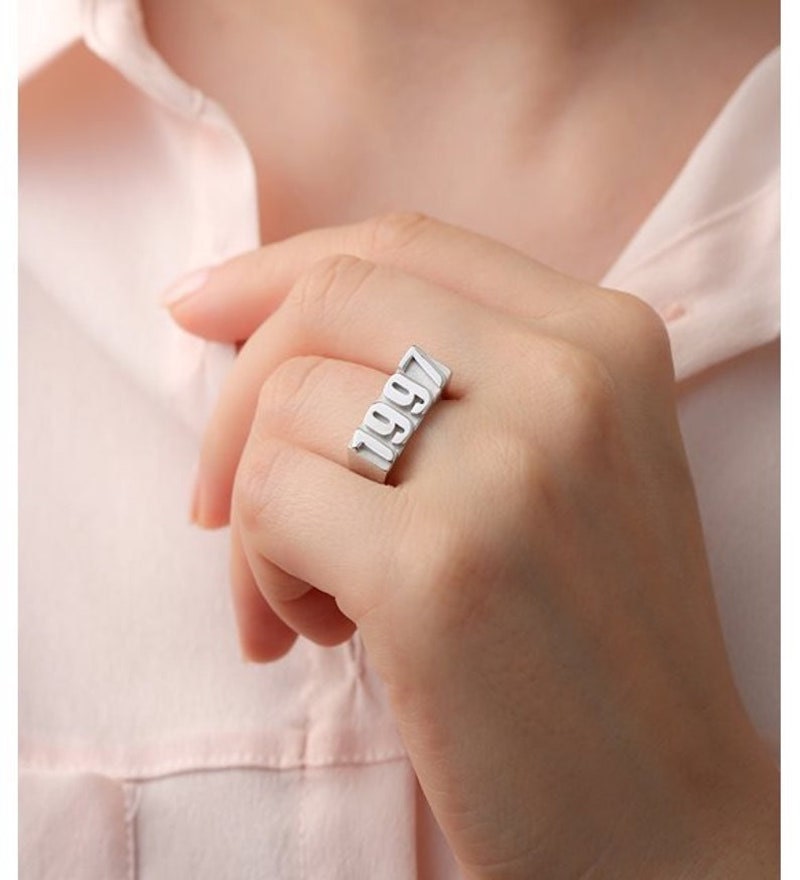 SHOP: Personalized date ring from Elizz Jewels, from $58
Initials and monograms are a thoughtful way to recognize the next chapter in a bride's life, but there are so many meaningful ways to personalize a wedding gift. This date ring can be customized with the year the couple met, the year they're getting married, or any other combination of significant numbers.
12. Personalized engagement ring dish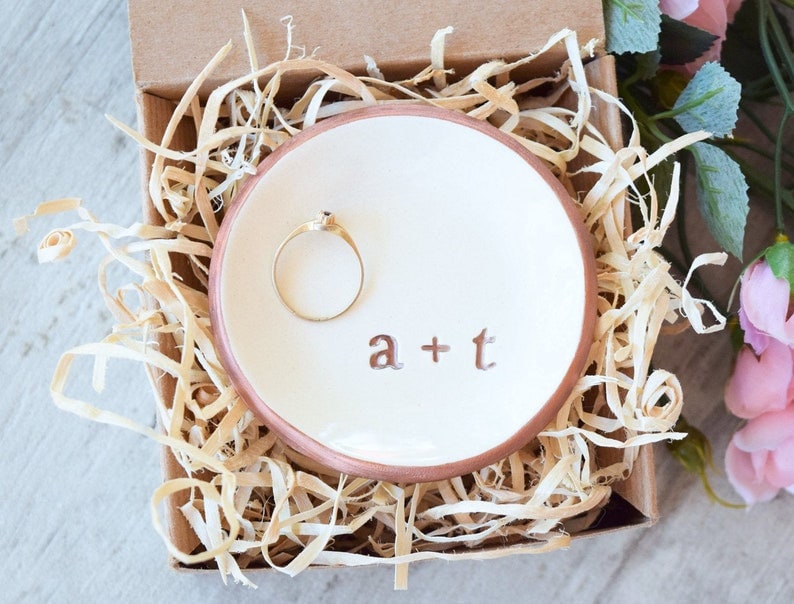 SHOP: Rose gold-rimmed ring dish with initials from Prima Pottery, $40
Give her a pretty place to set her favorite rings and tiny things when they're not being worn, and make it personal with the couple's initials.
13. Custom wedding clutch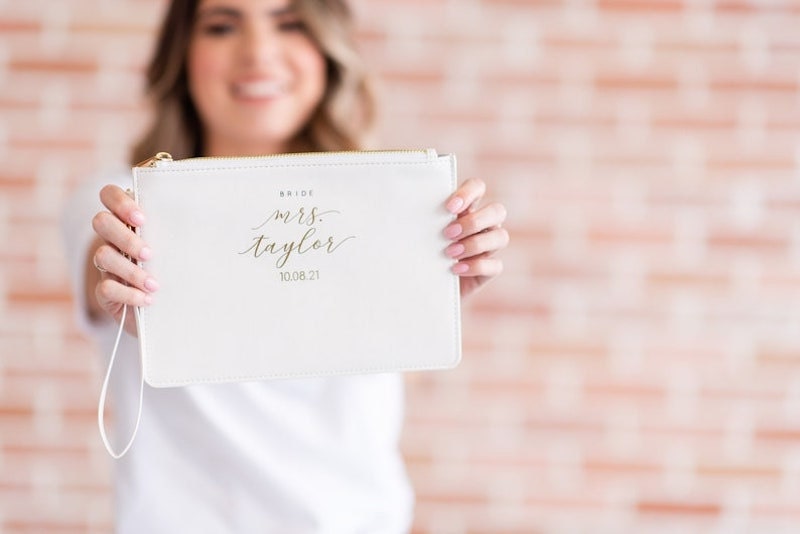 SHOP: Personalized bride wristlet from Happily Chic Designs, $30
Celebrate her new status as a Mrs. (or a bride-to-be!) with a posh personalized wedding purse announcing her name and wedding date. This classic piece transitions from bachelorette party to wedding day to honeymoon with ease.
14. Personalized bridal jewelry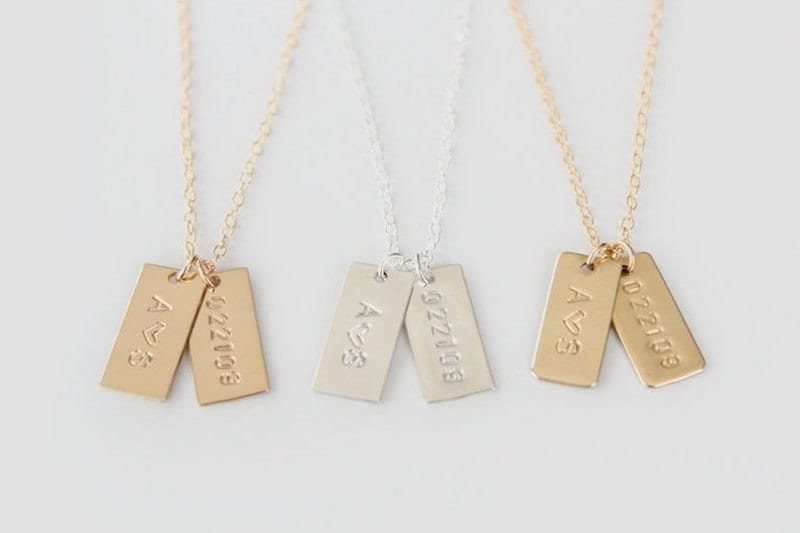 SHOP: Hand-stamped necklace from Junghwa, from $43
Pretty, personalized bridal jewelry is a meaningful way for the bride to accessorize on her big day and keep the memories close each time she wears the piece again in the future.
Personalized wedding gifts for the groom
From fine leather accessories with personal messages to practical gifts he'll use every day, these personalized gifts for the groom are a meaningful way to celebrate his special day.
15. Engraved belt buckle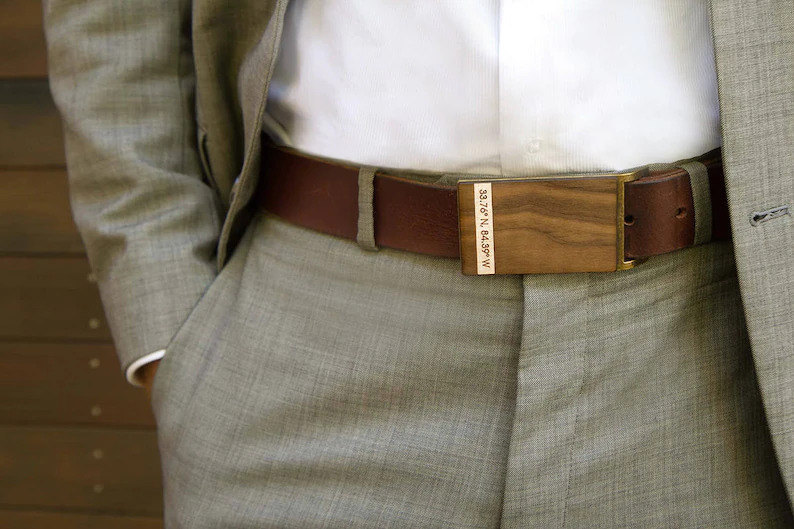 SHOP: Personalized wood belt buckle from Treeline & Tide, from $44
Also a unique gift for the traditional five-year wood anniversary, this engraved belt buckle can be personalized with the groom's initials or a few special words.
16. Personalized cufflinks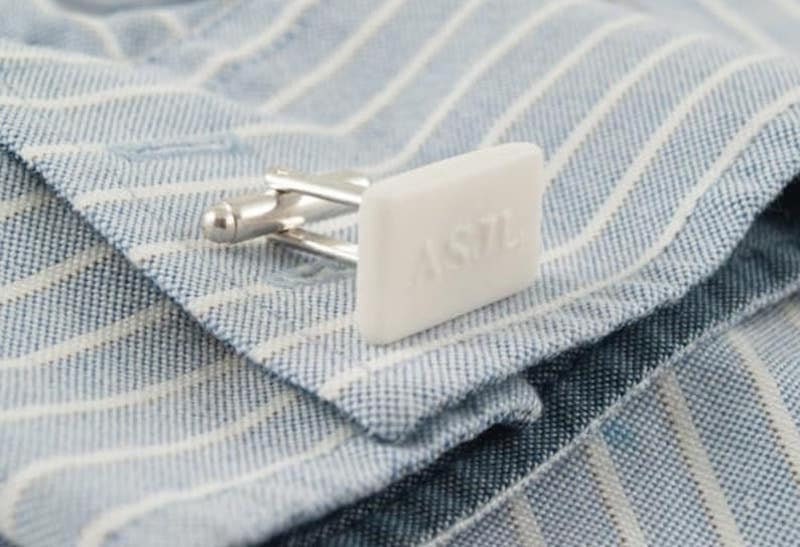 SHOP: Custom-engraved porcelain cufflinks from MaaP Studio, $106
Elevate his wedding day wardrobe with a personalized pair of cufflinks made from white porcelain and adorned with his initials or the wedding date.
17. Personalized dopp kit for him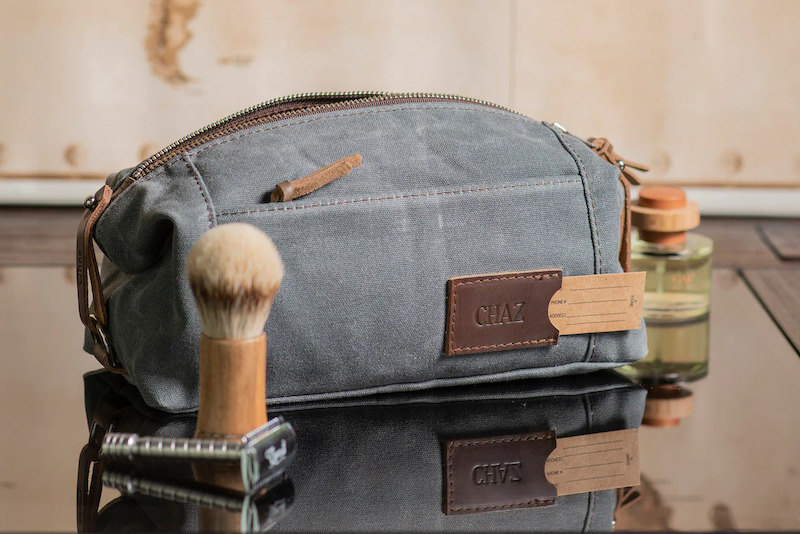 SHOP: Personalized dopp kit from Clark & Taft, from $159
Especially helpful if he's heading out on a honeymoon trip, a personalized dopp kit is a pleasant reminder of this special trip and all the others the couple will take together as they step into their new life together.
18. Customized docking station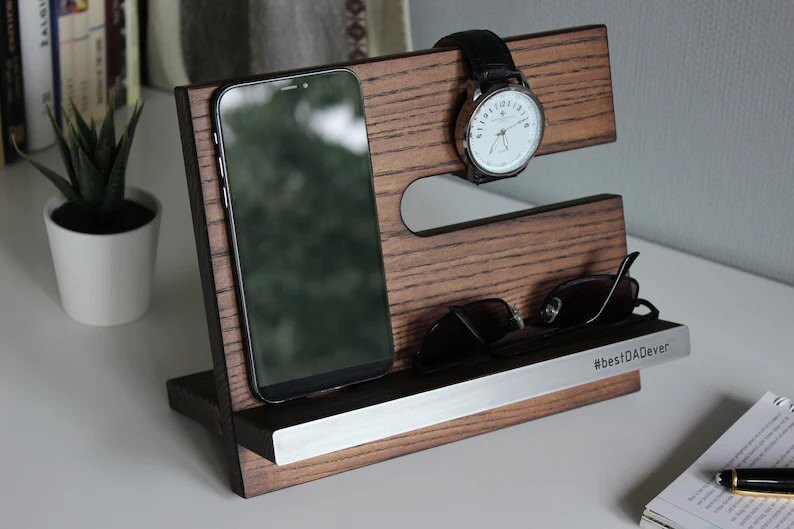 SHOP: Docking station with customization from Taras Falvarak, from $60
Pick a special message, his initials, or a sweet nickname and give the groom a personalized gift he'll enjoy every night as he charges his essentials.
19. Personalized puzzle for him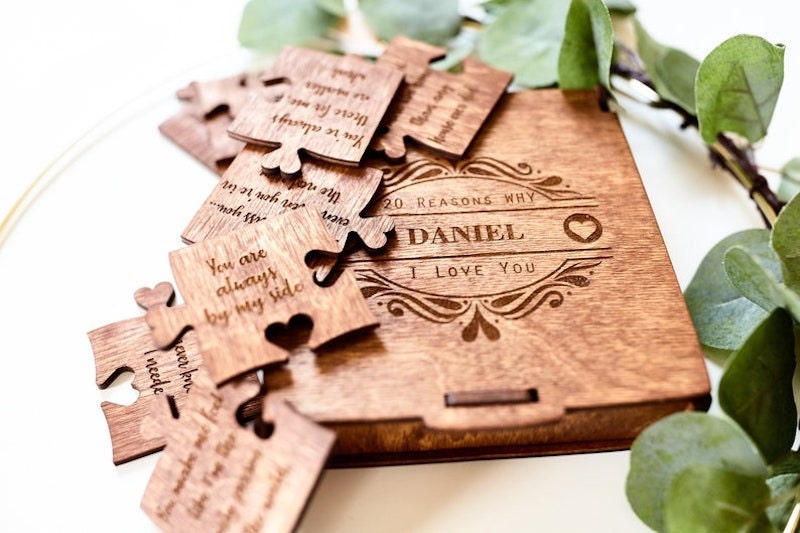 SHOP: Reasons Why I Love You puzzle from Favorite Wooden Gifts, from $56
Make his wedding day special with a handcrafted reminder of all the reasons why you love him so with this personalized wooden puzzle made just for him.
20. Secret message bracelet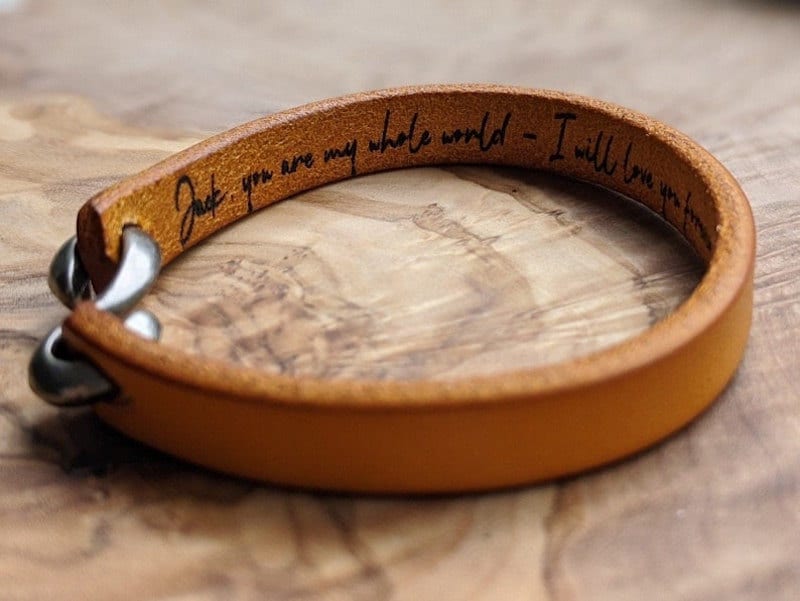 SHOP: Secret message leather bracelet for him from Little Woodpecker Studio, from $46
Sometimes the sweetest memories are those that only the two of you share. Add a secret message for the groom tucked away on the inside of this leather bracelet and remind him of a moment you'll always treasure.
21. Leather keyring with a picture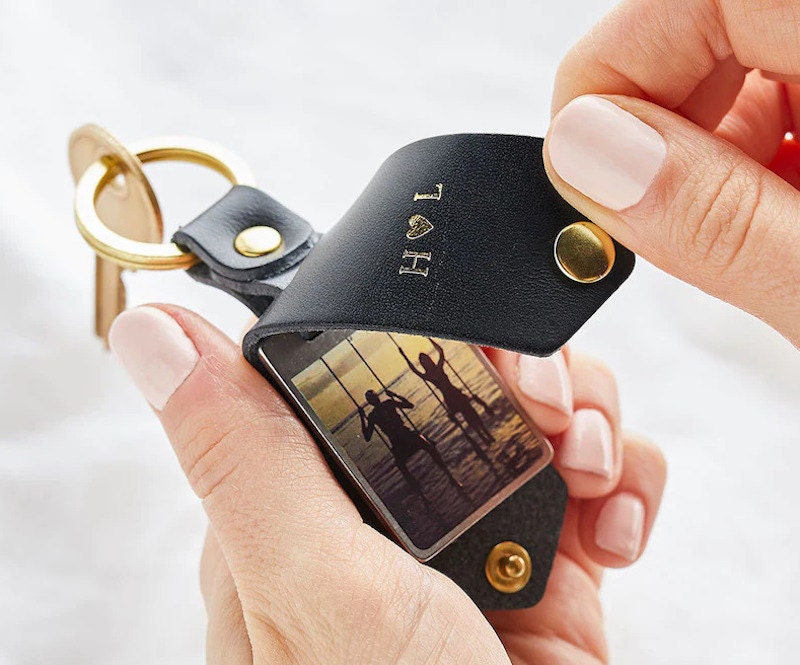 SHOP: Personalized photo keyring from Create Gift Love, $42
Personalize this wedding gift for the groom by adding the couple's initials to the front and a special photo inside that he can peek at every time he uses his keys.
Personalized wedding gifts for parents
Recognize all your parents have done to love and support you throughout your journey to this special day with a keepsake they'll treasure for years to come. A personalized wedding gift made just for parents can be gifted to them during the rehearsal or in a special moment together before the festivities begin.
22. A "love" mug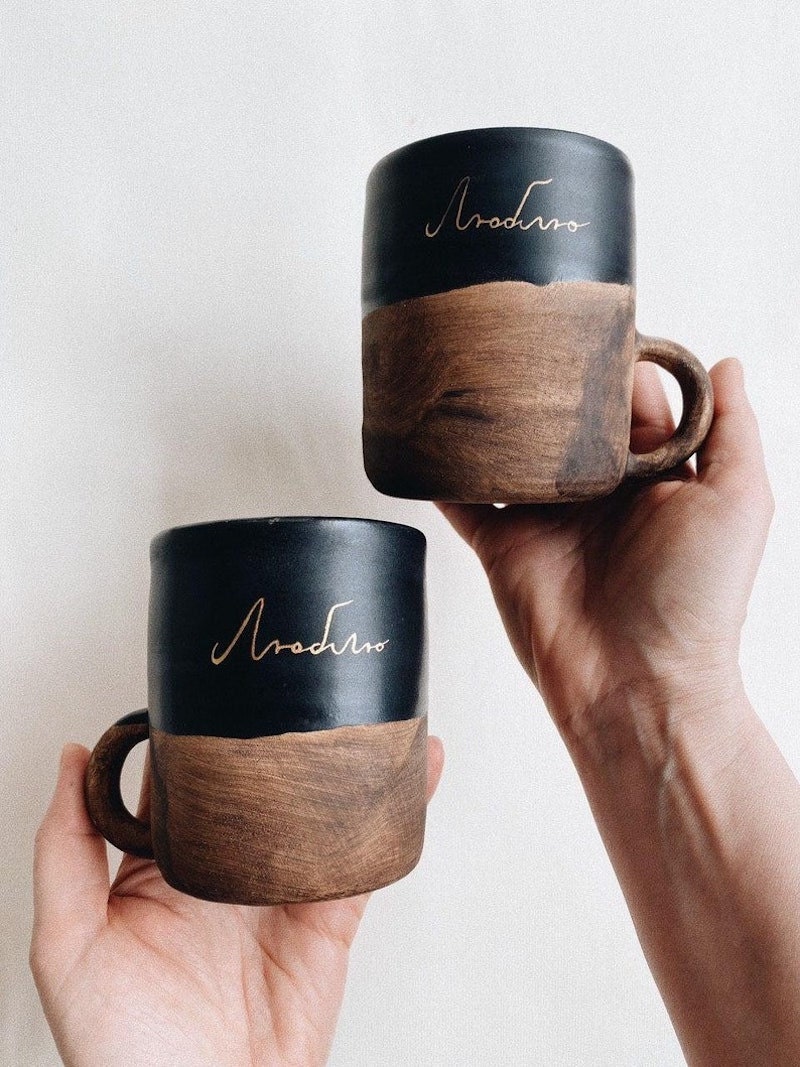 SHOP: Large hand-painted coffee mug from Tile-Tile Testo, from $50
For the parents who still enjoy a cup of coffee together after all these years, a set of hand-painted and personalized mugs is a thoughtful wedding gift. Choose the word "Love" or any other personalization you'd like.
23. A tie clip for dad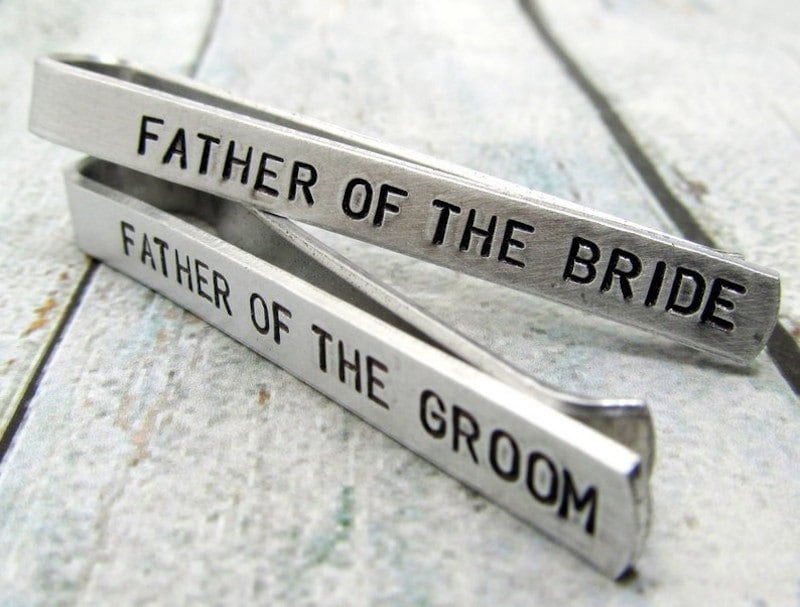 SHOP: Custom tie clip from Regina Lynn Design, from $27
Acknowledge his special role in your big day as the father of the bride or father of the groom with a custom tie clip. The back of this tie bar can also be personalized with his name or a sweet message from you.
24. Custom family portrait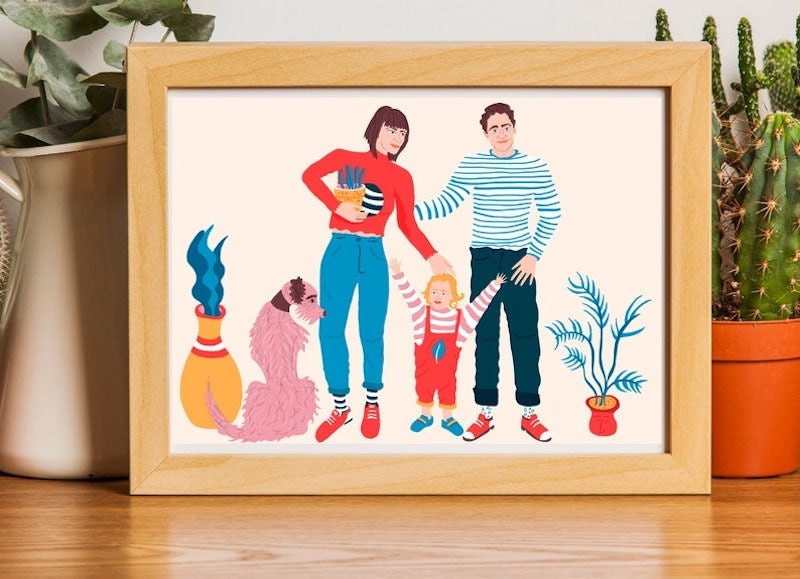 SHOP: Custom digital family portrait from Shapes and Faces, from $107
Create a unique piece of artwork for your parents' wall that celebrates the extended family they've lovingly cared for all these years with a custom family portrait made with fun, bold colors.
25. Personalized keepsake handkerchief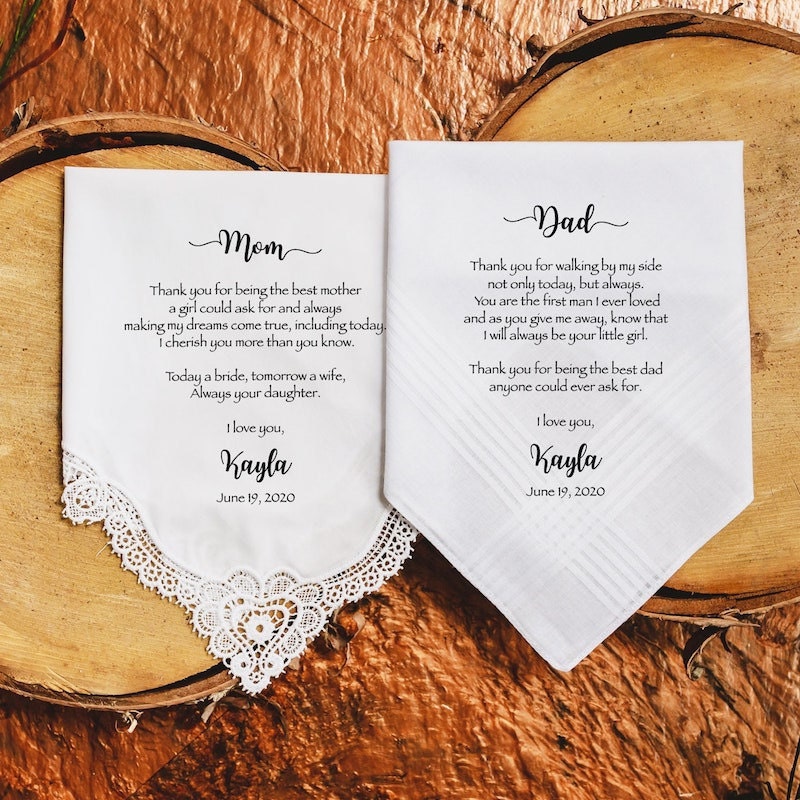 SHOP: Mother of the bride and father of the bride handkerchiefs from Peonies and Bells, from $24
Made with a special message for both parents, this handkerchief will surely come in handy for those happy tears as mom and dad share your special day.
26. Monogrammed herringbone throw blanket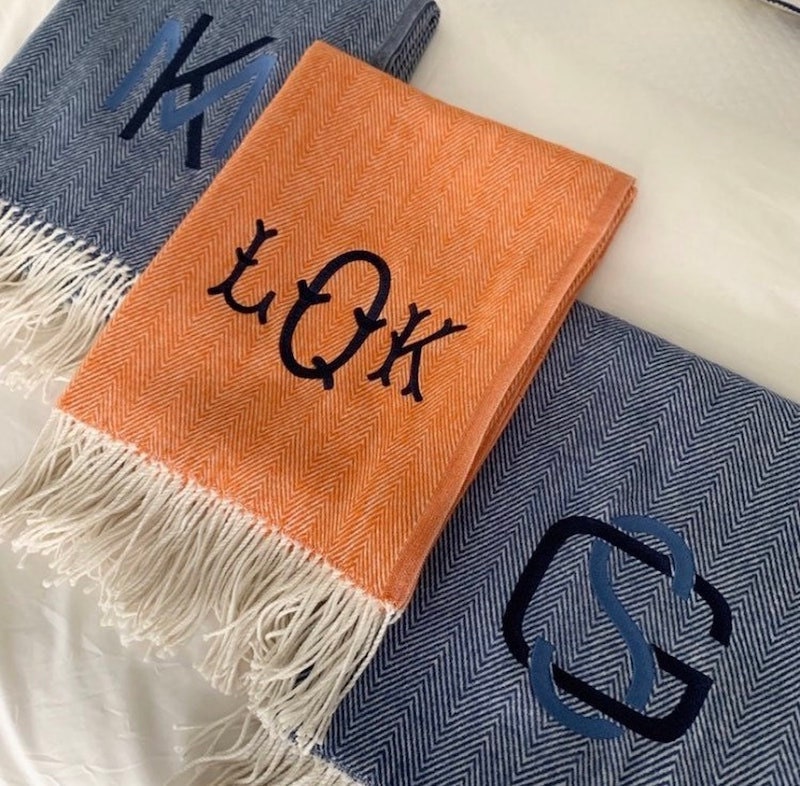 SHOP: Embroidered herringbone blanket from Claire Jayne Designs, $58
Perfect for staying warm if you're hosting an outdoor affair, this personalized throw blanket is also a stylish addition to their favorite seat at home.
27. Personalized anniversary platter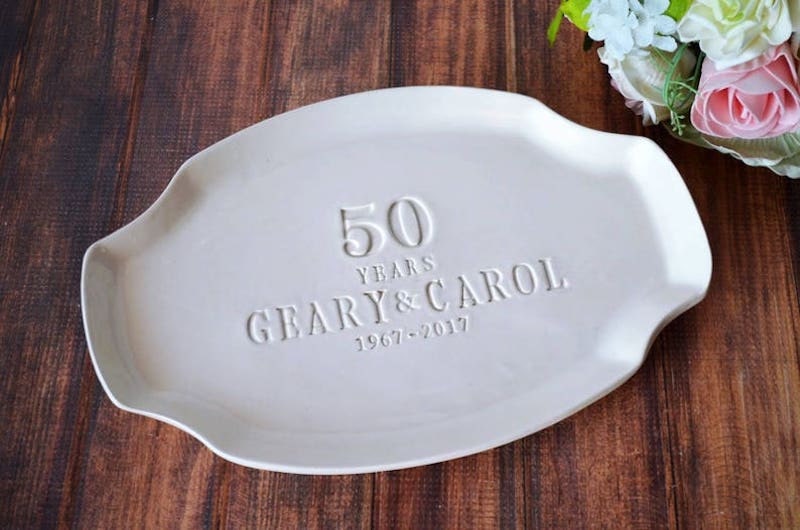 SHOP: Custom anniversary platter from Susabella, $89
If your parents have a significant anniversary on the horizon, this personalized platter recognizes their admirable accomplishment and expresses your gratitude for their part in your special day.
28. Wedding cards for parents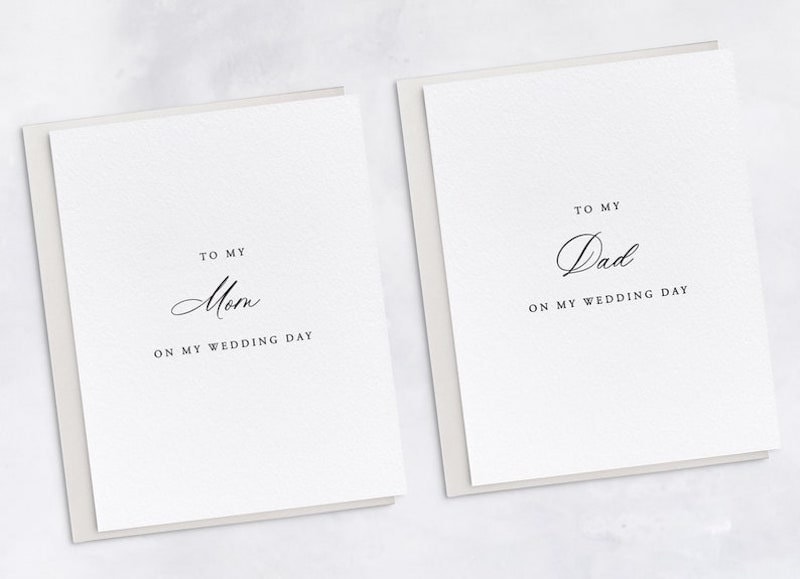 SHOP: Parent thank you cards from Studio Karis, from $5
Say "thank you" in your own words with a beautiful piece of stationery customized just for mom and dad on your wedding day.
Unique wedding gifts
From mementos that are wedding-day ready to custom works of art they'll proudly display for years to come, these ultra-personal and totally unique gifts take the wedding cake.
29. Personalized wedding vow books
SHOP: Vow books from The Cozy Comfy Home, from $35
Keep your wedding vows close at-hand both on your big day and for the years to come with a set of vow books for the bride and groom, personalized with your names and wedding date.
30. Custom scented candle set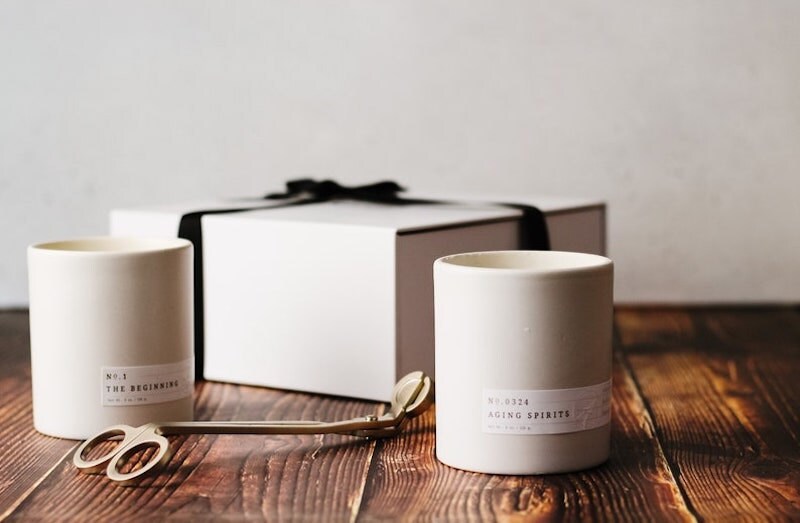 SHOP: Scent duo gift set from Aerangis, $138
For the couple who can't quite agree on their favorite candle aromas, this customizable candle duo gift set includes a wick trimmer and the unique scent story behind each candle.
31. Hand-cut map artwork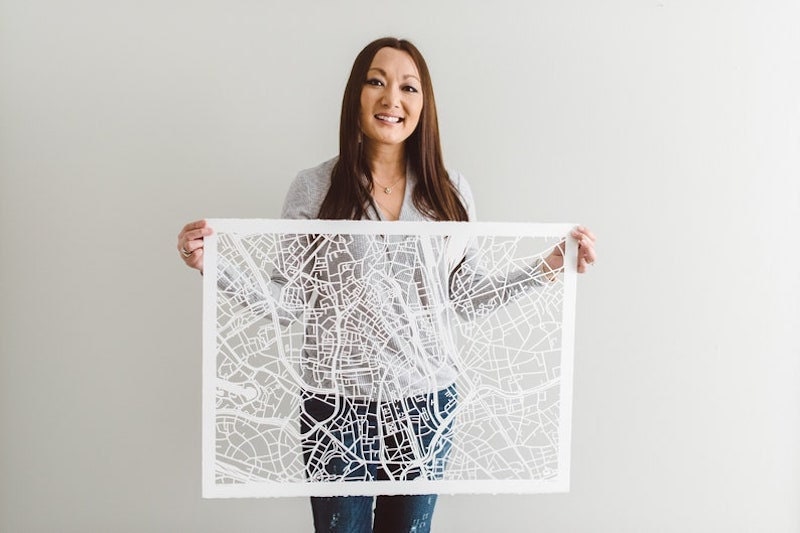 SHOP: Custom hand-cut map artwork from Studio KMO, from $400
Whether it's the city where they met, where they fell in love, or where they exchanged their vows, this custom hand-cut map is a work of art, just like their relationship.
32. Couple's portrait magnets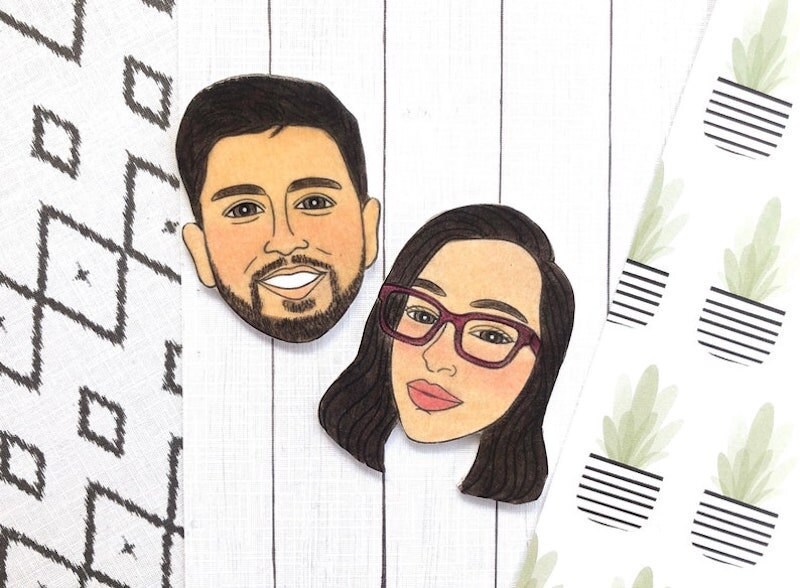 SHOP: Personalized couples magnets from Kit Atlas, from $38
For the couple with a big personality, these illustrated portrait magnets are a fun way to celebrate their zest for life (and hold the essentials snugly to the fridge!).
33. Personalized charcuterie board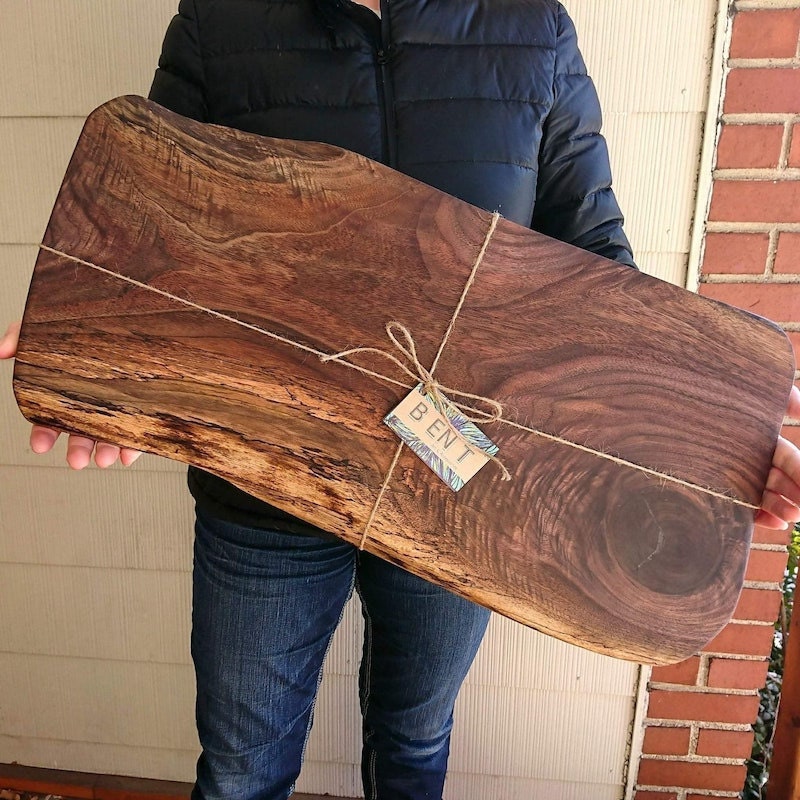 SHOP: Extra large live edge serving board from BENT Wood Goods, from $125
Give them plenty of space to serve up an incredible array of appetizers with this handcrafted charcuterie board, personalized with their name or initial.
34. Monogram door decal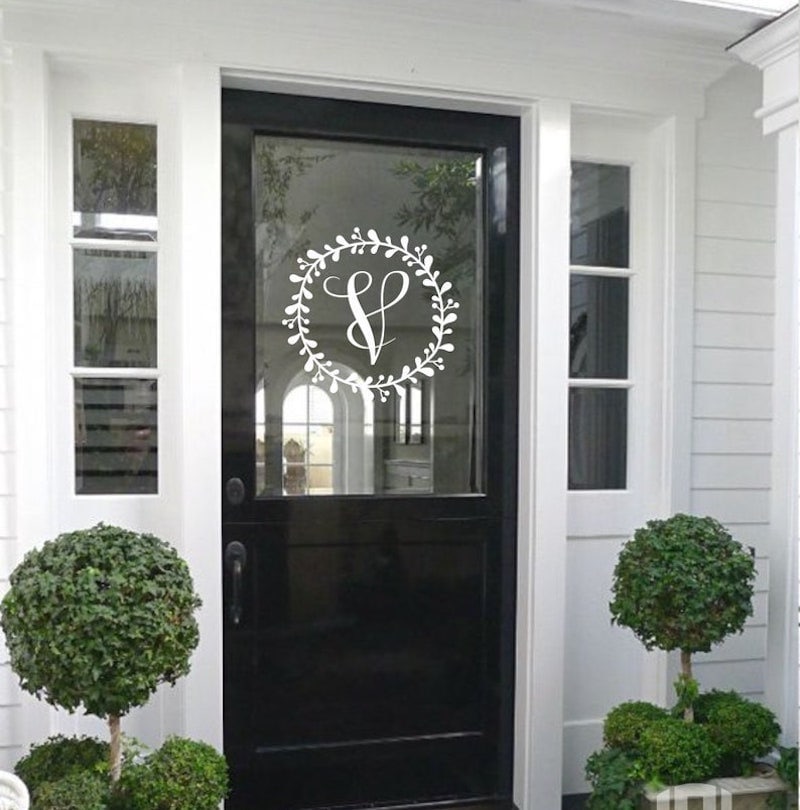 SHOP: Laurel wreath monogram door decal from Koala Printworks, from $4
Greet guests with a monogram door decal that proudly declares their last initial as a married couple. Available in a variety of colors, this is a creative wreath replacement.
35. Customized beanie hats with names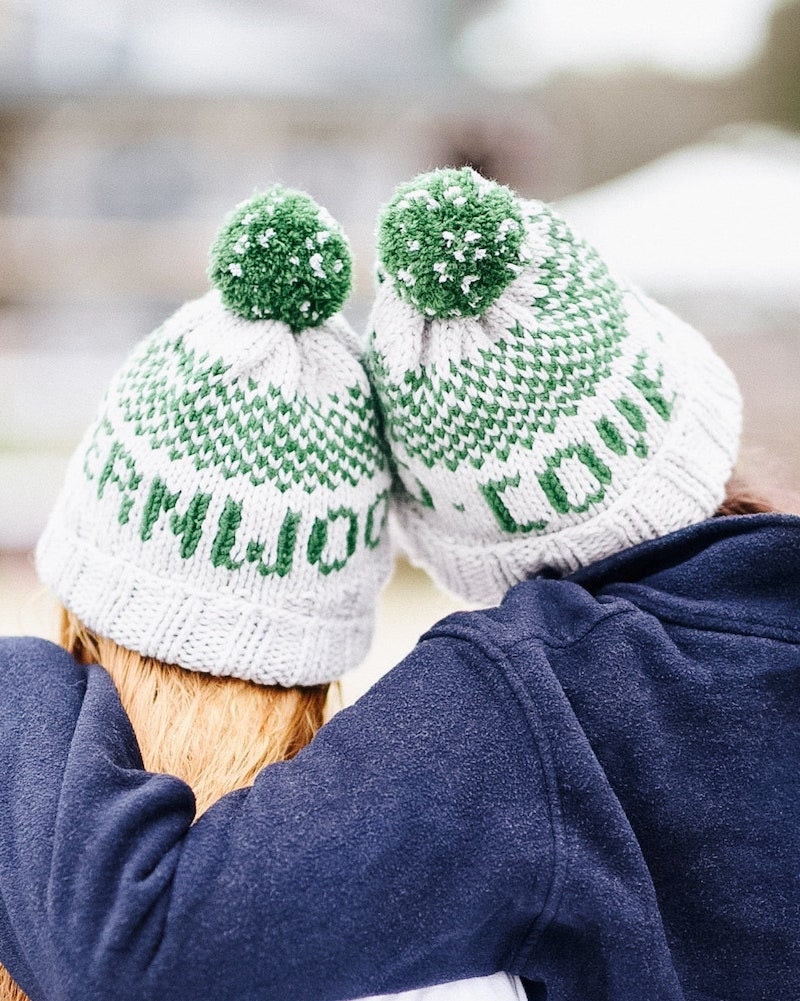 SHOP: Personalized wool beanies from Plexida, $62
Put their couple status is on full display even on the coldest of days with a set of custom knit wool hats adorned with their names or a special message to each other.
Personalized wedding gift FAQs
What are the best types of wedding gifts? The best wedding gifts are something the happy couple will treasure for years to come. Wedding registry gift lists are often full of essential housewares like linens, barware, serving pieces, and more. Always appreciated, these types of wedding gifts are even more special when they're personalized! You'll find custom blankets, towels, pillows, artwork, and more from talented Etsy sellers, all of which can be personalized just for the bride and groom. Add a monogram, their wedding date, or their wedding location for a one-of-a-kind wedding gift that quickly becomes a family heirloom.
How much should you spend on a wedding gift? Meaningful wedding gifts are available for any budget from Etsy sellers. Adding a bit of personalization to a wedding gift makes it instantly special, no matter how much you spend. Wedding gifts can be personalized with a picture of the happy couple, their names, the wedding date, or any other significant date. These tiny touches create a one-of-a-kind piece the couple will be thrilled to receive.