Shop unique planters from small shops on Etsy and add a special touch to your home decor while giving your plant a happy new home.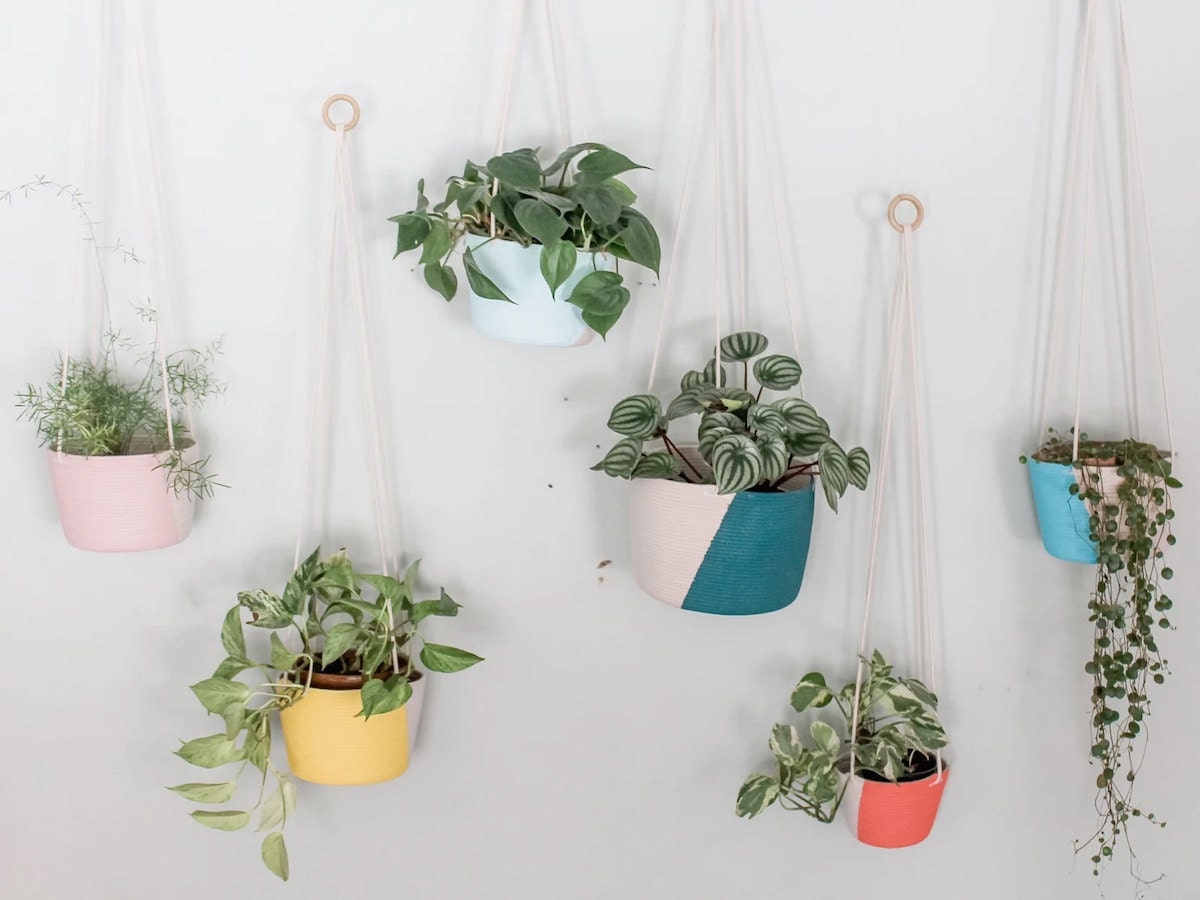 Indoors or outdoors, drainage hole or no, coordinating saucer or mix-and-match? There are so many choices when it comes to picking the best planter for your precious plant babies. Lucky for your favorite foliage, small shops on Etsy have created some of the most unique planters for all types of plants (even the faux ones, we promise we won't tell!).
From sleek, modern planters made from ceramic and clay to lightweight plastic planters perfect for housing larger plants without adding unnecessary weight, these are the best planters for plant enthusiasts and budding greenthumbs alike.
How to pick the best planter
Choosing the right pot for your plant is all about blending form and function. First, consider the size of the root ball of your plant. The best pot size is an inch or so larger in diameter than the roots of your plant. This gives roots the cozy-not-cramped environment that helps them (and your plant!) thrive. Next, pick the best planter by selecting a material that makes the most sense for your plant and a design that matches the rest of your decor. Porous materials, like ceramic planters, allow excess moisture to evaporate evenly from your plant's roots. Plastic planters are often the best planter for a tall houseplant or large outdoor plant because they're a lightweight alternative to terra cotta pots.
Best indoor planters
As you shop for the best indoor planter for your flower friends, keep in mind whether you'd like a drainage hole or not. Many of the shops on Etsy offer the option to select a drainage hole as part of their customizations. And don't forget a coordinating saucer!
Most versatile indoor planter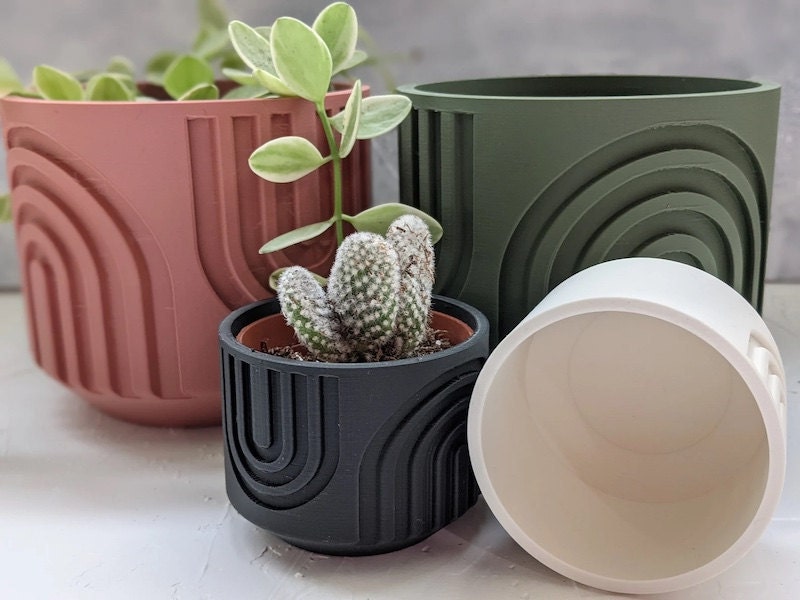 SHOP: 4-inch rainbow arch planters from Coastal Maker Space, from $24
Pick a combo pre-selected by the seller, or create your own custom grouping of these desert-hued rainbow planters by mixing and matching sizes from 2-inches all the way to 6-inches.
A springy, textured planter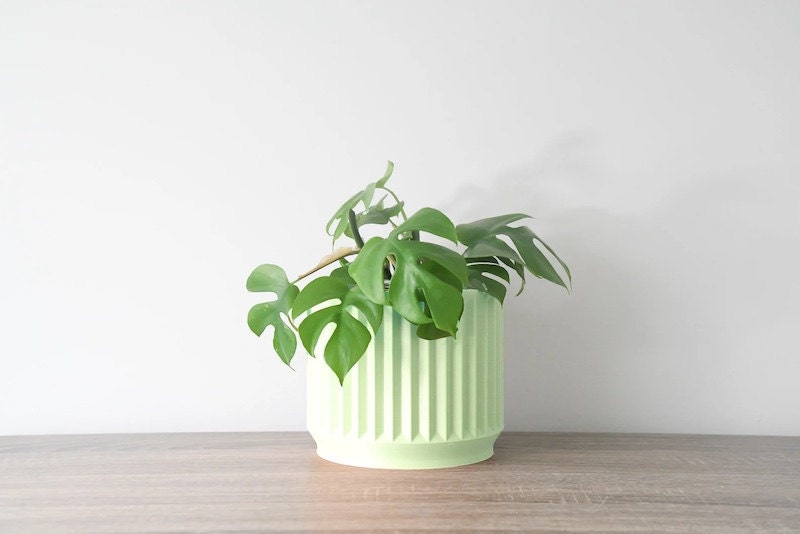 SHOP: Spring breeze mint green planter from Miss Planty Plants, from $13 for a 4-inch pot
The spring-inspired mint green color of this biodegradable planter is a beautiful complement to darker hued indoor plants, and this shop has designed a unique honeycomb bottom for superior drainage.
Recycled wooden plant pot with stand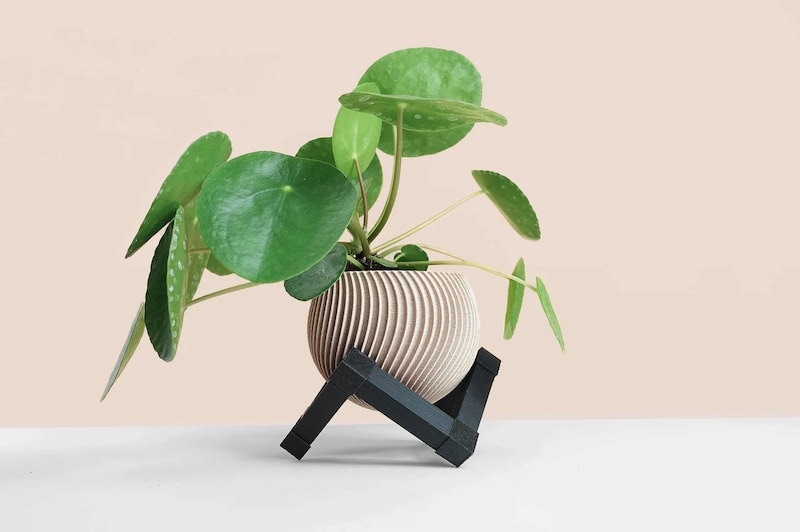 SHOP: Recycled wooden plant pot from Esoxia, $46
This recycled planter is created from plant material and wood fibers and has a texture similar to raw wood. You can also work with this small shop to customize the color combination of the pot and wooden plant stand.
Best pot for succulents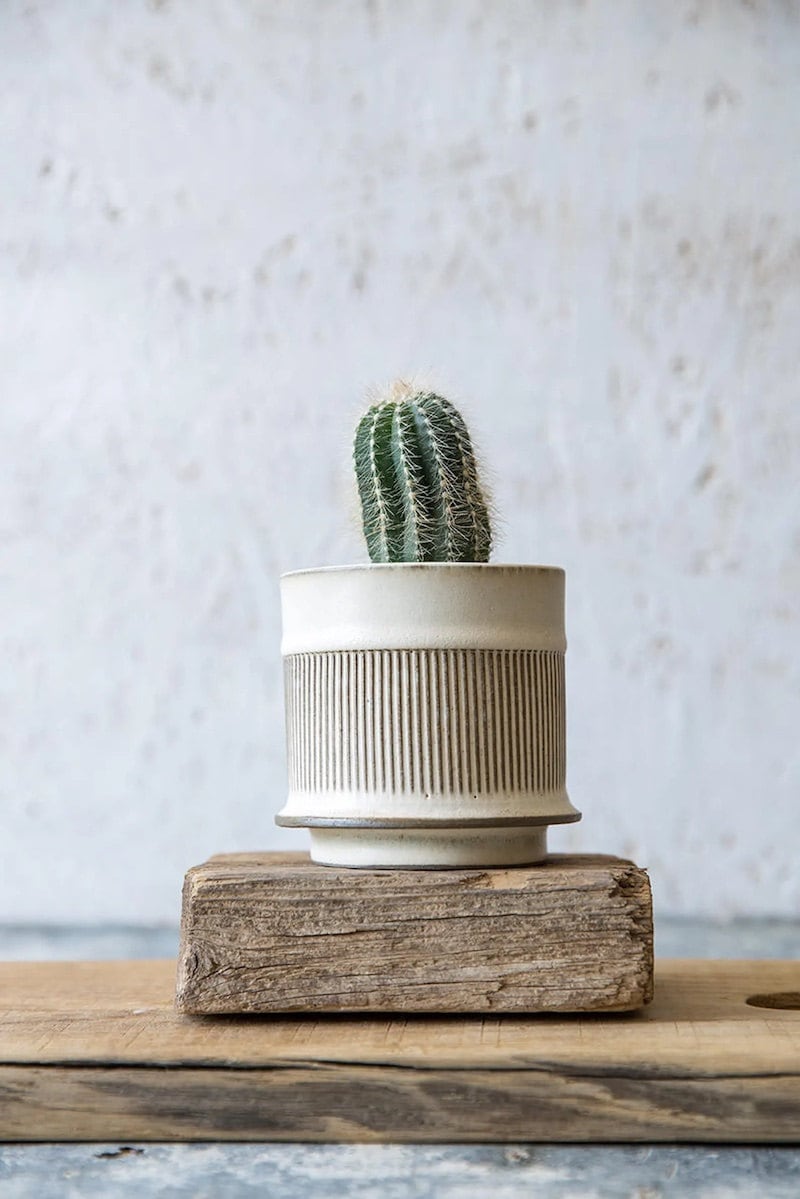 SHOP: White ceramic succulent planter from Free Folding, $69
Just under 4 inches in diameter, this modern succulent planter is made of gray stoneware clay sheets folded and stamped with an eye-catching stripe pattern. Dipped in a matte white glaze, this neutral pot adds a touch of texture to your decor while letting your star succulent shine.
Best oversized indoor-outdoor pot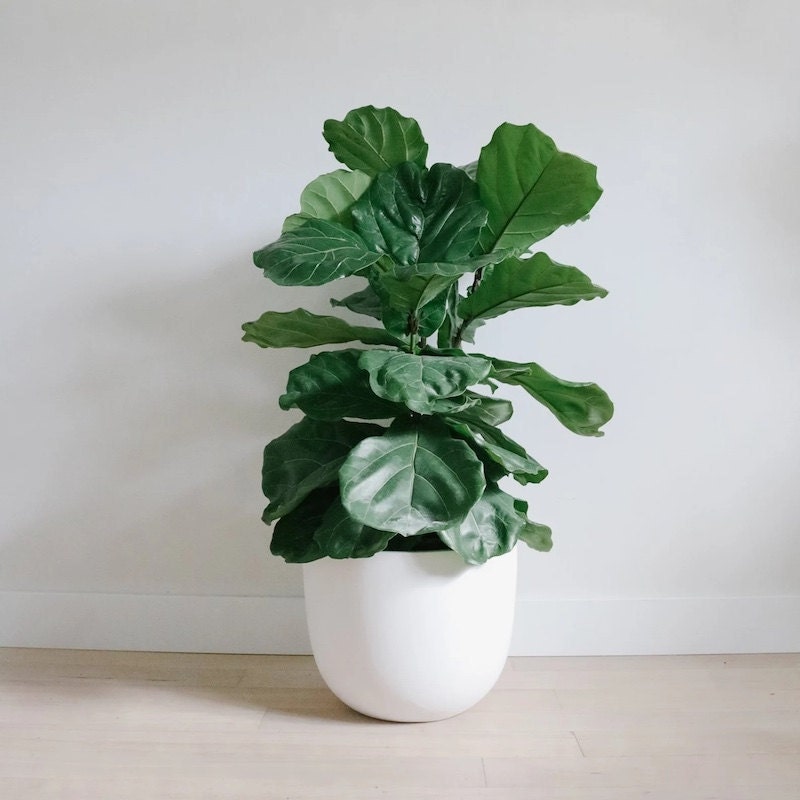 SHOP: 15-inch matte white round planter with optional drainage hole from Hudson + Oak, $133
If you've got an indoor plant that also enjoys spending some time outside, this pot is the best planter for indoor and outdoor plants. The matte white finish is wonderfully neutral to let your greenery really shine, and buyers rave about its lightweight design despite its size so you can easily move your plant around to capture the best light as the seasons change.
Small concrete indoor planter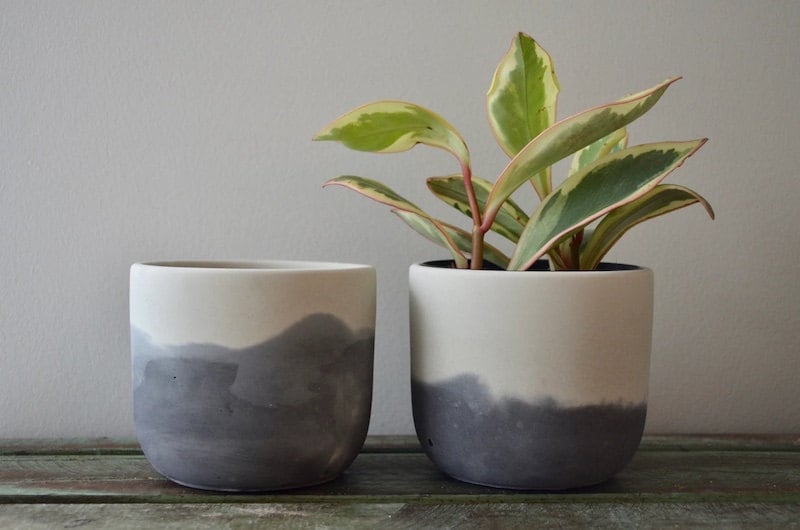 SHOP: Stormy skies planter from Mollie Marie Co., from $17
Aptly described as the "stormy skies" planter, this concrete indoor planter features a moody gray design reminiscent of rain-filled clouds.
Best planter with drainage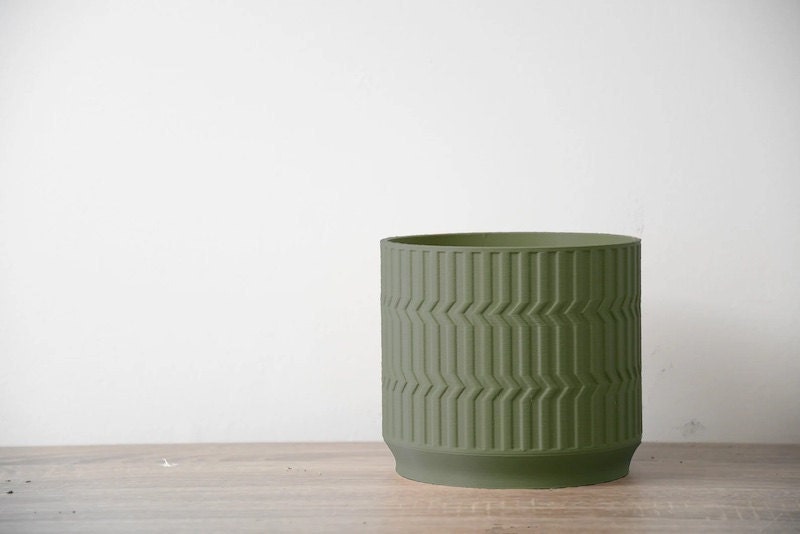 SHOP: The Mabel planter in matte dark green from Miss Planty Plants, from $12
Buyers rave that these planters are even cuter in person, and if your plant of choice prefers dryer soil, this is the best planter with drainage. The design features a network of of drainage holes along the bottom and can be customized with a drip tray to catch the overflow.
Best hand-painted terra cotta pot and saucer
SHOP: Tropical hand-painted terra cotta pots from Pink Pothos, $15
Adorned with colorful tropical foliage, this small ceramic pot comes with a matching saucer so it's ready to be put right to use for your favorite houseplant. The seller recommends keeping this colorful choice indoors due to its hand-painted designs.
Best flower pot for kids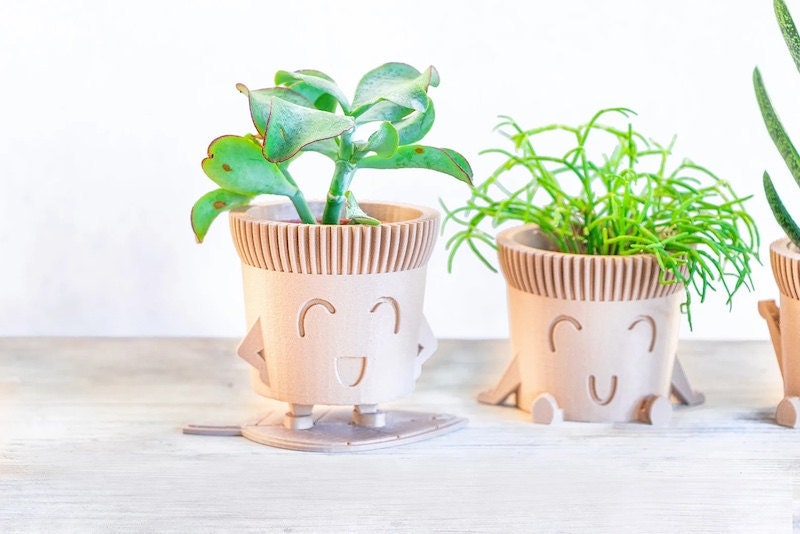 SHOP: Mr. Pot wood planter from Nutto Creations, from $18
Handcrafted in Italy using 3D printing, this smiley face plant pot just might be the secret to happy, happy houseplants.
Best tiny indoor planters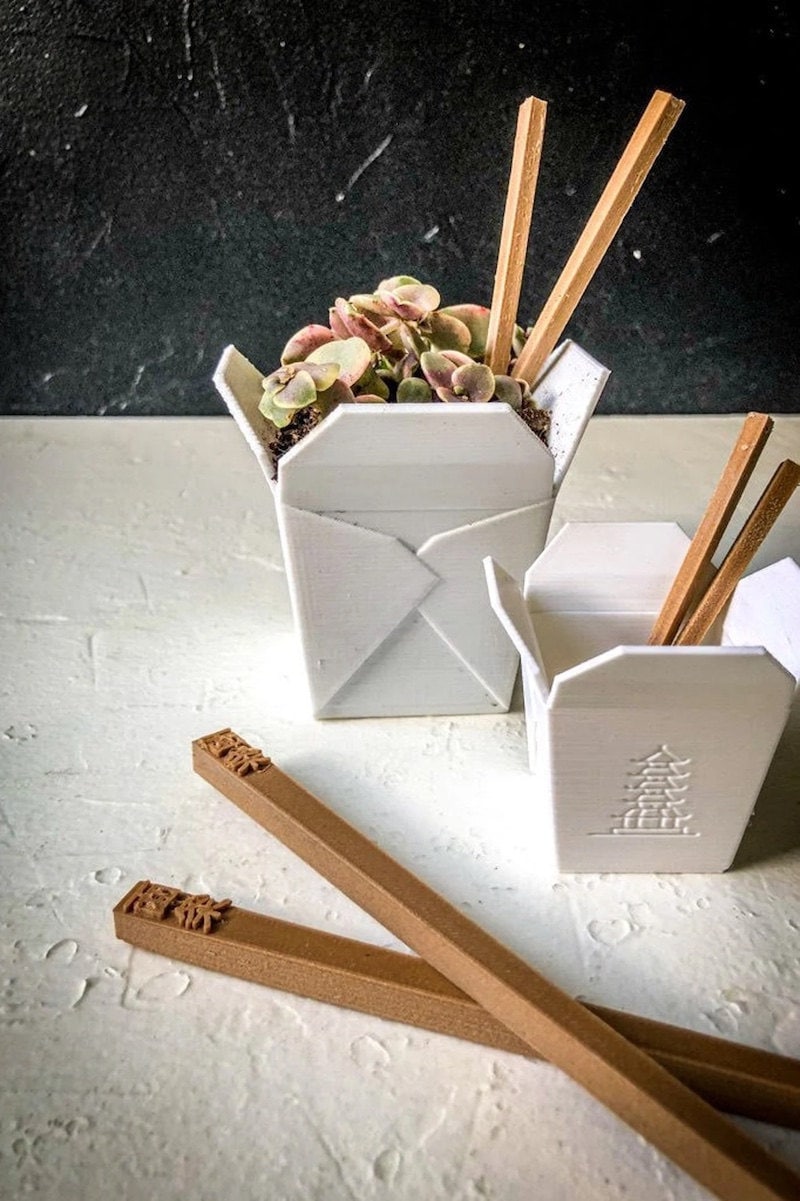 SHOP: Set of 2 takeout container planters from Coastal Maker Space, from $11
These mini planters are modeled after traditional takeout containers and come complete with a set of chopsticks for decoration. Available in a small and mini size, you can create a custom grouping that's perfectly suited to your plants.
A multi-purpose ceramic planter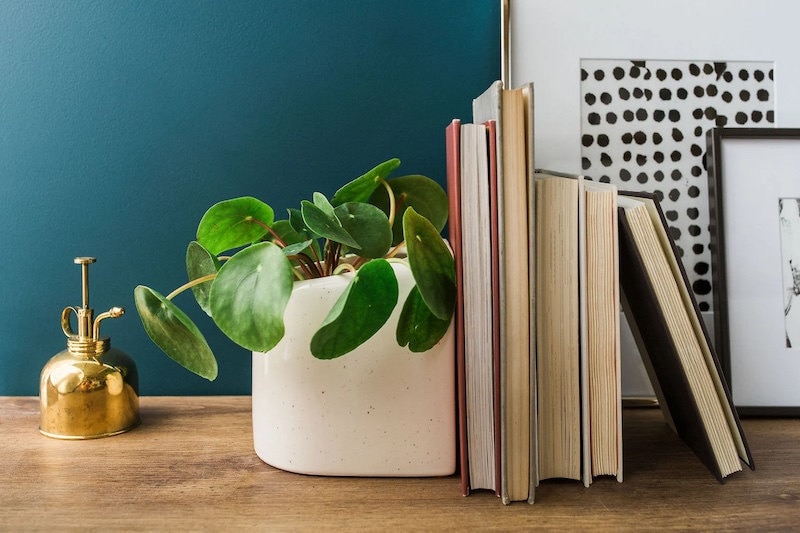 SHOP: Editor planter bookend in gloss speckle from STAK Ceramics, $58
Cute planters and bookshelves are a classic combination, and this multi-purpose masterwork doesn't disappoint. This planter was designed to act as a bookend for your collection, too, and looks equally at home solo or in a pair.
Vibrant hand-painted ceramic planters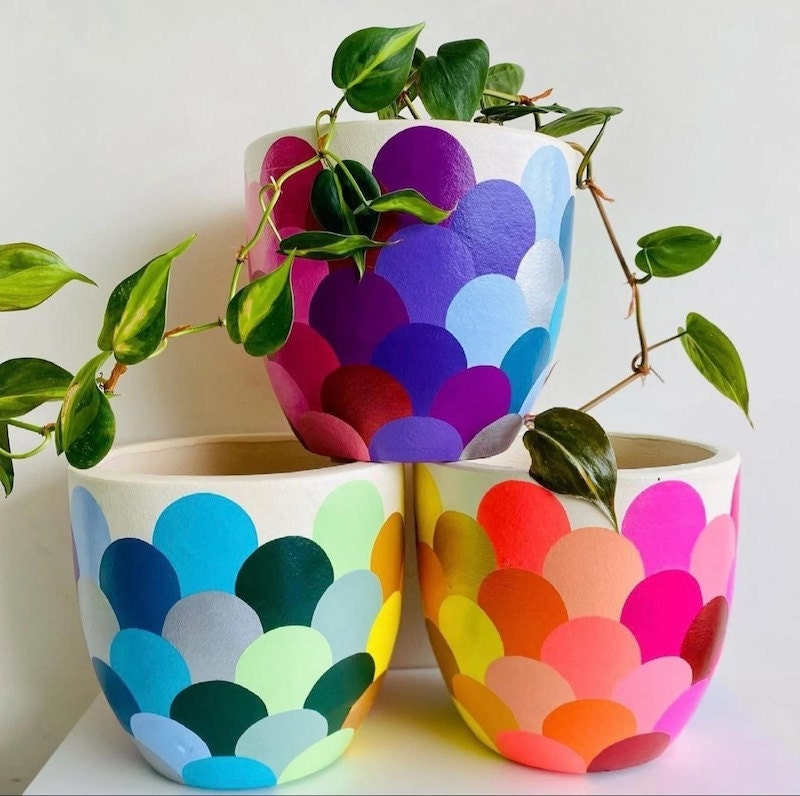 SHOP: Hand painted ceramic planters from Fusion Brushes by Rupal, $30
Bring all the rainbow vibes into your home with these hand-painted ceramic planters stacked with vibrantly colored arches. Looking for a custom color combination? This shop takes custom orders, too.
A gilded recycled concrete pot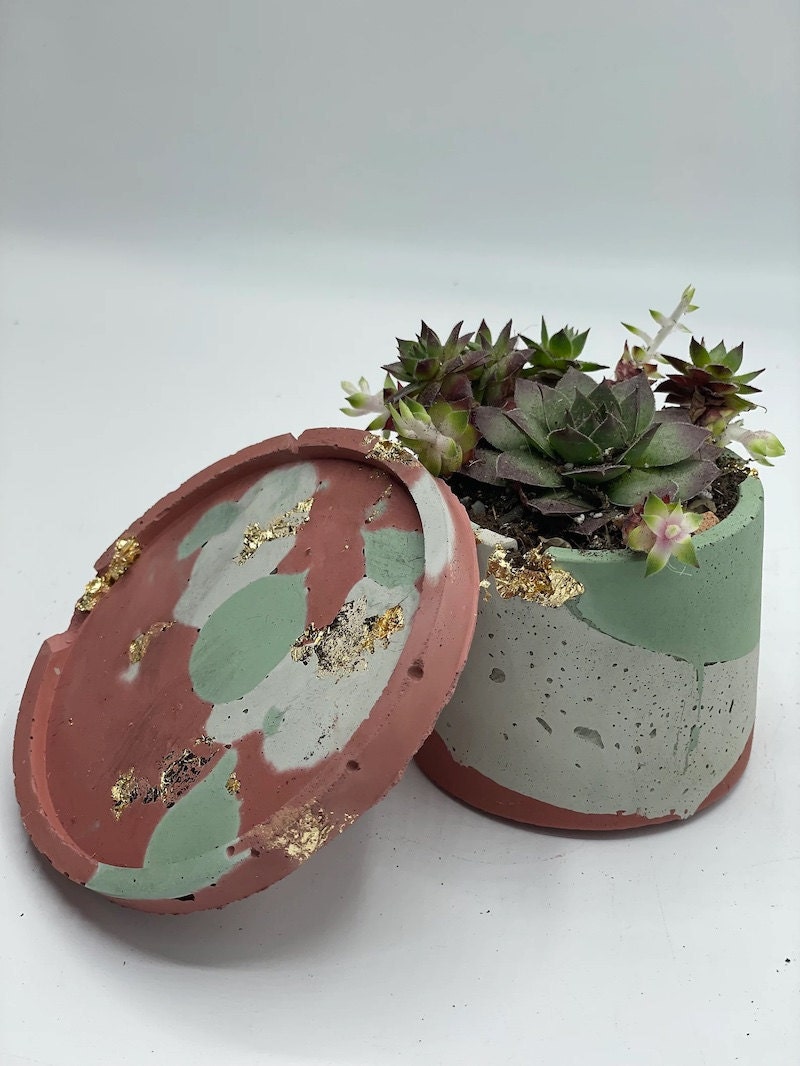 SHOP: Zero-waste planter from The Repotted Shop, $25
This 3-inch pot is right in that sweet spot for succulents who need well-draining soil and is made from repurposed concrete that would have otherwise gone to waste. Because it's created using reclaimed materials, each pot varies slightly. A coordinating saucer is available, too.
Large pink cylinder planter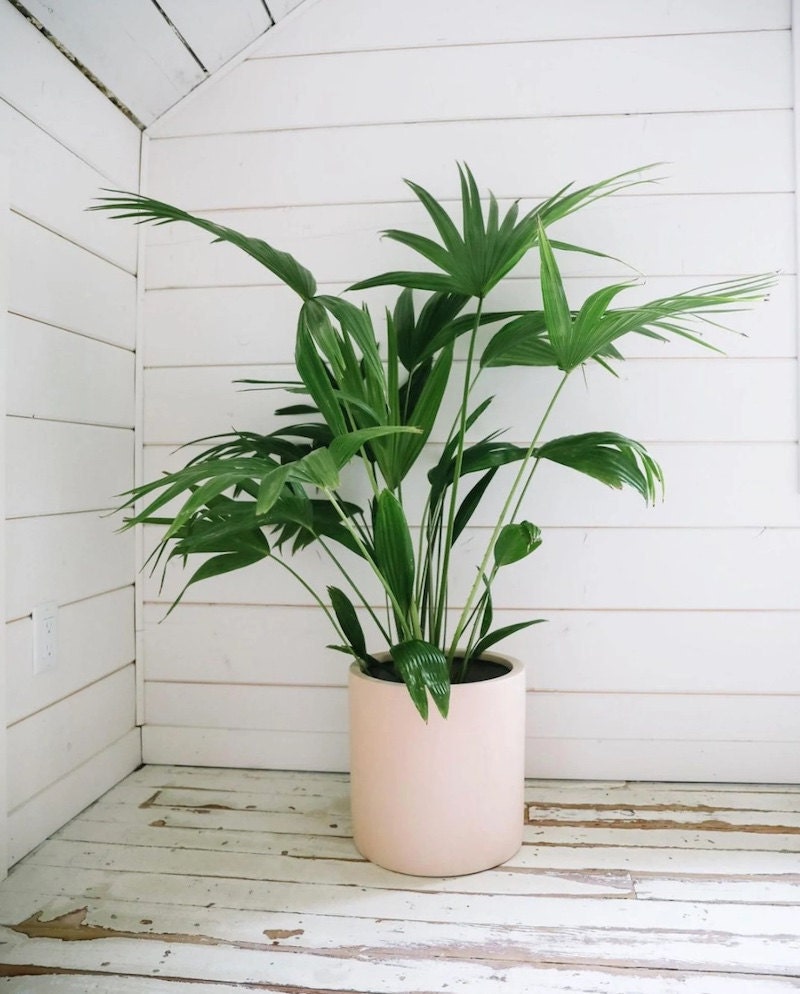 SHOP: Matte blush cylinder planters from Hudson + Oak, from $102
A lightweight alternative to ceramic, this large planter is crafted using a custom fiberglass compound that's heavy duty enough for indoor or outdoor use. Available in sizes up to 16-inches, with or without a drainage hole, this pale pink planter is just what your fiddle leaf fig ordered.
Best planter to give as a gift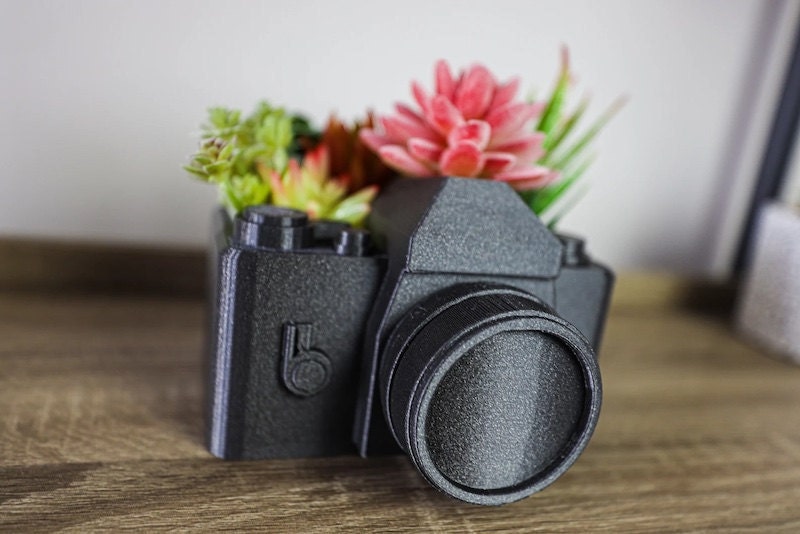 SHOP: Camera planter from Premium Terrarium, $27
Your friend's home will always be ready for its close-up when you opt for this portrait-worthy planter in the shape of a camera. Despite its concrete appearance, this planter is actually made from faux marble, and buyers love this as a fun and creative housewarming gift idea.
Best indoor plant saucers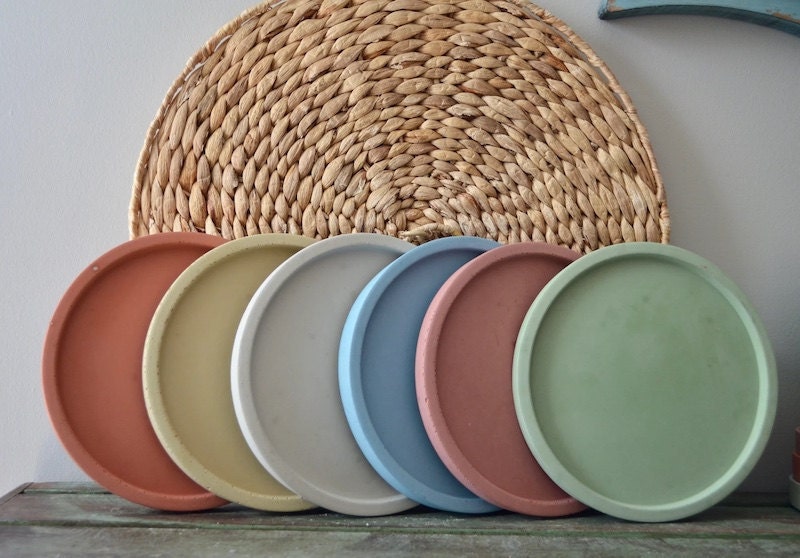 SHOP: Planter tray from Mollie Marie Co., from $24
Sometimes you've got the pot and all you need is the tray! Made by a mother-daughter duo, these round concrete planter trays will save the day and spare whatever surface you've placed your favorite planter upon.
Best small planter set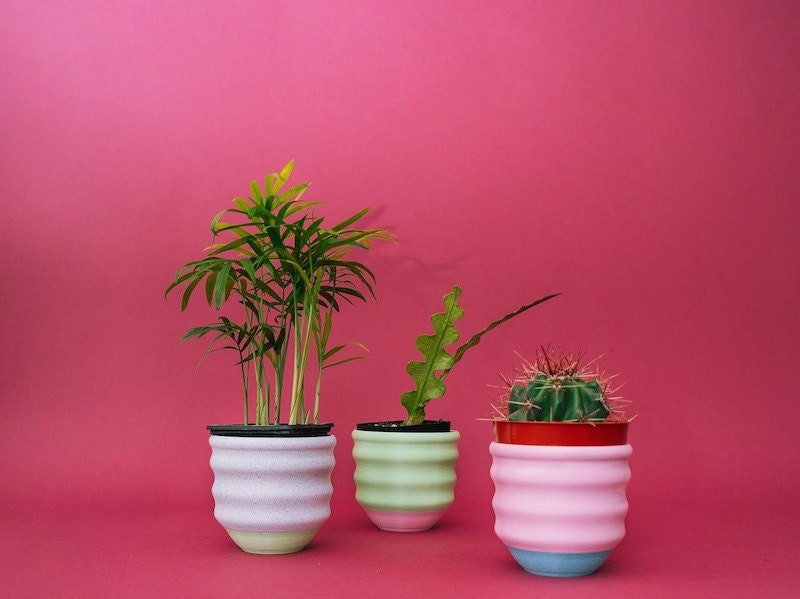 SHOP: Colorful small planter set from Object Lover, $35
Why settle for a single pot when you could bring this colorful trio into your home? Inspired by the shop's best-selling wiggle pot design, this plastic planter set is available in two different color schemes: primary pastels and ice cream combos.
Best outdoor planters
Whether you're looking for a modern planter to decorate your patio or a colorful pot to bring some serious wow-factor to your garden, these are the best outdoor planters from small shops on Etsy.
Best small concrete pots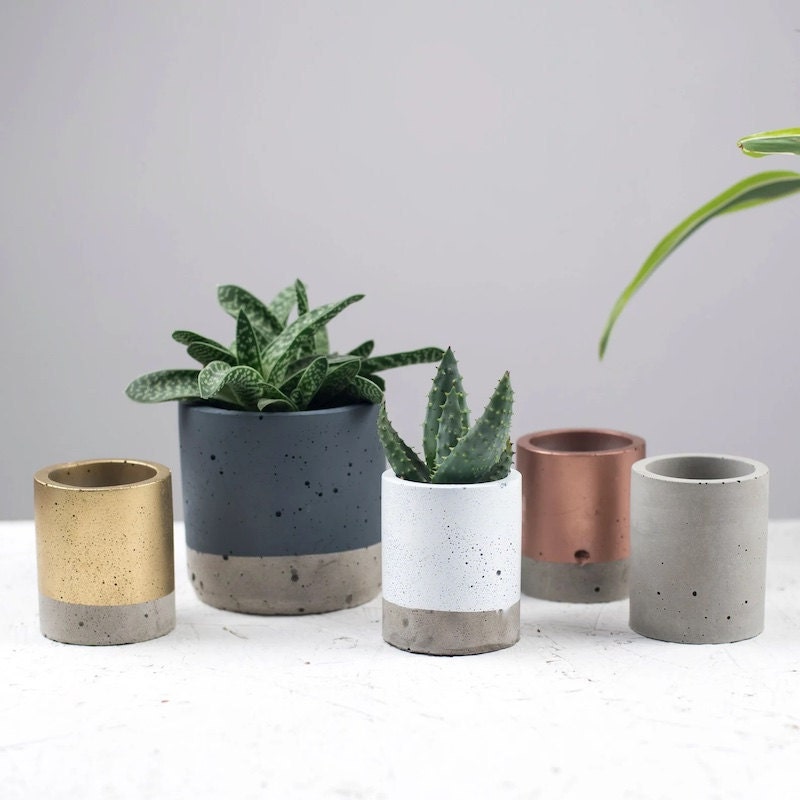 SHOP: Concrete color block planters from Bells and Whistles Make, from $28
Choose the stripe color on this concrete planter—from metallic copper to navy blue—or go classic with a plain concrete version. The process of molding these planters with concrete creates tiny air bubbles and other slight imperfections that make each piece truly one of a kind.
Best concrete outdoor planter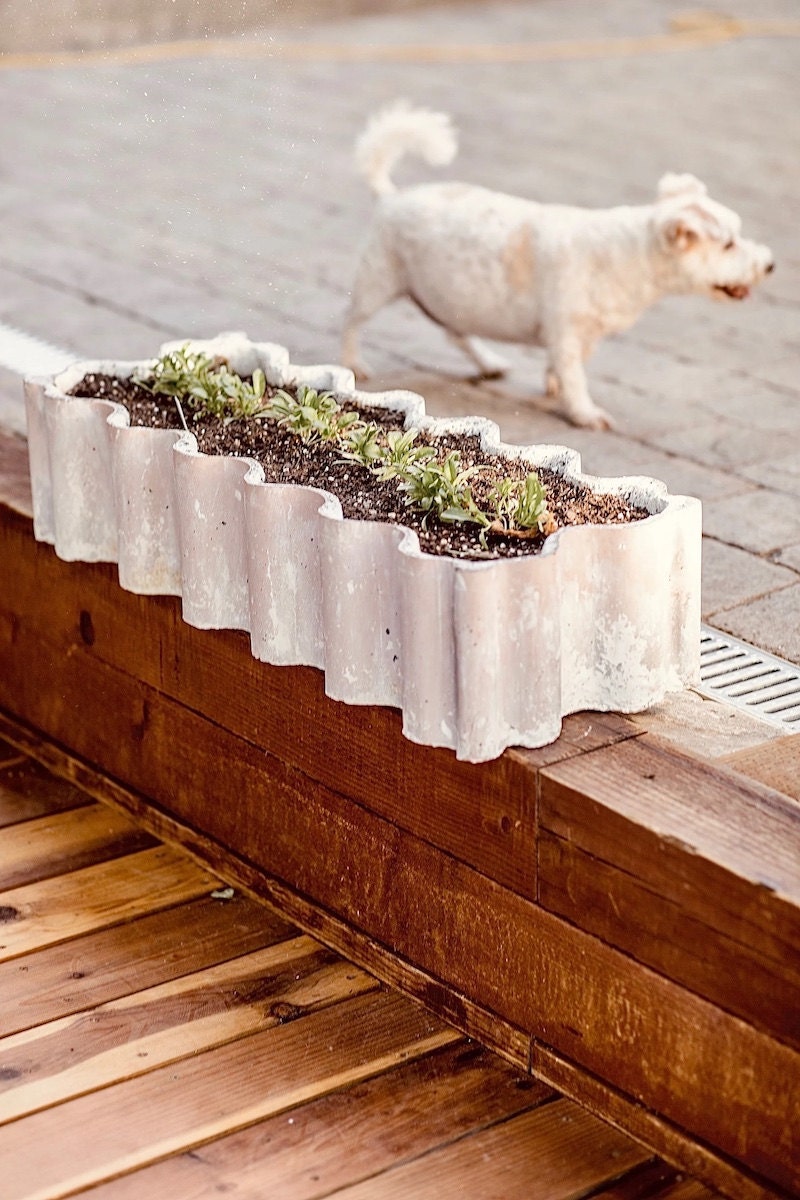 SHOP: Wavy modern concrete planter from Crafts Manhattan, from $275
Make a statement with your outdoor patio decor by adding one of these concrete planters. Collaborate with this small shop to customize your planter to meet your specifications; they're able to color-match just about any hue you can dream up and you can mix multiple colors together for a unique concrete planter.
Best affordable concrete planter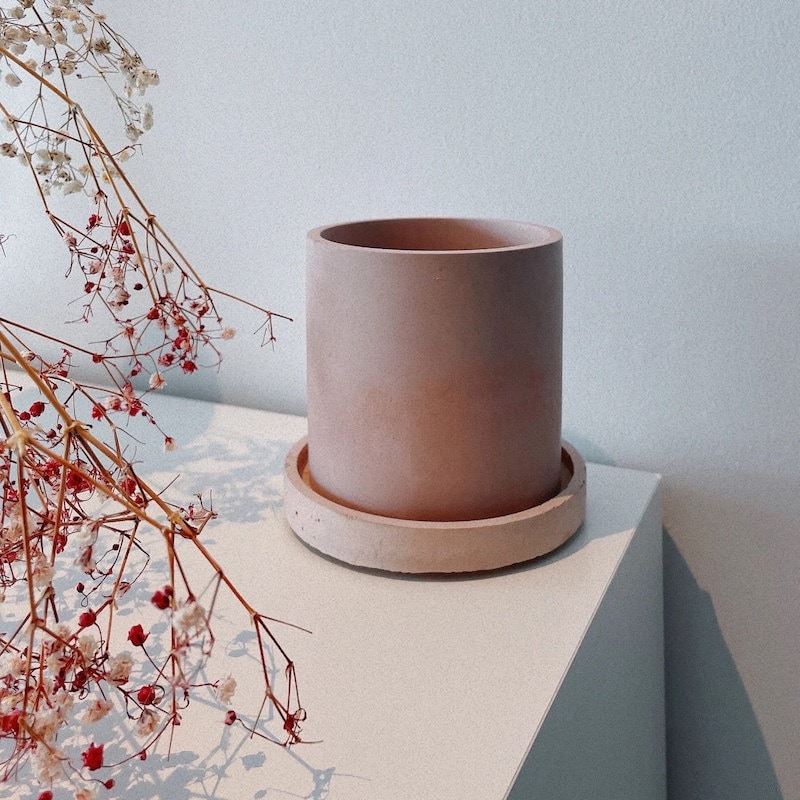 SHOP: PASTEL concrete planter from Minimono Studio, from $23
This affordable concrete planter boasts a sleek, modern silhouette and can be made in pink, grey, or beige. Opt for a saucer if you need one, and enjoy this neutral concrete planter for less than $30.
Best step planter with pots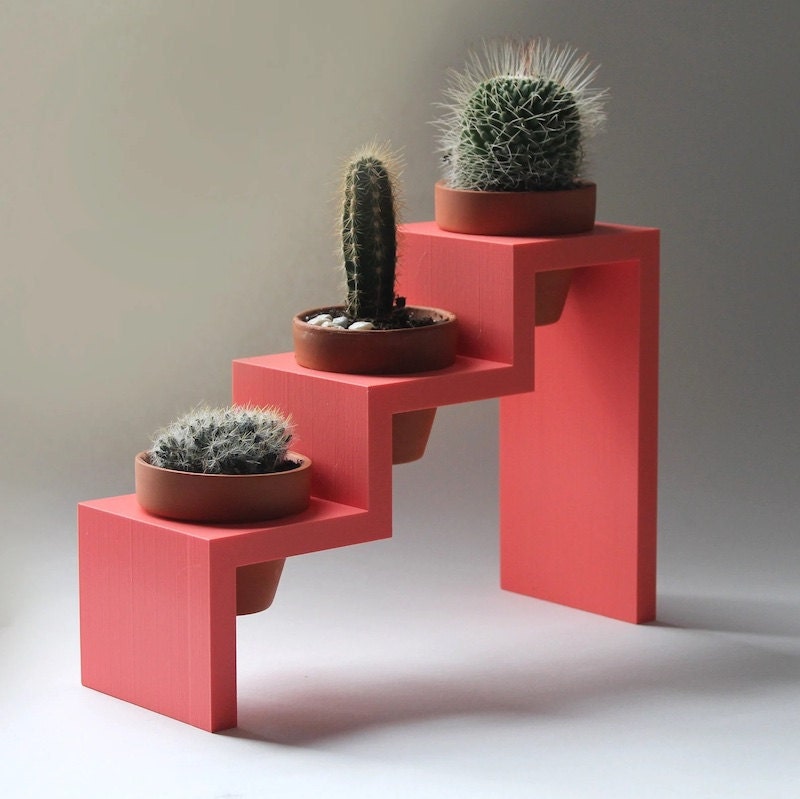 SHOP: Three-step planter with pots from Monette Design Co., from $30
Go for classic white or pick a posh pop of color like coral or yellow, then use your own pots or opt for the seller to include a set of three clay pots with your purchase.
Best matching set of ceramic planters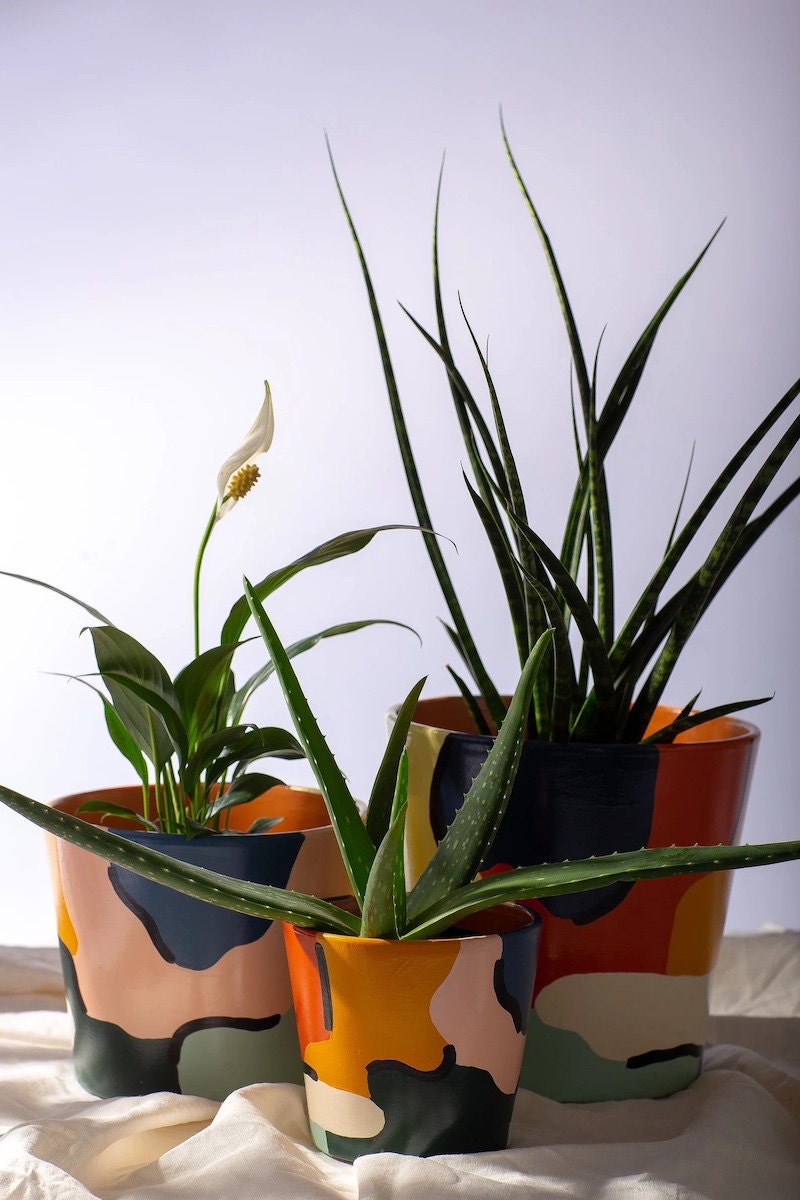 SHOP: Cameo bundle from Pepper Palm, $100
Curvy black lines break up the colorful geometric pattern on this set of three pots, making them a great gift idea that goes with most decor styles, from bold to minimal.
Best hanging planters
Hanging planters maximize the room you have in your home for displaying your plants by making use of all the vertical space! Hanging planters are a great choice for vining plants like pothos and trailing succulents because their stems can drape over and down the sides of the pot.
Best air plant holder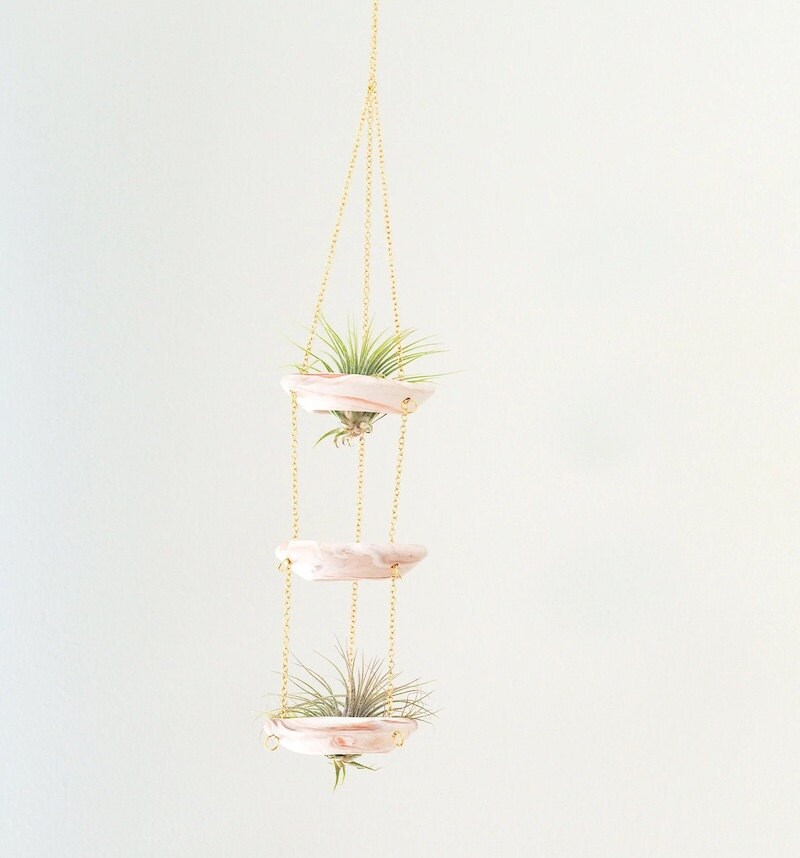 SHOP: Hanging air plant holder from Paint My Dream, $55
The open saucer design of this hanging air plant holder allows you to balance a plant in each tier or makes room for taller plants to poke through the layer above them. The rose marble pattern is a pretty spin on classic terra cotta.
Best hanging basket planter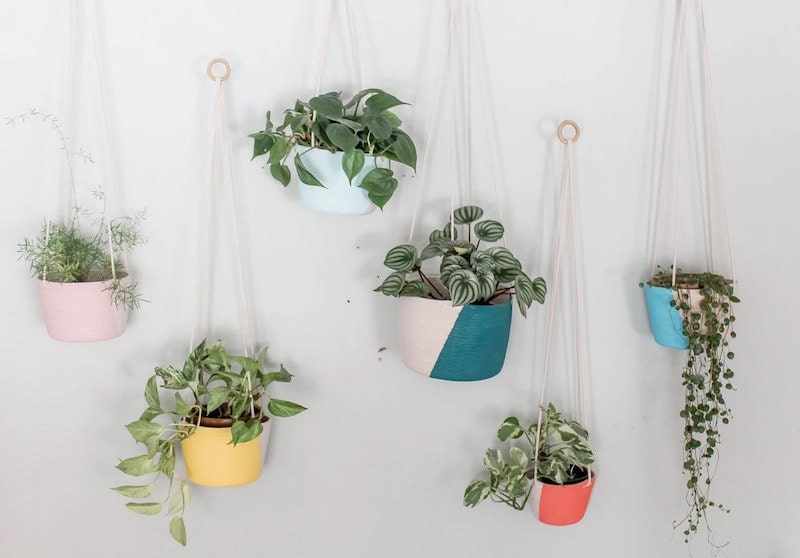 SHOP: Color-block hanging planter from Little Love Home, from $29
These hanging baskets are sized so that you can drop a greenhouse planter up to 8 inches in diameter right into them and begin enjoying their colorful yet modern hand-painted patterns.
Best hanging bud vase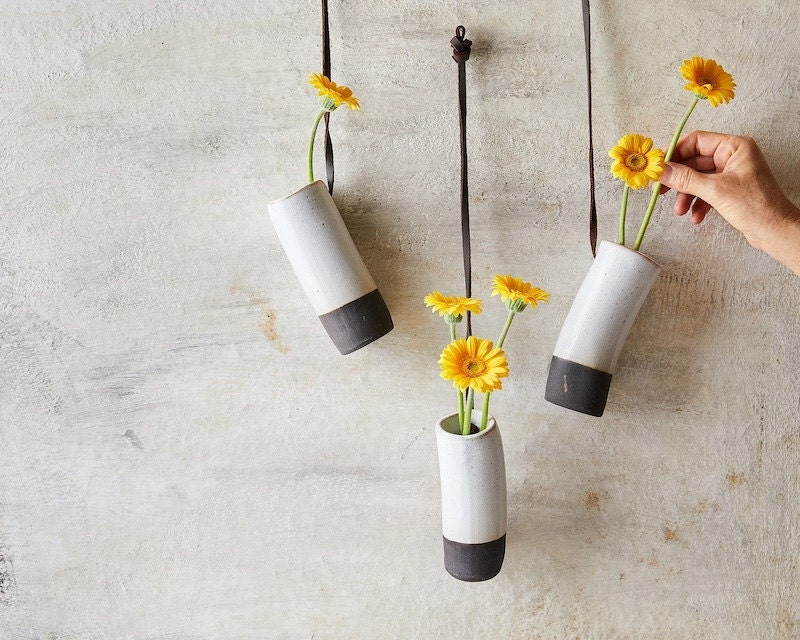 SHOP: White and black hanging planters from Clay By Dannah, from $53
Sometimes all you need is a single bloom to brighten your day, and these hanging bud vases are just as pretty solo as they are in a set. The adjustable leather hanging string means you can customize the length of your hanging vase depending on your arrangement.
Best colorful macrame hanging plant holder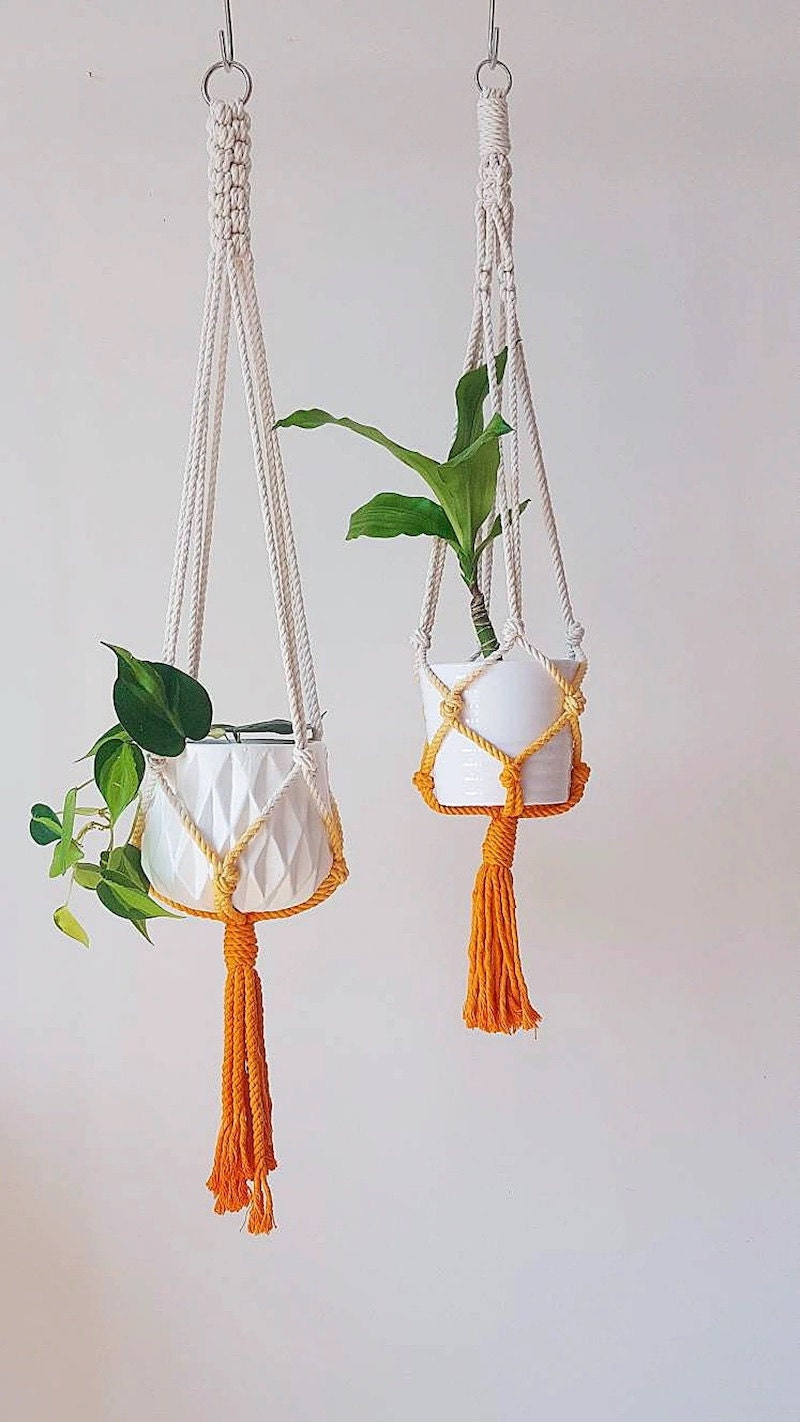 SHOP: Dip-dye macrame plant hanger from Freefille, from $45
Hand-woven with cotton rope sourced locally from Ontario, this macrame hanging plant holder can fit pots from 5- to 7-inches. Select from nine different dye tones ranging from a bold sunset orange to a muted apple green.
Best Mexican pottery hanging pot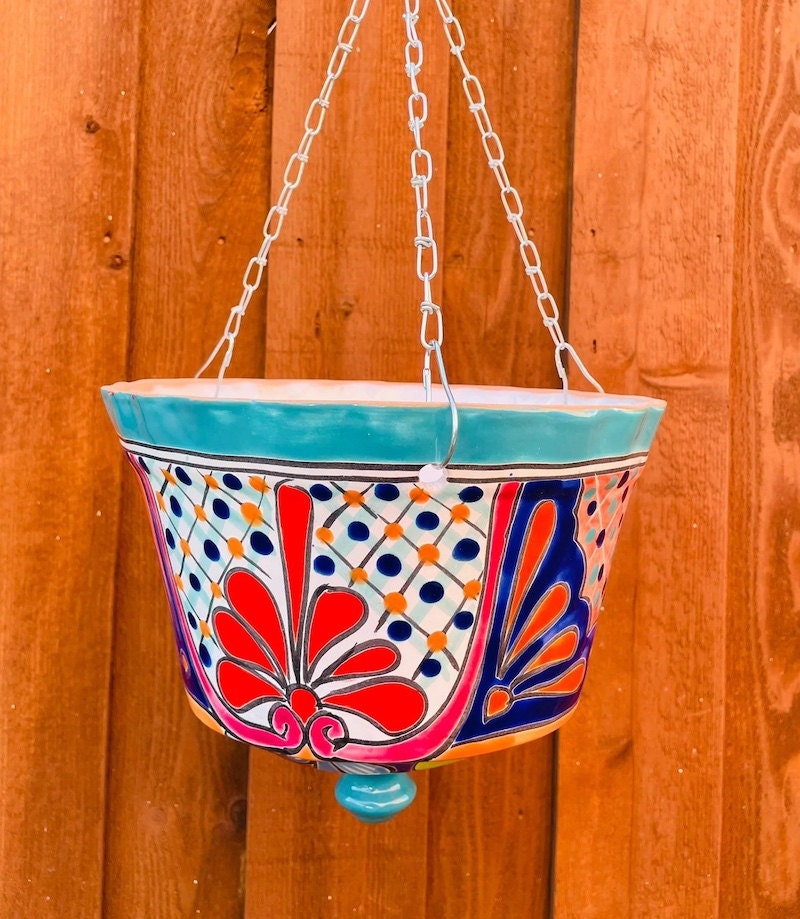 SHOP: Talavera large hanging planter from Rosa's Garden Shop, $105
Make your favorite hanging plant really pop with this colorful Mexican pottery-inspired pot. This planter arrives with hanging chains so you can decorate with it right away, but the seller recommends adding a protective glaze to keep the hand-painted colors vibrant if you opt to use this outdoors.
The cutest hanging planter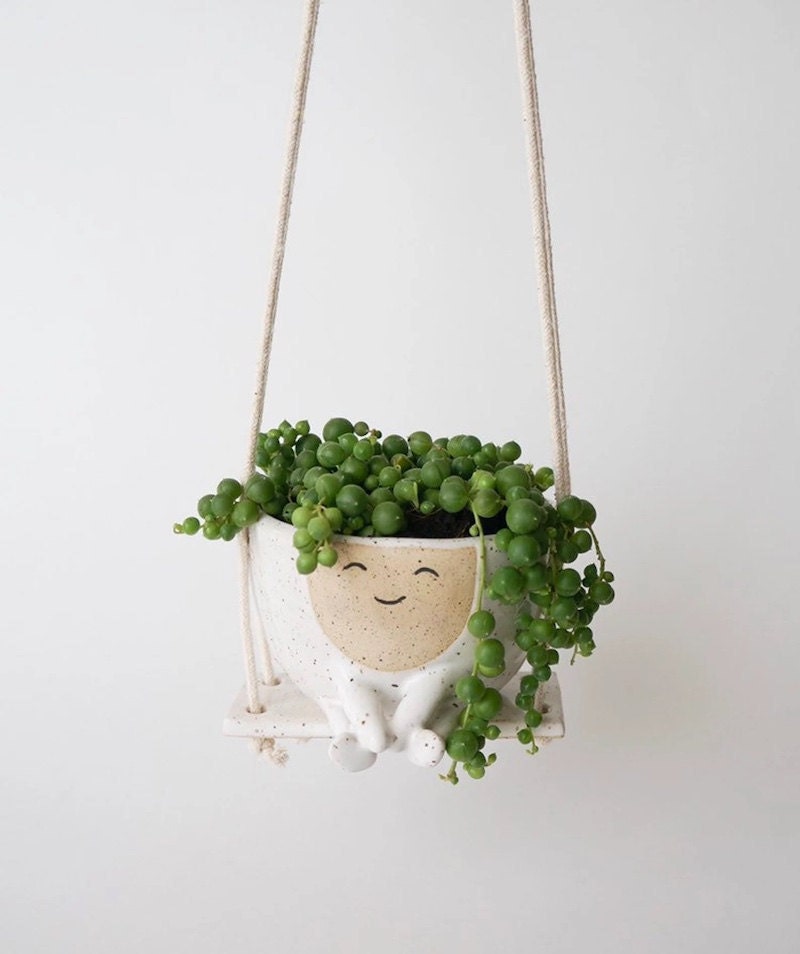 SHOP: Maya hanging planter on swing from Ceramic Sense, $100
Opt to add a drainage hole or leave this adorable flower pot without one and be prepared to smile every time you pass this cheery, swinging planter.
Best wall planters
A creative spin on traditional hanging planters, these planters mount directly to your wall which can help keep your plant within easier reach for watering day.
Knitted plant hammock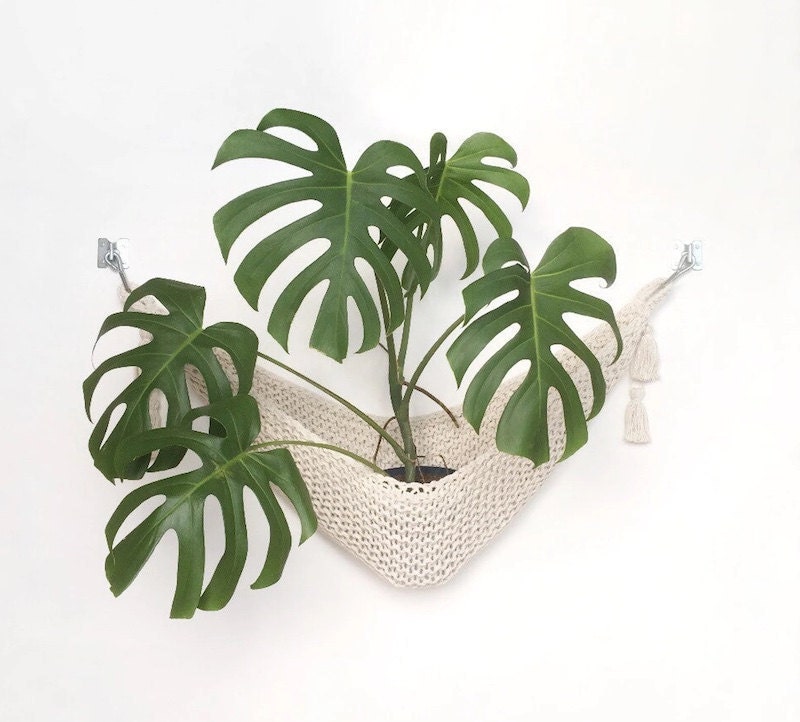 SHOP: Knitted plant hammock from Studio Lage, $98
Who says hammocks are only for humans? Give your plants a place to lounge in style with this knitted plant hammock, handmade in Brazil. Depending on the size of your plants, you can mount the sides of this hammock closer together or farther apart to accommodate the dimensions of your pots.
Best plant shelf with room for two plants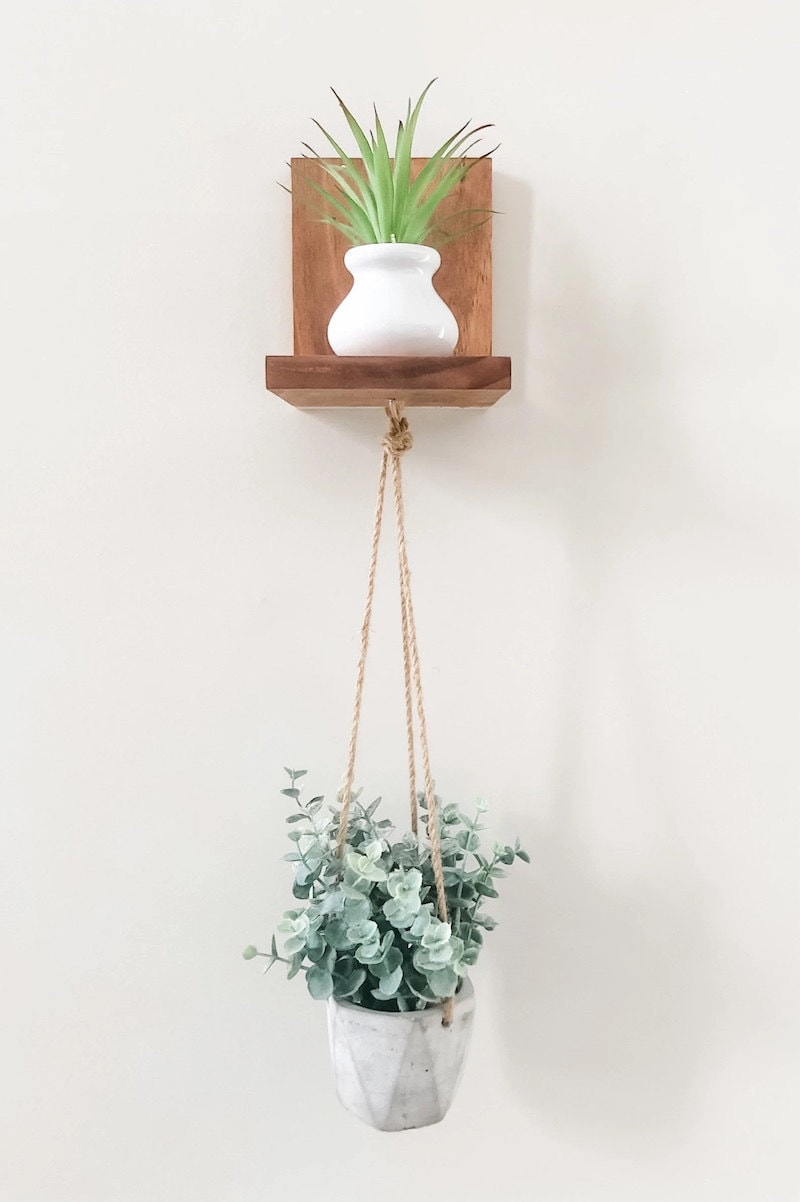 SHOP: Plant shelf with hanging hook from COL Woodcraft, from $29
There's no need to pick between a plant shelf or a hanging plant with this handcrafted wood plant shelf. Place one plant on the shelf, then use the hook under the shelf to hang another plant.
Best hanging ceramic planter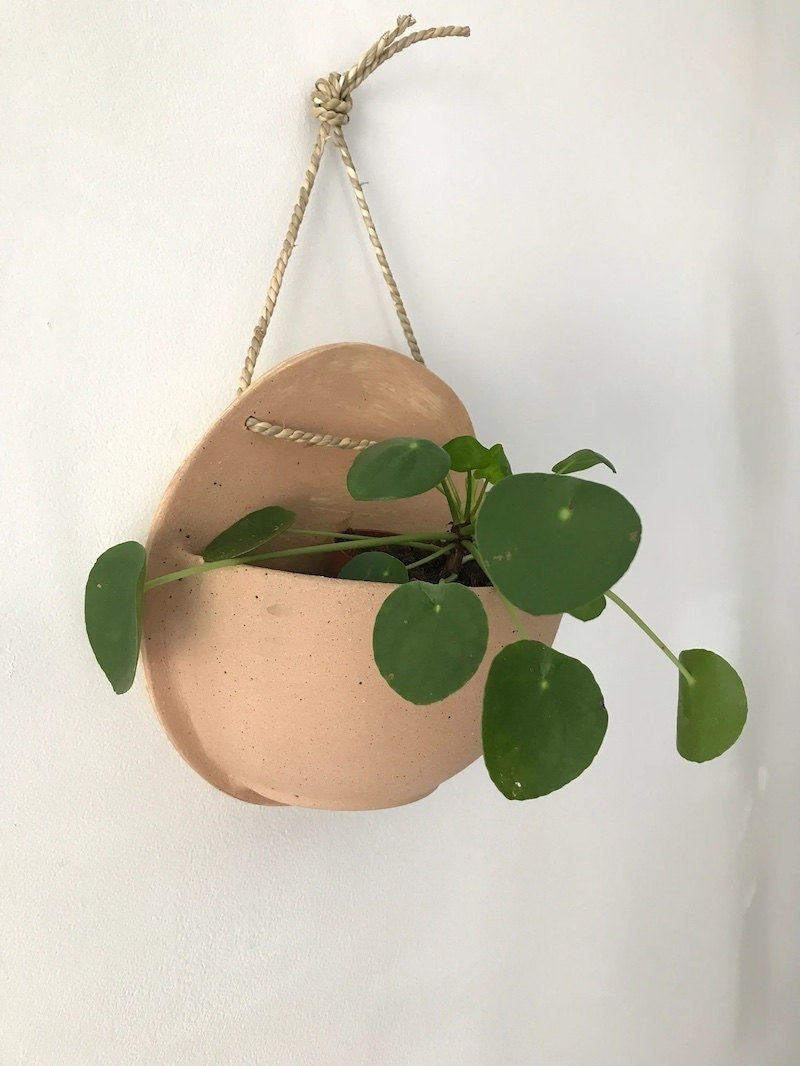 SHOP: Wall pocket hanging planter from Muddy Heart, $153
Both minimal and modern, this glazed porcelain planter can be hung using the included wall hook or hung from a larger wall-mounted hook you already have in place.
A unique macrame wall hanging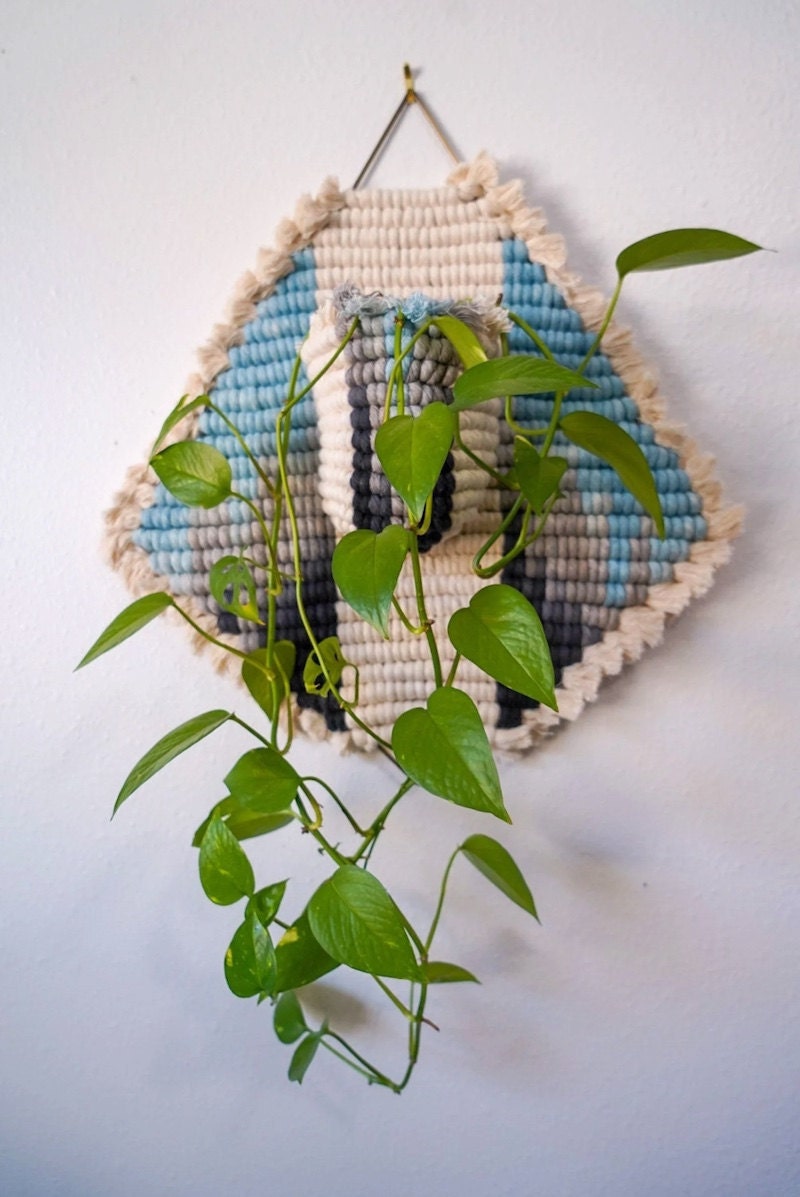 SHOP: Colorful macrame wall planter from Demi Macrame Designs, from $200
The fiber artist behind this small shop first hand-dyes the rope used for this plant hanger, and then creates a one-of-a-kind piece of macrame wall art with an integrated plant pocket.
Best wood wall planter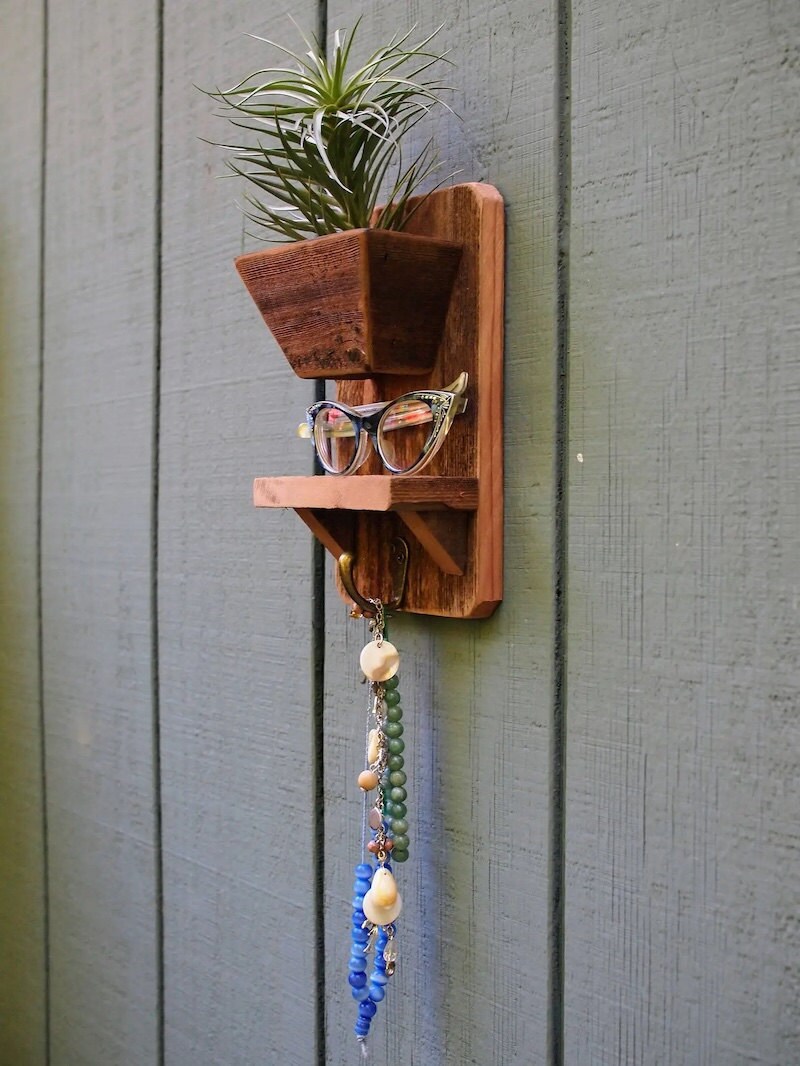 SHOP: Reclaimed wood wall hanging planter with shelf from The Succulent Dish, $53
Planter, shelf, and keyholder, this unique hanging planter is created from reclaimed wood. If you'd like a different size or a couple extra plant pockets, the seller can customize your planter just for you.
Best wall-mounted hanging planter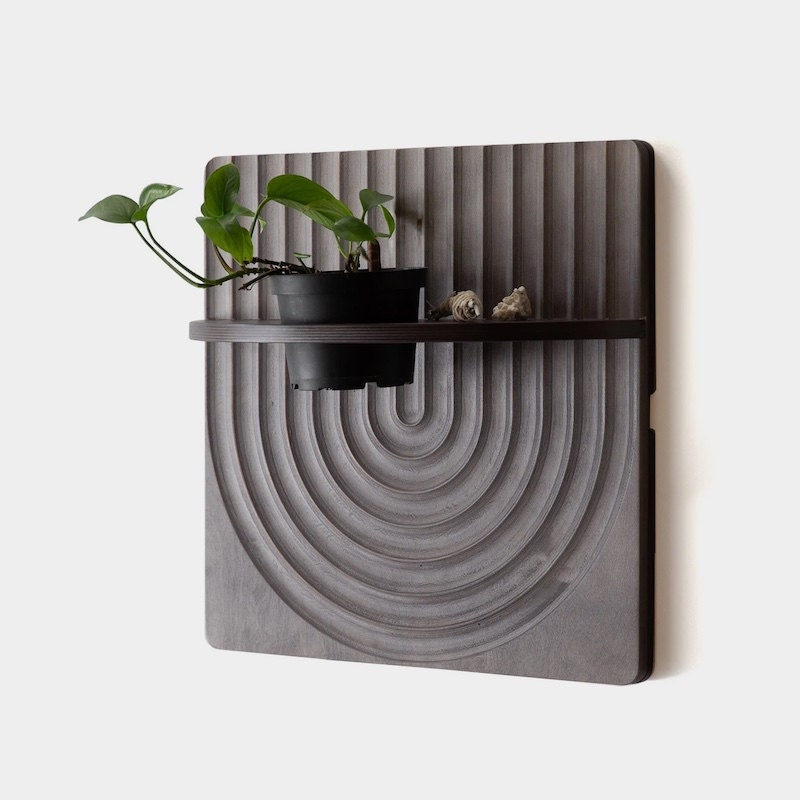 SHOP: Arch hanging planter from Karvd Walls, $139
Don't have room for shelves but still want to add some plants to your decor? These stylish wall-mounted plant holders act as both shelf and hanging pot. The integrated shelf features a cut-out hole made to nestle your pot into and these wall-mounted hanging planters are reversible if you prefer a rainbow-style arch design.