Shop these picks for the best bathrobes for everyone on your list (that includes you!) and get ready to unwind.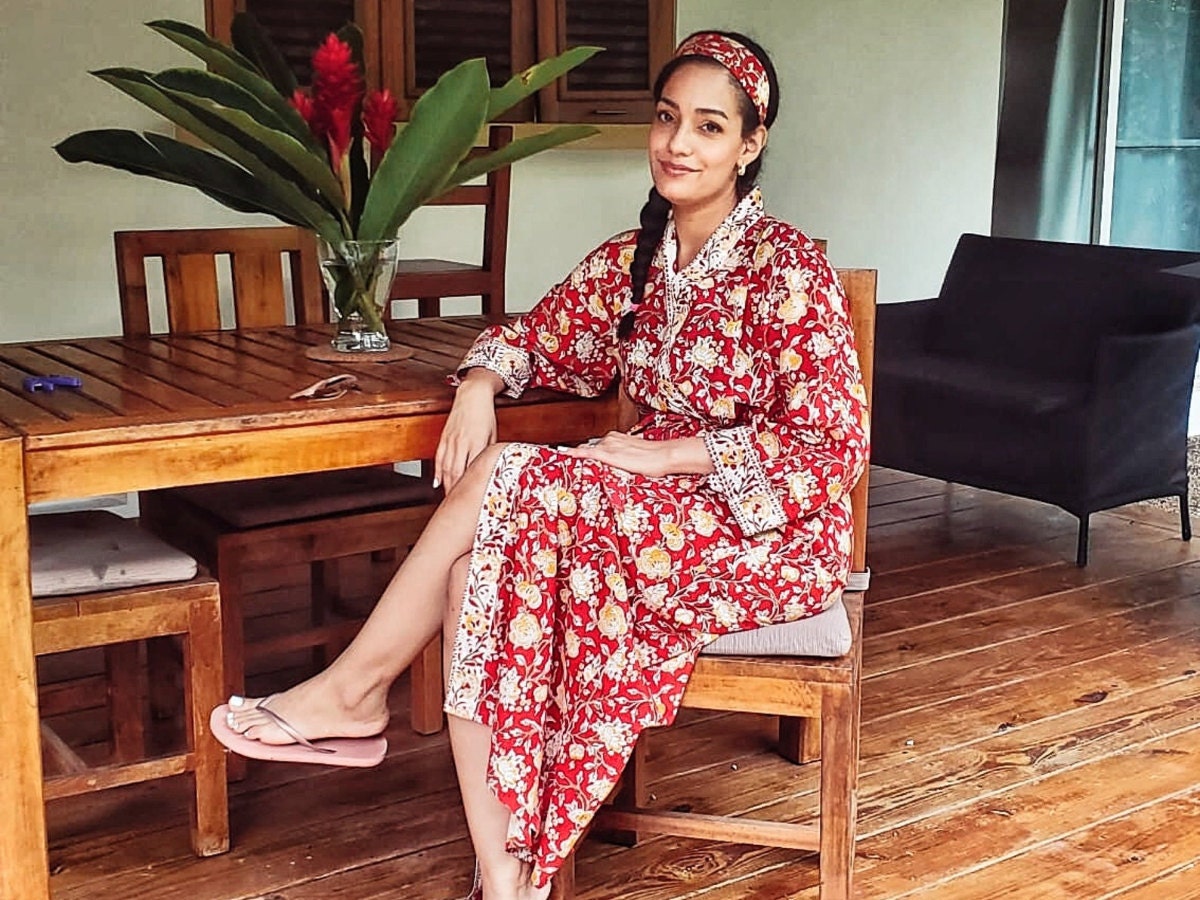 Whether you want to create your own spa day at home, cozy up on the couch, or just incorporate a few precious moments of "me time" into a busy routine, here are the best robes to surround yourself in.
If you'd like to add a special touch, many of the robes here can be personalized with a name, initials, or a sweet nickname. Spoil yourself, or make this an extra thoughtful gift for someone special. From plush bathrobes to luxe monogrammed robes to silky matching bridesmaid robes, these are the best robes for the three L's: lounging, lazing, and letting go.
Best robes for women
Whether you want to slip into something comfortable as you get ready for the day or you're just looking for a great gift, these best robes for women are both stylish and functional.
1. A luxurious linen robe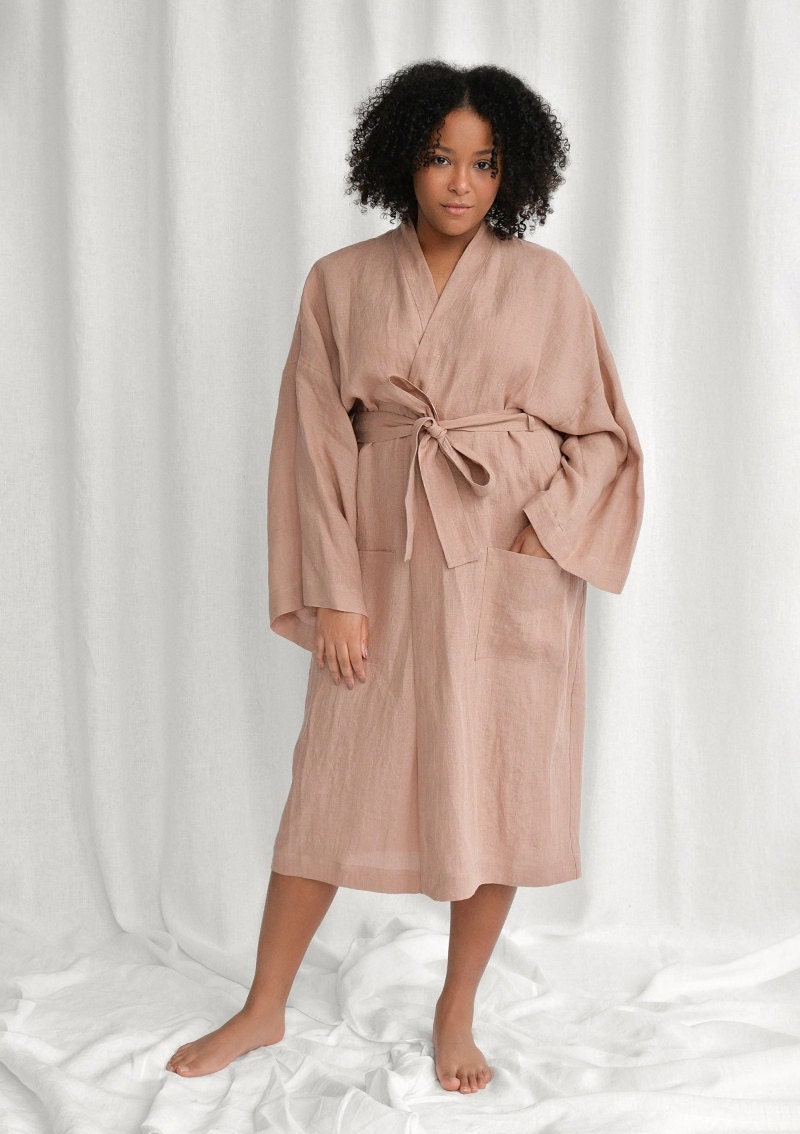 SHOP: Linen bathrobe from April Notes, $105
Every day can feel like a spa day in this robe made of naturally breathable European linen. It's perfect for cooling off after a warm bath. In addition to this beautiful sunset rose shade, these linen robes are also available in other earthy tones, including almond, moss, white, and beige.
2. A colorful printed robe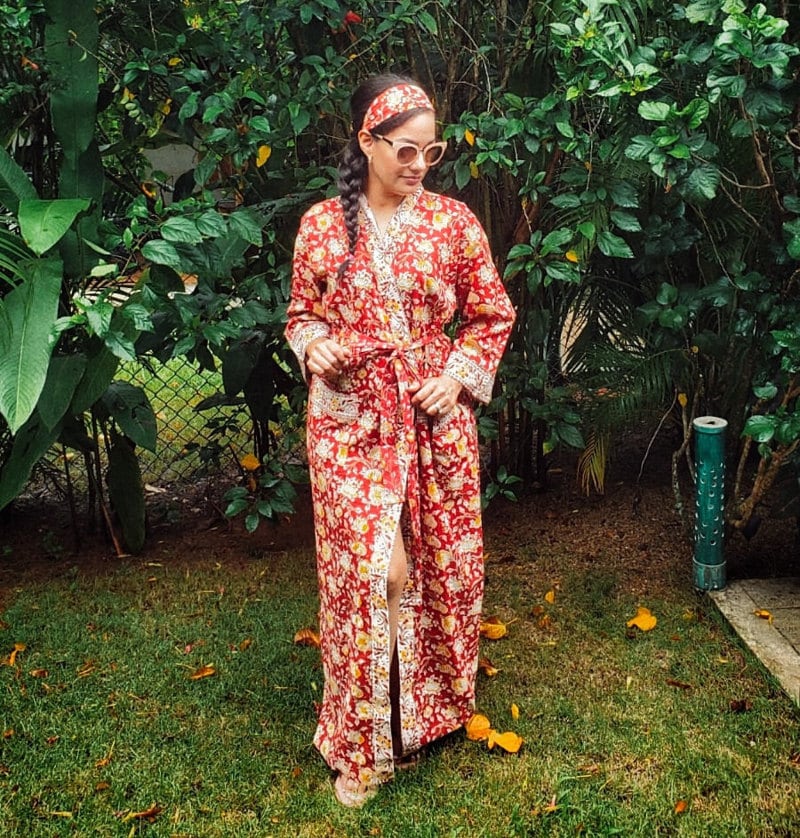 SHOP: Hand block-printed cotton robe from mommyrobeclothing, $36
Lounging around the house never looked so good. This breezy, cotton hand block-printed robe comes in multiple sizes, including plus size, as well as five different lengths, so you customize just the right fit for those lazy Saturday mornings. The shop also specializes in stylish maternity robes and nursing gowns.
3. A sumptuous velvet robe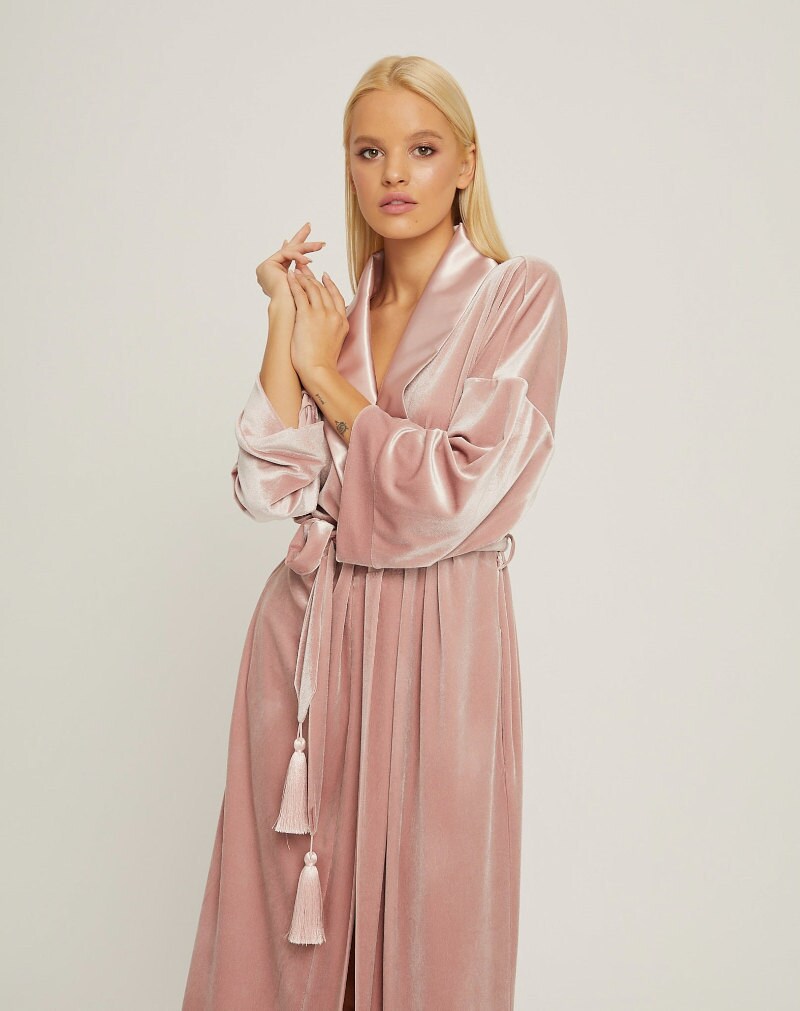 SHOP: Women's blush velvet dressing gown from MJrever, from $163
If you really want to pamper yourself—or a special someone—look no further than this plush velvet robe. When you drape yourself in the luxurious ankle-length robe, replete with a stylish tassel belt closure, everything feels a little more glamorous.
Best robes for men
Guys need pampering, too. Whether you are drying off after a relaxing shower or just want to kick back on a lazy Saturday, these are the best robes for men.
4. A monogrammed robe for him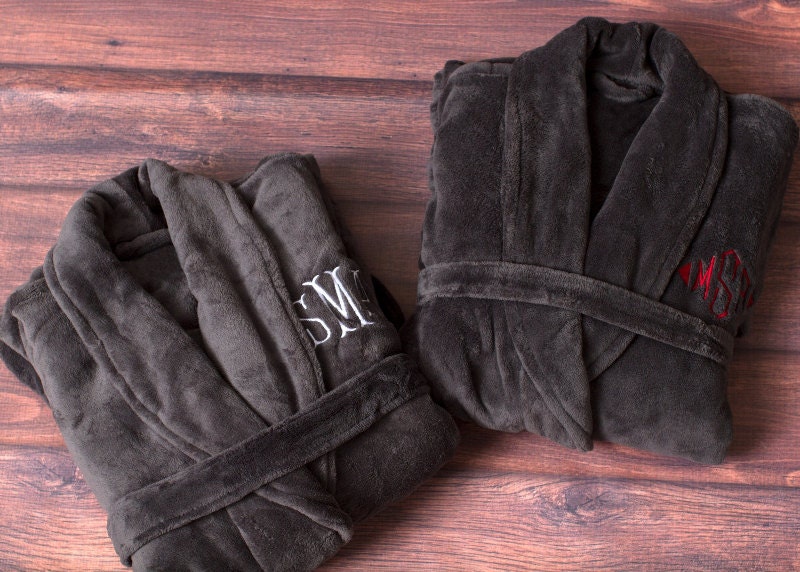 SHOP: Men's monogrammed robe from Joyful Tidings Bridal Boutique, from $48
Perfect for padding around the house on chilly mornings, this thick monogrammed robe, which comes in five colors, is made of plush polyester fleece to keep you comfy. You can also get your name embroidered on the back.
5. A luxe linen bathrobe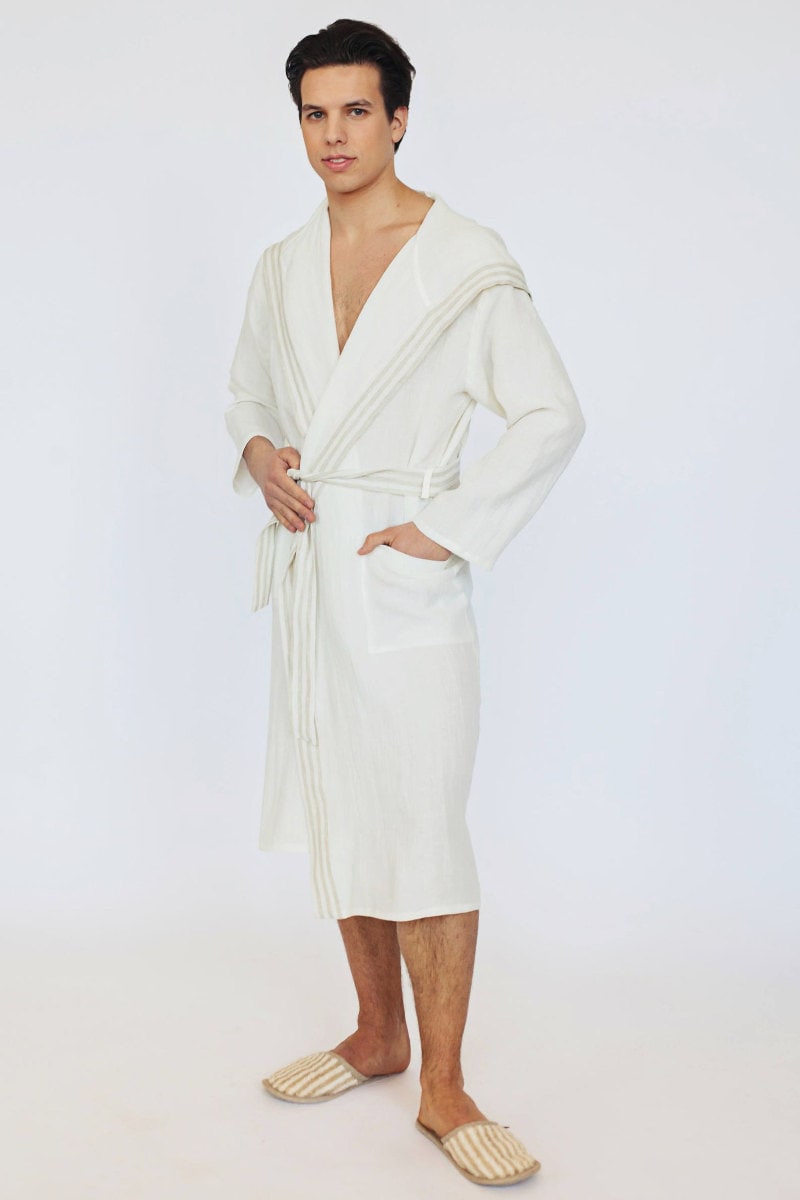 SHOP: White linen hooded bathrobe from Linum Studio, $92
Your R&R starts now. Treat yourself to this stylish, lightweight hooded linen robe, which is great for warm climates—and the perfect way to cool down after a hot shower.
6. A plush hooded bathrobe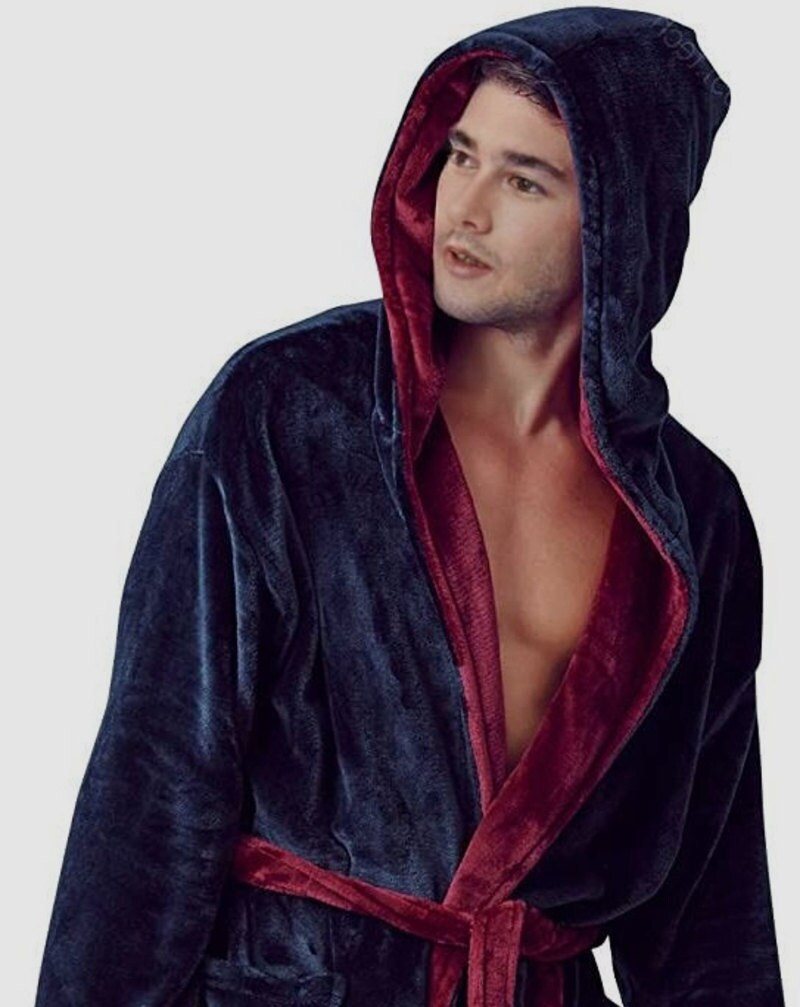 SHOP: Hooded microfleece bathrobe for men from FTBofCalifornia, from $65
Yo, Adrian! Live out your Rocky Balboa fantasies in this sporty hooded bathrobe. The long, plush robe comes in a range of colors and can also be personalized with your name or nickname on the lapel or across the back, in true heavyweight champ style.
Best bridesmaid robes
Getting ready to tie the knot? Add an extra special touch to your big day in these beautiful matching bridesmaid robes.
7. Elegant floral bridesmaid robes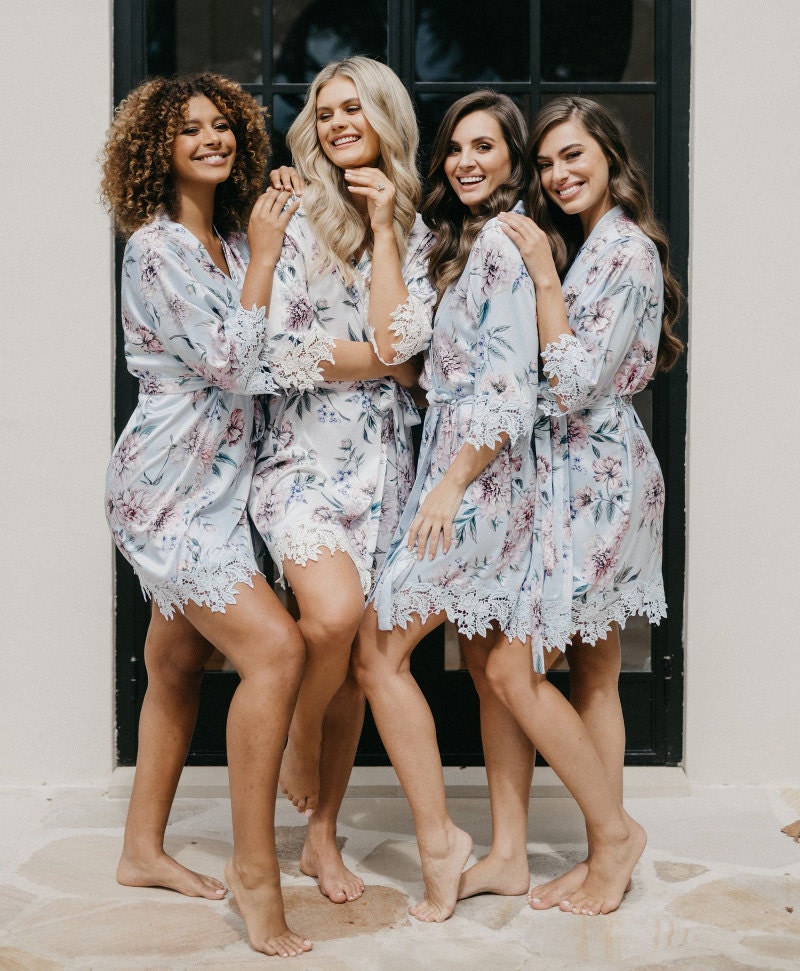 SHOP: Floral matching bridesmaid robes from Le Rose Gifts, from $26 each
Before you get hitched, glam it up with your besties in these floral, lace-trimmed robes, which come in white, blush pink, or dusty blue. You can even get them embroidered so everyone knows who's on Team Bride.
8. Personalized satin bridesmaid robes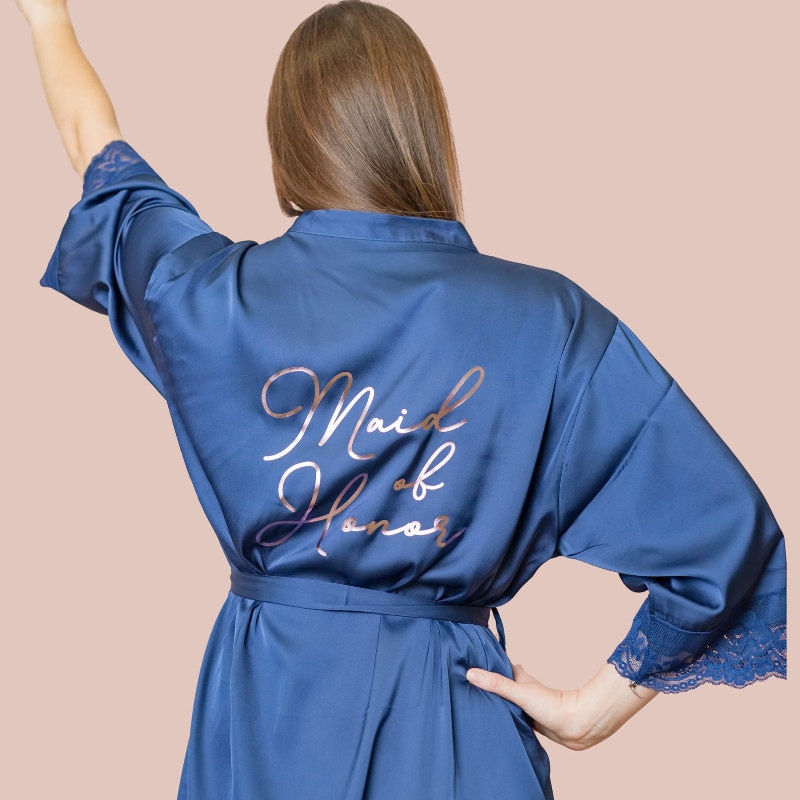 SHOP: Satin bridesmaid robes from Decorated Bliss, $27
Everyone will be saying "I do" to these satin lace-trimmed beauties. Best of all, the knee-length dressing gowns, which come in a variety of colors, can be personalized with your name or wedding role on the back in your choice of metallic foil lettering, including silver, gold, or rose gold.
9. Velvet bridesmaid robes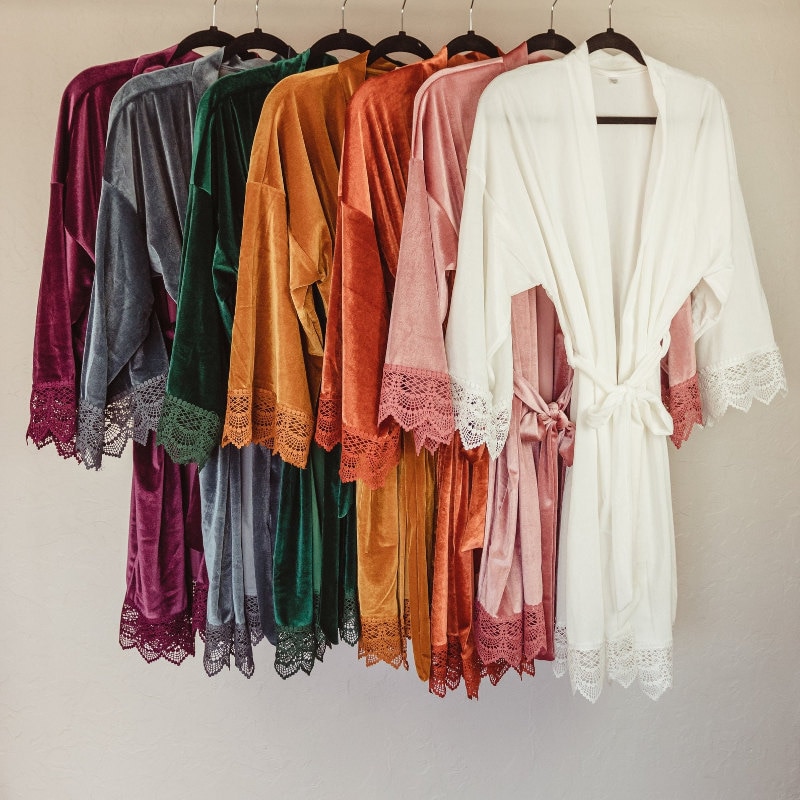 SHOP: Velvet matching bridesmaid robes from Ribbon & Rings, from $50
Add a touch of elegance to your wedding day—or any day—in these luxe velvet bridesmaid robes. Trimmed in beautiful lace, they come in a variety of dusty jewel tone shades to make all the special gals in your wedding party feel pampered.
Best personalized robes
What better way to relax than with a robe that's made just for you? Here are the best personalized robes that you can make all your own by adding your name, your initials, or whatever you desire.
10. A monogrammed spa robe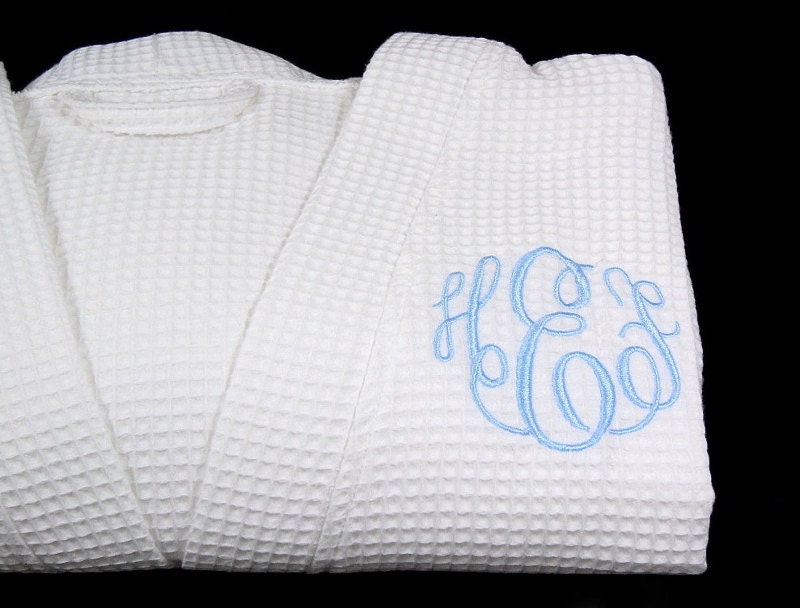 SHOP: Monogrammed cotton waffle robe from jfyBride, $50
This sophisticated white unisex robe features a cotton waffle pattern to help keep you cool after bath time and can be monogrammed in your choice of more than two dozen colors.
11. A personalized hooded bathrobe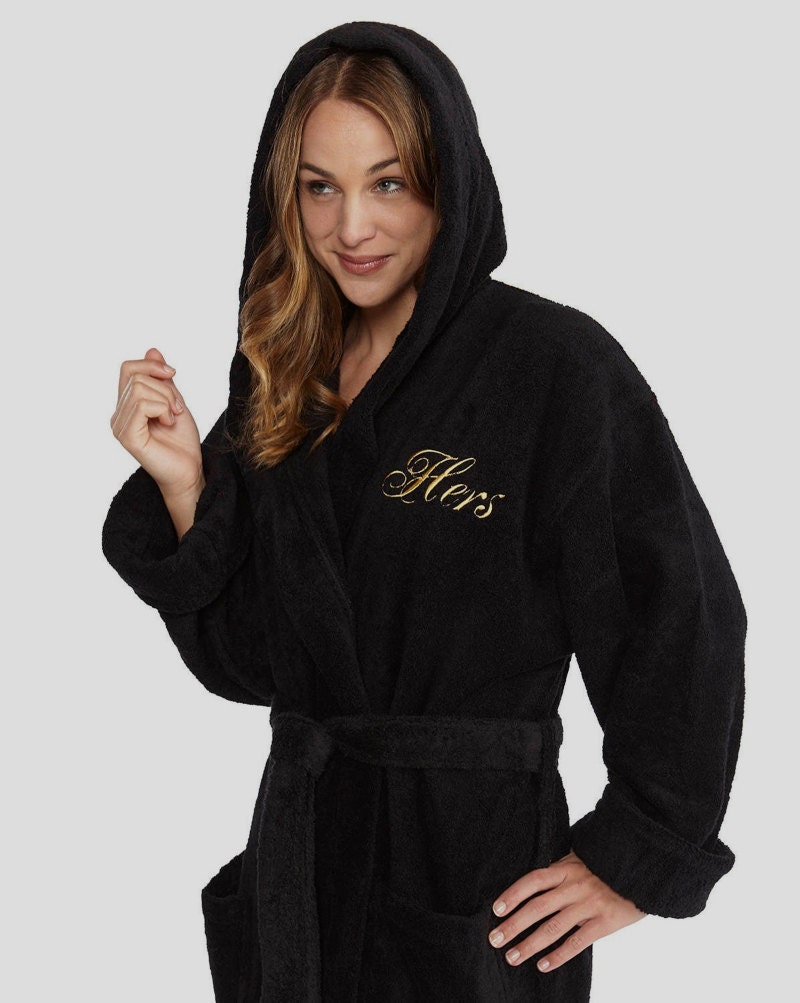 SHOP: Personalized terry cloth bathrobe from OrganicTowel, from $120
You'll be ready to spend some quality time curled up on the couch with this plush hooded terry cloth robe made from Turkish cotton. Plus, you can get it embroidered with your name, monogram, or a custom design made just for you.
Best matching robes
Get ready together in these matching robes that are both cozy and cute.
12. Mommy and me matching robes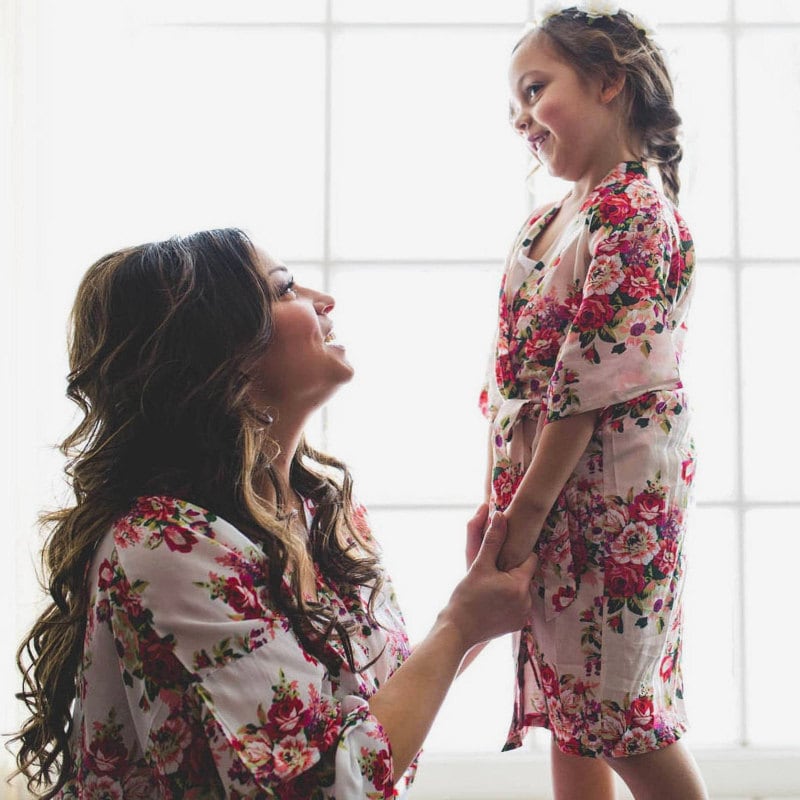 SHOP: Mommy and me floral robes from Divine Bridal, from $11 per robe
Is there anything cuter than matching mother-daughter robes? These knee-length printed rayon cotton robes come in a variety of colors and a range of sizes to fit kids ages 3 to 12 and adults size 0 to 22.
13. Couples matching spa robes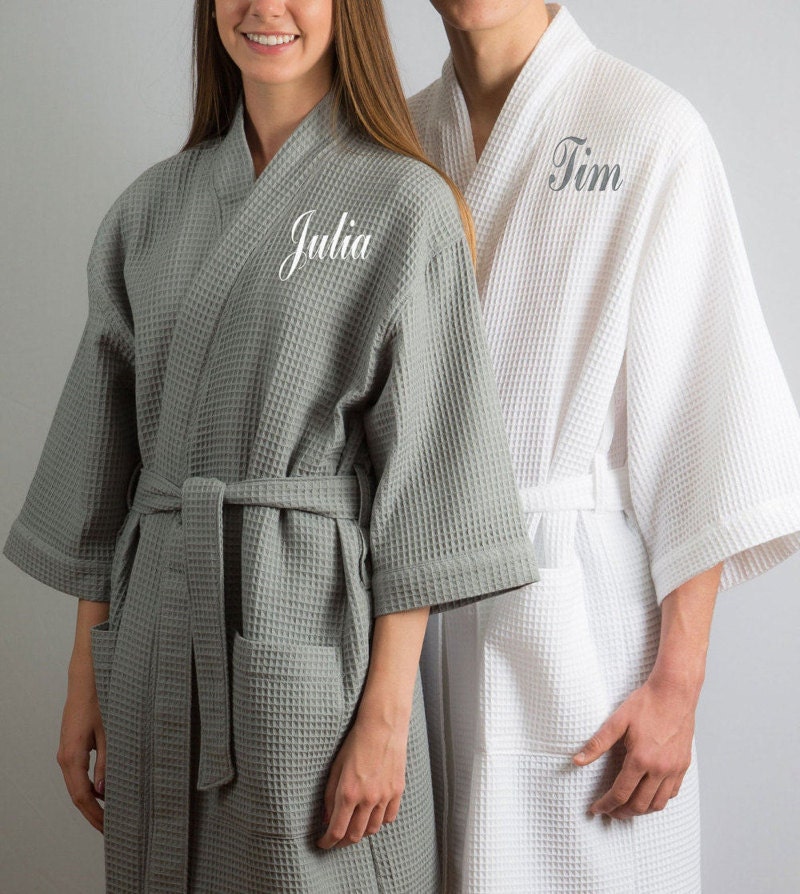 SHOP: Personalized couples robes from MonogramWorks, from $90 for two robes
Make your relationship official with these matching waffle spa bathrobes. Made of a cotton and polyester-blend, these robes come in different lengths, colors, and sizes—and can be personalized with your names, Mr., Mrs., Husband, Wife, or whatever is meaningful to you.
Best bathrobes
Recreate the spa experience at home with these luxurious bathrobes. Add a few bath bombs, and you'll be de-stressing in no time.
14. Handwoven cotton bathrobe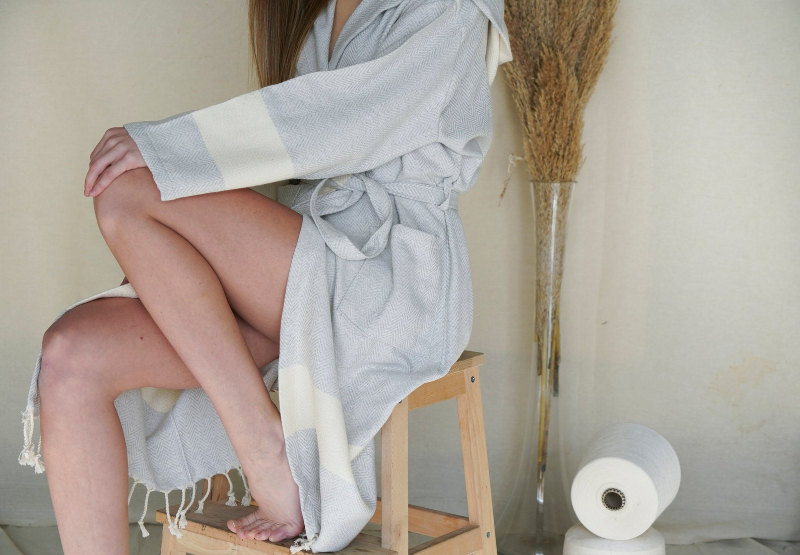 SHOP: Handwoven cotton bathrobe from Wolke Concept Store, $44
No sauna? No problem. Create your own spa experience at home with this handwoven cotton robe, which is made in Turkey. The robes, which come in blue or gray, feature a stylish herringbone pattern and a chic tassel trim.
15. Personalized cotton waffle robe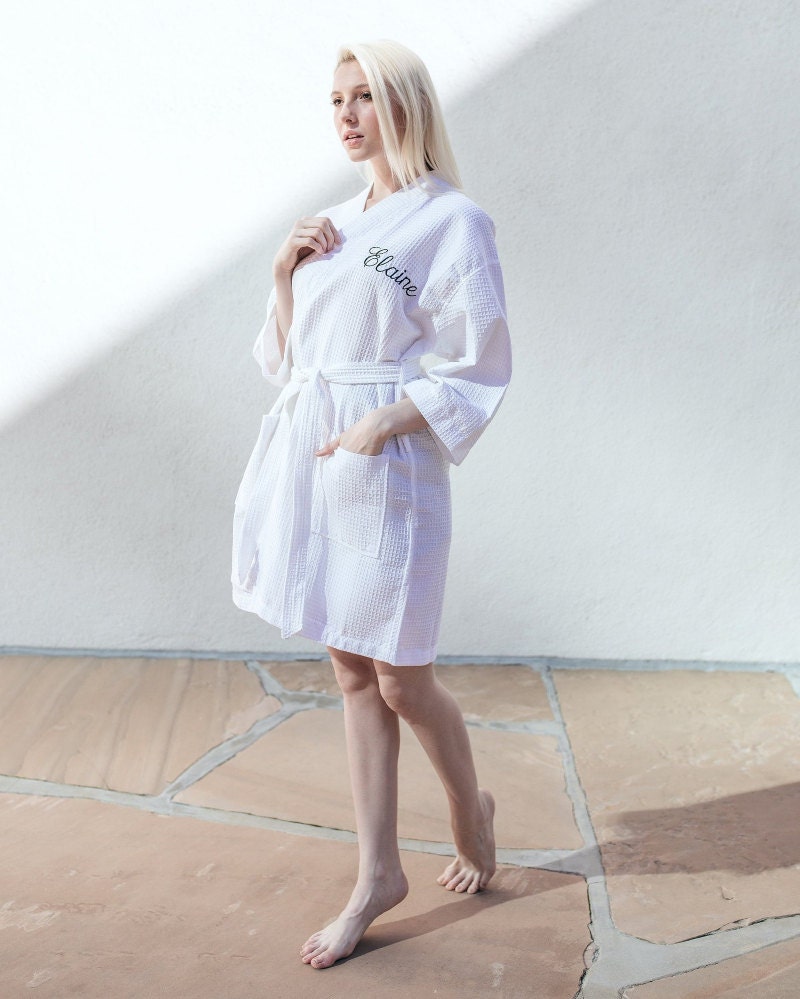 SHOP: Personalized cotton waffle robe from Embroidered Robes, $30
After a good soak, dry off in this knee-length waffle spa robe. Made of a cotton-polyester blend, the robe comes in more than a dozen colors and can be personalized with your name or your initials.
16. A colorful linen spa robe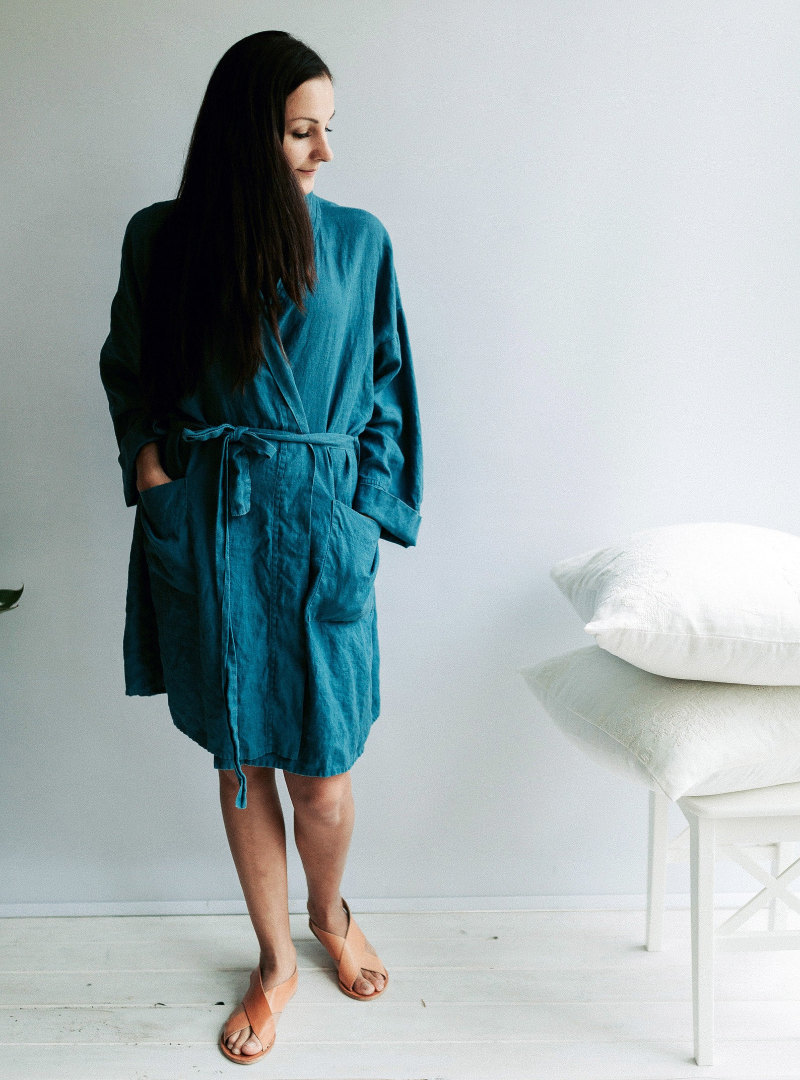 SHOP: Linen bathrobe from Linenbee, $114
Whether you're stepping out of the shower or lounging around on a warm day, you'll stay cool in this luxe robe made of lightweight European linen. The natural, breathable fabric comes in a wide range of colors—including the vibrant sea green pictured above—and a large range of sizes, from XXS to 3XL.