These unique rugs, from bath mats to full-room area rugs, add some color, dimension, and personality to your home.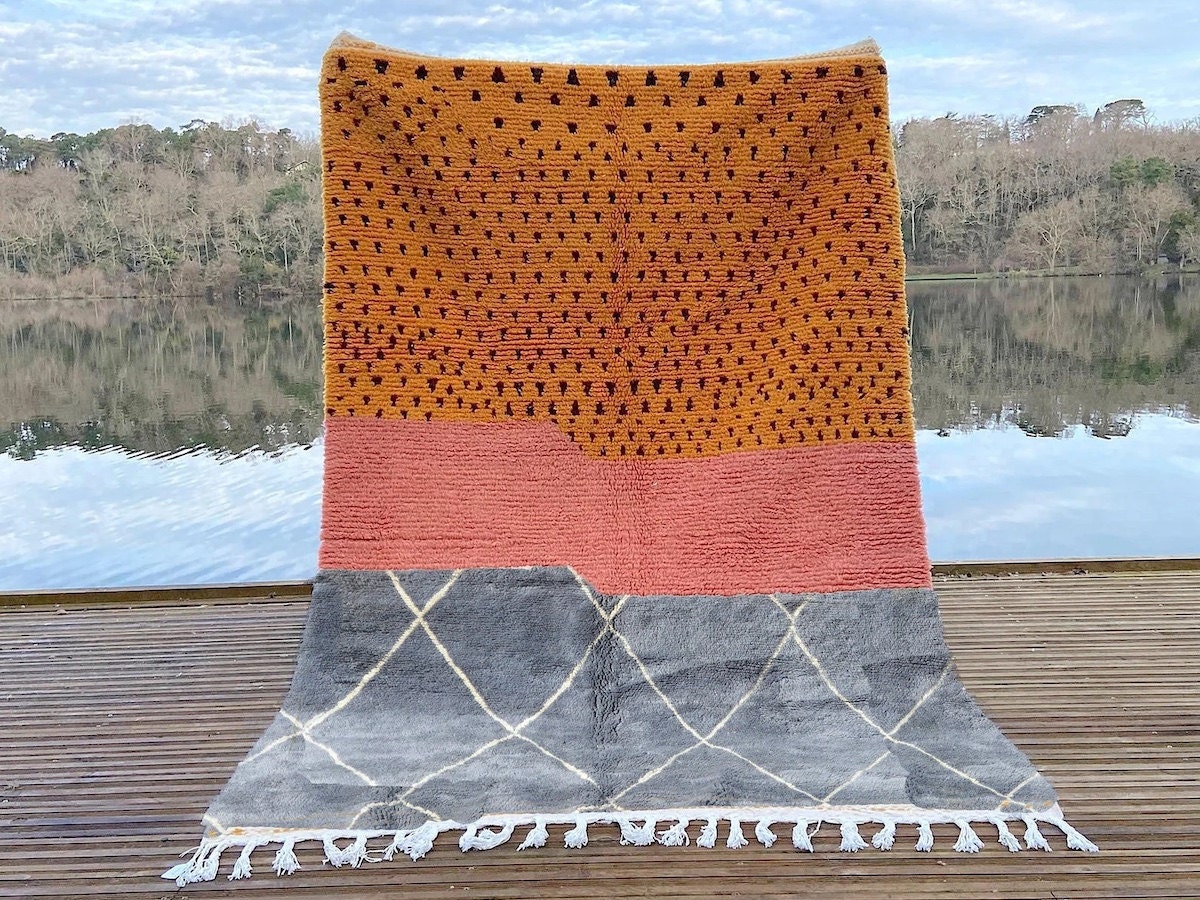 A darling personalized welcome mat. A chic, modern rug. A soft and sweet kitchen rug. Statement and accent rugs can bring a room together and add extra spark to your home decor. Here are some of the best rugs to take your space to the next level.
Best outdoor rugs
When the mountains are calling, follow your heart and spend a bit more time outside. Decorate your patio with a cozy rug for those long summer evenings outdoors.
1. A reversible, waterproof rug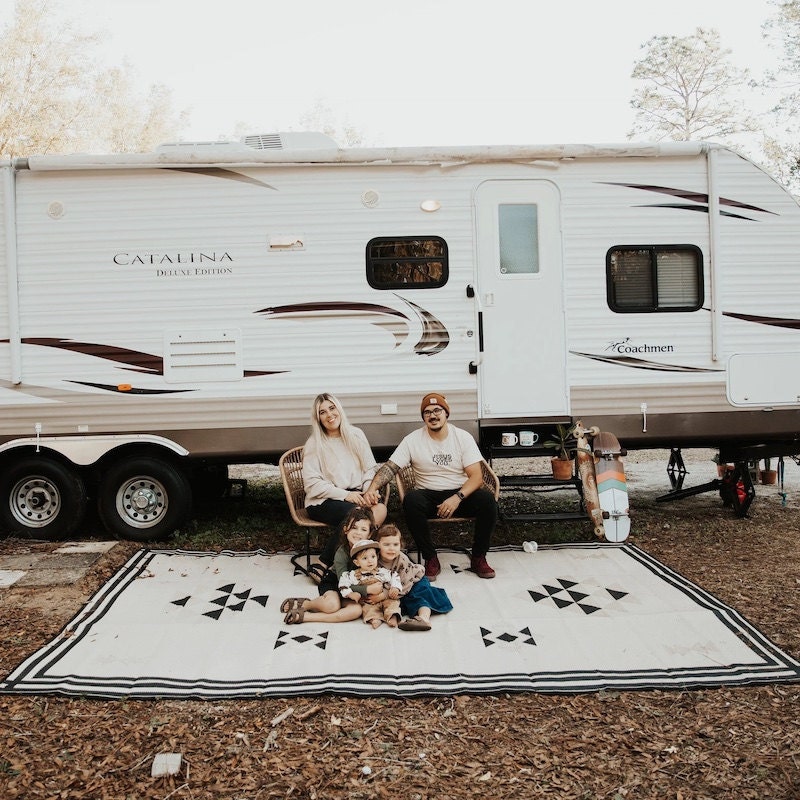 SHOP: Reversible waterproof outdoor rug from Glamplife, $100
This simple, geometric outdoor rug is perfect for the back porch: Waterproof for the sudden summer storm and wide enough to complement all of your patio furniture. And as a bonus, if you want to change up your decor, don't sweat it—the entire rug is reversible if black is more your style. Add it to your outdoor decor or glam up your next camping adventure.
2. A personalized doormat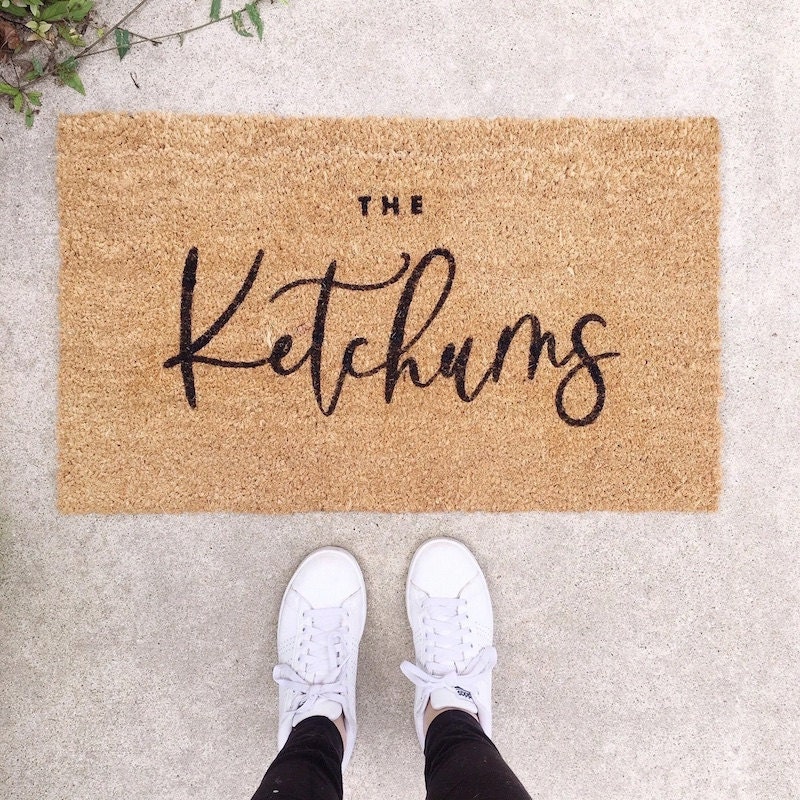 SHOP: Customized welcome mat from Proper Letter, $64
Welcome all your houseguests in style with a custom doormat, hand-lettered with your family name. A fun fact: This rug is made from coir–a fiber made from the outside of a coconut–and is sprayed with a waterproof and UV resistant spray so it's front stoop ready.
3. A nautical-inspired rug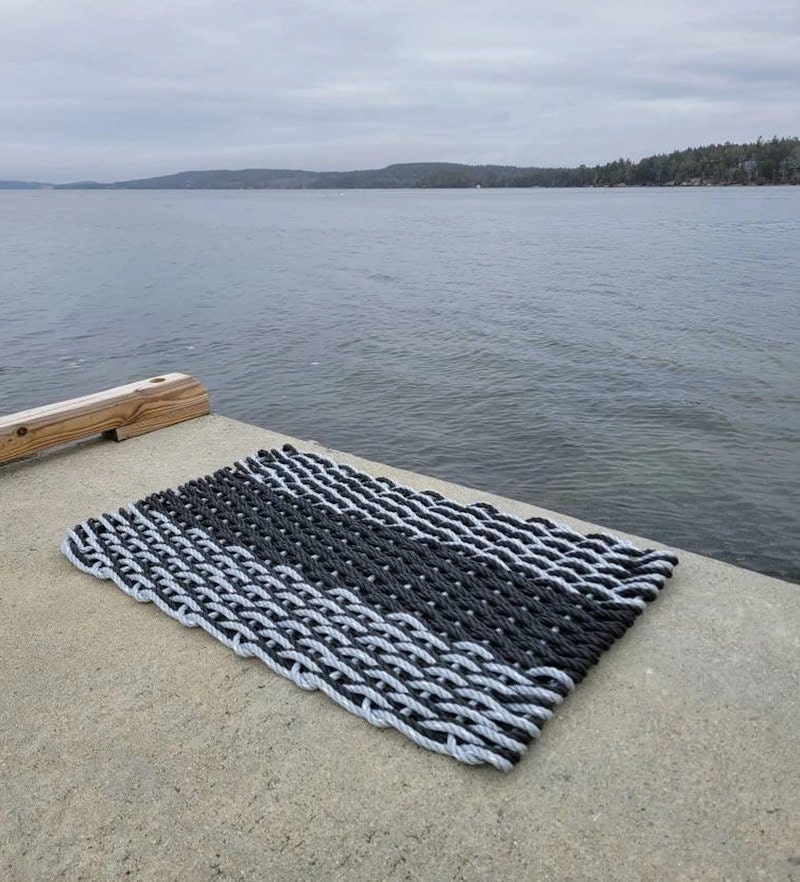 SHOP: Large fisherman's rope outdoor rug from Little Salty Rope Co, $100
This rugged woven rug is built to last: It's made out of the very same rope that lobster fishermen use to tend to their gear. Its double basket weave makes it durable and textured, and you can choose between a blue or gray rope to complement the ivory tones.
Best bathroom rugs
When you step out of the shower, you want a cozy bath mat to cushion your feet, but why not also add some color to your bathroom, too? These bathroom rugs add the ideal accent to your space, whether it's a calm and cool mood or a playful, fun vibe.
4. A soothing bath mat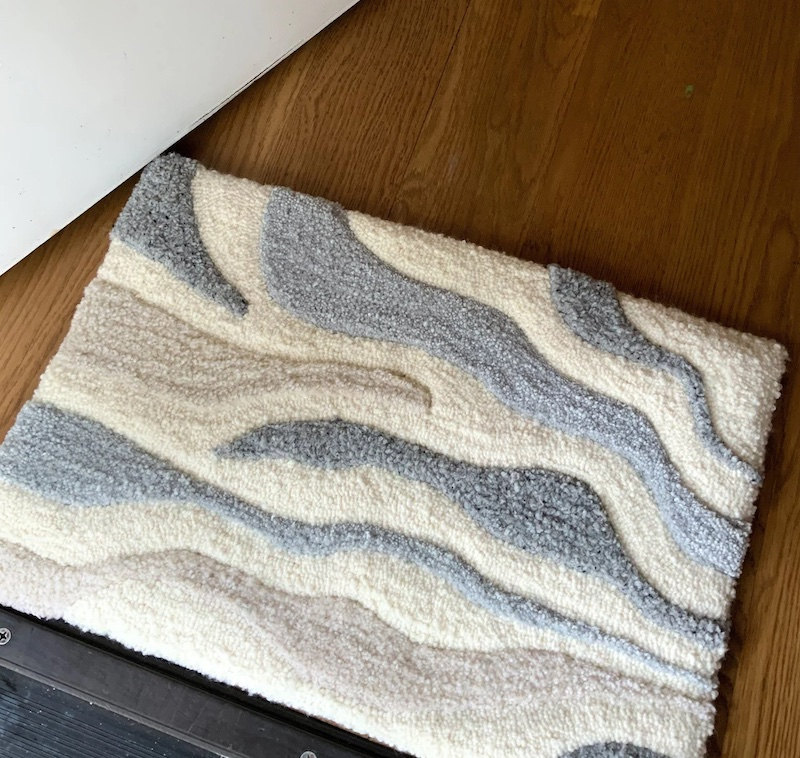 SHOP: Abstract neutral bathroom rug from Left Corner Goods, $95
Feel like you're floating in the waves or looking at the sky on a warm, breezy day with this hand-tufted rug. With neutral blues, grays, and creams, this soft abstract bath mat will complete your bathroom sanctuary.
5. A colorful custom rug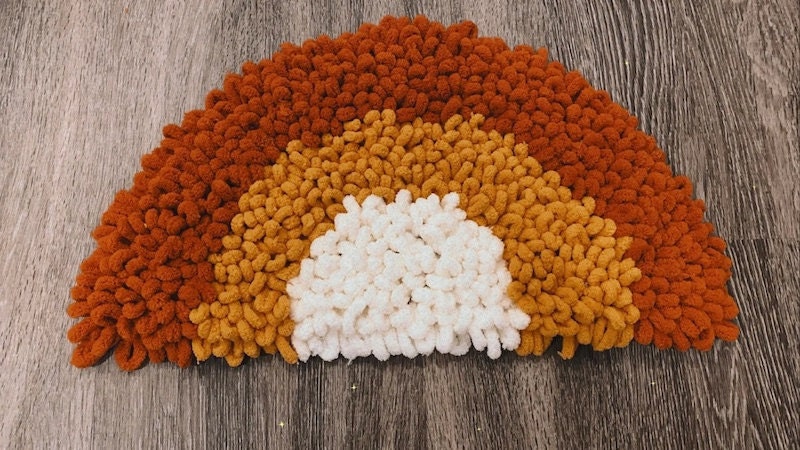 SHOP: Custom rainbow rug from Young Boho, $50
These ultra-soft rainbow rugs are the perfect antidote to cold feet. Even better: You can choose which three colors will match your aesthetic for a custom bathroom rug.
6. A bold bathroom rug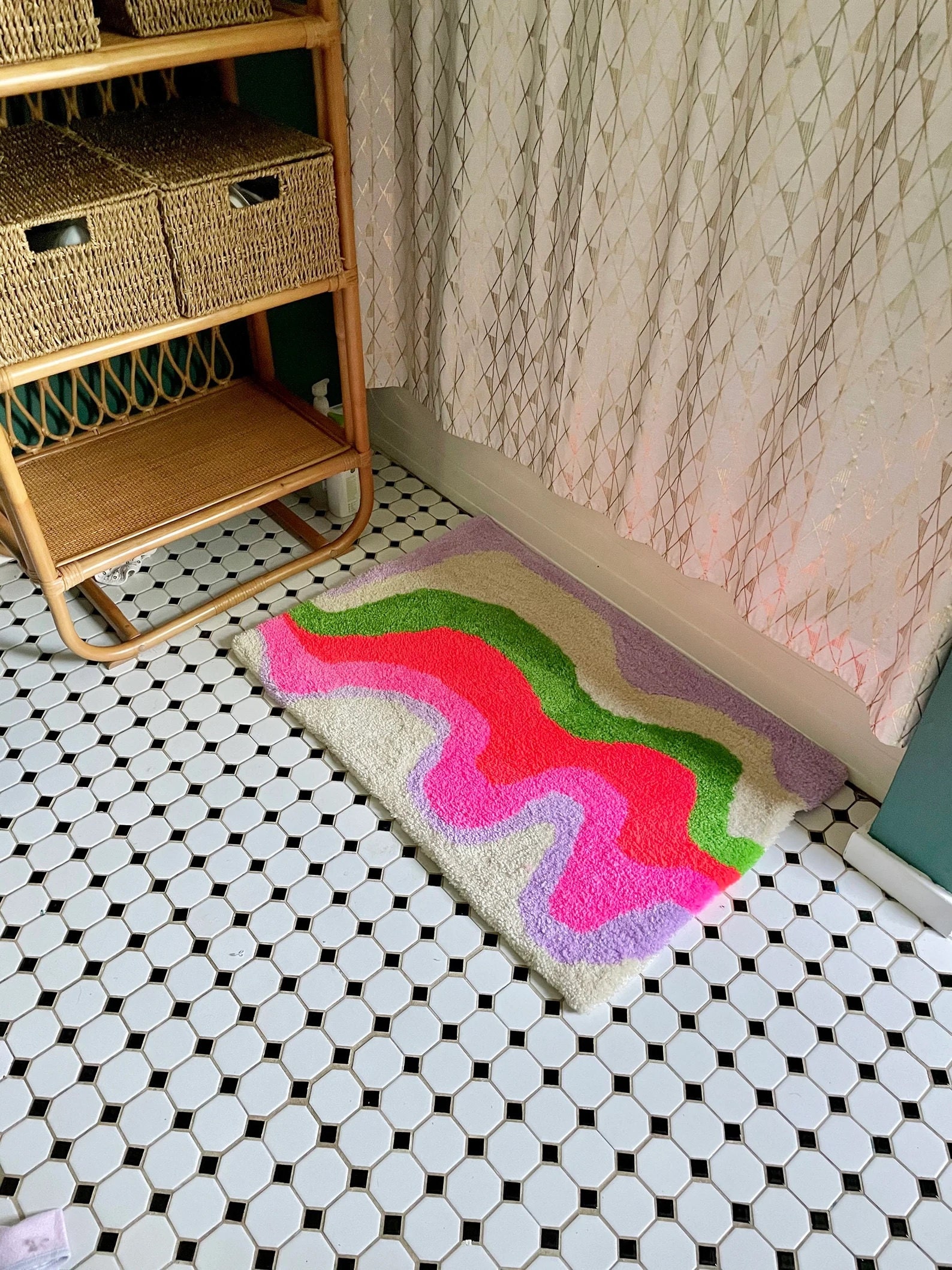 SHOP: Wavy and bright tufted rug from Fem World Shop, from $300
Bring a pop of color to your bathroom with this abstract wavy rug. With bright pink and lime green lines, this bold rug can add some playfulness to your bathroom and some pep to your step.
Best area rugs
Rugs can be a game changer for making a space feel more thoughtfully curated and comfortable, and area rugs especially are the secret ingredient to quickly take a room from disjointed and drab to cheerful and full of personality. And good news if you aren't in love with your floors: These area rugs give your room an instant makeover!
7. A small kilim rug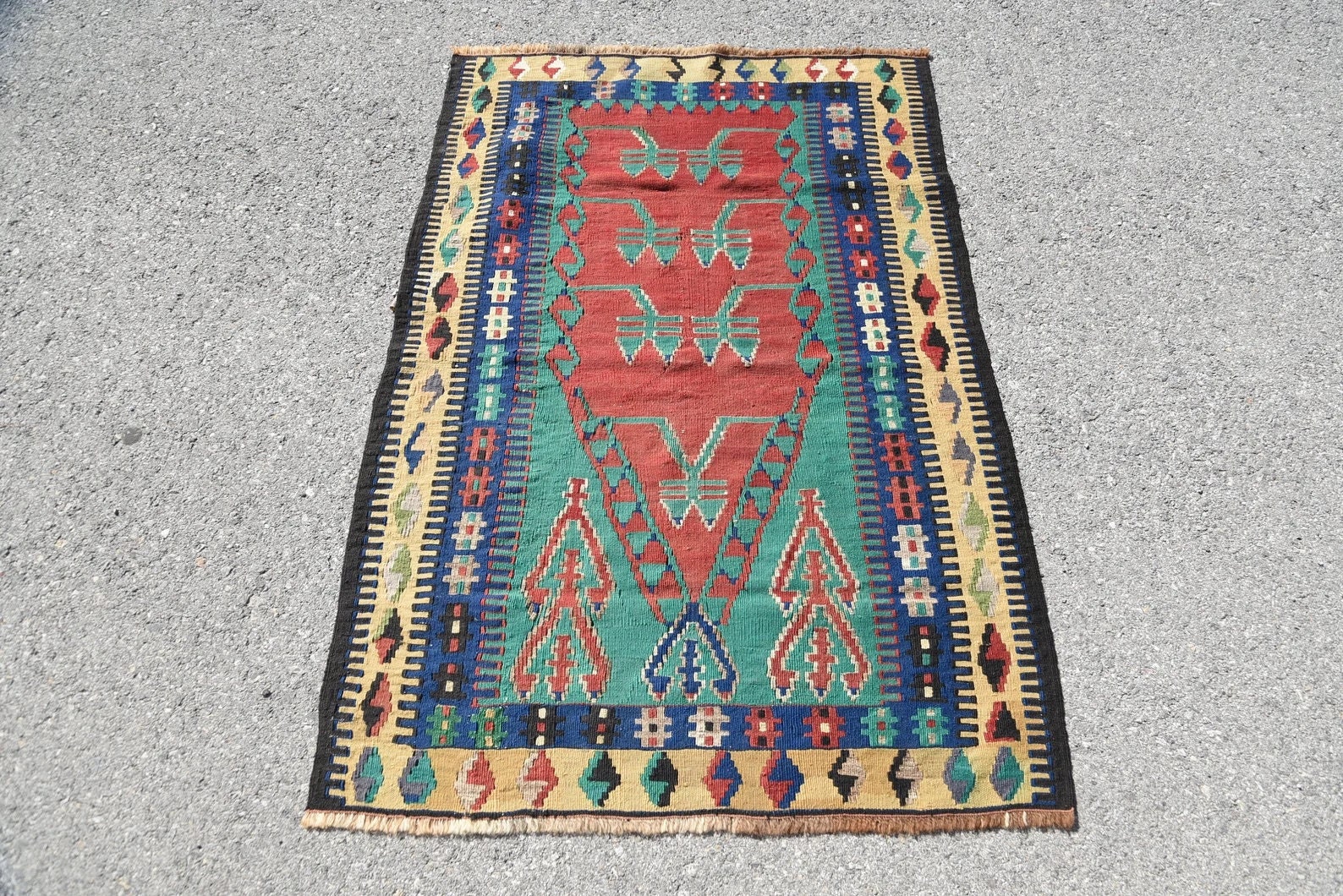 SHOP: Turkish kilim rug from Turkish Rug Designer, $136
Have a smaller space? A Turkish kilim rug will bring instant vibrancy to tight rooms or entryways and its low pile can hold up to daily use. Its bright colors betray its age: This vintage, one-of-a-kind piece is hand-knotted from the 1970s.
8. A soft pink Moroccan rug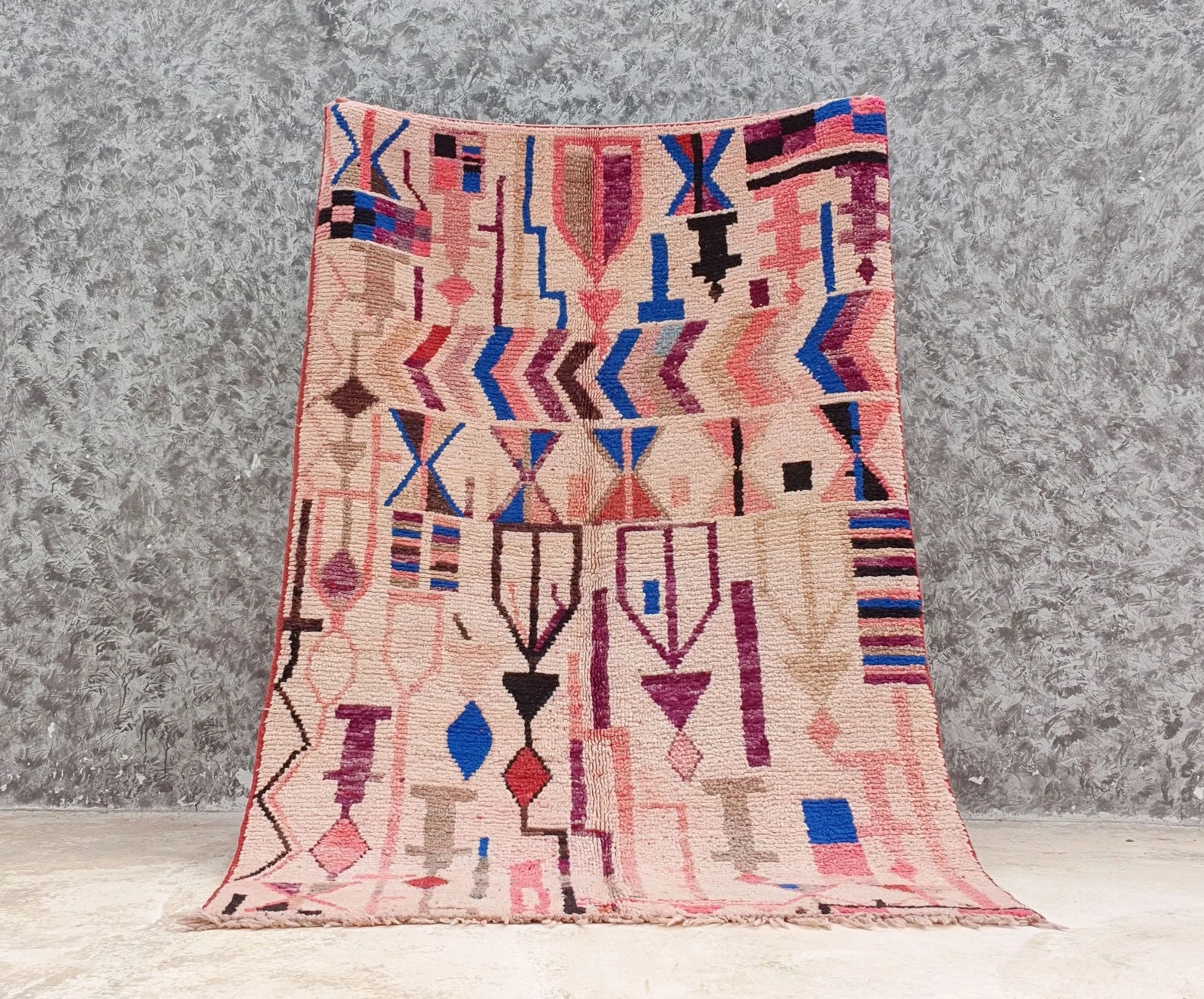 SHOP: Vintage pink Moroccan rug Baba Handmade Rugs, $600
Add some soft pastels to your home with this vintage pink Moroccan rug. And this piece comes with an incredible history: It was individually crafted, and this type of rug is traditionally made by the Boujad tribe in the Middle Atlas mountains of Morocco.
9. A neutral area rug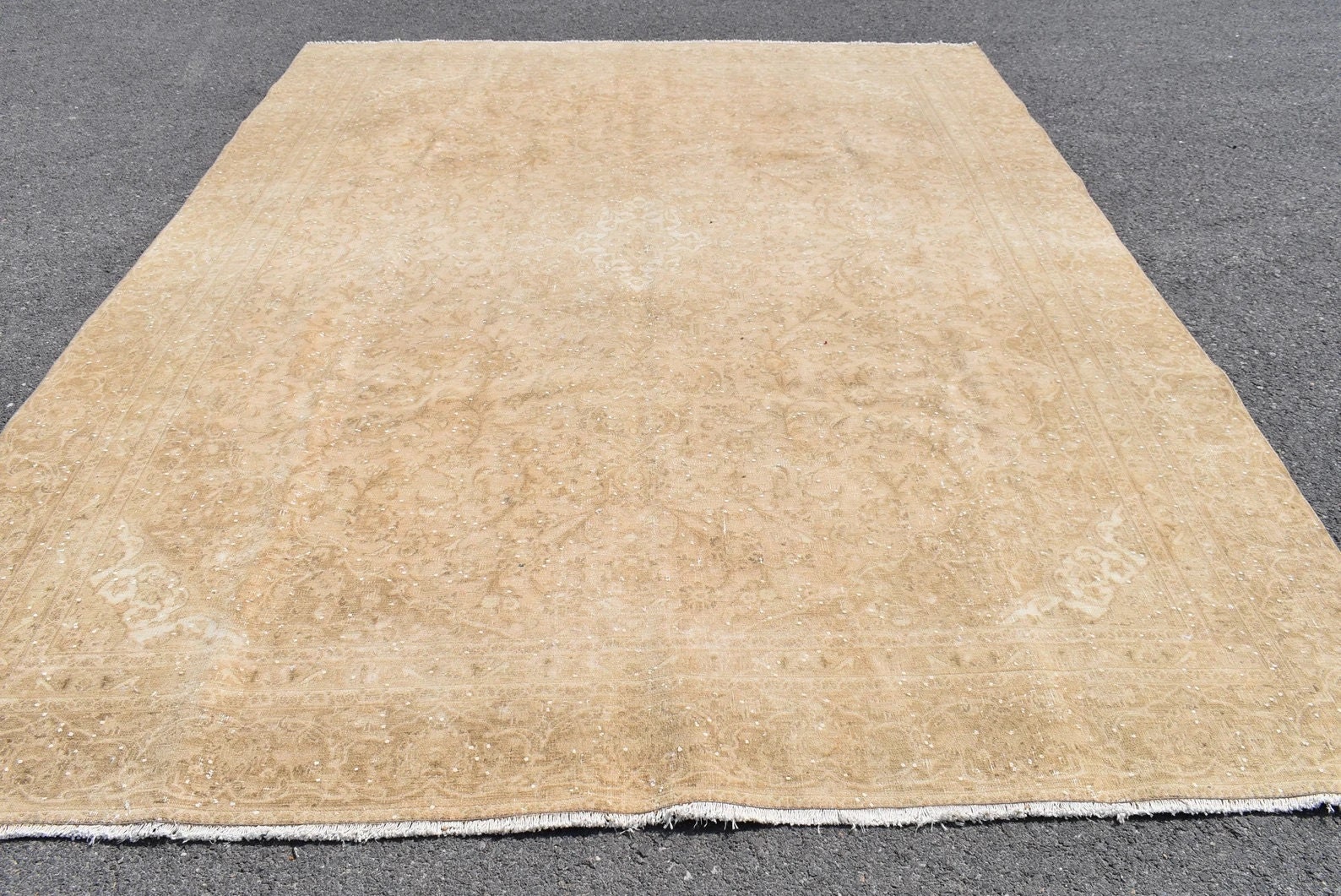 SHOP: Creamy neutral area rug from Turkish Rug Supplier, $934
If you're looking for a neutral area rug with delicate details, this low pile rug checks all the boxes. Its cream and beige hues don't take away from the rest of your decor, but if you look closely, you will notice the faded patterns of this vintage beauty.
Best living room rugs
The place where we sit, relax, and gather together, the living room is the centerpiece of the home. Spruce up your space with fresh, modern rugs for a sophisticated look or traditional rugs for a more vintage feel.
10. Best round rug for small living rooms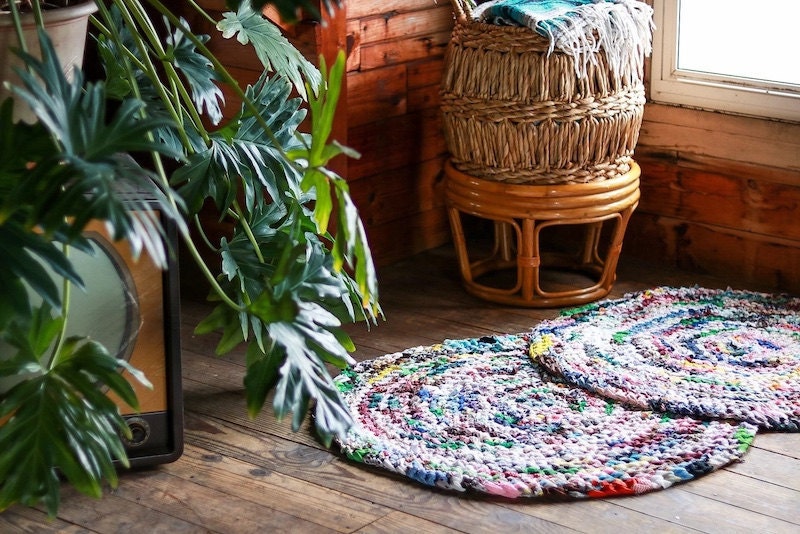 SHOP: Bohemian round rag rug from The Copper Fox Makery, $85
Add a boho round rug to your living room with this hand-crocheted rug made from recycled fabrics. With just four feet in diameter, this textured rag rug is the best rug for a small living room and can fit into any nook or be layered with other small rugs as a centerpiece beneath the coffee table.
11. A colorful vintage rug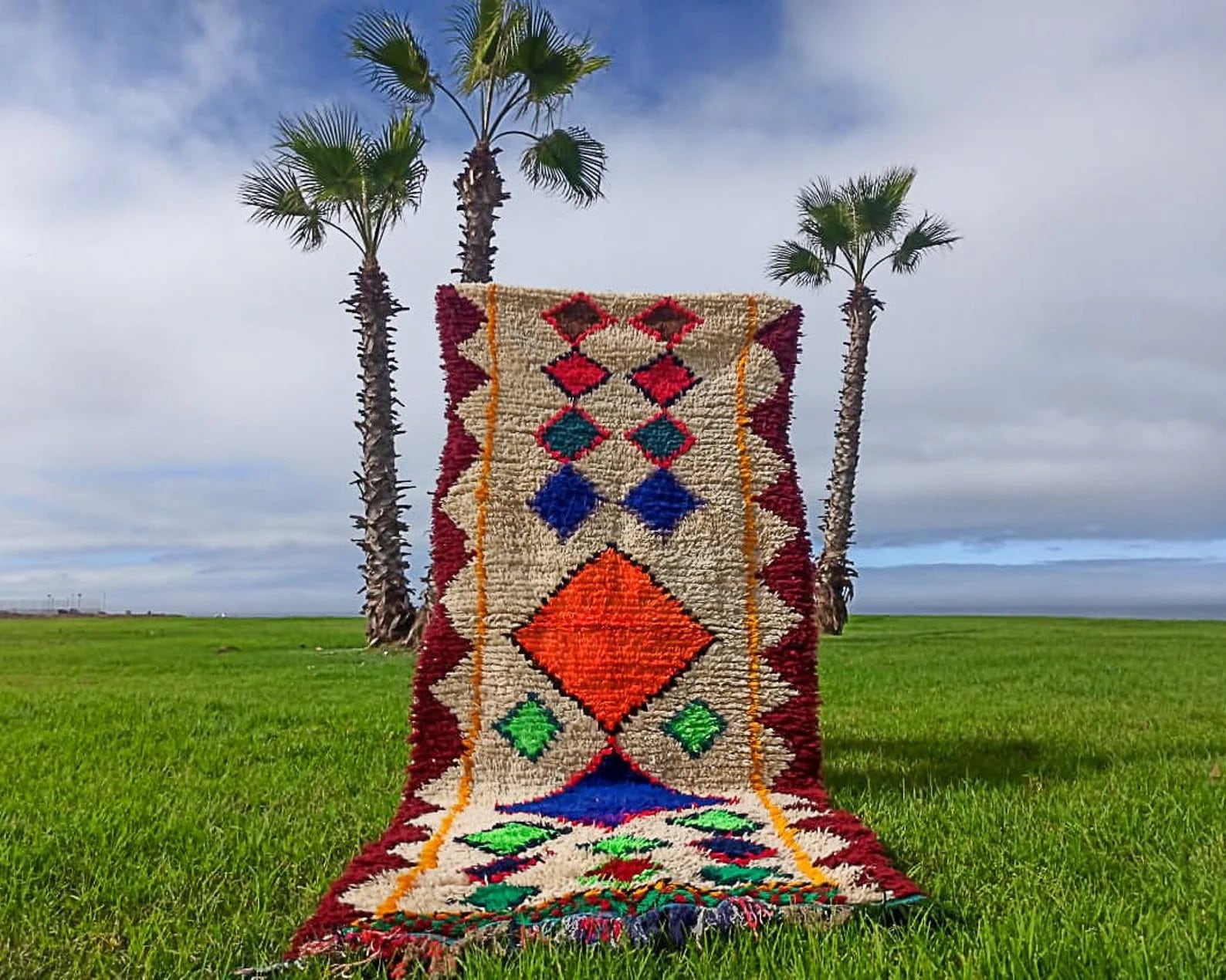 SHOP: Colorful vintage Moroccan rug from CrafticUnion, $248
This colorful Moroccan rug will brighten up your day and your living room. These rugs are traditionally made of a mix of thousands of scraps of cotton and wool materials, creating a match made in heaven: unique, soft texture underfoot and brilliant, bright hues.
12. A funky living room rug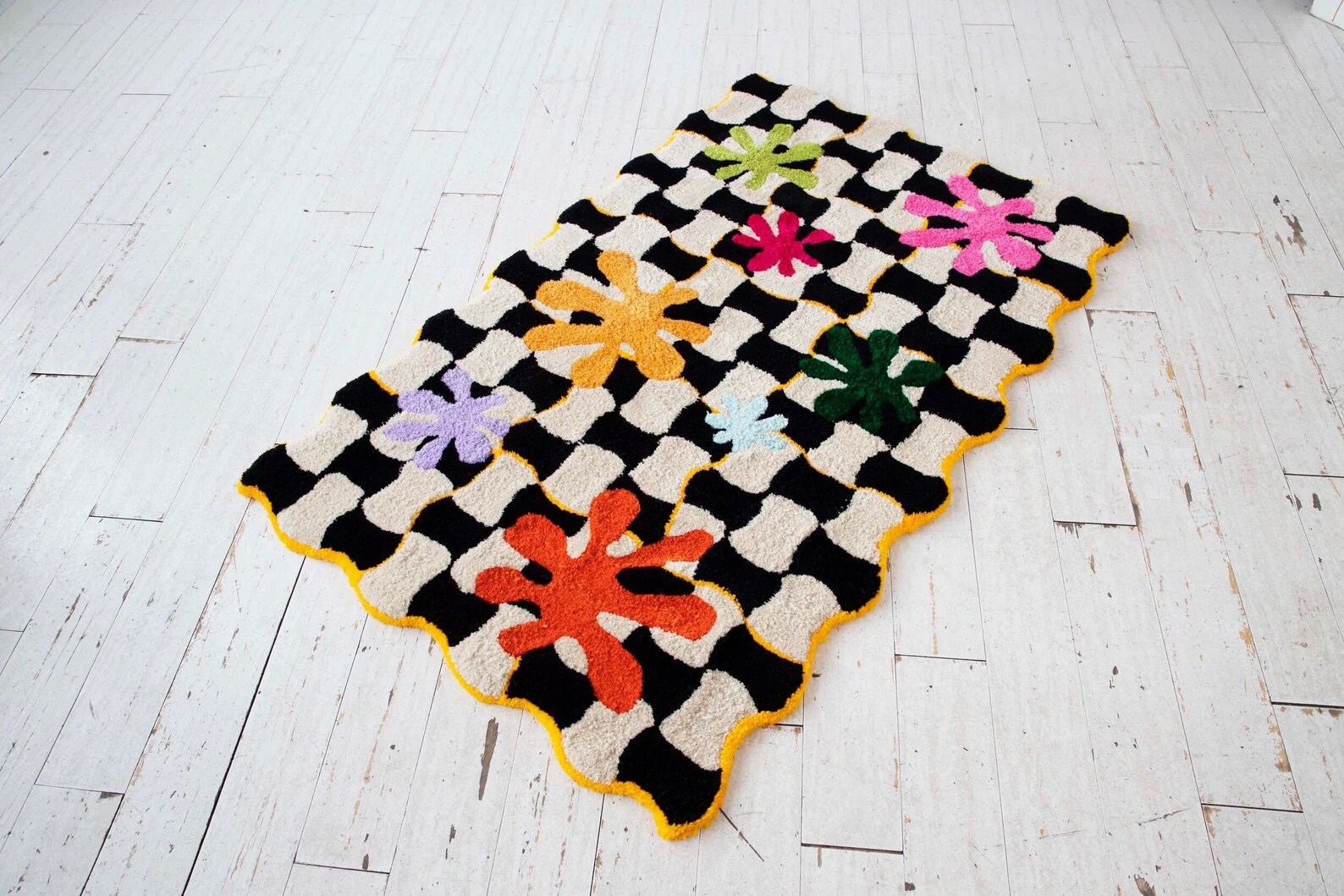 SHOP: Checkerboard and floral rug from ​​Cadre Cadre, $650
If your aesthetic is bold and graphic, this wavy checkerboard rug will add even more fun to your home. And with this tufted living room rug's Y2K vibe, your space will be social media-ready in no time.
Best kitchen rugs
Whether it's a bright, tufted rug underfoot for doing the dishes or a classy rug to make your kitchen feel more complete, these rugs give your kitchen both charm and stylish appeal.
13. A playful, fruity mat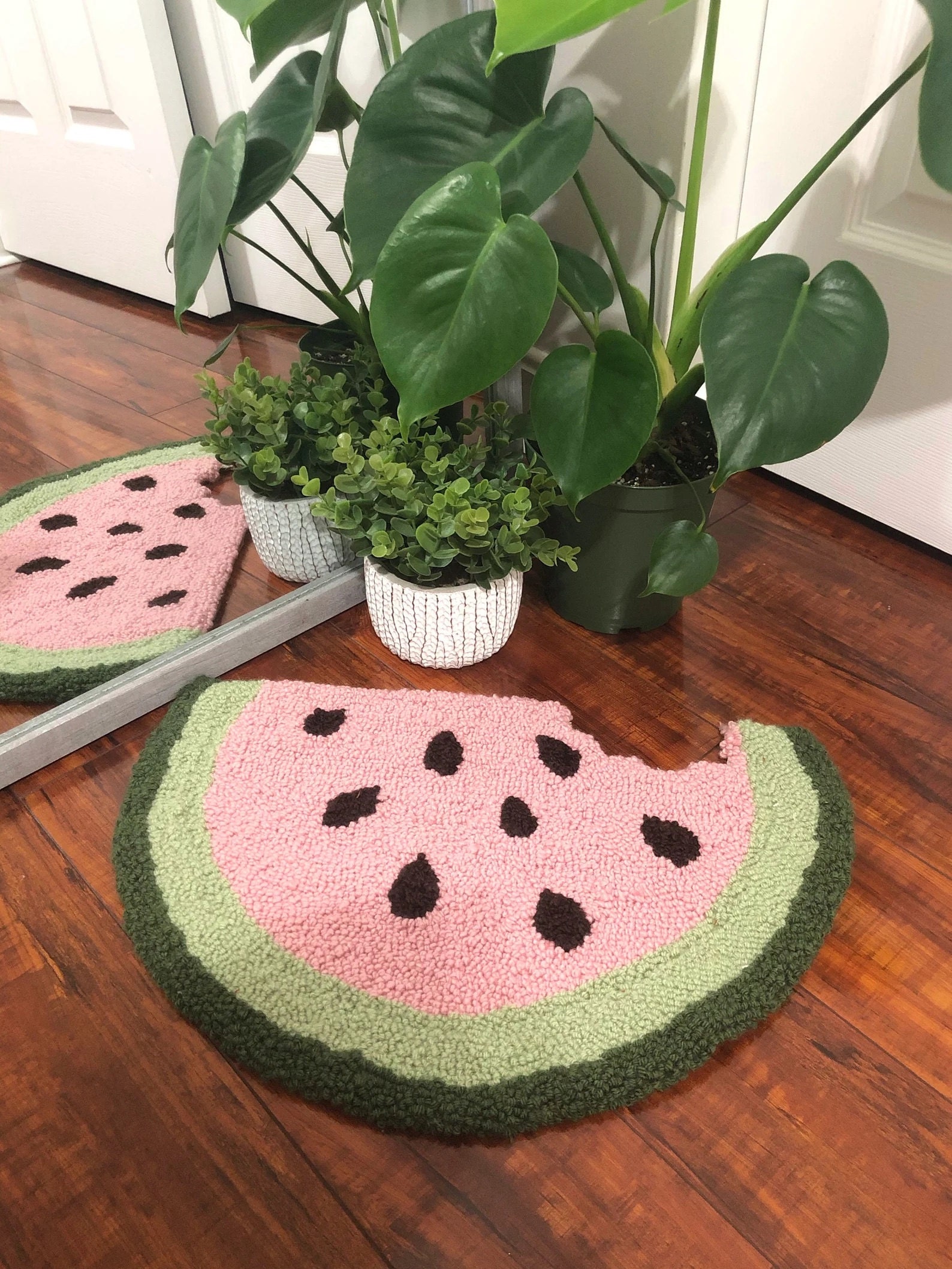 SHOP: Watermelon slice rug from Maria's Custom Art Shop, $59
Care for a slice? This fruity mat would fit perfectly at your kitchen sink, and the charm of this rug is in the details: The little bite out of the top corner of the watermelon slice will have you feeling cool as a cucumber throughout the year.
14. A '70s vintage kitchen rug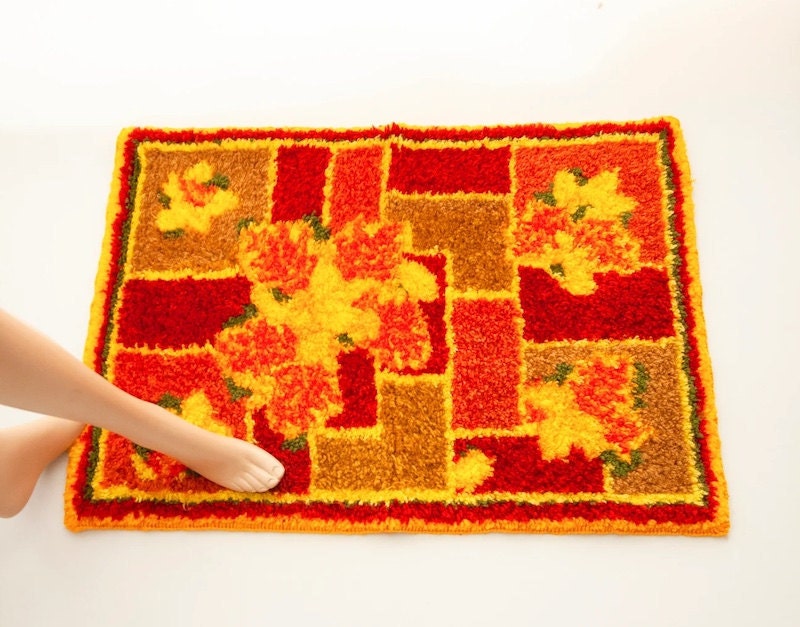 SHOP: Vintage '70s floral shag rug from Roselein Rarities, $174
Red, orange, and yellow hues warm up a space, and this vintage floral shag rug adds a retro 70s style to your kitchen. This latch-hook rug is an original artwork and a blast from the past that is both comfortable and eye-catching.
15. Best rug for a galley kitchen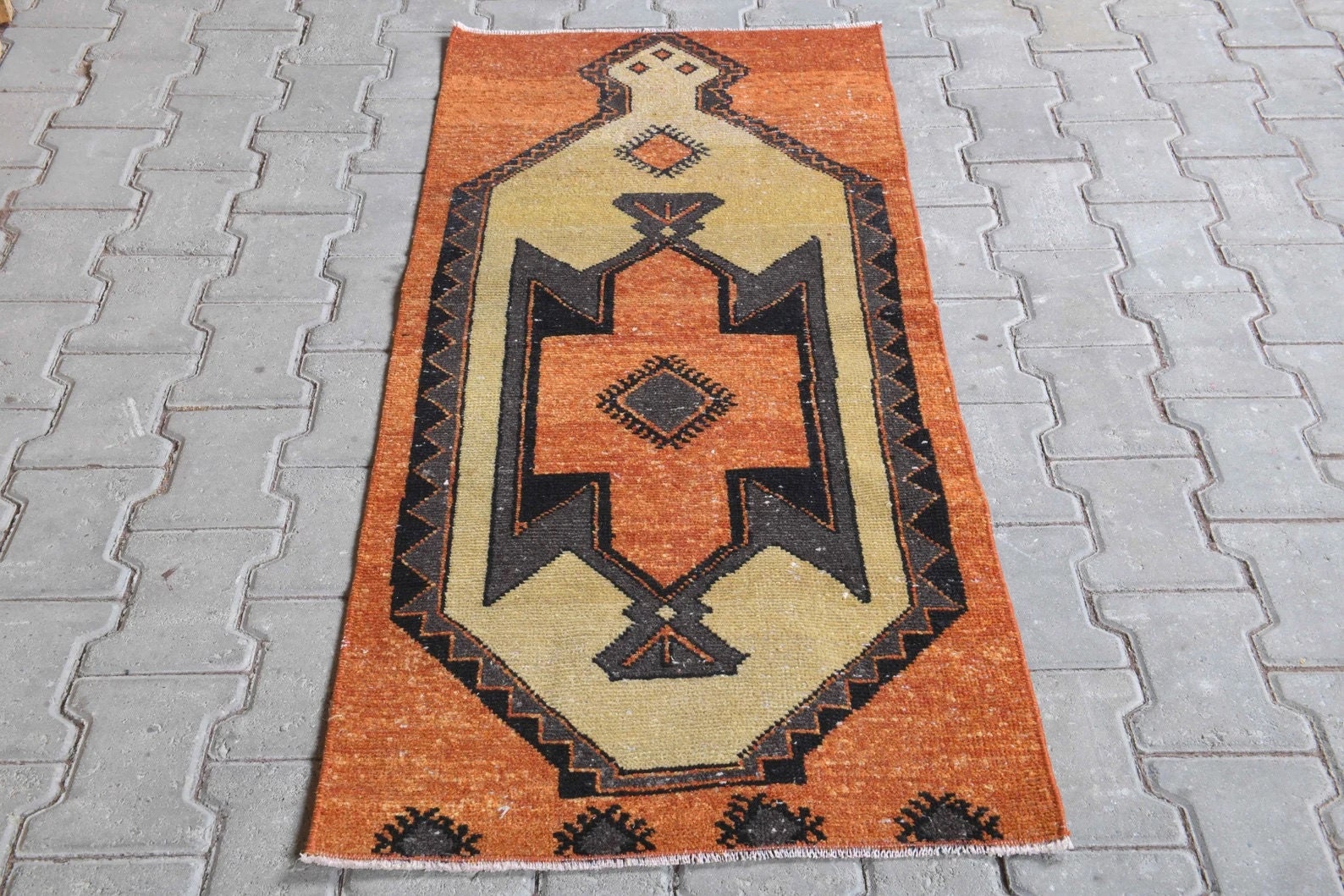 SHOP: Rust-colored Turkish runner rug from POZLU, $183
If you have a galley kitchen, a Turkish runner rug like this one grounds the space with its rust and beige colors. This rug will make a kitchen feel more curated, inspired, and it will help dampen some of the noise that comes with tile flooring.
Best nursery rugs
From play time to nap time, give your little one a nursery rug that will complete their room whatever the activity. Try a cute, whimsical mat to add a colorful accent, or a soft, pastel round rug for their next play session.
16. A rainbow nursery rug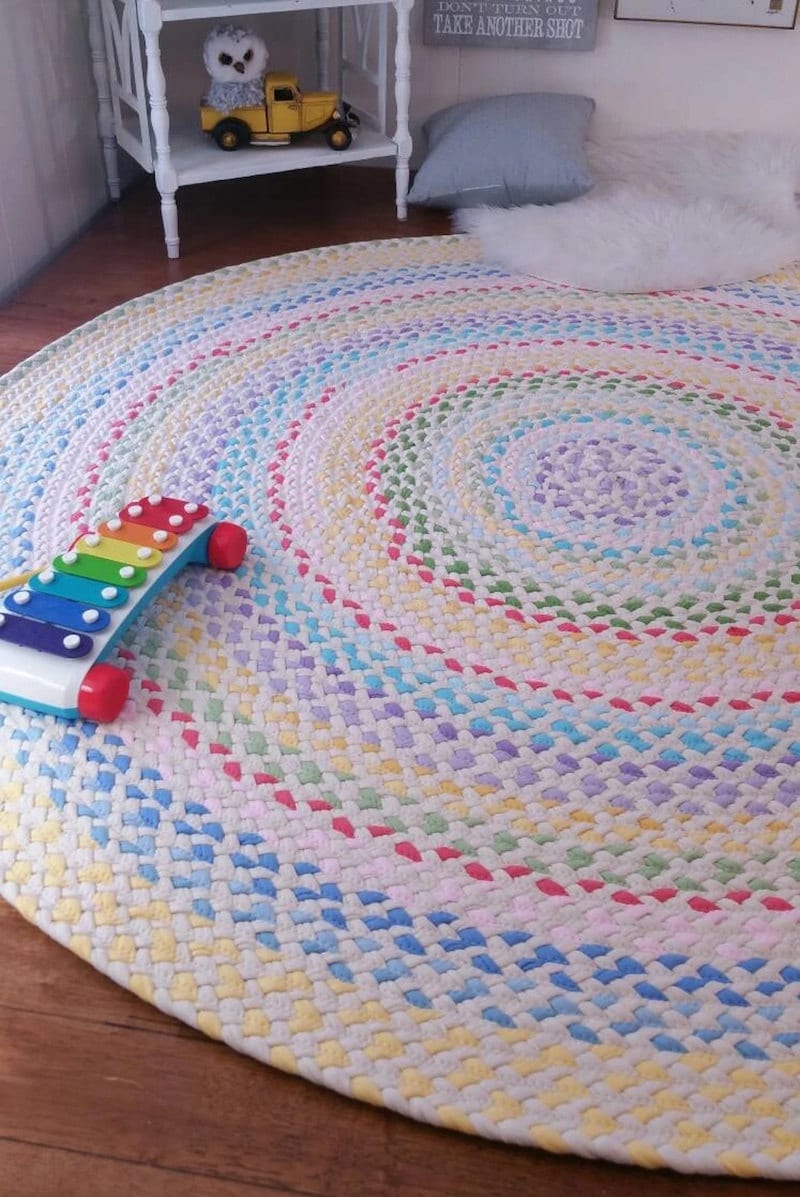 SHOP: Pastel braided round rug from Green at Heart Rugs, from $226
This pastel rainbow braided rug complements any activity you and your child have planned—whether it's playing with blocks, practicing crawling, or curling up with a good book. And you can rest (and play!) easy because this round rug is made of 100% cotton.
17. A sweet, nap time rug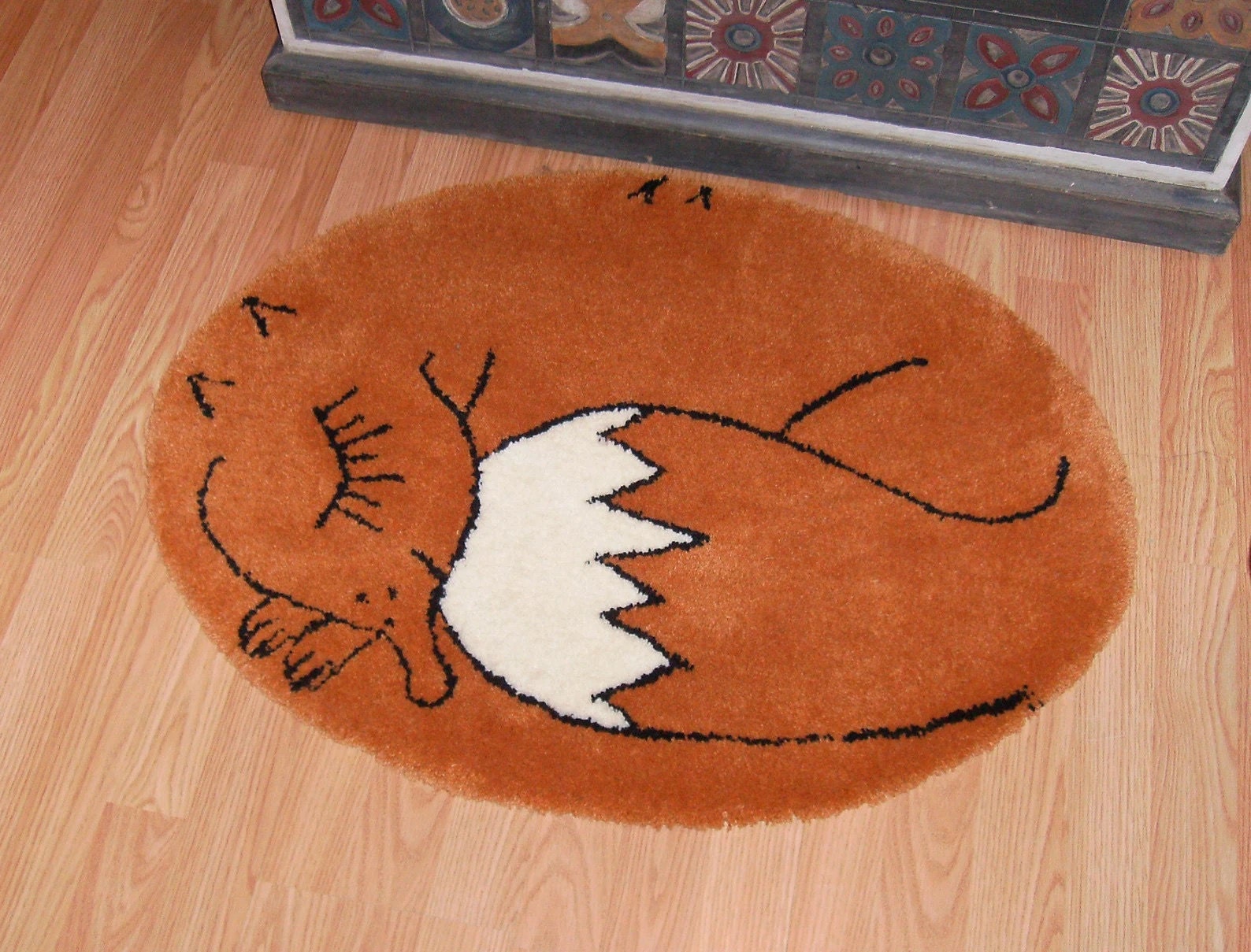 SHOP: Sleeping fox nursery rug from JAN Rugs, $399
Nap time just got even cuter with this sleeping red fox round rug. Made from wool and hand-tufted, this nursery rug will inspire you and your kiddo to curl up and cuddle.

*participating shops only