Whether you're lounging at home, spending a night out with friends or going on your next adventure, these shorts will have you ready for warmer weather.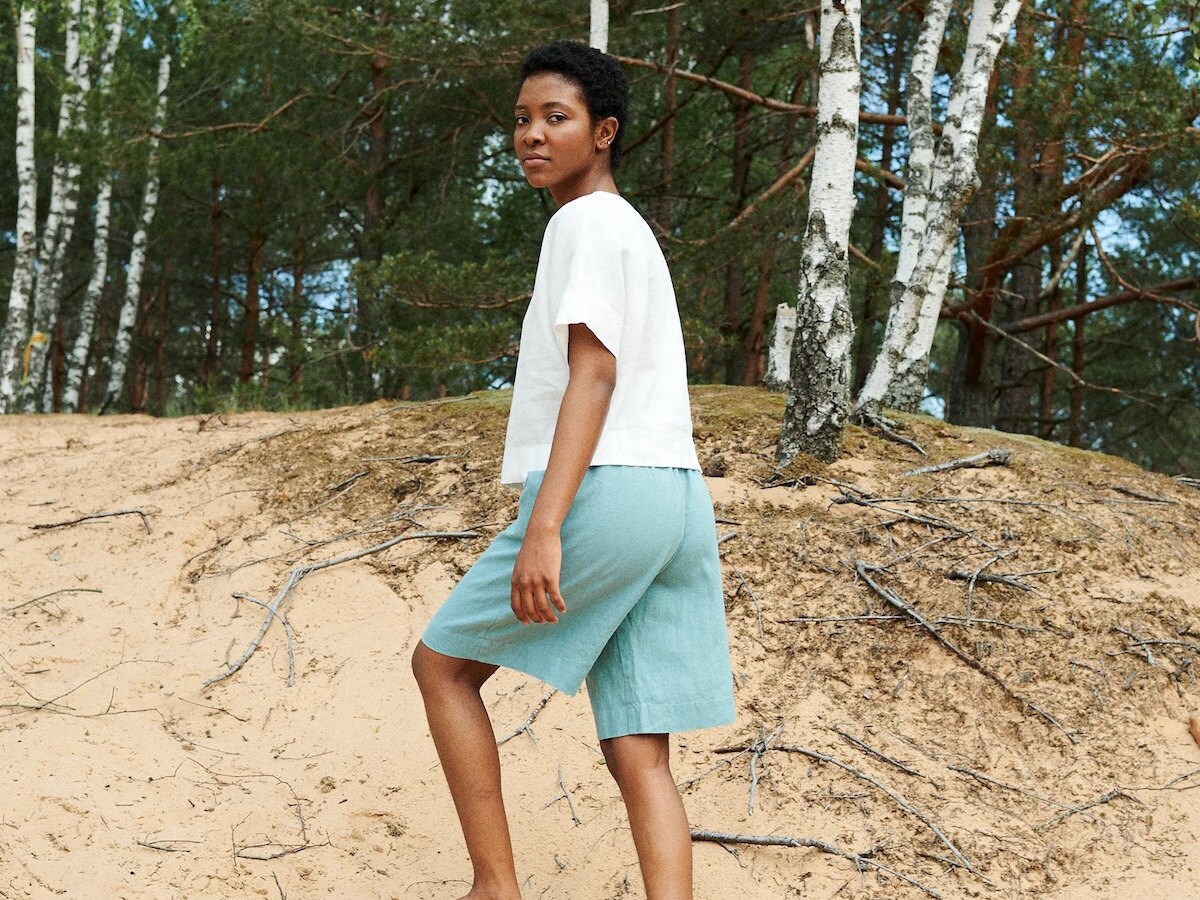 When the weather gets warmer (or you're escaping the winter chill for a warmer locale), you need a perfect pair of shorts to keep you feeling cool and looking cool. Kick back, relax, and get comfy with the best shorts for the ultiemmate chill session.
Best shorts for men
From lounging on the beach to going on a walk in the park to sipping brews at the barbecue, these are the best shorts for a breezy afternoon that can easily be dressed up for a low-key night with the guys.
1. The best drawstring shorts for men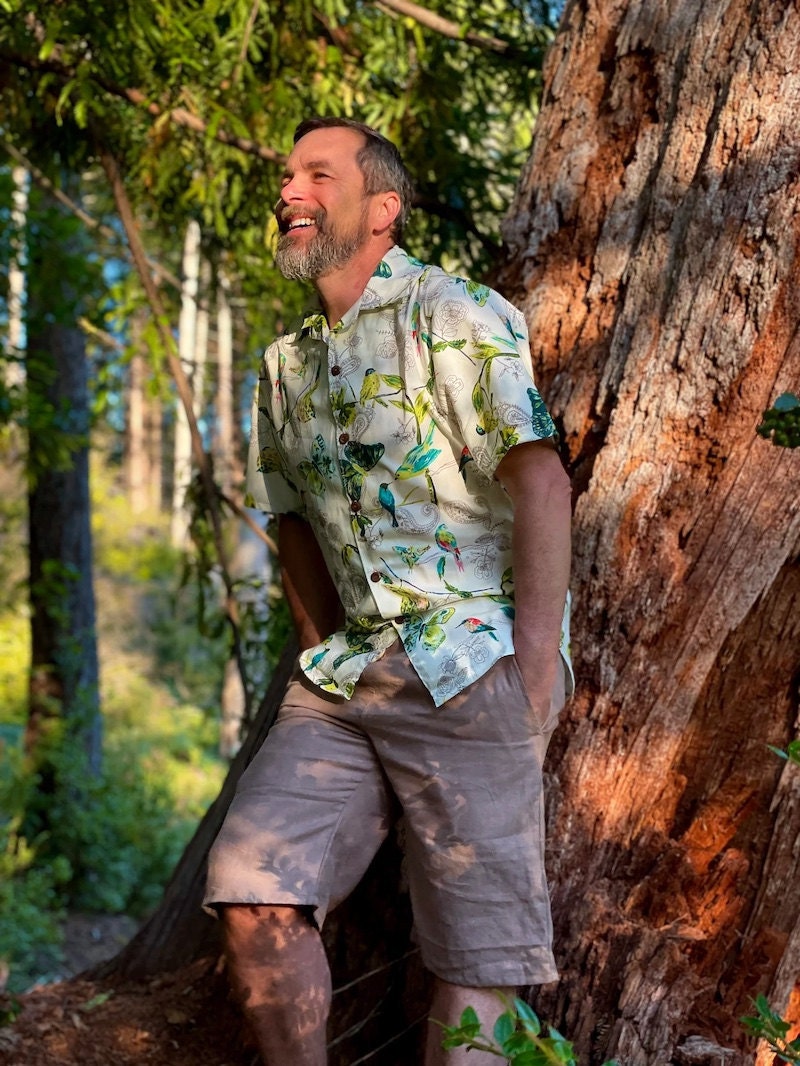 SHOP: Drawstring hemp shorts from a. ell design, $85
An elevated take on your favorite gym shorts, these drawstring shorts are made from hemp and tencel, so they're both durable and comfortable.
2. The best linen shorts for men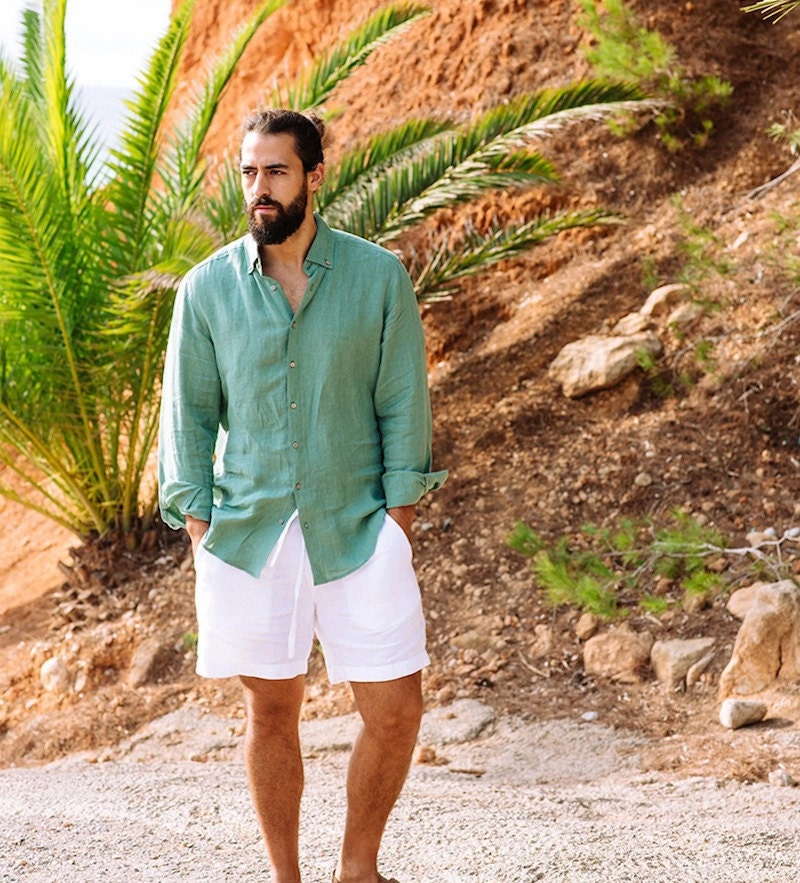 SHOP: White linen shorts for men from Magic Linen, $78
These breezy linen shorts are comfortable and airy without being your traditional sweat shorts. Dress up these shorts for a classic look: Pair with a loose-fitted linen button-up shirt to make this a short set fit for the coastal date night and an afternoon pool hang.
Best shorts for women
We get it: You're looking for stylish shorts that still give you the comfort and airy feel for hot summer days. Don't worry, these patterned picks and comfy, quilted shorts fit the bill.
3. The best striped shorts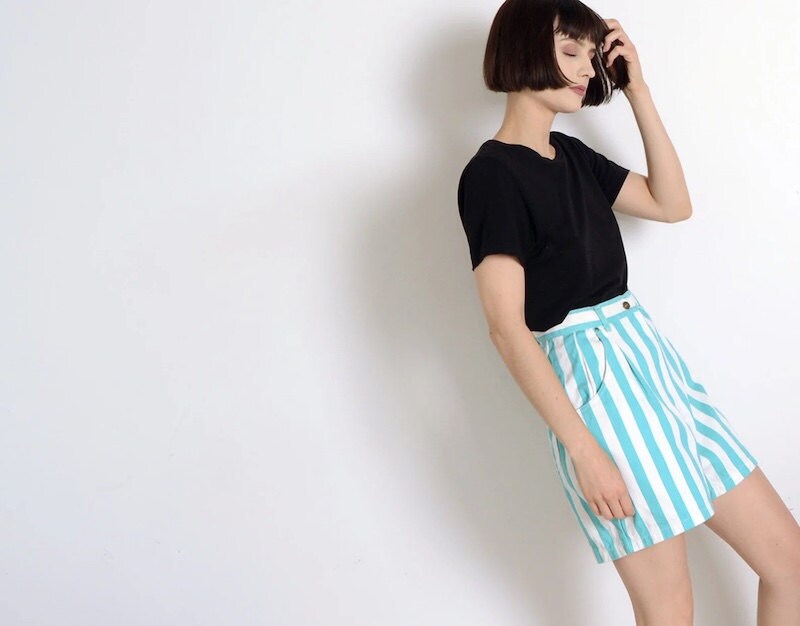 SHOP: Striped '90s denim shorts from Hello Sidney, $66
Long lines aren't normally a compliment, but they are on these vintage striped denim shorts. Their cool teal and ivory palette is a perfect match for a tall, icy glass of lemonade.
4. The best quilt shorts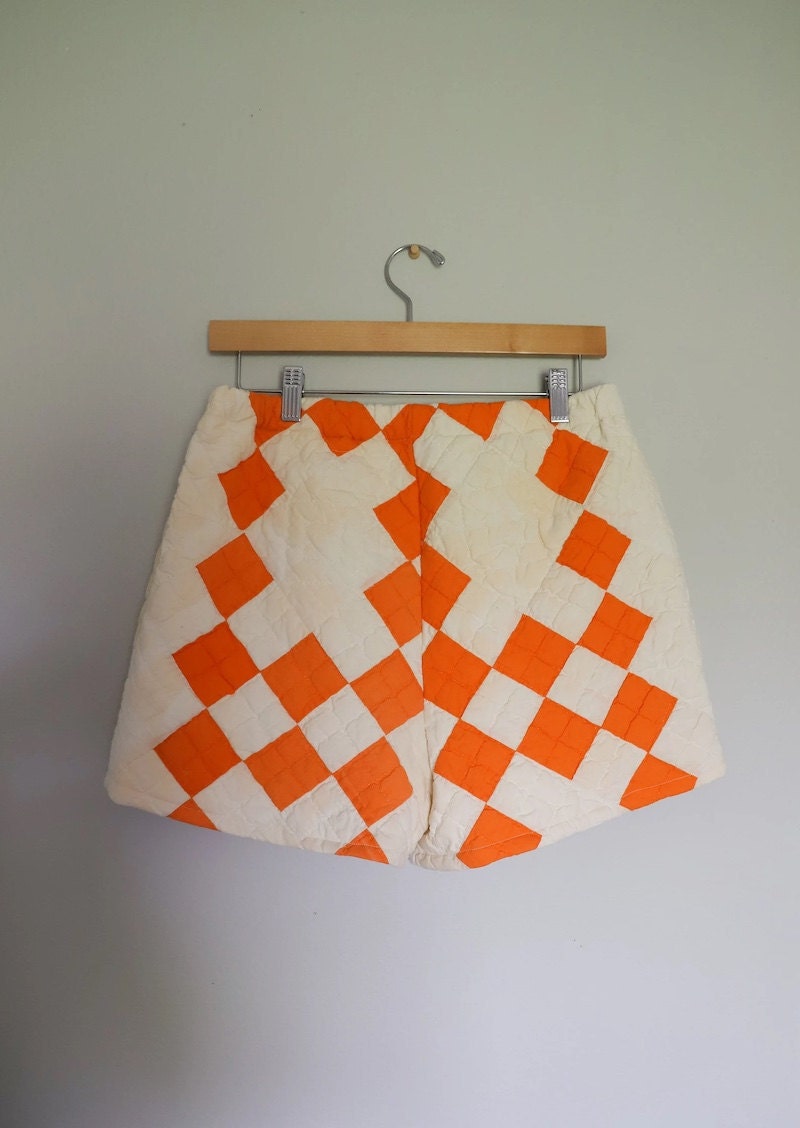 SHOP: Orange diamond quilt shorts from jane m. with love, $50
The best pieces of clothing come with a story: These shorts were originally pre-loved vintage quilt, which was given a new life to become your new favorite pair of shorts in your closet.
5. The best biker shorts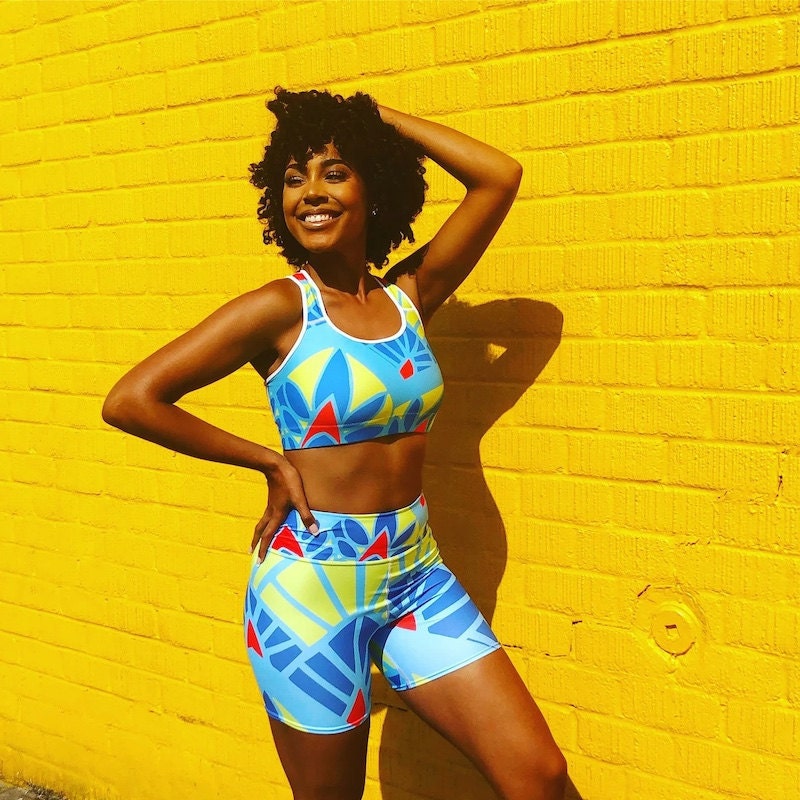 SHOP: Bold geometric printed biker shorts from Rochelle Porter Design, $45
Brighten up your wardrobe (and your day) with the bold colors and abstract geometric print of these biker shorts. Equipped with four-way stretch for both comfort and performance, these colorful shorts have buyers raving about how soft and stylish they are.
Best jean shorts
A go-to and for good reason, jean shorts go with everything and always look effortless. Vintage shorts especially offer that indescribable lived-in feel, so they'll be ready for their warm weather debut as soon as they're delivered to your door.
6. The best Bermuda jean shorts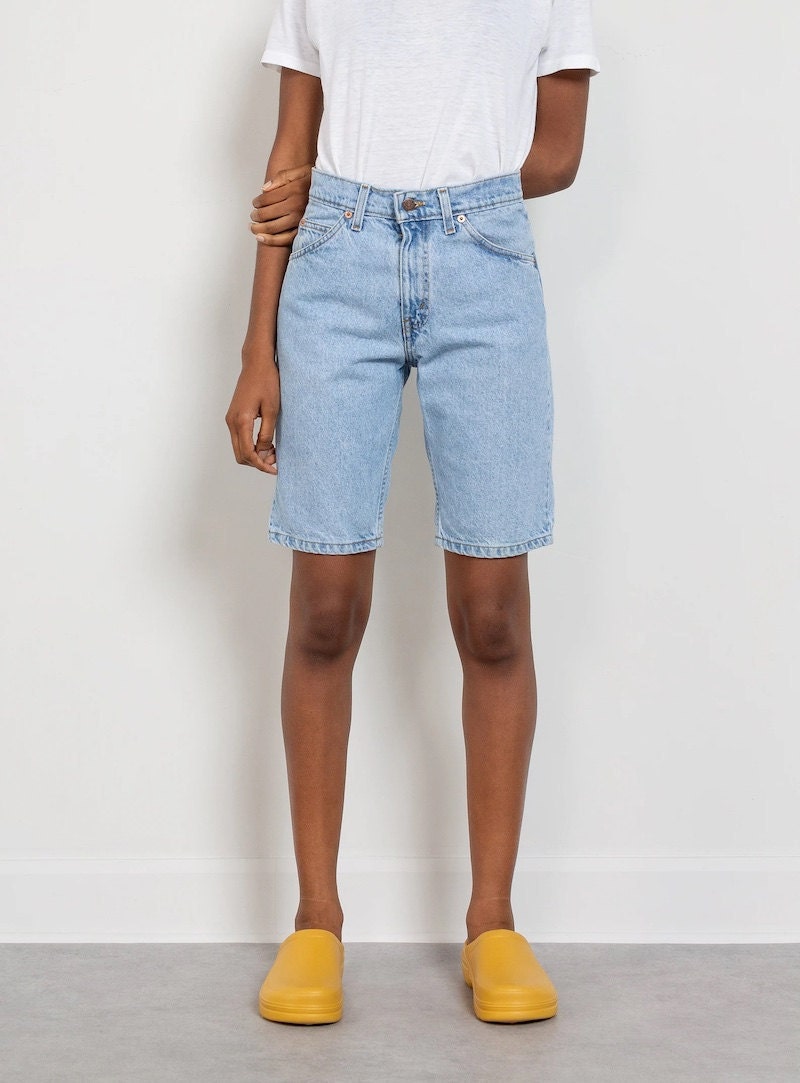 SHOP: Vintage denim Bermuda shorts from Better Stay Together, $70
Some looks are timeless, like a pair of classic jean shorts and a crisp T-shirt. These vintage jean shorts offer a relaxed fit and a longer hem for a modest, modern look. Whether you're Gen Z or a baby boomer, these vintage shorts will have you sighing, "They don't make them like they used to."
7. The best patterned denim shorts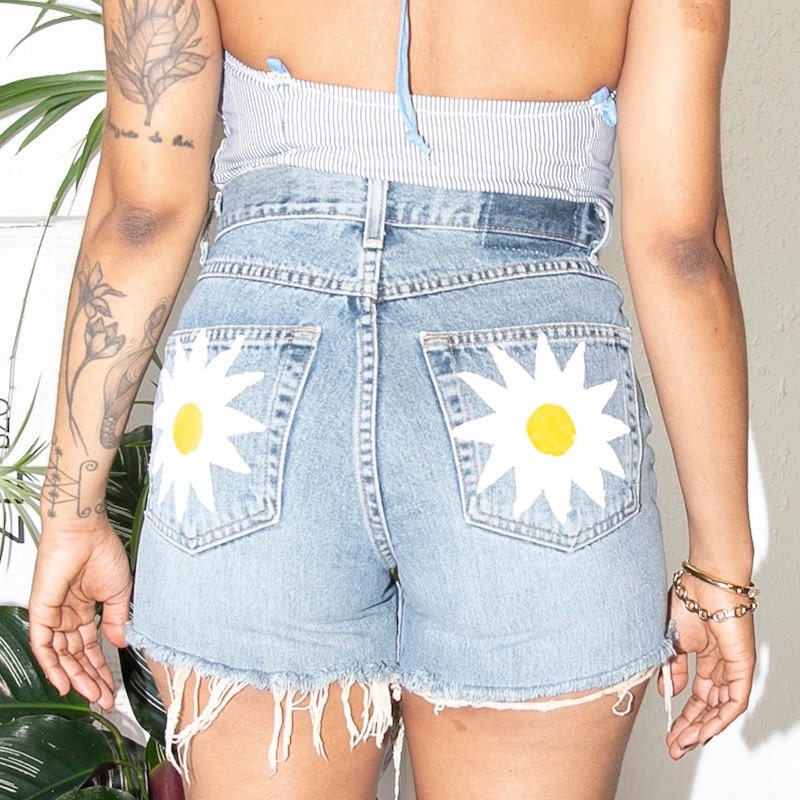 SHOP: Upcycled hand-painted denim shorts from Sustainable Maria, $62
Come into full bloom with these upcycled, cut-off jeans. The super-cute daisy details hand-painted on the back pockets make this a spring-worthy pair of denim shorts.
Best high-waisted shorts
A flattering silhouette on everybody and every body, high waisted shorts are perfect when paired with a tucked-in shirt or a cropped top to emphasize the shape of the shorts. Try a full tuck or the oh-so-chic french tuck—either way, you'll be sporting your high-waisted shorts in style.
8. The best shorts for evening wear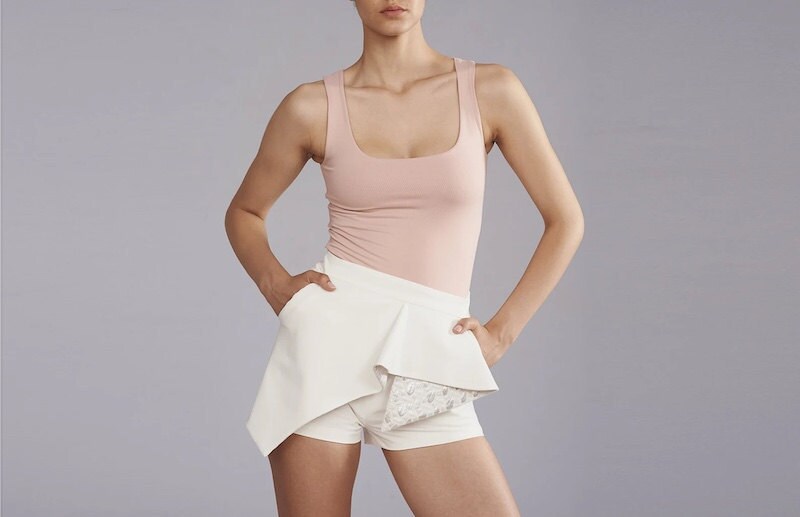 SHOP: Asymmetrical high-waisted shorts in ivory from Milena Nacheva, from $107
Make a statement with these fashion-forward high-waisted shorts. Architectural and asymmetrical, these high-waisted shorts are the ultimate show-stoppers.
9. The best pleated high-waisted shorts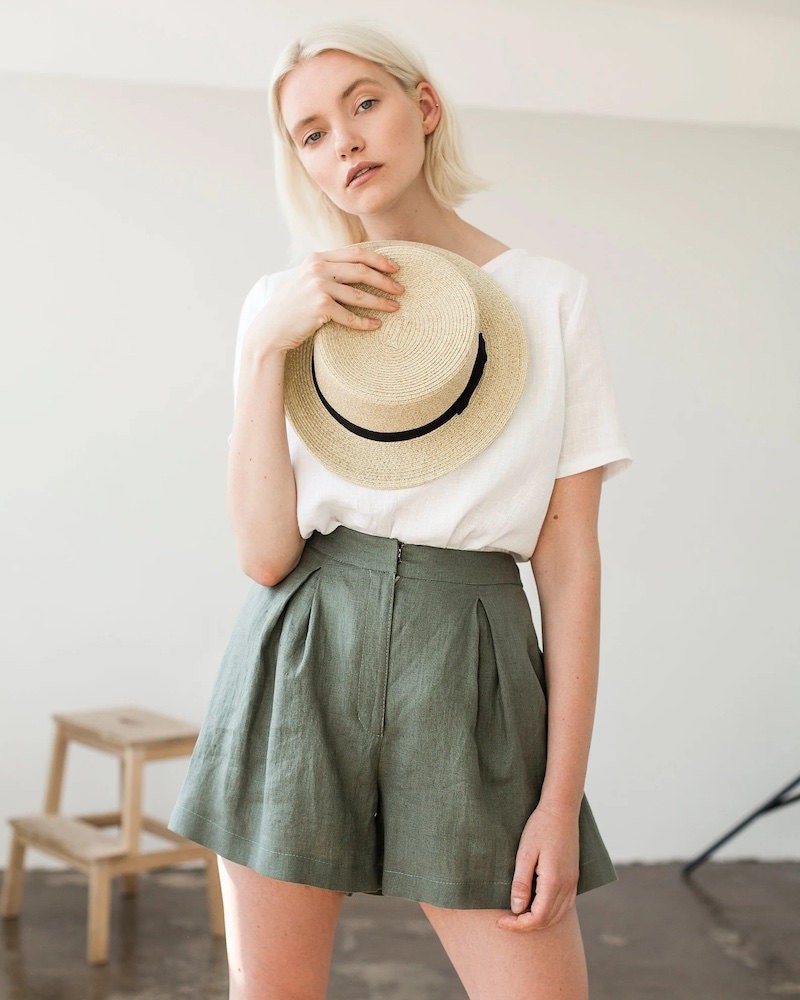 SHOP: High-waisted linen shorts from Linen Handmade Studio, $75
These pleated high-waisted shorts make the best of both worlds: They're flowy like a skirt with the coverage (and windy wardrobe malfunction-free) you expect from a pair of shorts.
Best cargo shorts
Sometimes you need to be able to hold all the things in all the compartments, and cargo shorts give you both an industrial look and a fully functional array of pockets for whatever tricks or projects you have in store.
10. The best cargo shorts with zippers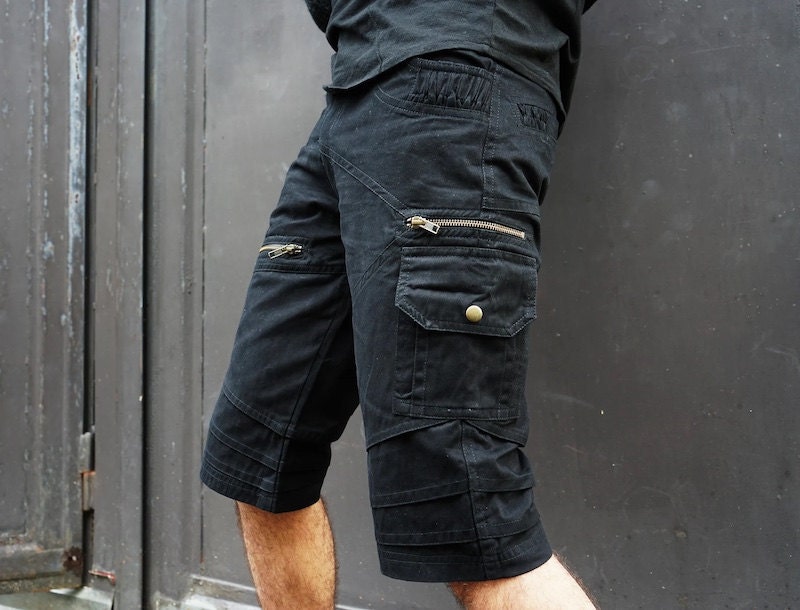 SHOP: Black cargo shorts with zipper details from Uranus Designz, $76
The secret to these cargo pants is all in the details: the subtle, edgy seam styling, zippered accents, and a whopping six pockets, including one secret pocket.
11. The best vintage khaki cargo shorts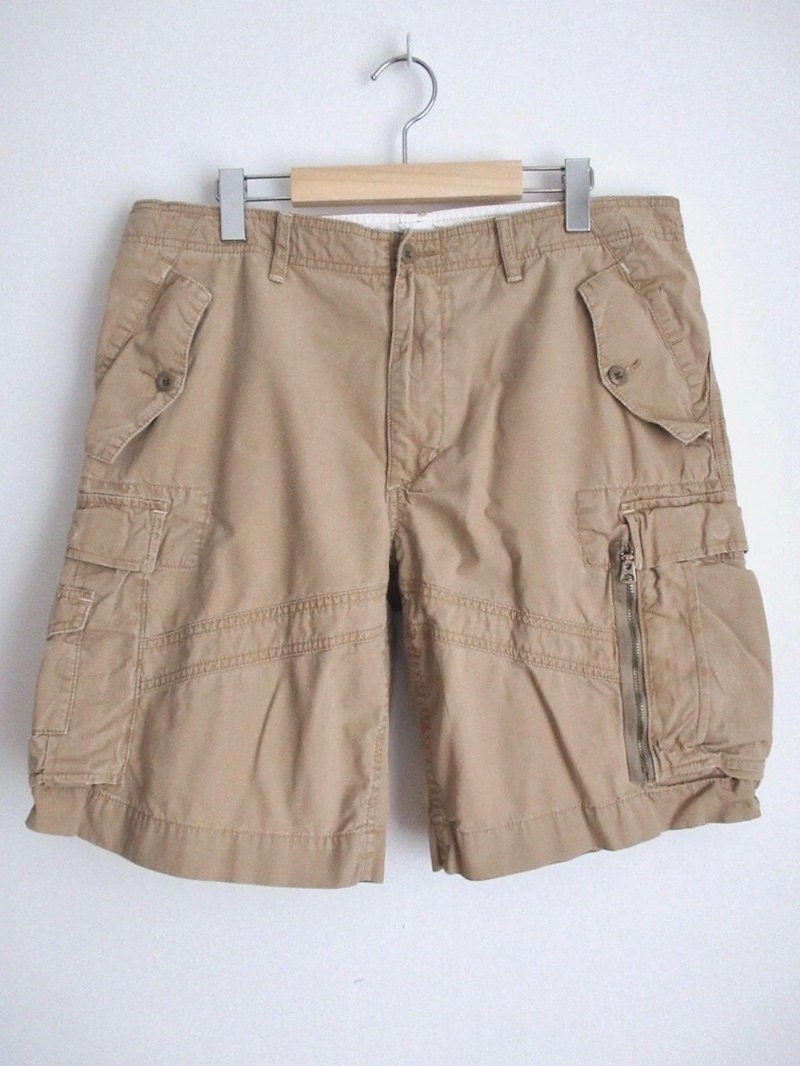 SHOP: Vintage '90s cargo shorts from Maison Vestige, $77
You can't go wrong with a classic cargo pant style, in a traditional camel color, from a high-quality vintage brand. Dress it up with a polo shirt or dress it down with a t-shirt—either way, these cargo pants are prepared for anything.
Best sweat shorts
Ultimately, we are all creatures of comfort, and these sweat shorts make it even easier to kick back and relax, whether you're relaxing by the pool or chilling on your couch.
12. The best tie-dye sweat shorts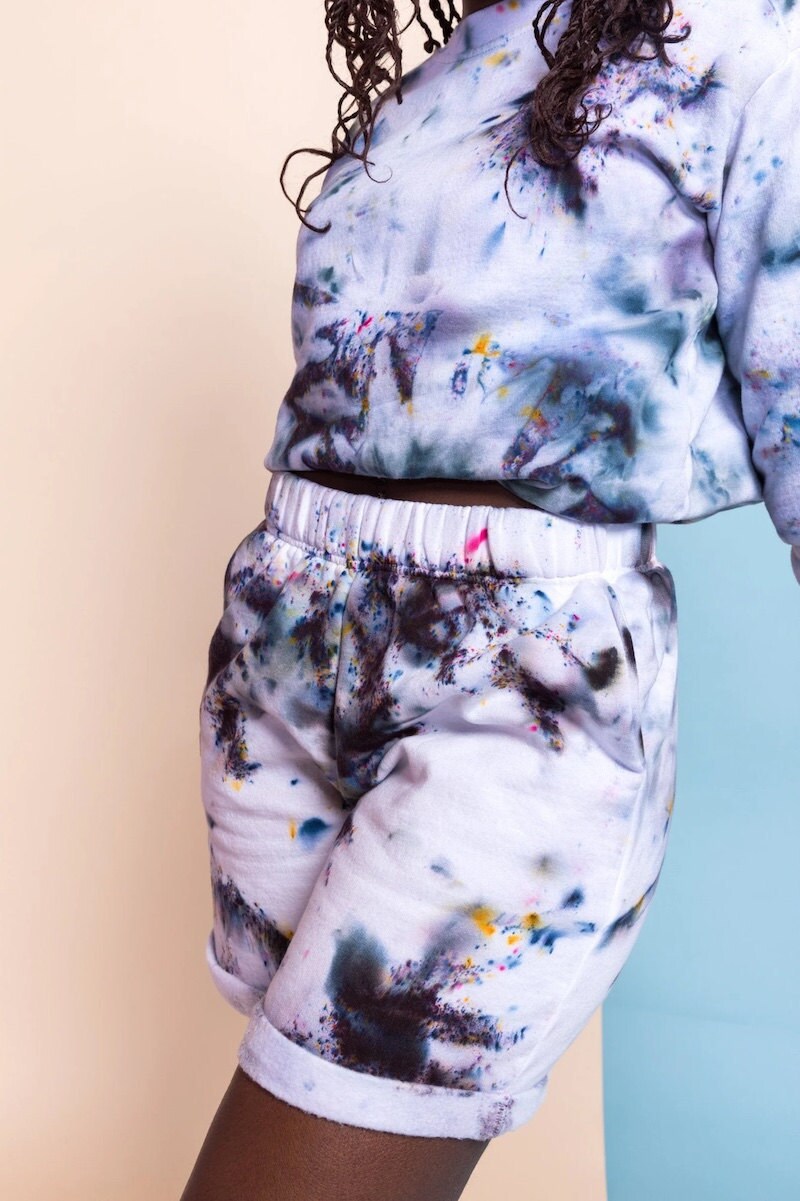 SHOP: Hand dyed tie-dye cotton sweat shorts from Masha Apparel, $79
Unwind at home or hit the gym with these tie-dye shorts. Individually hand-dyed, these sweat shorts boast indigo hues with pops of pinks and yellows, which elevate this laid-back look to Insta-worthy loungewear.
13. The best linen sweat shorts for outdoor adventures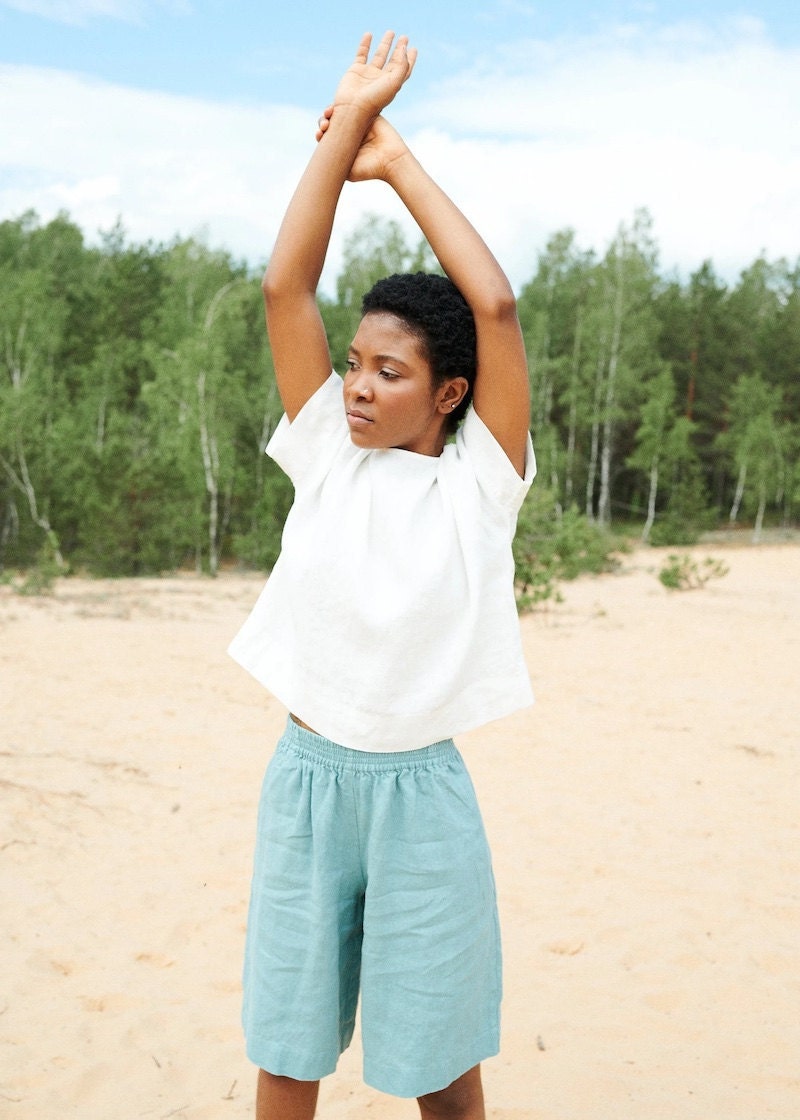 SHOP: Teal linen shorts from Linenfox, $66
These shorts are made from breathable linen that feels airy even on the sweatiest of summer days, and they're perfect for wearing on your adventure, whether it's hiking along a mountain's peak or making the trek from your couch to the refrigerator.
14. The best gender-neutral shorts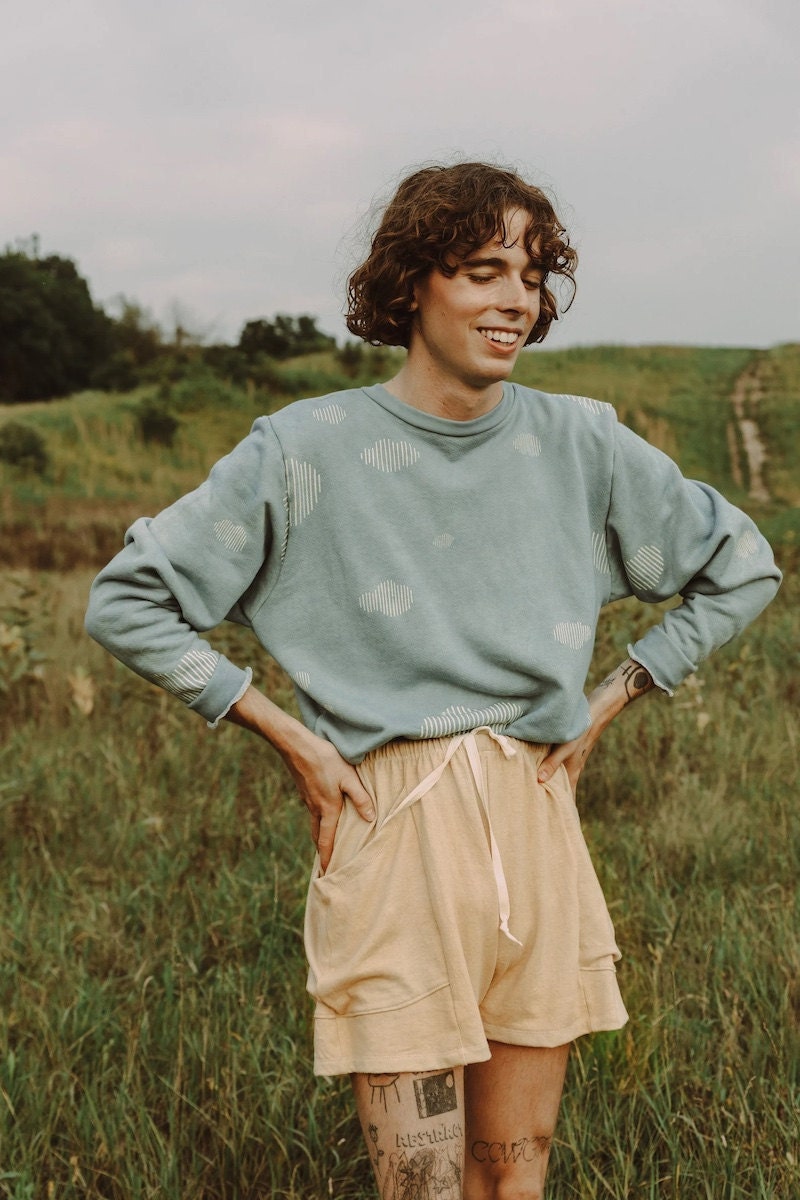 SHOP: Gender-neutral hemp lounge shorts from Object Apparel, $128
If you're looking for a pair of shorts with an air of natural beauty, look no further: These gender-neutral shorts are made-to-order from hemp and organic cotton jersey. The best part? These shorts get their earthy hue from chestnuts, and with sizes from XS to 2XL, they might be your perfect fit.