Set the ambiance in your space with these long-lasting, hand-poured soy candles infused with delicious scent combos blended by small shops.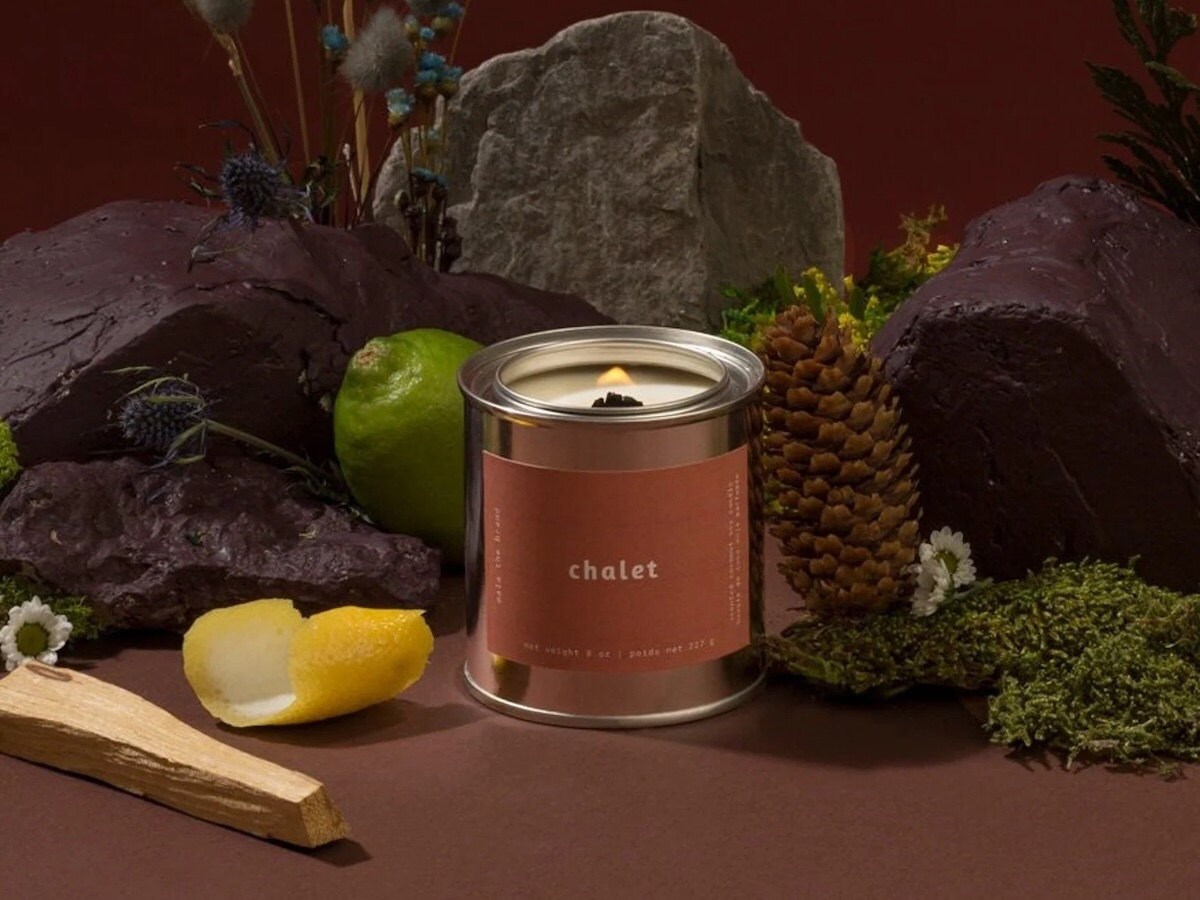 As you shop for a hostess gift, shower gift, or holiday present, it's hard to go wrong with a candle. As you search for a unique design or specific aroma, look no further than these soy candles created by small shops on Etsy. Each candle is hand-poured and either left unscented or infused with aromatic oils, and gift-wrapping is nearly unnecessary thanks to the creative vessels and thoughtful details sellers add to their candles.
Wondering why there's so much buzz about soy candles specifically? When it comes to scented candles, soy candles are becoming the preferred choice for their non-toxic attributes. Because they're made from all-natural wax derived from soybeans and their scents don't require any additional chemical boosters to make them fill a space, they can be more allergen-friendly than mass market candles. Soy wax also tends to burn cleaner than other waxes, eliminating most of the black soot commonly associated with candle flames.
The small shops on Etsy thoughtfully create both seasonal and signature scent profiles, then hand-pour their soy candles into unique vessels like smoky black glass jars and geode-adorned holders. You'll find flames for every type of budget on our list here of the best soy candles. And bonus! Soy wax burns slower than paraffin wax blends which extends burn time and makes these candles last longer.
Best wood wick soy candles
Burning a wood wick candle at home instantly ups the cozy factor thanks to a crackling sound that imitates a gently burning fire. Soy is considered one of the best waxes to use with wood wicks, and these picks for the best wood wick soy candles are just waiting for a spot of honor within your home.
1. Spice scented soy and coconut candle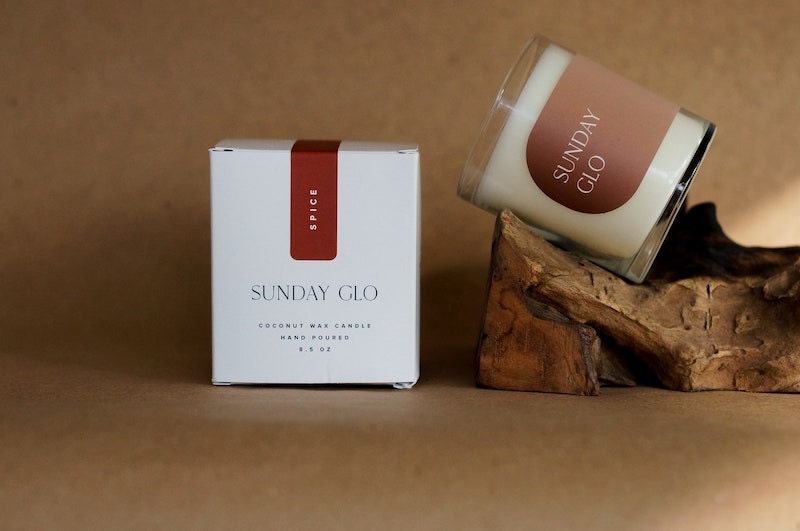 SHOP: Spice scented soy and coconut candle from Sunday Glo Candles, $30
This photo-worthy minimalistic candle has a delicate autumnal pumpkin spice scent with an aroma that one of the many happy customers noted "captivates the room so beautifully." It's made from a vegan blend of soy wax and coconut, and its wick provides the enjoyable subtle sound of crackling wood. Don't be fooled by its seasonal leanings, this candle is the perfect kitchen candle year-round.
Why shoppers love this spice scented soy candle: "What wonderful candles, with lovely scents and crackling wicks! Thoroughly enjoyed." - CC
2. Geode crystal soy candle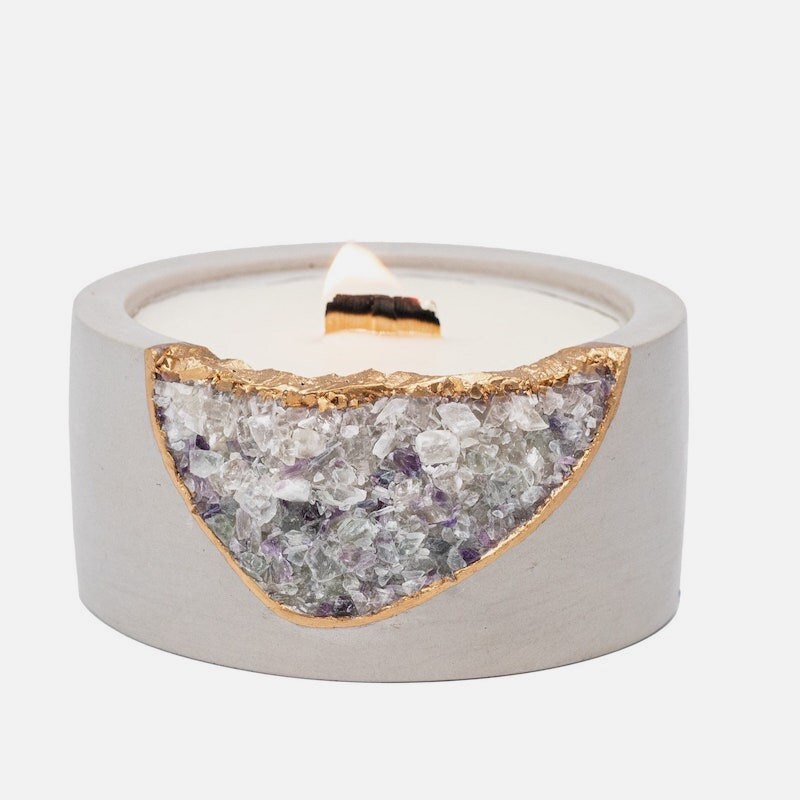 SHOP: Geode crystal soy candle from Tal & Bert, from $36
This candle is ready for gifting! Keep a couple on-hand and you're always ready for your next invitation. Truly unique in its design, this geode crystal soy candle is made from concrete and two minerals—raw yellow calcite and fluorite—with delicate gold detailing. The pot is definitely a keeper, as you can repurpose it into a planter. The candle's wick gently crackles, and it burns impressively clean.
Why shoppers love this geode crystal candle: "It smells so good. It looks so pretty just sitting on my table. Unique and creative gift for anyone." - KH
3. Bourbon-inspired soy candle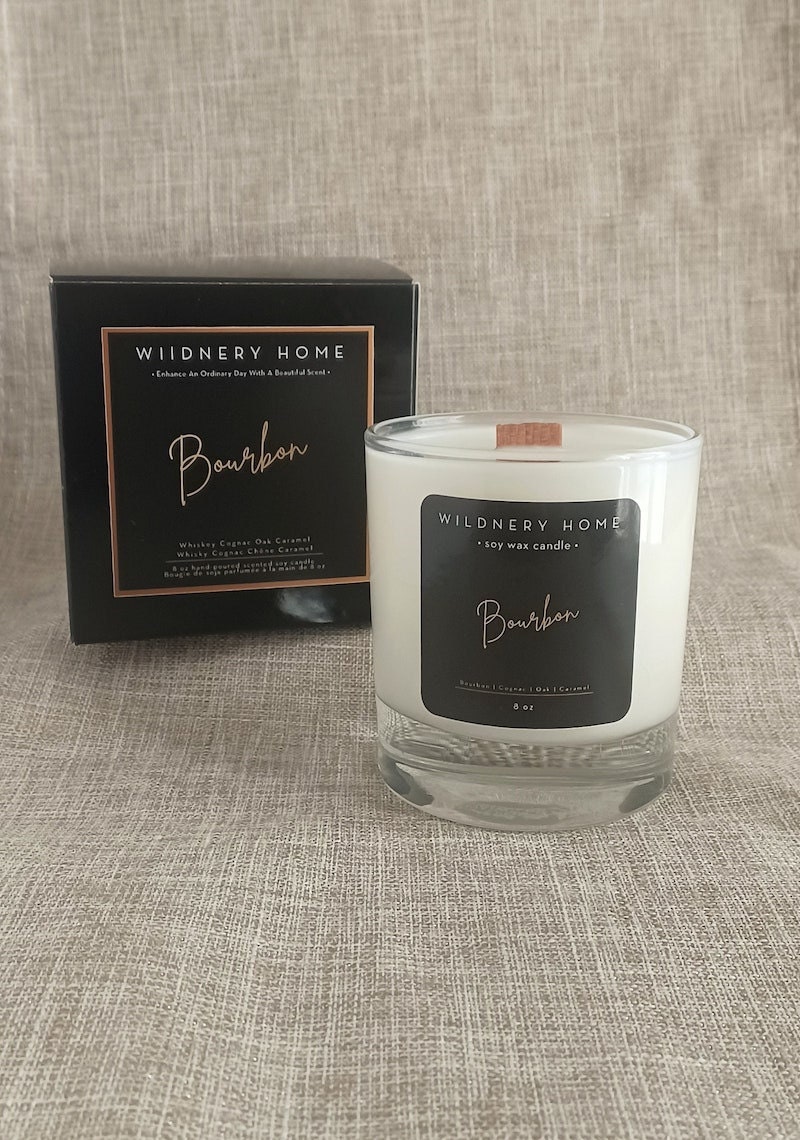 SHOP: Bourbon-inspired soy candle from Wildnery Home, from $23
There's something about the subtle smell of bourbon that reminds us of quiet nights by the fireplace, so prepare for some serious nostalgia when you light this comfort-scented, non-toxic, and cruelty-free soy candle from Wildnery Home. This soy candle is a great gift for bourbon lovers, too!
Why shoppers love this bourbon soy wax candle: "Definitely one of my favorite candle shops. Straightforward delivery. Good price for size and quality of the candle. Scent is amazing. And the wood wick really adds to the atmosphere." - KO
4. Jasmine goji soy candle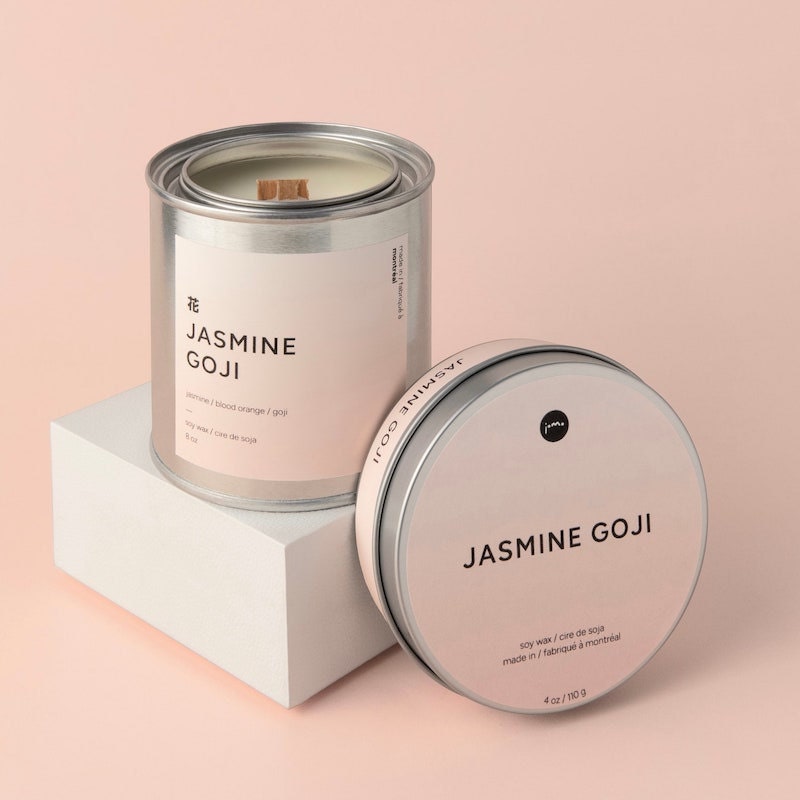 SHOP: Jasmine, blood orange and goji soy candle from JOMO, from $16
Presented in a beautifully modern tea tin, this goji berry and tea-fragranced soy wax candle is handcrafted by a small eco-friendly candle company in Montreal, Canada. The scent includes an exquisite blend of jasmine, blood orange, and goji, which are all considered key ingredients for good health in many Asian cultures.
Why shoppers love this soy wax candle: "This candle smells nice when you first smell it, but it smells even more amazing when you actually light it… It also [has] a super comforting and clean smell (and not too strong at all)." - MW
5. Autumn fig leaf and galbanum candle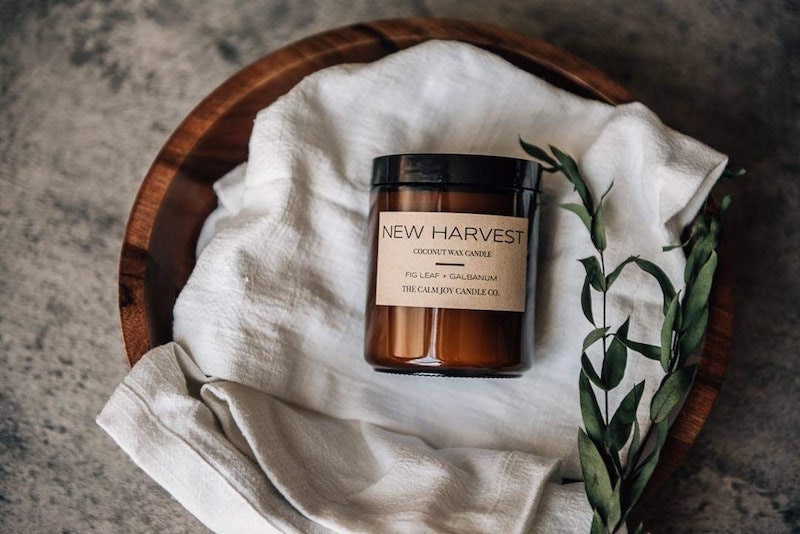 SHOP: Autumn fig leaf and galbanum candle from The Calm Joy Candle Company, $28
Designed to deliver more than 65 hours of burn time, these hand-poured candles are made from 100% natural ingredients and are vegan and cruelty-free. This autumn fig leaf and galbanum combination provides a relaxing atmosphere, and the coconut blend allows it to burn slowly and last longer.
Why shoppers love this seller's candles: "The burn time is amazing. I started using it the same day as a 15-ounce department store soy candle, and [it] doesn't hold a candle (no pun intended) to this 5-ounce one. Arrived very quickly and perfectly packaged!" - CB
6. Rosita linda soy candle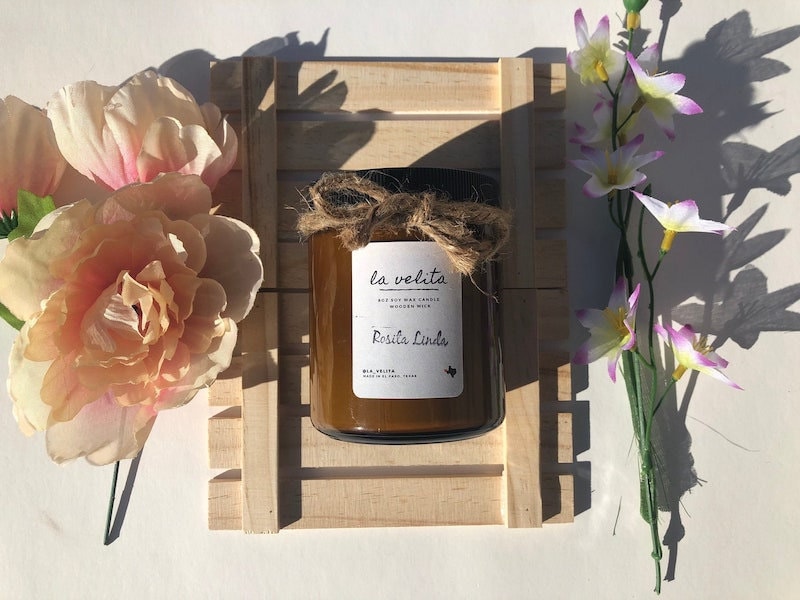 SHOP: Rosita Linda soy candle from La Velita, from $15
Buyers call this candle "tranquility in a mason jar," and we couldn't have put it better ourselves. Available in either a clear or amber glass jar, the candles provide over 40 hours of burn time. They are hand-poured in small batches in El Paso, Texas, and are free from dyes and phthalates.
Why shoppers love this soy wax candle: "At first smell, it reminded me of my great-grandmother's house in Mexico and nearly brought me to tears. How they are able to capture that smell so perfectly that it transported me back 20 years is beyond me but I'm so grateful for it and can't wait to order more." - AJ
Best lavender soy candles
When your much-needed "me time" finally rolls around, you'll need a good lavender-scented soy candle to create that relaxing atmosphere you've been dreaming about all week.
7. A relaxing lavender mix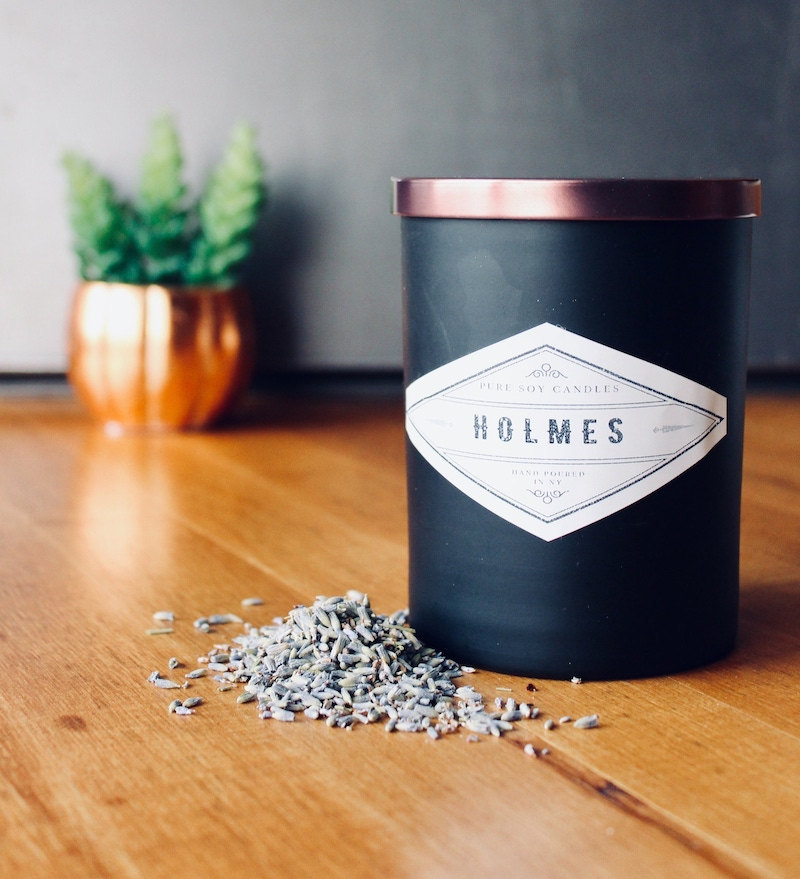 SHOP: Handmade lavender soy candle from Holmes, from $17
Hand-poured in New York, these soy wax candles have a mix of lavender, bergamot, and cedar that tantalizes the senses. Buyers "love the scent and packaging," and say that it "smells great." Another happy shopper raved that "it smells so lovely, and the scent goes everywhere."
Why shoppers love this candle seller: "Smells so good. Looks good, too! Love the black glass. Arrived on time, possibly earlier than expected!" - AW
8. Fireside lavender soy candle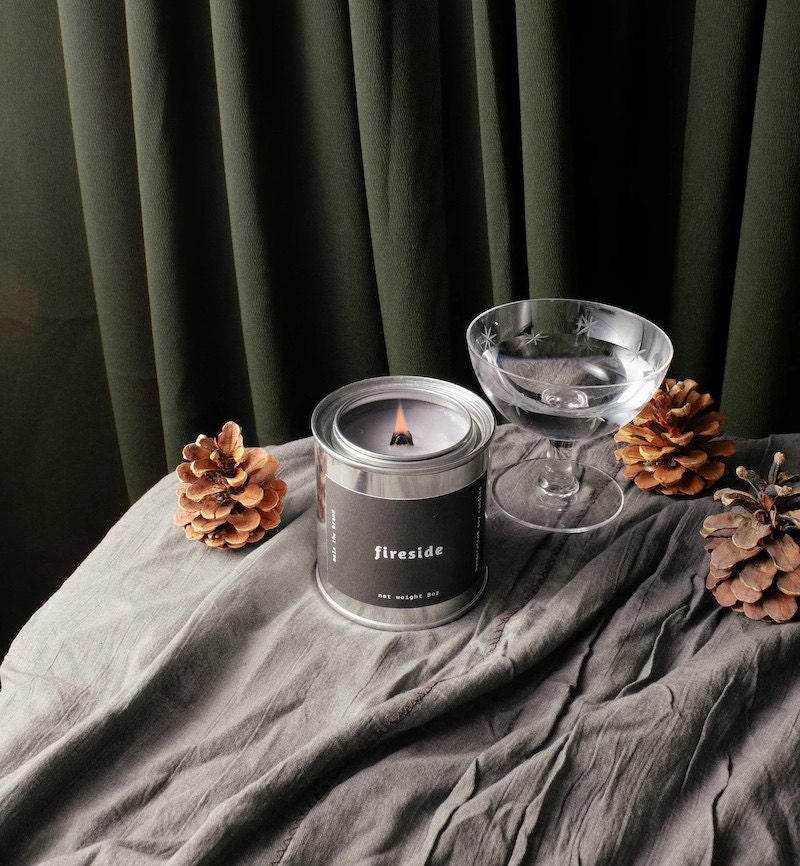 SHOP: Black amber, lavender, and musk scented soy candle from Mala, $31
With notes of black amber, lavender, and musk, this soy candle provides a sultry yet comforting scent, and comes in a metal can for a modern look. The candles are poured in Vancouver, Canada, and have an impressive burn time of around 40 to 45 hours.
Why shoppers love this lavender soy wax candle: "These candles are such great gifts! The paint can-look, and the labeling is so chic and unique. The wax and wicks are high quality, and my order came with matches and a sample candle. So sweet!" - KT
9. Lavender and white sage scented candle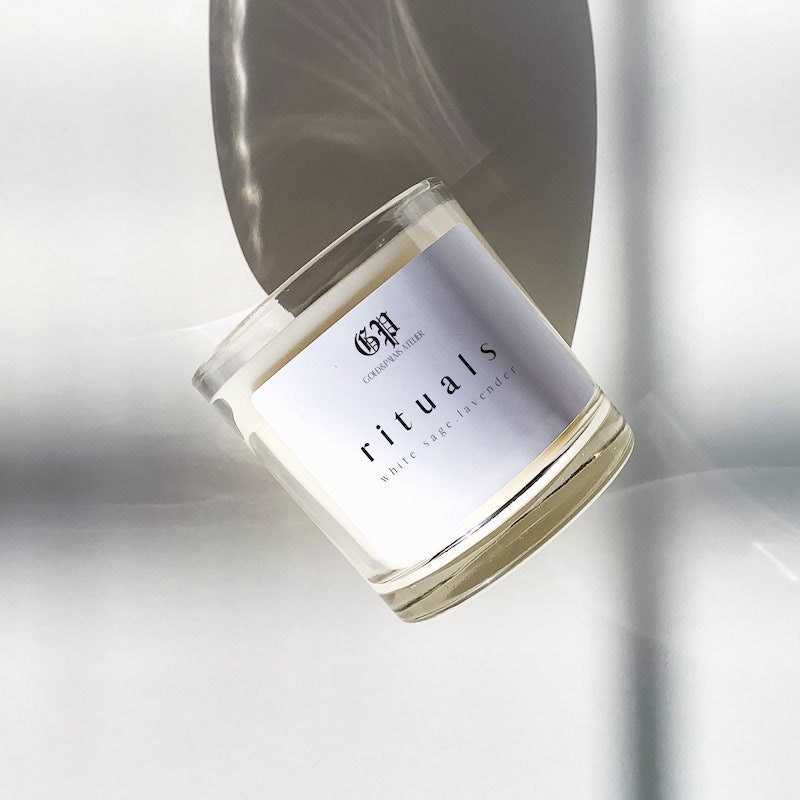 SHOP: Lavender and white sage scented soy candle from Gold & Palms Atelier, $24
Along with its herbal middle notes, the sandalwood and cedarwood base notes of this "Rituals" candle provide just the right foundation for the lavender top note to thrive, filling any room with a tranquil and calming scent. The candle can last for up to 60 hours, making it a cost-effective option, too. Take a peek inside Gold & Palms Atelier's shop and learn more about her process.
Why shoppers love this lavender and white sage candle: "Awesome shop owner—fast shipping, [and] complimentary matches came with candle. Candle is great quality, and smells really good, too." - LH
10. Lavender, palo santo, white sage and Himalayan bamboo candle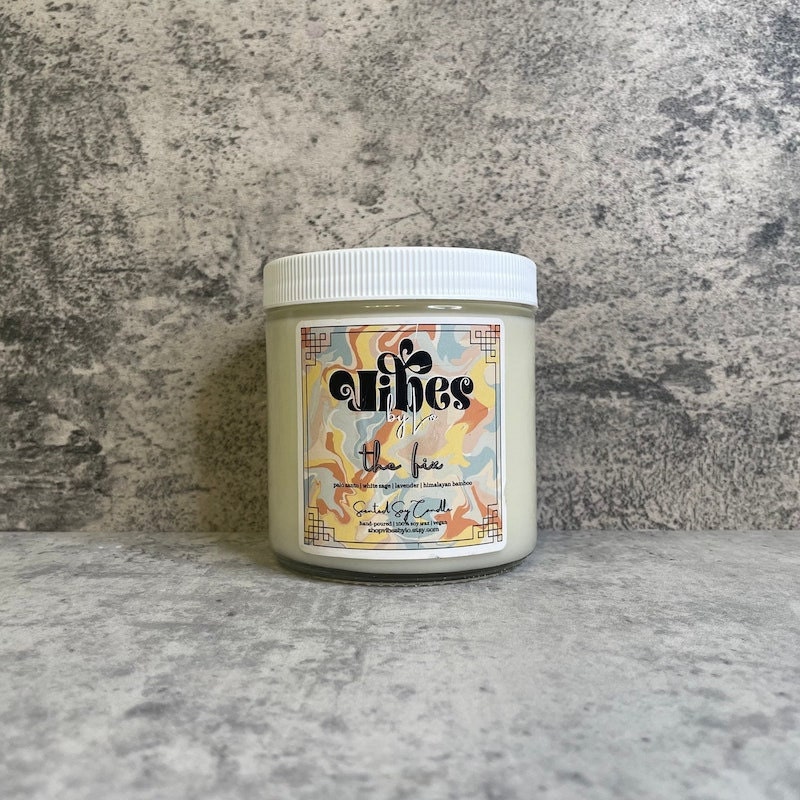 SHOP: Lavender, palo santo, white sage and Himalayan bamboo candle from Shop Vibes By Lo, from $12
We're loving the colorful pastel decals adorning these candles from Vibes By Lo. Available in three sizes, these affordable soy wax candles are handcrafted in small batches in a small shop in New York and made with high-quality and clean fragrance oils.
Why shoppers love this lavender soy wax candle: "This scent is hands down my favorite one by this shop so far (and that's saying a lot given all the great scents offered)! The smell is so refreshing and provides such a calming atmosphere… The owner once again blew my expectations away." - VM
11. A soy candle sampler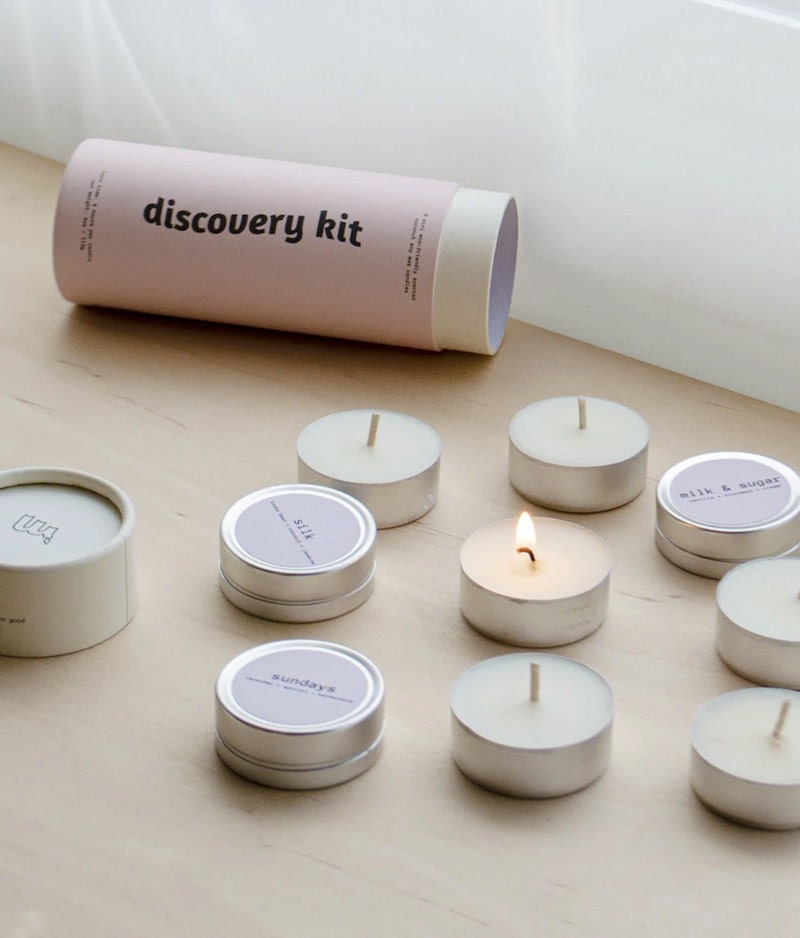 SHOP: Tea light sampler from Mala, $22
Can't decide on just one soy candle to try? No need to narrow it down with this tea light sampler complete with eight of the shop's core scents including Sundays: a lavender, apricot, and sandalwood mix. These votives feature cotton wicks but once you settle on a scent, the shop's full-size candles are available with your choice of cotton or wood.
Why shoppers love this soy wax candle: "The scents are all lovely, the candles burn beautifully, and it was so fun to open the package to discover the surprise mix! Tea lights are great when you don't have a huge room to fill." - NP
Best vanilla soy candles
Vanilla essence is known for being invigorating and relaxing, and, of course, smelling absolutely divine. These vanilla soy candles smell good enough to eat, but burning them will be just fine!
12. Vanilla-blend soy candles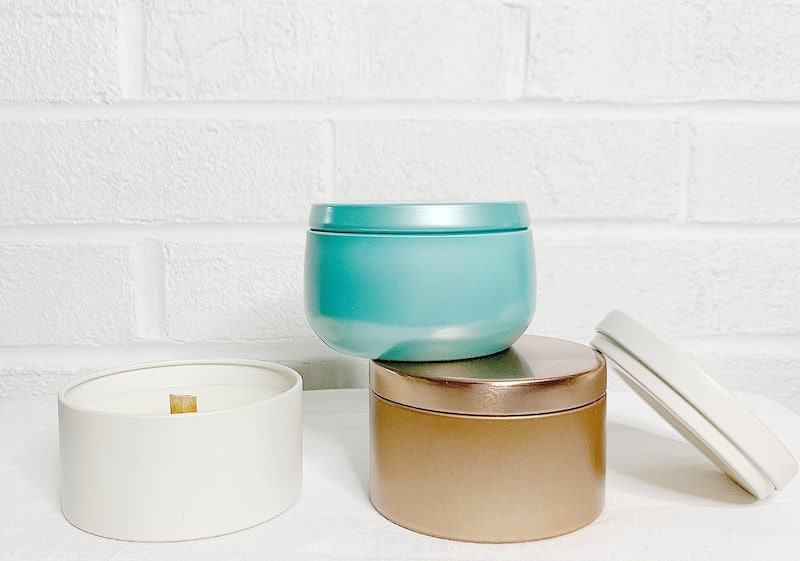 SHOP: Vanilla soy candle from Lah Lah Land Home Decor, $19
Available in six delicious fragrances, including four vanilla blends—cinnamon vanilla, creamy vanilla, vanilla bean, and black raspberry vanilla—these soy blend candles are hand-poured in New Jersey by a small business owner who, according to one buyer, "is so wonderful and comfortable to communicate with!" The candle tins come in either white, teal, or copper, and can be repurposed after use.
13. Vanilla and tobacco scented soy candle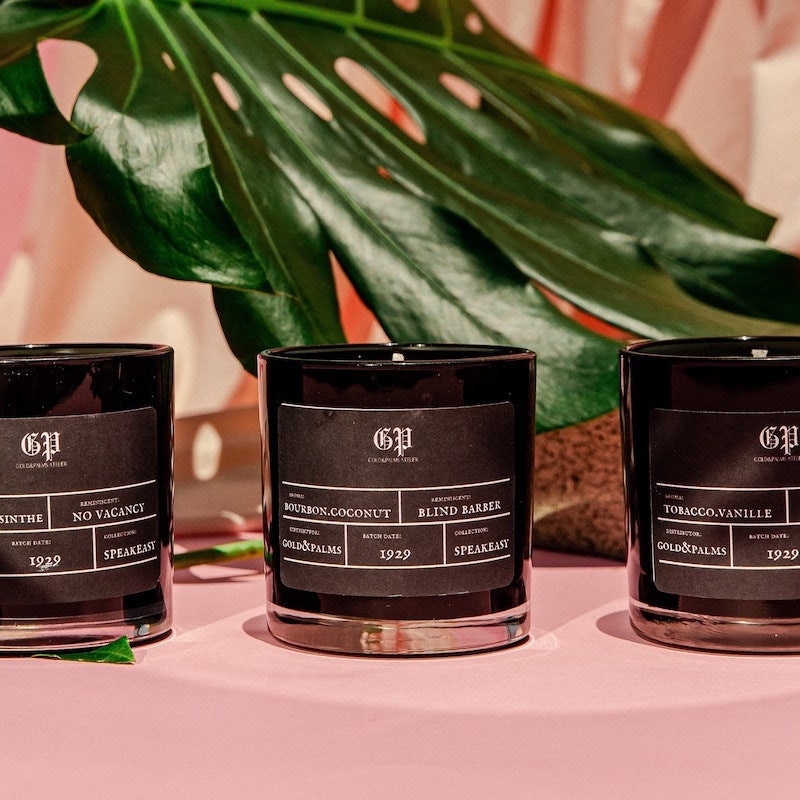 SHOP: Vanilla and tobacco scented soy candle from Gold & Palms Atelier, $24
Reminiscent of products you'd find at high-end luxury candle brands (which come with much higher price tags), this elegant candle is inspired by Los Angeles' speakeasies, and provides an oriental unisex fragrance with tobacco leaf and spicy top notes.
Why shoppers love this vanilla and tobacco soy candle: "Came with a lovely little matchbook, and smelled even more lovely than expected! I sometimes find that candles with more 'masculine' scents can be too cologney or overpowering, but this is perfectly balanced and absolutely fits the theming!" - MR
Best soy candles with essential oils
For your daily dose of blissful essential oils, these oil-infused soy candles deliver those scents along with beautiful containers.
14. Oslo frankincense and dark honey scented candle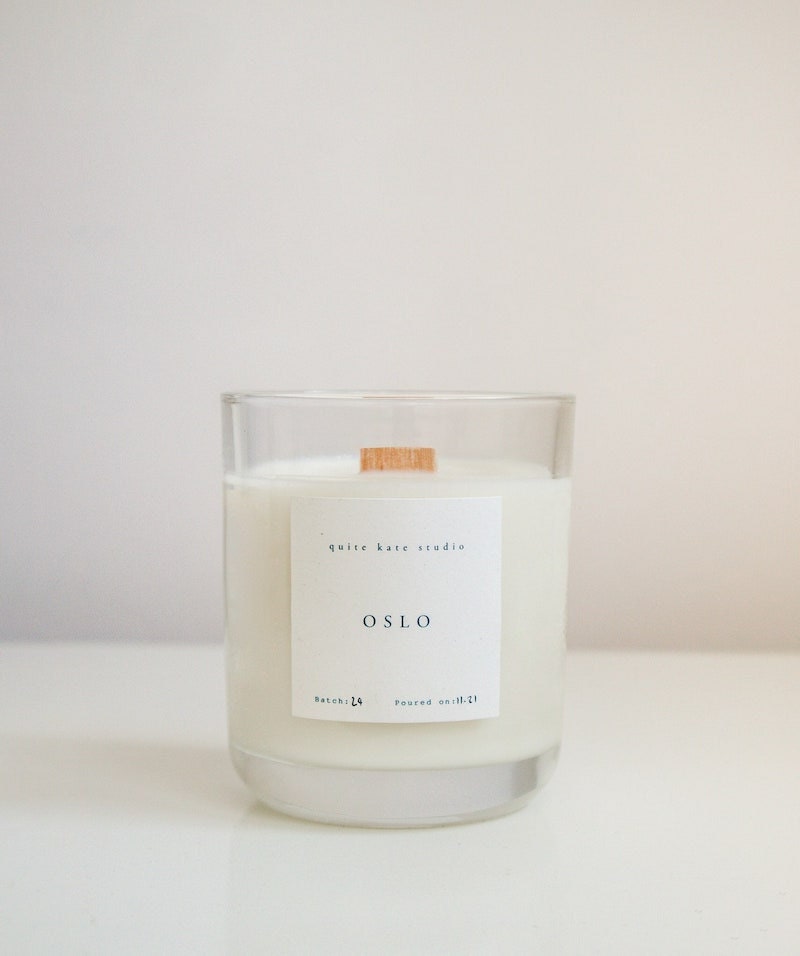 SHOP: Oslo fir, black pepper, clove, frankincense, and dark honey scented candle from quite kate studio, from $23
Aptly-named, the "Oslo" is a Scandinavian-style minimalistic candle that can look great in any home, no matter the decor style. It comes in either medium or large, and has a cracking, crackling wooden wick for that by-the-fireplace feel.
Why shoppers love candles by this seller: "Lovely candle; smells amazing and fab to have the patch info and pour date on the candle! Great eco packaging too." - EW
15. Palo santo soy candle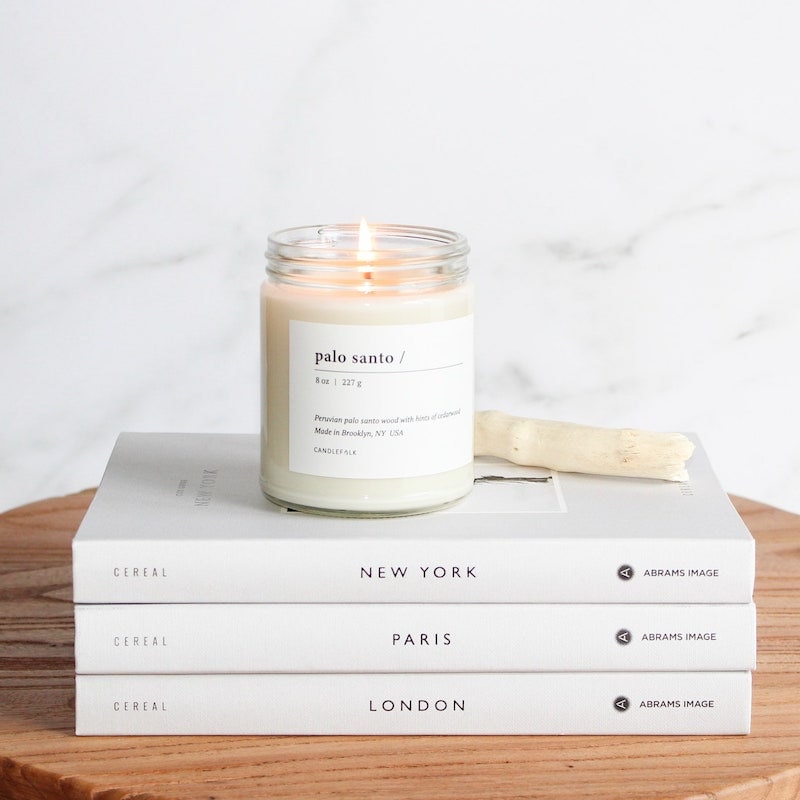 SHOP: Palo santo soy candle from Candlefolk, $24
This minimalistic and share-worthy candle comes with a brushed gold lid for easy extinguishing, and its blended notes of neroli, saffron, cedarwood, amber, and moss hit just the right spot.
Why shoppers love this essential oil candle: "Smells wonderful and shipped quick! I haven't even lit these candles yet—I just leave them open in a room and they leave a wonderful scent throughout the space." - LV
How do we pick the best soy candles?
As Etsy Journal editors and contributors research and curate shopping guides for some of the best-loved items on Etsy, we thoughtfully consider the creativity, customization, and craftsmanship that go into each product. We also consider buyer reviews, item ratings, and customer service, and tap the expertise of our in-house merchandising and trends experts to uncover high-quality finds for every budget. You can find more information about each item in the seller's listing details and can take a look at their individual shop policies and reviews, too.