Embrace the effortless style a sweatshirt adds to your wardrobe and shop these picks for the best sweatshirts, from custom designs to classic crewnecks.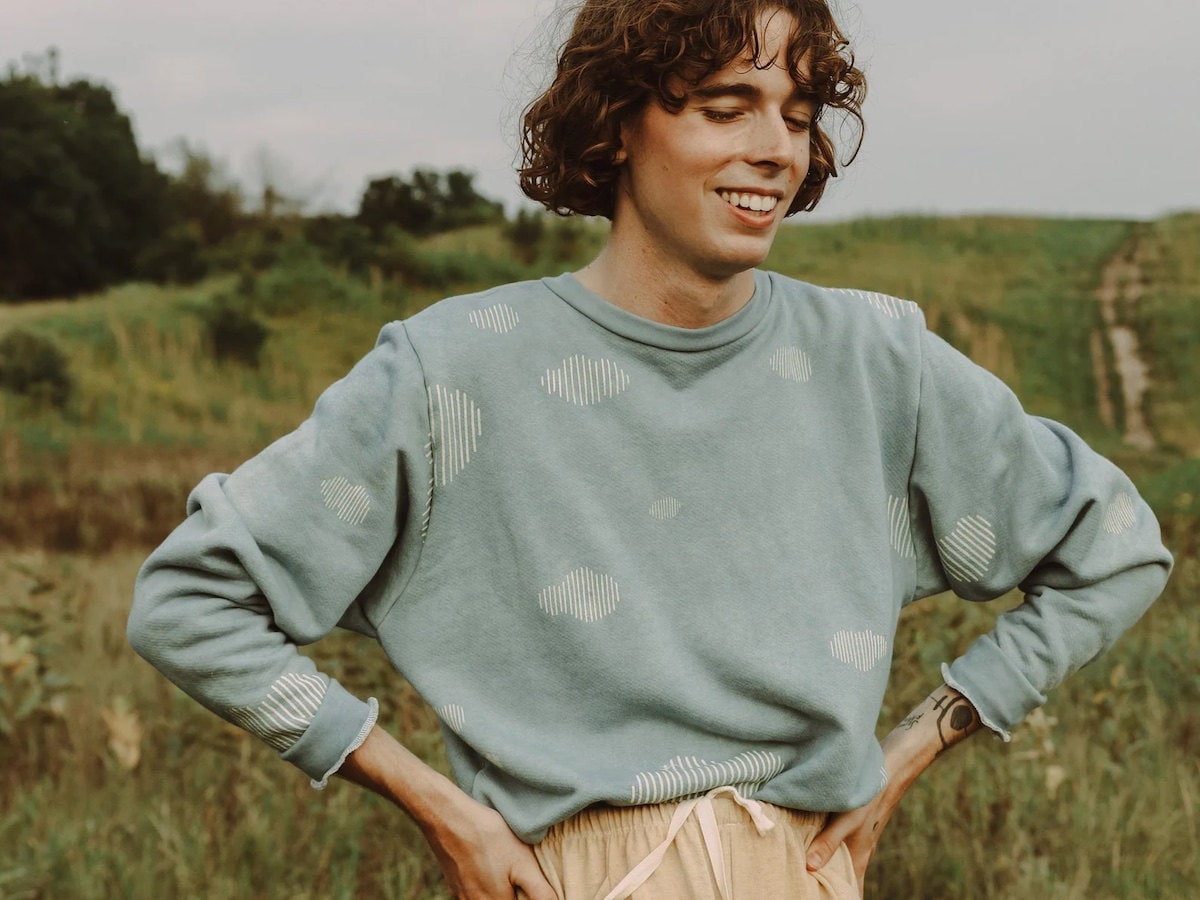 As sweatshirts rightfully gain status as a true wardrobe essential, there's no better time to take a look in your closet and see which of these picks for the best sweatshirts could be the cozy complement to your current collection. With everything from hand-painted, custom sweatshirts that double as works of art to laidback vintage sweatshirts, these are the best sweatshirts to wear on repeat while the comfy cool trend surges.
Best crewneck sweatshirts
The most classic sweatshirt style, a crewneck (or two!) is a must in your closet. Instead of sticking with a plain crewneck sweatshirt, check out these unique designs created and customized by Etsy sellers just for you.
1. Best sweatshirt for men and women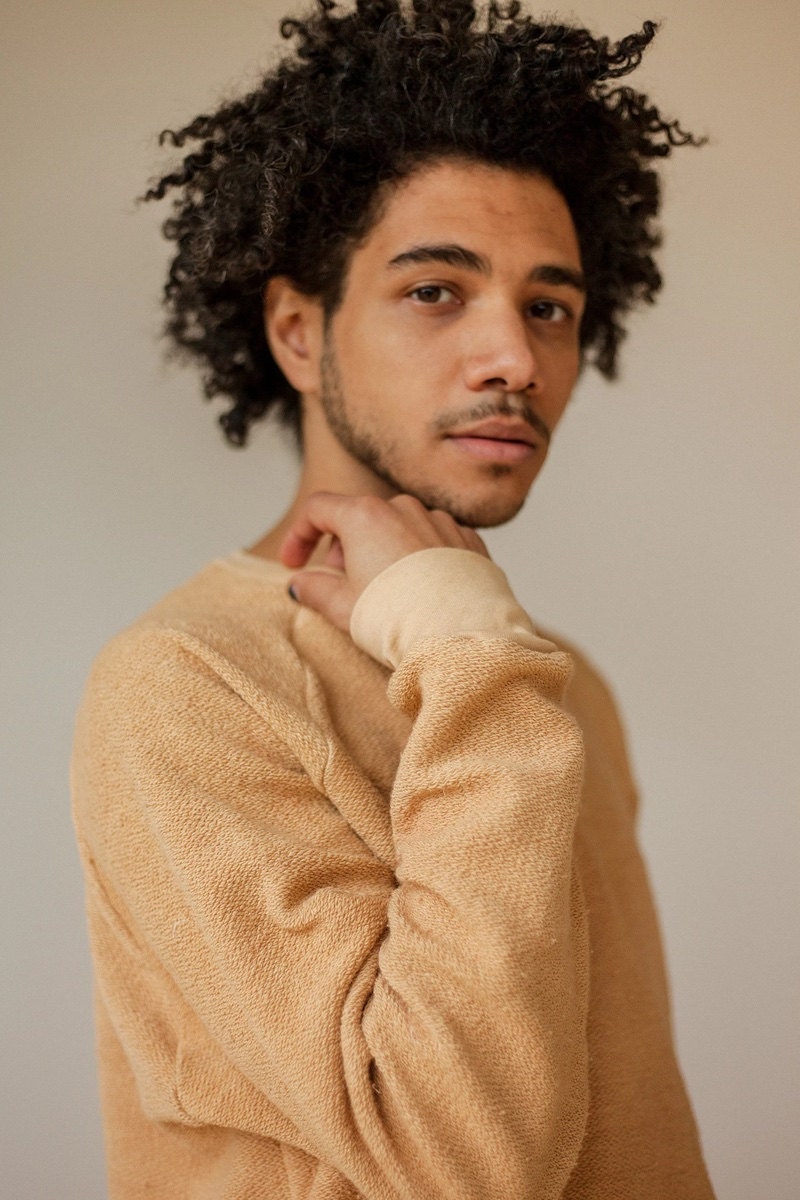 SHOP: Organic fuzzy sweatshirt from Object Apparel, $148
A true style staple, the nubby texture of this organic terry sweatshirt is an elevated twist on classic smooth cotton crewneck, and the soft ochre hue, courtesy of plant dyes, is a necessary neutral in any wardrobe.
2. Best cropped sweatshirt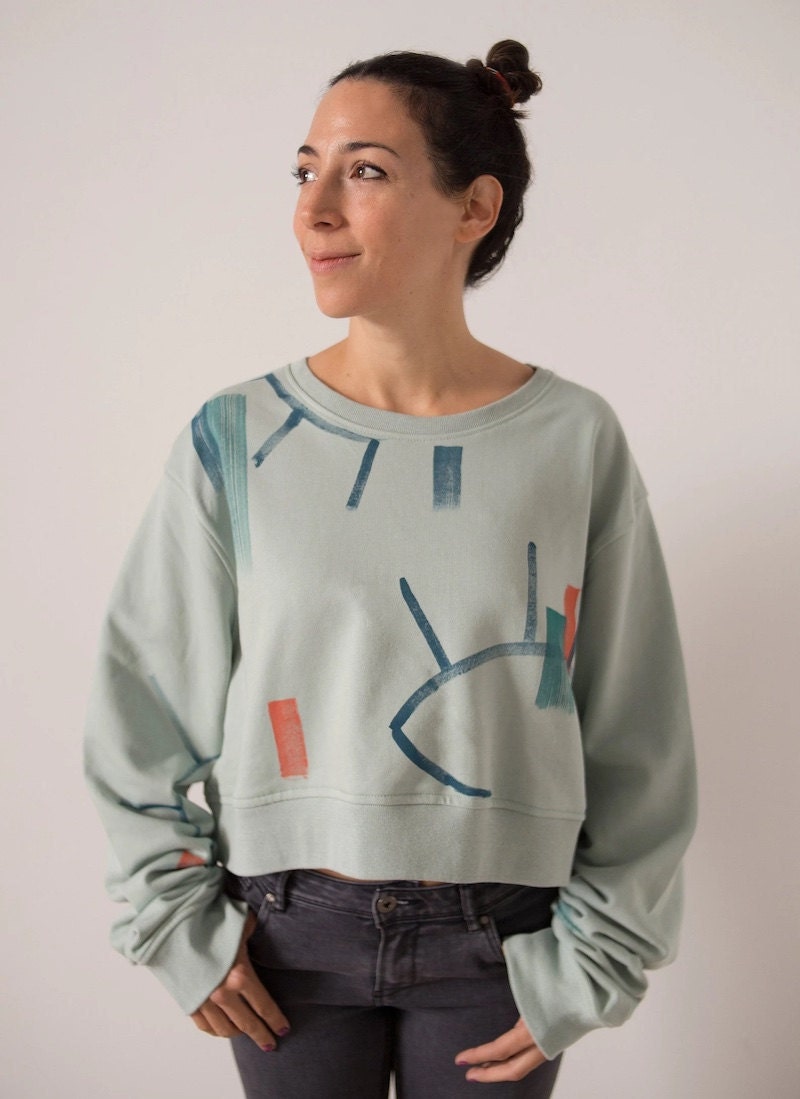 SHOP: Crop sweatshirt from APPA Studio, $72
Sweatshirts have a reputation for being a bit bulky at times, but this cropped sweatshirt fixes that. Slightly slouchy sleeves meet a just-right hemline for the perfectly undone, done-up look.
3. A fun spin on hometown pride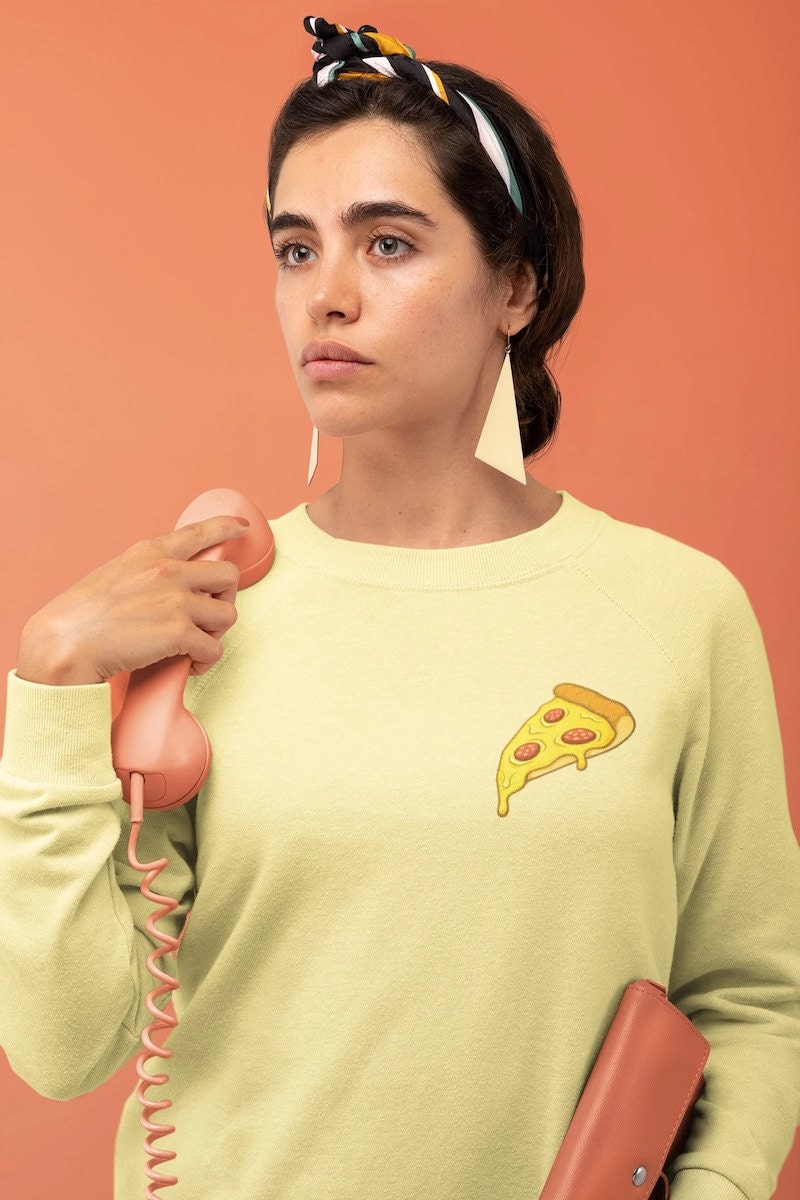 SHOP: New York slice sweatshirt from Rainbow Daddy, $40
A quirky gift for your favorite foodie, the print on this yellow sweatshirt is inspired by New York style pizza. Even if they're Chi-town natives, they'll want a "pizza" this unique sweatshirt design.
4. Best zip-up hoodie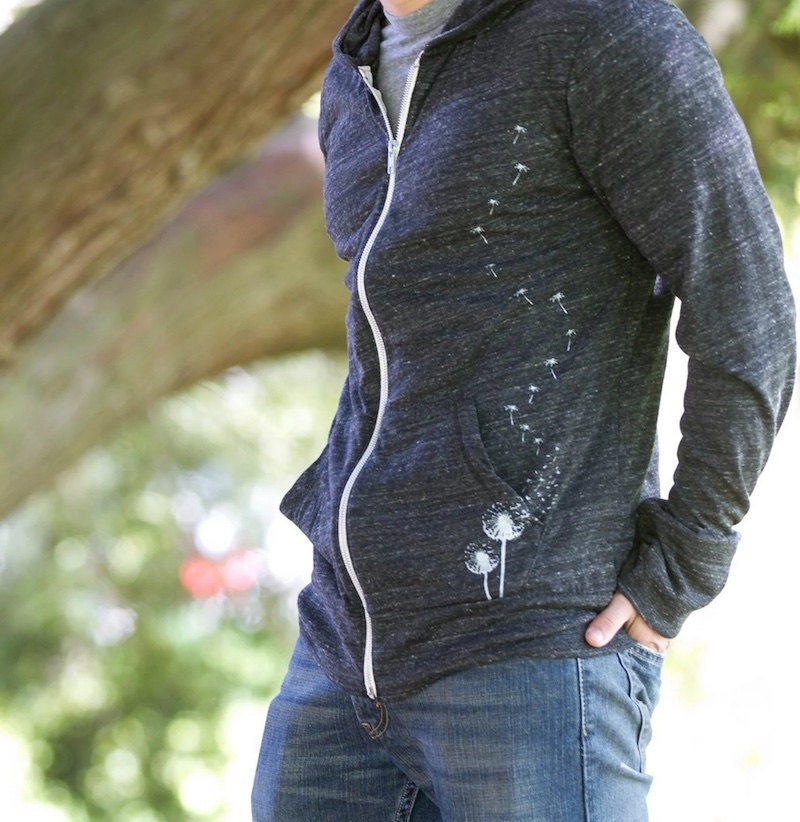 SHOP: Dandelion print hoodie from Revival Ink, $55
If the sweatshirt-loving sweetheart in your life also adores the great outdoors, this organic zip-up hoodie with a dapper dandelion design is a great pick. Buyers love the lightweight yet durable construction, making this a great hoodie option to have on-hand for cooler summer nights.
5. A fun white sweatshirt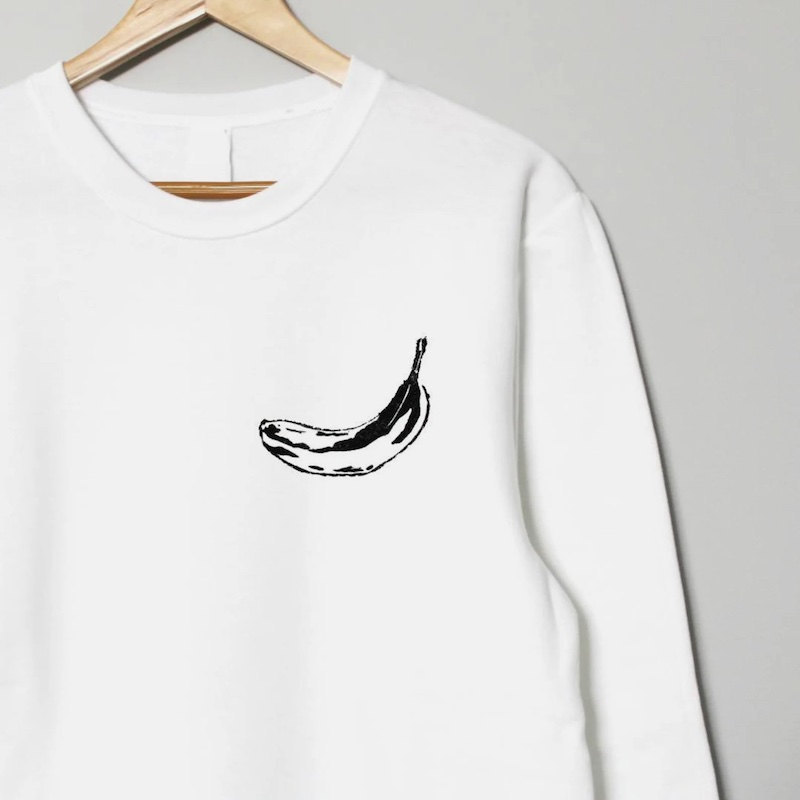 SHOP: Banana sweatshirt from ME Image, $53
This white sweatshirt gets a fun graphic upgrade with this hand-stamped banana illustration. Each of this seller's designs are hand-painted or hand-drawn, and the slight variations that occur mean your sweatshirt is a one-of-a-kind original.
6. Best hoodie for summer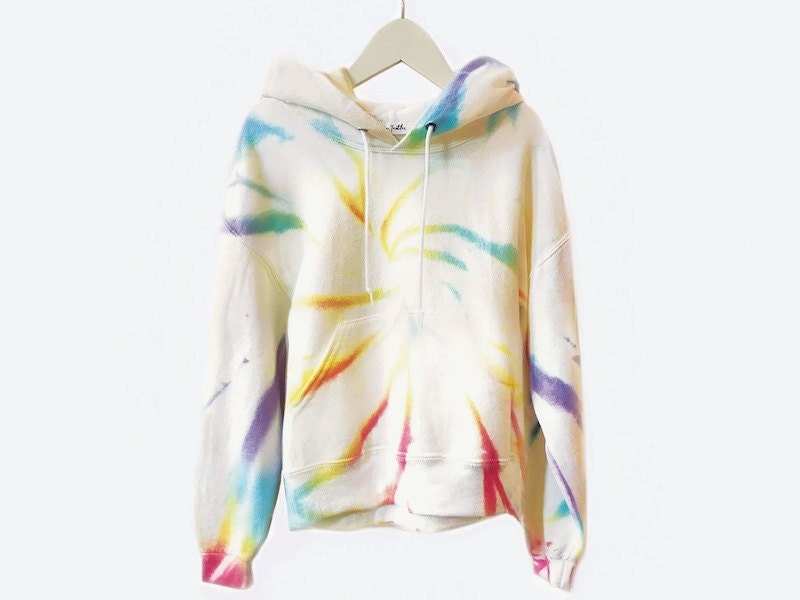 SHOP: Tie-dye hoodie from Bohemian Textiles Shop, from $42
After a day in the sun, wrap yourself in this laidback tie-dye hoodie and warm up with its ultra-soft fabric and radiant design. Want to go all-in? Don't miss the matching tie-dye joggers to complete your summer set.
7. A sweatshirt with an inspirational quote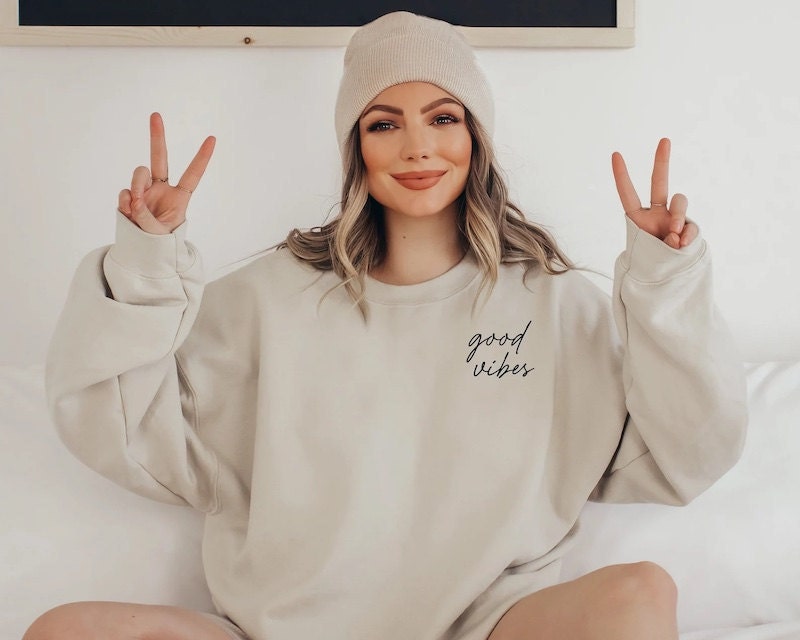 SHOP: Good vibes sweatshirt from Wildflower + Moon, $44
Every time you look in the mirror, be reminded that there are good vibes ahead of you, thanks to the inspirational design on this crewneck sweatshirt.
8. Best vintage sweatshirt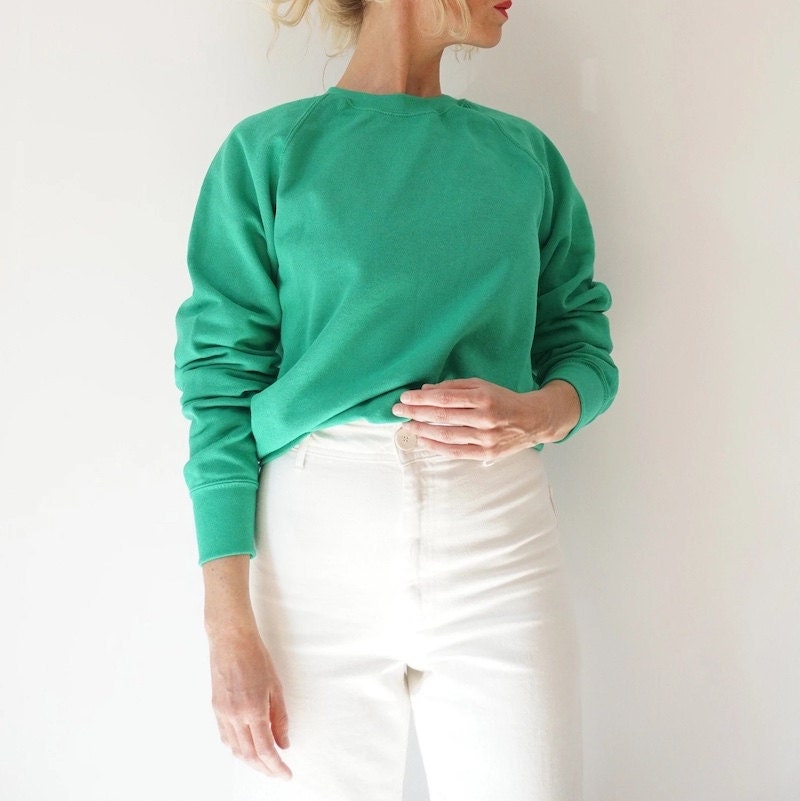 SHOP: Kelly green vintage sweatshirt from Smize VIntage, $69
Thanks to the comeback of vintage '90s fashion, slouchy sweatshirts like this Kelly green pick are no longer just for lounging. Shop classic '90s sweatshirts carefully sourced by Etsy sellers and find a design that's the ultimate in both grunge and glamour.
9. A hand-painted sweatshirt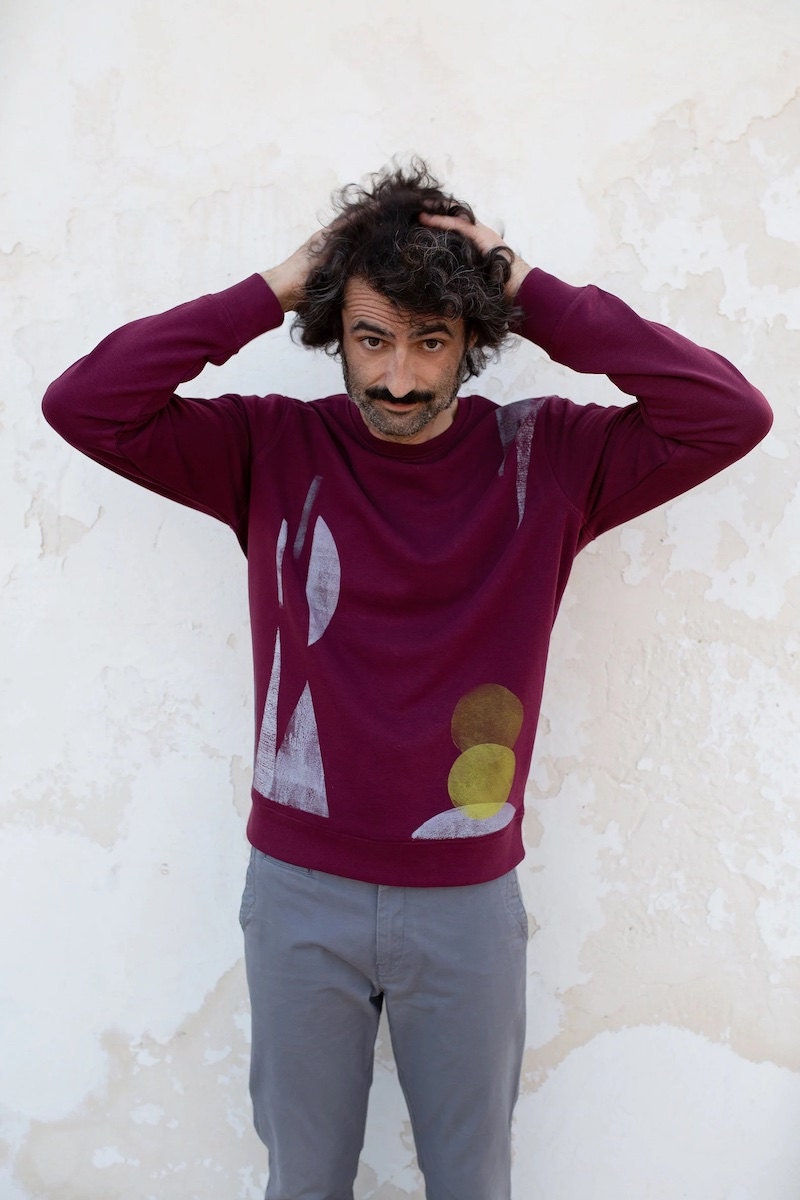 SHOP: Organic hand-painted sweatshirt from APPA Studio, $76
The hand-painted pattern on this organic cotton sweatshirt gives off snazzy vintage sweater vibes, perfect for when you need to dress up a bit but still want to be comfy.
10. Best sweatshirt for your BFF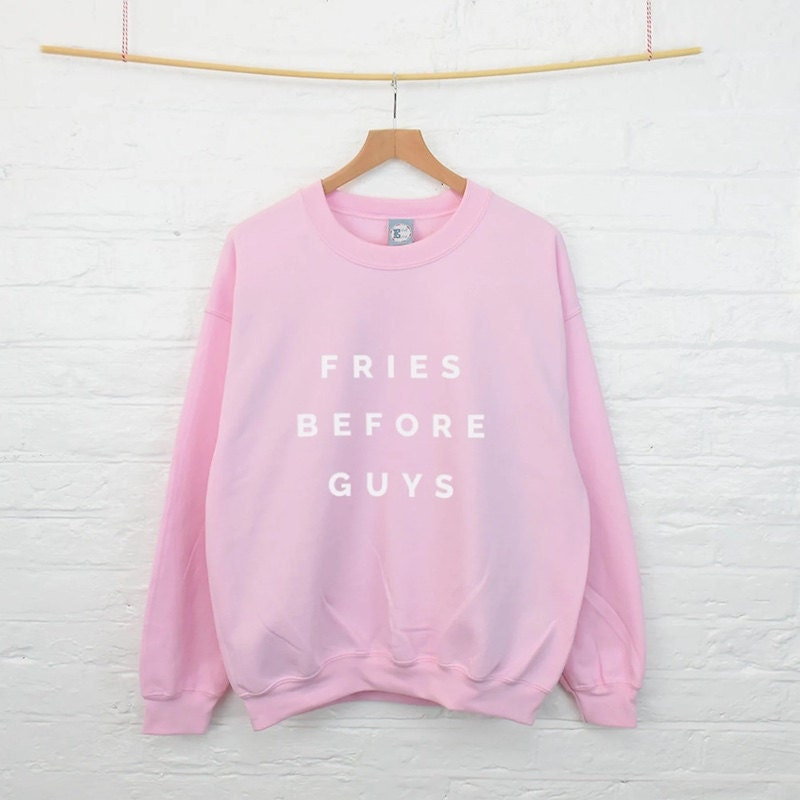 SHOP: Fries before guys sweatshirt, from Ellie Ellie, $43
A cute Galentine's Day gift, this women's crewneck sweatshirt is a great way to remind your bestie that you're always there for her. And if you're not around, there's always fries!
11. Best patterned sweatshirt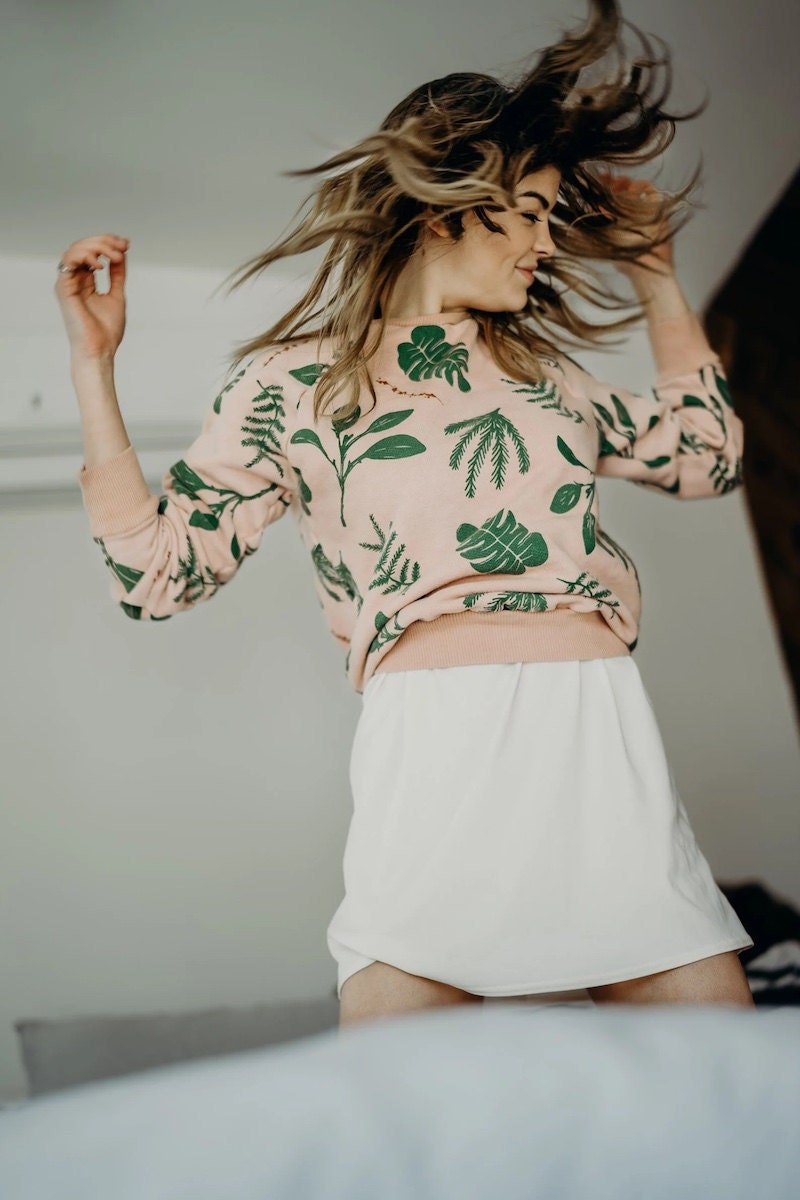 SHOP: Slouchy plant print sweatshirt from Object Apparel, $152
The ultimate pick for proud plant parents, this sweatshirt is made from organic cotton dyed with madder root and covered with a silk screened leaf design made using water-based dyes.
12. Best funnel neck sweatshirt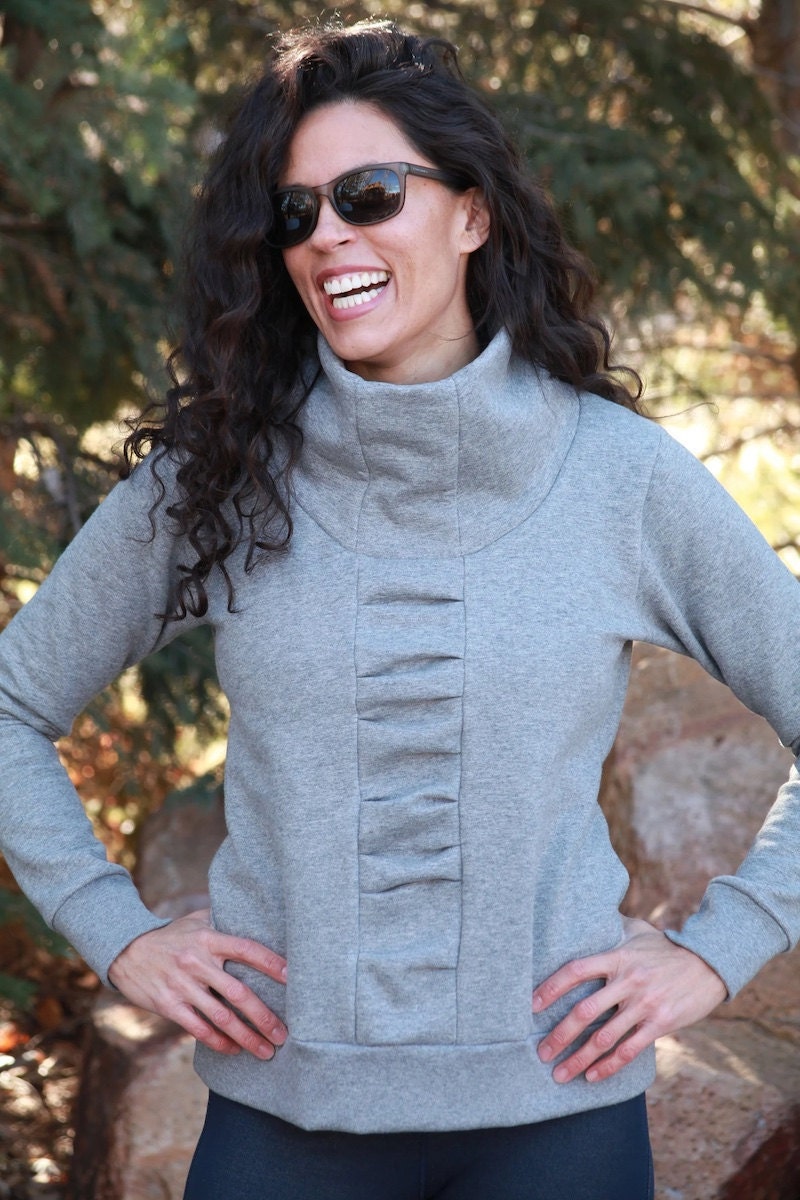 SHOP: Ripple sweatshirt from Reciprocity Clothing, $39
Great as both an outer layer or under a jacket, this sweatshirt for women combines the relaxed vibes of a classic sweatshirt with a fashionable ripple design down the front plus a warmth-retaining funnel neck for cooler temps.
Best custom sweatshirts
Whether it's outfits for family pictures, matching sweatshirts for a memorable trip with friends, or a thoughtful gift idea for mom, these custom sweatshirts are a unique way to dress yourself in self-expression.
13. Custom dog ear sweatshirt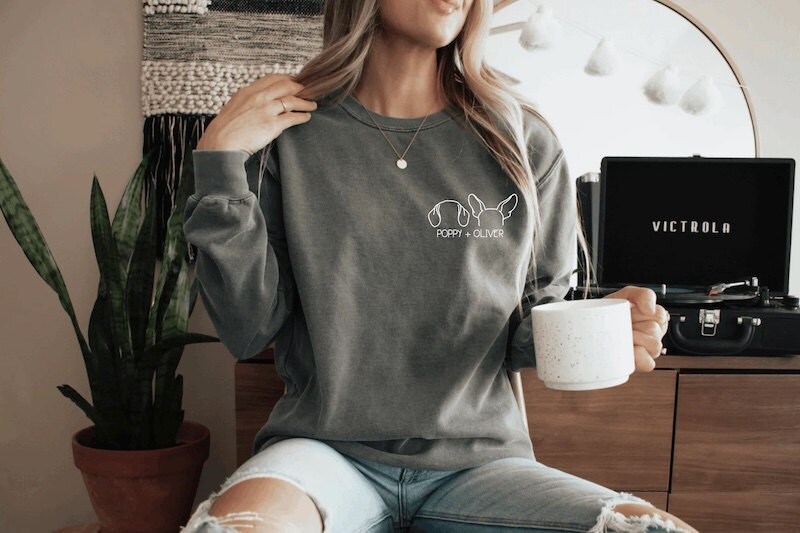 SHOP: Custom dog ear sweatshirt from Dunn Design Boutique, from $50
For the pet-lover on your list, this custom sweatshirt featuring their four-legged pal's profile is a paw-some pick. Created using an actual picture of their faithful companion, this sweatshirt will become a treasured addition to their wardrobe.
14. Best custom embroidered sweatshirt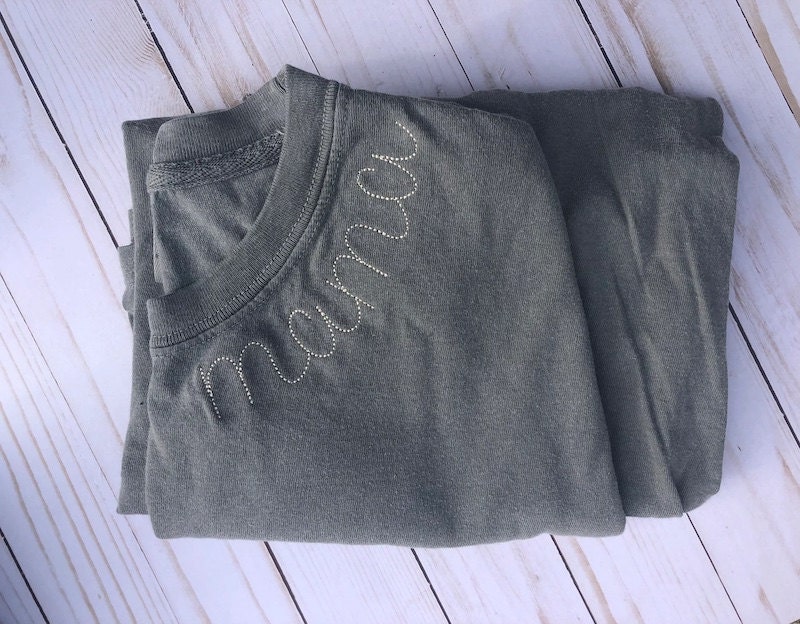 SHOP: Embroidered sweatshirt from ABO Creates, $30
Personalize this top with a special nickname, initials, a monogram, or another sweet message you want your loved one to see each time they wear it.
15. Best custom couple's sweatshirts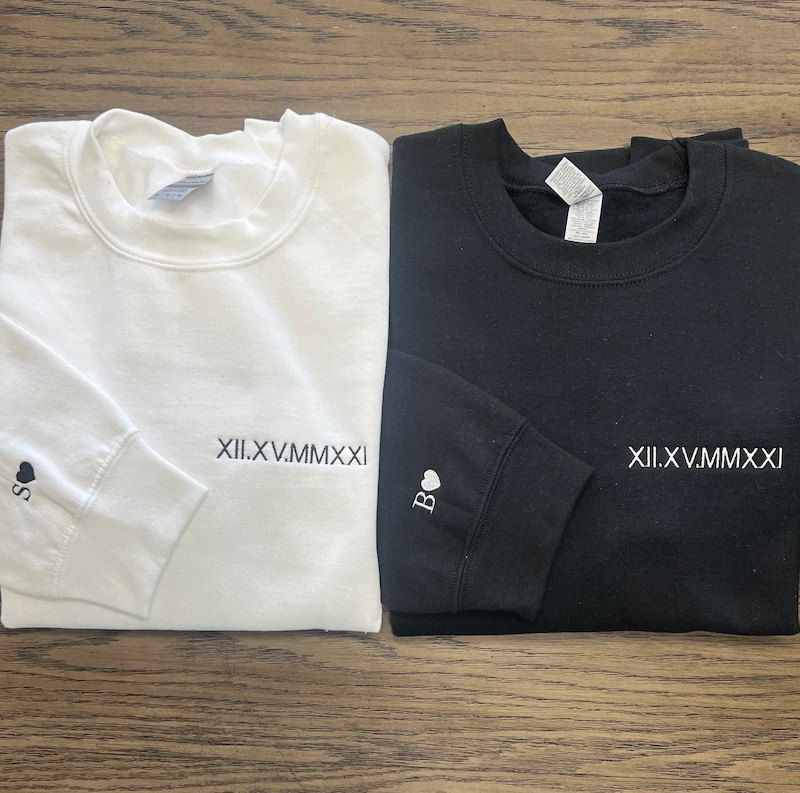 SHOP: Embroidered Roman numeral sweatshirt from Custom Trendy Goods, from $30
Celebrate a special date in your relationship (or give this as a unique personalized wedding gift) by adding it to this custom sweatshirt using Roman numerals. You can add initials to the sleeves, too!