Discover the deck of your dreams with these beginner-friendly tarot cards that feature bewitching original artwork and charming one-of-a-kind details.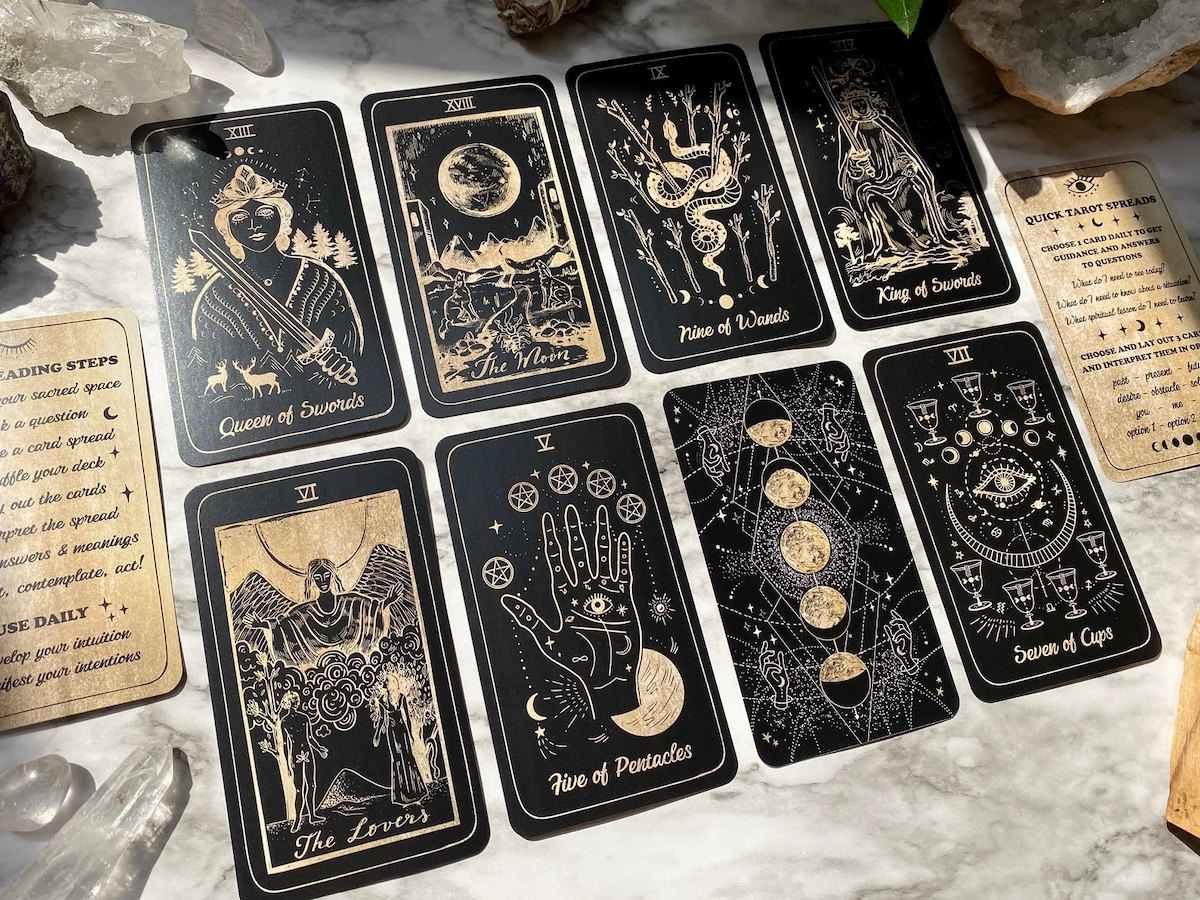 From creative twists on traditional tarot decks to one-of-a-kind oracle stacks that cultivate self-love, these picks for the best tarot decks are perfect for beginners, master diviners, and tarot enthusiasts. Some folks believe it's bad luck to buy your own deck, so we've revealed a few unique tarot-inspired home and style picks, too—dreamt up by the master creatives on Etsy and perfect for a little self-gifting.
Whether you're in need of a spellbinding new tarot deck or a thoughtful tarot-themed present, light a candle, set an intention, and get ready to tap into all things esoteric with these picks for the best tarot decks and gifts.
See our picks for the best tarot decks and gifts:
Best tarot decks
Inspired by dreams, science fiction, the cosmos, and even our furry friends, there's a little something for everyone in these tarot decks. And no matter what your supernatural style is, there are sets for all levels of readers—whether you're a tarot beginner who's just learning the ropes or well-versed in divination, these artistic tarot decks will shuffle things up.
1. An educational tarot deck for beginners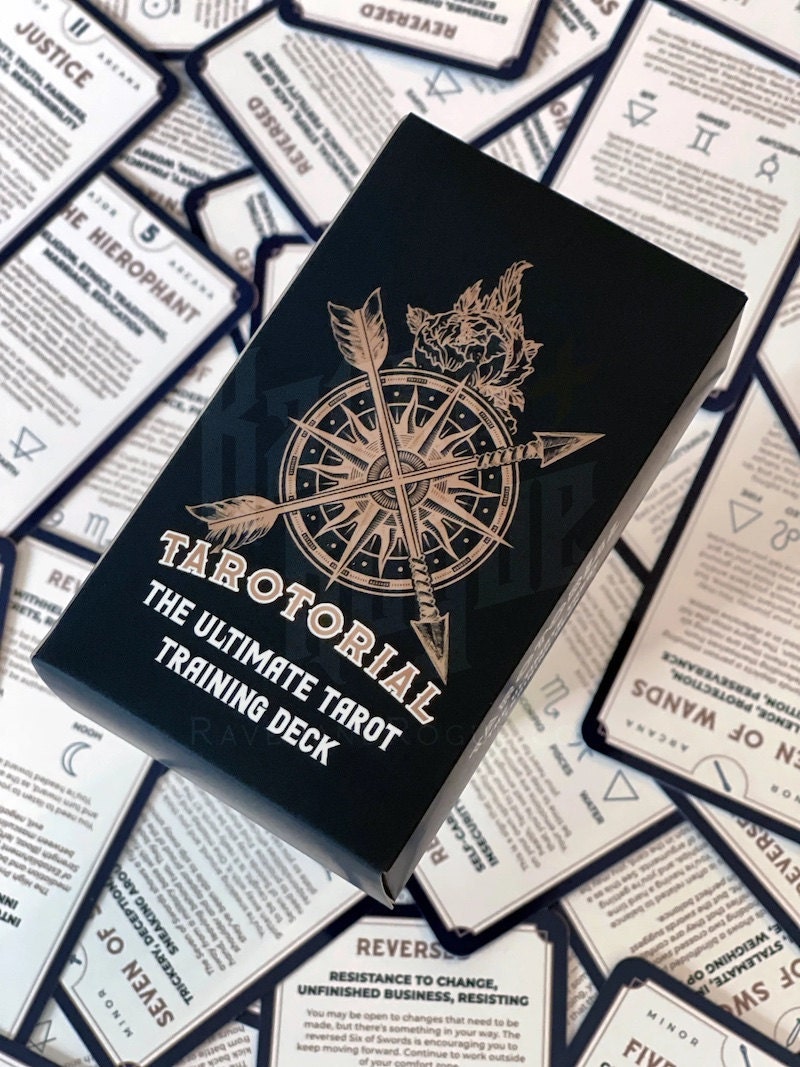 SHOP: Flash card style tarot deck from Raven and Rogue LLC, $36
For tarot beginners or seasoned readers looking to expand their knowledge, this deck will have you on your way to mastery in no time. With keywords, a brief description of both the upright and reversed positions, and the associated planets and zodiac signs, these mini cheat sheets have all the need-to-know info to learn more about tarot.
2. A spooky tarot deck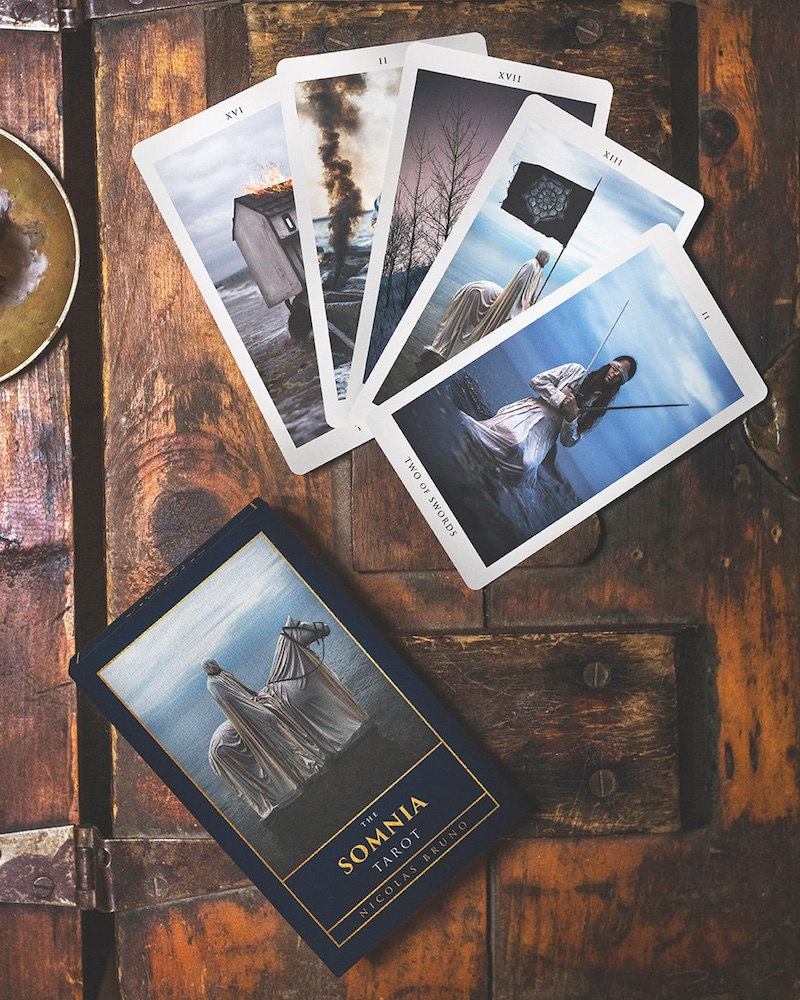 SHOP: Dreamworld tarot deck from Nicolas Bruno, $65
Fearless fortune tellers will love this dark, moody deck. These surrealist cards feature sublime—if a bit eerie!—artwork inspired by dreams and nightmares. And with Jungian archetypes making an appearance throughout, there's an opportunity to explore both the psychic and the psyche.
3. A healing oracle tarot deck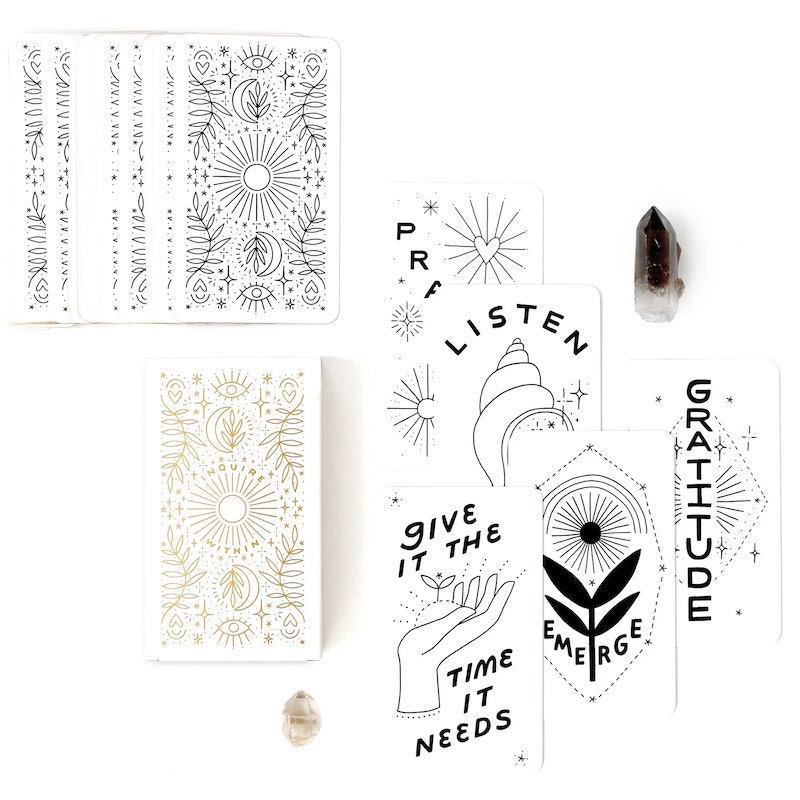 SHOP: Inspirational oracle tarot deck from Worthwhile Paper, $48
Have you ever wished you had your own personal, portable pep talk? Look no further than this optimistic oracle deck. These artistic cards serve as supportive reminders of your inner strength and wisdom, for those moments when you need them the most. Gorgeous gilded edges and modern illustrations that match each mantra make it hard to resist this unique tarot deck.
4. A celestial tarot deck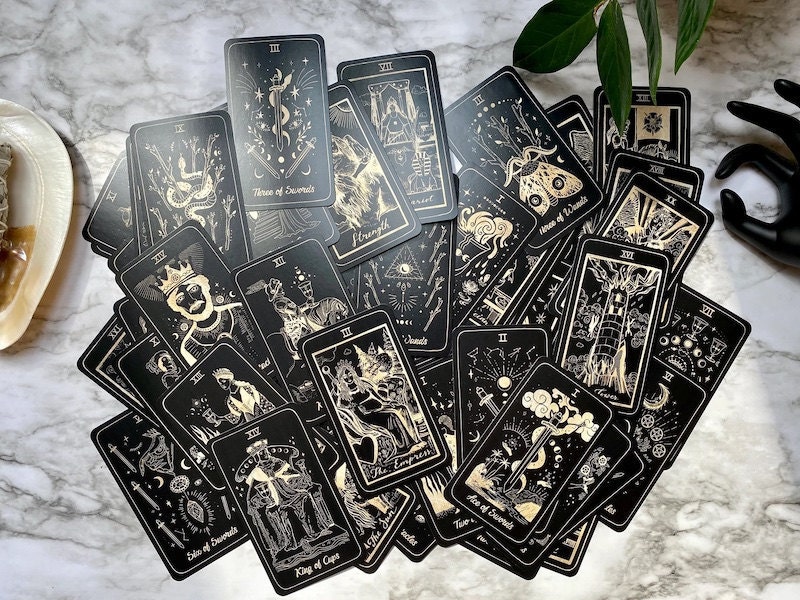 SHOP: Lunar tarot deck from Shores of Moon, $50
Astrology aficionados will be over the moon for this lustrous, artistic tarot deck. Shimmering with gorgeous gold illustrations on a black backdrop, these divine designs blend traditional tarot imagery with stellar symbols from the cosmos.
5. A fantastical tarot deck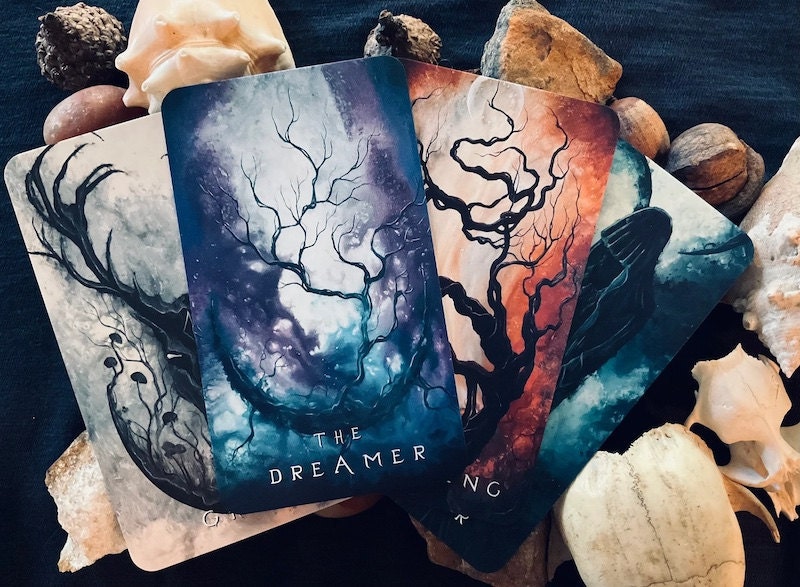 SHOP: Dreamy surrealist tarot deck from Shadow Art Finds, from $40
If you're the bold type who's ready to explore what lurks in the shadows, this macabre oracle deck may be for you. Shoppers are thrilled with the high quality card stock and original artwork, calling these cards "phenomenal," "mind-blowing," and "stunningly magnificent."
6. A floral feline tarot deck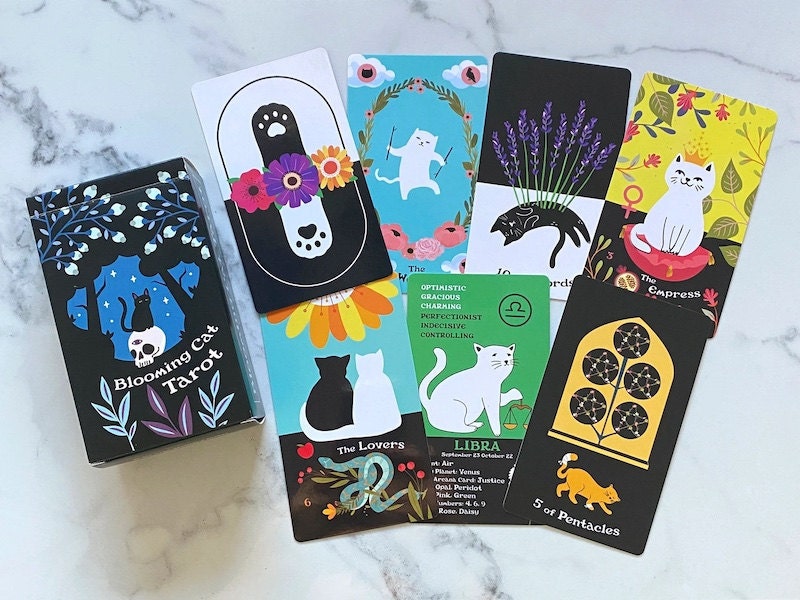 SHOP: Cat-themed tarot deck from Cosmic Eye Tarot, from $56
A purrr-fect gift for any cat lover, this might be the most adorable tarot deck you'll ever get your paws on. These cheerful furry friends and beautiful botanicals make it hard not to crack a smile, even when you're dealing with a card that can be a little intimidating (looking at you, 10 of Swords!). Plus, this deck also includes 12 bonus cat zodiac cards, a silk-lined bag for tarot-toting, and a vinyl sticker.
7. A lunar tarot deck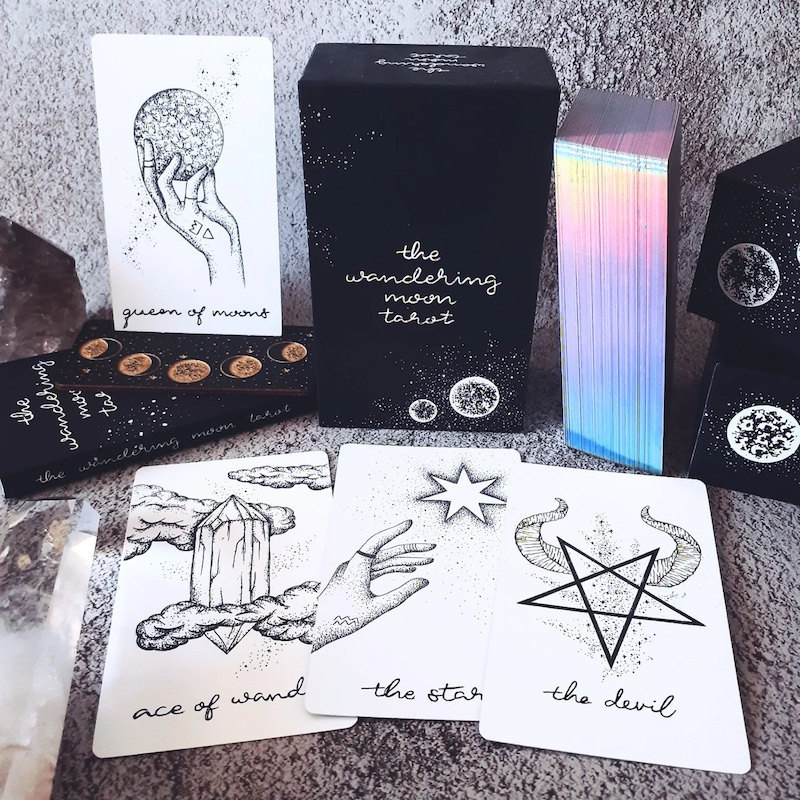 SHOP: Moon-themed tarot deck from The Wandering Moon Co, $45
Who needs a spaceship when you have this stunning deck to transport you straight to the moon? With vibrant, holographic edges and magnificently detailed grayscale illustrations, these cosmic cards mix mystical and interstellar themes to create a galactic goth vibe.
8. A beautiful beginner tarot deck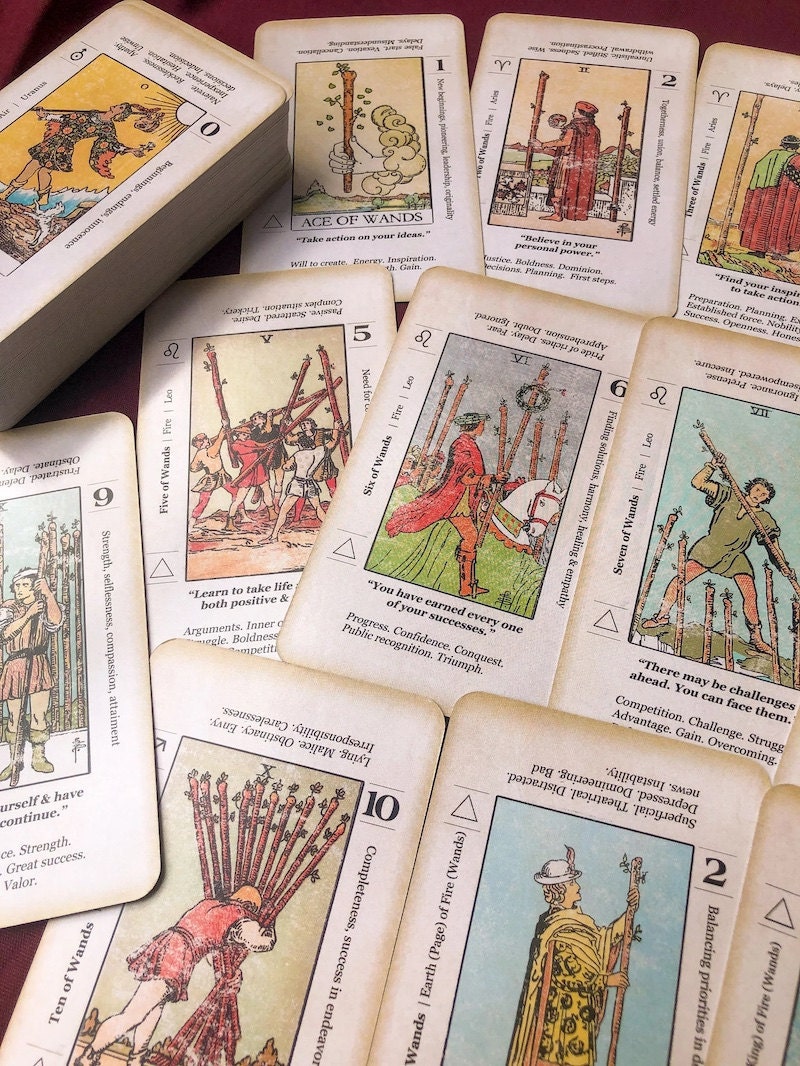 SHOP: Classic vintage style tarot deck from Rowan and Elm, $33
An excellent choice for a beginner tarot reader or anyone who appreciates the classic imagery of the Rider-Waite deck, these traditional tarot cards include keywords, quotes, and associated symbols for quick and seamless interpretation (and learning!). Plus, distressed images and rounded edges give this deck that vintage feel without any actual wear and tear.
9. A futuristic tarot deck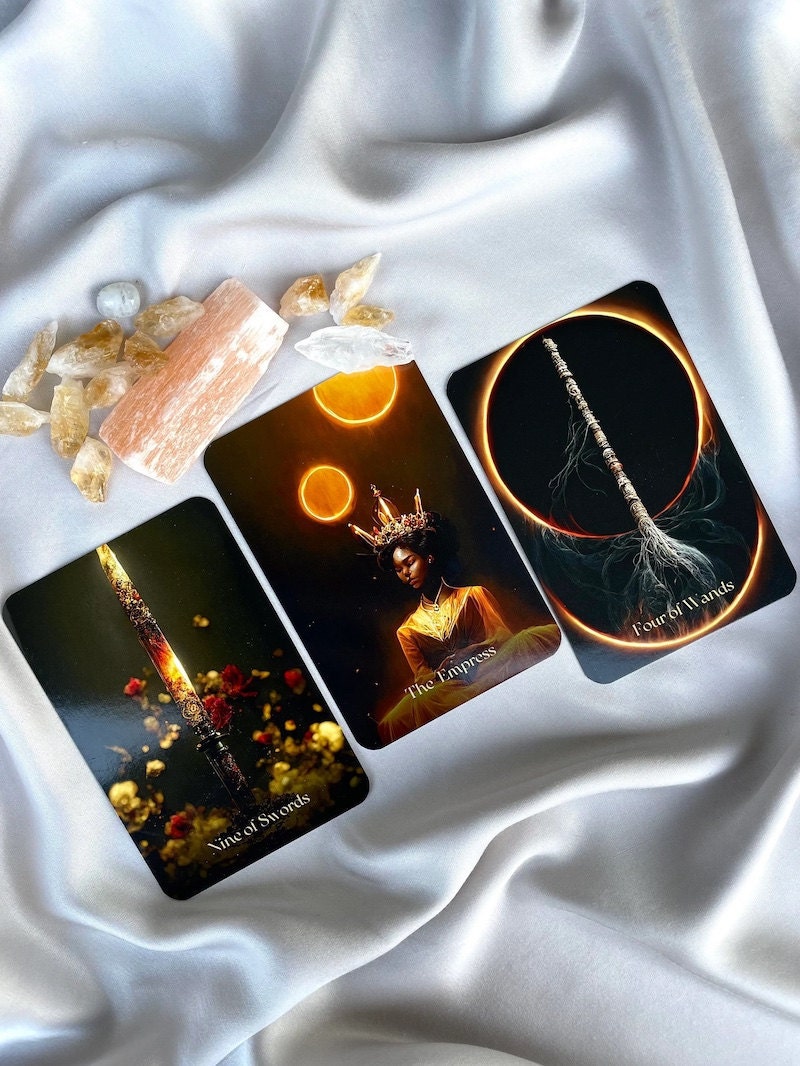 SHOP: Otherworldly tarot deck from Bastet Tarot, from $53
Shuffling through this ethereal deck might feel a little like reading a good sci-fi novel. With a unique tarot deck design, there's an air of mystery to these extraterrestrial-inspired cards that feature ghostly figures, rich hues, and glowing golden accents.
10. A modernist art tarot deck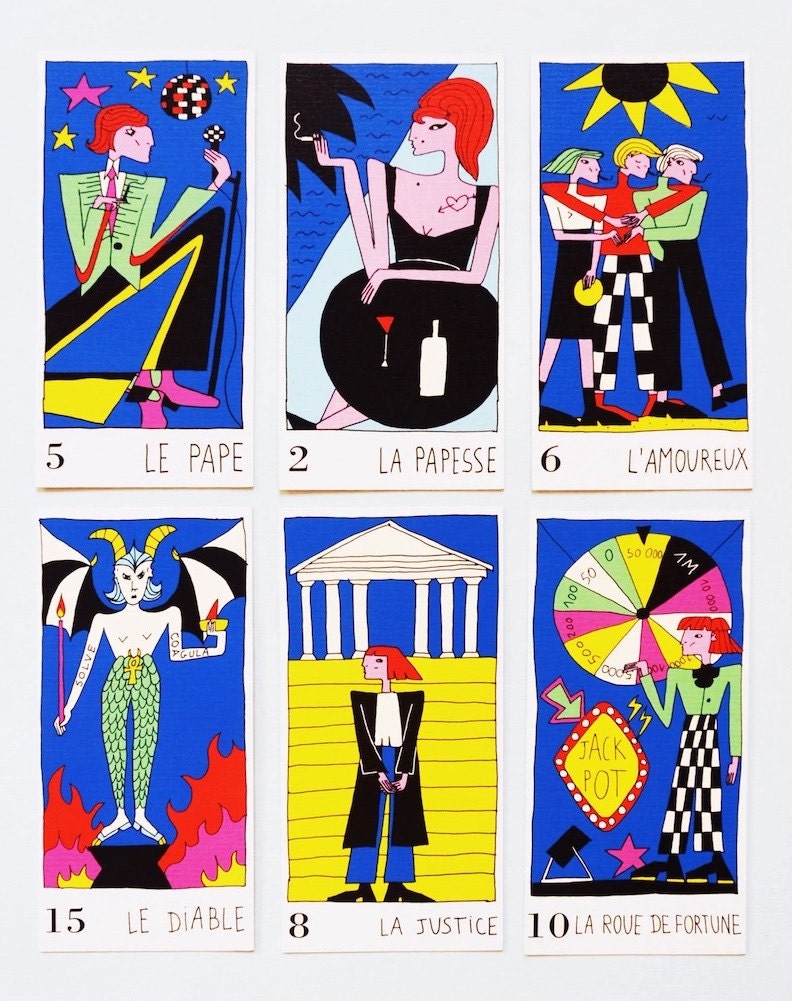 SHOP: Colorful French tarot deck from Cécile Mirande-Broucas, $50
This artistic deck is like having a magical, miniature museum right at your fingertips. Illustrated by a French modernist artist, each card shows off striking shapes and bold colors for a contemporary spin on classic tarot archetypes.
11. A playful tarot deck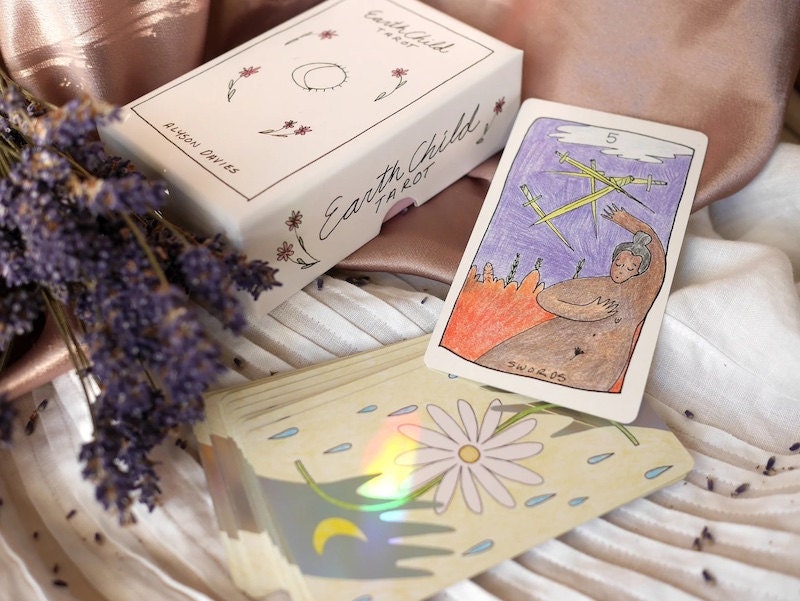 SHOP: Whimsical, nature-inspired tarot deck from Earth Child Studios, $60
With sweet, carefree figures in joyful nature scenes and charming details like silver rainbow foil stamping, this deck was created to inspire whimsy and wonder. Whether you're looking to explore your inner child or simply need a moment to reflect, these dreamy cards are here to give you the space to pause and process.
Best tarot gifts
Trust us, you won't be spinning the Wheel of Fortune when you opt for one of these gifts. The tarot lover in your life is sure to have stars in their eyes for these extra-special, inspired treasures.
12. A decorative holographic tarot card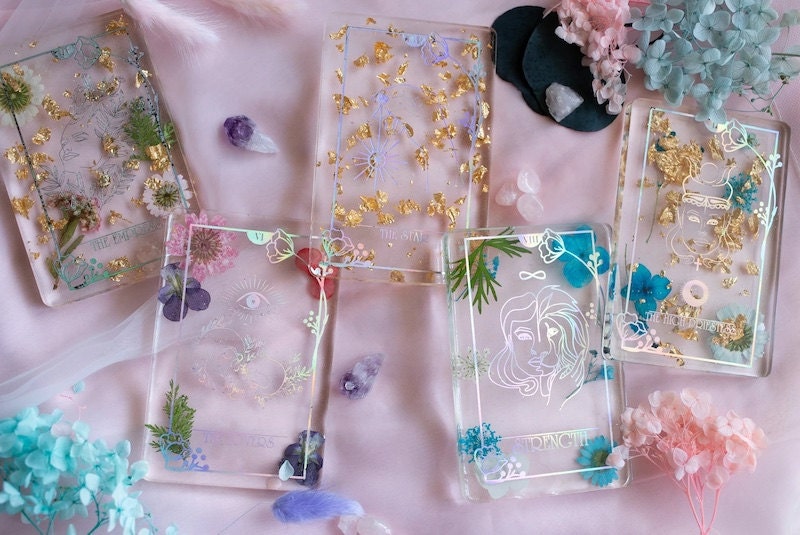 SHOP: Glittery resin tarot card from Ink and Flowers Designs, from $18
Whether you know their favorite card or there's one that simply has their name written all over it (The Sun? Strength? The High Priestess?), these marvelously mystical holographic resin cards are the perfect choice for a tarot enthusiast. Sparkling gold flakes and delicate dried flowers add a glimmer of glamor to any altar, mantle, or wherever they might choose to display this bewitching beauty.
13. A tarot card light switch plate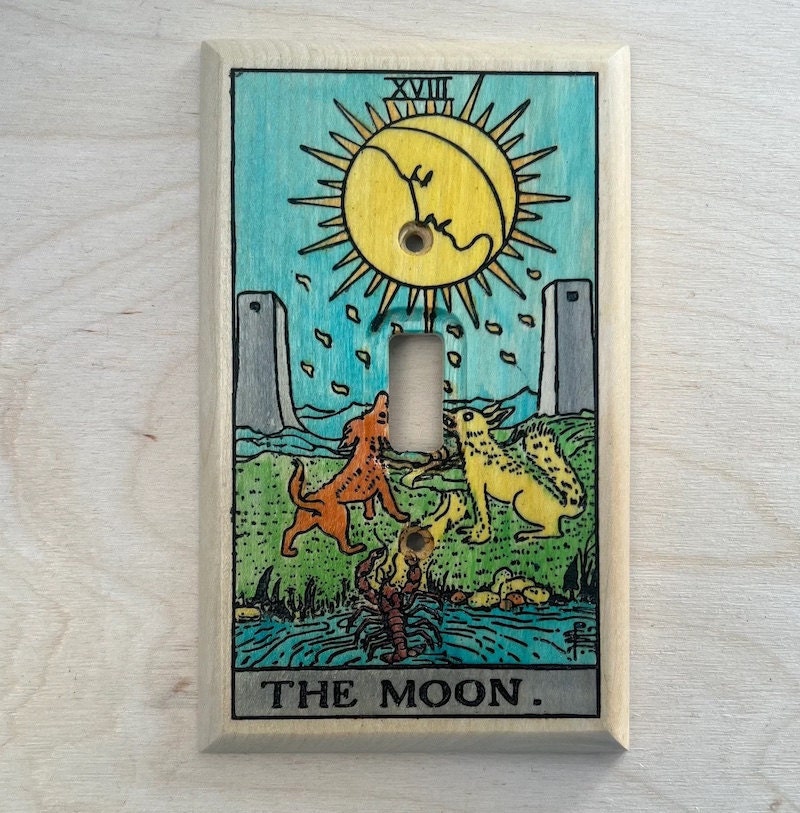 SHOP: Moon tarot card light switch cover from EC Art and Pyrography, $29
Light up your fortune-telling friend's life—or living room—with this light switch cover, hand-painted with the mysterious Moon card design. With real wood that's been laser engraved, stained, and sealed, this picturesque plate is built to last.
14. A tarot journal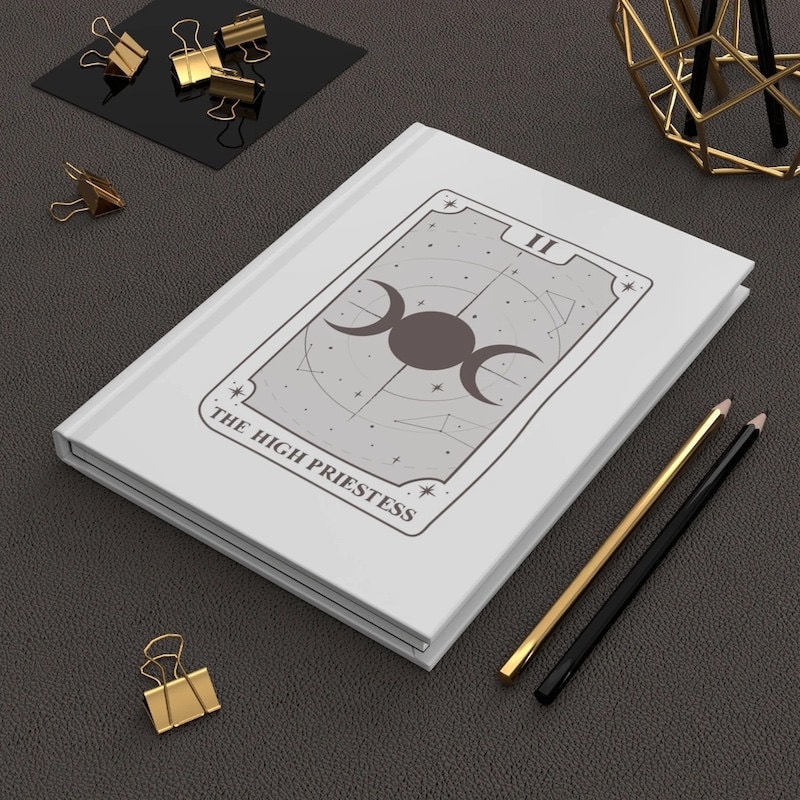 SHOP: The High Priestess tarot card journal from Waterlyly Goods, $20
Practicing tarot is all about reflection. What better place to store all those insights than in this wonderfully witchy journal? A hard cover and blank pages make this tarot notebook versatile (and oh-so-giftable!) so owners can use it for whatever they wish, whether that means journaling, drawing, or jotting down thoughts about their latest spread.
How do we pick the best tarot decks?
As Etsy Journal editors and contributors research and curate shopping guides for some of the best-loved items on Etsy, we thoughtfully consider the creativity, customization, and craftsmanship that go into each product. We also consider buyer reviews, item ratings, and customer service, and tap the expertise of our in-house merchandising and trends experts to uncover high-quality finds for every budget. You can find more information about each item in the seller's listing details and can take a look at their individual shop policies and reviews, too.