Instantly (and affordably!) elevate your everyday decor with the addition of a colorful cushion or two, handcrafted for ultra comfort.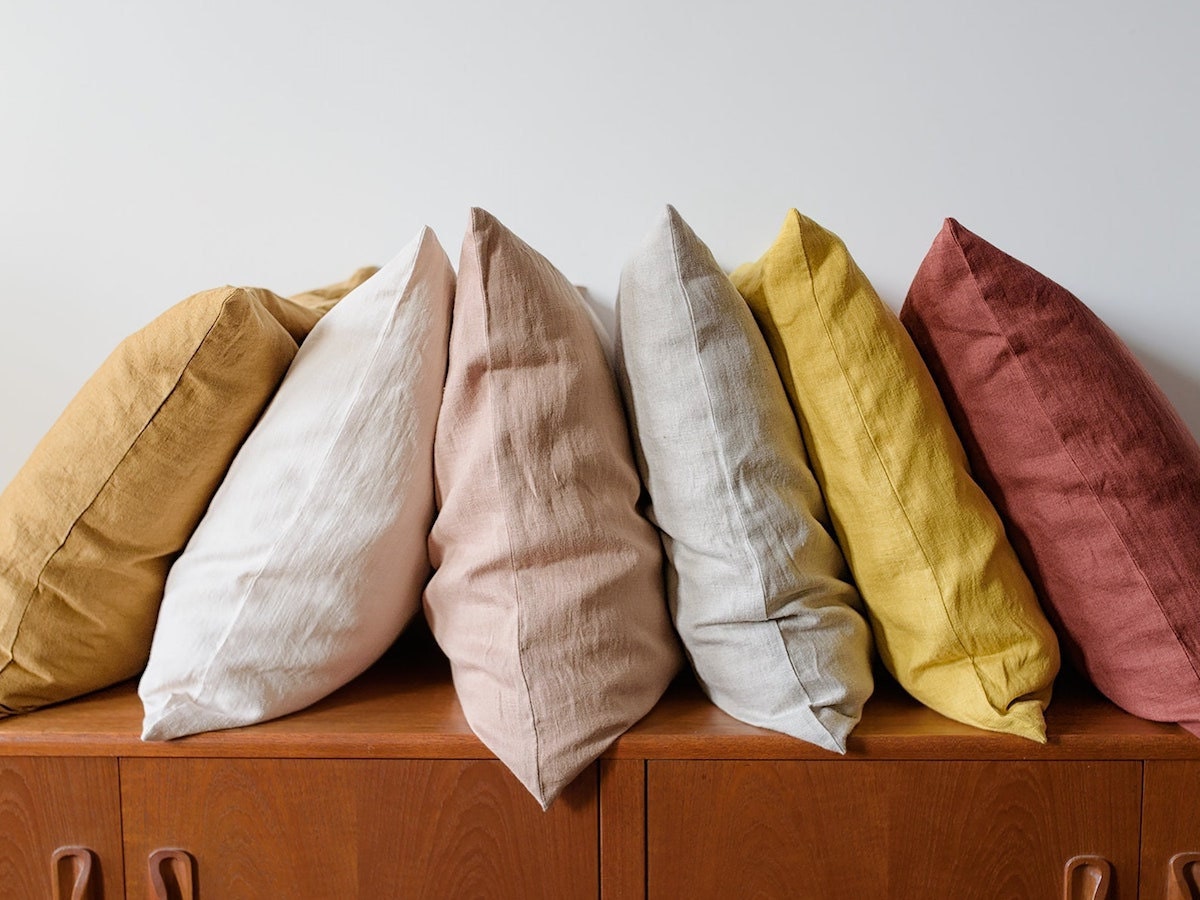 Pro tip: Don't underestimate the power of a good throw pillow (or six). It may seem like a small detail, but throw pillows can provide a lot more than just a plush place to prop your head. Paired with a snuggly, stylish blanket, a good throw pillow can add a much-needed pop of color or pattern to a neutral room, accentuate a carefully curated decor scheme, and provide a welcoming backdrop for guests at your next homey hang.
The key to creating a cozy, lived-in look? It's all in the layering. Mix and match throw pillows of various shapes, fabrics, and textures, and don't be too shy to try surprising color combos. Plus, if you have multiple beautifully crafted options on hand, you can instantly refresh any room on a whim with a simple pillow swap. And don't forget: while these comfy cushions undoubtedly add character to couches and chairs, pile them high and they can also make your bed look and feel like a 5-star hotel experience. What's more, throw pillows are an excellent gift idea for new couples, homeowners, and dorm dwellers alike—especially if you get them stitched with a meaningful word or two.
So, ready to level up your lounging? Read on to discover a lovingly handcrafted throw pillow for every budget, space, and style.
Best couch throw pillows
Choose from one of these eye-pleasing and practical couch throw pillows to add an attractive accent to your living room.
1. Scandinavian pillow cover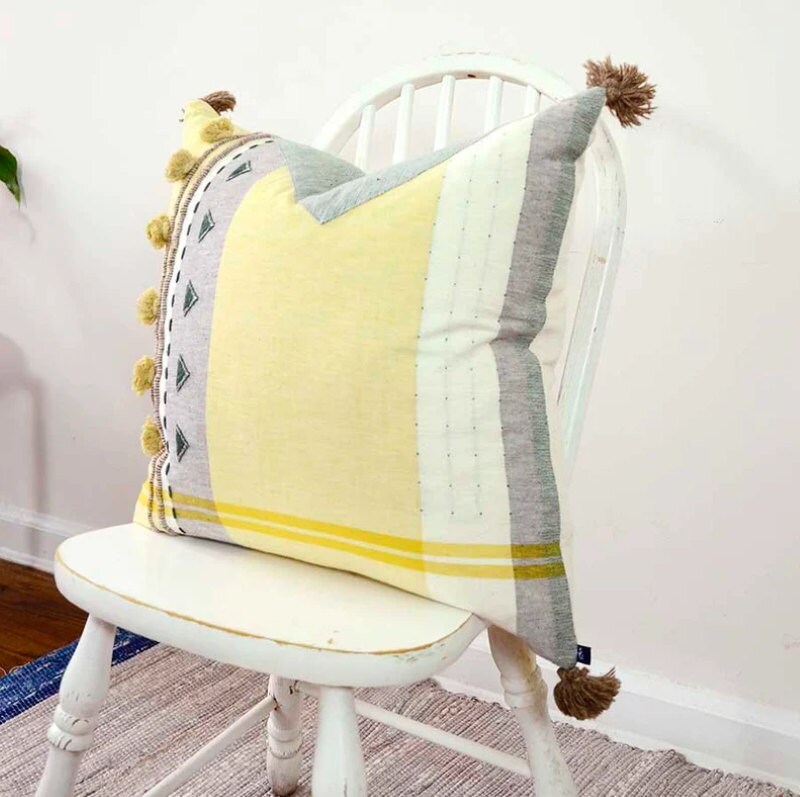 SHOP: Large textured pillow cover from Ichcha, $50 for cover only
Naturally dyed with a dash of yellow and embellished with earthy tufts of green, this woven cotton cushion cover is hand-loomed for a look that exudes high-quality Scandi-chic. And though it pairs wonderfully with any monochrome pillow you may have, at 22 inches square, it's also large enough to work alone as the ultimate hygge statement piece.
2. Two-tone knitted cushion cover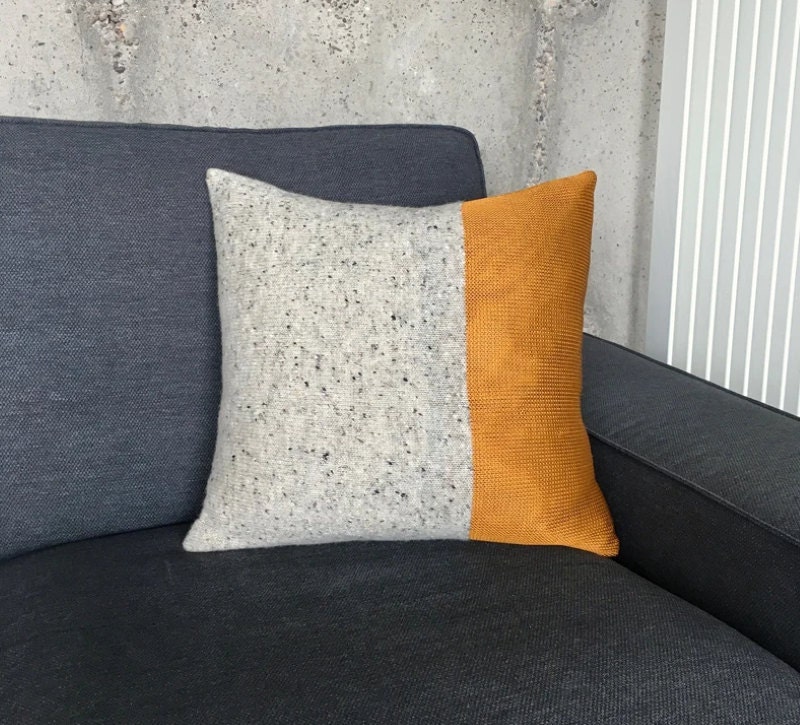 SHOP: Two-tone knitted cushion cover from Lilli Rose Wicks Knitwear, $46 for cover only
Hand-knit from Irish Donegal wool, the soft, speckled gray side of this decorative pillow is complemented by a silky panel of viscose in your choice of copper or silver. The result? A versatile two-toned accent piece that playfully combines minimalist vibes with extra-lush textures.
3. Chintz throw pillow cover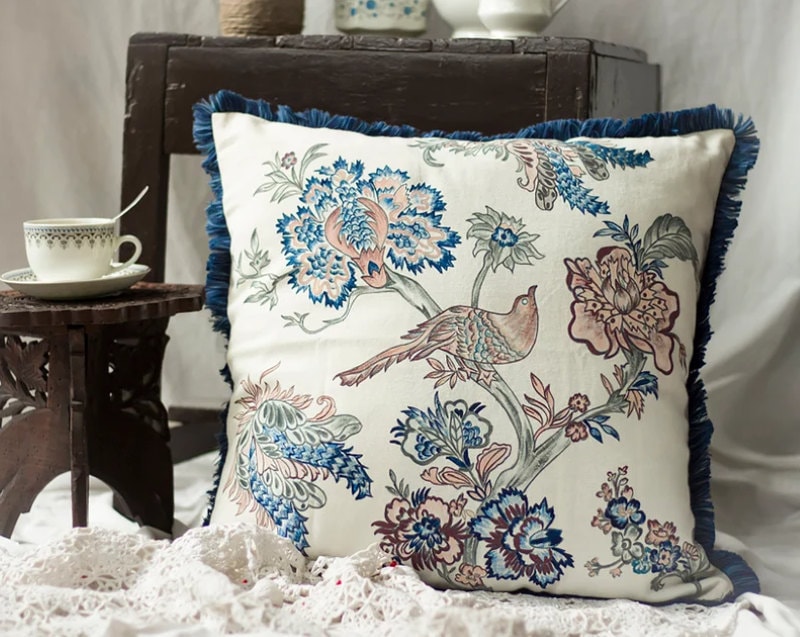 SHOP: Hand-painted cushion cover from Chez-shipra, $46 for cover only
Each vibrant floral flourish and intricate bird feather on this exquisite throw pillow cover has been painstakingly hand-painted onto a canvas of 100% cotton. Inspired by traditional chintz prints, the eye-popping design can be customized in three colors of your choosing, and is topped off with a peppy fringed trim.
4. Hand-embroidered throw pillow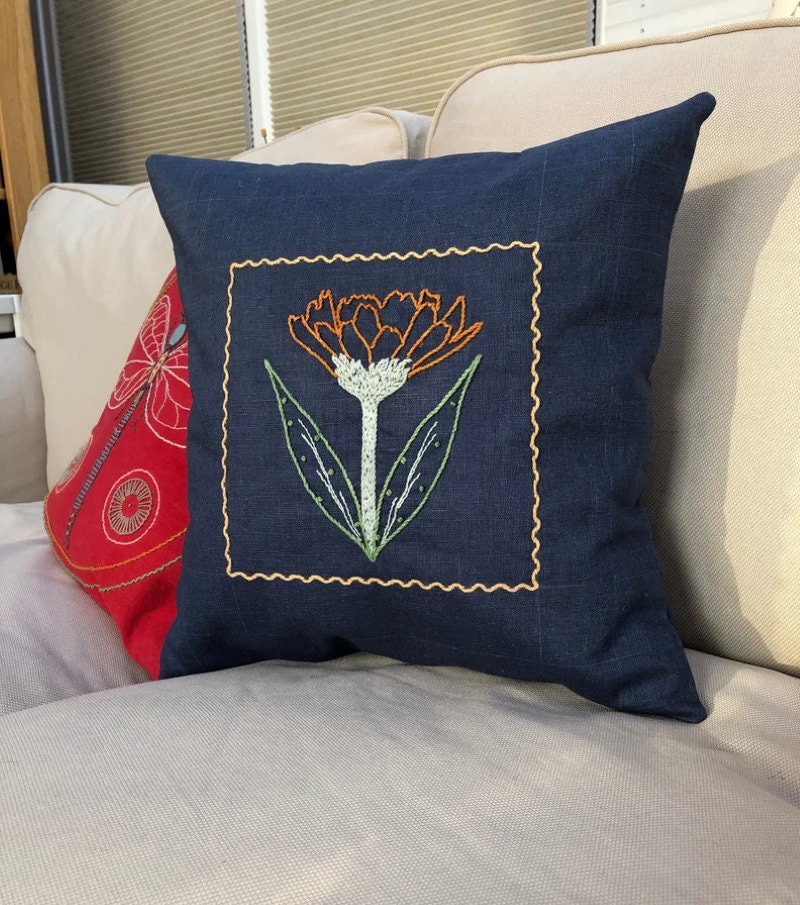 SHOP: Blue linen embroidered pillow from Adabrown Designs, $54 with cushion
For a contemporary farmhouse feel, this sweetly embroidered linen cushion comes stitched with a pretty pastoral floral and pre-stuffed with a plush insert, making it ready for prime couch placement. Simply unbox, give the pillow's feathers a fluff, and get ready to indulge in hand-crafted comfort.
5. Hand-tufted throw pillow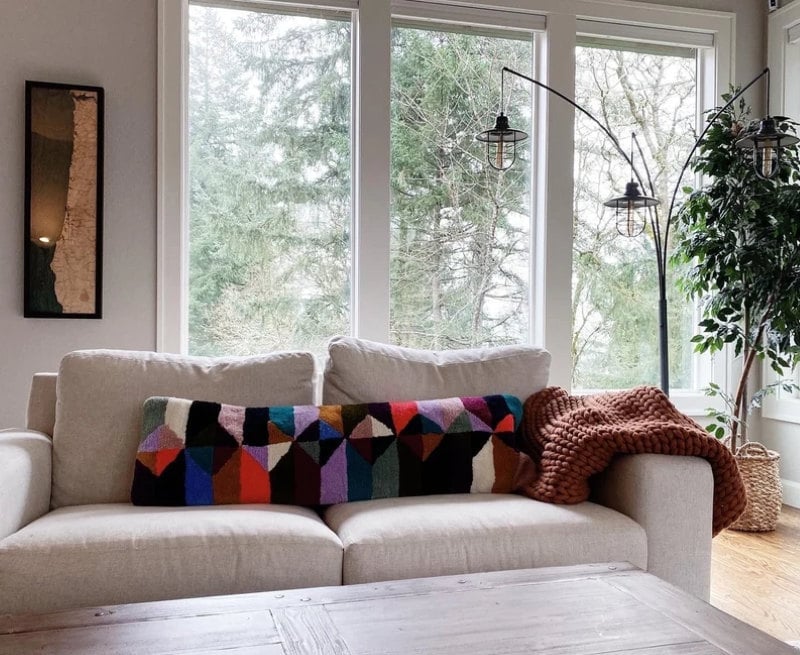 SHOP: Large geometric body pillow from EH Bright, $295 with insert
If you want one large throw pillow to fulfill all your form and function fantasies, then this luxe geometric stunner is it. One side is swathed in decadent velvet, the other hand-tufted in rich jewel-toned wool. Plus, this oversized pillow also offers color palette personalizations, and comes with a hypoallergenic insert.
Best bed throw pillows
Add 5-star hotel quality to any bedroom with one of these spectacular bed throw pillows.
6. Big spoon and little spoon pillowcases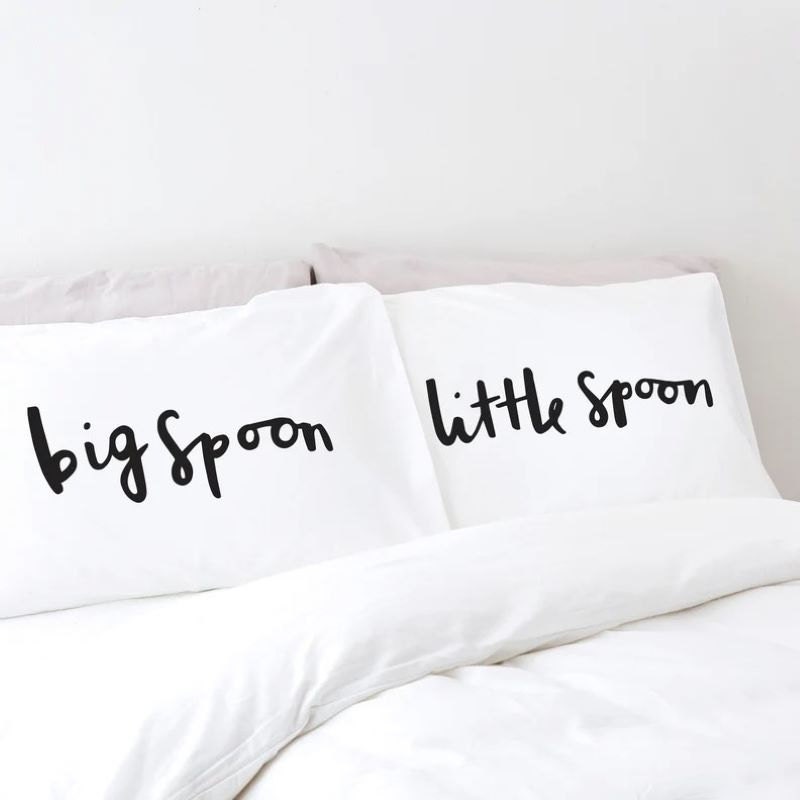 SHOP: Spooning pillowcase set from Old English Co, $26 for set of 2 cases
These crisp, minimal pillow covers stamped with playful phrases are a great way to bring a little fun into the bedroom, and also make a wonderful present, considering cotton is the traditional second year anniversary gift! One customer review reads, "The quality is incredible, I love these cases! … They are thick enough to not be see-through and the white is outstanding. The print is beautiful."
7. Pillowcase with pockets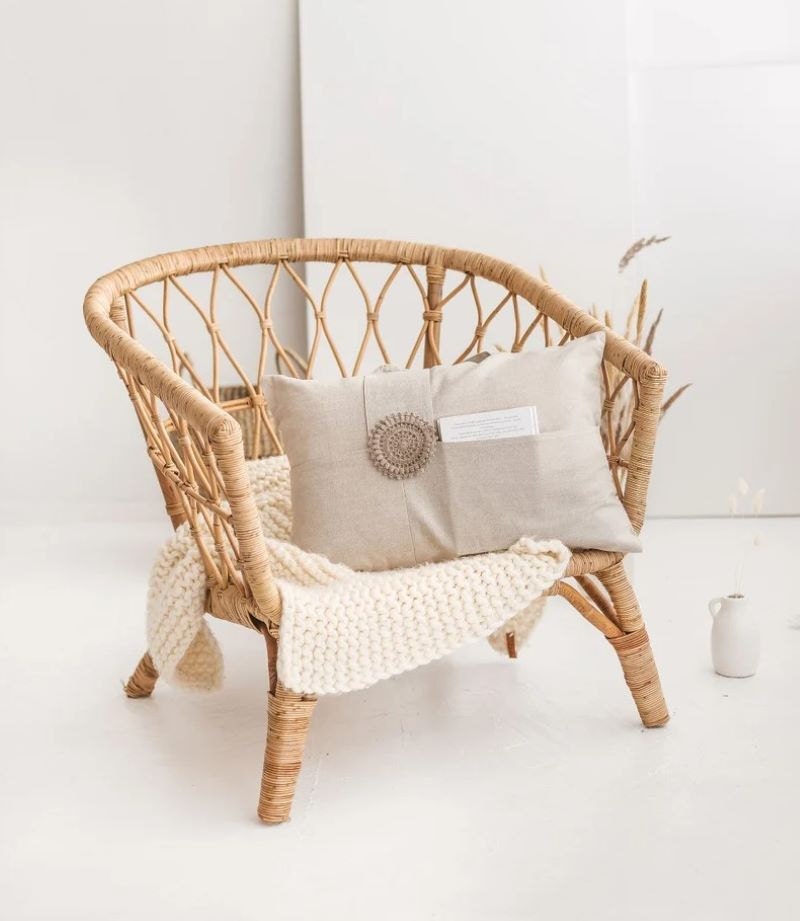 SHOP: Pocketed reading pillow cover from Eledita Designs, $52 for cover only
This lace-embellished pillow cover is incredibly pretty, but its secret power lies in its practicality. Boasting two packable pockets for stashing books, devices, remote controls, or even snacks—plus a convenient carry handle for toting to and fro—it's the ideal accessory for any cozy nook. As one reviewer says, "The pillow covers are so unique! Love the design and the material. It's perfect for what I need. I want to take it with me wherever I go! The attention to detail is amazing."
8. Mushroom throw pillow cover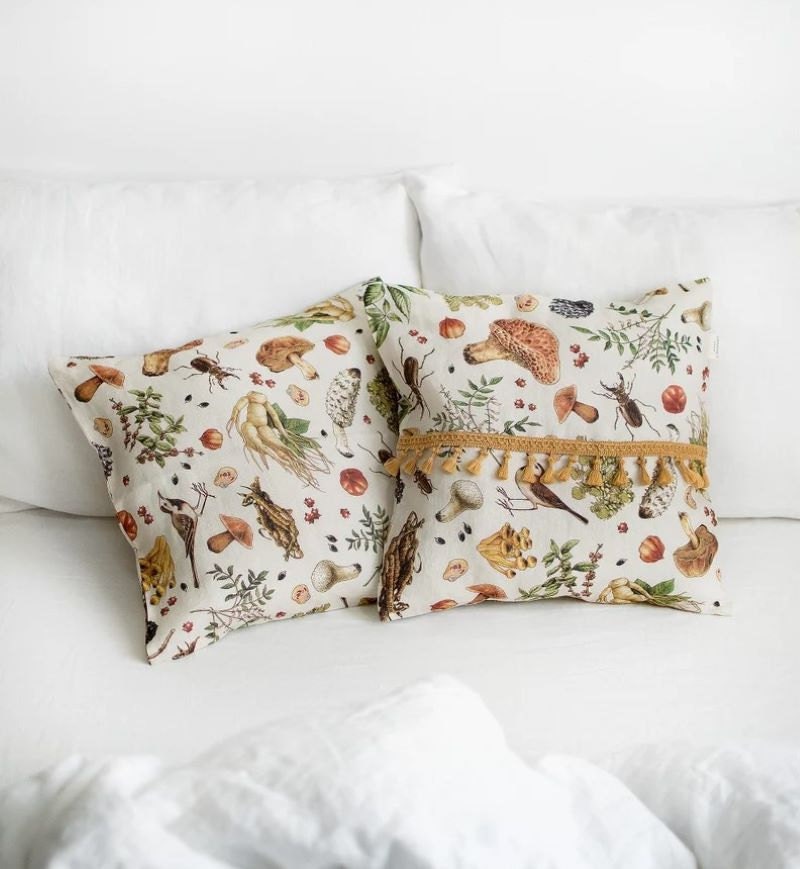 SHOP: Mushroom linen throw pillow cover from Grannet Home, from $28 for cover only
Patterned with intricate illustrations of birds, insects, mushrooms, and other vegetation and finished with an earthy gold fringe, this stone-washed linen pillow cover is a lovely choice for nature lovers. "These were the perfect accent pieces for the bed," wrote a happy shopper. "The touch and feel is so soft, and the quality of the fabric and print is amazing."
Best unique throw pillows
These eye-catching and unique throw pillows are sure to rake in all the compliments.
9. Zip code throw pillow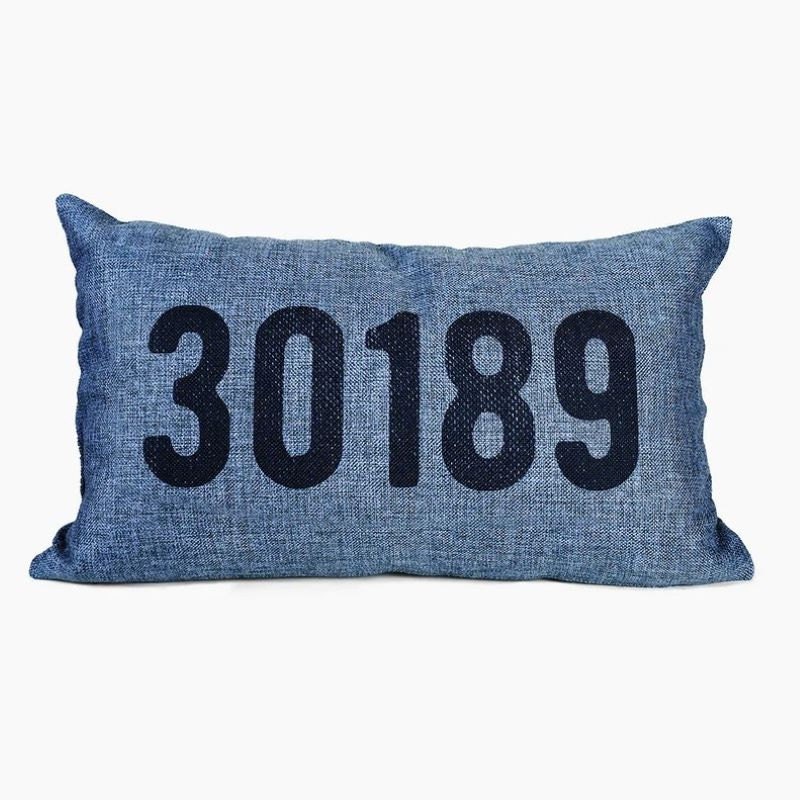 SHOP: Zip code pillow cover from Hello Floyd, from $28 for cover only
Whether you want to give a unique housewarming gift or show off your own hometown pride, this personalized zip code pillow does the trick. There's a concealed zipper, and you can also choose to include the insert with your purchase. Shoppers say it "looks amazing," is "well made," and that "the colors are perfect," and one customer wrote that it's one of their "all-time favorite purchases."
10. Checkerboard throw pillow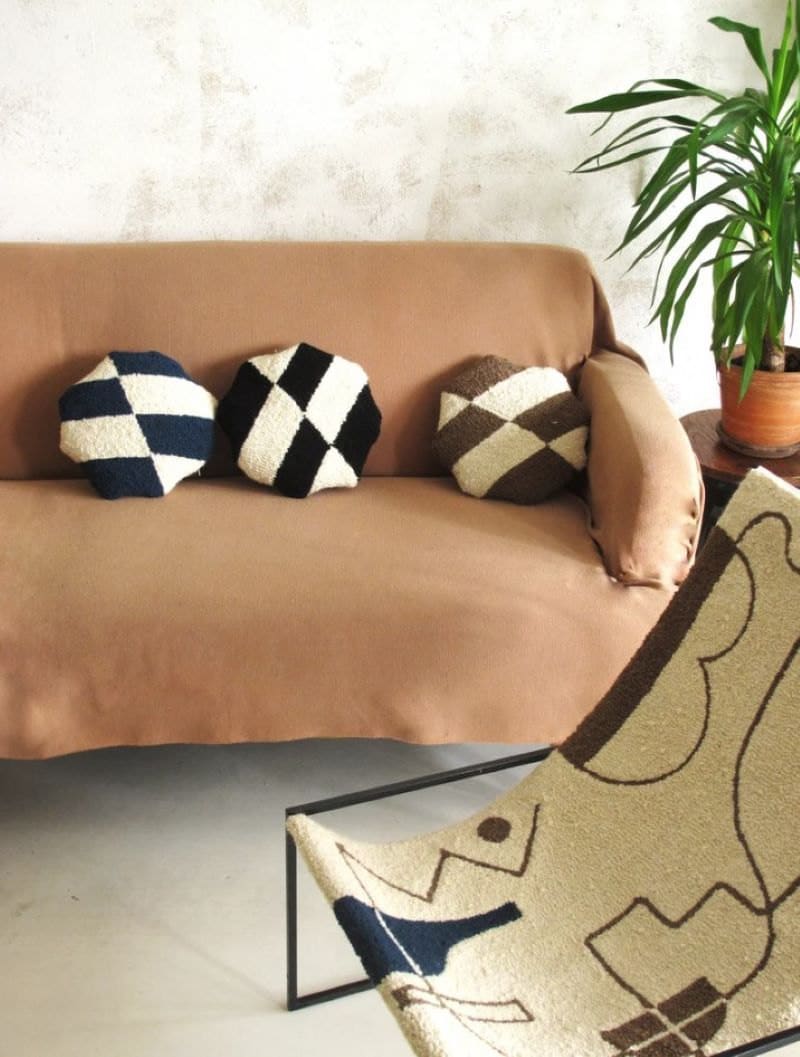 SHOP: Tufted checkered cushion from ITO, $53
Tufted by hand in Berlin, these octagonal wool pillows come in three neutral checkerboard color combinations perfect for mixing and matching with almost any decor scheme, from vintage eclectic to mid-century. The textured front of these trendy accent cushions boasts a thick loopy pile that beckons to be cuddled with, and the back is finished with 100% linen.
11. Colorful abstract cushion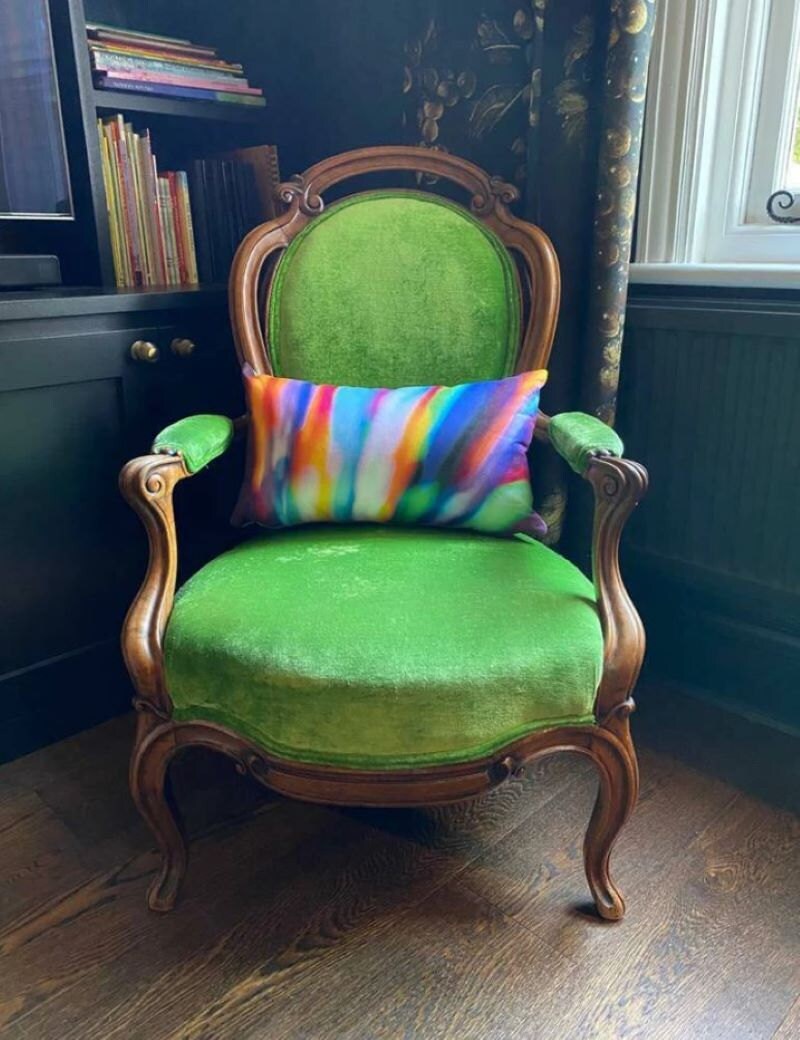 SHOP: Multi-colored cushion from Ruby Charles Design, from $46 for cover only
Plump and prismatic, this eye-catching accent pillow will instantly brighten any room with its abstract rainbow hues. The cover is made from a super-soft faux suede for an extra-luxe touch, but can still be tossed in the wash for easy cleaning. Choose from three sizes and fill with your choice of either a fiber or feather insert if you're feeling fancy.
12. Custom embroidered cushion cover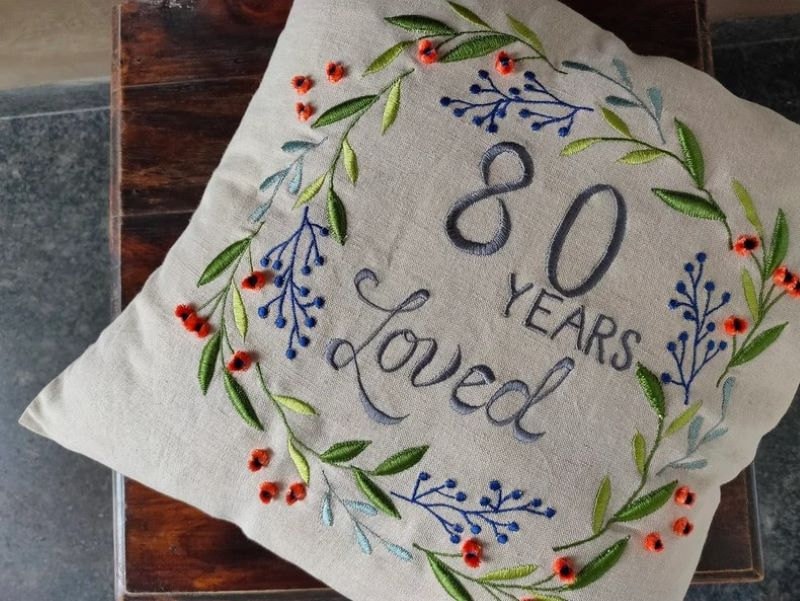 SHOP: Personalized embroidered pillow cover from The Vivi Collection, $42 for cover only
Your own special message will look positively charming hand-embroidered on this personalized pillow cover, which makes a sweet and snuggly birthday gift for all ages. Submit up to 10 words and the seller will expertly stitch them onto a soft backdrop of cotton and linen in your choice of navy, peach, or gray thread. A customer review reads, "Beautifully crafted. Well made and just like the picture… Parents loved the gift!" and another states, "My mom LOVES it. The custom wording/embroidery on the front is beautiful. They even sent a cute little card with it!"
13. Abstract cushion cover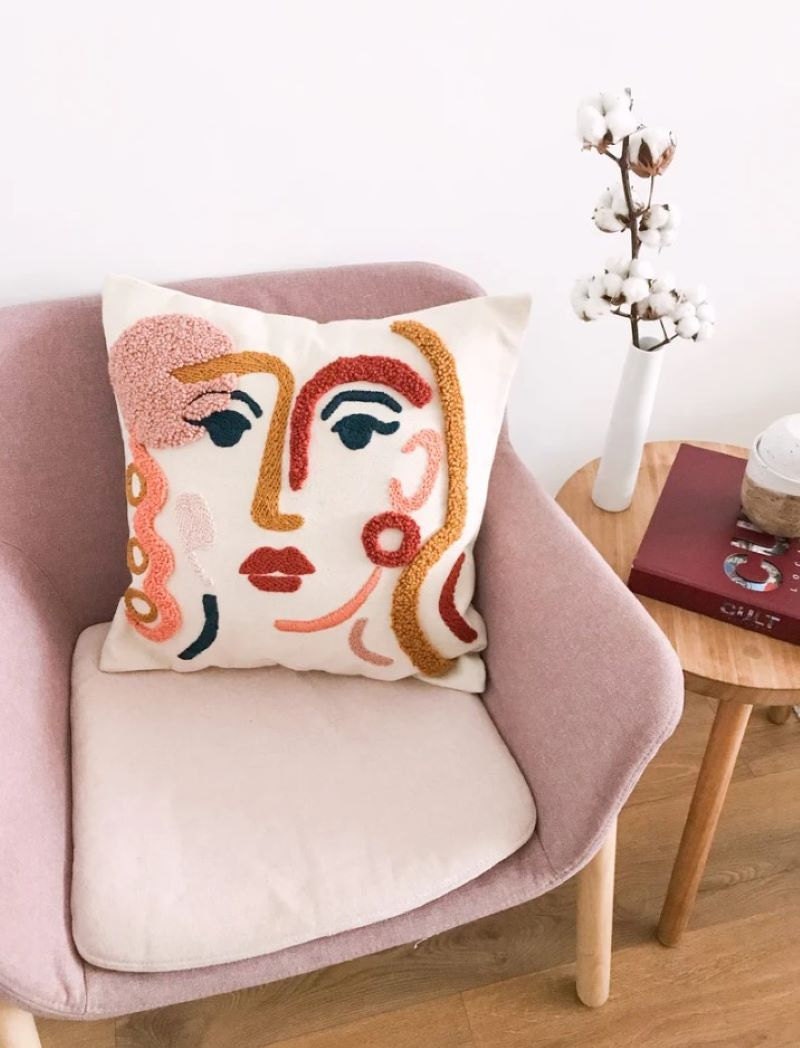 SHOP: Hand-embroidered cushion cover from Woolla Studio, $104 for cover only
A masterful mix between high art and art deco, this unique throw pillow features an abstract embroidered face that easily adds visual interest to any living space. Hand-crafted with colorful curves, swoops, and shapes adorning a clean cotton base, these cushion covers pack tons of personality in a 20 x 20 square, and feature a protective interior lining for extra durability.
Best colorful throw pillows
The easiest way to shake things up decor-wise? Style a few of these bright, bold, and colorful throw pillows on your couch or bed.
14. Tufted pink throw pillow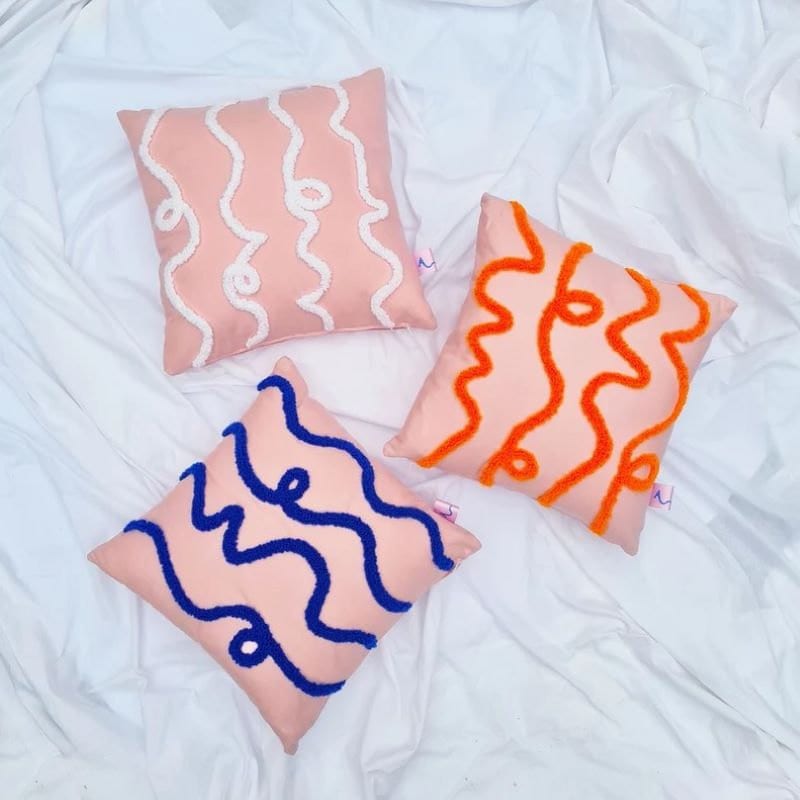 SHOP: Tufted pink throw pillow from Anna Spurling Design, from $93 for cover only
For a plush statement piece that is sure to throw guests for a loop, this peppy pink punch needle throw pillow comes embellished in your pick of vibrant orange, blue, or white squiggles, which are hand-tufted onto sturdy cotton for a trendy, playful effect.
15. Indigo mudcloth throw pillow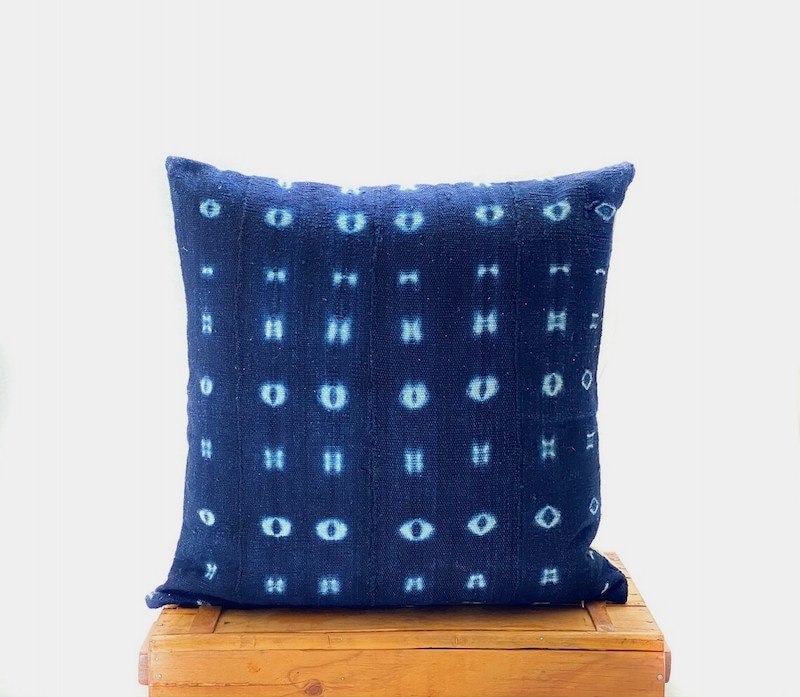 SHOP: Indigo mudcloth throw pillow cover from One Fine Nest, $75 for cover only
Made from authentic African mudcloth fabric that has been skillfully hand-dyed to produce an ikat pattern, this vibrant indigo throw pillow offers a stunning versatility that complements both modern and traditional home decor schemes.
16. Colorful round pouf cushion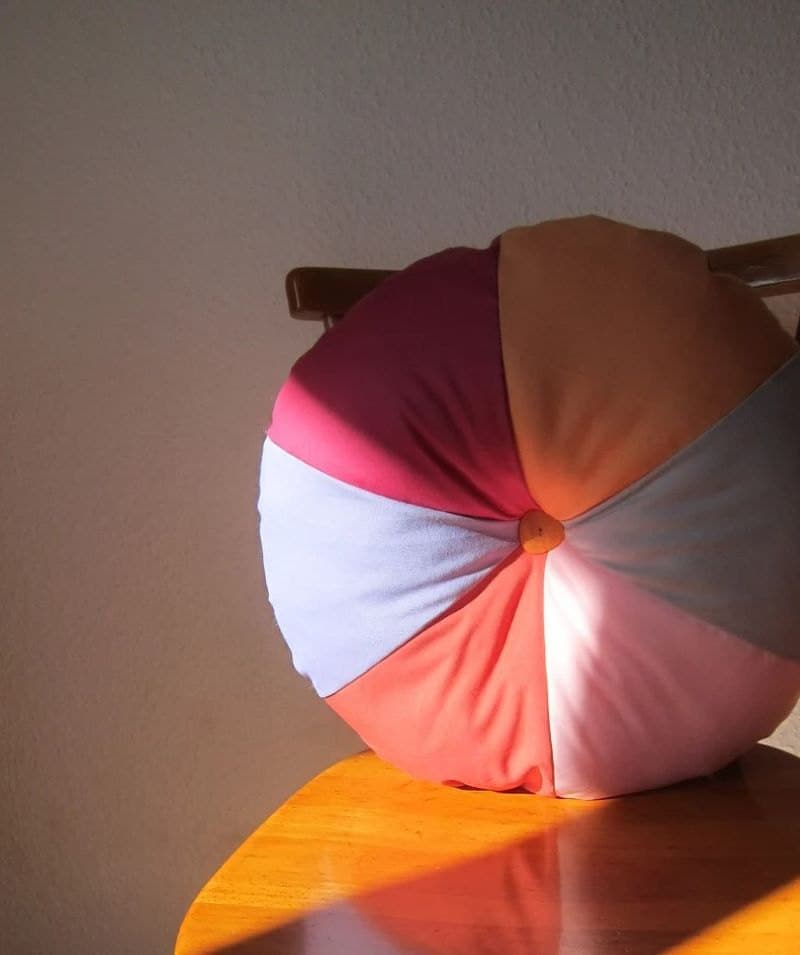 SHOP: Round pouf pillow with button from petitout, $46
Whether you prop it on a rocking chair in a nursery or pile it among decorative couch pillows, this poufy and playful round throw pillow steals the show with its cheery spring colors and quaint button detail in the middle. Double-stitched for extra stability and filled with cotton padding, it can also be used as a chair or floor cushion.
17. Color-blocked cushion cover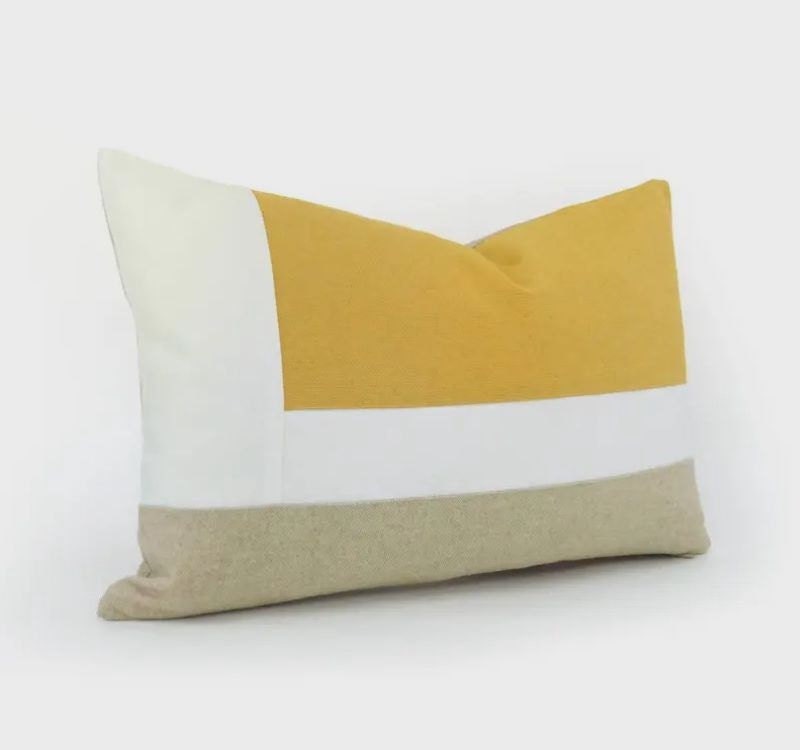 SHOP: Minimalist geometric pillow cover from Rocail Studio, $43 for cover only
This geometric color-blocked throw pillow boasts a cool graphic design that effortlessly elevates any modern or minimal home. As one happy shopper wrote, "The cushion covers themselves are really high quality and exactly as pictured. They bring just enough color in to a bachelor pad without losing that masculine touch."
Best boho throw pillows
For an effect that's both fluffy and free-spirited, try these handcrafted boho throw pillows.
18. Boho kantha throw pillow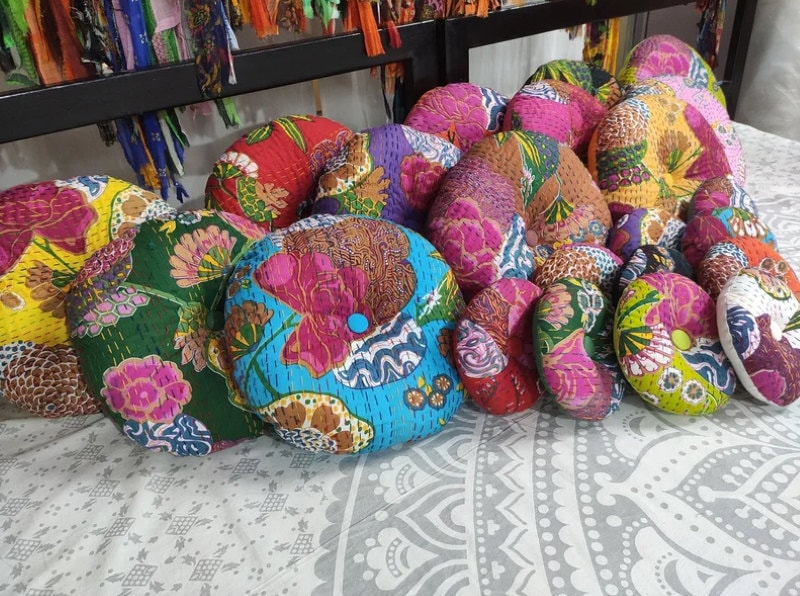 SHOP: Round floral button pillow from Multimate Collection, from $18
Looking for a cushion with a lot of character? These boho floral throw pillows from India are the way to go. Hand-sewn using a traditional Bangladeshi running stitch called "kantha", these gorgeous round cushions feature a central button accent and offer a variety of personalizations, including your pick of eight different sizes and 15 vibrant colorways.
19. Linen throw pillows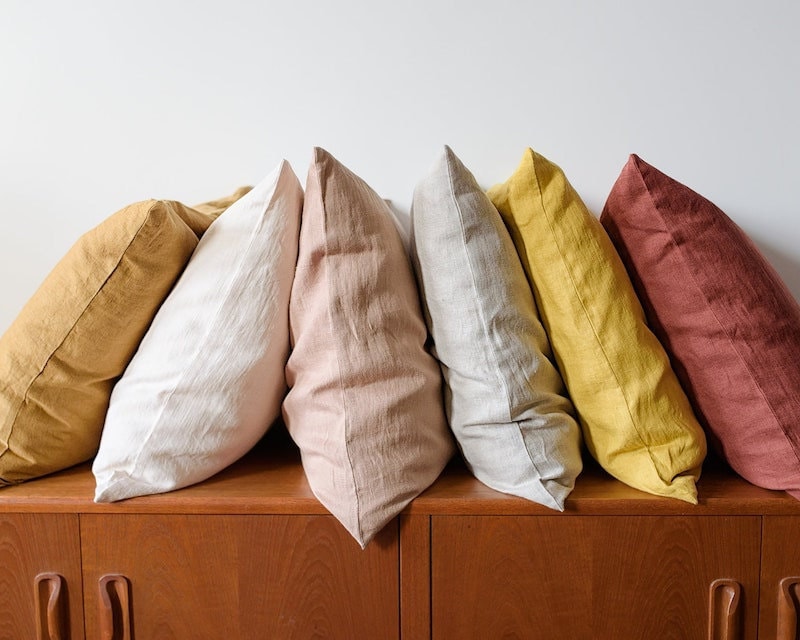 SHOP: Linen throw pillow covers from Linen Handmade Studio, from $42 for cover only
If monochrome is more your vibe, you'll love these natural flax pillow covers for their chic simplicity. Crafted from softened Lithuanian linen in an impressive range of 30 calming colors from cornflower blue to moss green, there's a size and shade for every possible decorating need. One of the many rave customer reviews reads, "Beautiful quality fabric and craftsmanship. The pillow sham matched the description exactly and exceeded my expectations."
20. Round boucle cushions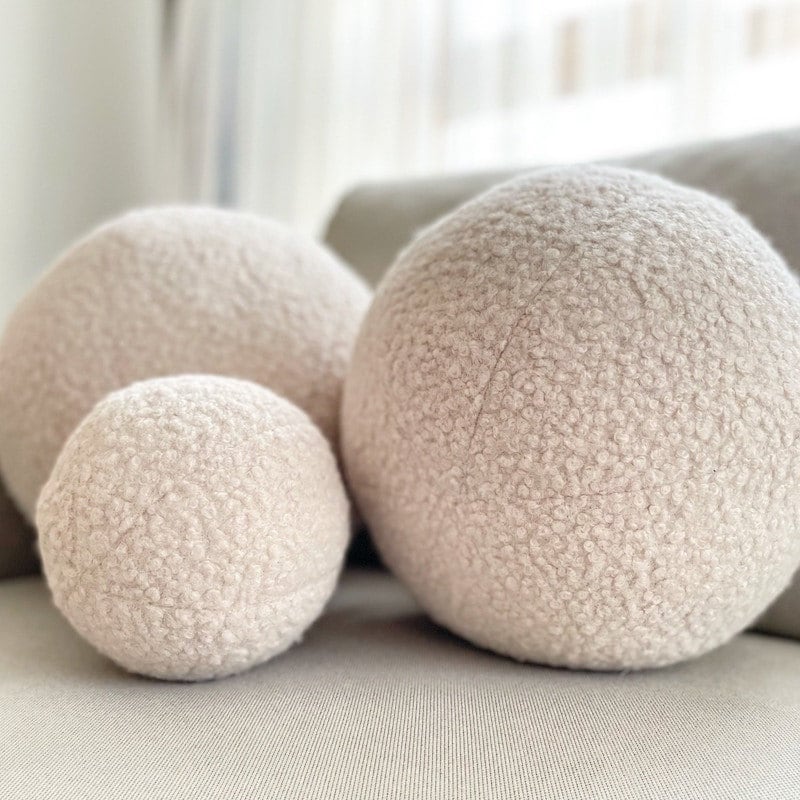 SHOP: Round boucle cushions from Craft Atelier TR, from $20
Derived from the French word for 'loop' or 'curl', cushy boucle fabric is a favorite for bringing tactile touches to everyday furnishings. These unique spherical boucle cushions are handcrafted to cultivate a cozy yet high-end aesthetic, and come ready-filled for immediate cuddling.
21. Tufted decorative pillow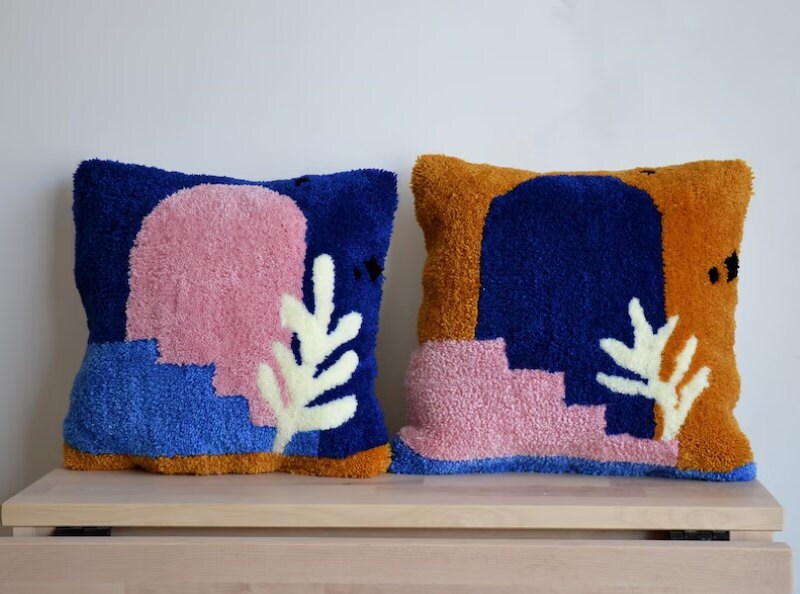 SHOP: Tufted decorative pillow from Farouche, $104
Described by thrilled shoppers as "very soft" with a "harmony of colors worthy of a contemporary painter," these exquisitely crafted cotton cushions are hand-tufted into abstract architectural scenes using deep, warm shades of mustard, blue, and pink.
22. Velvet leaf-shaped cushion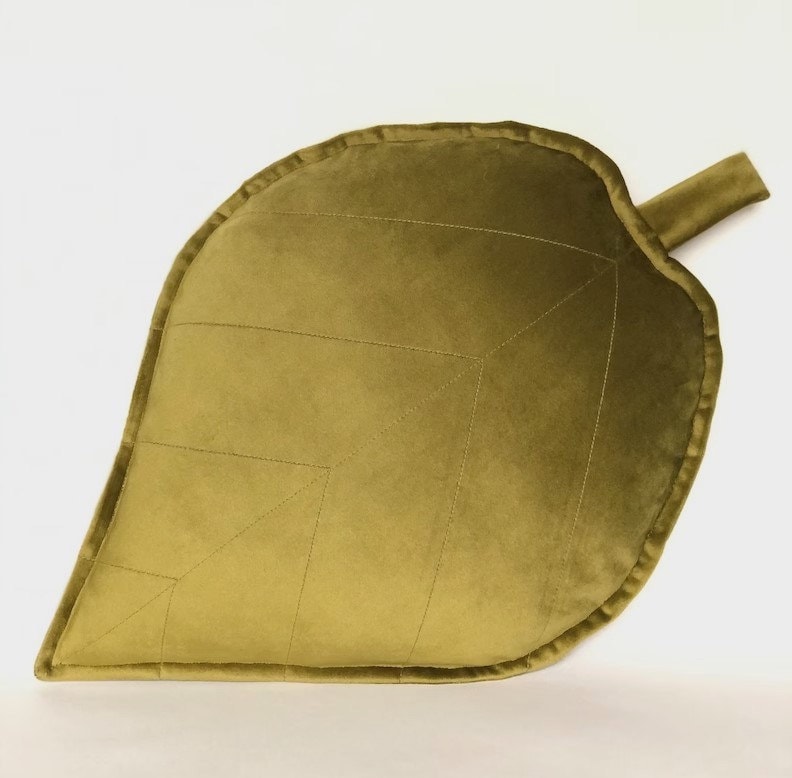 SHOP: Velvet leaf cushion from Woodland Hill Crafts, $34
Hand-stitched from a plush olive green velvet, these lush, leaf-shaped cushions would beautifully complement any nature-themed room or nursery, but work equally well as statement pieces in any primary living space. "Absolutely love this cushion," wrote a buyer. "Great quality fabric and well made. Gorgeous color, perfect for my chair."
Best cute throw pillows
Infuse some personality into your home decor with these super-cute throw pillows that are as comfortable as they are adorable.
23. French bulldog plush pillow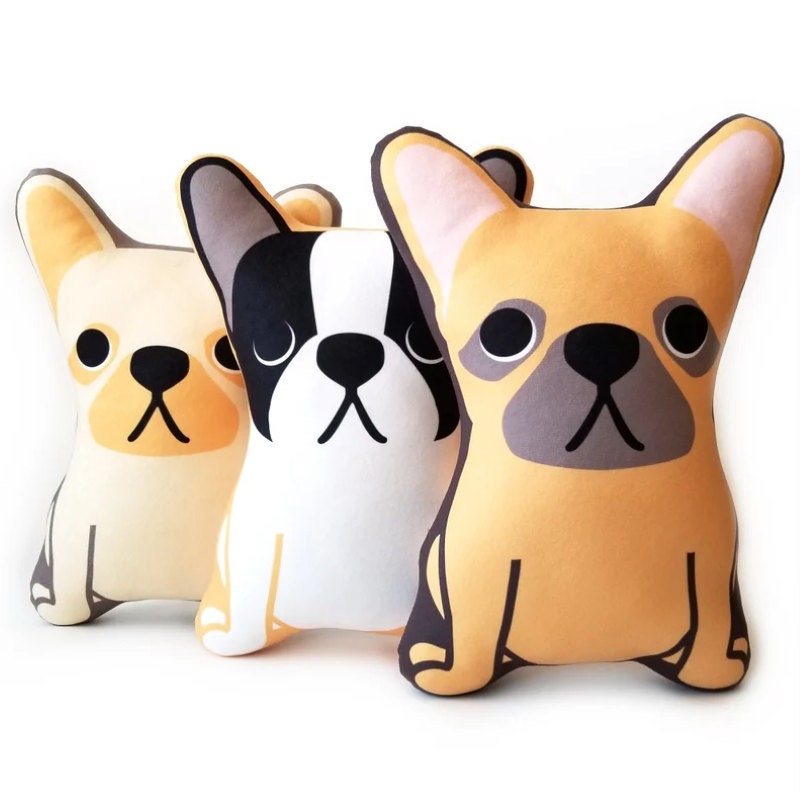 SHOP: Dog-shaped plush pillow from bubbledog, $32
Almost as cute as the real thing, these French bulldog plush pillows will keep you company when reading or watching your favorite TV shows on the couch. The charming design is printed on a pet-worthy faux suede, and they come ready stuffed for cozying up to. "Super cute pillow; very soft material," reads one customer review, and another agrees, "Amazing quality and detailing! I'm so excited to have such a unique touch to my accent chairs!"
24. Funny knit throw pillow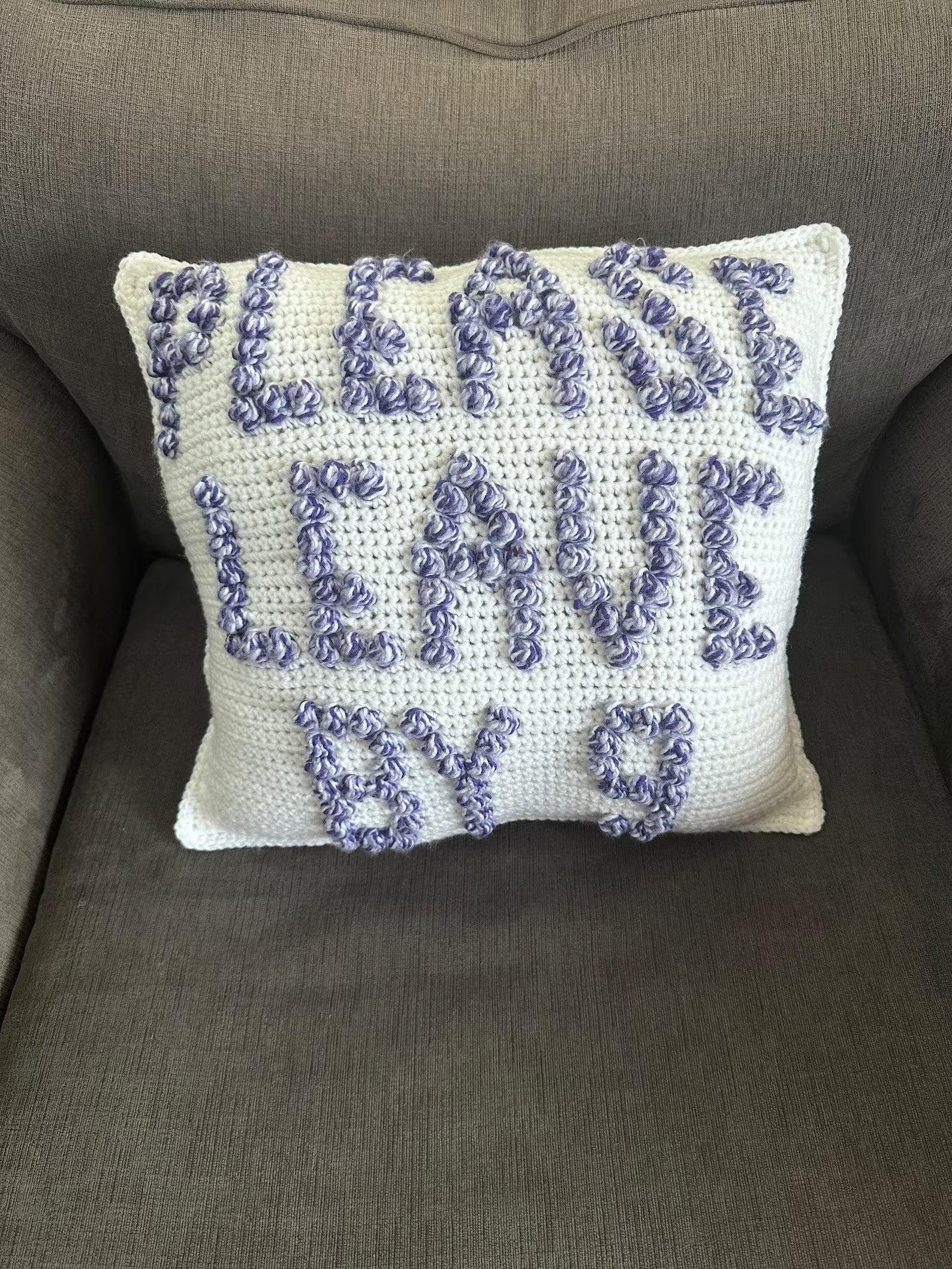 SHOP: "Please leave by 9" cushion from Midnight Creations, from $49
For a bit of tongue-in-cheek humor, add this knitted throw pillow to your couch to make your guests chuckle. Although you can kindly ask them (via the cushion) to "please leave by 9", should you change your mind you could easily swap it with an alternate option that suggests they "stay a while". Alternatively, you can choose one of the seller's other cushions with some equally cheeky sayings.
How do we pick the best throw pillows for every style?
As Etsy Journal editors and contributors research and curate shopping guides for some of the best-loved items on Etsy, we thoughtfully consider the creativity, customization, and craftsmanship that go into each product. We also consider buyer reviews, item ratings, and customer service, and tap the expertise of our in-house merchandising and trends experts to uncover high-quality finds for every budget. You can find more information about each item in the seller's listing details and can take a look at their individual shop policies and reviews, too.