Whether it's for the kitchen, the bath, or the beach, dry off in style with the best towels on Etsy.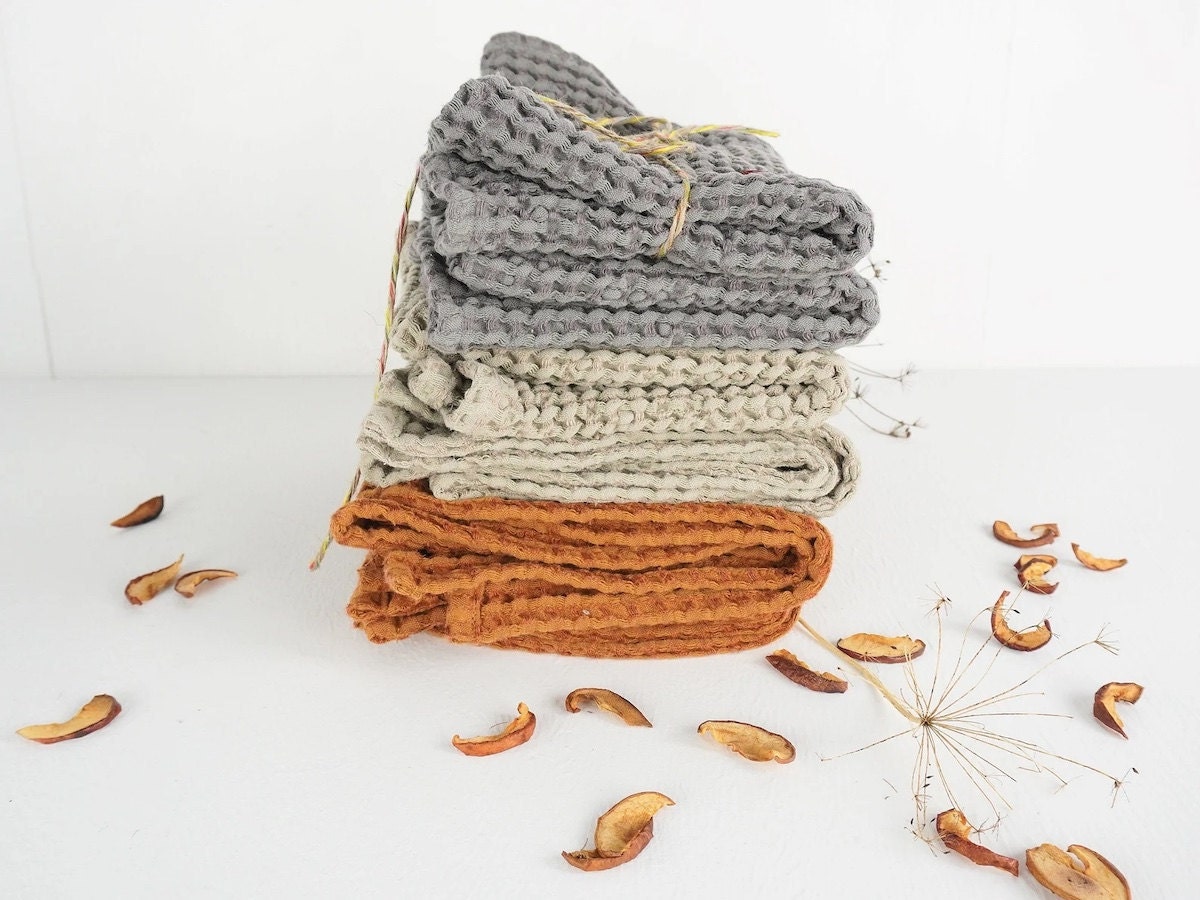 Let's be honest, many of us hold onto our towels long after their glory days are behind them. If your towel is looking a little thin these days, consider the soft, absorbent towels of your favorite hotel or spa—and what it would be like to have those decorative bath towels and hand towels in your home.
From stepping out of the shower to stepping into the sun, these are the best towels for all your needs. Get ready to surround yourself in a little touch of luxury with every use!
Best bath towels
There's nothing quite like wrapping yourself in a soft towel after hopping out of the shower (bonus points if it's still warm from the dryer). These bath towels can help elevate your bathroom to become the ultimate spa experience.
1. A personalized bath towel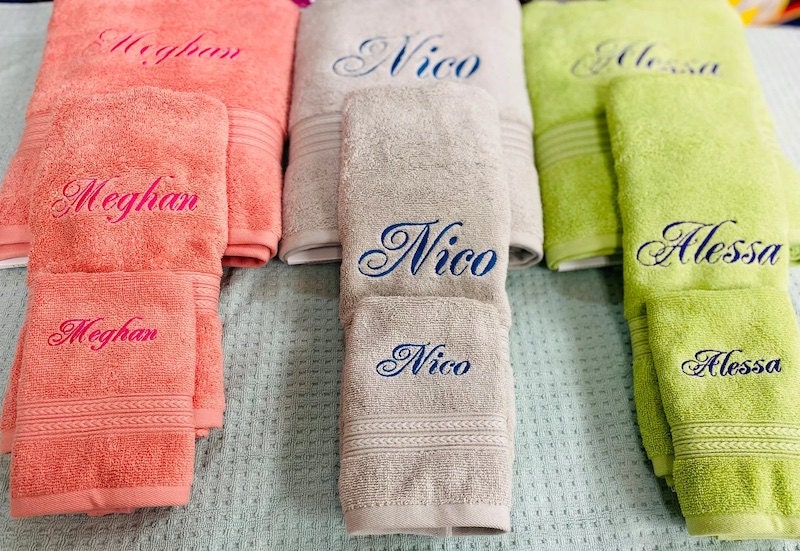 SHOP: Custom embroidered bath towel from Organic Towel, from $32
Whether you live alone, have a big family, or just want his and hers towels, the best personalized bath towels add that special something to your decor. Make this personalized towel a perfect fit for your bathroom aesthetic by customizing everything down to the font and thread color.
2. A waffle linen bath towel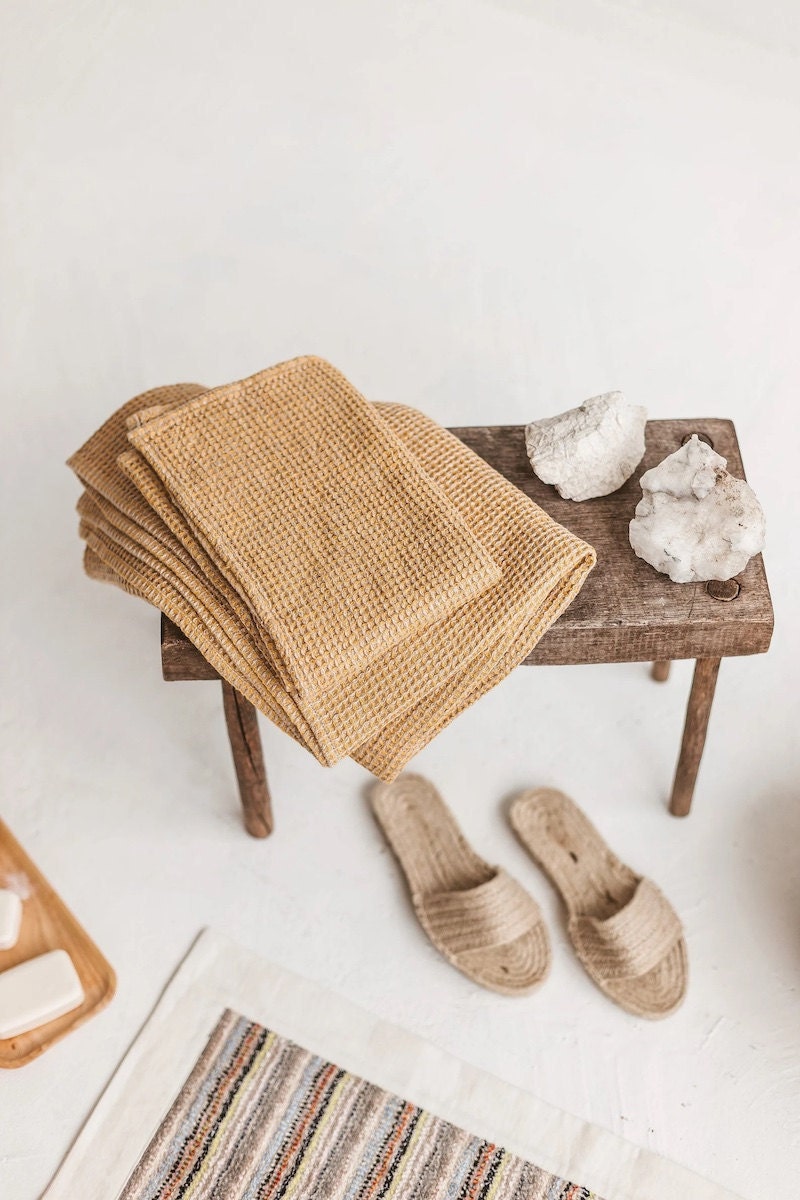 SHOP: Yellow linen waffle woven bath towel from Alabatis, from $30
After a long day at work or finishing up a particularly relaxing weekend, you can look forward to luxuriating in the subtle golden tones of this waffle linen bath towel. Oh-so-soft and made from naturally dyed linen, this towel makes bath time that much more cozy.
3. A tempting terry cloth towel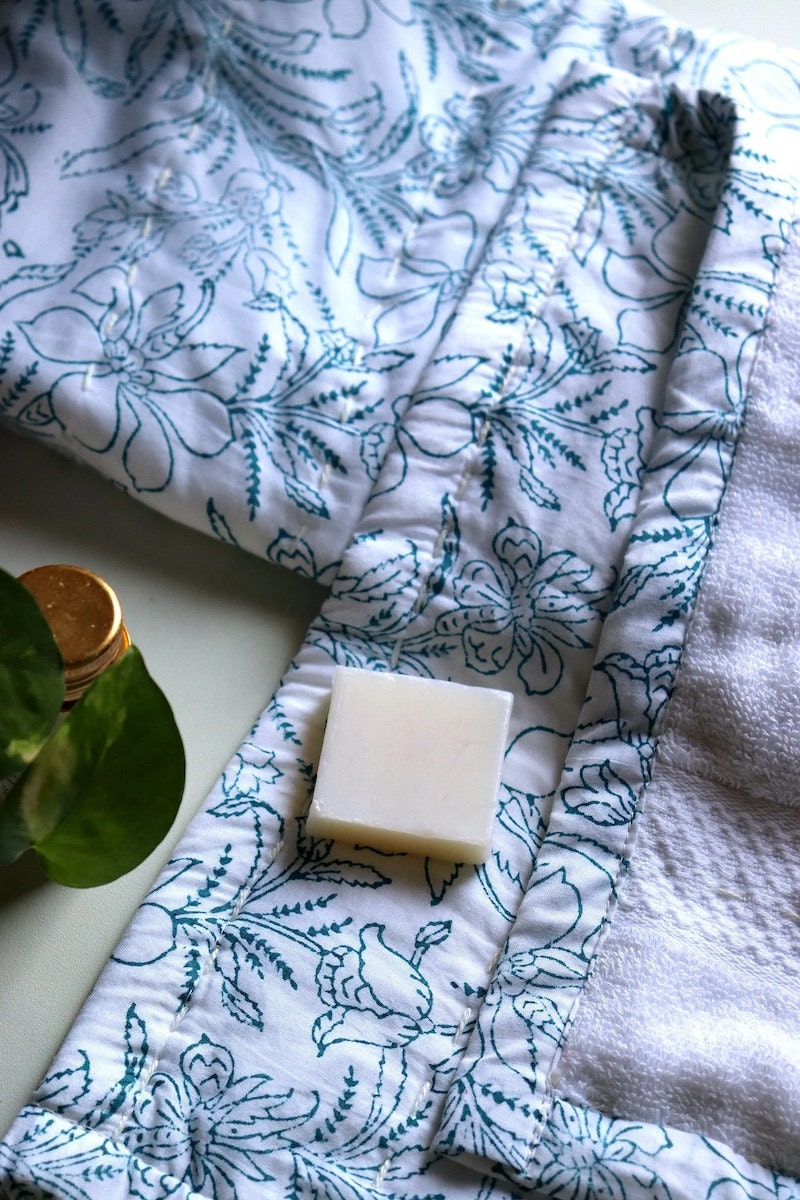 SHOP: Block-printed terry cloth bath towel from Chezshipra, from $26
This block-printed terry cloth towel has sweet and delicate blossoms on one side, and soft cotton on the other. Not only is it soft and absorbent, it comes in multiple sizes so you can have a matching set throughout your bathroom.
Best beach towels
Whether you're lounging on the sand or drying off from an ocean swim, a well-designed beach towel is a must. And if you really want to level up, a custom beach towel adds a whole lot of flair and personality to your vacation luggage.
4. A tie dye oversized beach towel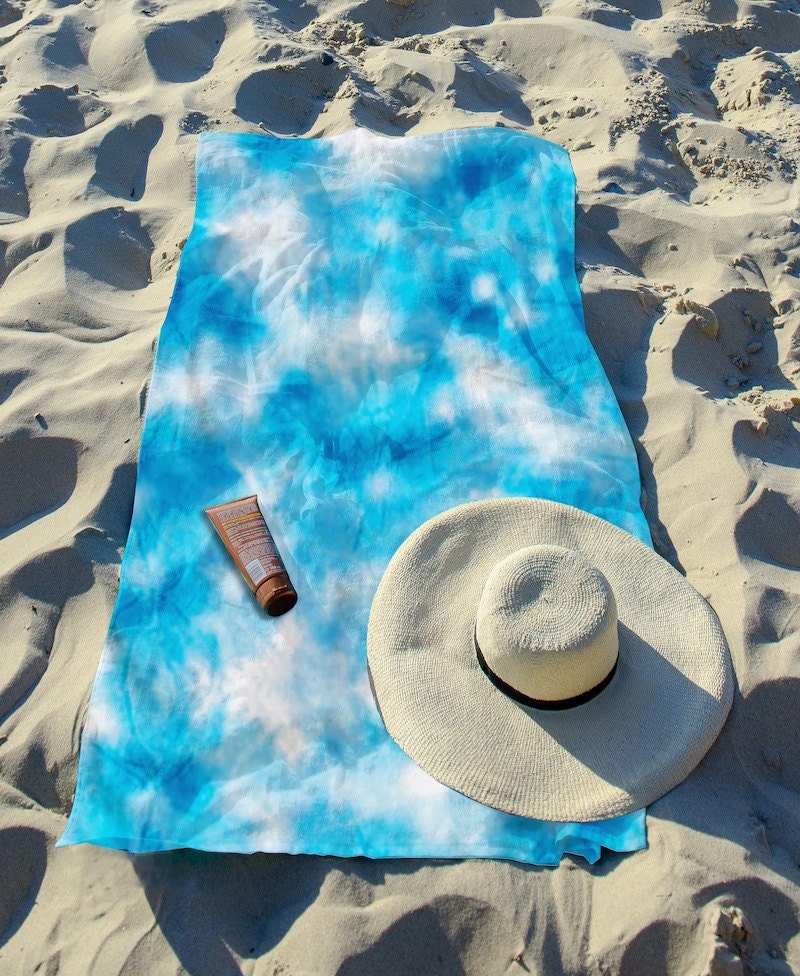 SHOP: Tie dye beach towel from Minty Gift Shop, $23
This oversized beach towel is a boho beauty with its blue tie dye touches. Great for a coastal vacation—but don't forget the sunscreen!
5. A striped monogrammed beach towel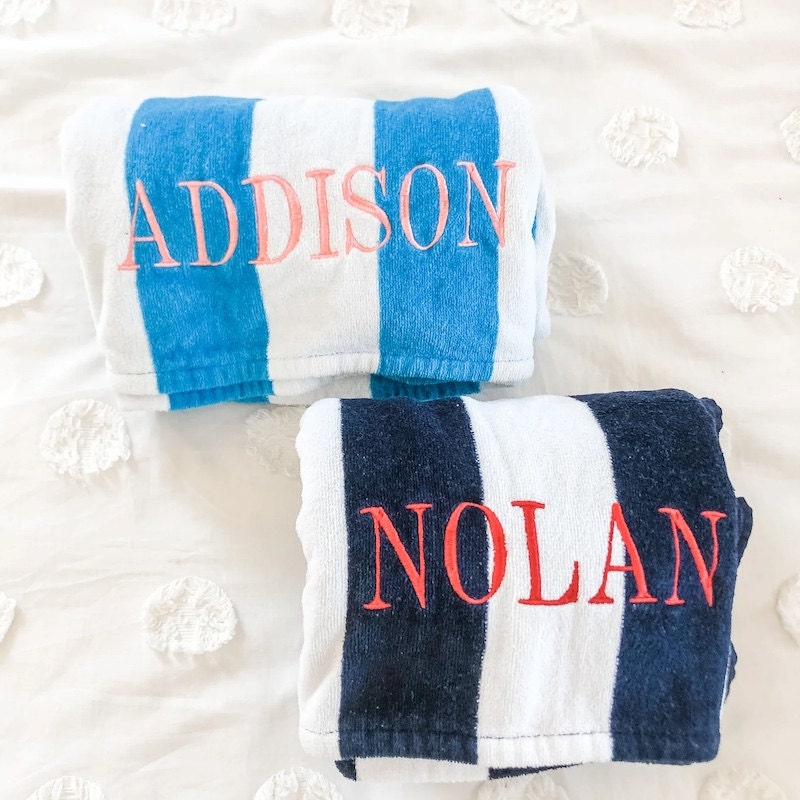 SHOP: Monogrammed lightweight beach towel from Simply Embroidered Boutique, $24
These nautical striped custom beach towels are both sophisticated and playful, making them an excellent addition to the kiddo's beach tote—along with some sunglasses and sand castle gear.
Best microfiber towels
Ultra-soft and perfect for cleaning up messes or drying your (or your pet's!) hair, microfiber towels are highly absorbent and practical to have on (and in) hand.
6. A graphic and geometric towel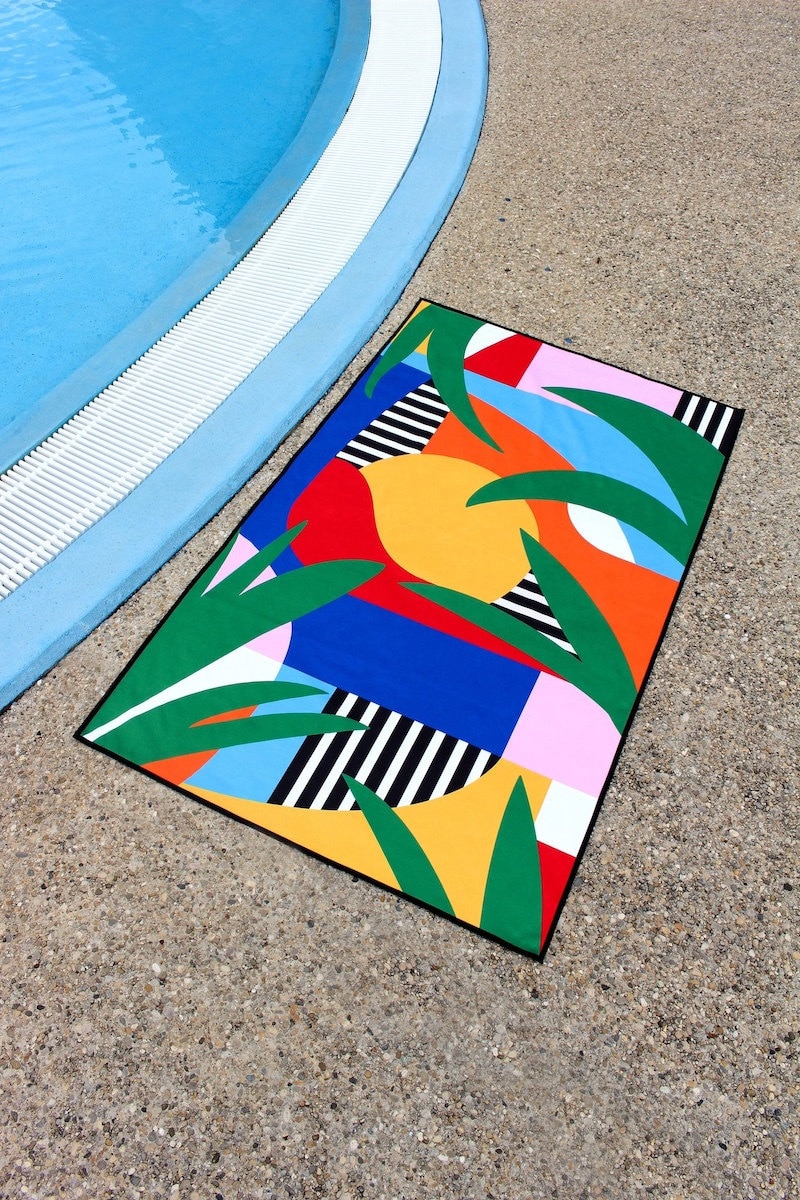 SHOP: Bold patterned beach towel from Josie Creas, $89
If you're going to enjoy some summertime fun, you might as well bring a joyful print with you. This bold microfiber beach towel is bright and colorful, so you'll be feeling the sunshine even as the clouds pass through.
7. A microfiber towel for your pup and more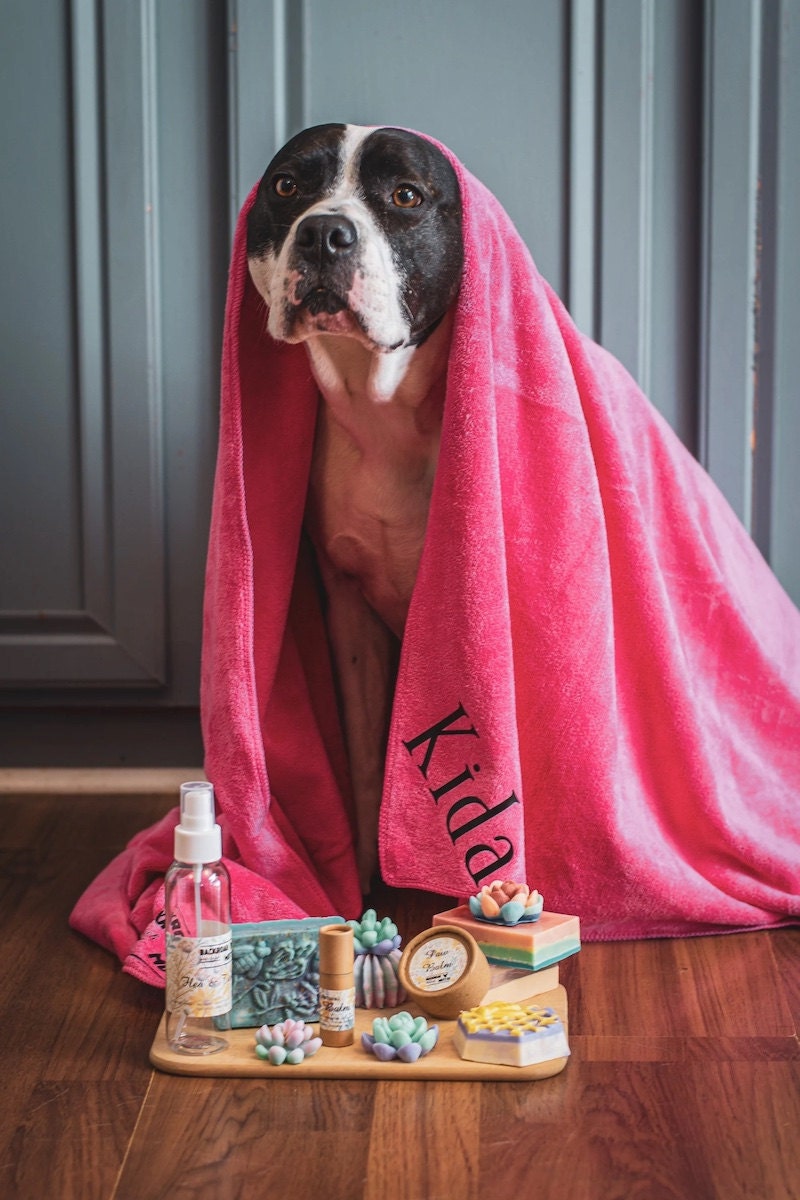 SHOP: Personalized microfiber towel for dogs from Back Road Mutt Co, $18
Buyers are raving about the soft texture, color, and size of these microfiber towels. These are designed with your pup in mind, but don't let us stop you from using it around the house—or for yourself!
Best kitchen towels
Add color and personality to your kitchen with these fabulous dish and tea towels. Perfect for a housewarming gift, the best kitchen towels are personalized or uniquely designed—just like these picks.
8. A custom tea towel keepsake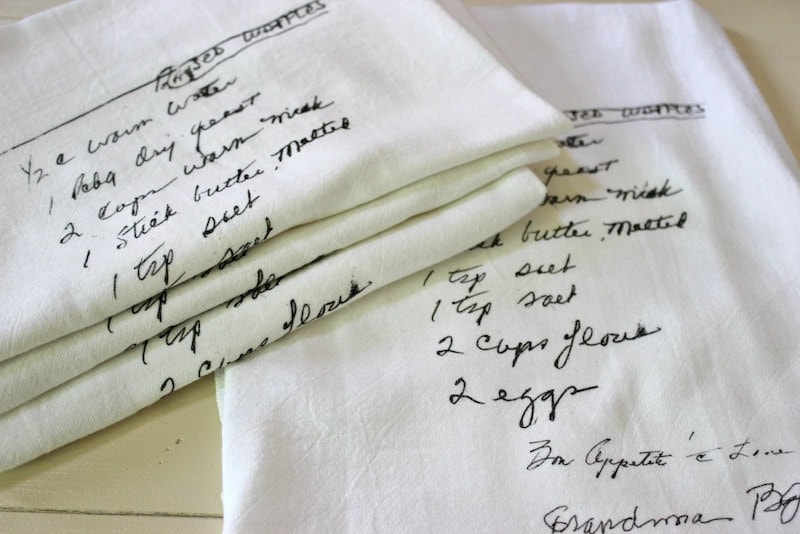 SHOP: Custom recipe cotton tea towel from Blue Mountain Bags, $60 for a set of 4
Make a meaningful memory last forever with these custom recipe tea towels designed with your loved one's handwriting. Now, Grandma's cookies, Dad's grilled cheese special, or Mom's homemade pasta sauce will be a part of your kitchen forever.
9. A dish towel trio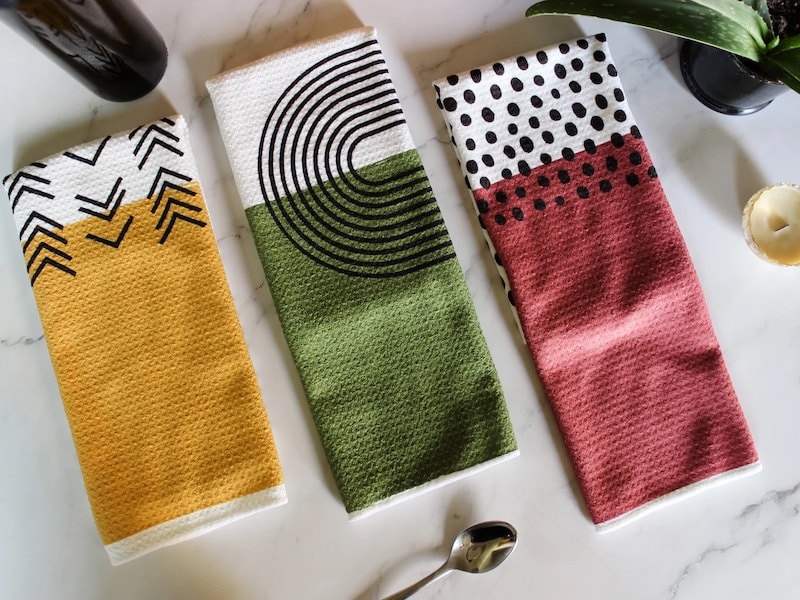 SHOP: Color blocked dish towel set from Render Goods, $30 for a set of three
These color blocked dish towels bring pops of mustard, sage, and rose to your kitchen with some geometric touches. Can't choose your favorite hue? Don't worry, this comes in a pack of all three so you can change your dish towel based on your mood.
10. A personalized tea towel gift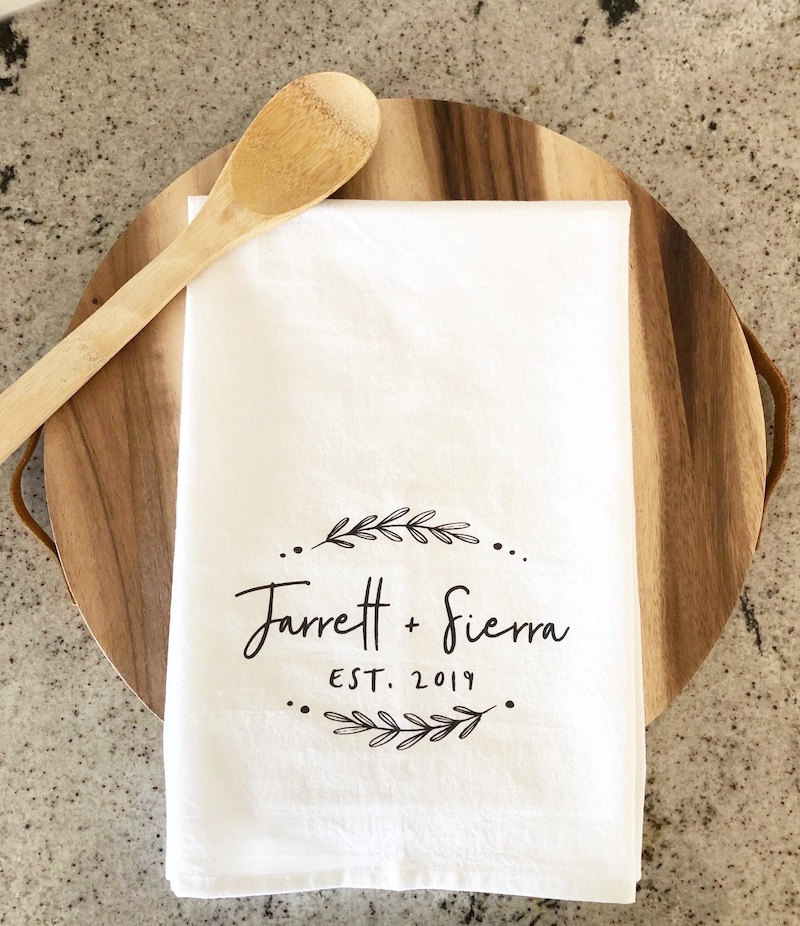 SHOP: Personalized flour sack tea towel from Our Rustic Home Decor, $12
Celebrate the newlyweds (or the new home!) with this personalized tea towel. Made from 100% cotton, these flour sack tea towels add a charming sentimental touch to any kitchen.
11. A linen towel set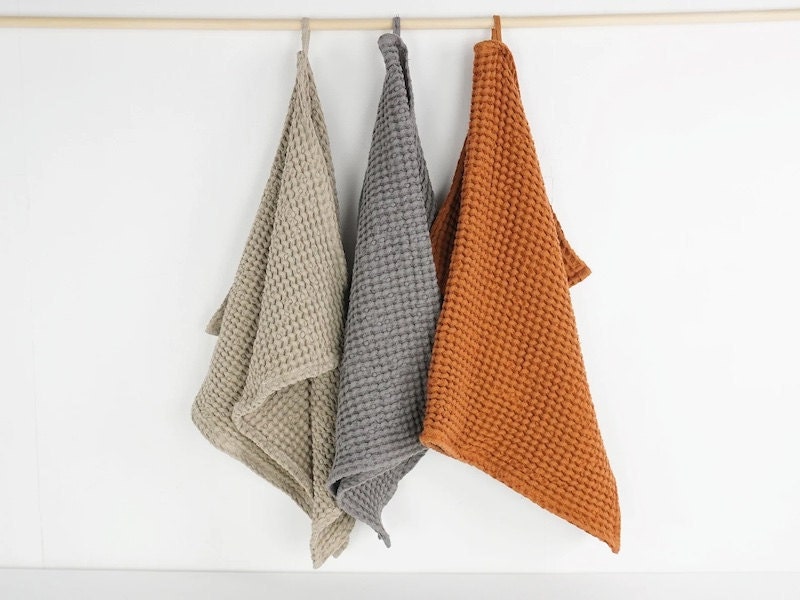 SHOP: Waffle tea towel set from meetraLinen, from $38
For a more rustic and organic look, try these waffle linen kitchen hand towels. Soft enough for your hands but absorbent enough for dish duty, these lovely linens can do it all.
Best face towels
Skincare mavens know that you shouldn't use the same towel for your face as for your hands, so having a dedicated face towel for your morning and evening routine can help your skin look clearer and brighter. From waffle linen to organic cotton, these face towels are ideal for removing makeup or freshening up after your workout.
12. Reusable makeup remover pads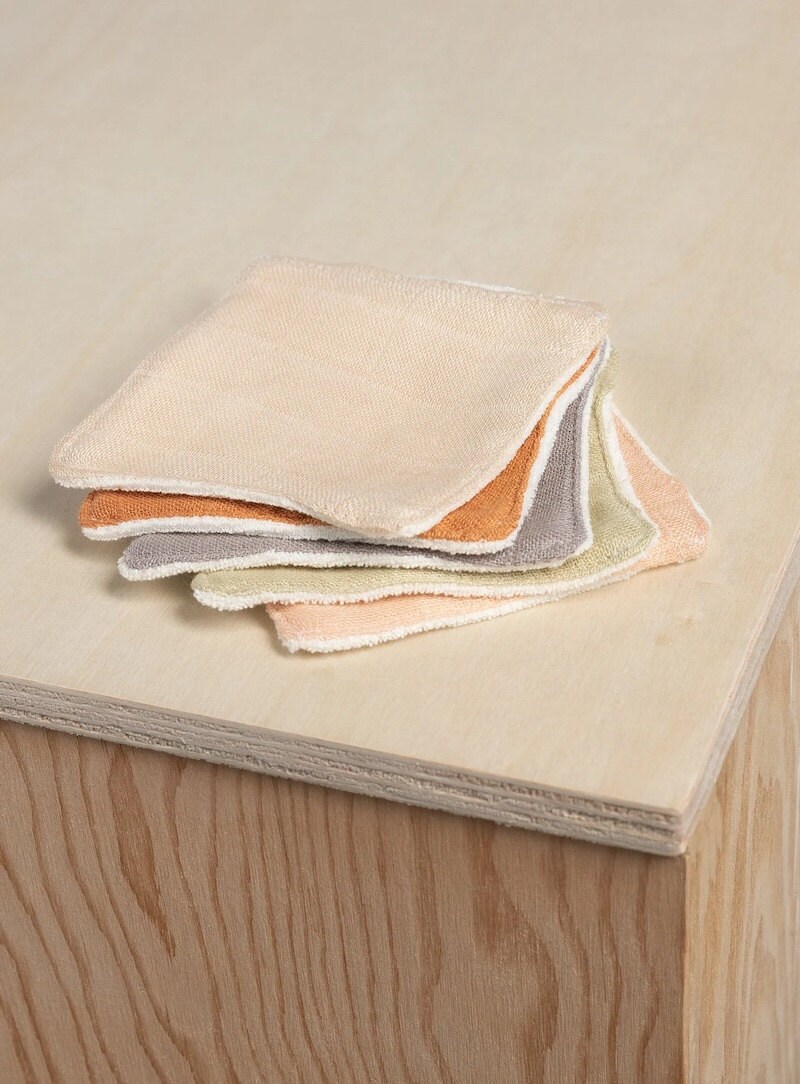 SHOP: Cotton and bamboo reusable makeup remover pads from La petite Leonne, from $17
Before you wash your face, removing any makeup you might be wearing is key—but why use disposable cotton pads when you can go zero-waste with these reusable, washable makeup remover pads? Made from organic cotton and bamboo, buyers love how soft and gentle they are on the skin.
13. An organic cotton face towel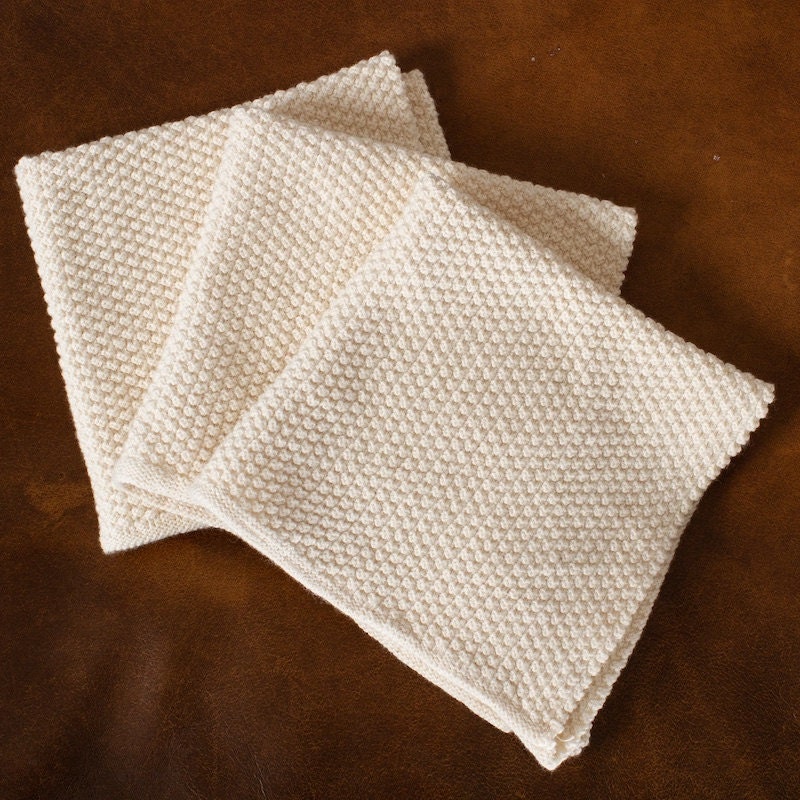 SHOP: Organic cotton face towel from Yarnmal, $17 for one
This organic cotton washcloth is made with skincare in mind: The subtle texture gently exfoliates your skin while you wash off your face at the end of the day—making you feel even more refreshed post cleansing.
14. A natural linen face towel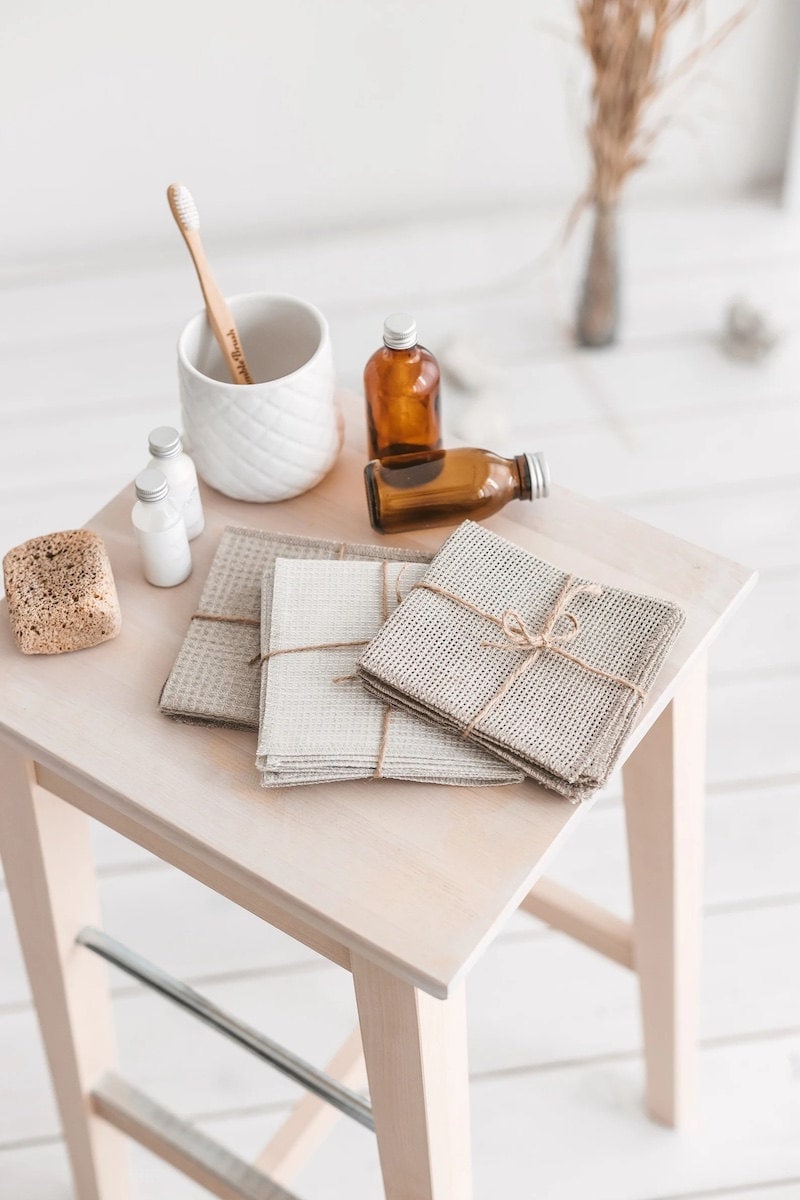 SHOP: Waffle linen face towel from Thing Stories, from $21 for a set of four
Made from natural linen and not bleached or dyed, this face towel is great for sensitive skin types. The waffle texture and simple design makes these almost too beautiful to use—almost.
Best hand towels
Whether it's a fancy monogrammed towel or a decorative hand towel, adding in special details to your bathroom can make it feel more you. Try these lovely picks to add to your bathroom rack.
15. A boho geometric towel set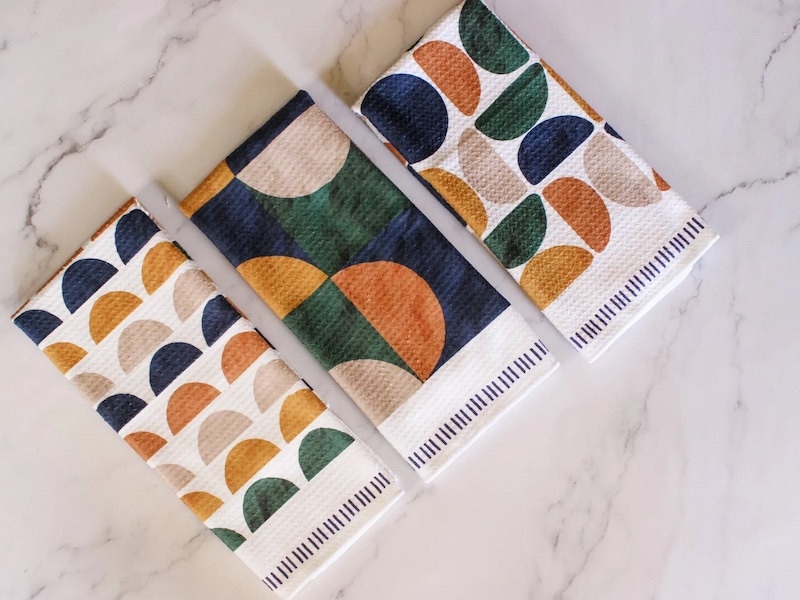 SHOP: Geometric towel set from Render Goods, $30
Add some symmetry to your life with this geometric hand towel. A little bit boho, a little bit mod, this towel set is the best of both worlds.
16. A sage green linen hand towel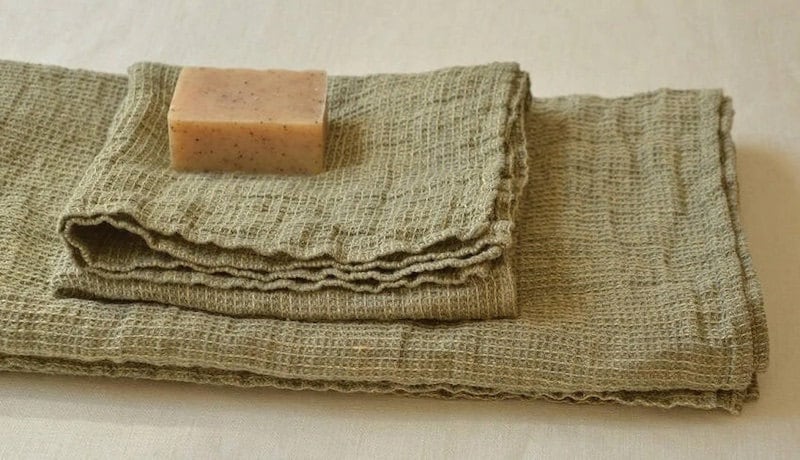 SHOP: Sage melange linen hand towel from ROSA Linen, $15
If you're looking for the best hand towel for a luxurious bathroom aesthetic, look no further than this gorgeous linen number. With its soothing sage green color, this towel is best complemented with a buttery handmade soap and a scented candle on the vanity.
17. A monogrammed hand towel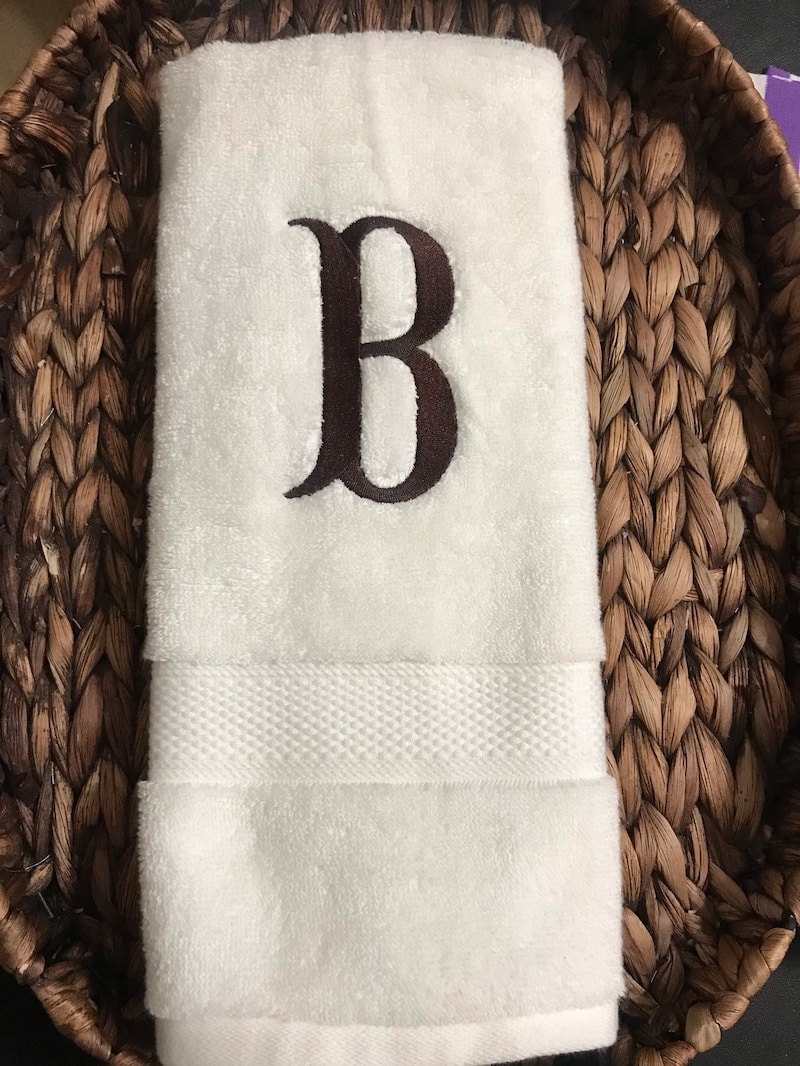 SHOP: Monogrammed hand towel from Addies Things, from $12
Transform your bathroom into a 5-star hotel with this monogrammed towel. Purchase it for yourself or gift it for a wedding or housewarming party—either way, you have good taste.