Gear up and take these modern travel backpacks with you on your next adventure.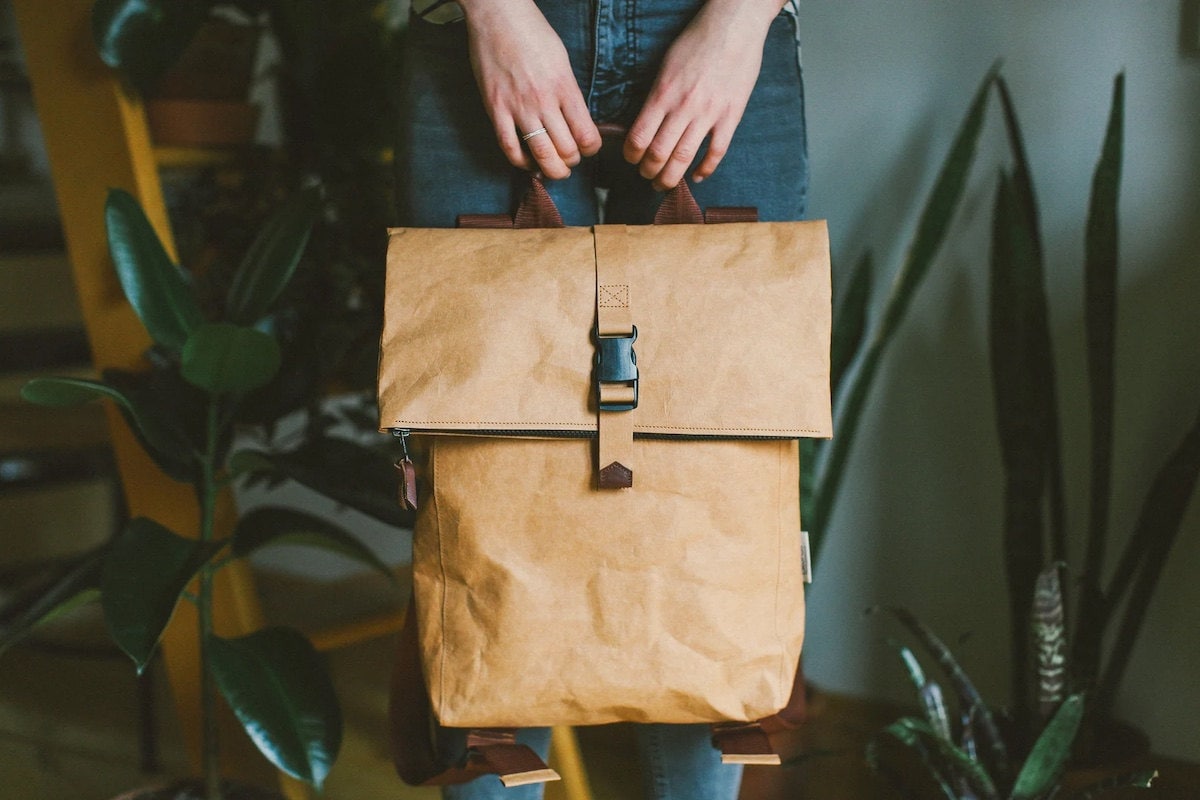 Whether you're planning a weekend getaway or a quick day trip, a travel backpack is a must for being on the go in style. But sometimes it's hard to find the perfect fit for your needs: You want a small travel backpack so you're not carrying too much or getting stuck checking your bag at the airport, but you also want your pack to have enough space for all the essentials. Here are some of the best travel backpacks for your next exciting excursion.
Best travel backpacks under $100
If you're shopping for a new bag on a budget, try out these picks so you can get the backpack of your dreams without breaking the bank (or your back).
1. A pastel striped bag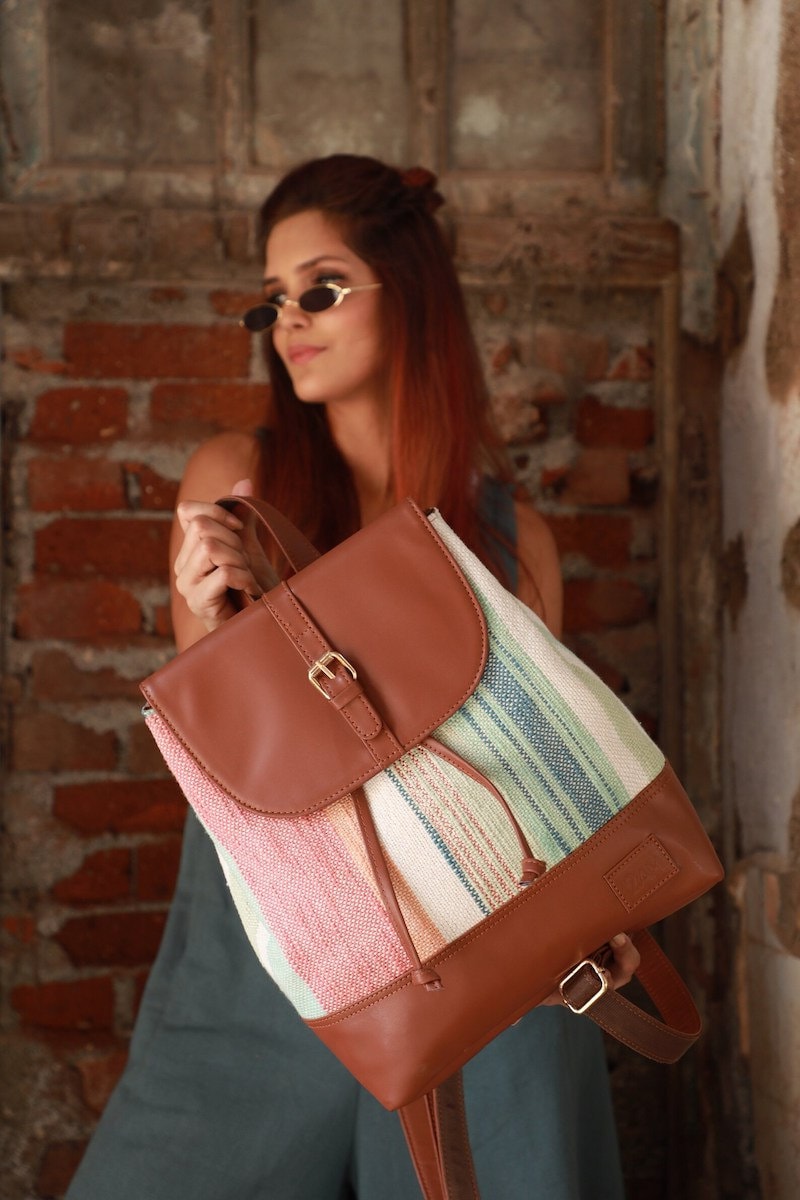 SHOP: Pastel and camel leather backpack from 2AM Bags, $90
Feel your pastel fantasy with this canvas and vegan leather backpack. This lightweight bag is perfect for throwing in your clothes and toiletries so you can take a spontaneous overnight trip to the beach or a quick hotel getaway.
2. A vintage yellow backpack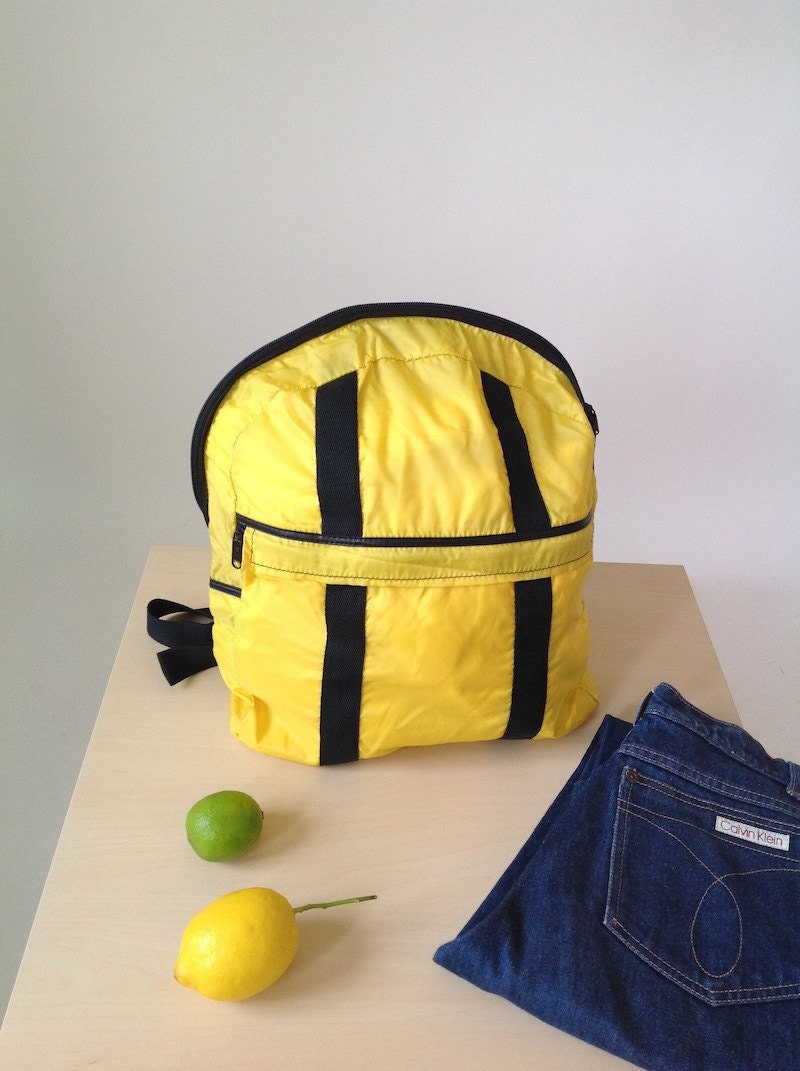 SHOP: Vintage '80s yellow backpack from Smize Vintage, $55
Add some sunshine to your travels with this vintage backpack from the 1980s. With its bright, graphic design, this lightweight carry-all bag brings that summertime feeling year-round.
3. A cotton drawstring backpack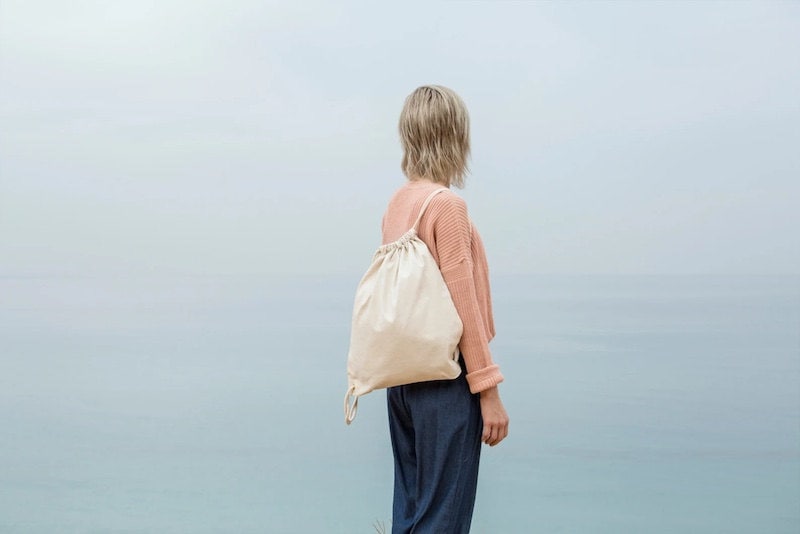 SHOP: Vegan cotton drawstring backpack from My Orbach, $68
This lightweight drawstring bag is made from durable cotton drill fabric, and while it seems like a simple white color, if you look closely, you'll notice the subtle pattern of the gold metallic dots.
Best travel backpacks for women
If you're looking for a gift for a globetrotter or yourself, we've got you covered. From simple laptop backpacks to leather travel backpacks that double as a purse, these are the best travel backpacks for women.
4. A 3-in-1 leather travel backpack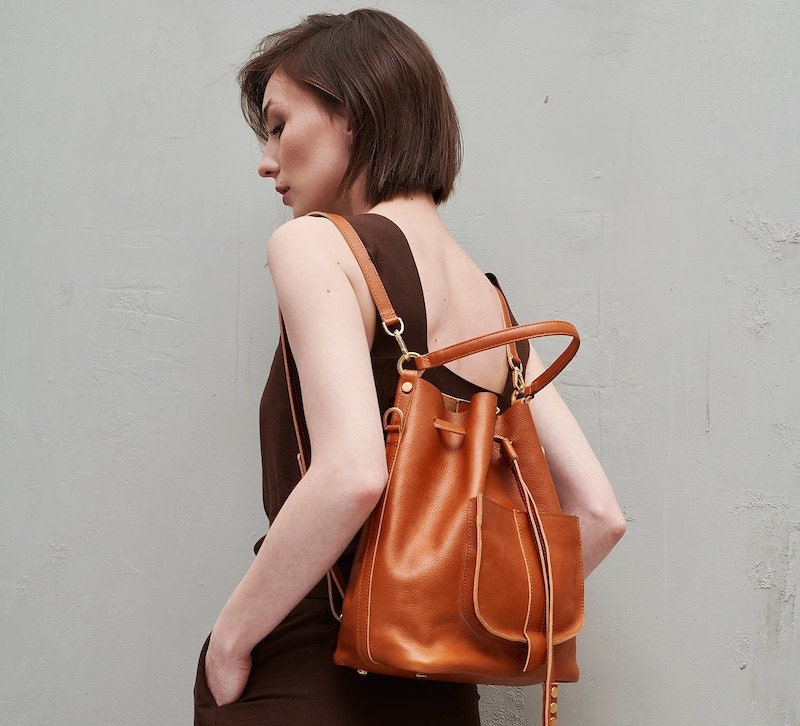 SHOP: Camel leather 3-in-1 backpack bag from Kulik Style, $327
If you're on the go and need a travel backpack that can be dressed up or down, look no further than this gorgeous camel bag. In a moment's notice, this Italian leather bucket bag can easily transform from a shoulder purse to a handbag to, of course, a backpack. Talk about versatility!
5. A backpack with a secret compartment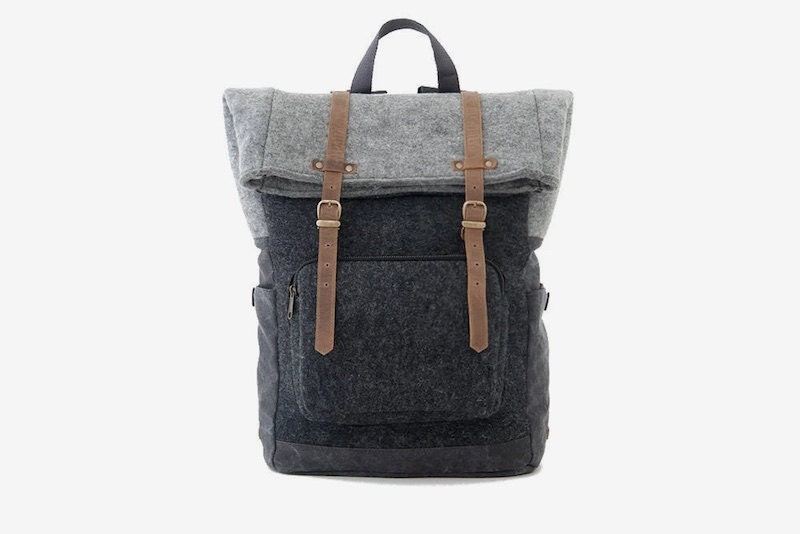 SHOP: Wool laptop travel backpack from Oliday, $125
This backpack is for the professional organizers, the lifelong students, and the work-from-anywhere jetsetters: It comes with multiple interior pockets, a padded laptop pocket, and a secret zipper in the back for easy access to whatever is in your pack.
6. A folded-top rucksack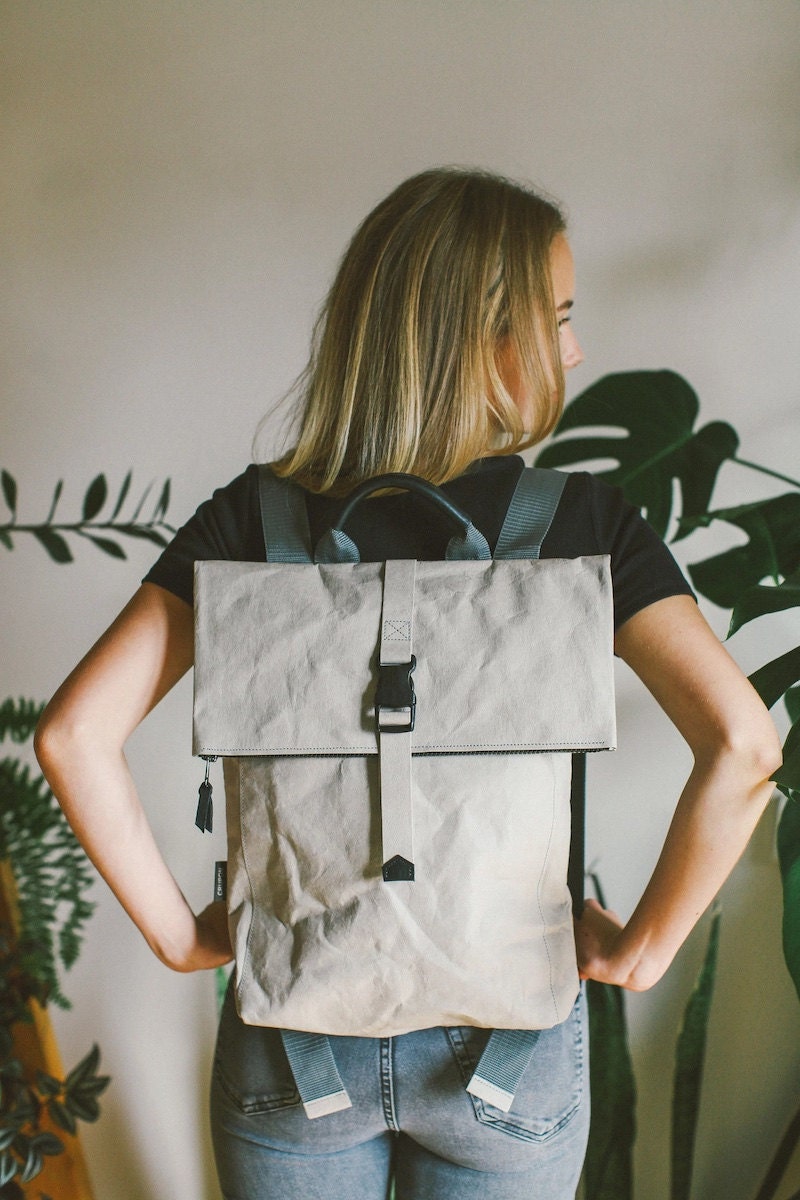 SHOP: Folded top gray rucksack from Crupon, from $116
For those that want a roomy, stylish backpack, this lightweight-but-sturdy women's backpack is made from recycled washable paper—a leather alternative which adds a lovely lived-in texture—and comes in a variety of neutral colors.
Best travel backpacks for men
We get it: You want a roomy backpack for your travels near and far, and you want it to look good. Luckily, these men's backpacks make it so you can gear up and take off in style.
7. A personalized men's travel backpack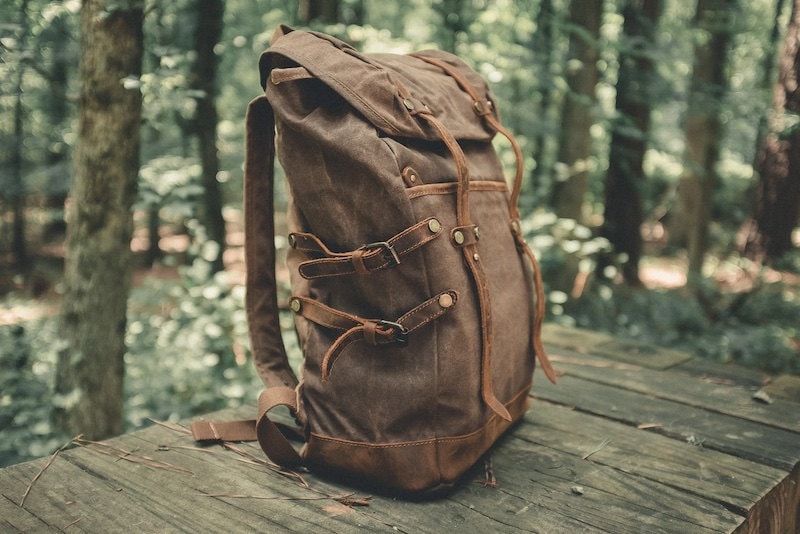 SHOP: Personalized wax canvas backpack from bagamie, $86
Buyers are raving about the quality and look of this waxed canvas travel backpack. It's rustic enough to take on a hiking trip and modern enough to use as an everyday backpack. The best part? You can personalize this pack to add your initials or name to the leather base.
8. An adjustable suede pack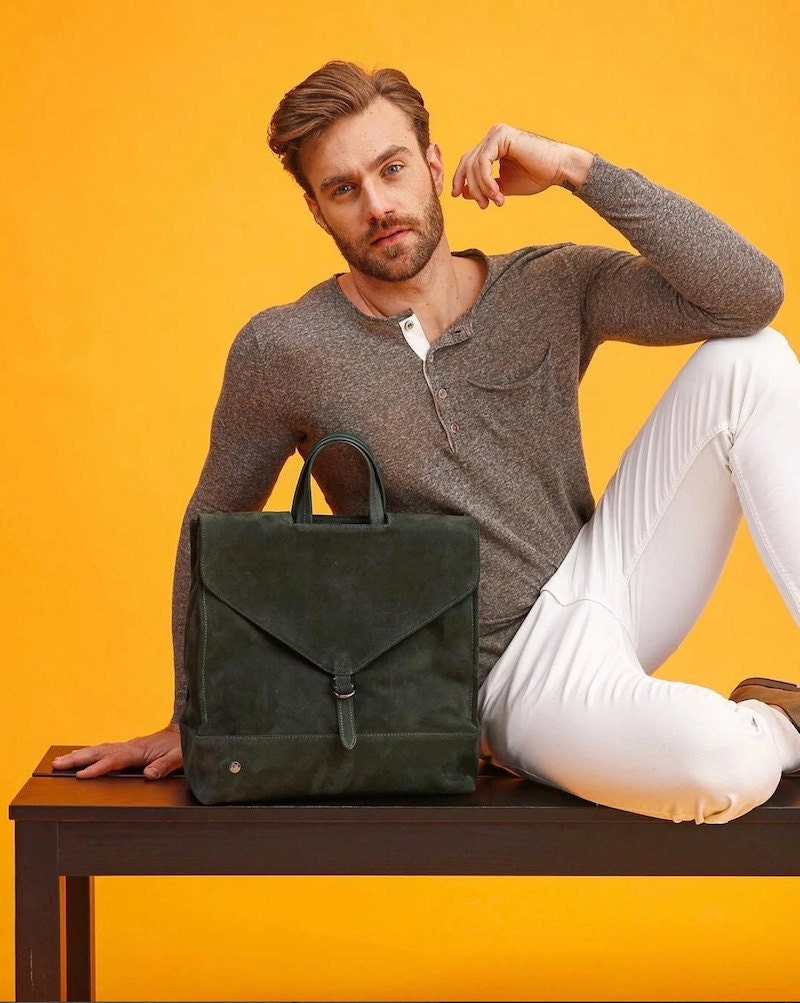 SHOP: Green suede backpack from Flume Shop, $150
An ideal backpack to bring to the office before heading out on a quick weekend away, this green suede bag is sure to invite compliments. With its adjustable strap to take it from your back to over the shoulder and multiple slip pockets for easy storage, this weekender bag looks and feels like a first class flight.
9. A waxed canvas hiking backpack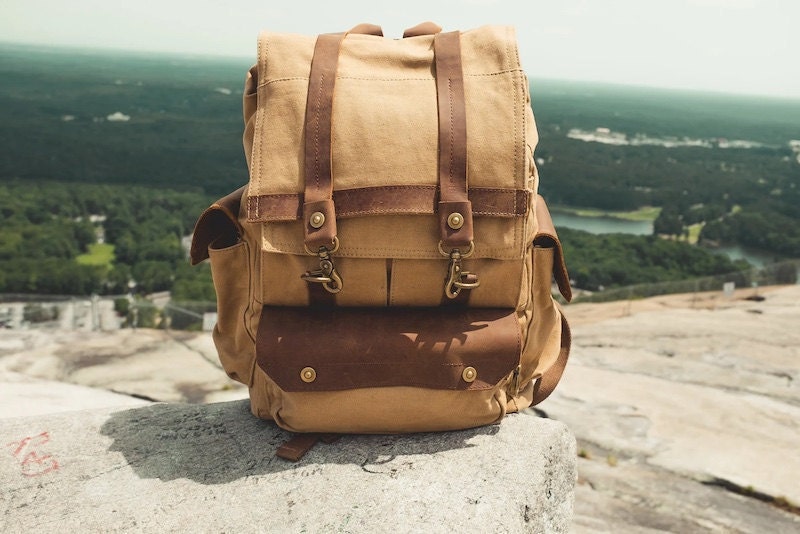 SHOP: Handmade canvas backpack from bagamie, $84
Need lots of storage space in your travel backpack? This waxed canvas and leather rucksack comes with a whopping nine storage compartments—and two pen holders.
Fashionable and cute travel backpacks
Sometimes travel backpacks can be so useful but they sacrifice style. Don't worry: These unique travel backpacks mean you don't have to choose between fashion and function.
10. A denim mini backpack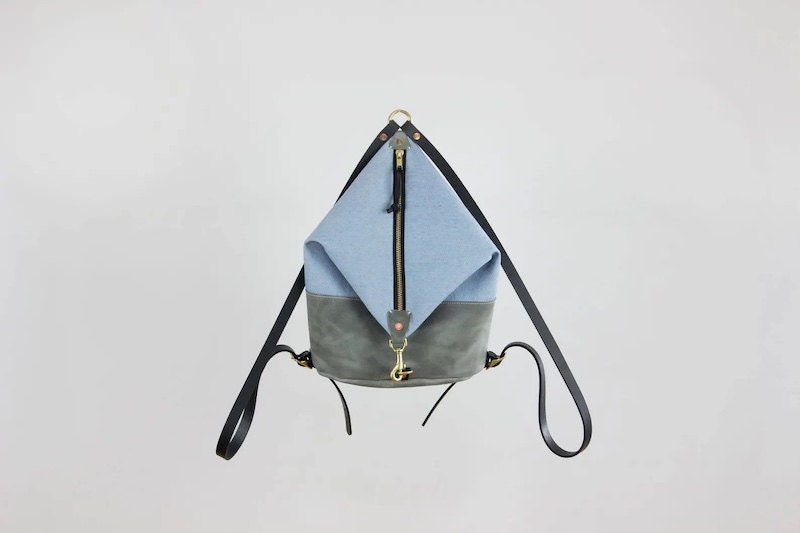 SHOP: Light denim and gray small backpack from Fitzy Design, $245
Between this mini backpack's unique design and the denim and leather materials, you'll be on the go and in vogue in seconds flat.
11. A leather daypack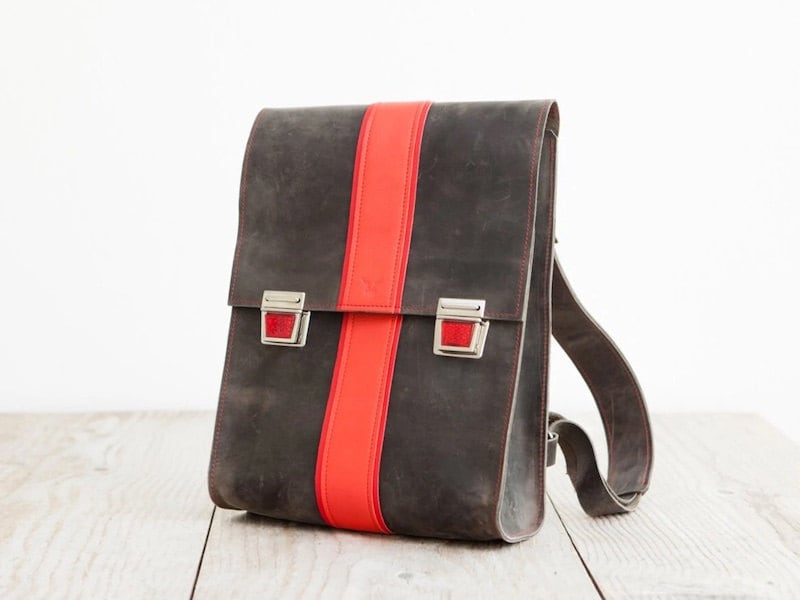 SHOP: Genuine leather daypack from HAEUTE, from $298
Fashionable backpacks need not be gaudy. Exhibit A: This genuine leather backpack with a red racer stripe and old school reflectors. Red's not your color? Choose from multiple dyed leathers for the pack of your dreams.
12. A small travel backpack in colored canvas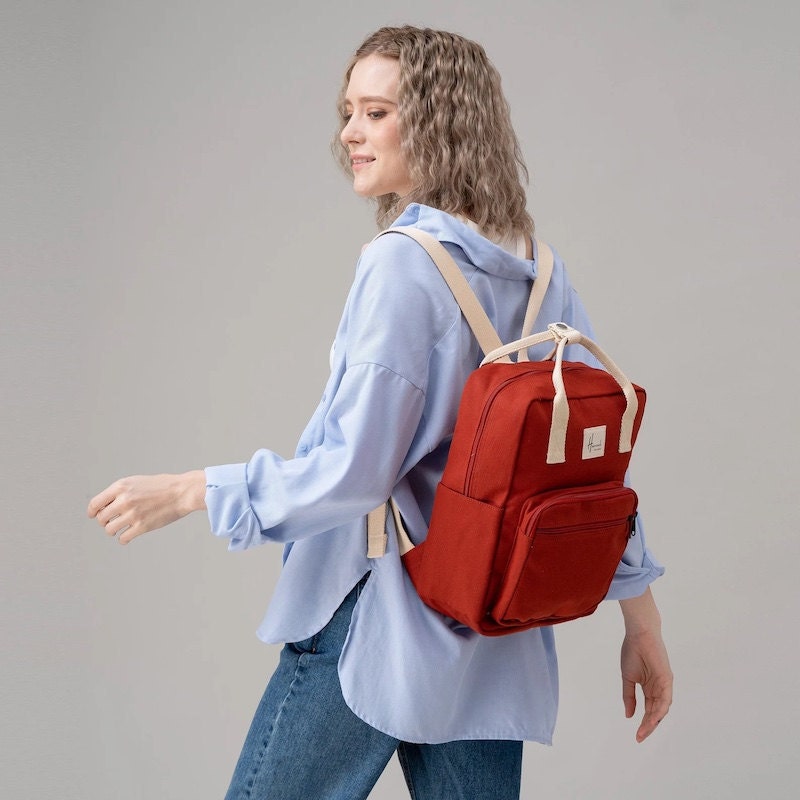 SHOP: Colored canvas backpack from Hannah Canvas Store, $52
Go back to the schoolyard days with this handled backpack that is large enough to fit a 13-inch laptop and comes in a rainbow's worth of different hues to match any outfit, mood, and aesthetic.
13. A bold patterned sling bag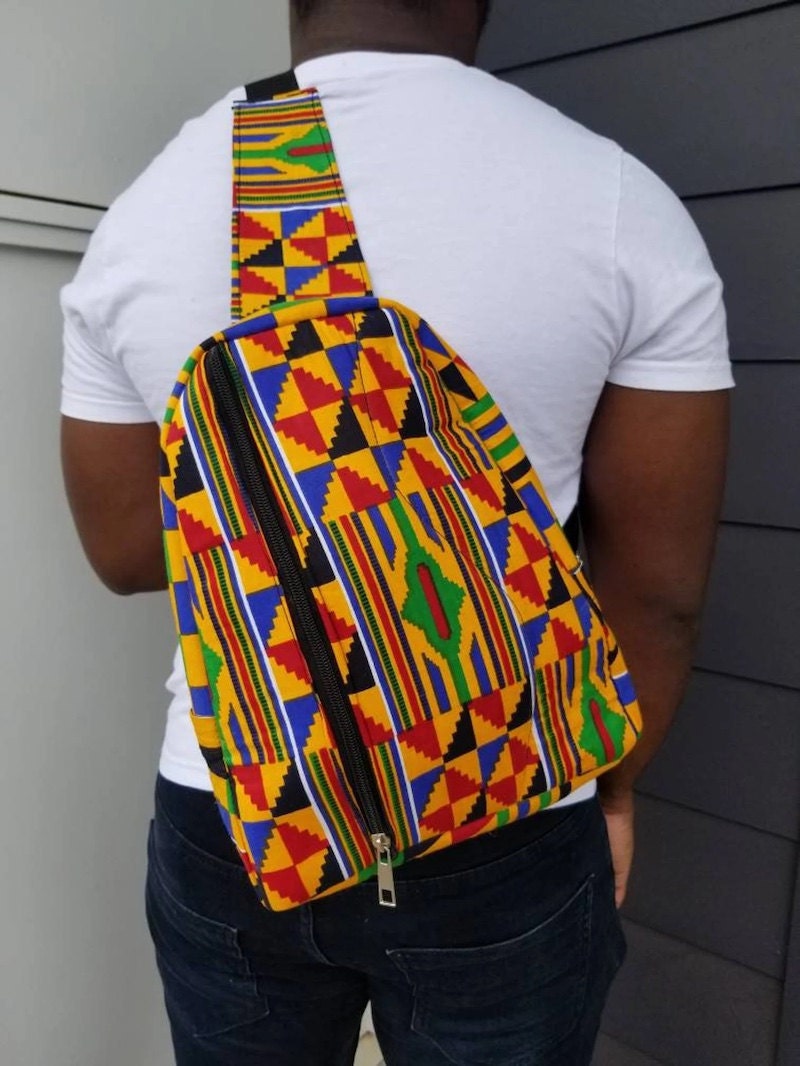 SHOP: Ankara patterned sling backpack from DamiV, $40
Colorful, joyful, and eye-catching, this sling backpack is vibrant and perfect for a quick, daylong adventure. And the design comes from the heart: The Nigerian American maker celebrates her heritage by using Ankara fabric for her bags.
Best travel backpacks for air travel
If you're avoiding checking your bags or would just like to make the most of your carry-on luggage, these packs make the packing easier—and they'll fit nicely under the seat in front of you.
14. Small leather travel backpack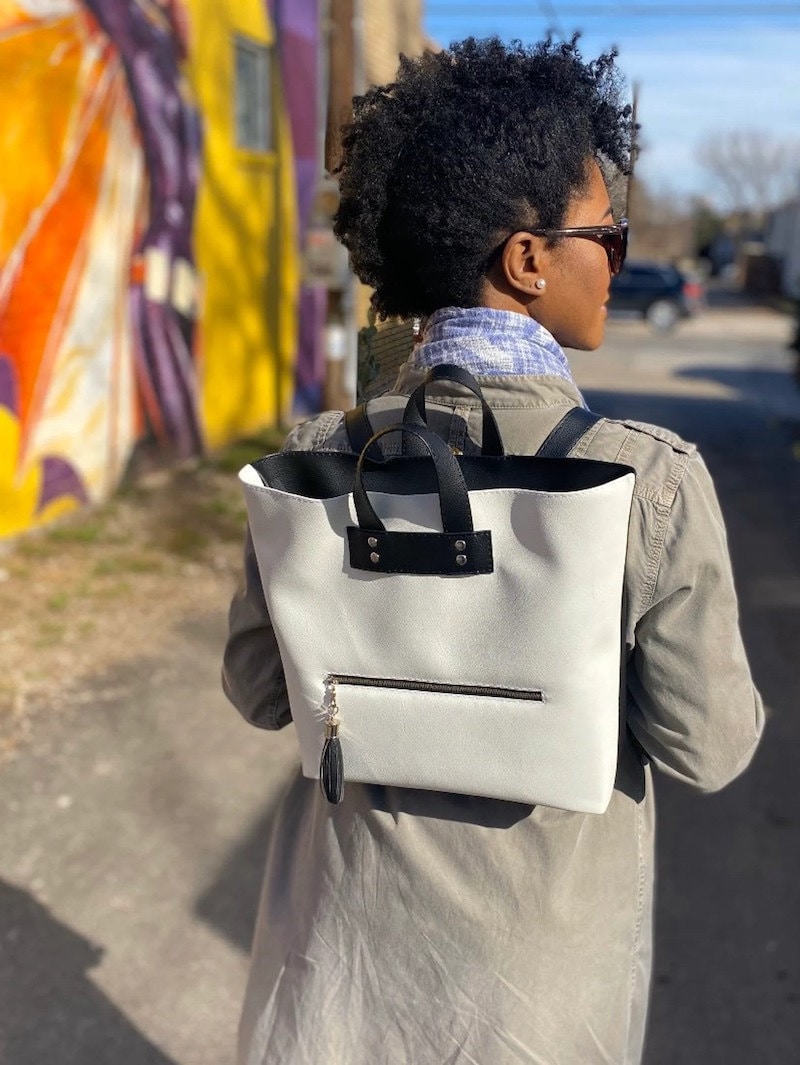 SHOP: Leather traveler's backpack from Fifteen And Fifteen, $180
This small travel backpack is simple, modern, and fashionable, and with its tassel zipper and front pocket for your passport and phone, you'll be ready to board in style.
15. A hiker's backpack for air travel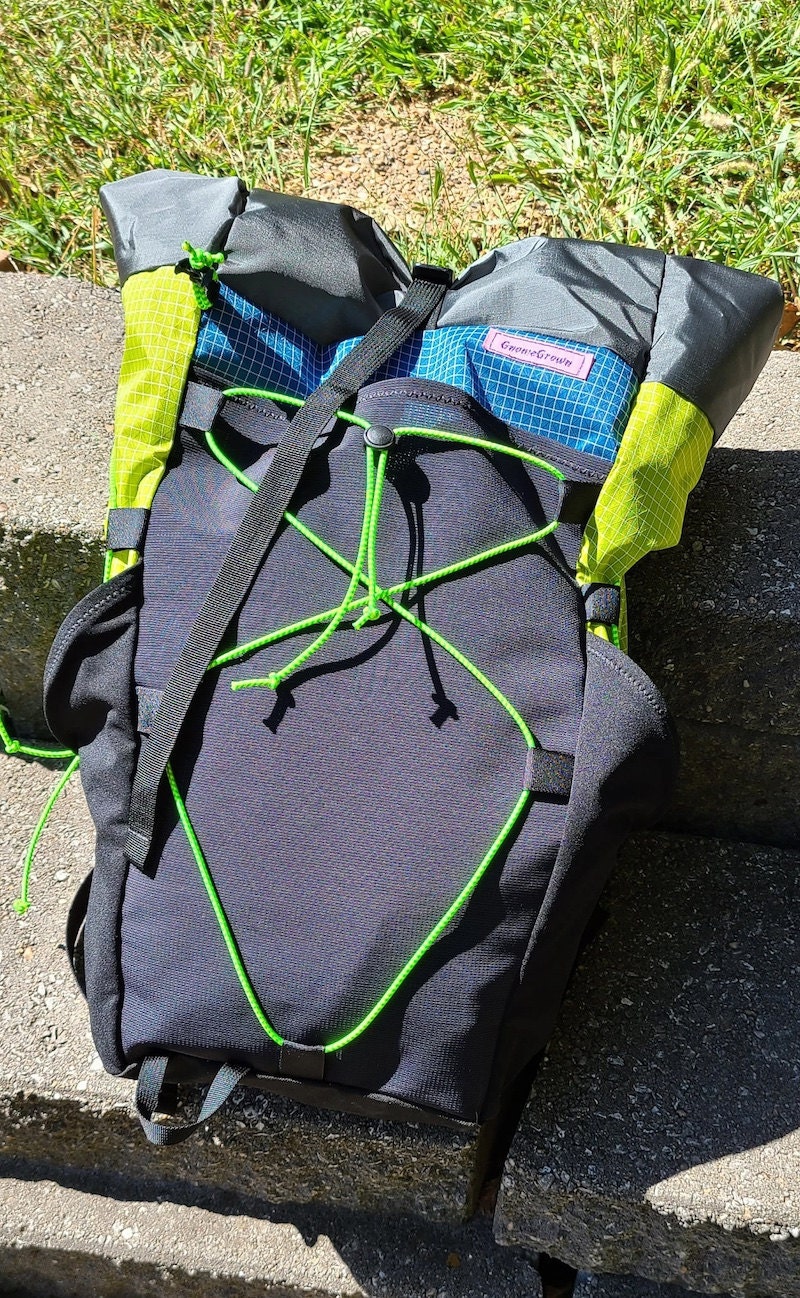 SHOP: 38L roll top travel backpack from Gnome Grown Gear, $145
If you're going straight from the airplane runway to a campground, this 38L backpack is for you. It holds the perfect volume for air travel, and with its bright reflective yellow panels and tear- and water-resistant gridstop fabric, who needs a quick stop at the hotel before your outdoor expedition?
16. A colorful, large travel backpack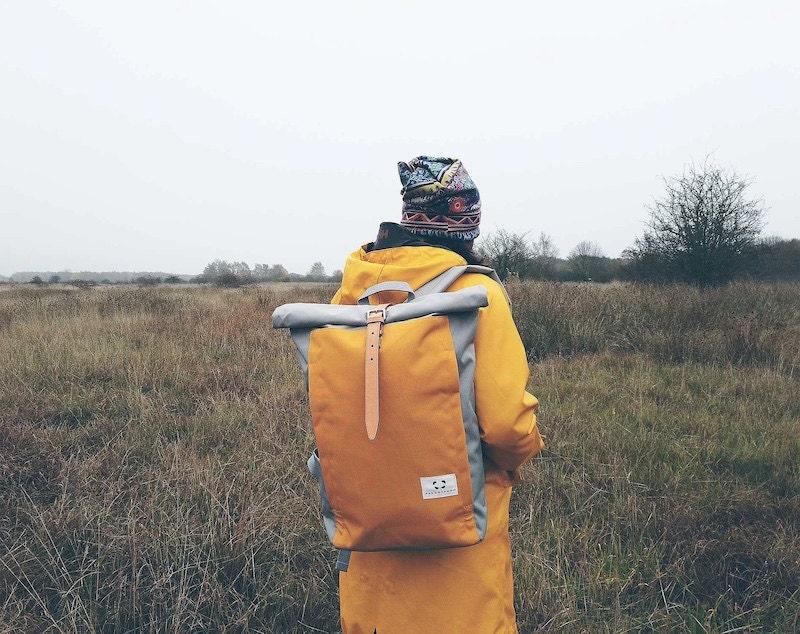 SHOP: Retro-styled canvas travel backpack from Pandopando Unisex Bag, $104
Overpacked and don't want to spillover to your checked luggage? Don't worry, this roll-top backpack is large enough to hold all your essentials and compact enough to fit under the seat in front of you or the overhead bins. And with padding along the back and the shoulder straps, you'll be able to make your connecting flight without a pain in the neck—literally.
17. A casual gray travel backpack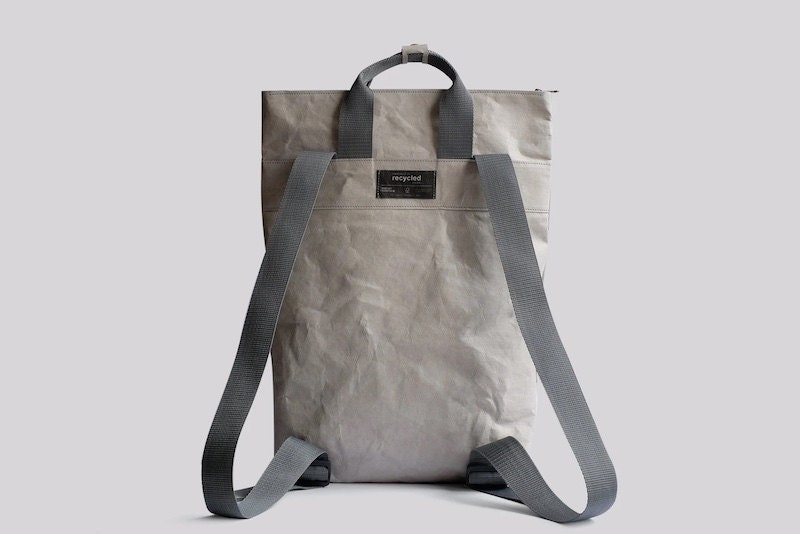 SHOP: Recycled paper fabric backpack from Crupon, from $106
Keep the minimalist aesthetic when you travel with this handmade pack. Made from recycled paper fibers, this travel backpack is large enough to fit your laptop and a few snacks for the trip.
Best laptop travel backpacks
Whether it's for a quick trip to the coffee shop to write your novel, traveling for work, or spending a long plane ride to stream your favorite shows, we know you need the perfect backpack to tote your laptop around in. Luckily, these packs are sized to fit your laptops, so you can keep them in tow wherever you go.
18. A brilliant everyday backpack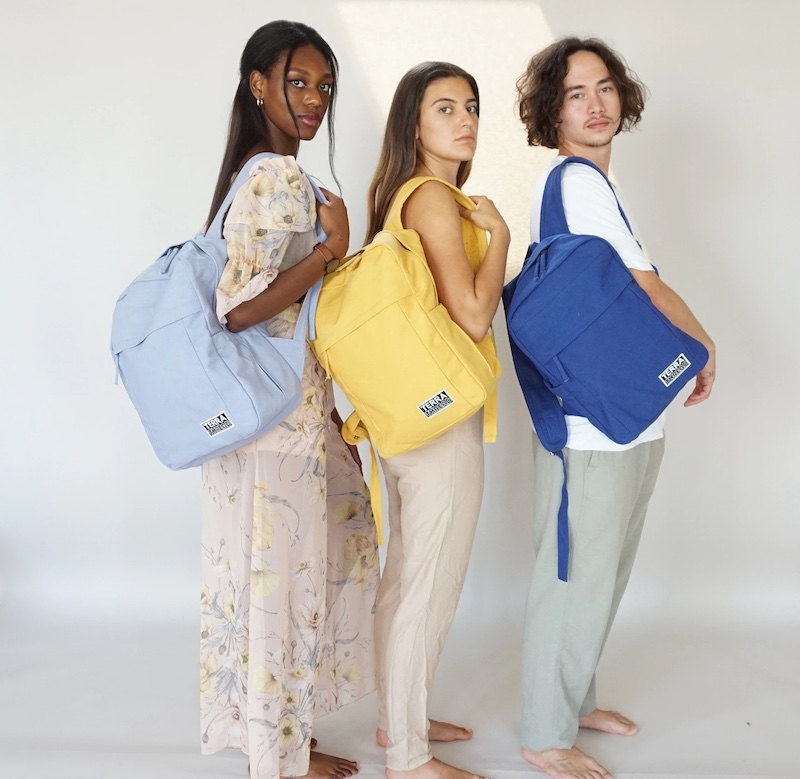 SHOP: Organic cotton everyday backpack from Terra Thread, $70
A great choice for students, teachers, and playful adults, this organic cotton canvas backpack offers a laptop compartment and enough choices to fill the color wheel and then some, so you can sport your favorite hue with this everyday backpack.
19. A chic vegan leather backpack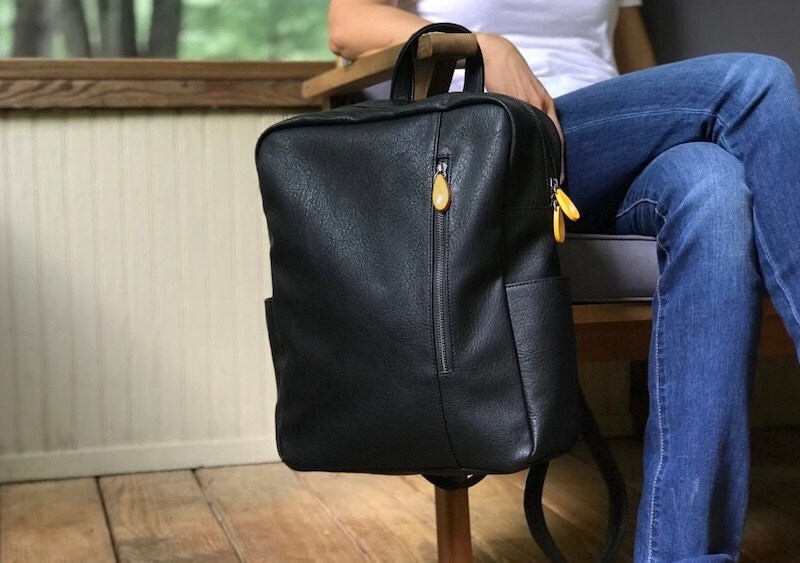 SHOP: Sleek vegan leather laptop backpack from Canopy Verde, $179
With this vegan leather backpack, it's all in the details. The unexpected vertical zipper, crimson red lining, wood trims on the zippers, and the internal pockets for water bottles make this sleek leather travel backpack a real showstopper.
20. A minimalist laptop travel backpack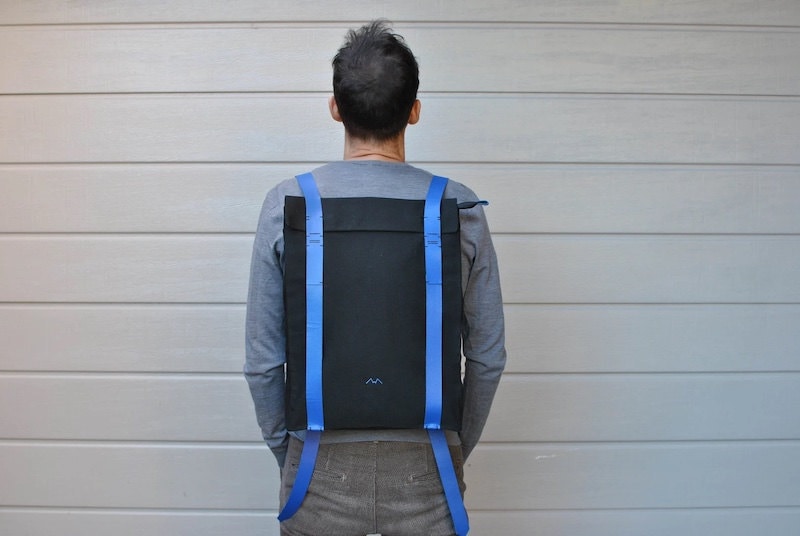 SHOP: Minimalist 17" laptop backpack from InconnuLAB, from $213
This laptop backpack has it all. Can't choose between leather and canvas fabrics? This travel laptop backpack is made of both. Have a larger laptop? This minimalist pack is sized for a laptop up to 17 inches. Live in a rainy area? It's made of water-resistant canvas. If you find yourself in a tight spot, this understated backpack has you covered.