This Valentine's Day, find something extra special for each person on your list (including yourself!) with these gift ideas.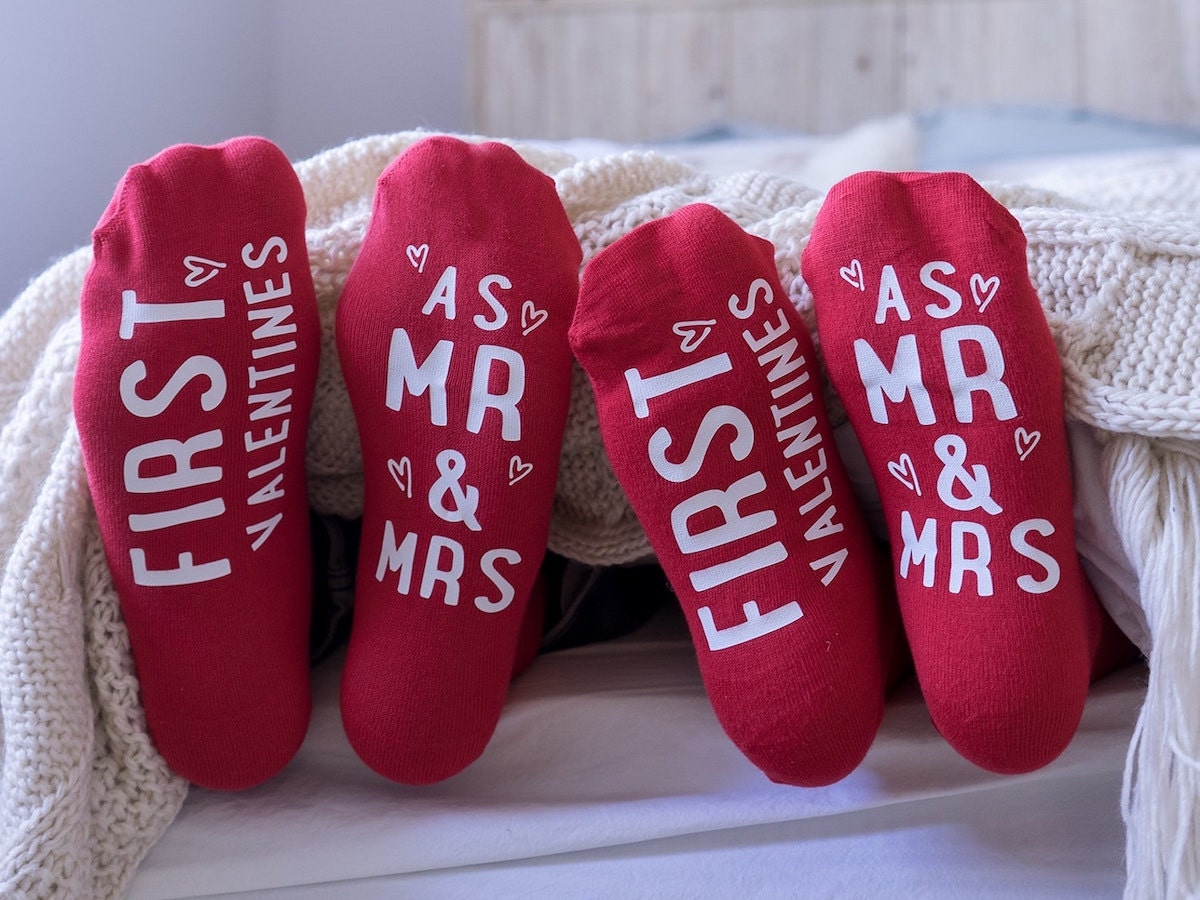 Love is one of the most inspiring things in the world, and we've got the most inspiring gifts to celebrate it, in all its forms. Whether you're planning a simple yet sweet celebration at home or sending a gift from afar, these heartfelt gift ideas beautifully represent your unique love story.
Best Valentine's Day gifts for him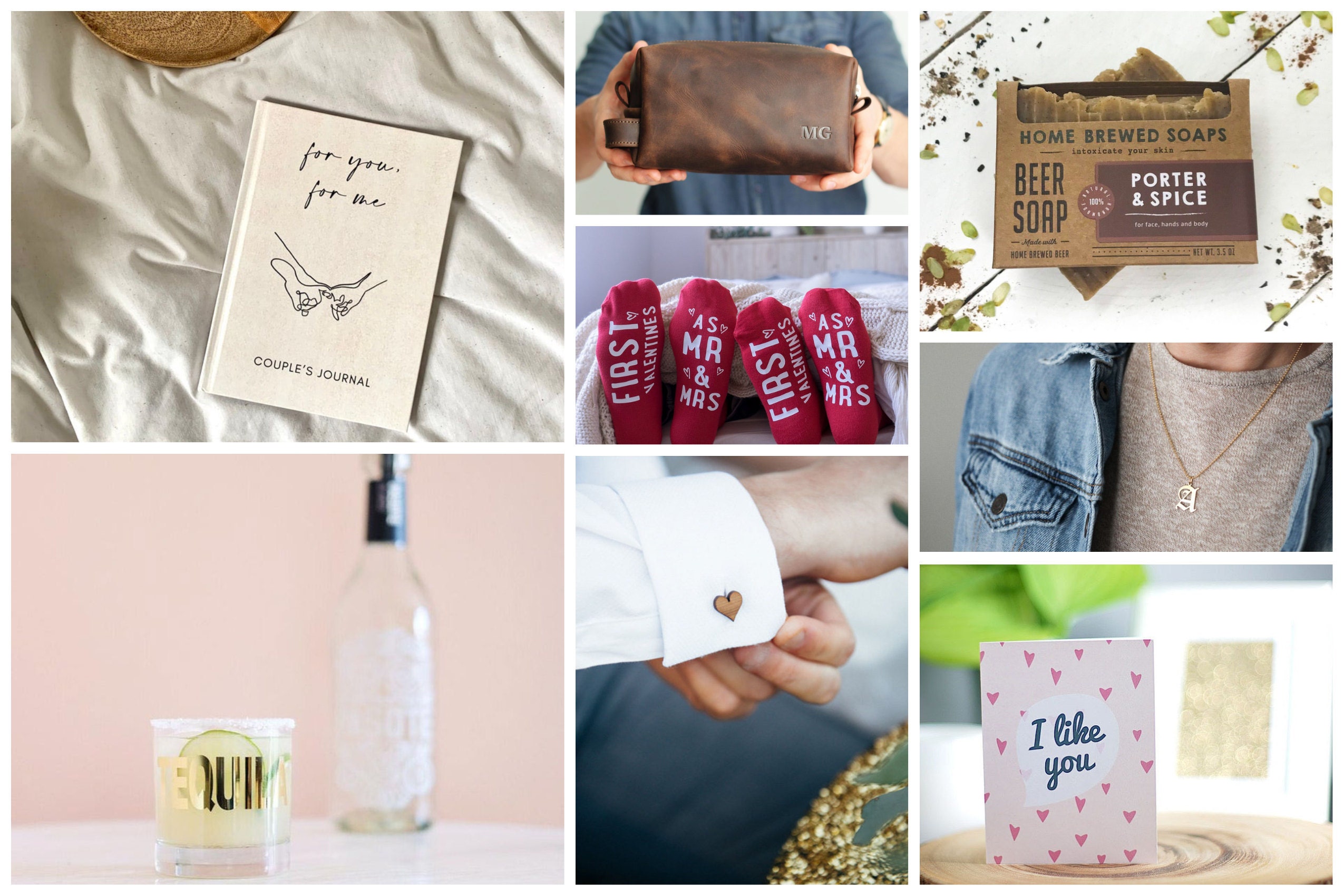 As you shop for Valentine's Day gifts for the men on your list, you'll love these handcrafted gift ideas that celebrate everything you adore about him. Whether it's his sense of style or the love story you're writing together, these are the best Valentine's Day gifts for him to show him how much you care.
Pick his initial for this personalized Old English-inspired accessory, or gift a charm representing your initial and you'll be close to his heart all day long.
A couple-friendly gift, this comfy set of matching socks is a great excuse to cozy up at home for your Valentine's Day celebrations this year.
Whiskey, bourbon, scotch, rye, tequila, and vodka—no matter his mixer of choice, this set of matching cocktail glasses is a gilded addition to any bar cart.
Some things only get better with time, like aged whiskey, fine leather, and your relationship with each other. Bring this personalized leather toiletry bag on a long weekend away together.
If the fella in your life adores a good craft beer, he'll love these porter-infused suds. Even better, this Etsy shop donates a bar of soap for each bar you buy.
A subtle reminder that he holds your heart, these bamboo cufflinks are an unexpected touch to his formalwear (especially if you're celebrating a five-year anniversary with traditional "wood" gifts!).
If you're not quite at the "I love you" stage in your relationship just yet, this "I like you" card is a sweet pick to share our feelings this Valentine's Day.
A treasured keepsake for years to come, this couple's journal helps you collect your most memorable moments and times of growth with space for each of you to share your perspectives.
Best Valentine's Day gifts for her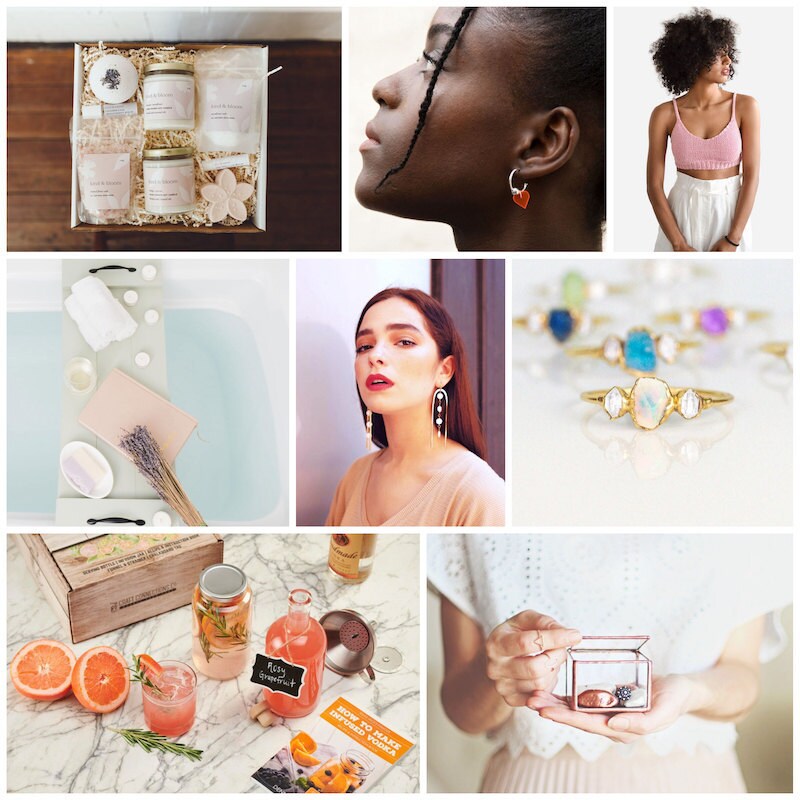 Perfect for your galentines and valentines alike, these one-of-a-kind gifts for her are sure to steal her heart this holiday. Handcrafted by Etsy sellers, each of these Valentine's gifts are made especially for her.
Put a softly scented self-care spin on traditional Valentine's Day flowers with this wildflower-inspired bath set, ideal for an evening of at-home pampering.
A minimalist declaration of love, these heart hoop earrings are a stylish Valentine's Day accessory no matter how you're celebrating.
For a casual day date or an evening spent lounging at home, this pink hand-knit bralette is just what Cupid ordered.
Beautifully one-of-a-kind, the natural stones in this handcrafted ring make each piece of jewelry unique, just like your love.
If you're presenting her with a special piece of jewelry this Valentine's Day, this custom ring box doubles as an heirloom-worthy keepsake she'll treasure for years to come.
Packed with all the infusion essentials she needs to create her own signature cocktail, this kit is happy hour-ready.
If she loves a relaxing bath, this custom bathtub tray is perfect to keep a book, candle, and glass of wine close at-hand.
Skip the oh-so-traditional diamond earrings this Valentine's Day and opt for a modern pair of pearl dangles to show her lobes some love.
Cute Valentine's Day gifts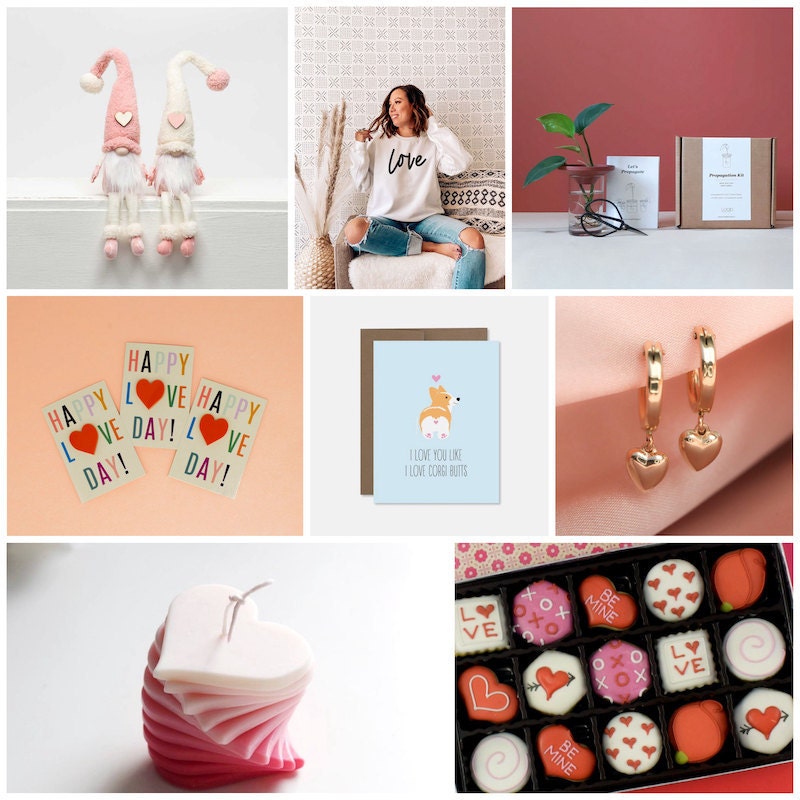 From your nearest and dearest friends to the partners who always make you smile, these cute Valentine's Day gifts are the perfect way to share your affection for those who matter most in your life.
These little love birds can't stand to be apart and are sold in pairs, perfect for representing the unshakable bond you share with your very best gnomies.
Equally suited for heading out or staying home, a graphic black-and-white sweatshirt is a gift she'll treasure all year-round.
For the recipients on your list who enjoy a bit of a tongue-in-cheek take on Valentine's Day, this "Let's propagate!" plant kit is a cute gift idea.
Perfect for teachers, friends, and co-workers, these sweet pin-and-card combos are cheery, colorful, and ready-to-give.
Send your valentine a smile from afar with a cute Valentine's Day card illustrated by an Etsy seller. Pick from unique, funny, and romantic designs you won't find anywhere else.
A perfectly "love"-ly accessory for Valentine's Day and beyond, these golden heart hoop earrings are sure to become one of her style staples.
A fun "twist" on traditional candles, this ombre heart design is the perfect accent to your Valentine's Day decorations at home.
Don't be fooled, this box of Valentine's Day chocolates is actually an assortment of deliciously decorated assortment of sugar cookies. They're almost too sweet to eat!
Romantic Valentine's Day gifts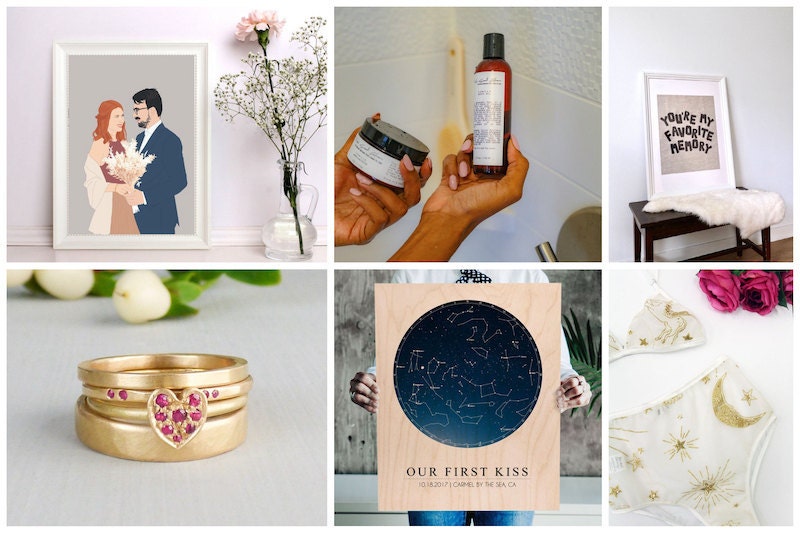 For the partner who's been there for you through thick and thin, show them just how much you love them with a romantic Valentine's Day gift made just for them.
Designed using one of your favorite photos, a custom couple's portrait serves as a reminder of the love between you each and every time you see it.
Whether you indulge solo or together, this softly scented botanical body oil is perfect for a pampering evening in.
This bold, gallery wall-ready statement is an artful declaration of your admiration for each other.
The romantic red hues of this ruby-adorned ring are a fashionable reminder of your love for her, each and every time she wears it.
Celebrate your out-of-this-world love for each other with a one-of-a-kind piece of art depicting the stars in the sky on a significant date—like a first kiss or the moment you said "I love you."
For a love that inspires you each and every day, this pegasus-adorned celestial lingerie set is a romantic gift for yourself or your loved one.
Creative Valentine's Day gifts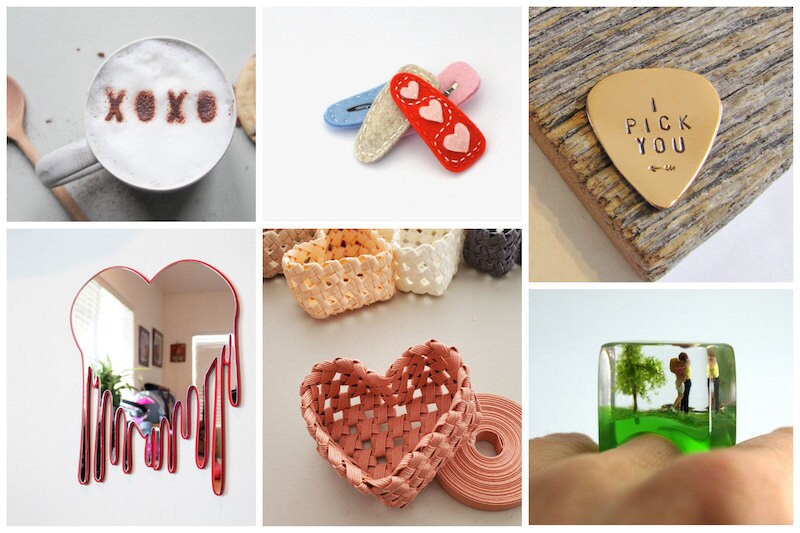 From crafts to do together to fun accessories and more, look no further for the creative Valentine's Day gifts that will make each person on your gift list feel loved, adored, and inspired.
Skip the grab-and-go coffee and craft a deliciously decorated beverage at-home for the one you love a latte.
Create a gorgeous grouping of these lovely, handcrafted hair clips and gift them to all the lucky ladies in your life this Valentine's Day.
Remind the valentine who's near and dear to your heart this year that you'd pick them, again and again.
An eye-catching accessory for Valentine's Day, this resin statement ring features a canoodling couple caught in a lovers' embrace.
Cute Valentine's Day gifts are even better when they're done together! Gather your galentines and enjoy an afternoon of heart-shaped basket-weaving.
A groovy gift for the home, this melting heart mirror is a creative Valentine's Day gift that's perfect for teens and dorm dwellers alike.
Personalized Valentine's Day gifts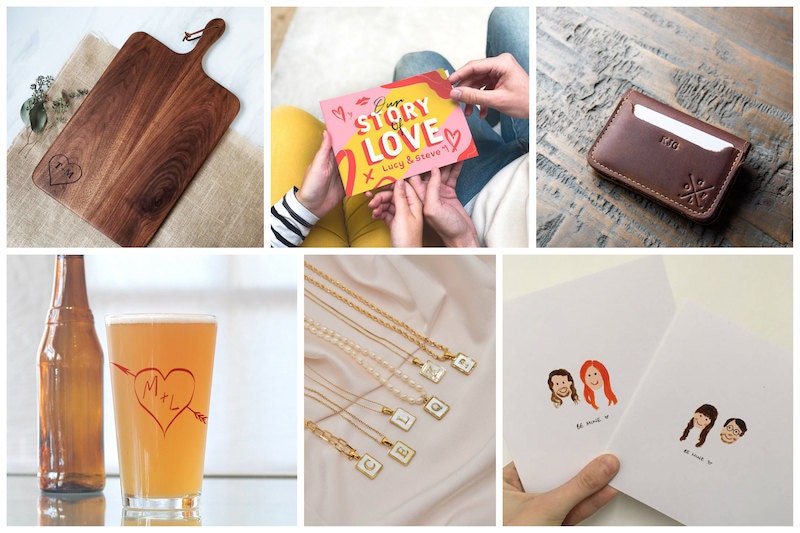 There's no love story quite like yours, and your Valentine's Day gift can be just as personal when you pick a gift created with heart by an Etsy seller. Each of these gifts can be personalized to perfectly represent your couple status.
This engraved charcuterie board is reminiscent of initials carved into a tree trunk by a couple as a symbol of their enduring love.
There's no love quite like yours, so celebrate it with a personalized storybook dedicated to the tale of your relationship.
Instead of a traditional monogram, consider adding your initials and theirs to this handcrafted, leather card wallet (and maybe grab one for both of you!).
Raise a glass and toast your love story with a set of custom printed pint glasses just waiting for your next celebration.
Choose an initial, a chain style, and a length to create a one-of-a-kind, personalized necklace that's perfect for layering with two initials—yours and theirs.
This custom-created artwork featuring you and the love of your life can be used as a card where you write your beloved a letter or framed as a special keepsake.
Long-distance Valentine's Day gifts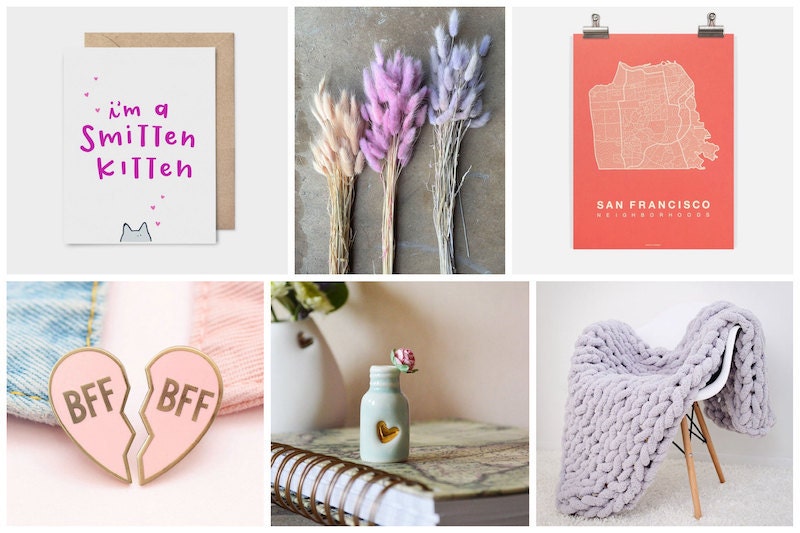 Show your loved one they're always near to your heart even if you're far apart with a long-distance Valentine's Day gift.
Remind your sweetheart just how crazy you are about them with a cute kitten-adorned greeting card with plenty of space for you to pen a love letter, too.
If you're sending flowers to a loved one this Valentine's Day, pick a pampas grass bouquet that will last long beyond the holiday.
Whether it's a city where you've created special memories with each other or a place you dream of traveling together, a map-inspired gift says "I'm thinking of you," even from afar.
Inspired by the iconic BFF necklaces where each friend proudly wears one half of the heart, these BFF enamel pins are a fun way to accessorize with your friends, no matter where they are.
A small but sweet way to say "I love you," this petite ceramic vase comes complete with a gold heart and baby pink wire rose.
Even if you can't wrap your beloved in a hug this Valentine's Day, you can still surround them with love in the form of a snuggle-ready blanket.
Last-minute Valentine's Day gifts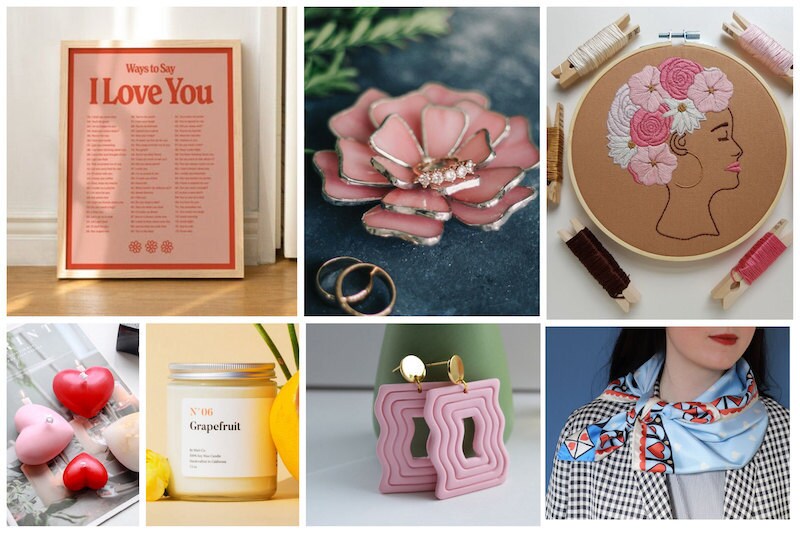 If Cupid's been a bit busy this year, never fear. These last-minute Valentine's gifts from Etsy shops are typically ready to ship in a few days or less.
Inspired by the feel of natural light and late, lazy mornings and infused with a refreshing blend of fruit and citrus, this candle's sensuous scent makes it perfect for a day dedicated to lovers.
From neutral to bold, create a Valentine's Day-inspired collection of these heart-shaped candles by choosing your own mix-and-match set of colors.
A digital print like this "Ways to Say I Love You" design is the perfect last-minute gift. If you've got a few days, you can frame it before gifting but when time is of the essence, you can pass it along digitally, too.
The perfect pop of pink just in time for Valentine's Day, these wavy clay earrings are a fun accessory she'll sport long after the conversation hearts are all gone.
As beautiful as it is functional, the opalescent pink glass of this handcrafted ring holder shimmers and shines as brightly as the jewels she'll nestle into it.
It's never too late for a coffee date thanks to these lovely last-minute mugs. Beautifully hand-thrown, each heart-adorned cup is wonderfully unique, just like your love story.
Perfect as a belt, hair accessory, or hung around a bag handle, this Queen of Hearts-inspired silk scarf boldly declares your love—and ships quickly.
Available almost instantly as a digital download, this embroidery pattern is a thoughtful last-minute Valentine's gift for the craft enthusiast on your list. They may even have the supplies on-hand already to complete this floral-adorned design.
Valentine's Day FAQS
1. When is Valentine's Day 2022?
Valentine's Day is celebrated on February 14 each year. It began as a holiday commemorating Saint Valentine, and has now become a day celebrating romance and love around the world. Although it is not a public holiday, Valentine's Day is widely recognized by many cultures and celebrations often include exchanging gifts and parties.
2. What are the best types of Valentine's Day gifts?
The best Valentine's Day gifts are thoughtful, creative, and represent your unique love story, whether that's romantically or as friends. From gifts for him and gifts for her to last-minute Valentine's gift ideas, you'll find countless creative ways to celebrate your connection with partners, family, and friends on Etsy.
3. How much should you spend on a Valentine's Day gift?
A Valentine's Day gift doesn't have to be expensive to be meaningful. From small but cute Valentine's Day gifts that are perfect for family and friends to more significant gifts for your significant other, you'll find thousands of unique Valentine's gift ideas on Etsy that your loved ones, and your budget, will adore.