by Kristin Bustamante
Let her know just how much she means to you with a unique, creative Valentine's Day gift made just for her.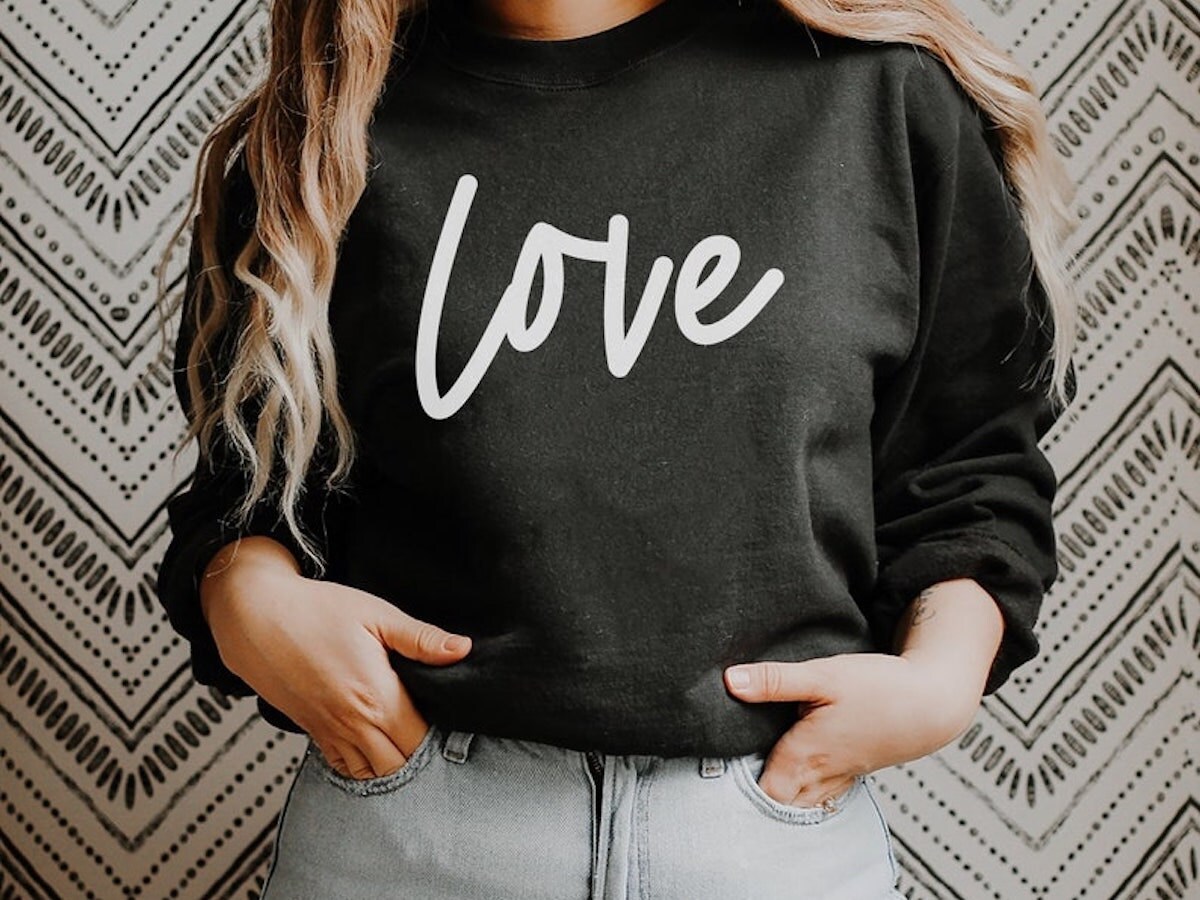 Whether you're shopping for your best gal pals or your one-and-only, these heartfelt Valentine's Day gifts for her will add meaning to her holiday this year. Picked with her in mind, personalized, and totally unique, these gift ideas are all you need for an extra-special celebration this year.
Cute Valentine's Day Gifts for Her
From BFFs to girlfriends to lifelong partners, these sweet, handmade Valentine's Day gift ideas are a cute way to say "I love you" this year. Go traditional with something heart-adorned, or pick something with a slightly more subtle nod to the holiday that she'll enjoy all year-long.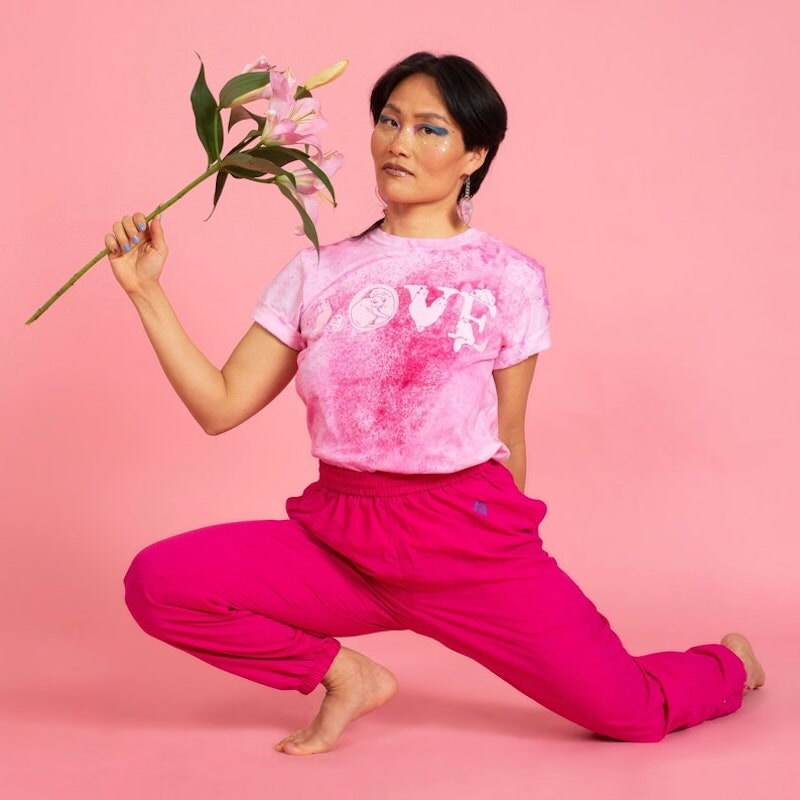 SHOP: Love cats T-shirt from Lovestruck Prints, $33
Looking for a purr-fect gift for her this Valentine's Day? For the cat-mom on your list, this tie-dye T-shirt packs a pink punch and gives a hint at where her heart lies.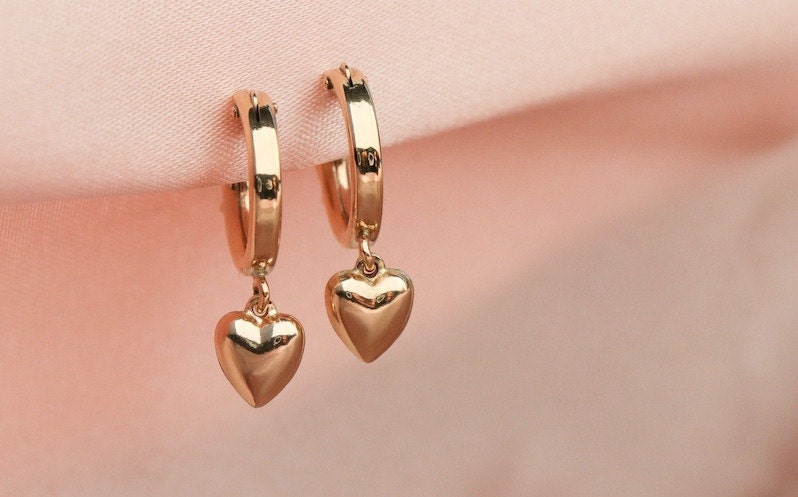 SHOP: Tiny heart earrings from Evren, $82
Classic gold hoops get a holiday-ready update with the addition of delicate, dangling hearts in this festive pair of earrings.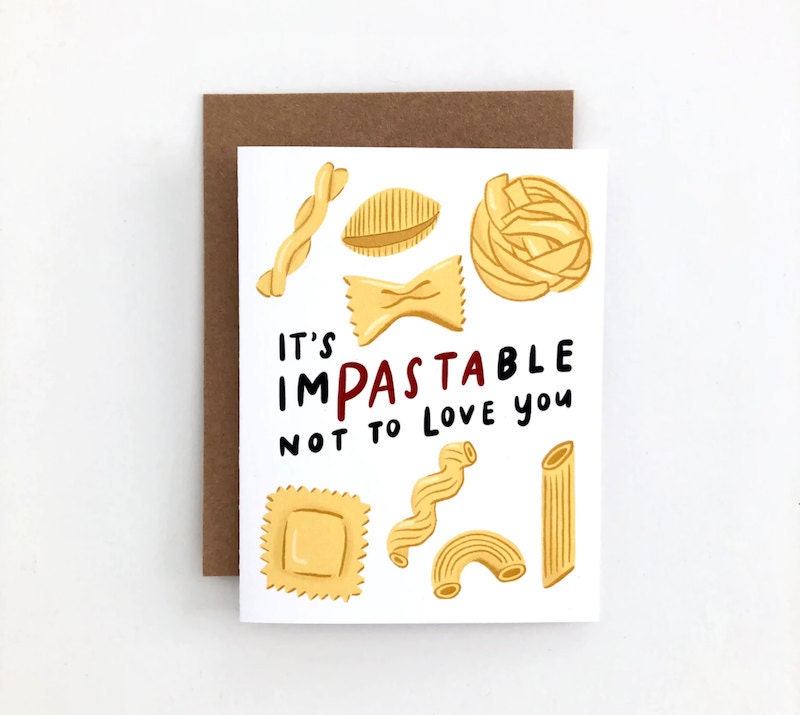 SHOP: Impastable Valentine's Day card from Zucchero and Paper, $6
Skip the standard card and pick something more unique this year by shopping all the one-of-a-kind Valentine's Day card designs from Etsy shops.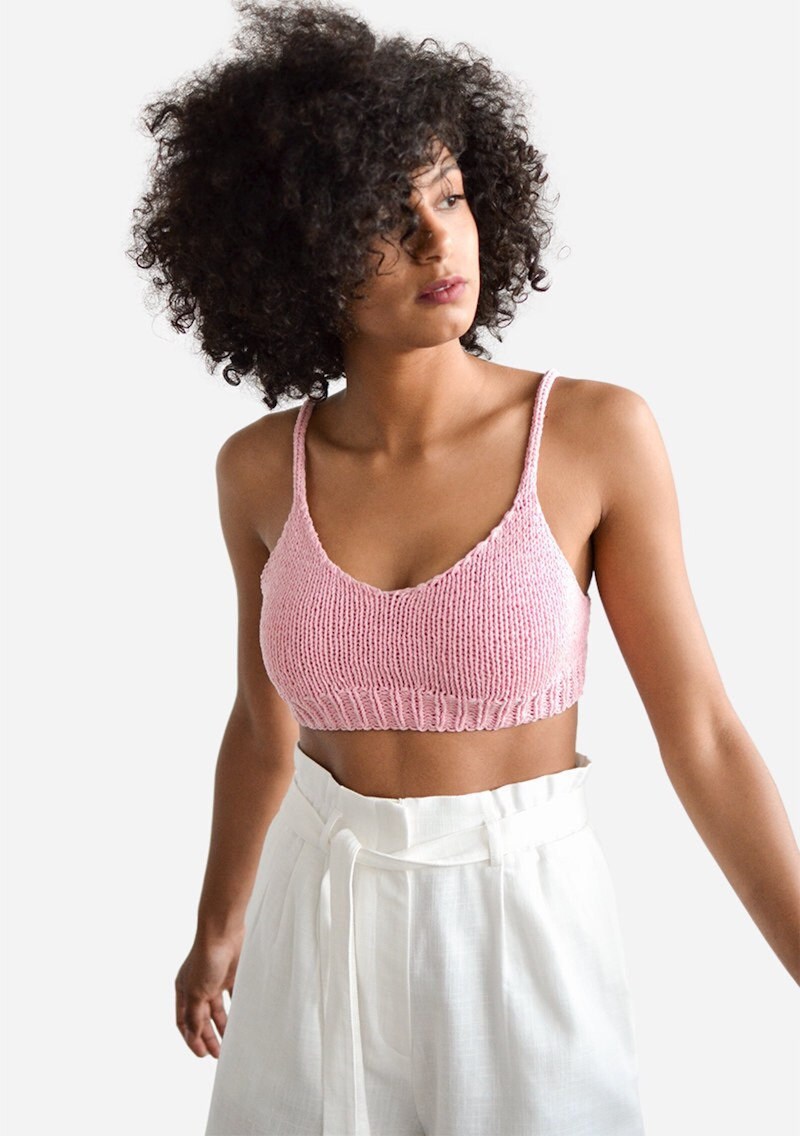 SHOP: Pink hand-knit bralette from Plexida, $57
Give a subtle nod to Valentine's Day with the pretty pink color of this hand-knit bralette, perfect for a day spent lounging at home with her besties.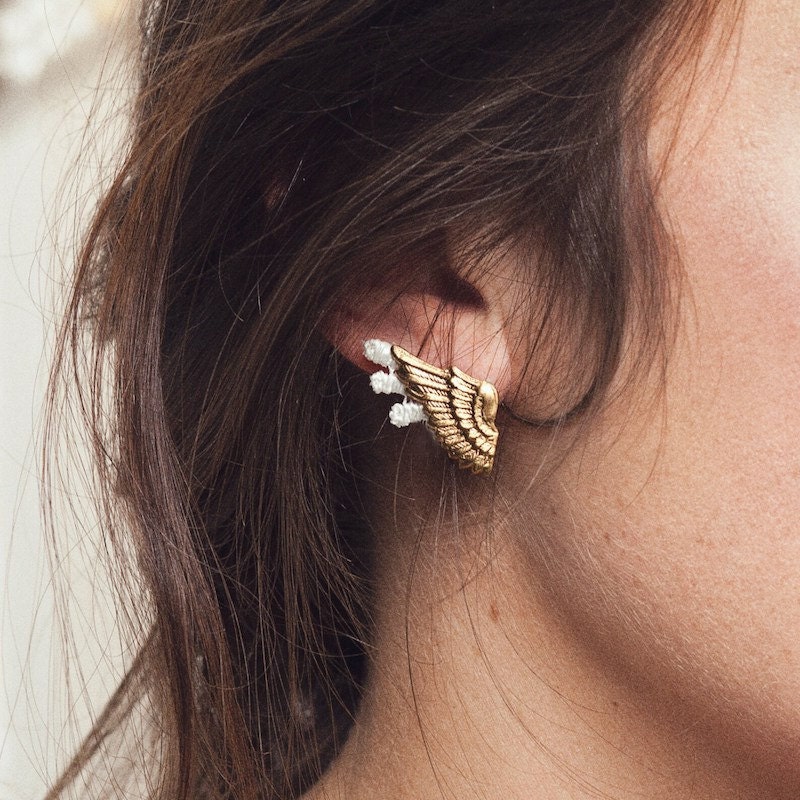 SHOP: Angel wing earrings from This Ilk, $31
For the woman who always lifts you up, a pair of angel wing-inspired earrings accented with lovely lace details is a cute Valentine's Day gift to remind her just how much you appreciate her support.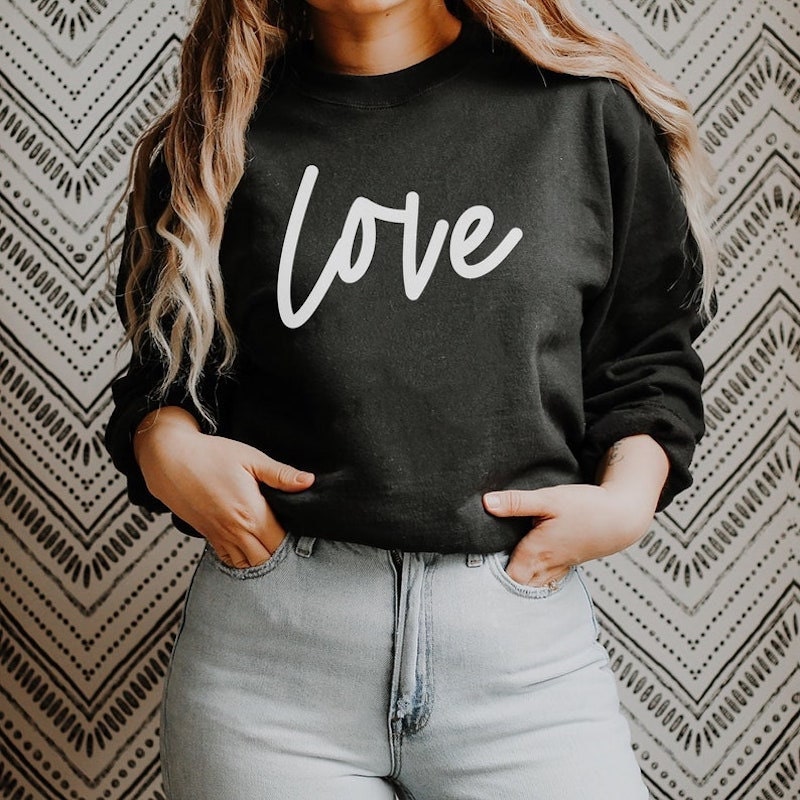 SHOP: Love sweatshirt from Sunny Lane Shop, $32
If athleisure is her one true style love, this comfy but trendy sweatshirt is a cozy addition to her closet for Valentine's Day.
Romantic Valentine's Day Gifts for Her
Your one true love is a constant companion through thick and thin, and Valentine's Day is the perfect opportunity to find a beautiful gift that expresses your unique love story. With handcrafted finds from dainty to dazzling, these Valentine's gifts for her are the thoughtful way to remind her how much you love her.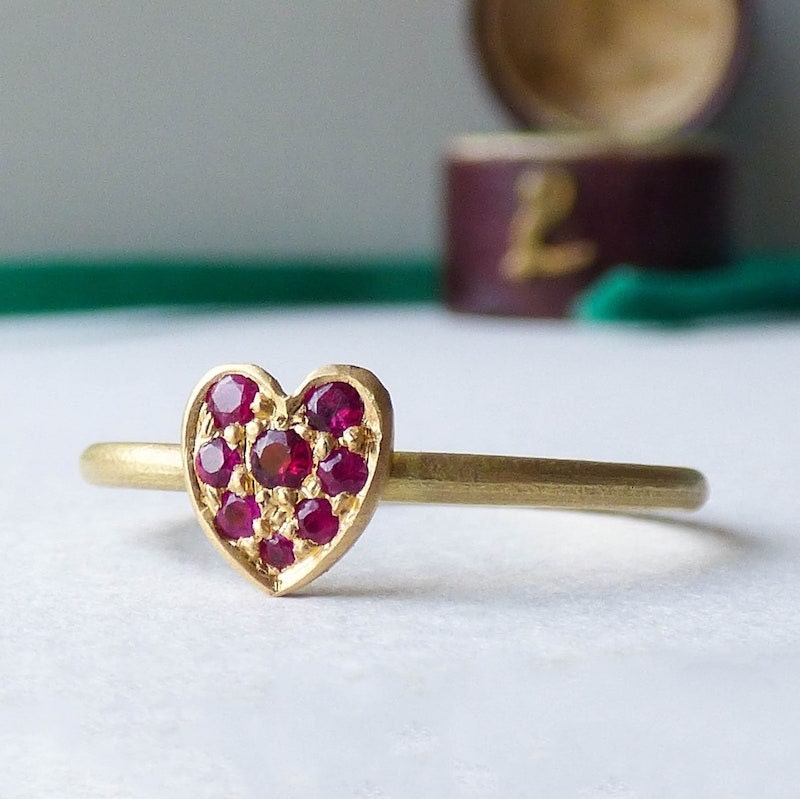 SHOP: Gold heart ring from Shakti Ellenwood, $1,604
Let everyone know that she's the jewel in your crown with this ruby-adorned heart ring perfect for layering and stacking.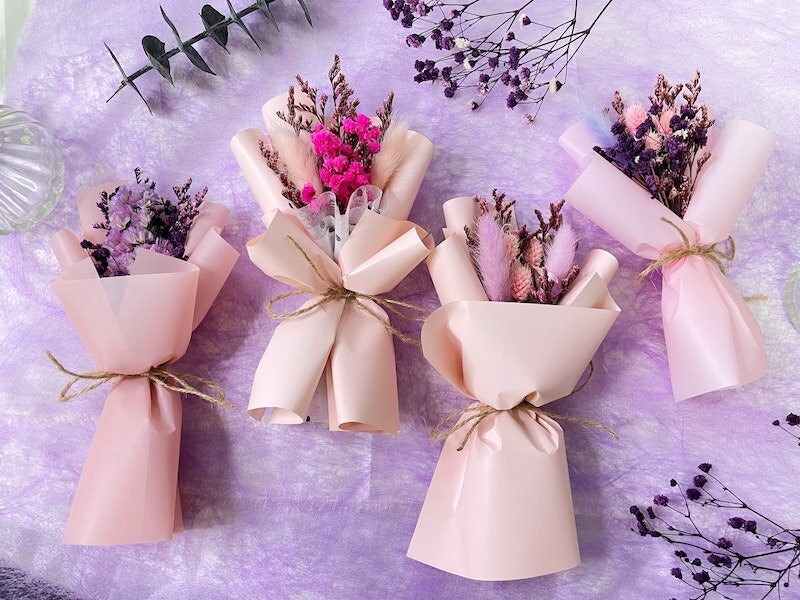 SHOP: Dried flower bouquet from Flowers Delight, from $9
Your love for her is everlasting, just like these mini dried bouquets that far outlive fresh flowers. They arrive wrapped and ready to give, complete with a card for you to sign.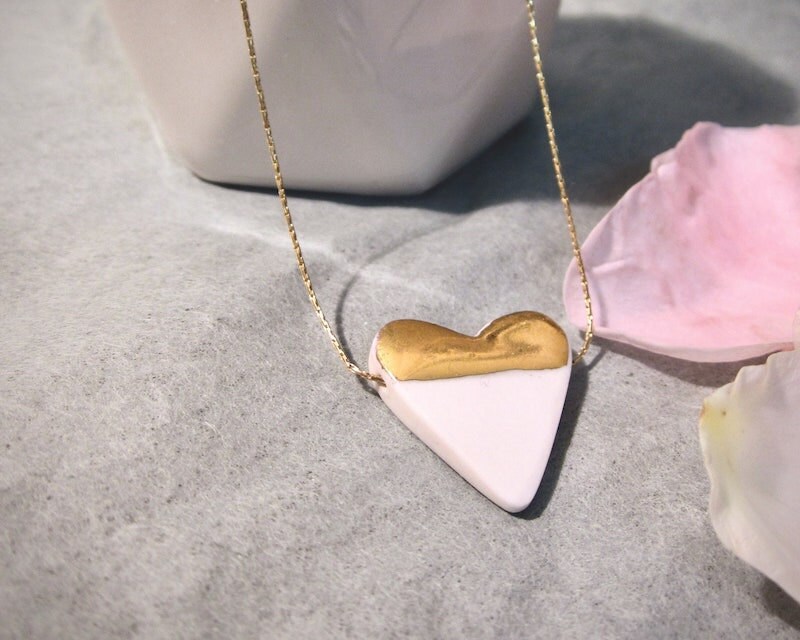 SHOP: Gold and ceramic heart necklace form Sagart Designs, $89
Beautifully handcrafted with a mix of ceramic and gold, this contemporary take on heart jewelry is a romantic Valentine's Day gift for the fashion-forward female in your life.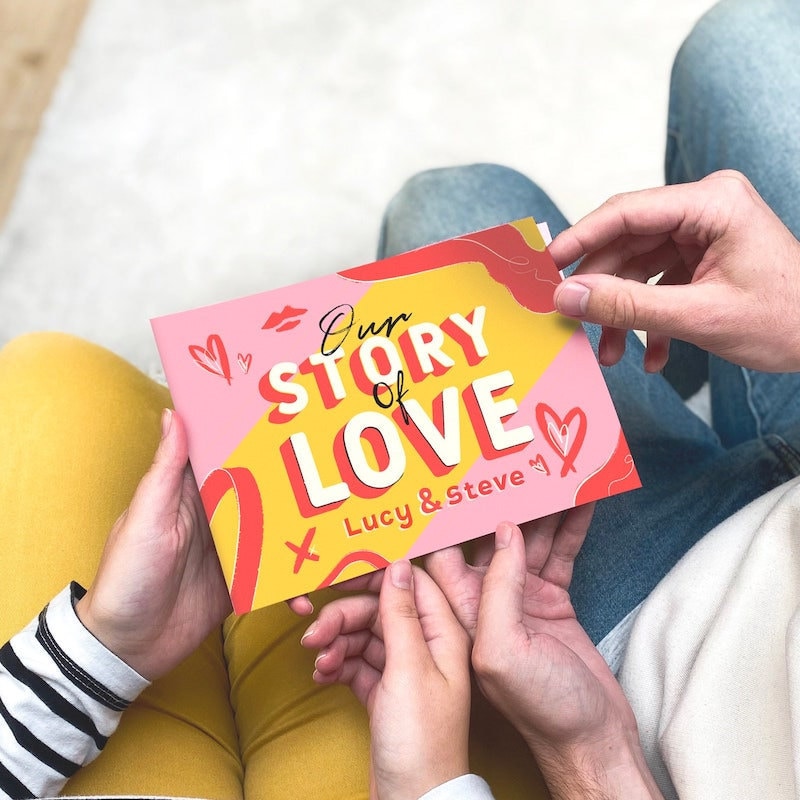 SHOP: Personalized love story book by From Lucy and Co., $14
Take a trip down memory lane and document all the best things you love about her with this personalized love story book all about your life as a couple.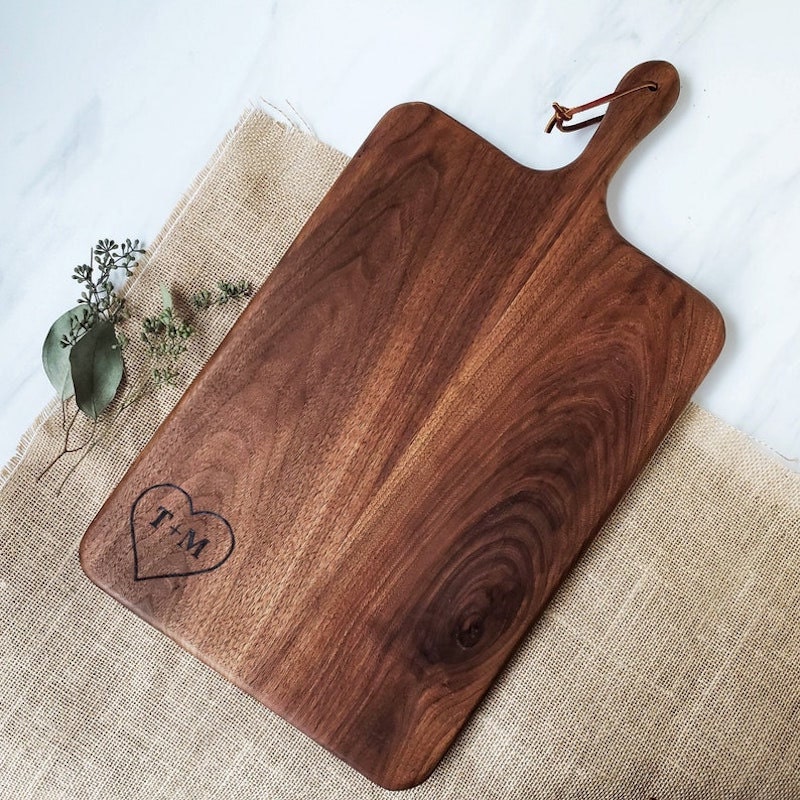 SHOP: Personalized charcuterie board from Farmhill Woodshop, $76
A modern spin on carving your initials into a tree trunk, this beautiful black walnut charcuterie board is an heirloom in the making for the hostess on your list.
Unique Valentine's Day Gifts for Her
Every love story is unique, and no matter if you're celebrating your gal pal or the woman who makes you weak in the knees, these ultra-special Valentine's Day presents are a unique pick for her.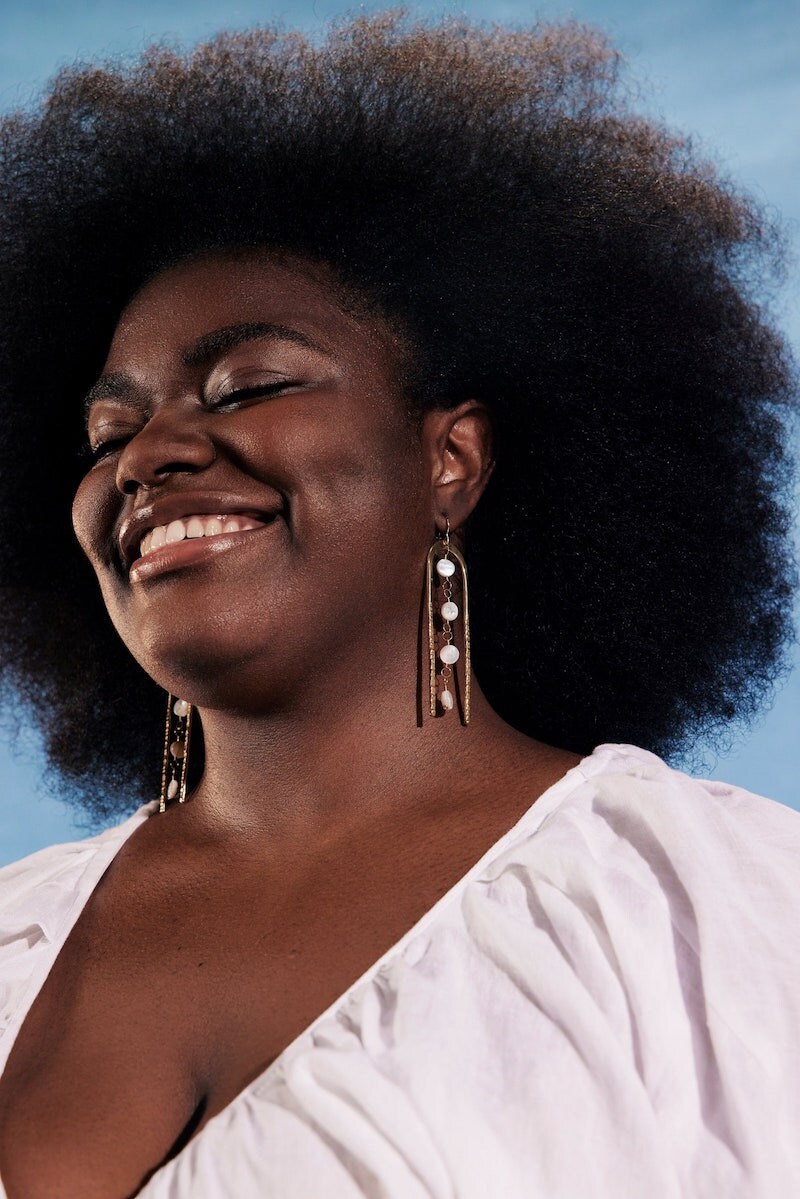 SHOP: Mother of pearl brass dangles from Aleishla Lopez, from $65
Pearls are said to celebrate wisdom and loyalty, just two of the countless things you love about her. Give her a wearable reminder of all she adds to your life with these mother of pearl dangling earrings.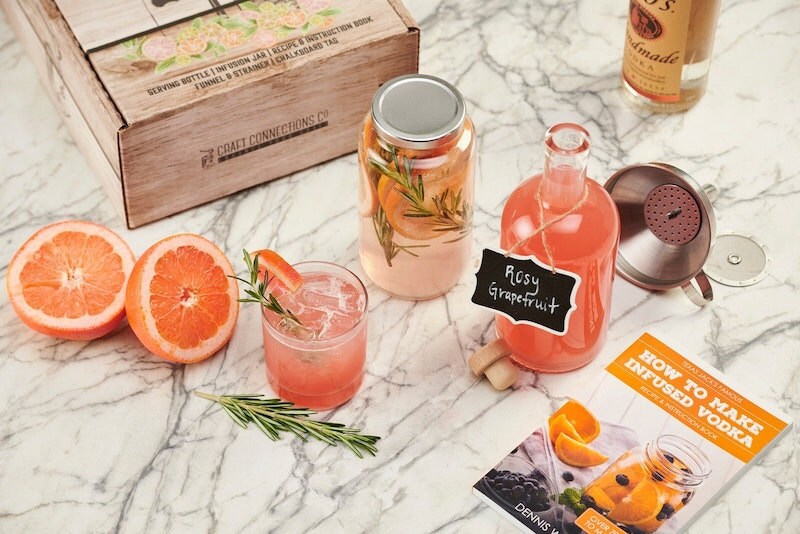 SHOP: Vodka-infusion cocktail kit from Craft Connections, $45
Raise a glass in her honor this Valentine's Day with a DIY cocktail kit you can enjoy together for a sweet happy hour in.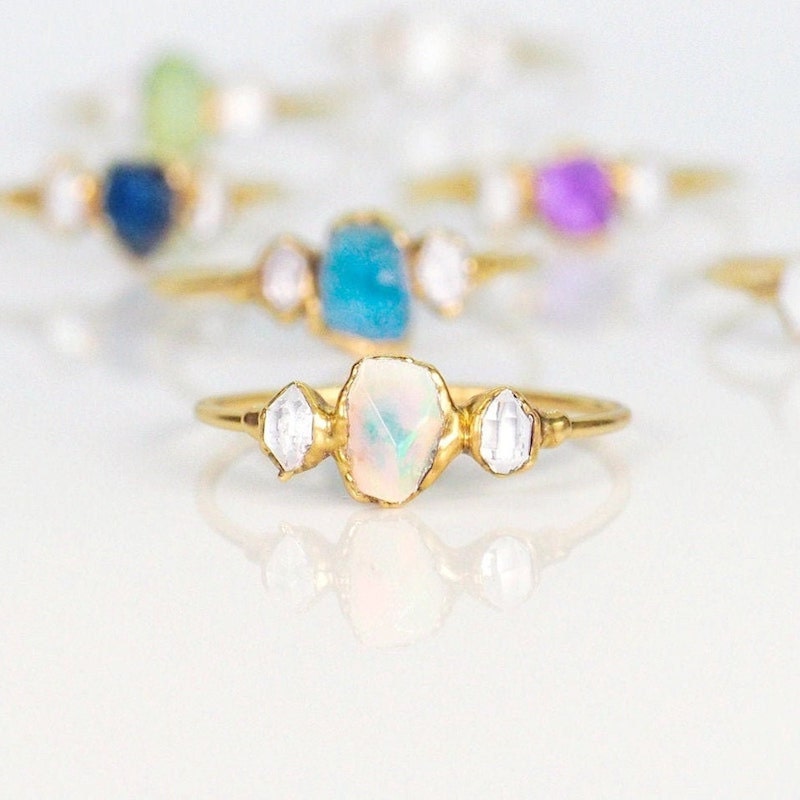 SHOP: Natural opal ring from Moondrop Creations, from $199
A one-of-a-kind reminder that you love her no matter what, the natural stones in this ring are even more beautiful because of their imperfections.
SHOP: Prisma suncatcher from Sol Proano, $80
A mesmerizing reminder that she lights up your life, this crystal and stone stunner is beautiful when hung in front of a window to capture the sun's energizing rays.
Affordable Creative Valentine's Day Gifts for Her
A stunning Valentine's Day gift for her doesn't have to break your budget. These creative Valentine's Day gift ideas for her are unique and thoughtful, just like her.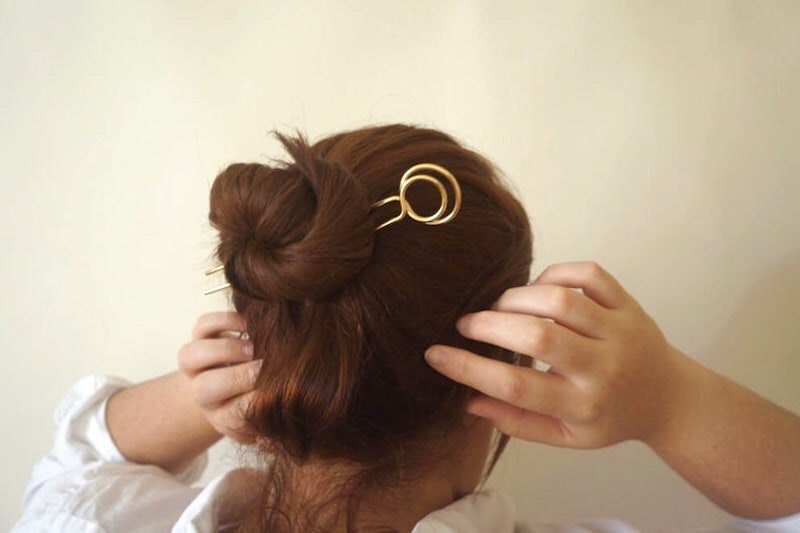 SHOP: Brass hair pin from Aleishla Lopez, from $36
For the woman who's effortlessly beautiful, this minimalist hair pin is a simple way to elevate her everyday hairstyle.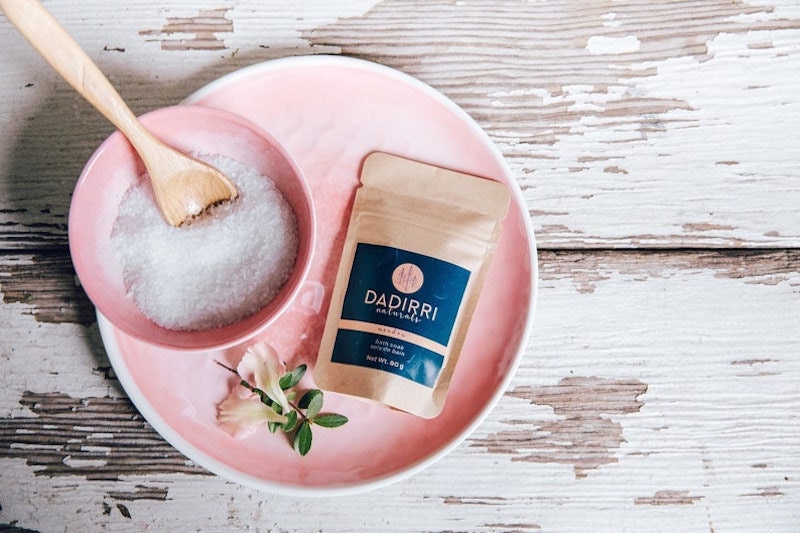 SHOP: Meadow bath soak from Dadirri Naturals, from $17
Created intentionally with the scents of meadow flowers, these floral-infused bath salts are a relaxing way to gift her some much-needed me-time.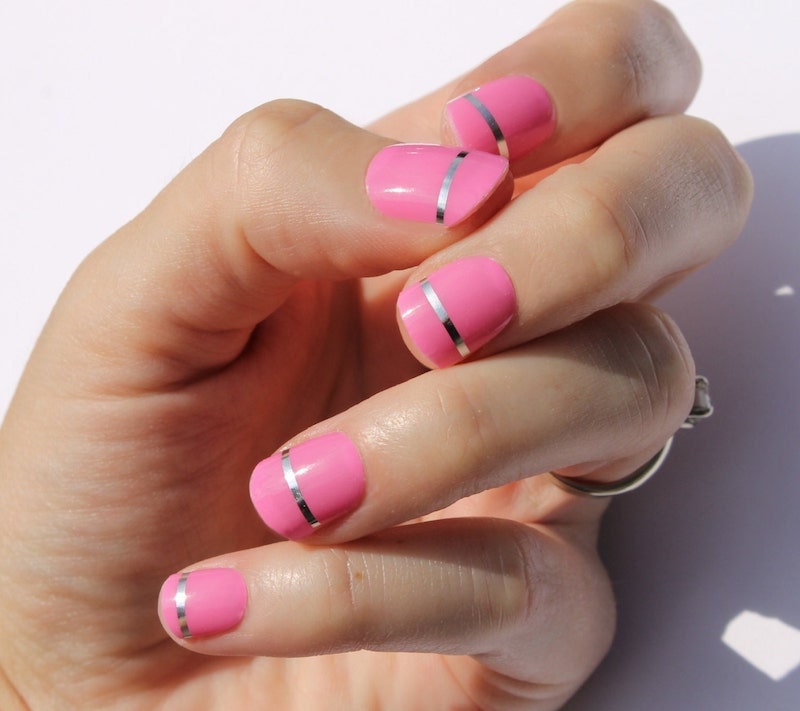 SHOP: Lola nail wraps from So Gloss, $9
A cute and simple Valentine's Day gift for teens, a set of pink and silver nail wraps is a quick way to give her nails a holiday makeover.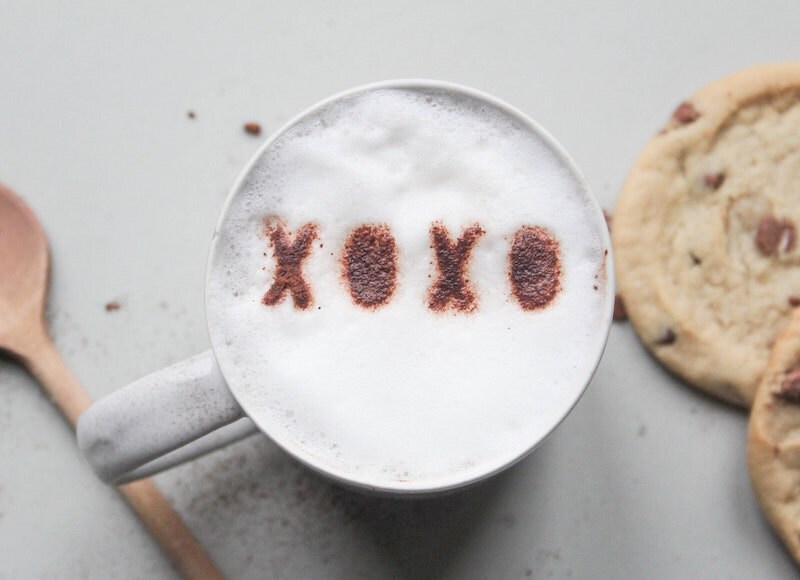 SHOP: XOXO coffee stencil from Fira Studio, $17
If you like her a latte, an XOXO coffee stencil is a fun way to channel your inner barista and serve her up some serious love this Valentine's Day.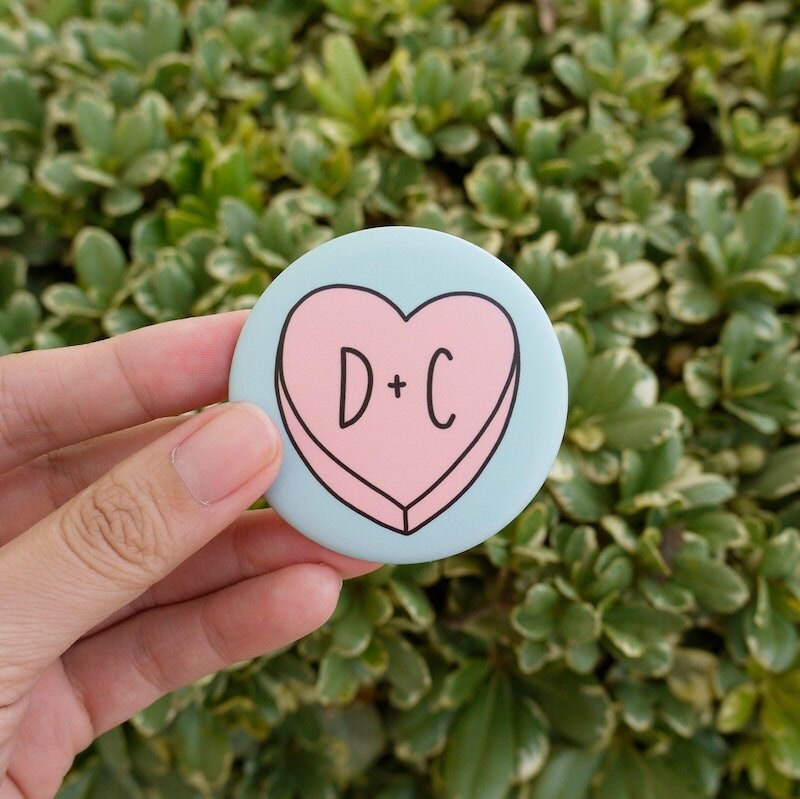 SHOP: Custom couple initial button from Avonnie Studios, $8
Give her a cute reminder that it's you and her in your heart each and every day with this personalized button featuring both of your initials.
Thoughtful Valentine's Day Gifts for Her
Whether it's the gift of self-care or a craft you can do together, these thoughtful Valentine's Day gifts for her are the perfect way to spend an evening in and celebrate your life together.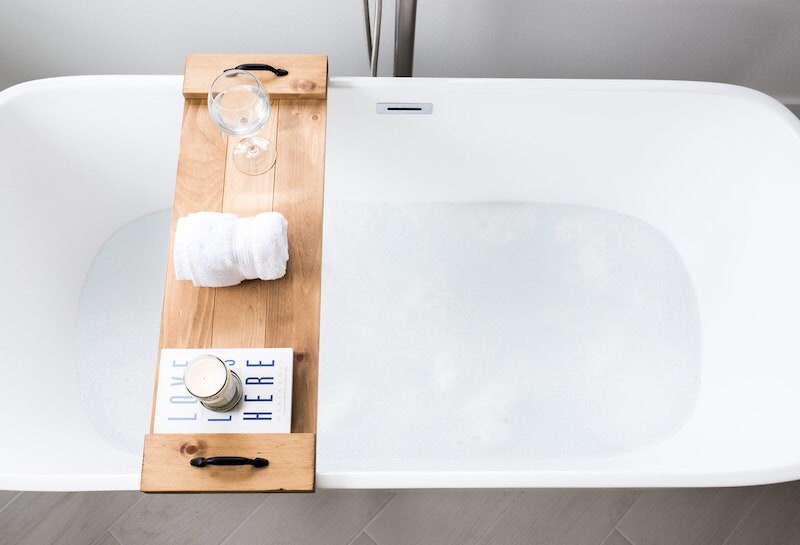 SHOP: Custom bathtub caddy from Timber Grove Studios, from $87
Choose a stain or paint color, a length, and the type of handles you'd like on this bath caddy, and get a one-of-a-kind shelf that keeps candles, books, drinks, and more close at-hand.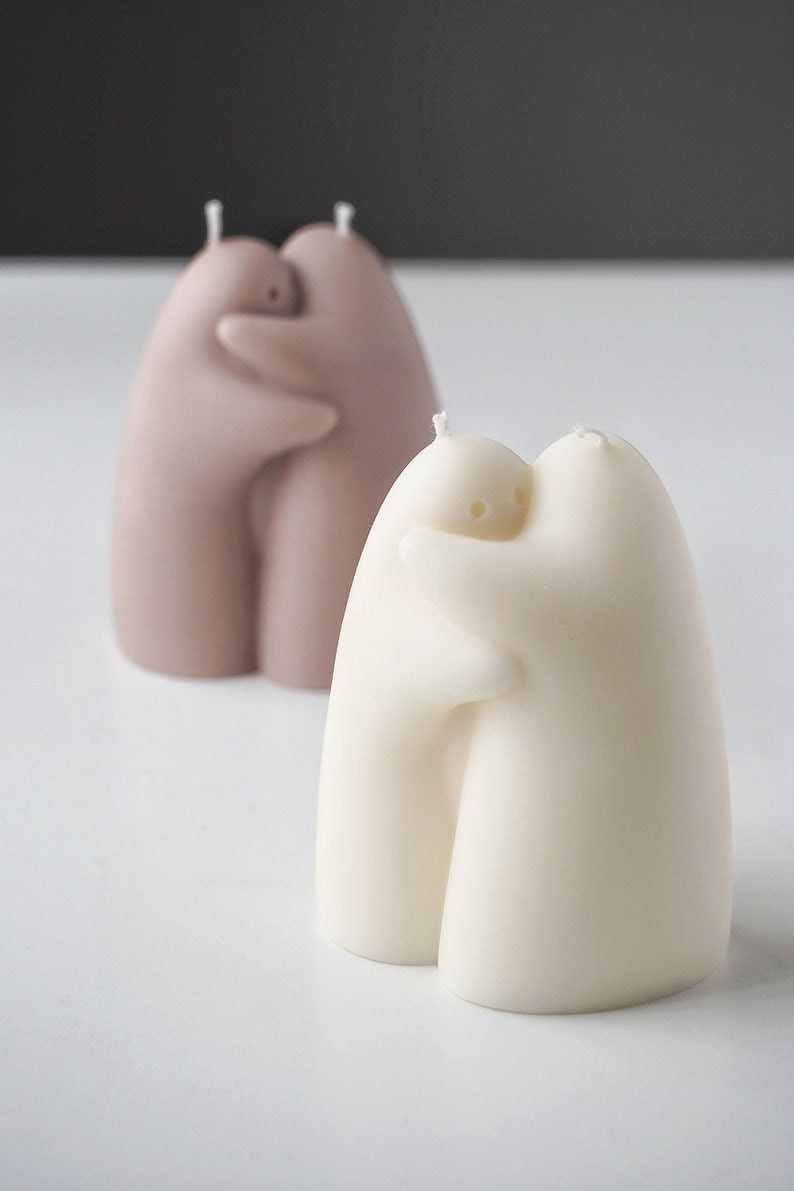 SHOP: Huggy candles from Cai Cai Handmade, from $22
Even if you can't be together this Valentine's Day, send her a hug from afar with these adorable hugging candles. They're a cute reminder that she's always surrounded by your love.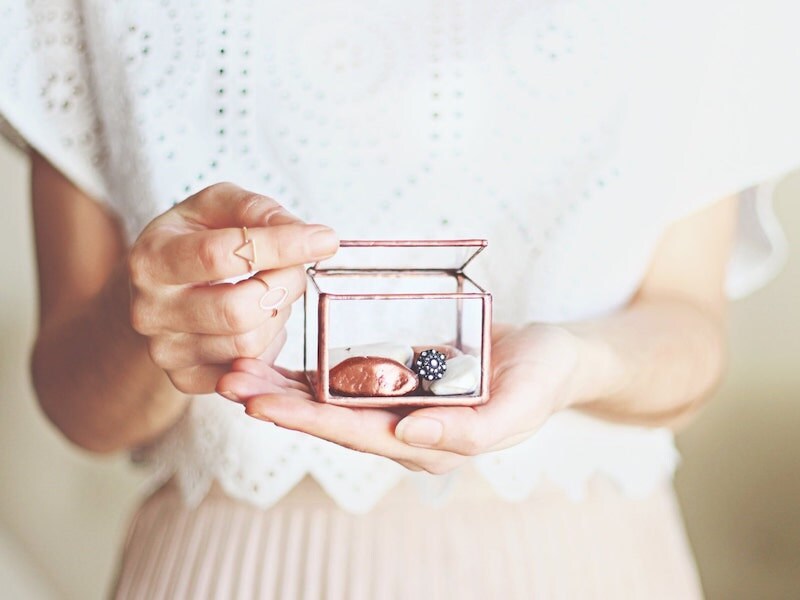 SHOP: Stained glass jewelry box from Waen, from $55
A beautiful way to present her with a new piece of jewelry this Valentine's Day, this stained glass ring box works well for earrings and necklaces alike.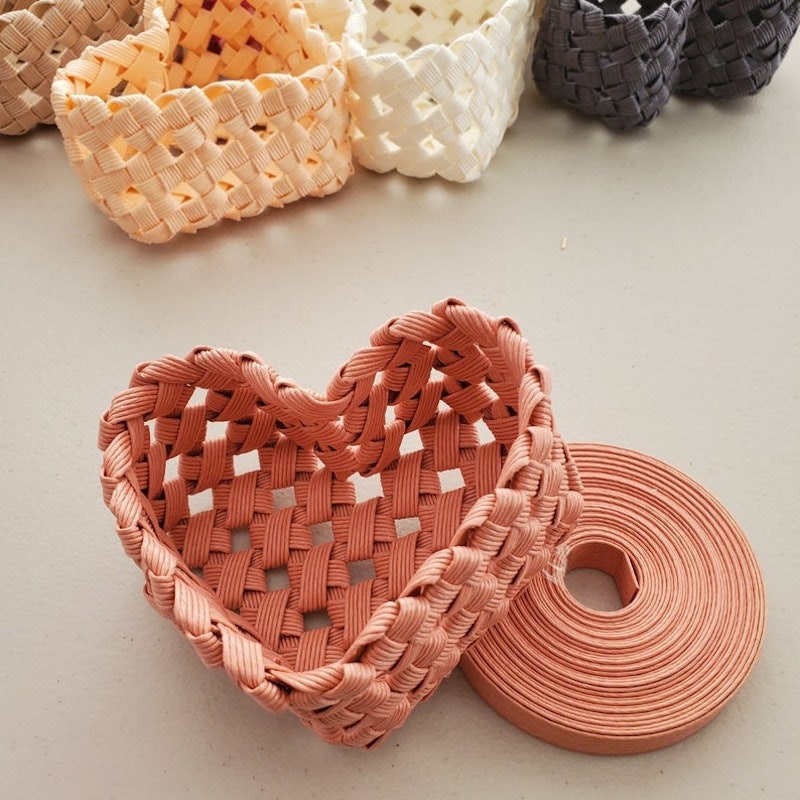 SHOP: Woven heart craft kit from Kago Craft, $19
If a little quality time together is really what warms her heart on Valentine's Day, pick a DIY craft kit you can do together like these easy woven hearts.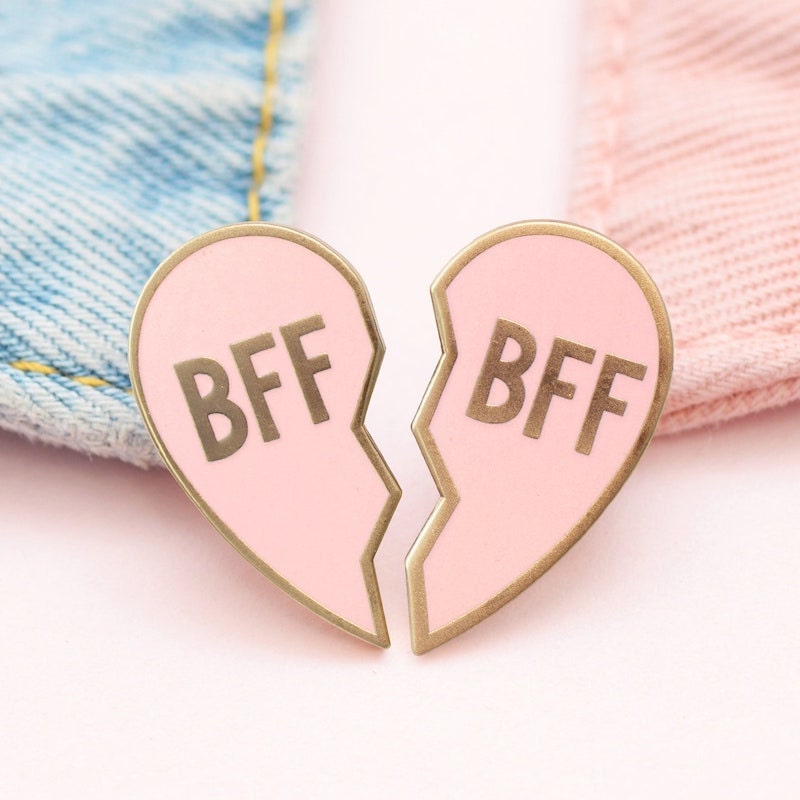 SHOP: BFF enamel pins from Alphabet Bags, $15
A trendy way to remind her that she'll always be your BFF, a set of enamel pins is a thoughtful Valentine's Day gift idea for all your besties.
Personalized Valentine's Day Gifts for Her
Make your gift this Valentine's Day even more special by adding a thoughtful, custom touch to it. Whether it's an initial, a name, a date, or a special message, these gift ideas can be personalized in lots of different ways just for her.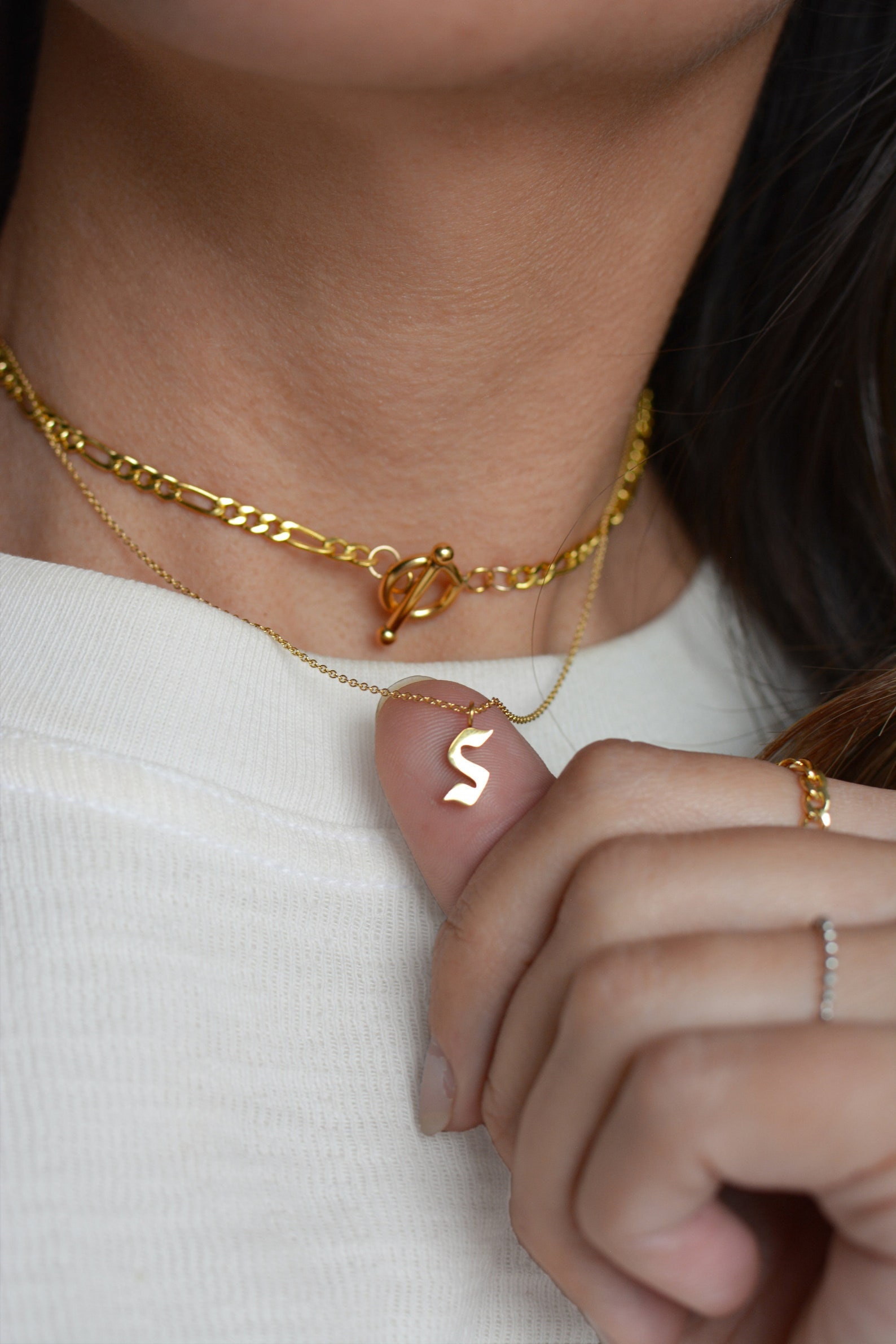 SHOP: Old English initial necklace from Gem Blue, from $55
A modern-but-old twist on traditional name necklaces, an initial necklace can be personalized to represent her initial, yours, or both of you together.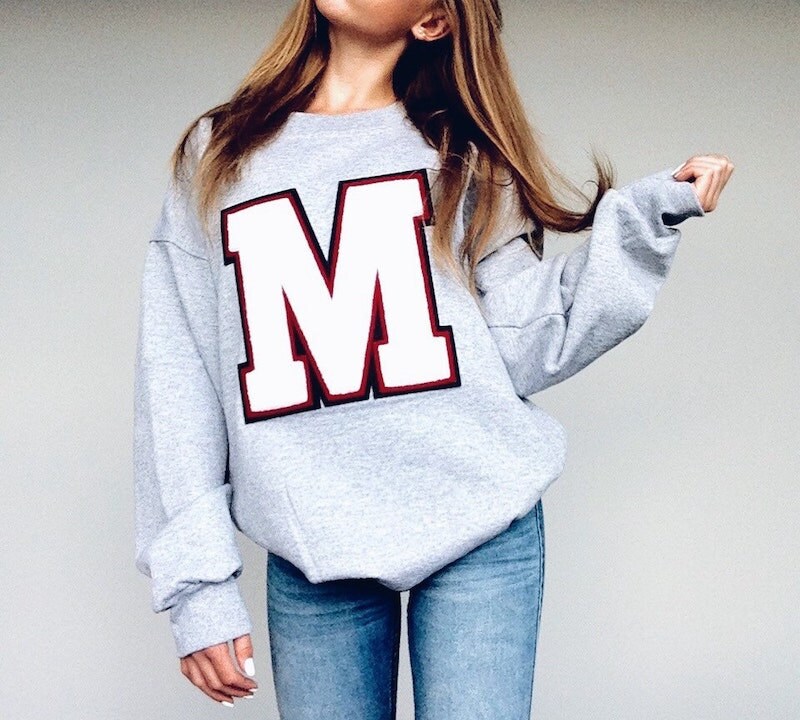 SHOP: Letterman sweatshirt from Cherry T Co., $62
This letterman sweatshirt is giving us major old school vibes, and we're loving it! Adorn this top with her initial, yours, or another significant letter for a varsity-inspired sweatshirt that definitely makes the grade.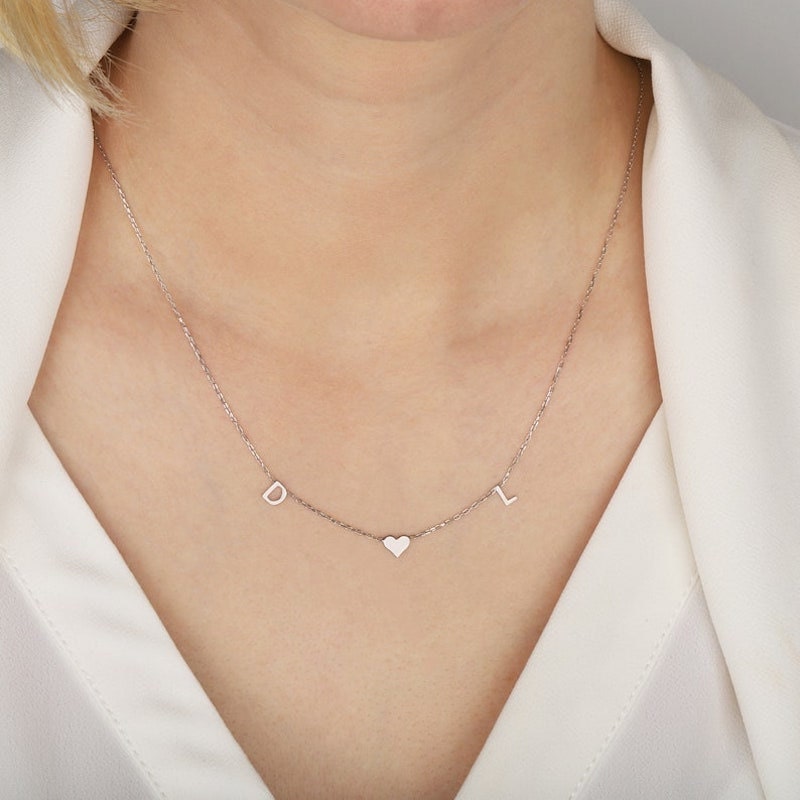 SHOP: Gold letters necklace from CA Silver Design, from $27
Even better than a single initial, celebrate all her loved ones with a multi-letter necklace. Whether it's family, friends, or children, add a charm for each person who holds her dear.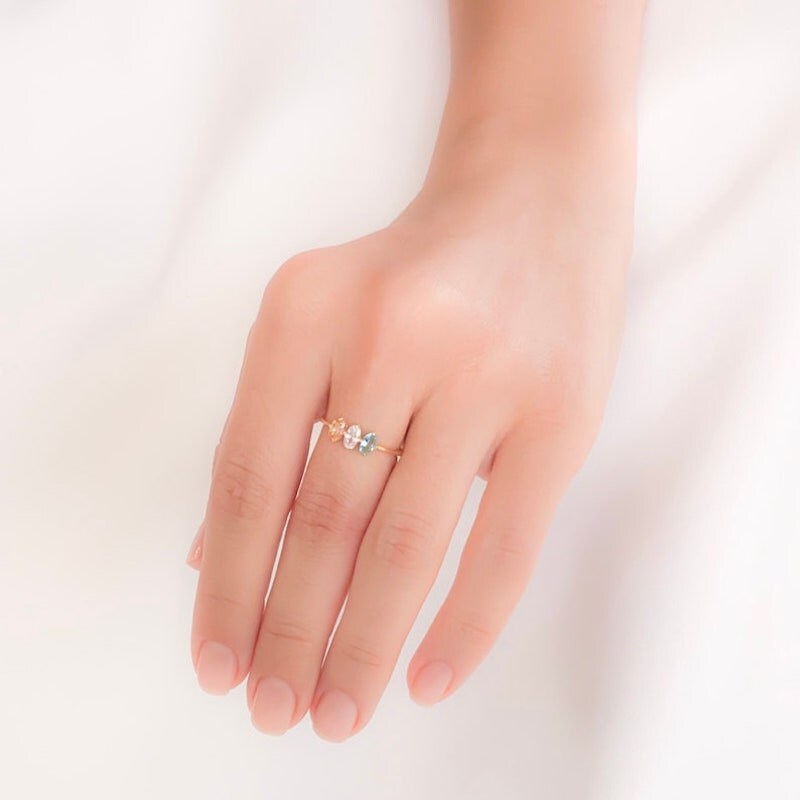 SHOP: Birthstone ring from Miela Jewelry $52
Birthstone jewelry always feels extra-special because it's created just for her, and this multi-gem birthstone ring is no exception. Choose how many stones you'd like and which months you'd like to represent for a one-of-a-kind ring that's sure to make her feel loved.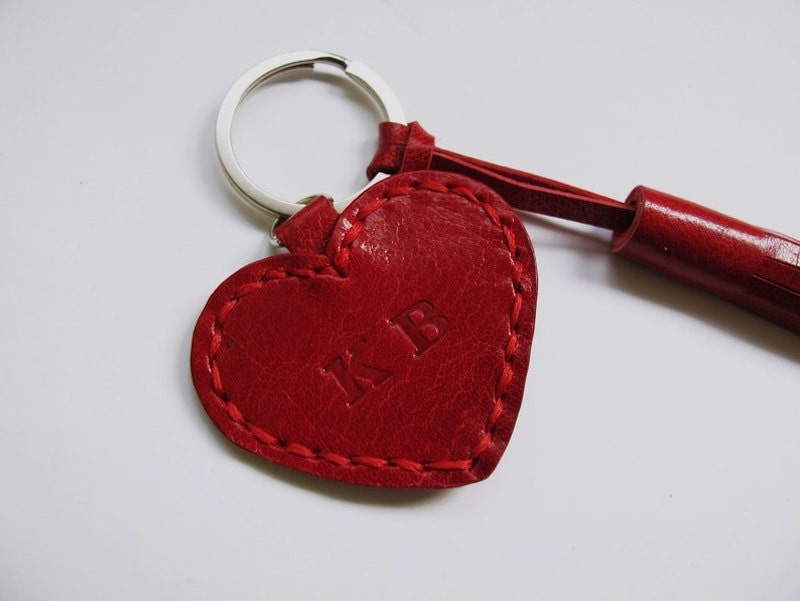 SHOP: Monogrammed leather tassel keychain from Subconscious Crafts, from $22
Match up your initials for a personalized Valentine's Day gift she can use for her keys, as a zipper pull, or can hang from her purse.
Valentine's Day FAQs
1. When is Valentine's Day this year?
February 14 is Valentine's Day and many cultures around the world use this as a time to celebrate their loved ones. From gift-giving to parties to exchanging Valentine's cards, this is a popular holiday for children and adults alike. Valentine's Day is an opportunity to celebrate how special and unique the people in your life are and thank them for all their love and support.
2. What are the best kinds of Valentine's Day gifts?
Shop for creative, one-of-a-kind Valentine's Day gifts that represent how unique and special your loved ones are. The best Valentine's Day gifts are heartfelt, whether they're large or small and are picked out especially for the recipient. When you shop on Etsy for Valentine's Day gifts, you'll find handcrafted presents made by small business owners who love being a small part of your special day.
3. How much should you spend on her for Valentine's Day?
You'll find all kinds of special and romantic Valentine's Day gifts for her that fit your budget on Etsy. From personalized Valentine's Day gifts like jewelry and apparel to small but cute gifts like home accessories she'll enjoy every day, shop for creative gifts on Etsy for any budget.