From sentimental and cute to creative and personalized, these heartfelt gifts will make him swoon this Valentine's Day.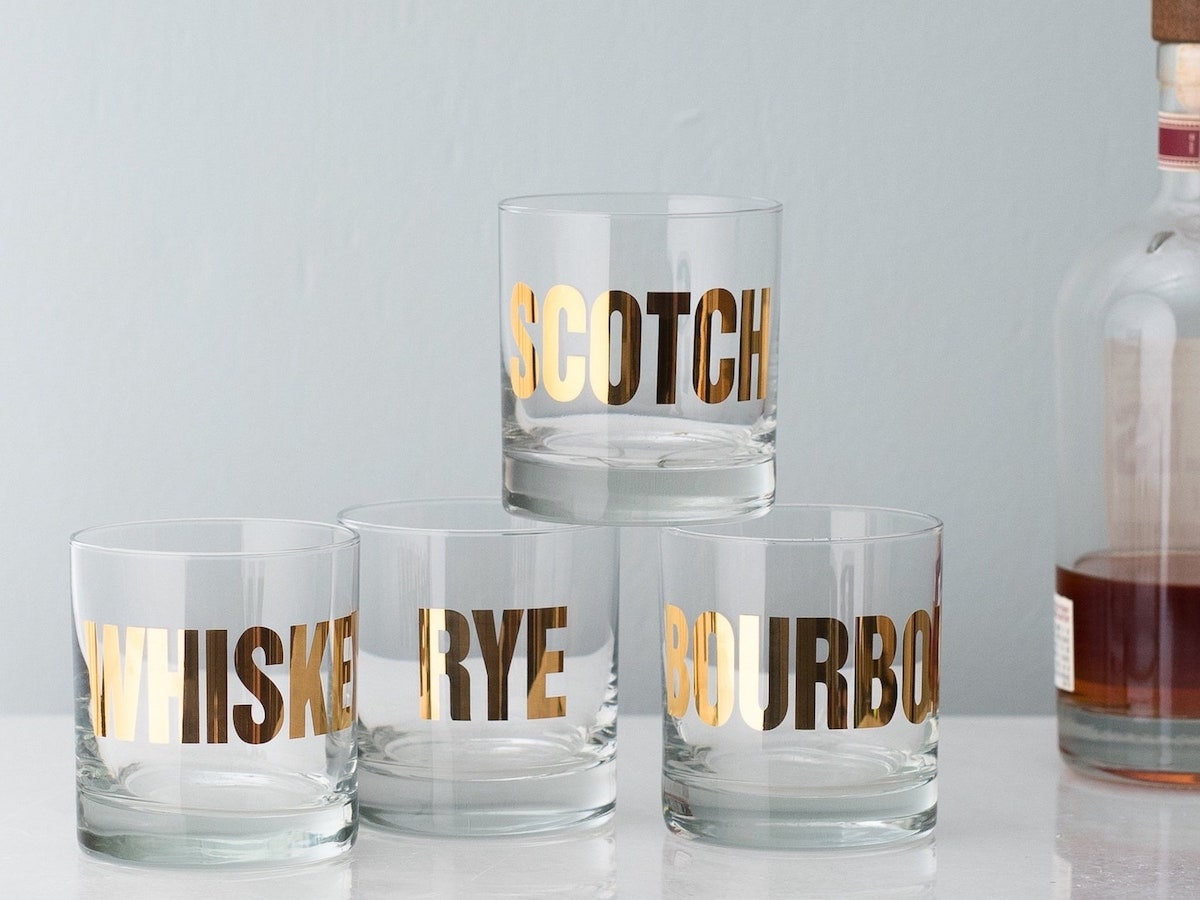 Any old Valentine's Day gift just won't do to show him how much he means to you. Whether this is your first Valentine's Day together or you've been in Cupid's embrace for years, these unique gift ideas are just as special as your love story together.
Unique Valentine's Day Gifts for him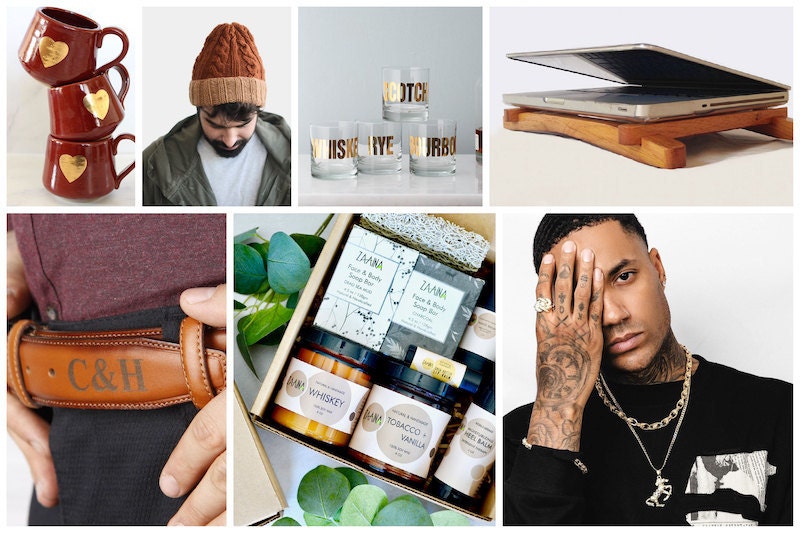 Skip the oh-so-standard Valentine's chocolates and go for a one-of-a-kind gift he'll actually use. These unique Valentine's Day gifts for him are sure to become fast favorites that he treasures for years to come.
These hand-thrown, heart-adorned mugs will warm his heart each day as he enjoys his morning cuppa.
Fashionable and functional, this cable-knit men's beanie is handsomely handmade just for your partner. Choose from over 20 colors each for the hat and brim for hundreds of possible custom combinations.
Pick a pair that celebrates his favorite spirit, or assemble a mix-and-match set that suits his tastes to a tee.
Uncomplicated, strong, and supportive–just like his love for you–there's more to this laptop stand than meets the eye. Made from a recycled oak wine barrel, this Valentine's Day gift is made to order to fit his computer.
If your fella has a fashionable streak, this distressed top with a newspaper-inspired print is the perfect present.
Encourage him to take a much-deserved break and indulge in a little me-time with a curated collection of bath products designed to provide pampering and relaxation.
Leave him a sweet little note saying just how much he means to you on the inside of this handmade leather belt, ready for everyday and dressy wear.
Cute and Funny Valentine's Day gifts for him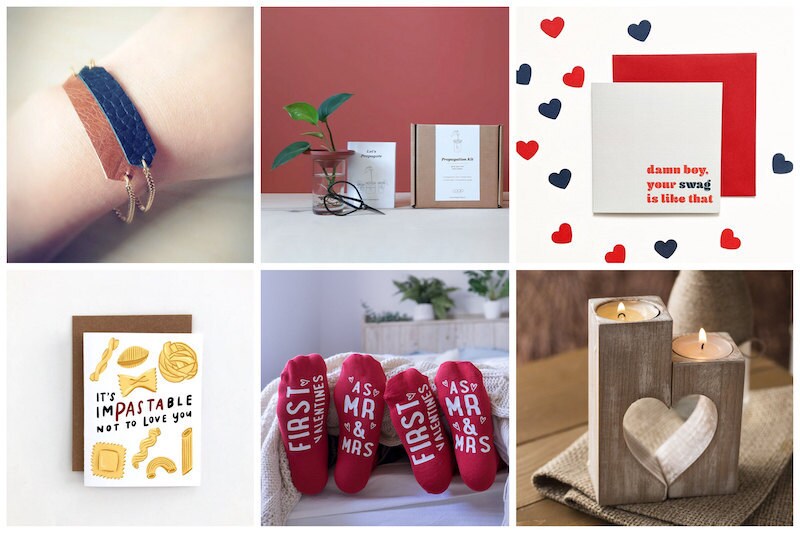 For the fella who always brings a smile to your face, a cute and funny Valentine's Day gift is a creative way to return the favor. (Who knows—you might even make him blush while you're at it.)
Declare your couple status, but keep it subtle, with this matching set of leather bracelets. Great for layering, whether you pick matching colors or two different complementary colors.
This tongue-in-cheek kit is a cute way to tell him just how much you like propagating with him.
When any old Valentine's Day card just won't do, this straightforward reminder that his swagger still makes you weak in the knees is a fun alternative.
Give him a little something special for his home that represents how he still lights your heart afire.
Celebrate his first Valentine's Day as an official mister with this cute pair of couple's socks, perfect for staying in and enjoying each other.
Remind him just how im-pasta-ble it is to live without him with this funny Valentine's Day card that pairs perfectly with an Italian-inspired dinner in.
Creative Valentine's Day gifts for him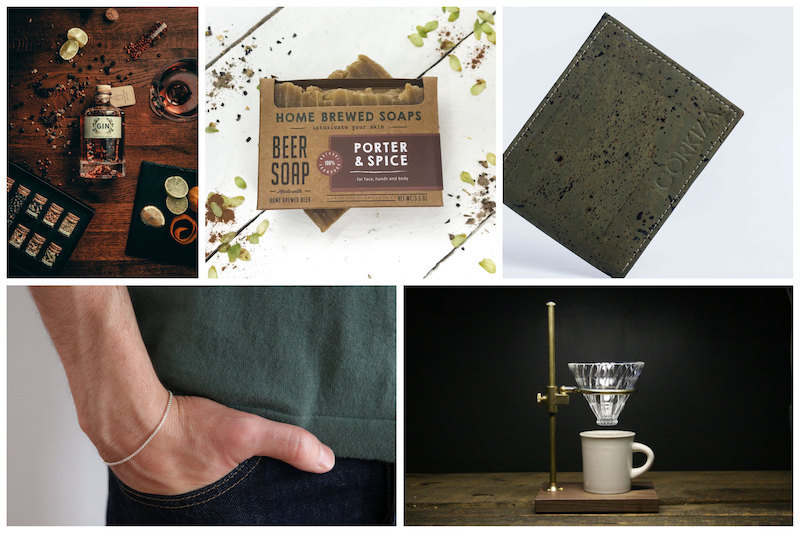 Whether it's a handcrafted find or a DIY project to do together, these creative Valentine's Day gifts for him will get you inspired to spend more time together.
Help him get in the Valentine's Day "spirit" with this gin making kit complete with everything he needs to create his own custom infusion.
For the craft brew-lover in your life, this porter-inspired bar of soap lets him enjoy some spicy suds at the end of the day.
A wallet may seem like a common gift for him, but this cork wallet is anything but ordinary. Both comfortable to hold and sturdy for everyday use, this creative spin on common wallets features RFID protection for any cards he's carrying in his billfold.
For the man who fancies himself a coffee connoisseur, this elegant pour-over coffee stand is a Valentine's gift he'll use day after day.
Pick a material and a length and give him a custom chain bracelet that's a stylish everyday accessory. Grab one for yourself, too, and sport a matching pair of these chain-link bracelets, representing your unbreakable bonds.
There's an old adage that says "The couple that DIYs together, stays together" … or something like that! This hands-on gift is a fun way to spend a Valentine's night in.
Romantic Valentine's Day gifts for him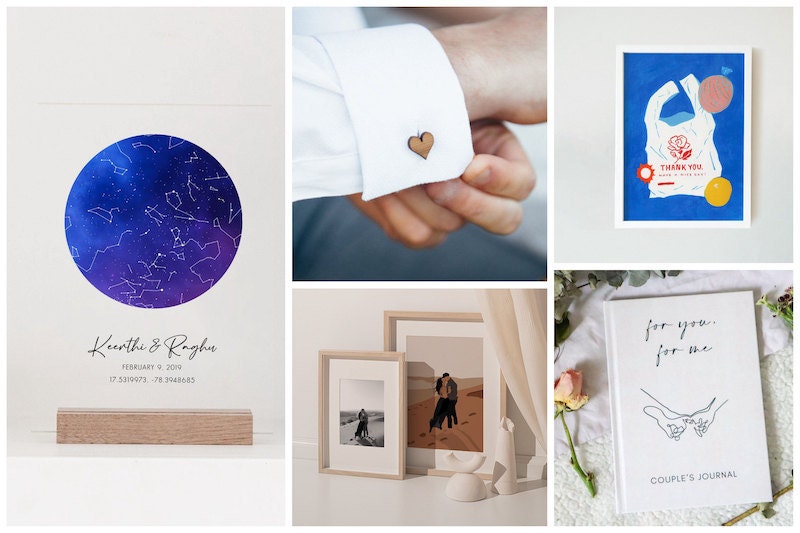 If he's your one-and-only, give him a one-of-a-kind gift to symbolize just how much he means to you. These romantic Valentine's Day gift ideas for him are an extra-special way to express your love.
Whether it's your first date or the moment you fell madly in love with him, this custom star map represents the night sky on that special day.
A small token of love for your forever first date, these cufflinks are a heartfelt symbol that he holds your heart in his hands, dressed up or not.
Give him a subtle nod of appreciation for choosing to spend his life with you with this colorful wall art print that arrives ready to be framed, hung, and enjoyed.
With space for you both to share memories and write notes back and forth, this couple's journal is a gift that will bring you closer together over time.
The life you've created together is a work of art, so why not memorialize your couple status in a custom illustration? Gallery wall-ready, this custom couple portrait can be based on your favorite photo together.
Personalized Valentine's Day gifts for him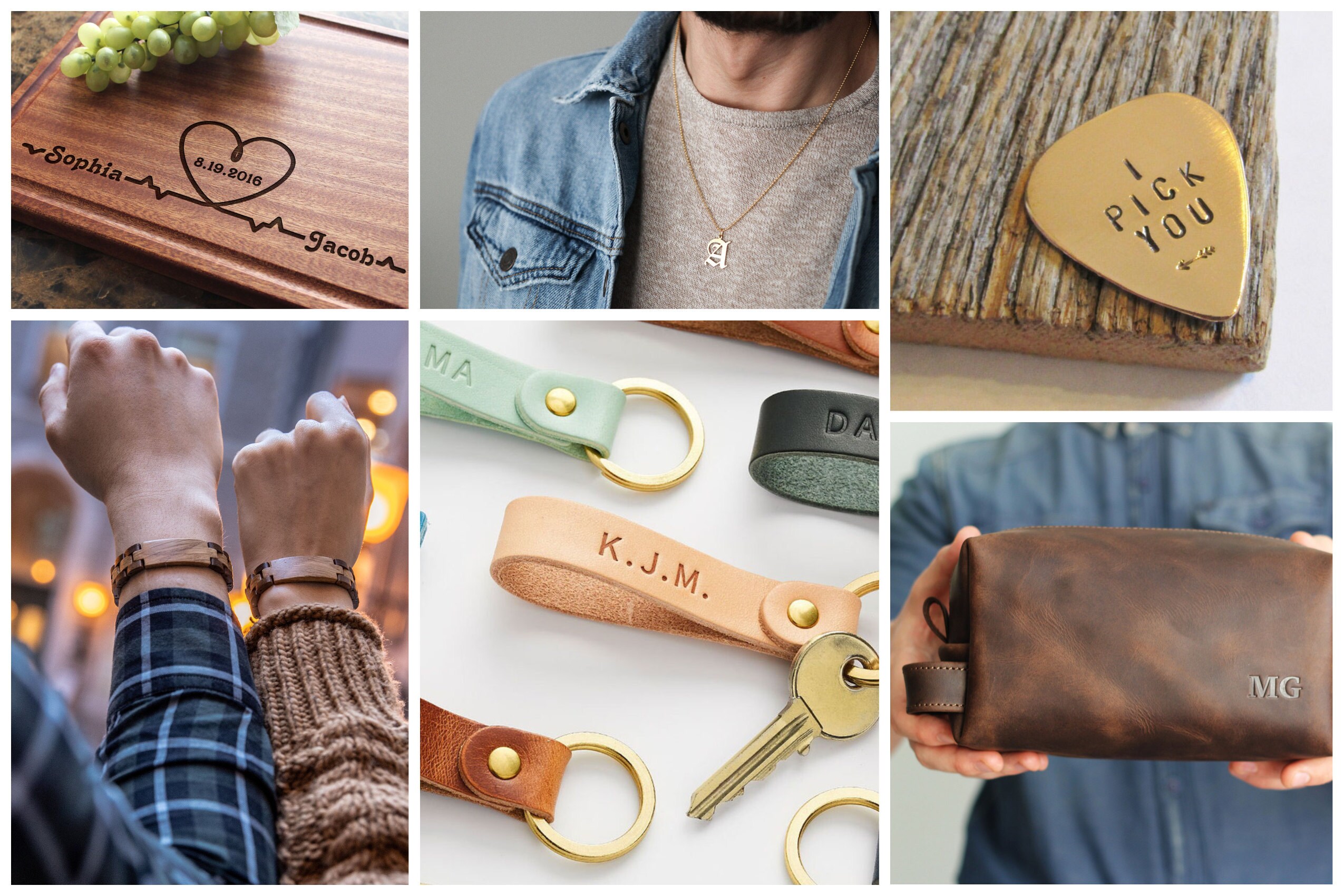 Make this Valentine's Day even more special by making it all about him with a personalized Valentine's Day gift. These picks literally have his name written all over them!
Remind him that your heart beats just for him with a personalized wood cutting board featuring your names and a heart outline.
Designed especially for the dapper dude, this Old English-inspired initial charm can be personalized to represent his name, yours, or add a second charm and celebrate your couple status.
Remind him that you'd pick him, again and again, with a personalized metal guitar pick displaying your own special message. You can select one of the pre-written messages from the shop, or add your own customization for a truly one-of-a-kind Valentine's Day gift for him.
Perfect for the guy on the go, this monogrammed travel bag is ideal for toting toiletry essentials or extra cords and chargers as he works remotely.
Great for keeping track of keys or as a zipper pull, a personalized leather keyfob made just for him is a thoughtful—and functional!—last-minute Valentine's Day gift.
Wood is the traditional anniversary gift for a 5-year relationship, making this engraved wood bracelet the perfect pick if you've been making memories for about a half a decade together. Make this gift extra special for him by personalizing it with something unexpected like Roman numerals depicting your anniversary date, a message, morse code or another unique personalization.
Last-minute Valentine's Day gifts for him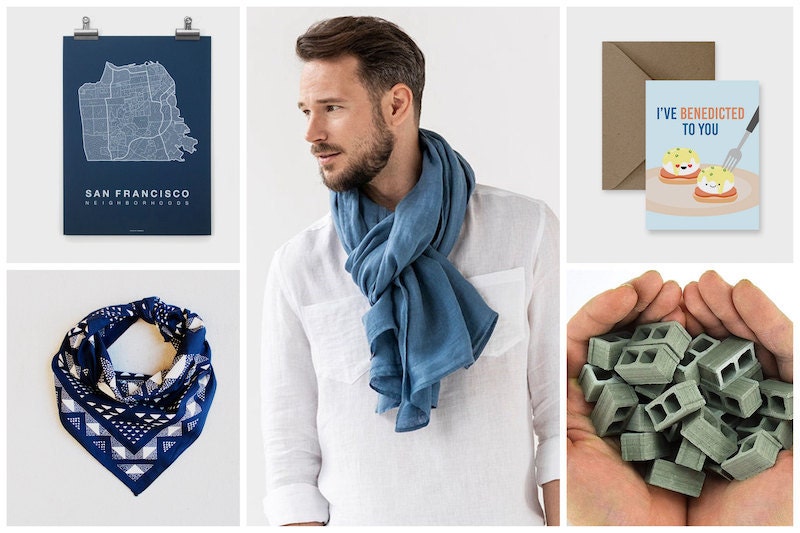 Looking for a thoughtful last-minute gift to celebrate your connection with him this Valentine's Day? These Etsy shops are just the ticket! With thoughtful, handcrafted gifts that ship in a few days or less, he'll never know you were in a hurry.
A custom print of a significant city, be it where you met or where memories were made, is a beautiful way to signify that wherever he is feels like home.
A touch of lightweight luxury, this linen scarf is stylish in any season, making it the perfect Valentine's Day gift that he can wear all year-long.
If he's eggs-actly who you dream of spending your days with, this funny Valentine's Day card is a hilarious way to let him know.
A quirky addition to his favorite end table, these tiny cinder blocks can be used as a stacking game or for building mini masterpieces. Their solid feel shows him he's your rock through thick and thin.
Designed to become softer with each wash, this versatile blue and white geometric printed bandana gets better with time, just like your relationship.