Whether you're looking to showcase your fresh bouquets, need some fashionable but functional storage, or want something to display on its own, these vases are real show-stoppers.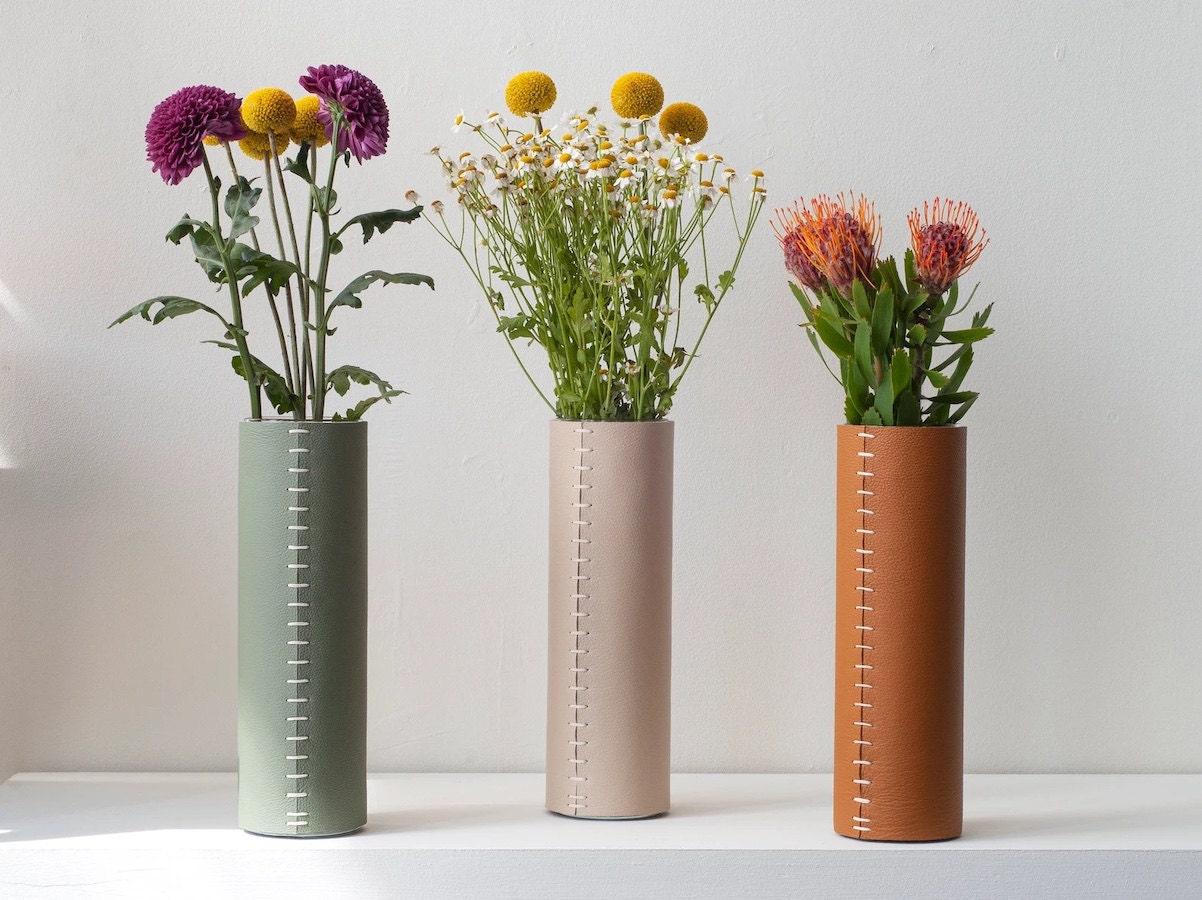 There's nothing quite like a cheerful display of flowers to add some joy and color to your home, and the best vases spotlight the beauty of whatever blooms you've brought inside. Even better, decorative vases can be 3D works of art that light up a room year-round from a dried flower display to a stylish way to store your kitchen utensils to a creative add levels to your shelves. Whatever the occasion, these eye-catching vases will pop in any and every context.
Decorative vases
Perfect for dried flora and always-on decor, decorative vases can add a sculptural element to any room. Style them with dried grasses to bring the beachfront to your front door.
1. The best minimalist vase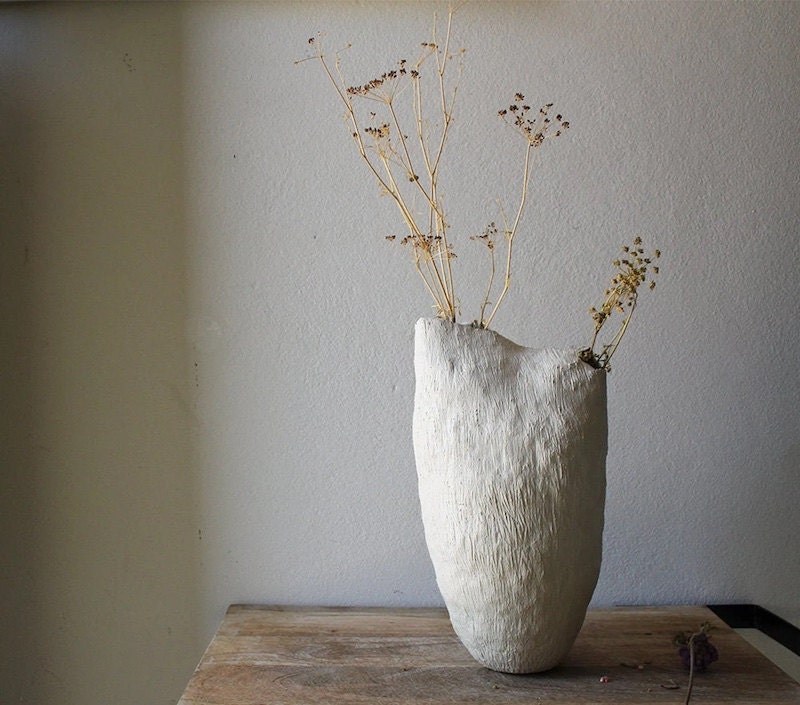 SHOP: Sculptural paper clay vase from PAMELATANG, $252
An understated vessel crafted from textured paper clay, this white vase features two openings and is best used with dried or faux flowers. Because each is made by hand, each vase is slightly different, making it truly one of a kind.
2. The best decorative vase for ikebana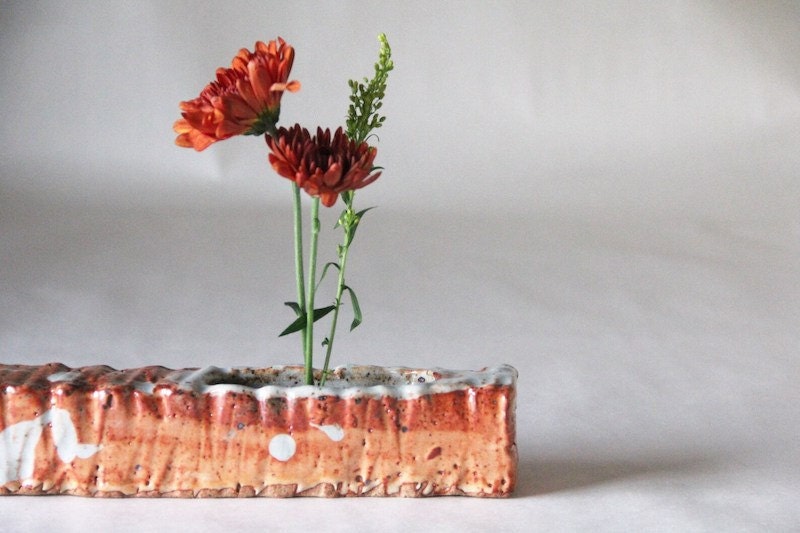 SHOP: Ikebana vase from Ahi Ozawa Pottery, $60
The Japanese flower arranging art of ikebana is pared down, delicately constructed, and this earthy vase is ready for your creative touch. Add a flower frog to keep each stem in place and admire this small, unique vase from all angles.
3. The best double spout vase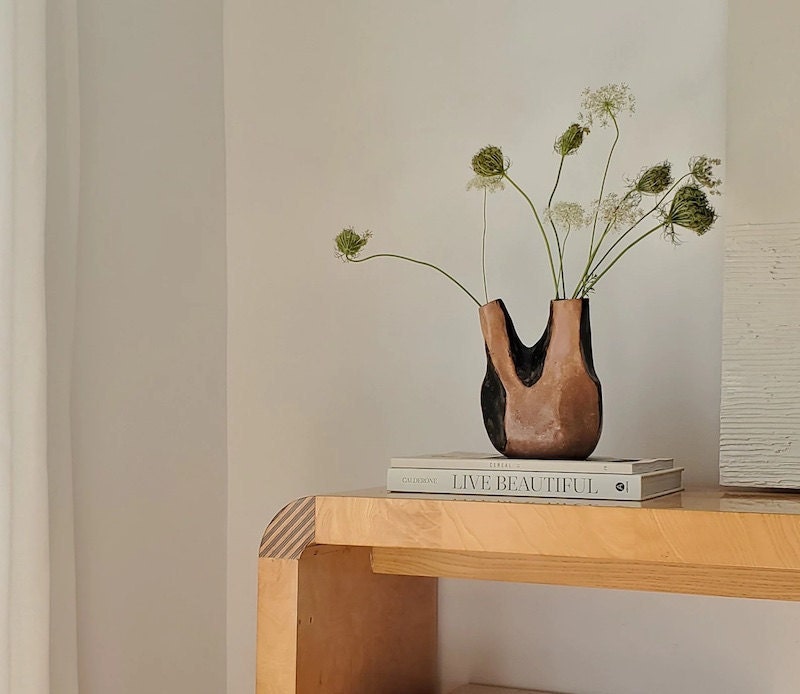 SHOP: Mid-century modern vintage vase from Interior Shade Shop, $117
Vintage items come with character and a story, and this mid-century modern vase not only has a rust-colored hue and two distinct spouts, it comes with a makers mark at the bottom, signed and dated by the artist.
Ceramic vases
When you drop a few pencils (or some bold blooms) in a handmade ceramic vase, immediately the tabletop becomes a scene curated by you. From a bud vase that creates a tablescape for an intimate dinner for two to a friendly fox peeking up on a shelf making a magical nursery of woodland creatures, these ceramic vases add texture and personality to any space.
4. A cute ceramic vase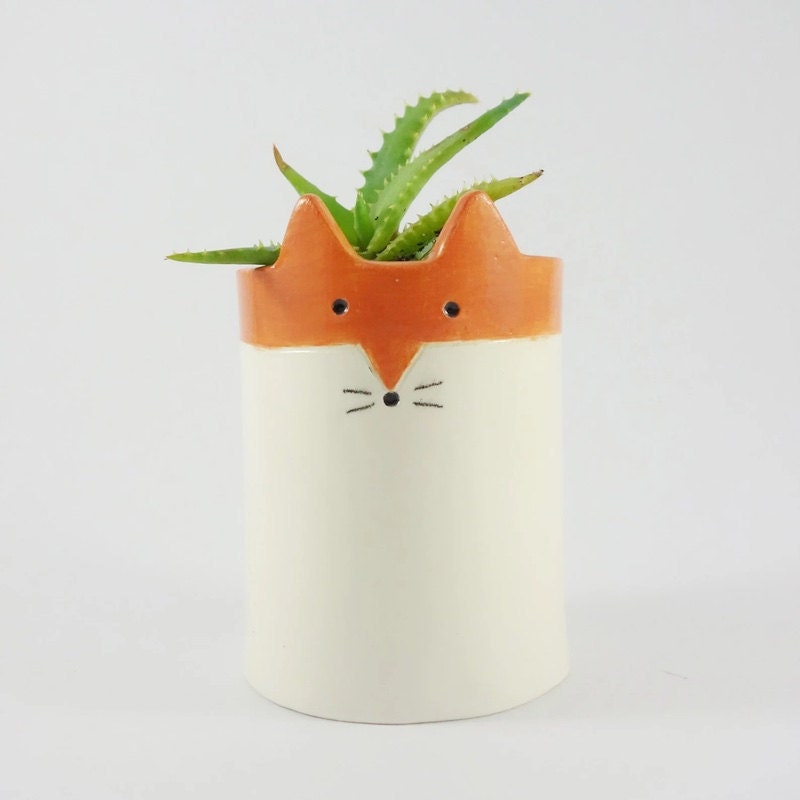 SHOP: Ceramic fox vase from Minky Moo Ceramics, $55
Looking for an adorable pot to put your pencils in or dressing up your kiddo's bedroom shelves? This sweetly designed fox-shaped vase can hold your little one's art supplies or your favorite succulent—either way, this ceramic vase is sure to make the plant lovers in your life smile bright!
5. A round ceramic vase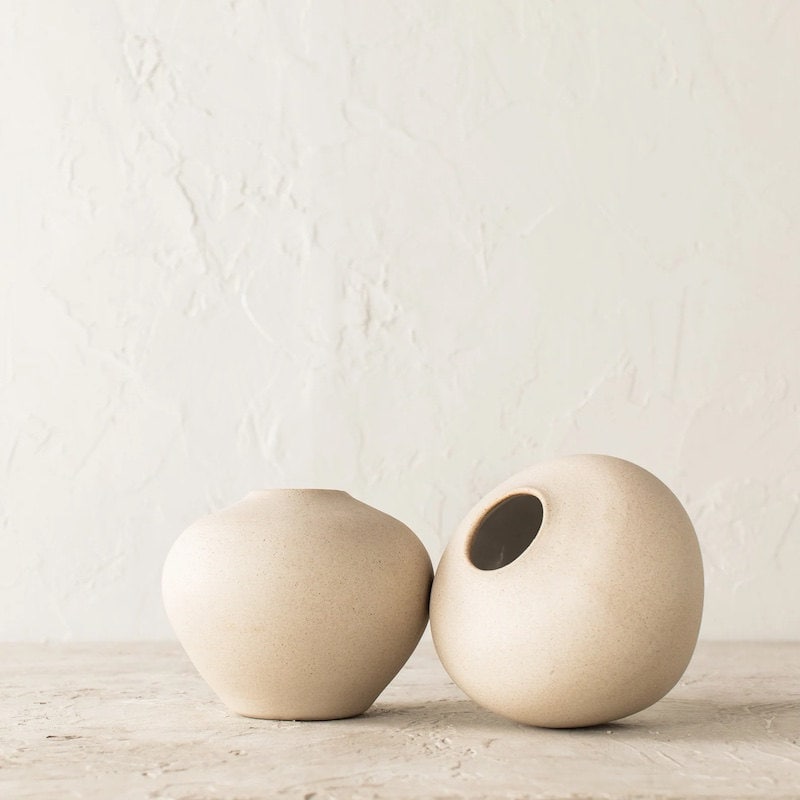 SHOP: Round stoneware vase from Convivial Production, $44
If you look closely at this round, low raw stoneware vase, you'll notice tiny specks of different sizes along its matte finish. This vase is a classic shape and is unglazed, so the depth and quality of the clay is the real star of the show.
6. A wavy vase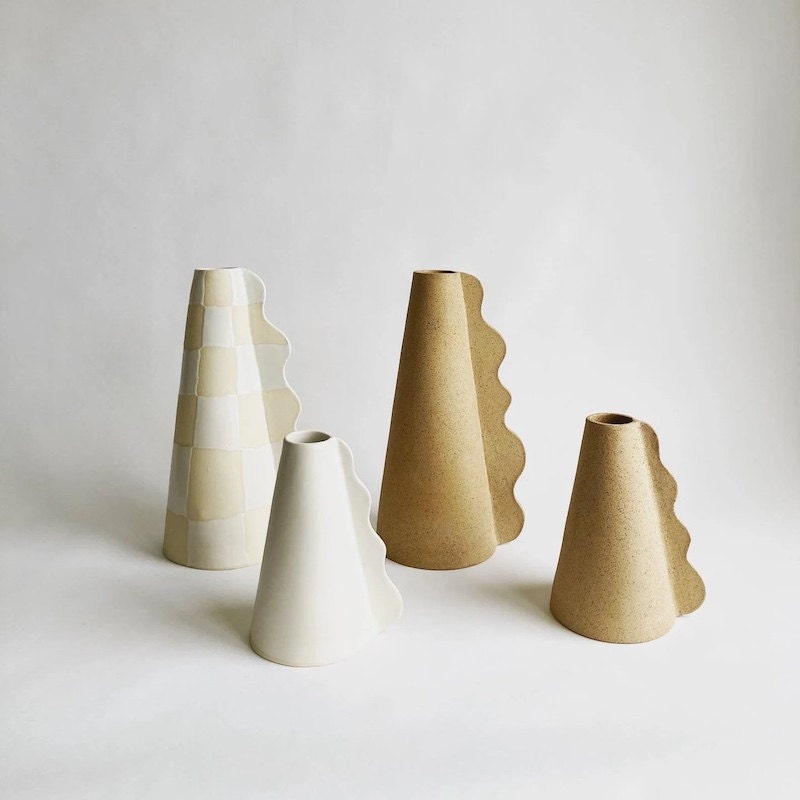 SHOP: Wavy ceramic vase from ALICJA CERAMICS, from $60
This charming vase makes an excellent centerpiece for a candle-lit dinner for two or a darling table marker for each table at a wedding. Available in two sizes, this vase can accommodate whatever blooms (or events!) you have in store this season.
7. A whimsical ceramic vase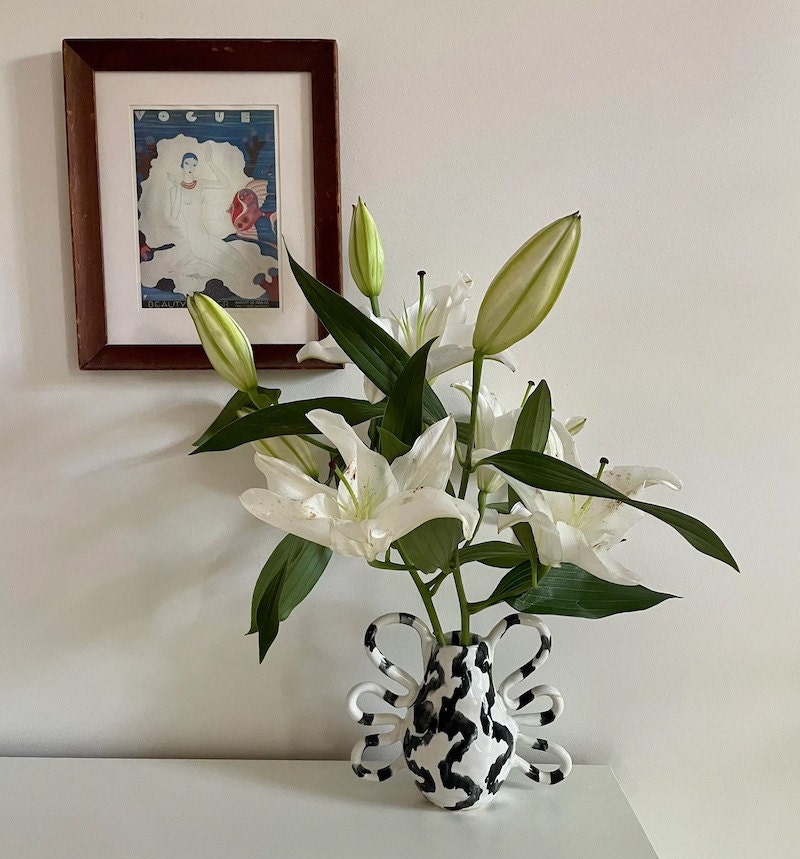 SHOP: Black and white vase with handles from The Masonry Studio, from $160
Playful and eye-catching, this black and white vase features wavy handles and an asymmetrical, abstract glaze pattern. Black not your color? Opt for a blue-hued beauty for a more moody vibe.
Glass vases
We love a standard glass vase as much as anyone, but these gorgeous glass vases offer unique, unexpected elements that make a statement.
8. A two-toned glass vase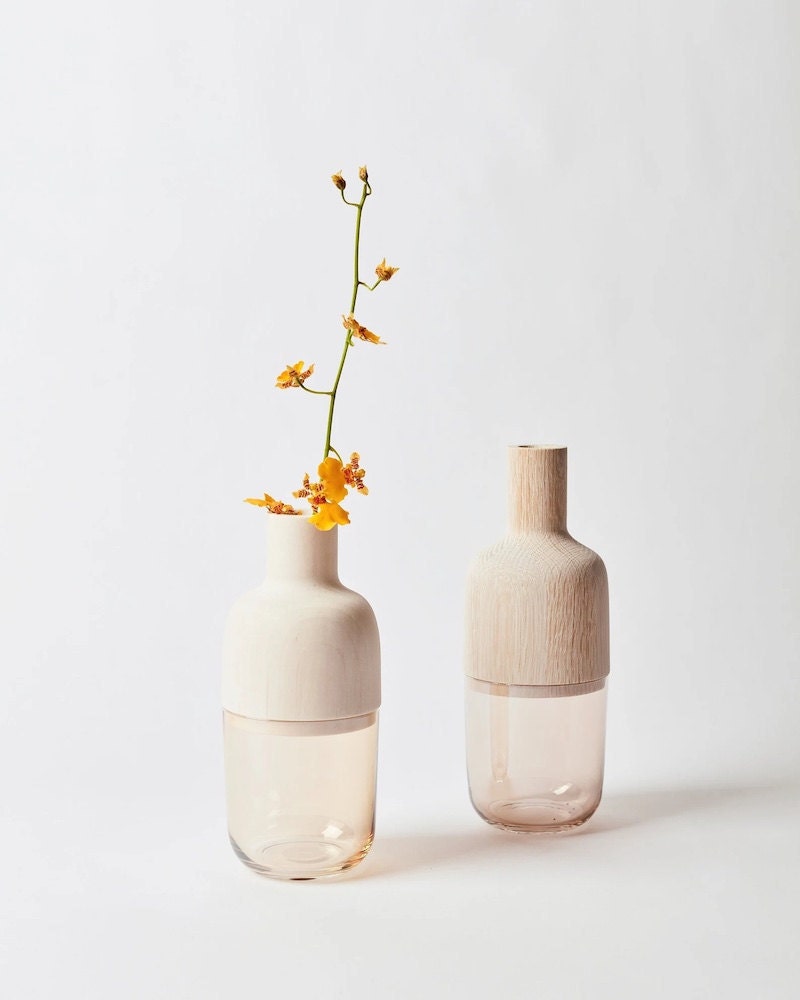 SHOP: Glass and wood vase from Melanie Abrantes, $180
For this glass vase, the materials are as important as its design: Champagne-colored glass and fine-grained hardwood come together to complement and contrast the other's texture, shine, and hue. Offered in two different shapes, this elegant vase can match any aesthetic, from beachfront coastal grandmother to earthy cottagecore whimsy.
9. A colorful blown glass vase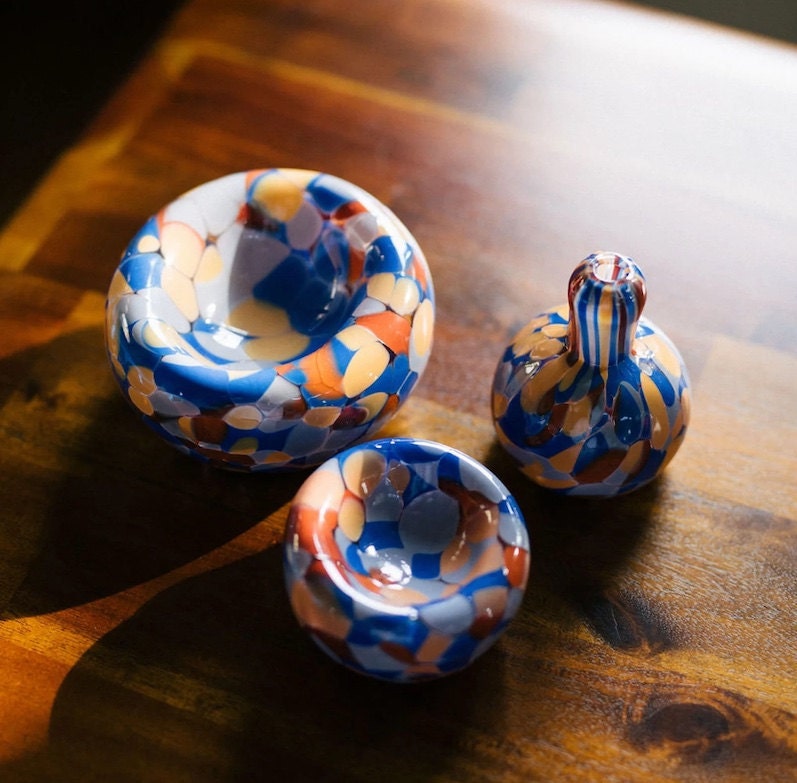 SHOP: Orange and blue blown glass vase from Maria Ida Designs, $51
Inspired by the Neil Diamond song, "Forever in Blue Jeans," this denim-colored glass vase is available in three sizes: a dainty bud vase, a classic straight vase, or the funky bubble vase. The process of glass blowing means that each piece is made individually, not en masse, so each vessel has its own character and unique pattern, made just for you.
White vases
If you're looking for a unique vase that goes with any color palette, a white vase will add that wow-factor to your vase game.
10. A white porcelain vase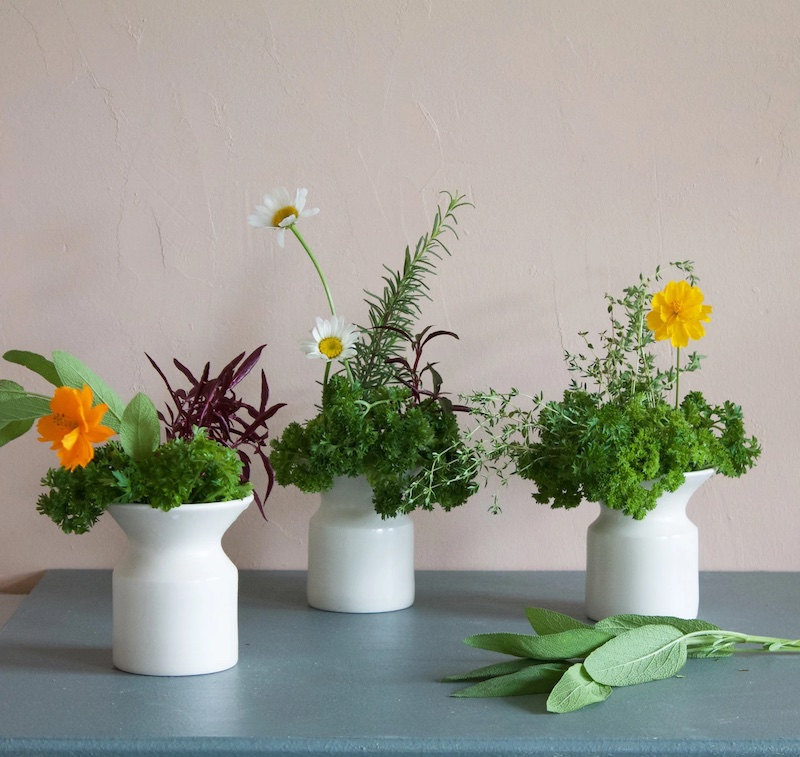 SHOP: Porcelain white vase with flare spout from Taylor Ceramics, $48
This white vase has a flare opening that's just begging for a beautiful bouquet. But beware: Buyers have bought this gorgeous vessel as a wedding gift but were tempted to keep it for themselves!
Gold vases
A symbol of luxury and royalty, gold is a metallic neutral that pops in any and every context. Add a gold vase to your collection to elevate your table and shelving decor.
11. A tall vase with gold accents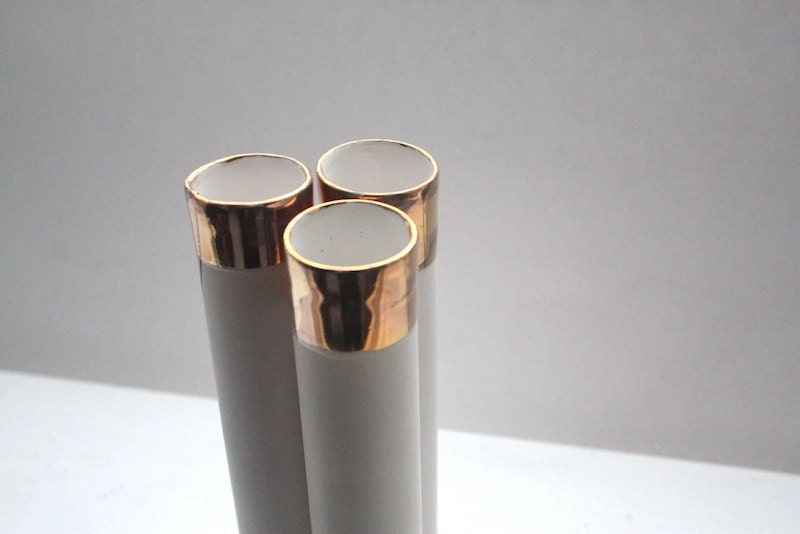 SHOP: Tall bud vase with gold rim from Made by Manos, $42
This tall vase is made from stoneware English fine bone china with gold luster, and buyers are raving how delicate, well-made, and lovely they look in their homes.
12. A golden-hued bud vase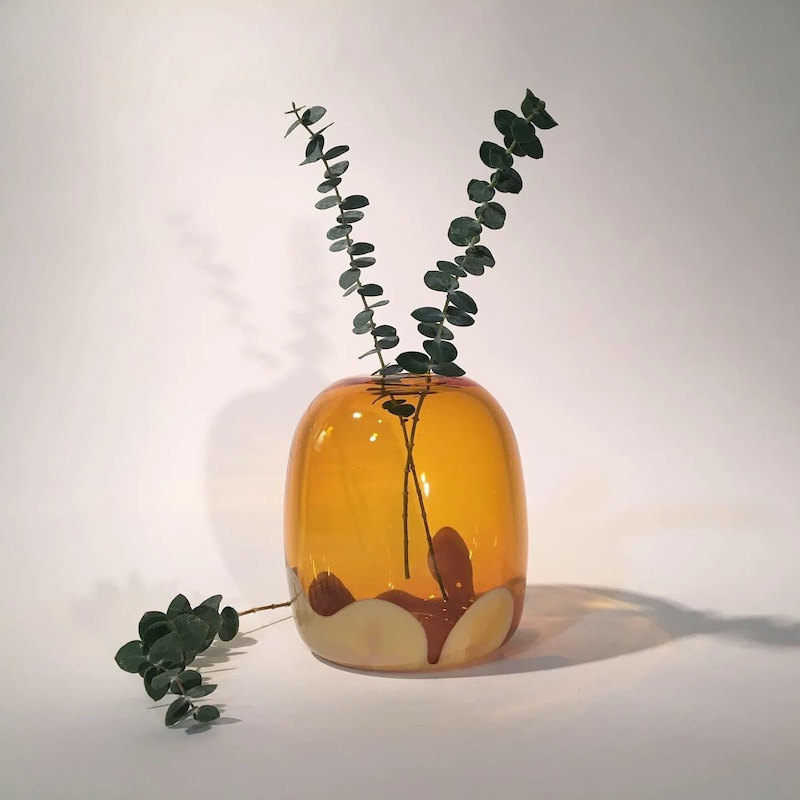 SHOP: Colored glass bud vase from Taryn Jayne Glass, $75
Inspired by the rolling hills and chaparral near where this Etsy seller lives in Southern California, this glass bud vase is a work of art all on its own. Its gold and amber tones complement the opaque, abstract mountainscape at the bottom of the vessel, and will have you mesmerized each time it catches your eye from across the room.
Tall vases
Interior designers always say to work with multiple levels when decorating your home, and a tall vase can create a sleek silhouette that draws the eye upward and can fit even the most luscious and large blooms.
13. A checkerboard vase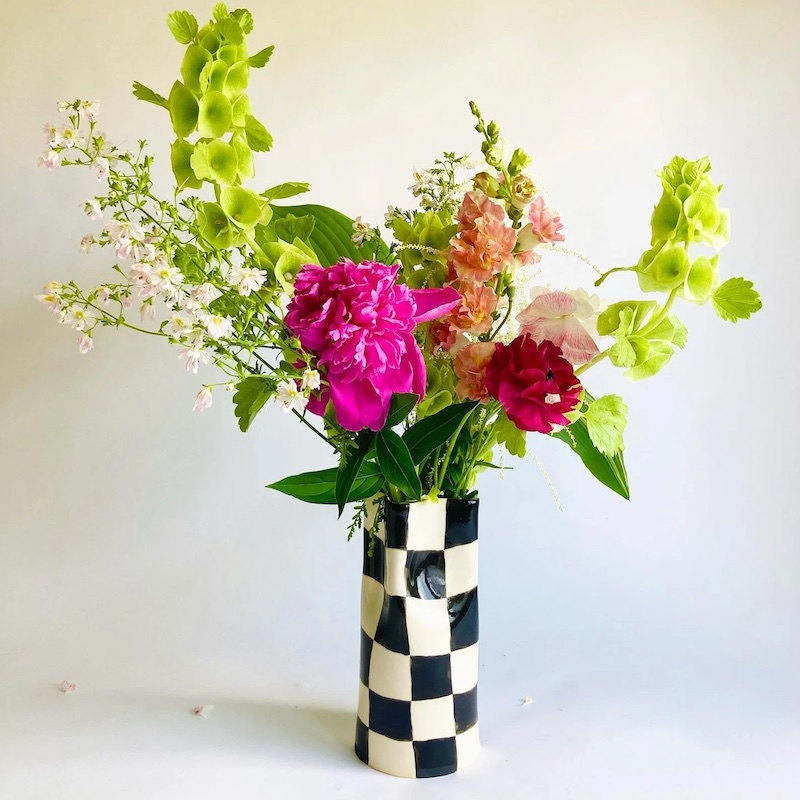 SHOP: Checkerboard ceramic vase from ALICJA CERAMICS, from $80
Love checkerboard everything? Us too! This checkered ceramic vase has small indentations for a fresh take on the traditional vase shape.
14. A tall leather vase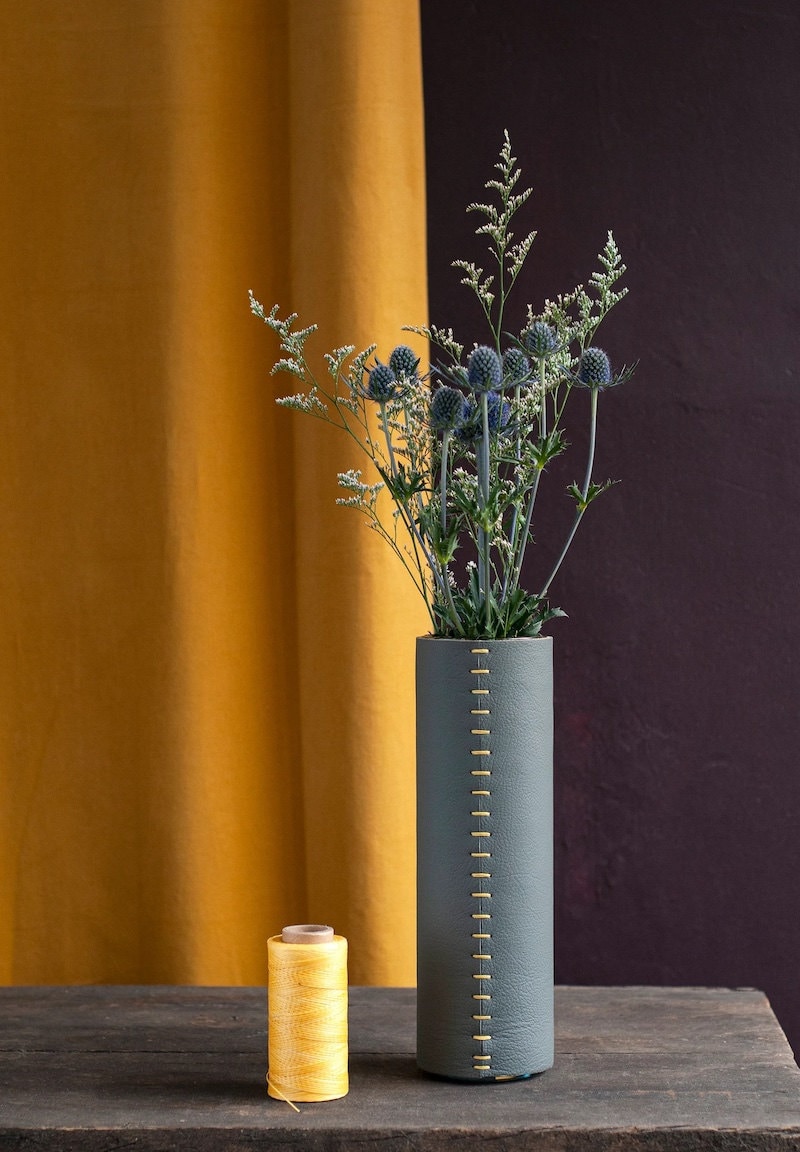 SHOP: Leather-wrapped tall vase from zeynNY, from $78
Leather may seem like an unexpected material for a flower vase, but this particular vessel is a glass structure wrapped and stitched with genuine leather. This tall vase can be up to 11 inches tall for your larger blooms and buds.
How do we pick the best vases?
As Etsy Journal editors and contributors research and curate shopping guides for some of the best-loved items on Etsy, we thoughtfully consider the creativity, customization, and craftsmanship that go into each product. We also consider buyer reviews, item ratings, and customer service, and tap the expertise of our in-house merchandising and trends experts to uncover high-quality finds for every budget. You can find more information about each item in the seller's listing details and can take a look at their individual shop policies and reviews, too.