Beautifully blend the old with the new with these genuine vintage, and vintage-inspired kitchen decor picks.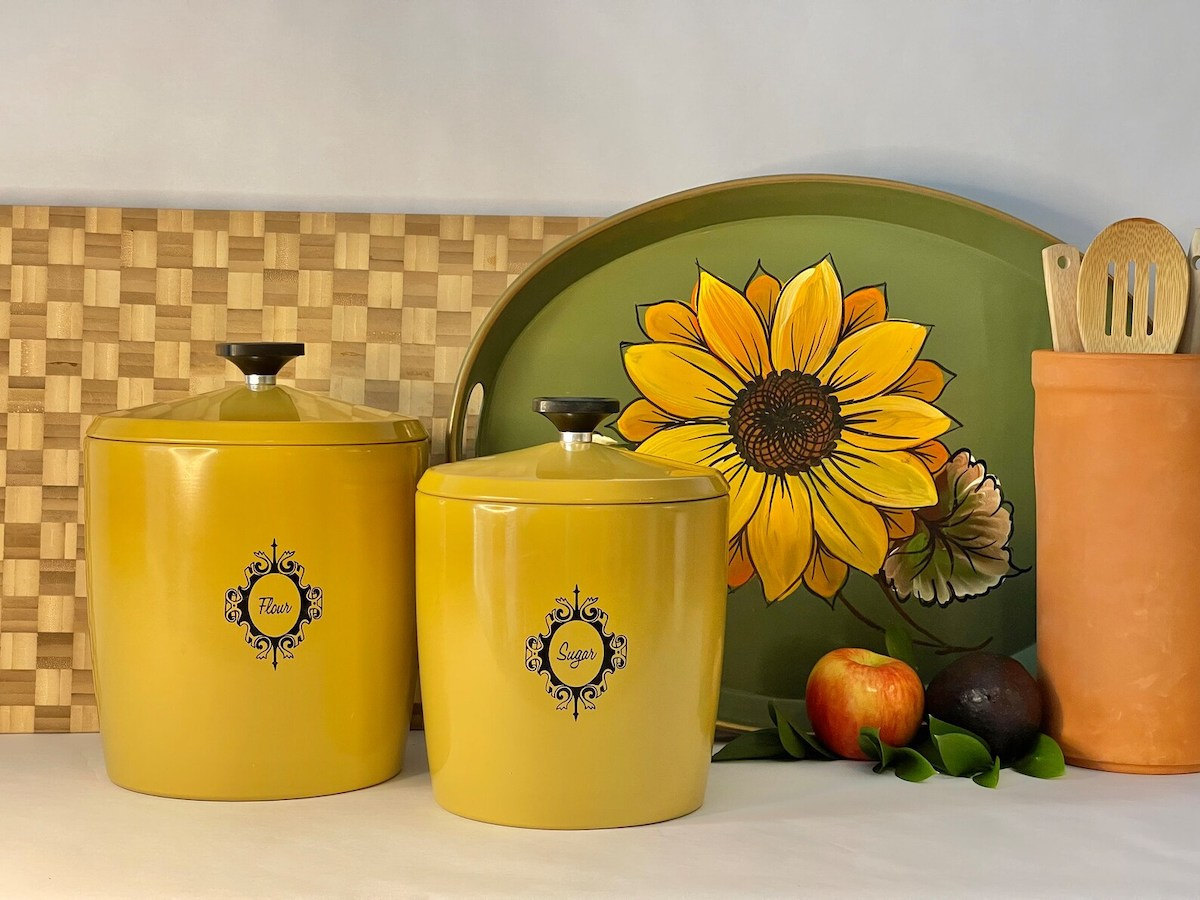 There's no better way to add charm and charisma to your kitchen than by including a few (or many) vintage decor items that exude warmth, coziness, and an extremely homey feel. Vintage kitchen decor is popping up everywhere, and we're loving the character that unique vintage pieces can add to any kitchen. The beauty of the vintage kitchen style is that the look can be achieved easily, whether you want a vintage-modern kitchen, or are striving for more of a full-on antiquated vibe. If you're looking to bring some of this eclectic aesthetic to your kitchen, our stylish Etsy sellers have both original vintage kitchen decor, as well as a selection of handcrafted vintage-inspired kitchen decor pieces that offer personality and a touch of the traditional.
Whether you're after vintage wall decor for kitchen spaces, items for the minimal vintage-modern kitchen style, or (the currently trending) vintage mushroom kitchen decor, our list below has some of the very best finds at every budget to achieve your kitchen goals.
1. Best vintage mushroom kitchen decor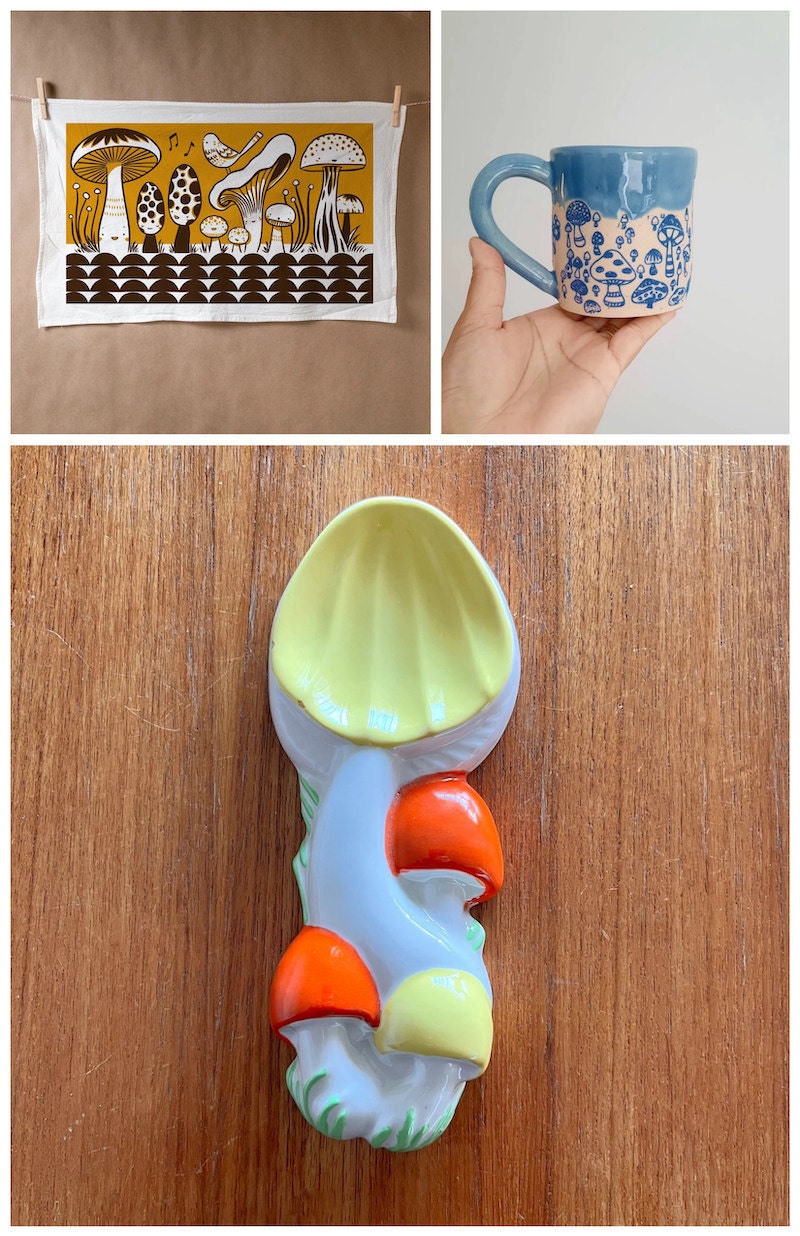 SHOP: (left to right, top to bottom): Happy mushrooms tea towel from Claire Manning, $16; mushroom mug from Blue Bird Pottery JPS, from $35; Vintage mushroom spoonrest from Boho Chachkies, $32
You may have noticed a very particular theme cropping up on your social media feeds lately in the world of home decor; specifically, mushrooms! First popular in the '70s, and making its appearance sporadically every few years or so, mushroom home decor is both cute and classy, and create a rustic vibe to your culinary cove. Here are some of our favorite vintage mushroom kitchen decor items from Etsy creators, with both vintage, and vintage-inspired pieces that are simply fungi-tastic.
2. Best vintage wall decor for kitchen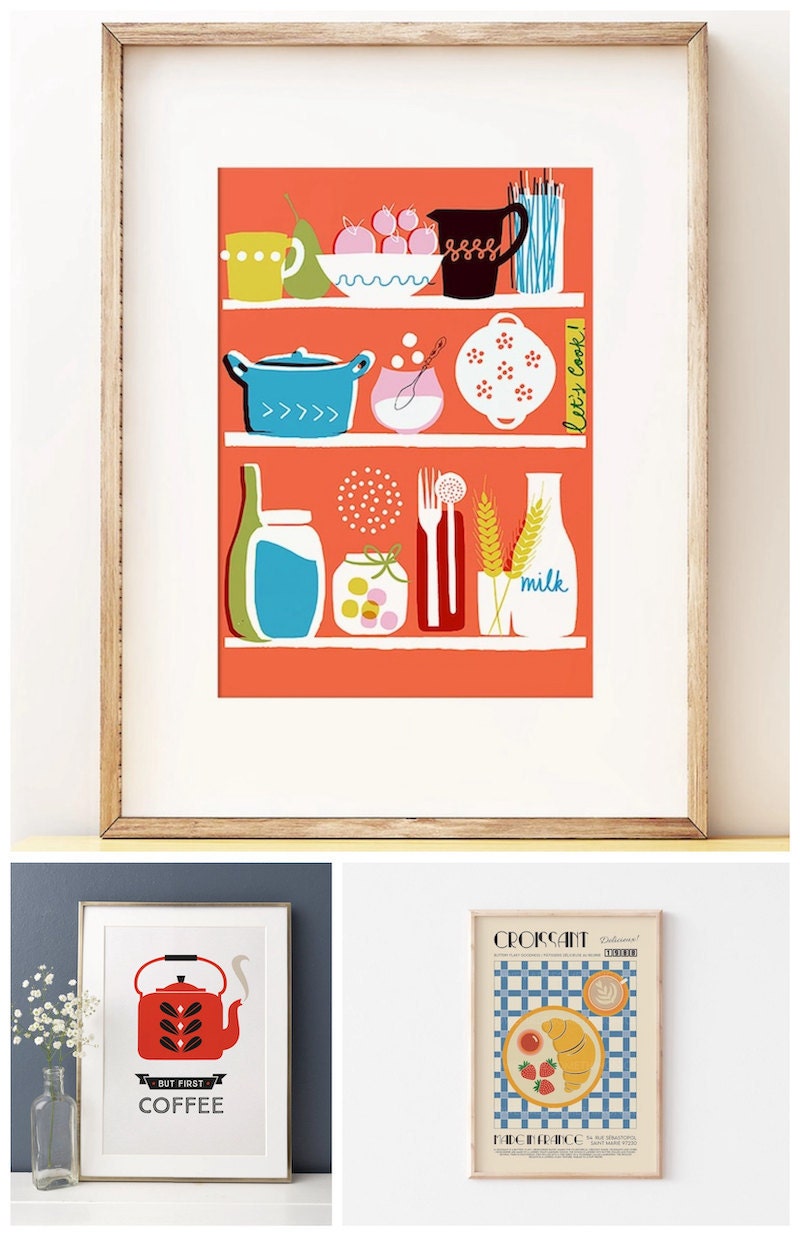 SHOP (left to right, top to bottom): Vintage-inspired print from shape color pattern, from $26; kettle print from Laura Danby, $23; French croissant poster from We Made Something Nice, from $13
If you don't want to conduct a whole kitchen overhaul but are looking to incorporate a few vintage items for that homely antique aesthetic, vintage wall decor items are the best—and often most economical—way to achieve this highly sought-after look. These wall prints are beautiful, affordable, and have the vintage aesthetic we all know and love.
Best vintage modern kitchen style
Meticulously mixing modern and vintage is very 'in' right now in the world of home interiors, and, if done correctly, is a match made in heaven. An easy way to add a traditional and rustic charm to any modern kitchen is by adding a few carefully selected decor accessories. We've curated a list of some gorgeous authentic and vintage-inspired items to seamlessly pull off the look. Vintage-modern kitchen style, here we come!
3. Retro orange trivet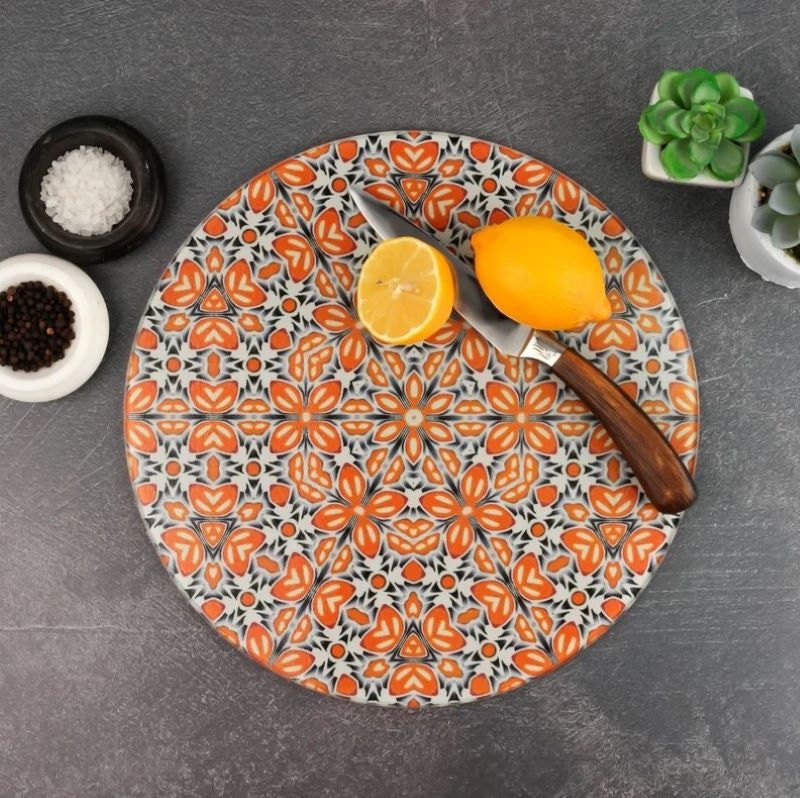 SHOP: Large retro charcuterie plate from Doodle Pippin, from $46
In true retro style, this trivet features a bright orange and gray fox flower pattern that was all the rage in the '70s. The seller's original patterns are hand printed in their home studio in Reigate, England, and this platter is made from toughened glass using the ancient Millefiori glassworking technique. The item is ideal for many kitchen uses, and you can also opt to purchase matching coasters.
4. Spice jar labels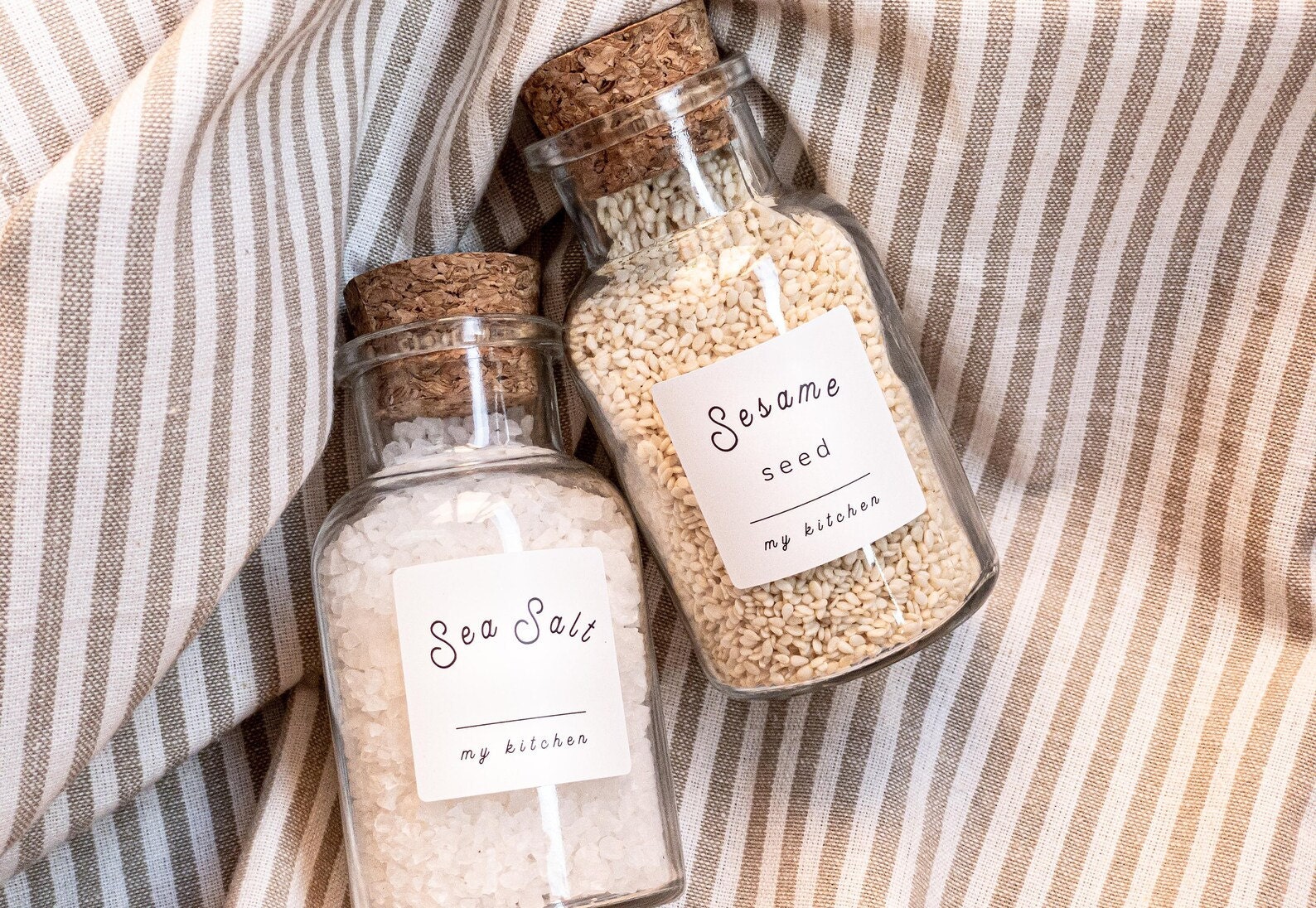 SHOP: Custom label for pantry storage containers from Ocean Studio FL, from $12
You don't need to go all out when it comes to vintage kitchen decor. These quaint spice jar labels—available in sets of 20–80 pre-printed labels, or 6–40 custom labels for your own personal spice choices—prove that less can definitely be more when thinking vintage.
5. Vintage-inspired retro coffee canisters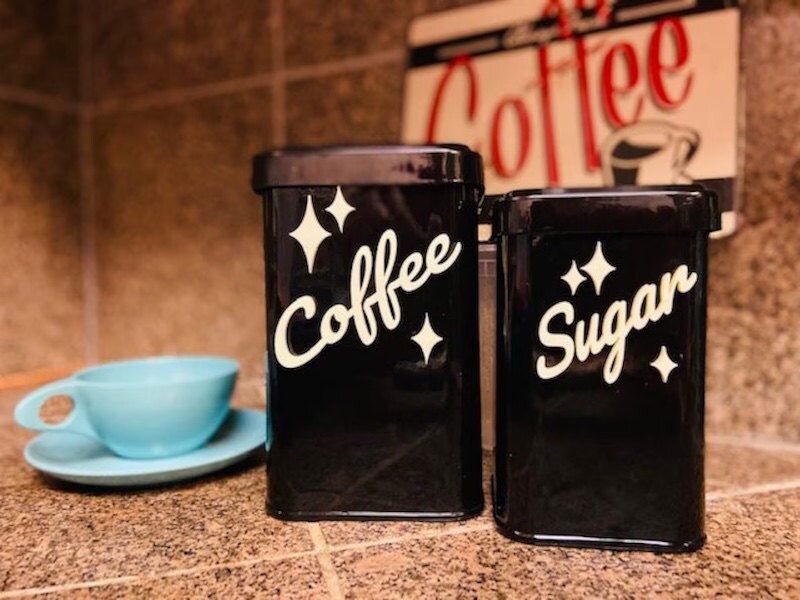 SHOP: Vintage canister set from Mrs. mag-Neato, $35
These midcentury modern, vintage-inspired kitchen canisters may look like they're straight from the '70s—but they're actually artfully crafted, custom-made pieces that will fit right in with your vintage kitchen style. They come in black, pink, or beige, with a selection of six font colors, and do a stellar job of encompassing the vintage aesthetic. "Love my new canisters," wrote one happy shopper. "They make a perfect addition to my retro coffee corner."
6. Green pressed glass glassware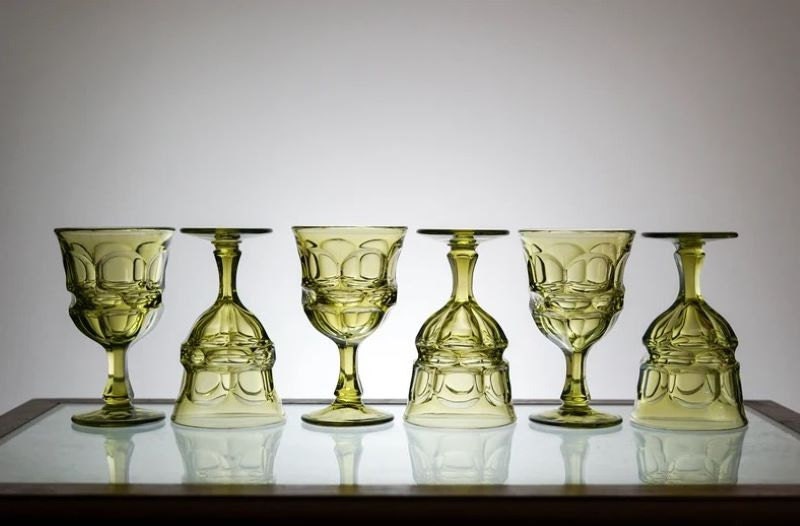 SHOP: Green vintage glasses from AVAZAVA, $120
Original, unique, and in mint condition, these gorgeous green pressed vintage glasses look like they're straight from a movie set. Perfect for wine or cocktails, the style of these classy depression glasses has been popular since the '20s and '30s, and they look just as good on a modern dinner table as they do on a traditional one.
7. Vintage-inspired mug set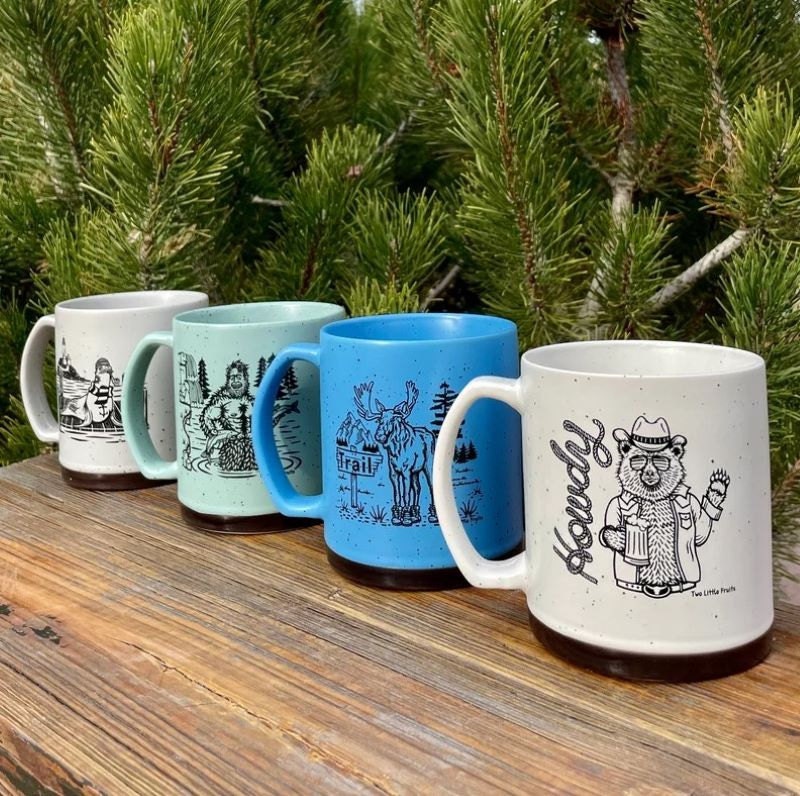 SHOP: Speckled matte retro style mug set from Two Little Fruits, $99
Handcrafted from heavy-duty ceramic by a whimsical home goods Etsy shop in Colorado, this set of four speckled matte mugs are perfect for enjoying a hot beverage—vintage style. Each mug features a different retro design, and buyers call them "great quality," "detailed," and "gorgeous," with one customer saying that it's the best mug they own!
8. Genuine vintage canisters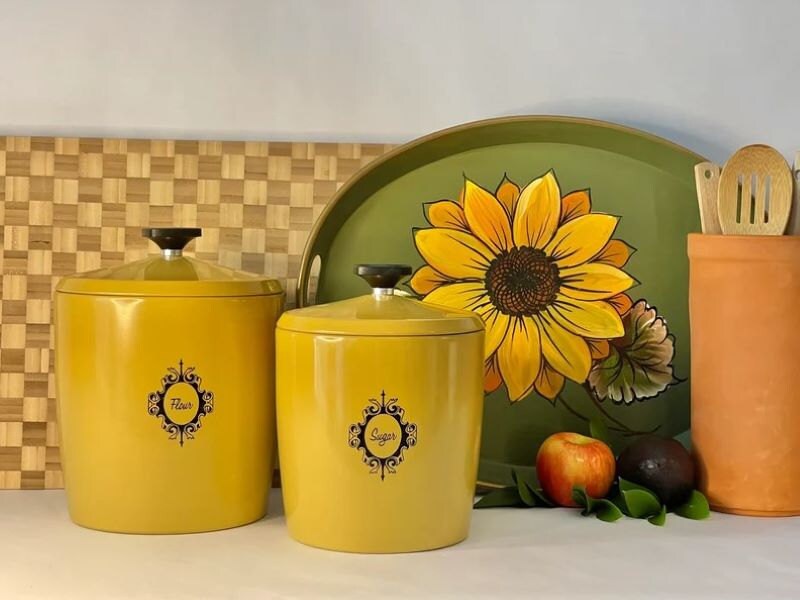 SHOP: Aluminum set of two vintage canisters from Modish Haus, $46
Straight from the 1970s (literally!), these genuine vintage Westband flour and sugar canisters have a beautiful yellow-mustard shade representative of this fun and extravagant decade. Used, but in excellent condition, they're both practical and bring the perfect splash of retro to any kitchen.
9. Acorn canister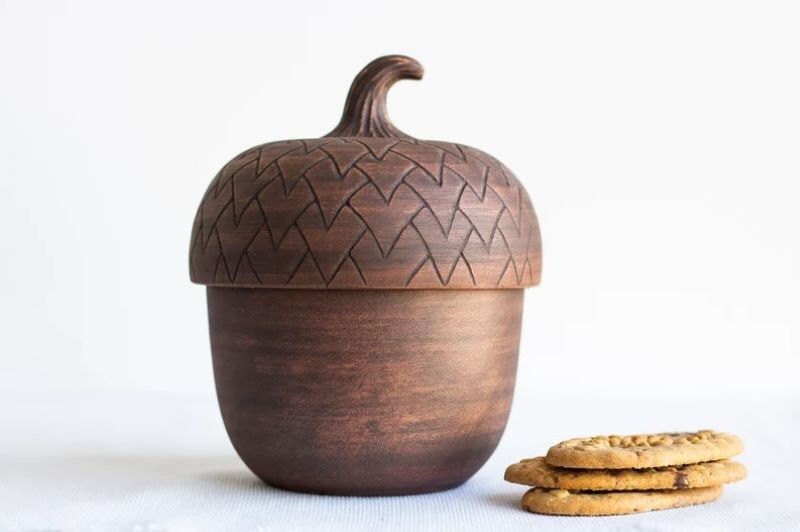 SHOP: Ceramic acorn jar for cookies from MountainOak Ceramics, $50
Bringing the vintage style very subtly into any home, this ceramic acorn cookie jar that's made by hand in Kiev, Ukraine, is painted in a textured brown-bronze making it look like a genuine antique. "Beautiful little acorn jar," wrote a happy buyer. "It looks perfect in my kitchen." Customers also praise the seller's excellent customer service, and how well the item is packaged.
10. Vintage-inspired serving platter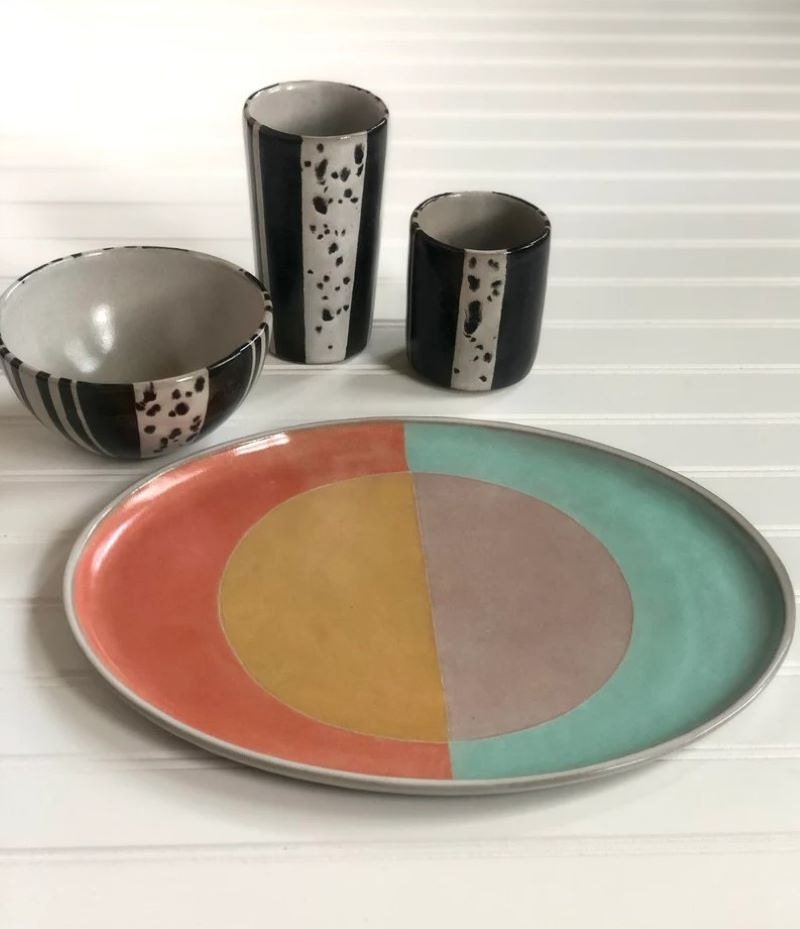 SHOP: Ceramic oval sunrise tray from Strange Joy Studio, $128
Colorfully modern—and with just the right vintage touch—this handmade oval ceramic tray is beautiful enough to keep on display, but also serves as a useful item for serving up your favorite treats. Customers say that the handmade ceramic items from this small shop are "very durable and usable," and "packaged perfectly."
11. Polar bear food storage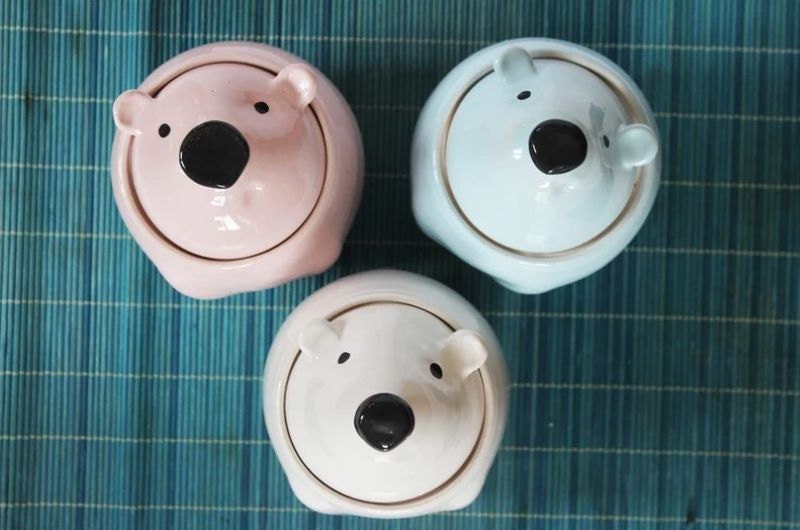 SHOP: Polar bear ceramic jar with lid from Ryaba Vosh Ceramics, $48
Adorable, useful, and available in eight colors (including white, brown, green, and brown—beautiful antiquity shades), these cute polar bear lidded pots are perfect for sugar, honey, or any other kitchen staples. They're hand crafted in a small shop in Lutsk, Ukraine, and one enthusiastic customer wrote, "This little guy's quirky smile makes me smile every time. It is so well made, it is hard to believe it was thrown on a potter's wheel, but it was. Thank you for giving me joy."
12. Best vintage-inspired tea towels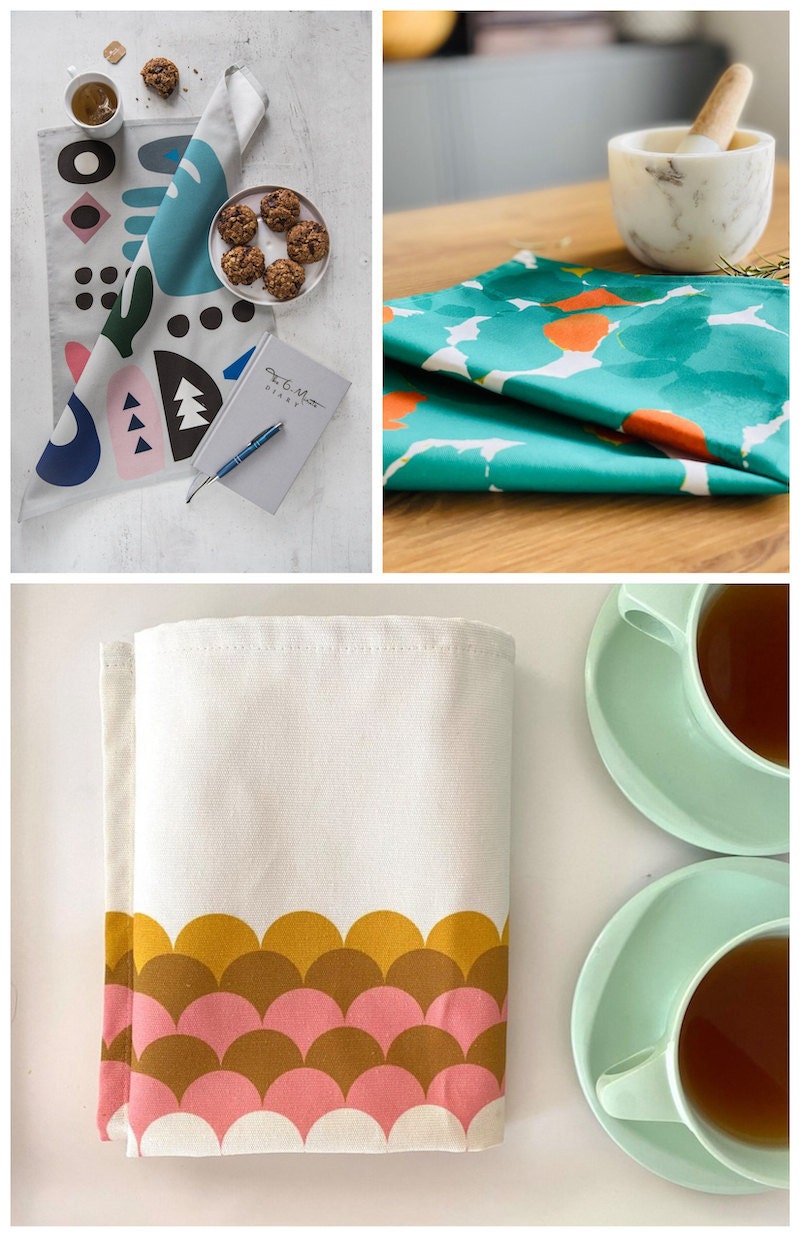 SHOP (left to right, top to bottom): Nordic tea towel from Softer and Wild, $14; abstract green and orange patterned cotton tea towel from Amelia Robson, $16; retro kitchen towel from Mrs Fishkin, from $21
Tea towels are a fantastically quick and easy way to incorporate the vintage look into your kitchen. Whether draped across the range's handle, or displayed on kitchen hooks, these vintage tea towels are a budget-friendly, trendy, and practical accessory for every kitchen.
Where to buy vintage kitchen decor
The small shops on Etsy are a great place to buy all your special vintage kitchen decor items. The talented creators behind these small businesses not only create these exquisitely vintage-inspired kitchen decor items, but some also collect, restore, and curate genuine vintage pieces, with fabulous collections that provide a truly antique vibe. Make sure to follow your favorite Etsy vintage shops to be the first to know when new vintage kitchen decor items become available.
How do we pick the best vintage kitchen decor?
As Etsy Journal editors and contributors research and curate shopping guides for some of the best-loved items on Etsy, we thoughtfully consider the creativity, customization, and craftsmanship that go into each product. We also consider buyer reviews, item ratings, and customer service, and tap the expertise of our in-house merchandising and trends experts to uncover high-quality finds for every budget. You can find more information about each item in the seller's listing details and can take a look at their individual shop policies and reviews, too.