by Jackie Buddie
From lush botanical wall prints to dramatic macrame tapestries, these personality-packed wall decor ideas will enliven any space.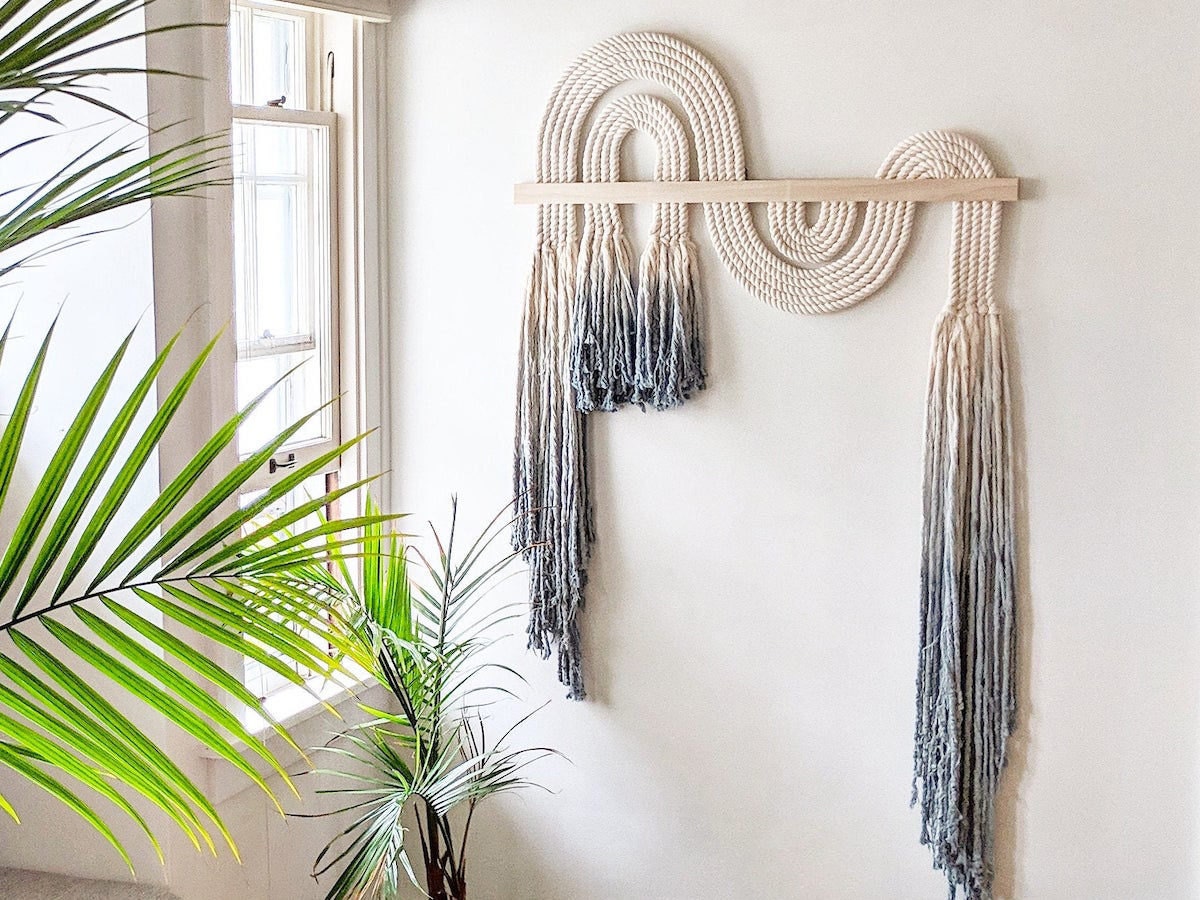 As any art collector (amateur or otherwise) knows, in the quest to find that perfect piece of wall decor to tie a room together, there's no greater thrill than stumbling upon an artist for the very first time and feeling like their work speaks directly to you. "Artists on Etsy love to experiment, which creates a wonderful opportunity to discover something that you personally find super interesting and unique," says Lindsay O'Brien, Etsy's senior merchandiser for home goods. "Whether you have $30 to spend on a photography print or a little more saved up for an original oil painting for your wall, you can own a one-of-a-kind work of art with a story behind it, and that's a special feeling."
How to select wall decor to complement your home
Choosing the right wall decor for your space is the first step. Are you looking for happy decor ideas to bring a bit of joy to your kitchen (a space many overlook)? Or perhaps you seek abstract wall prints in a minimal frame that will transform your bedroom into the relaxing retreat of your dreams. No matter which room in your home needs a freshening, the right wall decor helps not only with personal self-expression, but also defines the personality of the space. 
When using wall art and decor to tell your story, lean into what you intuitively connect to when browsing our curated wall decor ideas. When narrowing down your options, consider a few major factors that determine if the piece is right for that part of your home: the size of the entire room, the size of the wall where your art or decor will hang, the color palette of the room, and the emotional impact you'd like the space to have. Your wall art selections for your children's room will have a very different look, feel, and size than those you select for to accent your bathroom. 
Whatever vibe you're going for—quirky, natural, or ultra-romantic—and in whatever room of the home you're decorating, we've rounded up some of our favorite fresh wall decor shops whose innovative ideas cover a spectrum of surprising methods and mesmerizing motifs. Browse our gallery of inspiring wall decor ideas, then be sure to reserve a spot in your home for your new prized piece.
Abstract landscapes and floral wall art: Ayaka MP Art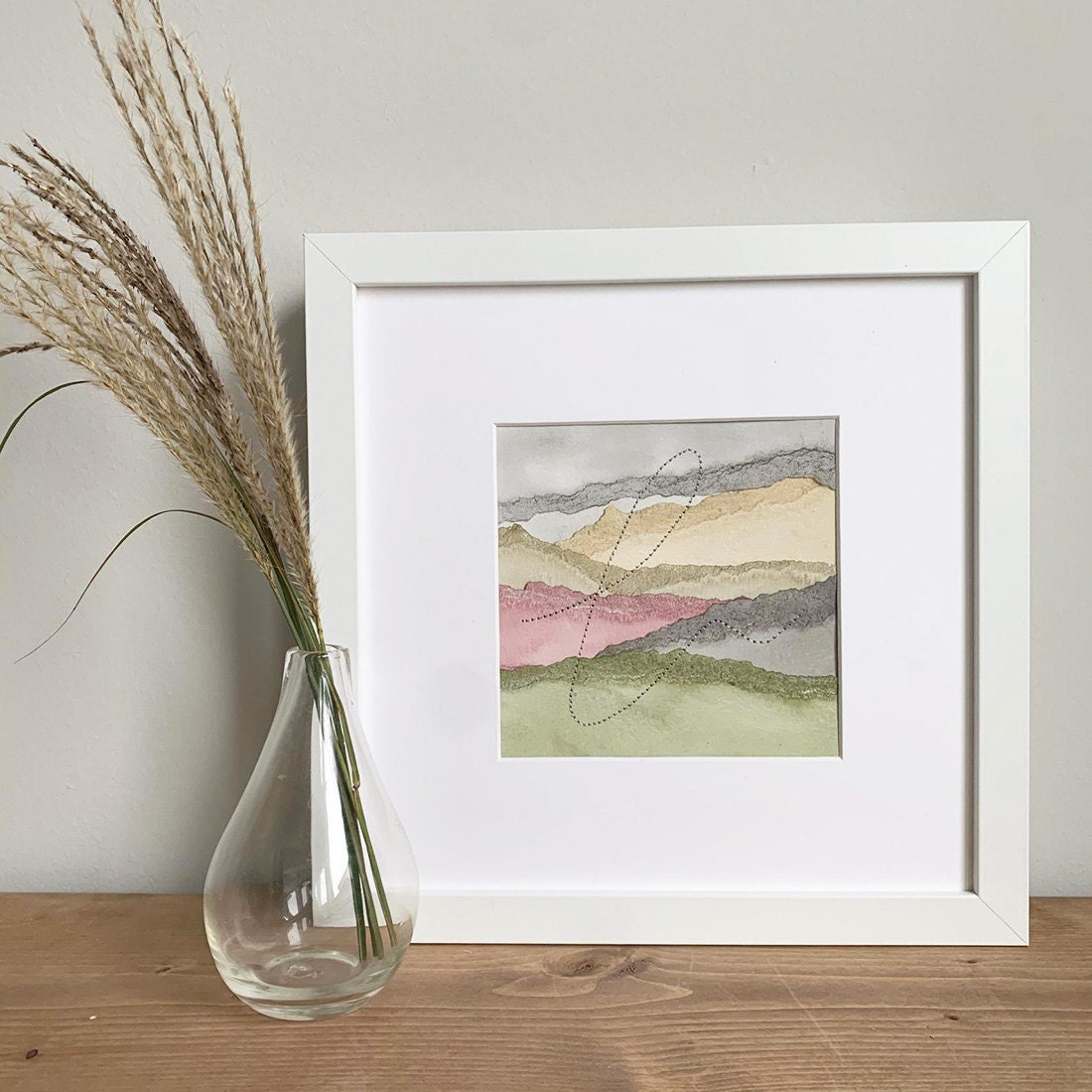 Using an elegant combination of watercolor, collage, and embroidery, mixed media artist Ayaka Prenton creates beautifully multilayered wall art that cultivates calm and encourages contemplation. "It's very easy for one medium to overpower the rest, so I've been experimenting to maximize the potential and strength of each," explains the Michigan-based artist, whose abstract interpretations and stitched floral compositions come in a range of soothing, subdued hues. "I hope my customers feel tenderness when they view my work, and that my pieces give them a sense of both the grandeur and delicacy of nature."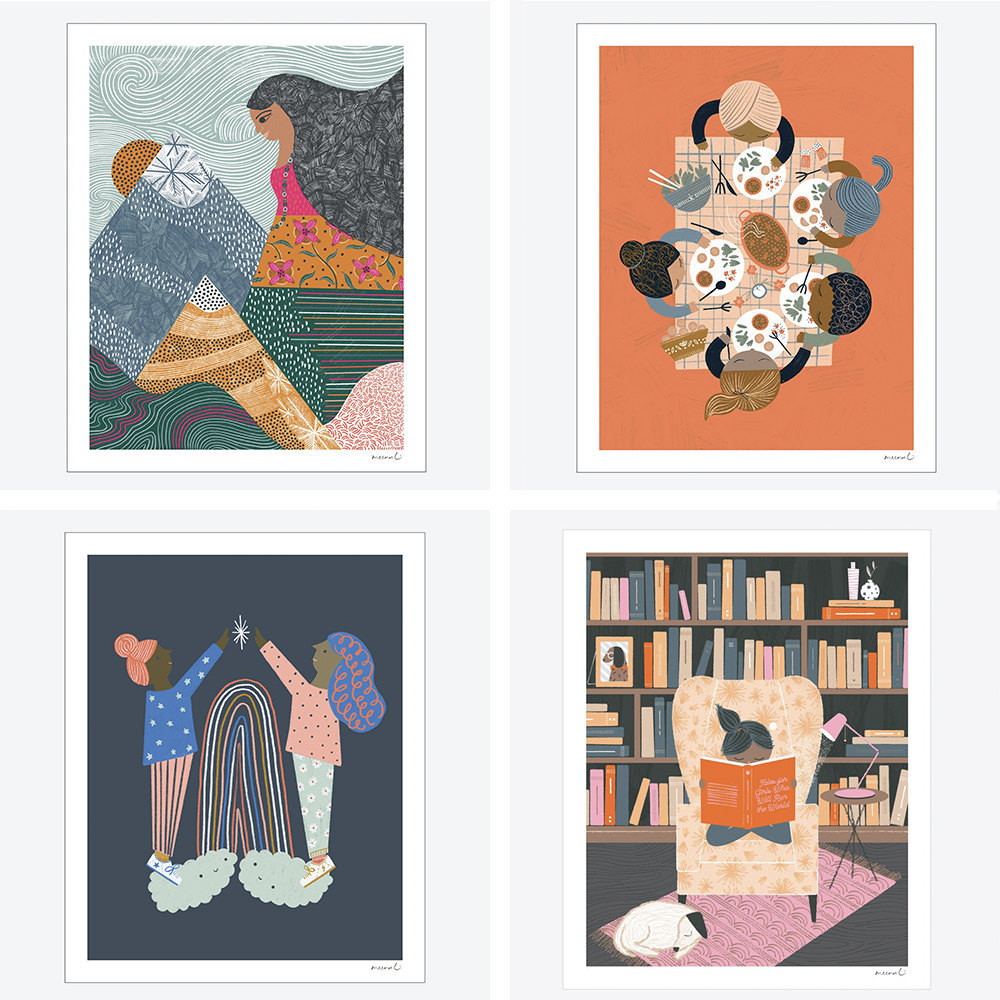 Featuring warm, vibrant images of women of all ages engrossed in books, sharing wholesome meals, and even scaling mountains, Meenal Patel's inspirational illustrations and wall prints serve as heartfelt reminders that there's strength in both solitude and sisterhood. "Drawing is the place where I can sort out all kinds of emotions, oftentimes turning them into a little bit of joy in illustration form," Meenal says. "My hope, with my art, is that a bit of that positive energy reaches someone else, that they sense a part of themselves in my work, and it makes them feel seen or understood."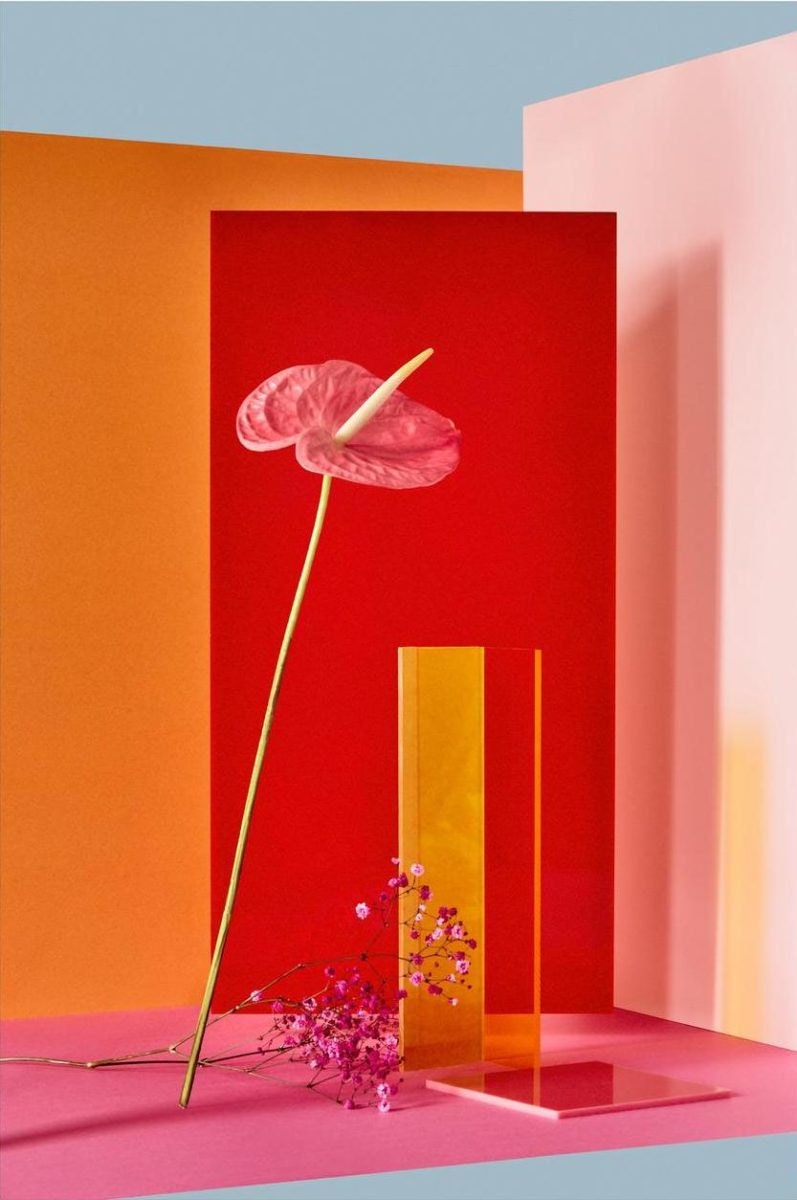 Inspired by the interplay between colors, textures, and shapes in nature, still-life photographer Desirée Pfeiffer painstakingly composes miniature cinematic landscapes filled with suspended florals and artful objects, then captures their quirky modern essence on film. The result? A captivating collection of ultra-lush prints and wall decor that range from the whimsically surreal to rich reinterpretations of Dutch classics. "My aim is to create something contemporary, yet timeless," Desirée says.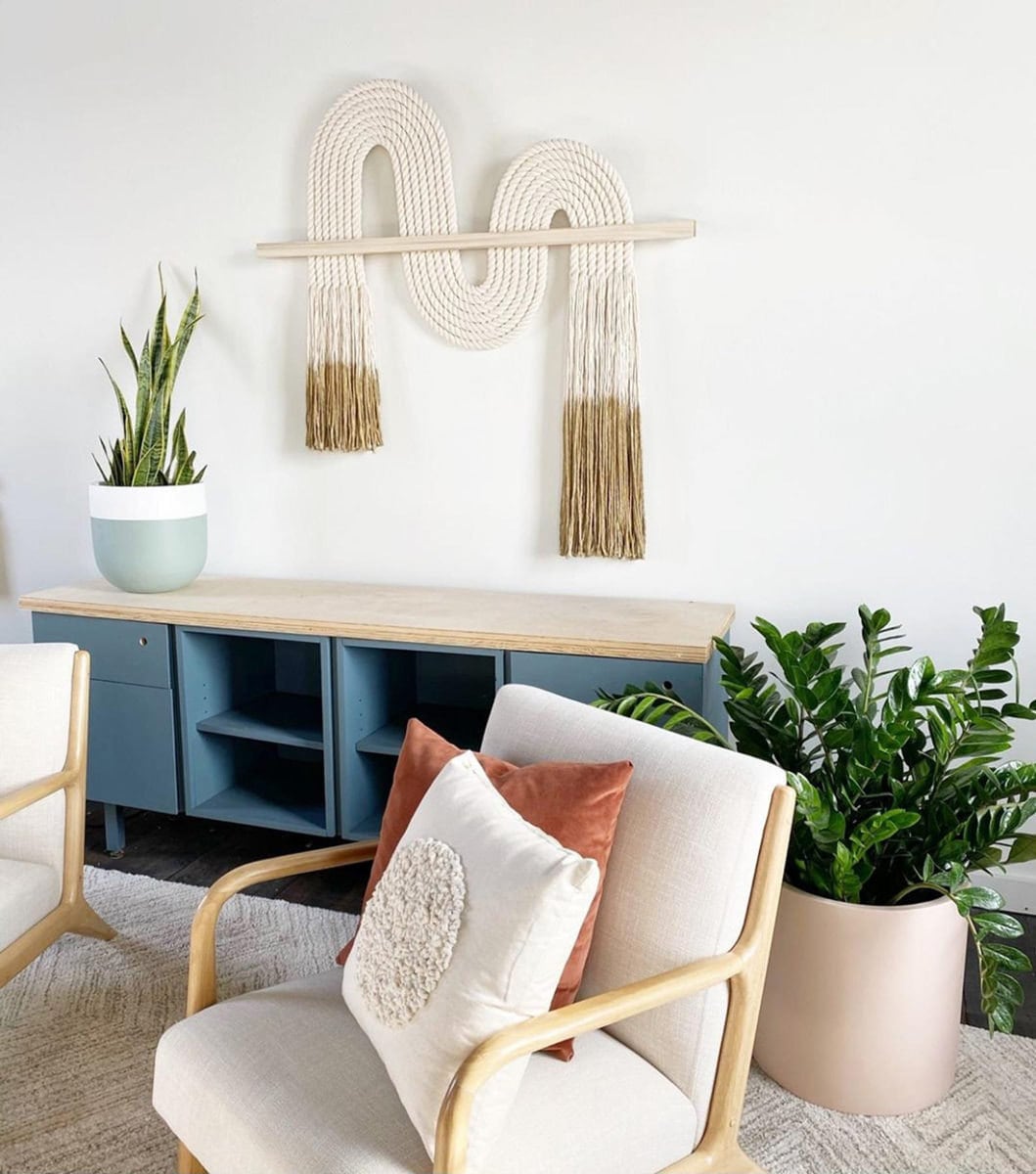 In the market for a sizable statement piece? Find awe-inspiring wall decor ideas with Candice Luter, whose incredible macrame installations will add loads of texture and dimension to even the most intimidating empty space. "Most people like to place my work over beds and sofas and in those hard-to-style areas, like stairwells," explains the Iowa-based artist and 2019 Etsy Design Awards finalist. "It's one thing to find a piece you love that has the width you need, but to also have the vertical height has been a huge bonus." Crafted from a mix of wood, mirrors, and neutral cotton fibers with long fringed tips, each made-to-order masterpiece can even be dip-dyed with a custom pop of color to match your existing home decor scheme.
Modern handcrafted quilts inspired by the natural world: Excell Quilt Co.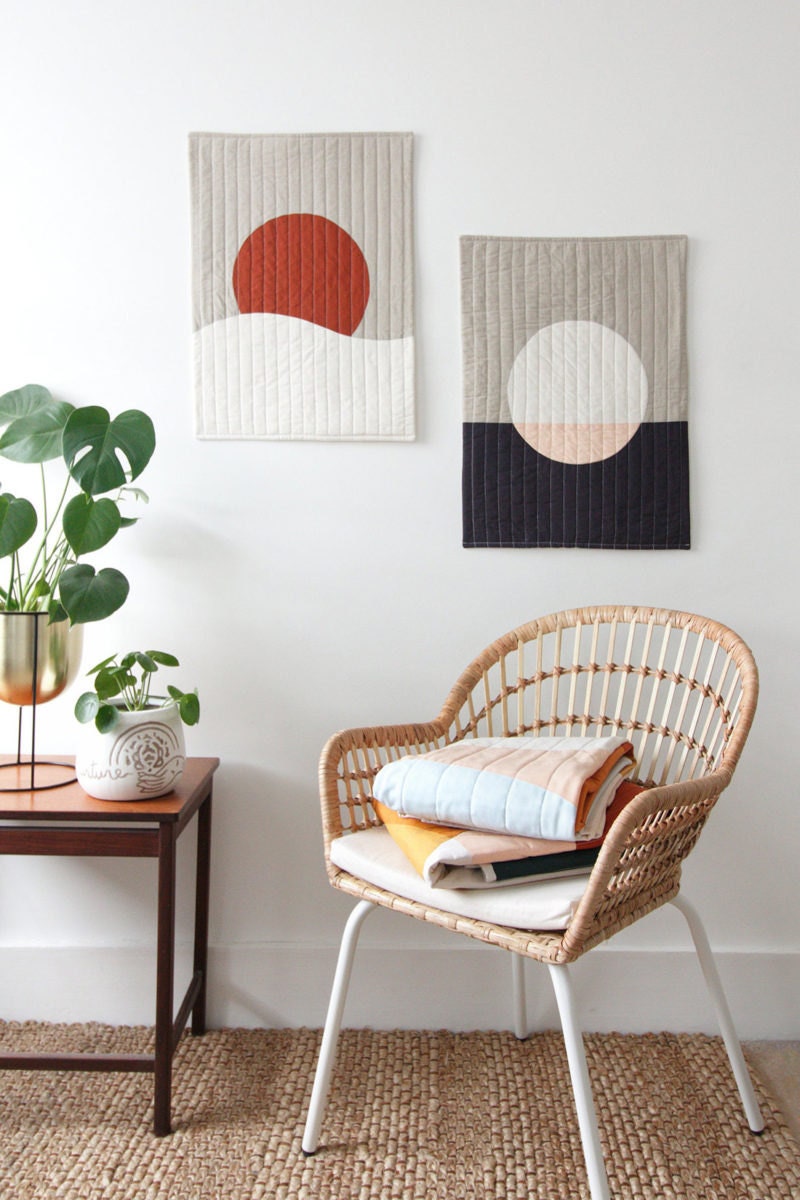 Contemporary textile designer Kayleigh Excell gives traditional quilting methods an on-trend twist with her colorful collection of patchwork tapestries and pennants. Carefully pieced together from cuts of soft cotton, her cheerful compositions feature bold, geometric interpretations of rolling hills, rainbows, and sunsets—each one crafted with modern interiors in mind. Her Moonrise Wall Hanging works well in calm, boho spaces. The Southwest Summer wall hanging is perfect for a fun, mid-century home, while the colorful Mountain Landscape Art would look great in a  nursery or gallery wall.
Atmospheric travel prints from around the globe: MO Photography Prints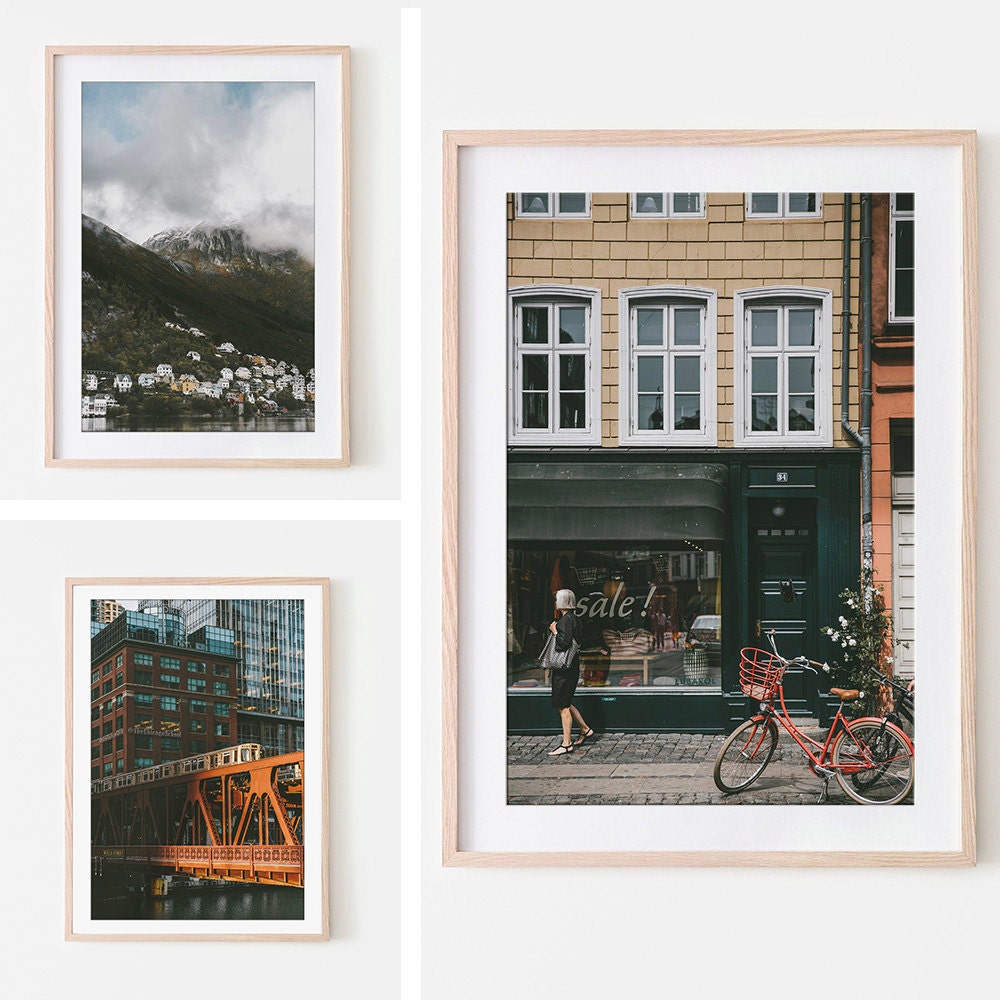 From remote Icelandic fishing villages to the cobblestone sidewalks of Denmark, Mina Okamura's quietly stunning travel photography captures the distinct feeling of being in a particular place at a unique moment in time. "My goal is to portray the actual experience of taking the photo—the light, the wind, the smell," says the California-based shutterbug, who hopes her gallery-quality giclée wall prints will instantly transport her customers to their favorite faraway destinations as well. "I fill my own walls with these photos, and each one rushes me with feelings."
Handmade ceramics and porcelain flower statement pieces: MAAPSTUDIO Artworks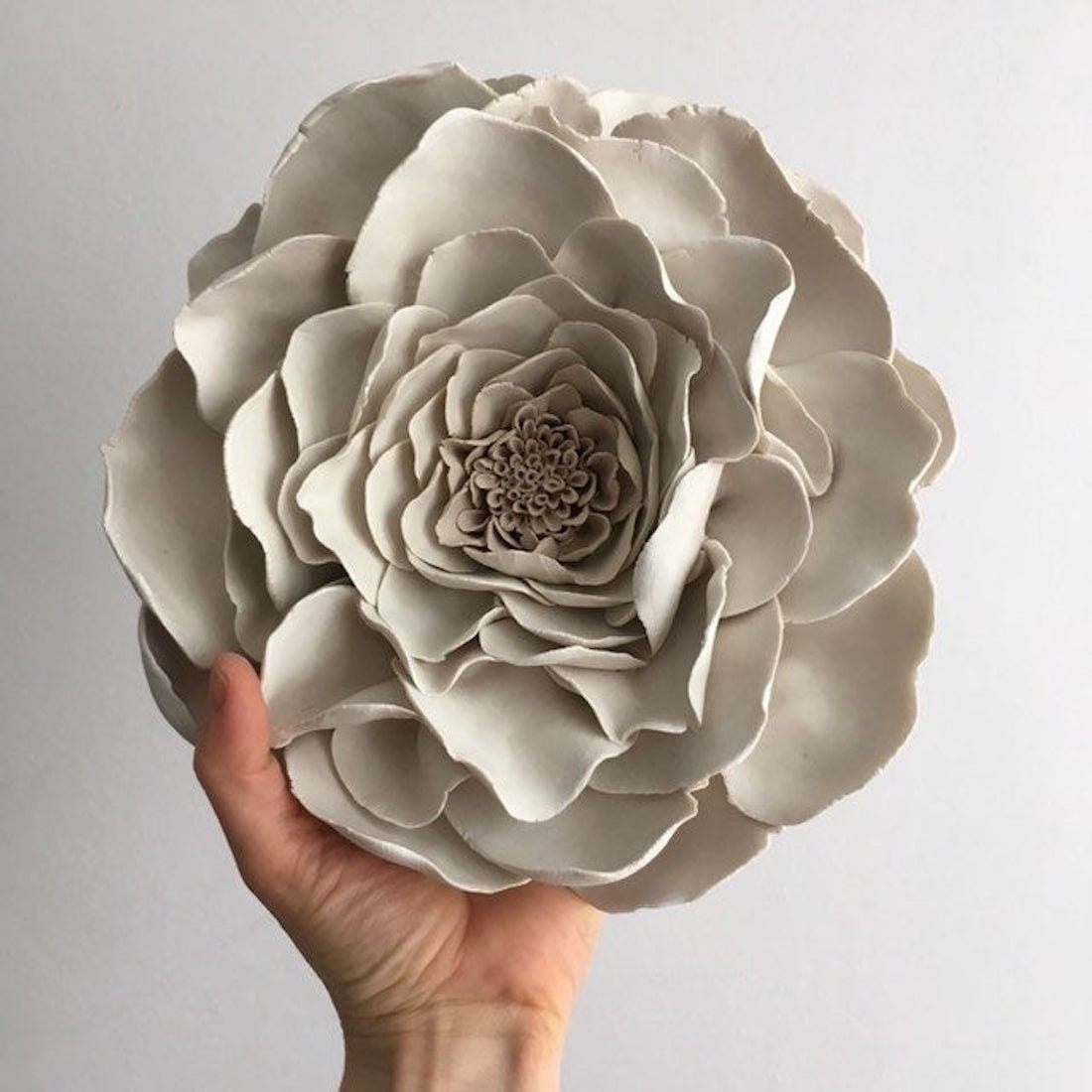 As in nature, each sculptural ceramic wall flower from UK-based artist Monika Skrzypkowska is completely unique. Individually carved from 100% porcelain, high-fired for indoor-outdoor durability, and fitted with a keyhole for easy hanging, these wilt-proof statement pieces are designed to grace your walls with a touch of tranquility for years on end. "My aim is to create objects that connect us with peaceful gardens and encourage us to pause," Monika says. Whether you choose a spray of gold-lined tulips for your living room, a set of petaled tiles for your backsplash, or a single porcelain gardenia to mount above your headboard, these decorative clay blooms are sure to captivate and inspire the rest of your room decor.
Original paintings on canvas and giclée prints: Albina Bratcheva Art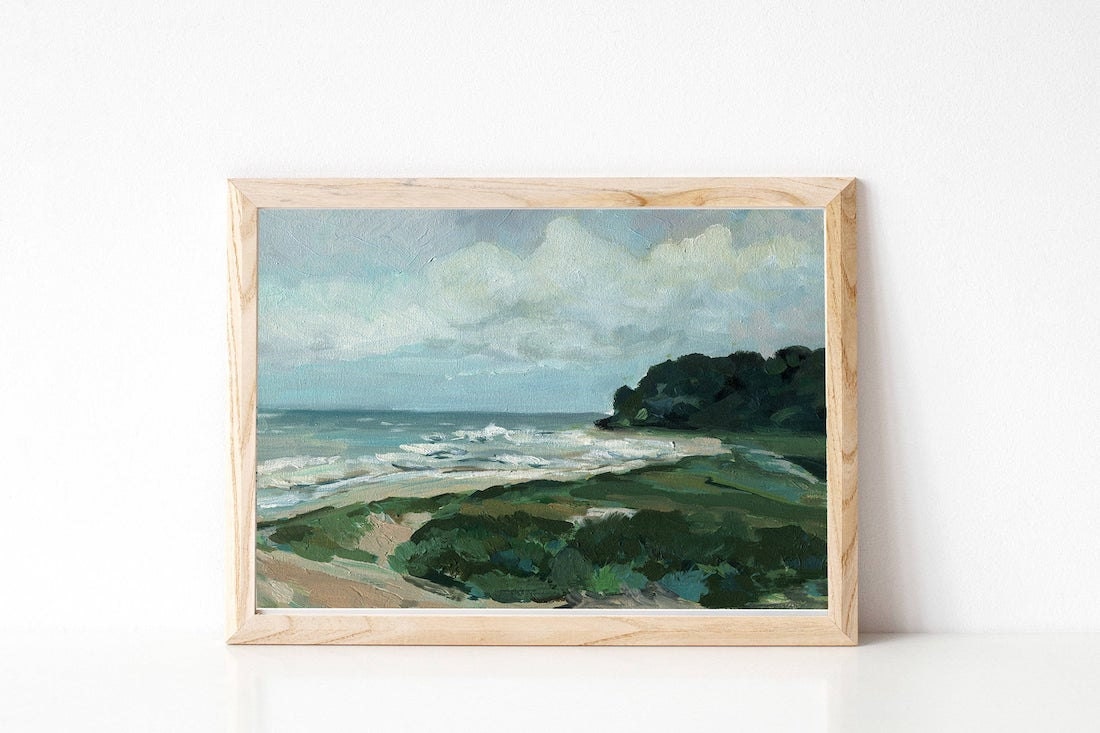 Alternating between oils, watercolors, and acrylics each time she puts paint to canvas, Ukraine-based artist Albina Bratcheva produces an inspiring array of naturalist pieces that range from vast moody landscapes to incredibly detailed floral bouquets. Snatch up one of her hand-painted originals and display it as a singular centerpiece, or pick an equally stunning print and incorporate it into your personal wall gallery. "I see my work in cozy homes with beautiful interiors, white walls, and high ceilings," Albina says of her widely appealing aesthetic.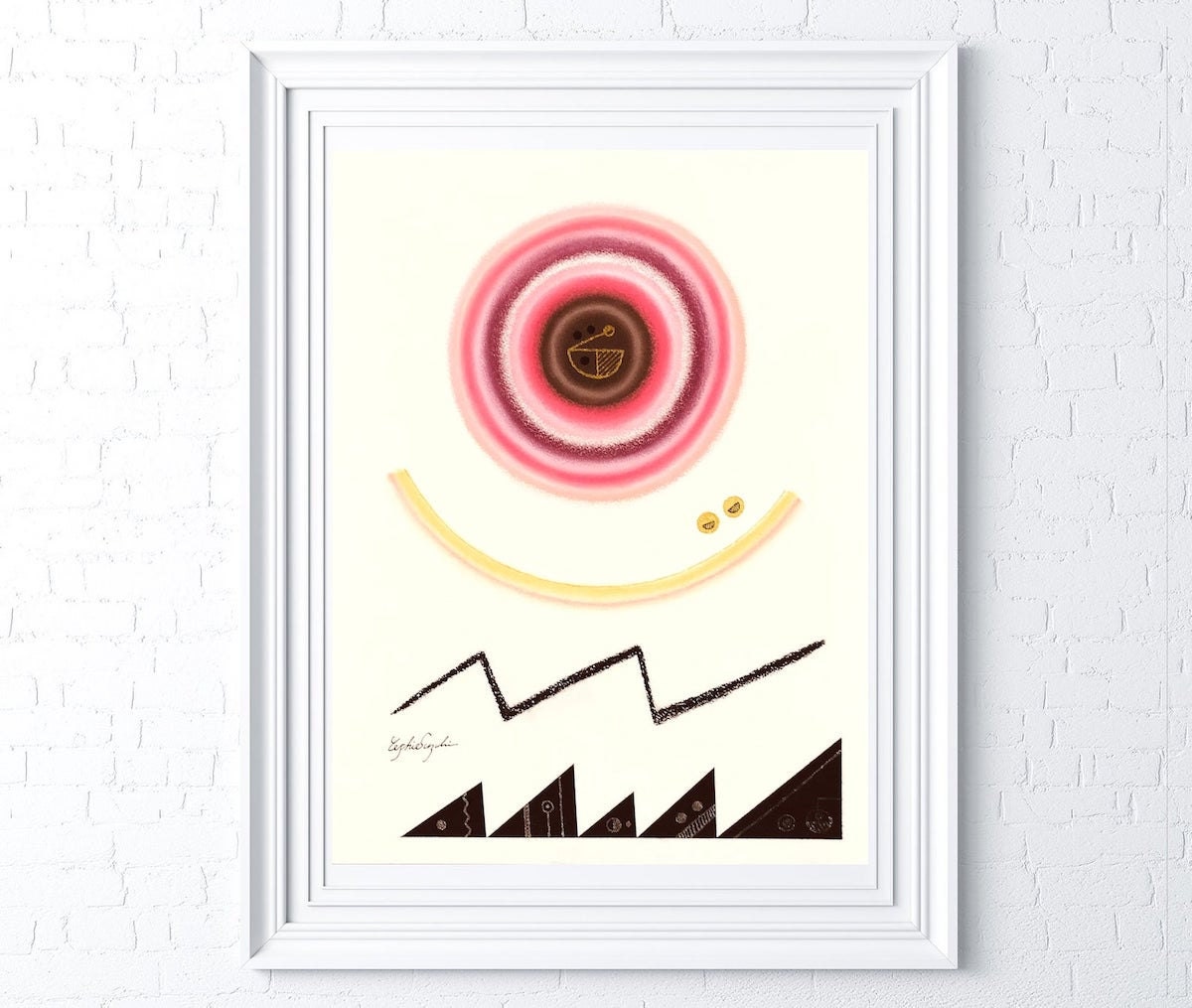 The brightly pigmented squiggles, circles, and curves in Japan-based artist Yoshie Suzuki's original abstract painting prints come alive using a surprising technique. "I paint only with my fingers. I press my finger gently and rub the pastel on paper," Yoshie says. By focusing on broader strokes and leaving room for imagination, Yoshie lets her customers find their own meaning in each piece—a process that's intended to be somewhat therapeutic for the beholder. "My works are a prayer for peace and happiness," she says. "I hope when someone sees my pictures, they heal any aches in the mind."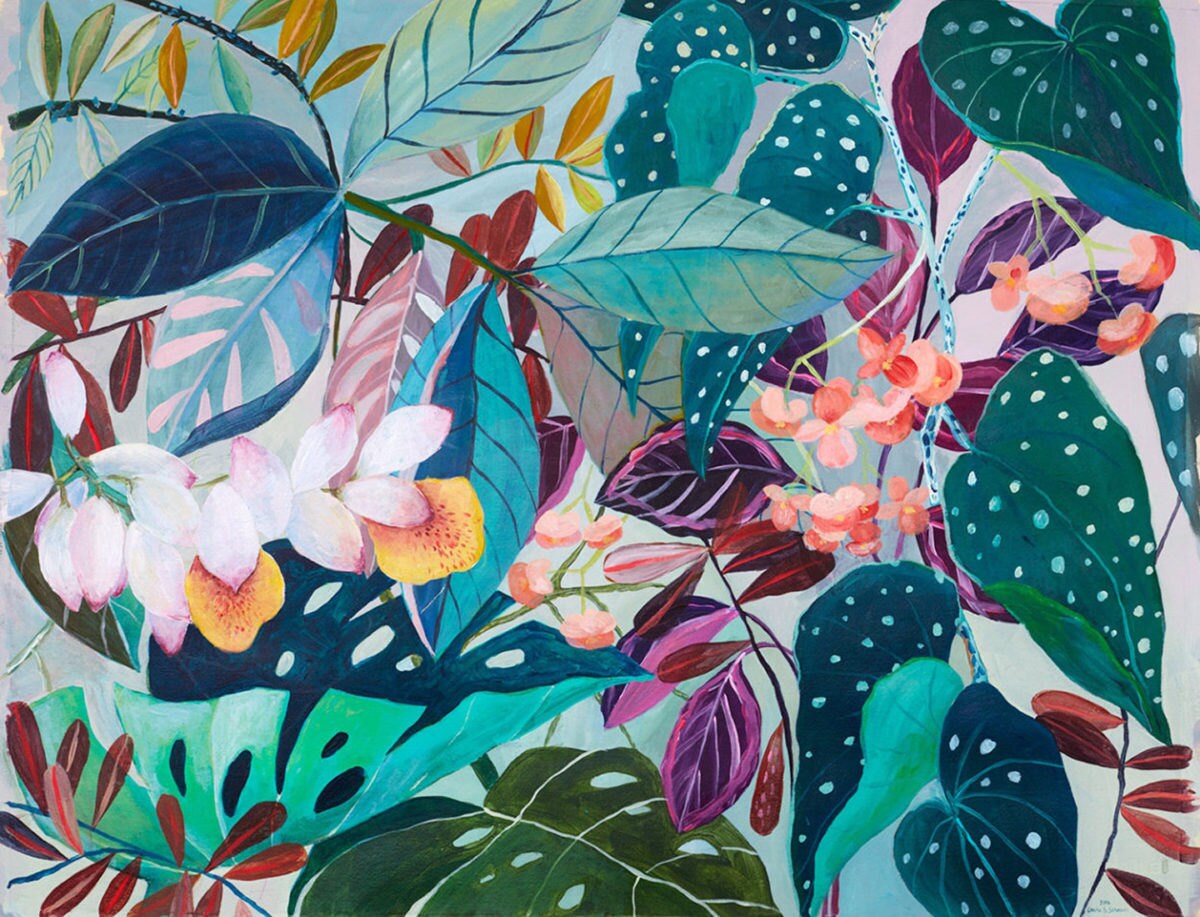 No matter the season, Argentinian artist Laura Garcia Serventi's illustrated tropical plant prints have a way of instantly beaming onlookers to a thriving oasis that's as soothing as it is magical. "The world of plants fascinates me, and botanical gardens are one of my favorite places to visit," she says. And from covetable indoor plant collections and mystical scenes of the Sonoran Desert at night to palm portraits featuring vibrant pops of pastel, Laura's colorful creations will bring the garden to your walls—no green thumb required.