From leather wallets to slim card holders, these men's and women's wallets make great gifts for any occasion.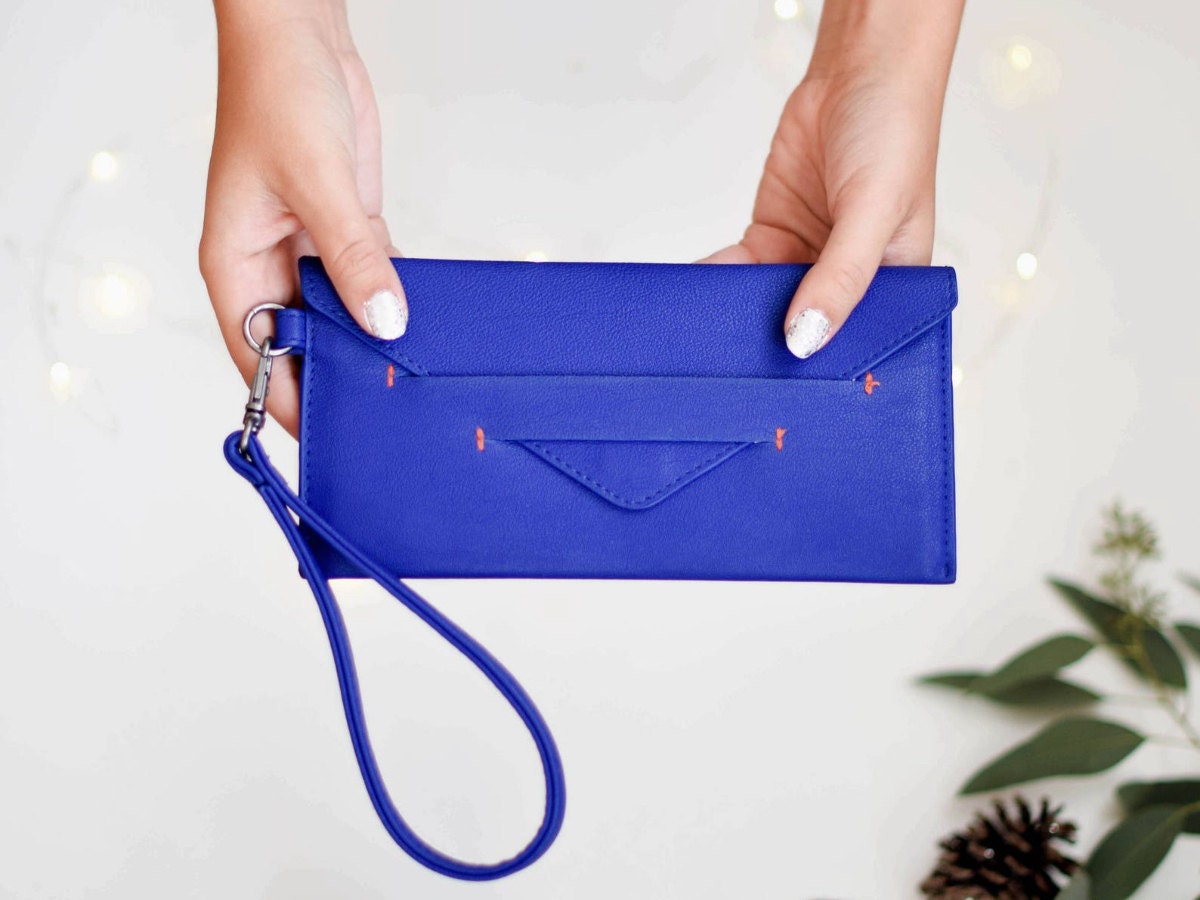 Whether your money jiggles or folds, these sleek wallets will help you keep all of your essentials organized in style—from minimalist options that tuck neatly into a jacket pocket or a tiny clutch purse to luxurious leather wallets to RFID-blocking wallets can help keep would-be thieves from potentially scanning your credit cards.
Wallets also make excellent gifts for Father's Day, Mother's Day, graduations, birthdays, holidays, and other big milestones. (Leather wallets also make perfect presents for a third-year "leather" wedding anniversary!) And many of these options can be personalized with their name or initials—or even a custom message—for an extra special gift they'll cherish daily.
Best minimalist wallets
Don't like bulky wallets weighing down your pockets (or your pocketbook)? These minimalist wallets will keep your cash and credit cards organized without taking much space.
1. A handpainted leather wallet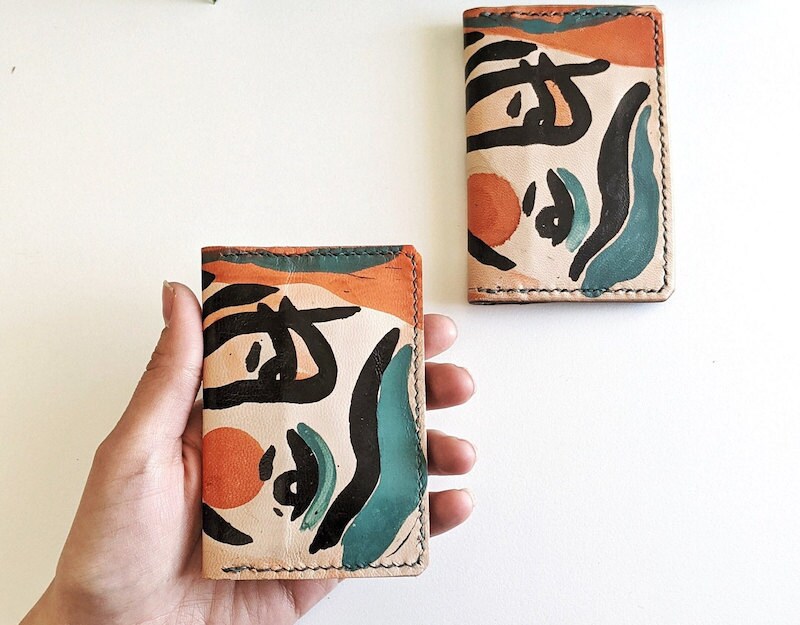 SHOP: Handpainted leather card wallet from SA College, $52
This wallet is a work of art! Made of vegetable-tanned leather and hand-painted with an abstract face, the slim wallet measures about 4 inches long when closed. It has a snap closure and four pockets that can hold more than eight cards and folded cash.
2. A monogrammed minimalist wallet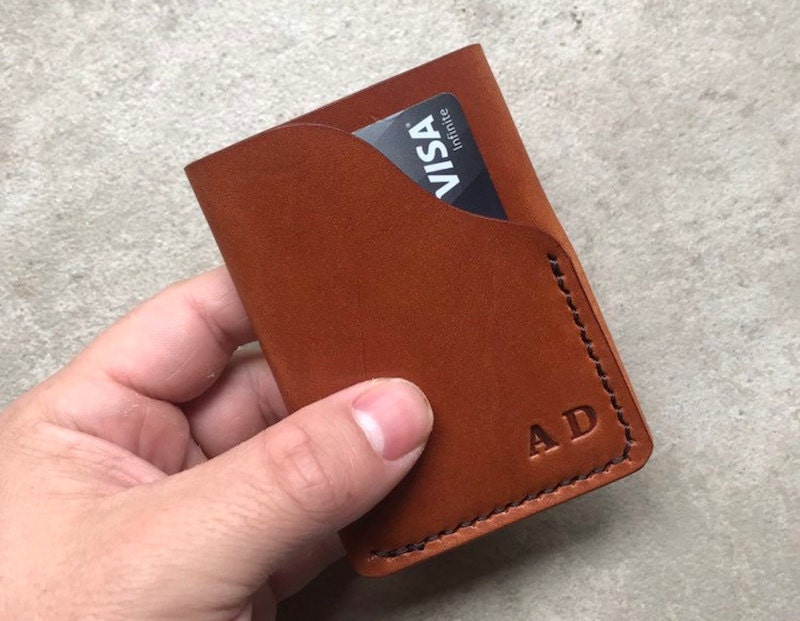 SHOP: Minimalist leather card wallet from Cabin Leather Goods, $39
Make this slender wallet all your own. You can choose from several colors of leather, including dark brown, gray, and black, and forest green—as well as several thread colors. Plus, you can personalize it with your name or initials. The slim, 4-inch-tall wallet has two pockets that can hold up to 6–8 cards or folded cash.
3. A pastel personalized card holder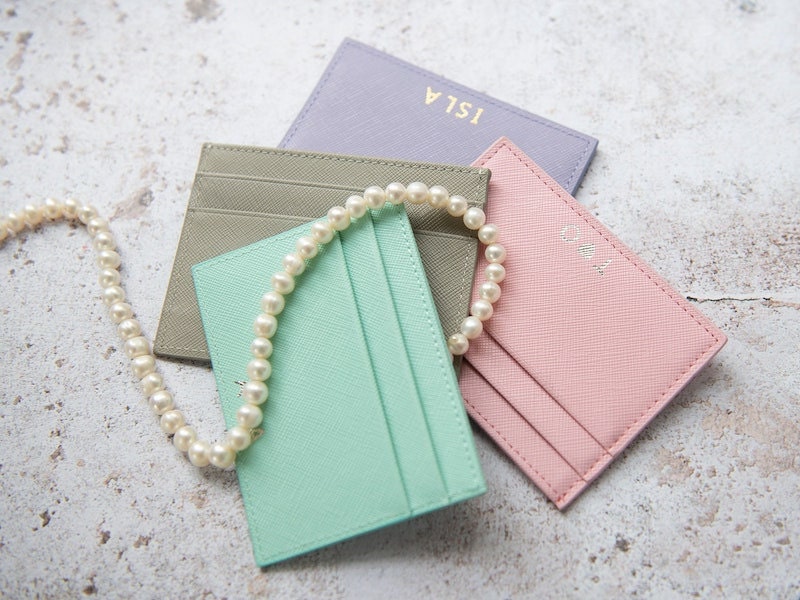 SHOP: Personalized slim card holder from Ophis Leather, from $16
This petite leather wallet—available in a rainbow of pastel shades as well as navy, black, brown—still manages to hold a lot. The 4-inch long case has four slots for credit cards as well as a central compartment for cash or receipts. Plus, it can be personalized with your name or initials in either gold or silver foil. You can purchase it with an optional box for easy gifting.
4. A vegan keychain wallet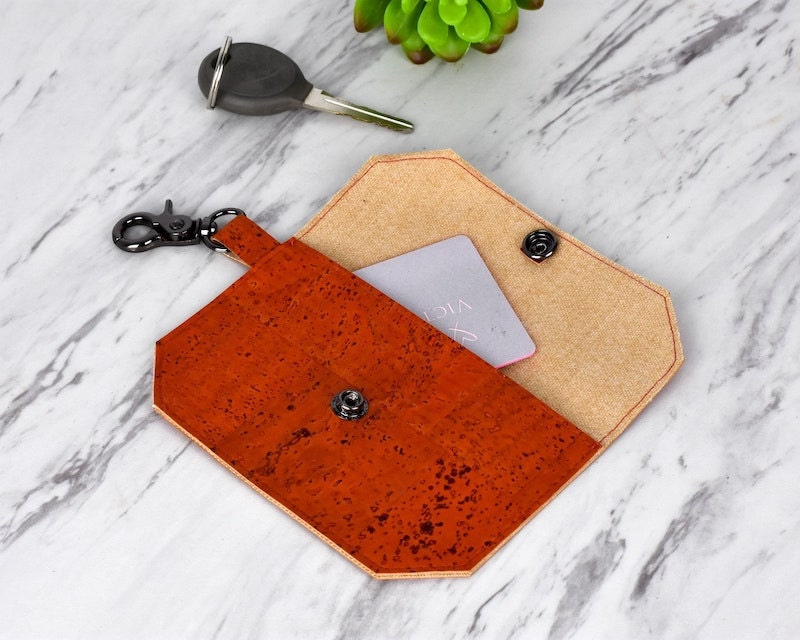 SHOP: Vegan cork wallet from JoJo's Bags & Things, $10
This vegan cork keychain wallet comes in three colors—gold, tan, and orange—and measures about 4 inches wide. It can hold change, a few credit cards, or your ID. Plus, it has a keychain to hook onto your purse or bag.
5. A personalized leather card wallet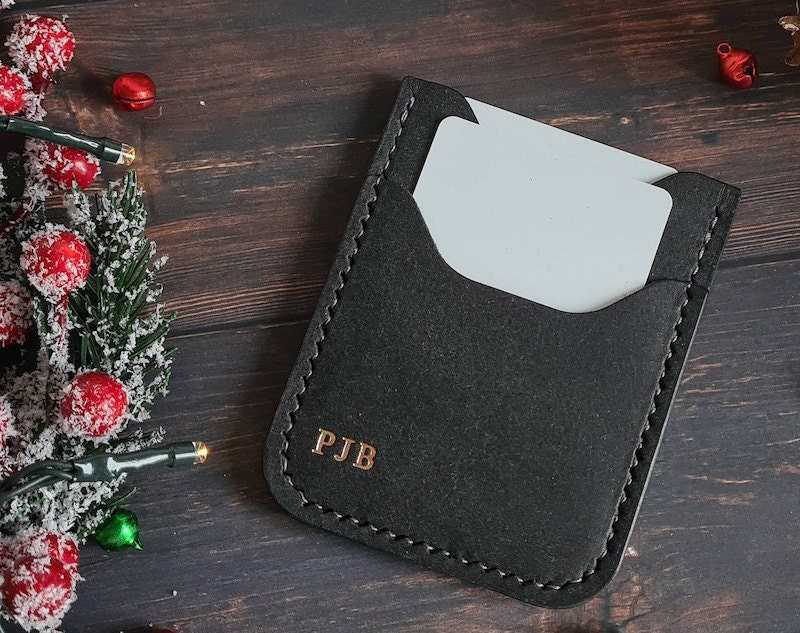 SHOP: Personalized card holder wallet from Lucien Leather Goods, $74
It's easy to stash away this slim leather card holder. The nearly 4-inch long wallet has three pockets that can hold six cards or folded cash or receipts—and it comes in a range of rich colors, including a deep teal, mustard yellow, dark purple, black, and brown. You can also choose from a wide array of thread shades for an extra pop of color. Plus, you can personalize it with your name or initials in a choice of gold, silver, or rose gold foil.
6. A stylish money clip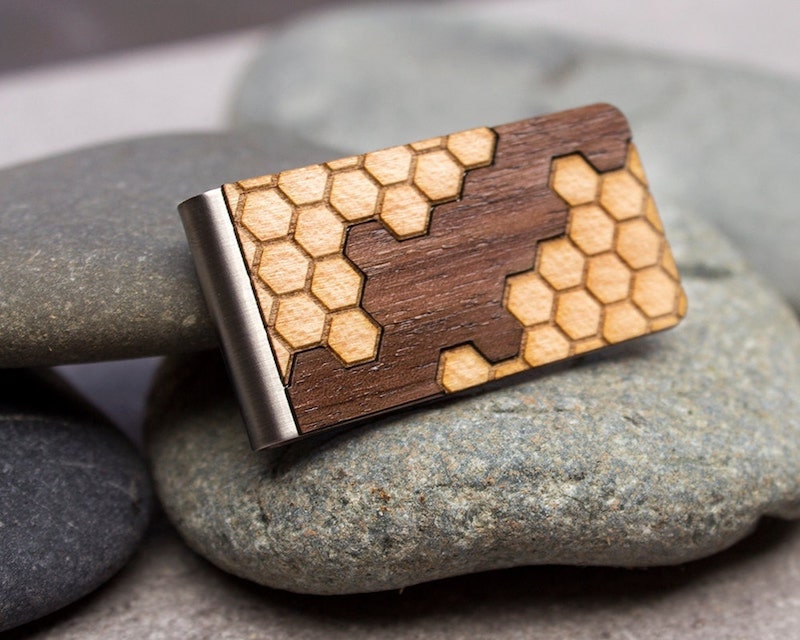 SHOP: Laser-cut honeycomb money clip from Treeline & Tide, $28
Although technically not a wallet, this stylish money clip is about as minimalist as you can get. The 2-inch clip, made of wood and stainless steel, has honeycomb pattern laser cut into maple and walnut. Plus, it comes packaged in a kraft gift box, ready for gifting. The seller also carries other money clip styles, including some that can be engraved with your name or initials.
Best leather wallets
There's a reason why leather wallets are popular: They're strong and durable, and they get better looking with age, something that's important when it comes to an item that you use every day to store your valuables.
7. A monogrammed leather wallet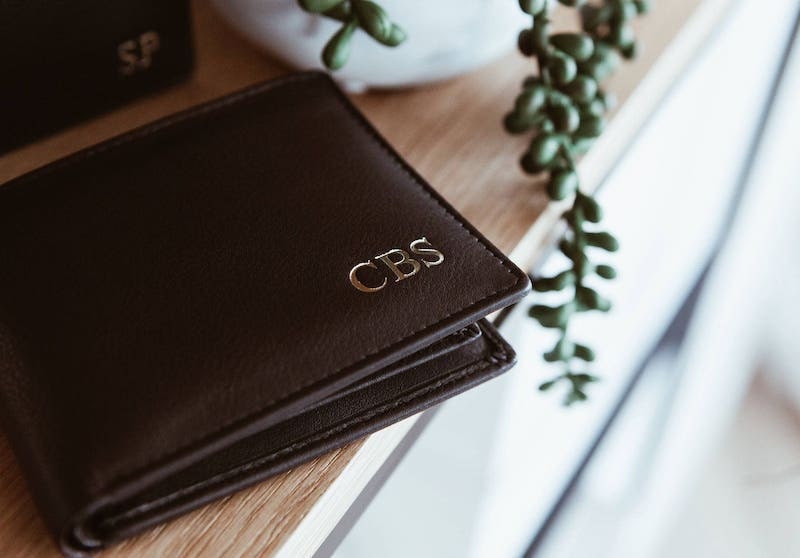 SHOP: Men's monogrammed leather wallet from Hinterland Foil, $57
You can have your initials embossed into this luxe leather billfold, which is perfect for gifting. Available in black or brown, the wallet, which measures a little over 4 inches long, has lots of room inside for all of your cards, cash, and IDs—with eight card slots and a removable card holder. Plus, it contains RFID-blocking technology to keep your credit cards secure.
8. A leather triangle zip wallet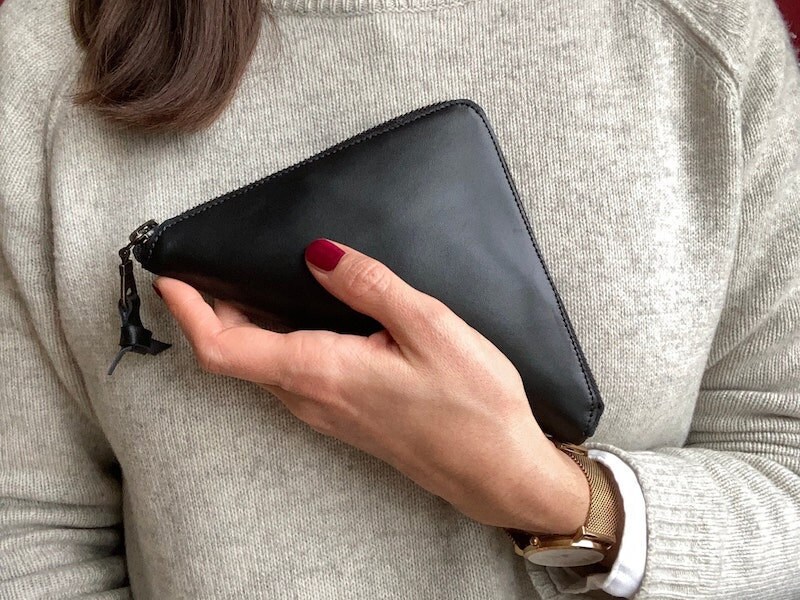 SHOP: Black leather triangle zip wallet from Lara Kazis, $116
Who says wallets need to be square? This black triangle wallet, which is made of nubuck leather and measures about eight inches on its longest side, not only has a distinctive shape but it also has slots for cards and cash as well as a pouch for change. Plus, it zips up to keep everything contained. It's also available in a few other colors, including gray and ivory.
9. A zippered leather wallet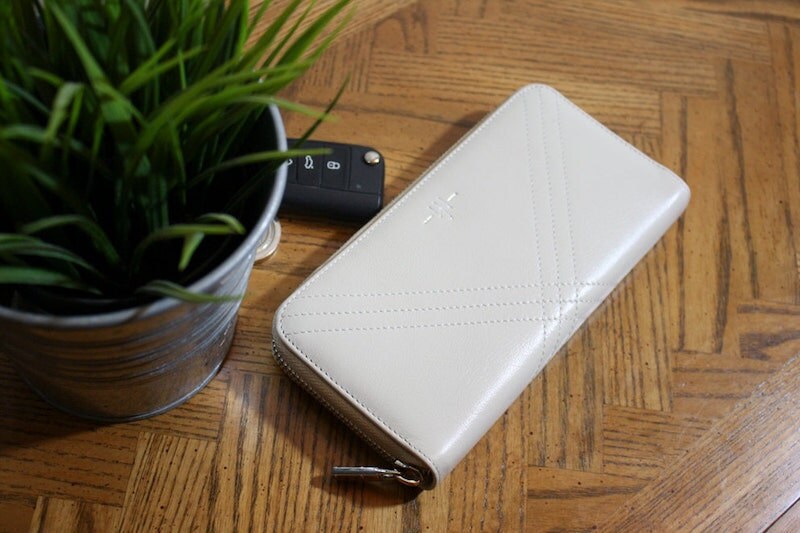 SHOP: Ladies cream and blue leather wallet from Whiteley Design, $64
You can pack a lot into this creamy leather wallet. Measuring about 7 and a half inches long, it's designed to fit up to 18 or more credit cards with room to spare for cash and coins in its gorgeous blue leather interior, which has a handy zip closure. (It also comes in orange.)
10. A leather wallet with a custom message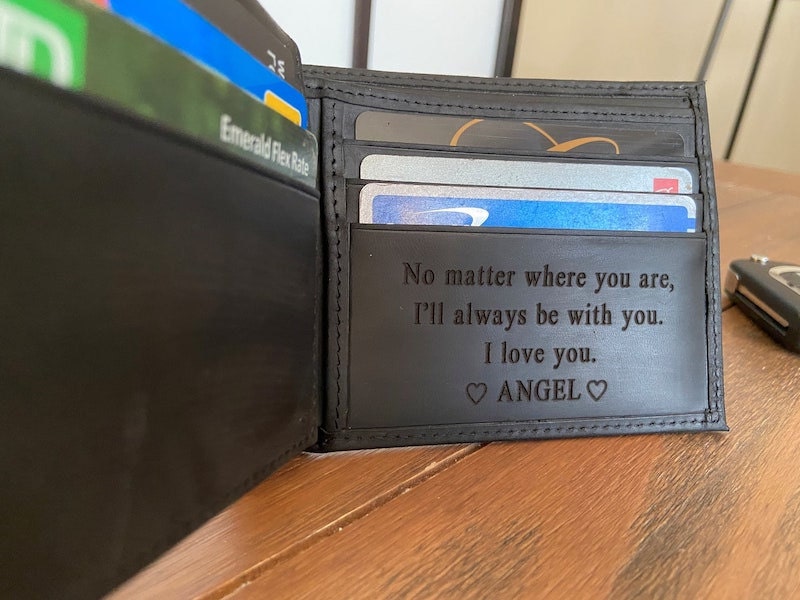 SHOP: Personalized leather men's wallet from Caglar Creations, from $72
This leather wallet with a personal touch makes a great gift for Father's Day, anniversaries, birthdays, graduations, and other holidays. Available in light brown, dark brown, or black leather, this billfold can be embossed with your name or initials on the front and you can also get a custom message on the inside either in a printed font or your own handwriting. Plus, the 4.5-inch-long wallet is roomy, with 11 card slots and RFID blocking technology to secure your cards.
11. A sleek colorful wallet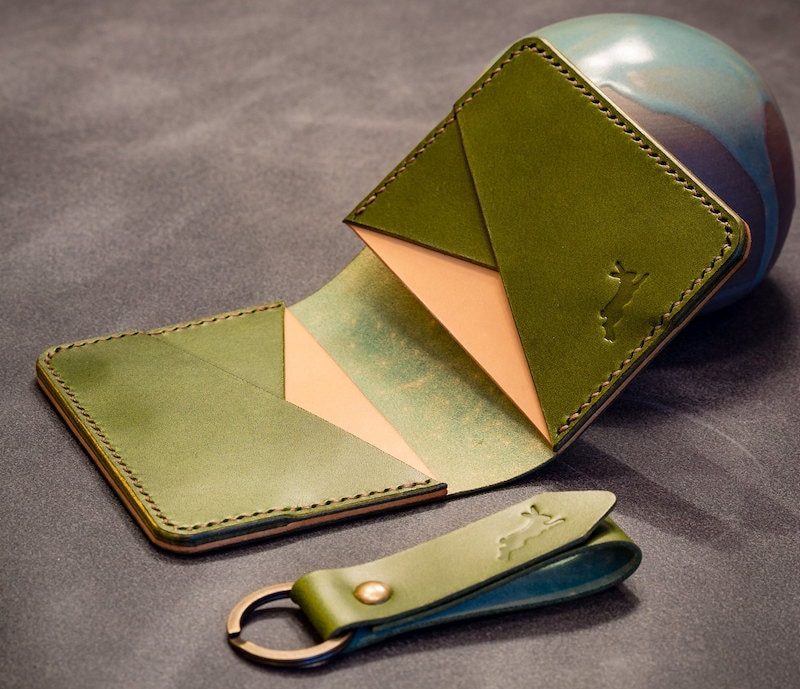 SHOP: Bifold leather wallet from Belgian Hare Leather, $79
Add a little color to your wallet! This slim leather billfold, with four slots for cards and an area for cash, is available in a whole rainbow of rich shades, from deep purple to teal to olive green, and accented with a choice of more than a dozen thread colors.
12. A rustic leather keychain wallet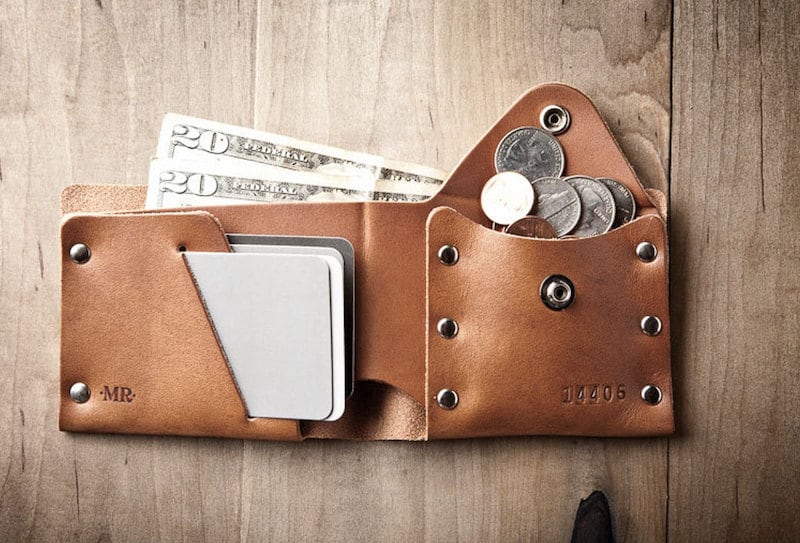 SHOP: Leather coin wallet from Mr. Lentz, from $84
Whether you've got change or bills, you can keep it all organized in this rustic leather billfold with a built in coin wallet. The wallet, available in tan, brown, or black leather, is held together with brass rivets and can hold a medium stack of cash and six cards. You can also get it stamped with your name or initials—or get an optional chain in four different styles to keep your wallet secured to your trousers.
Best slim wallets
From skinny wristlets to slender card holders, these slim wallets will hold all your essentials without extra bulk.
13. A whimsical hand-printed wallet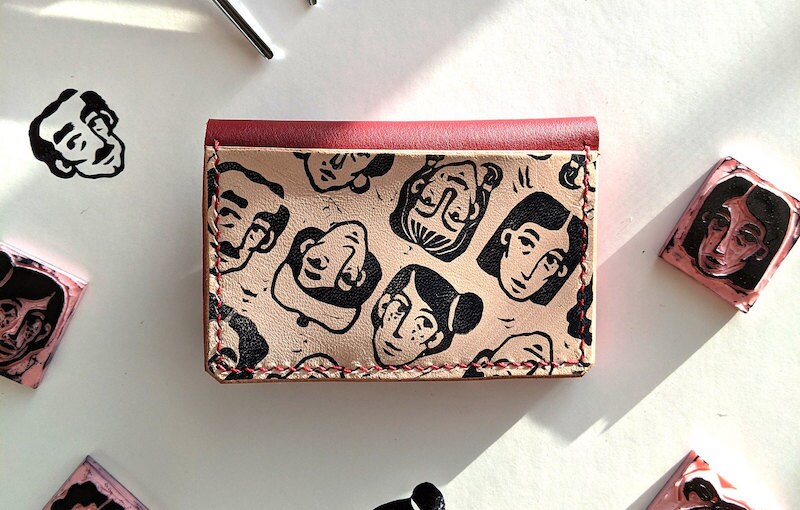 SHOP: Hand-printed faces leather wallet from SA Collage, $52
Stand out from the crowd with this leather wallet that is hand stamped with faces carved out of linoleum blocks by the artist. The slim wallet measures about 4-inches long and has a snap closure. Its bright cherry red leather interior has two slots for cards or cash as well as two slots on the exterior.
14. A slim wristlet wallet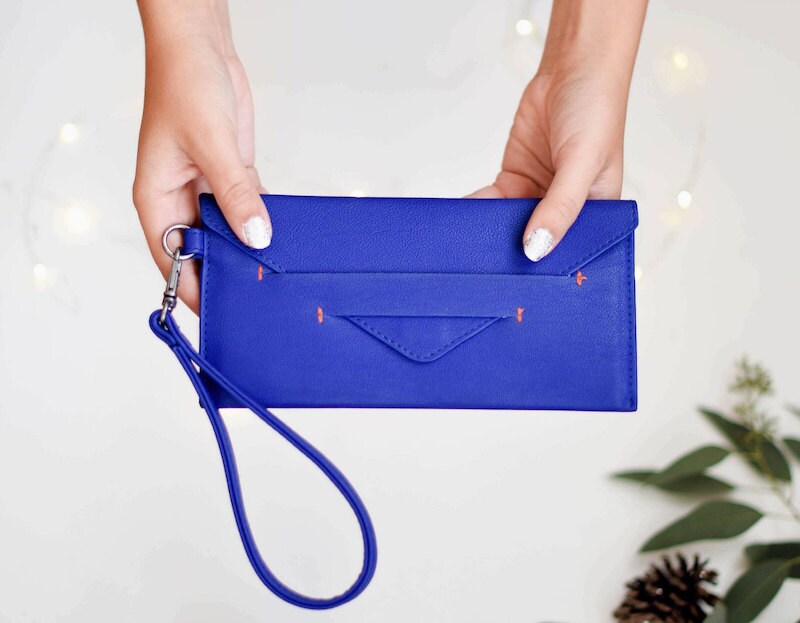 SHOP: Women's vegan envelope wallet from Canopy Verde, $59
Traveling light? This slim wristlet wallet can sub for a purse. The envelope wallet, which measures 8 inches long, is designed to hold a lot, including bills, four card slots, and an open compartment for coins and keys. Made of vegan, PVC-free leather, the wallet comes in three colors: royal blue, graphite, and metallic gold.
15. A slim woven leather wallet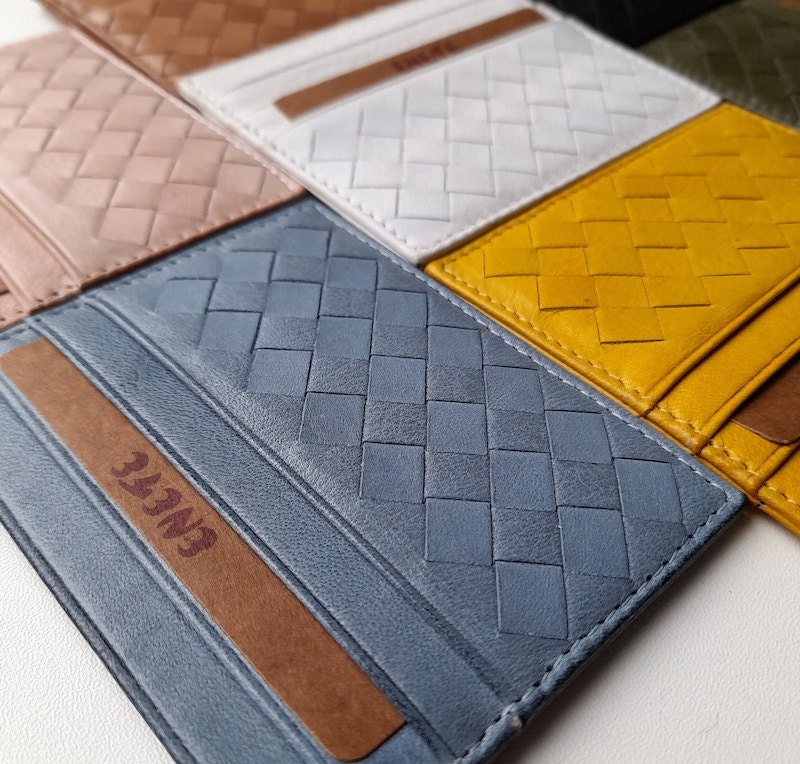 SHOP: Handwoven leather credit card holder from Enete Leather UK, from $49
This slim woven card holder slips easily into any pocket or purse. Available in seven shades, including dusty blue, salmon pink, black, and white, the wallets have six card slots as well as a central compartment for cash, receipts, or notes. Plus, they can be stamped or embossed with your initials or a message.
16. A leather galaxy wallet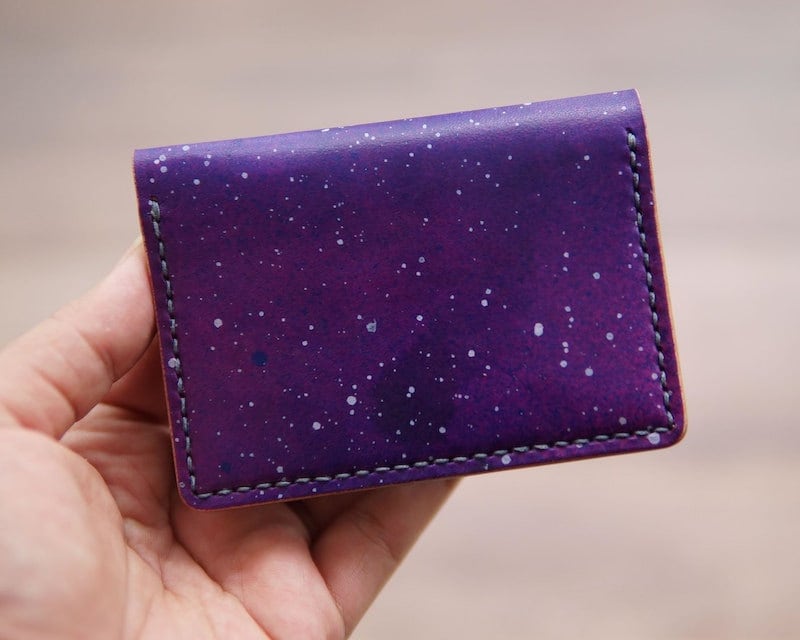 SHOP: Leather galaxy card holder wallet from Master Cap Workshop, $47
Obsessed with the images from the James Webb Space Telescope? You'll love this slim leather wallet, painted to look like a galaxy of stars. The 4-inch purple wallet has four internal slots for cards or cash, and you can choose from several colors of leather for the interior. It can also be personalized with your name or initials.
17. A two-toned card wallet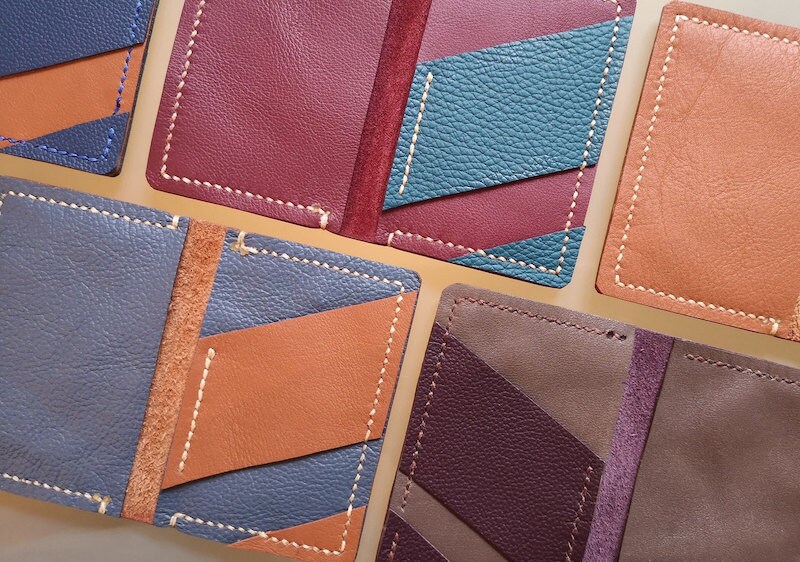 SHOP: Leather unisex card holder wallet from L'Atelier Du Chat, $33
These slim, 4.5-inch-long leather wallets have a fun two-toned interior with three slots for cards or cash. It comes in a choice of a few different colors, including camel and eggplant.
Best trifold wallets
With a handy closure, trifold wallets can hold quite a bit, from cards and cash to loose coins and even your mobile phone.
18. A bright trifold leather wallet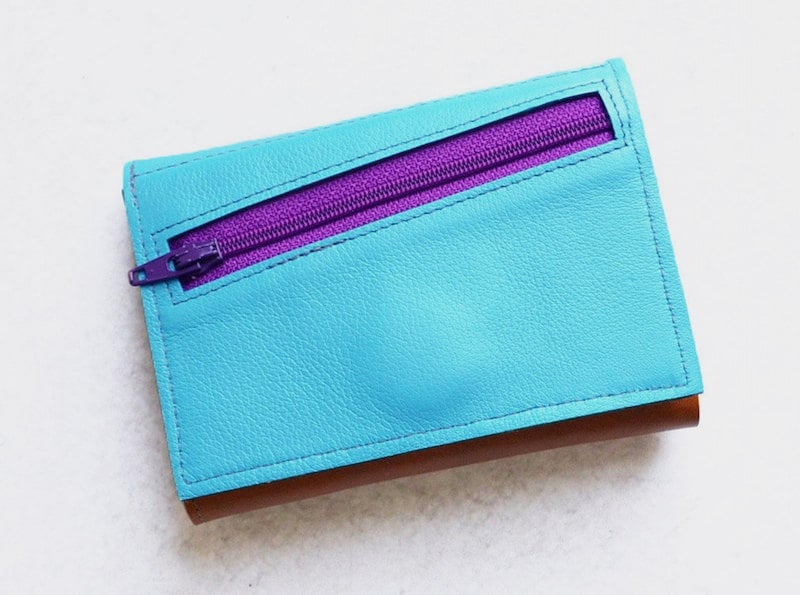 SHOP: Women's leather trifold wallet from Lolafalk Leathergoods, from $138
With six card slots, a pocket for cash and receipts, a zippered pocket for change, and two hidden pockets, this teal trifold wallet can hold a lot. The leather wallet, which also comes in several other candy colored shades, can also be monogrammed on the exterior or interior.
19. A mini leather trifold wallet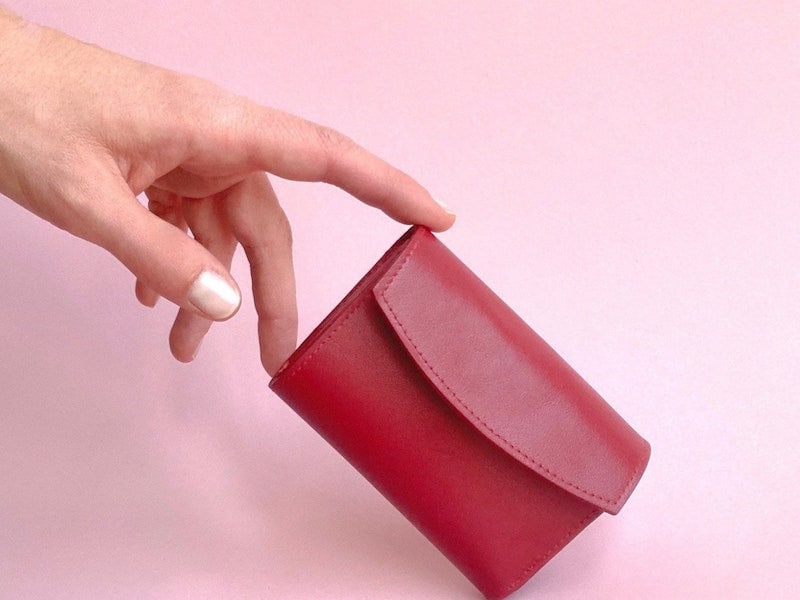 SHOP: Red leather trifold wallet from Lara Kazis, $73
This red leather wallet is small but mighty. The nearly 4-inch-long wallet can hold up to six cards and cash—and it has an internal pocket for coins. Made of nappa leather, the wallet is also available in green and black.
20. A large trifold wallet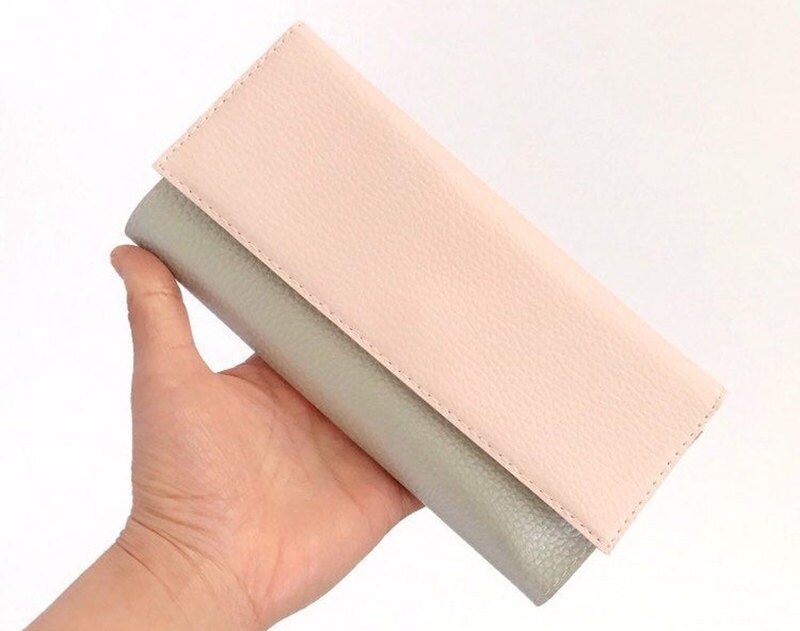 SHOP: Blush pink ladies vegan leather wallet from Pitti Vintage, $88
Have a lot to carry? This 7.5-inch-long trifold wallet, made of vegan leather, can tote a ton, with four slots that can hold up to 16 cards, a large zippered pocket for coins and cash, and two large slip pockets that can hold notes and receipts—or even an iPhone. Make it your own by mixing and matching your favorite combination of up to 16 different shades of vegan leather, including the blush pink with silver combo seen here.