From bold patterns to classic neutrals, shop the best wallpapers for every style and every room in your house.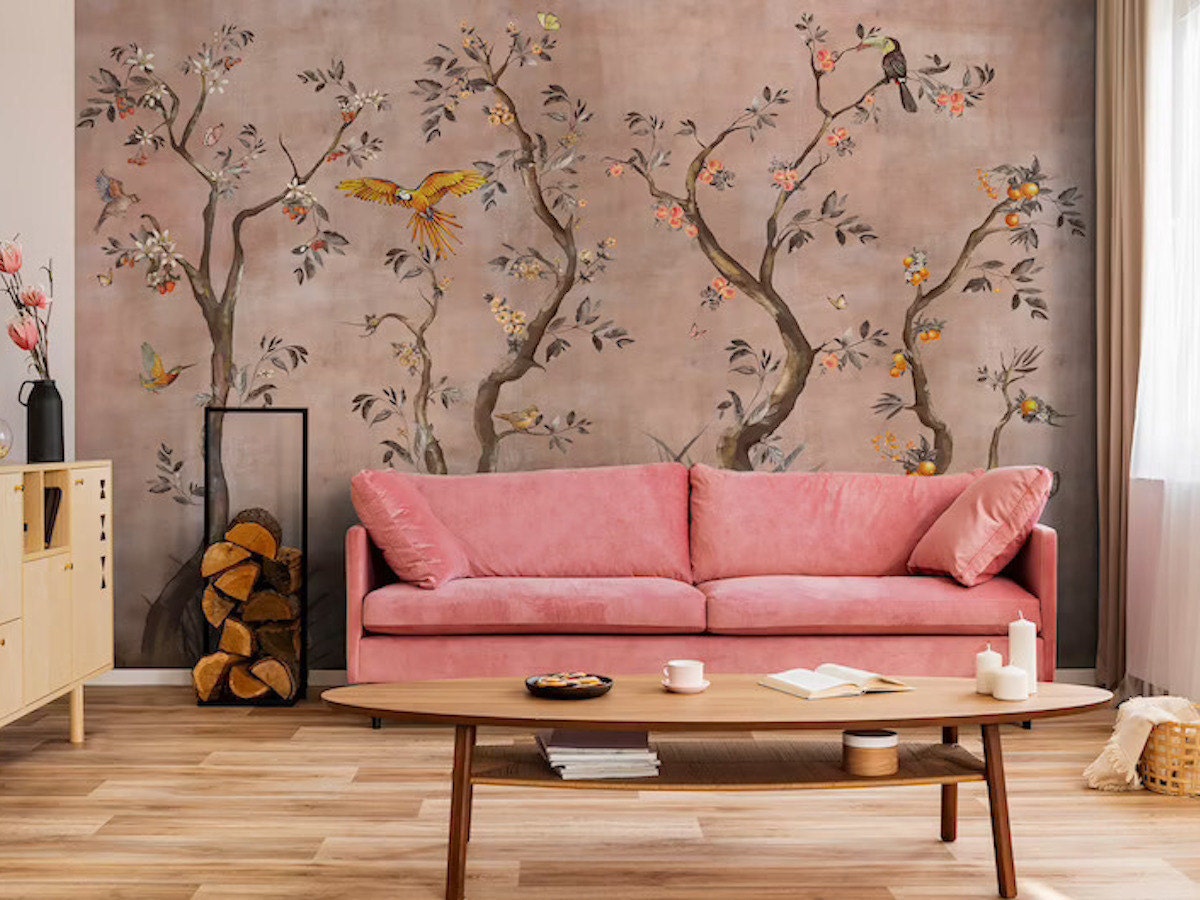 Wallpaper is having a serious revival when it comes to interior design, and we're here for it. From room-transforming wallpaper murals to peel-and-stick patterns that are très chic and temporary, don't be surprised if your redecorating to-do list grows by a room or two once you see these patterns.
Perfect for kitchens, bathrooms, bedrooms, hallways, and so much more, wallpaper instantly transforms a space, even when it's used on just a single wall (or the ceiling!). Scenic wallpaper murals expand smaller rooms by bringing in some of the great outdoors, while using an intricate pattern throughout a space, in rich tones like emerald, navy, and even black, makes larger rooms feel cozy and intimate.
Using wallpaper in your home isn't limited to just your four walls. It can be used to refinish a dresser, applied as a backsplash, or even framed with molding to create art-worthy wall panels. Here are a few of our favorite wallpaper design picks to get your creative juices flowing.
Wallpaper murals
If you're not quite ready to commit to wallpaper throughout your entire room, consider making a serious statement with these one-wall wonders. Despite being floor-to-ceiling works of art, these wallpaper murals actually work quite well in small spaces by giving the illusion that you could step right into the scene they're setting.
Desert-inspired sunrise wallpaper mural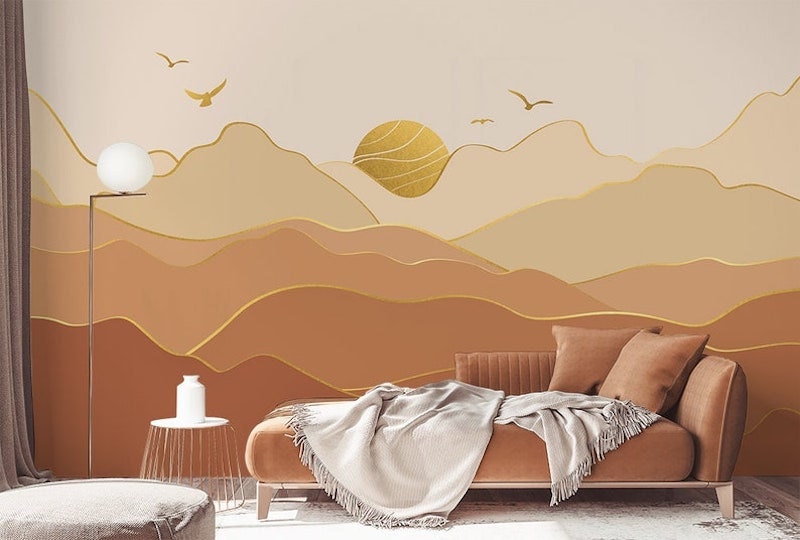 SHOP: Sunrise landscape peel-and-stick wallpaper mural from Wallphy, from $15
From sun up to sun down, this ombré terracotta wallpaper mural infuses any space with peachy warm tones and scenic views.
Mexican-landscape wallpaper mural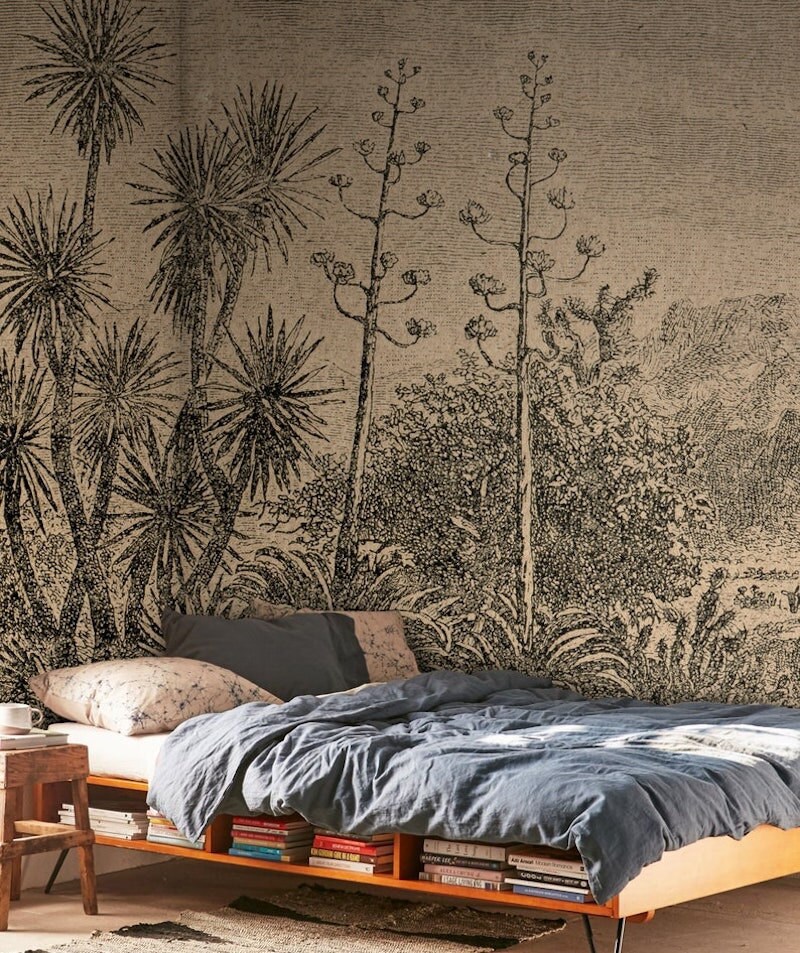 SHOP: Mexican landscape repositionable wallpaper from RetRoll Interiors, from $92
If you've got a perpetual case of wanderlust, this succulent-filled illustration will make you feel like you've relocated to the stillness of the tranquil high desert.
Watercolor accent wall mural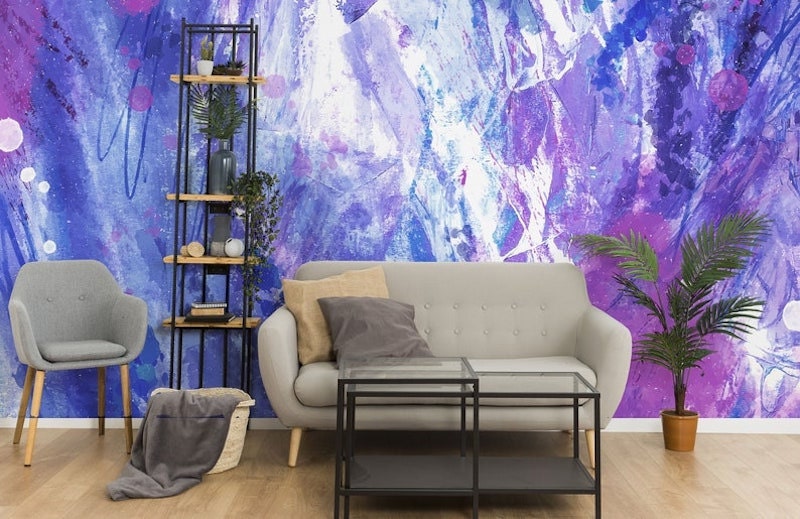 SHOP: Blue agate peel-and-stick wallpaper mural from Landscape Walls, from $80
Wallpaper murals aren't just for landscapes! Choosing a wallpaper mural with a bold pattern like this agate-inspired design is an abstract way to bring color into a space without committing to a specific pattern or scene.
Best wallpapers for ceilings
An eye-catching spin on traditional accent walls, shift the vision for your space skyward and add wallpaper to your ceiling. This increasingly popular wallpaper trend is a way to add a fun pop of color or a dramatic pattern without detracting from all the decor you've already placed at eye-level.
Pink fabric wallpaper for ceilings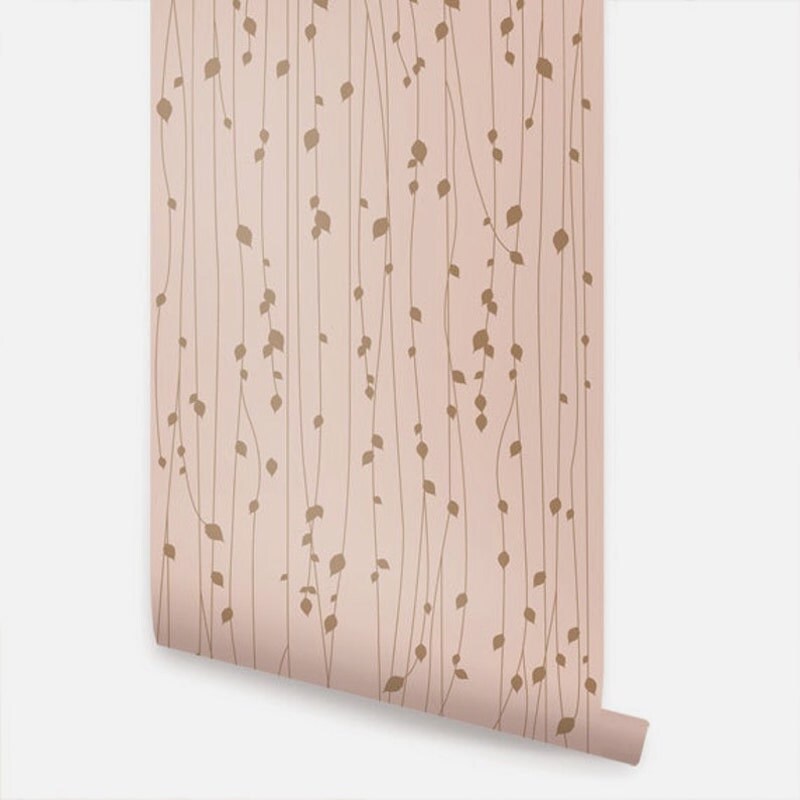 SHOP: Peel-and-stick pink fabric wallpaper with vines from AccentuWall, from $30
A sweet touch for a nursery or girl's bathroom, the gilded, meandering vines on this pink-and-gold fabric wallpaper add a touch of whimsy and make-believe.
Peony flower wallpaper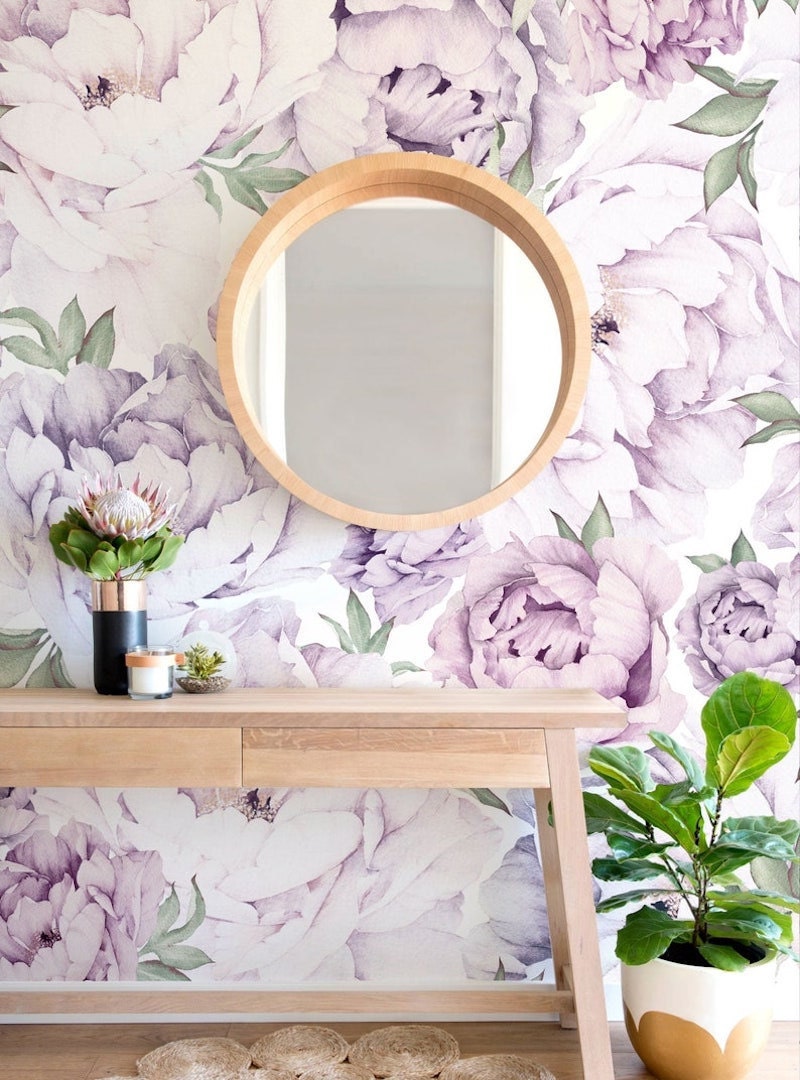 SHOP: Watercolor peony wallpaper from AccentuWall, from $68
Create a lush botanical canopy in your room by adorning the ceiling with flowers thanks to this purple, peony-filled wallpaper.
Black painted dots removable wallpaper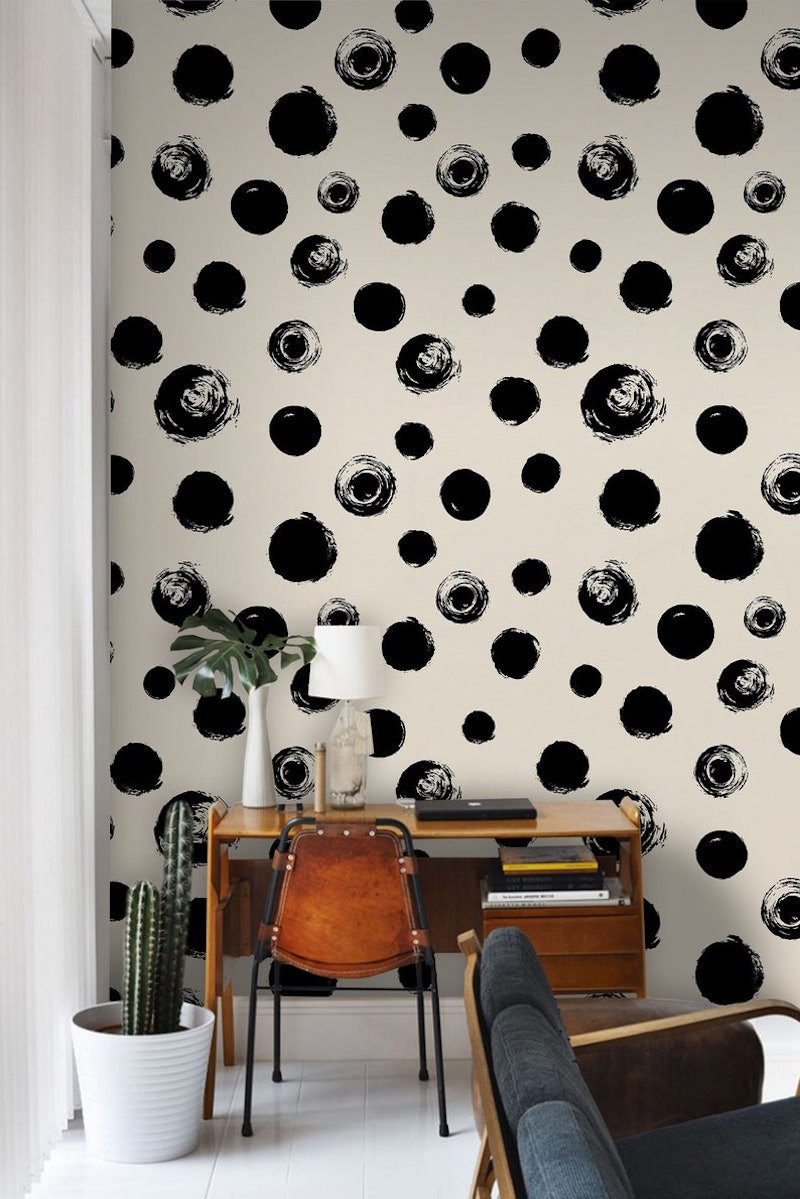 SHOP: Hand-drawn black and white dots wallpaper from RetRoll Interiors, from $30
Using this wallpaper on the ceiling brings just enough of the larger-than-life polka dot pattern into your space without overwhelming it.
Best removable wallpapers
If you're not quite ready to try traditional, pasted wallpaper, removable wallpaper, also known as peel-and-stick wallpaper, is an easy-to-remove solution that can be swapped out as your space evolves. Sometimes known as "renter wallpaper," these removable designs from Etsy sellers are high impact and low commitment.
Removable wallpaper for kitchens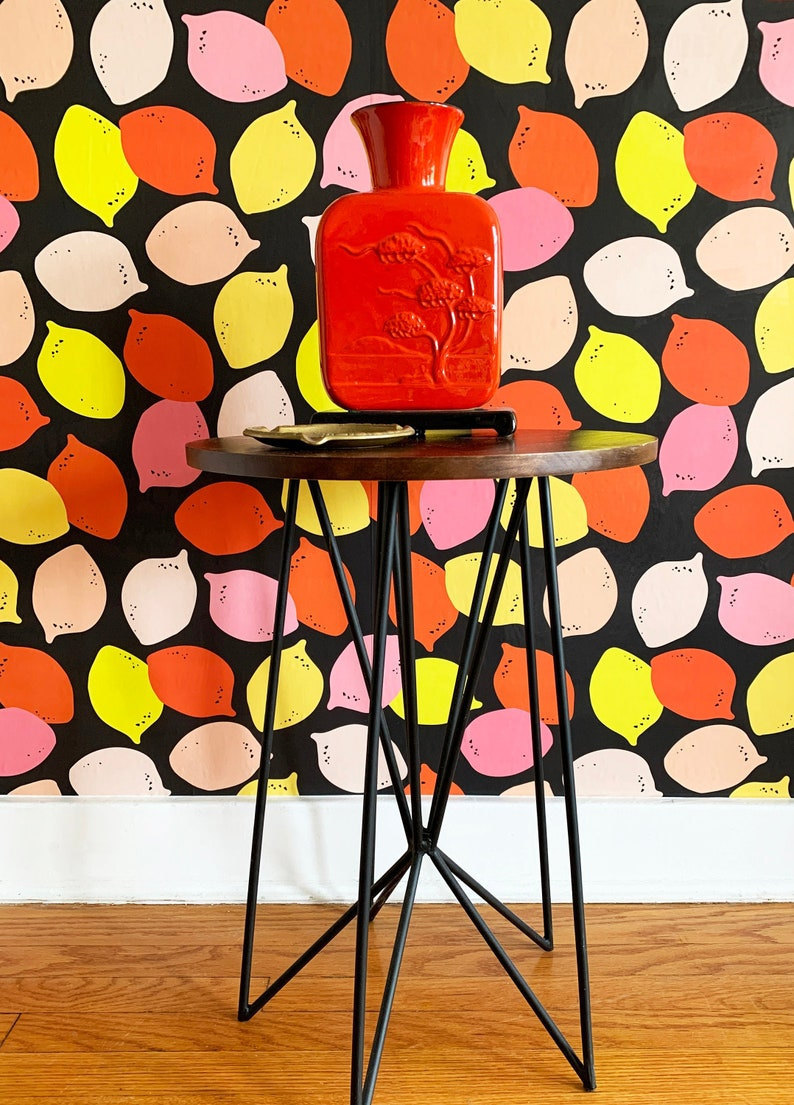 SHOP: Liz Lemon print wallpaper from Kate Zaremba Company, from $30
These colorful lemons add flavor as you cook up a new look for your kitchen, and this removable wallpaper can be used as a shelf liner, cabinet backing, backsplash, on a pantry door … the possibilities are endless.
Geometric black-and-white removable wallpaper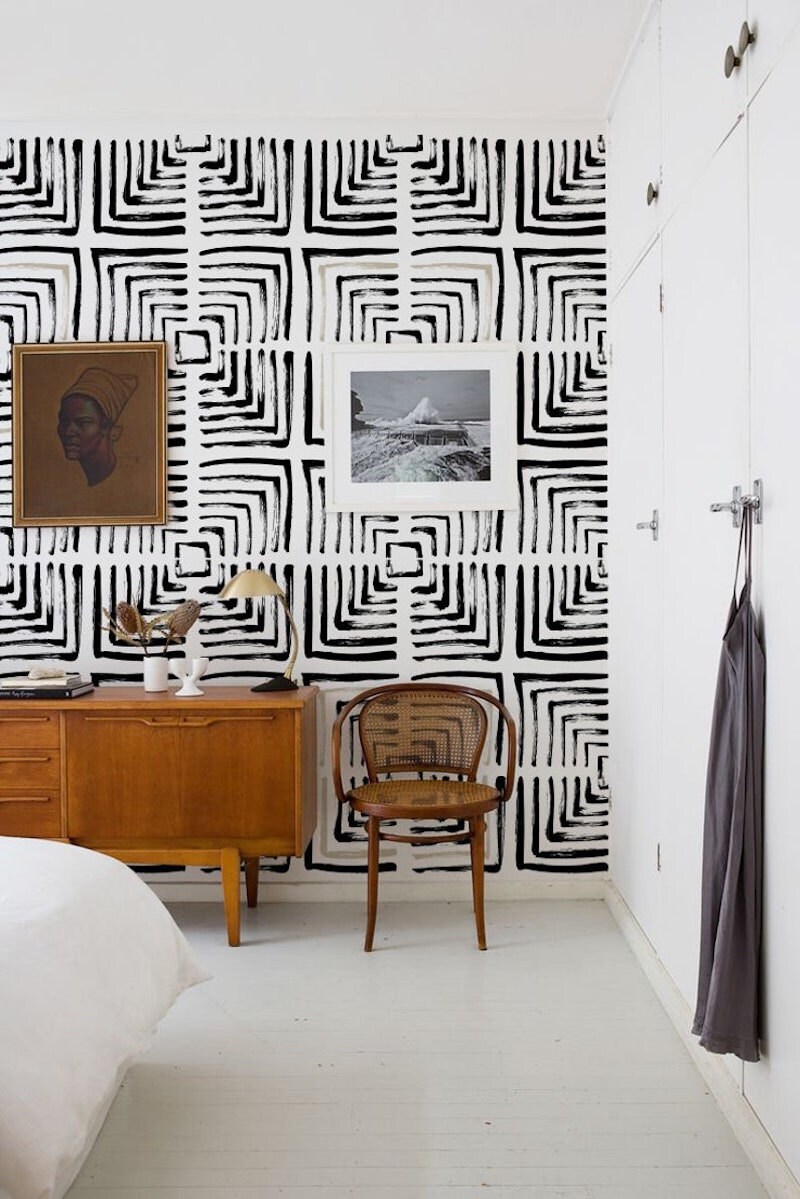 SHOP: Grunge pyramid removable wallpaper from RetRoll Interiors, from $34
The hand-drawn outlines on this removable wallpaper soften the black-and-white design, allowing it to stand out in your space without being overbearing.
Vintage removable wallpaper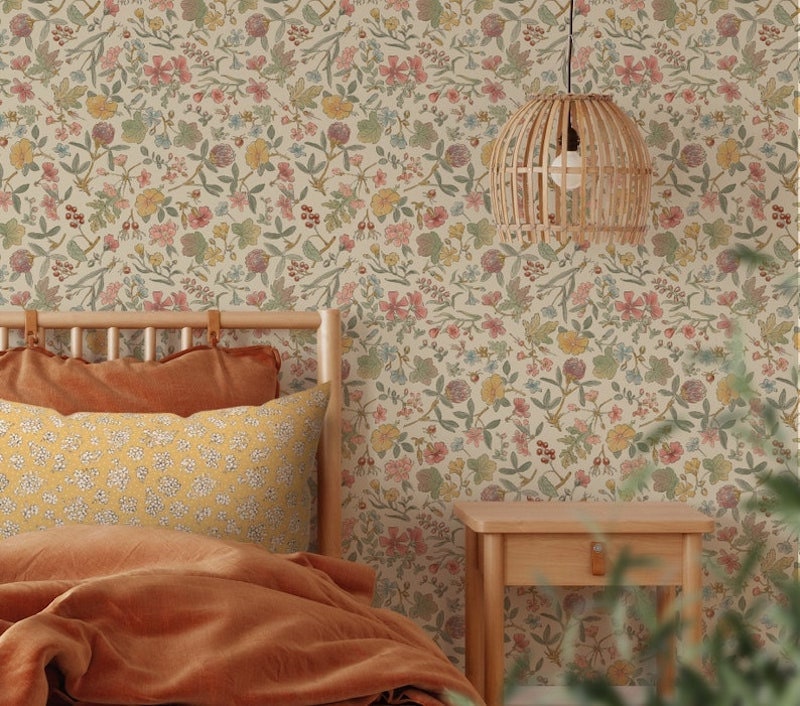 SHOP: Cozy cottage floral scatter removable wallpaper from Mersea Home Livery, from $40
The fact that this vintage floral wallpaper is removable makes it a pretty and practical pick for the cottagecore nursery of your dreams because it can be easily updated as the room evolves.
Green wallpapers
With shades moving from soft mint to emerald green to nearly black, green wallpaper works well throughout the rooms in your home, from nurseries to libraries to dens. Adorned with patterns or as the backdrop for lush, botanical-themed patterns, adding these verdant hues to your walls is sure to make the other rooms in your home green with envy.
Art Deco green wallpaper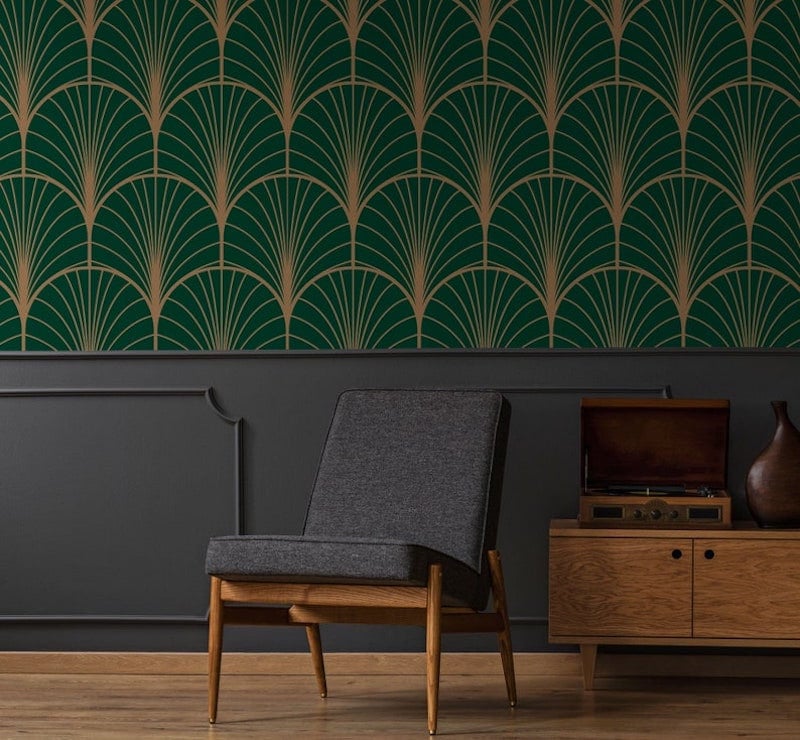 SHOP: Green Art Deco self-adhesive wallpaper from Green Wallpaper, from $41
The Art Deco-inspired pattern on this emerald green design hearkens to an era of speakeasies and indulgence and is a great wallpaper pick for a study.
Tiger wallpaper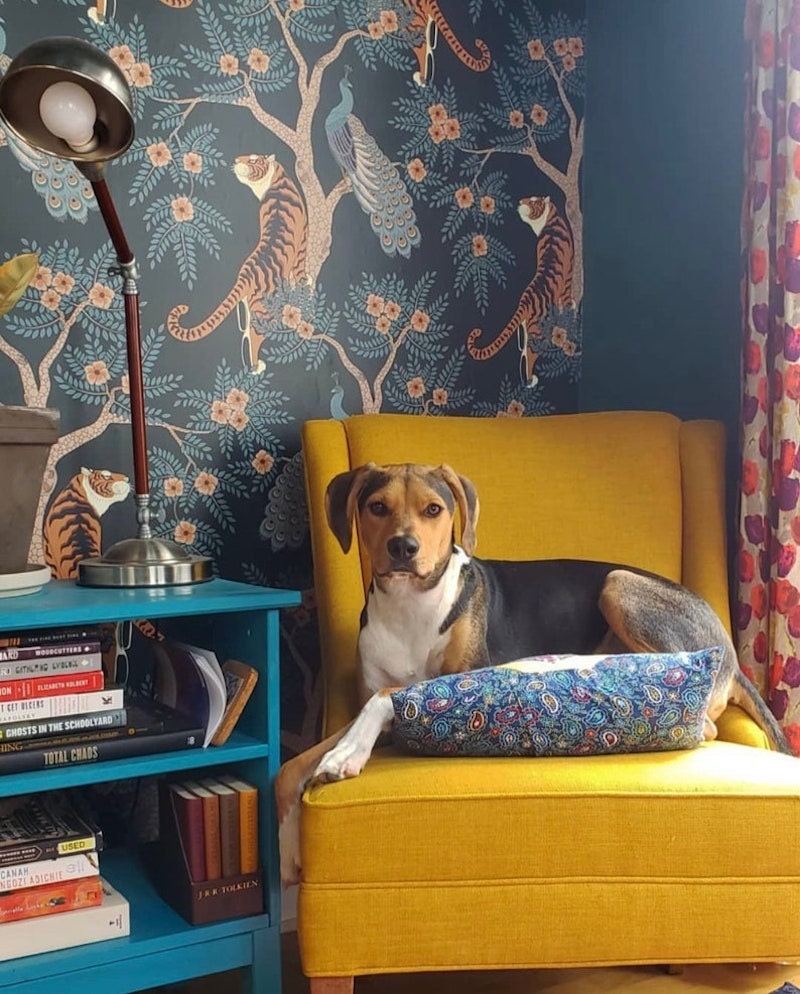 SHOP: Tiger in the woods wallpaper from Green Planet, from $45
Take a walk on the wild side courtesy of this green wallpaper starring majestic peacocks and graceful tigers moving among the trees.
Green faux-texture wallpaper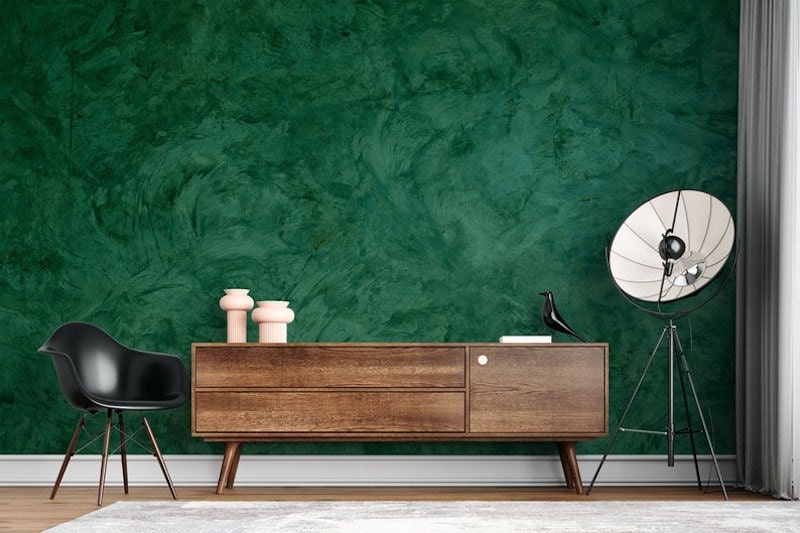 SHOP: Green concrete-look wallpaper from Giffy Walls, from $23
The gorgeous green gradient in this wallpaper design, available in your choice of peel-and-stick or temporary backings, mimics the look of high-end Venetian plaster work without the expense and labor.
Black wallpapers
At first thought, black wallpaper may seem a little intense for your space, but before you pass by this brave design choice, imagine the possibilities. The deep tones create an immediate feeling of depth and warmth that blurs the boundaries of your room and invites you to linger just a bit longer, making it perfect for a bathroom sanctuary or a restorative bedroom space.
Black botanical wallpaper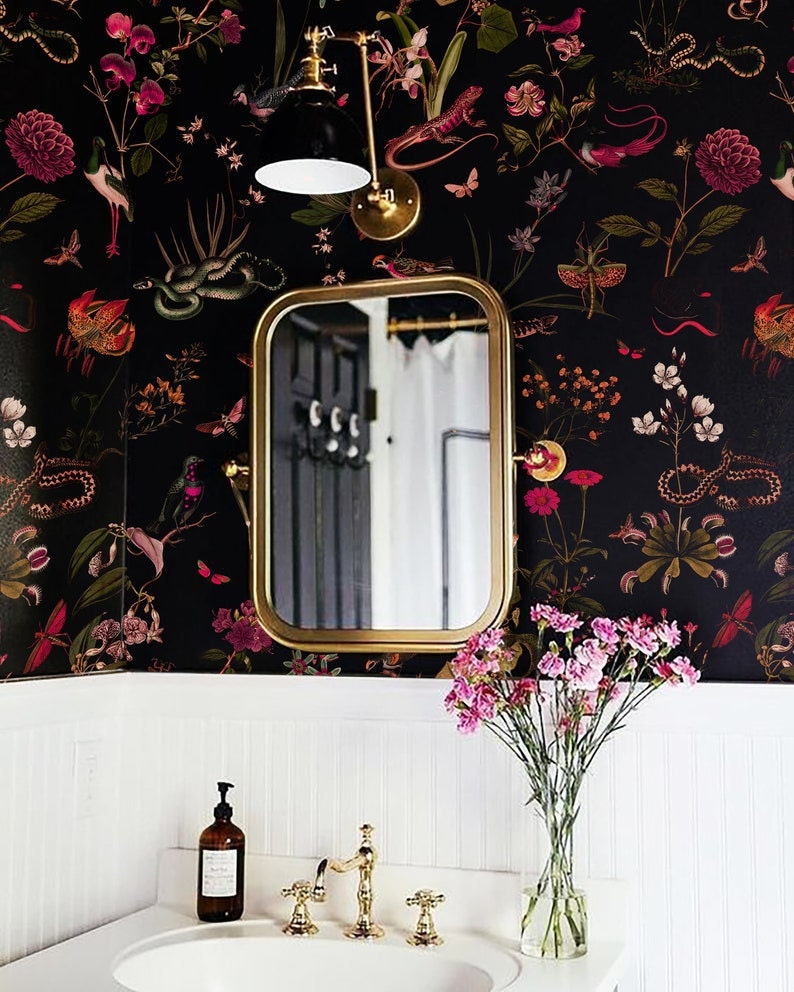 SHOP: Mysterious garden wallpaper from X Wallcolors, from $97
Aptly named "nightlife in the garden," this wildlife-filled black wallpaper incorporates pops of magenta and berry that brighten the overall design.
Black monstera wallpaper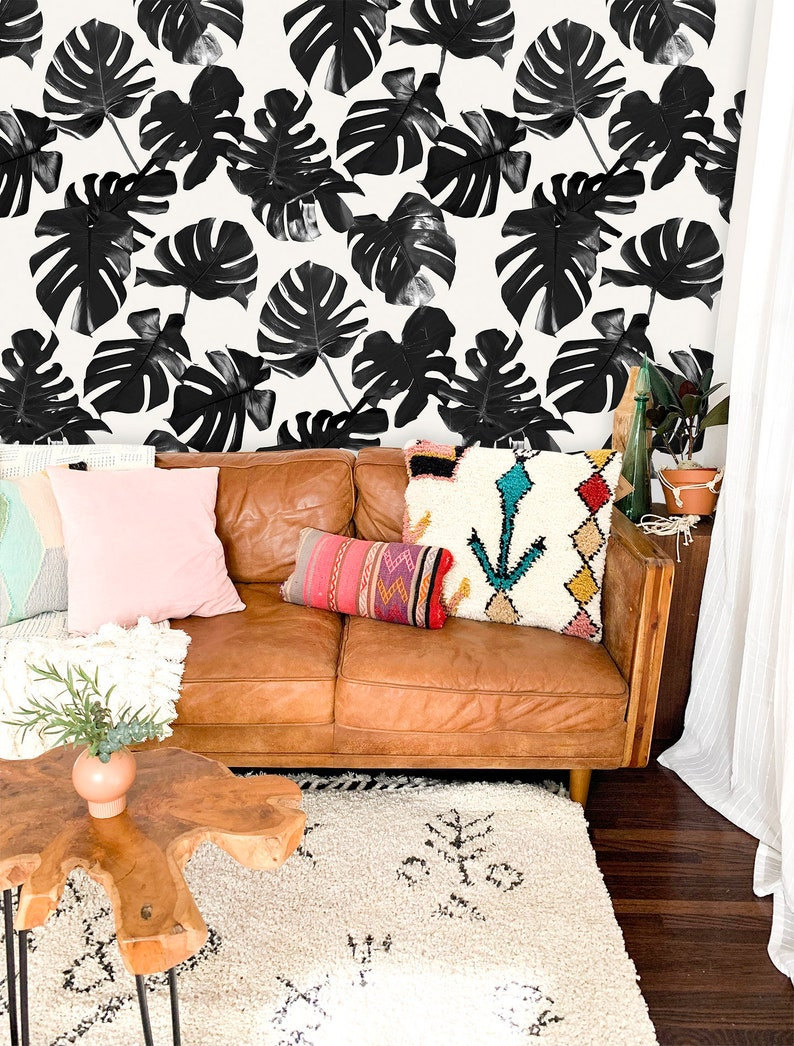 SHOP: Monstera leaf wallpaper from Samantha Santana, from $30
Bring black wallpaper and botanical home decor trends together with this leafy monstera print that works well as an accent wall, on the ceiling, or throughout a room.
Abstract black wallpaper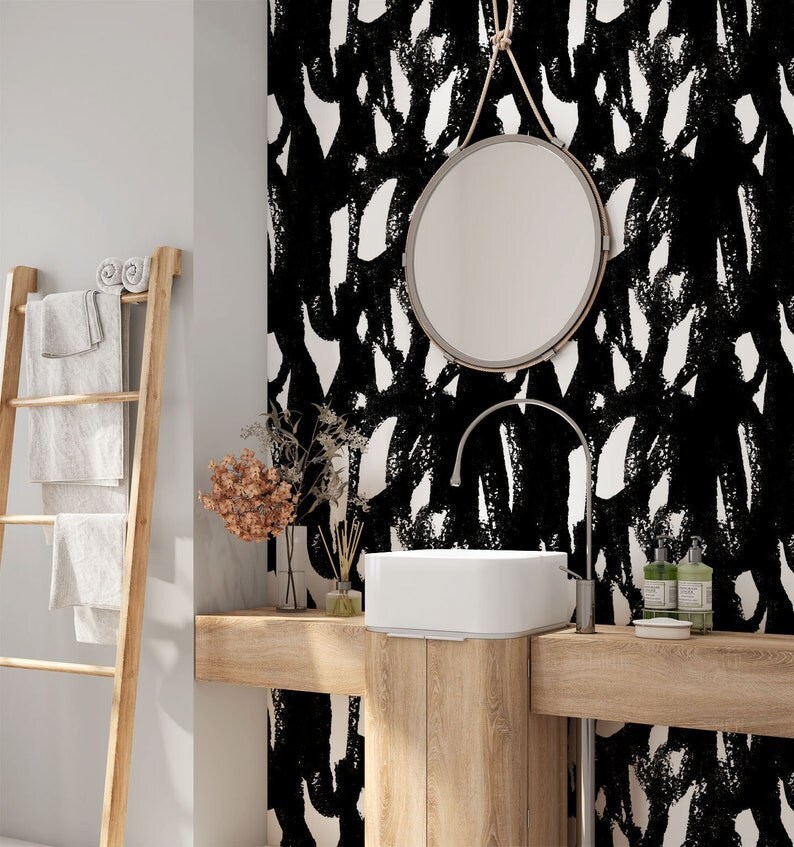 SHOP: Minimalist removable black wallpaper from ArtLink Wallpaper, from $39
Give your space a modern-yet-organic feel courtesy of the hand-drawn black brushstrokes that make up this removable wallpaper design.
Black floral wallpaper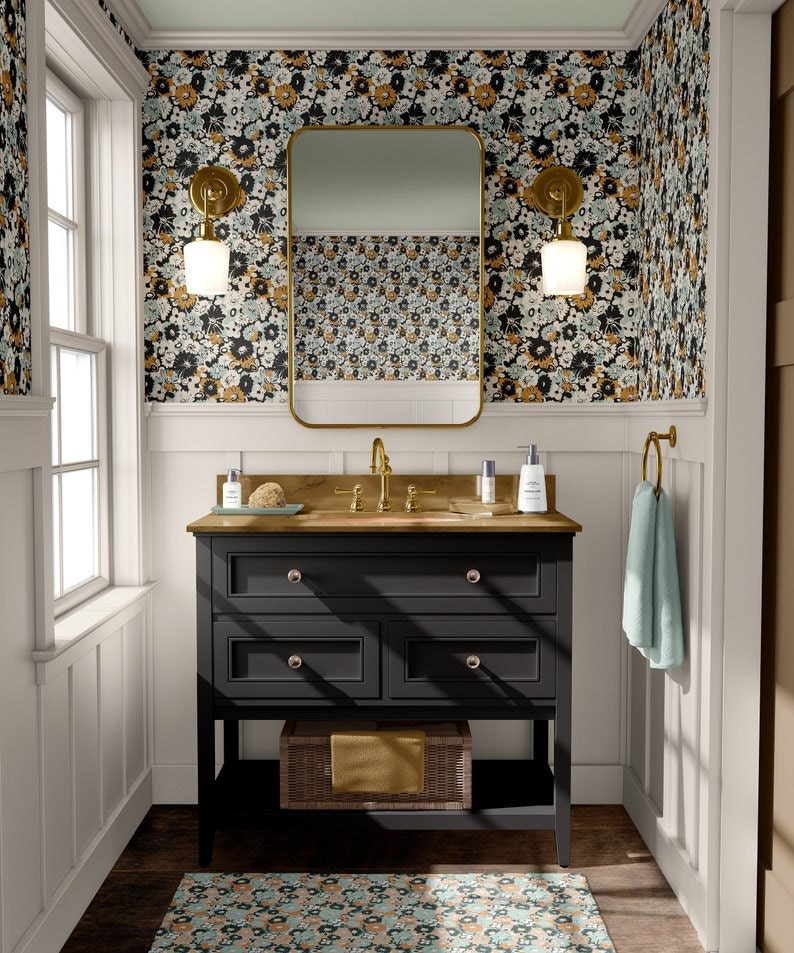 SHOP: Ditsy posies removable wallpaper from Mersea Home Livery, from $40
Not ready to go all in on the black wallpaper trend? The scattered black posies in this floral print bring just enough of the color into your space while being balanced by the mint and mustard accents.
White wallpapers
White wallpaper designs are anything but boring. With subtle gradients and neutral accents, these patterns shine in all their monochromatic glory and create a canvas to build the rest of your room around.
Matte white wallpaper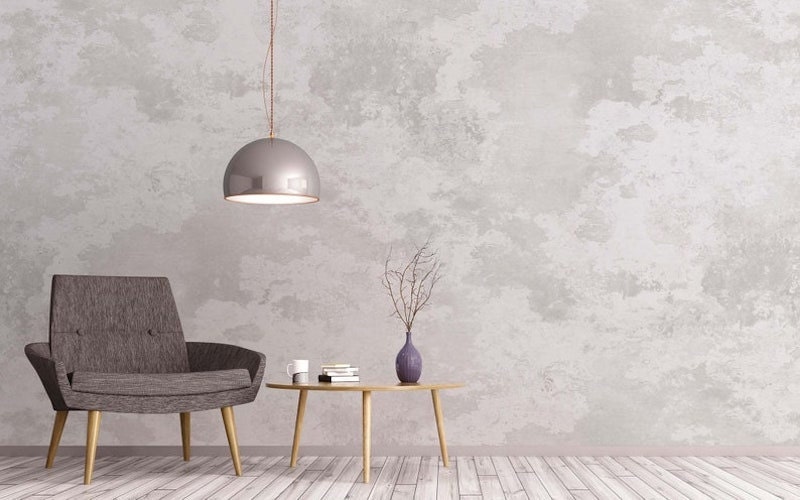 SHOP: Abstract peel-and-stick wallpaper from Sophia Forever, $80
The natural variations in this white wallpaper design give the appearance of fine plaster work with far less effort.
White floral wallpaper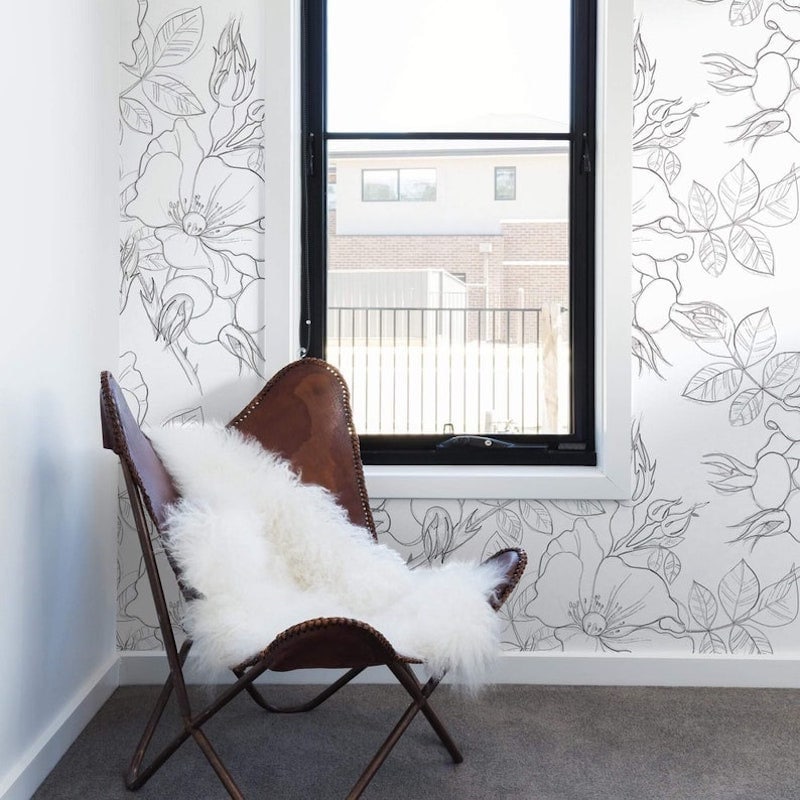 SHOP: Charcoal and white floral peel-and-stick wallpaper from Walls By Me, from $50
The charcoal outlines of the bloom-and-leaf pattern on this white wallpaper create a neutral complement to any of the other shades throughout your space.
Bamboo lattice white wallpaper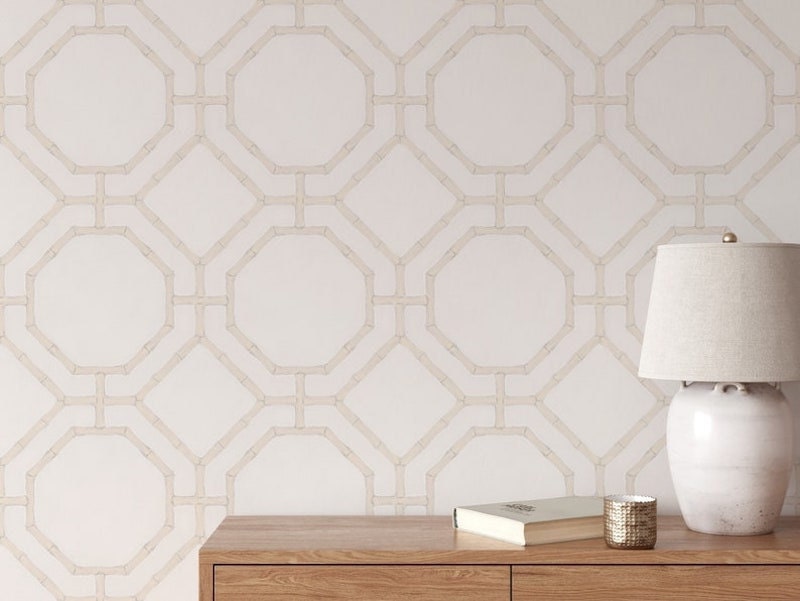 SHOP: Bamboo lattices removable wallpaper from Mersea Home Livery, from $40
Bring vintage-inspired home decor trends like lattice-work and bamboo into your room design, courtesy of this neutral-hued, white wallpaper design.
Gold geometric wallpaper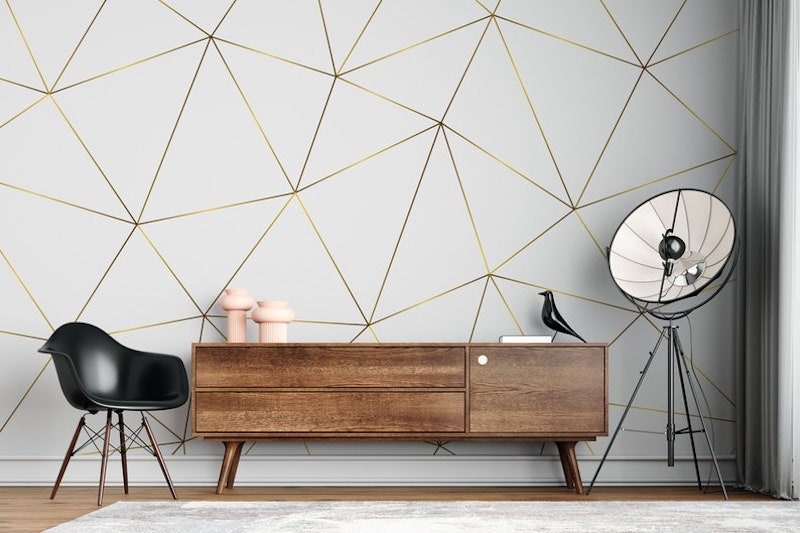 SHOP: Gold strip mural wallpaper from Giffy Walls, from $52
A touch Art Deco, a touch futuristic, this prismatic pattern adds instant dimension and interest to your modern living space.
Pink and purple wallpapers
These pink and purple wallpapers infuse a space with the exact level of energy you're looking for, from calming to energizing, thanks to hues ranging from blush and lavender to bold berries and deep amethyst.
Purple tiger removable wallpaper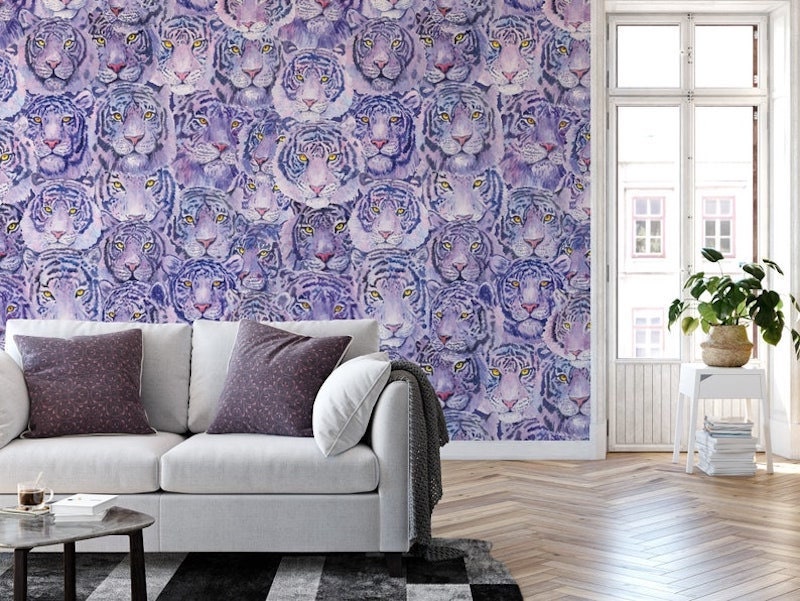 SHOP: Removable tiger wallpaper from My Wall Images, from $72
Purple. Tigers. If you're looking for a bold choice that gives off some serious "I've got this" vibes for an office or teen's room, this purple wallpaper is the cat's meow.
Pink forest wallpaper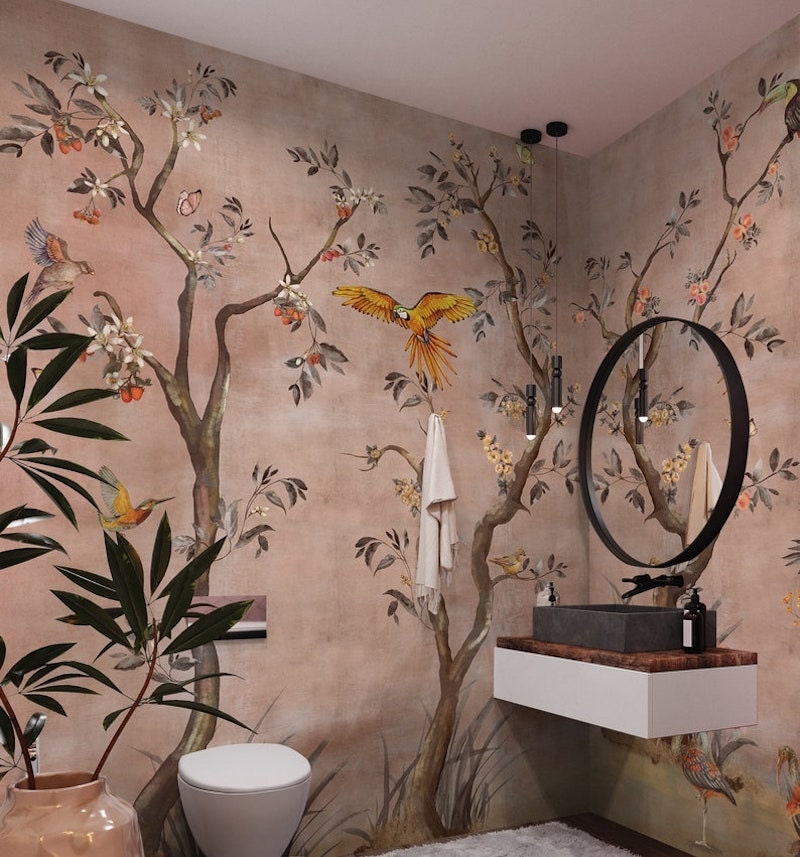 SHOP: Tree peel-and-stick wallpaper from Wallphy, from $56
Embrace the softer side of nature with this blush-backgrounded scene that's so detailed you can almost hear the melodic chirps of these winged wonders.
Pink cheetah wallpaper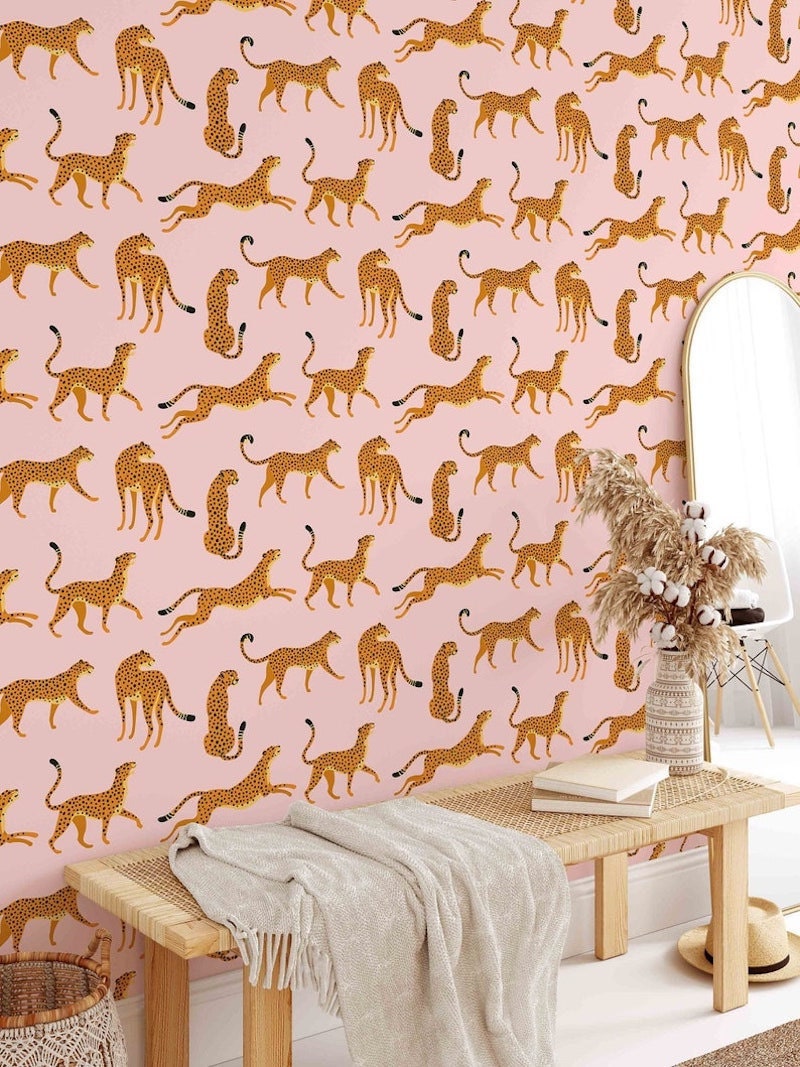 SHOP: Pink boho cheetah wallpaper from KoKo Art Shop, from $50
Let the wild cat craze continue with this cheetah-covered pink wallpaper that's on the prowl for a fun, funky accent wall to adorn.
Amethyst wallpaper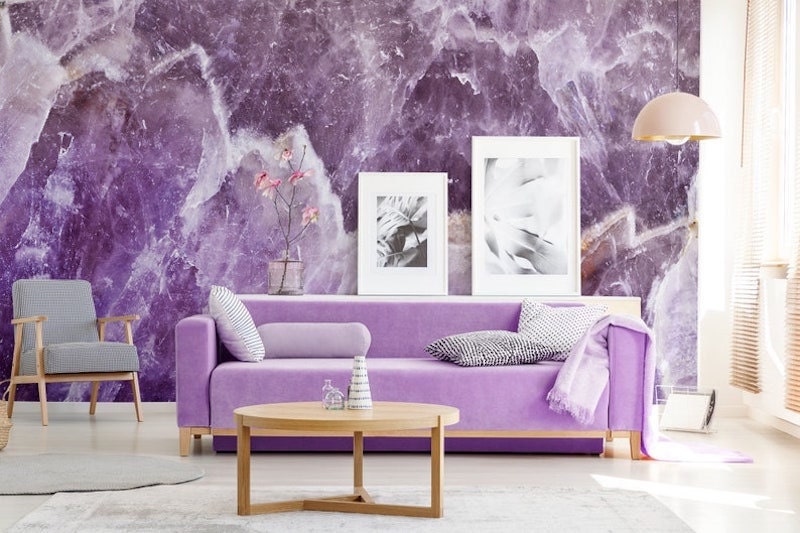 SHOP: Polished amethyst stone wallpaper from Wallpaper Paradise, from $80
A not-so-subtle nod to February's birthstone, this amethyst crystal wallpaper mural makes black-and-white photos and art prints pop.
Blue wallpapers
Reminiscent of endless skies and calming ocean waves, blue wallpaper is a zen-like choice for bedrooms and bathrooms as well as a nearly-neutral backdrop for your main living spaces.
Blue Venetian plaster wallpaper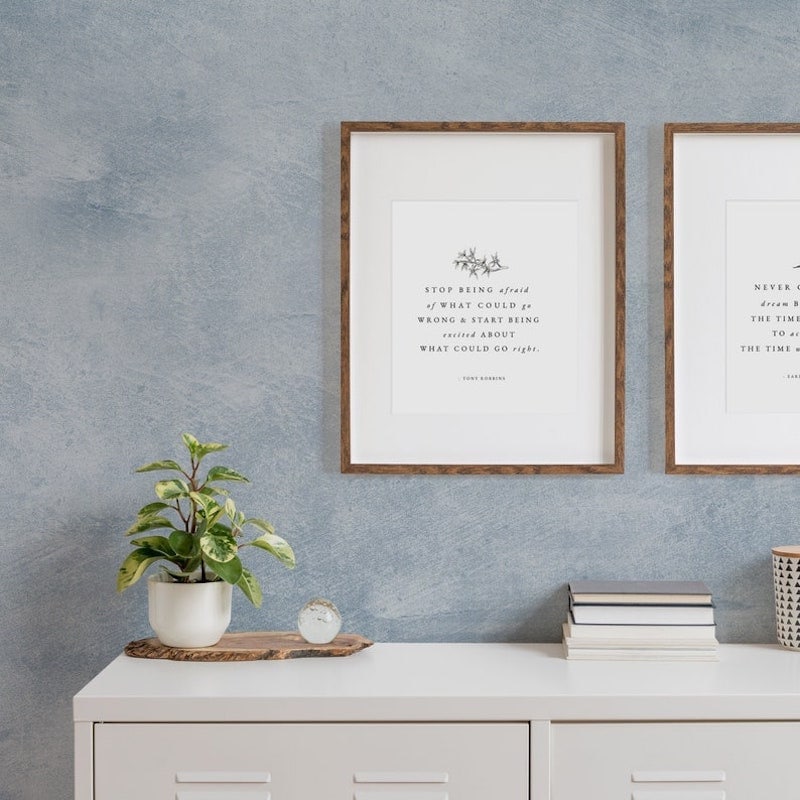 SHOP: Faux texture mural from AccentuWall, from $68
With its nearly grey undertones, this faux texture print brings just a touch of blue into a space while still providing a neutral backdrop for the rest of your decor.
Abstract blue wallpaper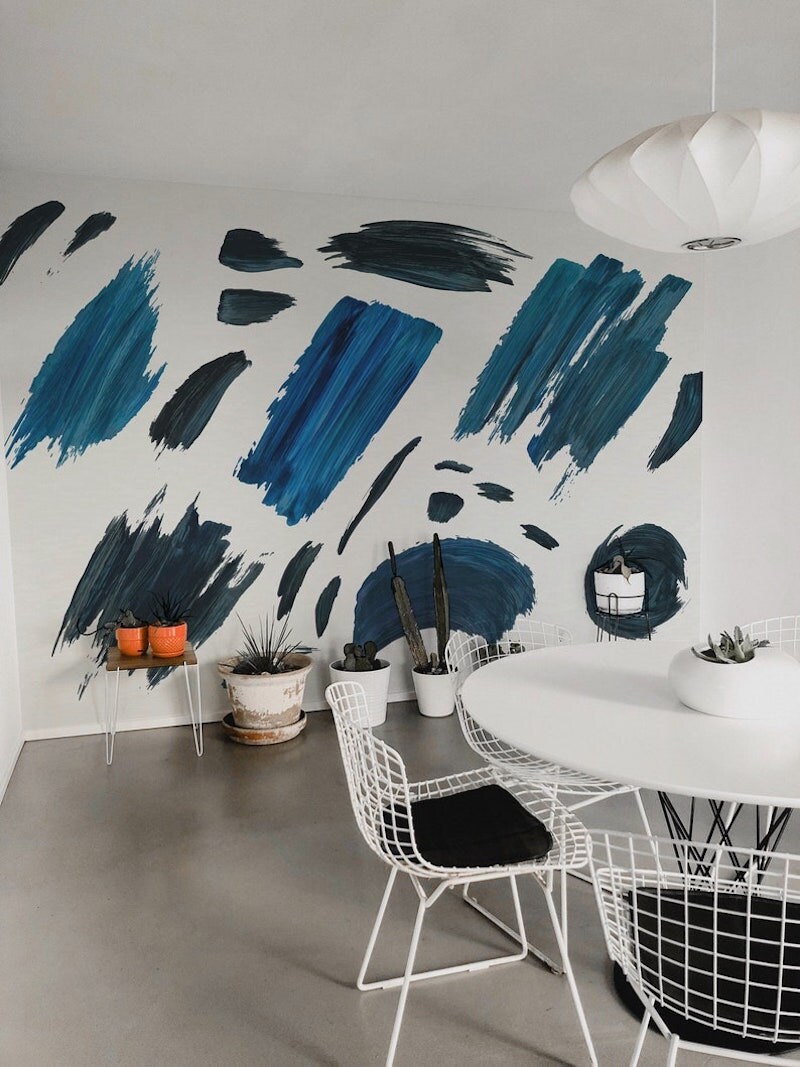 SHOP: Abstract blue vinyl mural from Landscape Walls, from $80
Free-flowing brushstrokes running from indigo to cerulean create a modern wallpaper mural that can be used as an accent wall or as a bold all-over room choice.
Traditional blue wallpaper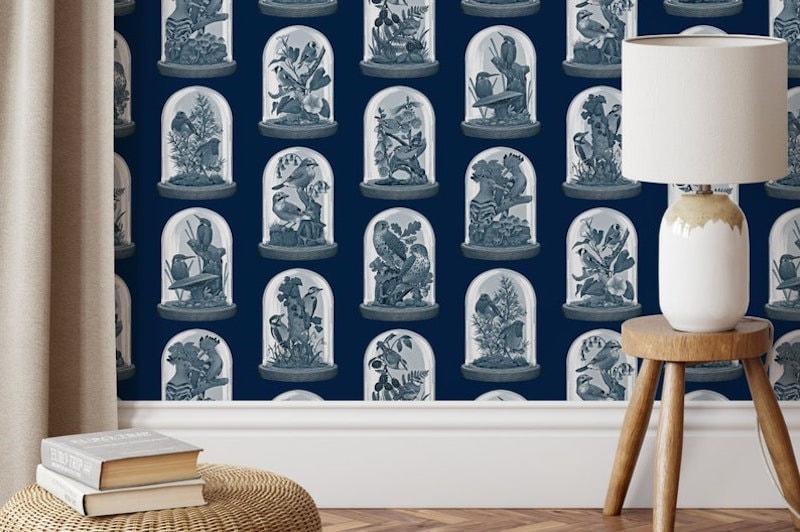 SHOP: Birds and botanicals wallpaper from Mersea Home Livery, from $40
The yesteryear practice of displaying artifacts under cloches gets a more modern update thanks to the blue hues throughout this wallpaper pattern.
Home wallpaper FAQS
What type of home wallpaper is best?
Wallpaper on Etsy is available in both traditional, pre-pasted varieties as well as removable, peel-and-stick patterns. Traditional wallpaper requires an adhesive to be placed on the wall before applying the paper. Removable or peel-and-stick wallpaper has a peel-off backing that is removed and then the paper can be applied directly to the wall with no pre-pasting required. Sometimes known as renter wallpaper, this type of wallpaper can be removed with little to no residue left behind, making it a more temporary solution than traditional wallpaper.
How to choose wallpaper for a room
There are many decisions to make when selecting a wallpaper pattern for your room, including the size and scale of both the room and the wallpaper print, the overall design aesthetic of your space, where you'll be placing the wallpaper, and whether you'd like the wallpaper to be a focal point or simply a subtle backdrop. Larger patterns and bright or dark colors will stand out more in your space, but can be used on just one accent wall or the ceiling to soften their overall impact. Pastel and neutral tones with minimal or tone-on-tone patterns, on the other hand, can be used throughout both large and small rooms.