Cap off your cake in style with these unique wedding cake topper ideas, crafted especially for your celebration and ready to display for years to come.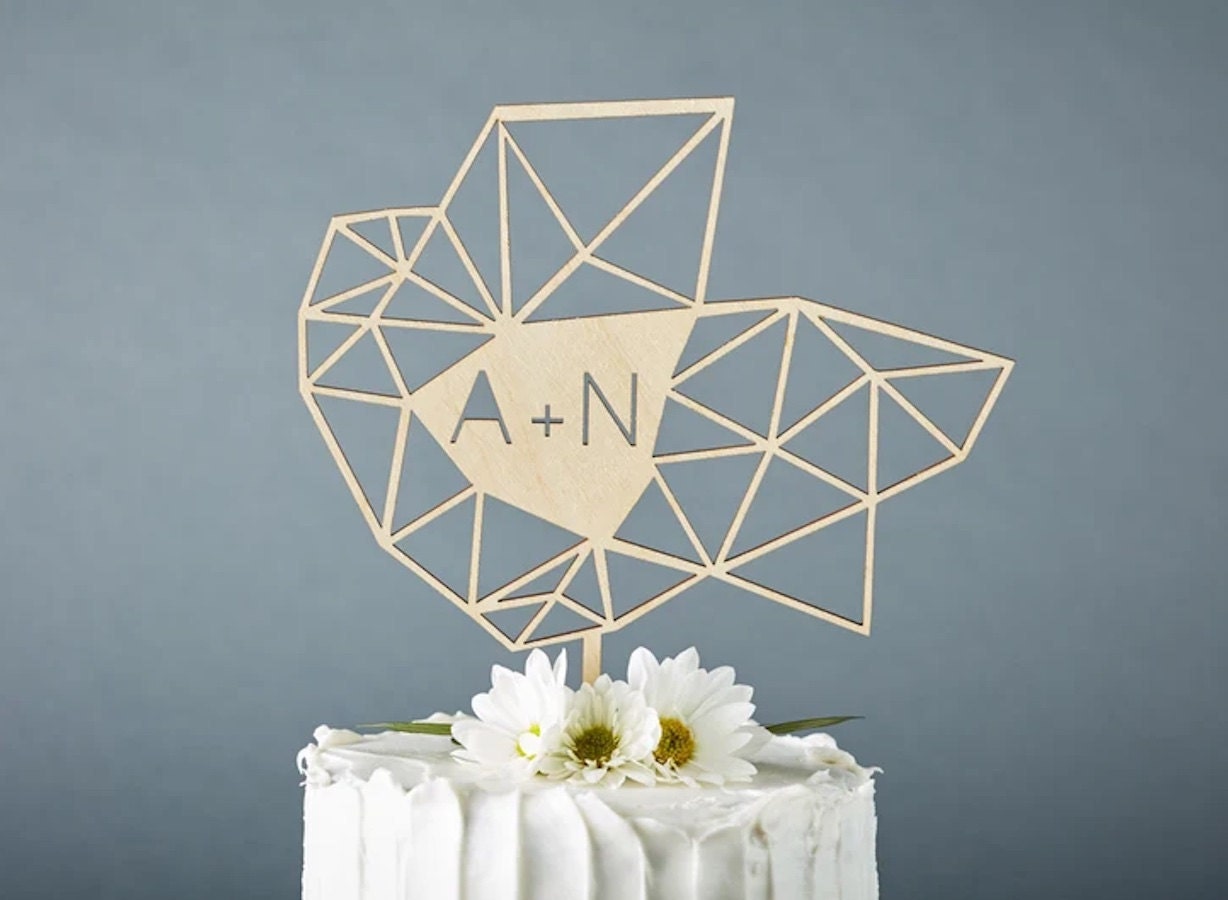 As the crown to your dessert table, a unique topper absolutely takes the cake. Traditionally, wedding cake toppers were figurines representing the bride and groom. Today, couples can draw from endless inspiration for topping their delicious dessert of choice, from hand-lettered monograms and mod acrylic accents perfectly matched to your wedding color scheme to delicacy-inspired designs. And don't forget this bonus of saying "I do!" to a totally you topper: a precious piece of personalized home decor you can display for years to come.
To help you bring your love story to life, we've rounded up some the best wedding cake topper ideas created just for the two of you by small shops on Etsy, in a range of prices and styles. These picks range from cute to custom, unique to funny, and every bit worthy of topping off your sweet treat of choice.
1. Personalized "Mr. & Mrs." wedding cake topper
SHOP: Rustic Mr. and Mrs. cake topper from Your Happy Dayzz, from $13
Beautifully simplistic yet stunning, this affordable cake topper idea is super lightweight and comes in a natural wood finish or a selection of five colors, including gold and silver. Happy buyers loved how it looked on their cakes, and call it "absolutely beautiful," and "gorgeous" in person.
2. "Finally" wire cake topper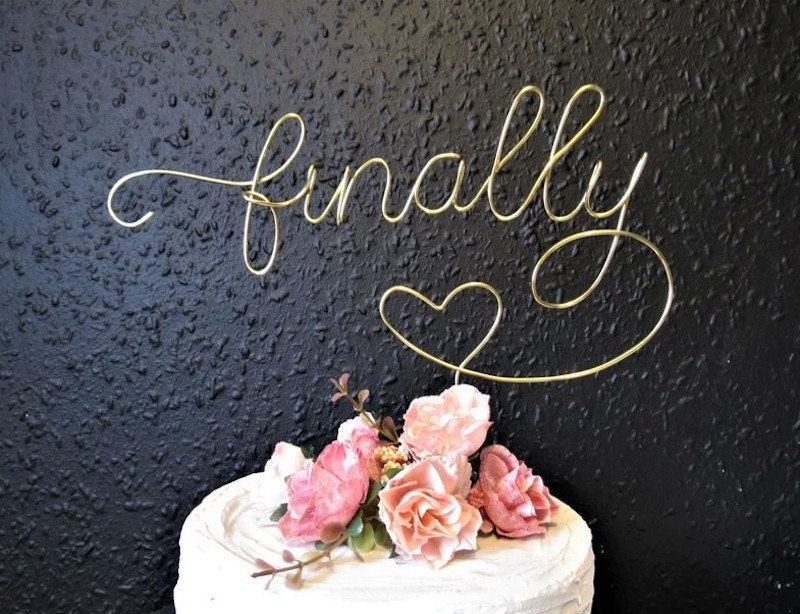 SHOP: Finally wedding cake topper from Vienci Art Decor, $17
For some tongue-in-cheek humor, this funny wedding cake topper tells your guests all they need to know about the length of your pre-wedding relationship! This wire design comes in 12 different colors, and one happy buyer reviewed it by saying it's "beautifully made… packaged well to prevent it bending, too, and arrived in great time."
3. Modern acrylic wedding cake topper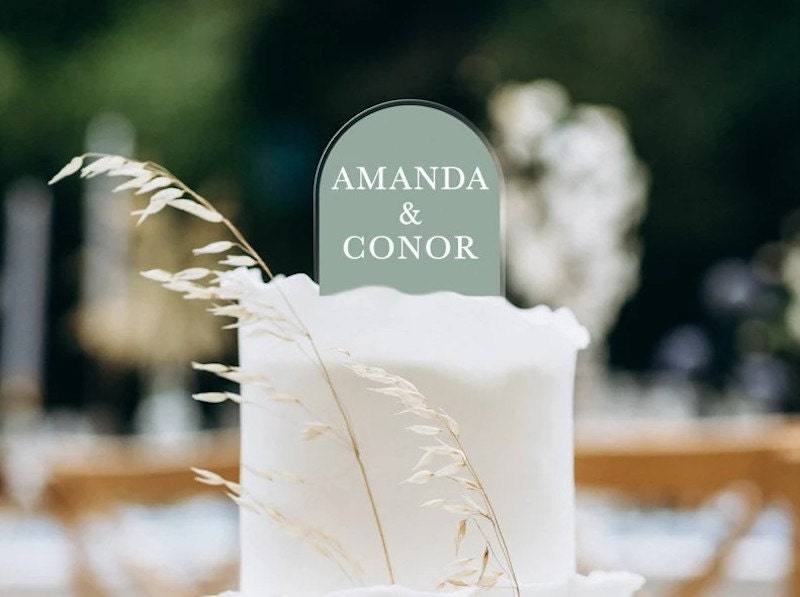 SHOP: Personalized acrylic wedding cake topper from Toaste, $21
Acrylic is a popular wedding decor trend that works with all celebration styles, from rustic to glam. This acrylic wedding cake topper from Toaste, a small shop in Colorado, is fully customizable, making it a truly unique option. Not only can you choose from over 30 colors, but you can select your preferred font for the names, too. One thrilled reviewer wrote, "[We] got so many compliments and I can't stress enough; if you're on the hunt for a more unique wedding topper… buy this one, you won't regret it!"
4. Personalized rustic wooden cake topper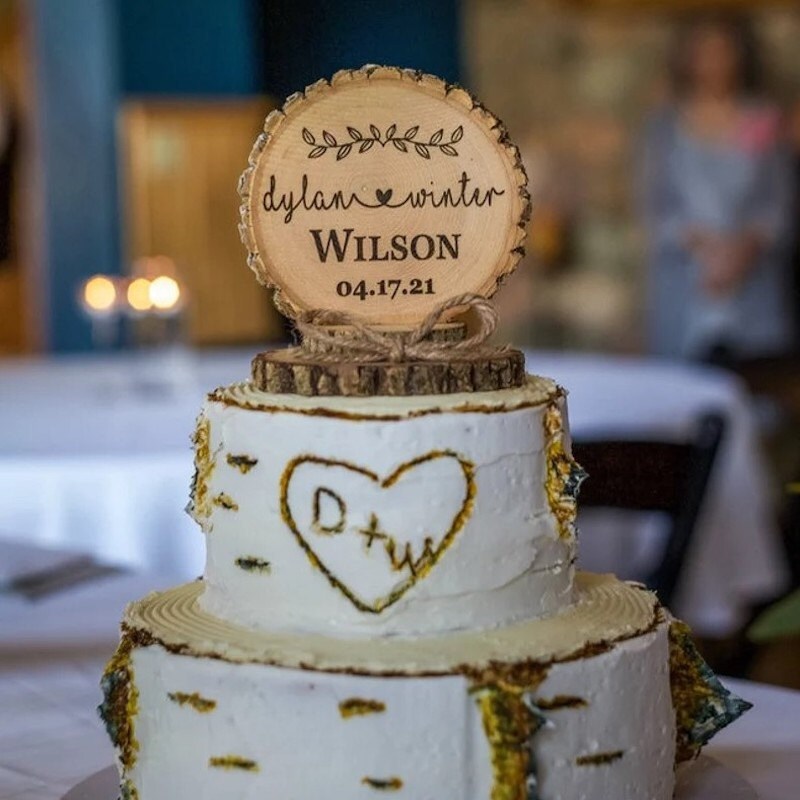 SHOP: Customized rustic wedding cake topper from Sweet Home Woods, $45
For lovers of the rustic style, this wooden wedding cake topper is made from three wood slices. The main slice is adorned with the happy couple's names, and the wedding date, and rests upon a base made from two smaller wood slices, elegantly wrapped with a twine bow. Buyers consistently praise the superb craftsmanship and high quality of this cake topper.
5. Monogram cake topper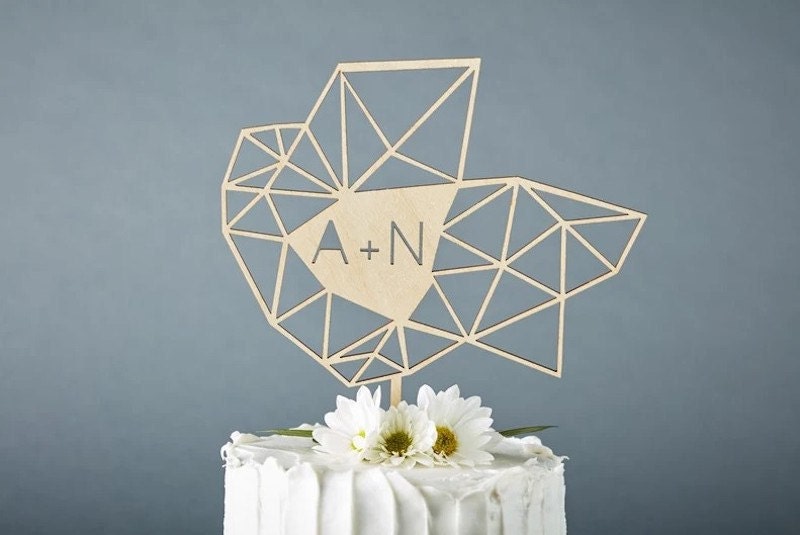 SHOP: Custom geometric wedding cake topper from Light + Paper, $40
The owner of Light + Paper, a small shop in Toronto, Canada, laser cuts these exquisite wedding cake toppers from birch wood, using their original illustrations and hand cut designs. Customers unanimously agree that these toppers are extremely well made; one buyer called them "perfectly unique," and another plans "on framing it after [the wedding] to hang on the wall."
6. Vintage bride and groom cake topper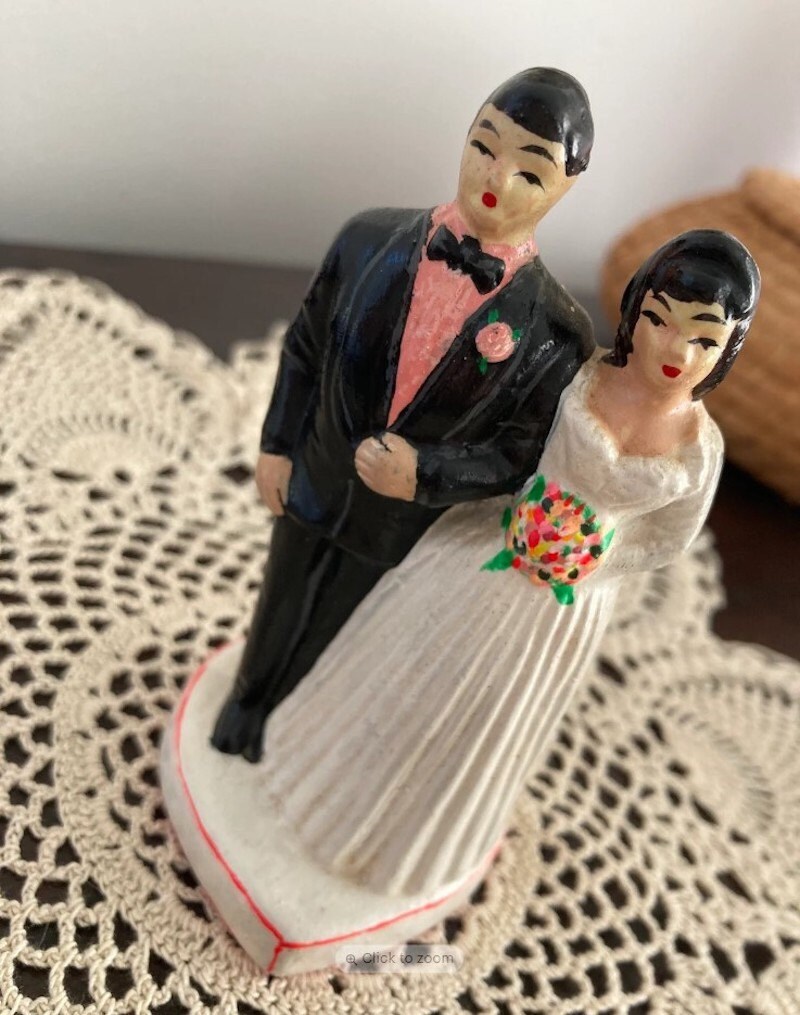 SHOP: Vintage wedding cake toppers
For a one-of-a-kind wedding cake adornment, opt for a vintage cake topper like this 1960s ceramic bride and groom figurine. Cake toppers may feature two individual figurines or a single couple figure, with or without other decorative accents like heart arches and floral-adorned bases.
7. Personalized dog figurine cake topper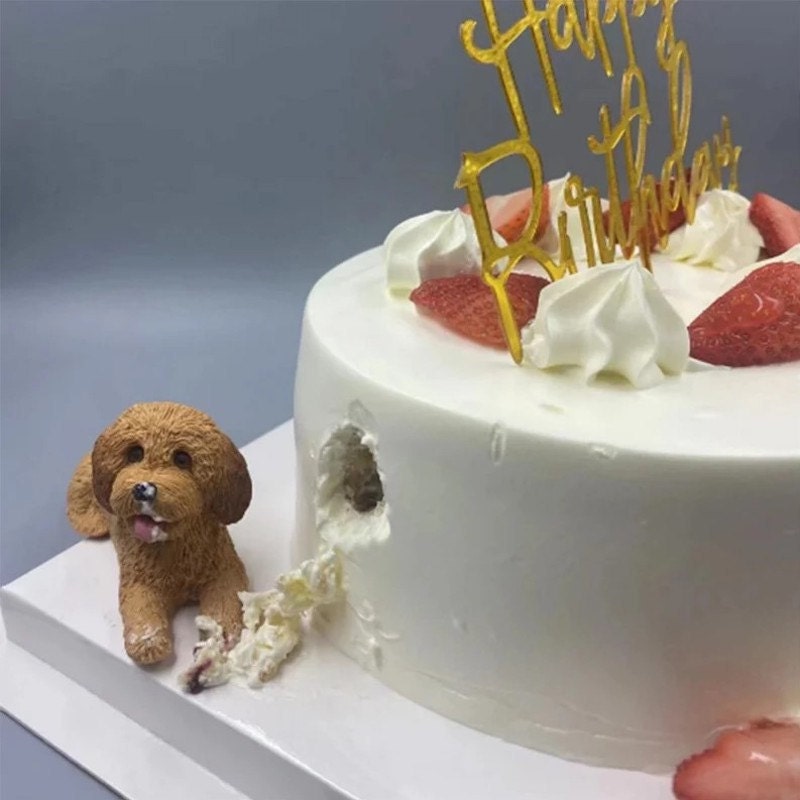 SHOP: Personalized custom dog cake topper from ChakarmaStore, from $11
Your guests will surely get a kick out of this personalized wedding cake topper wit ha serious sense of humor! Based in Florida, the seller can replicate your beloved pet and turn them into a polymer clay cake topper figurine—a great way to include your pooch in the wedding day festivities. You can even have the mini version of your pet taking a bite out of the cake for a touch of humor.
8. Funny wedding cake topper idea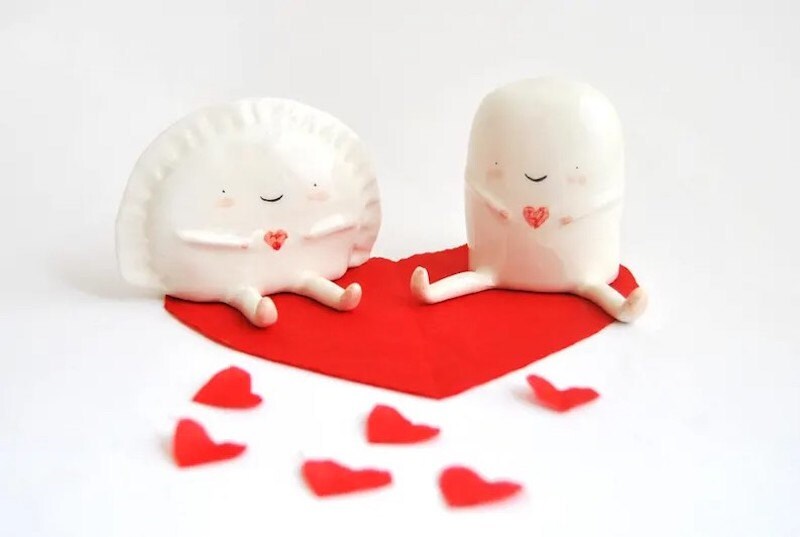 SHOP: Croqueta and empanadilla figures cake topper set from Barruntando Ceramics, $64
Skip the standard bride and groom cake topper and opt for a unique design due like this croqueta and empanadilla couple, handcrafted from ceramic with hand painted details. Delighted buyers proclaim this pairing is "absolutely adorable" and even "cuter in person." Shoppers also praised the small Spanish shop's fast turnaround.
9. Handmade cats cake topper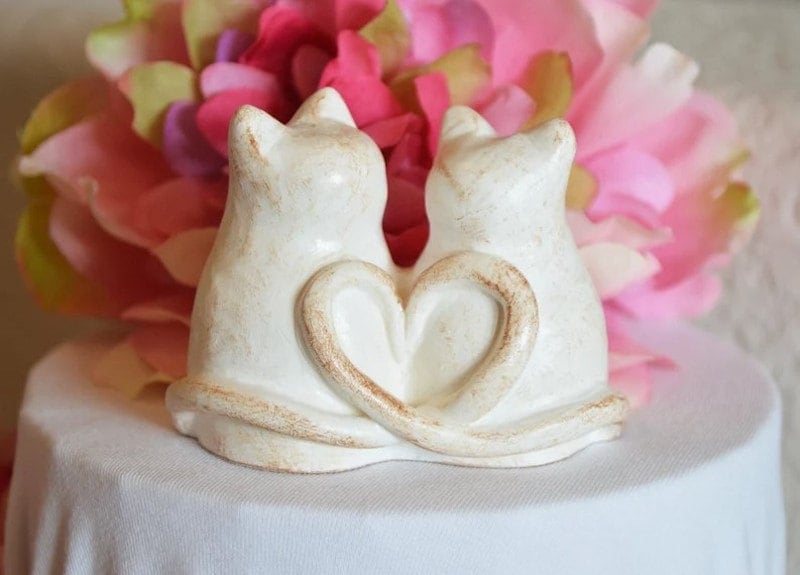 SHOP: Cats wedding cake topper from Skye Art, $28
Cat lovers will adore this cute and romantic handmade cake topper featuring two adorable felines with intertwined tails forming a heart. It's made from clay, then painted and finished in the seller's small studio in Colorado. One buyer confirmed that "it makes for a really cute keepsake to be out on display after the fact."
10. Customized gold rustic arrow and initials cake topper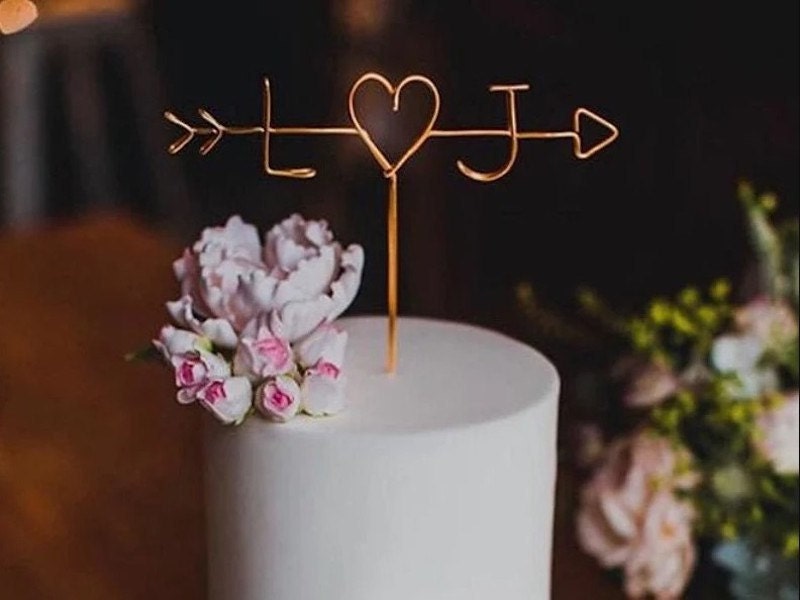 SHOP: Arrow & initials cake topper from Le Rustic Chic, $26
Available in 14 different colors, this handmade wire cake topper is a minimal yet elegant option that is shaped with the couple's initials by hand in the seller's workshop in Oregon. Customers call it "unique," "cute," "absolutely amazing," "beautiful," and that it is "exactly as pictured and described."
11. Customized silhouette wedding cake topper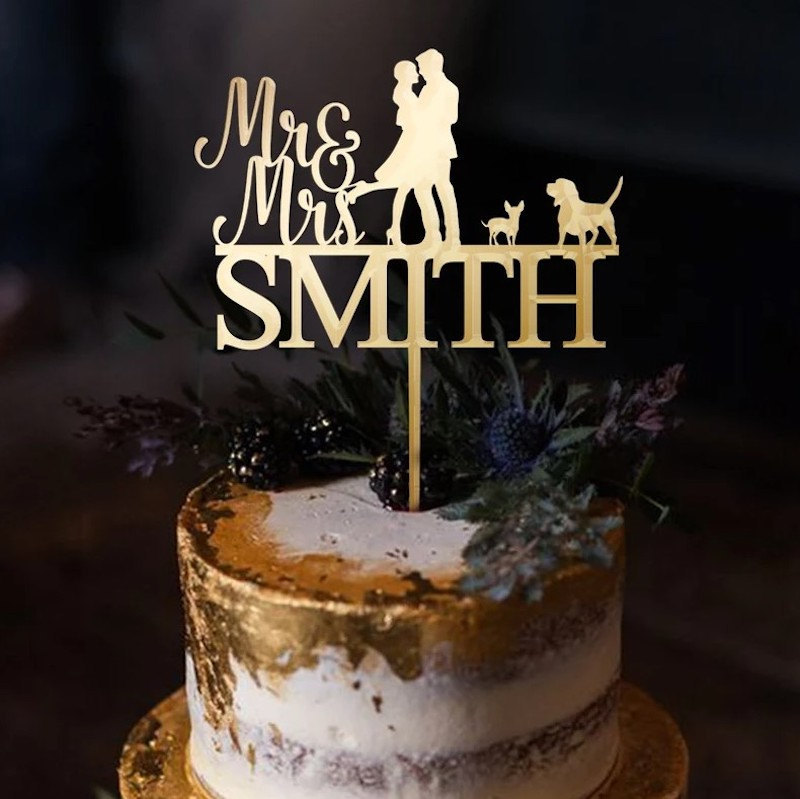 SHOP: Couple and pets cake topper from Luxtomi, from $17
Looking like something straight out of an old Hollywood movie, this personalized wedding cake topper features the silhouettes of the newly betrothed, along with any beloved pets they may own. It's available in gold, silver, rose gold, or wood, is impressively affordable, and highly customizable with a vast selection of silhouette options and pets to choose from.
12. Wedding anniversary cake topper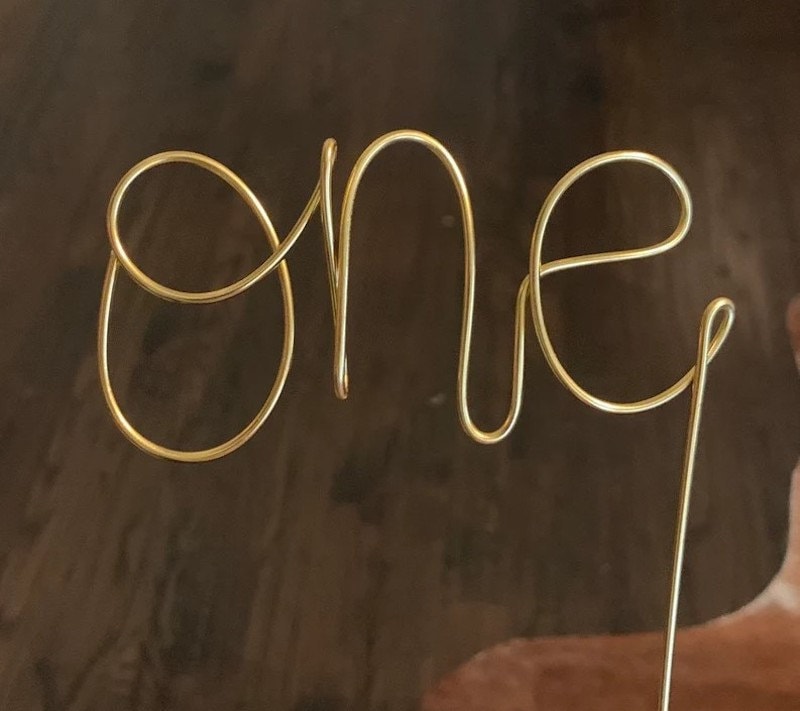 SHOP: Wedding party wire cake topper from TX Top Shop, $10
This anniversary cake topper is just $10 but makes a major impression. The wire letters are available in copper, gold, or silver, and the seller, who is based in Texas, even offers customization options for a more bespoke experience. Happy customers report that the item looks "cute," is "very sturdy," and that shipping for their order was fast.
How do we pick these unique wedding cake toppers?
As Etsy Journal editors and contributors research and curate shopping guides for some of the best-loved items on Etsy, we thoughtfully consider the creativity, customization, and craftsmanship that go into each product. We also consider buyer reviews, item ratings, and customer service, and tap the expertise of our in-house merchandising and trends experts to uncover high-quality finds for every budget. You can find more information about each item in the seller's listing details and can take a look at their individual shop policies and reviews, too.