From city hall ceremonies to rustic ranch weddings to classic bridal balls, find the best wedding dresses for your big day.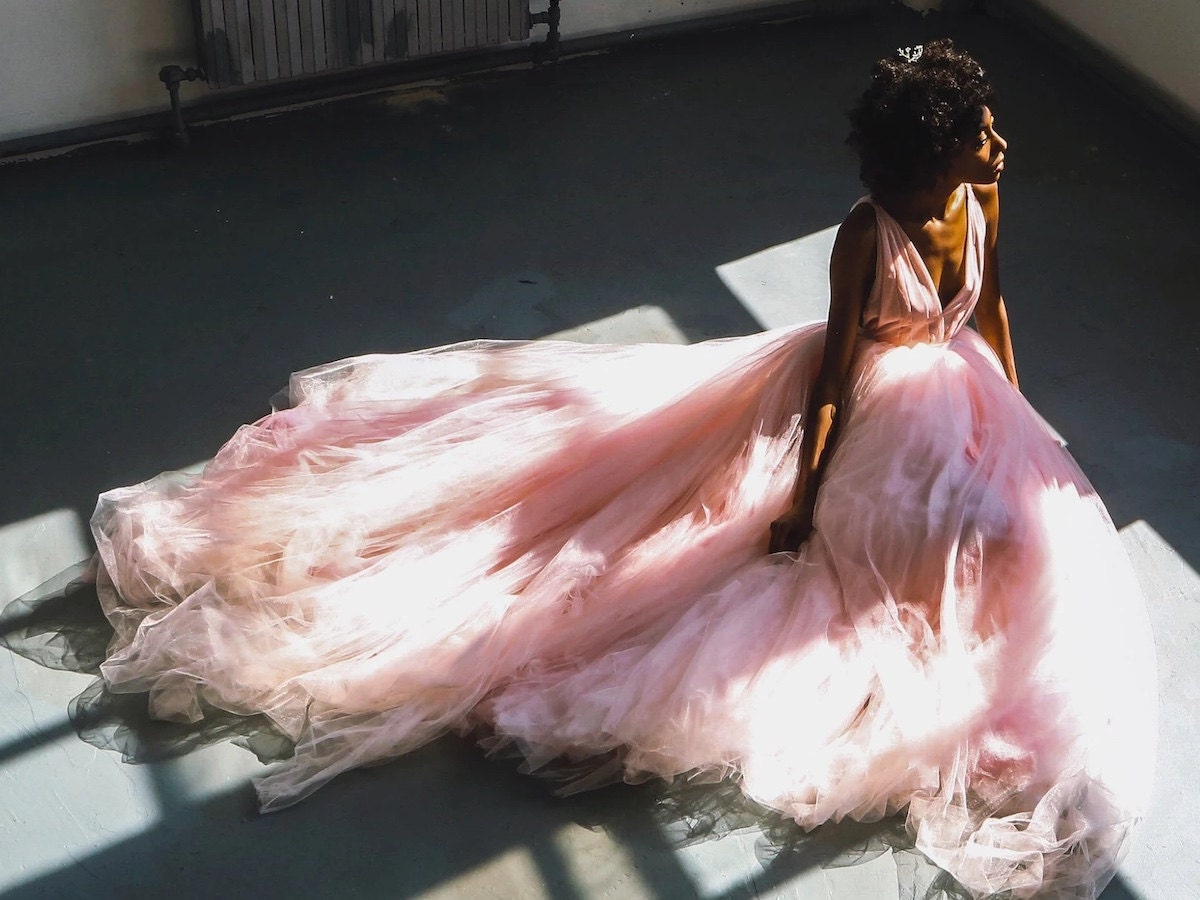 You've found your person, now you have to find your wedding dress! Whether you're looking for a boho wedding dress for your rustic spring nuptials, a romantic lace dress for an elegant, elevated evening, or a casual, modern all-white bridal jumpsuit for a city hall affair, these gorgeous vintage and handmade bridal picks will feel like they're made just for you.
For some brides, saying "I do," is the easy part. But saying "yes" to the dress—not so easy. Finding the perfect wedding dress to fit your style, shape, and ceremony can be challenging, so we're here to help. The most popular wedding dresses are the traditional ball gowns and A-line dresses, but in recent years, brides are looking for better reusability and more color in their gowns. This means colorful, nontraditional wedding dresses and wedding separates have been on the rise.
Cute wedding dresses
You thought your wedding cake would be the sugariest thing on your big day, but these darling gowns add just a little more sweetness to your nuptials.
1. Best wedding dress for backyard weddings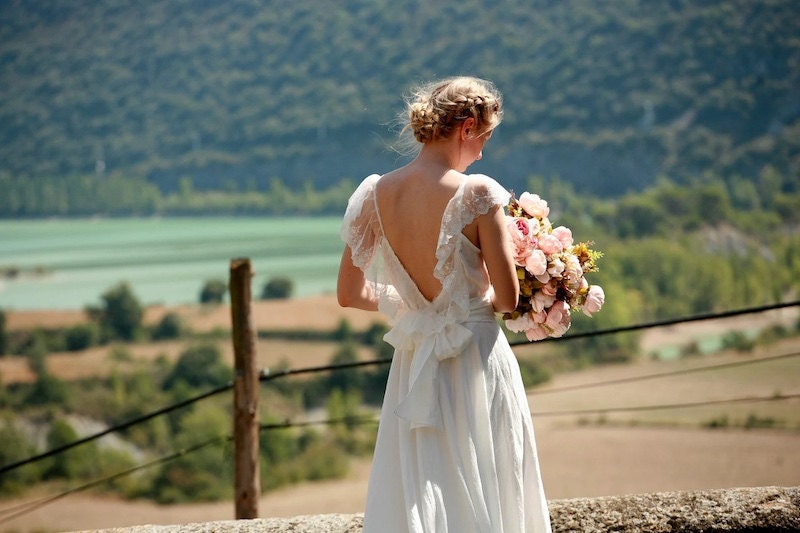 SHOP: Backless ruffled linen wedding dress from My French Linen House, $351
Backyard wedding brides, we've found your perfect match for a simple yet elegant affair. With its ruffled lace trim and an oh-so-cute bow and subtle train, this backless wedding dress is fit for tea time in the countryside and flower crowns at the reception. Plus, it's made from breathable linen, so if the temperatures rise, you'll be able to keep cool on your special day.
2. Best vintage 1960s lace wedding dress for city hall weddings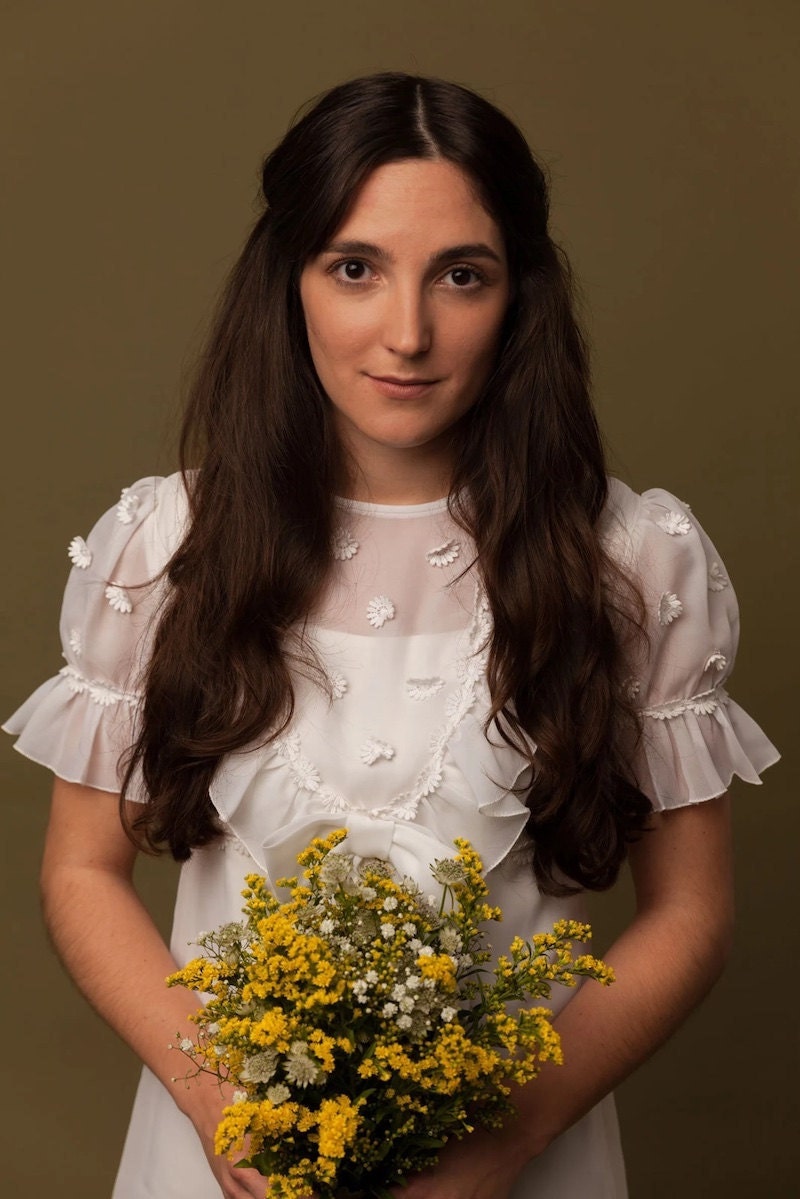 SHOP: Vintage puff sleeve lace wedding dress from entstaubt VINTAGE, $328
Going to the chapel (or city hall) and gonna get married? This '60s vintage wedding dress is a perfect tea length and features playful elements in its puffed, ruffled sleeves and the billowy bow at the bottom of the bodice's yoke. Our favorite detail: The small daisies affixed to the semi-transparent chiffon, bringing the sunshine no matter the weather outside.
3. Best wedding dress for countryside weddings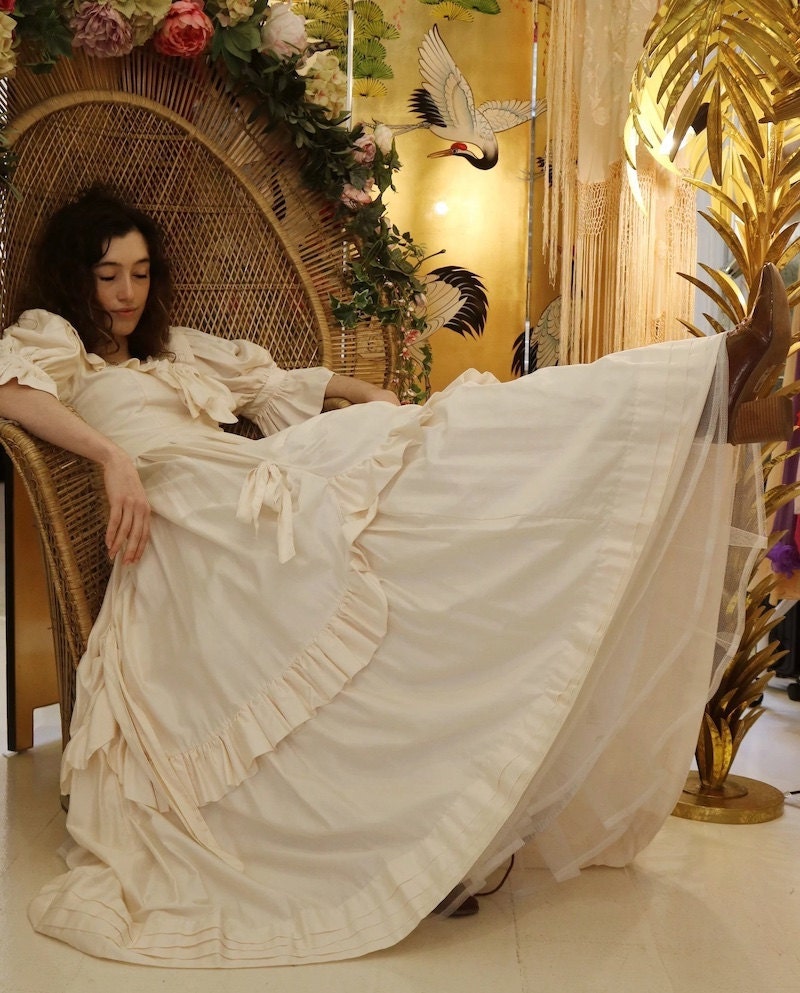 SHOP: Vintage cottagecore wedding dress from Karen Vintage Boutique, $895
Little Bo Peep has nothing on this vintage puff sleeve wedding dress. Adorable and feminine, this cottagecore classic will have all your guests waiting for you with bells on.
Colorful wedding dresses
Not feeling the traditional white wedding gown? Looking for an extra pop of color for your nuptials? From pale pink tulle princess wedding dresses to embroidered floral gowns, these vibrant picks are delightful takes on the traditional white dress to add to your colorful wedding palette.
4. Best pastel ombré wedding dress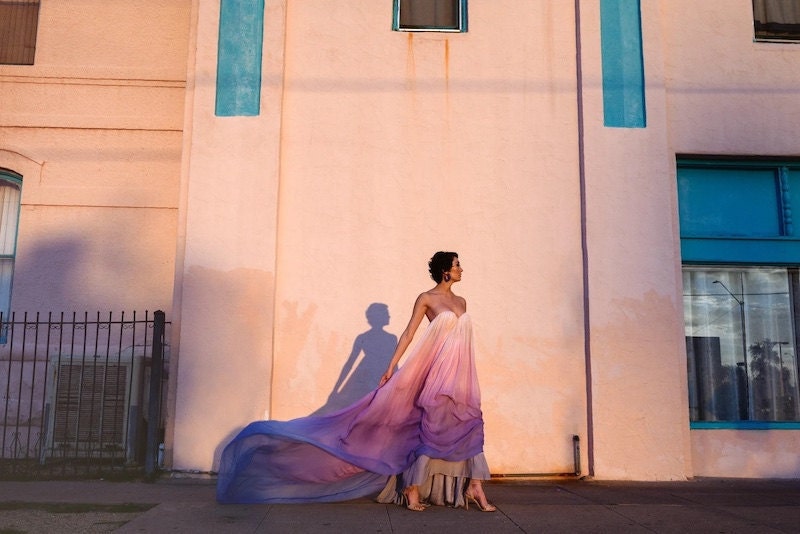 SHOP: Strapless ombré trapeze gown from Cleo and Clementine, $3,400
This vivid and vibrant purple ombré trapeze wedding dress is a colorful show-stopper. Hand dyed and featuring a double hem, this strapless stunner's delicate draping creates a gentle swish each time you take a step or bust out a dance move.
5. Best embroidered mermaid wedding dress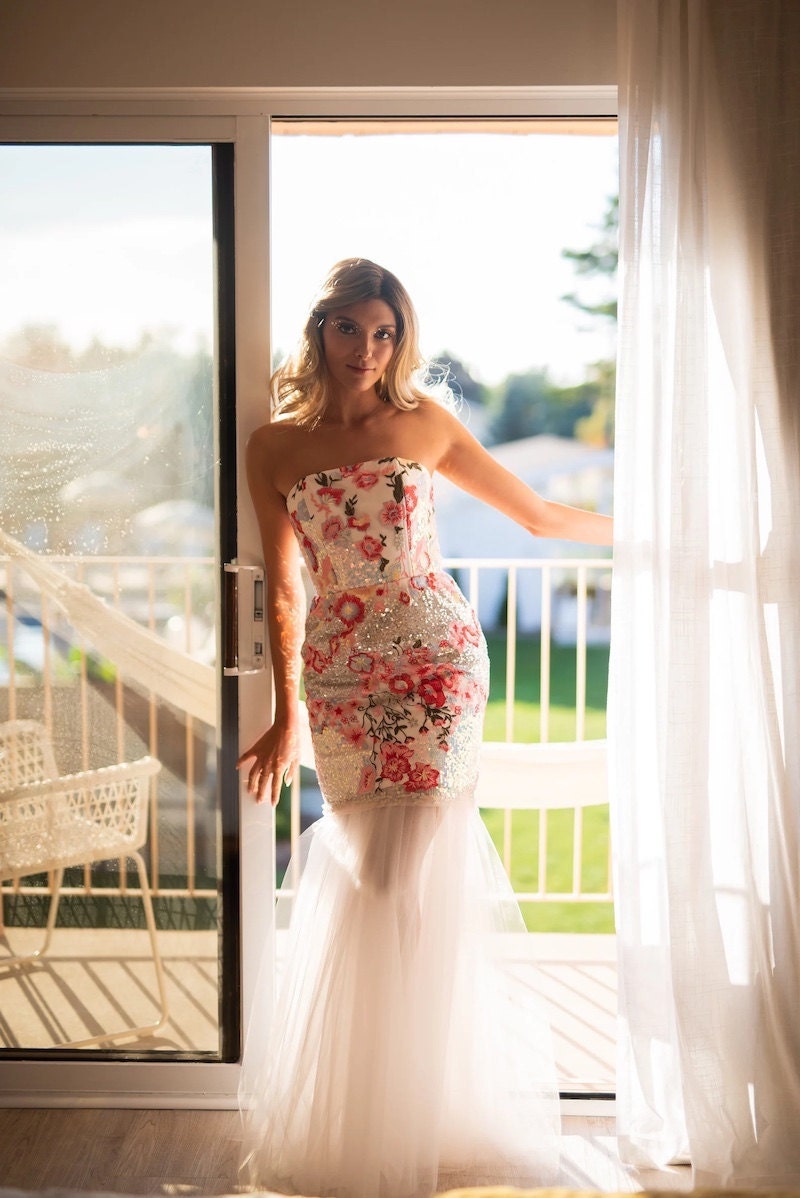 SHOP: Embroidered floral and sequin mermaid wedding dress from Jordan de Ruiter, from $578
You're sure to shine on your wedding day, so your dress might as well have some sparkle too. This brilliant embroidered floral mermaid wedding dress has, you guessed it, sequins, so you can reflect the love you're receiving and the light when you say "I do."
6. Best pink wedding dress separates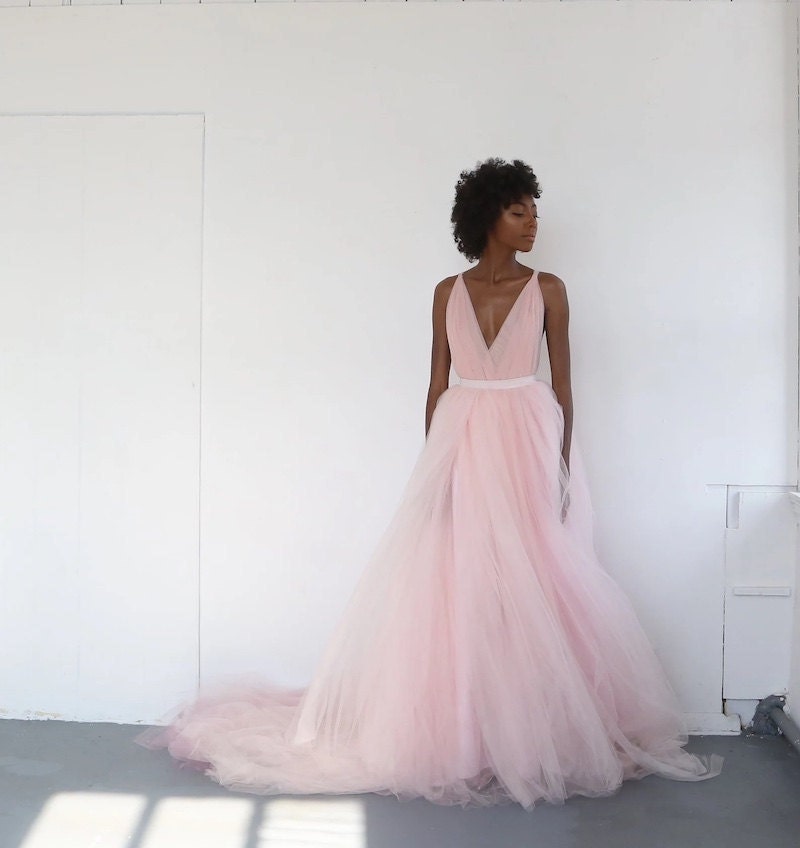 SHOP: Pale pink tulle wedding skirt from the lotus bloom co., $362
Pretty pastels add an unexpected hue to your wedding look, and this pale rosy tulle skirt is both soft and sophisticated. Pink not your color? This tulle wedding skirt comes in champagne, inky black, and navy.
Elegant wedding dresses
Refined and regal silhouettes. A lovely lacy bodice. A flowy tulle skirt. Whether you choose to wear a princess wedding dress or opt for separates, these bridal beauties are true show-stoppers.
7. Best tea length wedding dress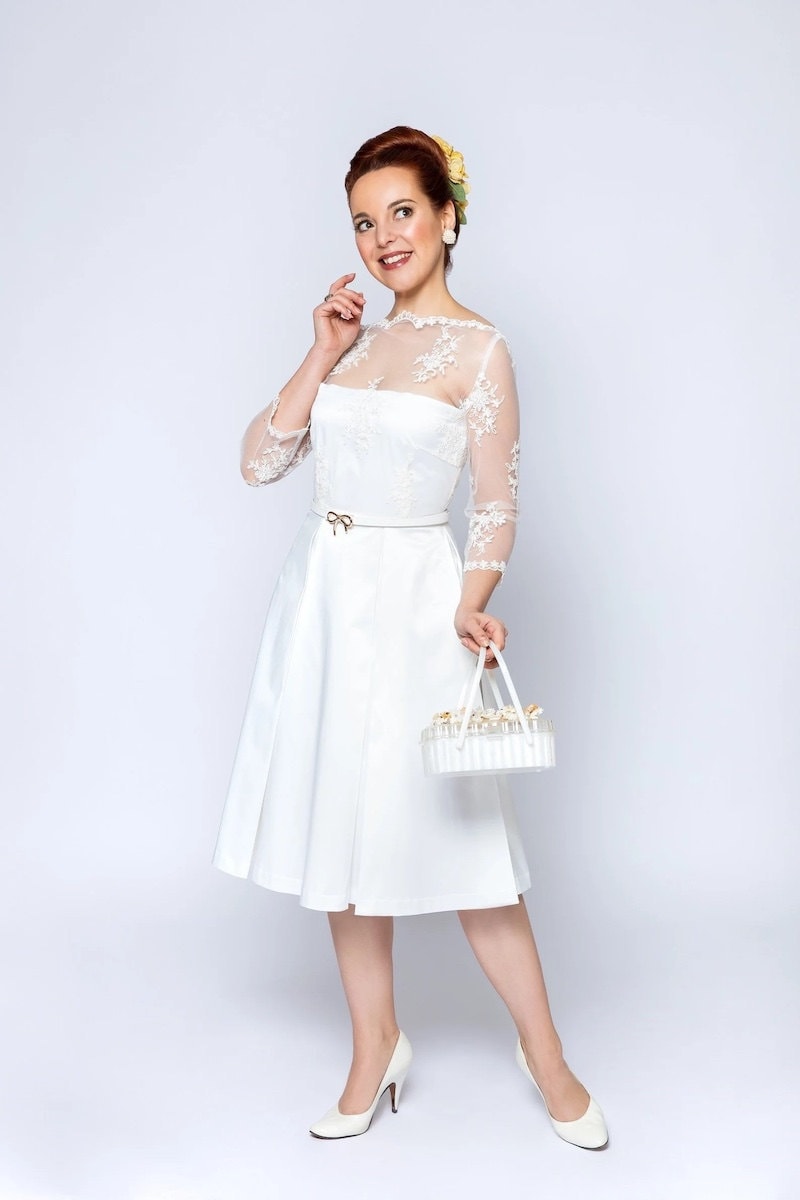 SHOP: Tea length petticoat wedding dress from Frozen Hibiscus, $548
Dedicated to the great Italian actresses of the 1950s, this lace wedding dress features a bow-shaped belt and pleated skirt. Quaint yet elegant, this dress will have your guests complimenting your elegant aesthetic before you can say "Bellissimo."
8. Best wedding dress for fairytale weddings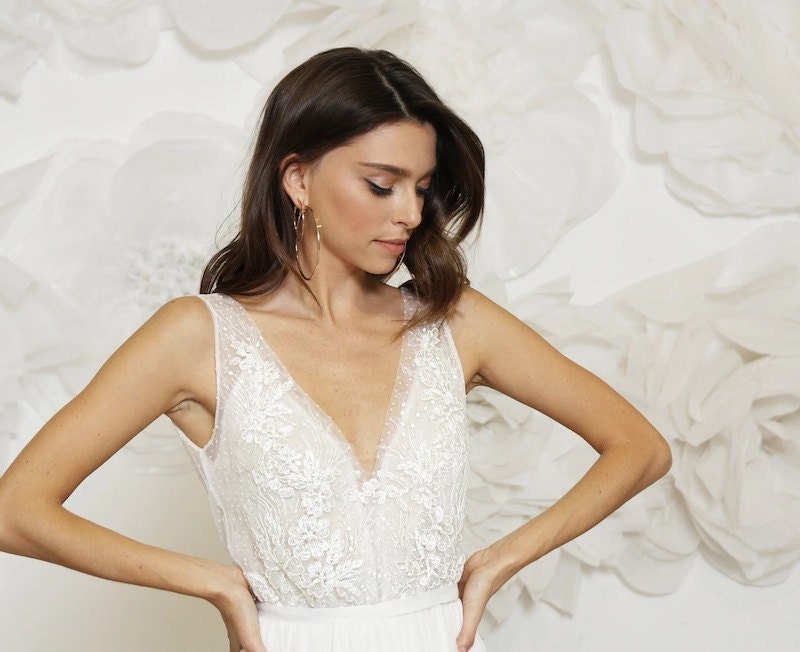 SHOP: White wedding dress with floral embroidery and chiffon skirt from Barzelai, $690
Talk about a fairy tale ending! This subtle princess wedding dress features dainty floral embroidery and a flattering deep V back, and as you say "I do," we bet you'll hear the birds singing in celebration.
9. Best modern tulle wedding skirt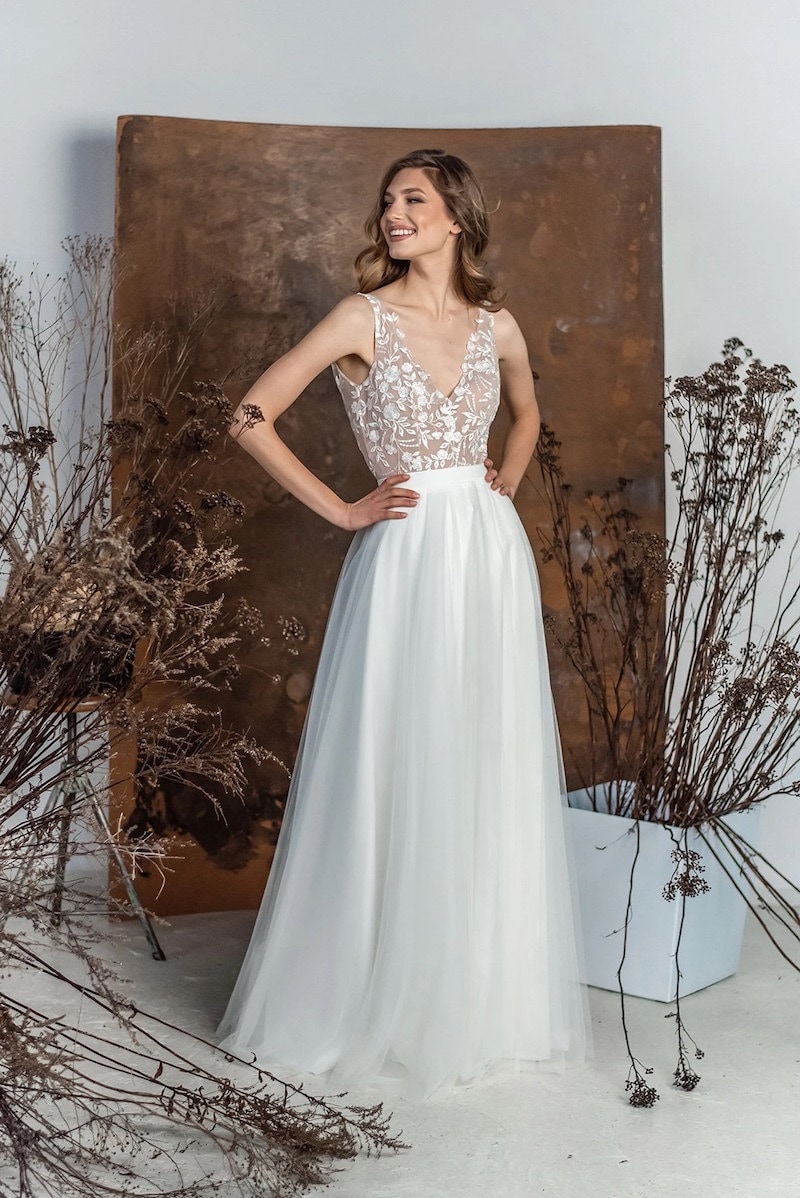 SHOP: White tulle wedding separates from Katarzyna Januszewska, $494
This simple-yet-chic A-line skirt is perfect for mixing and matching with the wedding top of your dreams. The sheer tulle fabric will have your guests swooning as you walk down the aisle.
10. Best long sleeve wedding dress top for winter weddings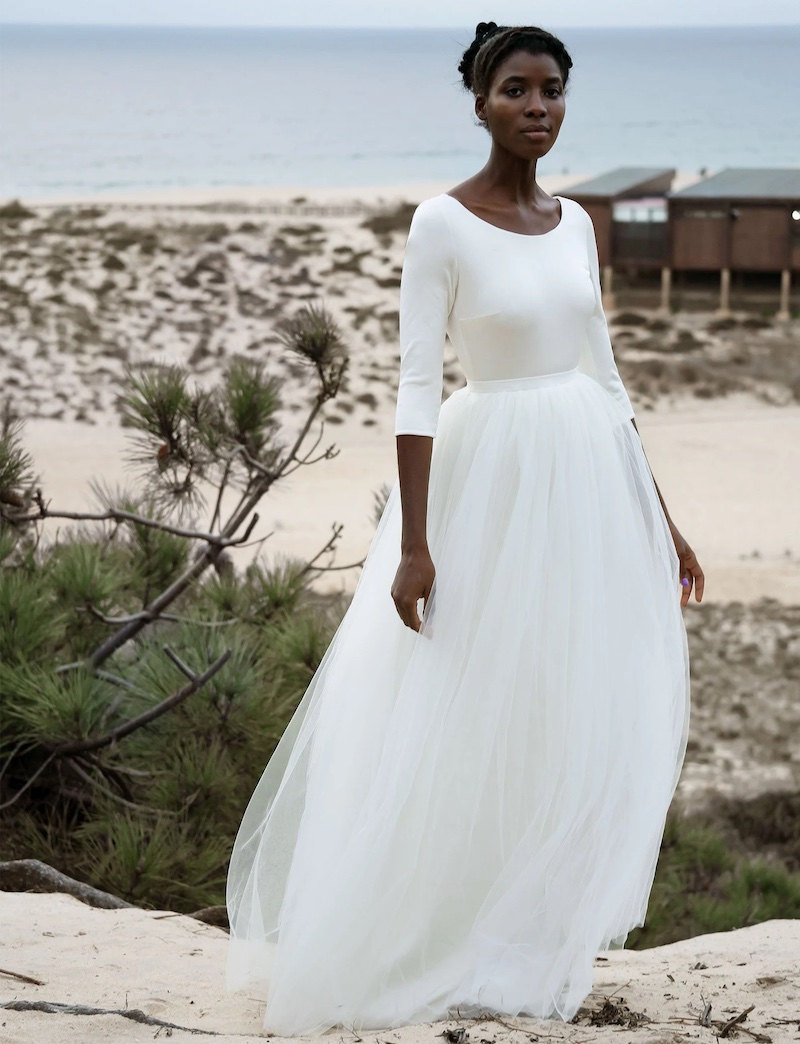 SHOP: Silk long-sleeve wedding top from Seni Dey Bridal from $142
When it comes to wedding separates, re-wearability is the name of the game. This long-sleeve top with a deep U back creates a breathtaking bridal silhouette, particularly when paired with a faux fur stole for a cozy winter wedding, but you can dress this silk top up or down for your reception outfit, a honeymoon dinner, or your next cocktail party.
Spring wedding dresses
Spring has sprung, the birds are chirping, and you're ready to bloom into the next season of your relationship as a married couple with an ethereal spring wedding dress. Choose from flowy boho wedding dresses, flouncy florals, or a cool, casual wedding jumpsuit and enter the next chapter of your life with nothing but blue skies.
11. Best wedding dress for micromonies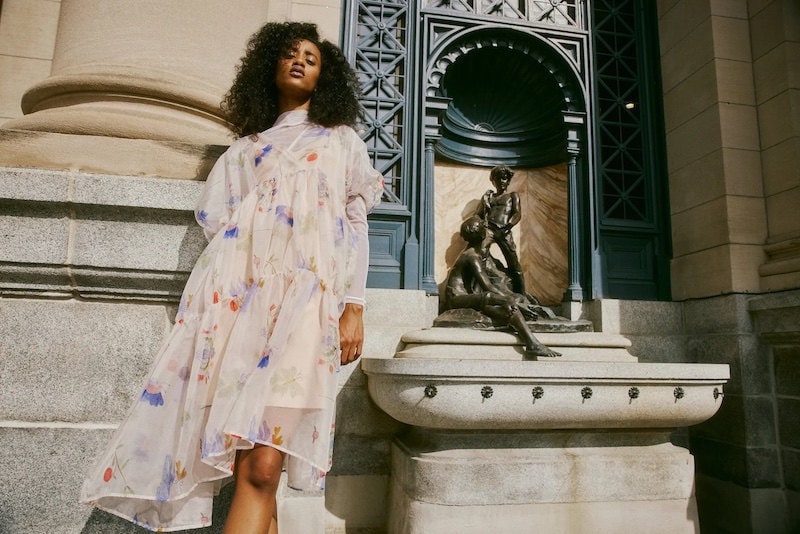 SHOP: Sheer printed garden wedding dress from Noémiah, from $397
Springtime brings beautiful blossoms and lush greenery and this sheer wedding dress fits the scenery. With floral illustrations printed throughout the silk organza and darling puff sleeves to add to its springy charm, this playful wedding dress will make your micromony a garden party to remember.
12. Best boho wedding dress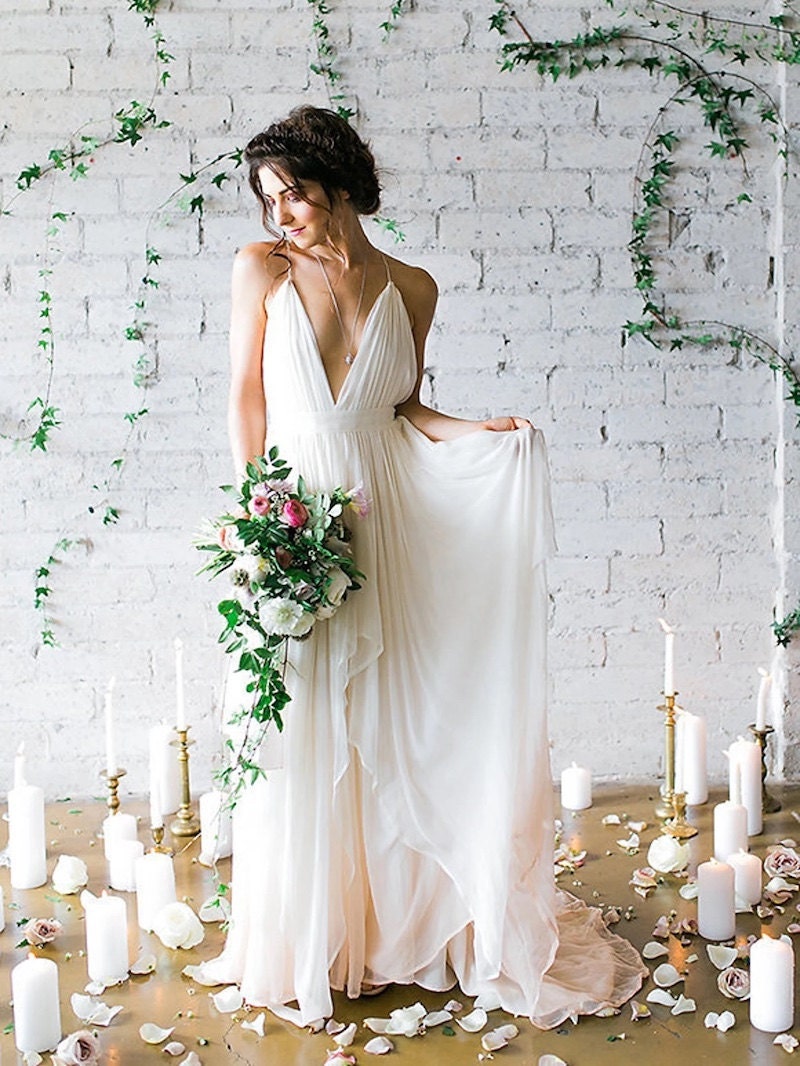 SHOP: Silk gauze wedding dress from Cleo and Clementine, $3,200
If you're looking for a spring wedding dress that's light and airy, call off your search! This boho wedding dress features asymmetrical hems that cascade from the draped, fitted bodice. Even better? The silk gauze falls just-so and will shift like waves as you walk down the aisle.
13. Best wedding jumpsuit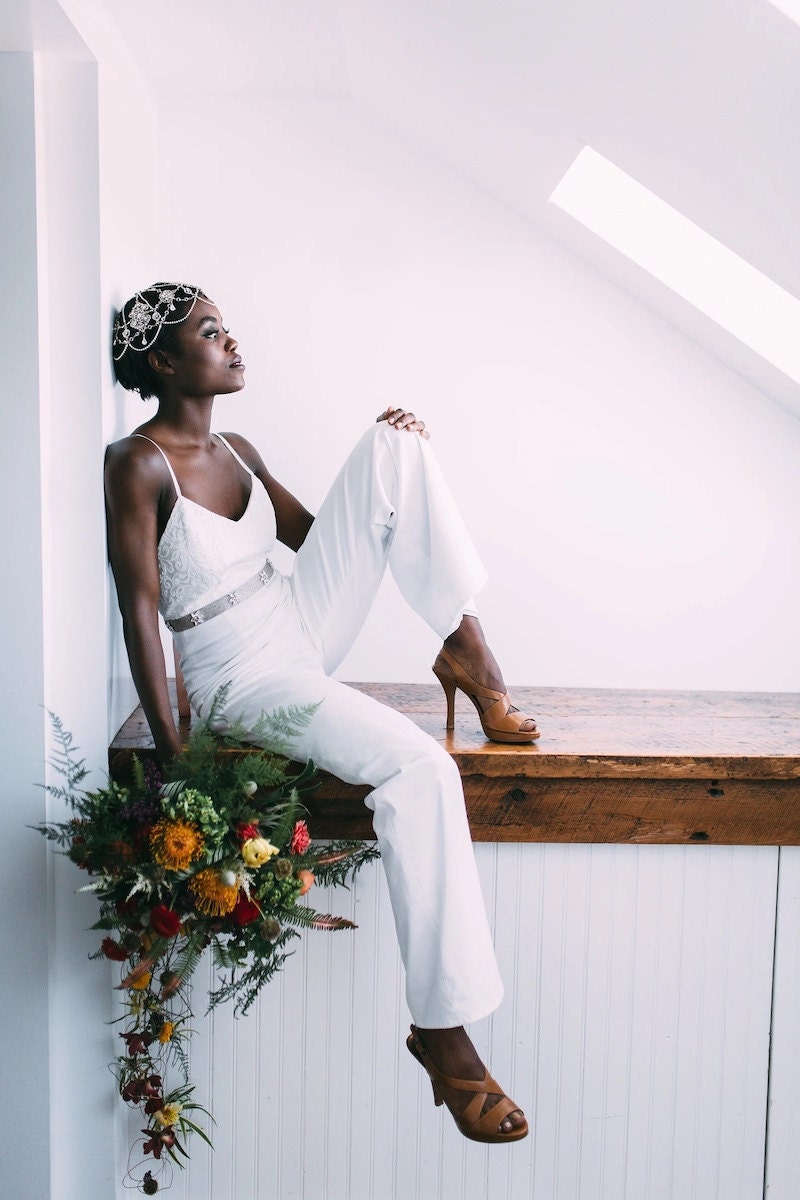 SHOP: Wide leg wedding jumpsuit from Jordan de Ruiter, $398
Made from embroidered lace and sateen, this wedding jumpsuit will transition perfectly from the wedding procession to the last dance of the night. Both edgy and elegant, this bridal jumpsuit proves you can always ditch the gown and go your own way in style.
Backless wedding dresses
Whether it's a peek-a-boo keyhole or a plunging, strappy back, backless wedding gowns are slinky and sultry without feeling too risqué. Show off some skin and hit the dance floor in these backless beauties.
14. Best minimalist wedding dress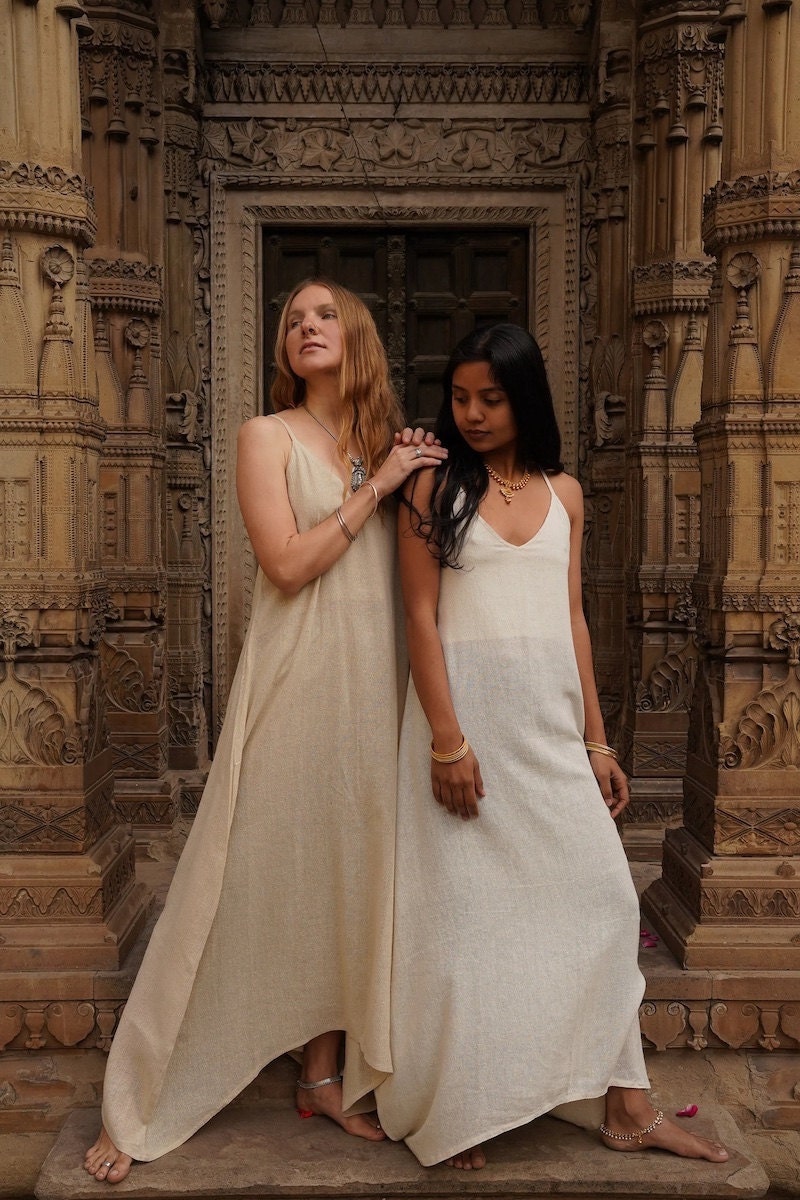 SHOP: Raw silk wedding dress from Kashi Kahani, $100
For a pared down, minimalist bridal look, this gorgeous ceremonial slip dress is an eye-catching vision in white. Made from raw, hand-loomed silk, this wedding dress is a no-frills stunner (literally).
15. Best modern high neck wedding dress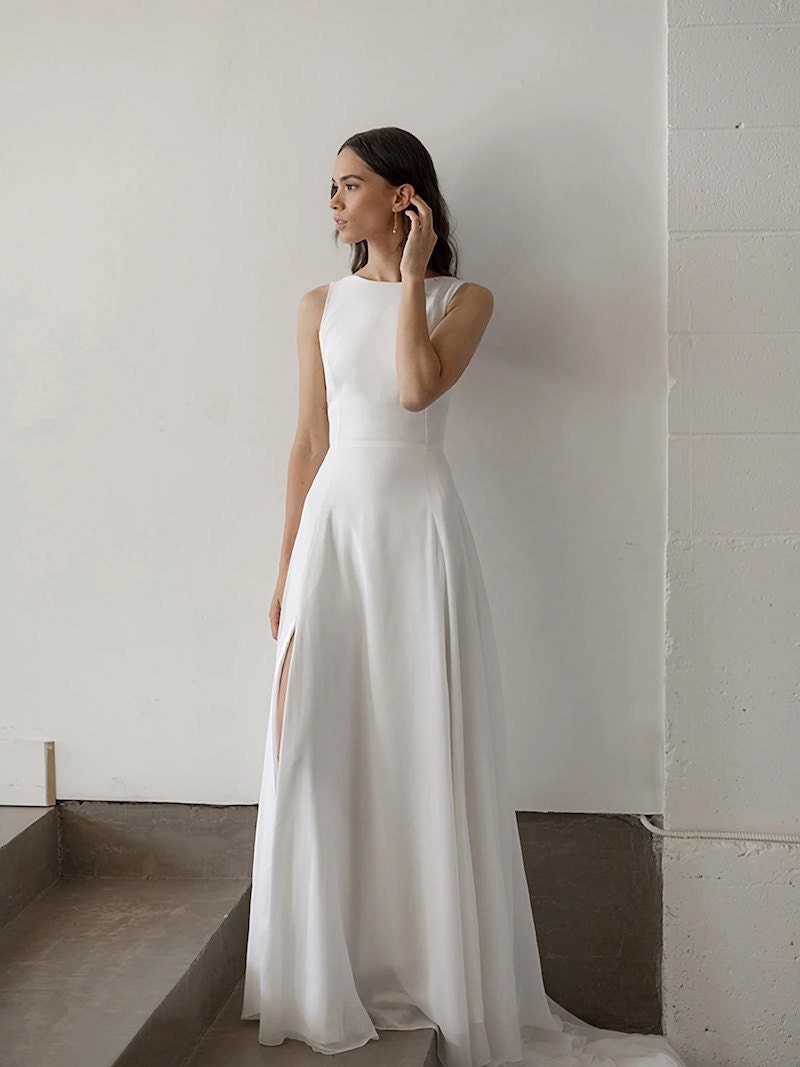 SHOP: Crepe high neck wedding dress from Davie and Chiyo, $1,485
Sometimes, opposites attract and make magic. Exhibit A: This sublime modern wedding dress. Its halter, high-neck bodice in the front and cross-strap back create the perfect contrast between showing a little skin and having full coverage. We love the peek-a-boo leg slit in the flowy chiffon skirt that adds a little extra drama to your bridal look.
16. Best backless boho wedding dress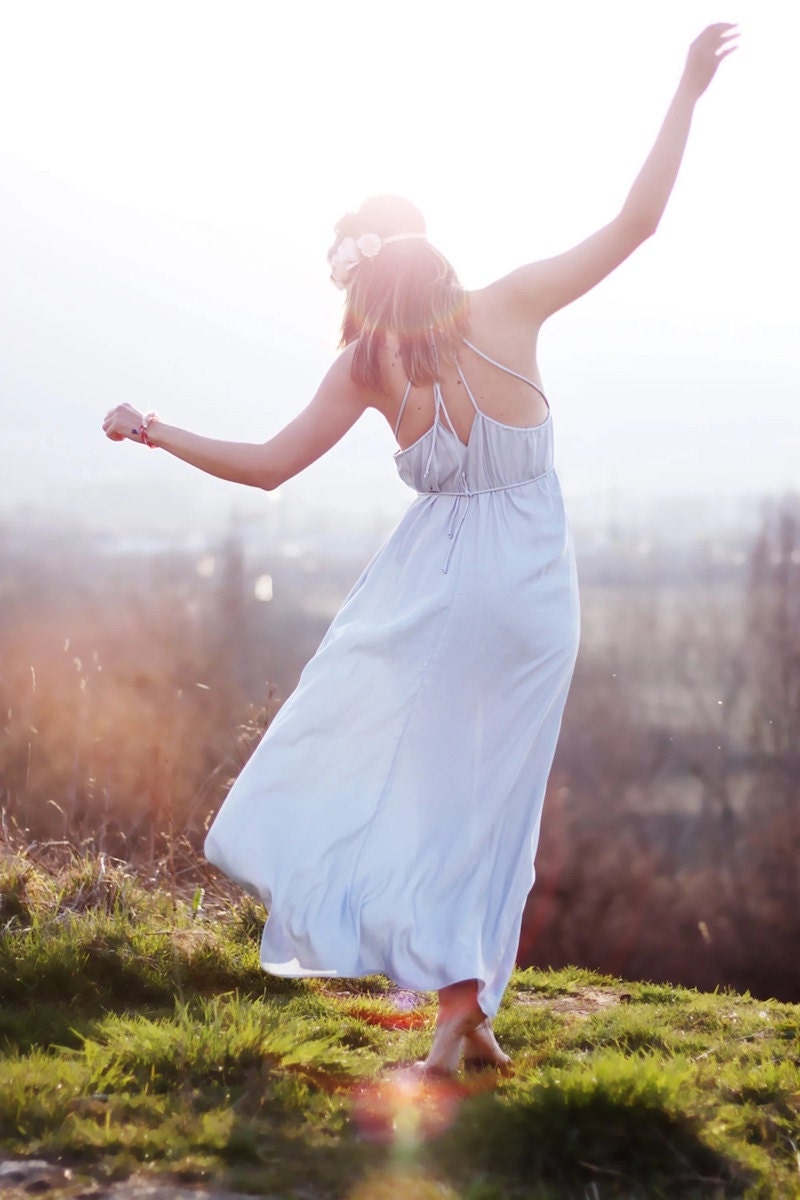 SHOP: Dusty blue bohemian gown from Vintage Summer Fashion, $98
This wedding dress may technically be for bridesmaids, but we think you can buck traditions and wear this dusty blue backless dress in your dreamy boho wedding ceremony. Its simple silhouette will complement all of the flower crowns and ethereal tablescapes you have planned.
17. Best wedding separates for a beach wedding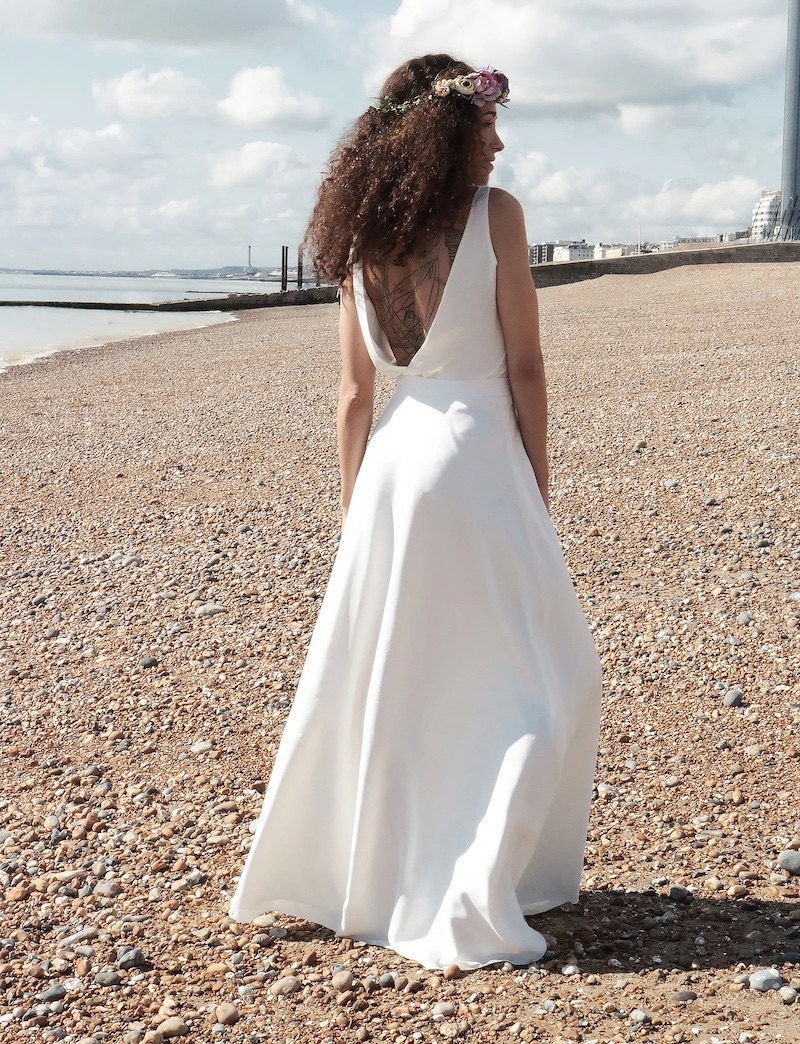 SHOP: Two-piece satin wedding dress from Seni Dey Bridal, from $327
Hear the waves crashing and smell the salt in the air with this understated, modern set of wedding separates made for a ceremony in paradise. Backless style can be a plunging back or a subtle high-V, and you can choose the hem that suits your ceremony, from tea to floor length.
Classic wedding dresses
A vintage look for a classic wedding can elevate your big day to a sophisticated affair. From brocade ball gown wedding dresses to vintage satin gowns, these picks are timeless—just like your everlasting love for your spouse-to-be.
18. Best sequin wedding dress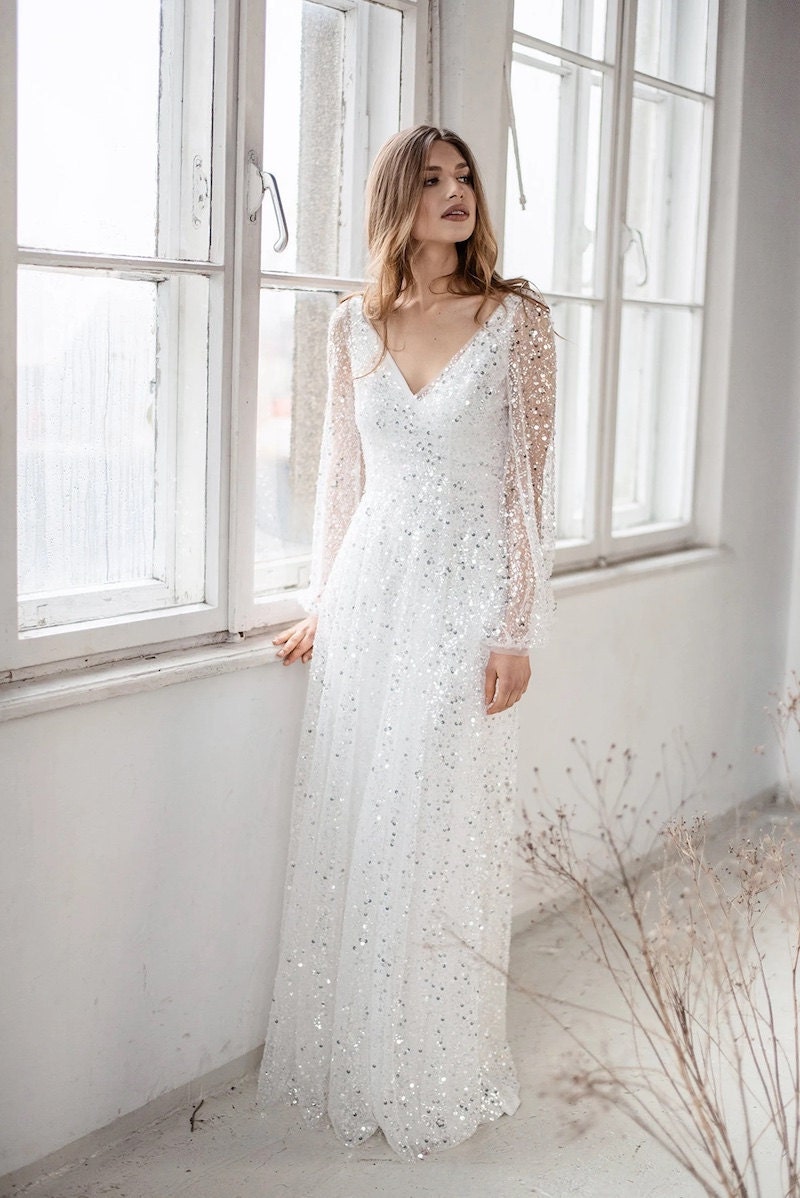 SHOP: Modern wedding gown with sequin overlay from Katarzyna Januszewska, $461
Mirror, mirror on the gown, who's the brightest bride in town? This modern wedding dress with its sequin overlay reflects all the light while you find your light in your wedding photos.
19. Best vintage princess wedding dress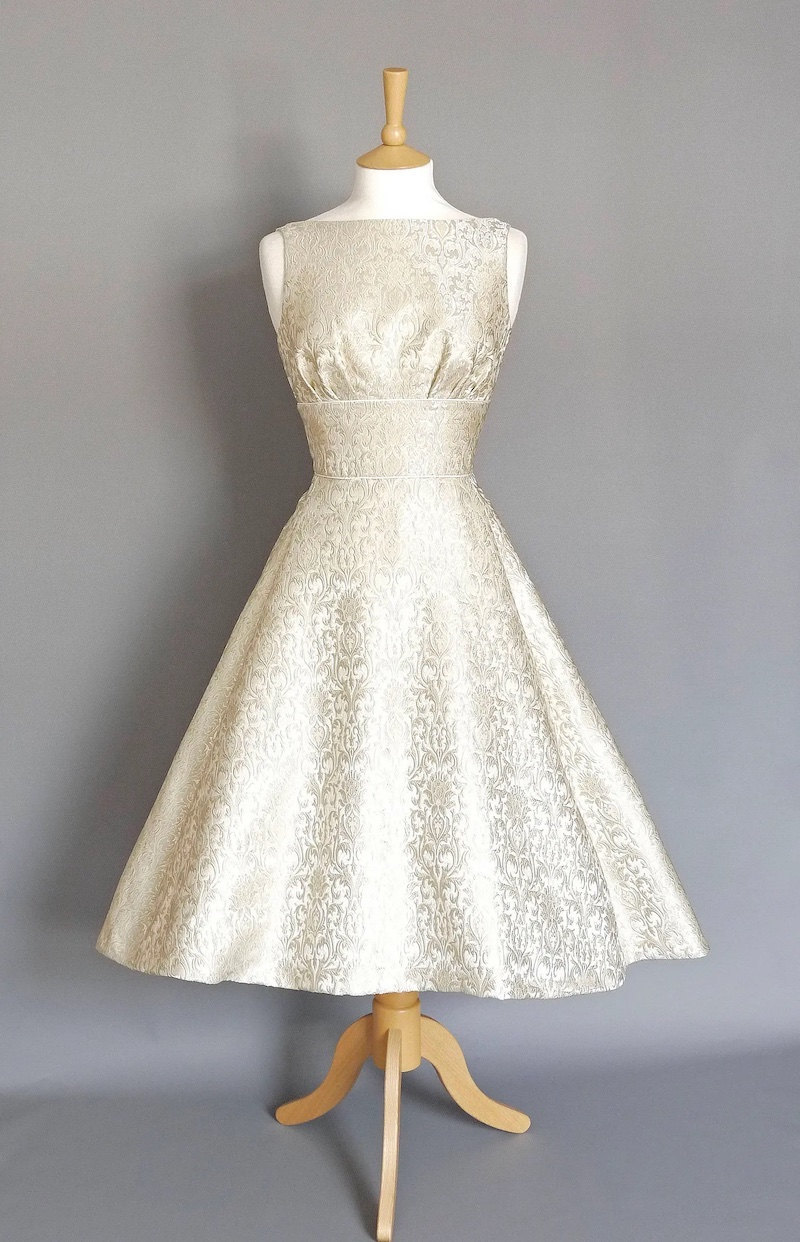 SHOP: Silver and pearl brocade A-line wedding dress from Dig For Victory, from $467
Did someone say regal? This gorgeous silver and pearl brocade dress flaunts an intricate filigree pattern and a flared, dipped hem skirt. Its classic silhouette and vintage-style fabric is fit for your Grace Kelly fantasy.
20. Best long sleeve wedding dress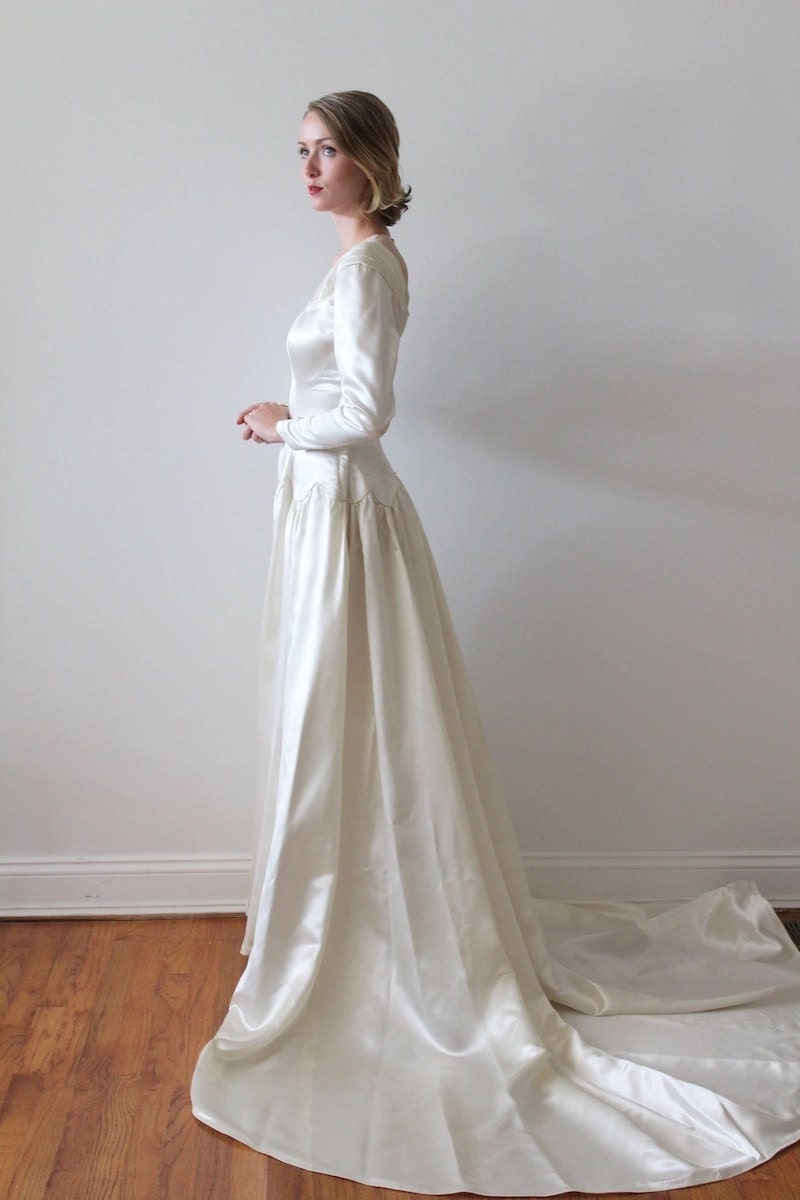 SHOP: Vintage 1940s satin long-sleeve wedding dress from Miranda's Vintage Bridal, $348
Channel Audrey Hepburn's brilliant bridal gown with this long sleeve wedding dress—vintage from the 1940s. Its scalloped piping detail around the hips and delicate pleating at the shoulders makes it a winning wedding dress for a winter wonderland.